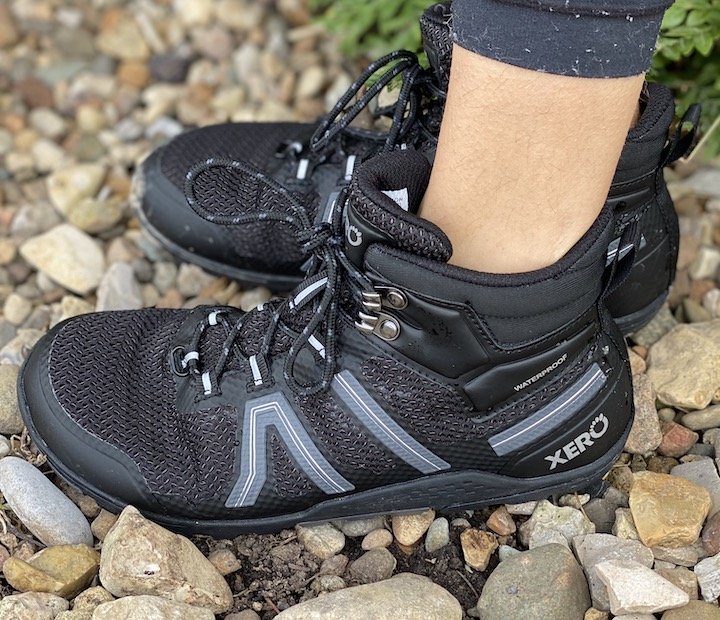 Xero Shoes is launching an updated version of their Xcursion Waterproof hiking boot! I tested out the previous version last year, so am excited to see how the new Xcursion stacks up. Read on for my review of this waterproof, zero drop hiking boot from Xero Shoes: the Xcursion.
Xero Xcursion Review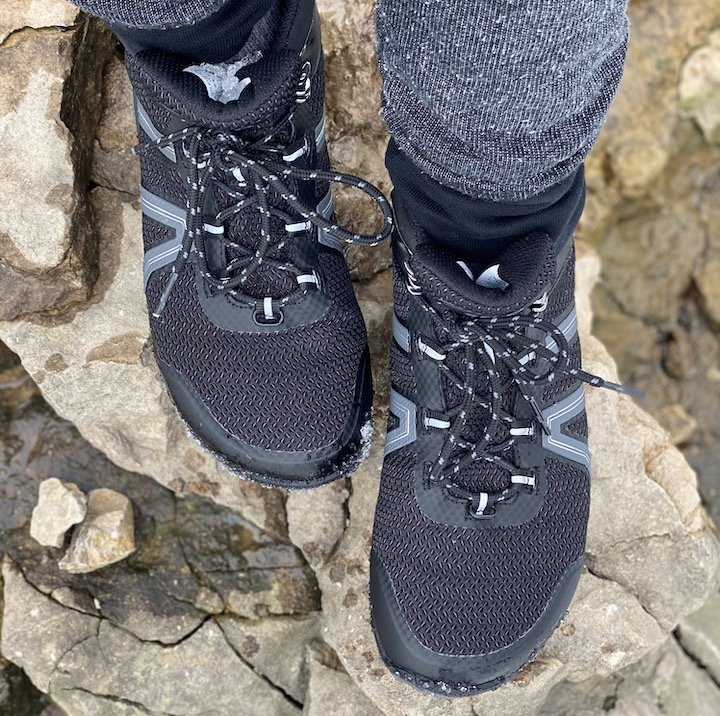 Hiking is possibly my favorite form of exercise, it's nature and walking combined! So finding a good barefoot approved hiking boot is a big deal to me.
The updated Xcursion Hiker is a waterproof hiking boot with a zero drop (completely flat outsole) and an anatomical toe box shape. They are available in men's and women's in sizes US women's 5 – men's 15 for $140. The gender labels are IMO arbitrary, I recommend getting the men's version if you can because they are wider.
Live in the EU? Click here for Xero Shoes EU
Specs
These boots are 100% vegan, made of mesh and polyester. The total stack height is 11cm, with lugs for traction and a removable insole. The materials are durable and good for rugged wear.
Flexibility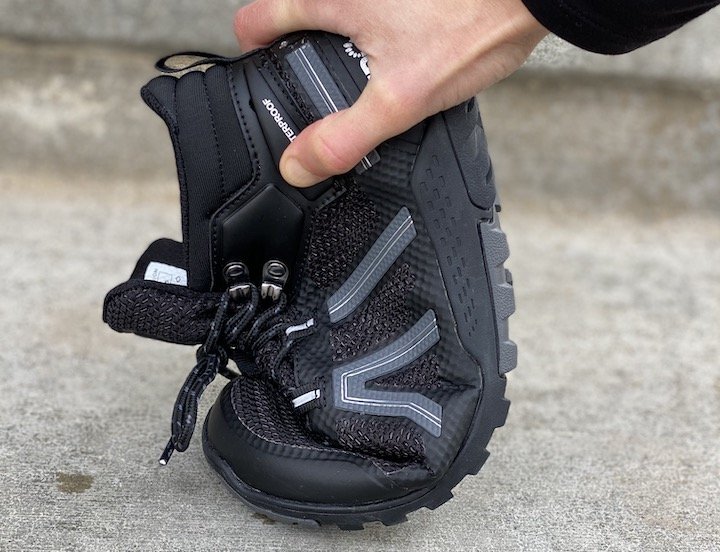 The Xero Xcursion is definitely more flexible than traditional hiking boots, they are stiffer than most other barefoot hiking boots I've tried. Xero shoes do break in over time and soften up, but they start out quite stiff.
Fit Type
Xero shoes fit medium to high volume (good for tall/full feet) and have a rounded/Mountain toe box (good for long 2nd toes). Typically, Xero Shoes fit a medium width toe box and a wide midfoot and heel (meaning they are wide throughout the shoe and don't taper in anywhere. However, these new Xcursions run narrower than other Xero shoes I've tried and I had to size up for width. Check out the comparison later for more deets.
Sizing
These boots run true to size for length, but are narrow in width. I normally would wear a size US women's 7 in this type of shoe, but I sized up to a 7.5. Because of the laces the extra length is fine, but they are still too narrow for my wide toe spread.
Waterproof?
I wore these on two wet and muddy hikes and had no issue. Then I stood in a bathtub of water for 6 minutes and still good! The tongue is gusseted up to the first speed hook, so the shoes are only waterproof up to that point. Since waterproofing tends to wear off over time, a product like Aquaseal is great to vamp up leaky boots.
Xcursion Vs Other Barefoot Hikers
Like I mentioned before, these Xcursion hiking boots are narrower than the previous version and other barefoot hiking boots. See this comparison below. The size US women's 7.5 Xcursion is even narrower than the old Xcursion size 7!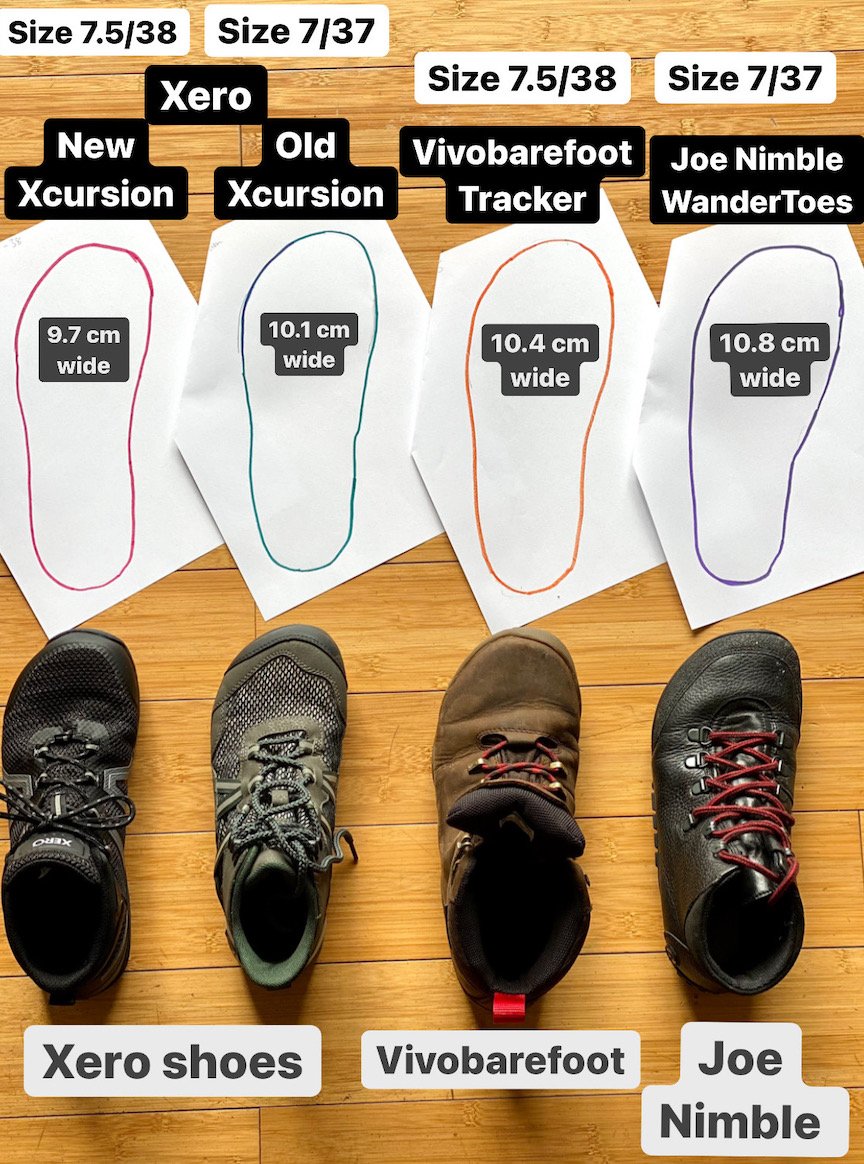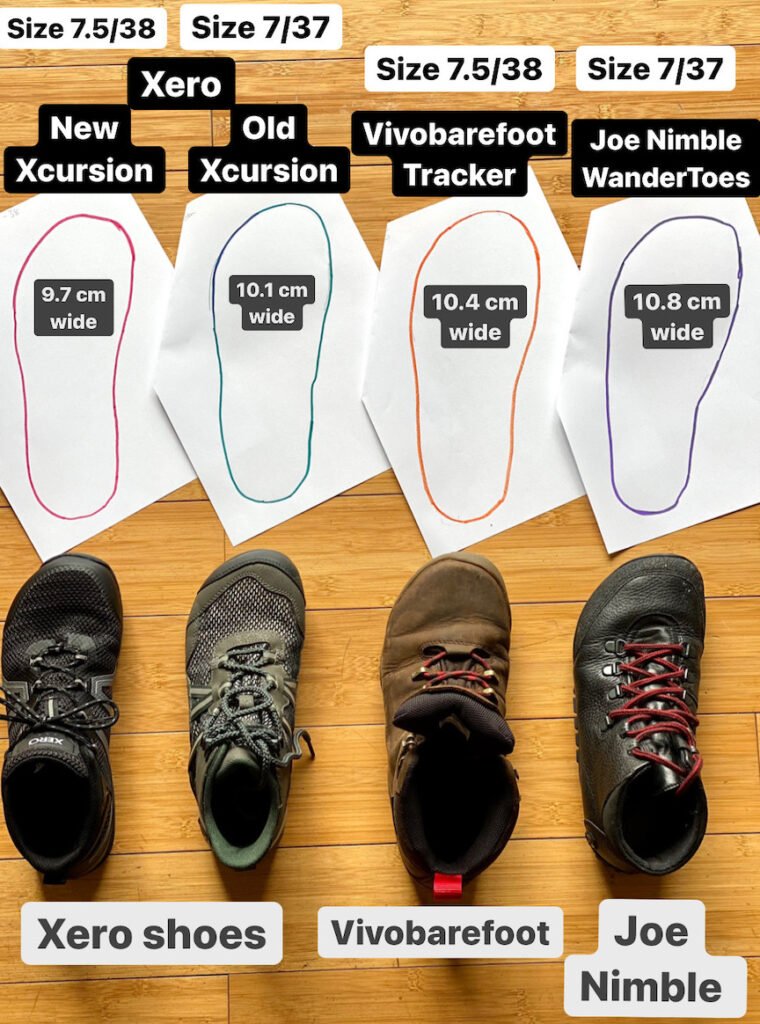 Check out this post on barefoot hiking boots for more deets on the other options. Note that this image shows the external measurements of each boot and should not be used to determine size. I choose to use external measurements instead of insole measurements because I find it to be more consistent in showing width across brands.
Conclusion
These boots are hard wearing and have good traction, but unfortunately too narrow for my feet. They are a good choice if you have narrow, high volume feet. But since even narrow feet can fit into a wider hiking boot, I strongly recommend to Xero that they increase the toe box width of their shoes!