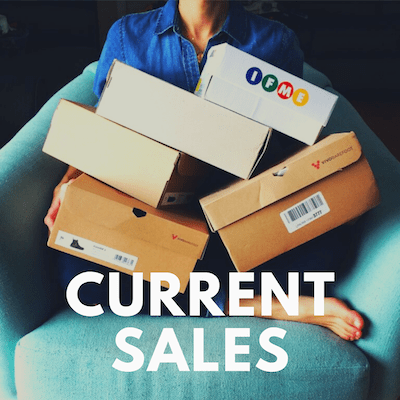 Barefoot shoes aren't exactly known for being cheap. If you're looking to save a little, look no further! All the coupon codes, sales, and discounts for every barefoot shoe brand are here in one place! This post is continuously updated so you'll always have the latest deals. Bookmark it and check back before you make a purchase.
Fresh Sales
These are the biggest short term sales happening in barefoot shoes! Once they're gone, they're gone.
Softstar Shoes – $20 off Fireside, Adult Zen, & Roo
Shamma Sandals – $20 off Super Browns & $25 off Super Goats. Code ANYASREVIEWS2023 for 10% off everything else
Realfoot – 10% off pre-sale of new styles
Clearance/Outlet Sales
Below you'll find the long term clearance/outlet sections that you can return to repeatedly.
Note that there are many scam websites out there claiming to sell discounted shoes – please only shop with brands' official websites or authorized retailers. We only list vetted e-shops here.
Adults
Kids
Anya's Shop Discounted Seconds – Deals on slightly used or minor defect shoes
Happy Little Soles (UK retailer) – Up to 50% off end of season stock
Jack and Lily (Baby & Toddler) – Outlet & clearance
Magical Shoes – 15% off select styles. Code ANYA for 10% off everything else
Mugavik Barefoot (EU retailer with worldwide shipping) – Select styles on sale. Code ANYASREVIEWS get you 5% off non-sale items
Naboso (EU retailer with EU/USA shipping) – End of season clearance
Sole-Runner

–

Select styles on sale
Tikki Shoes – Select styles on sale
Tupsunupsu (EU Retailer with worldwide shipping) – Select styles on sale
Vivobarefoot – Select styles on sale. Use code VBANYA10 for 10% off everything else
Zeazoo – End of season sale. Use code ANYASREVIEWS for 5% off everything else
Zami (EU retailer): Select styles on sale
Coupon Codes That Don't Expire
Here are all the barefoot shoe discount codes available that can be used at any time.
Barefoot Shoe Brands
Barefoot Shoe Retailers
Healthy Foot Gear
Other Affiliate Links
If my barefoot shoe reviews have helped you, consider using my links for your purchases! I will receive a small commission, but it doesn't cost you anything.
Do you know of more sales or discount codes that are missing from this list? Shoot me a comment and I'll get it updated! And then be sure to subscribe below so you hear about all future posts on the blog.