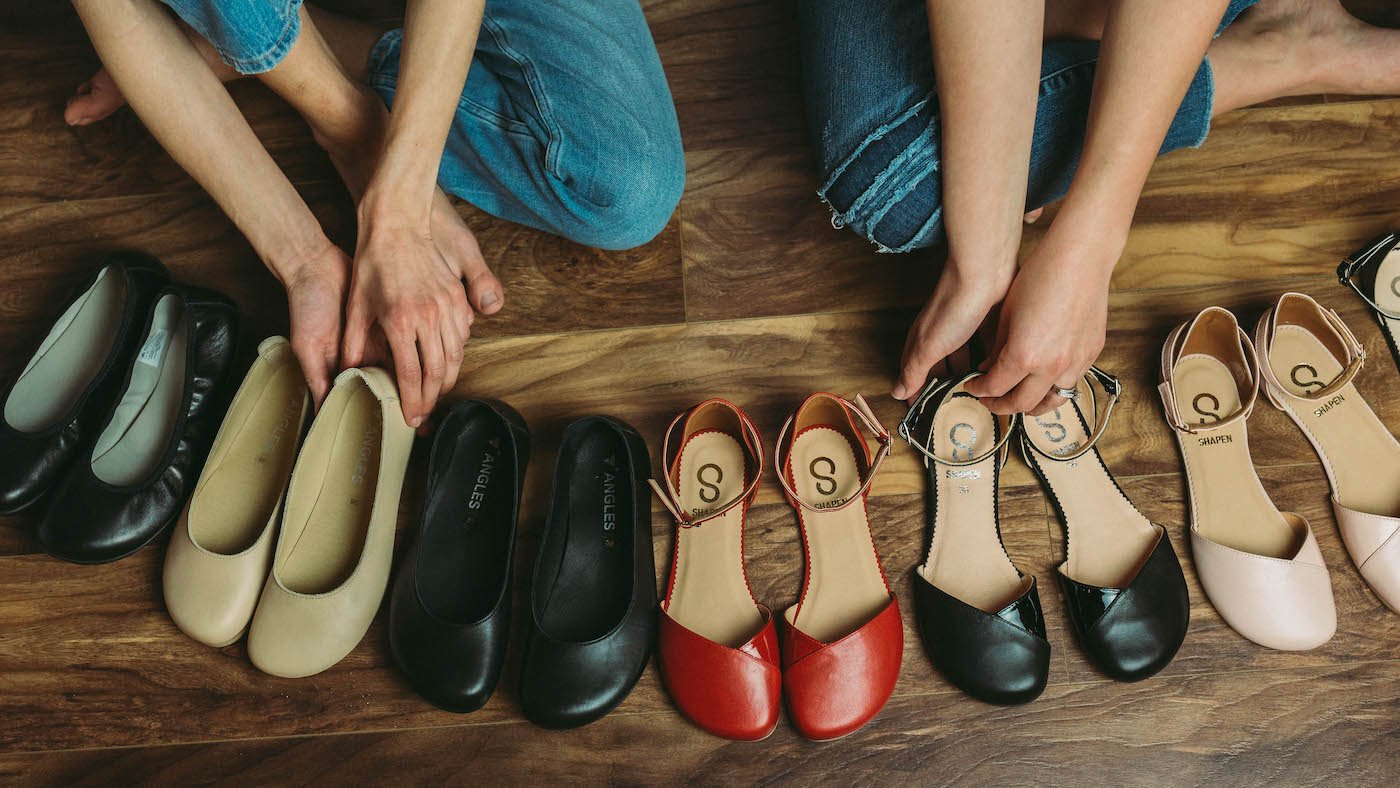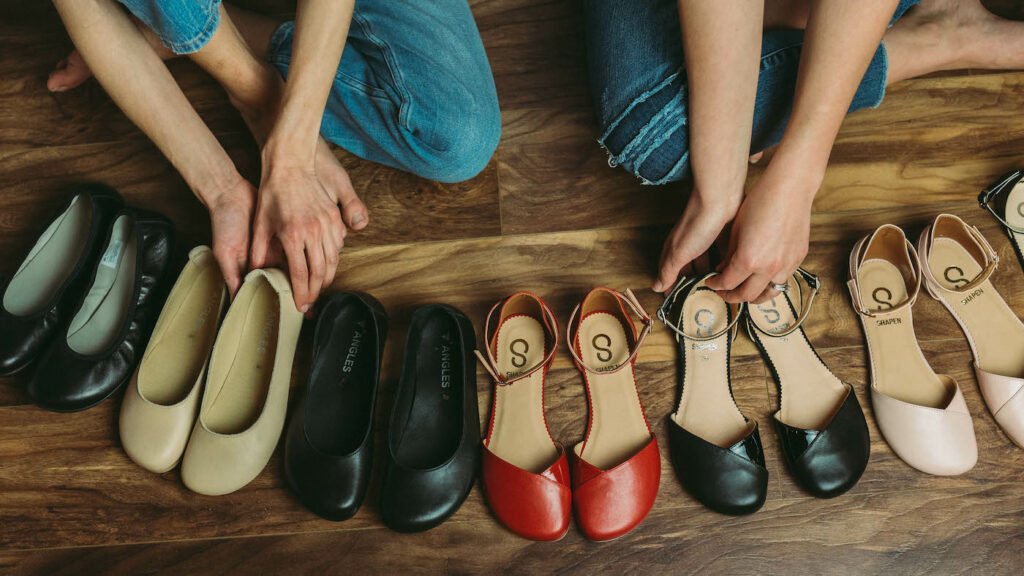 I have been searching for women's barefoot dress shoes that are actually fashionable ever since a chronic foot injury derailed my cute shoe dreams. Sneakers and sandals are great, but I really wanted something stylish and fancy that didn't hurt my feet. After years of curating, here are my ten best women's barefoot dress shoe picks!
Why Women's Barefoot Dress Shoes Matter
Considering the high rate of bunions among females, cute women's barefoot dress shoes are a must-have for the foot conscious gal. They don't press your toes painfully together and they have no alignment-wrecking heel whatsoever – unlike most stylish women's shoes which are more like mini torture devices than foot holders. To keep those feet happy, women's barefoot dress shoes should be:
Flat
Flexible
Foot Shaped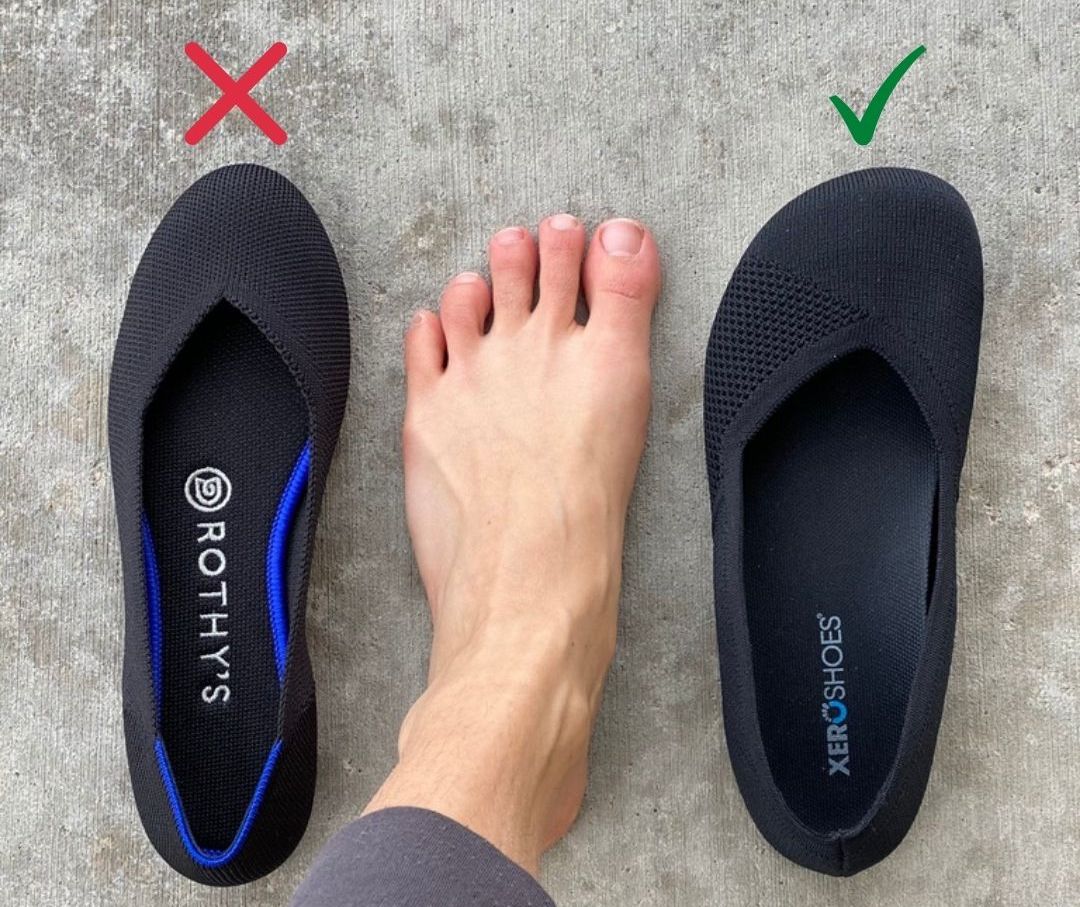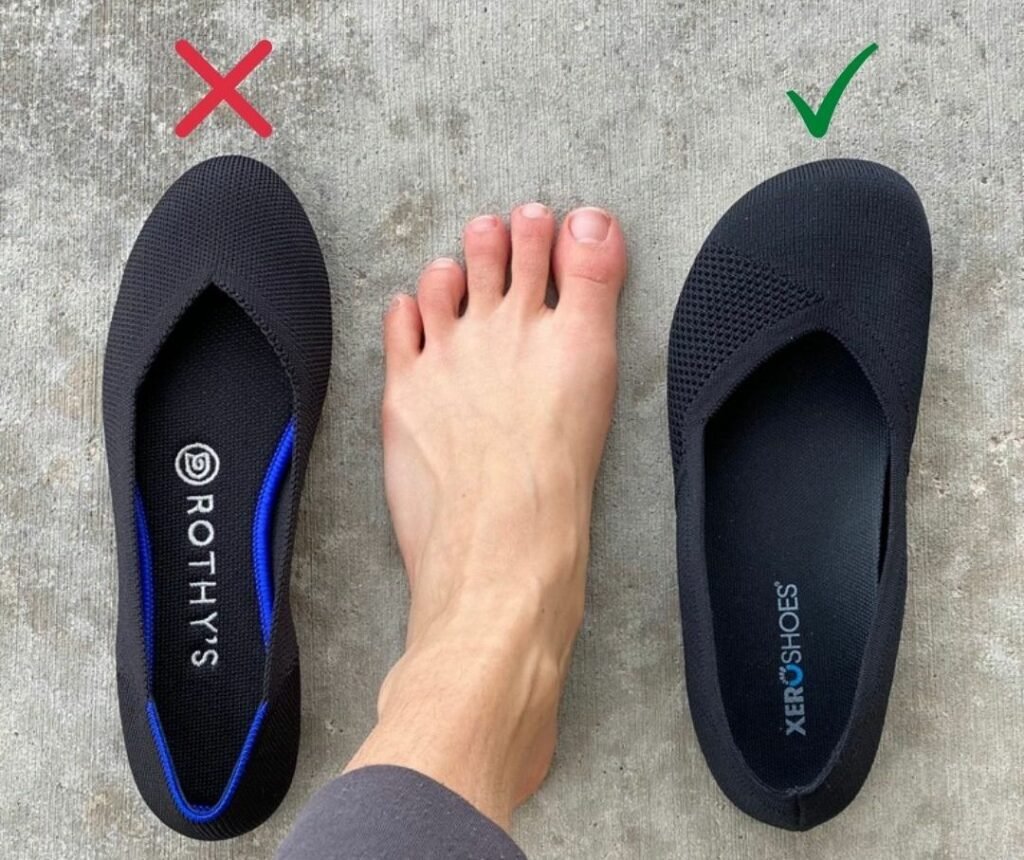 Click here to learn more about the benefits of barefoot shoes!
But that doesn't mean you have to wear frumpy shoes! This list of barefoot dress shoes for women meets my healthy shoe standards but are also stylish and can be worn with trendy outfits. These are the barefoot dress shoes I wear when I want to look and feel fabulous! Let's dig in.
If you're looking for men's styles, check out this list of the Best Men's Barefoot Dress Shoes.
The Best Women's Barefoot Dress Shoes
Before we get going, you might find some terms you're not used to here. Check out this article to learn more about how to measure your feet, pick a size, and understand what type of foot you have!
Shapen Poppy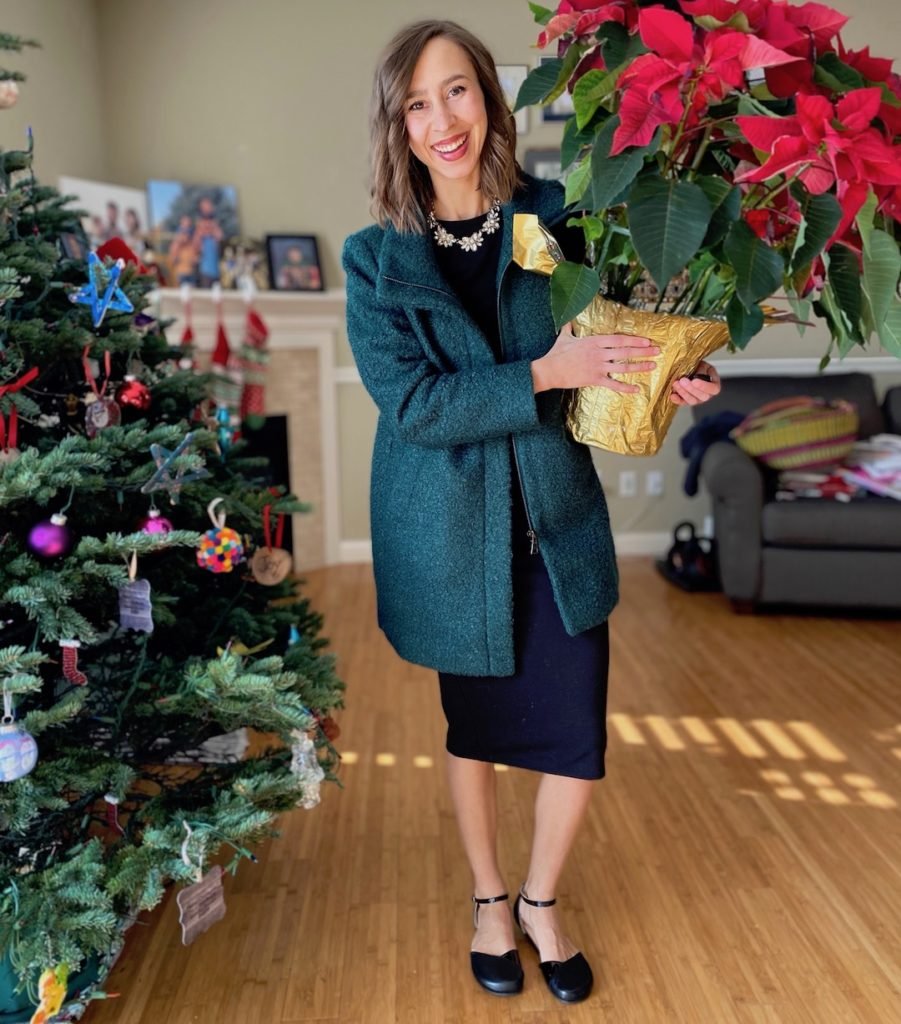 Leather & Vegan Option | Sizes 36-43 | Available At:
Use code ANYA5 for 5% off any Shapen purchase! These are also available at Anya's Shop.
What I Love About Them: Obviously, I love that they're adorable! They are IMO the best-looking barefoot dress shoe in existence. Whenever I want to really dress up these are the shoes I reach for. The open space lengthens the legs and the detailing on the vamp keeps the wide toe box from looking like a blob. It's hard to find a classy shoe that doesn't squish your toes, but the Shapen Poppy is exactly that! The soles are also very thin and flexible.
Sizing & Fit Type: A shoe with this much open space is a bit fussy to get right. They run long and you don't want much extra space or they flop, so most people size down one. They come in two widths, Regular & Wide. Regular is still wider than most dress shoes you find and fits my wide feet. I would only choose wide if you have extra wide feet.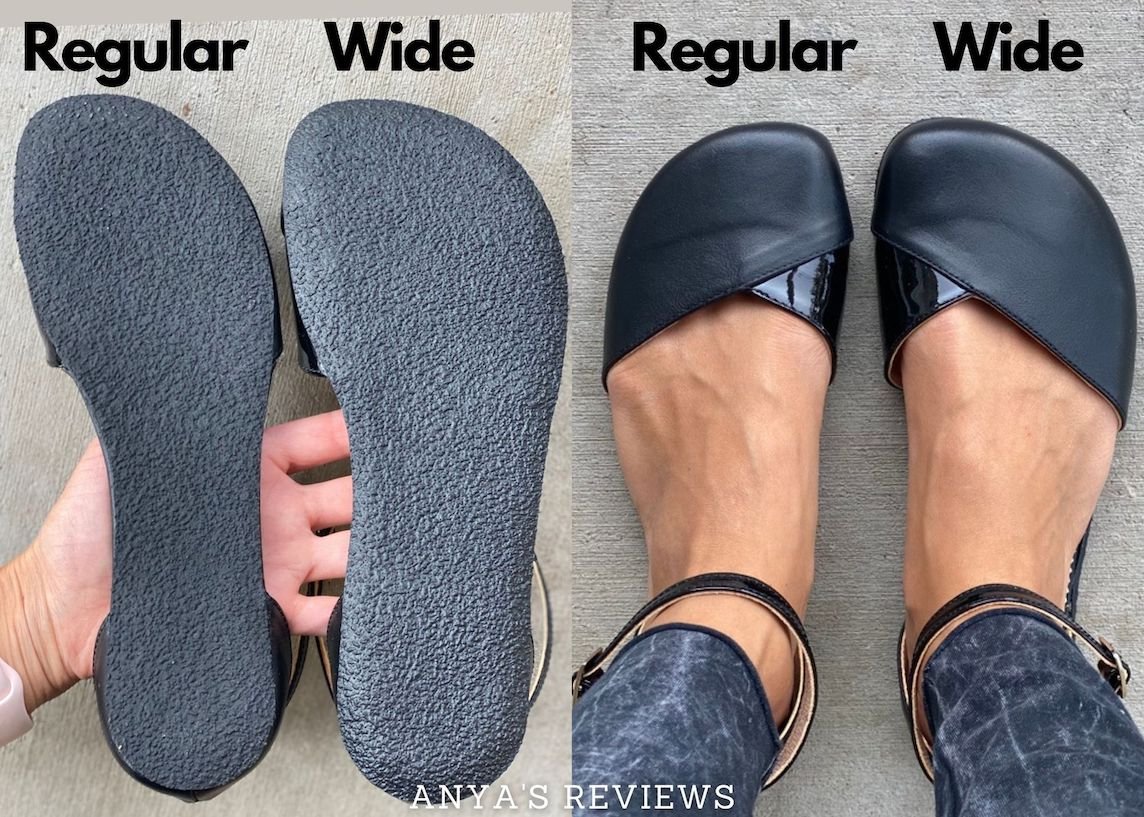 Shapen Barefoot has quite a few other pretty barefoot dress shoes, my second favorite is the Calla sandal. These are one of the prettiest women's barefoot sandals for an extra wide foot!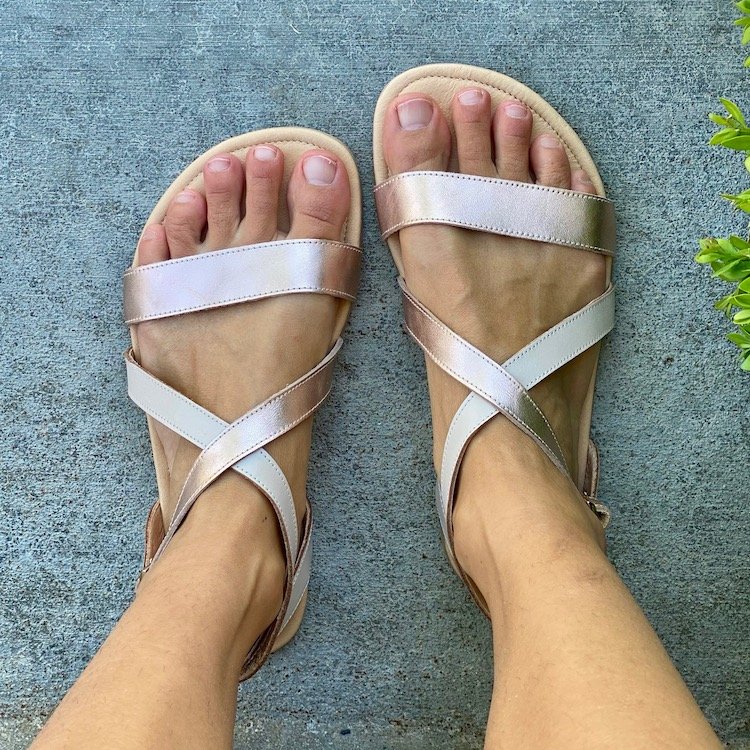 Read my full Shapen Barefoot review for more info on this brand.
---
Designed by Anya Boots & Loafers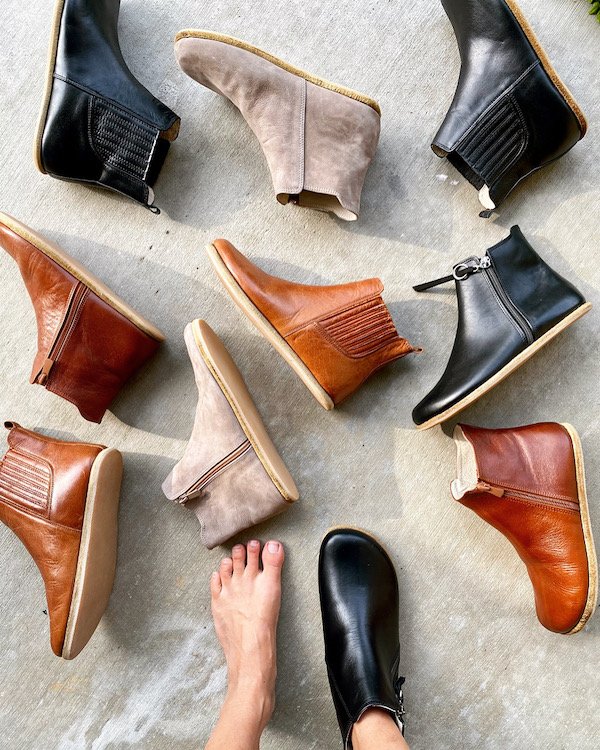 Leather | Sizes EU 34-45 | Available At:
What I Love About Them: After years of hunting for the perfect ankle boot & loafer, I did a thing. In October of 2021 I launched a line of women's barefoot dress shoes that perfectly captured the chic look I was craving in my shoes. The Yasemin is a loafer and the Rosa & Lila are western inspired ankle boots. They are the perfect end caps to all my outfits and make me feel like I'm not missing out on any style fun.
These shoes are made of a high quality leather upper and a durable buffalo hide sole. This type of sole feels stiff when brand new but warms up and softens and molds to your foot as you wear them. The thin rubber outsole provides some traction and protection from water/mud, and because they are hand stitched they can be repaired and resoled repeatedly at a cobbler!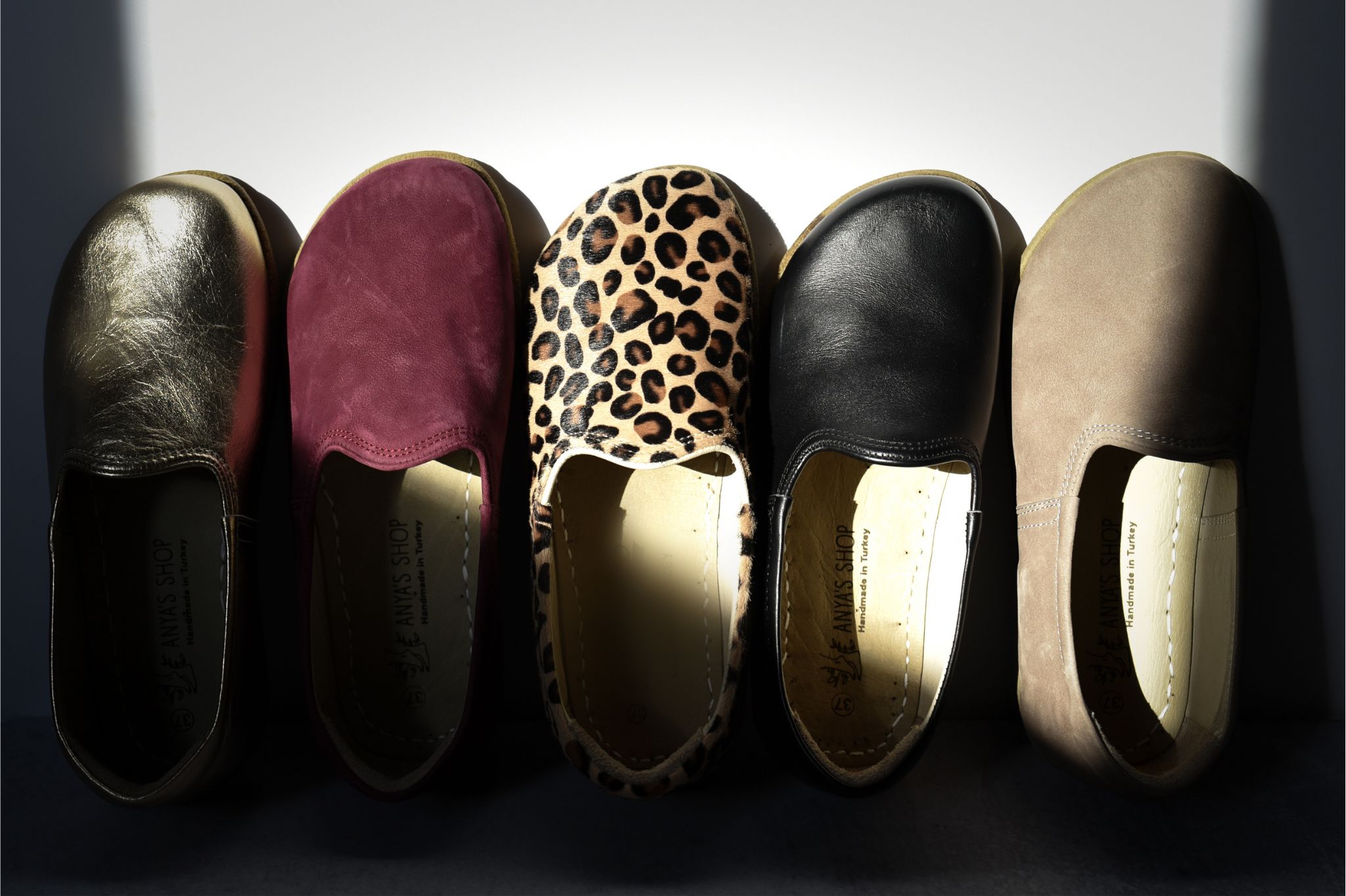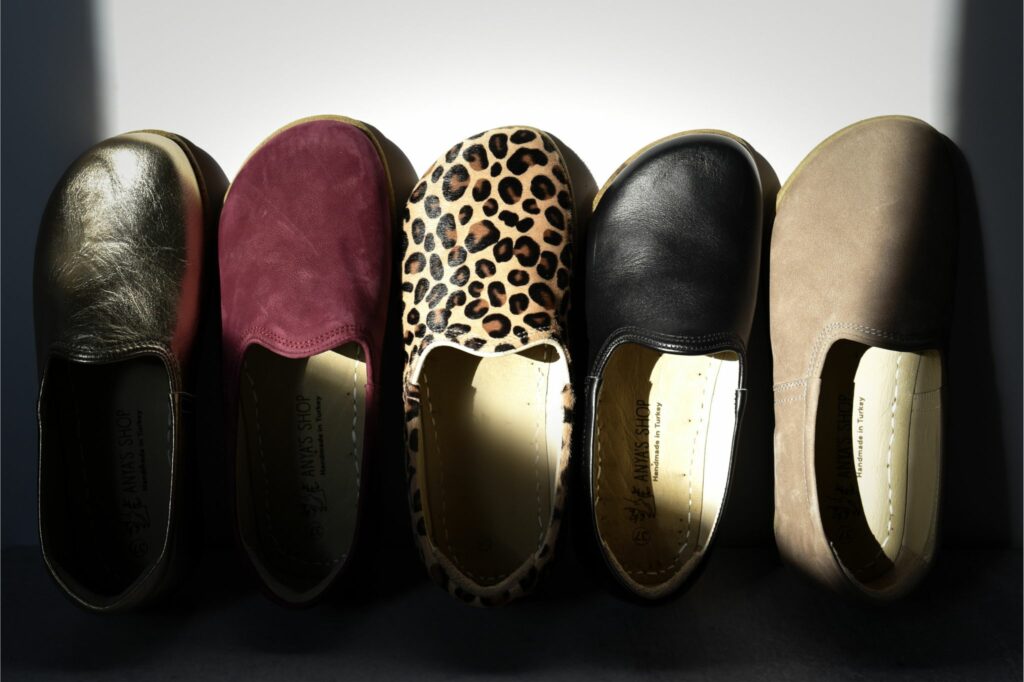 Sizing & Fit Type: These barefoot dress shoes have an average to wide toe box shape, and are high volume through the midfoot. Some people have wondered why I didn't make lower volume shoes because I have low volume feet, but these designs don't lend themselves well for a low volume fit. I wear mine with a tongue pad in the upper to get a good fit.
---
Groundies Ballet Flats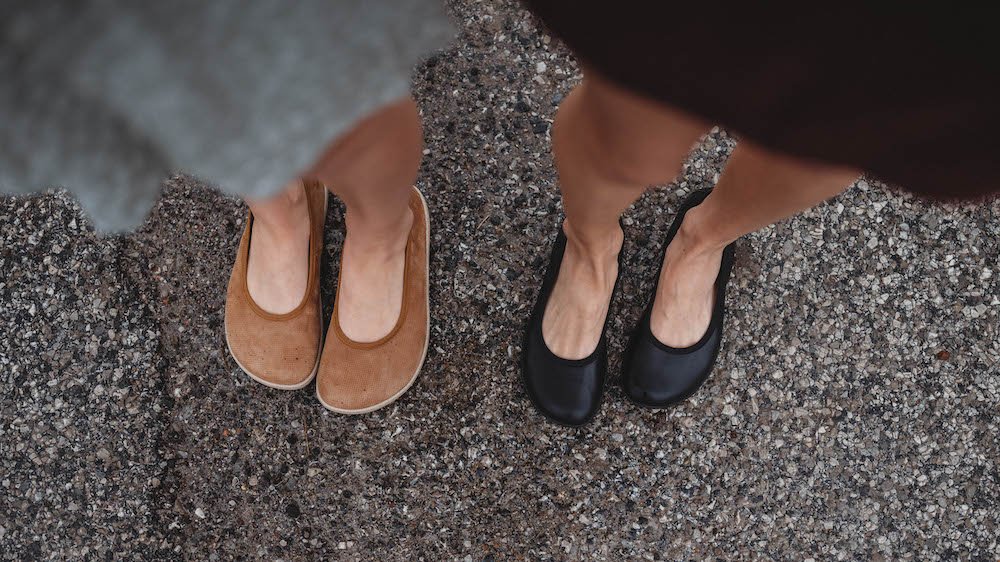 Leather | Sizes EU 36-43 | Available At:
Select Groundies styles available at Anya's Shop
What I Love About Them: Groundies makes beautiful barefoot ballet flats in different colors – it's a great place to get closet staples as well as more exciting colors and styles. The quality is consistently top notch and they go with my professional outfits seamlessly. They even have an extra wide width called Barefoot+ in some styles!
The soles are very soft and flexible, making Groundies ballet flats some of my most comfortable barefoot dress shoes. And they really look just like your typical ballet flat minus the pinchy toe box. I replaced some old flats I had hung on to for too long with my Groundies and my toes are so much happier.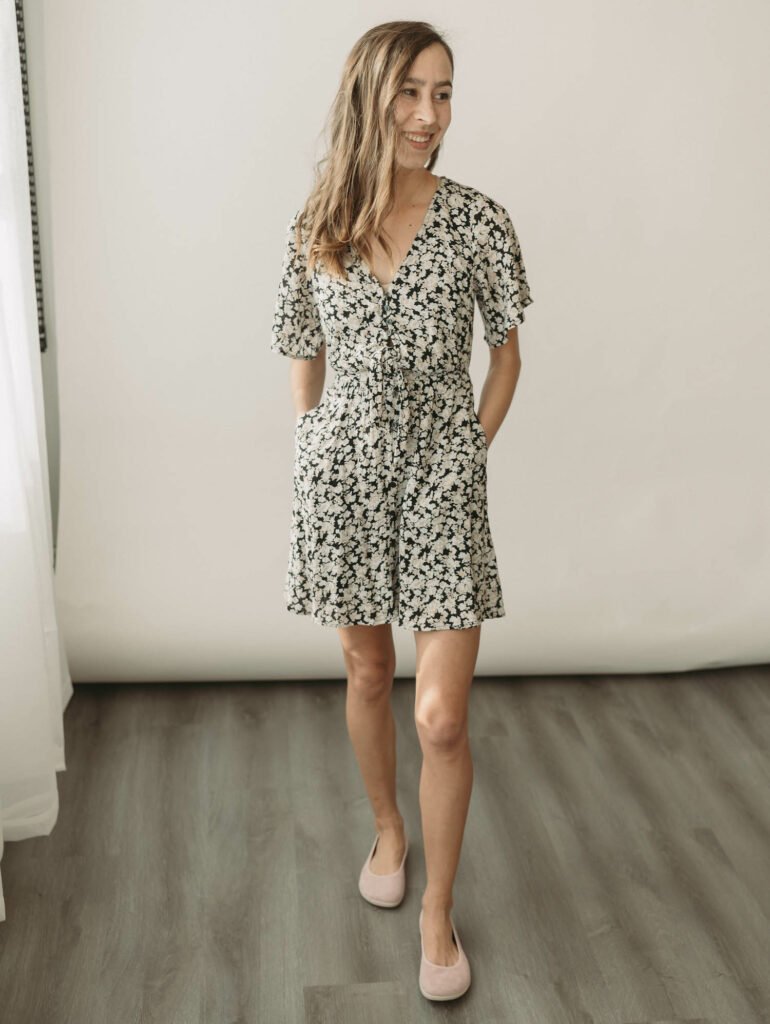 Sizing & Fit Type: Groundies ballet flats are true to size. In Barefoot fit are good for average or moderately wide feet, Barefoot + is great for extra wide feet.
Because ballet flats have no straps or adjustments they can be a little trickier to fit, so I keep moleskin on hand for any heel slipping!
Read my most recent Groundies review for more in-depth info on fit and picking a size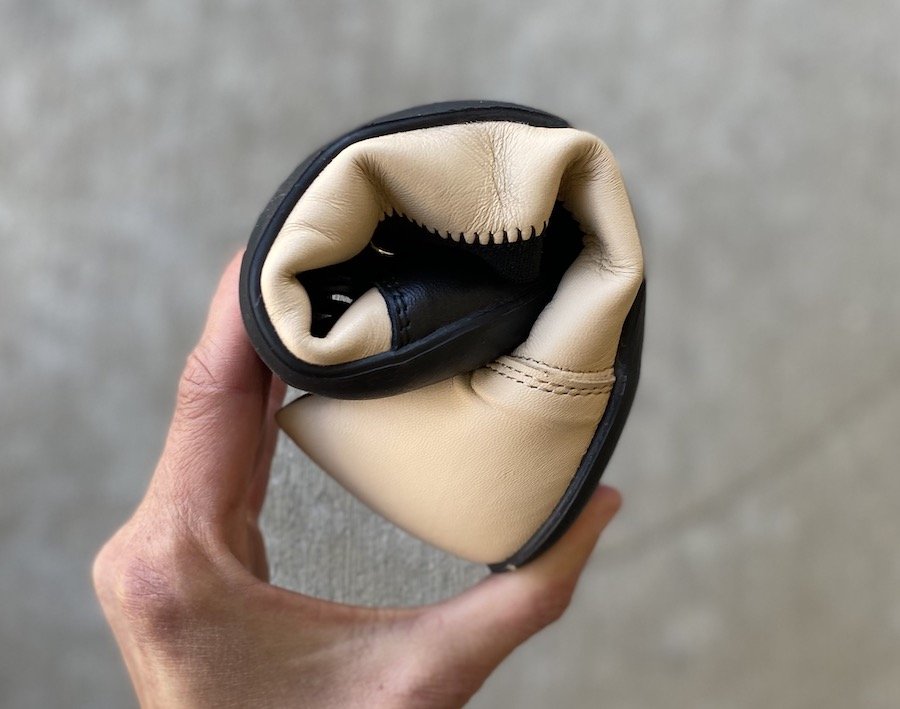 ---
Softstar Ballerine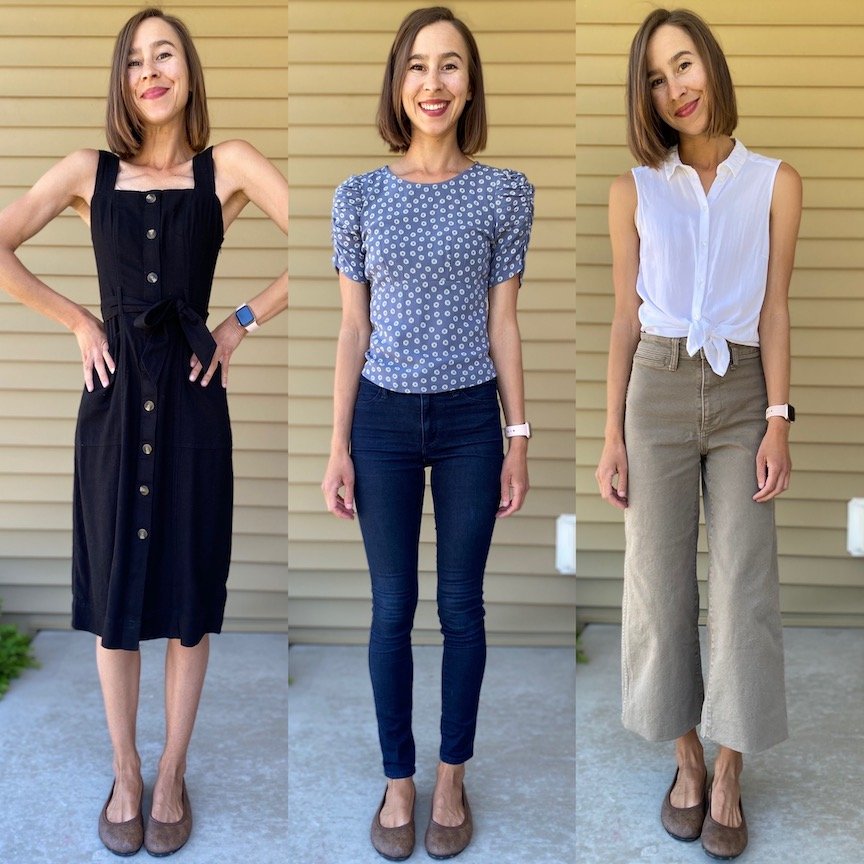 Leather | Grounding Option | Sizes 5U-12U | Available At:
What I Love About Them: For a little while I had a long-distance obsession with Tieks. I adored the bright colors and many options, but never kept any because they hurt my toes so badly! So when I saw that you can customize Softstar flats in 30+ different colors I did a happy dance – the look and quality of Tieks but no pinched toes!
They are all handmade with durable leather, and you can feel that they are sturdy. The sole is slightly cushioned, so if you are new to barefoot shoes or don't want a thin sole these are a good option. You can find the grounding option with a leather sole here.
Sizing & Fit Type: Softstar Ballerines come in Regular and Wide. I went with a Regular size 5U (equivalent to a US women's 6 or EU 36), not wanting to risk my heel slipping out of the wide width (you can see in the photo below that the Wide is wider throughout the shoe). Once again, even a regular fits my wide feet but I definitely needed to break them in first. However, if you have extra wide feet the Wide is a great option.
For in-depth sizing and fit info + a comparison of Regular and Wide, read my full Softstar Ballerine review.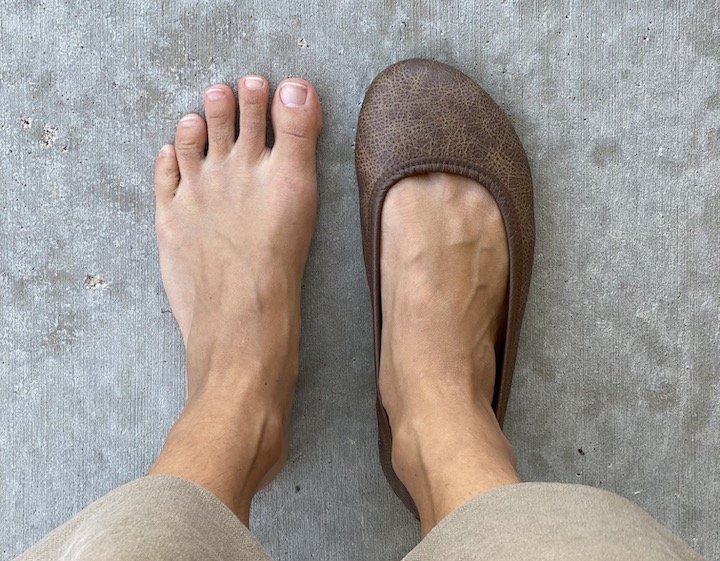 ---
Be Lenka Ballet Flats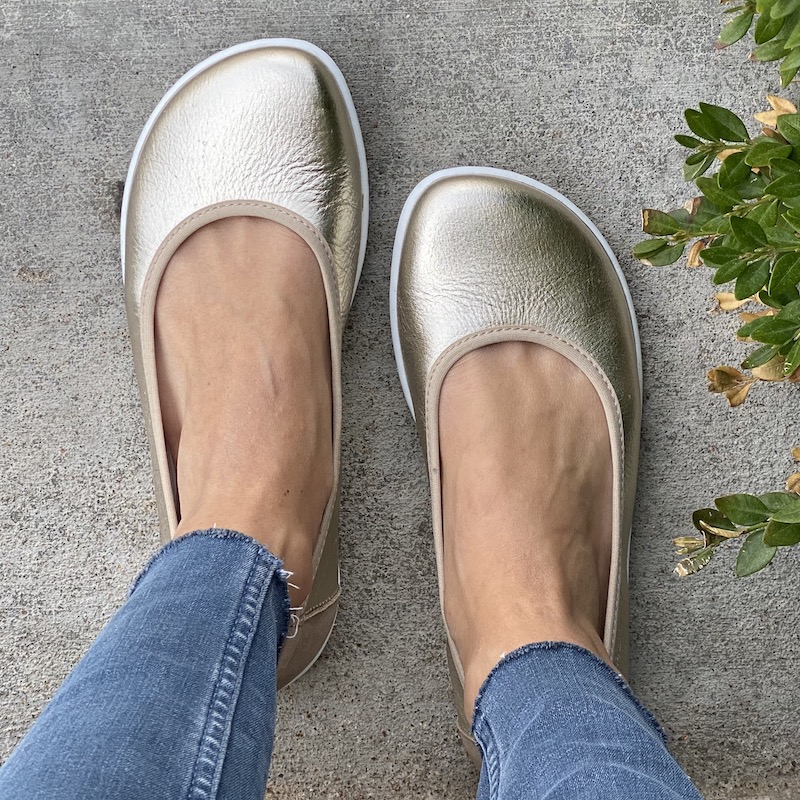 Leather | Sizes EU 36-43 | Available at:
Use code ANYASREVIEWS for 5% off from Be Lenka, or you can also find a selection of these in the Discounted Seconds portion of Anya's Shop.
What I Love About Them: Be Lenka ballet flats have a little bit more sole to them than other barefoot flats, so can be a good option for people on their feet all day. They are simple, but streamlined and classy and they work well just about any dressy or stylish outfit. You can also find classic oxford style shoes and some dressy boots that work for both men's and women's fancier outfits!
Sizing & Fit Type: Because these flats have a little more structure to them I found them to be slightly stiff at the beginning and then they break in. The sizing is true, and the ballet flats are best for medium width feet. Their dressy boots and oxfords fit wider than their flats.
---
Crupon Sandals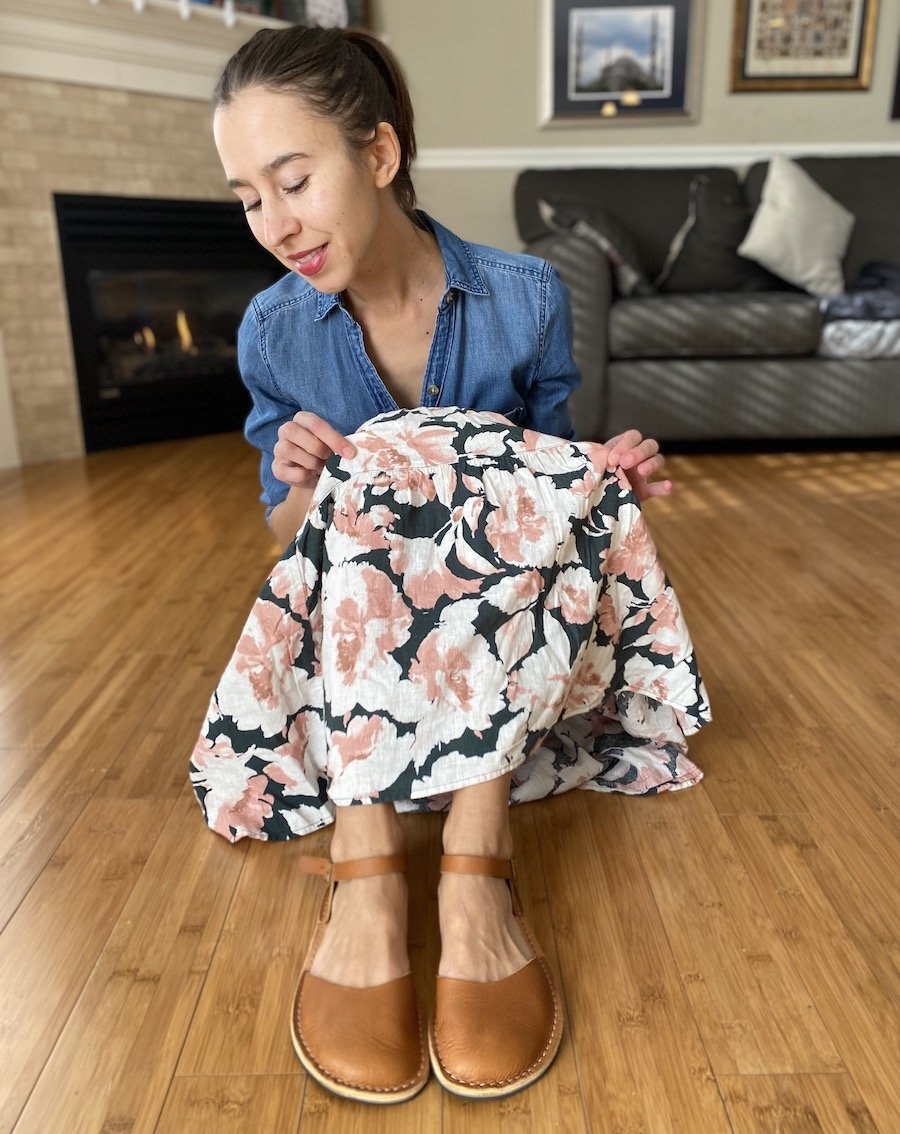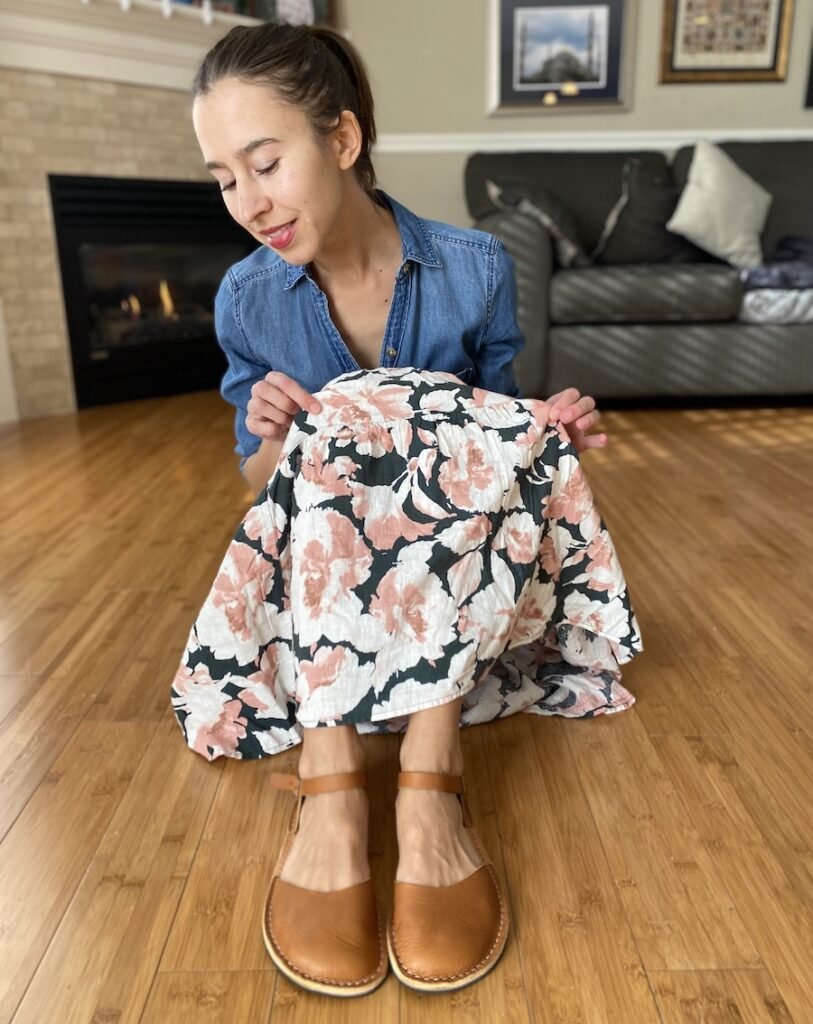 Leather | Sizes EU 35-41 | Available At:
Use code ANYA for 10% off your purchase
What I Love About Them: Crupon Sandals didn't use to make barefoot shoes, but I was so in love with their rustic handmade shoes I managed to convince them to try their hand at a wider, thinner version. It turned out to be such a hit among their customers that they now make barefoot versions of many of their beautiful flats and sandals.
I wouldn't wear them to a professional workplace, but I find that they pair beautifully with dresses and skirts for church, weddings, brunch, etc.
Sizing & Fit Type: Crupon's barefoot line fits wide feet well, but is probably not best for extra wide feet. They have a mountain shape to them and fit closely around the heel and ankle so they don't flop around. The Febo & Febo Cross fit high volume over the ball of the foot, and the others fit medium volume.
Read my full Crupon Sandals review for all the sizing/ordering details.
---
Xero Shoes Phoenix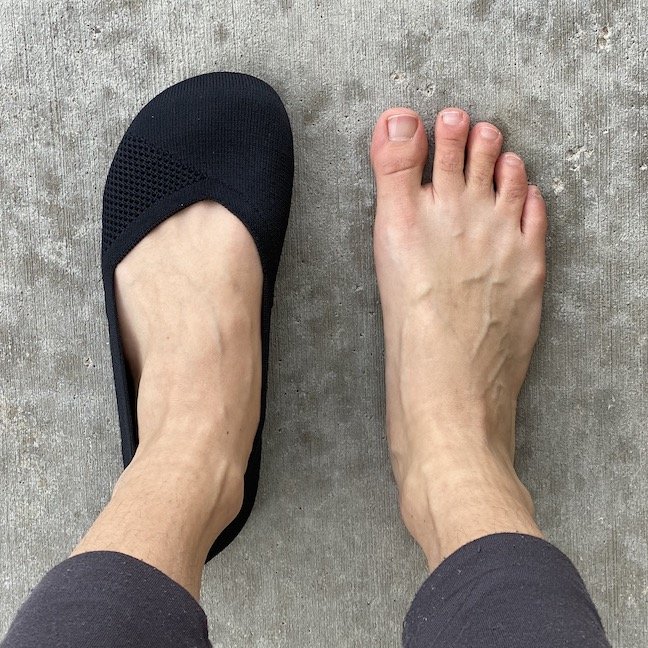 Knit Textile | Sizes US 5-11 | Available At:
What I Love About Them: These are the Little Black Flats that look chic and go with everything. I love a little toe box detail and the Phoenix has just the right amount of it to look classy while still allowing for a natural toe splay. The knit version is soft and stretchy, and the best part is they come in a bunch of different colors! Xero also has a leather version but I don't love it. It feels too narrow on my toes and too wide on my heel, and not nearly soft enough. If you have straight feet that are on the narrower side it could work. Otherwise, I recommend the knit. The sole is a medium thickness, so work well for people who want a bit of cushion.
Sizing & Fit Type: These flats run true to size, and they come with a removable insole if you have high volume feet. I got my usual size women's 6 (EU 36) and they stay on my foot well. But like most flats on my narrow heels, if I really get moving they want to flop off. The material does stretch a little over time, so if they feel a bit snug at first you should be good.
Read my in-depth Xero Phoenix review for all the details!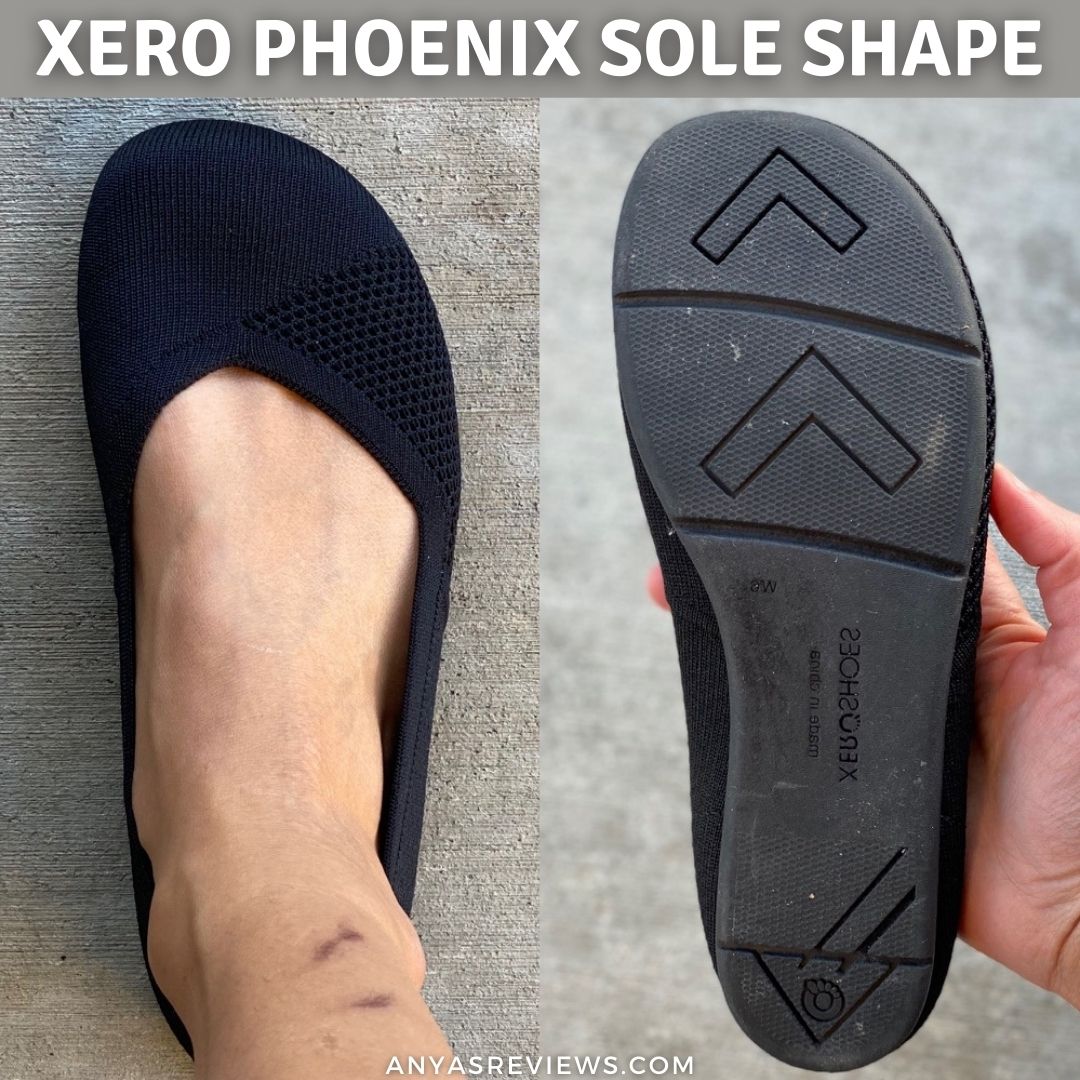 ---
Lisbeth Joe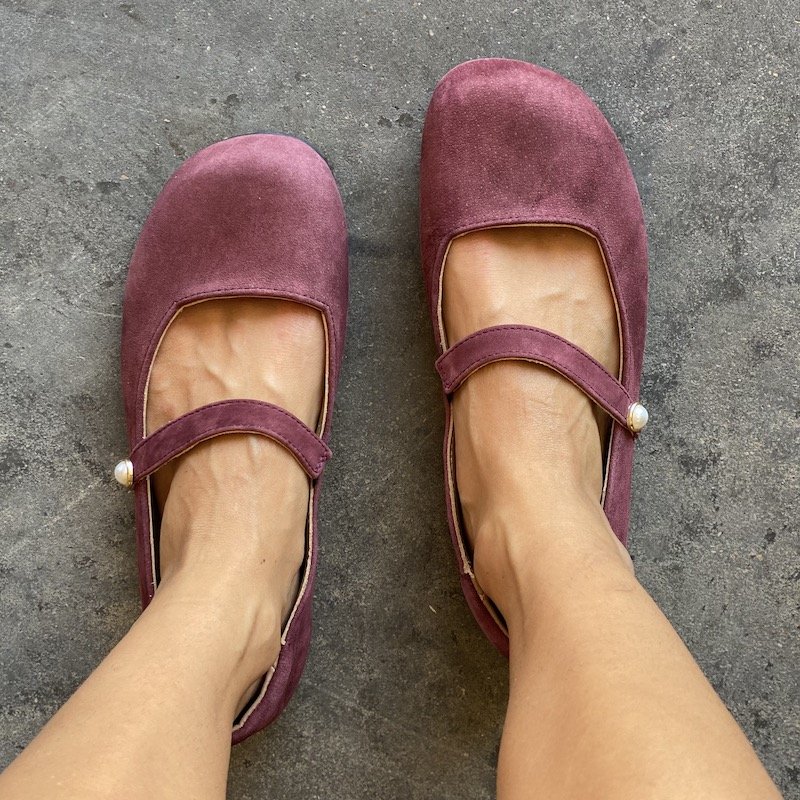 Leather | Sizes US Womens 5-12 | Available At:
Get 5% off with code ANYASREVIEWS
What I Love About Them: Lisbeth Joe is a US brand that focuses entirely on women's stylish and dressy barefoot shoe options. The Paris is an upscale mary jane with a scallop detail on the toe box and a decorative pearl clasp (it's really a bit of elastic there, so would be difficult for high volume feet to wear).
Another Lisbeth Joe Model I love is the Milan sandal. This one is made with satin fabric and leather insoles. Harare is another dressy women's barefoot shoe that just can't be beat. The scallop detail is perfect, and the color options are exactly what I want in a stylish shoe. I love it when a dressy barefoot ballet flat has an ankle strap, because they fit more securely while still looking classy. The taupe color is like nude for me, and they work for every day, date night, and even extra dressy occasions. They now also offer the Paris Mary Jane which is similar to the Harare but with a strap across the foot, and some lovely dressy sandals.
Sizing & Fit Type: I wear a 6.5 in the Paris, a 7 in the London loafer, and a 6 in the Milan sandal. So sizing depends on the model and it's a good idea to consult the size chart before ordering. The close toes shoes fit a little narrow on my toes but I've had good success stretching them out by stuffing the toe box with socks or tissue overnight.
Lisbeth Joe shoes tend to work best for high volume foot, so really aren't optimal for my low volume feet (the Paris being an exception). But I love them and make them work. Some people with extra wide high volume feet are able to size up for even more toe space.
Read this review for more info on the Lisbeth Joe brand.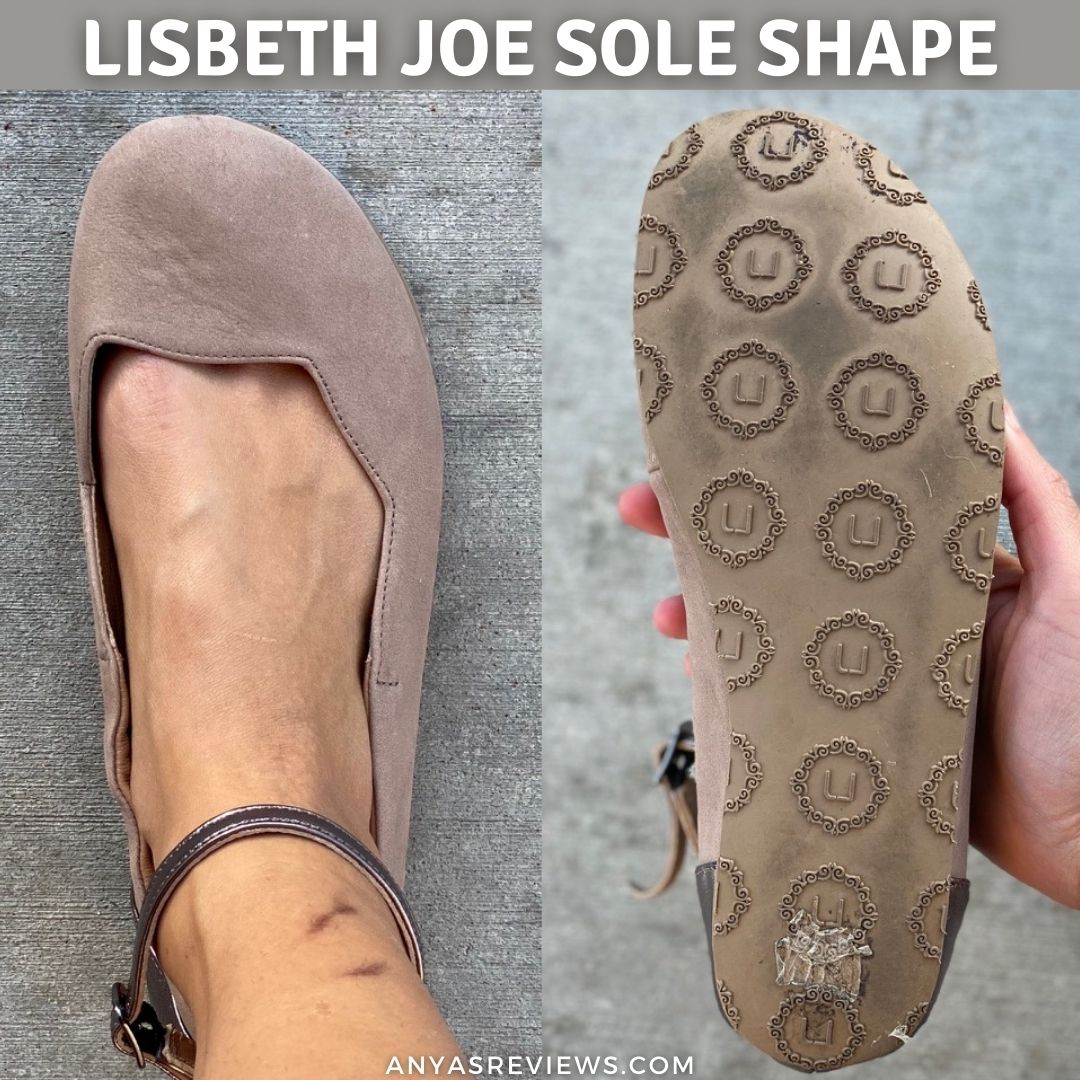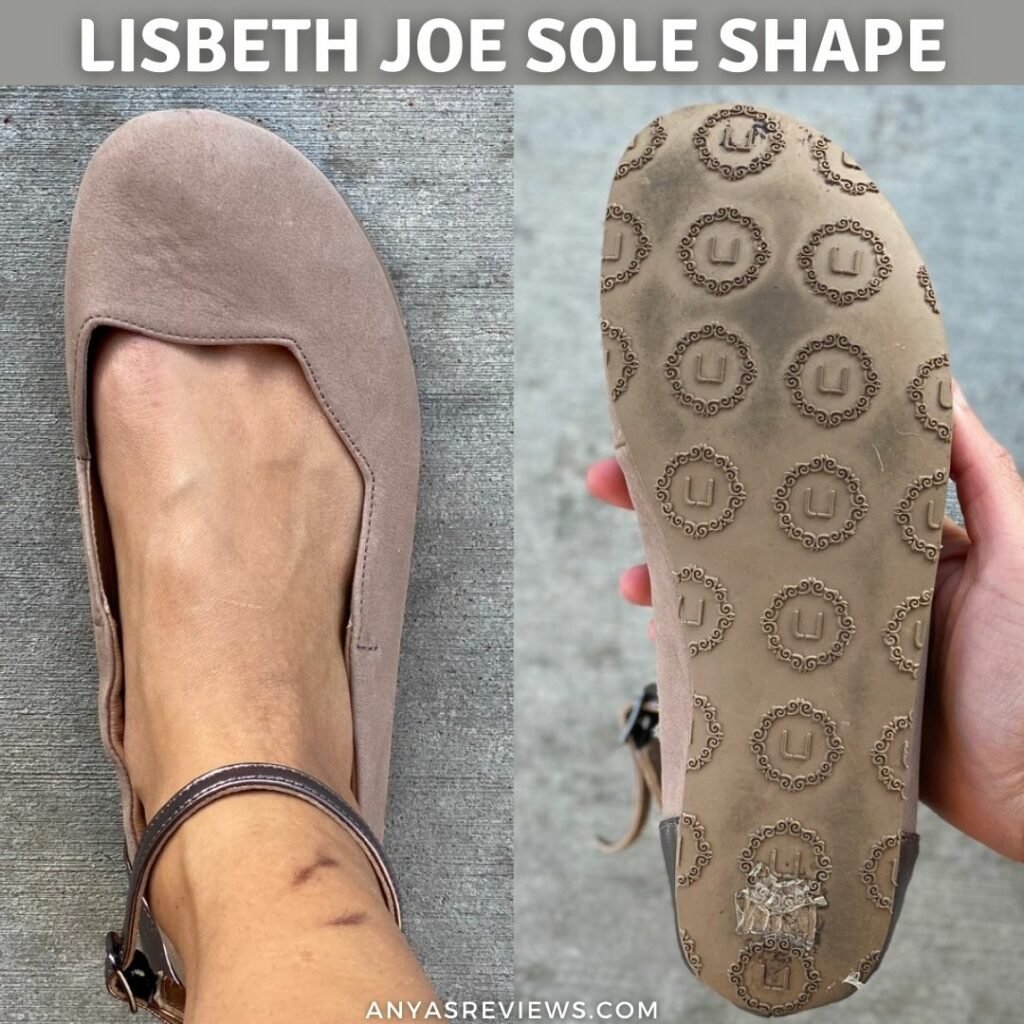 The Lisbeth Joe Harare you see above will be restocked in 2023.
---
Grecian Sandals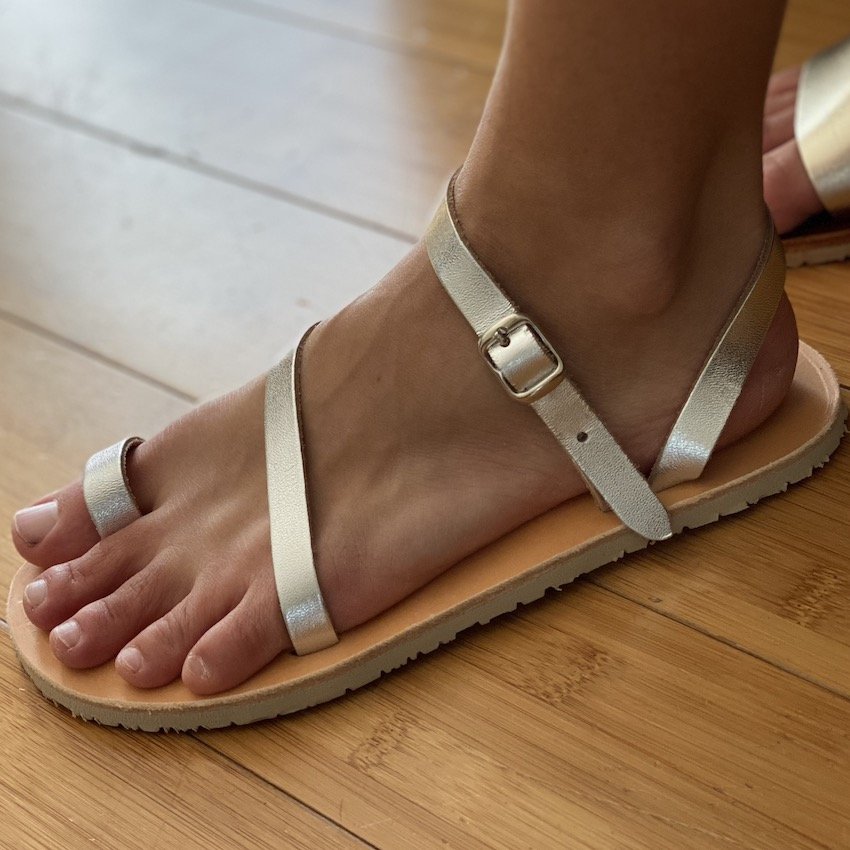 Leather | Sizes US Womens 4-12 | Available At:
What I Love About Them: Grecian Sandals are the perfect replacement for strappy heels. They are the dressiest barefoot sandals at the cheapest price! You can choose from a few different styles made with a flexible Vibram outsole and lots of color options. They were perfect for my sister's wedding last year and I just really enjoy wearing them. The metallic leather has help up well without scuffing and they continue to feel great and look beautiful.
If you go to the main Grecian Sandals Etsy page you'll see many more styles that you can request to be made zero drop, but the soles on those are stiffer than the Vibram sandals linked above. I have both, and I really prefer the flexibility of the Vibram sole. If you see a style you really love you can always ask Natasa if she can special make it for you on a Vibram sole.
Sizing & Fit Type: Grecian sandals fit average to wide feet. I am wearing mine in a women's 6 and I consider them to be true to size. The ankle portion tends to fit higher volume feet best, but Natasa can add more buckle holes and adjust the strap length according to your foot type (leave a note for her at checkout with your request). Because I have a wide forefoot I asked for a wider strap on this sandal model and it worked out perfectly for me.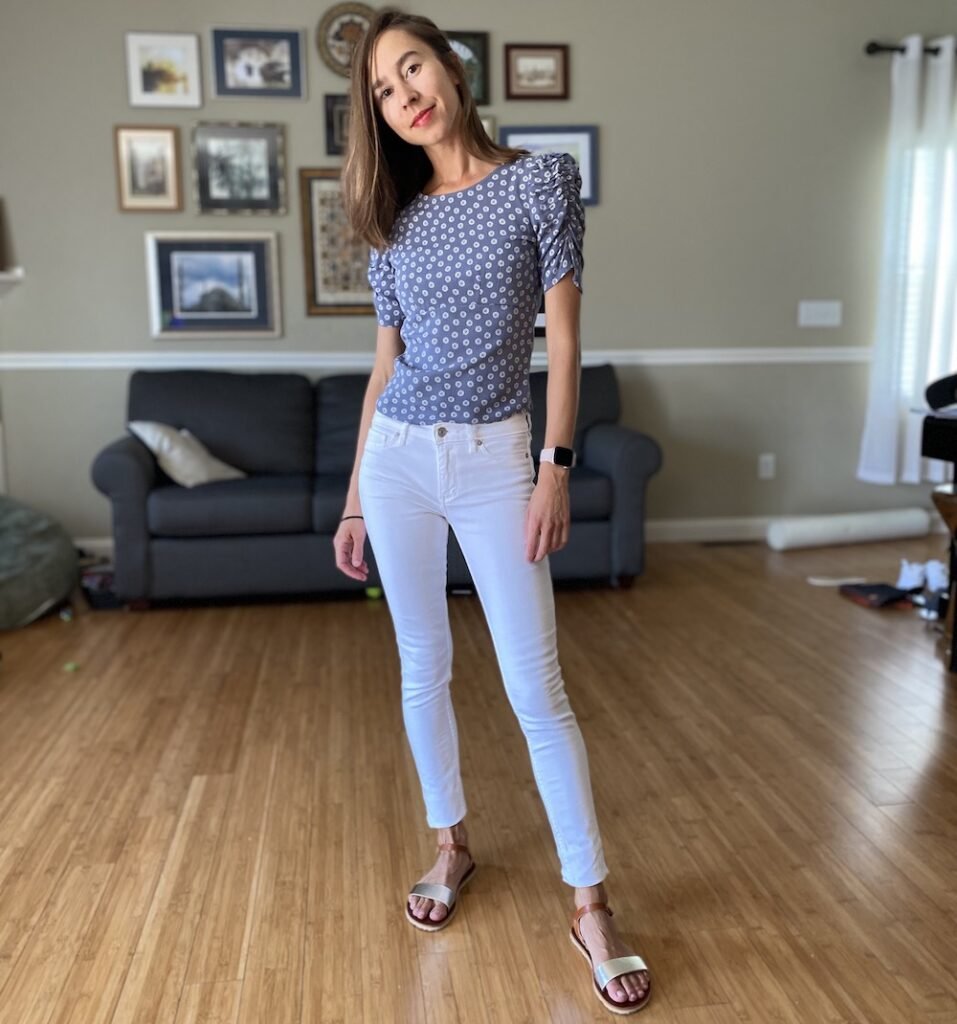 ---
Vivobarefoot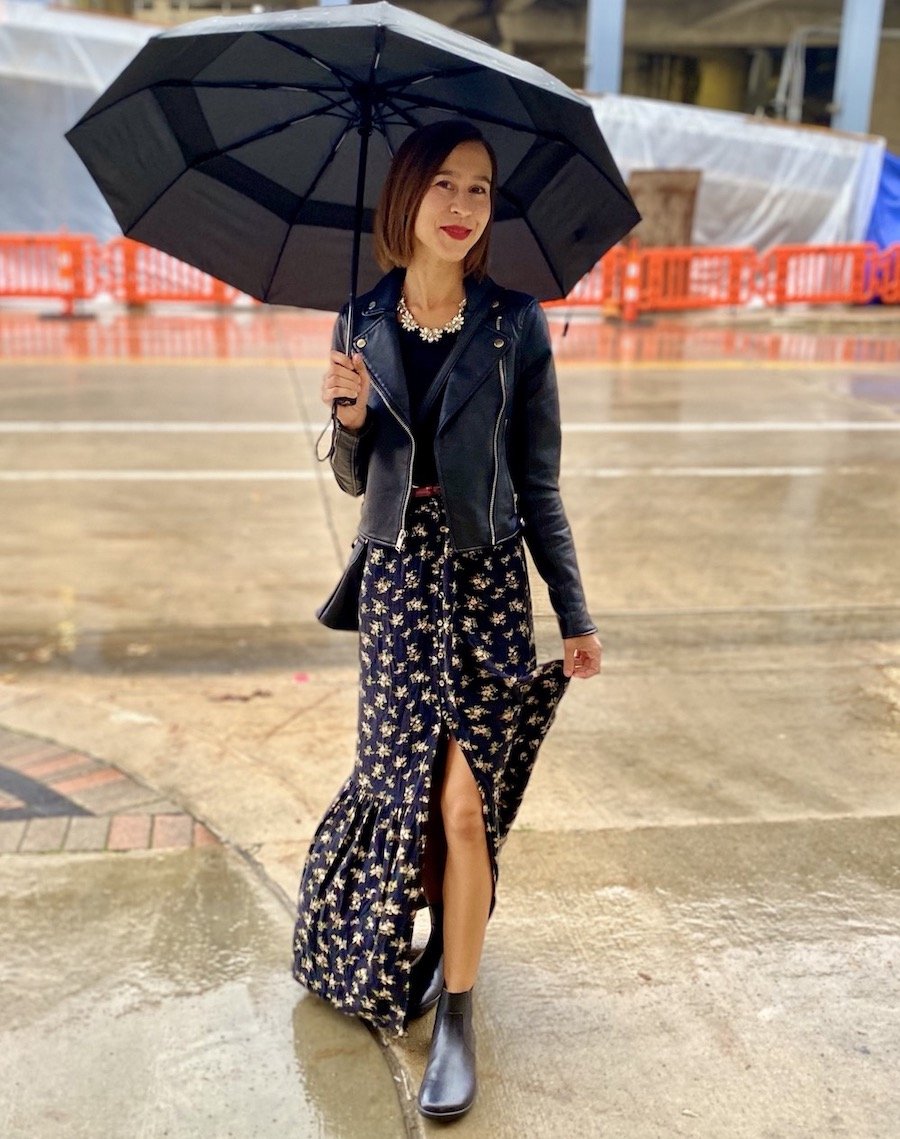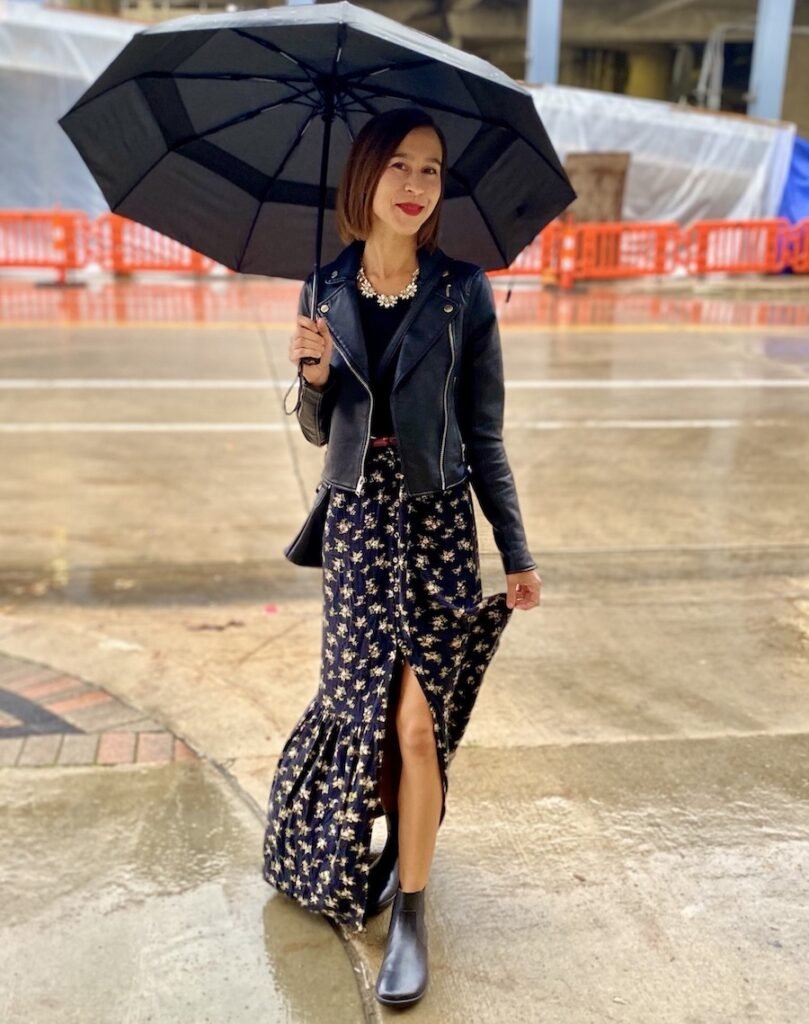 Leather | Sizes EU 35-43 | Available At:
Gets 10% off with code VBANYA10
What I Love About Them: In the past Vivobarefoot was hit or miss with women's dress shoes, but lately they've been really hitting the mark. You can now find several classic staples that don't detract from your killer outfit, regardless of what your style preference is.
My personal favorite is the Chelsea boot – It has a sleek, close fit that makes them one of the best dressy barefoot boots. I find they look great with most of my outfits and they're really comfortable too! I also love the Opanka loafer, the Ryder boot, and the Gobi Hi lace up. You can find a range of sleek dress shoe options that work with dresses, slacks, skinny jeans, leggings, you name it.
The biggest downside to the Vivobarefoot boot line is that they aren't available year round. So if you're reading this in the spring or summer, be sure to check out my full list of barefoot chelsea boots for more options.
Sizing & Fit Type: Vivobarefoot generally fits true to size and medium width, but you can size up if you want a little more width. The Geo Chelsea, Ryder, and Opanka slip-on have a low volume fit, so aren't ideal for high volume feet. The Gobi and Ra work much better for high volume feet because of the laces.
If you have extra wide, thick feet this might not be the best brand for you.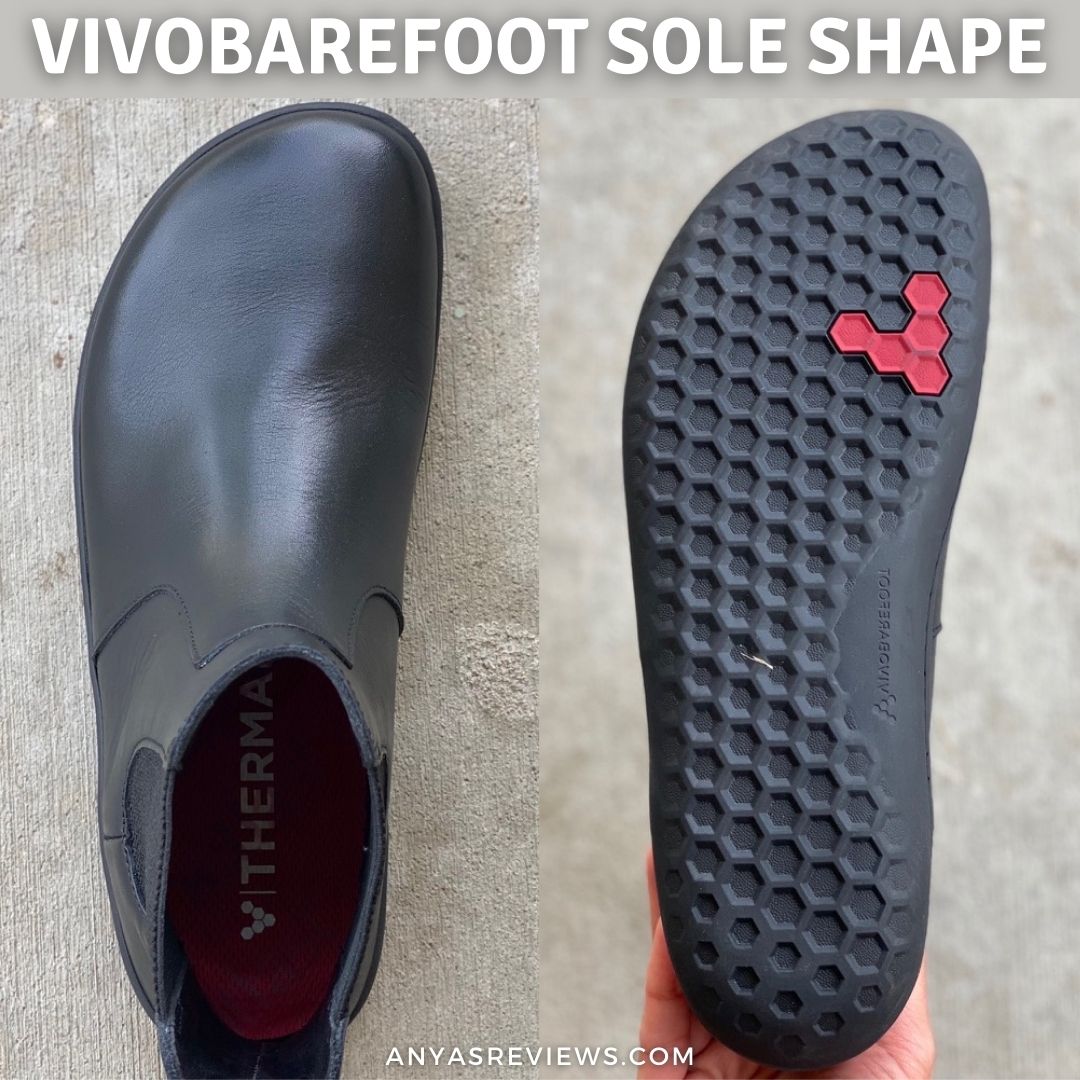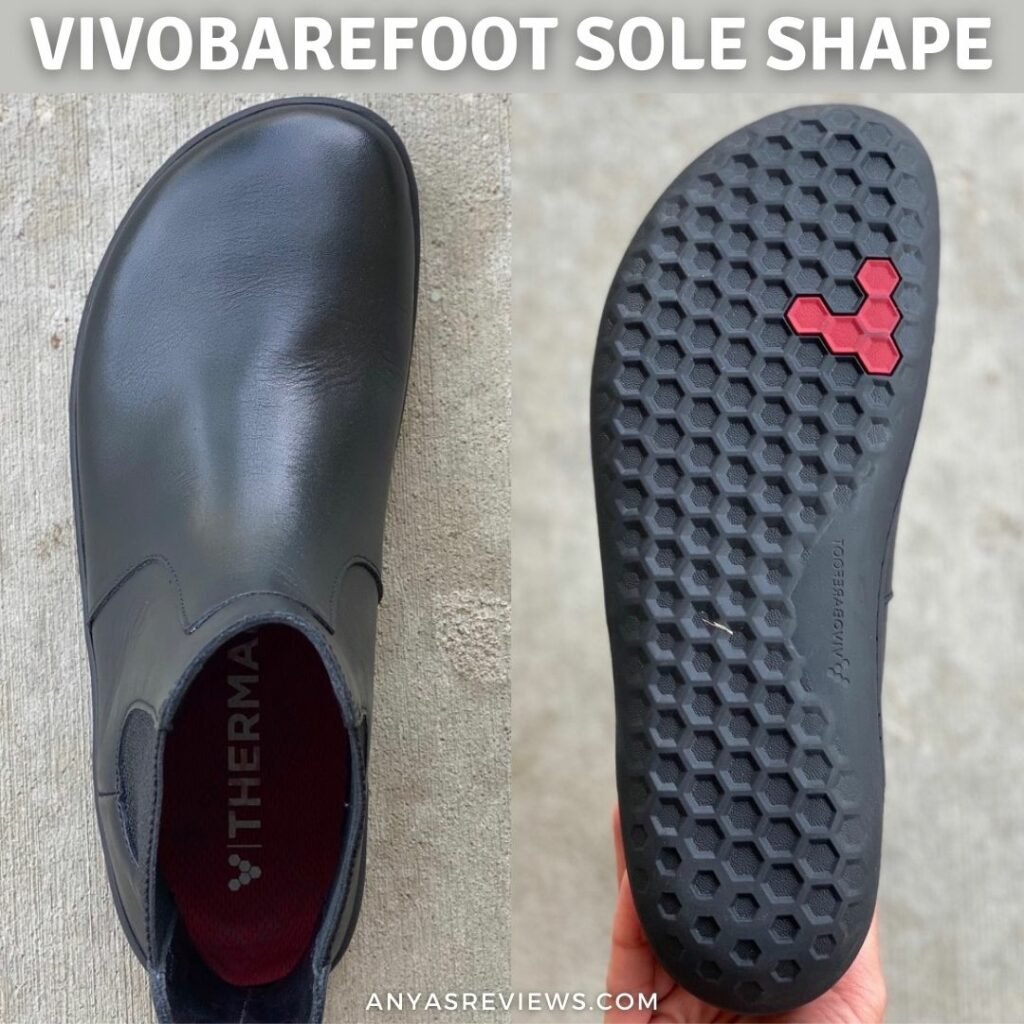 ---
Runner Ups
Here are a few more lovely barefoot dress shoes that might be exactly what you are looking for!
Zaqq Barefoot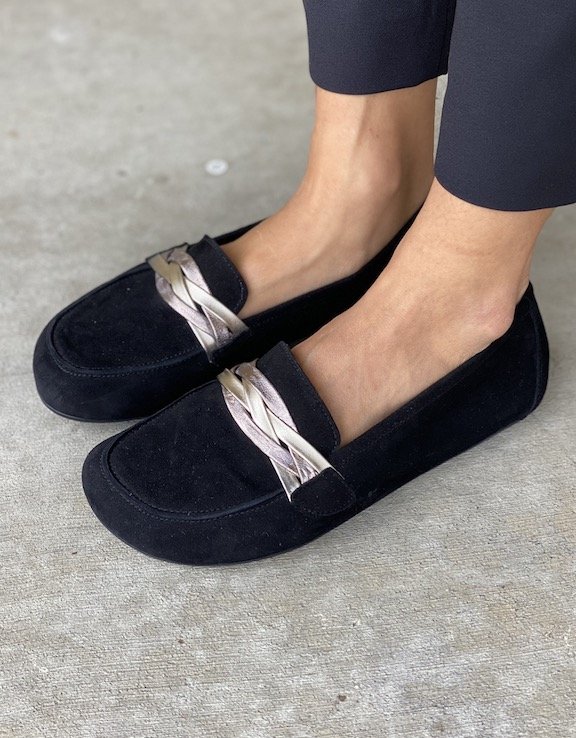 Leather | Sizes EU 37-48 | Available At:
We also carry the Riquet at Anya's Shop whenever we can, but they don't stay in stock for long.
What I Love About Them: Zaqq carries a dizzying amount of beautiful women's dress shoes, but my two favorites are the Qerp Loafer and the Riquet boot. The fit and comfort on both is just perfection, and I find they are so versatile to wear. Plus they are styles you don't find anywhere else.
But Zaqq can be a little harder to order from because the website is geared toward German customers and their customer service is slow to respond. But these two shoes have worked out so well for me I had to include them. And many others are loving their other beautiful styles as well.
The Qerp is the perfect classic loafer with a velvety suede and metallic braided strap. The Riquet is simple, but sleek and the buckle gives them a sexy edge. Both have lasted for years and still look beautiful.
Sizing & Fit Type: Zaqq Barefoot shoes are medium width – a little wider than brands like Vivobarefoot and Xero. They fit true to size and medium volume. That means I can fit an insole inside both shoes to get a more secure fit.
Zaqq sandals tend to fit rather high volume, so be aware of that if you have shallow feet.
Read this full Zaqq Barefoot brand review for more details.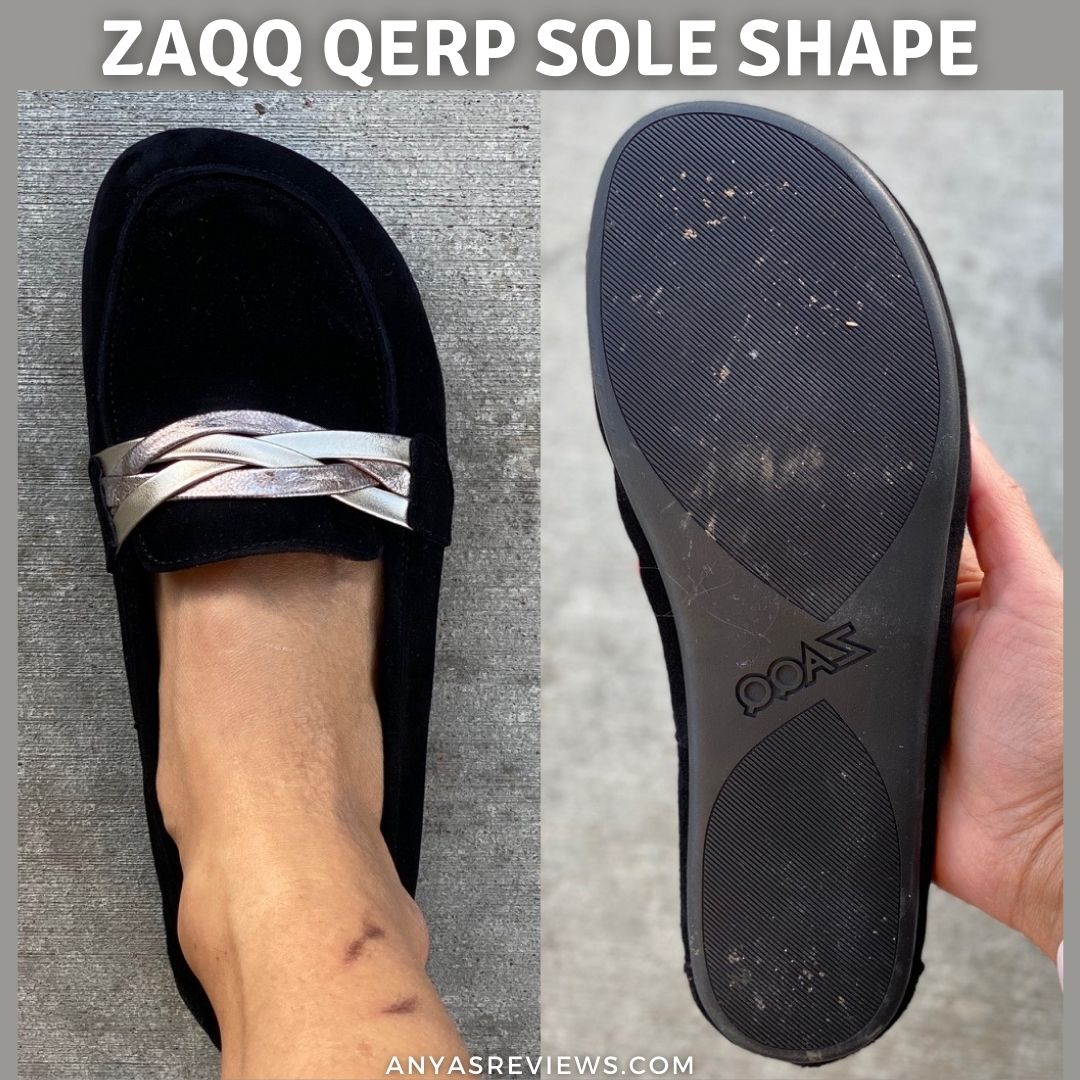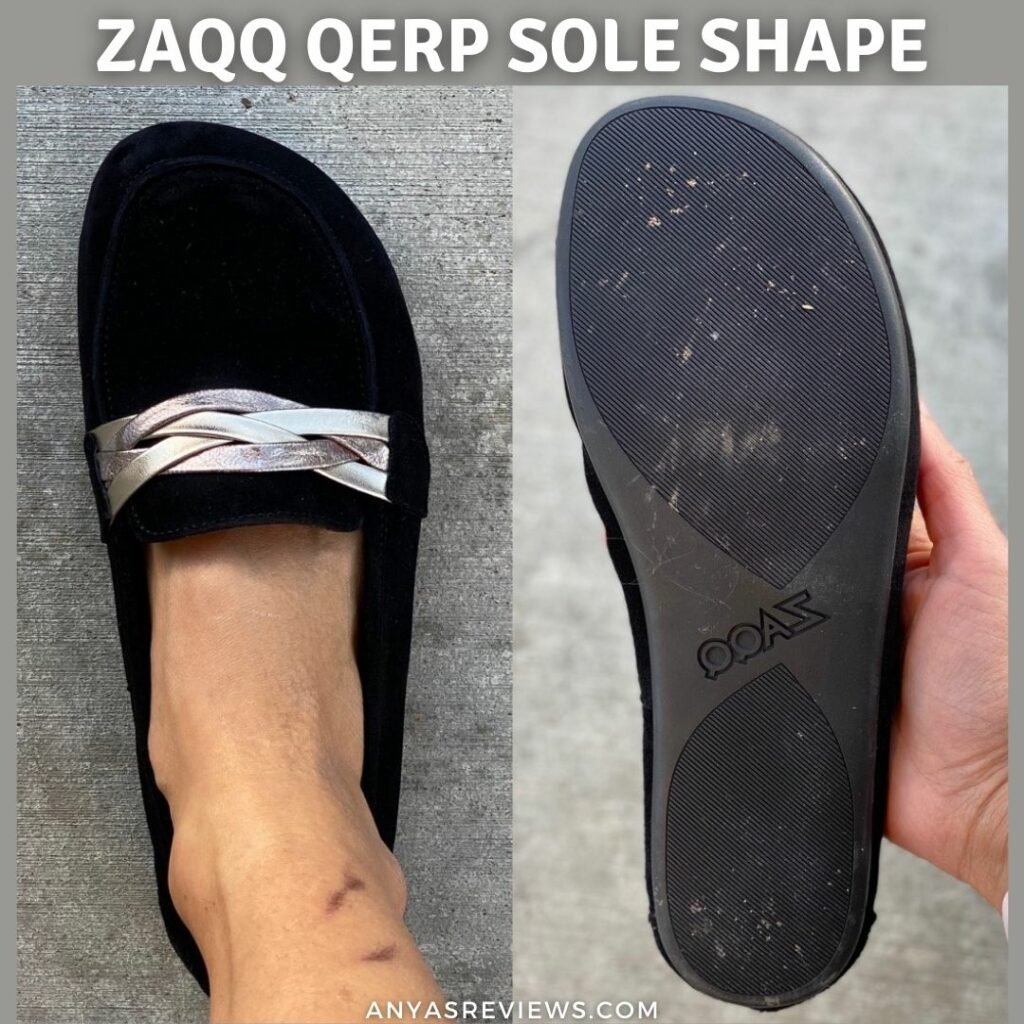 ---
FeelBarefoot Oxfords & Brogues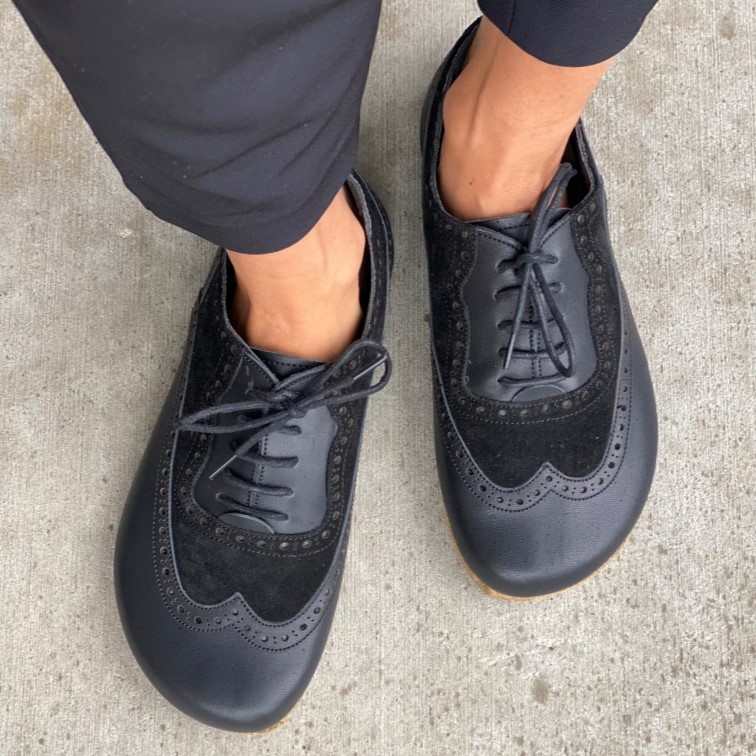 Leather | Sizes EU 34-50 | Available at:
Use code ANYASREVIEWS35 for 35% off
What I Love About Them: These are one of the cheapest places you can find dressy barefoot oxfords and brogues, and you can order them in tons of different colors. They are beautiful and they wear well, and are reparable as needed. In particular the brogue style is beautifully done.
Sizing & Fit Type: These oxfords fit a little bit small in my opinion, and are high volume. They gape around my thin ankles and they fit me best with a tongue pad.
Read my FeelBarefoot review for the full details!
---
Gea Soles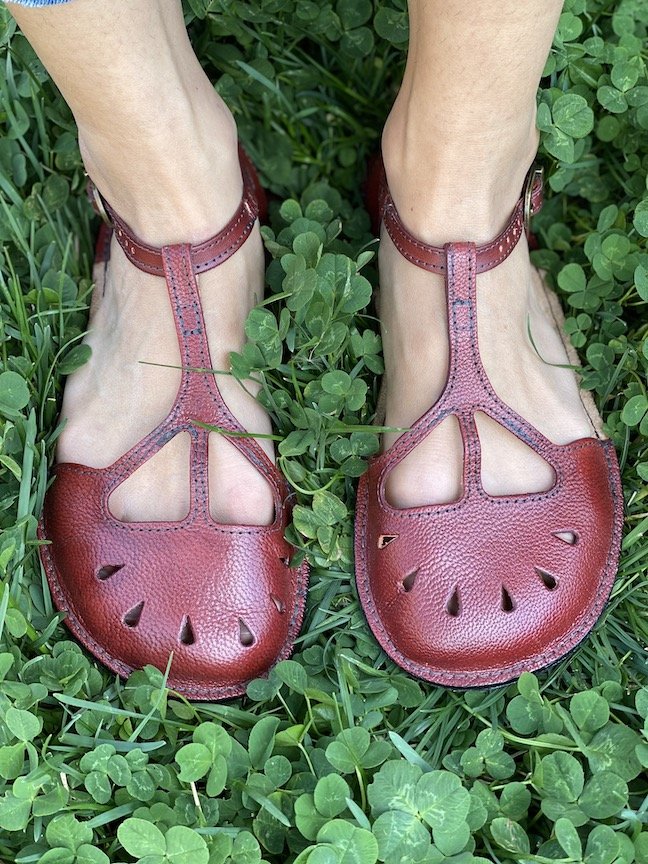 Gea Soles Flats | Leather | Grounding Option | Custom Made | Available At:
What I Love About Them: Gea Soles Yrsa and Tarian flats have a rustic old world feel to them. The detailing on them disguises the width, and you can choose from a variety of rich naturally dyed leathers. I am always so comfortable in my Gea Soles flats, and they give my outfit that unique touch. They are not as fancy as other options, but I love pairing them with flowy dresses and wide leg pants. I have one pair with a rubber sole and one with a super minimal leather outsole. I love both!
Sizing & Fit Type: Each pair is custom made, so you don't need to pick a size. But you should familiarize yourself with how to measure your feet. It can feel intimidating to order custom shoes, but if you take your time and communicate clearly you should have success. Esther tends to make her shoes roomy, so expect lots of toe space.
Read my full Gea Soles review for more info on ordering!
---
Zlatush T-Strap Flat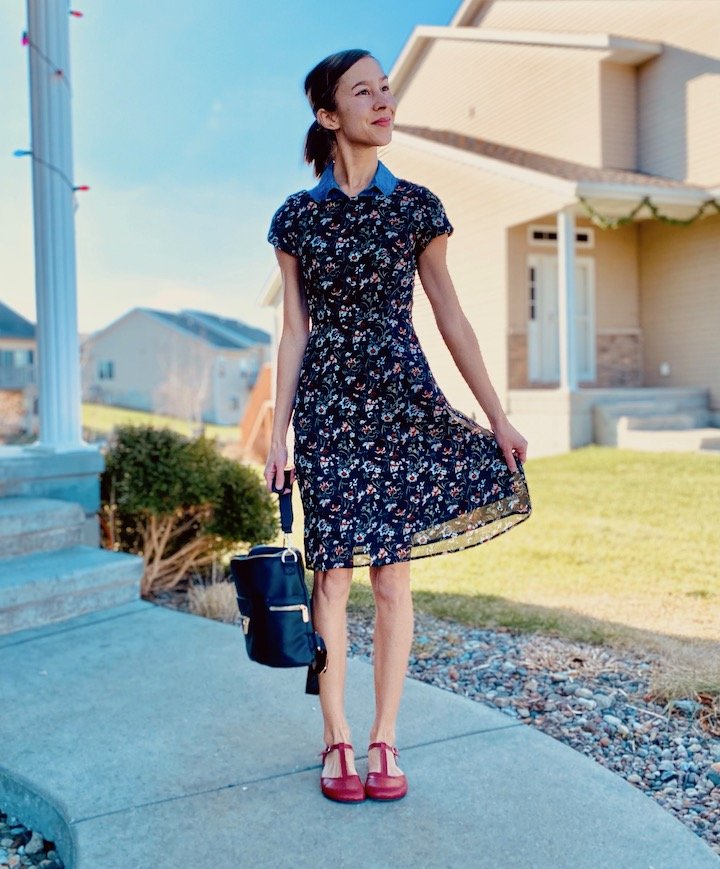 Leather | Grounding & Custom Option | Sizes EU 36-45 | Available At:
What I Love About Them: This vintage style of flat cannot be found anywhere else in a natural shape. They are buttery soft and very wide in the toe box. Plus, you can choose from a bajillion different color options! I have bought two pairs of shoes from Zlatica and can vouch for her as a shoemaker, but the process of ordering can feel intimidating. You communicate with her by e-mail and your order is placed in a queue. Once she gets to yours, you pay for it, she makes it, and then sends them on to you! I chose a ready made style, but you can also do a custom order.
Sizing & Fit Type: Zlatica is accustomed to adding plenty of space in her shoes and I find they run on the big side. I have one pair in a size 36 that is roomy, and another in a 35 that is glove-like. For this style of shoe I prefer the smaller size. I also gave her my instep measurement to make sure that she made the ankle strap small enough since I have shallow feet. The toe box has a lot of height as well.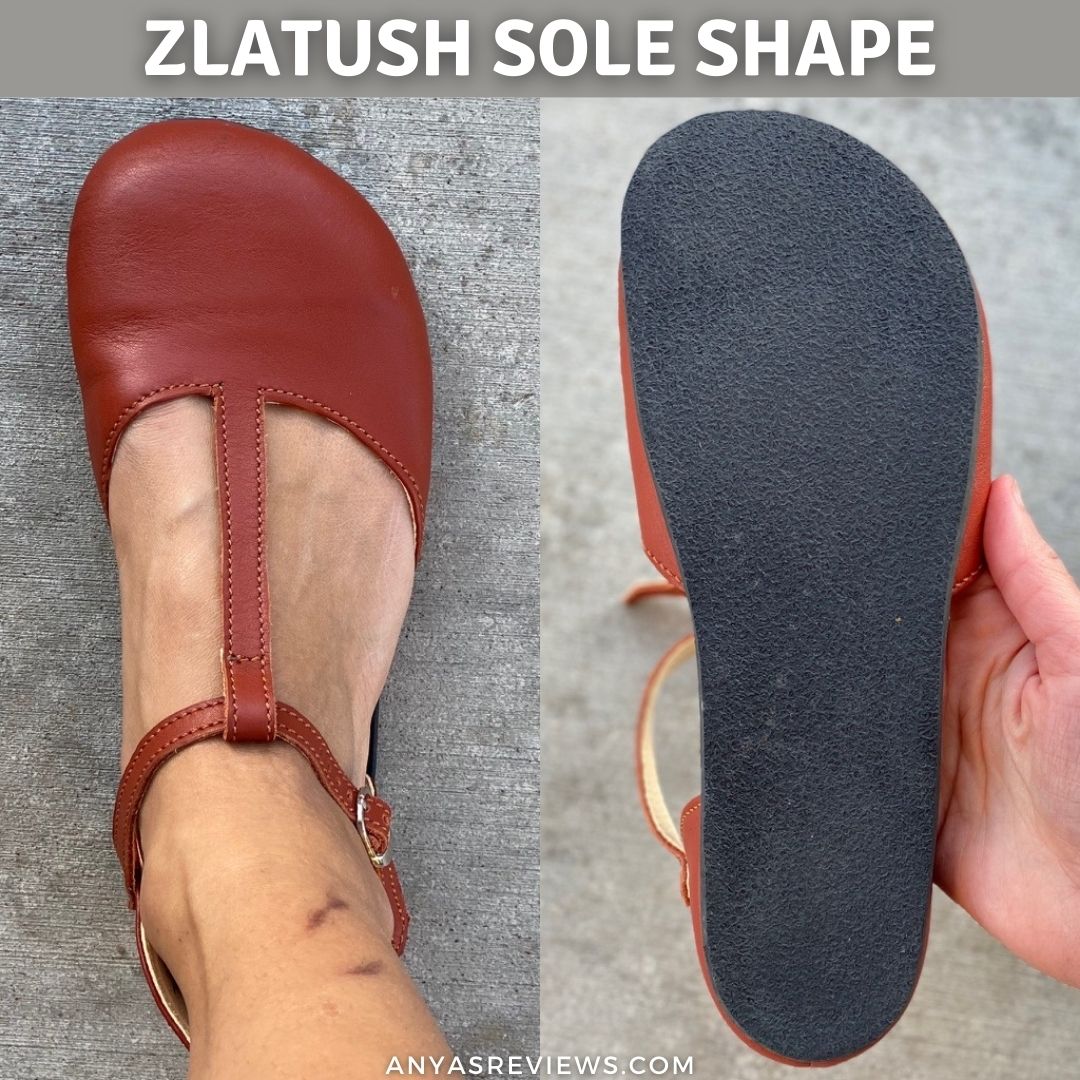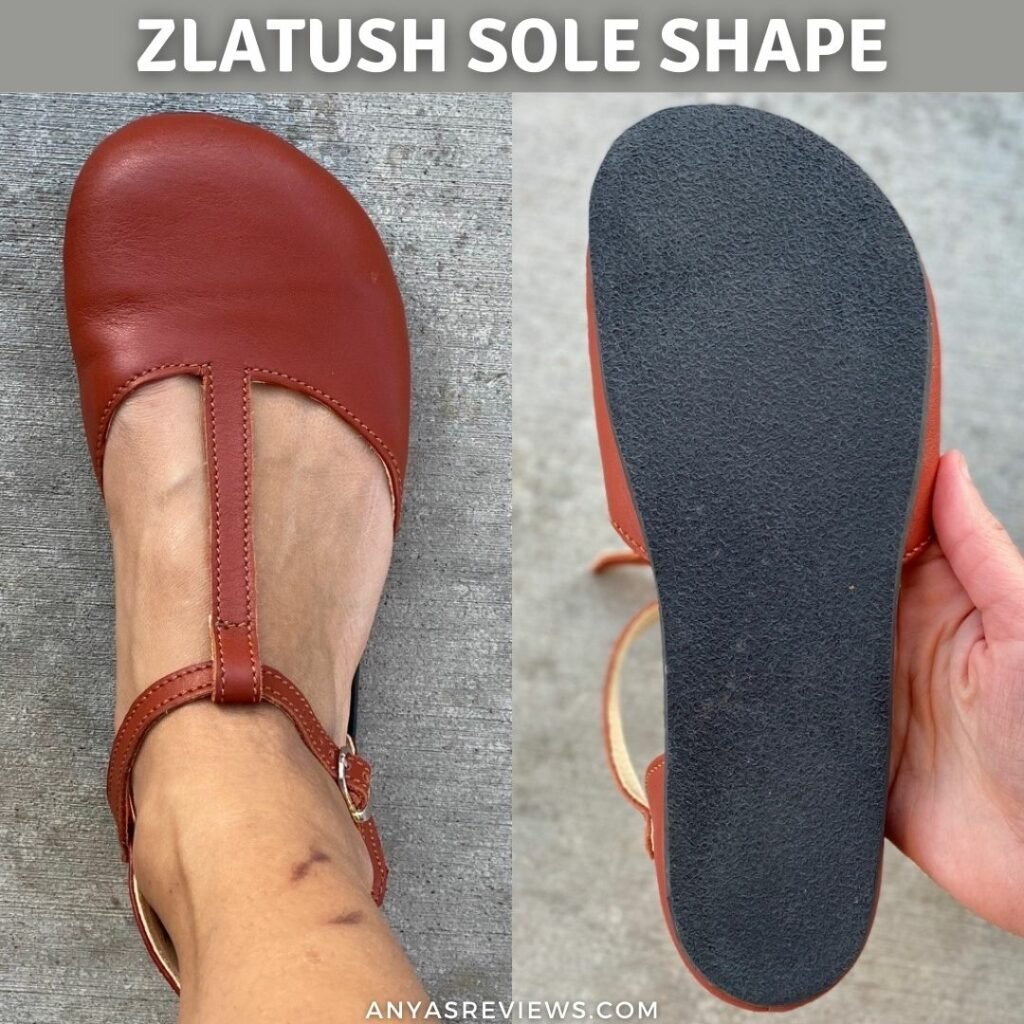 ---
The Best Barefoot Dress Shoes For Narrow Feet
Here are a few adorable barefoot dress shoe options I've found for narrow feet! If you have trouble with barefoot dress shoes being too wide for you, this is the list for you.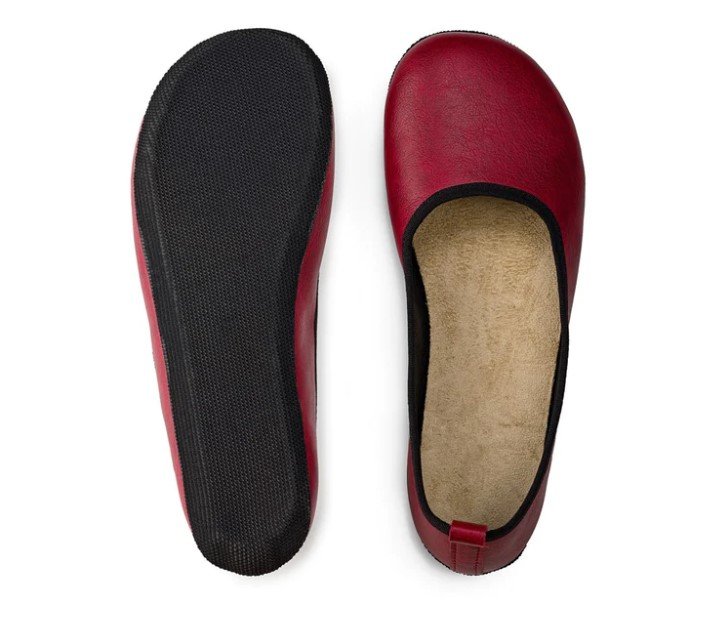 Ahinsa – You can find narrow and extra narrow widths from this vegan brand. Use code ANYASREVIEWS for 10% off
---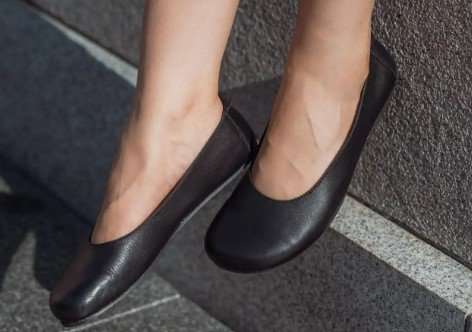 Angles Fashion – Ballet flats marked as "slim" are suitable for narrow feet, but still have a foot shaped toe box. Use code ANYA for 5% off
---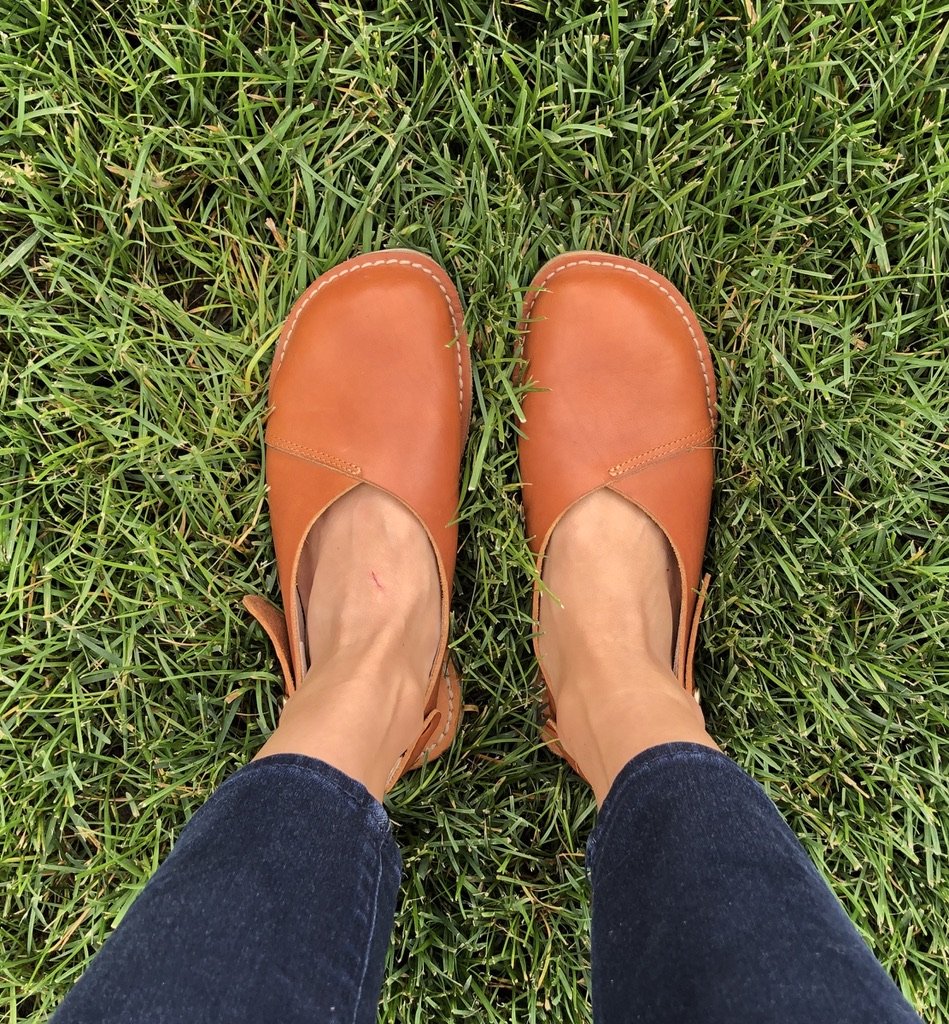 Crupon Sandals – Use code ANYA for 10% off! The Barefoot line has a wide toe box, but the rest fit a narrower foot. Make sure you select the no heel option.
---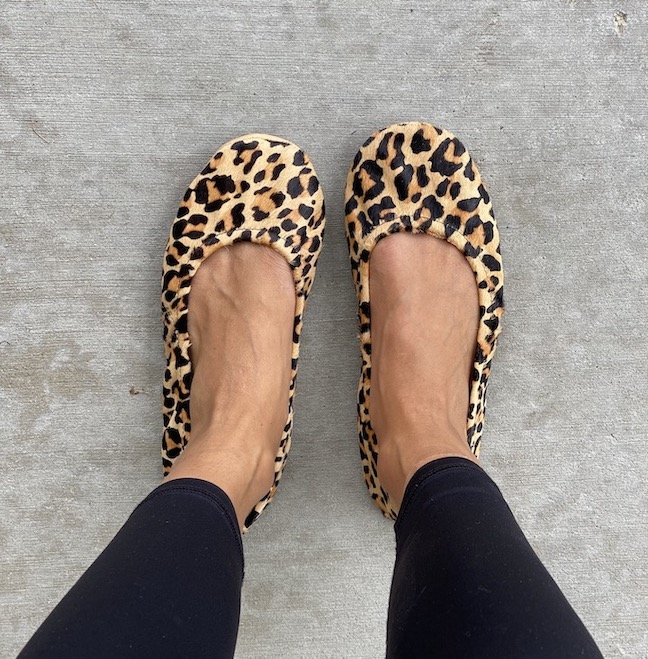 ---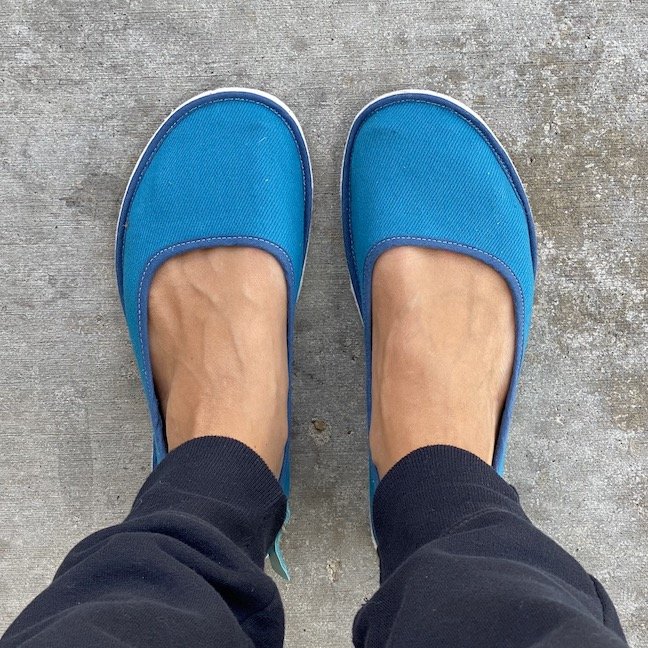 Ursanina – You can have these custom made to your measurements, but the seller tends to make them on the narrow side regardless.
---
The Best Barefoot Dress Shoes for Wide Feet
Got primal toes? Here you can find the widest women's barefoot dress shoes that I've encountered. Oh, and don't forget the Shapen flats and Softstar Ballerines in wide that I reviewed above!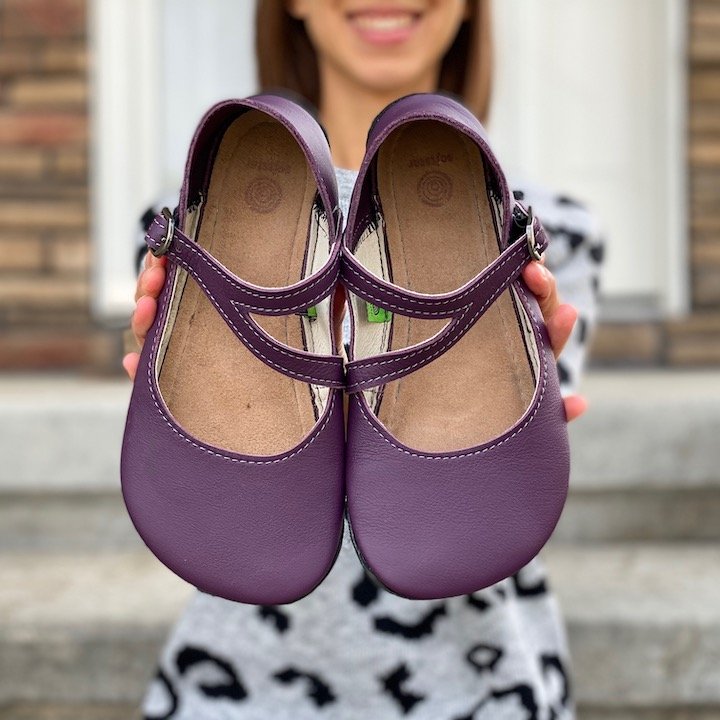 ---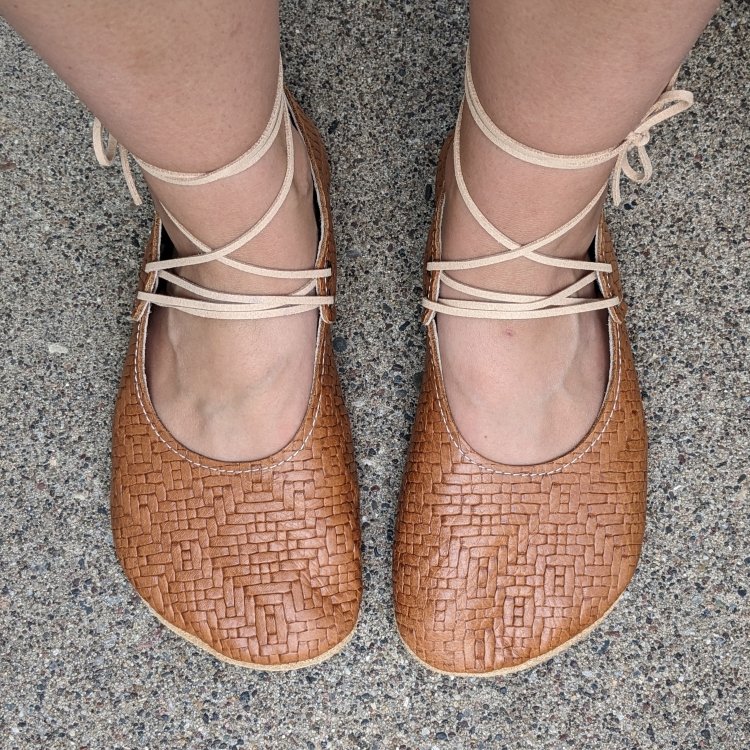 Everleigh Meadow – These handmade leather shoes come in 3 different widths with a very detailed size chart to help you choose the best fit for you. Use code ANYASREVIEWS for 10% off. Read the review here.
---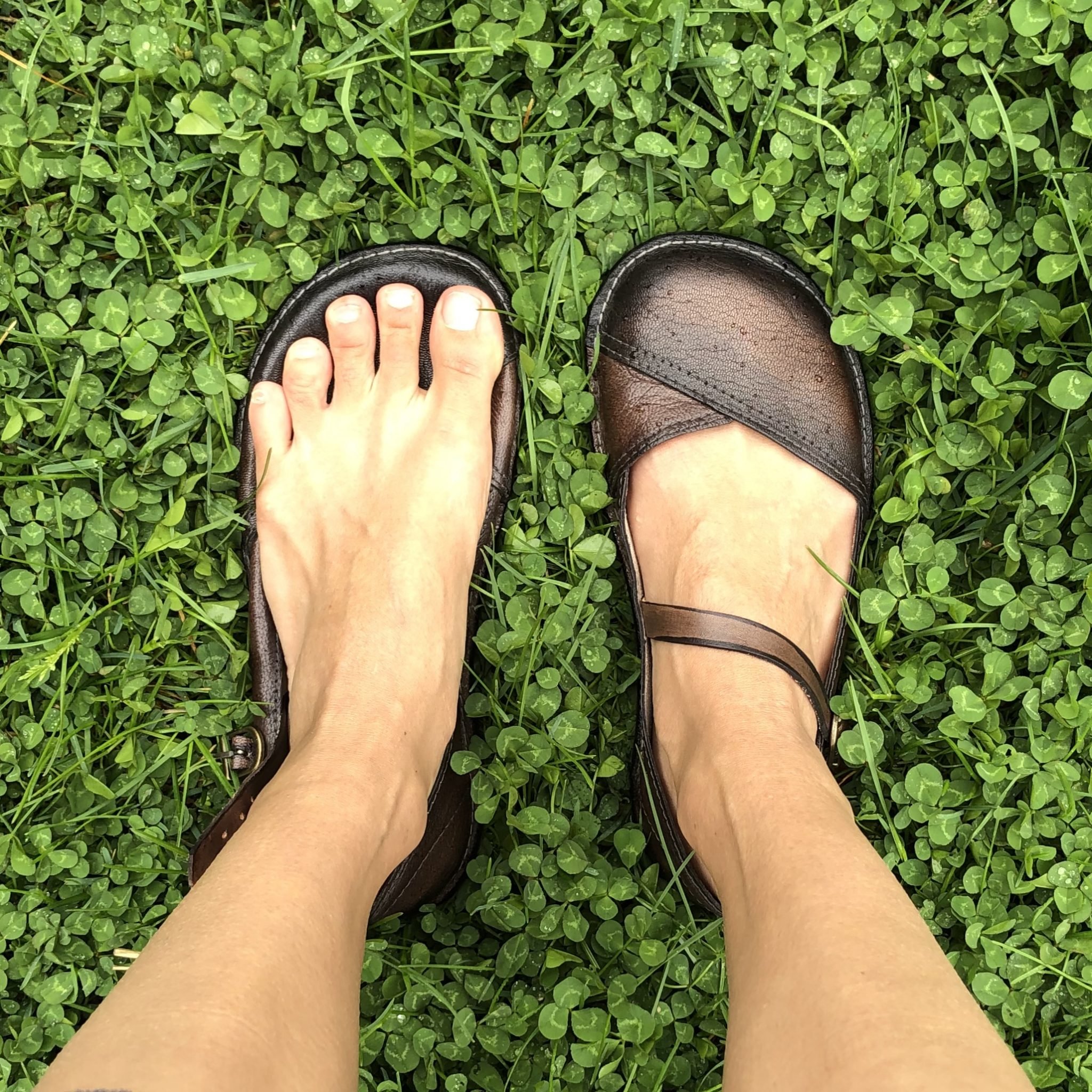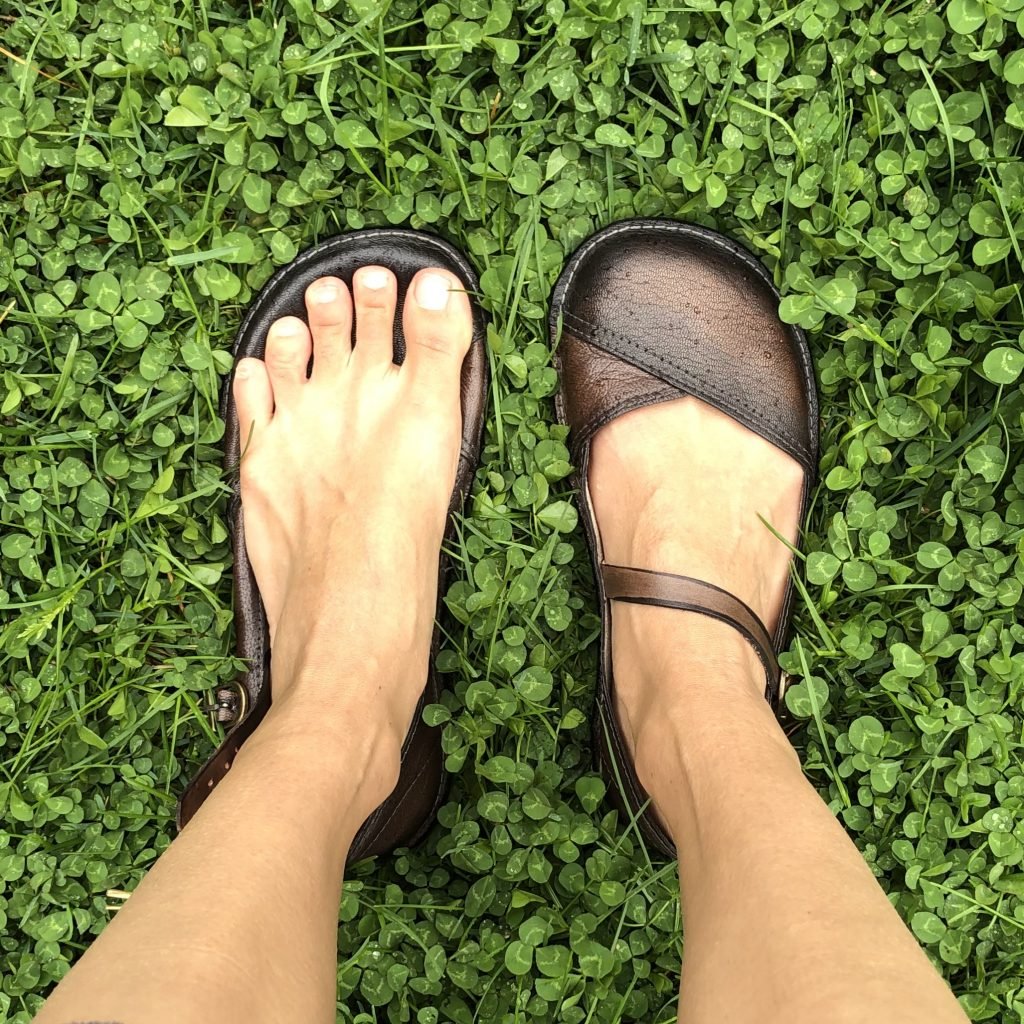 Gea Soles – Each pair is custom made, and the seller leaves plenty of toe space.
---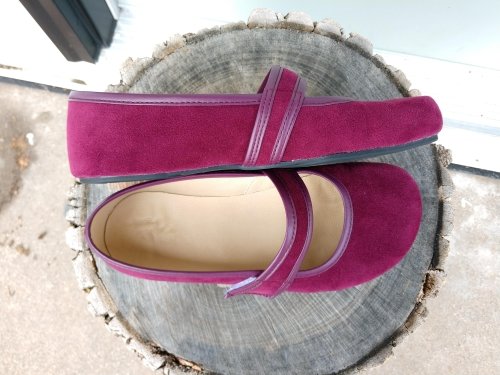 ---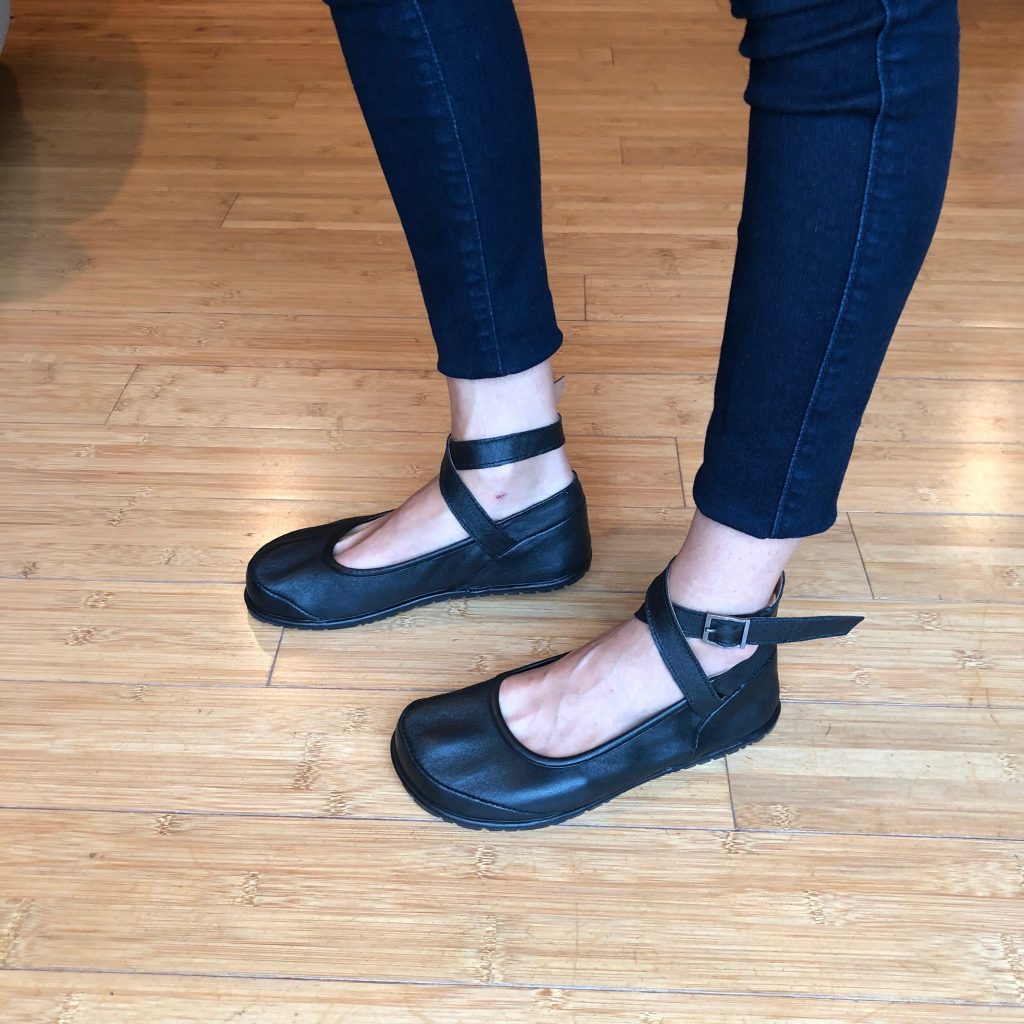 ---
Vegan Barefoot Dress Shoes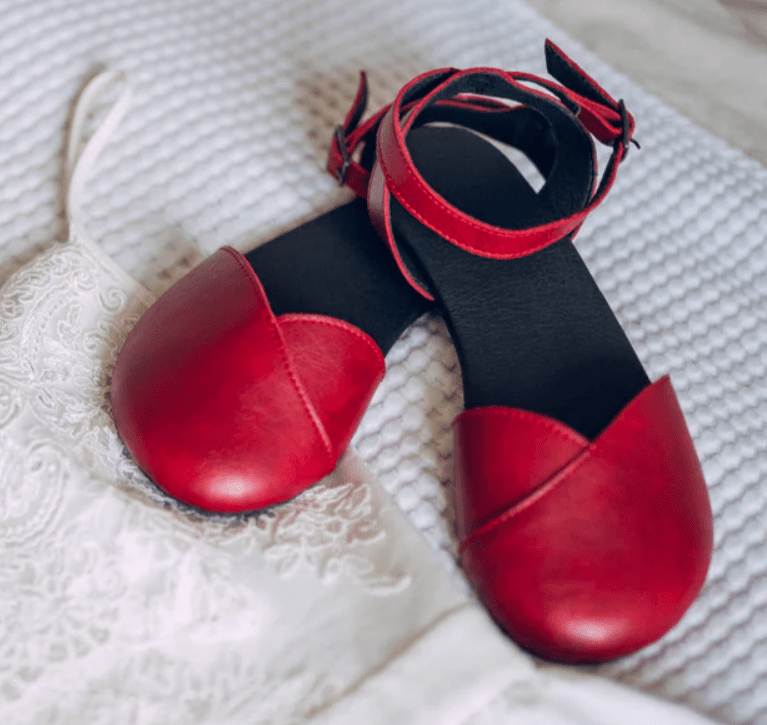 ---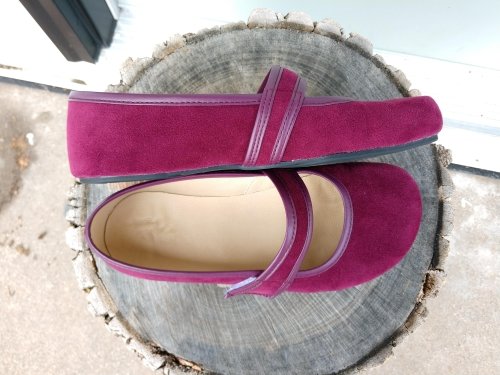 ---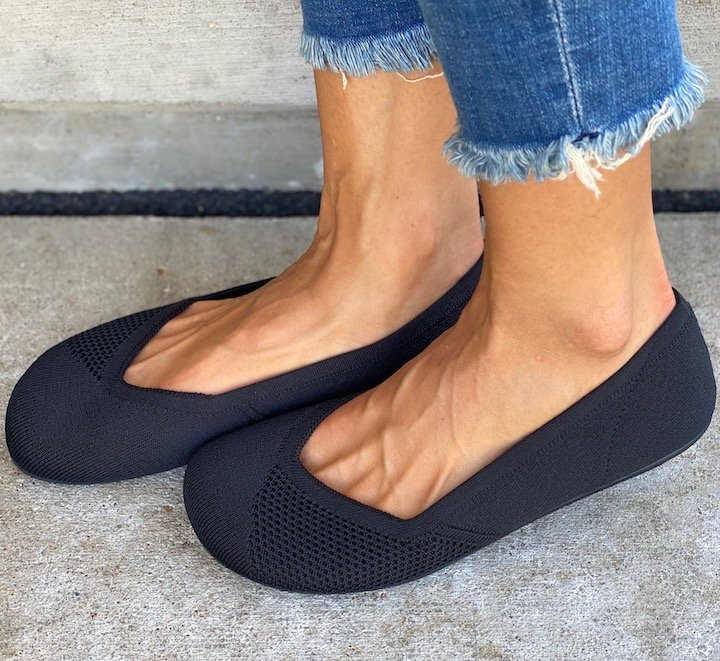 ---
More Options
In addition to the ones above, here are a few more resources you can use to find you perfect barefoot dress shoes in whatever style you are looking for.
Affordable Barefoot Dress Shoes
Here are the barefoot dress shoes for women I've tried that cost $100 or less
The Complete Dress Shoes List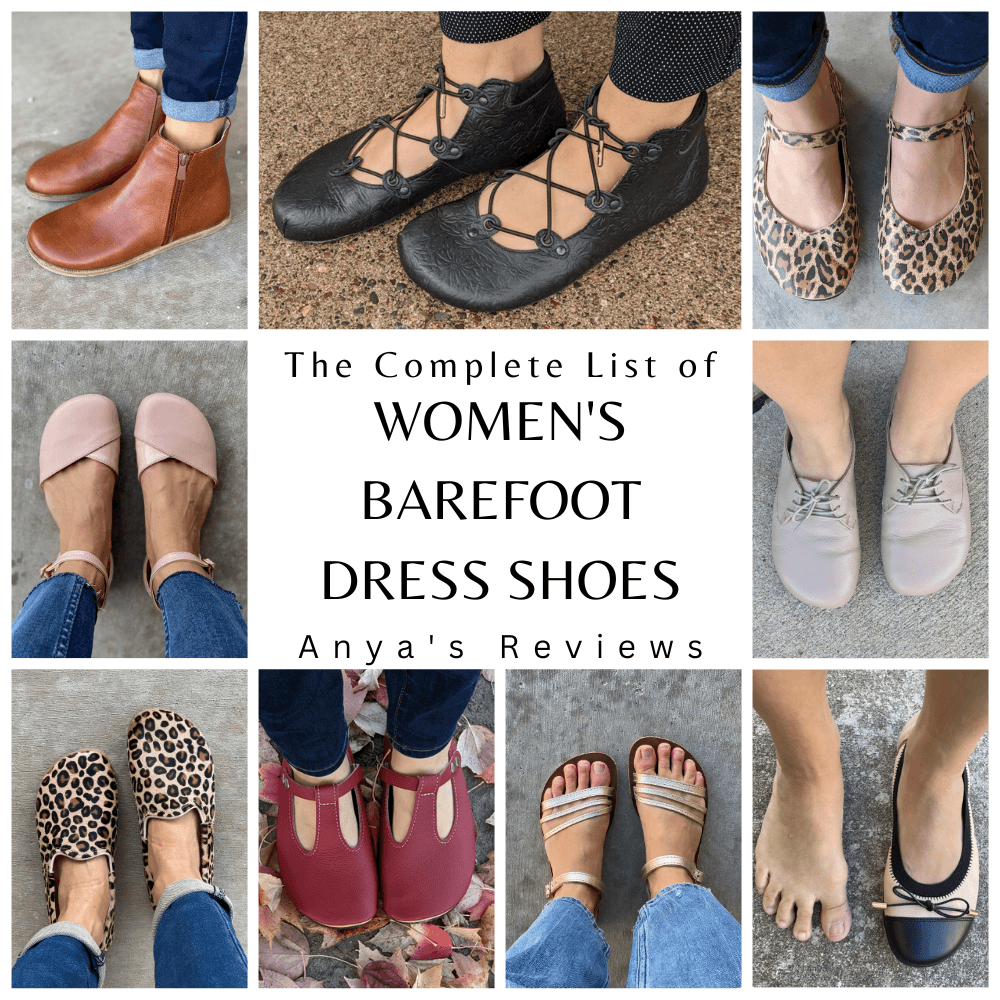 For a regularly updated list of all the women's barefoot dress shoes available by category, head here.
Sandals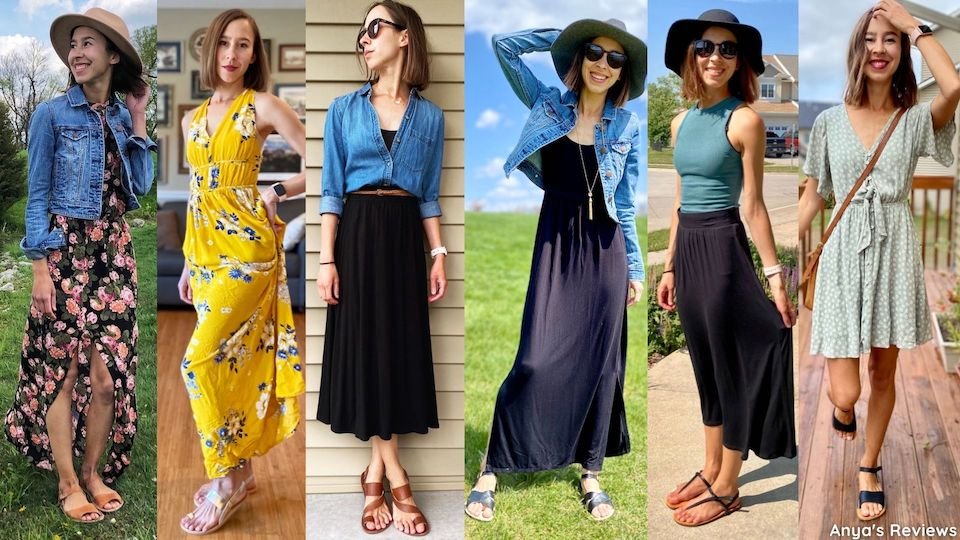 My top 10 picks for stylish barefoot sandals for women.
Loafers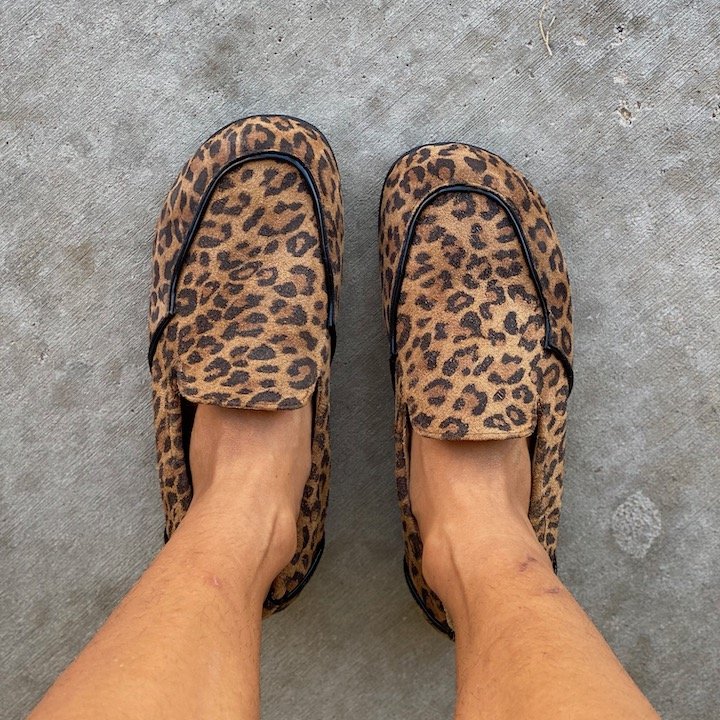 Here you can find 14 Stylish Barefoot Loafers That Don't Pinch Your Toes
Wedding Shoes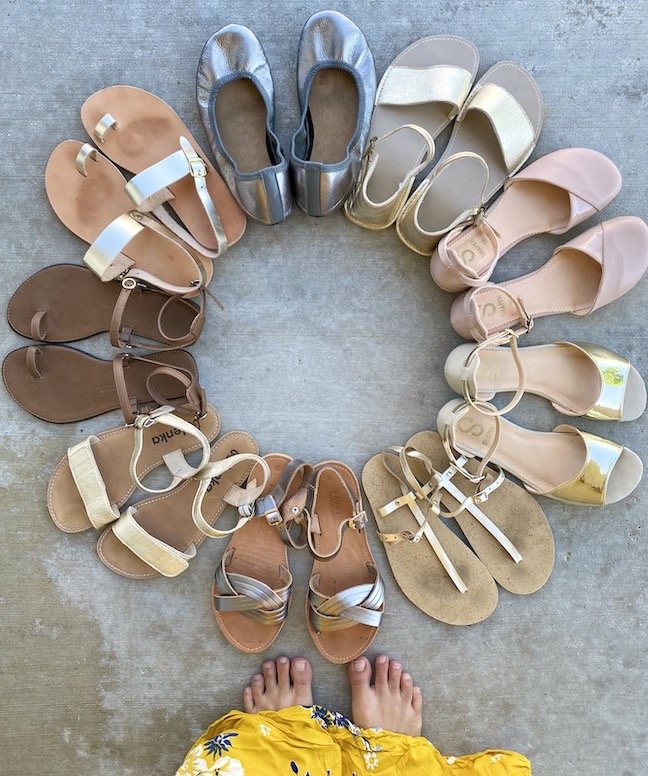 And here is my guide to wearing Barefoot Shoes To A Wedding (Bride, Wedding Party, or Guest!)
Ballet Flats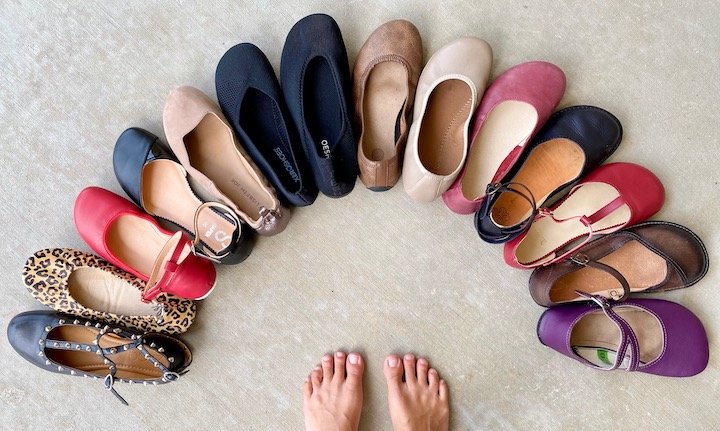 Click here for A Guide To Barefoot Ballet Flats + a full list of options
And don't forget that you can find a list of over 30 professional men's style barefoot dress shoes here!
Conclusion
The beauty of barefoot dress shoes is that they look great, but they're also practical for lots of walking and being on your feet. I am done torturing myself to look nice! If you are also tired of foot pain and/or want to prevent future bunions or foot deformities, barefoot dress shoes for women are the answer.