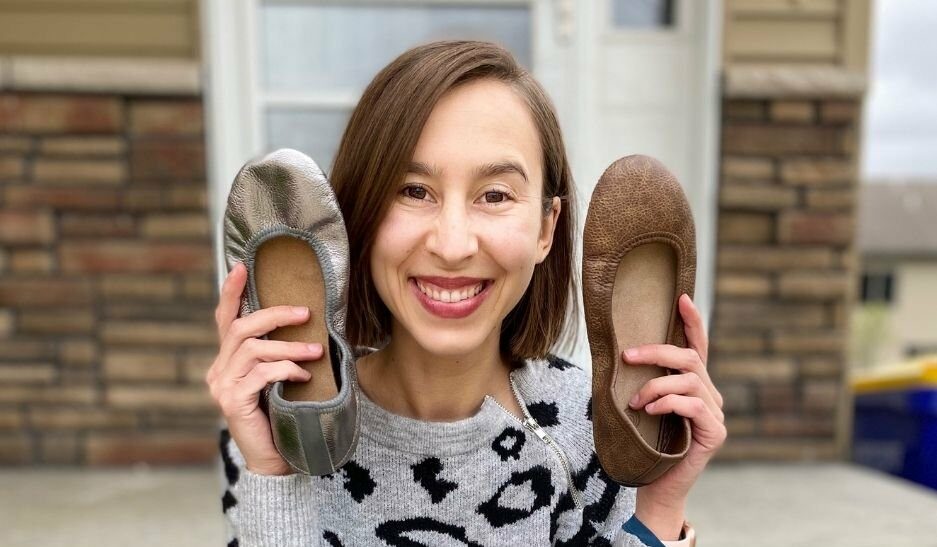 Softstar Shoes Ballerines are one of the best barefoot ballet flats available. They come in a regular and wide width, in tons of color options, and have a classic look to them. All while still being barefoot-approved: zero drop, foot-shaped, and flexible! Read my Softstar Ballerine review for all the deets on sizing, ordering, and styling.
Softstar Shoes Ballerine Review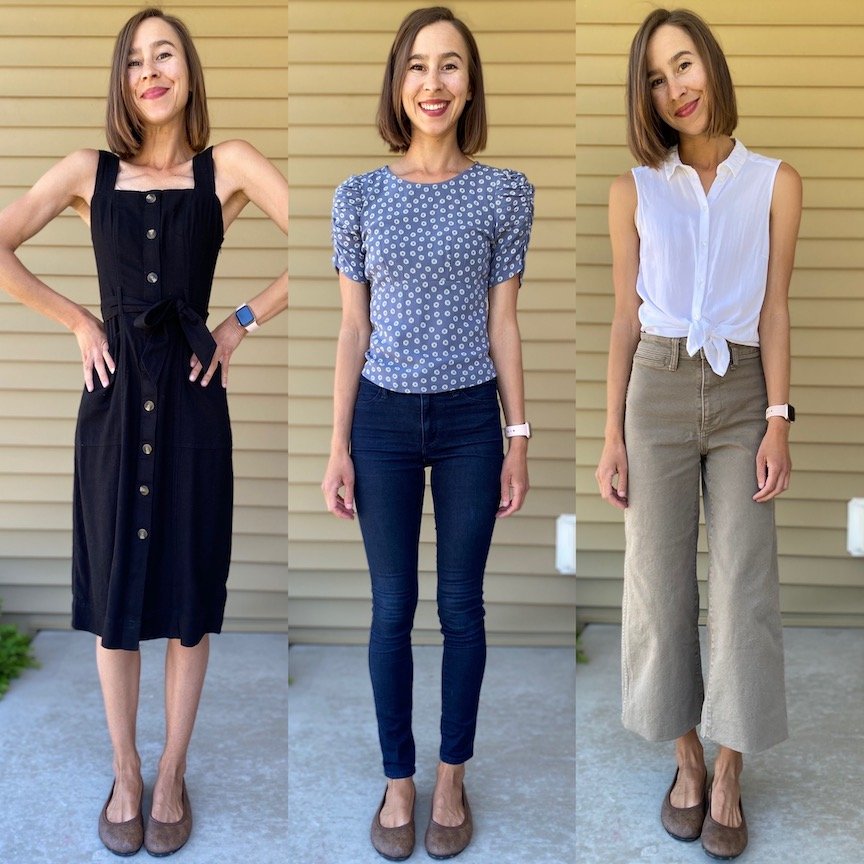 Softstar Ballerine | $155 | Leather | Sizes 5U-12U | 10mm Thick
Softstar Shoes is one of the original barefoot shoe brands, and they are still making each pair by hand right in their Oregon shop. I've been a fan of the Softstar Ballerine for a while now. I loved metallic ballet flats before I switched to barefoot shoes and was on the look out for an option that didn't squish my toes. After trying (and failing) to make Tieks work for me, I was stoked to see that the Softstar Ballerine could be customized with over 30 different leather colors! Cute, stylish, AND respects the amazing functions of the feet? I ordered a pair in pewter and never looked back.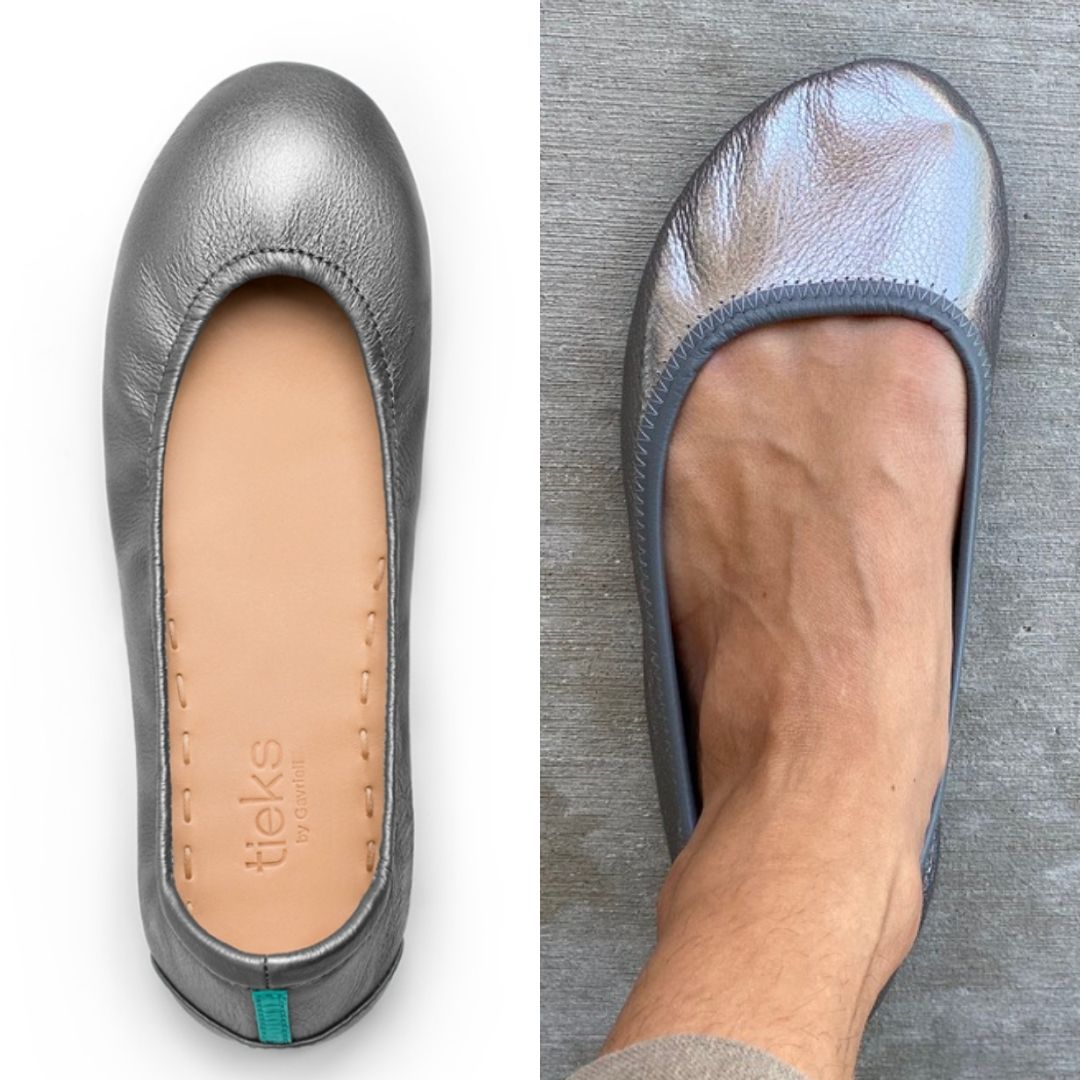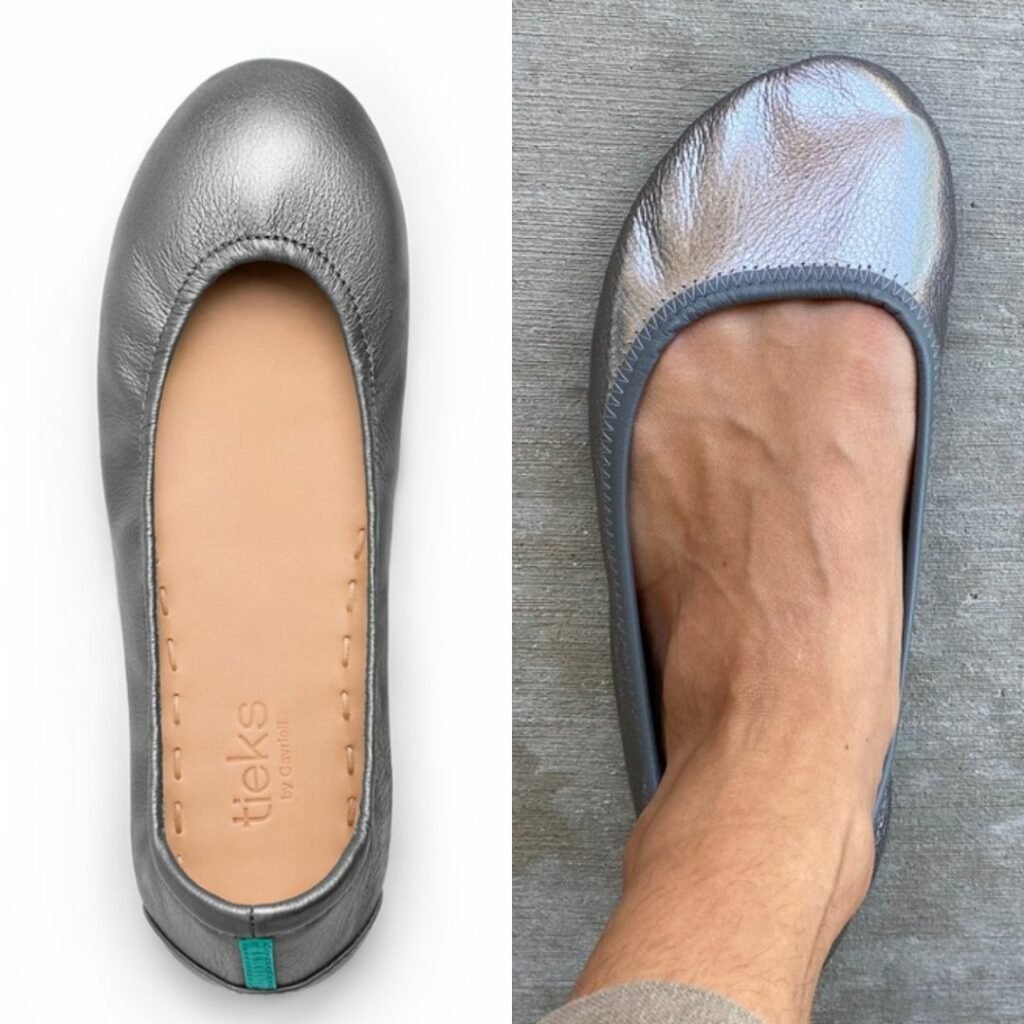 This spring, Softstar Shoes introduced some updates to the Ballerine to improve their fit and longevity! Keep reading for the full Softstar Ballerine review.
Softstar Ballerine Materials
The Softstar Ballerine flat is crafted with responsibly sourced, eco-friendly leather. It's also dyed with non-toxic food grade dyes in a whole rainbow of colors. The standard line of colors changes seasonally, but if you're looking for something unique you can choose to customize your flats by mixing or matching any body, heel, and trim color to create a truly one of a kind shoe.
It's worth noting that there are not trim and heel colors to match every body color – this is because a different type of leather is needed for the trim, but it makes me a little bit sad. I have gotten really excited about a leather color only to realize that there was no matching trim. You can get still get lots of fun customizations, but I usually prefer a uniform ballet flat.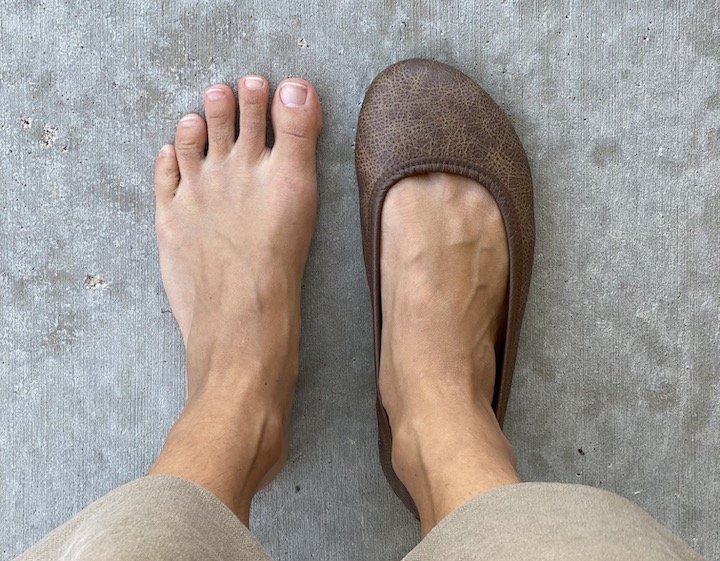 The trim is gently elasticized leather, and the heel and toe box are lined with leather to provide a little structure (and help prevent the big toe poke). The total stack height of the Ballerine is around 10mm. The sole is 4mm flexible Vibram rubber and inside the shoe you'll find a 6mm insole topped with suede. When standing in your Ballerines, the material compresses to be a mm or so thinner.
If you're concerned about heel slippage in your Softstar Ballerines, or you want to be able to size up for toe space, you can get the Ballerines with a Sport Closure. It is not removable, so if you get it you're stuck with it. But it completely prevents flopping or slipping.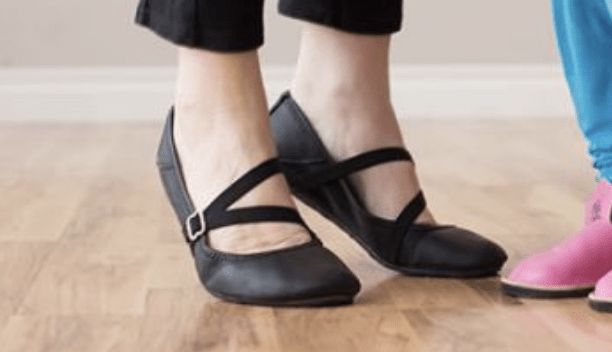 And for a thinner, grounding barefoot ballet flat check out the Ballerine with bullhide leather soles!
New Ballerine Updates
The new Ballerines don't go as high up the back of the heel as the original, which many people prefer for a more comfortable fit. They also have a heel guard at the base of the shoe to protect from scuffing (brilliant!), and it seems to work well. I have worn mine for many long walks on pavement, where I am apt to scrape the bottom edges of the shoe. No wear is evident! And the final change is to the toe box – the new Ballerines have extra material and a leather lining in the toe box to smooth it out and prevent toe poke.
The Original Ballerines felt more spacious in the toe box initially, because there is no lining. But I was able to break in my Updated Ballerines by wearing them on walks and they now feel spacious enough (it took roughly 5 miles of walking to break in). So the updated Ballerines might need more break in time than before. Otherwise, the sizing, fit and overall appearance is the same.
Softstar Ballerine Sizing
If you've never bought Softstar Shoes, the sizing can feel a little tricky. In fact, it prevented me from ordering for a while. But let me break it down for you.
Softstar uses a UNISEX sizing system. Which means that instead of offering everything in US men's and women's it uses just one system for both. For women, it works out to typically be one size smaller than your US women's size. For example, I'm a US 6 in ballet flats, and I got a 5U in the Softstar Ballerine. Samantha (who will be talking about her Wide Ballerines in this post) typically wears a US 7, and got a 6U in her Ballerines.
You should definitely refer to their Size Guide for info on how to measure and exact measurements for each size. As long as you follow that, the Ballerines run true to size.
Regular vs Wide
I have a wide forefoot, but narrow heels. So I was on the fence about getting the wide or regular width. But it's important to know that Softstar is a barefoot shoe brand, so their regular width Ballerines are still foot-friendly and allow for a natural toe spread. I decided to go with the regular width for a close fit that hopefully wouldn't slip off my heels AND not squish my toes. This ended up being the right choice! The toe box felt tight at first, but the leather stretched out well after walking in them for several days and ended up being plenty wide enough.
Here is how the Wide Ballerine compares to the Regular Ballerine in a comparable size. Wide Ballerines are:
7mm wider across the ball of the foot
5mm wider across the midfoot, or waist of the foot
4.5mm wider across the heel
So the Wide Softstar Ballerines are wider throughout the entire length of the shoe, but mainly in the toe box. That's why skinny heels and ankles might have some slippage in the wide width.
Ballerines On Extra Wide Feet
Samantha, who has an EXTRA wide forefoot, chose the wide width and for her it was a good choice. She definitely would have not had enough space in the regular width. Here's her take:
"Ballet flats are my favorite type of shoe because they are easy to put on and go with just about anything! There are a lot of things I like about these ballet flats; having a wide option for my extra wide feet is amazing, a little cushion for when I don't want/need something ultra thin, and the ability to get them in SO many different colors. My blue flats shown in this Softstar Ballerine review are the Waterfall color with Plonge pearl trim. Like Anya mentioned, I really wish Softstar offered trim colors to match all the body colors. If they did, I would order a pair in the Perforated Blush Bubbles leather immediately!

I have extra wide feet and big toes that angle up. Even with the leather lining to help prevent this, my toe poke is still visible but definitely less so than in the original Ballerines. They were tight to begin with and my big toe was pressed down and inward, which gets uncomfortable after a while. They've already stretched some with walking and I have hope the leather will continue to give in the big toe area to give me all the space I need, since so far I have only worn them lightly."
If you have truly wide, square-shaped feet you might want to consider the Primal Merry Jane. Softstar's Primal line has a unique shape to them and are the widest-toe-box barefoot shoes I have ever seen. I own them in a narrow width, and you can see below that they are wider than both the Regular and Wide Ballerines.
Read my Softstar Primal Merry Jane review here!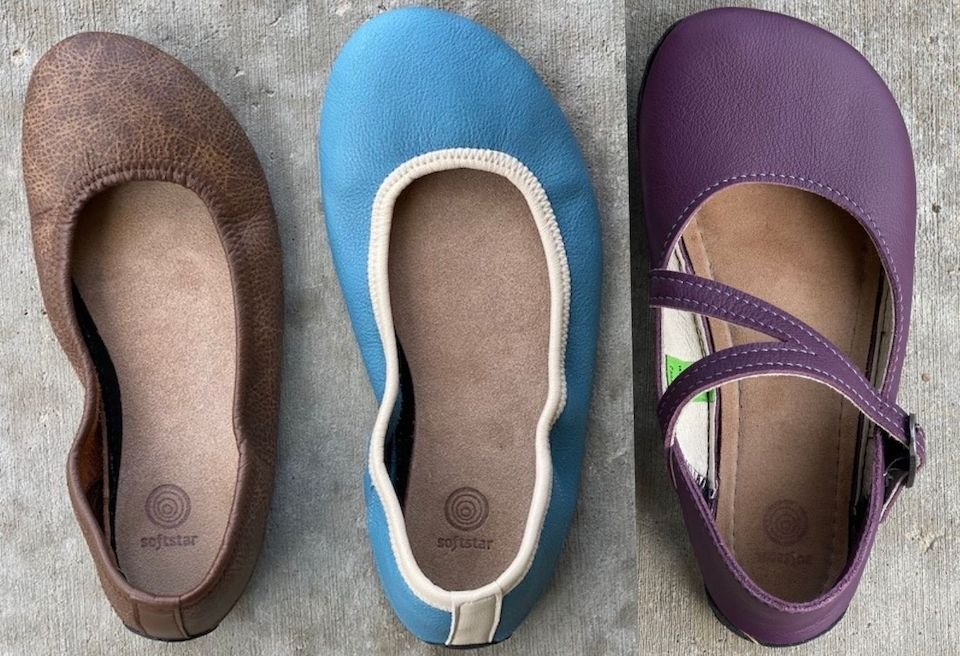 Same Shoe, Different Foot
After I received my 5U regular width Ballerines I thought I might have chosen the wrong size – they felt tight and short. So I tried on Samantha's 6U Wide Width to see if that was a better size for me. See how they fit on each of our feet below! For reference, my feet are 23.3cm long/9.3 cm wide and Samantha's feet are 24cm long/10.5 wide, both from a tracing.
Click here for more on how to measure your feet correctly, and the different foot types!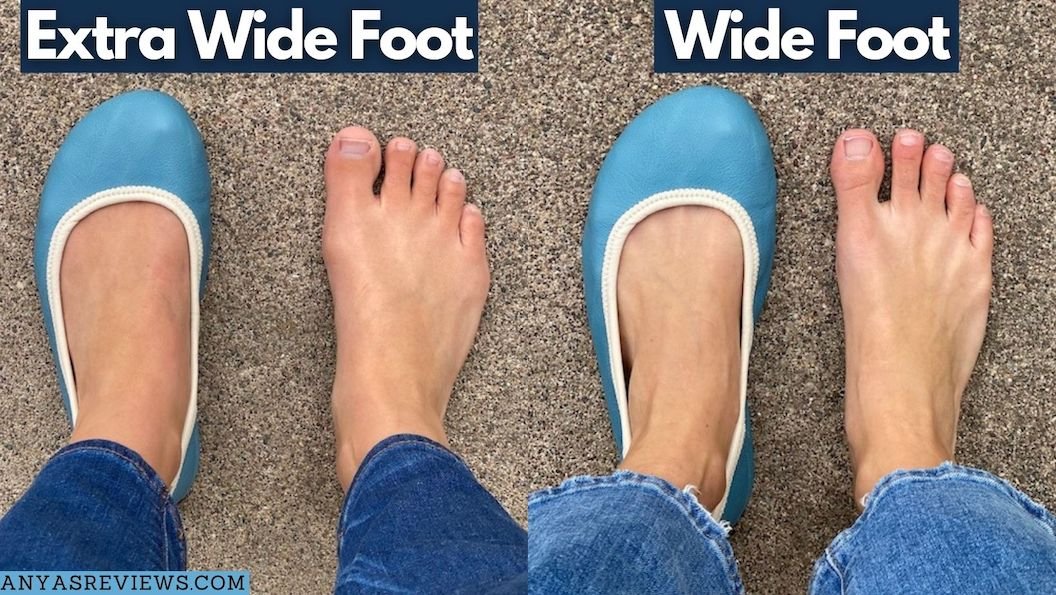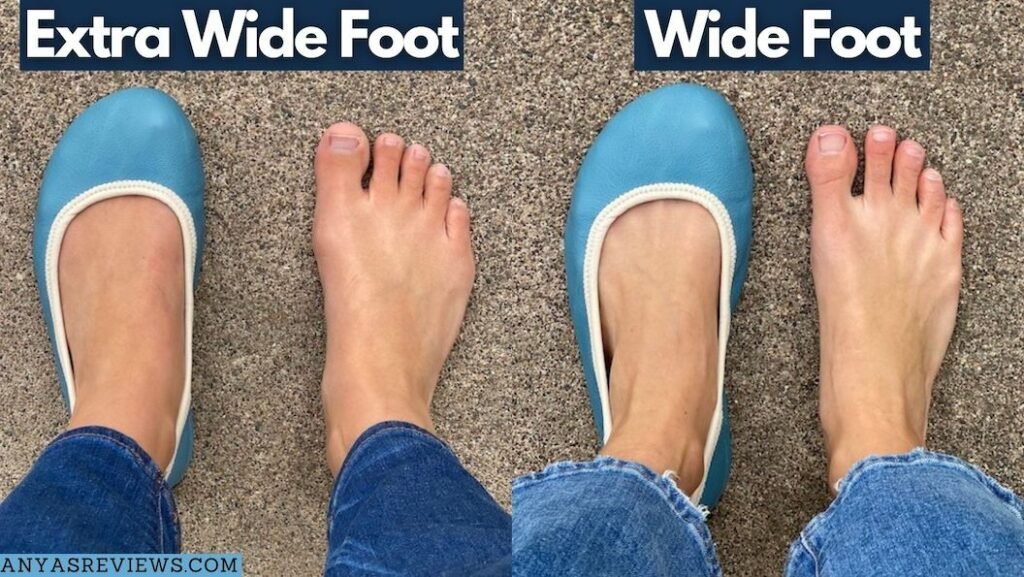 Samantha (on the left) has an extra wide forefoot. You can see she fills up the width of the Wide Ballerine very well, with no gaping. My feet (on the right) are wide, but not extra wide, and the Wide Ballerines look excessively big. They also are gaping around my midfoot.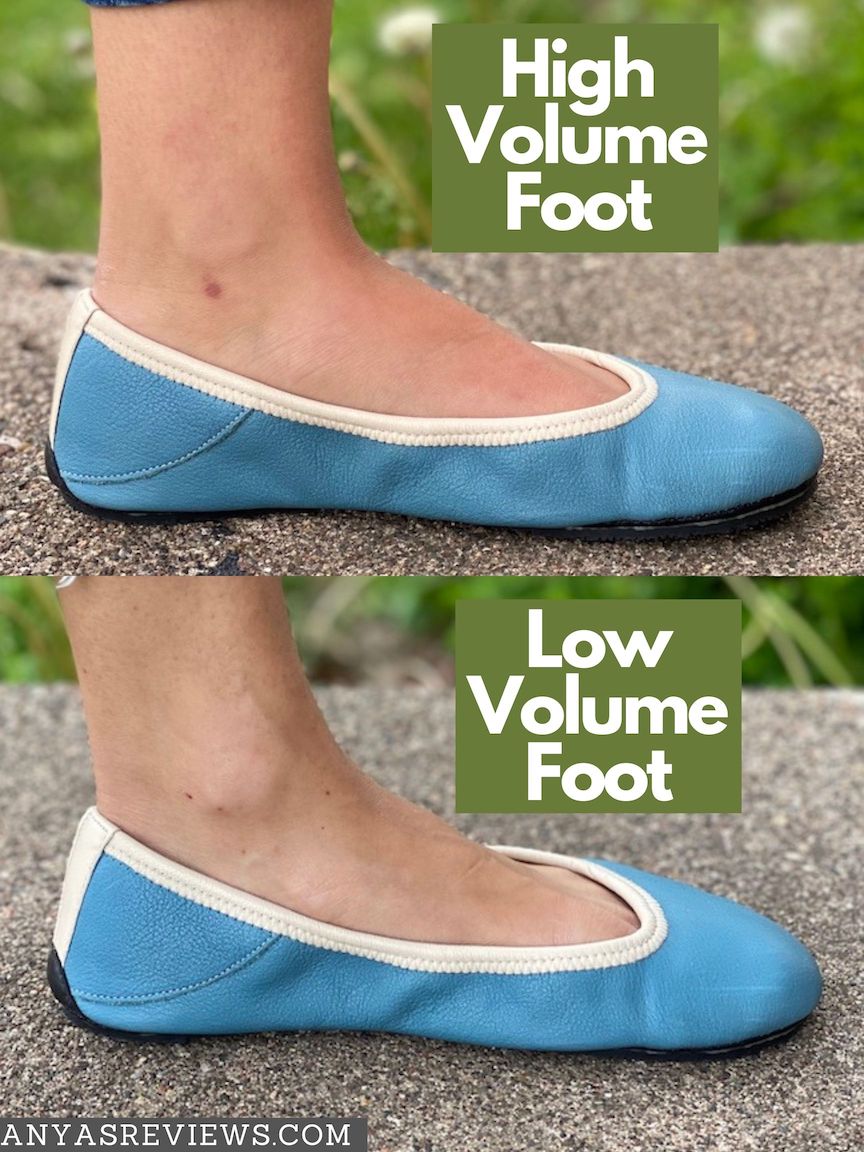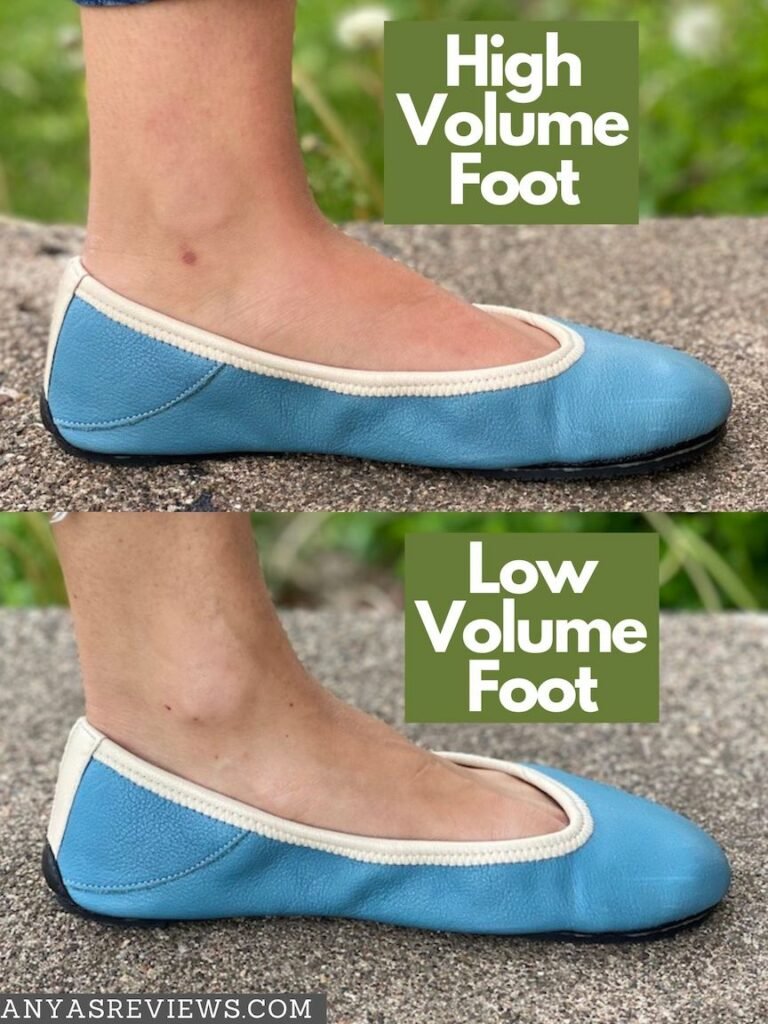 When it comes to ballet flats, the volume of your toes and toe joints is what you want to consider, since the open design makes the height of your arch less of an issue. Above you can see the Wide Softstar Ballerine on Samantha's high volume foot and my low volume foot. There is a little bit of gaping right at the seam of the toe box, because my toes don't fill up a lot of vertical space.
But this seems to be because of the extra width that I don't need. You can see below that in my Regular width Ballerines there is no gaping.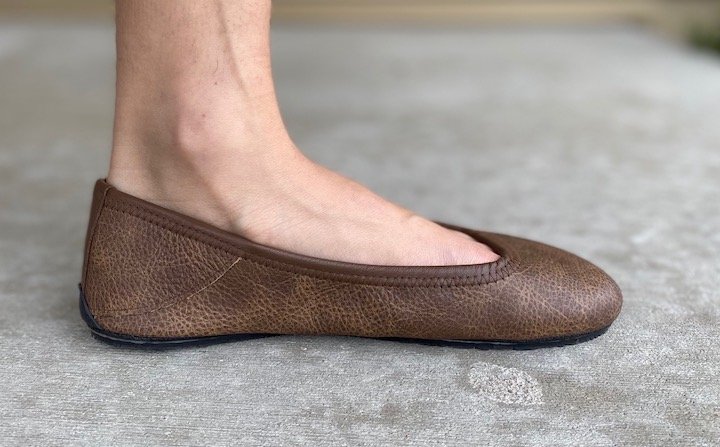 Both Samantha and I felt that our toes were being pushed down by the lining in the front of the shoe at the beginning. This alleviated with time, but it definitely required breaking in and is something to watch out for if you have upward pointing and/or sensitive toes. Otherwise, the Ballerine should work for all different foot volumes.
Will They Fit Narrow Heels?
One of my reasons for choosing the regular width was that I have narrow heels. If you also have narrow heels, you know how frustrating it is to find strapless ballet flats that don't slip. Since becoming aware of the negative effects of toe gripping, I've had a hard time finding ballet flats I could wear comfortably all day. The Softstar Ballerines are a barefoot ballet flat that stay on quite well, but as they've stretched out to fit my toe box they've also become more prone to slipping. Heel grips have fixed this problem for me, and this narrow-heeled girl is doing great in her Ballerines!
Barefoot Ballet Flat Comparisons
Compared to other barefoot ballet flats on the market, the Softstar Ballerine has a thicker sole and is noticeably heavier. This is due to the extra cushion on the inside (not visible from the outside) and the high quality leather that Softstar uses.
See below a weight comparison between a few barefoot ballet flats: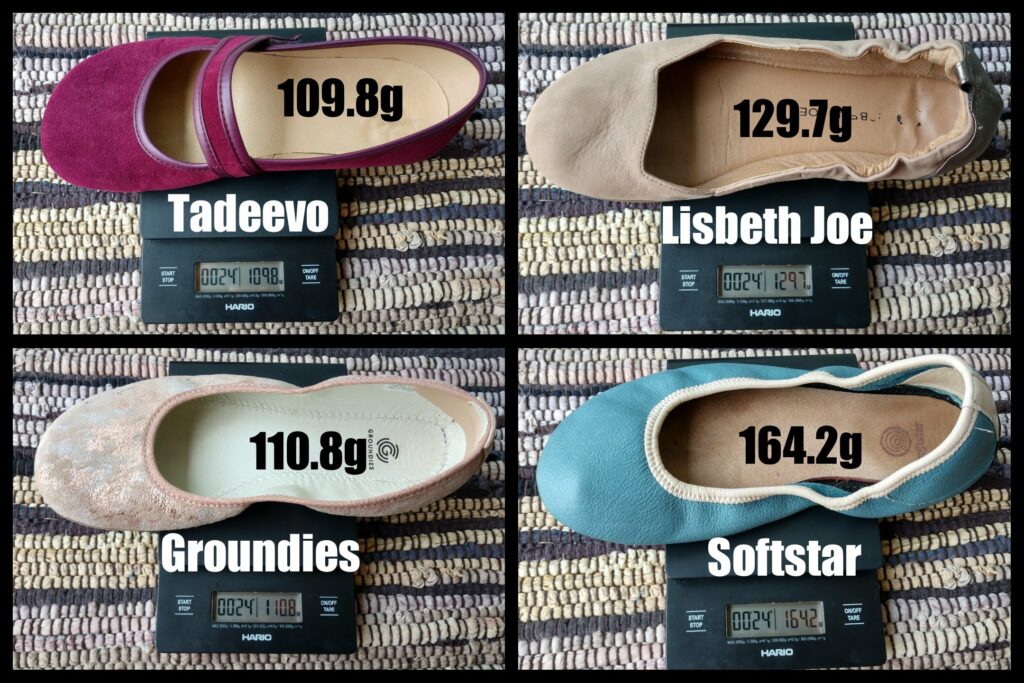 And here, you can see a comparison of toe box shapes between some of the most popular barefoot ballet flats. Note that the Softstar Ballerine and Shapen Poppy shown are both regular width (but have wide available).
Barefoot Ballet Flat Toe Box Comparison


Shown from left to right are the Xero Phoenix (reviewed here), the Softstar Ballerine, the Shapen Poppy (reviewed here), the Lisbeth Joe Harare, the Groundies Bella, and the Zlatush T-Strap.
You can check out this post for a full list of barefoot ballet flat options, plus reviews of my top picks!
How to Style Softstar Ballerines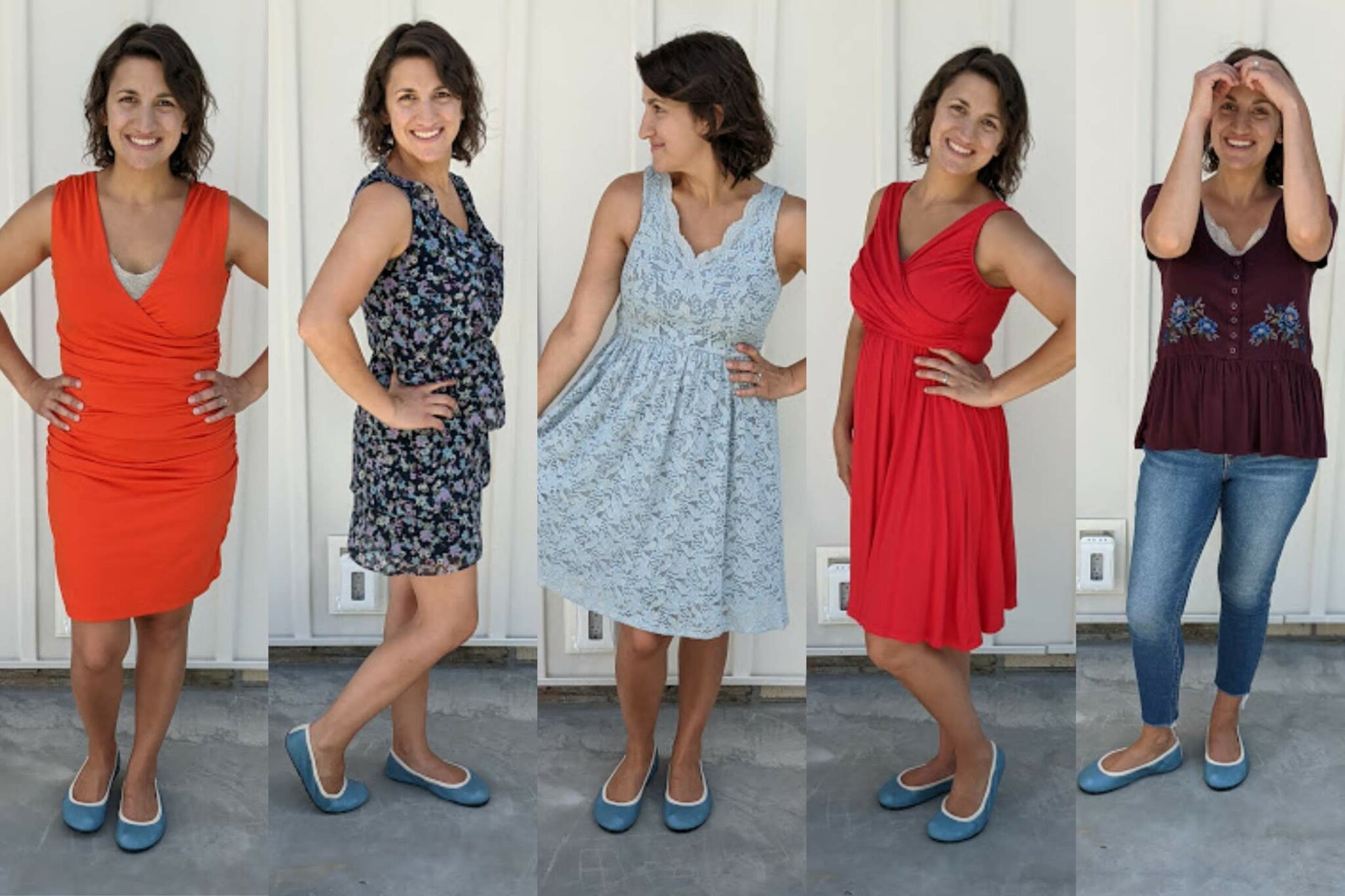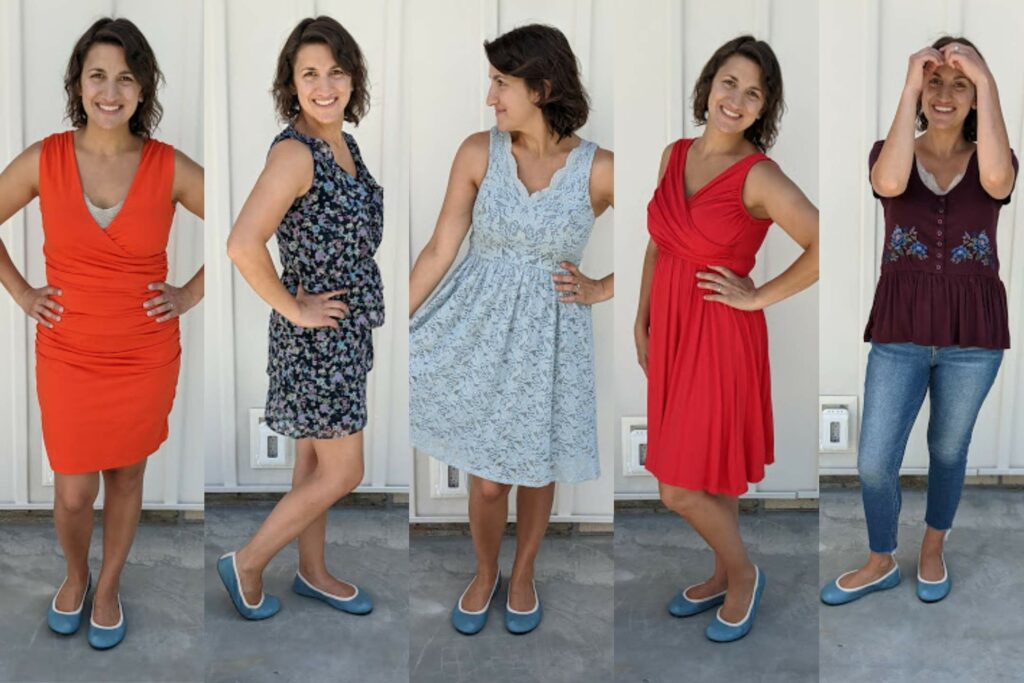 Ballet flats are in. They are effortless to style, and go with just about anything. Like I said earlier, I used to have a pair of metallic ballet flats that I wore to work as a school teacher (in another era of my life). They were my daily go-to because of how easily they went with my outfits, but they still looked dressy! That's the magic of a ballet flat. Make them barefoot, and you've got a whole 'nother level of comfort. Whether you're looking for something to wear to a wedding, work, or every day, the Softstar Ballerine is likely to match.
How to Order
Softstar Shoes is a US brand, with free shipping and free returns within the US – even on custom orders. They also ship internationally via DHL, and prices range from $10-$12 (this is a good rate!). Custom orders can take up to two weeks to ship, but in-stock items ship right away. On my most recent order the shoes arrived in a velcro-sealed package that I was able to stick back in the mail for reuse. I.e, no waste!
Caring for Your Softstar Ballerines
These lovely barefoot ballet flats are made of leather, so you can keep them looking classy for a long time by using leather care products. Keep in mind that sprays are the least likely to alter the appearance of leather, and that certain colors are more prone to changing than others. Always best to test the product on a small area first. Here are a few of my favorites:
Nikwax Leather Spray – The easiest to use, doesn't change the leather color, and eco-friendly
Chamberlain's Leather Milk – These are lightweight products, less likely to change the color (but still might)
Obernauf's – Excellent products for preserving leather, but can darken the color.
Softstar Ballerine Review – Community Feedback
The Softstar Ballerine has been a popular barefoot ballet flat for a loooong time. But I wanted to find out what people were saying about the Updated Ballerine that launched just a few months ago. Most respondents with average width feet were successful with the regular width Ballerines and said they love them. Some who have wider width feet said they still ended up with a regular Ballerine, but that they required breaking in (after which they were perfect). Those with extra wide feet went for the wide version of the Ballerine but again noted that they needed to be broken in.
Most of the people who found a good fit mentioned breaking them in or using a shoe stretcher to help with any tightness in the toe box. The ones who returned mentioned a tight toe box, however we don't know what would have happened if they had tried to break the Ballerines in. Those with extra wide toes might feel squished, even in the wide width, and will want to check the size chart closely to confirm that the measurements of the Ballerine would work for their feet. All customers with wide feet should anticipate a break in period.
See several quotes from readers below!
Fantastic shoe. I had a few Softstar shoes before ordering my first ballerine shoes from them (DASH runamoc and merino zen moccasin), but didn't have any minimalist dress shoes I could wear with a dress or any outfit really. I got the new ballerine flats in pewter. It's amazingly comfortable for dress shoes and looks great almost with any outfit. Highly recommend. The insole feels like a soft cloud 🙂 and my feet don't get tired.
Absolutely loved them. I ordered the normal width recently, and it fits like a perfect glove on my feet. I followed the size chart and it worked perfectly for me. I wore them traveling recently and they were comfortable and perfect and stayed on so well. I also have the wide version in black to wear in uniform at work, and it's a little too wide for my wide feet, which was surprising. The normal width worked fine for my wider than normal feet.
I actually have three pairs. I had to stretch them with a wooden stretcher device to get the toeboxes comfortable, and now they're great. First I bought one of the old style, and then two after they were redesigned. The toebox on the first pair was just a tiny bit tight. The redesign was supposed to increase the size of the toebox, but I actually found the toebox on the newer ones tighter, pressing my big toe (slope foot shape). So it took some work stretching them to get them just right.
Community Photo Gallery
P.S. I poll my e-mail subscribers in preparation for these reviews! Subscribe below if you'd like to participate in the future!
Other Barefoot Dress Shoes from Softstar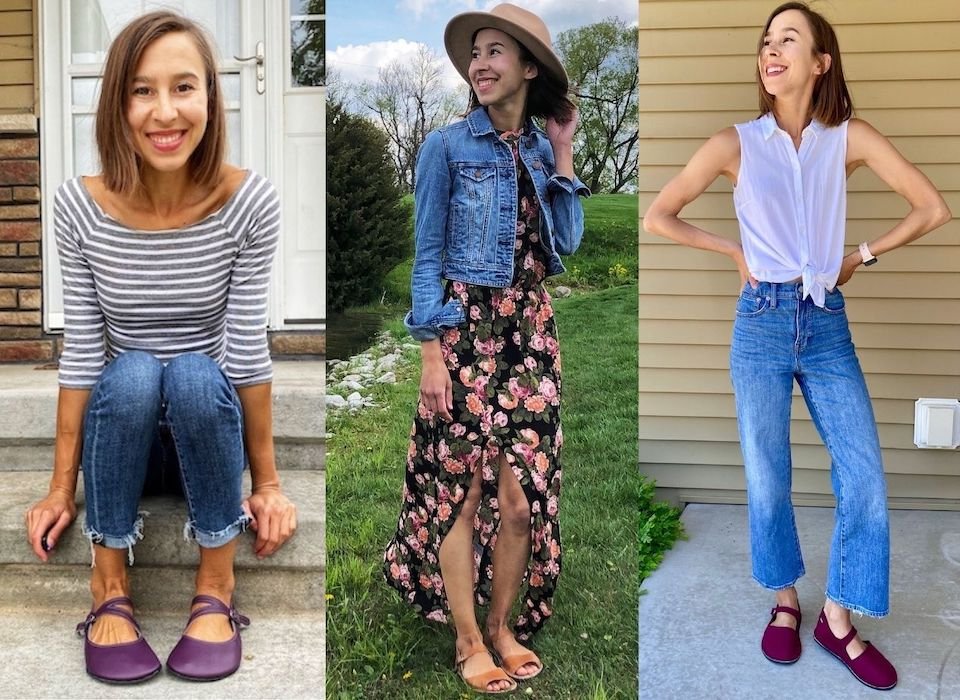 As you can see, I am a fan of Softstar shoes' barefoot dress shoes for women. Mainly because they are so dang comfy, but also because the myriad color options make me giddy. Besides the Ballerine, they also carry:
The Primal Merry Jane that I showed earlier in this post are ULTRA wide in the toe box, the widest I've ever seen in a women's dress shoe. The other three have a different foot shape to them altogether, which I find a bit odd frankly. They are lovely shoes, but they have a lot of extra unusable space next to the big toe. You can see it in my Merry Janes below on the left. They are wide width, but it seems the width is going someplace I can't use it.
The Solstice sandals on the right are a Youth size (they run big, so sizing down put me in kids), and they have a much nicer foot shape than the adult versions. I would love to see Softstar bring that youth shape to their adult Solstice, Merry Jane, and Hawthorne models. Barefoot shoes are all about preserving the inherent integrity of our feet, so shouldn't adult shoes have the same natural foot shape to them that the kids' shoes have?
But I digress. Back to the main event – the Softstar Ballerine Review.
Softstar Ballerine Review Conclusion
Softstar Shoes Ballerines are high quality, lovingly made, and come in so many colors that you don't often see in barefoot shoes. You might have some fit issues if you have extra wide toes or extra narrow heels, but they are one of the most versatile barefoot ballet flats available. I highly recommend!