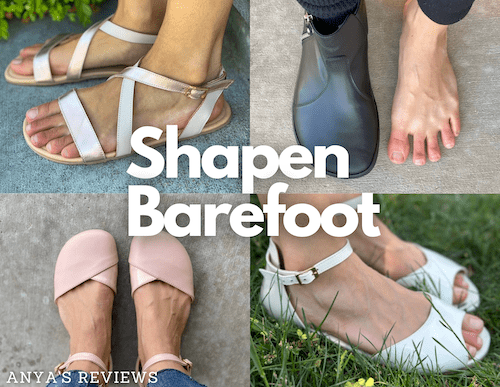 Shapen Barefoot is making the best dressy barefoot shoes for women. They are zero drop, flexible, wide, and yet classy. If you've struggled to find elegant minimalist shoes for work or other fancy occasions, Shapen is the answer.
I have been following this small business for years, so it delights me that I can now bring them to North America at Anya's Shop! Read on for my review of Shapen's women's barefoot shoes and how to order.
Meet Shapen
Shapen Barefoot is a Slovakian brand begun by Mia, a fashionista with a passion for foot health, just like myself! Since 2016 she and her husband have built a barefoot shoe brand that boasts a wide range of ballet flats, sandals, boots, oxfords, and even sneakers for both men and women.
I am reviewing Shapen Barefoot's women's models in this post. To learn more about their coming boot collection, keep an eye on my All Time Best Barefoot Boots article (we'll be updating it once their full collection launches).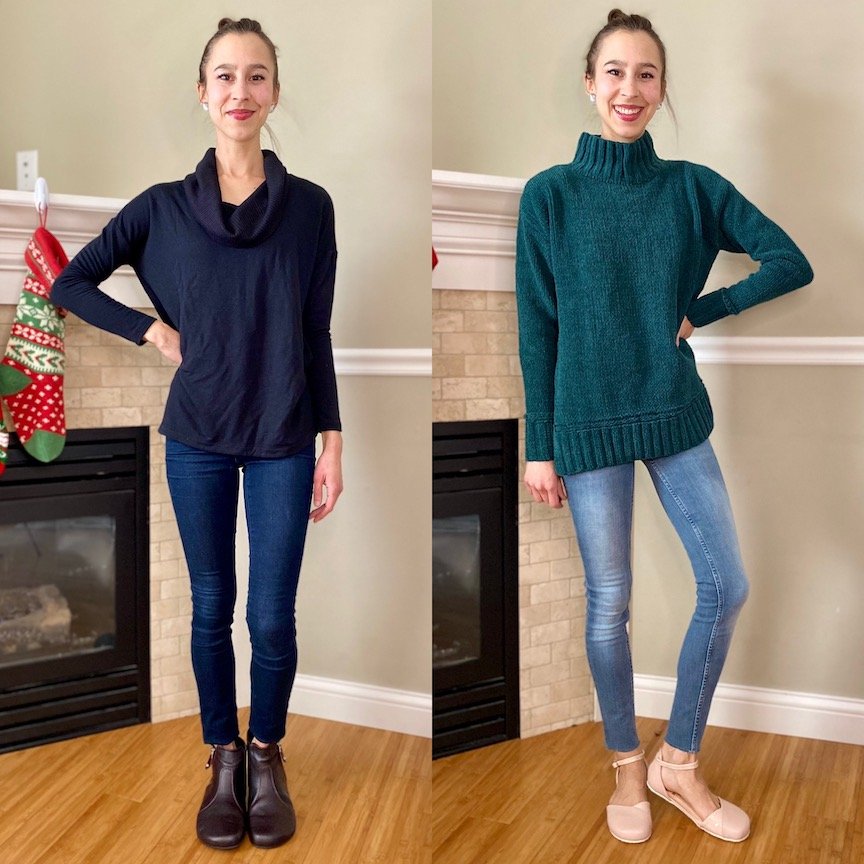 Shapen Sizing & Fit
Shapen's women's barefoot shoes come in sizes EU 35-44 and generally fits as follows:
Wide and roomy – usually works for even extra wide feet
True to size
Medium to high volume
Shapen is one of the only women's barefoot dress shoe options that works for extra wide feet! The Poppy and Tulip ballet flat models come in two widths: a regular and wide. All other models fit wide by default.
How To Order
Customers all over the world can order any of her shoes and accessories from Shapen. Currently, Mia has extended the coupon code ANYA5 to readers here for 5% off anything.
But please note that Shapen doesn't accept returns outside the EU. That is why we carry Shapen at Anya's Shop in the US. Shipping will be cheaper for local residents and we accept returns from anywhere. But if I don't carry something you have your heart set on, you can always order directly from Shapen Barefoot.
Now let's get to know these Shapen Barefoot shoes a little more.
Ivy Boot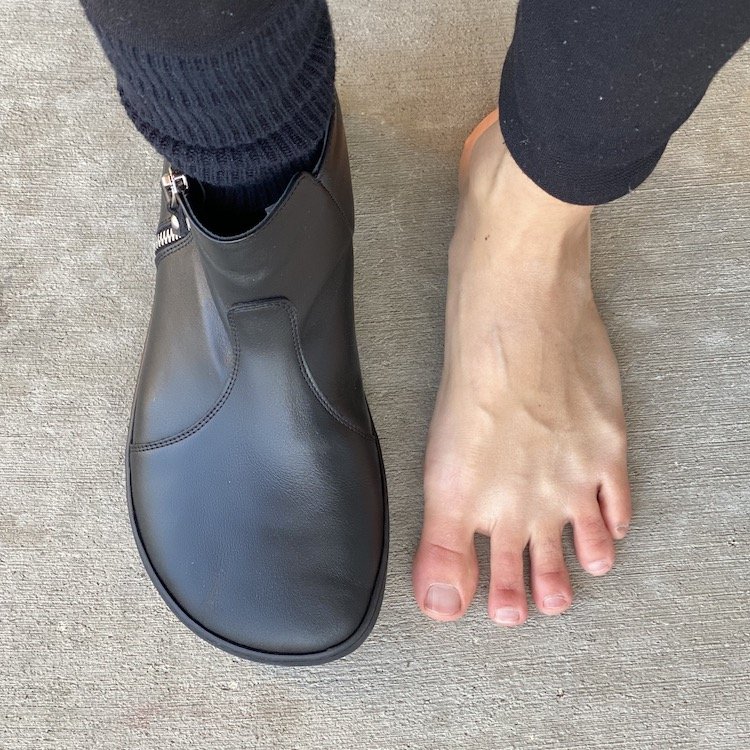 Leather | Extra Wide
The Shapen Ivy is a leather zip-up ankle boot with an ultra wide toe box. It is perfect for people who have trouble finding dressy shoes that are wide enough, even in barefoot brands. It has a smart, simple design and a stylish mainstream look. The sole is 5.5 mm thick and flexible enough to roll into a ball.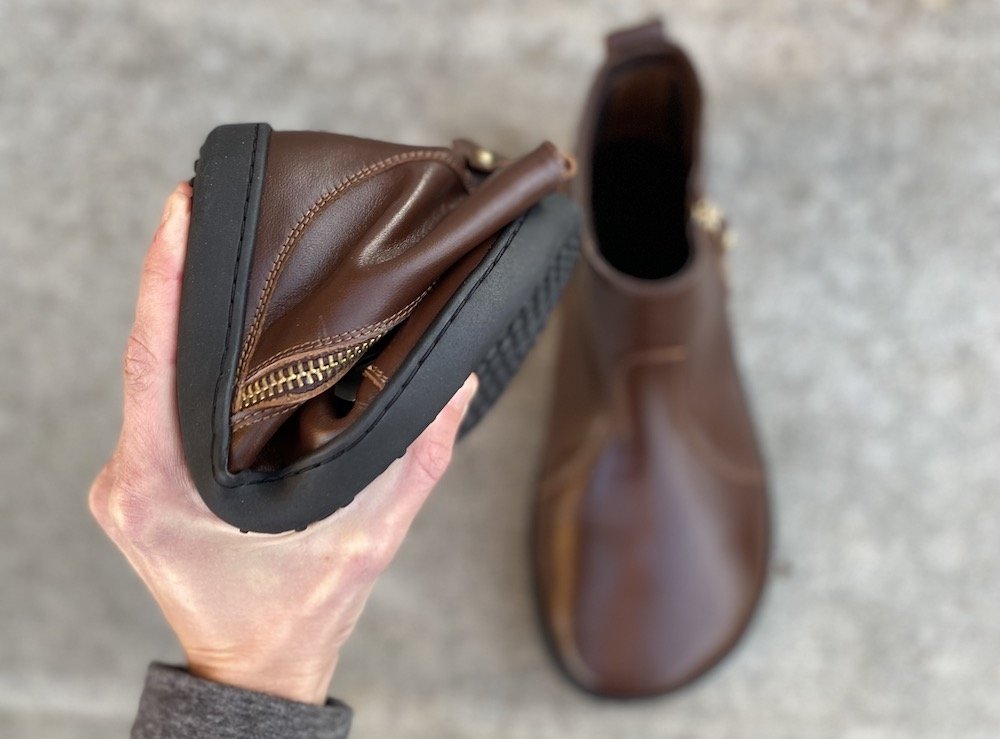 Fit Type: The Ivy has a square toe box shape, so works well for people with all foot shapes, even the most difficult to fit square shaped foot. They are high volume, so people with low volume feet should plan to use insoles and/or shoe tongue pads.
Note: The leather around the ankle opening is stiff at first. People with sensitive Achilles' will want to use moleskin until the leather breaks in.
---
Poppy Flat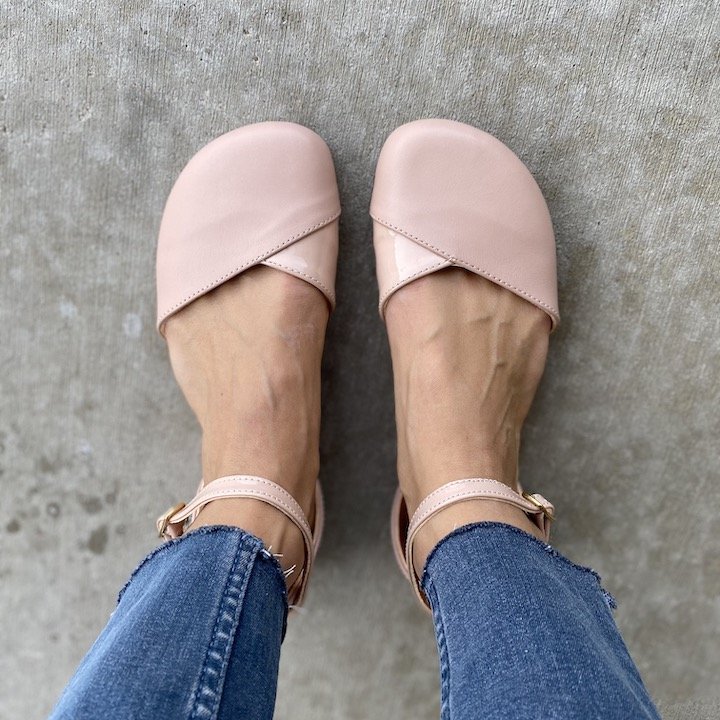 Leather or Vegan | Two Widths
The Shapen Poppy is a truly dressy barefoot flat. Toe box detailing helps to disguise the width and an open design elongates the legs. They are some of the most fashionable women's barefoot shoes in existence!
The Poppy is 3mm thick with a leather insole and rubber outsole. The structured design keeps it looking classy, despite being a fully barefoot shoe! Just be aware that the leather is thick and a little stiff when brand new. This helps them look classy, but for some people it rubs. It's also available in a vegan version!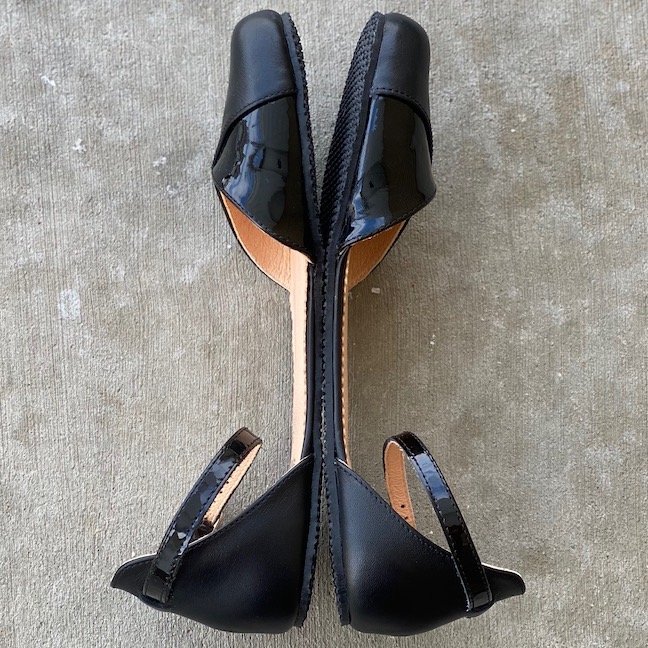 Fit Type: The Poppy runs long, and after carrying these for a few years at Anya's Shop we recommend sizing down (most people who didn't size down ended up exchanging).
They have a square toe box shape, so will fit a wide range of foot types. It fits medium volume feet (but is so open that it doesn't come into play much) and comes in two widths.
Read this post if you need guidance on measuring your feet.
Shown on me in this post is the regular width. I have slightly wider than average feet (23.3cm long and 9.3cm wide from a foot tracing) and my foot fills up the whole toe box. The leather was snug at first, but has softened so I feel comfortable in them. You can see in the photo below that the Wide is just a little too much space for me. But extra wide-footed friends will want to choose wide width.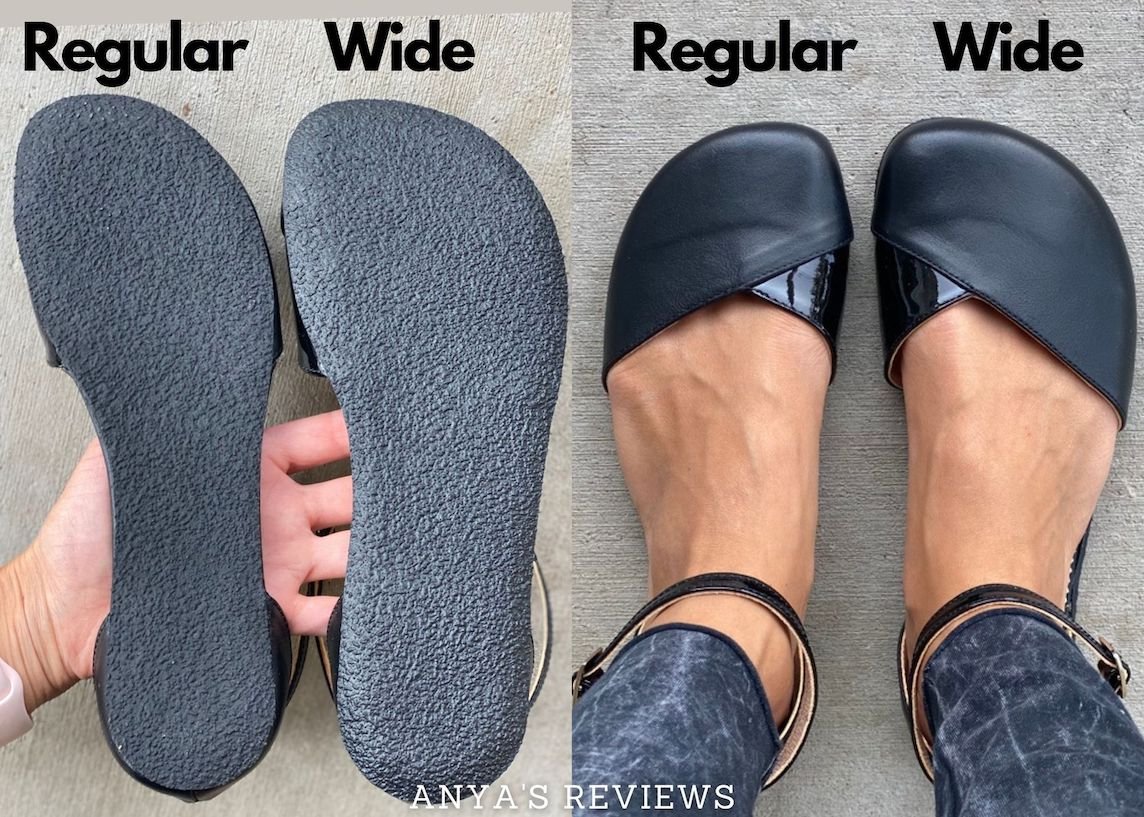 The styling possibilities are endless and they continue to be one of my most favorite fashionable barefoot shoe choices. In the last few years I've worn them to funerals, weddings, cocktail parties, and more.
---
Lily 2.0 Sandal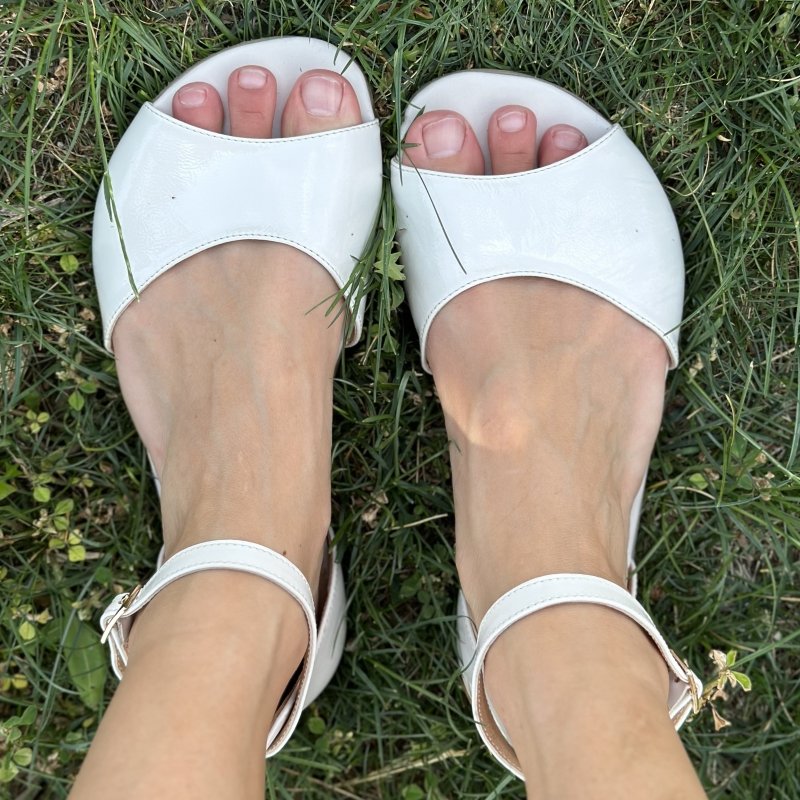 The Shapen lily 2.0 is a dressy peep toe barefoot sandal, meant to be an alternative to high heels. They come in one width which is extra wide. I got a size 36, Even still, I find them to be lovely sandals and would happily wear them as wedding shoes.
The pair shown above is "light beige" which is more white than not, but they also come in patent black. They have a bean shaped sole and my foot wants to sit sideways in them, so they aren't the best fit for me. The front strap is low-medium volume and not adjustable. These would make lovely special occasion/formal/bridal shoes if you have the right foot type!
---
Fleur 2.0 Oxford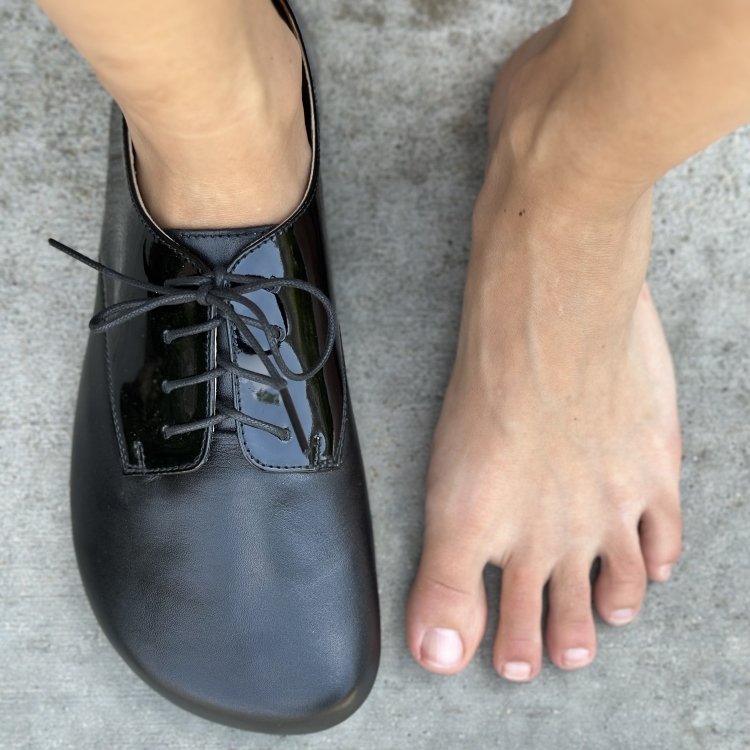 Another style of shoe Shapen carries is the Fleur, a barefoot Derby or Oxford shoe. This shoe is made in the same wide width as the Ivy, so it is great for extra wide, high volume feet. It's available in all black with a patent accent, or rose which is a light pink. They don't run long the way the Poppy does, so stick with your regular size. They work fine with thin or no socks, and expect the leather to take a few wears to break in. They're a great option for a professional work environment!
---
Calla Sandal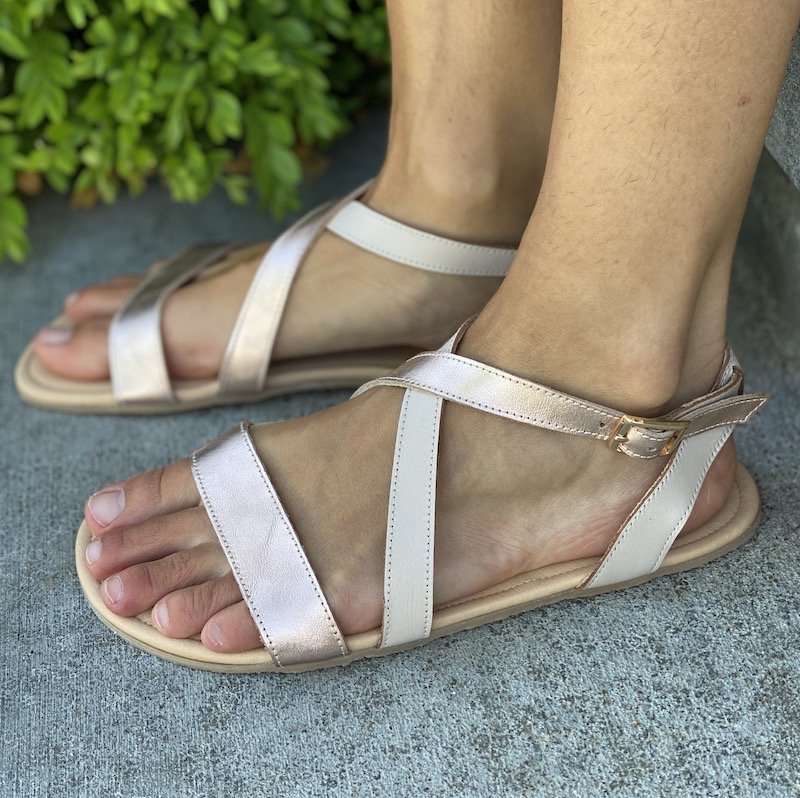 The Shapen Calla is a really lovely feminine sandal that can replace the high heels in your closet. They are softer than the flats and feel immediately comfortable without any pinching or rubbing. I love the rose gold color as a soft neutral, but they also come in black and white. Like all of Shapen's sandals, they fit wide and roomy.
---
Jasmine Sandal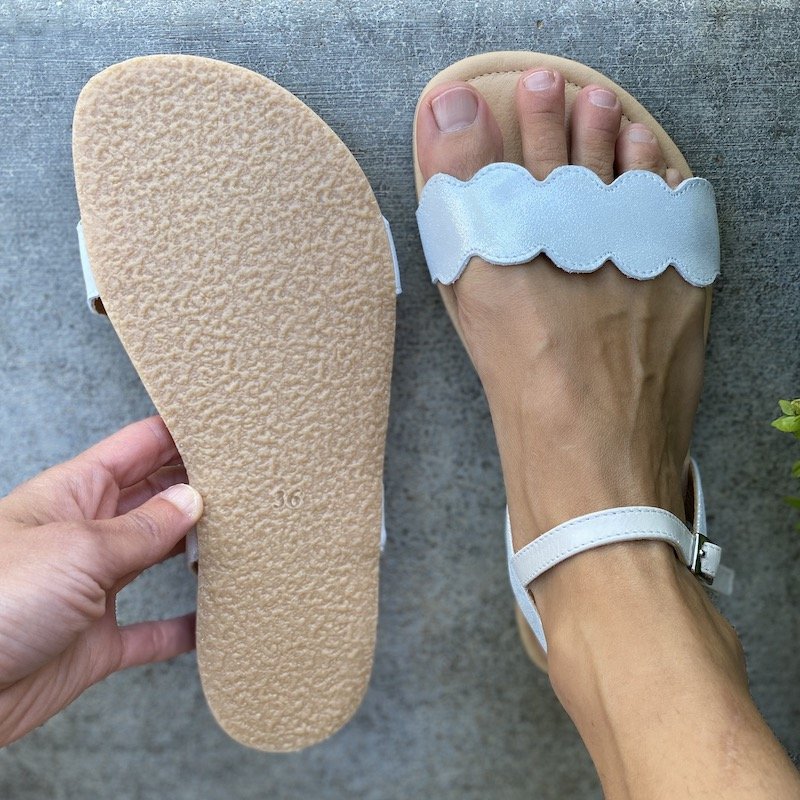 The Shapen Jasmine is an elevated sandal with scallop detail on the front strap for a little extra interest. They look dressy and more interesting than your basic sandal, but still are soft, wide, and comfortable.
---
Tulip Ballet Flat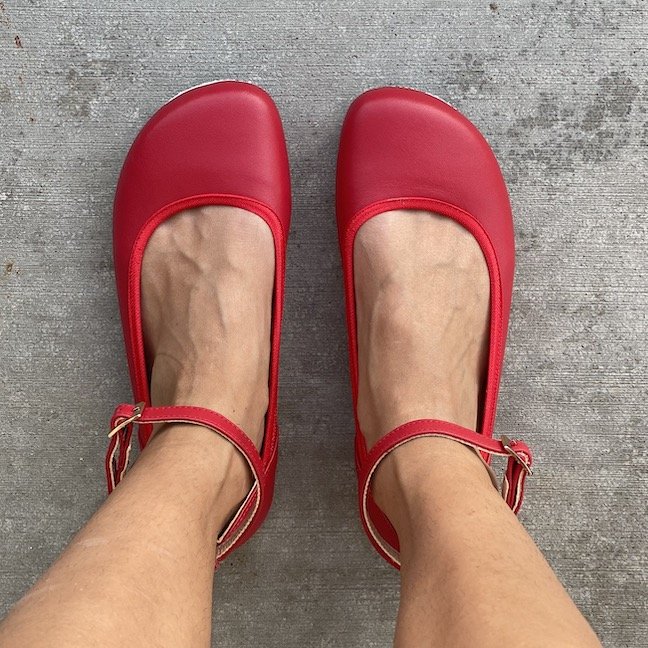 The Shapen Tulip is another barefoot ballet flat style that comes in several lovely colors and can easily be dressed up for fancy occasions. I got a size 36, regular width in this style as well, but the sole curves and that pushes my foot forward. The heel piece also digs into my achilles.
I have since tried a larger size and we've even sold them at Anya's Shop. But the truth is that I find the Tulip to be a little bit fussy and greatly prefer the Poppy or other softer barefoot ballet flats.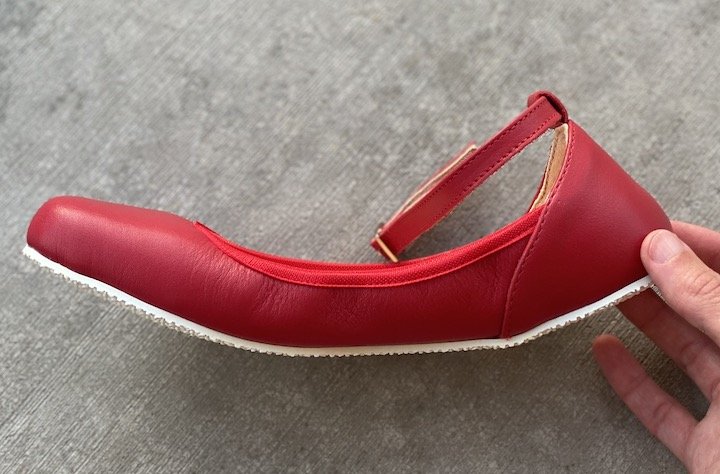 They have provided a detailed size chart so you can get the length and width measurements for each size, but keep in mind the curvature of the sole.
---
Mai Sandal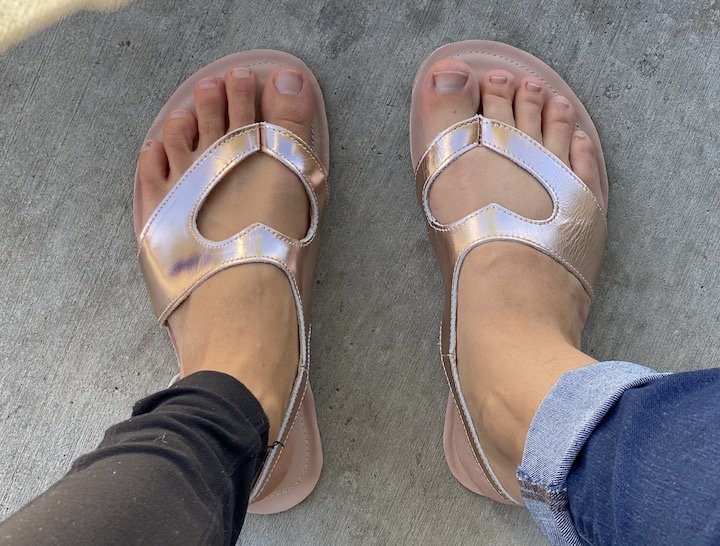 The Shapen Mai is a fun sandal with heart detail that feels soft and flexible immediately. I have wide, shallow feet and they were wide enough but also a bit floppy around the heel and over the arch. They fit Samantha much better, who has a beefier high volume foot. I got my usual sandal size of EU 36.
---
Daisy Sandal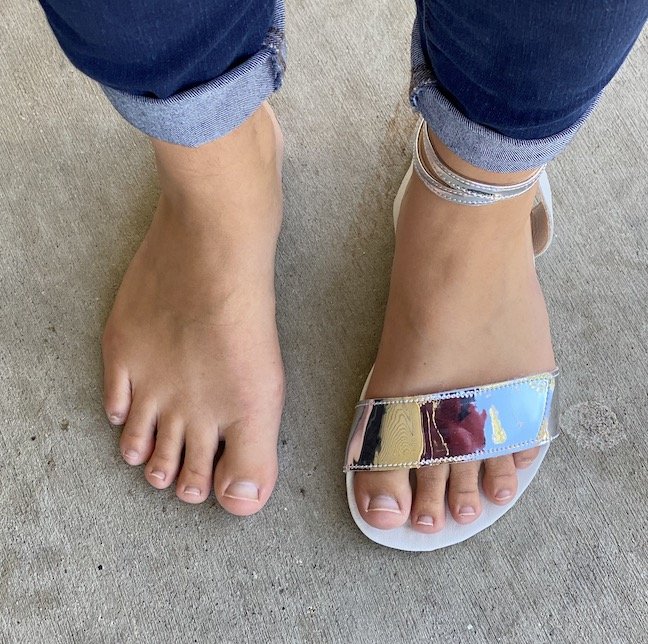 The Shapen Daisy is another extra wide sandal, with a velcro ball strap to make them even more adjustable. This sandal was unfortunately not a good fit for me at all, they were very floppy with tons of extra space around my feet.
They are best suited for really wide feet, and high volume would be best. Personally, I also don't like the metallic material on the ball strap, I think it looks plasticky. They are also very flexible like the Mai, but I love Shapen's other sandals a lot more.
Barefoot Dress Shoes Can Make Your Life Better!
If you want to get max foot health benefits from barefoot shoes, then you'll wear to wear them every time you need shoes – even on fancy occasions! But even if all you want is to be comfortable, brands like Shapen Barefoot make that possible. It is a fulfillment of my dreams to be able to bring healthy footwear to more people, so make sure you are watching Anya's Shop for lots more to come!
And don't forget to subscribe below so you hear about new barefoot shoe reviews!