I've been wearing barefoot shoes for several years now, and I love using barefoot-friendly insoles in them! They are a low cost way to increase the versatility of your shoes and help bridge the gap between conventional shoes and barefoot shoes.
You see, when it comes to barefoot shoes it doesn't have to be all-or-nothing. I have a long history of foot pain and it took me a while to get used to the thin, flexible soles on barefoot shoes – insoles have saved me on more than one occasion! Today I use them on a regular basis for a variety of different purposes. Here is how.
What Kind Of Insoles Can I Wear With Barefoot Shoes?
To clarify, insoles does not equal orthotics or support. An insole is simply an additional layer of material you can add to the inside of your shoe. Because barefoot shoes have uniquely flexible outsoles, you want to find insoles that are also flexible so they move with the shoe. So in this article we are covering the best insole options that work with minimalist shoes to provide additional comfort, functionality, and even mild support.
A note about orthotics: Orthotics can be a short term therapeutic tool if you are recovering from an injury (see my thoughts on arch support here). But specifically when it comes to barefoot shoes, I recommend against using a rigid orthotic inside them – the flexible outsoles of barefoot shoes can't keep a hard insert stable and that will stress the joints above your foot. So if you are someone who needs a rigid orthotic I suggest pairing it with one of the thicker, more cushioned options from this list.
Now let's get to the insoles I love to use in barefoot shoes!
Insoles for Comfort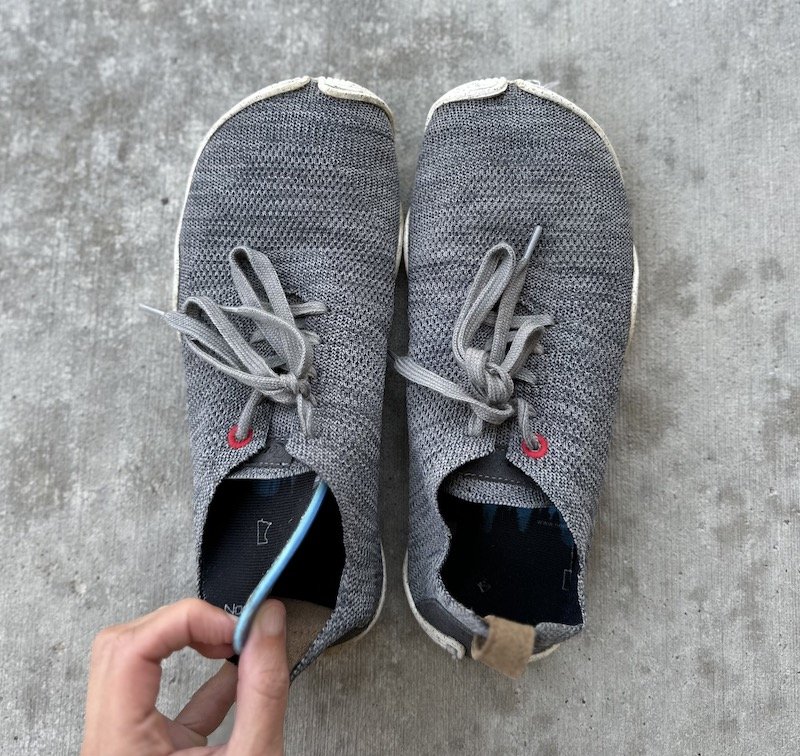 My two favorite insoles for comfort in barefoot shoes are:
NorthSole – flat, flexible, long lasting
Bridge Soles – mild arch support and heel lift to aid your transition to zero drop shoes
NorthSole insoles are completely flat and flexible, they just add cushion. But let me tell you, they can really change things around for you if you are feeling like barefoot shoes are too thin.
Bridge soles on the other hand have mild support and a small heel lift that breaks down over several months as you wear them. I recommend Bridge Soles specifically for people who are transitioning away from supportive footwear, whereas NorthSole insoles can be used forever no matter how functional your feet are.
But some people, no matter how long they've been wearing barefoot shoes, will always want cushion because of their particular anatomy or the environment they walk/stand in. There is absolutely nothing wrong with this. I still use my NorthSole insoles on long travel days or if I'm having a bad joint day! You feet will reap the benefits of your flexible, spacious shoes and they will continue to strengthen even if you have a little more cushion underneath.
Insoles for Warmth & Sock Replacement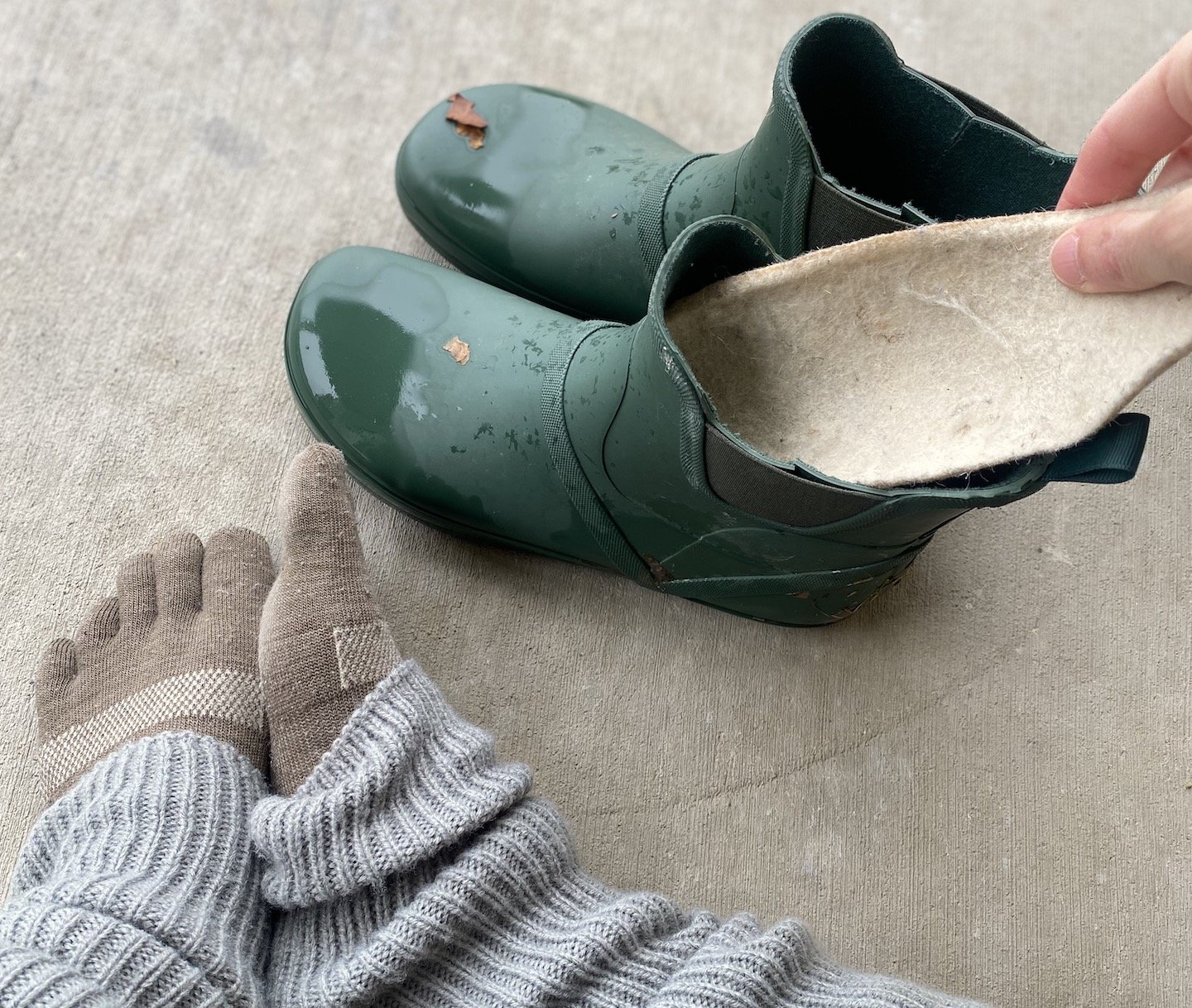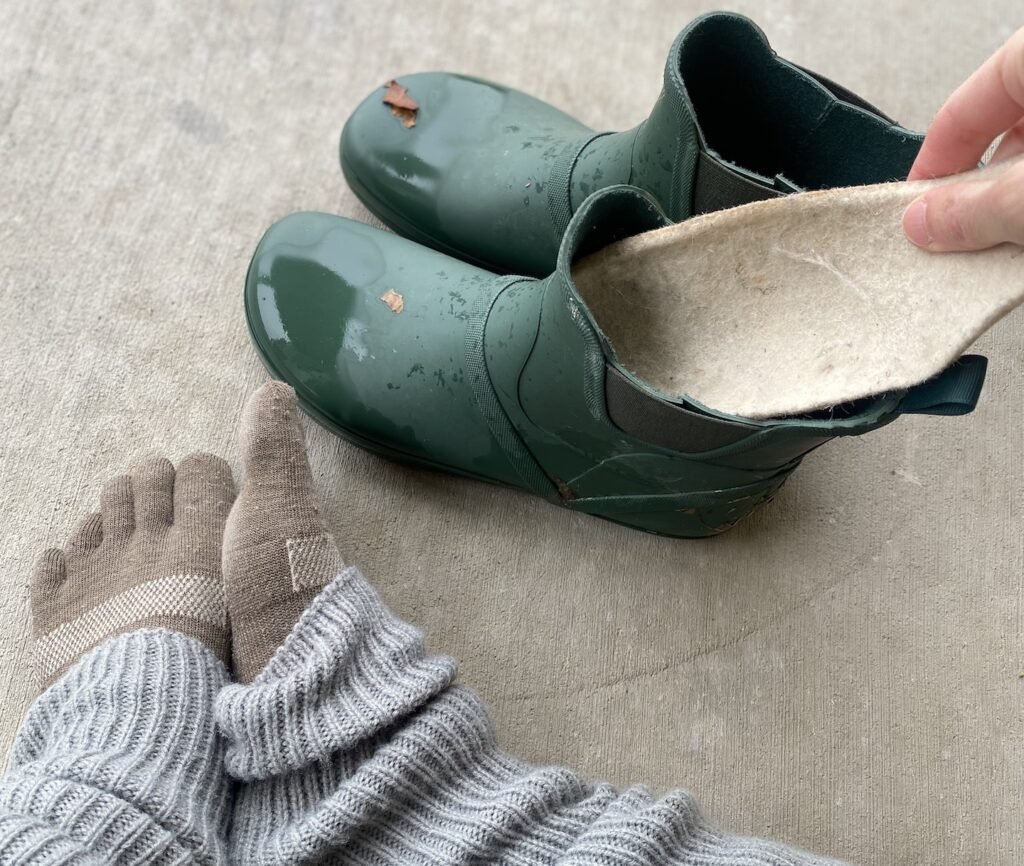 My favorite insoles for warmth and to replace socks are:
Barefoot shoes are thin. You can talk about your fancy insulating thermal insoles all you want but if you're feet are sitting on frozen ground, they gonna get cold. Any insole that adds height will keep your feet warmer, but my favorite for warmth are wool and sheepskin insoles. Because we live in a cold climate, we almost always use extra insoles in our barefoot winter boots!
The main thing to think about is how much space they will take up in your shoes. Because warm insoles tend to be thick I often size up in the barefoot boots that I plan to wear them with. If you are looking for a more versatile option, I would recommend Wildling's Woolly insoles because they are thinner and much easier to fit into shoes.
But the amazing thing about wool and sheepskin is they are not just warm – they are temperature regulating AND absorbent. So if you are someone who really doesn't like socks, you can use these insoles instead and your shoes won't get funky. You can also explore socks that don't squish your toes!
I have also listed Vivobarefoot's thermal insoles as a vegan option, but I have to be honest. I really don't find them very warm (and they don't absorb sweat). They will be better than nothing, but if you are facing serious winter conditions I would recommend something warmer.
Insoles for Performance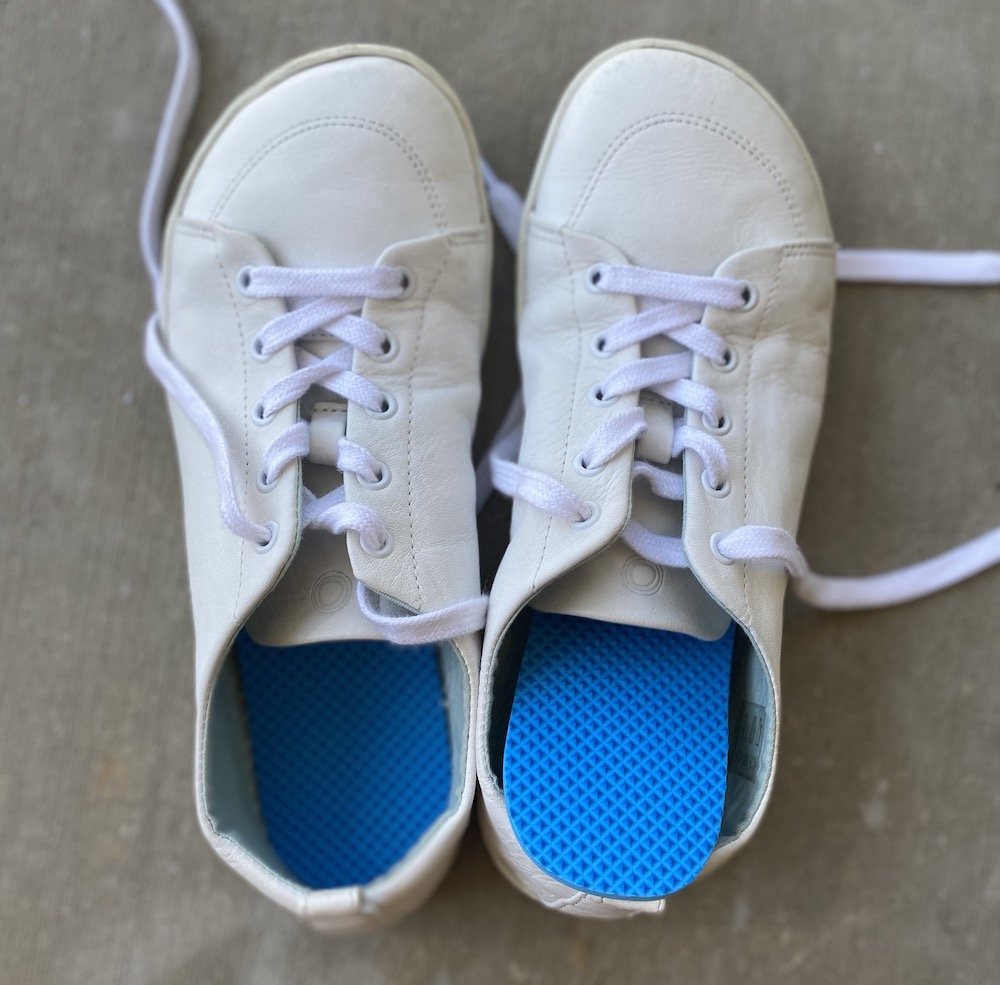 Performance insoles, like from Naboso Technology, use nerve stimulation to improve your gait and posture. Movement originates in the nervous system, so getting the nerves firing through your feet and legs makes it easier to move optimally.
I have been wearing Naboso insoles for several years now, and when I wear them my legs feel more stable and alive. Naboso insoles come with different amounts of stimulation depending on how comfortable you are with texture on your feet.
I am wearing the Activation insoles. They can feel a little rough/overstimulating at first if you aren't used a lot of feedback on your feet, but over time I have really grown to love it. You can even get a Xero sandal with a Naboso insole on it which is very intriguing to me!
You can use code ANYAREVIEWS10 for 10% off the Naboso e-shop.
Insoles for Shoe Fit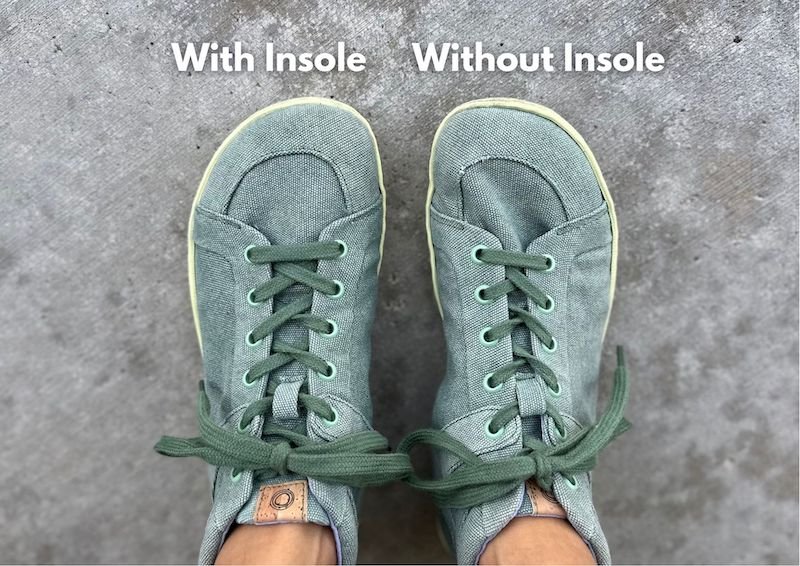 Insoles can also be really helpful in barefoot shoes that are too high volume for your foot. I have low volume feet, so I frequently add a thin insole to keep my foot from sliding around inside the shoe. I can't tell you how many shoes have been saved using this trick!
Another shoe fit hack: Sometimes insoles don't fit well in my shoes, so in this case I ditch them and put a felt sticky or moleskin in the shoe upper. Sometimes I use both.
How Many Pairs of Insoles do I Need?
The convenient thing about insoles is that their purpose can double up. You can make shoes fit better, get more comfort, and extra warmth! I've found that a few insoles on hand makes it possible to get by with fewer pairs of shoes, and they can easily be moved around to whatever you are wearing that day! So don't feel like you need an extra insole for every shoe you own.
Another fun fact is that many barefoot shoes come with removable insoles that you can mix and match with other shoes.
You can see here how I used multiple insoles in one pair of shoes to make them super functional on a long trip!
Like barefoot shoes? Make sure check out all the reviews and shoe lists we have here!