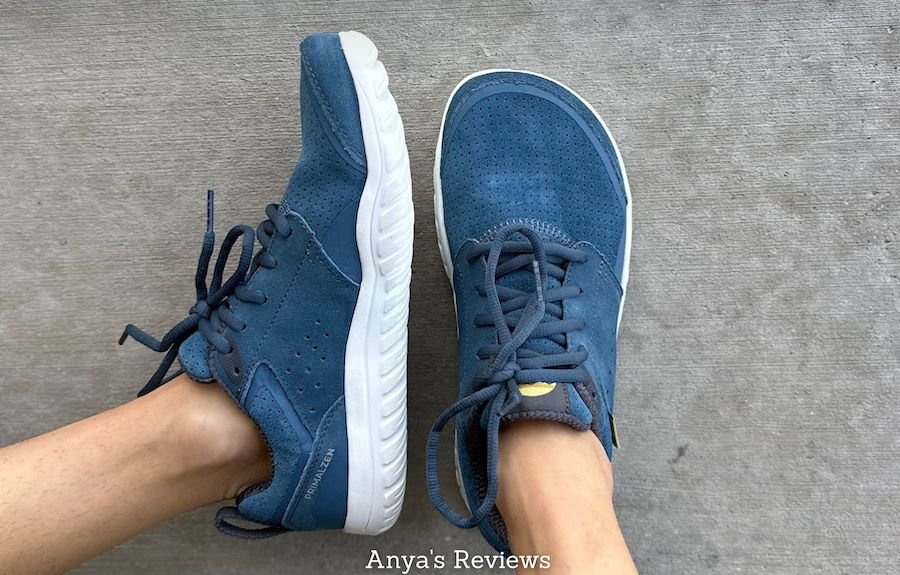 If you are new to minimalist footwear, it can take some getting used to. Especially if you've been wearing supportive shoes your whole life, you may find that barefoot shoes are an extreme change. Who knew the ground was so hard??
In this article you will find 14 transitional barefoot shoe brands I recommend as a good starting point for beginners! These are shoes with a wide toe box and flat sole, but a little bit more cushion. Some even have the option of support if you need it today. Let's dig into your options!
But before we get to shoe brands, here's a refresher on what makes a minimalist shoe:
What Is A Minimalist Shoe?


To be considered a true barefoot shoe, it must have all of the following characteristics:
Wide Toe Box – Toe freedom supports the movement of your entire body.
Flat – No arch support or heel rise (zero drop) for stable, functional movement.
Flexible – So your feet can bend like they would if barefoot.
*Note: Zero drop means no heel rise, i.e. the shoe is just as thick under your heel as it is under the ball of your foot.*
As you become more comfortable with barefoot shoes you might find yourself reaching for thinner soles (we are trying to mimic being barefoot after all). But a lot of people like to have more cushion when they first start out – and some people always use a little more cushion!
I myself went through a full year of foot and body strengthening before I was comfortable in barefoot shoes, and I needed extra cushion for another year after that. It's easy to underestimate the impact shoes have on our body, but once you start seeing the benefits of barefoot, there's no going back. Switching to minimalist shoes is a big change, but it's 100% worth it – Learn more about transitioning to barefoot shoes in my FAQ!
Looking instead for Affordable Barefoot Shoes? If you want to test the waters without an investment, check this list out for cheap options!
Transitional Barefoot Shoe Brands for Beginners
And now, the shoes. The following is a list of my 14 favorite brands for transitioning to barefoot shoes. They are all foot-shaped, flat, and flexible, but with some extra cushion.
And if you don't find what you're looking for, you can find even more options in my Barefoot Shoe Finder, where you can search by region, price range, sole thickness, and width.
Now let's get to my favorite zero drop shoes for beginners.
Lems Shoes
If you're looking to become a barefoot enthusiast but have been dependent on cushioned shoes, Lems is a great first step into the minimalist world. You'll get the immediate benefit of a wider toe box and zero drop heel, but you have plenty of cushion as you learn to change your foot strike pattern. You also have the ability to add an orthotic such as this one if you need some extra support.
The best part about Lems is that they carry a wide variety of unisex shoes for exercise, hiking, and work and they're stylish too. European residents can purchase Lems at Mugavik Barefoot and use code ANYASREVIEWS for 5% off.
I've linked directly to the ones I recommend, because not all Lems Shoes are zero drop or foot shaped! The options one the Widest sole fit wide to extra wide feet. The options on their Wide sole fit average width feet.
Read all my Lems Reviews here!
---
Altra Running Shoes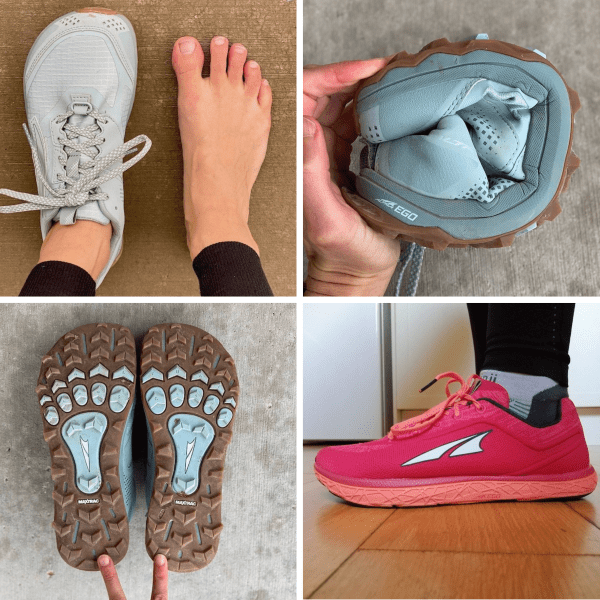 Another great brand for foraying into minimalist athletic shoes is Altra. Like Lems, they have multiple widths so I recommend sticking with their wider options and their thinner soles (still much thicker than any barefoot shoe). My favorites are the Lone Peak, Escalante, and Superior. They primarily carry athletic shoes, but also have a few nice lifestyle shoes.
This is the very first minimalist shoe brand I owned and I immediately noticed how much more comfortable they were on my toes than any other sneaker I had tried. The nice thing about Altra is that it is widely available. You may even be able to try them on in a local running shoe store.
---
Joe Nimble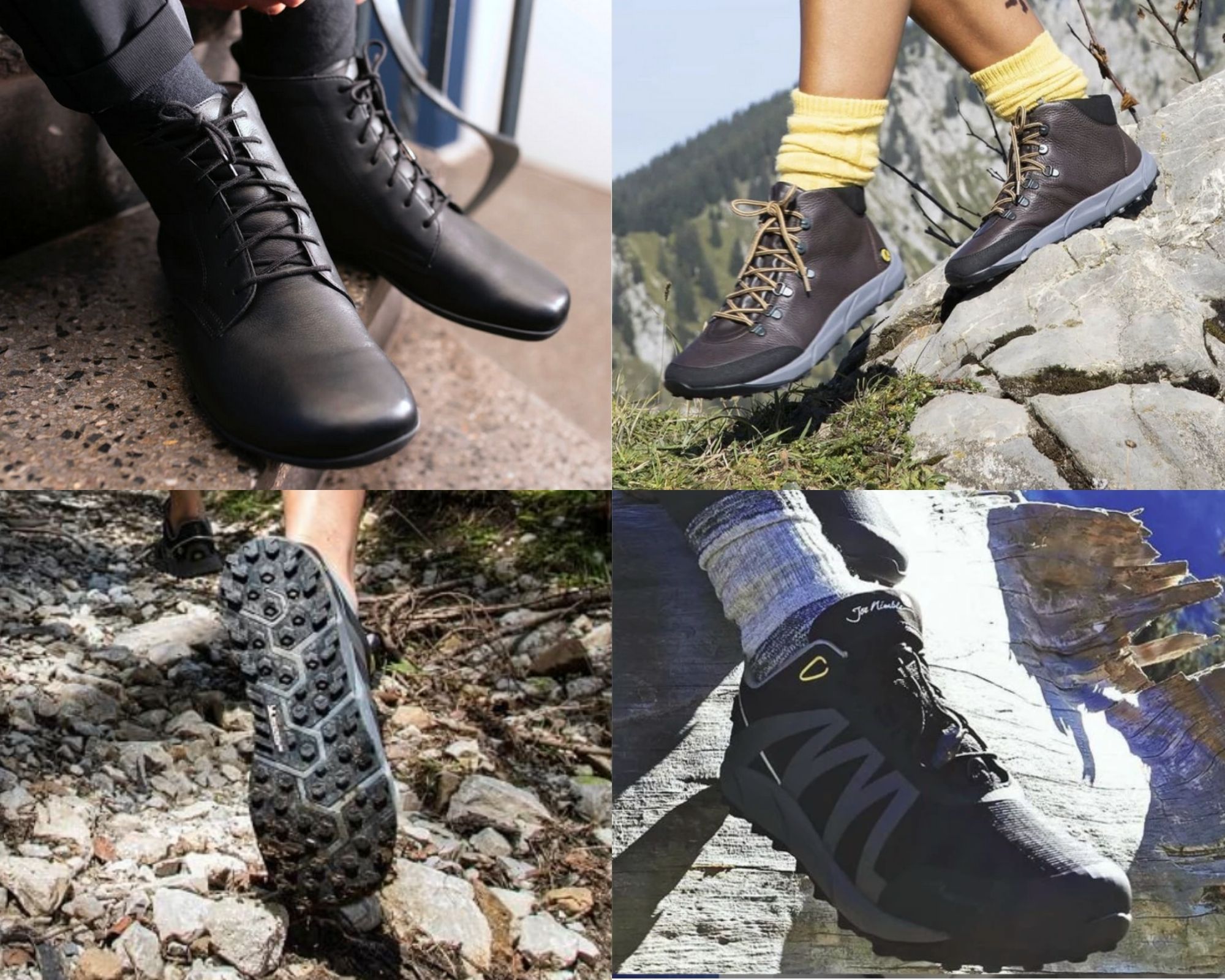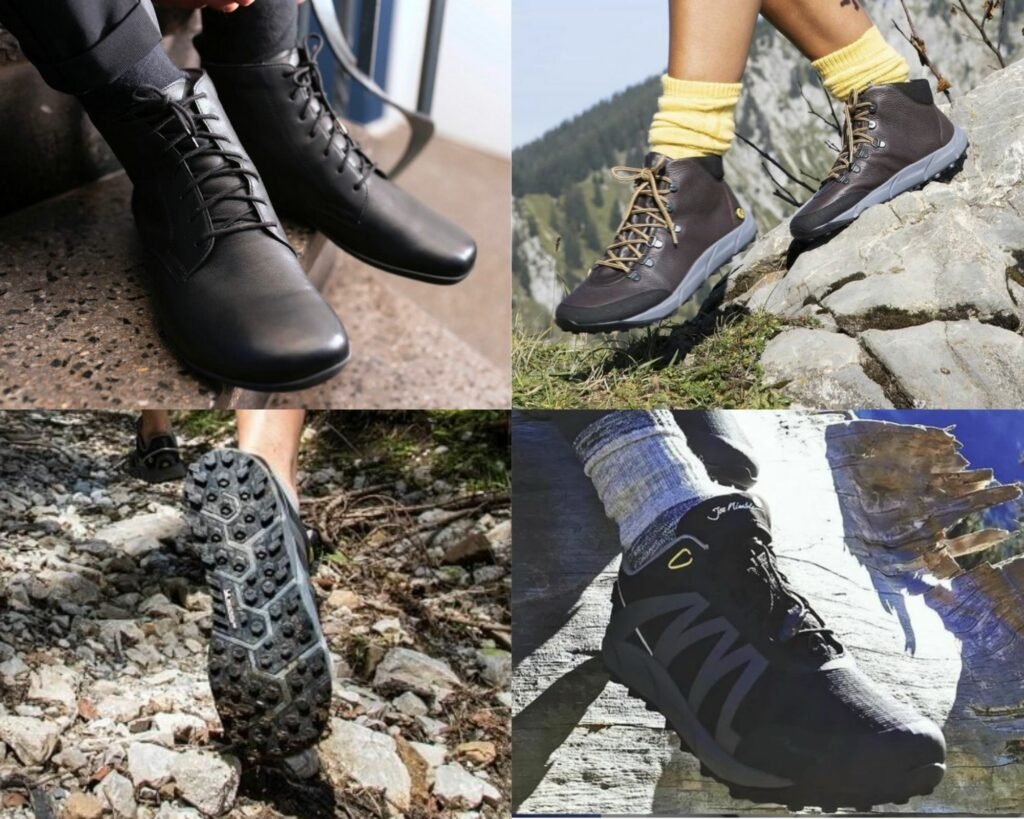 Joe Nimble Int (get 10% off first purchase with code AFFANY10)
Joe Nimble is a German functional footwear brand that has an anatomical foot shape, but a thicker sole than you find on most barefoot shoes. They are well made, stylish, and especially good at bridging the gap if you want to continue doing the activities you love but aren't ready for ultra minimalist shoes yet.
Note that most models come with an insole that has a 3mm heel rise, but the shoes are zero drop with insole removed. Joe Nimble also has several lifestyle shoes with much thinner and more flexible soles (shown above top left).
---
Barebarics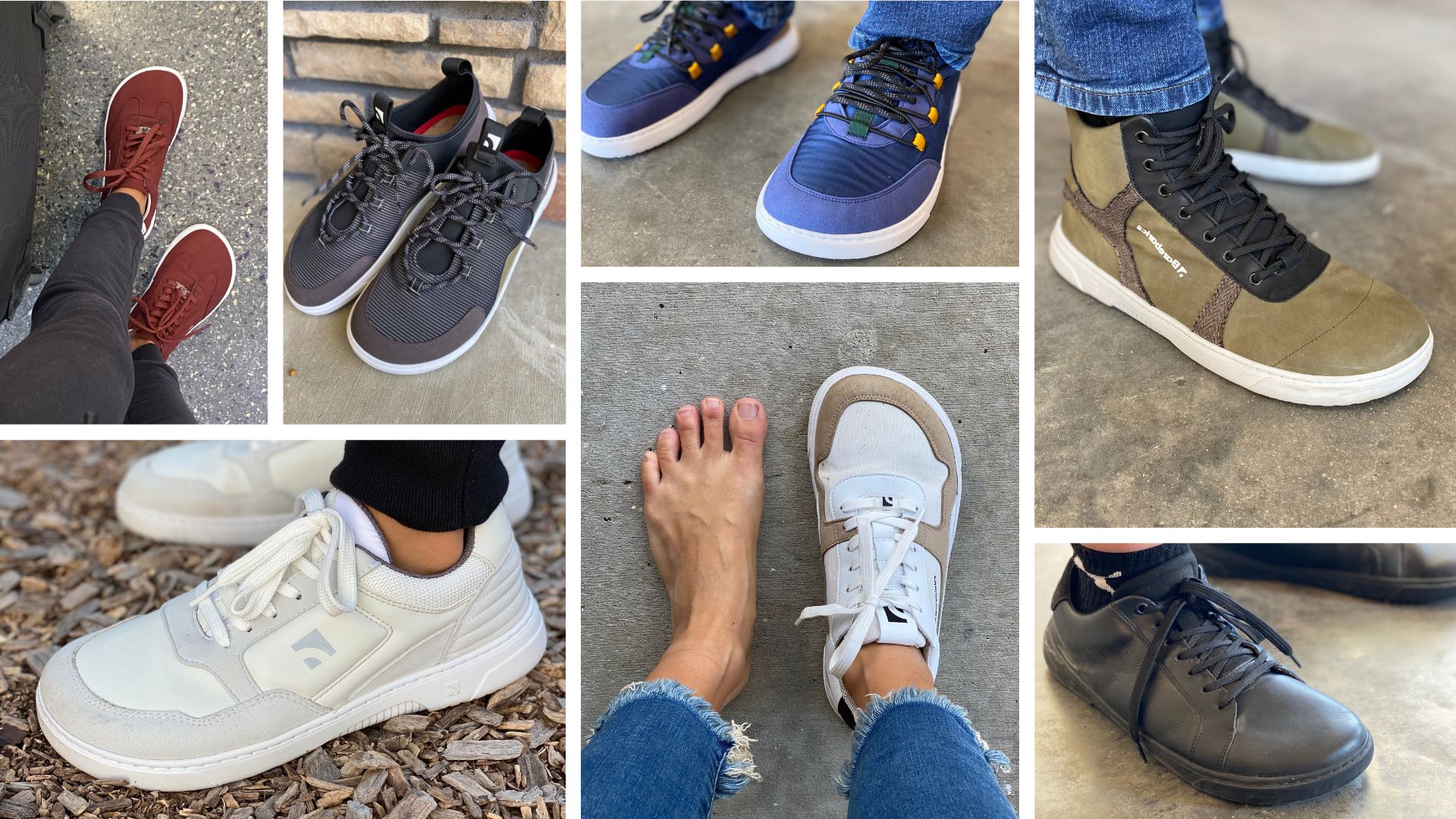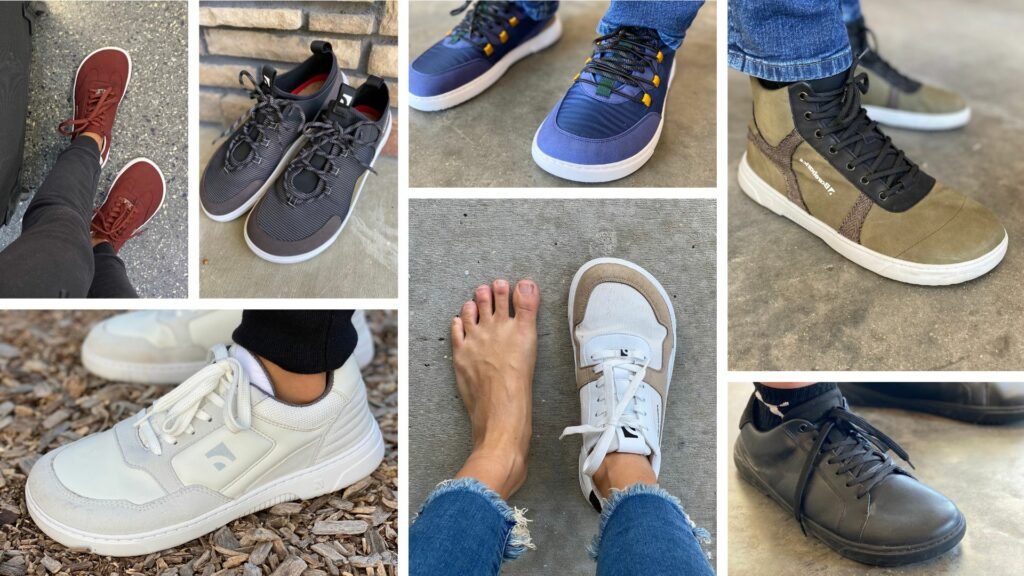 Use code ANYASREVIEWS for a 5% discount at the EU shop
Barebarics is a fashion forward brand owned by Be Lenka. They are designed for urban dwellers with a highly abrasion-resistant outsole, a little more cushion than Be Lenka shoes, and a modern aesthetic. They really level up the style game AND the quality game.
Because they have a thicker/stiffer outsole and a more cushioned insole I consider these to be a good transition shoe. You could even comfortably use an orthotic inside them if you needed to. Barebarics also have a fabulous toe box shape that'll work for wide feet and look damn cool. We carry them at Anya's Shop in the US with free shipping/returns!
Read my full Barebarics Review here!
---
Oesh Shoes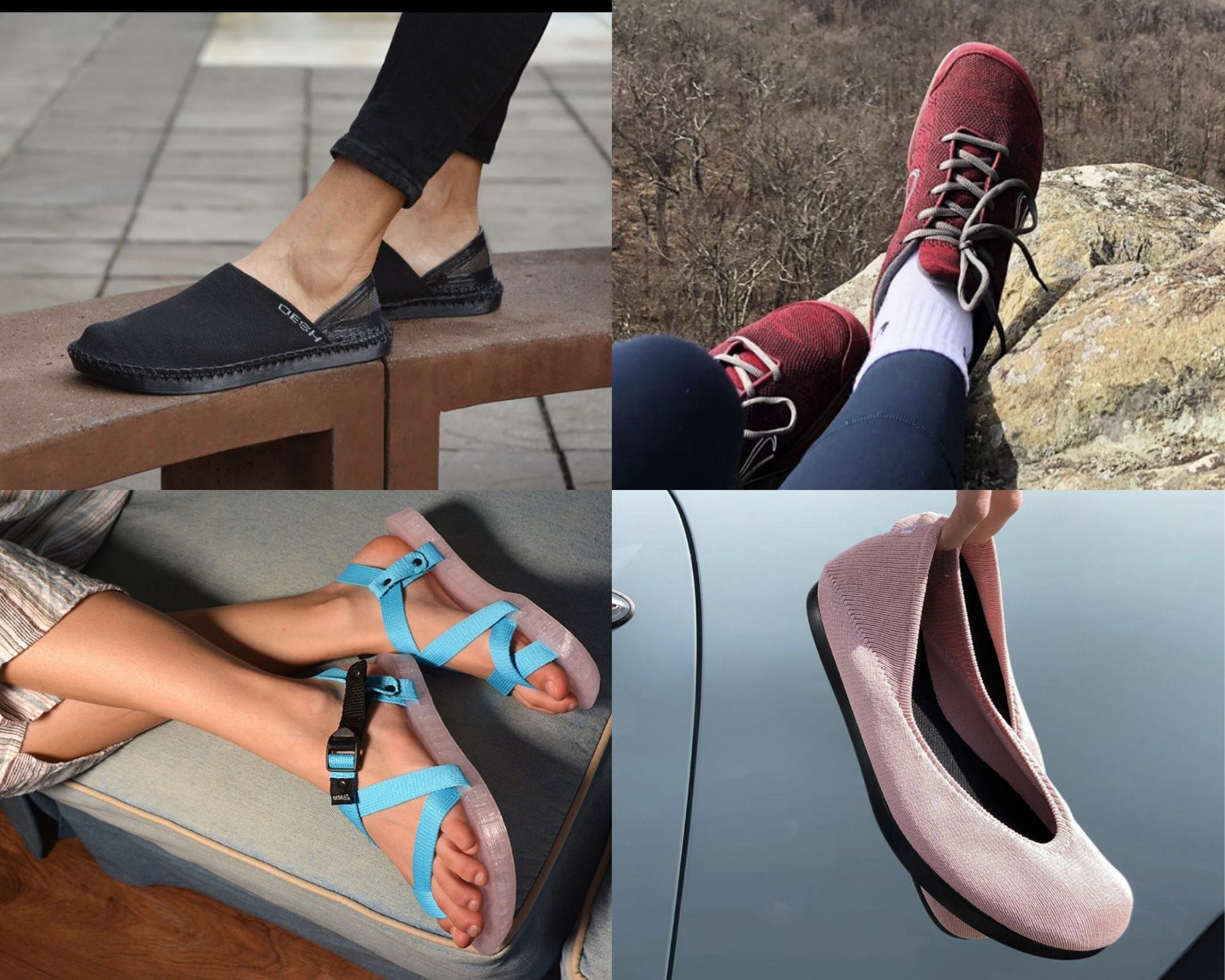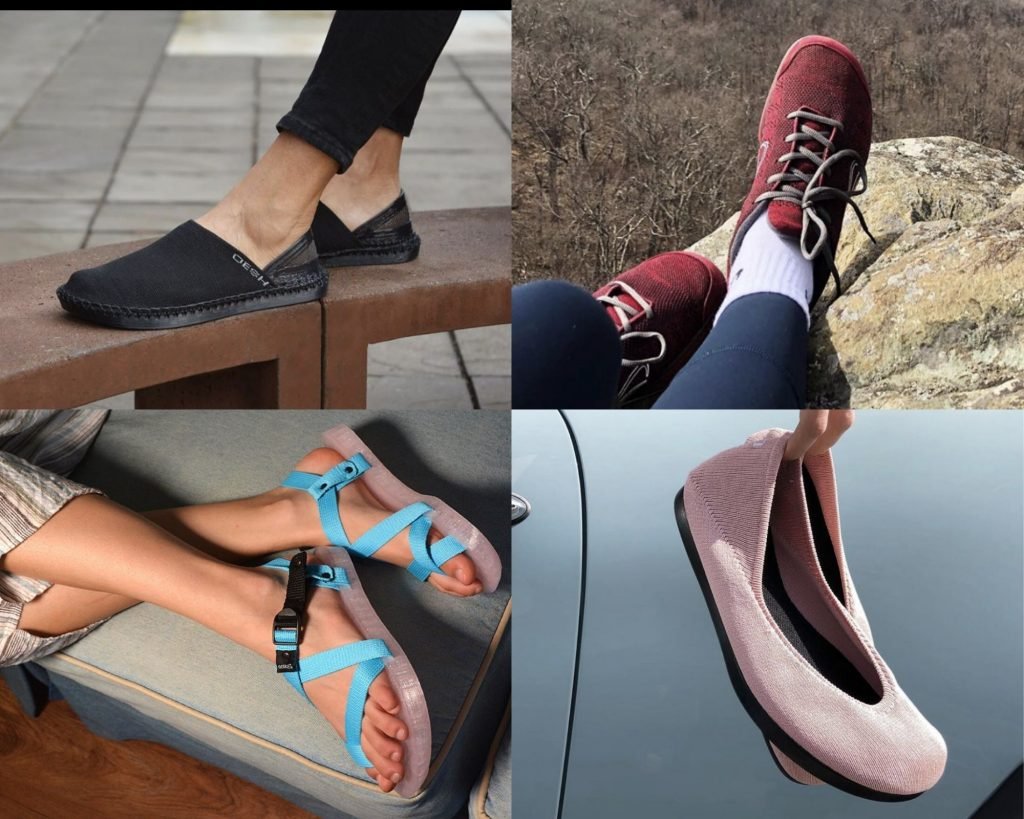 Oesh is a women's brand and is great for someone who wants to wear minimalist shoes every day but still needs a thick sole. With athletic shoes, summer sandals, and even dress shoes, they cover a lot of bases for the modern day woman. The soles are 3d printed in store and were developed to be especially shock absorbent and springy. This results in less impact on the joints, but they are completely flat with no arch support to promote better stability and foot function. Here you can read my experiences with Oesh.
---
Whitin Sneakers
At around $40, Whitin sneakers are one of the most affordable options out there with lots of casual options. They come with an insole that has a slight heel rise, so you have the option of keeping the insole in for a bit of cushion or you can remove and have a zero drop, thin, flexible shoe.
These are a favorite among people who want to try out the concept without making a big investment. And the casual sneakers are even machine washable! I recommend ordering from their "Wide Barefoot" Section for the best foot shape.
You can read my Whitin Barefoot Shoes Review here!
---
Saguaro Barefoot Sneakers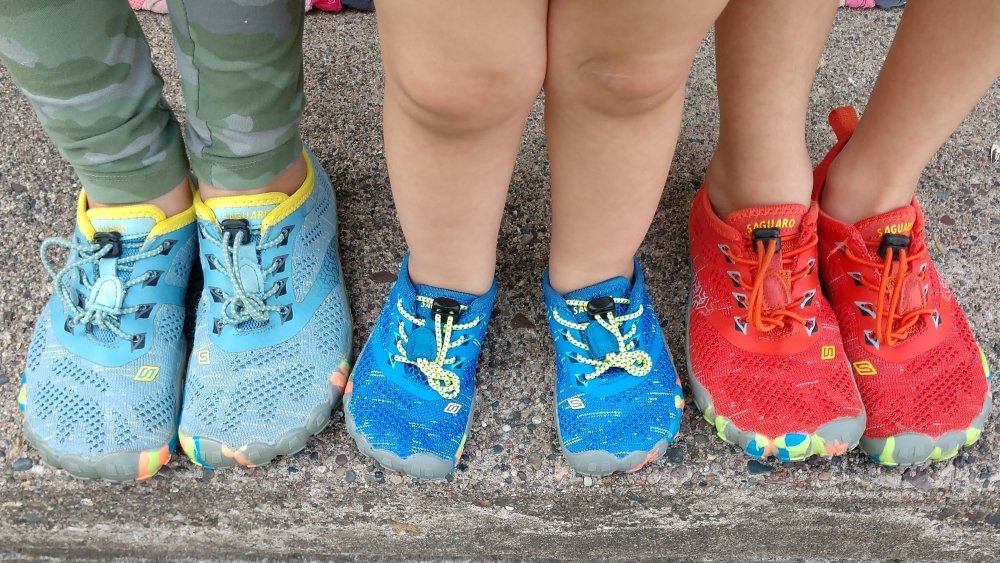 Use code ANYASREVIEWS for 15% off!
Saguaro is an affordable barefoot sneaker brand, and this one comes in a full range of sizes starting at toddler. The adult sneaker models come with an insole that has a slight heel rise, but it can easily be removed to be zero drop. At around $36 after my code, they are an easy way to get your foot in the door and see how you like it!
We all love the knitted version you see here, both for kids and adults. It's breathable, light, and super comfortable.
Read my Saguaro Shoes Review here.
---
Origo Shoes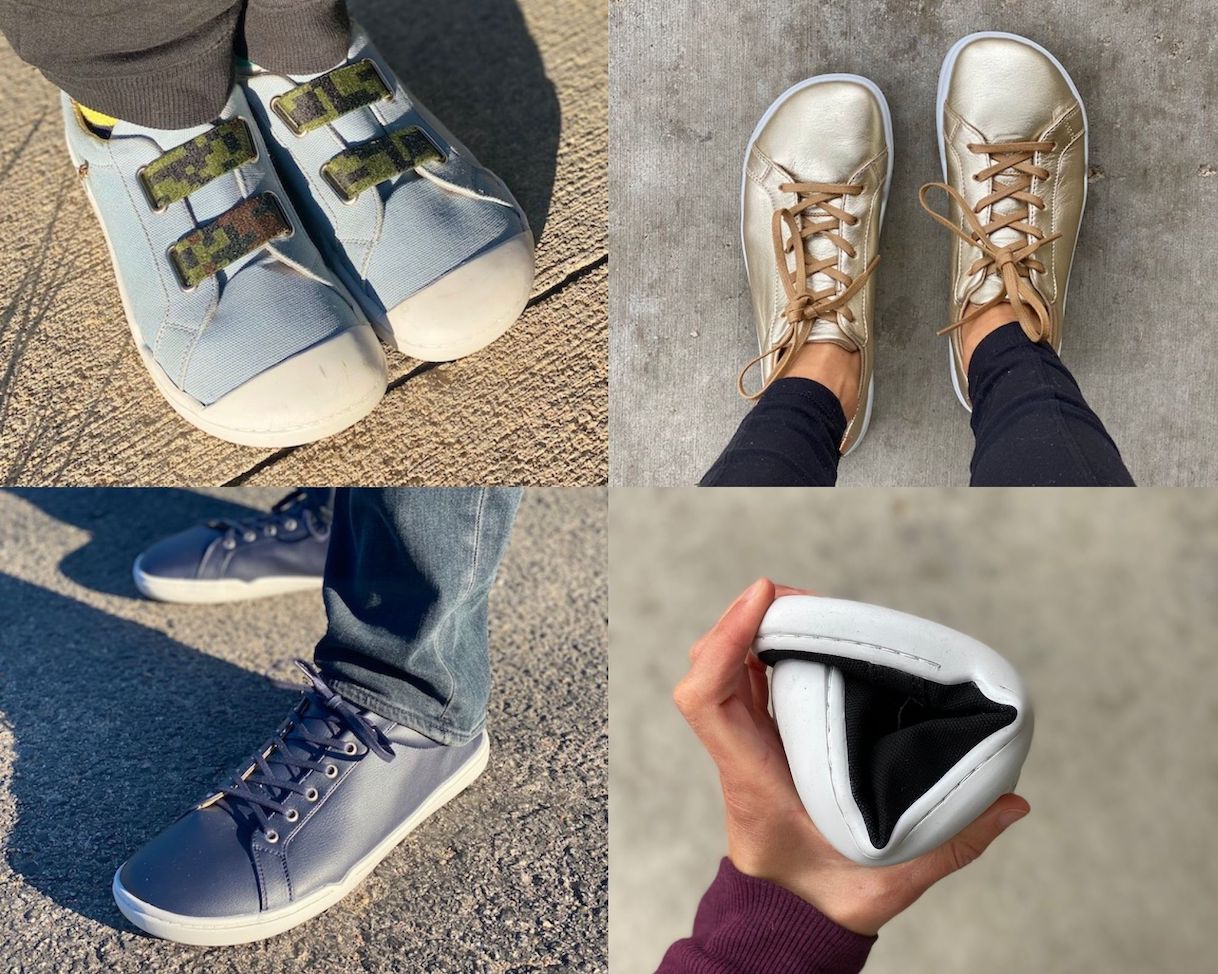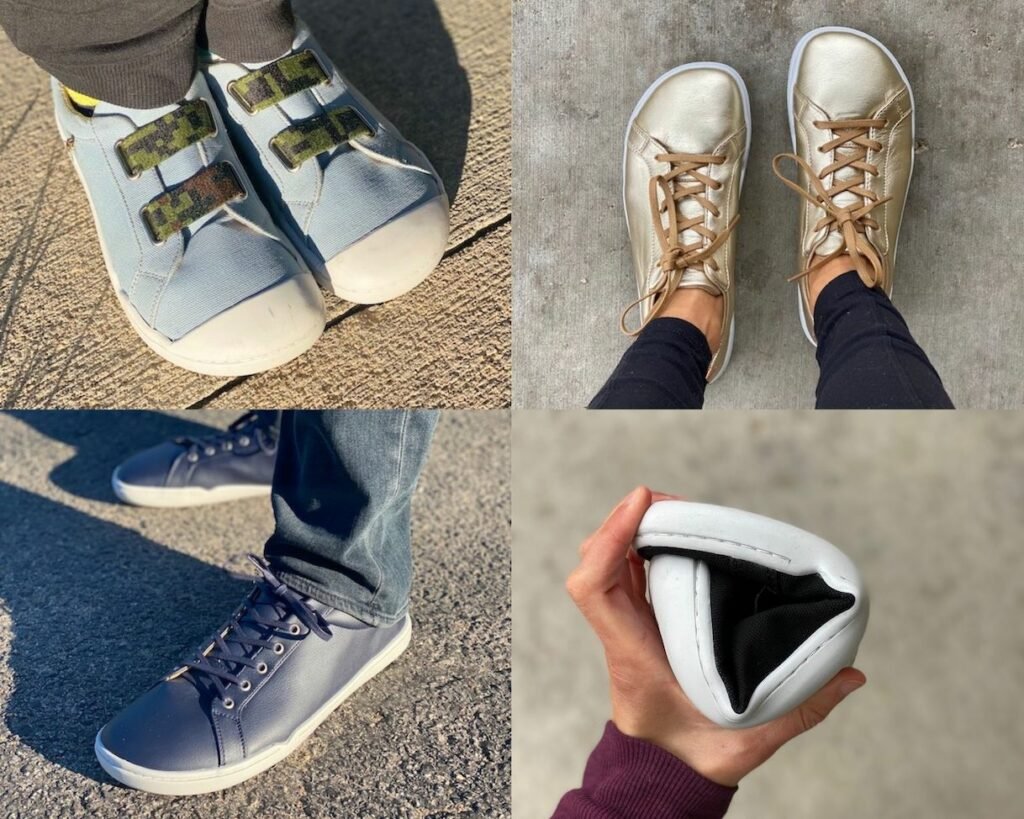 Get 10% off with code ANYA.
Origo Shoes is a new minimalist shoe brand that is zero drop and has options for the entire family (including vegan and affordable models). They are roughly 6mm thick, and flexible enough to roll up. The toe box is much wider than most mainstream sneakers, but not as wide as other barefoot shoe brands. They are an excellent starter option because they look so stylish and are easily accessible – for a reluctant barefooter 🙂
Just note that this option has a thinner sole than the other brands we've talked about here.
---
Flux Footwear
Use code ANYASREVIEWS for 10% off
Flux footwear is another stylish sneaker option that is zero drop and wider than average. They have a thicker cushioned sole, and a soft knitted upper. The Adapt Trainer (left) has more of a tapered toe box than I prefer, but they can work well if you are new to barefoot shoes or have a narrow foot.
The Adapt Runner (right) has a thicker sole – 22mm stack height – and a wider forefoot, but does have quite a lot of toe spring. This makes Flux a compromise option IMO. They might be exactly what you're looking for, but don't meet every one of my personal shoe criteria.
---
Icarus Footwear
Use code ANYASREVIEWS for 10% off
Icarus was a pleasant surprise for us on the Anya's Reviews team. They are a new brand with one model, the Ascent, that only comes in men's sizes right now. So that means Justin and Robby (Samantha's husband) are our testers this time.

These sneakers have a sleek design that looks durable, stylish, and still quite wide in the toe box. But possibly the best part about them is they come with 3 insoles that can take you through your transition to barefoot shoes.

The first insole is cushioned and has a 6mm heel rise (not zero drop). The second is 4mm thick, and the third is 3mm thick. You can stack them together to add 7mm of zero drop cushion, or you can remove all insoles altogether to have an ultra thin shoe. These shoes can really transition with you, and will fit most foot types even with the different insole variations.

Icarus advised us these shoes run small and to size down, but for both Justin and Robby they were true to size. So we would suggest sticking with your usual size.
---
Transitional Sandals
Looking for sandals? There are TONS of minimalist sandal options, but the following are the best ones for newbies.
Bedrock Sandals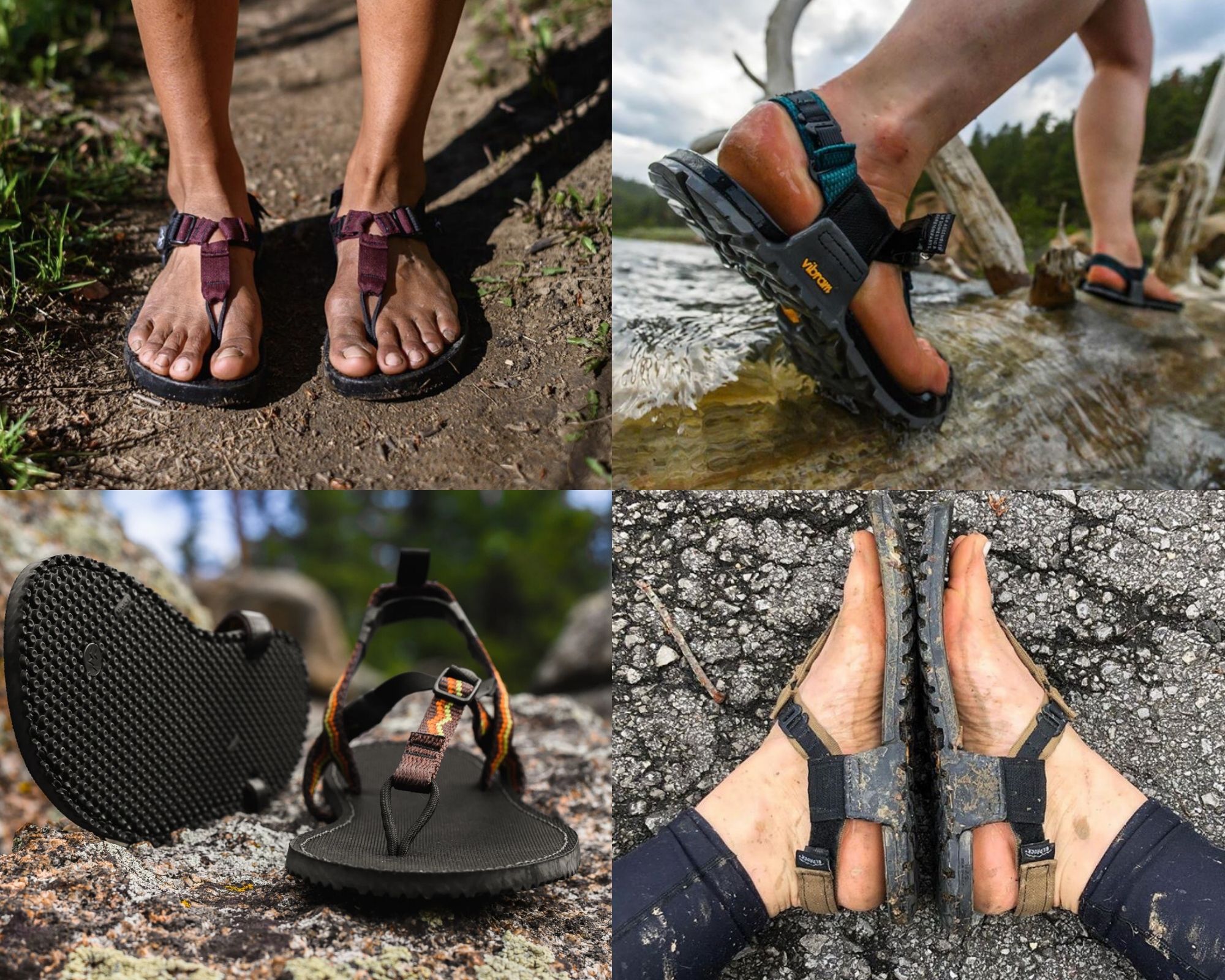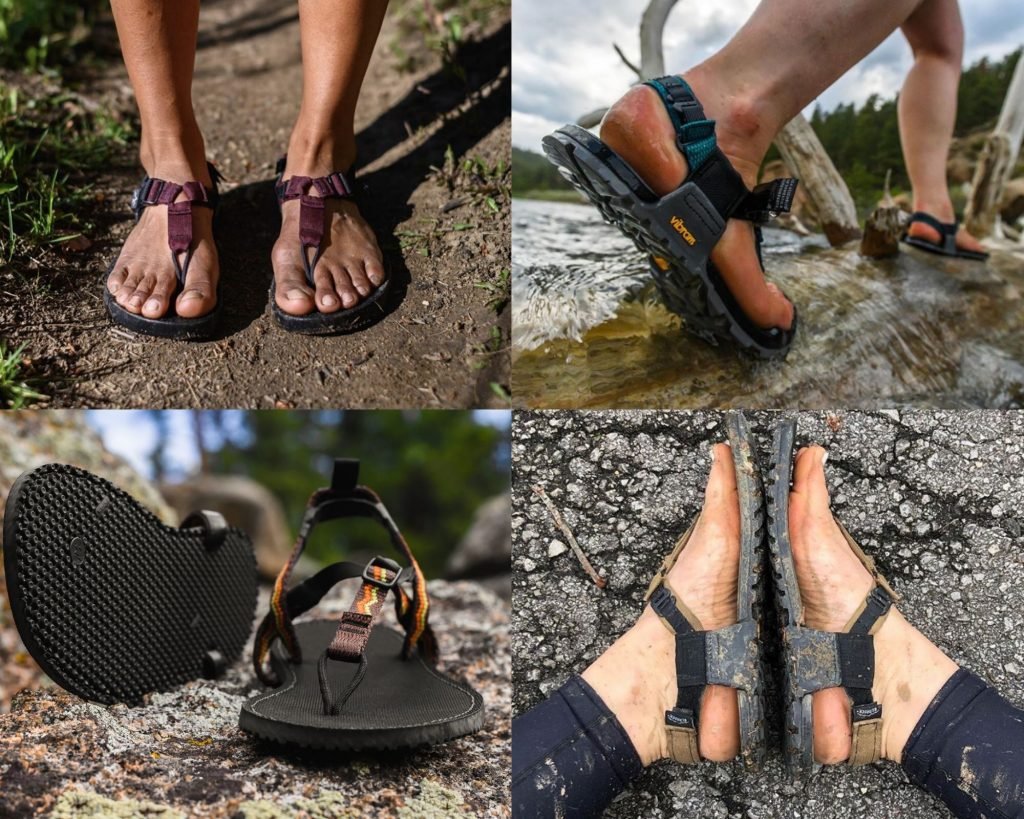 Bedrock Sandals are rugged, hard-wearing, and thick-soled. You can choose from a range of models, some with mild arch support and others completely minimal. I like Bedrocks because they are secure to your feet, but let your toes be completely free. They are great for both everyday and all kinds of adventuring thanks to the great traction on the sole.
---
Earth Runners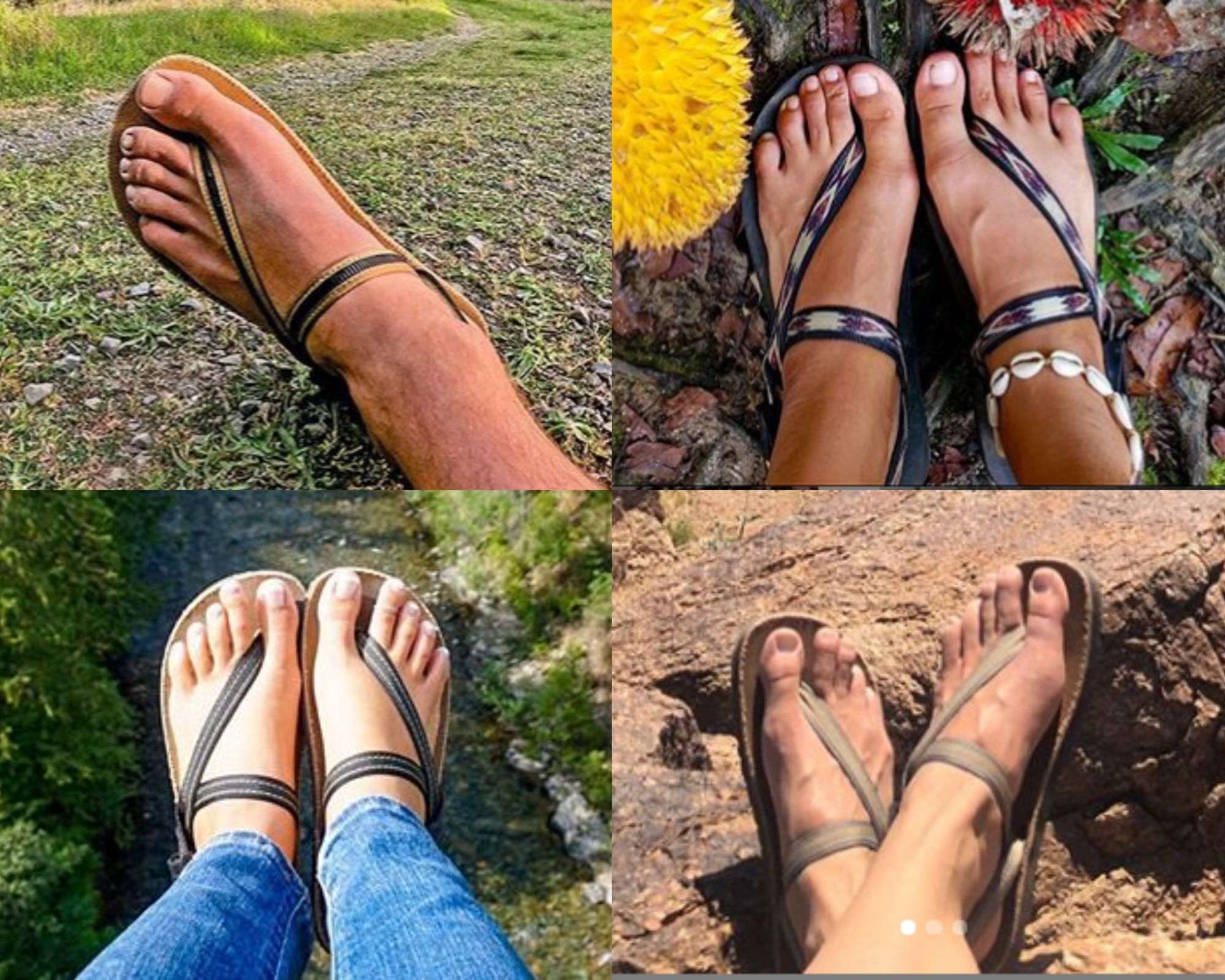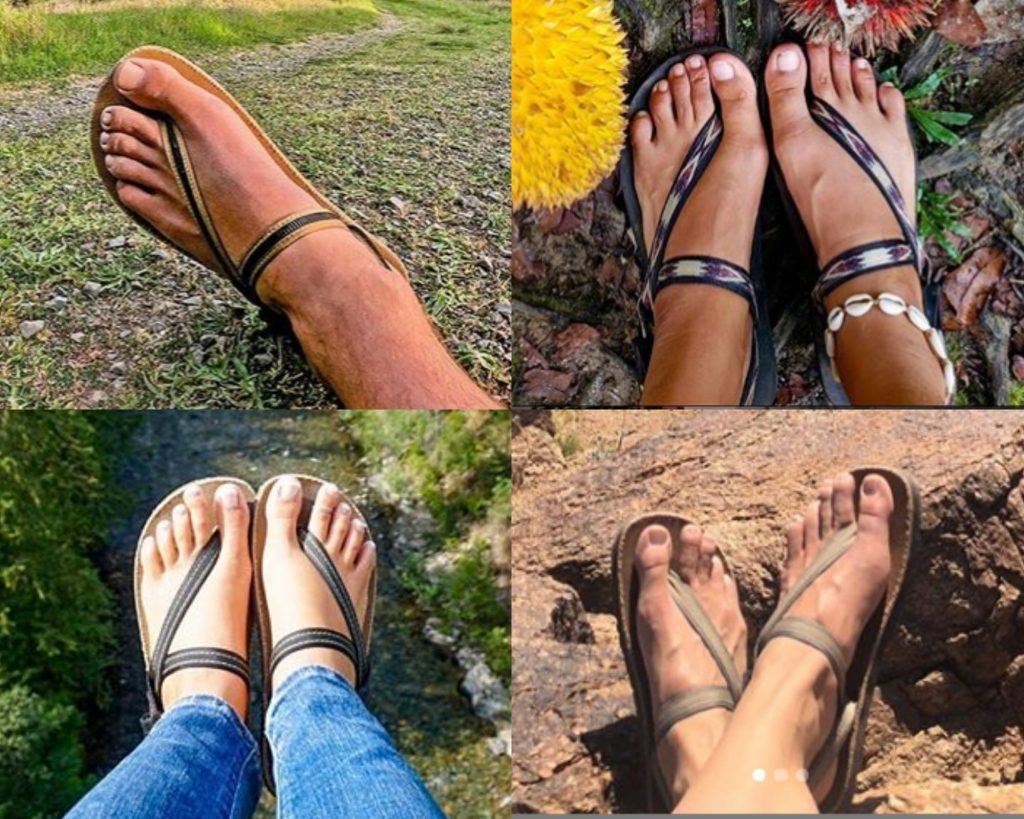 Use code ANYASREVIEWSER10 for 10% off
Earth Runners is another brand that is super secure, durable, and lets your toes go wild. They have different thicknesses depending on your needs, but all are completely flat and flexible. I've been wearing Earth Runners for a while now and love them for hiking as well as every day wear. They only have one strapping style, and I love how simple it is. I've worn mine with dresses, jeans, and basically everything. This is a great brand for both new and seasoned barefooters.
---
Luna Sandals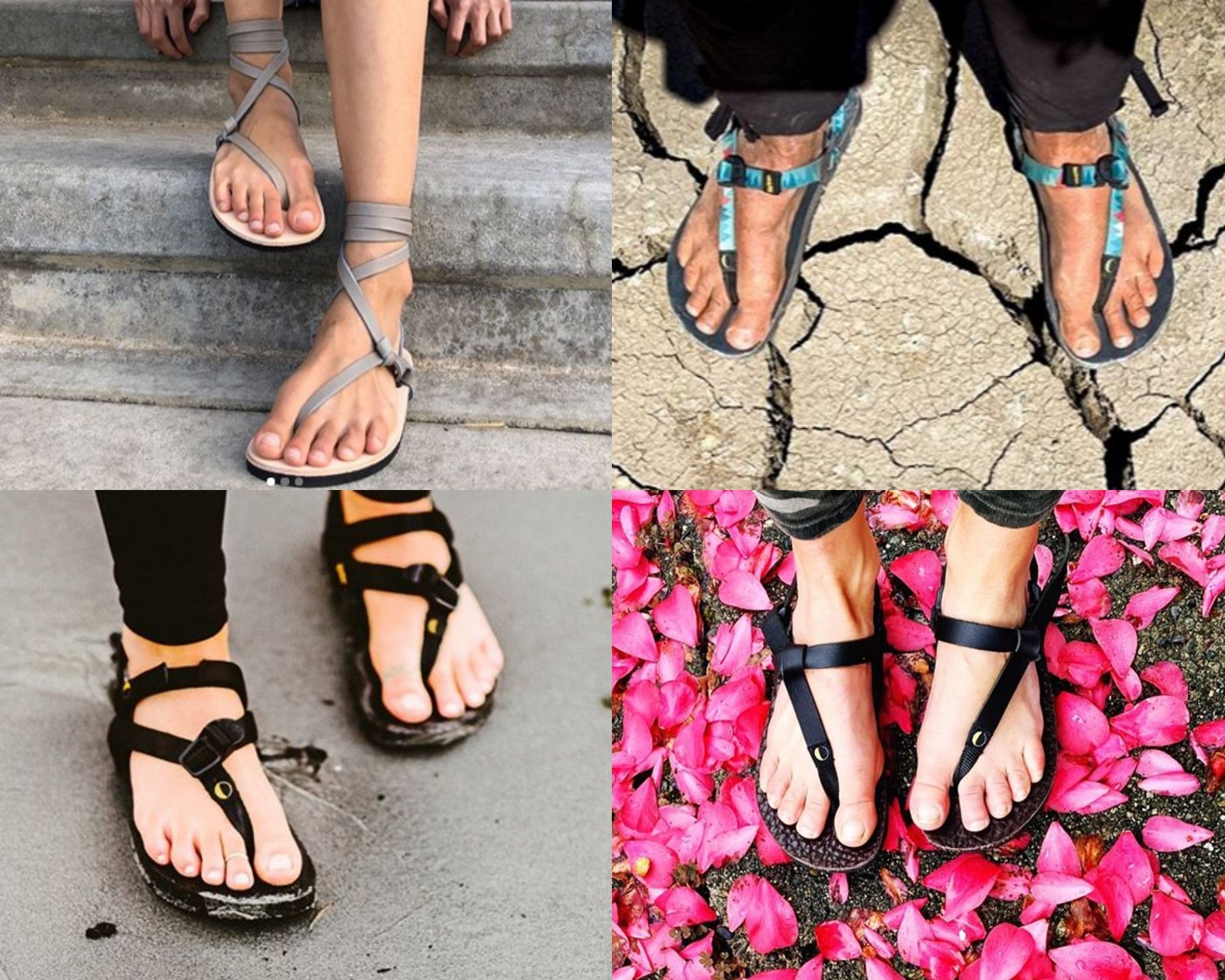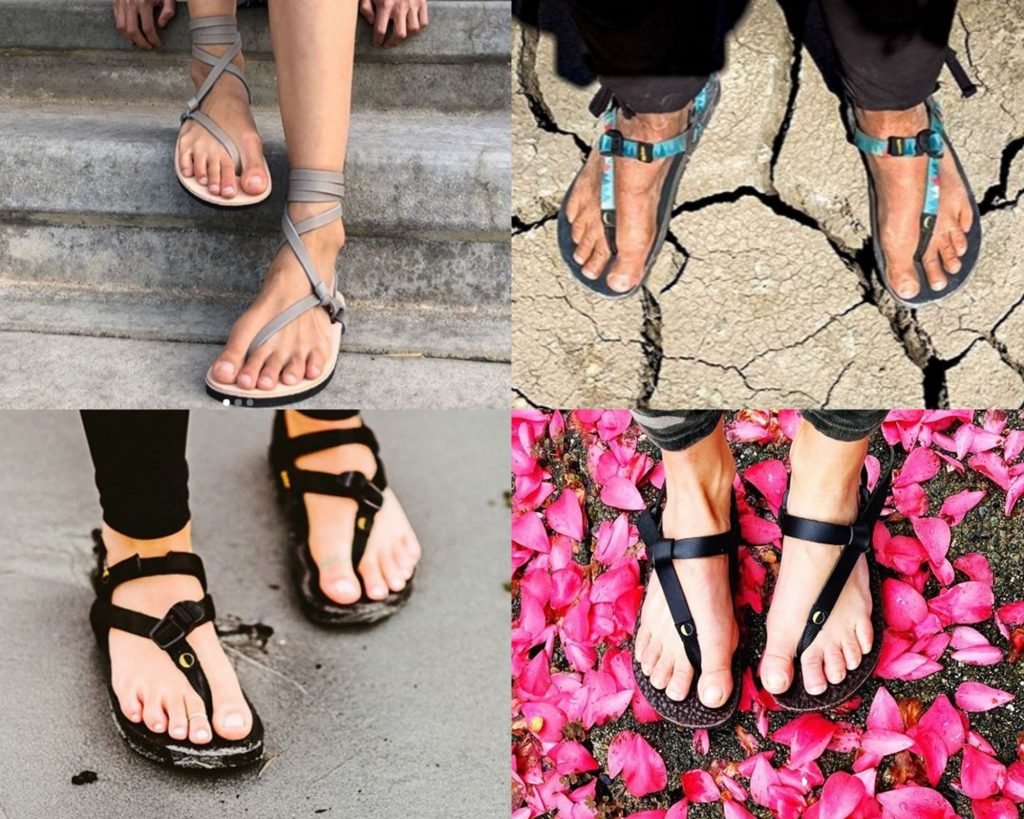 Use code ANYA for 10% off directly from Luna
Luna Sandals has an extensive lineup of running and lifestyle sandals. You can get thick or thin soles that conform to your foot over time and are very secure. One pair of running sandals from Luna should last you years, and can be worn for every day as well as exercise. My personal favorites are the Rooted line of sandals that have traditional leather laces. They are adorable and pass as fashion sandals. The Mono Winged is Justin's go-to in the summer, and we now carry them at Anya's Shop!
---
Shamma Sandals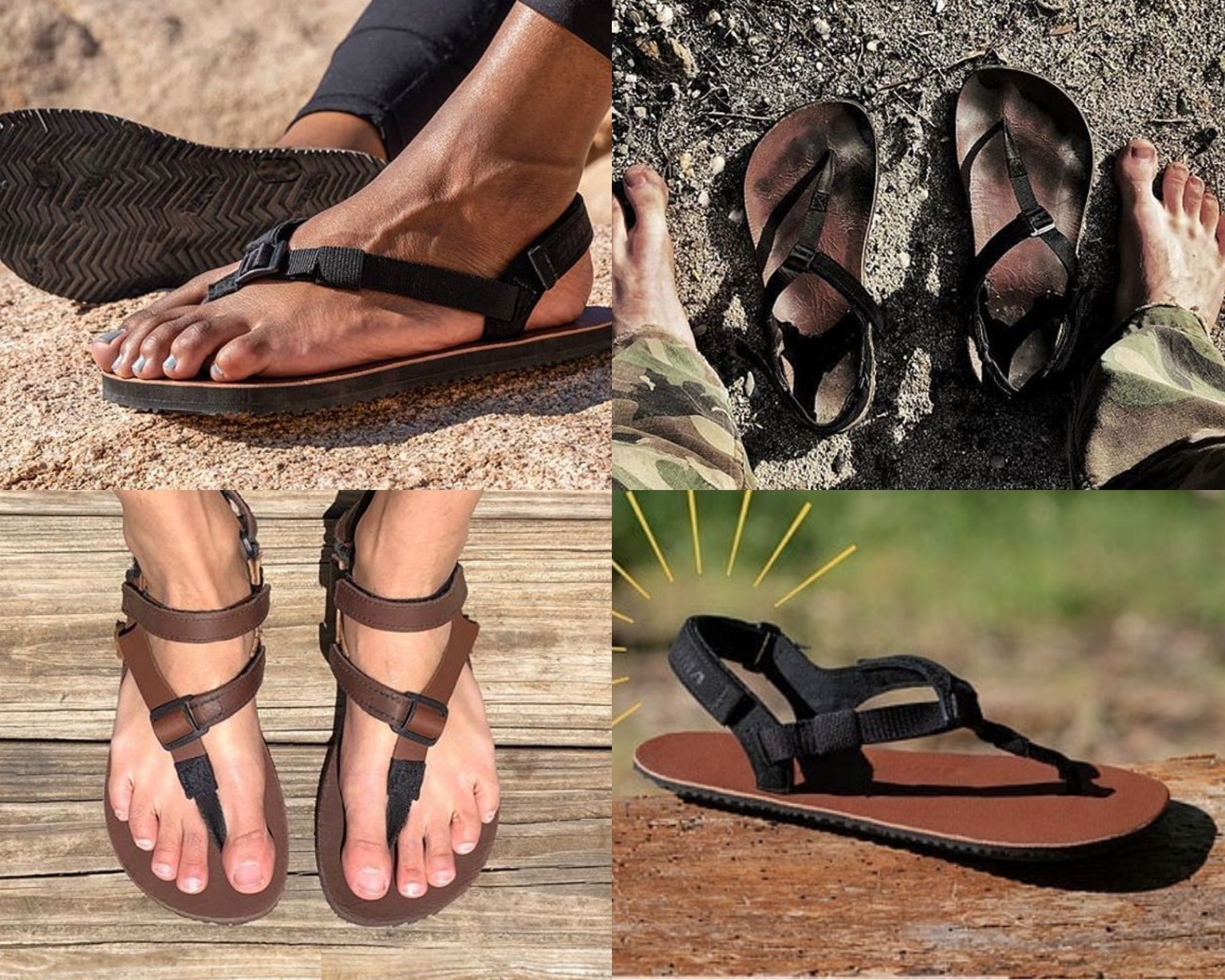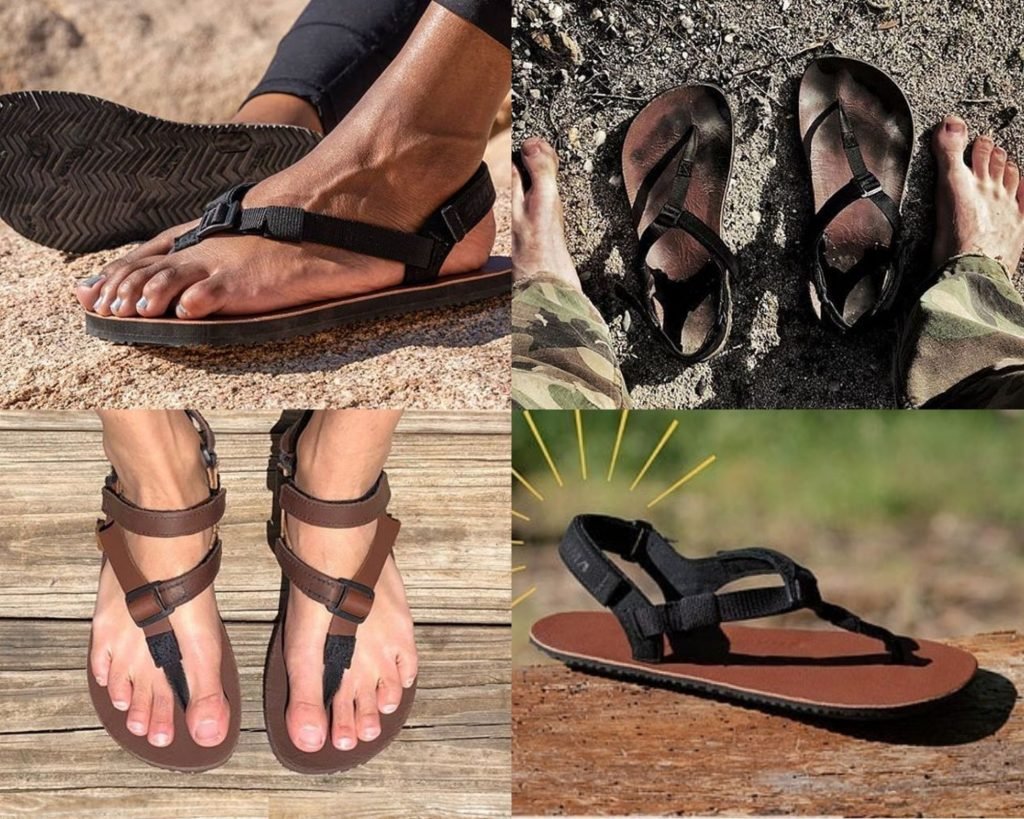 Get 10% off with code ANYASREVIEWS2023
These high quality handmade sandals come in a variety of thicknesses and features. Shamma Sandals are similar in construction to Luna sandals but with velcro adjustments for easier on and off. They also have a leather strap sandal that is extremely comfortable. These are the most comfortable adventure sandals I've tried, and they also look cute as everyday shoes. You can see my full review here.
---
Using Insoles to Transition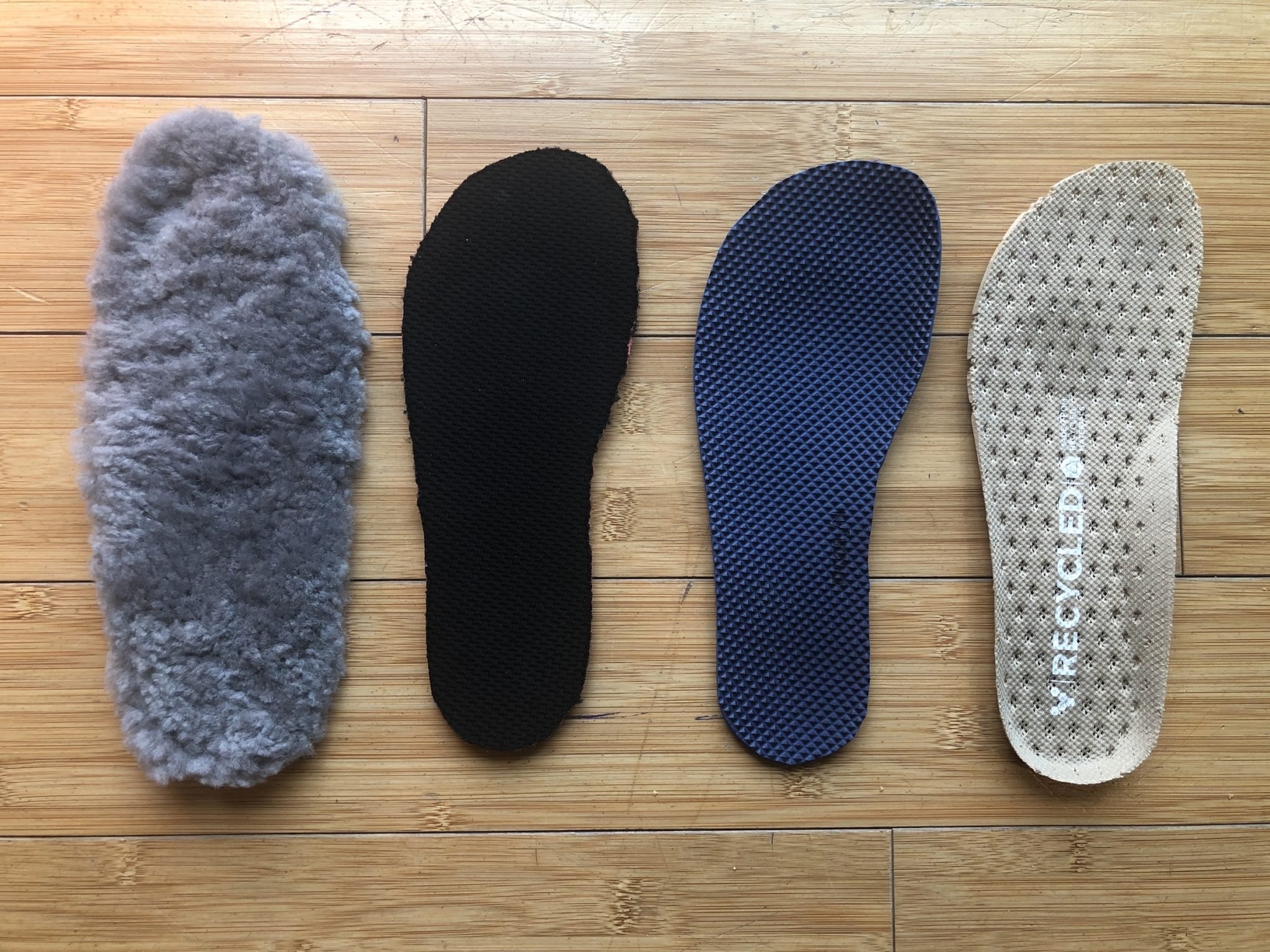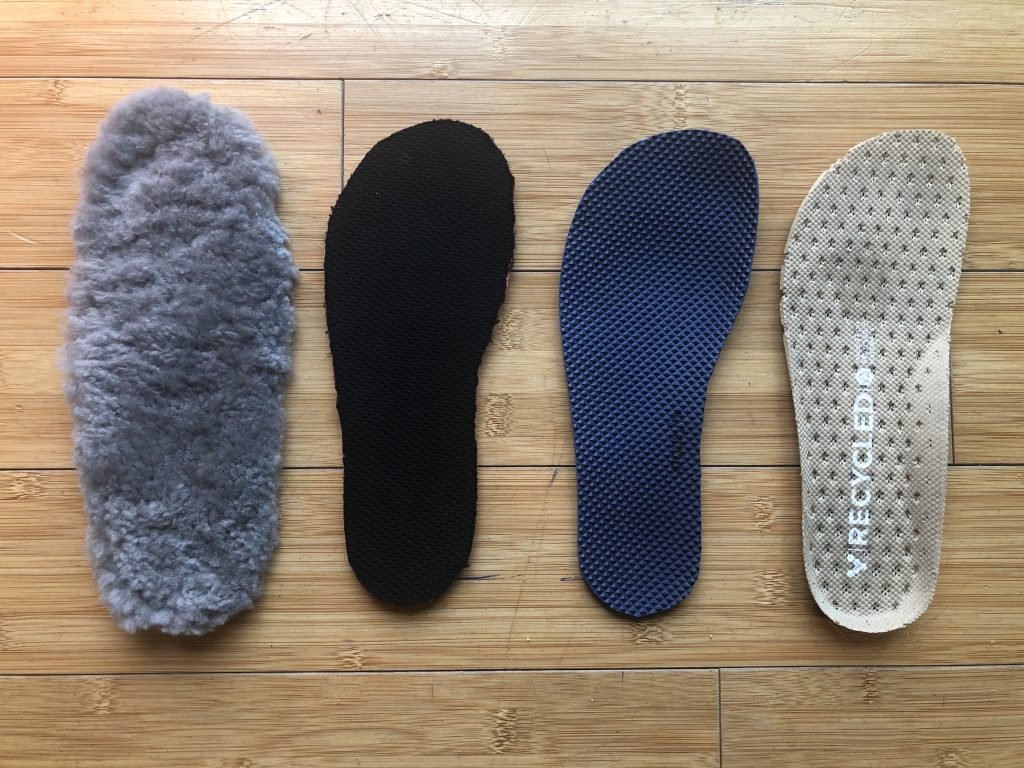 When I was first transitioning to barefoot shoes I started out in a pair of Altras, but I wanted shoes that looked dressier and that I wouldn't transition out of shortly (my goal was to get more comfortable with thin soles).
My solution was to get a pair of thin barefoot shoes and then add barefoot friendly insoles from NorthSole for a little extra cushion. It was a total lifesaver! I suddenly had a lot more options to choose from and could still make them comfortable for me.
Learn more about the zero drop, flexible insoles I use in my shoes here!
A couple important notes about using insoles: they should be used in shoes with a thicker, stiffer sole so that it stays in places. They also take up space in your shoe, so factor in the additional space you might need.
Conclusion
It might feel like there is a steep learning curve when it comes to minimalist shoes, but if you stick with it you'll be rewarded with strength from the ground up (read my Barefoot Journey here). Maybe you won't be able to jump in feet first, but getting to know the ins and outs of of the barefoot world will go a long way to help you on your path.
Are you new to barefoot shoes? Here are a few resources you might like: