Shamma is a minimalist sandal company with a variety of styles to meet your needs. All are high quality and barefoot running approved! Read on for my full review of two Shamma Sandals models.
*Shamma has extended a coupon code to my readers! ANYASREVIEWS2023 will get you 10% off any purchase.*
Review Contents
1. Meet Shamma Sandals
Shamma Sandals is a family operation based in Santa Cruz, CA, with every pair completely handmade there. Running is at the heart of what they do, but their sandals can be used for walking, hiking, and everyday. I grew up in Northern California and spent a lot of time in the Redwoods, so I felt an immediate connection to this small business near my home. The best part is Shamma Sandals are some of the best I've tried.
2. Barefoot Qualities
Shamma Sandals are all made with barefoot running in mind. That means they are completely flat, flexible, and with no arch support so your feet are free to move as if barefoot (for more on what is a barefoot shoe, check out this page).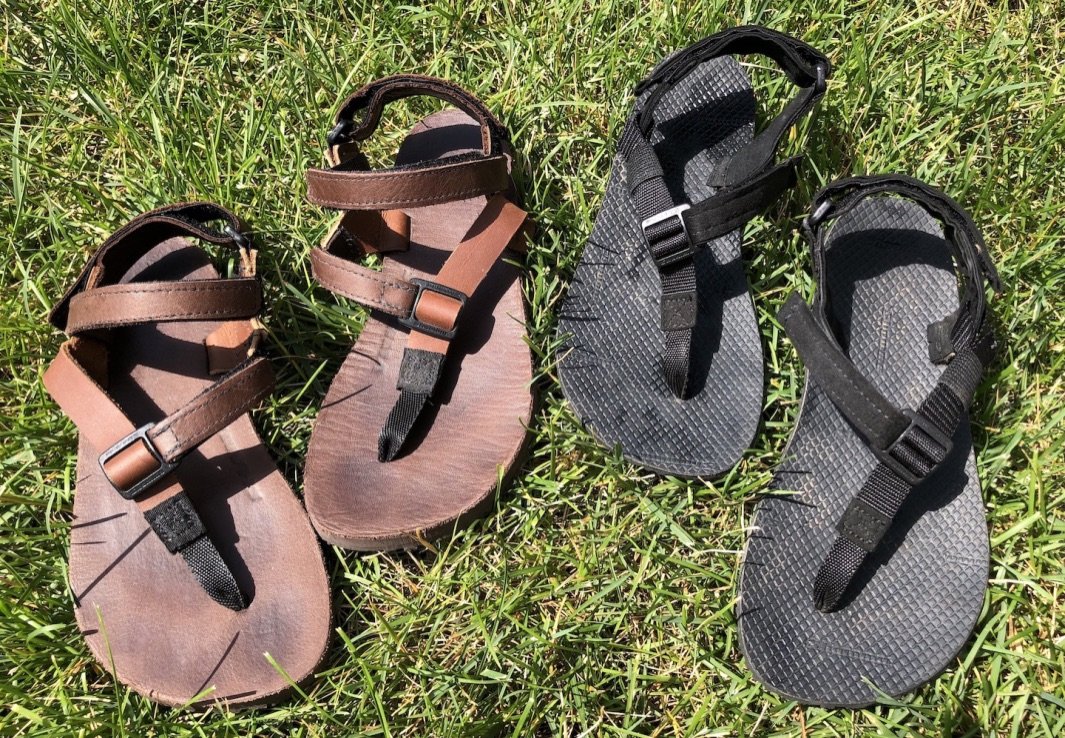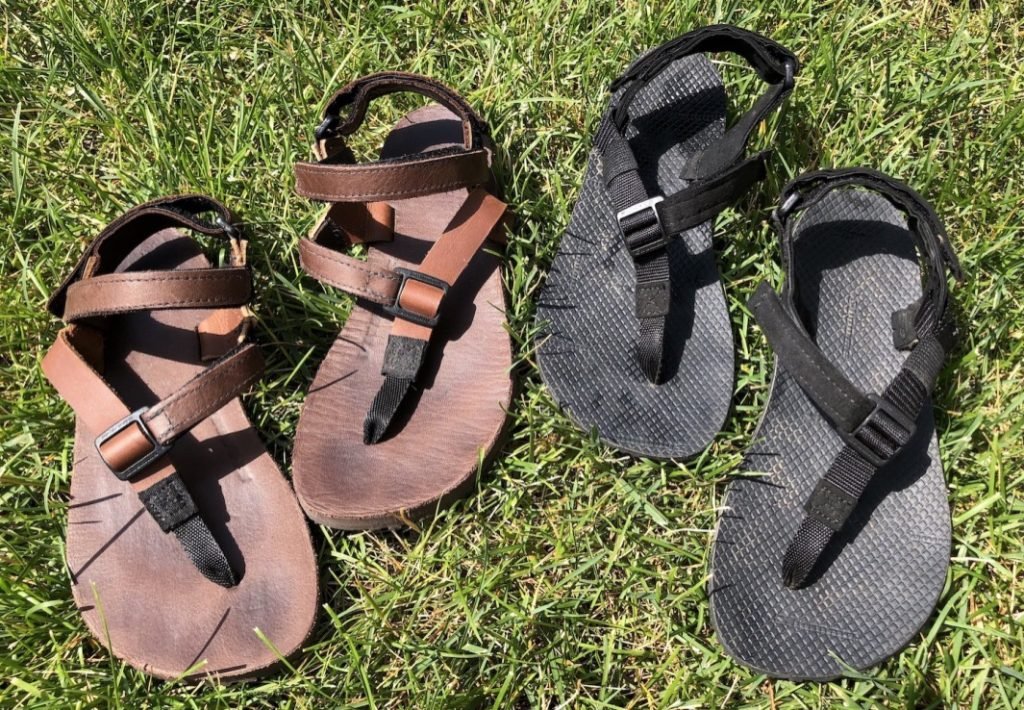 All models can be used with a power strap for extra security, which I recommend if you are new to this brand and especially if new to minimalist running/walking. The power straps keep the shoe secure to your foot so you don't grip it with your toes or slide into the straps. This is an important feature of barefoot running sandals.
One of the nice things about Shamma is they have a full range of thicknesses, from very cushioned to very minimal. And even the thickest ones are flexible enough to roll up into a ball. So no matter what thickness you feel comfortable in, you'll still be doing good to your feet.
3. The Super Goats ($135, Leather)
The Shamma Super sandals are made of premium leather that is extremely soft and classy looking. I love leather in sandals because it forms to your foot over time and feels like a second skin, and these are indeed some of my most comfortable shoes.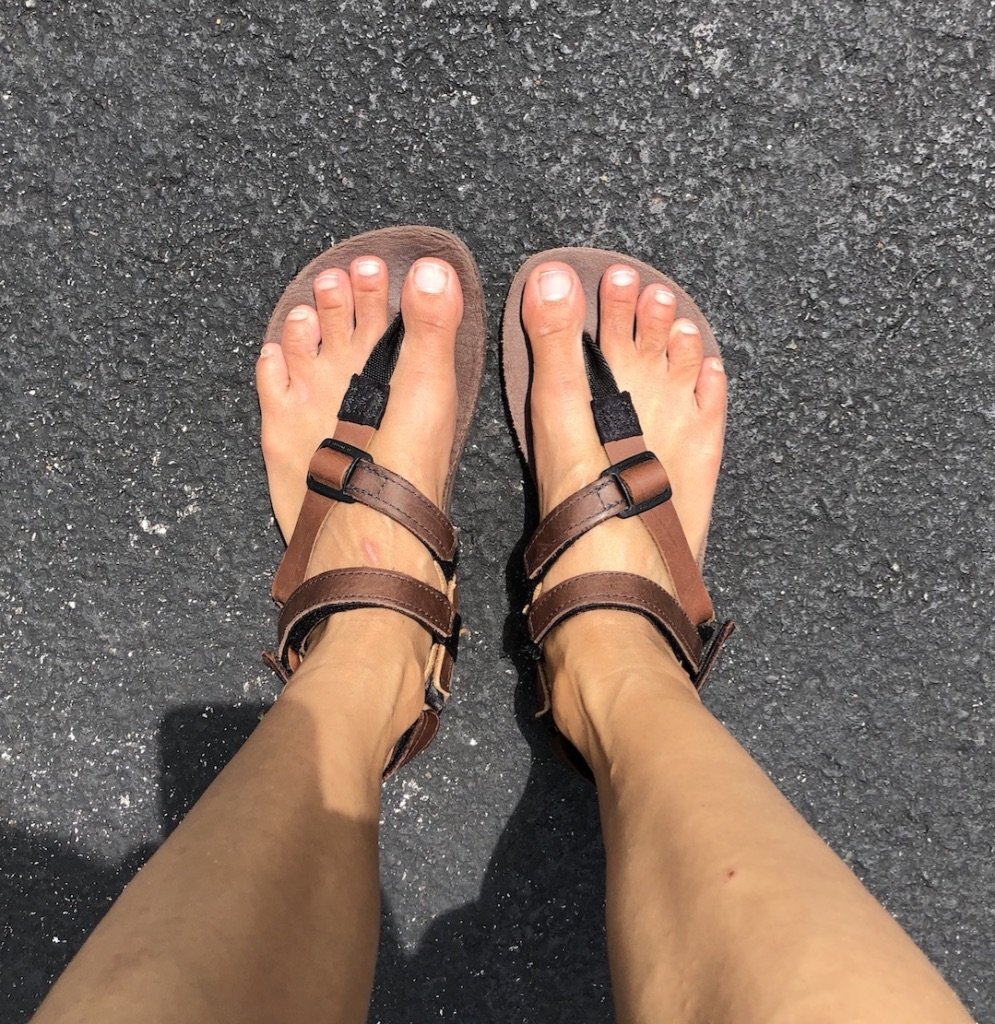 The Super Goats are the thickest sole that Shamma offers (12mm stack height), with two layers of Vibram for extra cushion and traction. And yet they are still lightweight and flexible. I always use the power strap with my Super Goats or else my heel doesn't want to stay put. This is true even for casual city walking, and is probably because I have really thin, low volume feet (for an explanation of foot volume see here). Fortunately I don't mind the power strap and think the sandals look cute with it.
Over time the sandals have molded and fit like a glove, with the only downside that I am reluctant to get them wet. The leather is so soft and beautiful I would hate to ruin it, so I use these for walking and hiking but not water stuff. As an everyday shoe both the Super Browns and the Super Goats are an excellent choice.
3.1 Design
This model attaches to the sole by looping through it. This is a very secure design that I prefer in sandals because there are no seams to come undone or wear out.
There are two velcro adjustments; at the heel and the instep. This allows you to make adjustments with the sandal on your foot. The only time you'd need to take the sandal off is to change the length of the thong strap. Once the thong strap is in place they come on and off easily and you can fine tune the straps while you're on the go.
4. The Warriors ($85, Vegan)
The Warriors are Shamma's most minimal style (5mm stack height). Like the Super Goats, they are very comfortable with no painful rubbing or slipping. The outsole is lightweight and moves easily with your foot but still has traction.
I prefer the power strap in this model as well for an extra secure fit, but I can comfortably go without it for flat urban walking. The whole shoe is extremely flexible and thin for serious barefoot feel.
4.1 Design
On the Warriors you have the two velcro adjustments like in the Supers, and a buckle to change the length of the thong strap. But rather than looping through the sole, the straps end with a plug on the bottom. Those just sit underneath the shoe, which doesn't cause any discomfort (you can't feel them), but I am concerned it will wear out quickly.
In the other Shamma models the plugs either nestle in a space cut into the outsole, or it loops through the sole and comes back out the top. Both of those options will put less pressure on the plugs and should result in a more durable shoe. I love the Warriors for how lightweight and comfortable they are, but this is a concern for me. I would opt for a model with one of the other strap designs in the future, with the trade off being a slightly thicker sole.
*UPDATE* A year and a half later these sandals are my most worn – there is absolutely no sign of breaking down and they are the most comfortable I own. Turns out I was incorrect that the plugs would take damage!
5. Shamma V. Luna
Another big name in the barefoot running world is Luna Sandals. I have multiple pairs of Luna Sandals and have found them to be consistently good quality for both lifestyle and exercise. So how do Shamma Sandals stack up?
Both brands are very lightweight, have a range of thicknesses, and leather and vegan options. Price wise they are comparable, and from my experience both are high quality and durable. Now let's talk differences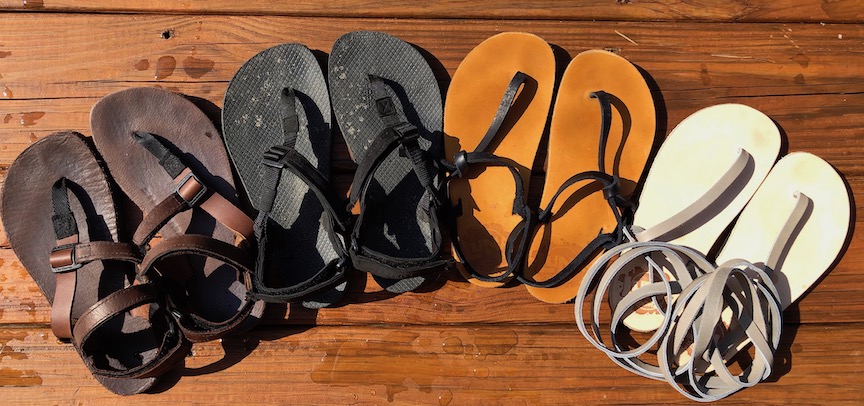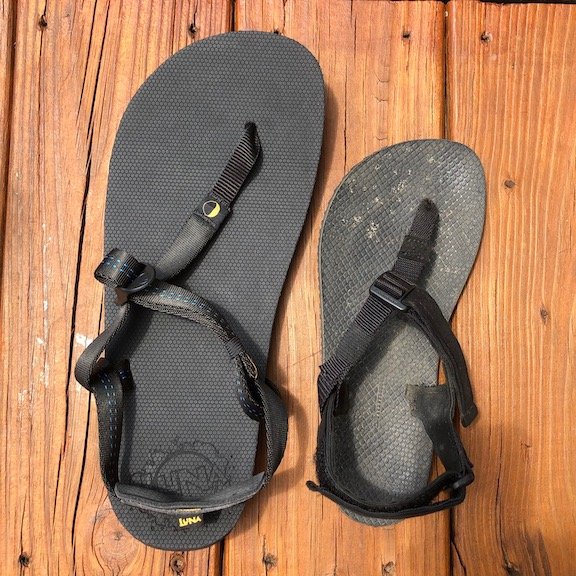 5.1 Selection
Luna has a bigger selection of styles, including my favorite lifestyle sandals the Brujitas. They also regularly release new styles, whereas Shamma's all look pretty similar.
5.2 Flexibility
Shamma Sandals are more flexible than Lunas. Even the thickest sole Shamma offers can be rolled up into a tight ball, whereas Lunas are a little stiffer. They break in over time, but even still I find Shamma's to be more flexible. Shamma also has the Warrior sandal, which is more minimal than anything Luna offers.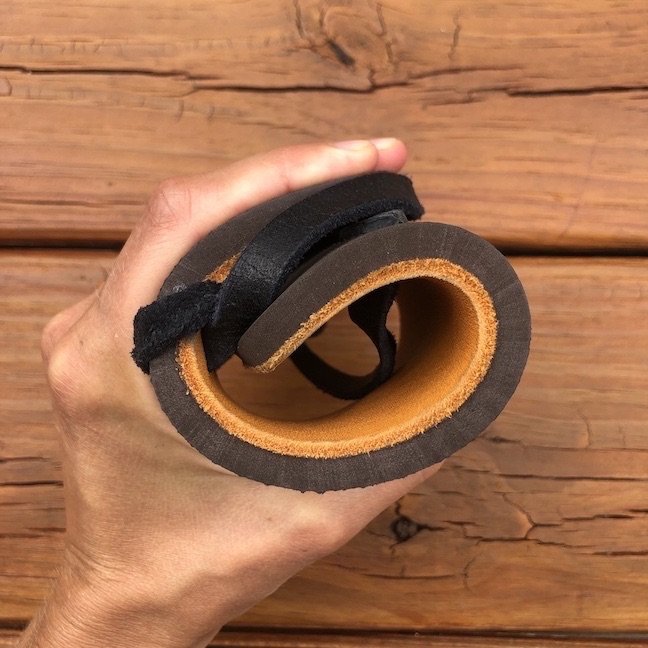 5.3 Strap Adjustment
Shamma Sandals have a velcro back AND a velcro side. That means you can do most of your adjustments with the sandals on your feet. It also makes it easier to micro-adjust your sandals. With Luna, you have to take the shoe completely off and it can be hard to fine tune. The only concern I have about the velcro is that it could wear out faster than the rest of the shoe if gets very dirty often.
*My Luna code is ANYA for 10% off your first order*
6. Shamma V. Earth Runners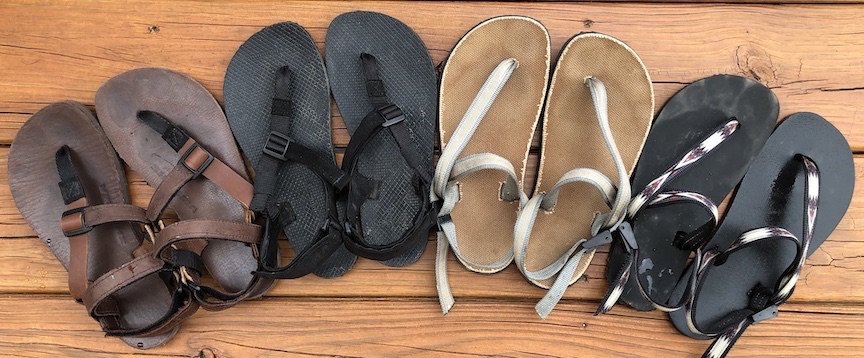 Earth Runners are a really popular barefoot sandal, and one of my personal favorites. In both Earth Runners and Shamma you have a variety of thicknesses and similar price range, but a lot of other differences.
6.1 Selection
Earth Runners only has one strapping style, but 3 options for thickness, 2 options for strap material, and several color combos. All are vegan. Shamma has a bigger selection of styles and thicknesses, but only 2 color options (black and brown). Shamma also offers leather.
6.2 Flexibility
All of Shamma Sandals are very flexible. In Earth Runners the thickest option (the Alpha), is not very flexible, but the thinnest (Elemental) is. So you don't get consistent flexibility across Earth Runners.
6.3 Strap Adjustment
Earth Runners have to be removed to be adjusted and it can take quite a while to get them right where you want them. There is one buckle at the end of an infinite strapping system (one long strap looped through the sole). This might be considered a downside to some, but I like how minimal the sandals look without excess buckles or velcro. It also makes for a very durable sandal because it's one long sturdy strap.
Shamma Sandals can be adjusted more easily, but they look bulkier on foot and I anticipate that they will wear out slightly sooner than Earth Runners.
*I have an Earth Runners code too! ANYASREVIEWSER10 for 10% off*
7. Sizing
I wear a women's size 6 in most sandals, and that is what I got in my Shamma's. The sizing is comparable to Earth Runners and Lunas with subtle differences in shape between them. Earth Runners and Shamma's are nearly identical in toe box width, while Lunas are slightly narrower and shorter. I wear a size 6 comfortably in all 3 brands.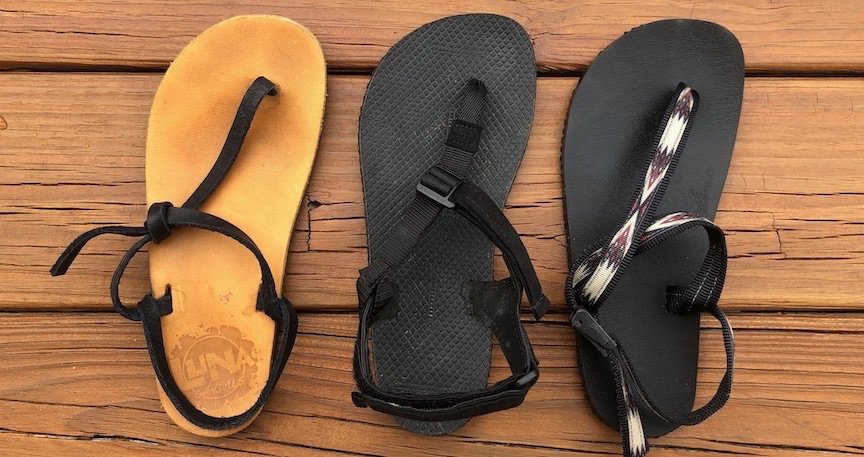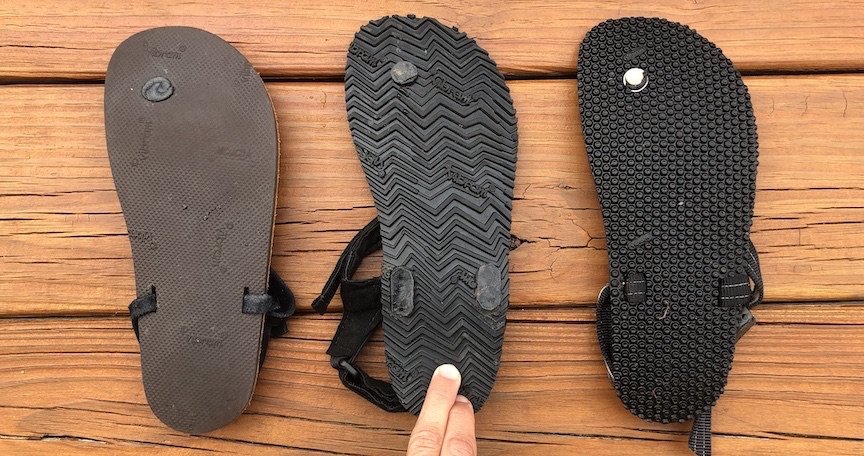 8. Ordering
Domestic shipping on all Shamma Sandals orders is free! International orders are shipped with DHL Express, so you will get them very quickly, and is a flat rate of $30. In general Shamma is able to ship within a few days after your order is placed, so nobody should have to wait too long for their sandals.
They accept returns of sandals for any reason within 30 days of receipt, but you pay the return shipping costs. They also have a 30 day full warranty and a 90 day warranty on straps (they will repair or replace anything defective not due to misuse). There are several stores that carry Shamma sandals in the US and Europe, so if you're lucky enough to live by one you can check them out in person. Here's the store locator for details.
9. Repairs & Custom
Even after the warranty is expired, you can send your sandals to Shamma for repairs and servicing at a discounted rate. So if things wear out or come apart don't throw them away! You should be able to get years of use out of your Shamma's.
Because each pair is made to order, you can also request customizations from Shamma. To start a custom order or for info on repairs e-mail them at contact@shammasandals.com
10. Conclusion
Shamma Sandals is a serious barefoot sandal company. The leather sandals are my top pick from Shamma, and I am a huge fan of how flexible all their soles are. They are a great choice for someone wanting easy-to-wear sandals that look and feel great. If you're planning to order, don't forget the coupon code they've created for you, ANYASREVIEWS2023 for 10% off!
For more on sandals, check out my complete list of minimalist sandals. And then be sure to follow me on Instagram for tons of mini reviews and regular updates on barefoot shoes!