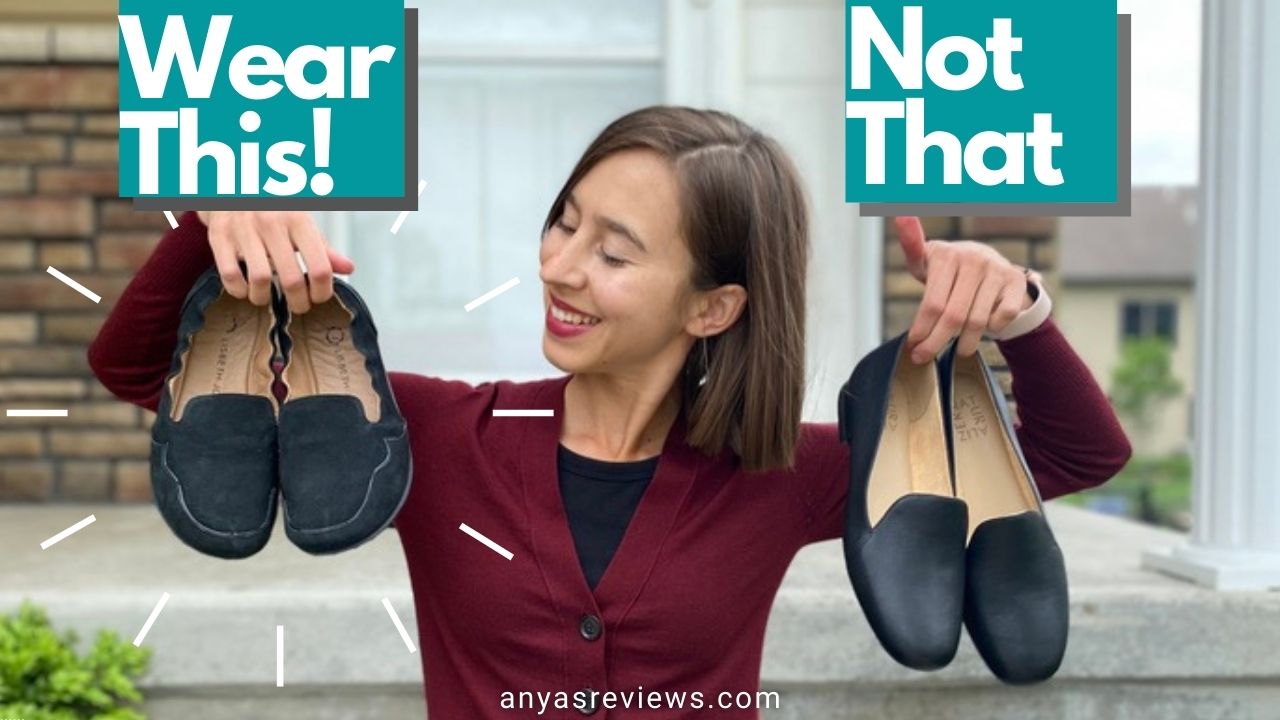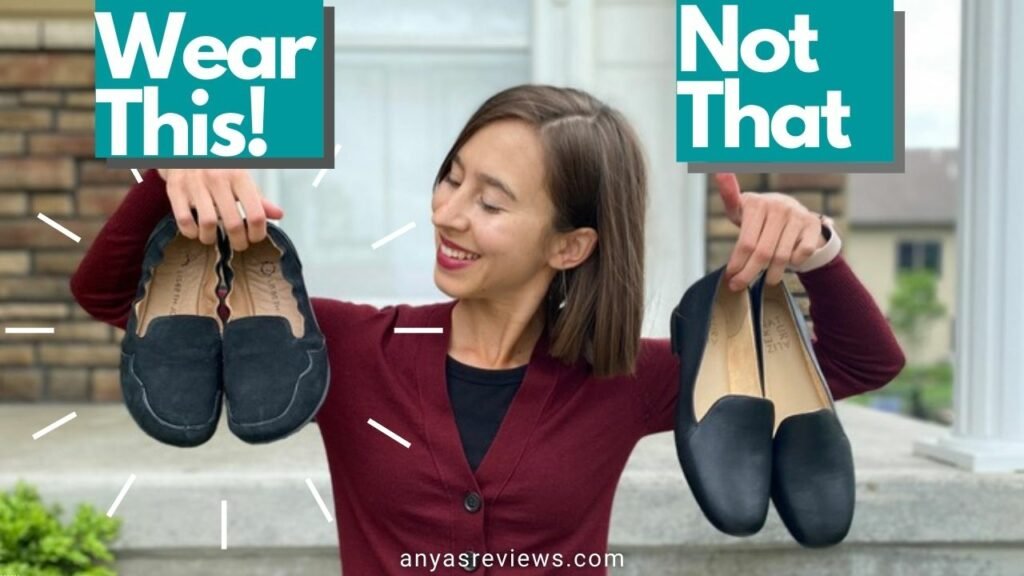 Loafers have long been one of my favorite styles of shoes. They're fashionable, practical, dressy and casual. But most are really pinchy in the toes, so loafers and I never got along well because of my big toe issues. Until I discovered barefoot shoes that is. Now I don't need those tapered loafers anymore! I'm in a long term relationship with NATURAL footwear, and regular shoes and I are never getting back together. 😉
Welcome to Episode 6 of Wear This, Not That!
If you're interested in getting the loafer style without the bunions, check out this list of completely flat, foot-shaped barefoot loafers.
Why Most Loafers are Bad For Your Feet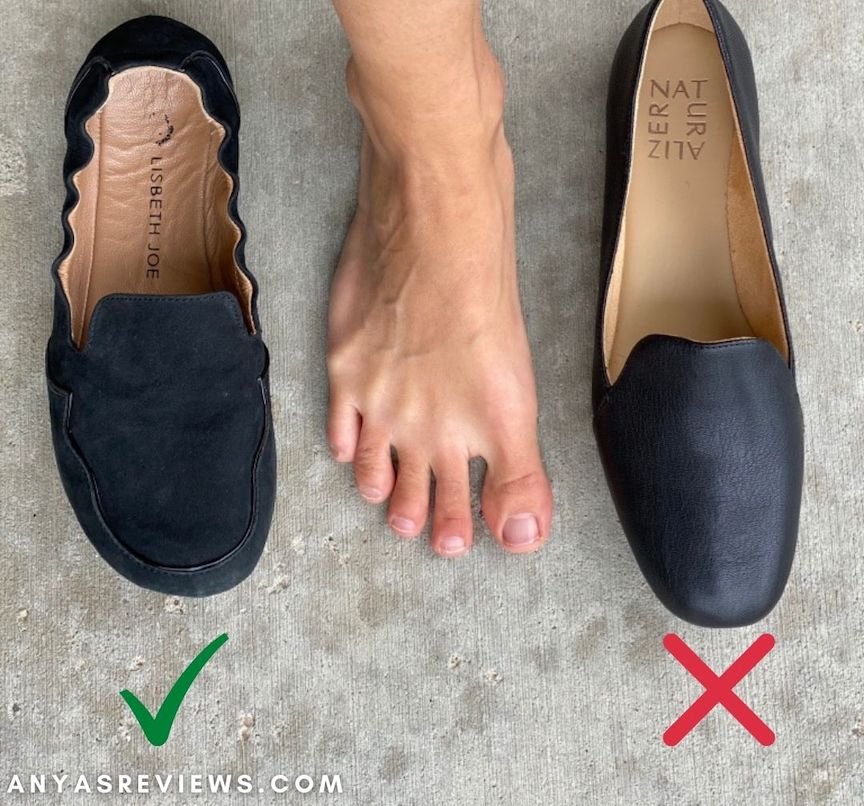 I have some strong opinions about what makes a healthy shoe (read this post for more on that). But the two biggest beefs I have with the loafers you're most likely to see are they have a pointy toe box and a heel.
Pointy Toe Box: Most shoes no longer look like feet at all. The pointed tips on your shoes prevent your toes from spreading out which can lead to the formation of bunions AND prevent your body from moving well (did you know we use our big toe to balance?)
Heel: No, they're not stilettos, but even that small heel on traditional loafers throws your center of gravity forward and forces your body to compensate in awkward ways. When you wear heels (even small ones) the effects are cumulative: back pain, knee pain, even headaches can result. Completely flat shoes are such an easy solution to some of our most common ailments.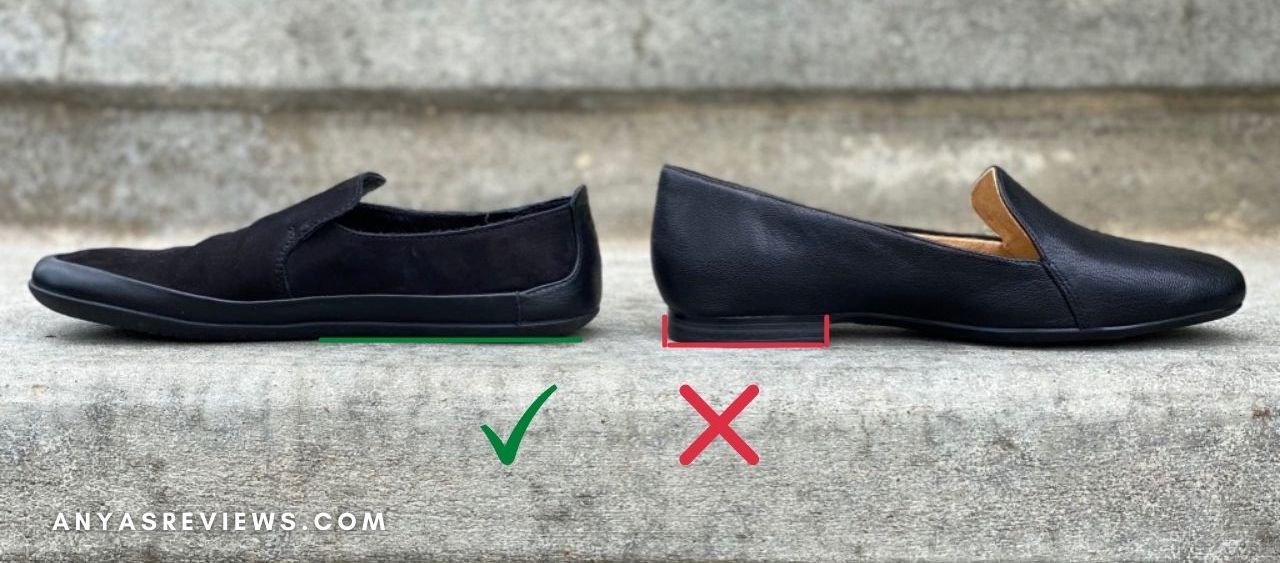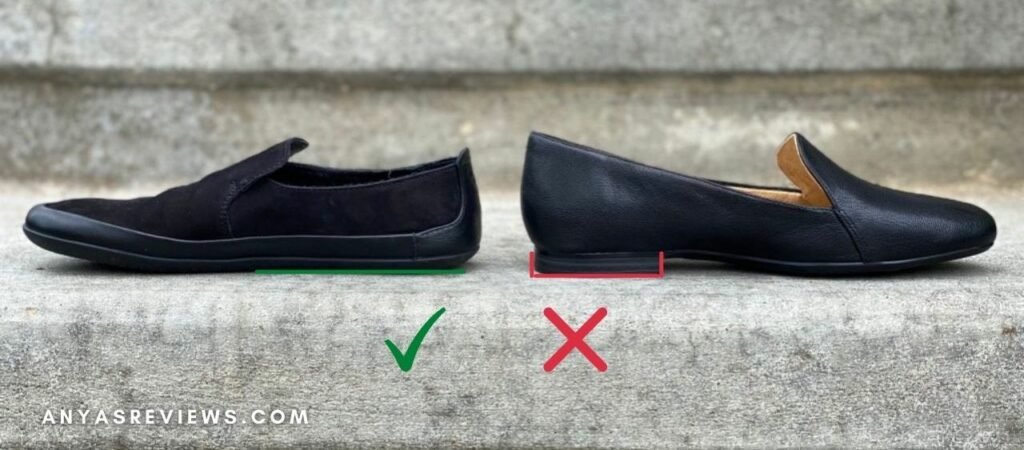 And the crazy thing is, you find these unhealthy features even on brands considered "comfort" brands, such as the Naturalizer flats you see in the photos above. I purchase the WIDE width of their shoe, and yet it still pinches my toes painfully.
That's what makes barefoot shoes so amazing (and such a no brainer when you think about) – they are not only good for your feet in ways that most shoes aren't, but also don't look like nursing home orthopedic shoes! Ready to dig into some fashionable healthy barefoot loafers? Read on for my top picks.
My Favorite Barefoot Loafers
Vivobarefoot Opanka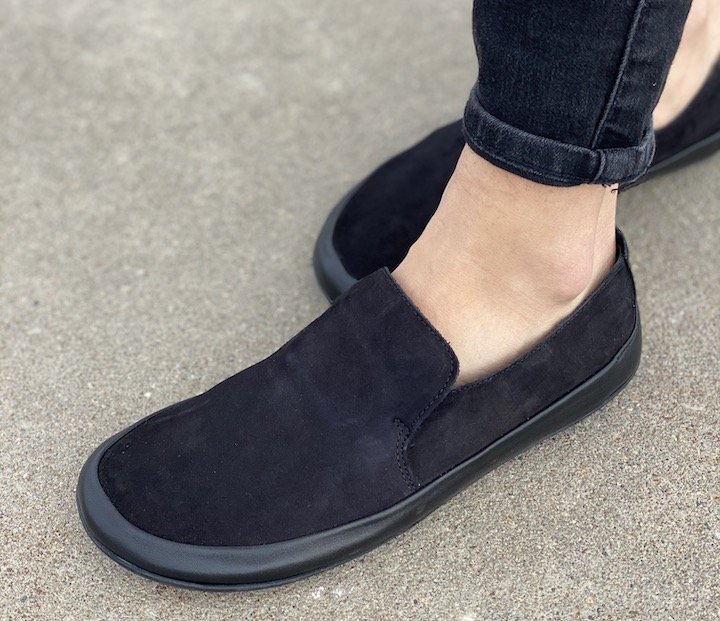 Vivobarefoot Opanka | $130 after code VBANYA20 | Leather | Sizes US W 5.5-11.5/EU 35-43
The Vivobarefoot Opanka is a barefoot loafer style that fits a low to medium volume foot! So if you think the first two options will be loose on you, this one is worth a gander. It is 3mm thick, made of a super soft leather, and has a thin flexible sole: this is the first loafer we're looking at that has excellent ground feel. It looks like a loafer, but it feels like a slipper. I have worn these on long travel days with no regrets whatsoever.
For more, check out my full review of the Vivobarefoot Opanka. And don't forget, the code VBANYA20 get you 10% off any Vivobarefoot purchase.
---
Zaqq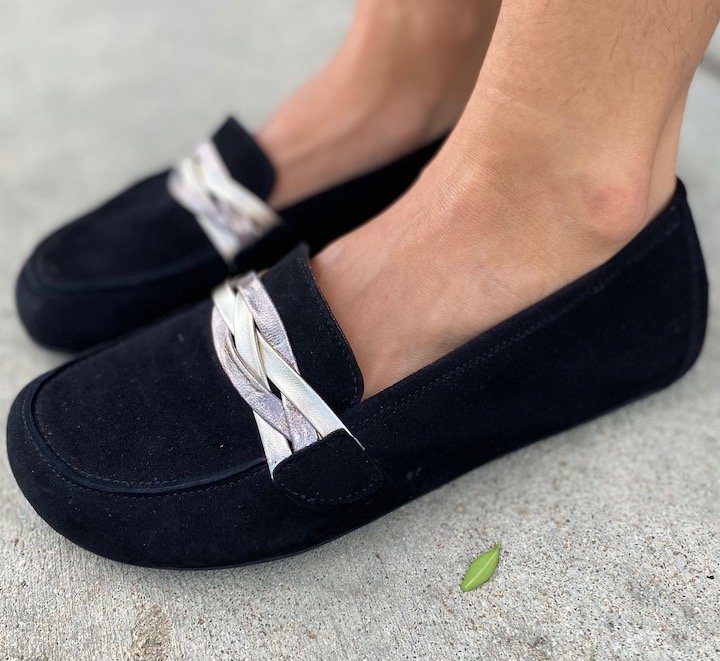 Zaqq Loafers | $180 | Leather | Sizes UK 4.5-12.5/EU 37-48 | Ships from Germany
Zaqq loafers come in a couple styles with either lacing details around the edges or a braided metallic band across the top like the photo above. Choose from classic black, light pink, or a striking bright blue! I got a size 37 (I often get a 36 in flats) and they are pretty roomy, so I would say they run true to size. And make sure you read my review linked below for all the info on the Zaqq barefoot shoe brand.
Zaqq also has this new gold Qosmo loafer that is quite pretty!
---
Zeazoo Cheetah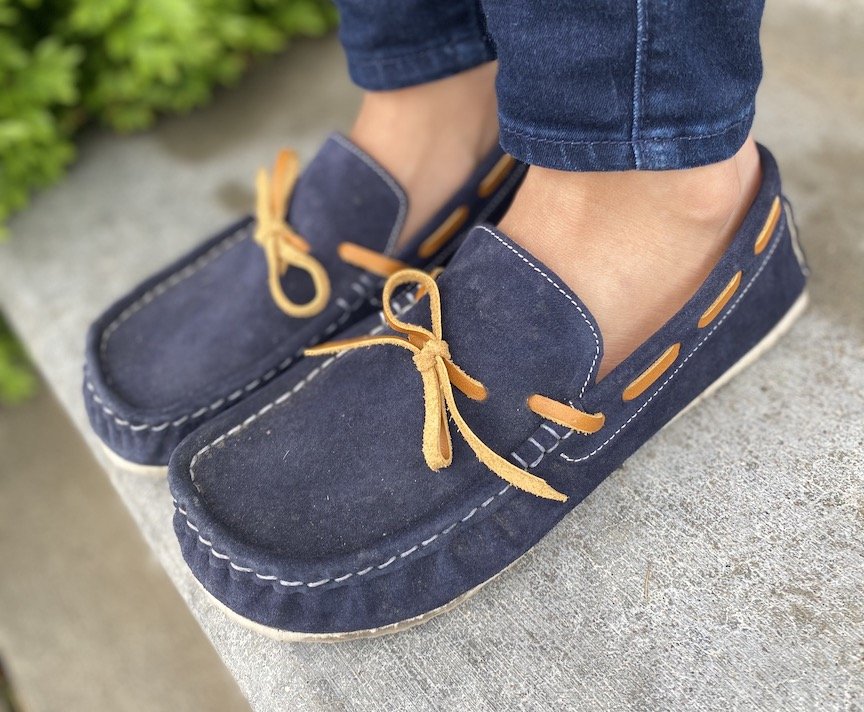 Zeazoo Cheetah | $150 after code ANYASREVIEWS | Leather | Sizes EU 35-42 | Ships from Bulgaria
The Zeazoo Cheetah loafer comes in a bunch of different colors, some with a draw string and others without. They can be dressed up for more formal outfits or casually with denim. The blue suede color I have has a Sperry's boat shoe vibe.
They are super comfortable for me, I wear them on morning walks and for quick errands and always feel good. Usually slip on shoes slide around on my feet, but these do not! They suit a low to medium volume foot best, I don't recommend them for high arches. Zeazoo also does custom sizes and color combos by request!
---
Lisbeth Joe London
Lisbeth Joe London | $114 after code ANYASREVIEWS | Leather | Sizes US W 5-12/EU 35-44
The Lisbeth Joe London loafer has a classy design that works with all my favorite outfits, but still fits my wide toes comfortably.
It does fits high volume feet best, check all that space above the toes in the photo above! They also have a straight cut for people who need width through the middle of the foot. This is the opposite of my foot type, but once I added in a tongue pad for my low arches I have had no issues. Check out my full review of the Lisbeth Joe London for all the details on fit, sizing, and styling.
---
Anya's Shop Yasemins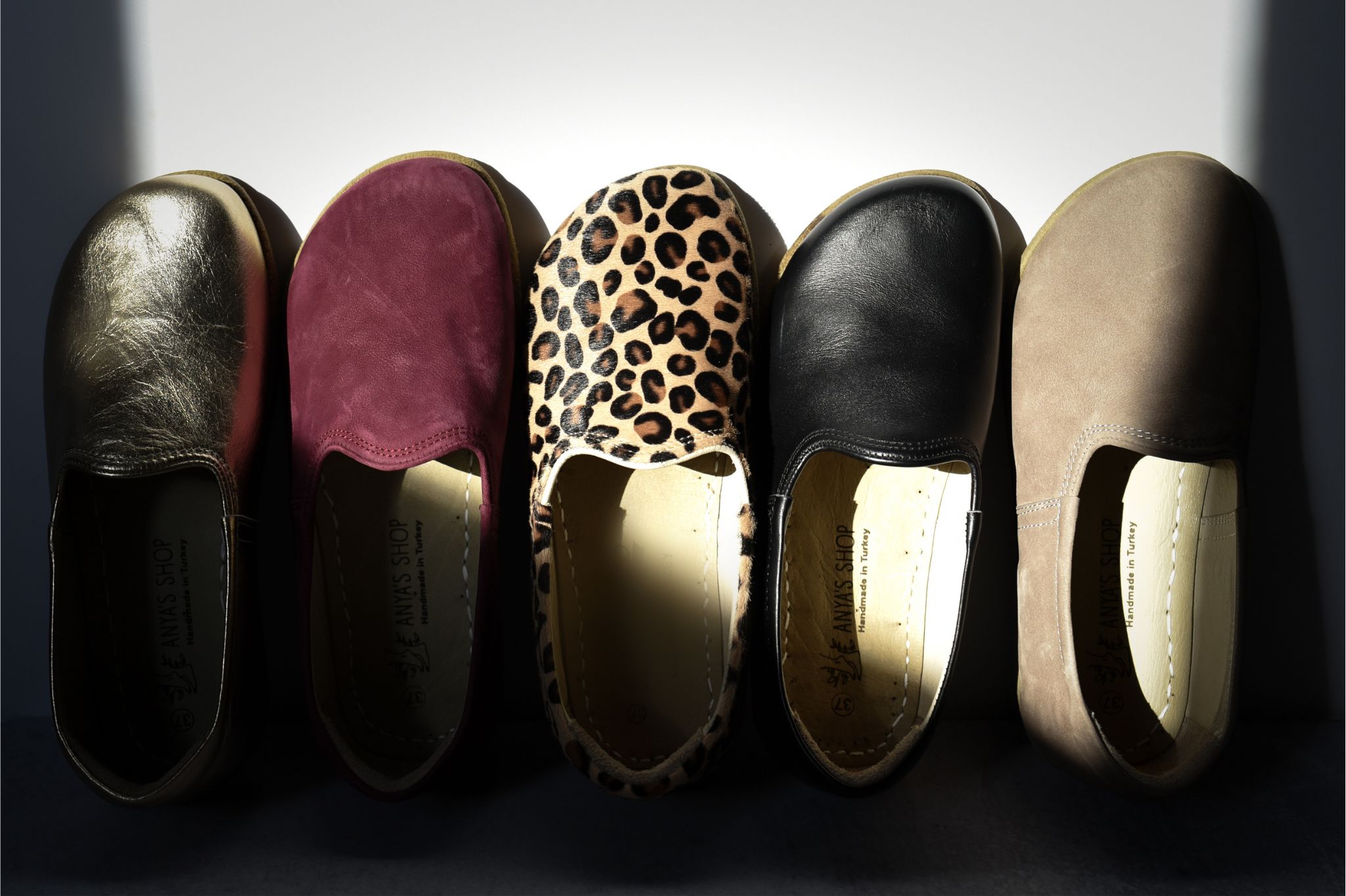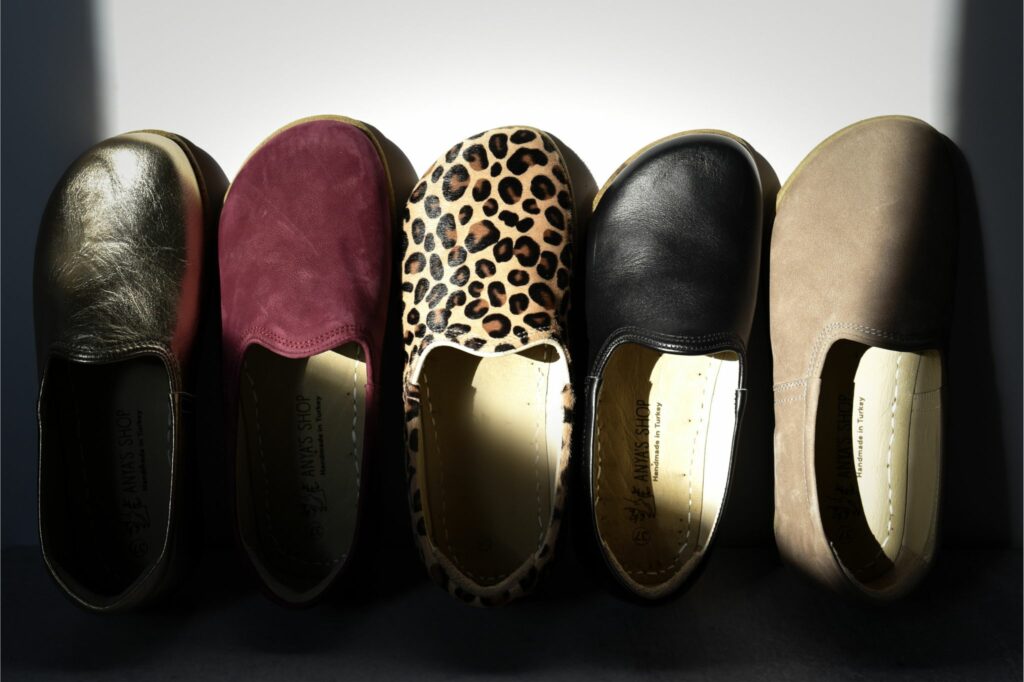 Anya's Shop Yasemins | $125 | Leather | Sizes EU 34-45 | Ships from US
I designed the Yasemin barefoot loafers myself! I wanted a simple shoe that was sophisticated and elegant, without unnecessary doo dads and that came in a variety of neutrals. So I just developed my own 😀 They are fully leather shoes with a thin layer of rubber on the bottom, so they take a little bit of break in time to form to your foot. They are best suited for average to wide feet, not ideal for narrow or extra wide.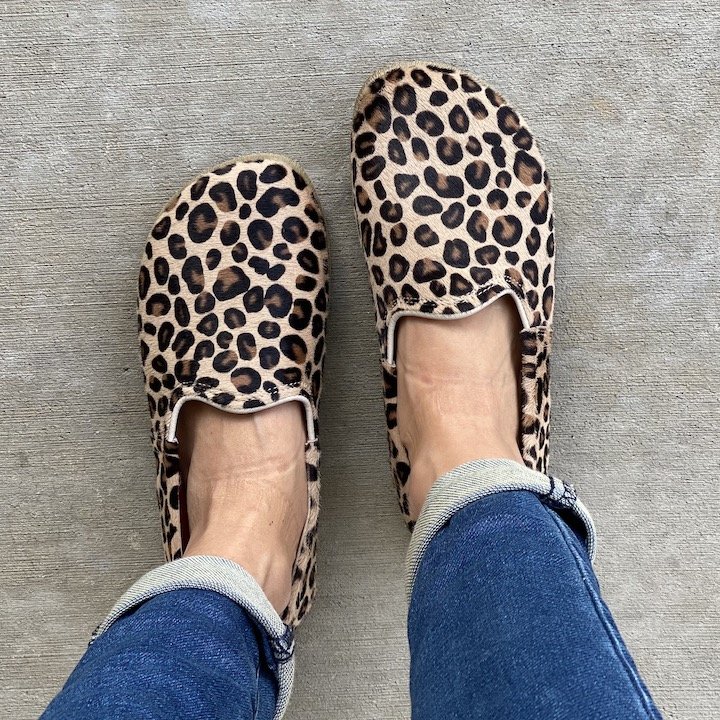 ---
Raum Goods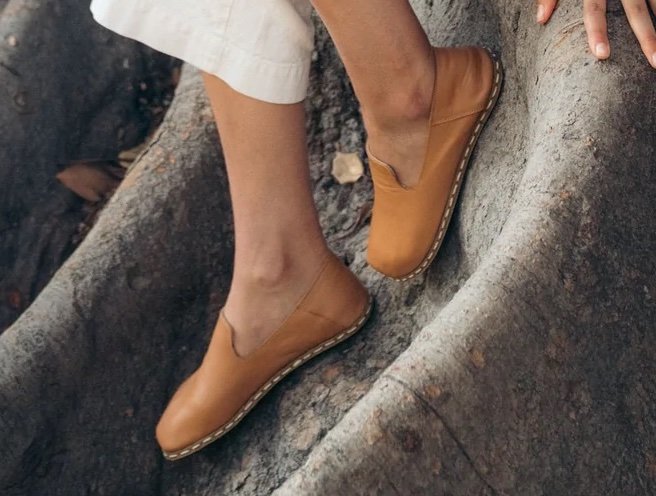 $160 | Leather | Sizes US Women's 6 – Men's 14 | Ships from USA
Raum Goods slip ons are made of buttery soft leather and have a nice wide shape to them. They come in several lovely neutral colors year round, and can be dressed up or down. They fit high volume and loose around the heel, so be ware if you are low volume and narrow in the back.
Be aware that the soles are fully leather and feel stiff and a little slippery at first. Once they get scuffed up they no longer are slippery, and the soles break in after a few wears. They are high quality shoes and feel great on. You can also have them repaired at a local cobbler if needed. Oh, and they have a grounding copper plug in the bottom!
I have a pair of their limited edition Mudcloth loafers and I love them! They run a little bit small, I am usually a 6.5 in flats/loafers and sized up to a 7.
---
Magical Shoes Cameron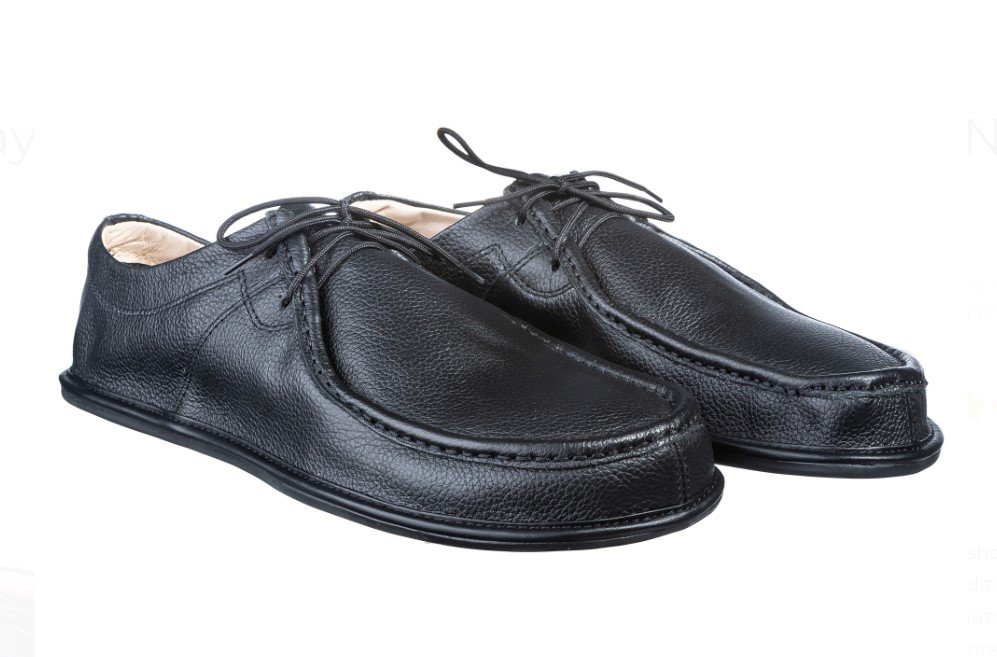 Magical Shoes Cameron | $125 after code ANYA | Leather | Sizes EU 37-47
Magical Shoes Cameron promises to be super lightweight and flexible, like everything from Magical Shoes! This unisex style comes in 5 shades of soft leather and can easily take you from casual to dressy.
---
Tadeevo Boat Shoes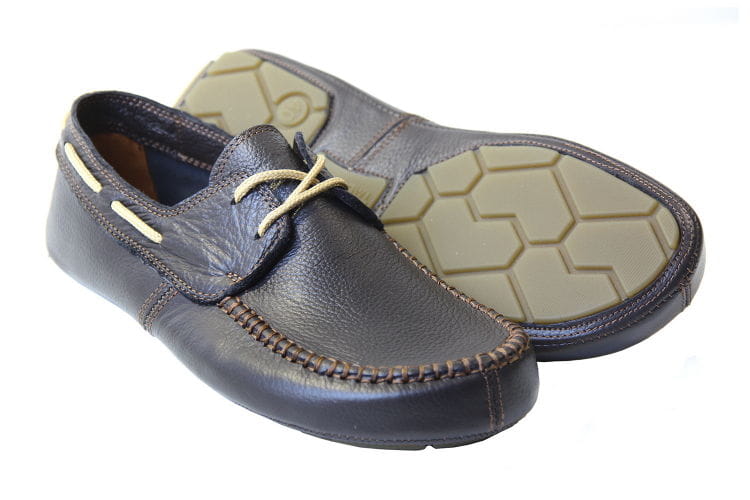 Tadeevo Boat Shoes | $122 after code ANYASREVIEWS | Leather | Sizes EU 40-47
Tadeevo boat shoes give you all the classic style of a conventional boat shoe, without the cramped toe box and stiff soles! They're available in 5 colors so you're sure to find something to suit your wardrobe.
---
Gaucho Ninja
Gaucho Ninja Moccasin | $538
Use code ANYASREVIEWS for 10% off your Gaucho Ninja purchase.
Leather | Sizes EU 36-45 | Handmade in the UK
Gaucho Ninja shoes are exquisitely handcrafted in the UK by a small team of dedicated shoemakers using the finest materials. I don't have these particular models, but love my Gaucho Ninja boots! The price is a bit ouchy, but Lisandro is a wonderful shoemaker dedicated to not leaving a harmful footprint on the earth.
If you want to try your hand at shoe making, check out the DIY Moccasin kit.
---
Groundz Slip-Ons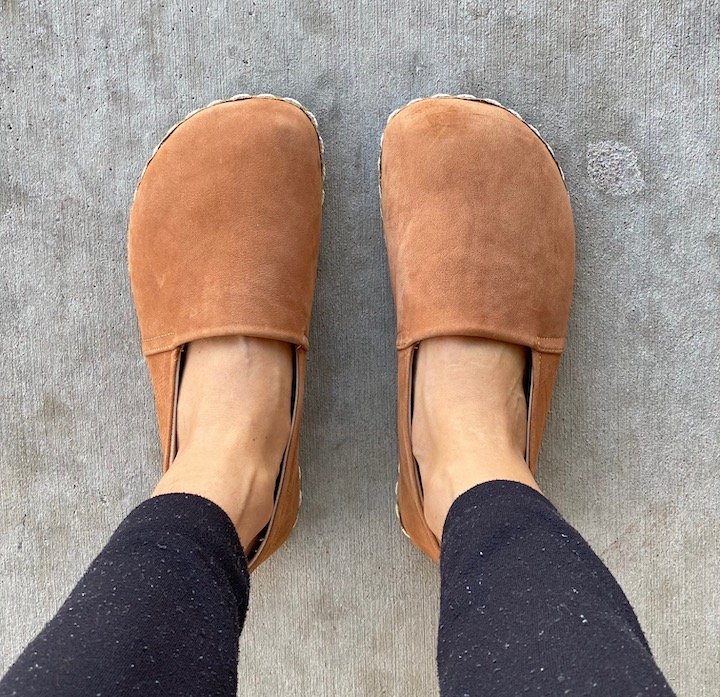 $157 after code ANYASREVIEWS | Leather | Sizes EU 36-47 | Ships from US
Groundz slip-ons are similar to Raum Goods with a full leather sole and grounding plug, but Groundz have an extra wide forefoot shape to them and the leather is bit thicker. They fit high volume, so I went with the style shown above that fits more securely than the ones with cut outs on the sides.
In this brand I sized down to a 6 – they were a bit short but break in!
---
Drifter Leather Slip On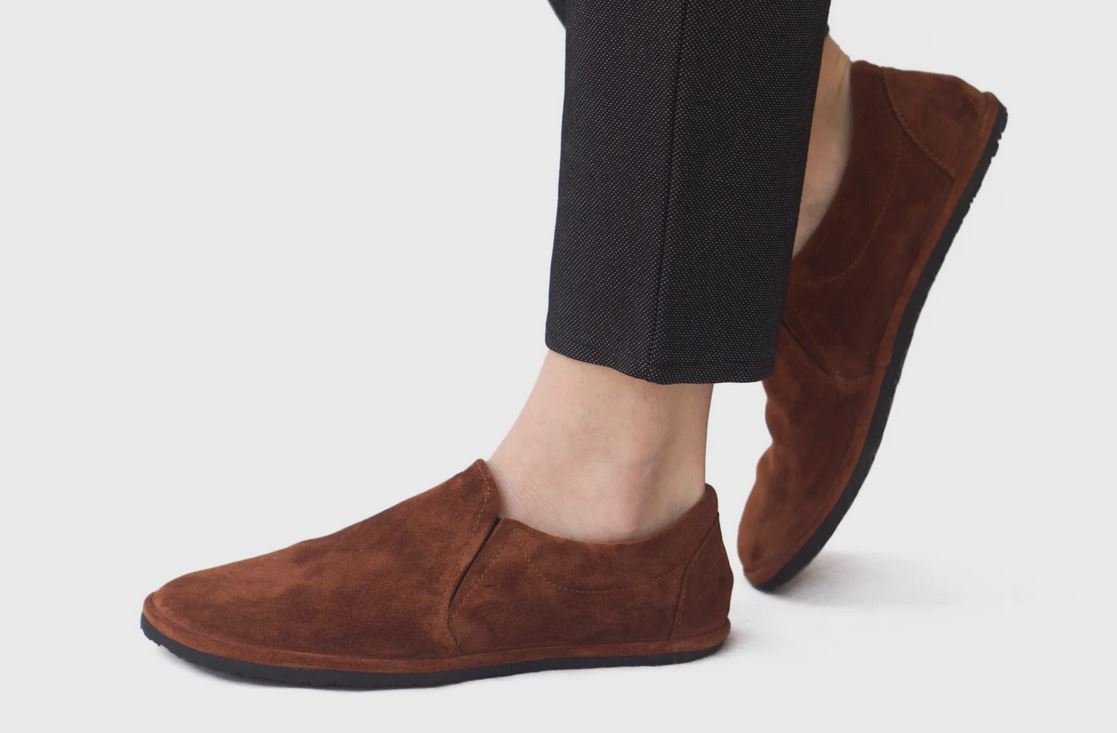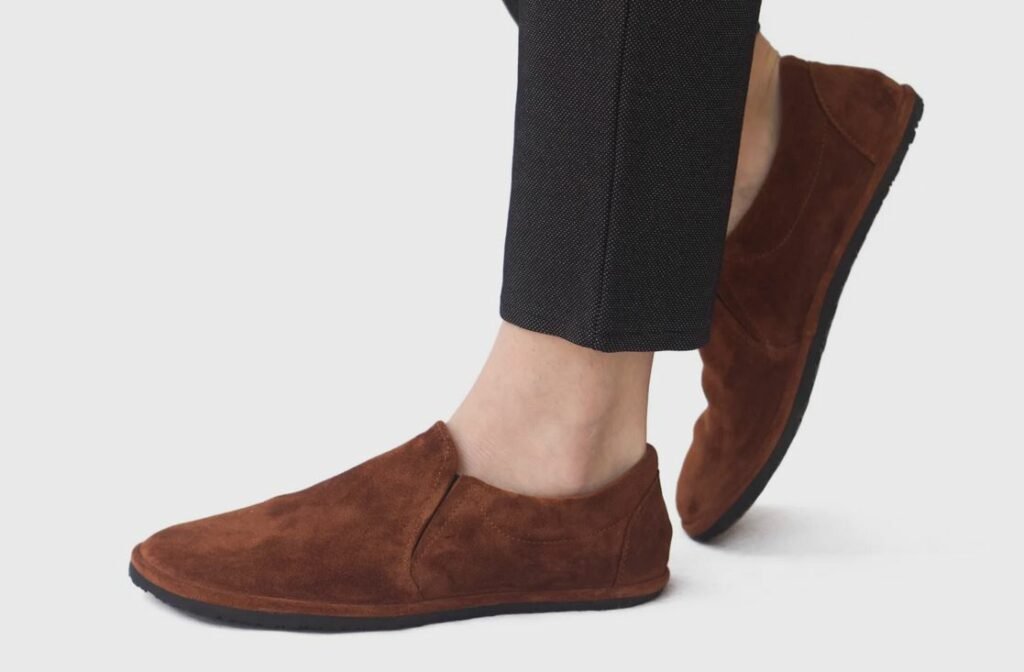 The Drifter Leather Slip On | $175 | Leather | Sizes EU 34-49 | Custom Options | Handmade in Greece
The Drifter Leather slip on sneakers are simple, but able to be made according to your foot tracing and measurements! You can also customize your leather choice for a shoe that's truly made for you. It's a process, but I love all my Drifter Leather shoes.
---
Posh Panda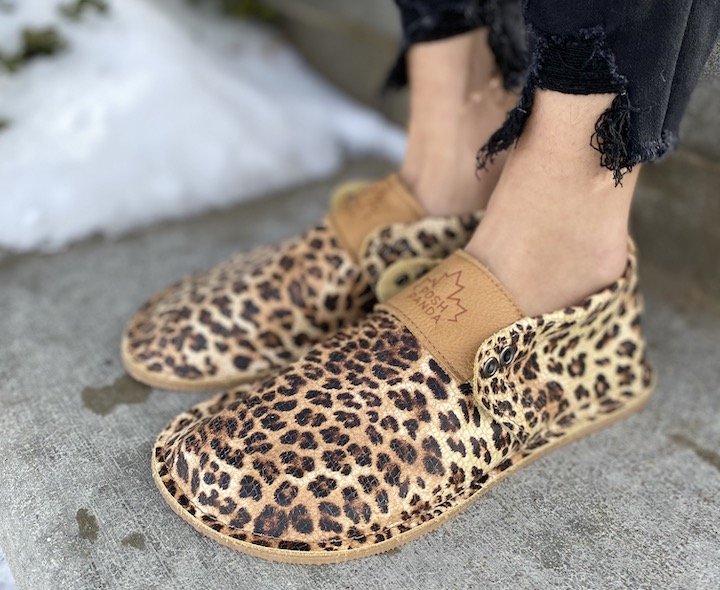 Posh Panda | $101 | Leather | Sizes infant to US W 11 | Handmade in Canada
Posh Panda moccasins are all handmade in Canada and come in leopard, metallic, and a whole lot of other color options! Of course leopard is what I have (obviously) and I love these shoes! Choose from rubber or suede soles for these funky flexible moccasins.
---
Unshoes Footwear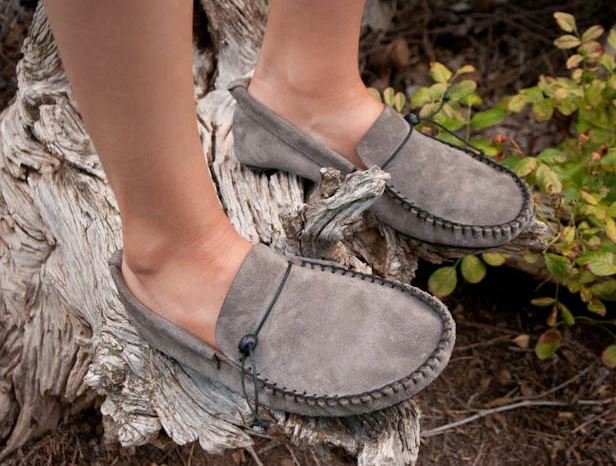 Left: Unshoes Forager | $80 | Sizes US W5-M13
Right: Unshoes Primrose | $100 | Sizes US W 6.5-12
Use code ANYA for 10% off | Leather | Handmade in USA
Unshoes Forager is available in black, gray, navy, and brown and features moccasin style stitching around the toe box. The Primrose is a moccasin/ballet flat hybrid and comes in brown, black, gunmetal, and rose gold. Another model great for extra wide feet! But they can be loose around the ankles.
---
Manitobah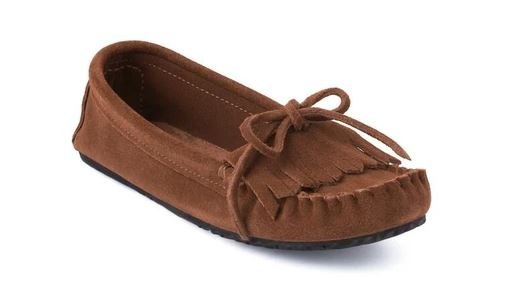 Manitobah Moccasins | $100 | Leather | Sizes US W 5 – M 13 | Ships from Canada
Manitobah makes traditional moccasins in a variety of leather colors and finishes. Available lined or unlined, these moccasins should stretch and form to your foot shape for a glove-like fit. Be aware, they can actually stretch quite a lot! And in general fit a higher volume foot best.
---
Luks Moccasins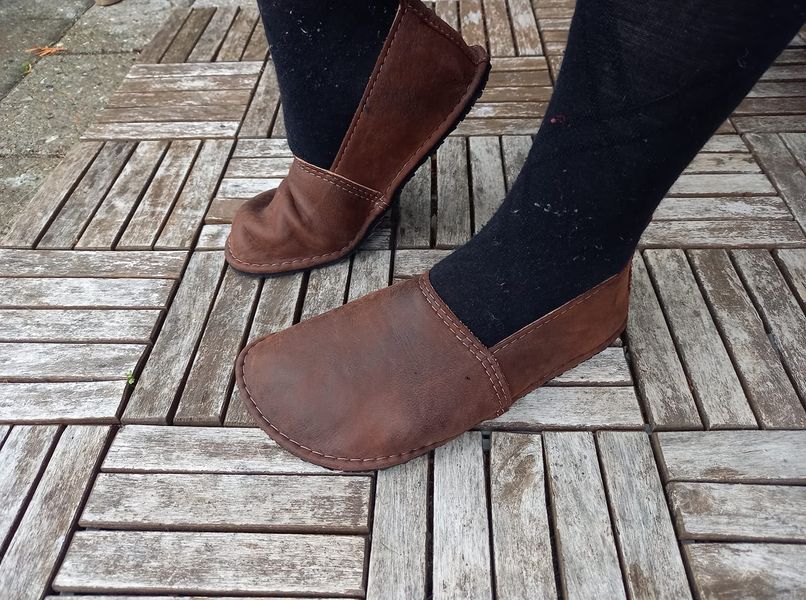 Luks Fuego | $107-$132 | Leather | Sizes EU 36-42 | Handmade in Czech Republic
Luks has 2 moccasin styles made from buttery soft leather – Fuego and Cordelia. The Fuego moccasin comes in 8 colors and 1 limited edition print. The Cordelia is available in tan and brown and has a lace tie detail around the opening. Luks is a great brand if you have extra wide toes.
---
Ruby Workshop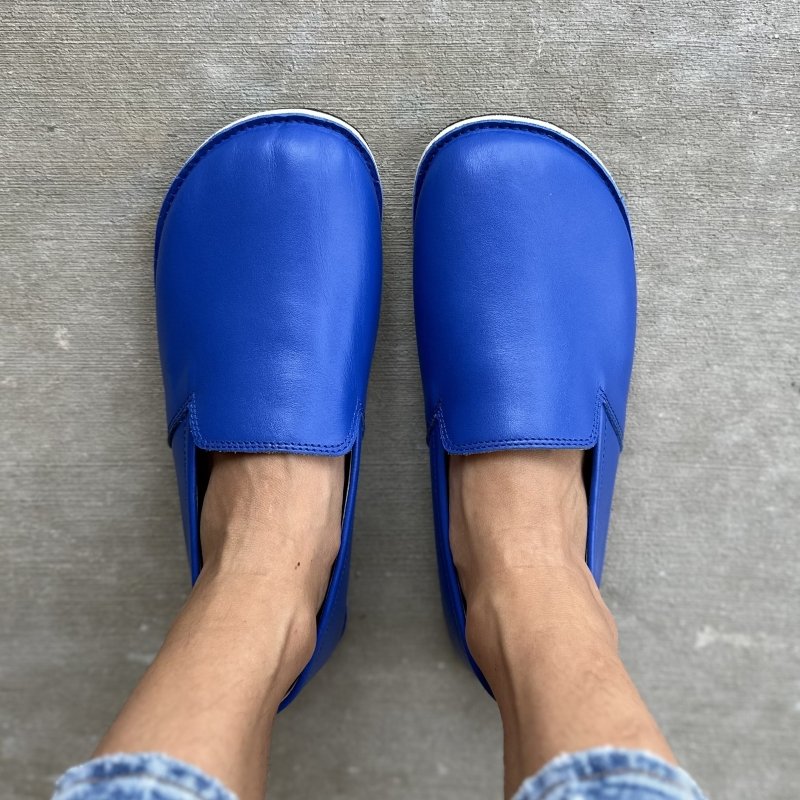 Ruby Loafers | Leather | Sizes EU 36-43 | Handmade in Turkey
Ruby Workshop is a newer Etsy shop that makes loafers and flats in lots of colors. They are simple leather shoes, but feel light and soft. They are a little high volume for me (will be best for people with average or high volume feet) and fit a wide toe box.
They are more affordable than a lot of other barefoot shoes and can even be dressed up. They are a solid option to keep on your radar!
---
Conclusion
And there you have it! 16 barefoot loafer alternatives to the cute, trendy shoes that smash your toes. I'd still like to see a few more options in this vein, maybe some metal buckles and definitely more smooth leather options. But boy am I glad we have so many stylish barefoot loafers that still let our feet be feet!

For lots more barefoot style, check out below my other "Wear This, Not That" posts and the popular "Fashion, But Make it Barefoot" series!