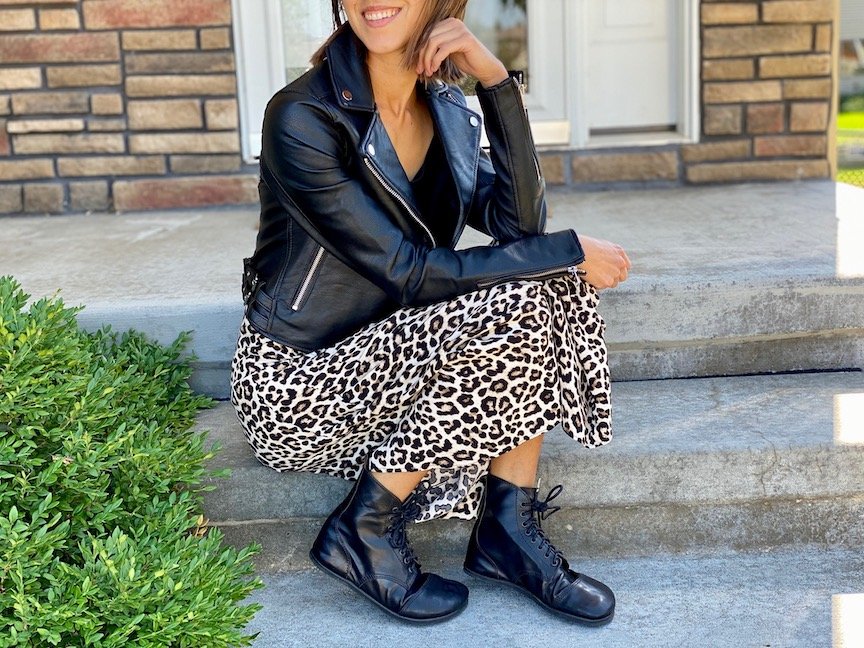 Gaucho Ninja Leather is a small leather shop run by Lisandro. He hand makes all his shoes with the finest materials, can customize them to your requests, and offers a lifetime warranty. Read on for my full review of these barefoot leather boots!
Use code ANYASREVIEWS for 10% off your Gaucho Ninja order!
Lisandro's Story
I found the Gaucho Ninja Leather shop last year when I was writing my Etsy Barefoot Shoe finds post. It was one of those serendipitous moments that felt meant to be, because Lisandro (shop owner and shoemaker) had not heard of the barefoot movement. And yet there he was, intuitively making natural footwear from his knowledge as a martial artist.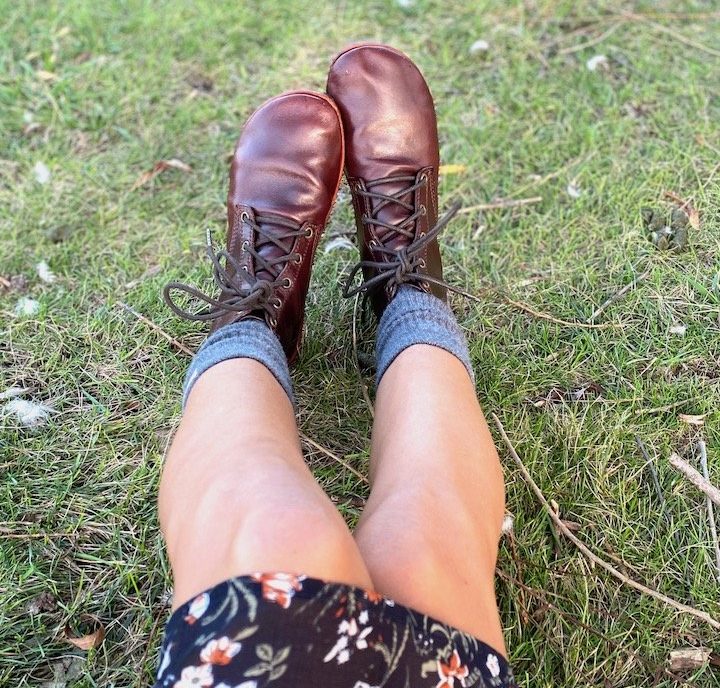 You see, in martial arts the ability to engage your feet is essential, so the right footwear is also essential. The "barefoot movement" isn't a new trend after all, but rooted in centuries-old traditions around the world.
Lisandro learned leather working years ago from his then-girlfriend. He first began making shoes by request for fellow martial artists and when they proved popular he refined his process over time. Today he offers a range of products to meet the needs of all his customers, whether you are looking for tabi shoes for martial arts, a fully bespoke (custom) boot, or an excellent leather shoe for everyday.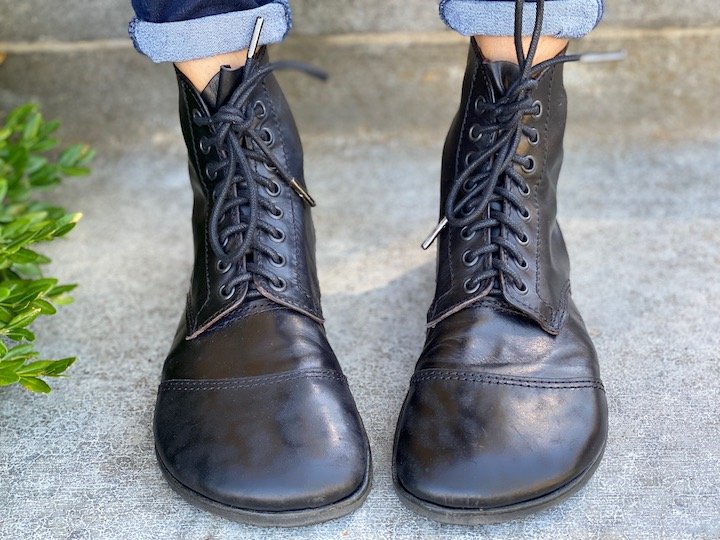 The Boots
Lisandro offers many different models. Some of them are tabi style, with the separated big toe, but most look just like regular shoes you see at work or around town. Unlike "regular" shoes, however, Gaucho Ninja Leather shoes are actually good for your feet. They are all completely flat (have you looked at your dress shoes lately?), with a thin flexible sole, and plenty of space for your toes. These are important features in a shoe, and can have a huge impact on your body. Especially in the shoes we are wearing all day.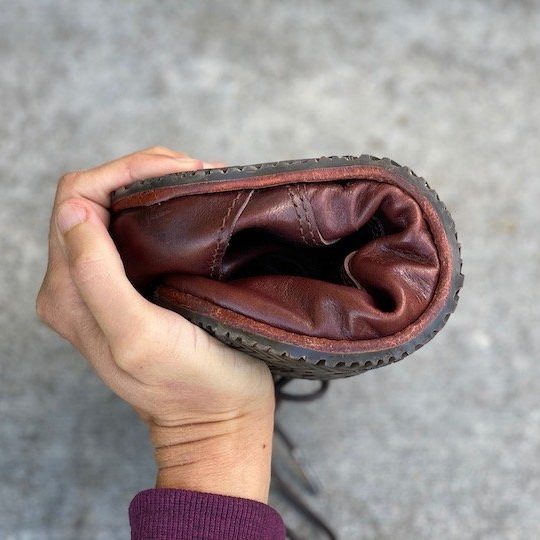 Lisandro's shoes break from convention in another way too. Instead of choosing "modern" chrome-tanned leather, he works closely with traditional tanneries that use natural bark on their leather. This is called vegetable tanning. Besides being better for the Earth, vegetable tanned leather improves with age, retains its luster, and doesn't crack. But because natural tanning take many times longer than chrome tanning, it is nearly a lost art.
Unfortunately, fast-fashion has made it difficult to value the difference in leather quality. We usually move on from a pair of cheap shoes before it can fall apart on us. Just because something is made of leather does not make it good quality. But if you're looking for a pair of shoes to wear for decades, handmade and vegetable tanned is the way to go.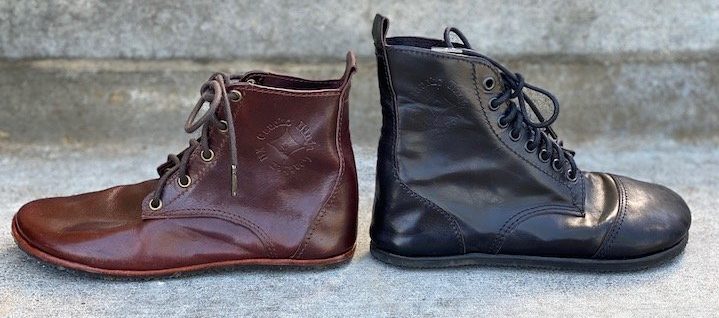 Gaucho Ninja Leather shoes can either be made in standard sizes OR fully custom to your foot. His custom shoes are bespoke meaning they are more than just made from your measurements. Lisandro takes those measurements and uses them to 3d print a custom last (or shoe mold) that is entirely unique! This last takes into account toe box height, arch height, ankle size, and the shape, size and contour of your feet. Your shoes will be built around the last and molded to it, so you end up with a perfect fit. The lasts from these orders can be saved for future purchases, or you can buy it from Gaucho Ninja and have it sent to you.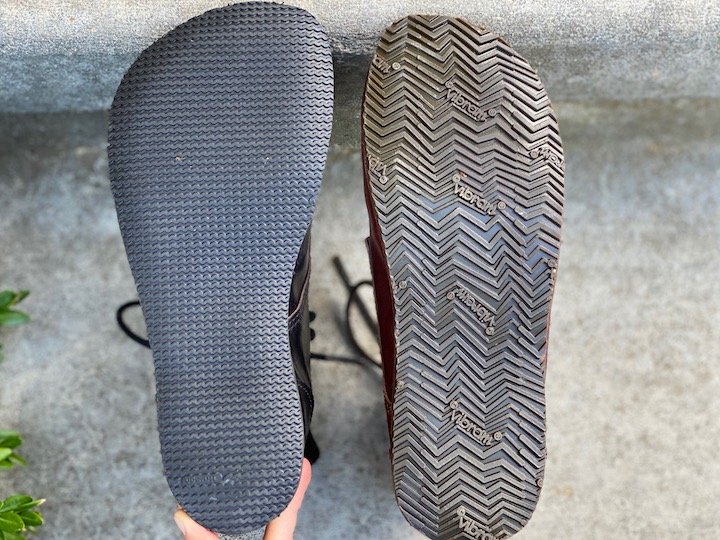 Even if you get a standard size, you can still customize the outsole, leather color, eyelet color and laces of your shoes. And you can be assured that you are getting an incredibly high quality functional shoe that is barefoot approved.
Chukka
The chukka is your classic lace up boot. It is simple, unisex, dressy and casual. I chose this rich Chocolate brown with matching laces and brass eyelets and I am just obsessed with the color combo. The leather is shiny with burgundy undertones and will match everything. I also love that this style can be both feminine or masculine depending on how you style it.
The tongue is not attached in this model and the leather is single ply. So if you live in an extreme climate this is more of a fall boot. I chose one of the thinner outsole options assuming I would be using this in temperate weather and not during winter. They come with a leather insole that can be removed if you need more space or want more ground-feel.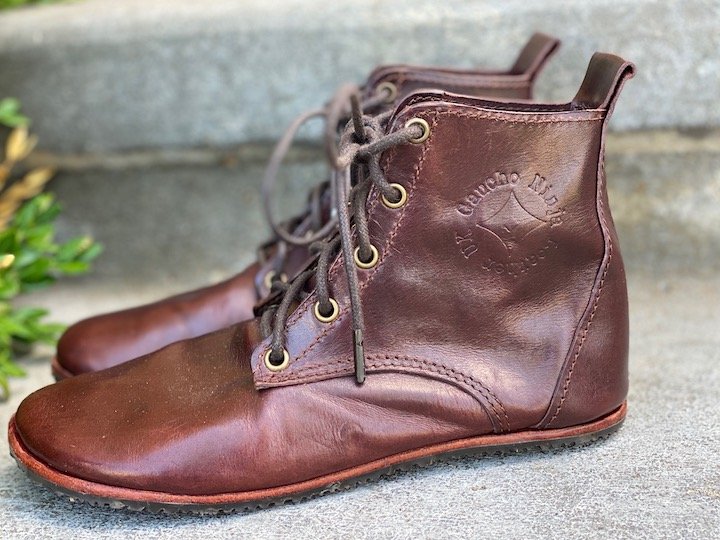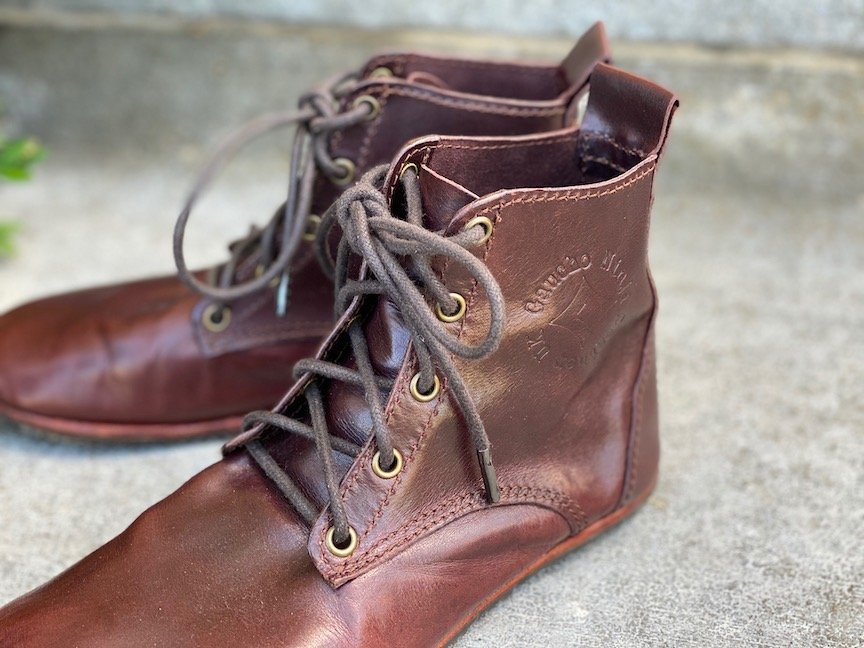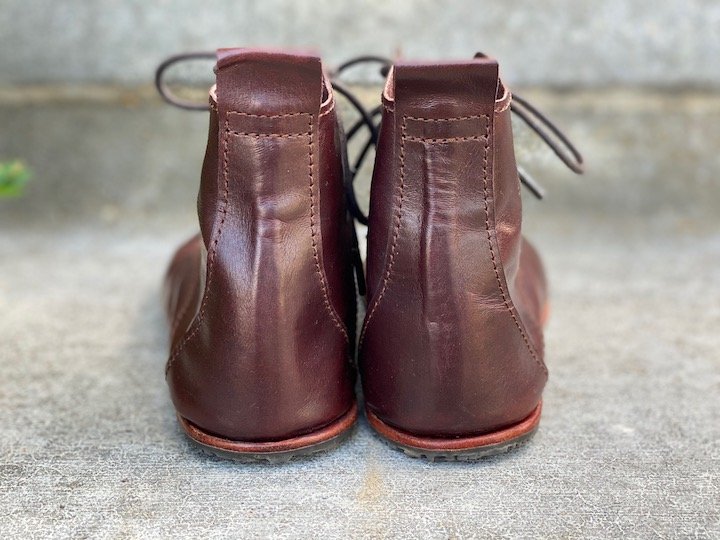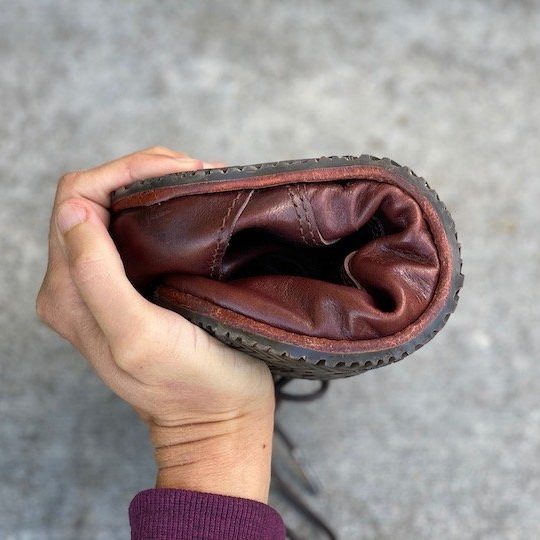 Gaucho Ninja Review chukka barefoot bootsclose up slider
Gaucho Ninja Review chukka barefoot boots close up slider
Gaucho Ninja Review chukka barefoot boots close up slider
Gaucho Ninja Review chukka barefoot boots close up slider
Sizing
This style I got in a standard preset size. I chose EU 37 (US 6.5-7), which is my typical size in this style of shoe. They fit just like I would expect. They are adjustable because of the laces, and I use the insole in them because I have lower volume feet. They would fit medium to low volume feet, and higher volume feet without the insole.
They cinch up close around my ankles which makes them look really sleek and classy while still providing enough space for my toes. Width wise they are comparable to other popular barefoot brands such as Feelgrounds and Groundies and feel plenty spacious for me.
Desert Blaster
The Desert Blaster is designed to be hard wearing with a high ankle and double lined toe cap. I chose an all-black look and an extra sturdy Vibram outsole anticipating that I would wear this shoe year round in all weather.
The Desert Blaster has a fully gusseted (attached) tongue so you don't get any dirt or water in. If you waterproof the leather then you've got yourself a really functional shoe, even something you could use as a work shoe.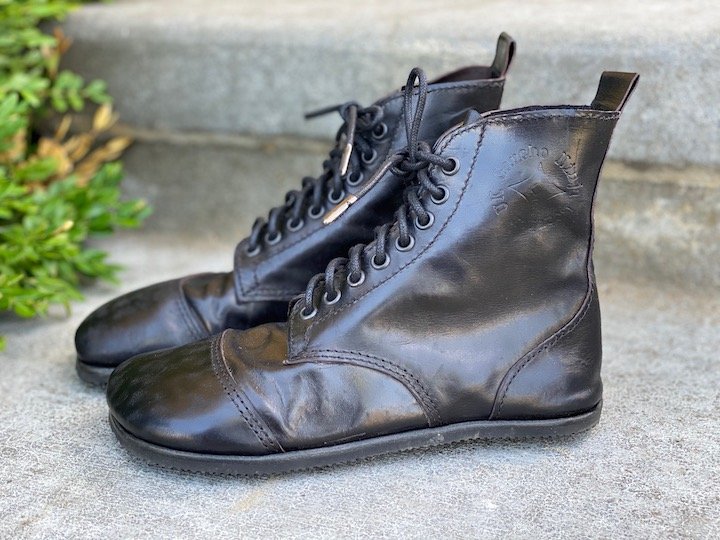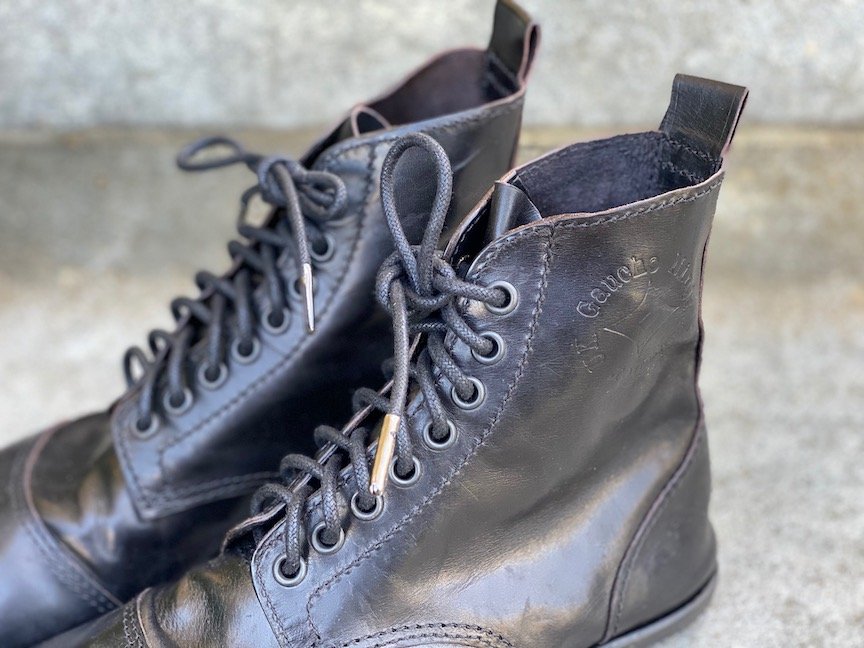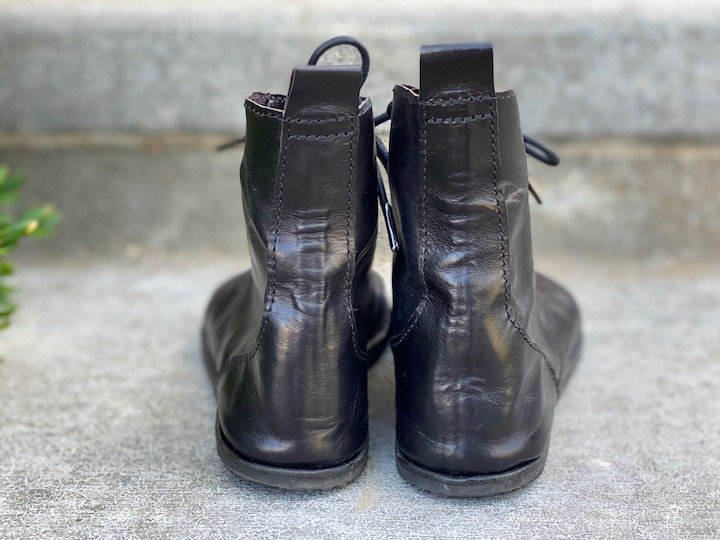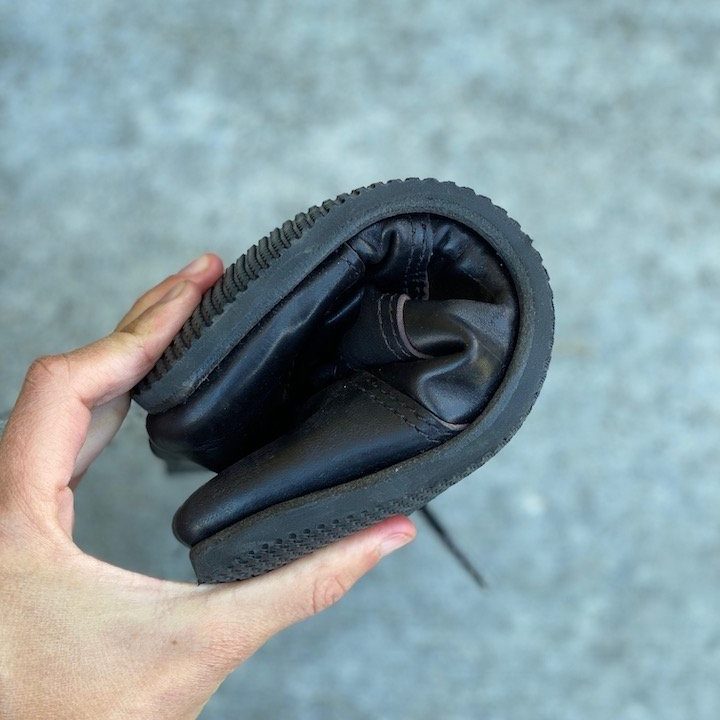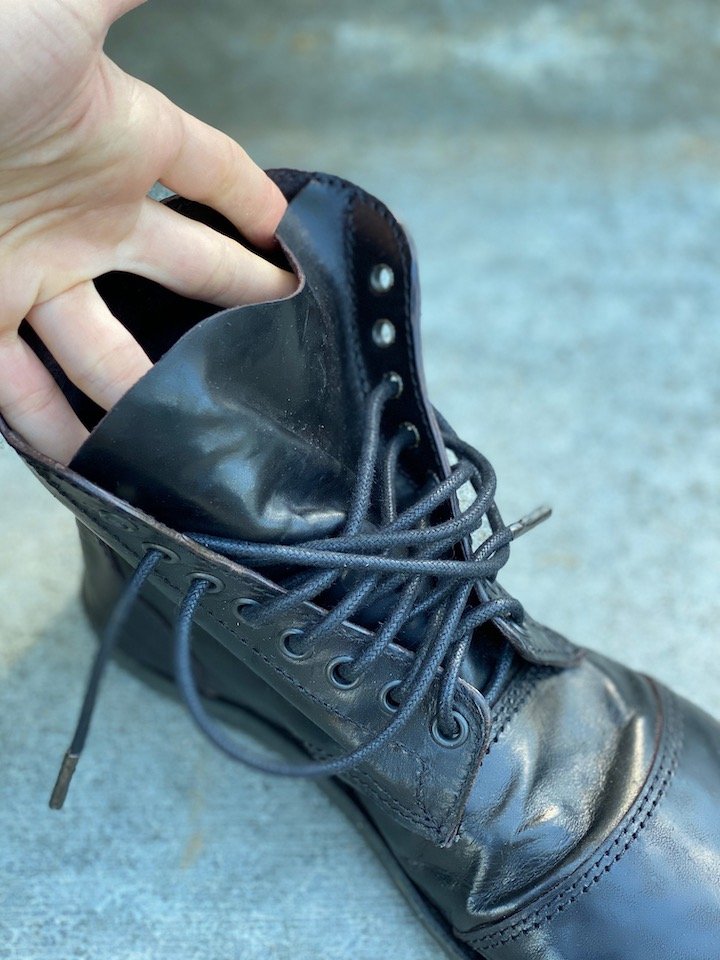 Gaucho Ninja Review Desert Blaster barefoot boots close up slider
Gaucho Ninja Review Desert Blaster barefoot bootsclose up slider
Gaucho Ninja Review Desert Blaster barefoot boots close up slider
Gaucho Ninja Review Desert Blaster barefoot boots close up slider
Gaucho Ninja Review Desert Blaster barefoot boots close up slider
The design has lots of eyelets for the laces, which gives you a really secure, glove-like fit. It does take quite a while to get them on and off because you have to feed the laces through each grommet, but once they are on they are so secure and comfortable. My pair is bespoke so it is made for the exact height and volume of my feet, which means I have to really undo the laces to get my foot out easily. As the leather has broken in this is going faster, but it still takes time.
I like the Doc Marten look of the Desert Blaster and can appreciate how functional it is, but for day to day wear I prefer the ease and simplicity of the Chukkas.
Sizing
My Desert Blasters are bespoke, so they are fully customized to my exact foot. This is more expensive than the standard size, but might be worthwhile depending on your needs. Read the next section for my thoughts on how they compare to the standard sizing!
Bespoke vs Standard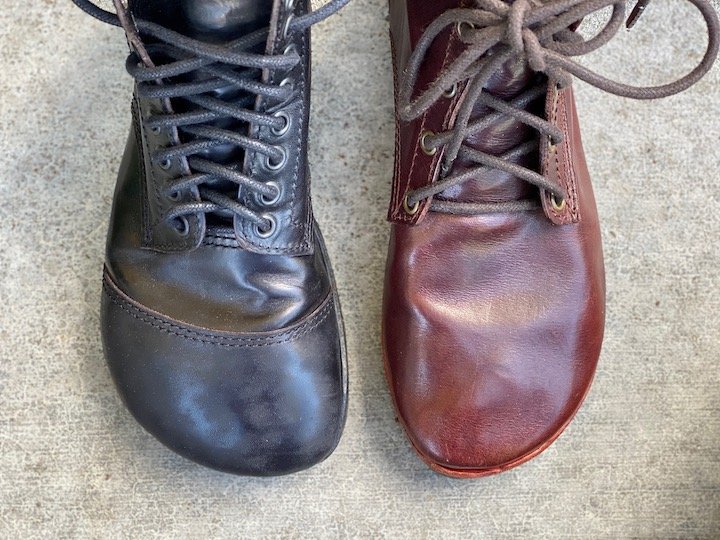 As someone who takes her feet very seriously, I can appreciate the value of a fully customized shoe. Even the best quality barefoot shoes are made with only one type of foot in mind, which is why it can take so long to find the perfect shoe. But when you get a custom shoe, it's tailored to YOUR feet. My custom shoes are some of my absolute favorites, but it can be pretty scary to invest in them.
Lisandro was keen for me to try his bespoke shoes to see how they compare to the standard sizes and share my insights. I chose the bespoke Desert Blaster and he sent me documents detailing what info he needed, including in-depth measurements of the width, length, and height of my feet and ankles. On top of that, I sent him an actual scan of my feet next to a ruler (I got to stand on a xerox machine!). All in all, it took some time to gather all this info, especially since I took all my measurements twice.
Whenever you order shoes I recommend measuring twice, since there is so much variability in how it can be done. Measuring at the end of the day on two different days is a good rule of thumb, and you can always get in contact with Lisandro if you're unsure about anything.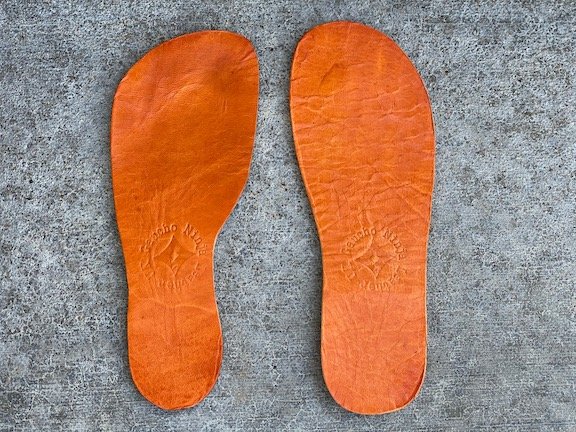 You can see that the insole from the bespoke shoes are cut differently in several ways. Besides being wider at the toes, they are also narrower through the midfoot and heel. The insole from the standard sized shoe is generic, and while my foot fits inside it's not the exact shape of my foot.
Here you can see that the insole from the bespoke shoe is a perfect match for my foot!
While I feel great in the standard size 37, if you are in shoes all day every day there can be real value in a tailored shoe. And if you have feet that don't often fit in standard sizes (ie super wide, super narrow, high volume, bunions, etc) a custom shoe might be the end of your long search. So the bespoke option is available for people ready to invest in some serious high quality footwear that you know is good for you.
Company Ethics
Besides understanding the importance of feet, Lisandro is also deeply committed to a sustainable and ethical practice. He sources the absolute best leather tanned in Spain and is committed to keeping trash and chemicals out of the landfill. By carving out a space for himself in slow fashion, he also is supporting other forgotten industries such as natural leather tanning. Companies like Gaucho Ninja actually do good in this world, and when you support it you are supporting real people.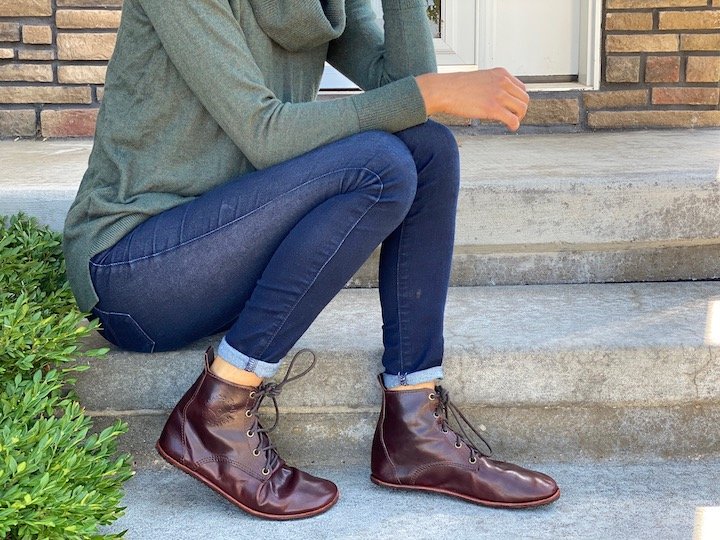 Ordering
You can place an order for both standard and bespoke shoes from Gaucho Ninja. Use code ANYASREVIEWS for 10% off your order! Once placed, Lisandro will contact you with any information he needs plus instructions. Orders are usually fulfilled within 7 days and then shipped using Royal Post (from the UK). All shipping is free on all orders, and you can expect roughly a week shipping time for most destinations. Standard sizes can be returned (you pay return shipping) but custom orders cannot. Lisandro does offer a lifetime warranty of the shoes in case anything wears prematurely.
Conclusion
Getting to know Lisandro of Gaucho Ninja Leather has been one of my favorite experiences as a shoe blogger. He is here to make the world a better place, and not just through a business that stands up against the cultural norm of cheap and fast. His whole life is about being in harmony with nature and he has learned how to share this message, make a living, and raise a family all at the same time. And the shoes are pretty great too.
Like barefoot shoes? Make sure you subscribe below for all future reviews! And then follow me on Instagram for daily updates on all things barefoot