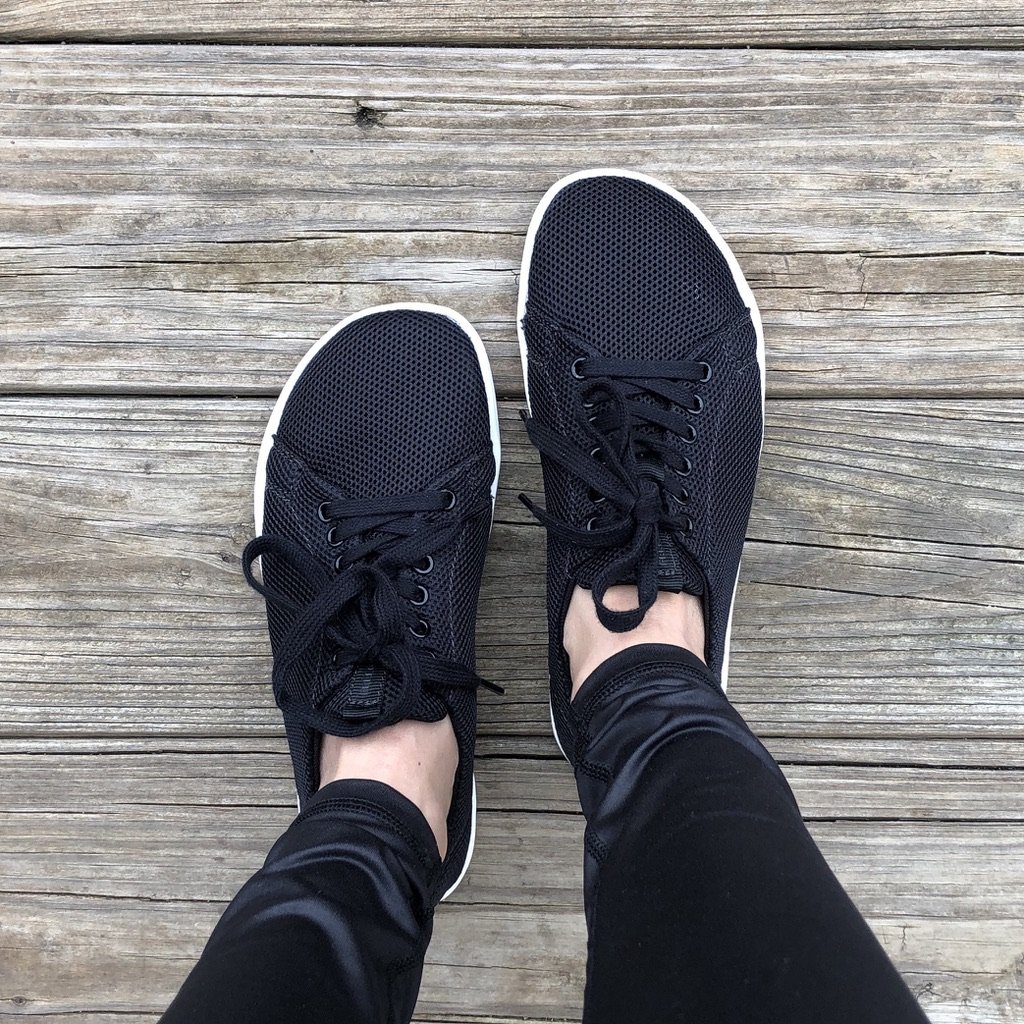 **Feelgrounds updated their sole shape and all new models can be found here!**
At the start of 2019 Feelgrounds was just a concept. Johannes Brenner wanted to make a barefoot shoe that was cool and hoped the masses would buy in. When the Original Feelgrounds shoe went live on Indiegogo, buy in they did to the tune of $250k. And within a matter of days Feelgrounds went from being a concept to a full-blown brand.
Simple, streamlined, and with a touch of skater, the Feelgrounds Original looks just like a regular sneaker. And that is exactly what has made it so immensely popular. Read on for my full review of the Feelgrounds Original.
**Read my reviews of all 3 Feelgrounds styles here**
Table of Contents
1. Feelgrounds Original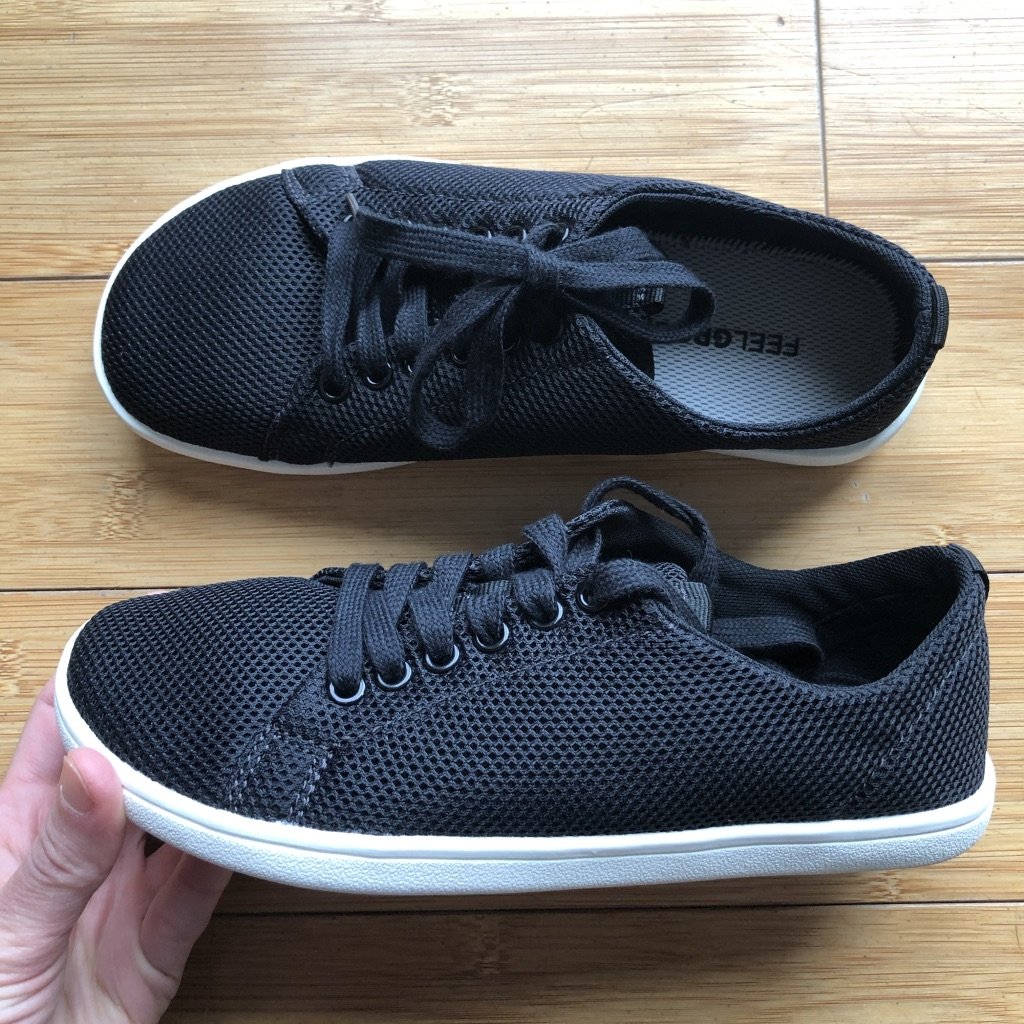 The Feelgrounds Original ($130) is a vegan lifestyle shoe, made of a recycled mesh upper and a flexible outsole. They're machine washable, super lightweight, breathable, and an all around good shoe.
I have a lot of feelings about the Casual Sneaker. It's one of those perfect blends of practicality and style that warms my little barefoot-fashionista heart. And Feelgrounds nails it. These are shoes I will definitely be wearing regularly, for both their looks and serious comfort.
2. Ethics
Feelgrounds is transparent about the manufacturing of their shoes and has prioritized social and environmental responsibility. They report good factory conditions and fair wages for their employees, and the shoes themselves are made mainly of recycled materials. While they can't be resoled if worn through, Feelgrounds shoes are recyclable. You can read more about their company here.
3. Barefoot Qualities
The outsole is a rubber blend with a total stack height of 5 mm. The shoes are very flexible, rolly, and lightweight (around 6 oz).
When I first received my size 37 the width felt questionable to me (mainly by my pinkie toe where there is a thick seam), but they broke in quickly and I now find them one of my more spacious shoes. As you can see, the toe box does taper some. But with enough length in front of my toes, my foot falls in the widest part of the shoe.
Even though a 37 is definitely the right size, I found my foot was sliding around inside the shoe at first. I have low volume feet, so this is a common problem for me and I easily remedied it by putting in a barefoot insole. Once that was in place my shoes have felt great and I love wearing them.
The ground feel is good because the sole is so squishy, and overall I am a fan. Some barefoot shoe brands have even thinner soles, they often have a plastic-y feeling that doesn't move with every bump under foot (a compromise that is sometimes made for durability).
4. Sizing
My general sizing advice is to go up if you are in between sizes and make use of their printable sizing chart to check length. If you'd like the long version, grab a cup of coffee and read on.
Originally, I requested a size 36 after consulting the size chart. On the printable guide my big toe was underneath the size 36 line, but not by much. I knew it would be pretty close in length, but the width was listed as being 9.4 cm. My feet are 9 cm wide at the widest point (the toes, not the joints), so I thought these might be a shoe I could get a close fit in. The 36 ended up being really small because the widest part of my foot was sitting in the narrower point of the shoe. So I exchanged them for the size 37, which has a listed width of 9.5cm (all the photos in this post are of the size 37).
The width measurement in the Feelgrounds size chart comes from the widest part of the insole that is sewn into the shoe, but the shoe tapers in a little after the widest point. The rubber outsole also curves in a little bit above the insole. These two things combined make the width feel a little narrower than what is listed in the size chart. Width measurements are always tricky, so paying attention to shoe shape and reaching out for advice is a good idea.
Feelgrounds Size Chart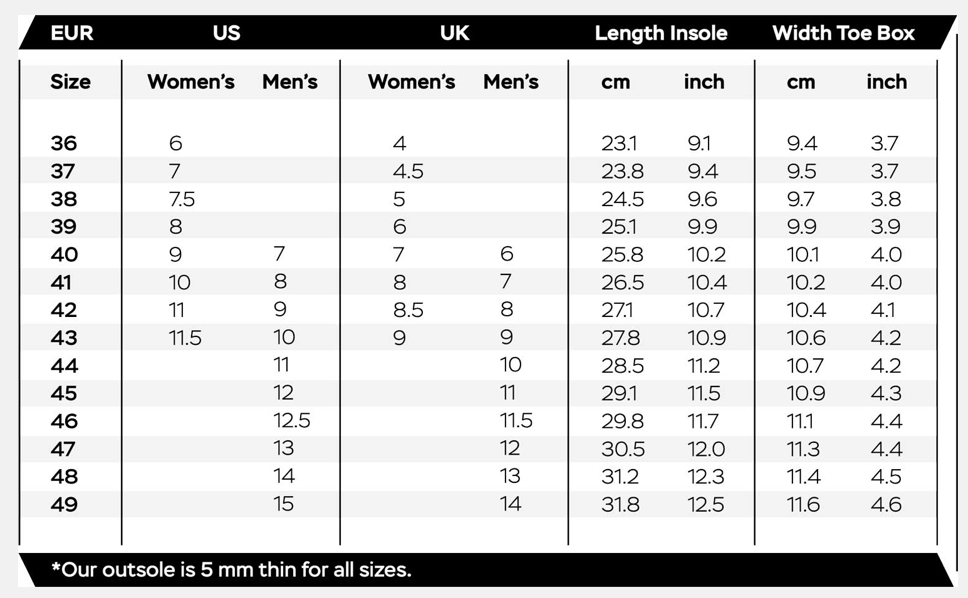 4.2 Some Comparisons
My size 36 Bohempia sneakers have a listed width of 8.8 cm, and yet you can see they are only a tiny bit narrower than the 37 Feelgrounds that have a width of 9.5.
Feelgrounds next to Bohempia
Belenka size 37 shoes have 9.3cm as the width, but they get that measurement from the last that is used to mold the shoe. You can see that the Belenka shoes are a good amount wider, despite having a narrower measurement in their size chart.
Feelgrounds next to Belenka Winter Boot
Feelgrounds feel similar to my women's Vivobarefoot shoes (where I also need a size 37), but the Feelgrounds are a few mm wider. Vivobarefoot uses wider sizing for their men's shoes whereas Feelgrounds has unisex sizing. So probably for men both brands would be about the same width.
Feelgrounds next to women's Vivobarefoot Court size 37
5. Durability
Feelgrounds shoes are well made and seem sturdy, so I expect that if used as recommended they will last a long time. But the shoe upper is a soft, pliable material and I can see them wearing out if you were to do a lot of rigorous activity in them. I don't wear through my shoes very quickly, so I don't expect to have any problems whatsoever. If you're interested in hearing updates about how these are holding up for me, follow me on Instagram where I continue to share about the shoes I wear.
6. Ordering
Feelgrounds has an easy-to-use website with lots of different ways to pay, and free worldwide shipping. In stock shoes arrive from Germany in less than a week and they have a 14-day return policy. They use an online return portal which makes things so easy, and there is a US return address you can use instead of having to get them all the way to Germany. I'd estimate return shipping costs for US customers would be around $8-10. So ordering and returning is very straightforward. The cost of the original is
7. Style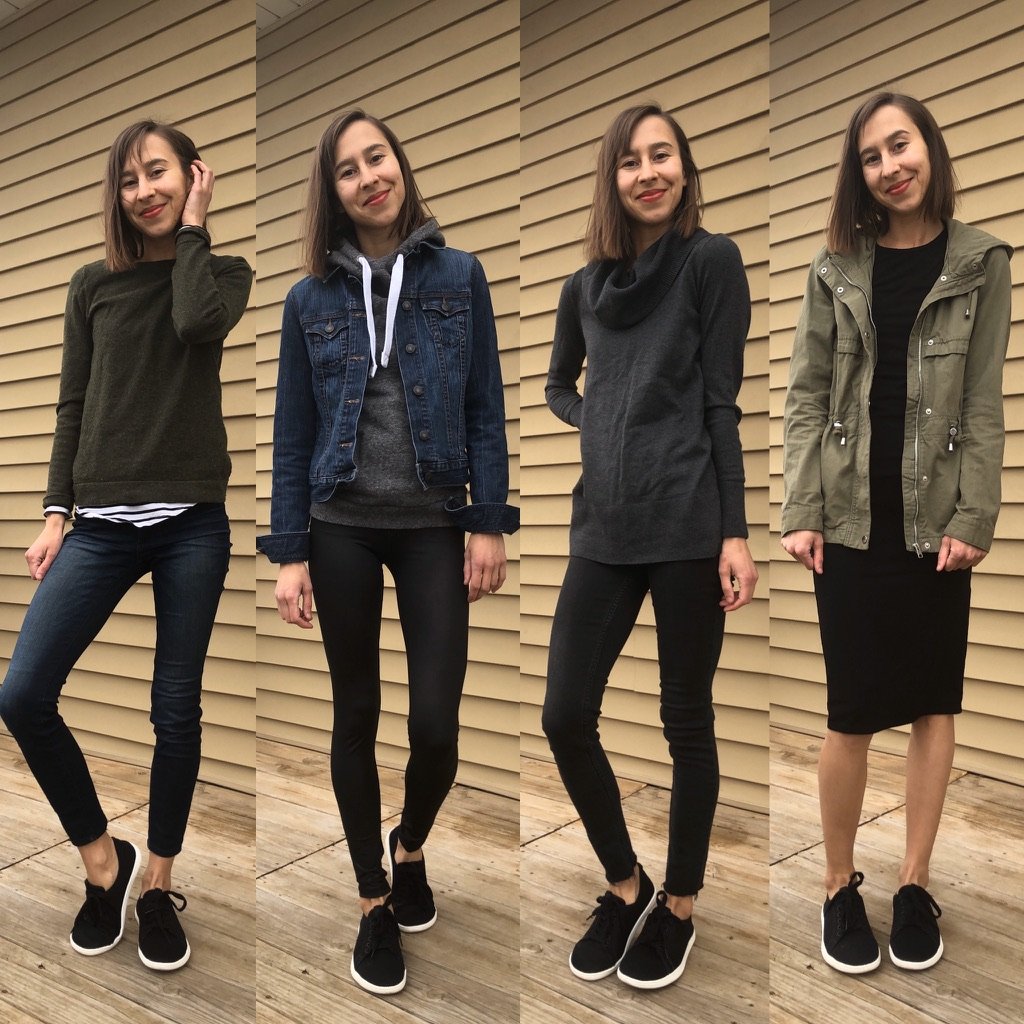 Besides comfort, the Feelgrounds style is its main selling point. The lacing pattern does a good job of disguising the width and the color combinations are right on trend. I'm a big fan of the casual sneaker that doesn't look "weird" or too sporty, and these Feelgrounds are fitting right into my wardrobe. You can see lots more outfit inspo for a simple sneaker like Feelgrounds in this post.
One of the ways Feelgrounds was able to develop such a popular style is by getting feedback directly from their followers on an on-going basis. They show samples and hold polls where people can share exactly what they'd spend money on. This is a win-win for everyone, and something more brands would be wise to do. They've used that feedback to inform their other two models (reviewed here) and I expect many more classic styles from them in the future.
8. Conclusion
Feelgrounds has hit on a great barefoot shoe that appeals to men and women of all ages, and they don't have plans to stop there. Feelgrounds is out to make barefoot shoes cool, and so far they are doing a pretty good job of it.