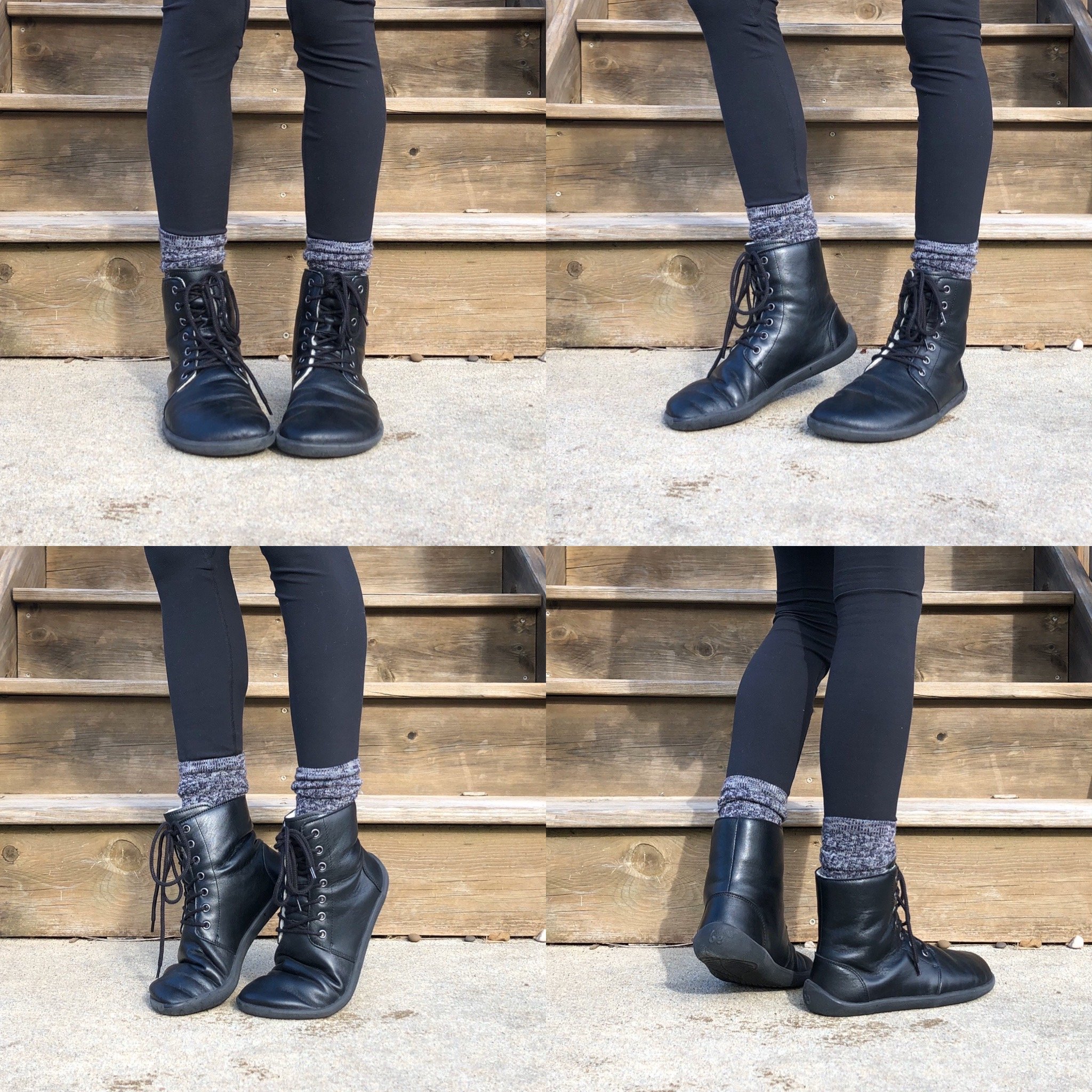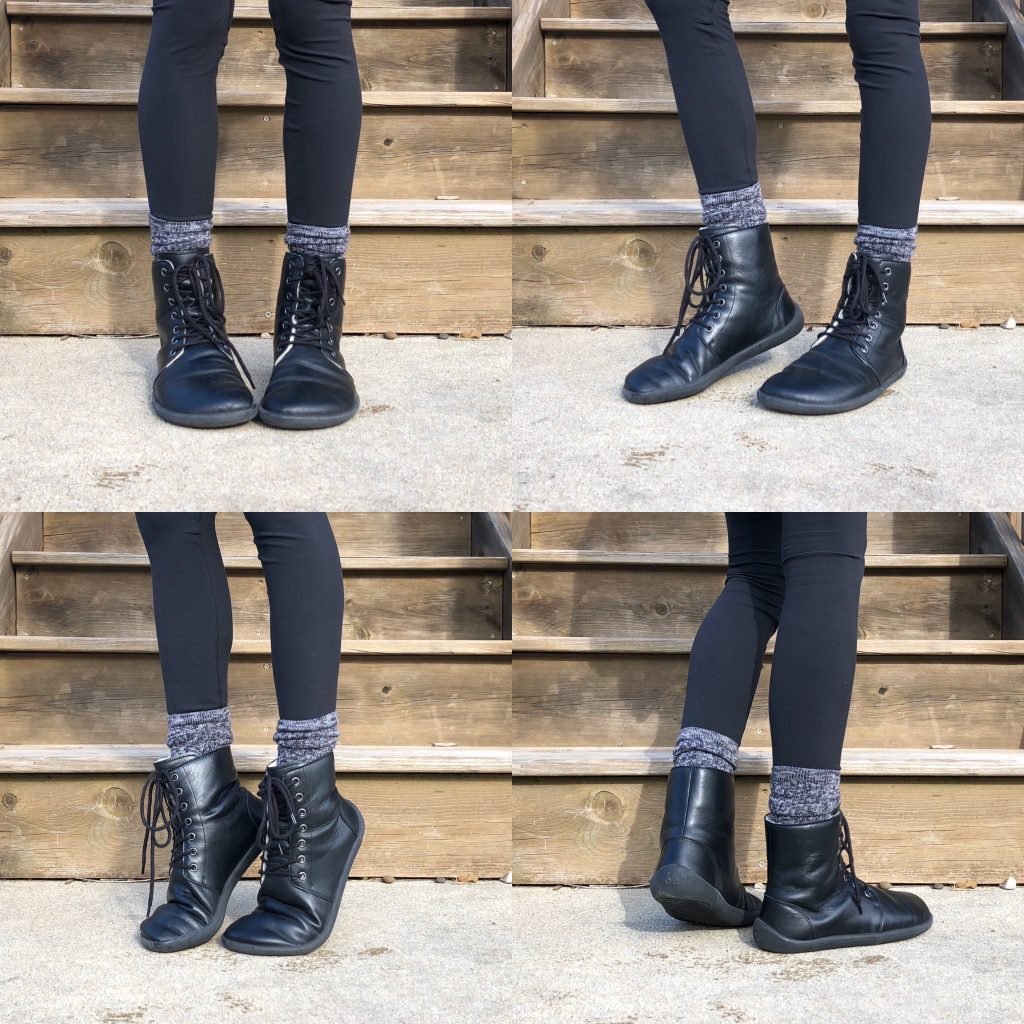 *Returns are only accepted from within the EU and USA. Additionally, US customers are able to purchase several Be Lenka styles from Anya's Shop. Subscribe to the shop e-mail list for 10% off a first purchase**
*Get 5% off with code ANYASREVIEWS on all orders directly from Be Lenka
It's clear the barefoot movement is picking up speed, the good brands can barely keep stock on their shelves. This fall Be Lenka announced their new winter line, and as soon as they came in stock they were selling out!
Be Lenka is a minimalist shoe brand with high standards. They're known for having some of the widest shoes out there, and this year they have been busy bees. They've recently released their new city shoe, sandals, AND winter boots, all in one year and all with meticulous attention to detail.
Today I'm reviewing the Be Lenka Winter shoe in black, a unisex shoe for both men and women.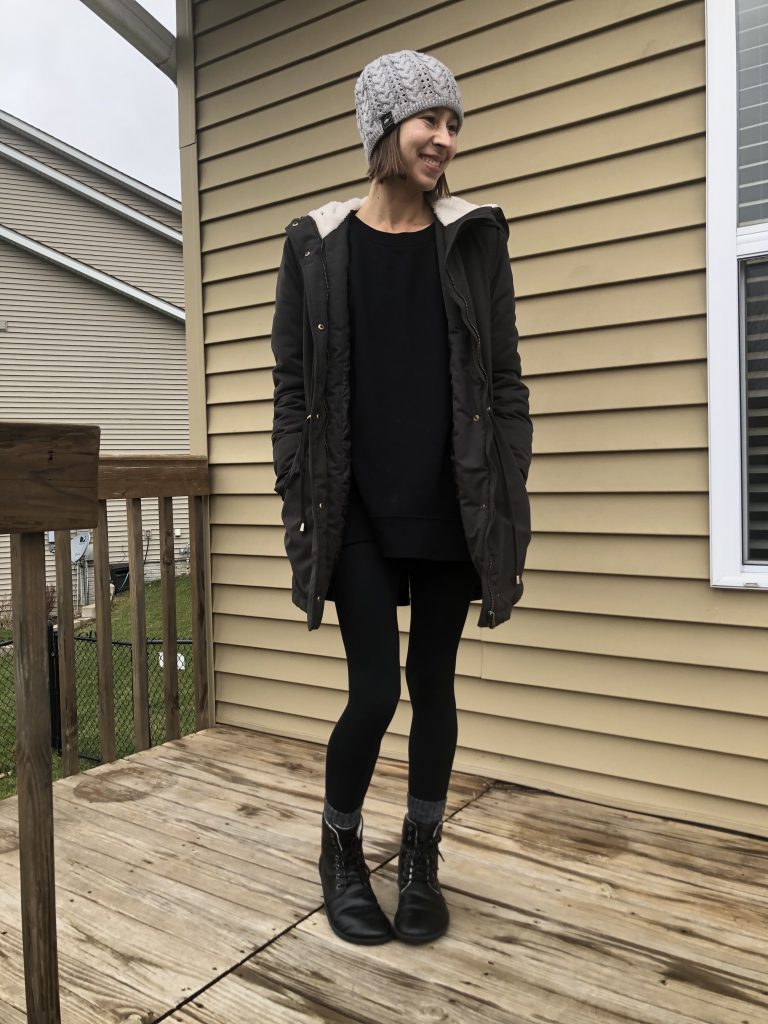 The Deets
These boots have been constructed specifically with winter in mind. The 4 mm outsole has a rubber wall around the outside, which protects against water damage, scuffs, and keeps your toes warm. The exterior is high quality leather that's been treated to be water resistant, and the interior is lined with natural wool (including a wool insole). In between the wool and the leather is a protective membrane, so even if the leather does get soaked through, water will not get inside the shoe.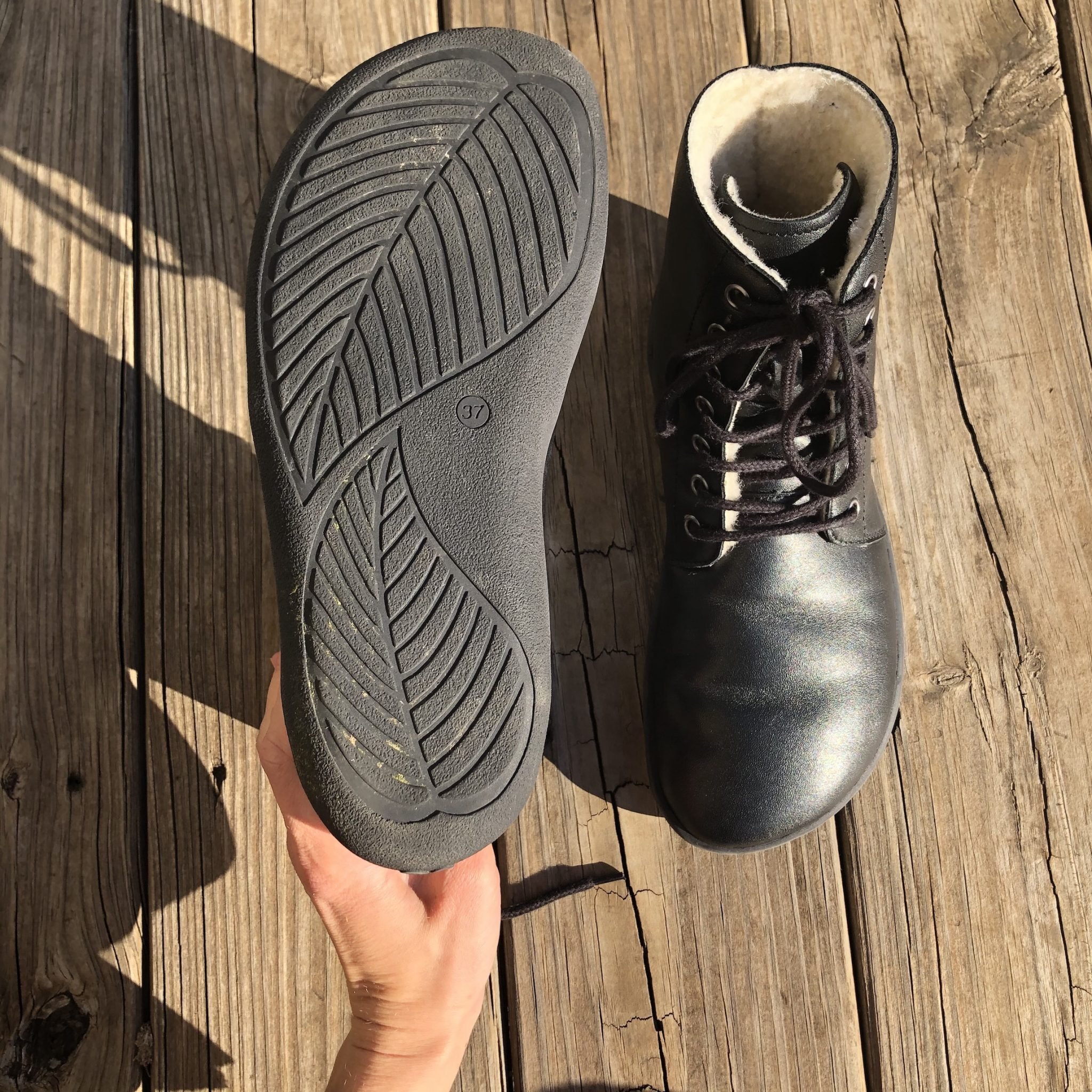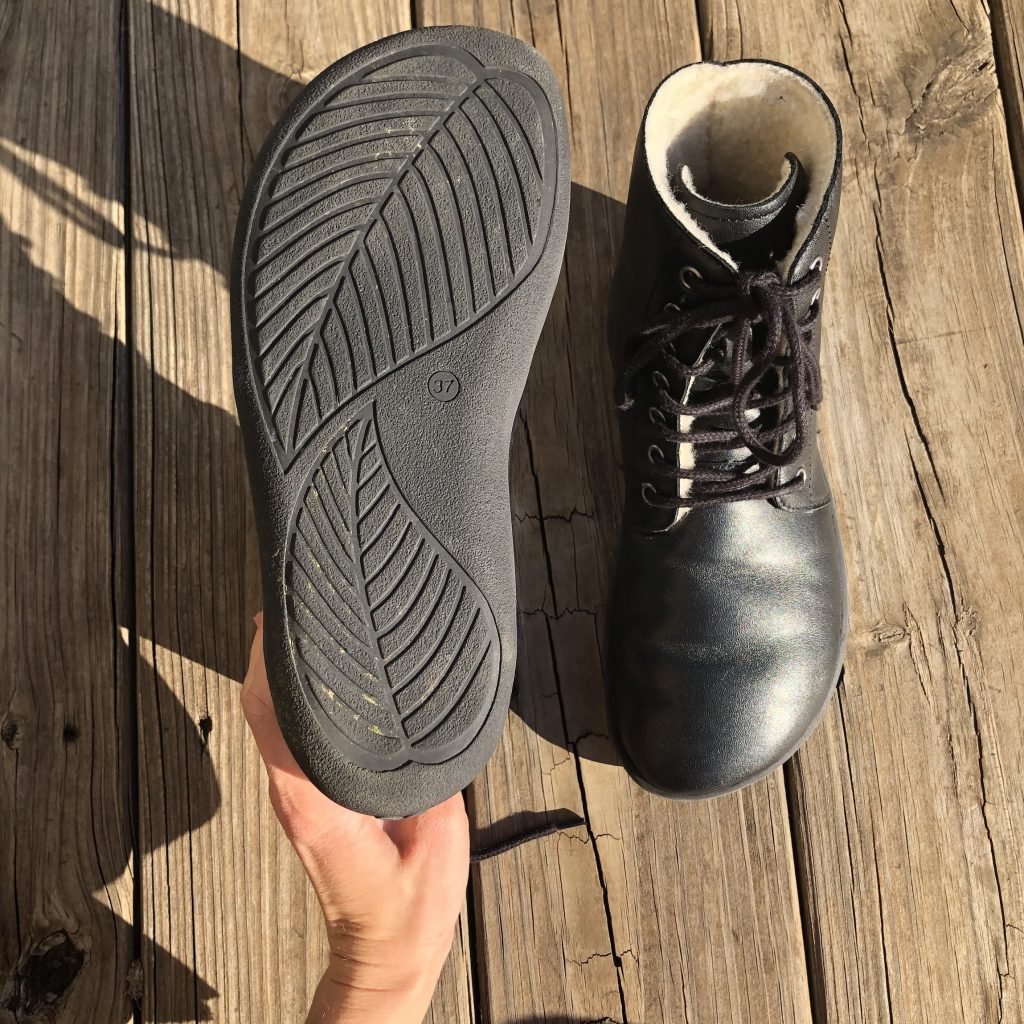 The laces are sturdy and easy to work with (you'd be surprised how important the feel of the laces are in a boot!), so it doesn't take a lot of time to tighten and loosen them, and the whole shoe is lightweight and pliable.
My pair is made from a black, shiny leather (obviously), the same leather that's used on the Winter Long shoe, a riding style boot. The long boot is also fully lined with merino wool and is an exciting new addition to the boot options we have (no other riding boots are lined with wool as of yet).
The other winter boot colors are made from a brushed leather with a suede-like look and contrasting laces, but otherwise have all the same features.
Weatherproof?
I tested these in below freezing temps with medium weight wool socks, and my feet stayed really warm the whole time (about 30 minutes walking). I expected the soles to get cold quickly, but that wasn't the case. Once it gets to below zero Fahrenheit, I might need an extra wool insole, but in 20 degree weather my feet were fine. On another walk I wore only thin cotton socks, and my toes were feeling the cold after about 20 minutes. So if you plan to use these as your snow boot, you should plan on wearing thicker socks.
I have not had a chance to test these in serious rain or snow, but based on the construction and features I fully expect these to be waterproof. The tongue is not gusseted (attached), so the main concern will be moisture coming in through the opening at the tongue.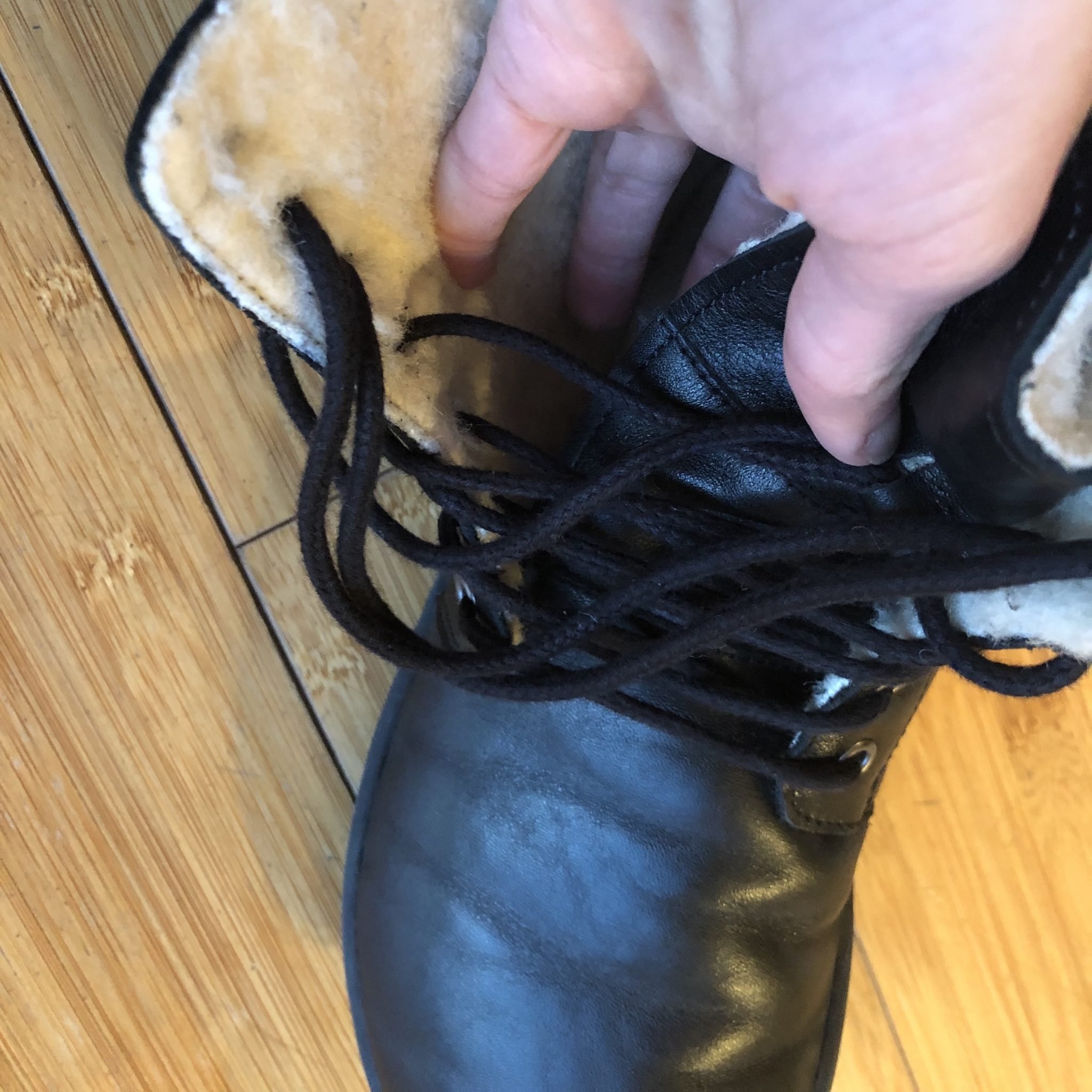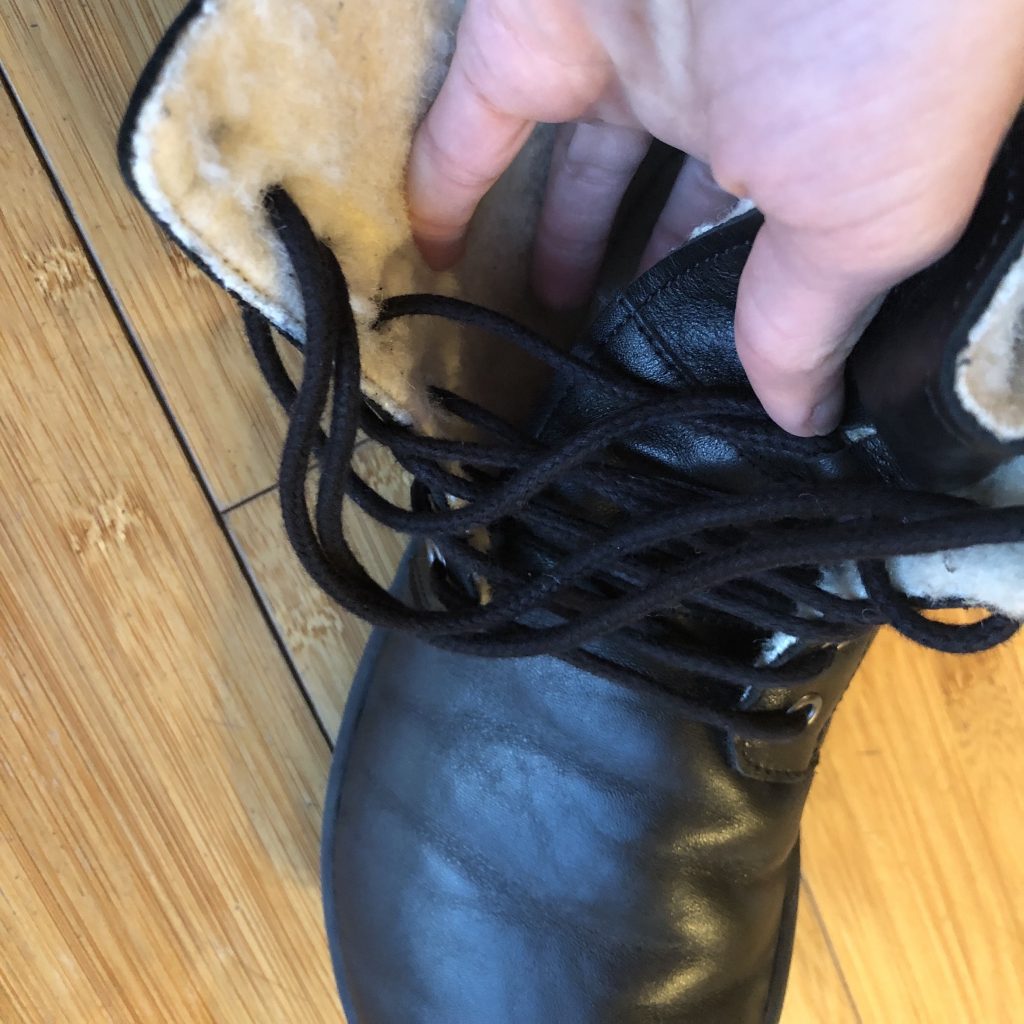 Barefoot Qualities
Be Lenka's winter boots check all the cursory barefoot boxes. They are lightweight, super flexible, thin, and foot-shaped. Of all the brands I've tried, these are some of the widest, on par with the brand Luks.
The total stack height is 6mm (4mm outsole + 2mm insole). This is about as thin as I like to go in winter boots so my feet don't freeze, but there's still good ground feel and great flexibility.
I compared the BeLenka to the Vivobarefoot Gobi Hi Tops (a popular barefoot winter boot that I reviewed here) and found that they were both the exact same length in a size 37. As rumored, the Be Lenka boots are indeed wider in the toe box and in the heel. It's hard to measure exactly how much wider, since the rubber outsole varies between the two but doesn't add functional width. But I put one on each foot with the same socks on and could feel the difference. The Vivobarefoot boots are snugger through the heel, and probably between .5cm – 1cm narrower in the toe box. While both fit my foot well, if you are someone with an extra wide foot the Be Lenka is going to be a better option (otherwise you'd need to size up).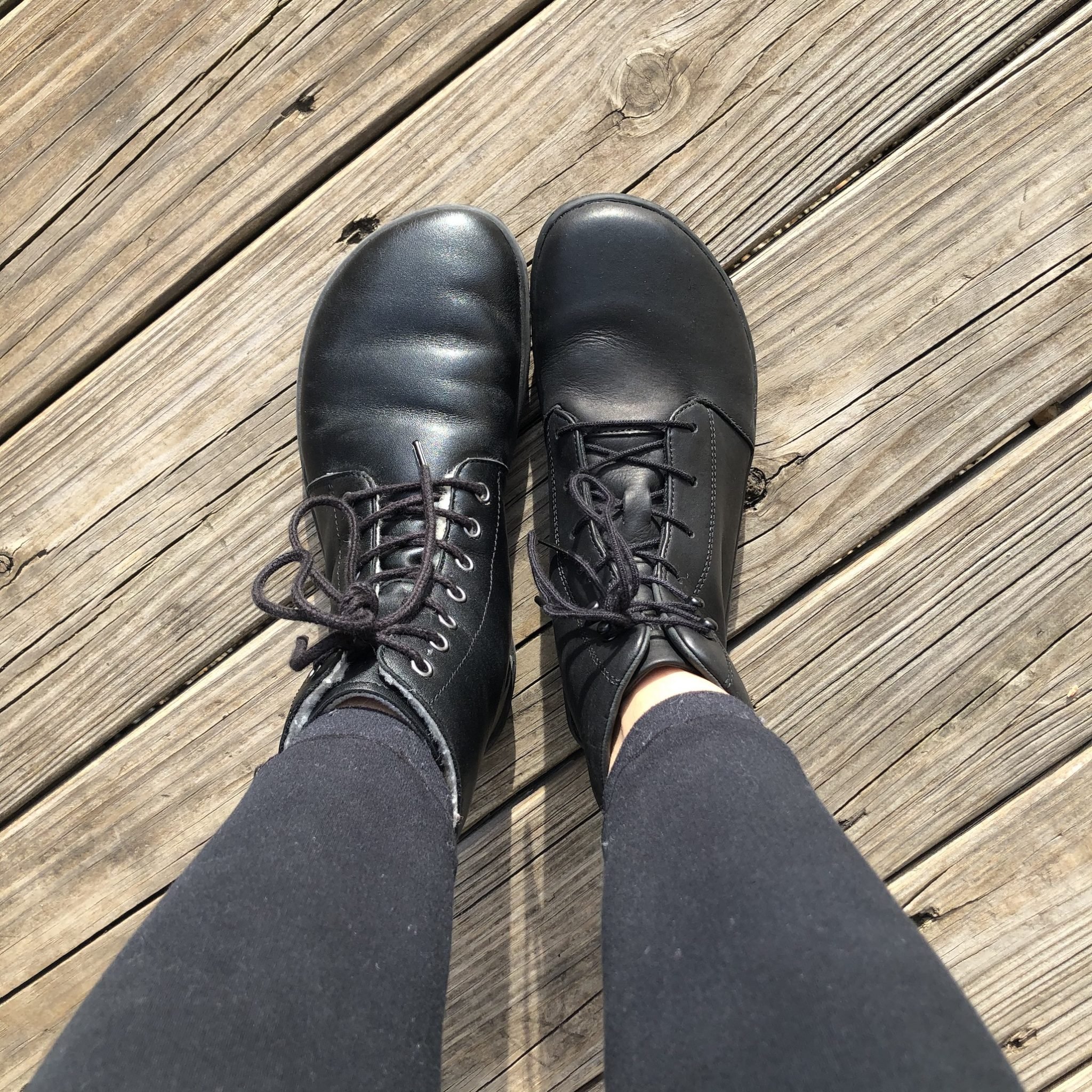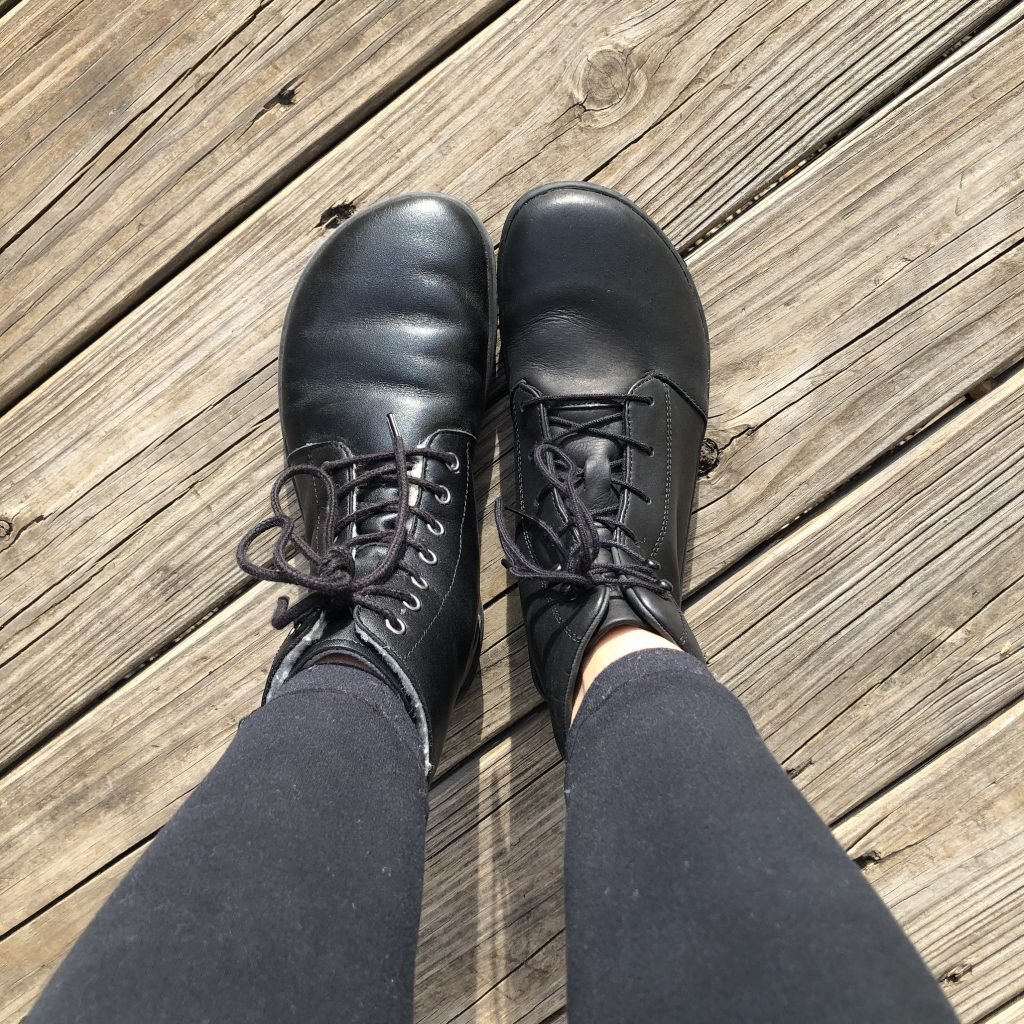 For more on how these two compare, check this post here.
I compared my size 35 Luks boots to the 37 BeLenka boots and they were both about the same length and width (though constructed differently, and obviously sized differently). The two have very different aesthetics that appeal to me in different ways, but if we're talking straight up practicality for SNOW, the Belenkas are going to be more weatherproof because of the rubber outsole and the waterproof membrane.
Considering how solid of a winter shoe this boot is, it's impressive that it retains ALL the characteristics of a barefoot shoe. For you die-hards, this is a great choice for winter.
Sizing
I used the size chart to determine I needed a 37. Their chart shows the dimensions of the last that is used to mold the shoe, so you'll want to choose something that is about .5cm-1cm longer than your feet actually measure. 37 is the size I wear in Vivobarefoot boots, but in other brands I often wear a 36. I've heard from some people to size up in these because of the wool lining, but I didn't find it necessary to size up from the size chart recommendation. However, if I wanted to wear really thick socks with these I probably could go up another size.
Some people have complained about the winter boot styles having a low instep, but that over time they stretch out well. As long as these are wide enough for your toes, I wouldn't be concerned about the snug-ness over the top of your foot because the leather will stretch. However, if you have especially high volume feet be aware that these have a lower instep. I have low volume feet and had no problems with them being snug anywhere.
Style
Because of the visible wool lining and silver grommets these boots lean casual, but as usual the right styling can dress them up. The riding boot is probably their dressiest option, with the black lace up boot coming second. The brushed leather boots looks quite casual in my opinion.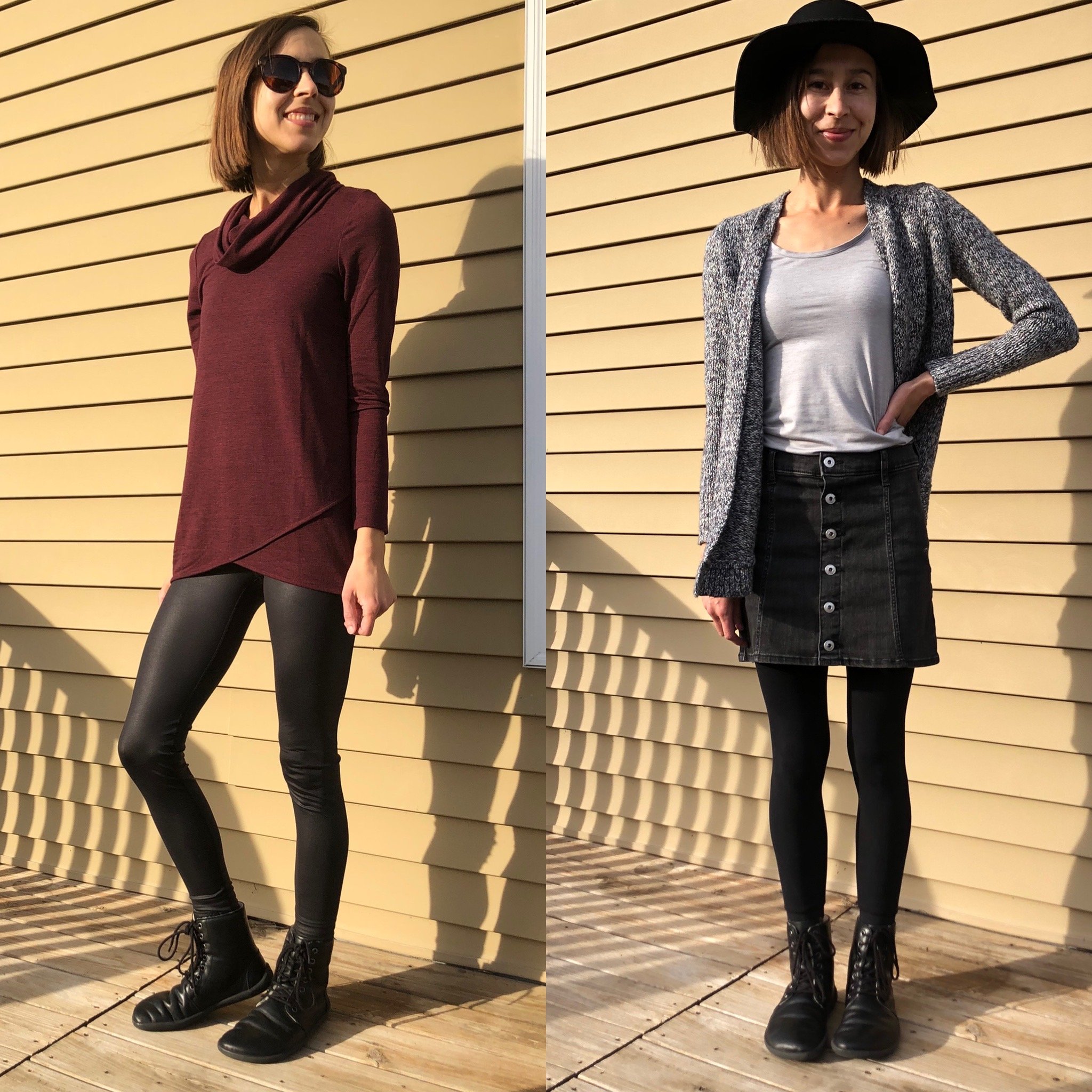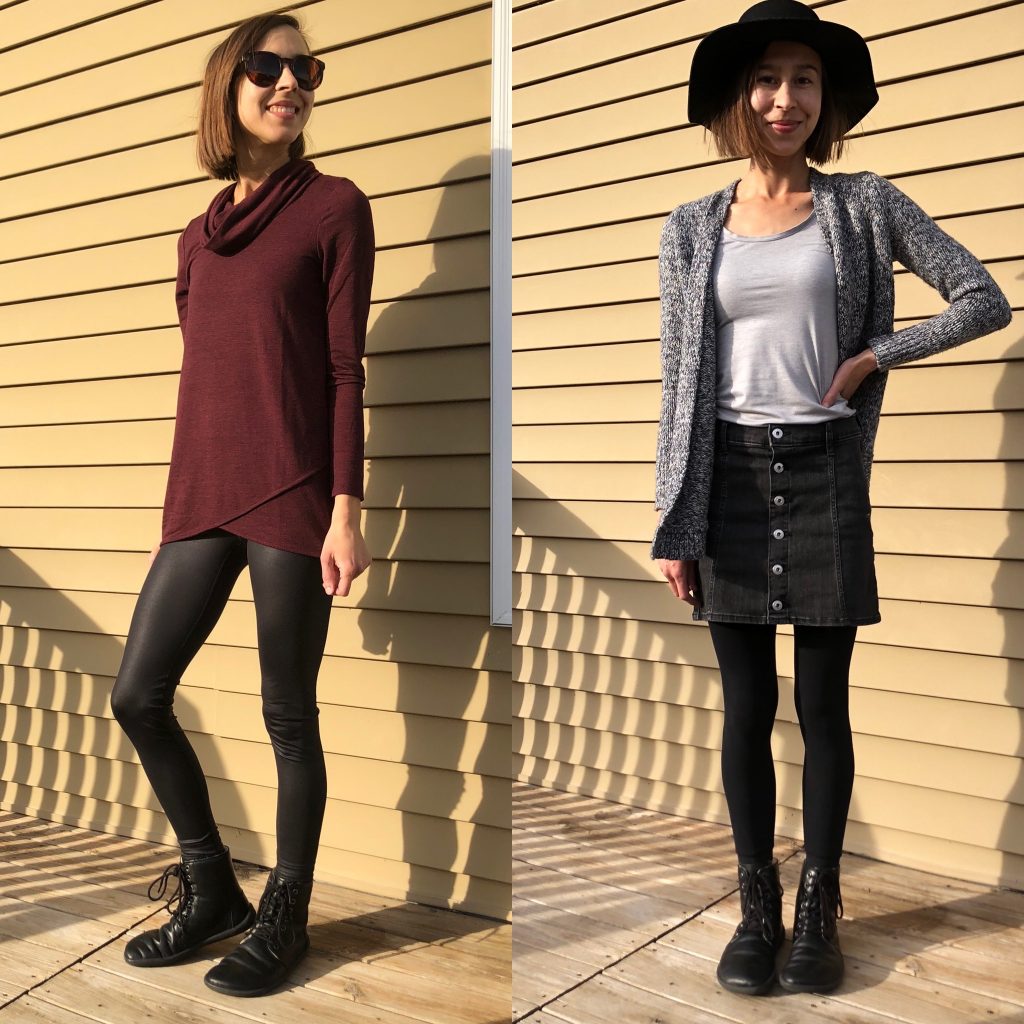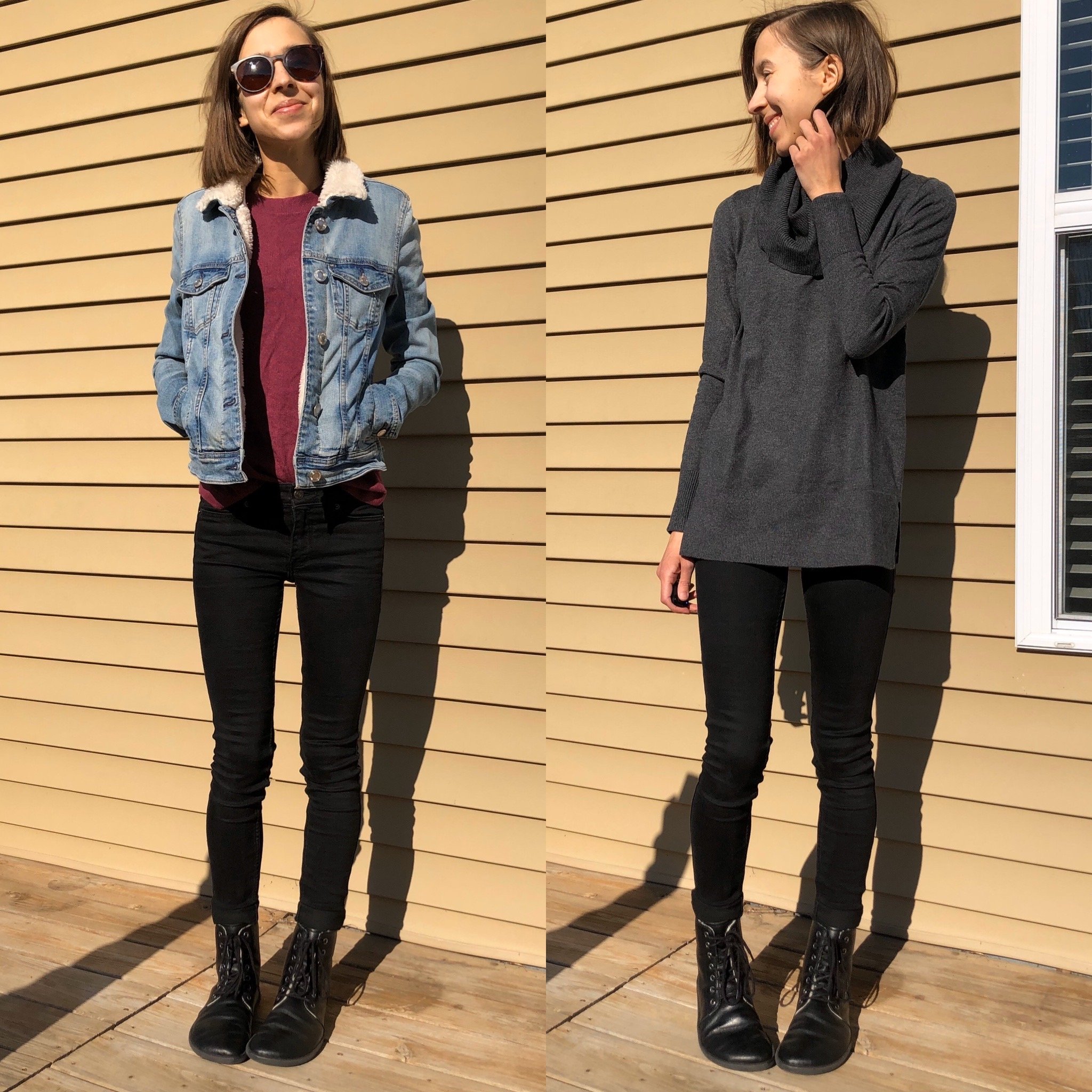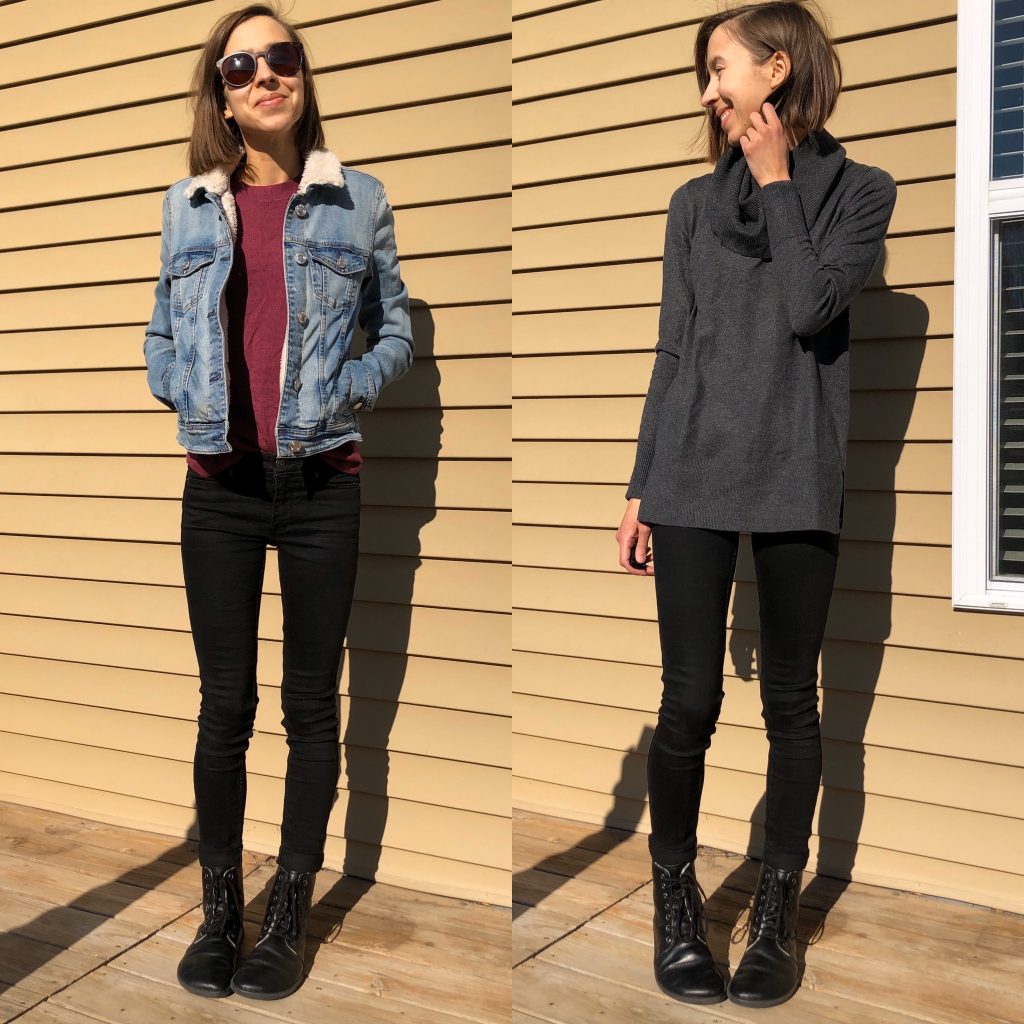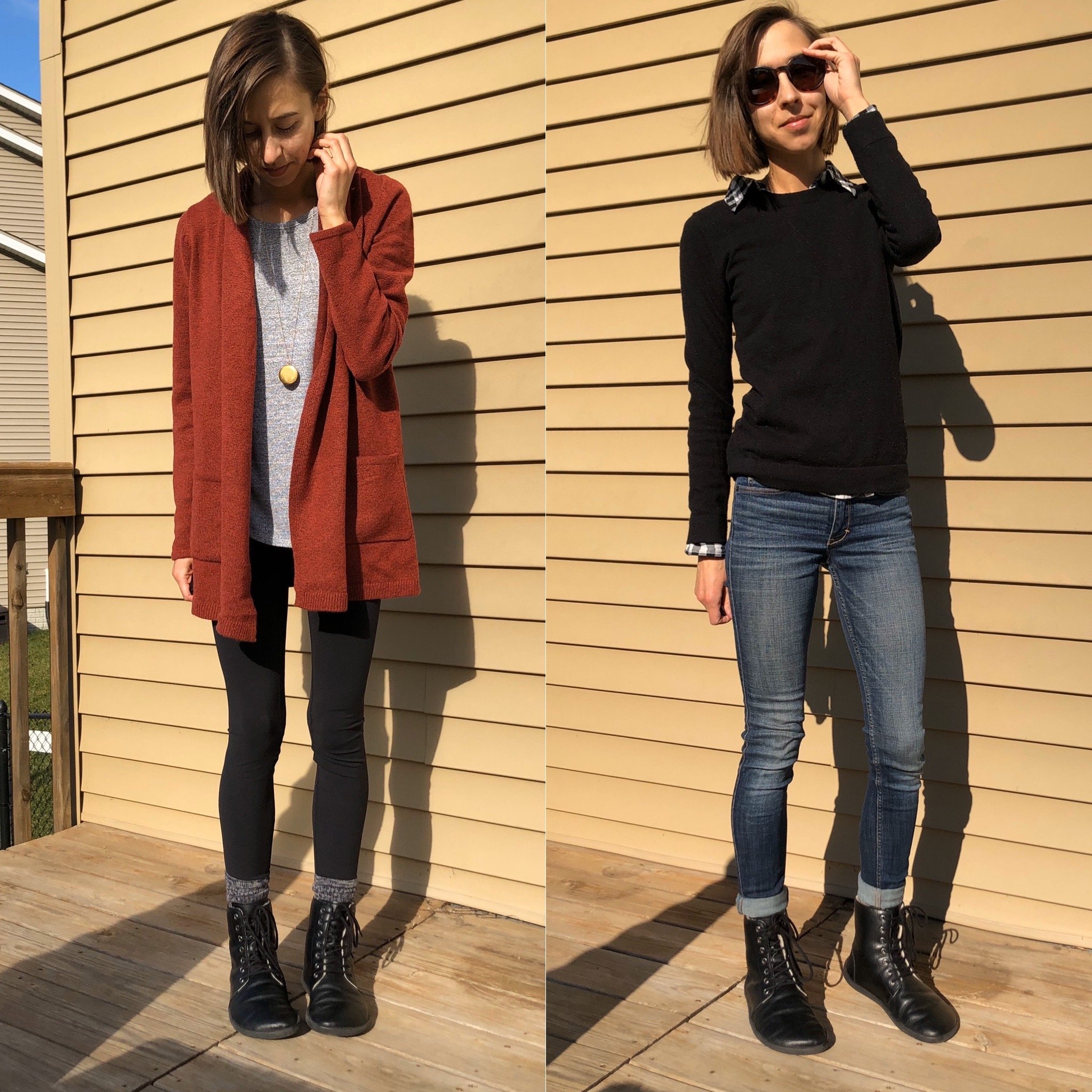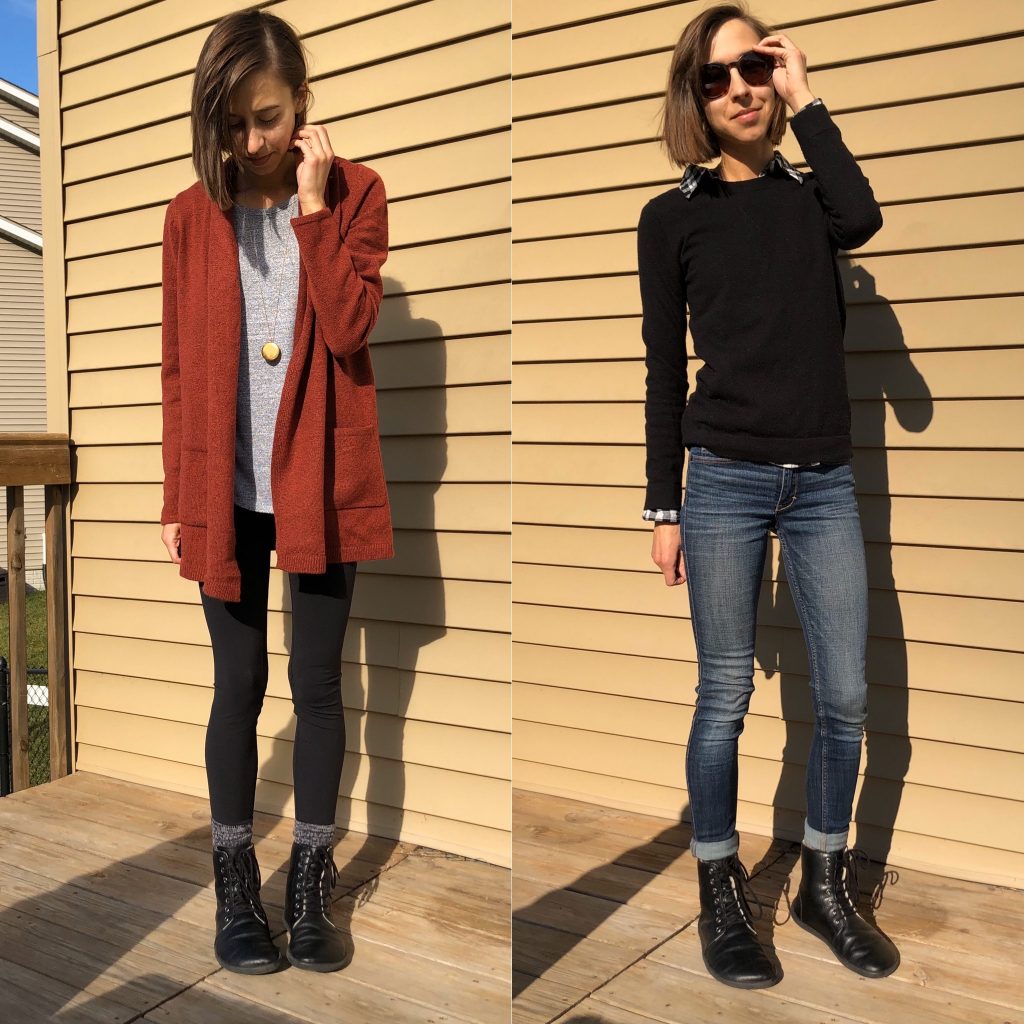 If black isn't a color you wear much, the chocolate brown is a nice neutral that would work with a lot of different outfits.

Ordering/Returns
At checkout there is an $11 shipping fee on all orders, so altogether these boots are a total of $176. They use DHL Express and it arrives SUPER fast, like in two days. You also get text updates and can customize your drop off, so that's a serious bonus, considering that many of these smaller businesses take weeks to fulfill their orders.
Be Lenka has a 14-day return policy, and returns are only accepted from within the EU and USA (the US returns are sent to a US address – my shop!).
Conclusion
I plan to get a lot of use out these this winter! Weatherproof, wide, and comfy, the Be Lenka Winter boots are a great cold-weather barefoot option. On a personal note, I find Lenka (owner and founder of Be Lenka) an inspiring entrepeneur and I have loved seeing her business flourish this year. It's hard to go wrong here!