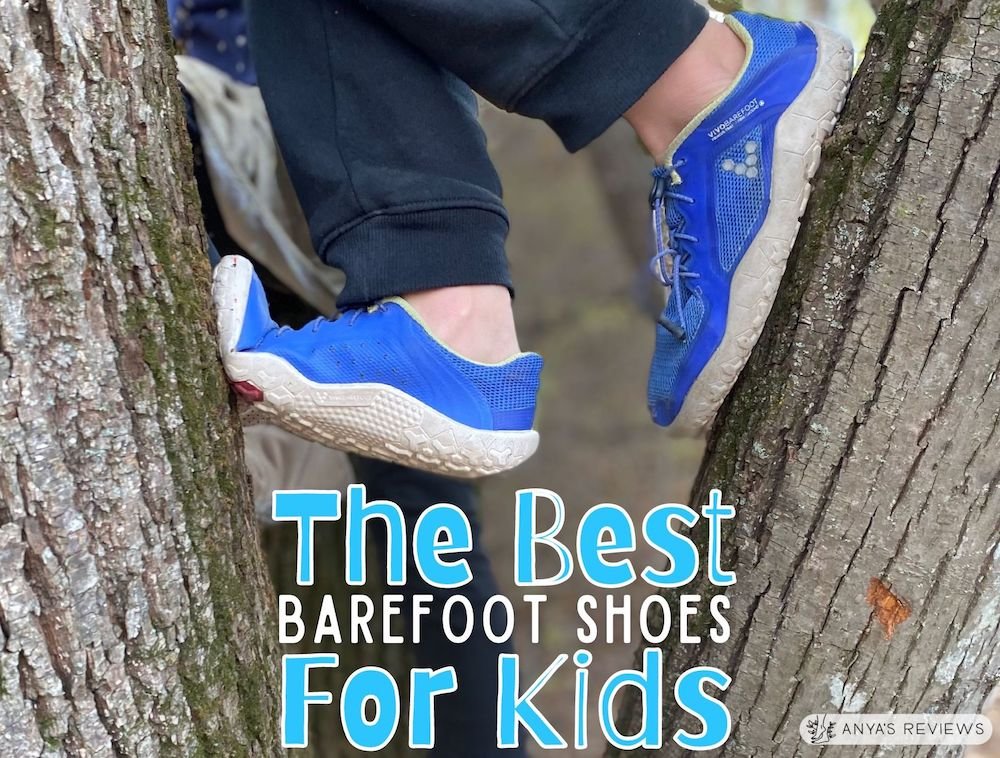 As a family we've tested hundreds of barefoot shoes for kids to bring you the best for every season. Whether you're looking for barefoot shoes to fit your infants, toddlers, small children, or big kids, this article shows you the all-time best barefoot shoes for kids that we love and keep coming back to!
But that's not all. We also cover the best budget options and all the resources you need to answer your questions about kids barefoot shoes and feet. Let's dive in.
Why Barefoot Shoes for Kids?
After my run-in with a chronic foot issue, I learned that the shoes we wear have a big impact on how our bodies feel. I'd like my children to avoid the issues I had, so we only choose shoes that allow their feet to develop normally. That means they only wear barefoot kids shoes.
Psst, we use the terms barefoot and minimalist shoes interchangeably here!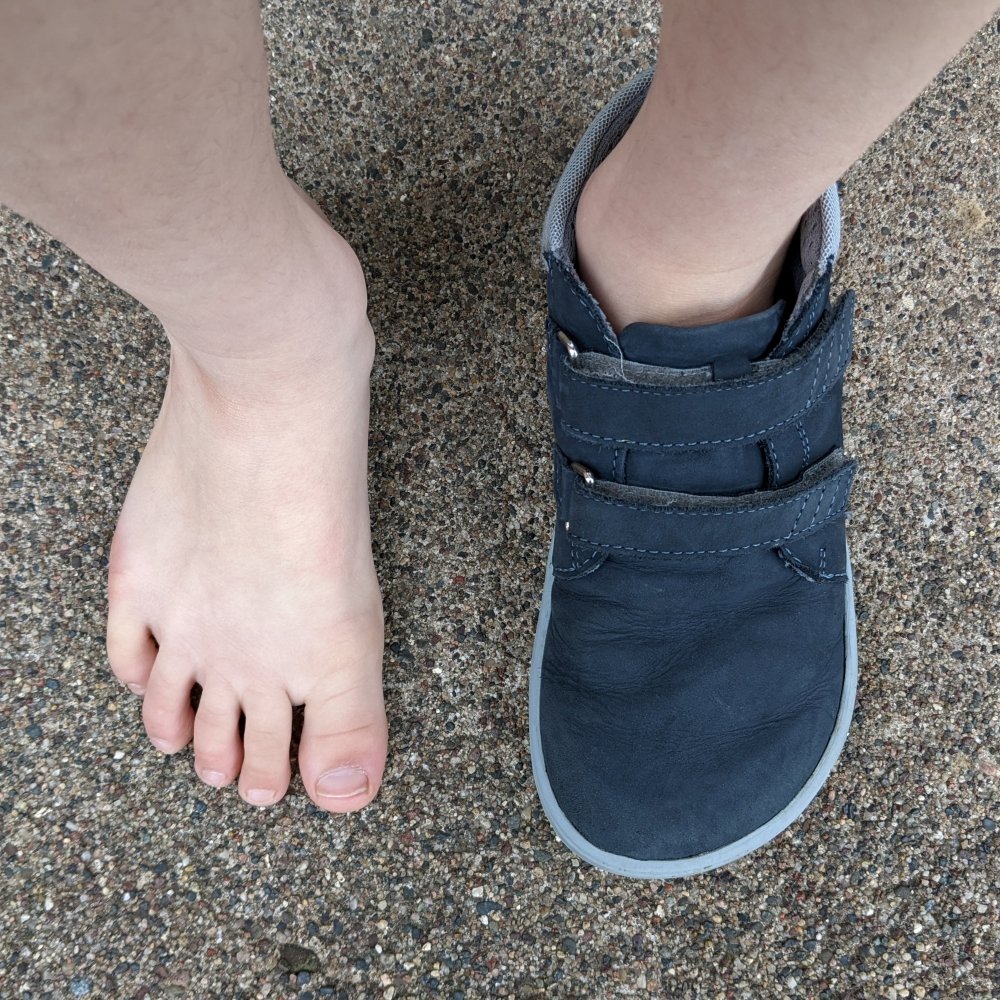 What Are Barefoot Kids Shoes?
"Barefoot" shoes are so-called because they let your feet move as if barefoot. Most shoes, even kids shoes, inhibit foot function with stiff soles, cramped toe-boxes, and heels that push your weight forward into an unnatural position.
By contrast, barefoot kids shoes let their feet move naturally inside shoes! This is especially important while their bodies are growing and developing. And don't worry if your child has flat feet – this is normal and usually corrects itself over time if they continue using their foot muscles!


As a general rule, kids barefoot shoes are:
Foot shaped, with a wide toe box (won't squish their toes)
Zero drop, or completely flat (for natural alignment)
Flexible enough to roll into a ball (so foot muscles stay strong and supple).
Learn more about the benefits of barefoot shoes for kids AND adults in this article.
Unfortunately most shoes you find in stores do not meet this criteria. But that doesn't mean they don't exist! There are dozens of kids barefoot shoe brands that offer options for every season and price range.
The All Time Best Barefoot Shoes for Kids
The following are my top picks for the best kids barefoot shoe brands that carry a variety of healthy footwear options for everyday, school, winter, summer, and even dress. Because kids shoes shouldn't be slowing them down!
Keep in mind that depending on your child's foot type, preferences, and lifestyle some brands will be better for them than others. There is no one-size-fits-all option! To that end, you can learn more about the fit type terms we use here in this article.
---
Vivobarefoot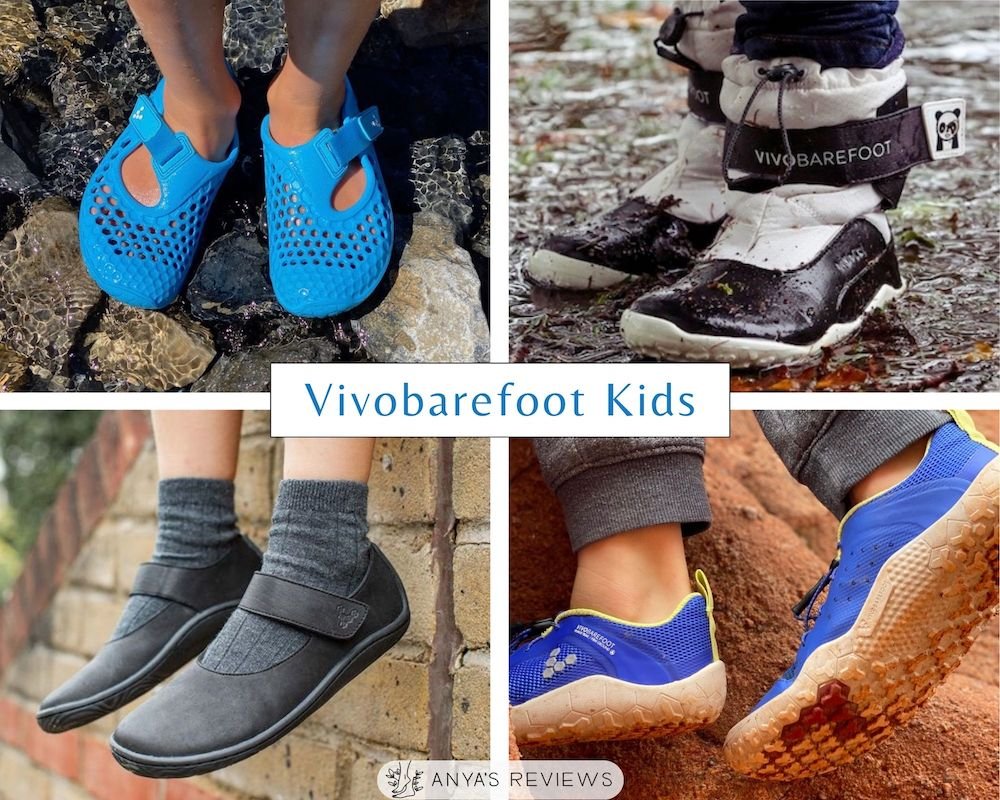 $75+ | Vegan Options | Sizes US 5C-6Y | Retailers Around the World
Get 10% off with code VBANYA10 (works on adults too)
Click here to find a Vivobarefoot retailer near you.
Pros:
Offers shoes in all kid sizes (no baby sizes tho)
Has the most practical options for active kids: waterproof, sports, hiking, water shoes, etc
Uniform options
100 day guarantee
Repair service
Cons:
Seasonal items aren't available year round
Can get stinky
Laces don't last as long as shoes
Vivobarefoot offers the most comprehensive and practical selection of barefoot kids shoes. They come in the full range of sizes – from infant to big kids – and they offer every type of style (vegan options too). As an added bonus, they have a 100 day money back guarantee even if you've worn them outside. We get Vivobarefoot Primus Trail annually for hiking/sports and the Lumi for snow. This brand is a little more pricey than others, but my children are hard on their shoes so we appreciate the durability.
Re: the stinkiness – this is best avoided by wearing socks, but my kids go barefoot in all their shoes, so we hand wash our Vivobarefoot sneakers occasionally with baking soda and vinegar then put them on a vent dryer. Scrub the insoles for the best results! For the lace issue, we tie new knots if the laces break or we replace them ourselves with thin elastic laces from Amazon (Vivo knows this is an issue! I hope they rectify it soon).
Sizing & Fit Type:
True to size
Toddlers/Kids fit wide
Juniors Fit medium width (best for slimmer feet)
Low to medium volume
If your child has an extra wide or thick foot, check out Be Lenka kids barefoot shoes below.
---
Be Lenka Barefoot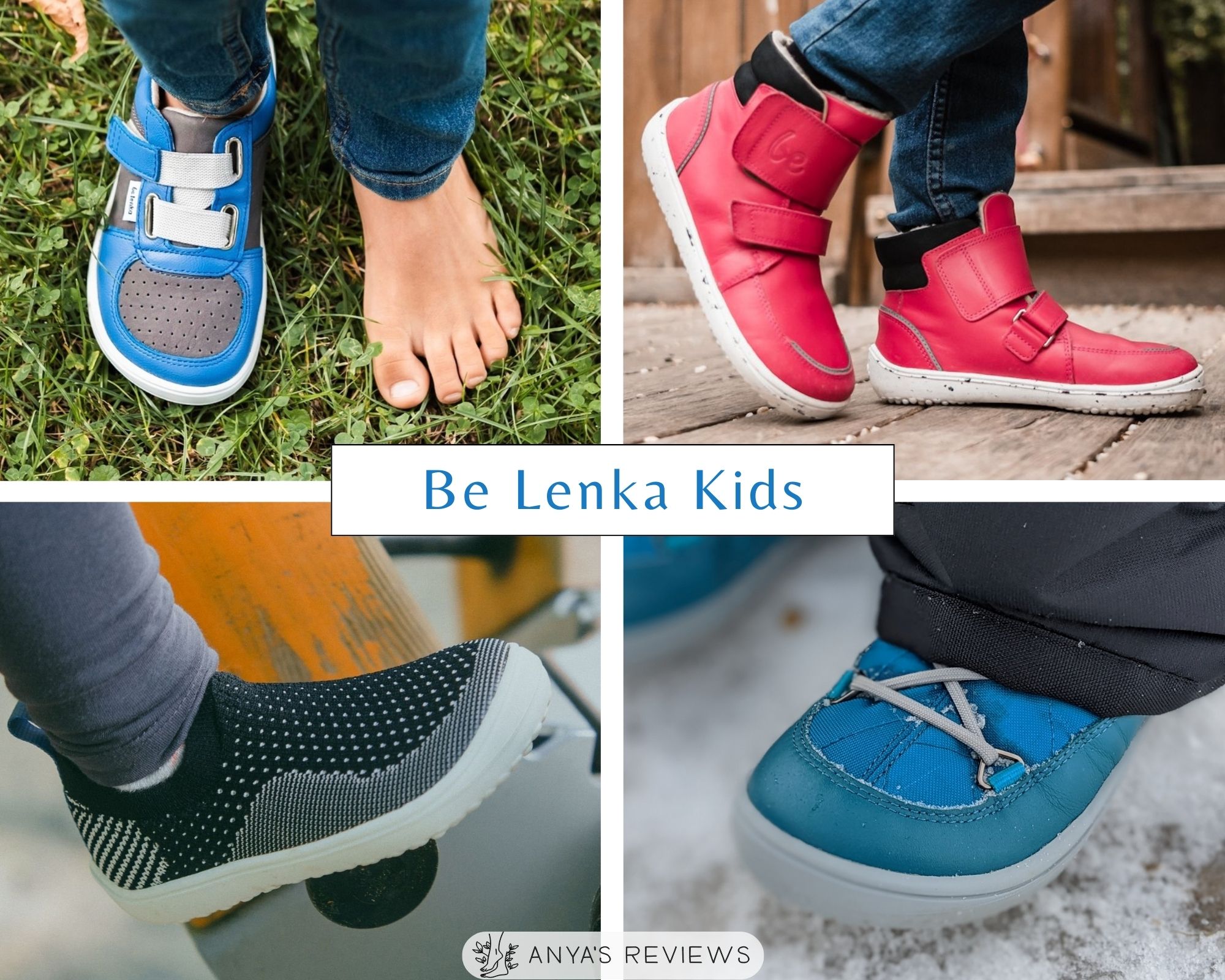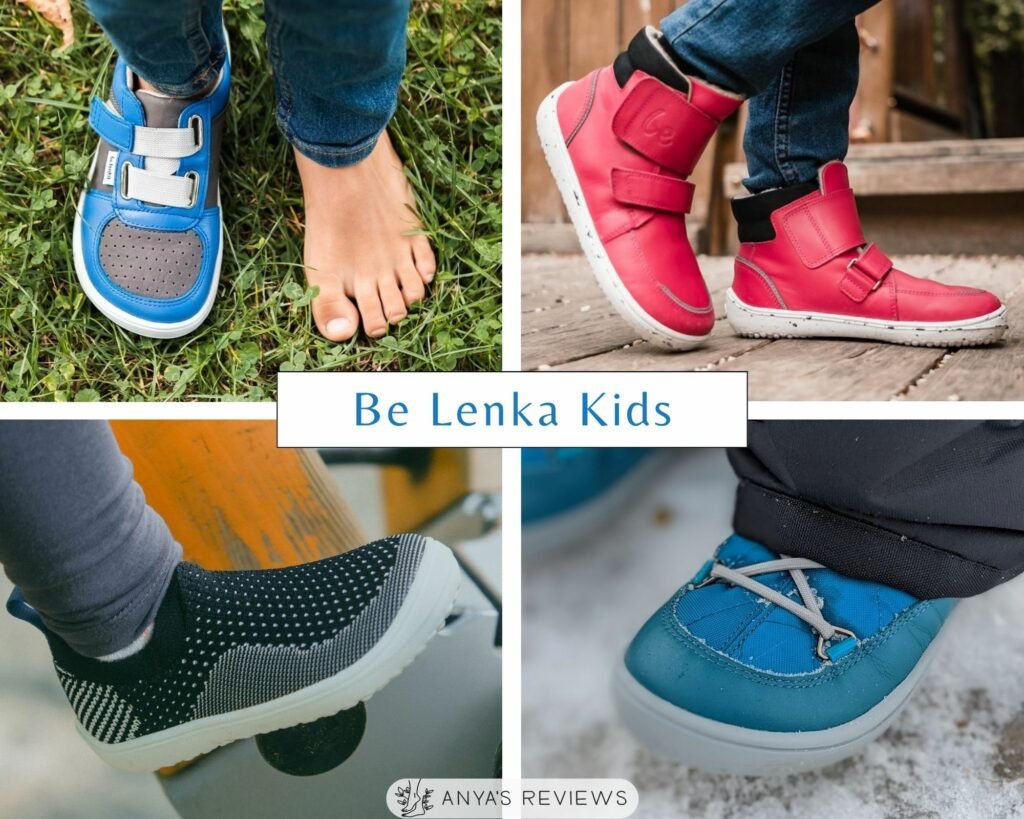 $59-$139 | Vegan Options | Sizes EU 25-35 | Ships from EU
Use code ANYASREVIEWS for 5% off Be Lenka purchases.
Pros:
Extra wide toe box
Lots of colorful options
Durable outsoles
Practical options for winter & play
Cons:
Returns only accepted on EU or US purchases
Limited sport & dressy options
Be Lenka is where you can find the best colorful kids barefoot shoes! They also have an extra wide toe box and durable outsoles – these are shoes that kids and parents can get excited about. While Be Lenka lacks some of the practical outdoor options that you get from Vivobarefoot, they make up for it with their pizazz and high quality shoes.
This is another brand we purchase at least one pair of annually! And it's usually the Snowfox kids winter boots. We also carry a selection of discounted kids Be Lenka shoes at Anya's Shop!
Sizing & Fit Type:
True to size
Wide toe box
Medium to high volume
You can read a more in-depth review of this brand in my Be Lenka Kids Barefoot Shoes Review.
---
Wildling Shoes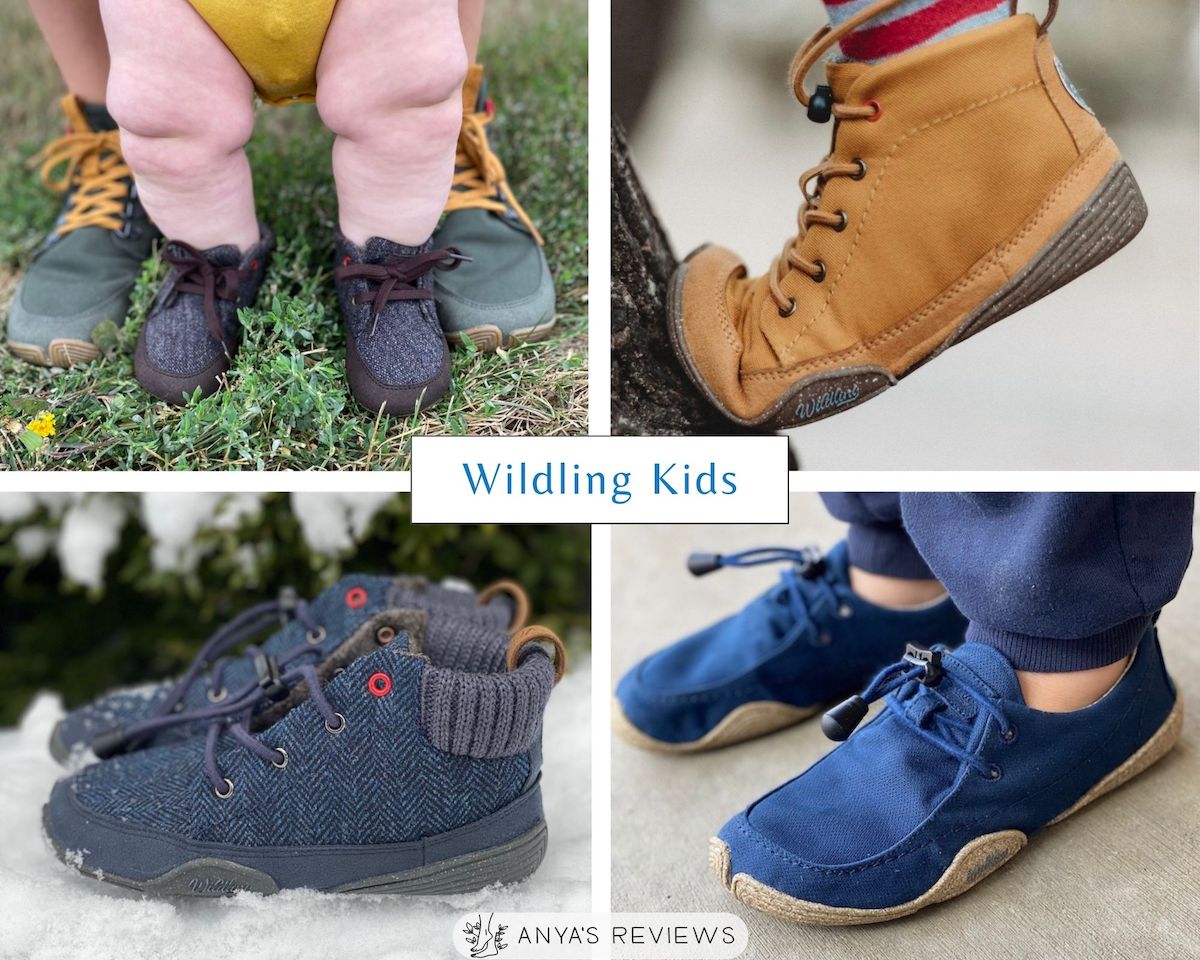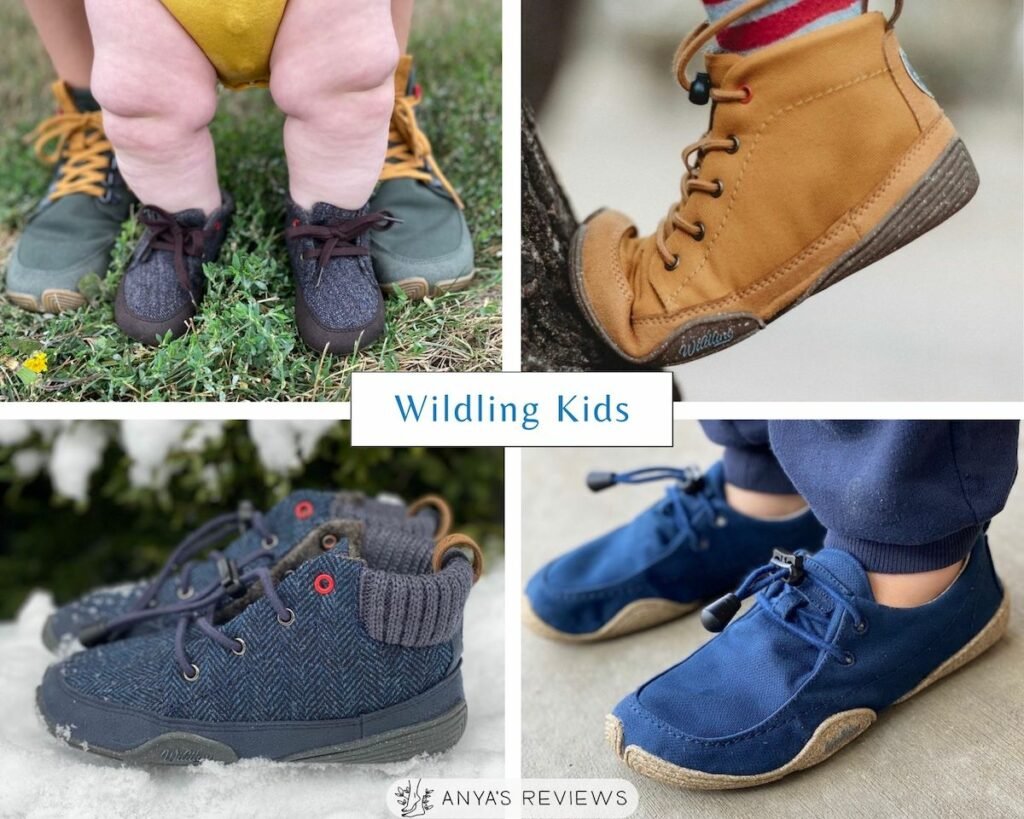 $69-$119 | Vegan Options | Waterproof Options | Sizes EU 18-35 | Ships from EU
Pros:
Most genuine barefoot feel
Extremely light & comfortable
Water resistant options
Sustainably made
Cons:
Less durable
No sport shoes
Difficult to dry when wet
Wildling Shoes are the most unique barefoot shoe for kids that I have come across, and they really feel like being barefoot because of the uniquely flexibly sole. The winter models are made with wool and are surprisingly warm for how light and thin they are (get an additional wool insole for max warmth).
But there are limits to the water resistance – they will get soaked if you stay in water long enough and then can be difficult to dry (I swear by my vent dryer!). And if used for rough play the sole can start to come undone and develop holes in the fabric upper over time – but they last much long than you would think for how light and flexible they are.
We love Wildling best for comfort and casual use, in that domain they are hard to beat.
Sizing & Fit Type:
Fits long (on purpose)
Width varies by model
Typically fits high volume
Wildling works for a variety of foot types because the sole flattens out and molds to your foot shape. They're also designed to leave plenty of space in front of the foot so your toes never touch. Wildling makes some of the best barefoot shoes for infants and toddlers.
Keep in mind that the fit varies by model, and models change seasonally so always read the sizing & fit description on Wildling's website before purchasing. In general this brand fits medium width and high volume, so we usually get the extra insole for my son with low volume feet.
Read all the Wildling reviews I've written here.
---
Magical Shoes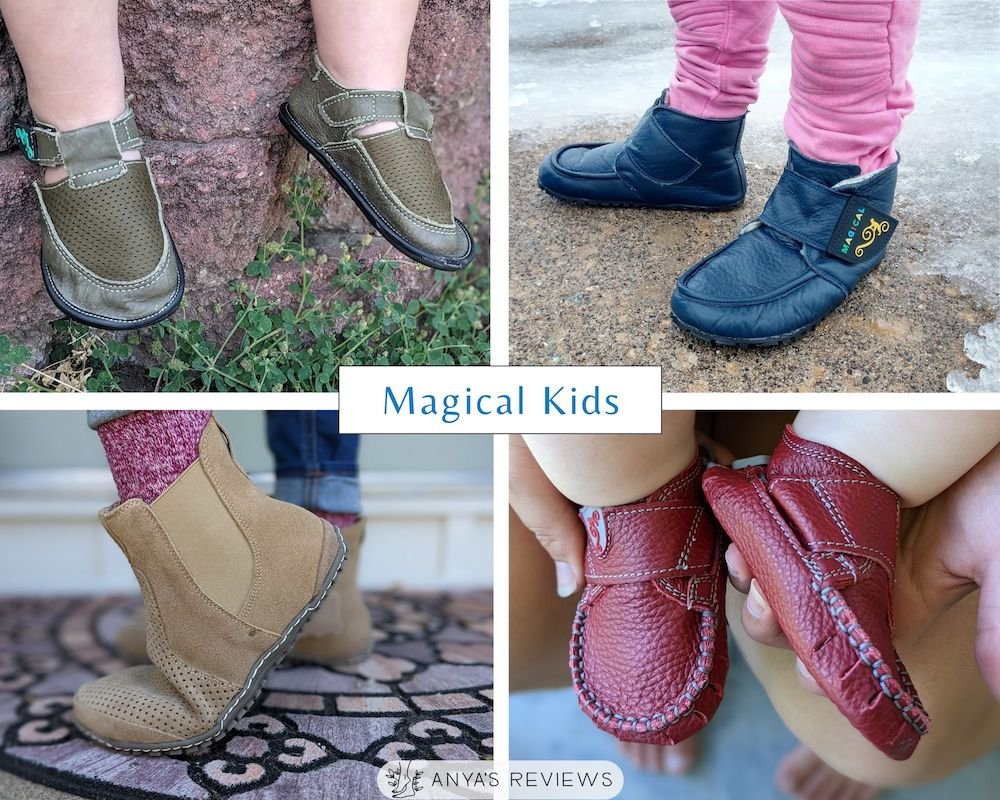 $43-$95 | Vegan Options | Waterproof Options | Sizes EU 18-35 | Ships from Poland
Use code ANYA for 10% off your purchase.
Pros:
Extremely flexible & soft
Comes in baby to big kid sizes
Winter, summer, & everyday options
Easy on with velcro/elastic
Cons:
Slightly less durable than Vivo/Be Lenka
No sport options
Magical shoes are light, soft, and seriously flexible with no break-in time required. They have a barefoot feel that approaches Wildling Shoes, but with slightly more durable uppers and a more mainstream design. They have loads of baby and toddler barefoot shoe options in fun colors for all seasons, and nice sneakers and boots for bigger kids.
Sizing & Fit Type:
True to size (in kids models, adult shoes run small)
Extra wide, straight fit
High volume
Magical shoes is a good brand for kids with extra thick feet who like extra soft shoes.
Read our Magical Barefoot Shoes for kids reviews here!
---
Mukishoes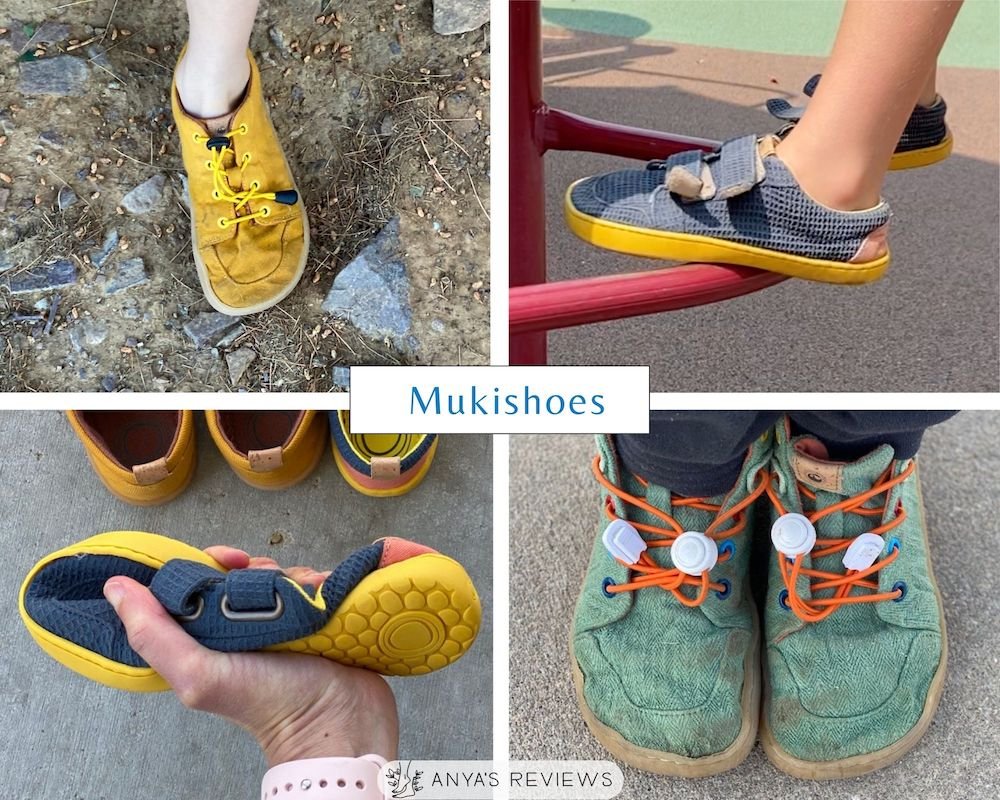 €60-€77 | Vegan Options | Waterproof Options | Sizes EU 24-35 | Ships from EU
Use code ANYAMUKI for 10% off.
Pros:
Adorable
Sustainably made
Extremely flexible
Extra wide toe box
Colorful options
Cons:
Seasonal items aren't available year-round
Less durable than Vivobarefoot/Be Lenka
Mukishoes is a slow fashion barefoot shoe brand that makes adorable kids barefoot shoes with extremely flexible outsoles – and bonus they are sustainably made. They have lots of vegan options and some lined boots in the fall & winter. We've never had them fall completely apart, but the thinner uppers take more of a beating than the more durable barefoot kids brands listed here. My kids still love them because they're so comfy!
Another challenge with Mukishoes is that inventory changes seasonally and it can be hard to plan ahead. They do small batch production, often using limited quantity of materials, so you never know exactly what they'll have available. Mini Moss is a perennial model and boots come back every fall, otherwise things change each season.
Sizing & Fit Type:
True to size
Extra wide
High Volume
If your child has low volume feet I would consider adding an additional insole and opting for models with velcro or laces.
Read my in-depth Mukishoes reviews here.
---
Softstar Shoes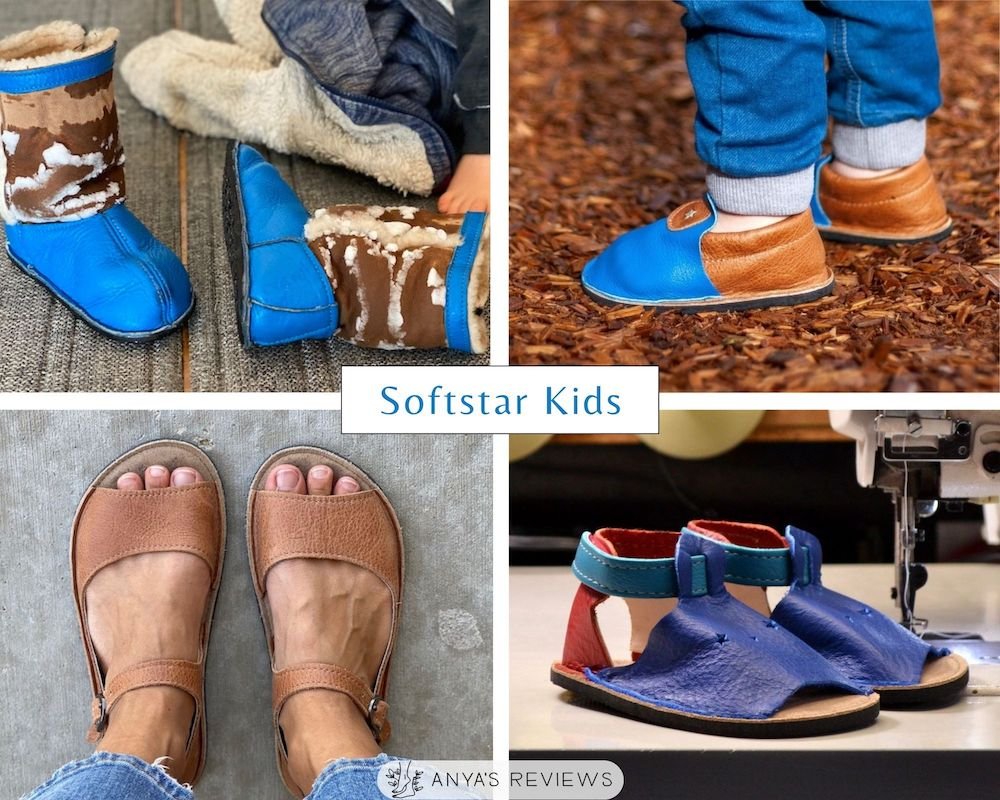 $50-$180 | Leather | Sizes US 7C-4Y | Ships from USA
Pros:
Customizable shoes
Free US Shipping & Returns
Resolable
Super warm winter boots
Cons:
Styles are not mainstream or "trendy"
Softstar shoes are all hand made in the US, and you can customize them with tons of different colors. They also have dress shoe options and extra warm sheepskin boots. We love the quality of Softstar shoes, in particular the warm boots – they're the best quality sheepskin we've seen yet!
But the styles cater more to a younger audience and don't look as mainstream as some of the other brands in this article. My boys are getting particular about having shoes that look like their peers' and right now that means sneakers. But depending on your child's preferences, that may not be an issue!
Sizing & Fit Type:
Mostly true to size, but refer to each product's description
Wide straight fit
High Volume
---
Zuna Shoes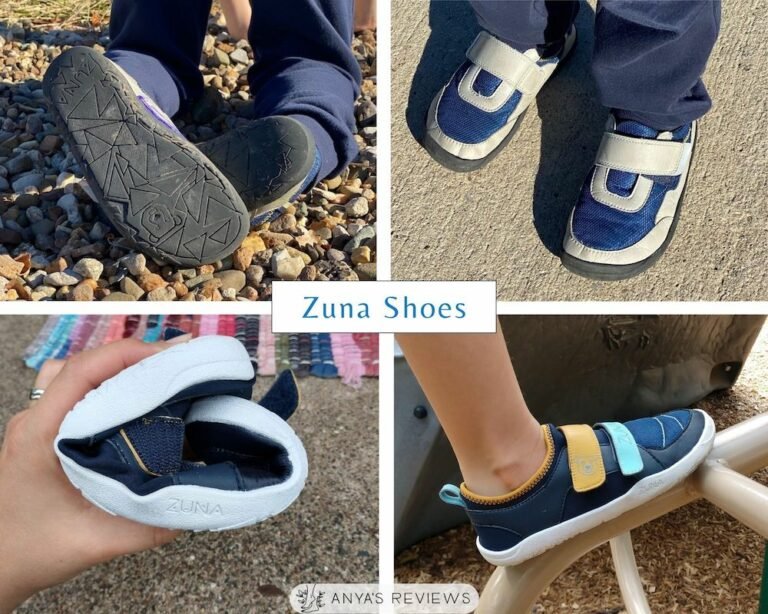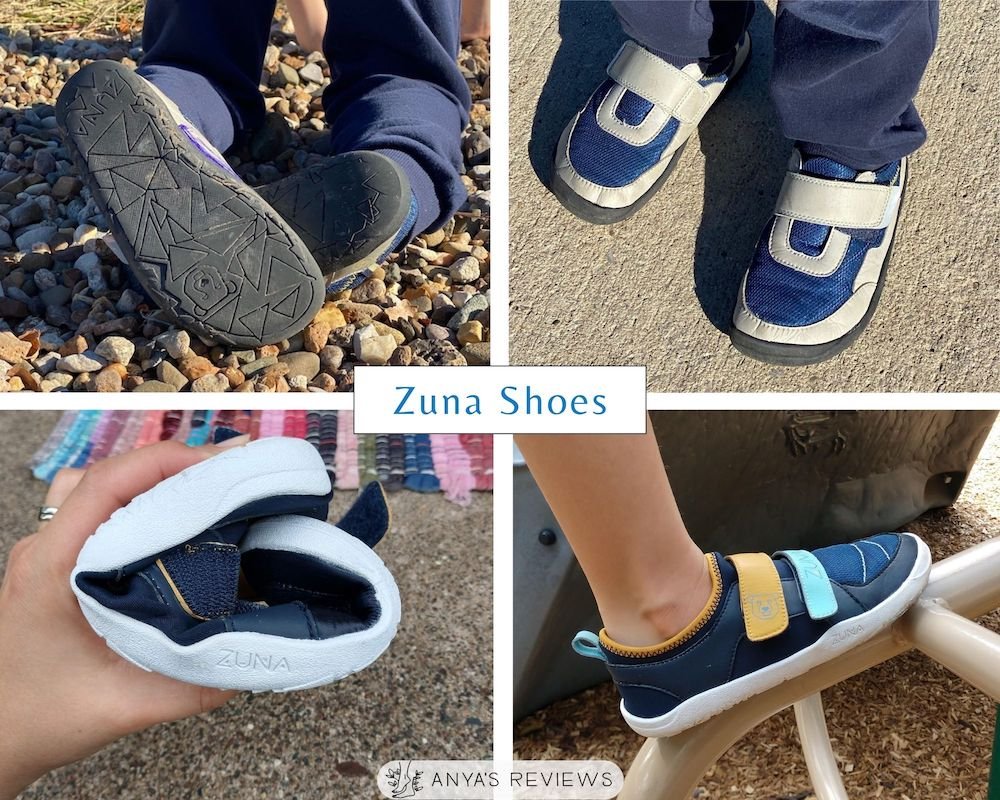 Vegan | $69 | Sizes US 12K – 4Y | Free Shipping + Returns in USA
This brand is only available in the US at this time
Pros:
Fits almost all foot types
Durable
Washable
Cons:
Limited style options
Only casual sneakers available
My boys each got a pair of Zuna shoes one summer and wore them nearly every single day until they grew out of them. They absolutely loved them. This was surprising because one of my boys has thin feet and the other has thick feet – they usually prefer different brands. So it was really awesome to see how well they worked for a variety of foot types – Samantha's family also loves their pairs! And they also stood up to their intense playing for a full year.
Even though this brand only has a handful of sneaker options, we had to include them because they were such a home run with our families. When your kids love to wear them, they last, AND they are good for feet you come back to that kids barefoot shoe brand again and again.
Sizing & Fit Type:
True to size
Works for most foot types
Read my full Zuna shoes review here
---
Best Budget Kids Barefoot Shoes
One of the challenges of choosing better footwear for your family is the cost. Here are our favorite barefoot kids shoes at affordable prices.
Saguaro Barefoot Shoes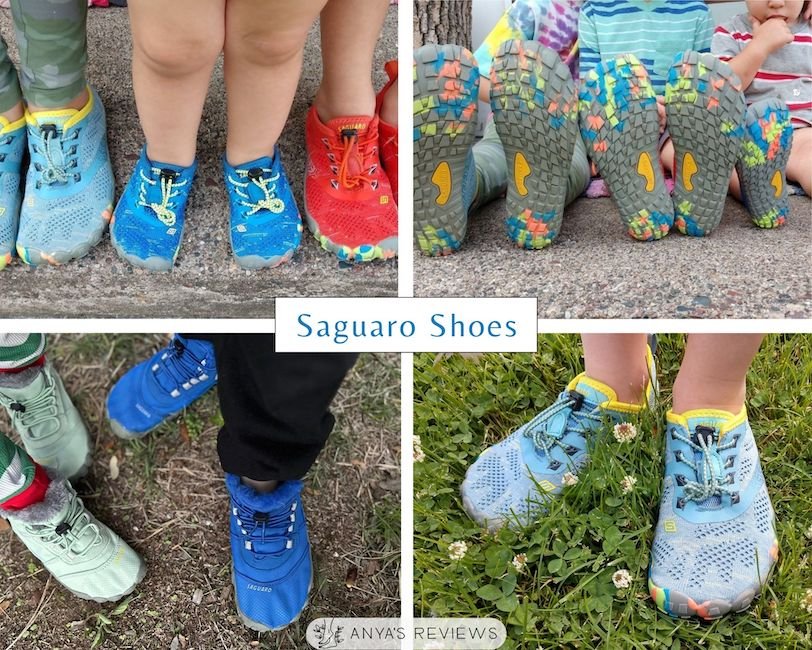 $26-$58 | Vegan | Sizes US 7.5 toddler – W15/M13.5 | Ships from USA & other locations
Code ANYASREVIEWS for 15% off
Pros:
Best shoe for the price
Wide toe box
Comes in all kids sizes
Washable
Retailers around the world
Cons:
Not all shoes are the same width
Sneaker material is very thin
The Saguaro athletic kids sneakers are the best kids barefoot shoe at the cheapest price. They have a wide anatomical shape and thin, flexible soles. Plus they come in the full range of kids sizes! But because the upper material is so thin and airy it doesn't offer much protection against cold or scuffing, so might not be the right shoe for all situations (although the outsole lasts).
Besides the athletic styles, the only other Saguaro kids shoe I recommend is the Defender. It is built on the same outsole as the sneakers so has good barefoot feel and a wide toe box. Excellent affordable warm boot! But be warned, the microfiber is not very breathable and ours got pretty stinky – thankfully we were able to wash them easily.
The kids water shoes and casual sneaker from Saguaro have a more tapered toe box and I personally don't feel it's wide enough.
---
Origo Shoes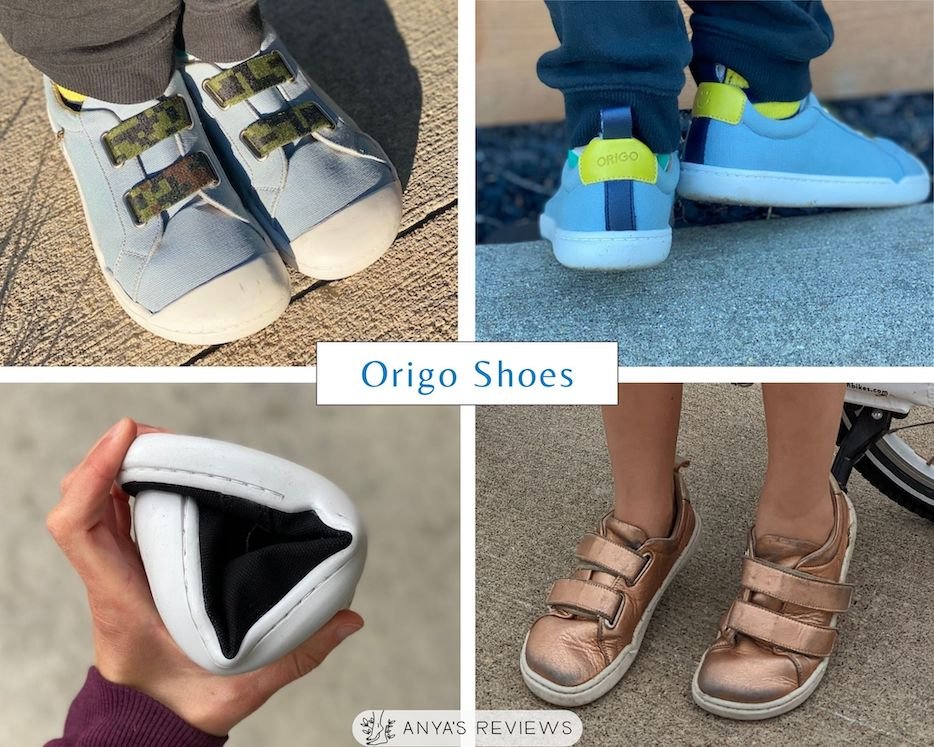 $54 | Vegan Options | Sizes US 8K-4Y | Ships from USA
Code ANYA for 10% off
Pros:
Toe guard for extra durability
Mainstream style
Universal fit
Cons:
Slightly stiff at first
Only ship to US & Canada currently
Origo kids shoes have an on-trend design and a rubber toe guard to keep shoes looking nice. Really the only drawback to them is that the upper feels stiff when brand new and they take a little breaking in to get soft.
Sizing & Fit Type:
True to size
Medium to wide width
High volume (but velcro is adjustable, so we have good luck with them on all foot volumes)
---
Splay Shoes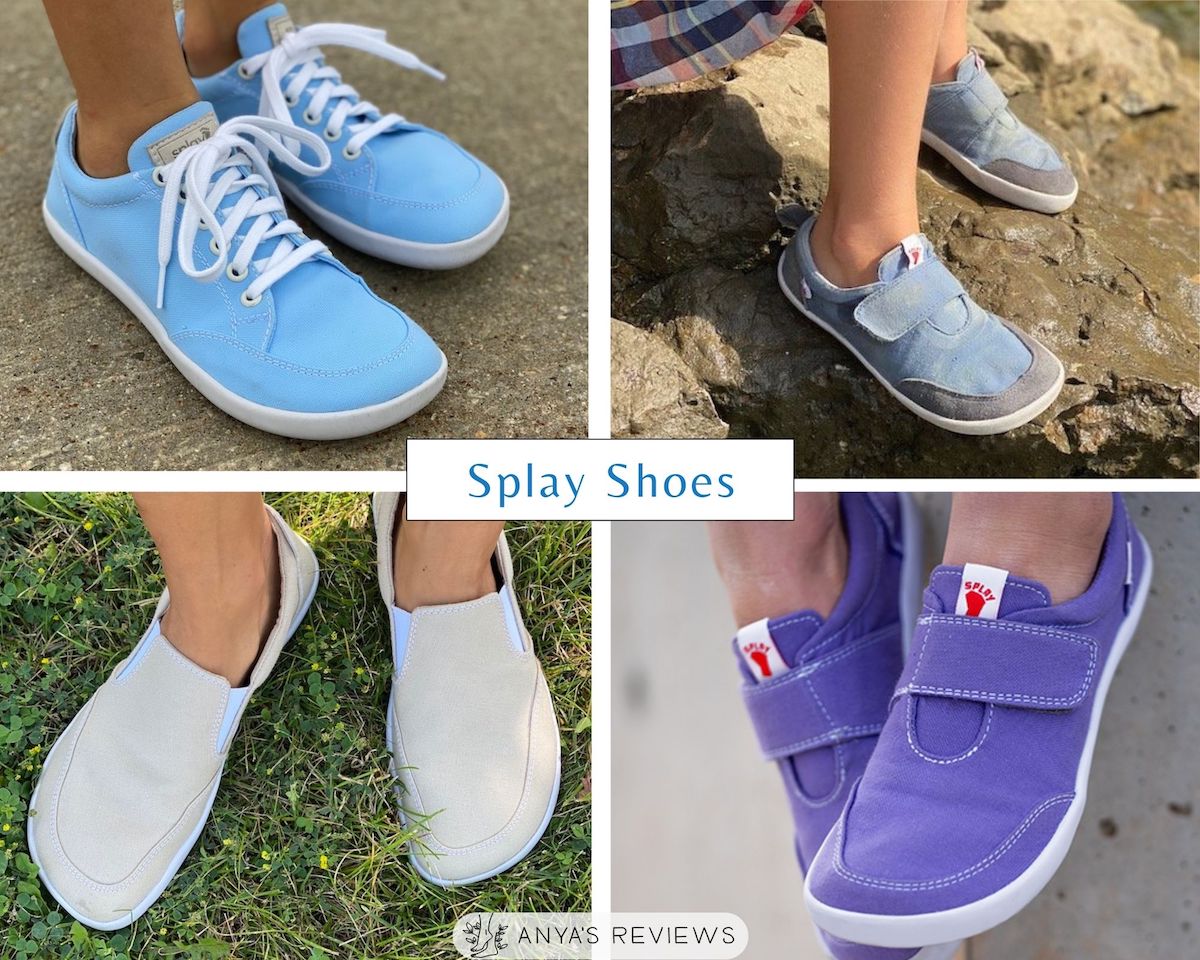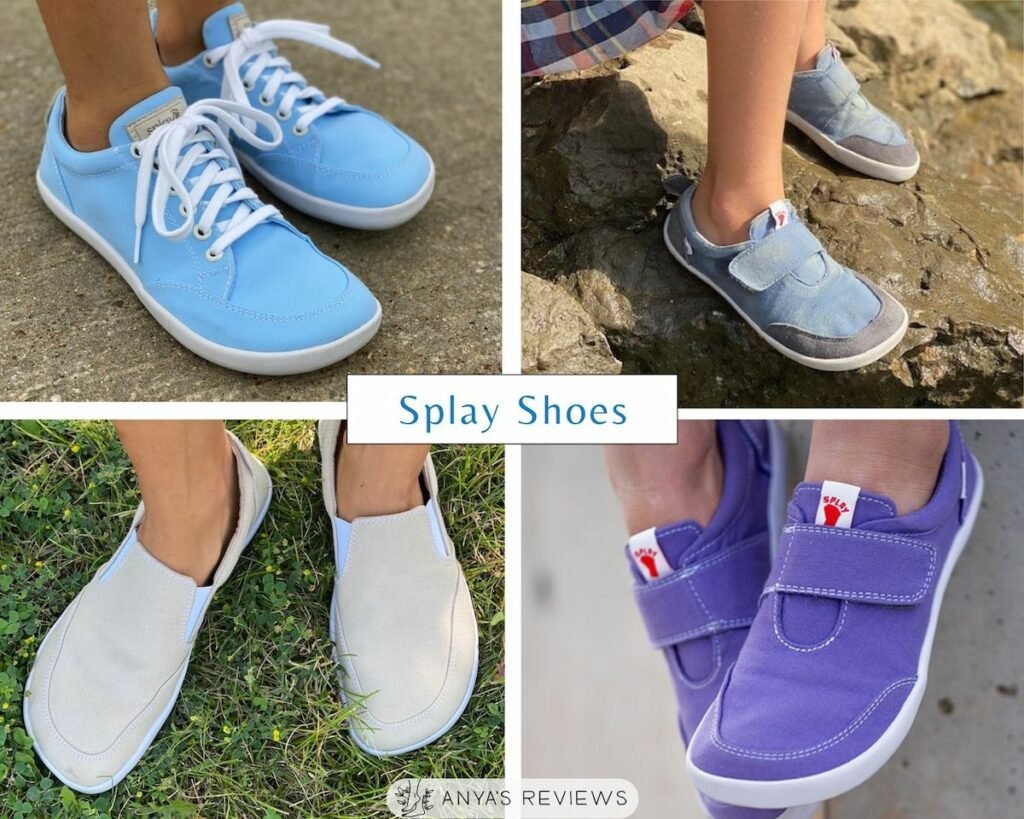 $42-$66 | Vegan | Sizes US 8C-US Men's 13 | Ships from USA
Code ANYASREVIEWS for an additional 10% off!
Pros:
Trendy design
Lots of color options
Choose from laces, slip on, or velcro
Accessibility friendly
Cons:
Color can fade
Canvas needs some breaking in
They can shrink/fade after washing (cold water only!)
We love Splay because they meet all barefoot shoe requirements, are affordable, easy to get on and off, and lightweight. You can get them in a velcro version, a lace up and a slip-on. And bonus, they go all the way up to a US men's 13, so the whole family can wear Splay shoes! We've been a Splay fan since they first debuted with a crowdfunding campaign about 5 years ago.
The biggest drawbacks are that the colors can fade with wear and you have to wash them carefully. We don't really mind this in an affordable barefoot kids shoe! All my boys' shoes get trashed no matter what.
But it is important to know that if yours get dirty you should only use cold water to clean them. I recommend against using a machine because so many can be quite rough (I do mine in the machine, but it has a good delicate cycle that I trust).
Sizing & Fit Type:
Runs on the smaller side
Wide toe box, but narrow in the midfoot
Medium to low volume fit
They have a generous toe box shape that should work for most average to wide toes, but they do narrow at the arch a little (they are shaped like a V). That means this brand could be problematic if your child has extra thick, high volume feet.
Read my Splay Freestyle review for more detailed information on the Splay Shoes brand.
Find even more affordable kids barefoot shoe options for families on a budget at the link below:
---
Which Barefoot Kids Shoes Are The Widest?
You can be confident that all 10 of the kids barefoot shoe brands listed in this post meet my requirements for healthy footwear, but here is a comparison of their shape and width.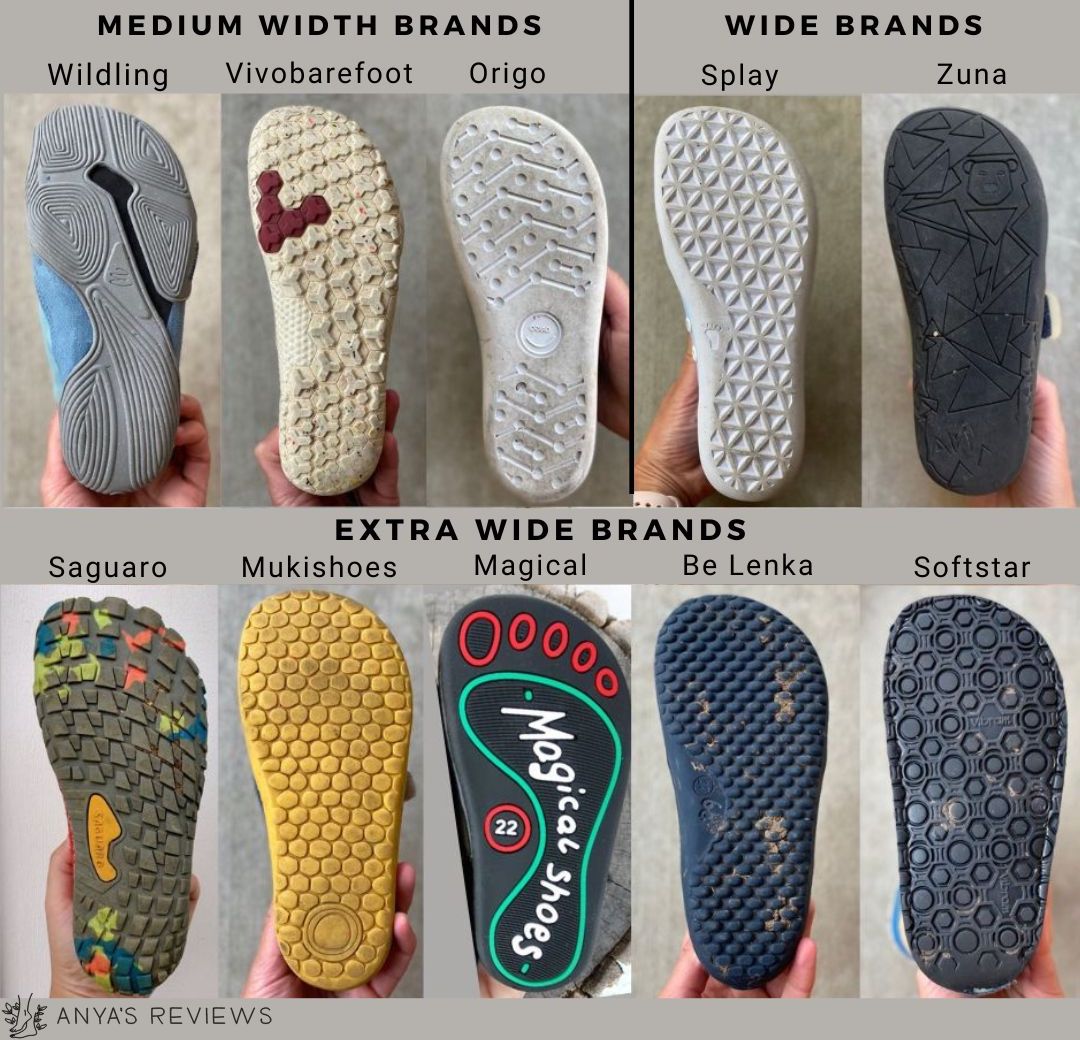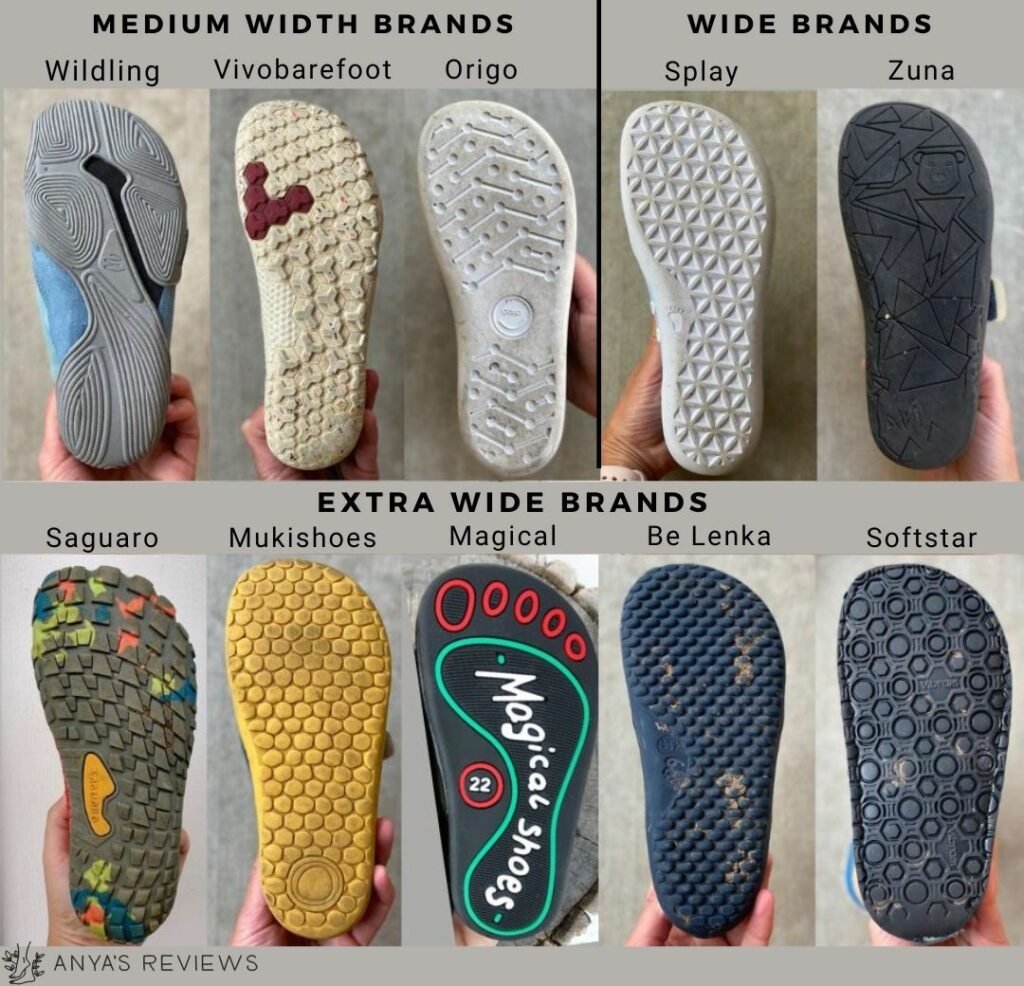 When talking about width it's important to know that width can be measured at any point in the shoe. Some of these brands are wide throughout (Softstar), some are wide in the toe box but narrower in the midfoot (Splay). And there can be variations between models from a particular brand. So use this as a guide, knowing that how your child experiences the shoes may be different.
All Your Kids Barefoot Shoe Questions Answered!
While these are our all time favorite barefoot shoes for kids, there are lots more questions you might have!
If you're unable to find what you're looking for in the resources here or you have a specific requirement, you can find everything else you need to know about kids barefoot shoes in the links below. These tools are especially useful if you're outside the US:
In the meantime, here are answers to some of the most common questions regarding barefoot kids shoes.
Kids Barefoot Sandals and Water Shoes
Summer activities often call for barefoot kids shoes that can get wet and go on easily. Barefoot sandals for kids keep their feet free, protected from hot pavement and stinging insects, AND are practical for summer fun.
Below you'll find a list of barefoot sandals for kids of all ages! It includes affordable options, and brands from all over the world.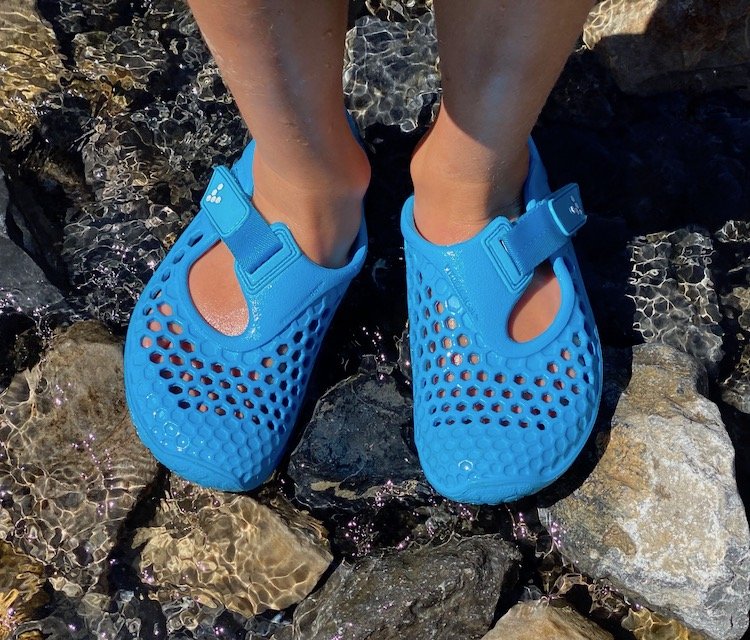 ---
Kids Barefoot Winter Boots
Even when it's freezing out we can keep our feet both comfortable and protected! Thank goodness for warm barefoot winter boots that are warm, water resistant, and still flexible and foot shaped. Click the link below for our tried-and-true favorite barefoot boots for kids.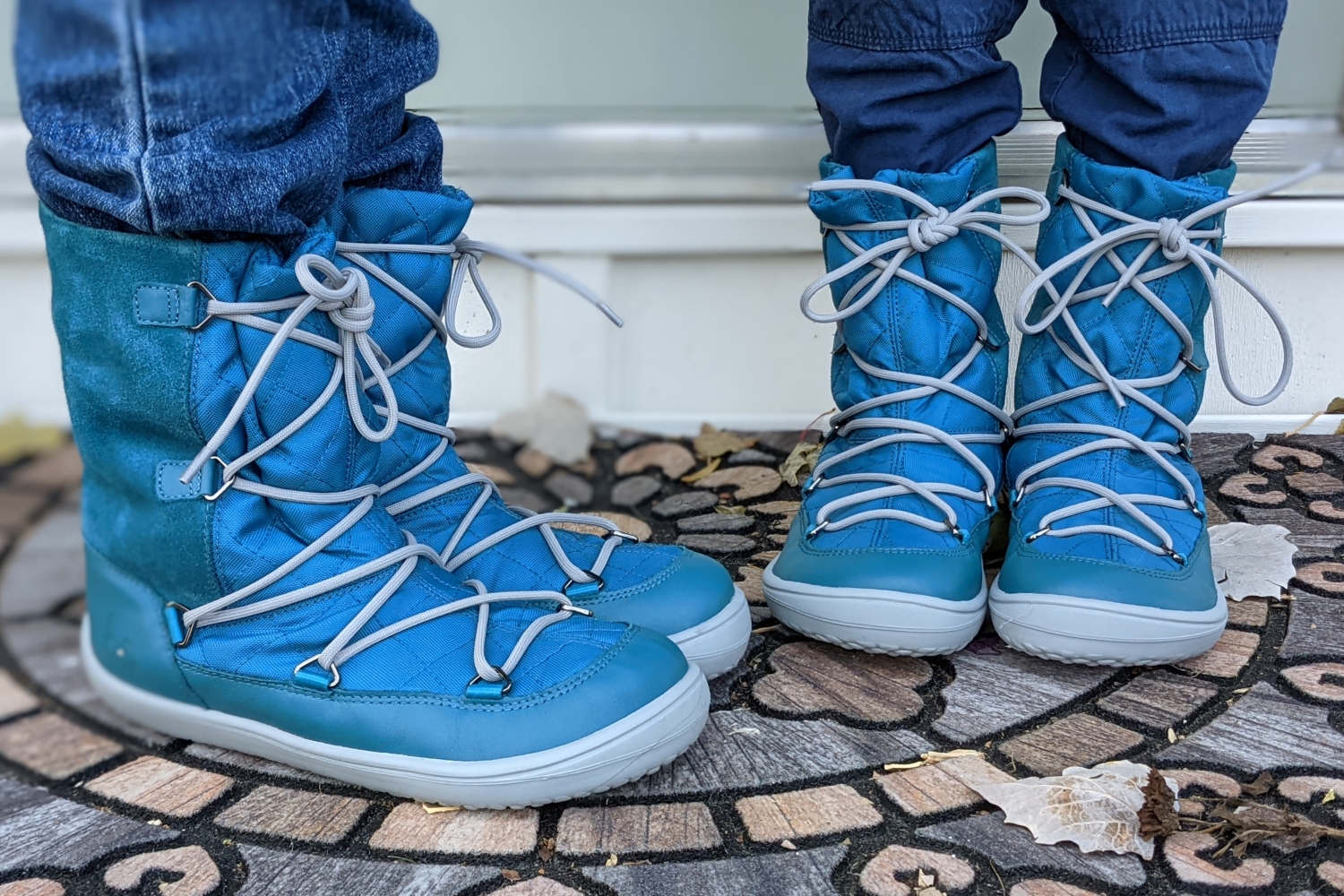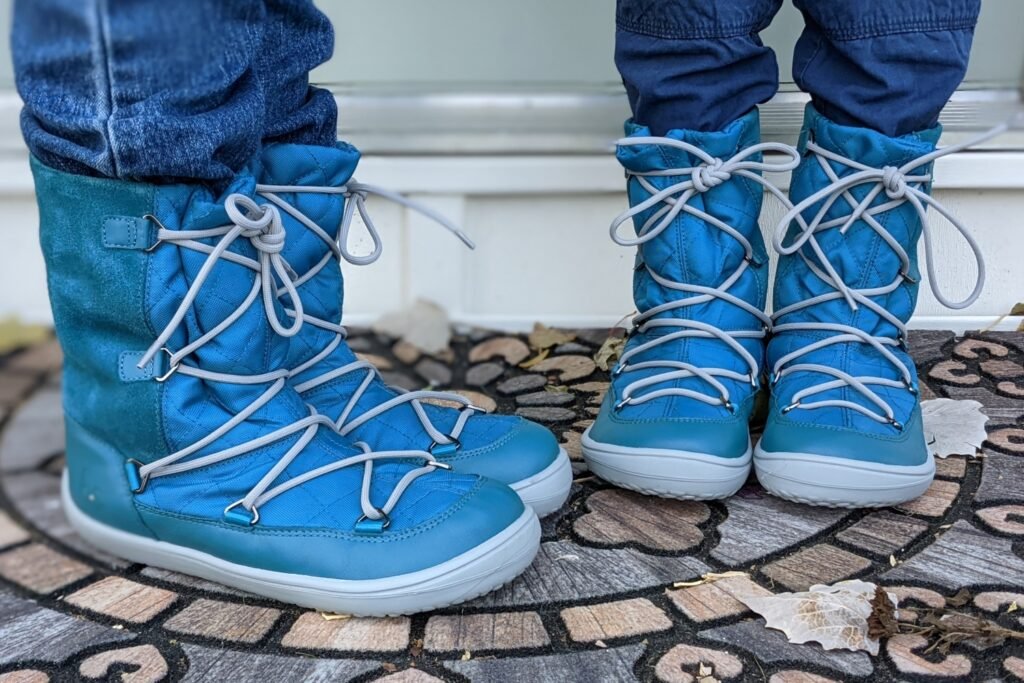 ---
Barefoot Shoes for Babies & Toddlers
Babies and toddlers need extra soft, flexible shoes. Below you will find a list of my favorite barefoot shoe brands for the tiniest feet!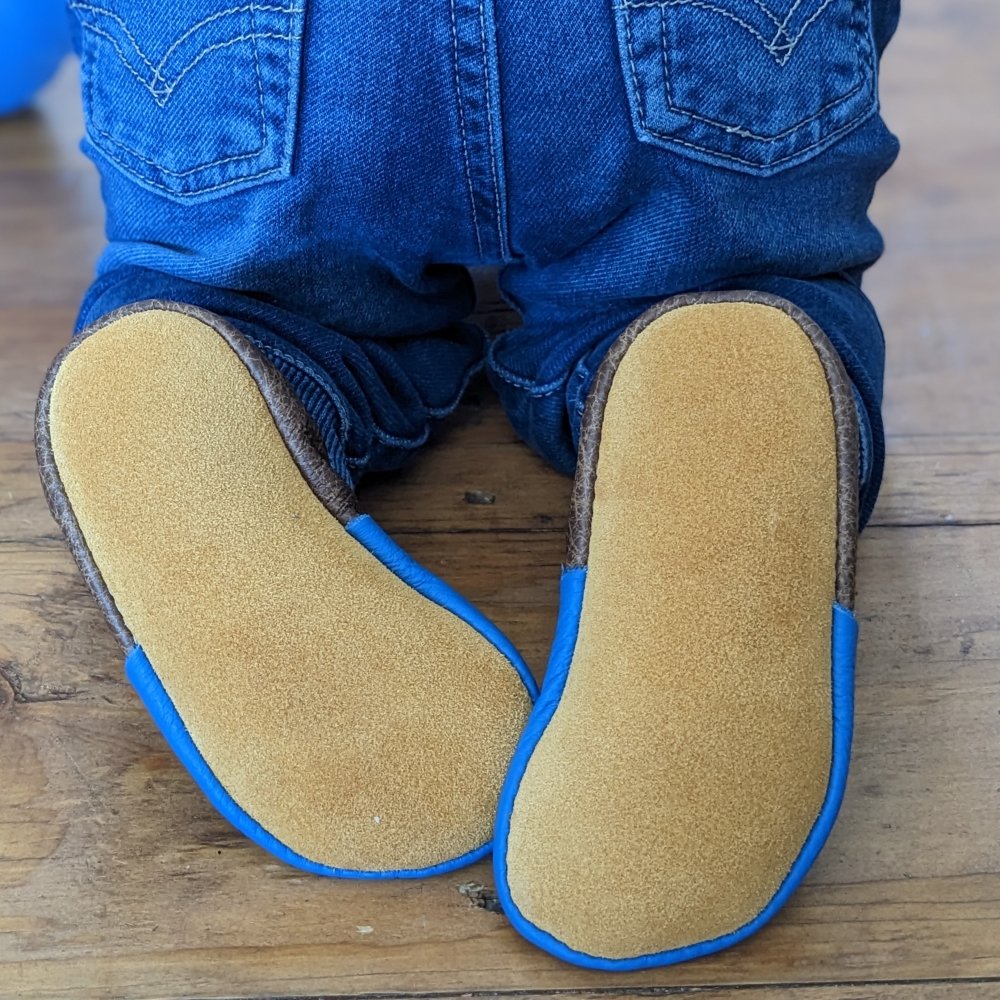 We also recommend checking out Bernie Landels' book "Finding Their Feet" for new parents.
---
How to Measure Your Child's Feet
When ordering kids barefoot shoes, you set yourself up for success by measuring your child's feet before purchasing. Below you will find my instructions for how to get an accurate foot measurement so you can pick the correct size.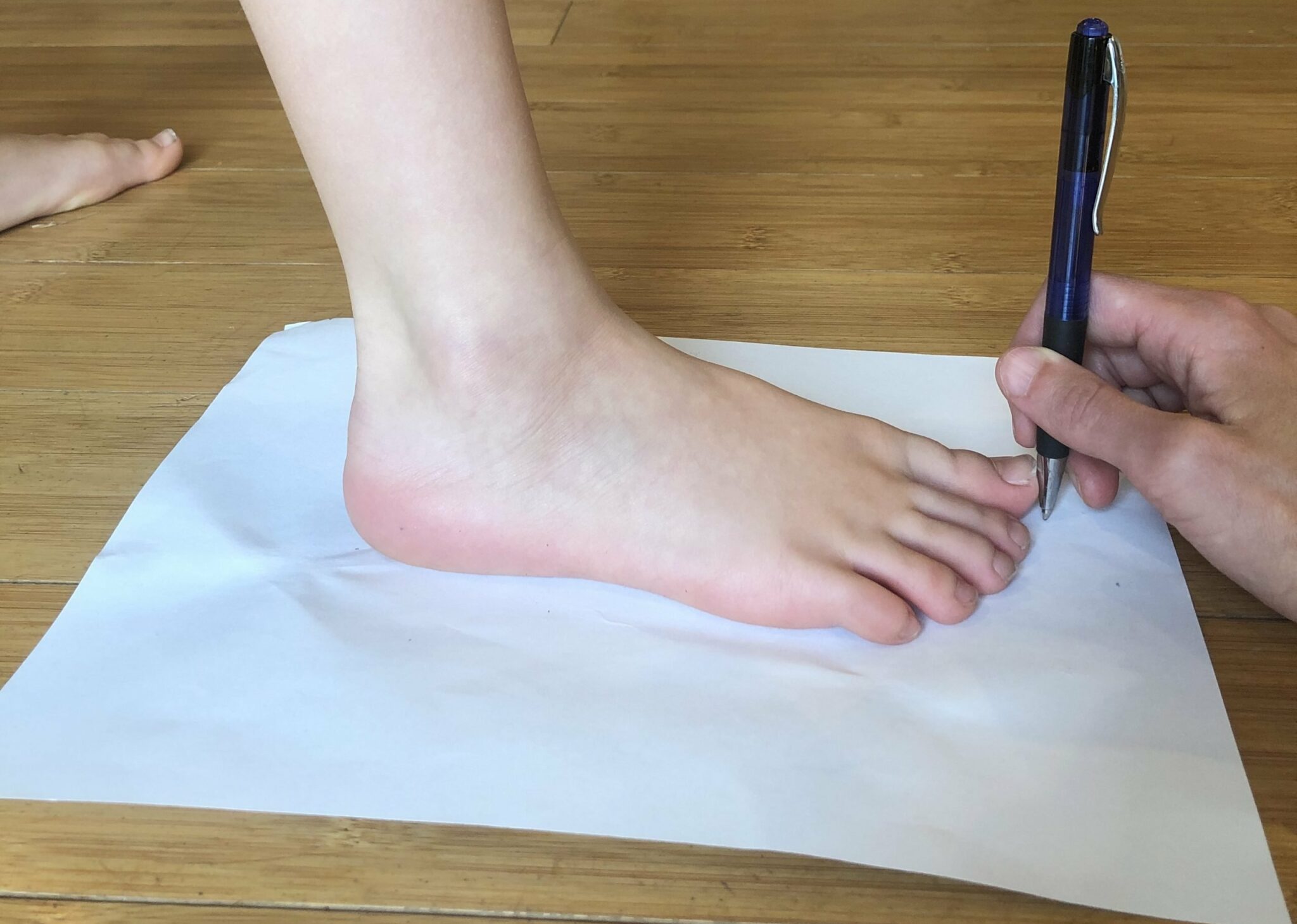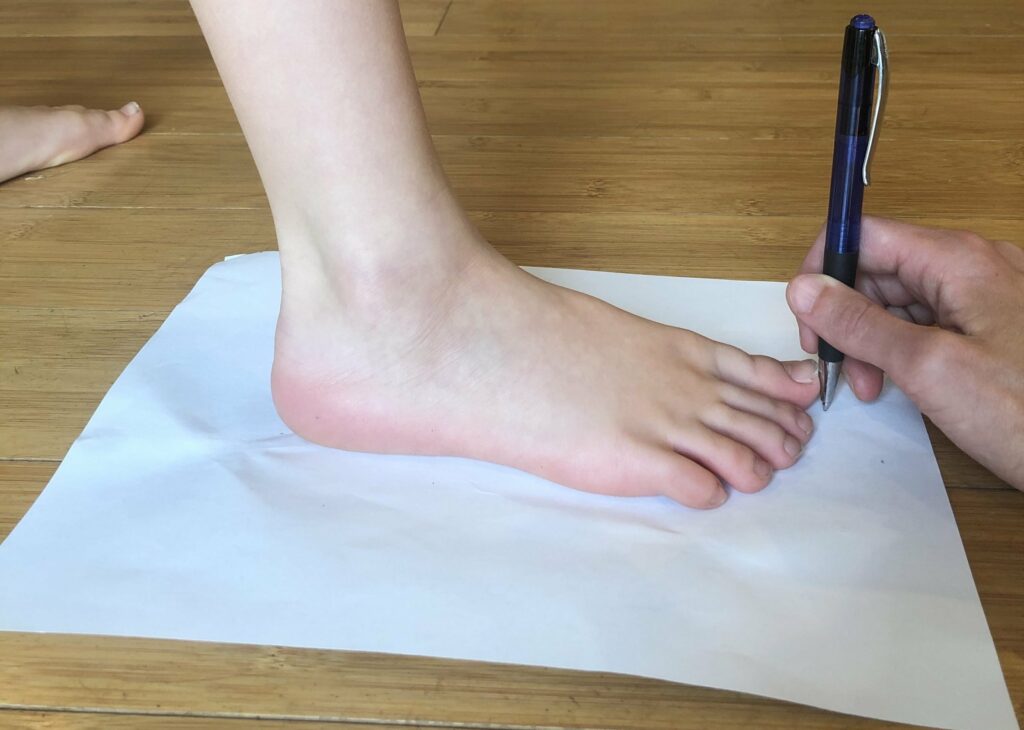 ---
Barefoot Shoes for Kids is Usually Best
There are so many good barefoot kids shoes out there today, all around the world and in all price ranges. So if you need to buy your kids shoes anyways, consider the lifelong benefit they'll get from wearing natural footwear instead of the restrictive shoes you usually find at the store. Barefoot shoes are often the best option for kids!