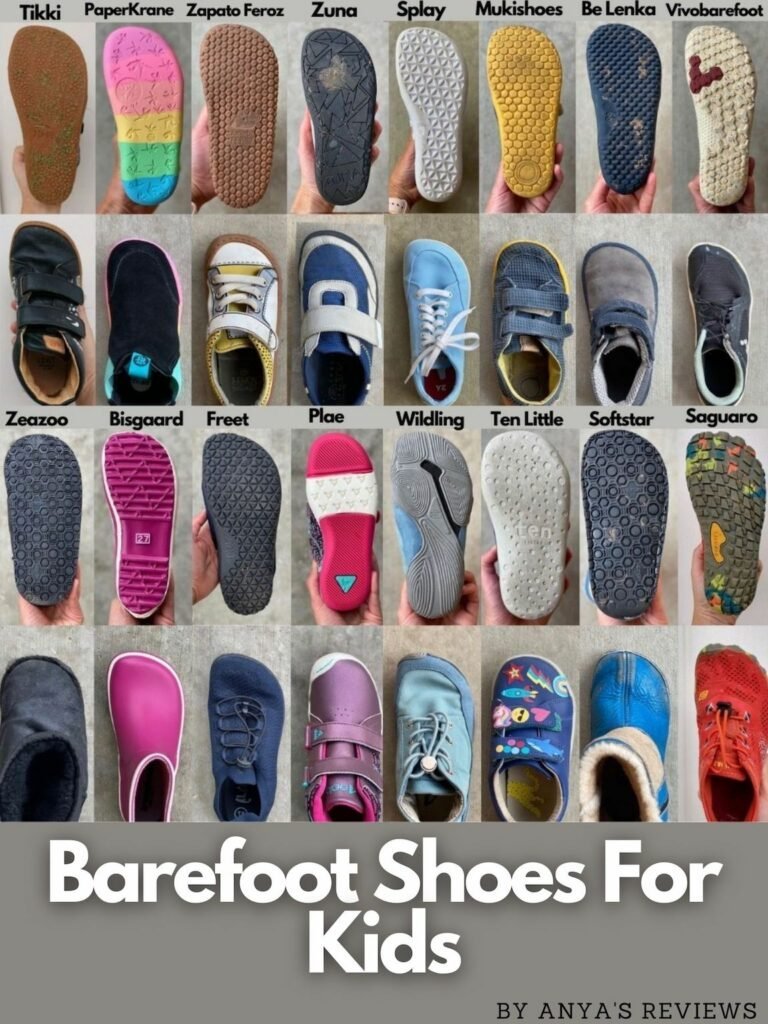 Picking out healthy barefoot shoes for my kids is always an ordeal. My boys have to like them, I have to like them, and they have to be barefoot approved.
After my run-in with a chronic foot issue, I learned that the shoes we wear have a big impact on how our bodies feel. I'm keen for my boys to avoid that same foot pain, so I only choose shoes that allow their feet to develop normally. We've spent the last several years testing and reviewing hundreds of shoes to bring you the all time best barefoot and minimalist kids shoes.
Below you'll find a list of the best kids barefoot shoes we all love and keep coming back to!
Why Barefoot Shoes for Kids?
"Barefoot" shoes are so-called because they let your feet move as if barefoot. Most shoes inhibit foot function with stiff soles, cramped toe-boxes, and heels that push your weight forward into an unnatural position. But in order to stay strong and mobile, our feet need to be able to move naturally inside shoes. For kids especially, there is no good reason to be stuffing their little piggies into shoes that limit their natural movement right when they are growing and developing motor skills.
*The terms barefoot and minimalist shoes are used interchangeably here.
What Makes A Healthy Shoe


Good shoes for kids are:
Shaped like feet (won't squish their toes)
Completely flat (for proper alignment)
Flexible enough to roll into a ball (so foot muscles stay strong and supple).
*For more about the benefits of barefoot shoes for kids AND adults, Read this post.*
How To Measure Your Child's Feet
Now that we've determined what we're looking for in a kids' barefoot shoe, let's learn how to measure your kid's feet. I always measure twice before I order and check the sizing advice given by brands (usually you add 1.5cm to actual foot length and find the nearest corresponding size). If things still are unclear, I contact the company with questions before ordering. Just be sure to measure both feet and double check your measurements! Below is a video that shows the most accurate way to measure length and width, the Wall Method.
*For more information about correctly measuring your feet, Read this post.*
The Best Everyday Barefoot Kids Shoes
The following are my top picks for the best kids barefoot shoes that can be used for everyday play and school. Because their shoes shouldn't be slowing them down!
1. Splay Athletics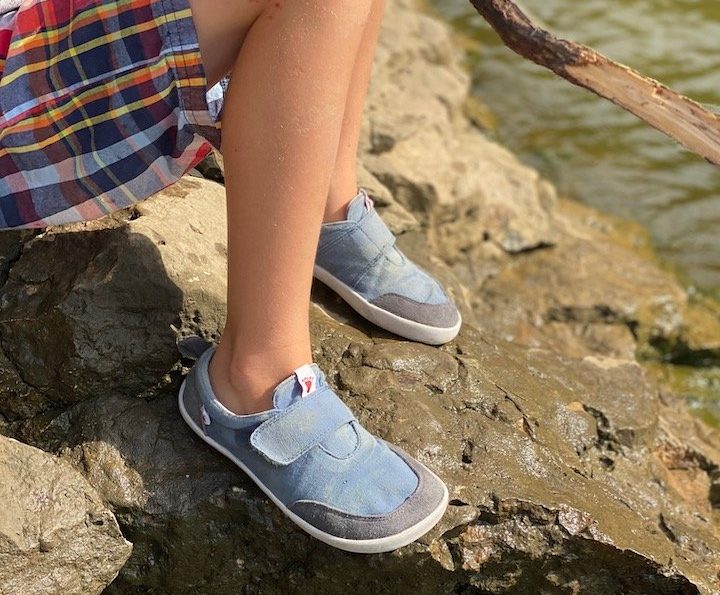 $48-$70 | Vegan | Sizes US 8C-US Men's 13 | Ships from USA
Code ANYASREVIEWS for an additional 10% off!
Good for: Average to wide, medium volume feet.
My oldest son can usually be found in his Splays. We love them because they are affordable, easy to get on and off, and very lightweight. You can get them in a velcro version, a lace up and a slip. And bonus, they that go all the way up to a US men's 13, so the whole family can wear Splay shoes!
They have a really generous toe box shape that should work for most average to wide toes, but they do narrow at the arch a little – that means this brand could be problematic if your child has extra thick, high volume feet (keep reading for options that will work better for this foot type).
For us, Splay is perfect. We will keep coming back to them as my kids get older. Read my Freestyle review for more detailed information on the Splay Shoes Brand and use code ANYASREVIEWS for an additional 10% off!
---
2. Vivobarefoot Primus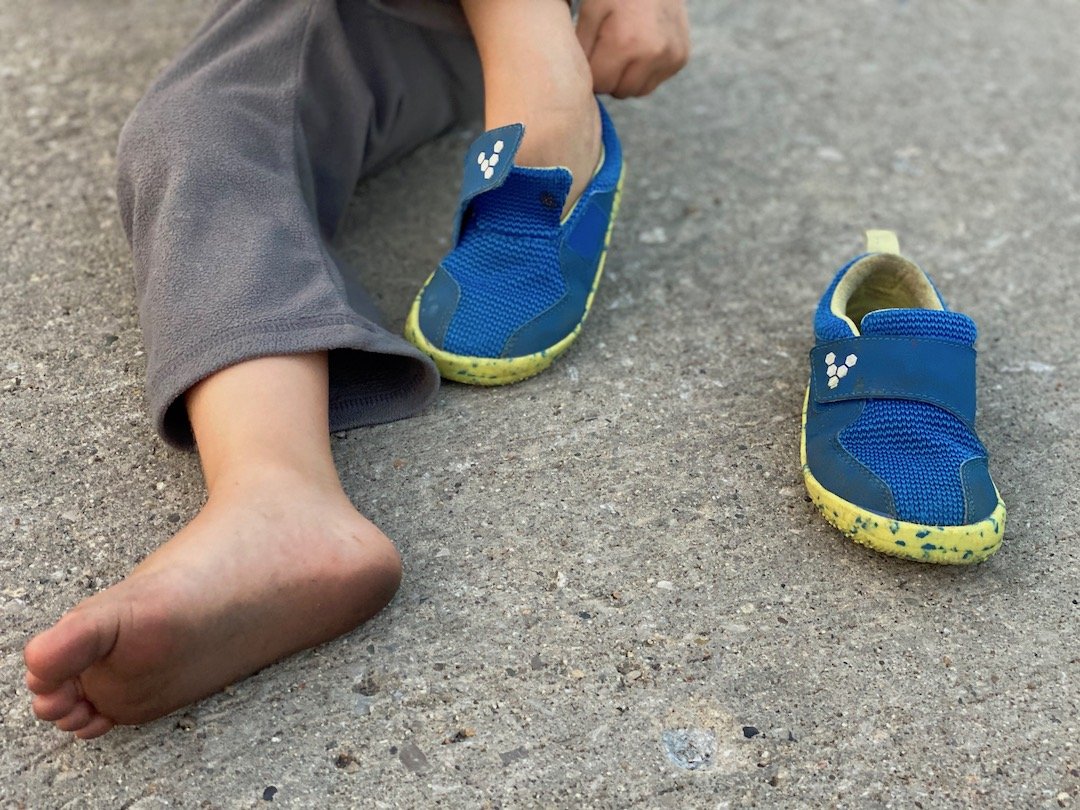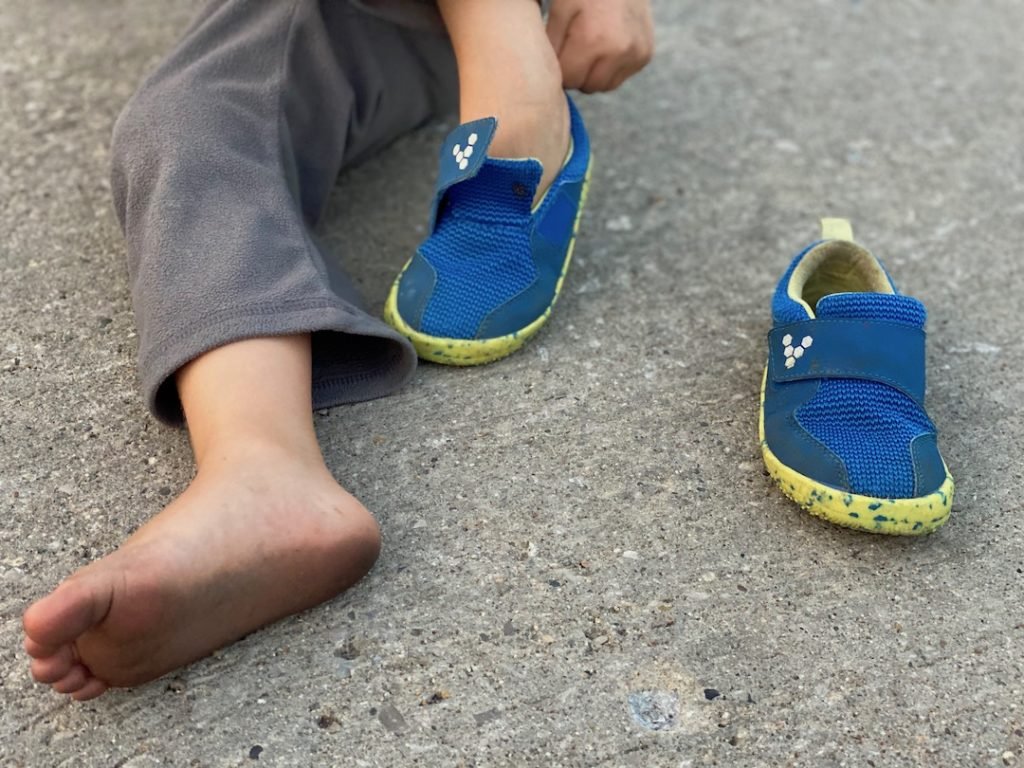 $80 | Vegan | Sizes US 5C-6Y | Ships from UK & Germany
Get 10% off with code VIVOANYA (works on adults too)
Click here to find a Vivobarefoot retailer near you.
Good for: Average to wide, medium volume feet.
Another sneaker option that we love and return to repeatedly is is the Vivobarefoot Primus. These are a little more pricey, but will last through multiple seasons and multiple children. We particularly love the Primus Trail, which I buy for my son every time he grows out of them. At this point we've had 3 pairs and each one was well loved and provided months and months of continuous wear.
The Toddler and Kids versions are quite wide throughout the shoe, but the Junior sizes thin out a little. Check out Be Lenka below if you have an extra wide-footed child.
---
3. Be Lenka Kids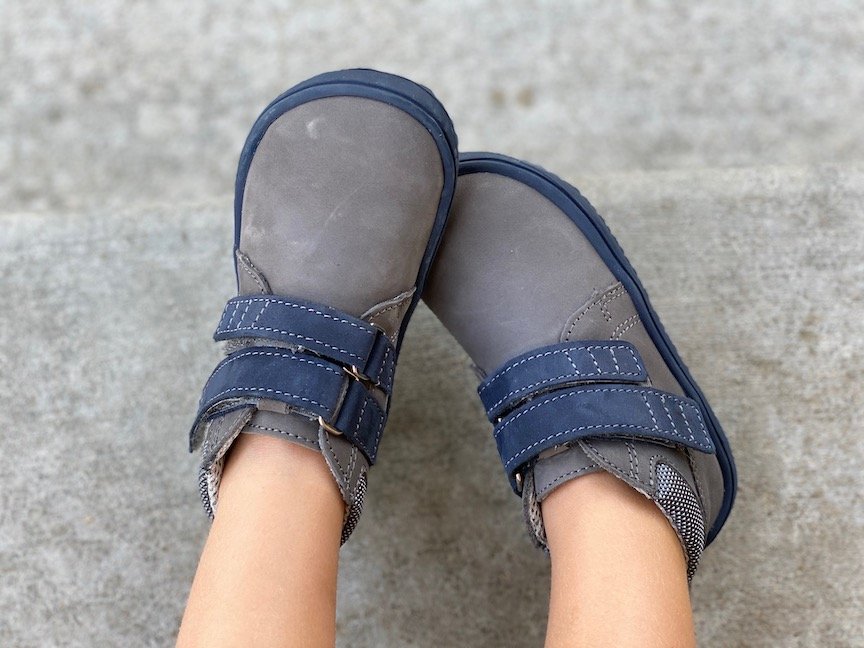 $69 | Leather | Sizes EU 25-35 | Ships from EU
Use code ANYASREVIEWS for 5% off Be Lenka purchases (returns are only accepted from within the EU and USA).
You can now find Be Lenka Kids shoes at Anya's Shop for easier North American Access
Good for: Extra wide, high volume feet.
Be Lenka Kids barefoot shoes extend Be Lenka's already impressive selection of healthy footwear. They are one of my favorite barefoot shoe brands for their durability and great style.
They are wider than most other kids' brands we've tried and very well made and durable. They also come in lots of colors for spunky kids, and have a removable insole for high volume feet. They are one of our faves for serious play. We also love the Be Lenka winter boots, read more about those in the winter section further on!
You can read a more in-depth review of this brand in my Be Lenka Kids Review.
---
4. Mukishoes Kids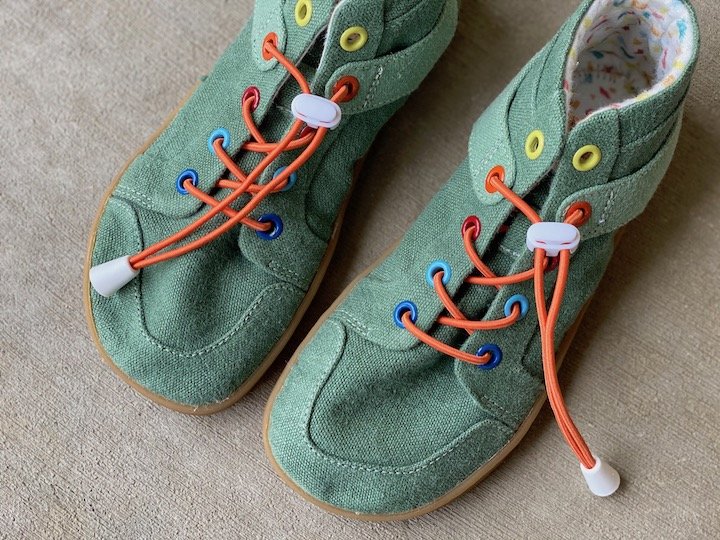 $100 | Vegan Options | Waterproof Options | Sizes EU 24-35 | Ships from EU
Use code ANYASREVIEWS for 5% off their kids line and 10% off adults.
Good for: Extra wide, high volume feet.
Mukishoes is one of my favorite barefoot brands for both adults and kids. These shoes are vegan, lightweight, super flexible, and some of the models are water resistant. This is another great brand for extra wide feet!
Besides being excellent quality and adorable, Mukishoes also places a huge emphasis on ethics and sustainability in all their products. They have both leather and vegan options, all of which are amazing quality. My boys prefer the low cut models because they're easy to take on and off, and they are a favorite in our house.
---
5. Wildling Shoes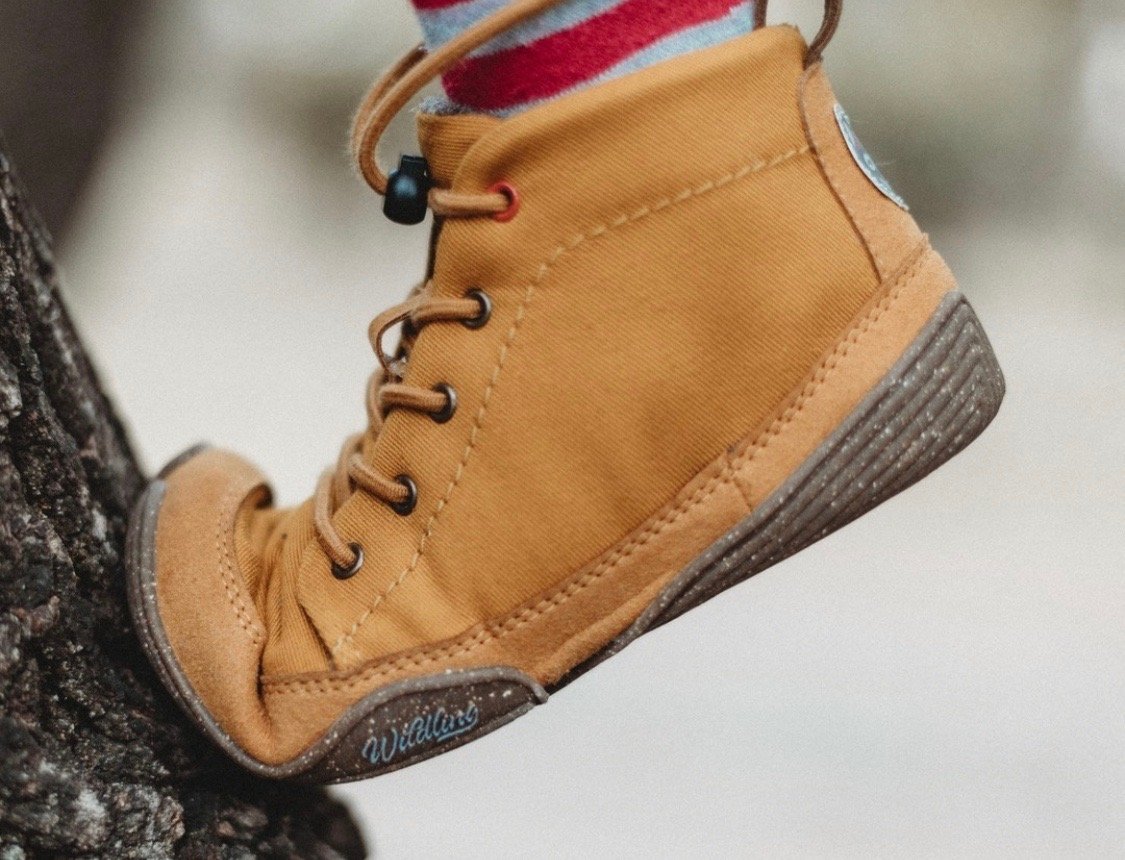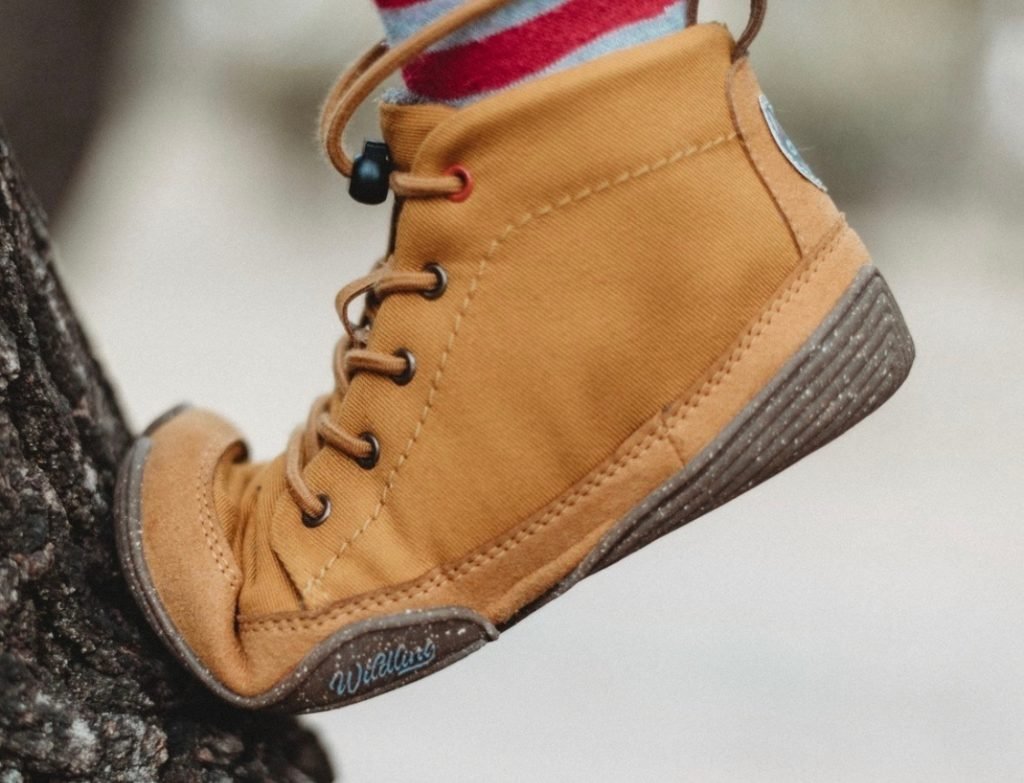 $95 | Vegan Options | Waterproof Options | Sizes EU 18-35 | Ships from EU & US
Best For: All foot shapes, but some models fit high volume. Use an insole if low volume.
Wildling Shoes is another favorite barefoot shoe brand of mine for both adults and kids. They are supremely flexible and easy to wear, and always ethically made. Some models are made with wool and are surprisingly warm for how light and thin they are.
The uniquely flexible sole on Wildling Shoes allows for full freedom of movement and plenty of ground feel. This is another brand I can always count on my kids loving! Read all my Wildling reviews here.
---
6. Zuna Shoes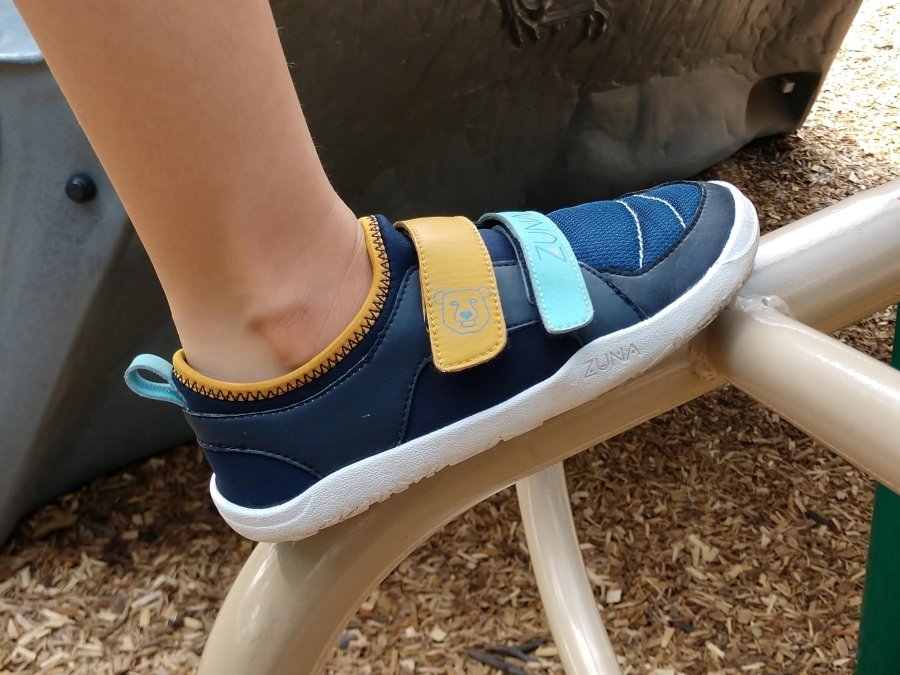 Vegan | $69 | Sizes US 12K – 4Y | Free Shipping + Returns in USA
This brand is only available in the US at the time
Best For: All Foot Types
My boys each got a pair of Zuna shoes one summer and wore them nearly every single day until they grew out of them. They absolutely loved them. This was surprising because one of my boys has thin feet and the other has thick feet – they usually prefer different brands. So it was really awesome to see how well they worked for a variety of foot types. And they stood up to their intense playing for a year.
Read my full Zuna shoes review here
---
Barefoot Summer Sandals and Water Shoes for Kids
Summer activities often call for barefoot kids shoes that can get wet and go on easily. Barefoot sandals for kids keep their feet free, protected from hot pavement and stinging insects, AND are practical for summer fun.
1. Vivobarefoot Ultra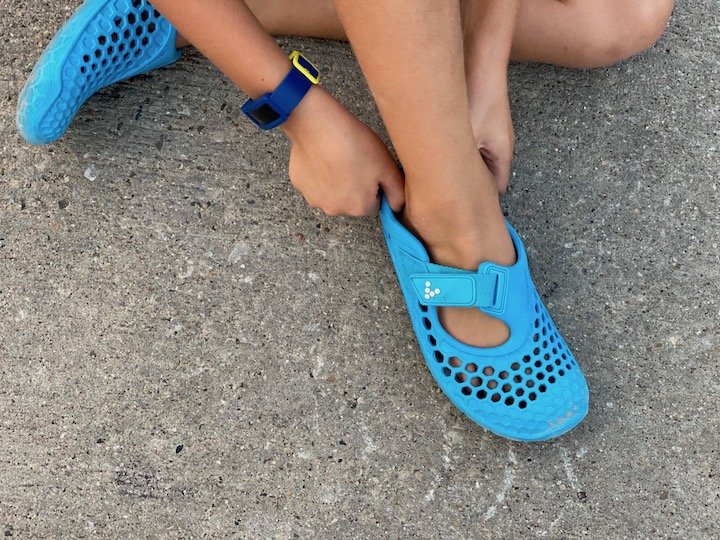 $70 | Vegan | Sizes US 9C-4Y
The Vivobarefoot Ultra is a simple, durable, minimalist kids shoe and an all-time favorite in our house. We had one pair that lasted 3 years, both my kids wore them constantly for about a year and a half each (even insisting on wearing them during winter). I think that's a $70 well spent! I love that they can be worn in water in summer and with socks when it's cold outside. They have a good shape and are easy for my kids to put on, and they love the bright color. Perfect for kids who don't like strappy sandals but need something they can get wet in. Get 10% off any Vivobarefoot order with my code VIVOANYA
2. Earth Runners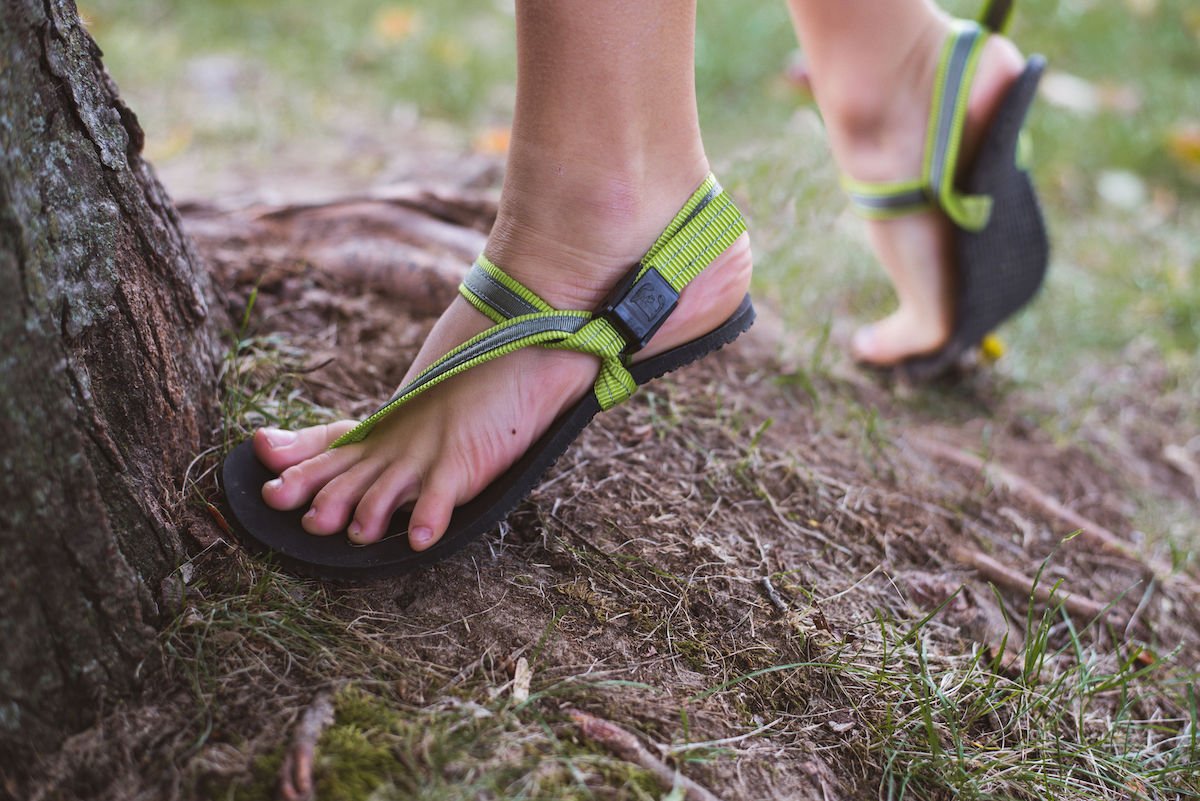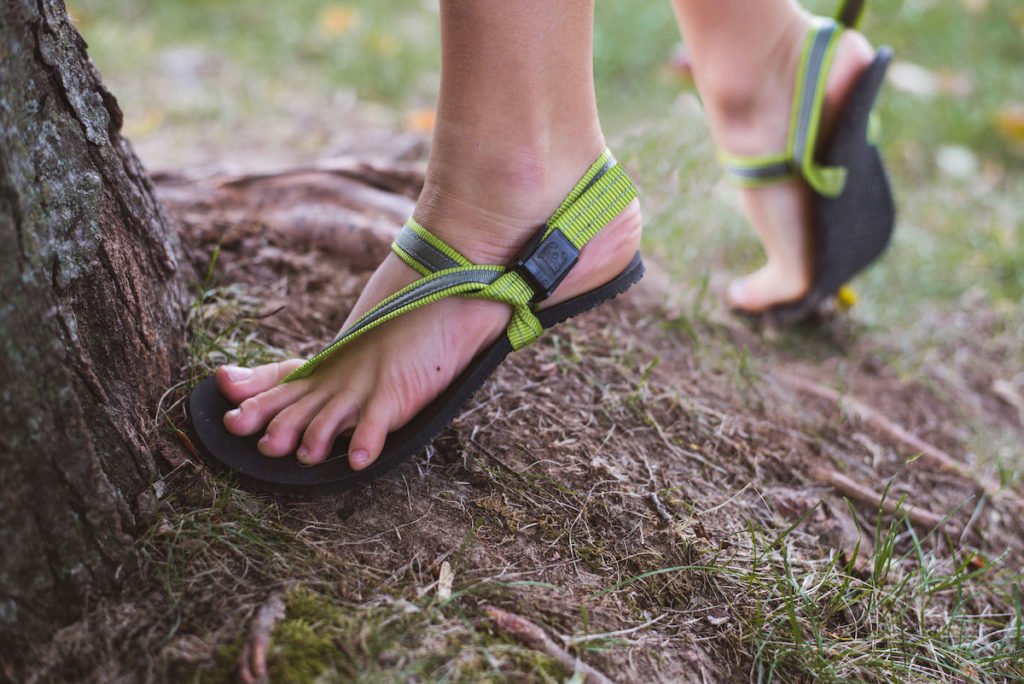 $43 | Vegan | US Sizes 12C-3Y
I've been wearing Earth Runners myself for years now. They are very well made and durable, and also secure on all types of feet. They have very thin, flexible soles and will let your kiddo run wild without compromising their foot function. Once the straps are adjusted to the right fit they slip on and off. The strap that goes between the toes can feel rough to start, but it does loosen. If your child is complaining about it, try getting the strap wet and twisting it back and forth for a while to soften it. Use code ANYASREVIEWSER10 for 10% off your purchase.
3. Tikki Nido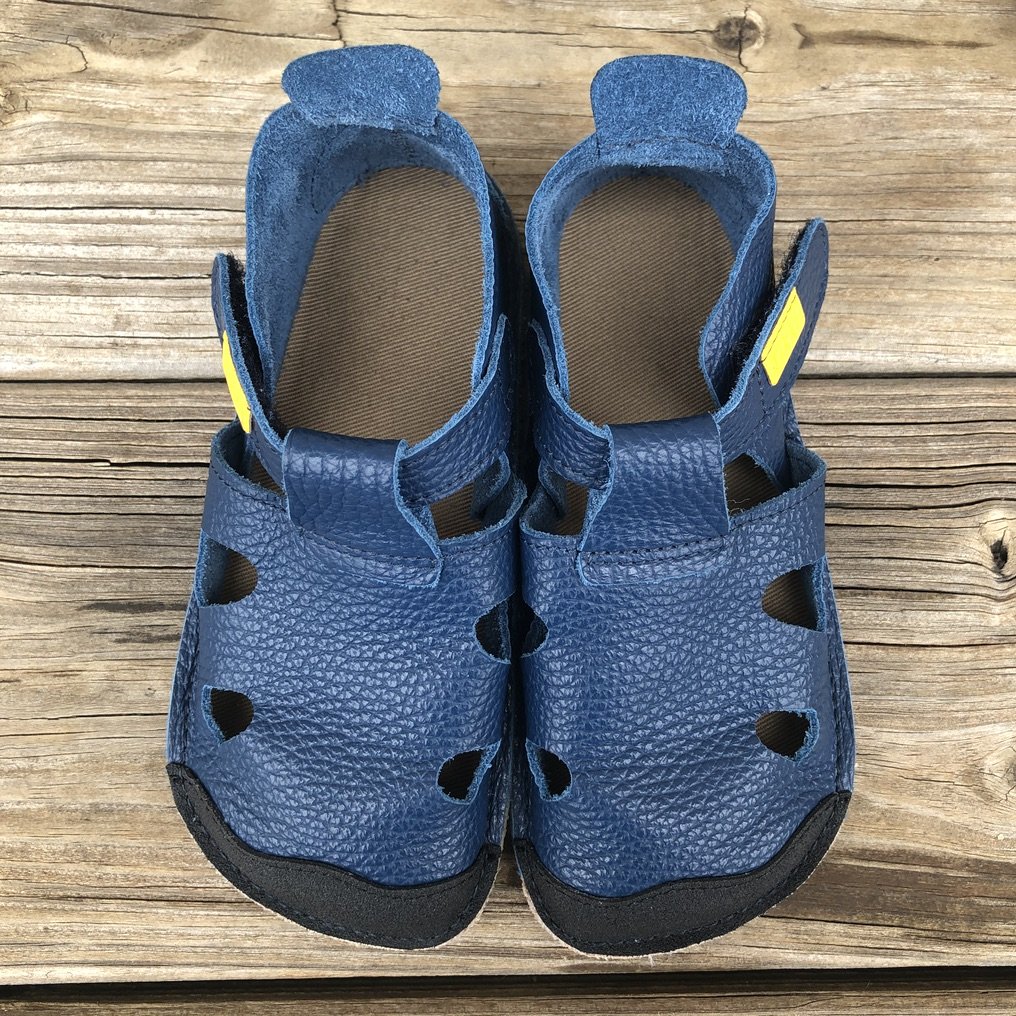 $35 | Leather | Sizes EU 19-32
These Nido sandals are new to us this year, but Tikki is a well-established barefoot kids shoe brand. They also make minimalist shoes for toddlers. So far I am very pleased. The price point is on point and they are everything I want in a sandal: flat, flexible, and secure to the foot. The Nido goes all the way up to a size 32, so it will fit young children as well as toddlers. They've got lots of different colors, some with fun designs, and the quality is really good. You can see more info and pictures about these here.
4. Unshoes Keota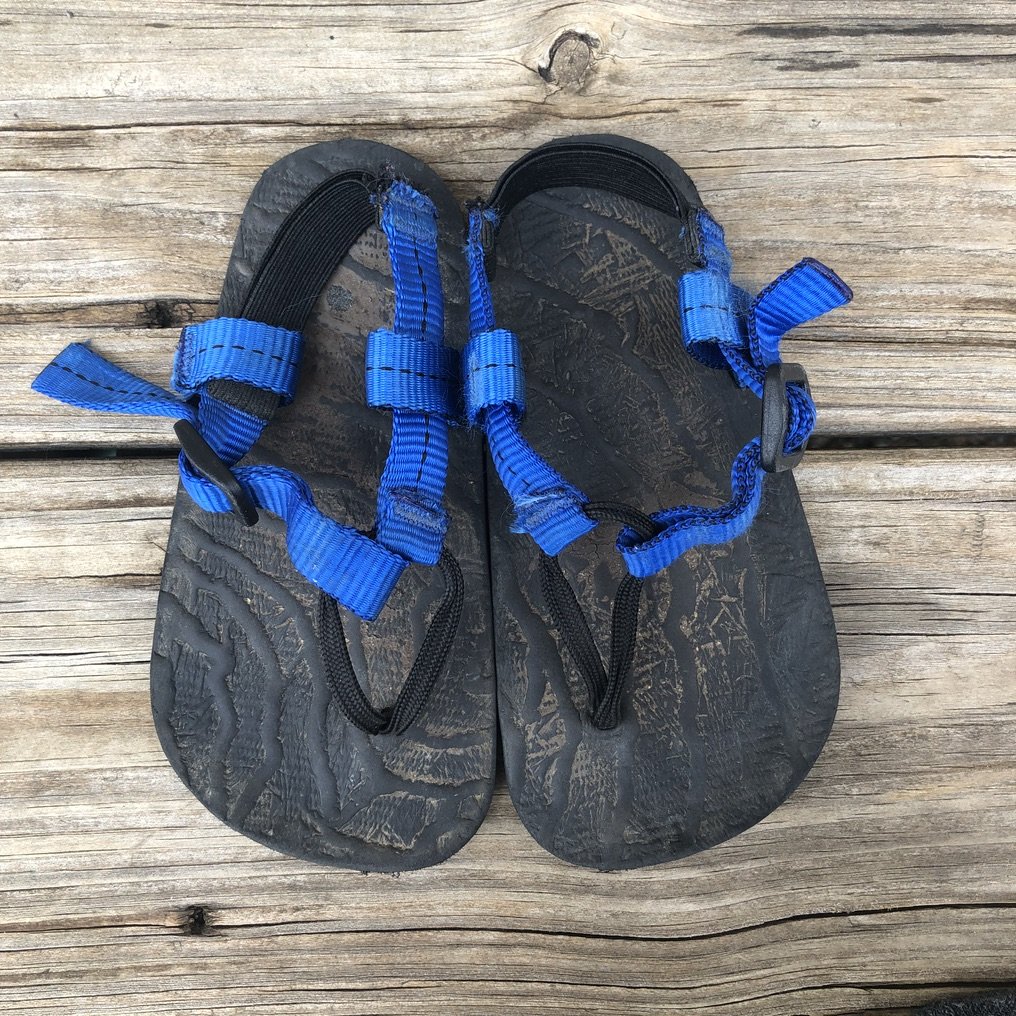 $45 | Vegan | Sizes EU 21-35
These Unshoes Keotas are great little sandals for kids. They go all the way up to EU size 35, so kids of any age can wear them. The elastic back makes for easy on and off and the adjustable straps let the shoes grow with your kid. My kids aren't real keen on strappy sandals for everyday play, but they've been nice to have for beach trips. Read the full review here and get 10% off with code ANYA
Warm Barefoot Winter Boots for Kids
Even when it's freezing I want my kids in barefoot shoes, so thank goodness for warm barefoot winter boots! Here are some of our tried and true favorite barefoot boots for kids.
1. Vivobarefoot Lumi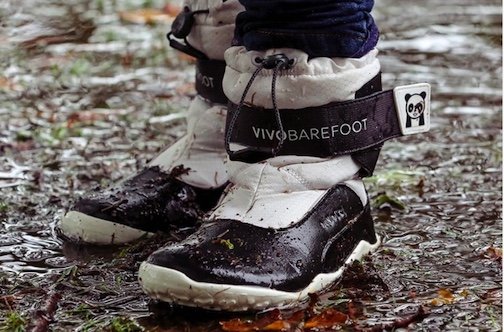 $100 | Vegan | Waterproof
If you're looking for a barefoot kids shoe specifically for winter, The Lumi is the only barefoot kids boot of its kind. It is completely flat, waterproof, and made for cold weather and snow. The elastic cinch and velcro strap make these secure around the ankles, and they come with a removable thermal insole. I personally think Vivo's thermal insoles are not warm enough for the extreme cold in the upper Midwest, and I always swap them out for a sheepskin or wool insole. My oldest wore last year's (they were called Yeti's) with a sheepskin insole all last winter in extreme temps and did great! They held up well and kept his feet dry without smashing his toes. Get 10% off any Vivobarefoot order with my code VIVOANYA
2. Be Lenka Barefoot Winter Boots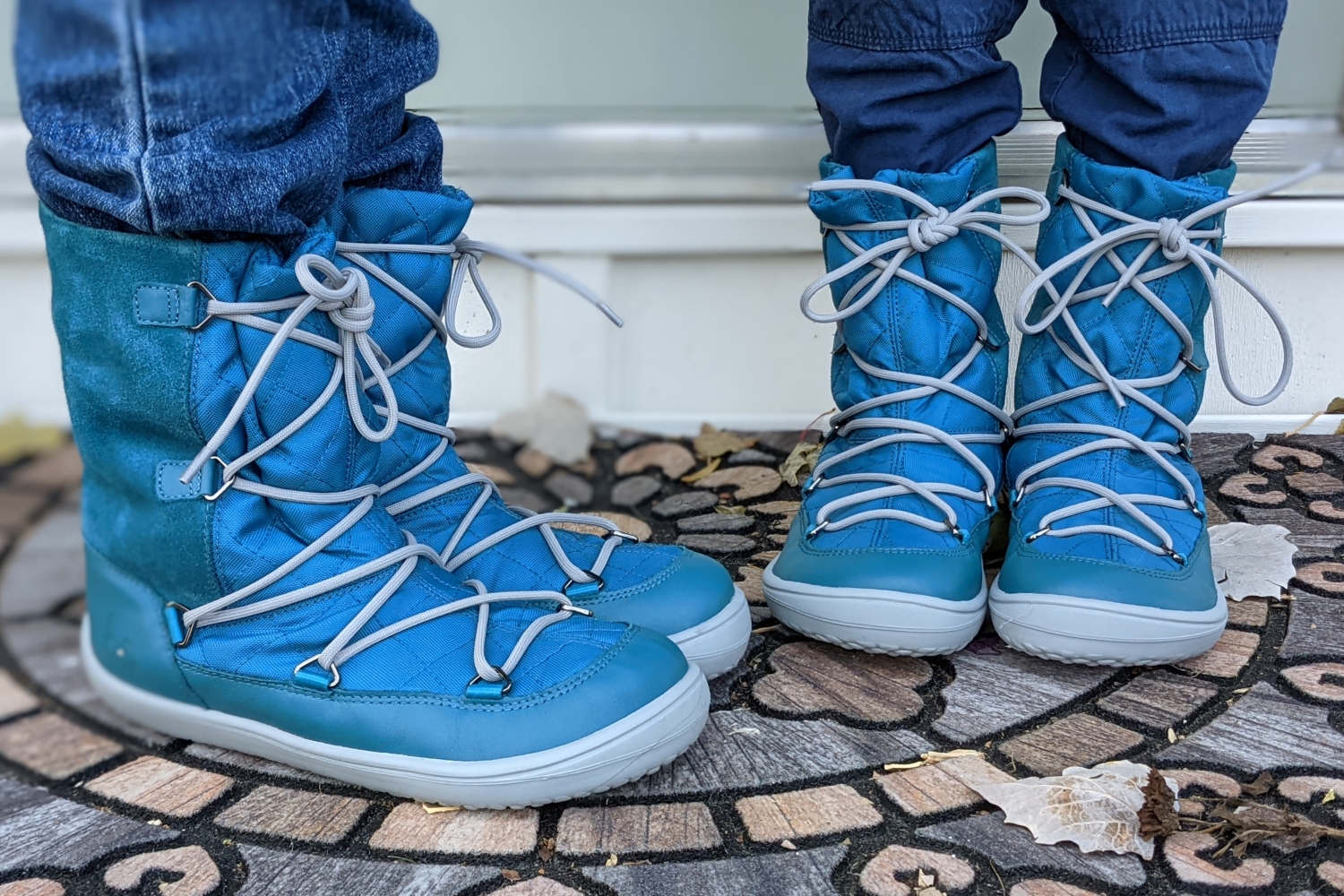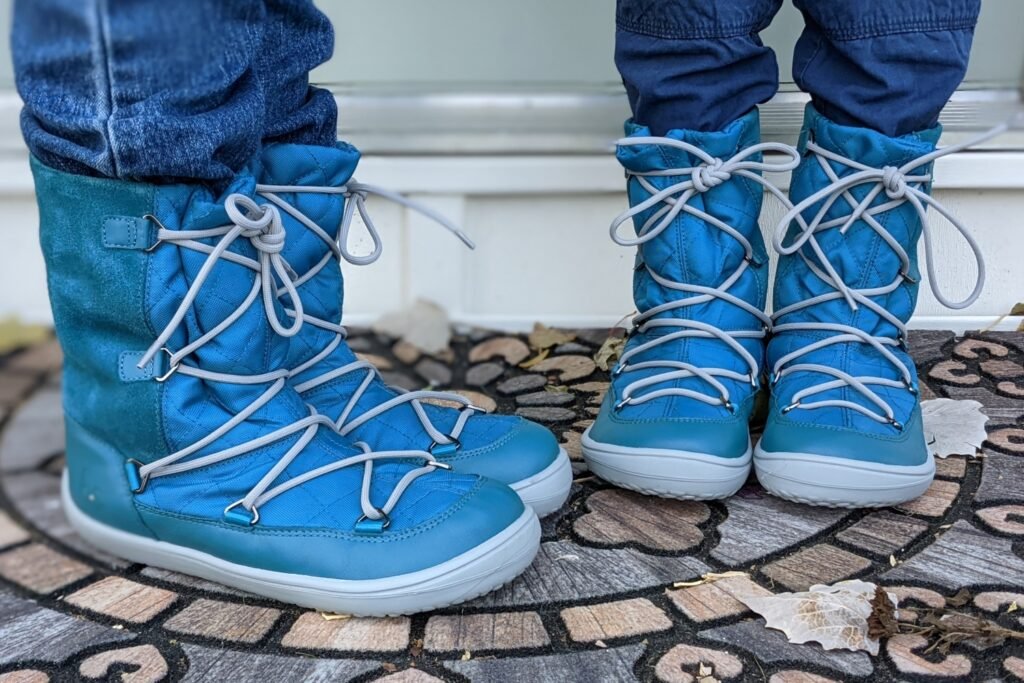 $95-$125 | Waterproof | Fleece Lined | Sizes EU 25-35 | Ships from EU
The Be Lenka Snowfox were the primary snow boot last year for my younger son and two of Samantha's kids. They are insulated with natural and synthetic wool and available in teal, black, and pink.
I am a huge fan of Be Lenka because they make barefoot shoes for kids in colors they actually like. Be Lenka shoes look cool, are super durable, and they are hard wearing. Use code ANYASREVIEWS for 5% off your Be Lenka purchase, but note that returns are only accepted from within the EU and USA.
Use code ANYASREVIEWS for 5% off your Be Lenka purchase, but note that returns are only accepted from within the EU and USA.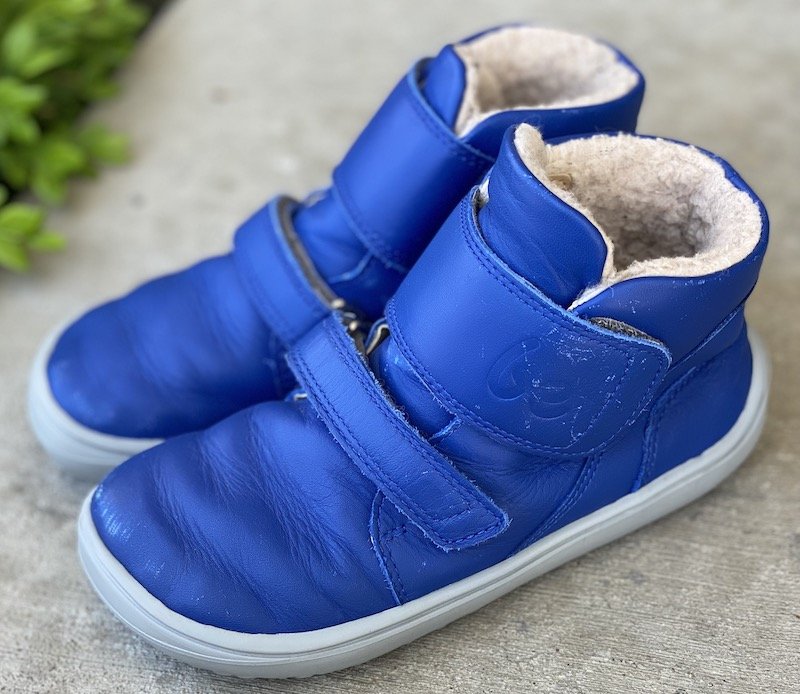 The Be Lenka Panda is a fleece lined waterproof bootie. They are easy on and off with the velcro, and very spacious in the toe box. The insole is removable, but they won't be as warm without it (it comes with an adhesive strip you can use to secure it down).
3. Softstar Phoenix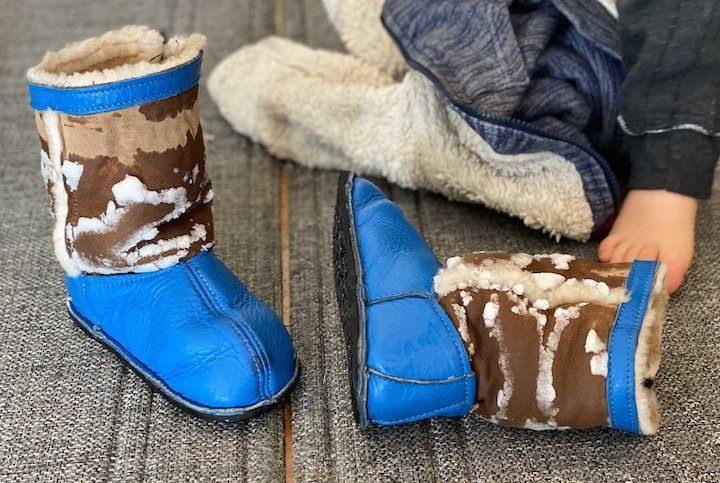 $160 | Sheepskin | Sizes US 7C-4Y
The Softstar Phoenix is a super high quality warm boot that you can customize with whatever color your child likes (can you tell we are all blue all the time?). They use the same Vibram sole as on the Zeazoo Dingo boot, which has good traction and flexibility. The foot portion is smooth leather, which is naturally water resistant. The leg shaft is suede, so needs to be waterproofed to keep moisture out (see the above photo :D). We love how easy they are to put on, and that they keep my boy's feet really warm. He does get snow inside the boot often though, because he's a maniac and they don't cinch closed at the top. But they are working well for us, and we expect they will be in good enough condition to pass on to another child when he grows out of them.
Use code ANYA for 15% off your first purchase. Youth sizes can be found here.
4. Zeazoo Dingo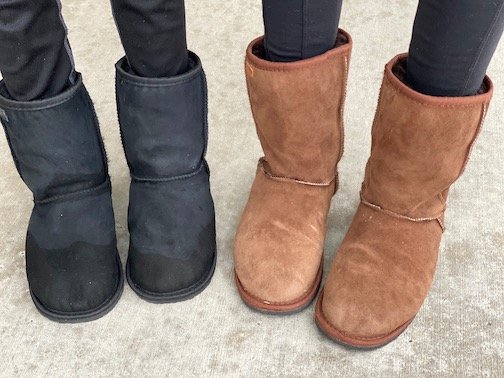 $85 | Sheepskin | Sizes EU 23-34
The Zeazoo Dingo is a sheepskin boot very similar to Uggs, but with a wide toebox and a flexible sole, making them a great minimalist shoe for kids or adults. It's 100% lined throughout and very warm and cozy. This particular model is plenty spacious, and caters to high volume feet and ankles. My little guy has really thin feet and was sliding around a lot until we added another sheepskin insole to take up space, but once we resolved the fit for his narrow feet, these have become a favorite of his on cold days. This boot is not waterproof, but you can use Sno Seal on it with great results. See this tutorial on Instagram! I wore my adult versions all last year and they were my warmest boots by far, and now that it's cooling off I'm reaching for them again constantly. North American customers can get them directly from Anya's Shop in kids and adult sizes. International customers can order with code ANYASREVIEWS for 5% off direct from Zeazoo Kids, or from the UK shop 100 Barefoot Soles for 10% off.
*Zeazoo also makes a sheepskin boot with velcro straps called the Yeti. This might be a better option for kids with very thin ankles. You can get 5% off your order from Zeazoo directly with code ANYASREVIEWS.
5. Wildling Winter Models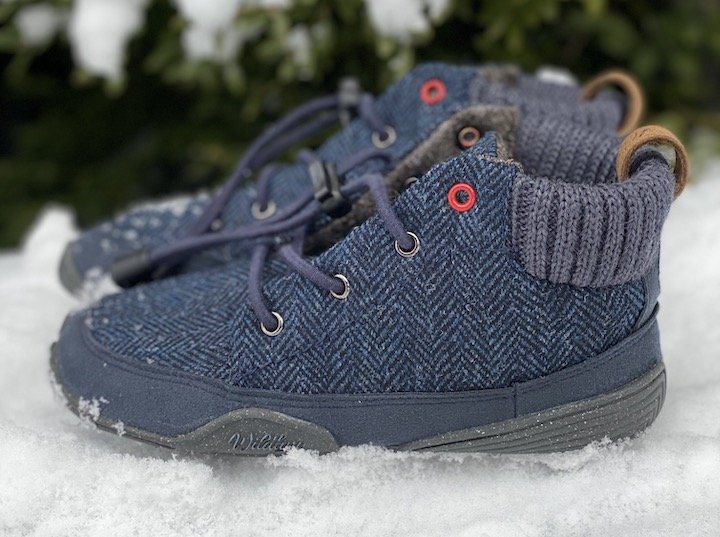 $100-$130 | Water Resistant | Wool & Vegan Options | Sizes EU 23-48
In addition to great play shoes, Wildling Shoes also makes wonderful warm booties that are water resistant and practical for cold weather. We live in a place with extreme winters, so for us they function primarily as everyday winter shoes and not snow boots (not tall enough or waterproof enough). But we love having an option that is cozy and comfortable during the cold months.
The models with a wool upper and wool lining are the warmest, and I recommend adding on a wool insole as well.
Read my full review of the Wildling Nessie in this post
6. Bobux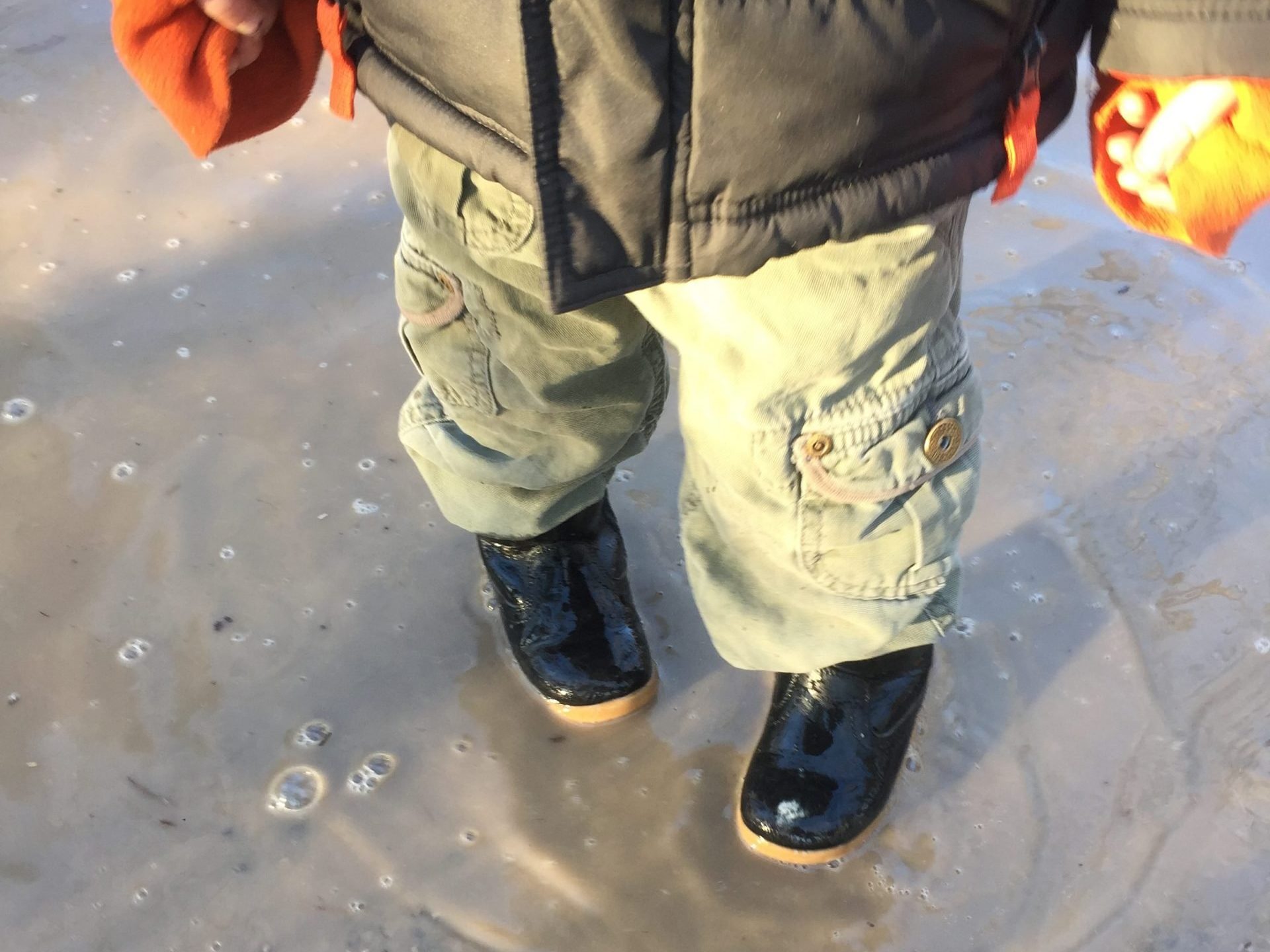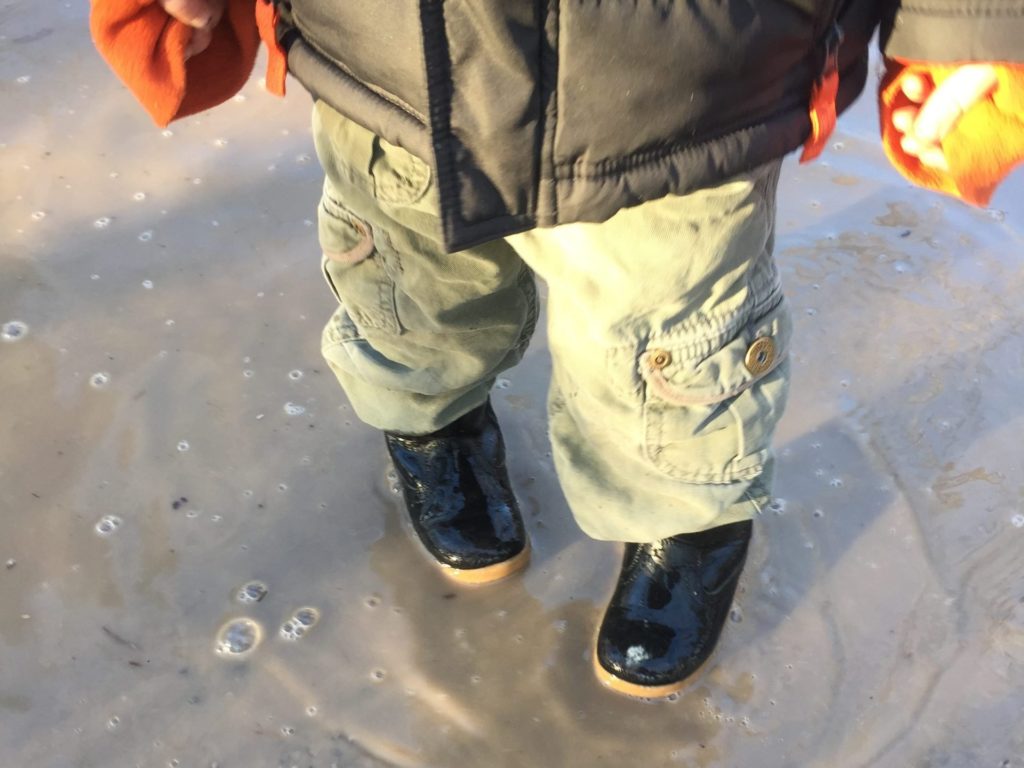 $85 | Waterproof | Fleece Lined | Sizes EU 27-33
A few years ago there were hardly any barefoot boots for kids besides Bobux. My boys survived two extremely cold winters in their adorable and super high quality minimalist boots. They are great for serious playing in serious weather. Although they are stiffer than I prefer in minimalist kids shoes, they are warm, easy on and off, and can take a real beating. Bobux also has some of the best looking minimalist dressy kids boots I've seen. You can read my review of the Aspen boot here.
For more winter boots options, check out my dedicated Barefoot Winter Boots for Kids post!!
Additional Resources For Kids
I have written extensively about the best barefoot shoes for kids for all seasons and events. Check out a few additional resources below!
Now let's get to the barefoot kids' shoe options! Below are my top picks for kids barefoot shoes for play, winter, summer, and rain.
Barefoot Rubber Rain Boots for Kids
Here are a few rain boot options that meet my requirement for barefoot shoes for kids!
Barefoot Shoes for Toddlers
Not all barefoot kids shoes come in all sizes. The following barefoot shoes for kids are especially for the littlest feet!
Barefoot Shoes for Big Kids (US Youth 1 and up)
Big kids have an especially hard time finding barefoot shoes. The following barefoot shoes for kids include large youth sizes.
Barefoot School Uniform Shoes
For kids in adult sizes, check out my Casual Barefoot Sneakers post for an all-black and all-white list!
Does your child wear a uniform with strict shoe requirements? Check out this list of barefoot shoes in all-black and all-white to wear with a school uniform.
All Black Shoes
All White Shoes
Barefoot Shoe Brand Width Comparison

You can be confident that all the barefoot shoe brands for kids listed in this post meet my requirements for healthy footwear, but here is a comparison of shape and width across some of the major ones.
The above photo shoes toe box width in order from most narrow to most wide. Note that there is a difference in the shape of the toe box as well as the width of the instep (for example, Splay shoes are wide in the toe box but taper in at the midfoot, versus Vivobarefoot and Tikki which are wide the entire length of the shoe).
Barefoot Shoes for Kids is Usually Best!
There are so many good barefoot kids shoes out there today, all around the world and in all price ranges (Check this post for affordable barefoot shoes for kids!). So if you need to buy your kids shoes anyways, consider the lifelong benefit they'll get from wearing natural footwear instead of the strait jackets you usually find at the store. Barefoot shoes for kids is usually the best option!