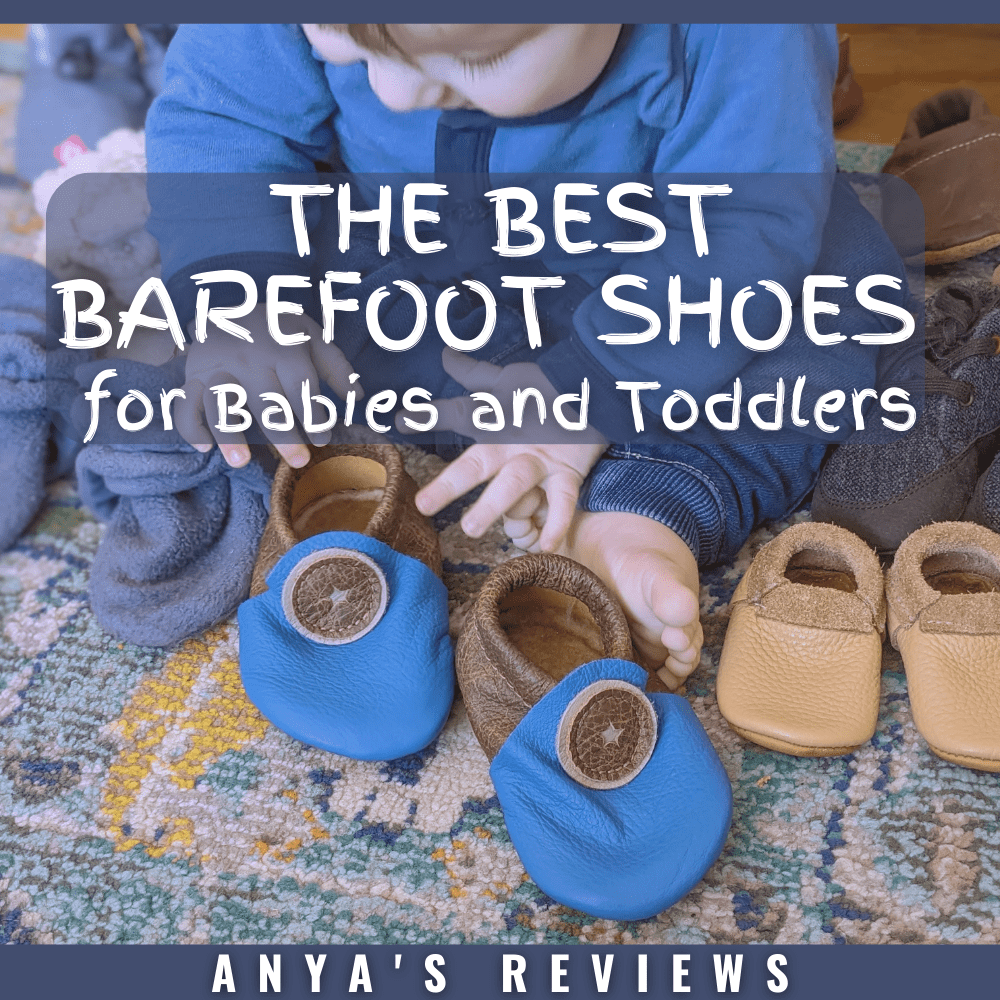 Wondering which baby shoes are best for their development? Being barefoot as often as possible is best for babies and toddlers; they don't often need shoes! But for the times you do want them in shoes, the best barefoot shoes for babies and toddlers are completely unrestrictive in every way.
This is your guide to the best shoes for the littlest feet.
The Best Shoes for Babies Are… No Shoes!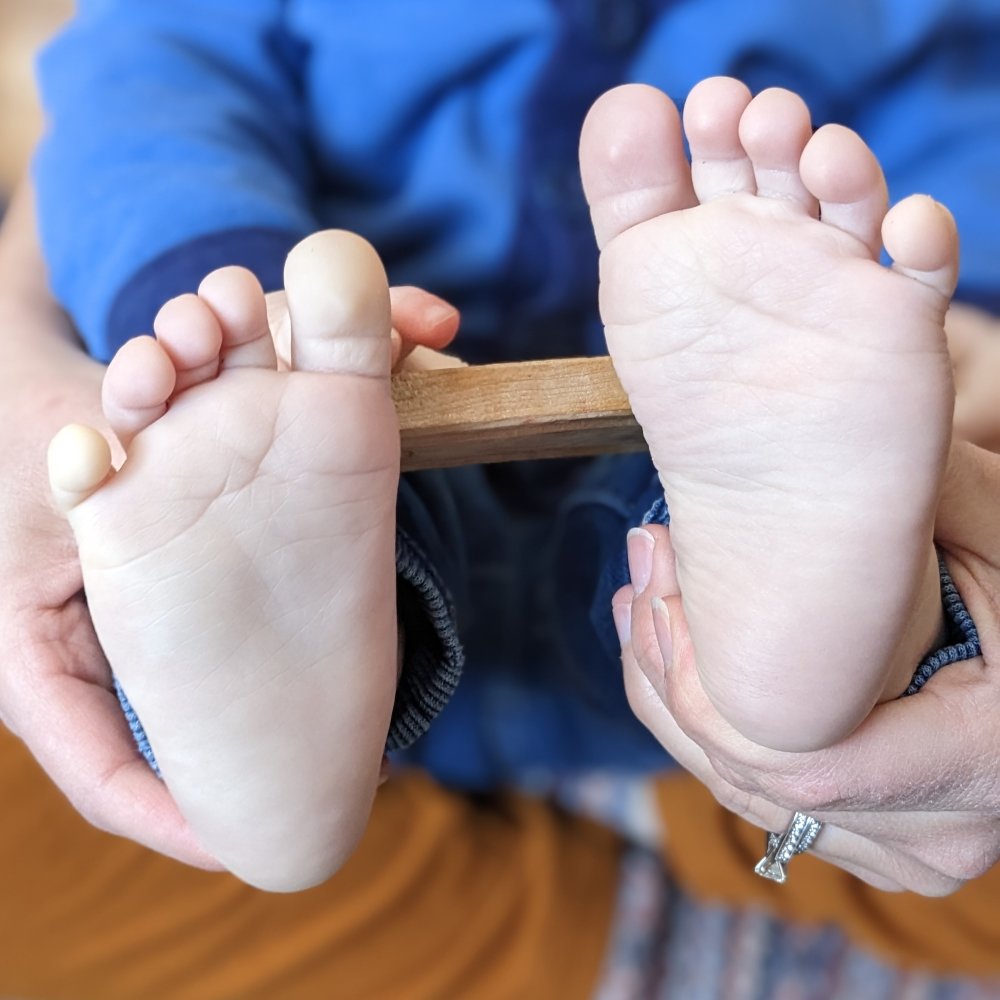 Watching your baby take their first steps is such a precious moment. But you might be asking yourself "Does my child need shoes now?" The answer is usually NO!
Humans have thousands of nerve endings in their feet that promote good posture and proprioception. Babies are actively establishing all those neural connections and should be allowed to sense the world through their feet. It's important to a baby's development to be able to feel the ground they're walking on.
Bernie Landels, infant development expert and author of Finding Their Feet, has this to say about it.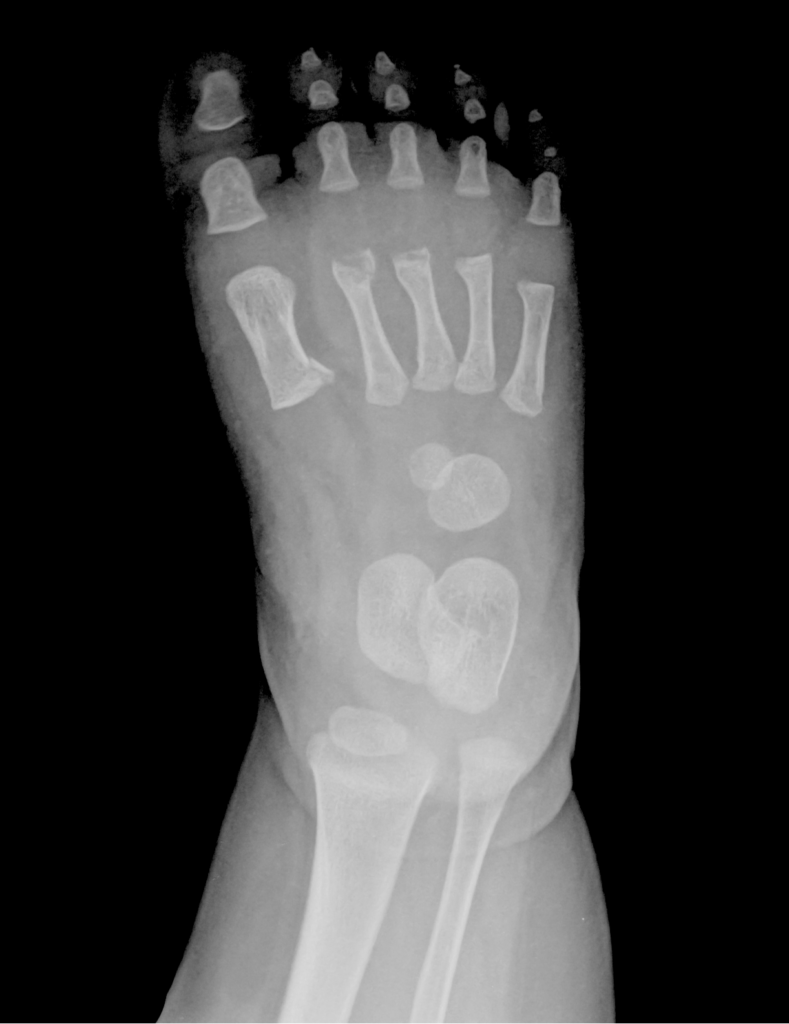 What About Socks?
We aren't a big fan of socks for babies, as they can restrict foot development and inhibit the nerves on the soles of their feet. Most baby barefoot shoes can be worn without socks, and when not in shoes just be barefoot! Older children might want socks for warmth, comfort, or to prevent stinky shoes. Here are the foot friendly socks we recommend for older kids.
As parents and caretakers we worry about our child's comfort, but the truth is our own feet are probably a lot more sensitive than our children's. So even if your feet feel a little cold inside the house, most likely your child would still prefer being barefoot over having socks on.
Why Babies Have Flat Feet


Babies are born with soft bones that shift around as they grow and develop. Because babies begin to put weight on their feet as infants, you will usually find a thick fat pad in the middle of their foot. This protects the forming bones of the midfoot so they can walk and stand without doing damage!
You might have noticed your child has a chubby flat foot – this is why. Most kids lose this fat pad around the age of 5 and have visible arches by around 6 or 7, so it's perfectly normal for small children to have flat feet.
What To Look For In a Baby Shoe
These guidelines are similar to what we want in a barefoot shoe for kids and adults, but for babies they should be even less structured. Look for the softest, most unrestrictive shoe possible.
An ideal baby shoe is:
Flat – no heel, no arch support, and no toe spring.
As thin and flexible as possible so baby can sense the ground.
Wide enough not to squish any part of the foot.
Unstructured – babies don't need walled outsoles, rubber toe caps, or cushioning.
Lightweight.
Fortunately you can find plenty of great options from many baby shoe brands if you know what to look for! Don't be afraid to pass on anything that doesn't crumple easily in your hands or that looks too narrow.
As your child grows you can start looking at these best barefoot shoes for kids with a little more durability and protection. But for your infant today, the following are our top picks for the best barefoot baby shoes!
The Best Barefoot Shoes for Babies
Without further ado, here are our top picks for barefoot shoes for your baby, crawler, or new walker!
*Sizing can vary a lot in baby shoes so make sure you measure your child's feet first and refer to each brand's size chart before you order!*
Softstar Roo Moccasins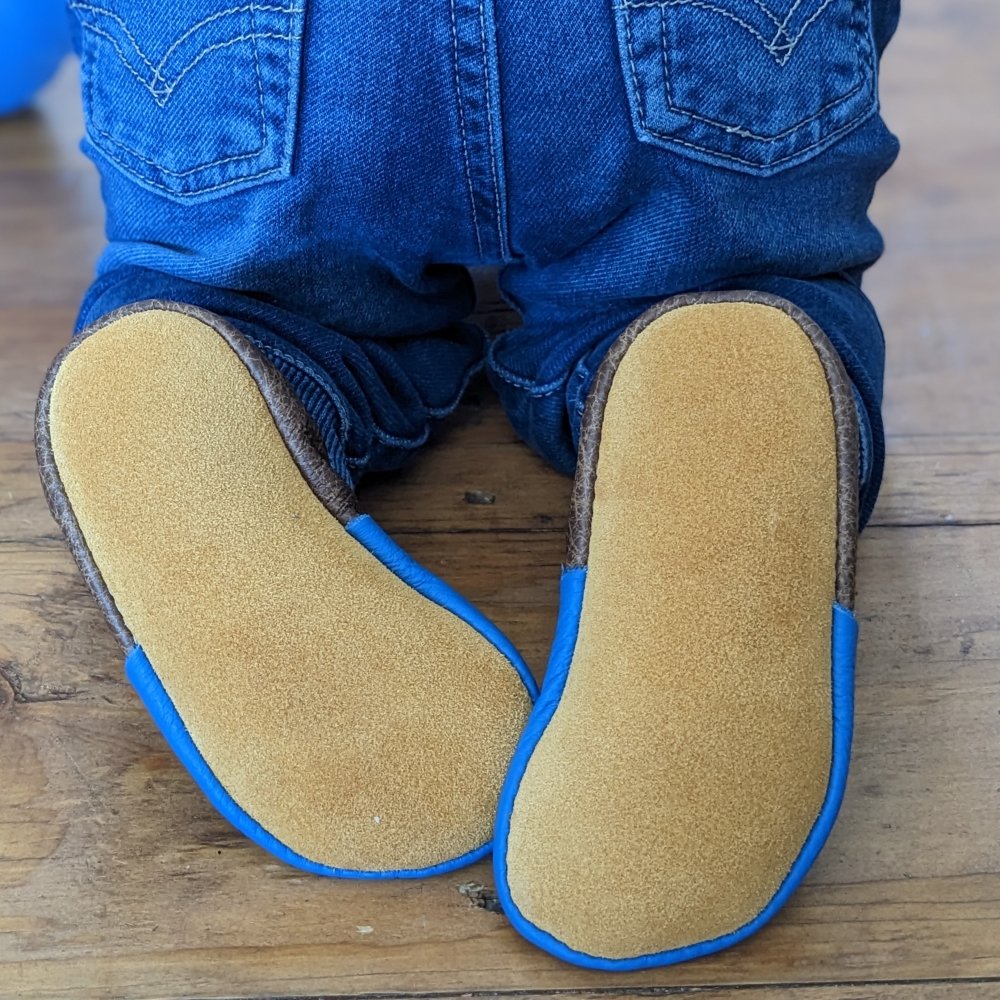 $65 | Sizes infant 2 to adult | Leather + Sheepskin insole | 3 width options | Ships worldwide from USA
Softstar Roo Moccasins are our top pick for barefoot baby shoes because they come in 3 widths, and are buttery soft. We also love that they're sustainably made in Oregon, USA. The moccs above are Wide width and they are a great fit on my 1 year old with thick chubby feet. You can also find Buttercup Moccasins for brand new babies from Softstar.
Most children will fit into the standard and wide widths, but for those with very wide feet, the XWIDE option is available for sizes 4-12. There's even the option to customize your shoes with whatever color combos you want (not available for xwide).
The Roo and Buttercup models both have genuine sheepskin insoles which is temperature regulating without compromising balance, but might be too warm if you're in a hot climate. We recommend avoiding the rubber sole options from Softstar until your child is a confident walker/runner and needs more shoe for playing outside.
---
Zutano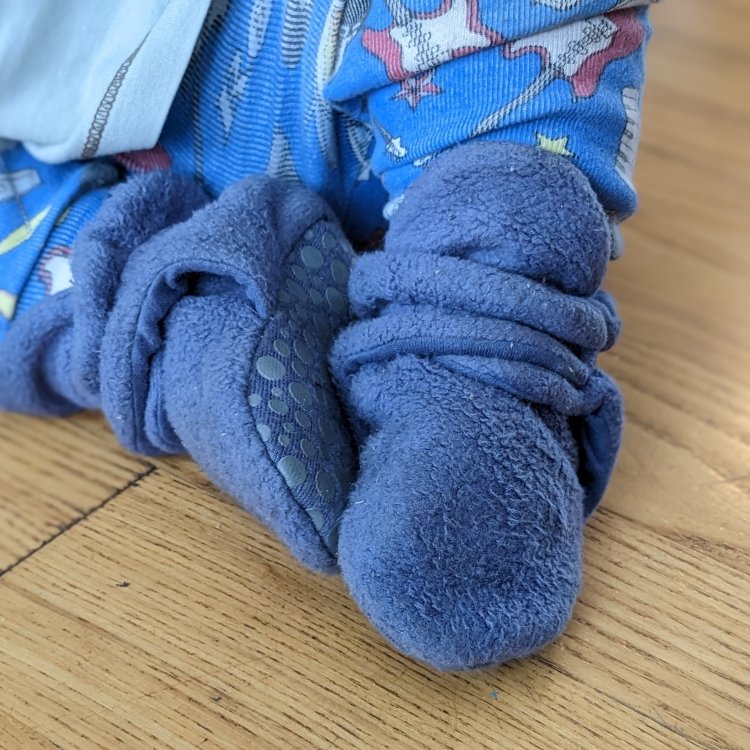 $22 | Knit or Fleece (vegan) | Sizes NB-24mo | Washable | Ships from USA
Zutano booties have been a go-to for my babies and toddlers for years, even before I knew about barefoot shoes! I love them because they are easy to put on, they STAY on, and they come in a knit or fleece option (not to mention a bunch of different colors and prints).
Sizes 12 months and up have grippy dots on the bottom so they are a great option for public indoor places when you don't want you child going barefoot, or for dry weather outside. Since they're just fabric, they can be tossed in your regular laundry too. They are essentially an upgraded sock that doesn't squish your baby's feet.
---
Authentic Native Made Custom Moccs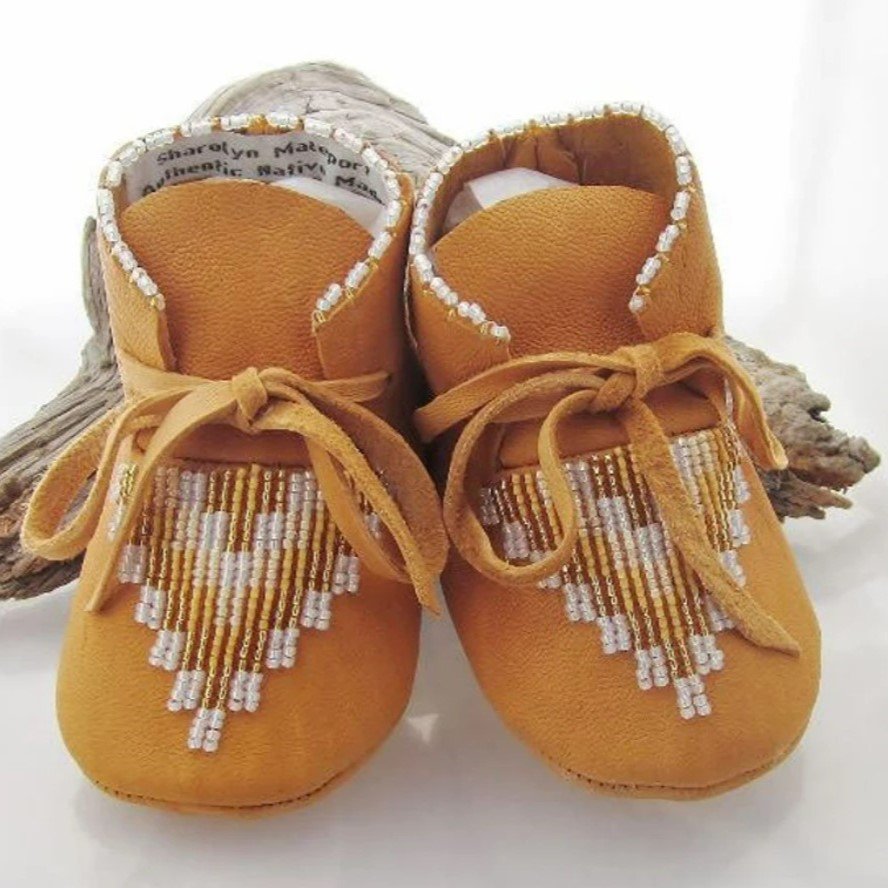 $44+ | Sizes 0-4 |Leather | Ships to USA & Canada from USA
These Native Made moccasins are hand crafted in Kettle Fall, Washington, USA by Sharolyn. Everything is made to order using high quality deer hide which is known for breathability and stretch. Because they are custom they will fit lots of foot types. Exchanges accepted on standard sizing only – no returns or exchanges on custom sized moccasins.
---
Starry Knight Designs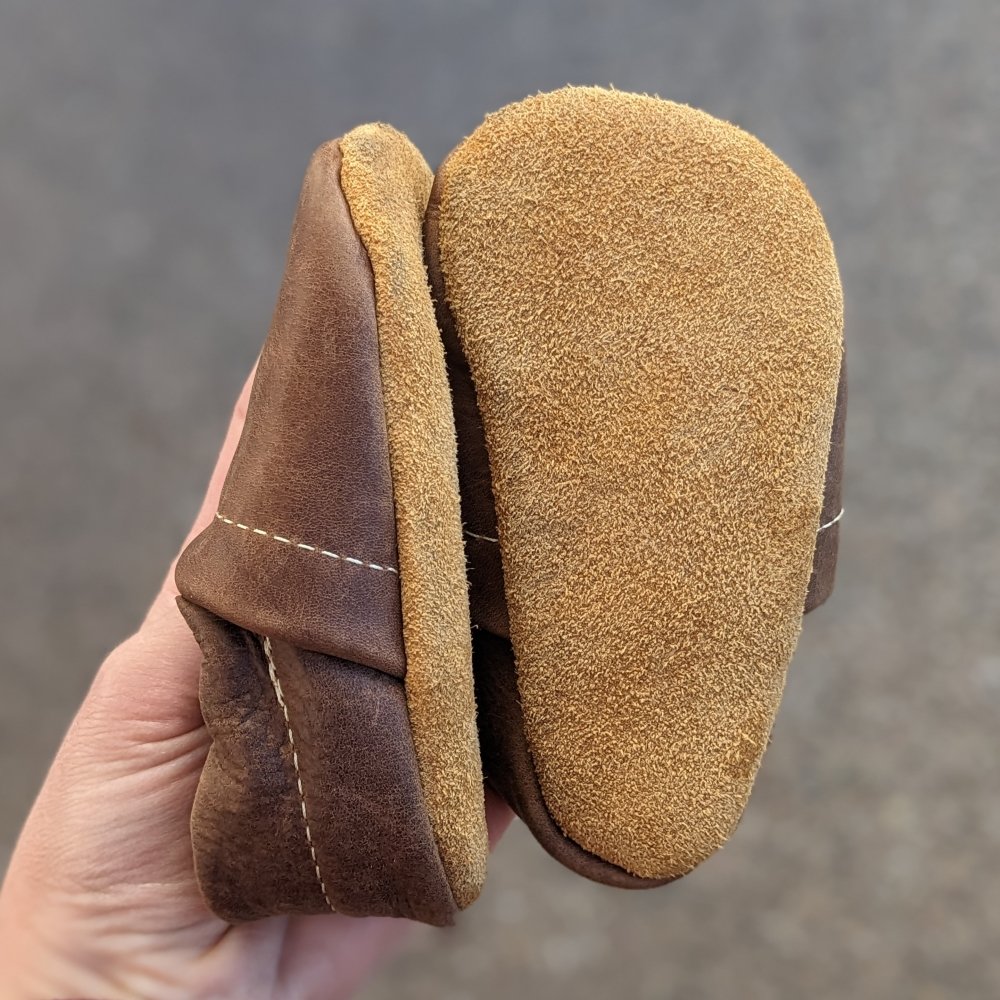 $28+ | Sizes Preemie – Adult | Leather | Ships worldwide from USA
Starry Knight Design has a variety of soft sole leather shoe styles to choose from – simple moccs, mary janes, sandals, and fringe boots to name a few. They come in sizes for the whole family, and all handmade in Montana, USA. Optional wool insoles for winter, or thin rubber add-on soles for older kids.
Returns and exchanges are accepted within 30 days (except sale items or shoes with added soles/other modifications).
---
Bear Paw Moccasins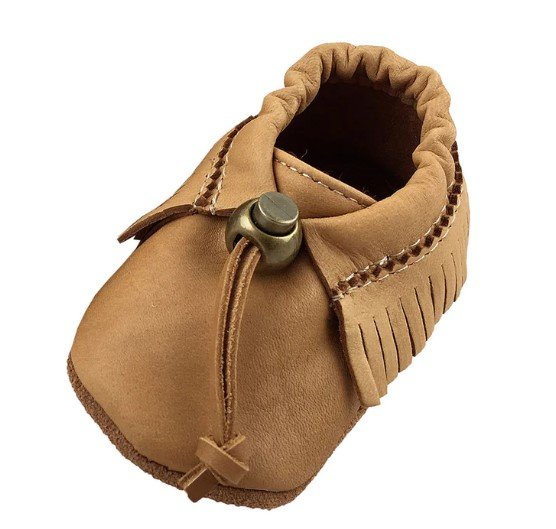 $50 | Sizes S-L | Moosehide | Ships from Canada to select countries
These bear paw moccasins are great for extra wide, thick feet and have a toggle for easy adjustment. Moosehide is soft and durable, so these can be worn outside. They are handmade in Canada by members of the Huront-Wendat nation.
---
Posh Panda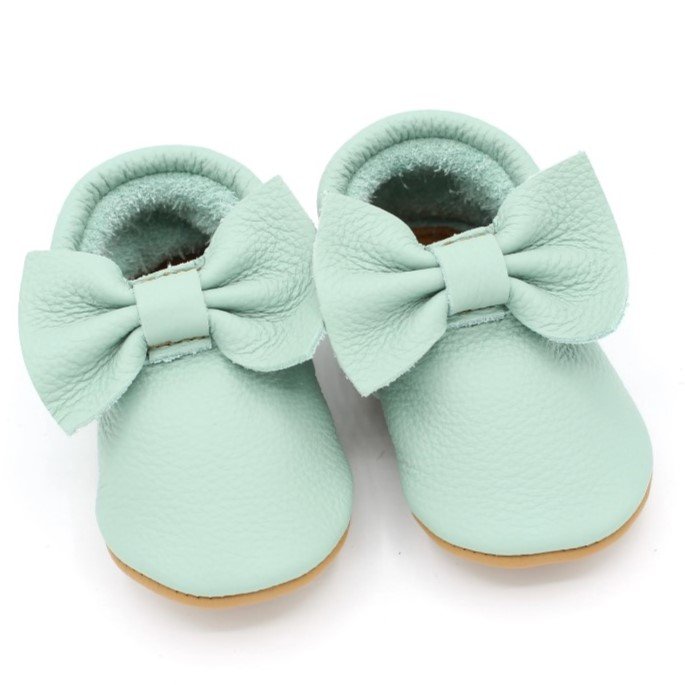 $38+ | Sizes 0-11/12 | Leather | Ships worldwide from Canada
Posh Panda moccasins are handmade in Canada with some of the cutest details! There's a couple different sole options and we only recommend the soft soles for babies and new walkers. Older toddlers will do great with the thin rubber minimalist soles. Posh Panda sales are all final, but you can resell them when you are done with them.
Click here for the full review of adult Posh Panda moccasins
---
Bird Rock Baby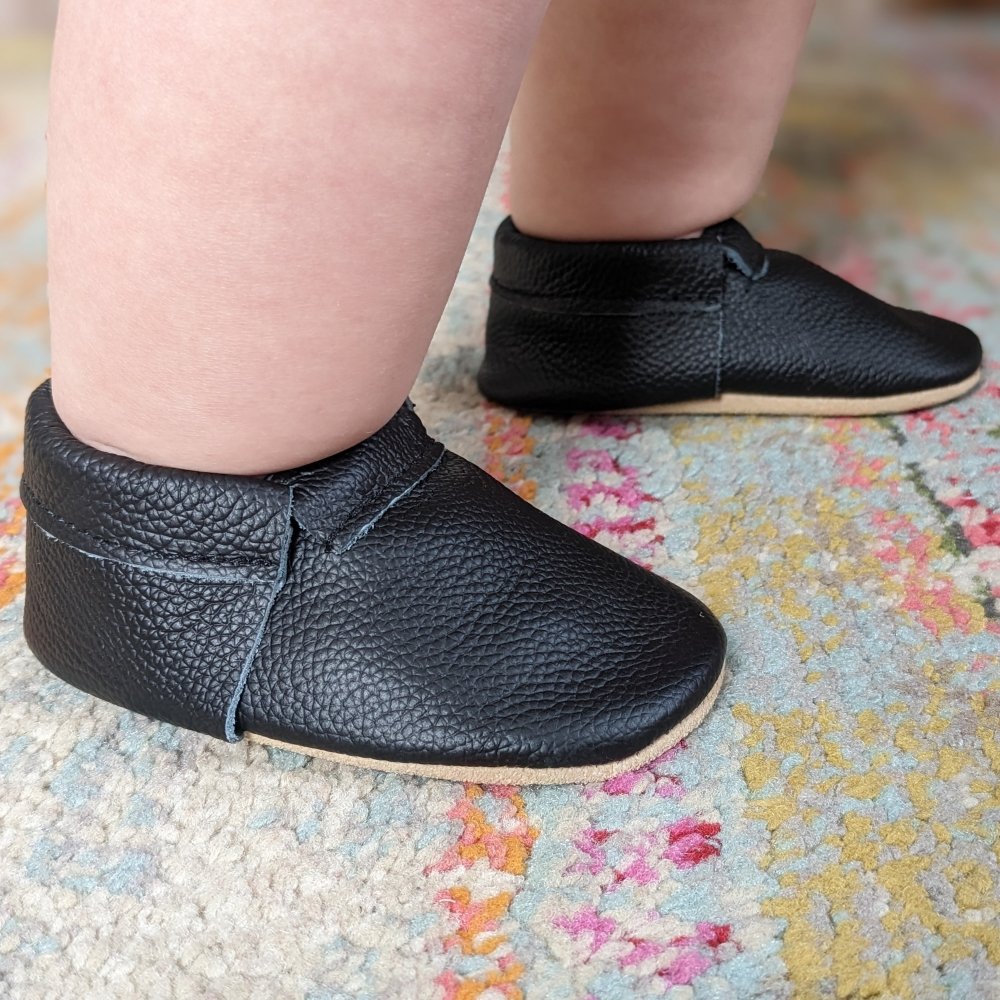 $30 | Sizes 2-9.5 | Leather | USA only
Bird Rock Baby makes affordable leather moccasins in a large variety of colors and prints (and even some cute mary janes!). They either have a suede outsole or smooth leather. The ankle cuff is soft and stretchy and they are very lightweight. I found the leather to feel a little cheap, but the prices reflects that. Free shipping over $49, and free returns!
Each pair of shoes purchased provides a child in need with food for a day through the Feed My Starving Children organization.
---
Warriors Apparel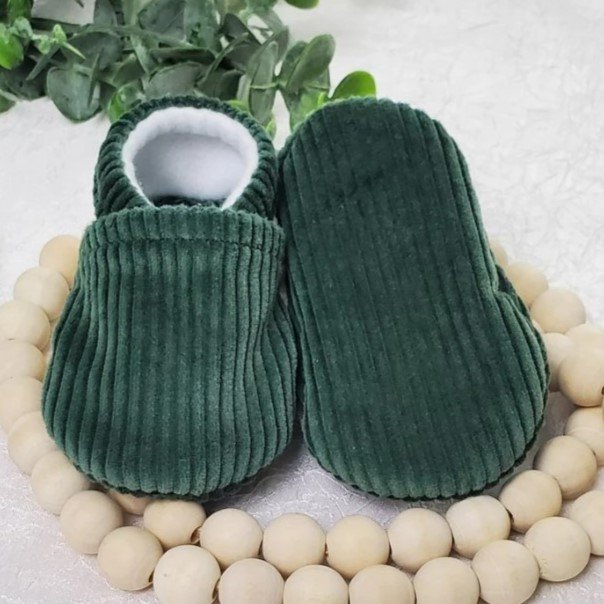 $20 | Sizes 0-24M | Fabric (vegan) | Ships from worldwide from USA
These little fabric booties come in a variety of beautiful prints and textures. Everything is handmade in Ohio and some styles have grippy dots on the bottom. These are a great affordable option! Returns/Exchanges not accepted.
---
Ebooba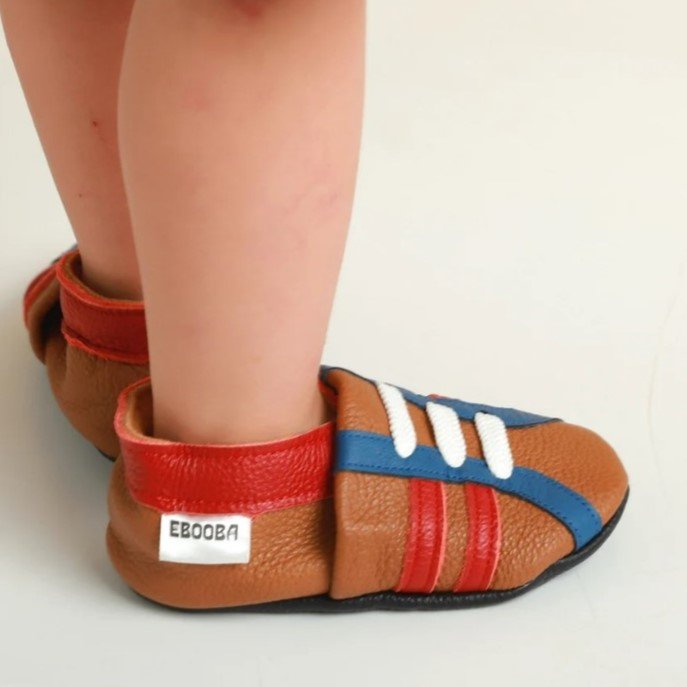 $19 | Sizes Newborn – 8 Years | Leather | Ships worldwide from Ukraine
Ebooba on Etsy has a plethora of affordable, soft sole shoes in a larger than usual size range. You can find lots of themed moccs as well as plain colors. There's even some open top summery ones that look great for warm weather!
Ebooba offers free worldwide shipping and discounts on multiple pairs. Returns are accepted within 14 days.
---
Sun and Lace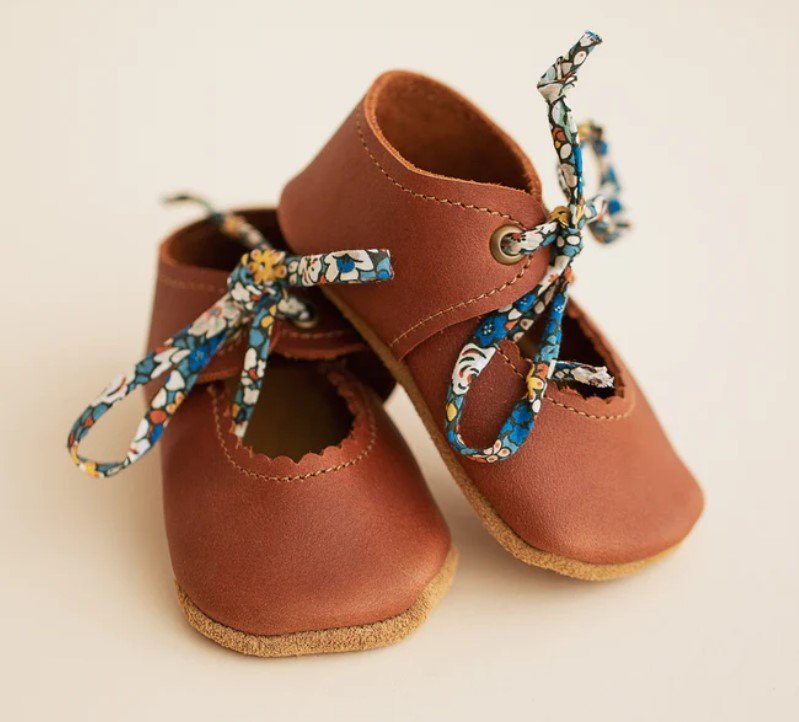 $36+ | Sizes 0-10 | Leather | Ships worldwide from USA
Sun and Lace hand makes all their shoes in Wisconsin, USA and they are adorable. There are a couple exquisitely detailed girly options and they all have a suede outsole. For older walkers, a rubber sole add-on is optional.
---
Soft Walker Shoes
$20-$40 | Sizes 1-12| Leather | Ships worldwide from USA
Softwalker Shoes is a small Etsy shop with affordable, handmade shoes in a few different styles. You can find warm winter options here as well as a recycled rubber sole add-on for bigger sizes. The nice thing about these shoes is they have no inside seams, so nothing can rub your child's foot. Returns not accepted.
---
For Confident Walkers:
As your child grows and is able to walk and run confidently, you can graduate to the following options with just a bit more structure to them.
Once they become school aged and need even more shoe, refer to our 10 Best Barefoot Shoes for Kids article.
Wildling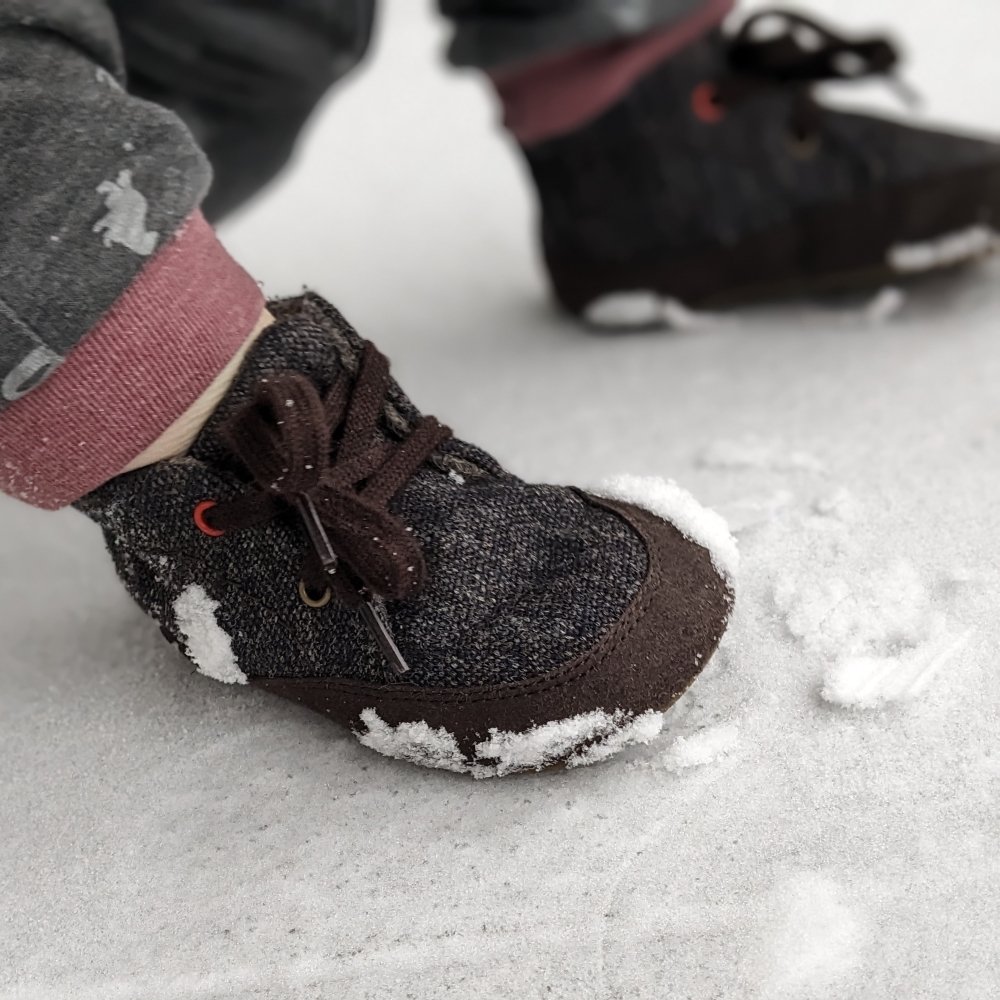 $59-$90 | US Sizes Kids 3 to 6 | Vegan Options | Ships Worldwide from Germany
Wildling Shoes makes some of the most minimal, yet functional barefoot shoes for all ages. While they are more of a shoe than a soft sole moccasin, they uppers are as unstructured as they can be while retaining shape and the rubber outsole is very thin and flexible. There are wool options for winter, and breezy cotton/linen options for summer. They open up really wide making them easy to put on and the laces give you adjustability to find the perfect fit.
Read all our Wildling Shoes Reviews here
---
Magical Shoes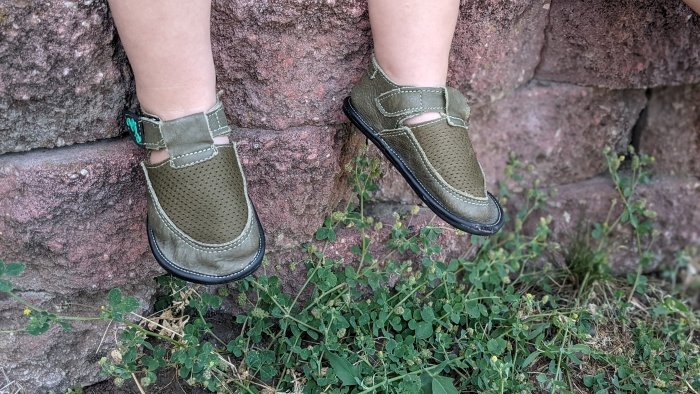 $43+ | Sizes EU 18-28 | Leather and Vegan Options | Ships Worldwide from Poland
Use code ANYA for 10% off
Magical Shoes has great options for confident walkers with really unstructured uppers and a VERY flexible outsole. They're lightweight, breathable, and the outsole has fantastic ground feel. The winter boots have a slightly more rugged sole, which is still very flexible for a winter boot. Both models shown above were my toddler's first real shoes after exclusively wearing soft soles and I highly recommend them! Read the full Magical Shoes Bebe review here.
---
Jack and Lily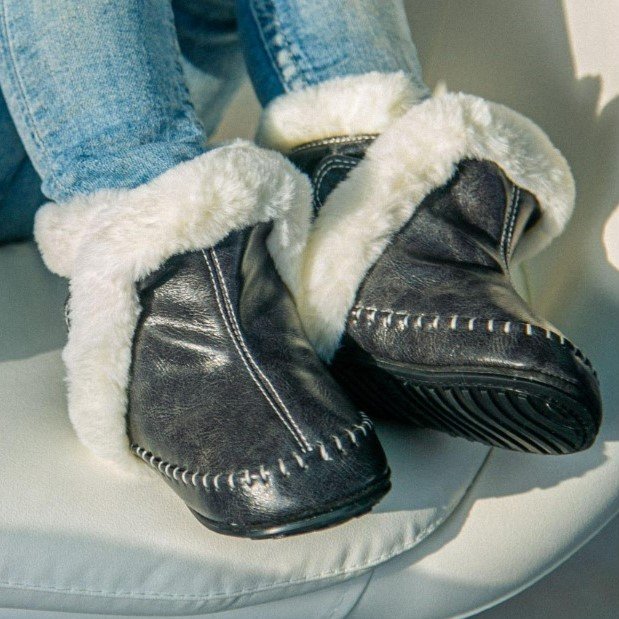 $30-$40 | Sizes 0-36 months | Leather | Ships Worldwide from USA & CA
Jack and Lily's affordable shoes are a solid option for confident walkers. We only recommend the My Flexx & My Shoes lines as they have thinner, more flexible soles than the My Kicks line. You can always find a great deal in the Flash Sale and Outlet sections, too!
---
Tikki Shoes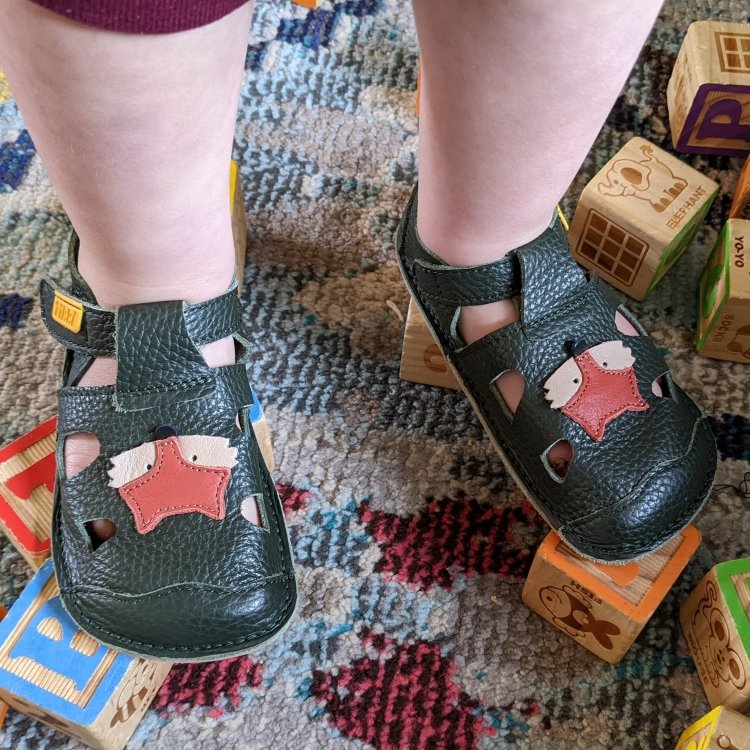 €35 | Sizes EU 19-32 | Leather and Vegan Options | Ships worldwide from Romania
Tikki Shoes has some good small child options with thin rubber outsoles like the Nido shown above. We also like their soft soled shoes. They are primarily leather, but Tikki did introduce a few vegan models made with cork last year. Shipping can be pricey outside the EU, but if you're ordering multiple pairs for the whole family (we love their adult sandals too!) it can be worth it. Read all the Tikki Shoes Reviews here.
---
Soft Sole Winter Options
You don't have to resort to heavy clunky boots for winter! Check out these sole soft boot options for babies and new walkers, so you can head out doors even in winter without restricting your child's feet.
---
---
---
---
---
More Options
There are so many great options for babies and toddlers, so don't feel limited to this list! To continue exploring more baby barefoot shoe brands, head to the Barefoot Shoe Finder where you can filter by shoe type, shipping location, and more.
Conclusion
There can be a lot of confusion about which barefoot shoes are best for babies and toddlers. We believe that most children are born with everything they need to develop well, and shoes should only be used when necessary to protect them from danger. Allowing our children to develop strong, healthy feet sets them up for future success!
A special thanks to Bernie Landels, whose book Finding Their Feet is a treasure trove of useful information for parents and caretakers and whose resources helped us write this article.