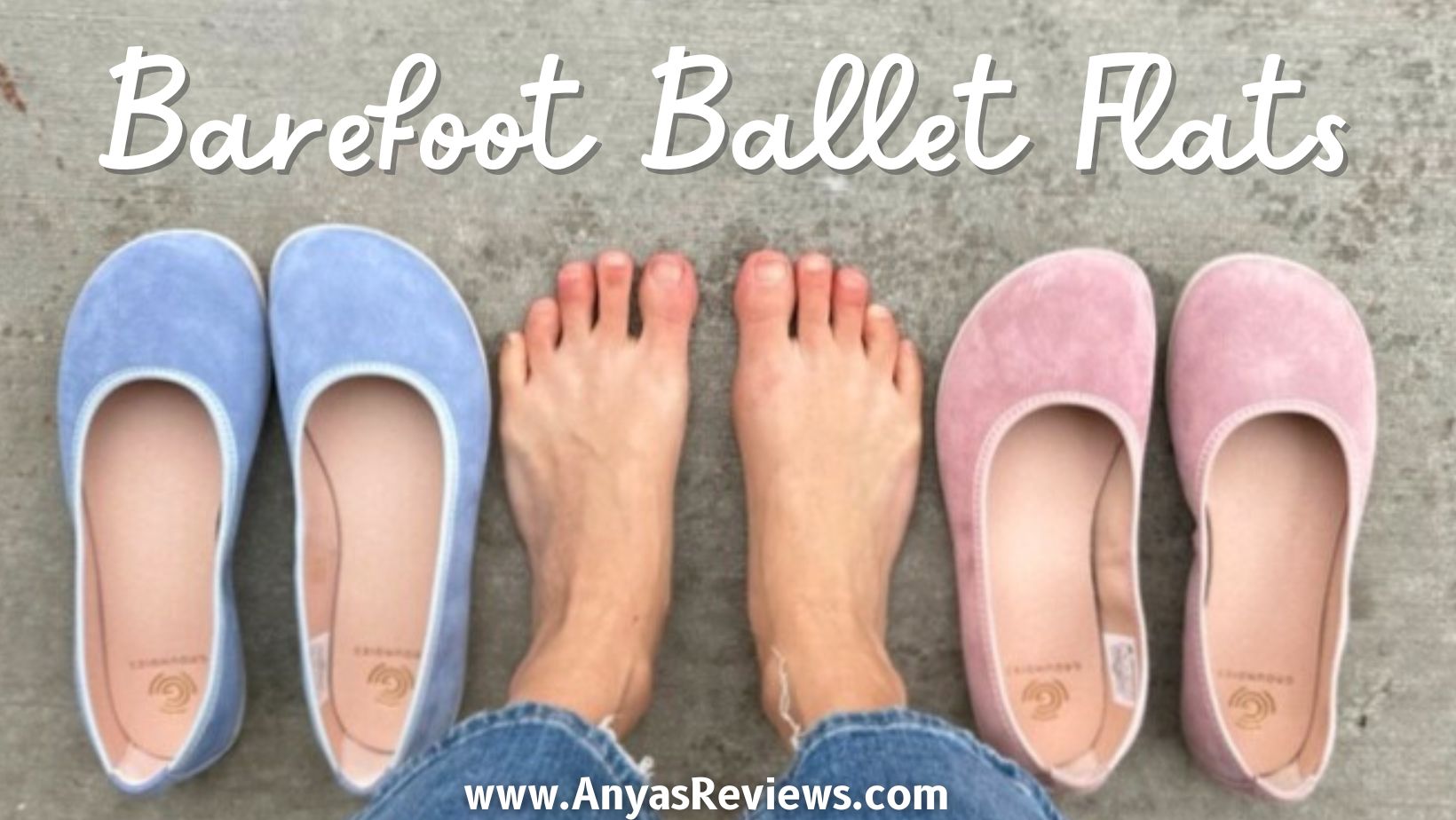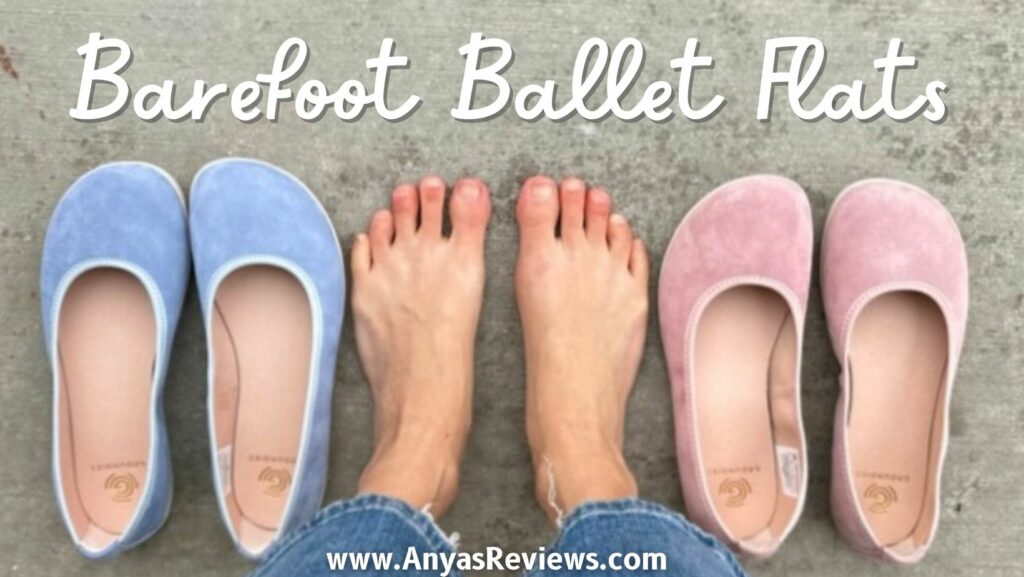 For women, barefoot ballet flats are an incredibly versatile shoe. They are classy enough to wear with a professional outfit, simple enough to wear with jeans, and somehow dressy enough to wear with a formal gown. In the world of barefoot & minimalist shoes, which doesn't usually cater to women, that's a tough find.
But ballet flats present some problems to a person who prioritizes their foot health. The lack of straps, laces, and shoe upper give you little wiggle room (literally) for fit. They have to be just right or they will either not be secure, or the material will be so tight that it scrunches your toes. Understanding your feet and your options is more important than ever when picking out barefoot flats. Read on for my personal favorite barefoot ballet flats and the complete list of minimalist ballet flats for women.
For a complete guide to all Women's Barefoot Dress Shoes, check out my All Time Best round up here!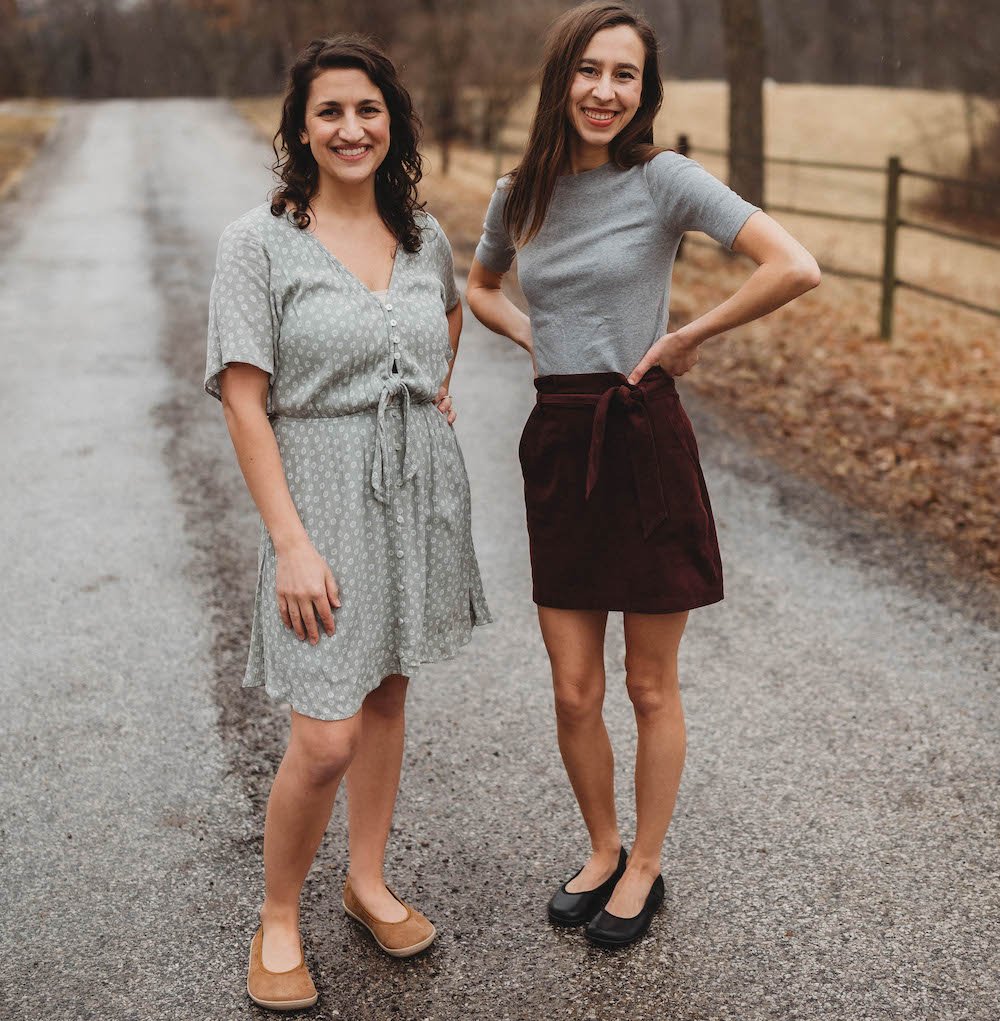 What Are Barefoot/Minimalist Ballet Flats?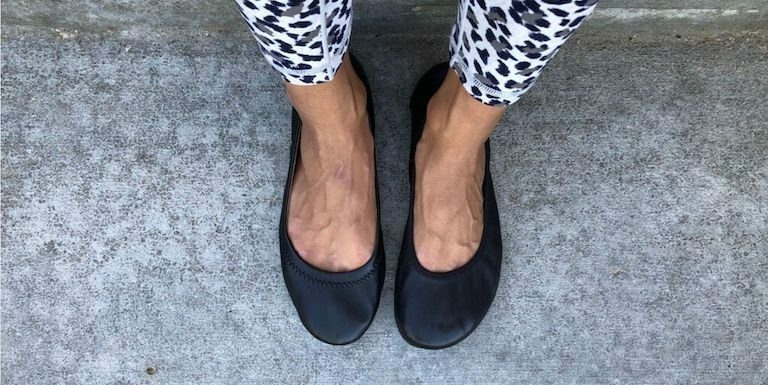 First off, a quick reminder for what we are talking about here. A flat is a flat, right? Once you start paying attention to the shape of your footwear (and how conventional footwear may be shaping your foot in unhealthy ways), you'll notice that plenty of "flats" have raised heels or have a pointy toe box that squishes your toes. As far as I'm concerned, barefoot or minimalist ballet flats (I'm using the terms interchangeably here) must have the following essential qualities:
Zero drop (i.e., actually flat). No heel whatsoever.
Shaped like a foot. No squishing of the toes into unnaturally pointy, symmetrical shaped toe boxes.
Secure to the foot. If it's not secure, your gait will be affected.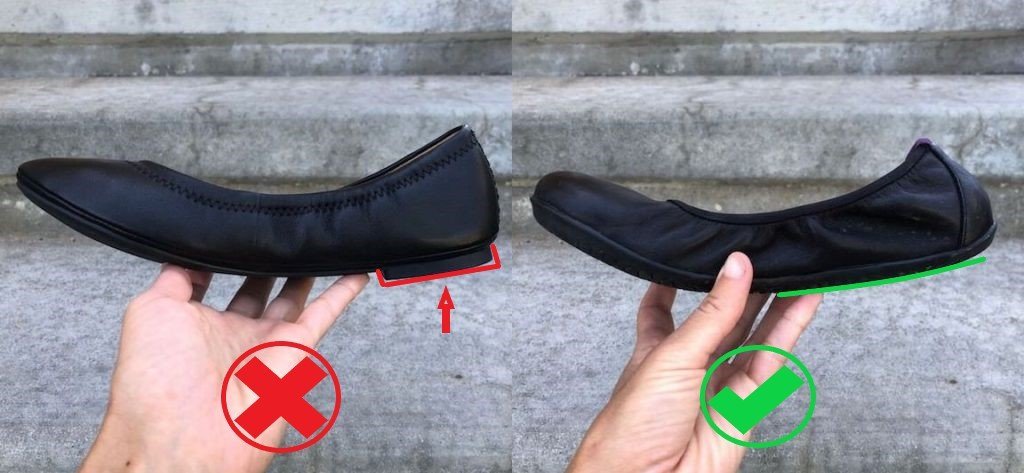 For more on why I care so much about the "barefoot qualities" of footwear, see What Are the Benefits of Barefoot Shoes?
How to Style Barefoot Ballet Flats
Because I want my ballet flats to be super versatile, I pay a lot of attention to how they are made. In general, the smoother the shoe the classier the look, so learning to notice those details can ensure you're happy with your choices. There are 3 main ways a ballet flat can be finished:
Understanding your feet is super important when choosing barefoot ballet flats! Make sure you check out this post on The Best Barefoot Shoes for Your Foot Type to learn your volume, width, and shape!
My Favorite Barefoot Ballet Flats
Below is a collection of my personal favorite barefoot ballet flats! Keep in mind that here I am covering only simple ballet flat styles without straps or details. Check this article if you'd like to see more women's barefoot dress shoe options in different styles.
Be Lenka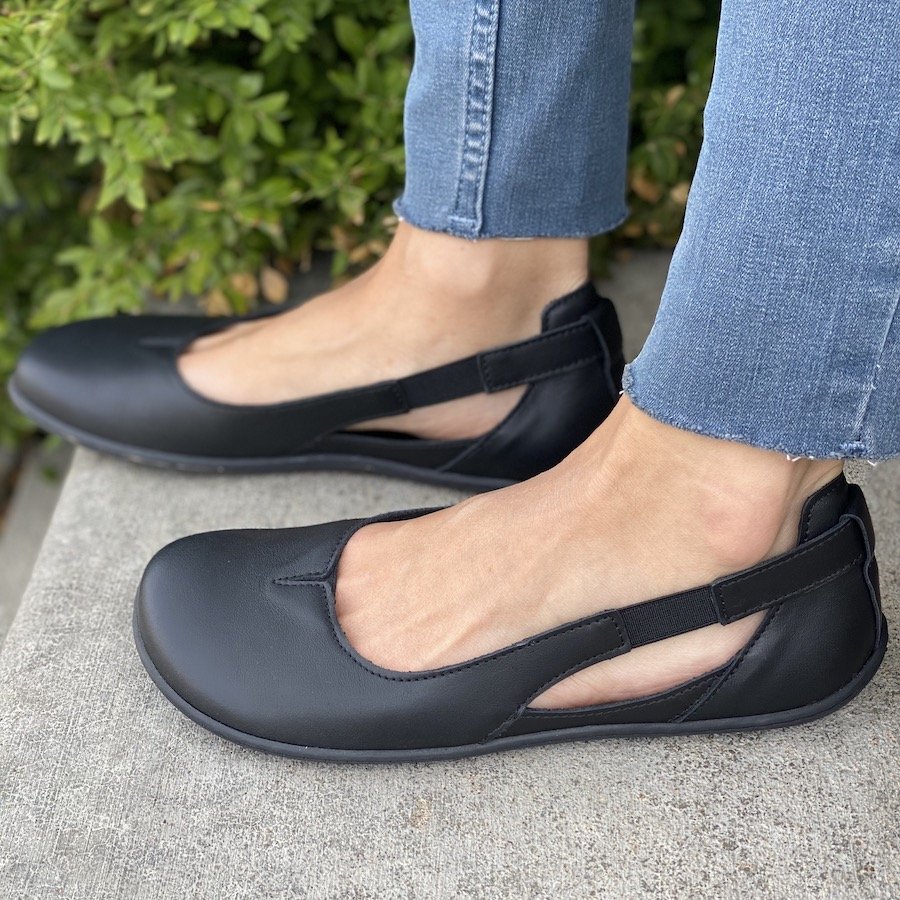 Use code ANYASREVIEWS for 5% off your Be Lenka EU purchase. We also carry the Bellissima and a limited selection of other Be Lenka flats at Anya's Shop in the US.
Be Lenka ballet flats are well made and durable, with a removable insole. I especially love the Bellissima flat that has a cut out detail for just a little bit of interest – it gives them a professional edge.
Because these have a bit more structure to them than the others we've talked about so far, I found that they felt a little tight when brand new and needed some breaking in. But after a few wears they are comfortable without slipping. I also appreciate the removable insole which gives you a little more cushion and a lower volume fit if you need it (or remove it for more space!).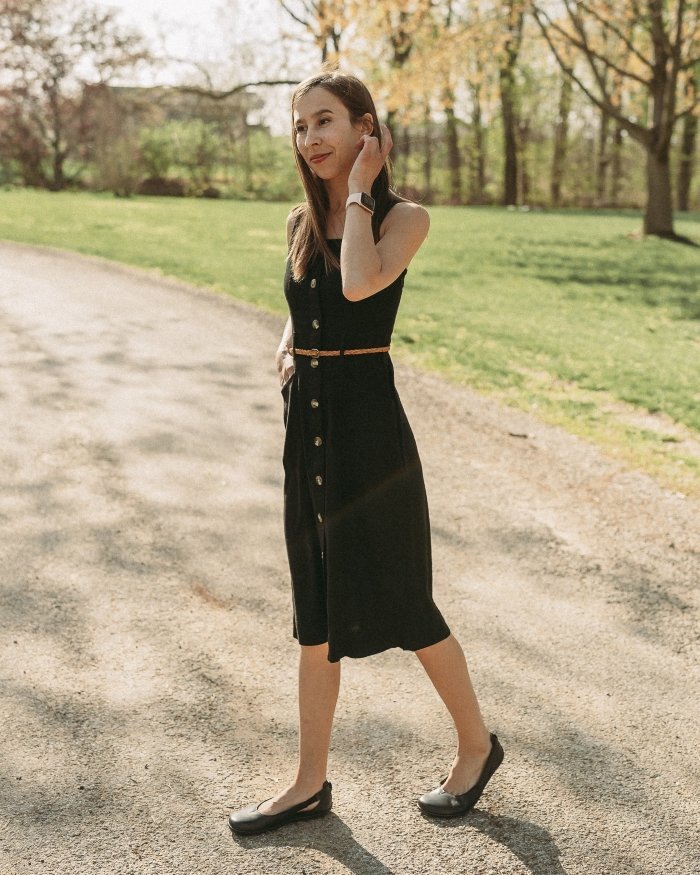 ---
Groundies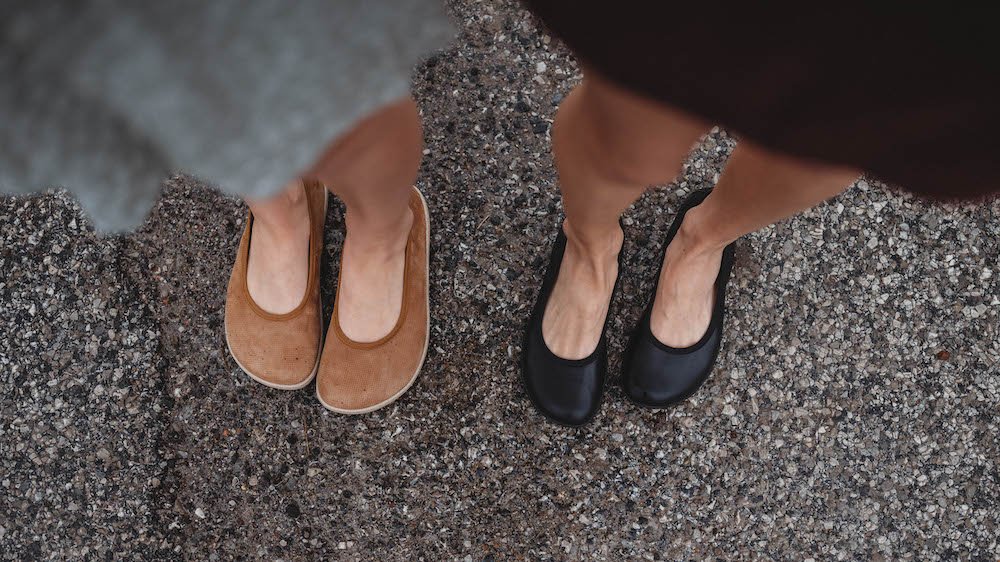 We also carry some Groundies flats in the US at Anya's Shop!
Groundies barefoot ballet flats are super light and stylish, and the two widths make them versatile for a variety of foot types.. They are sleek and stay secure around my narrow heels, while still being light and spacious for comfort. The outsoles are very thin and flexible, with real barefoot feet.
The Barefoot+ (wide width) means even people with extra wide feet will be able to enjoy the good style and quality of Groundies barefoot flats. It's not available in every Groundies flats style, but the most popular ones are. The fit has been true to size for me.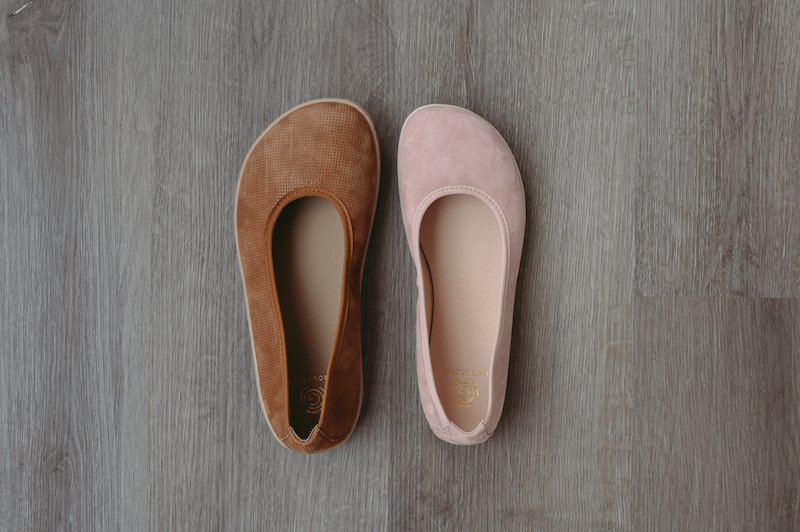 Learn more about the fit and feel of these in my Groundies Dress Shoes Review.
---
Xero Phoenix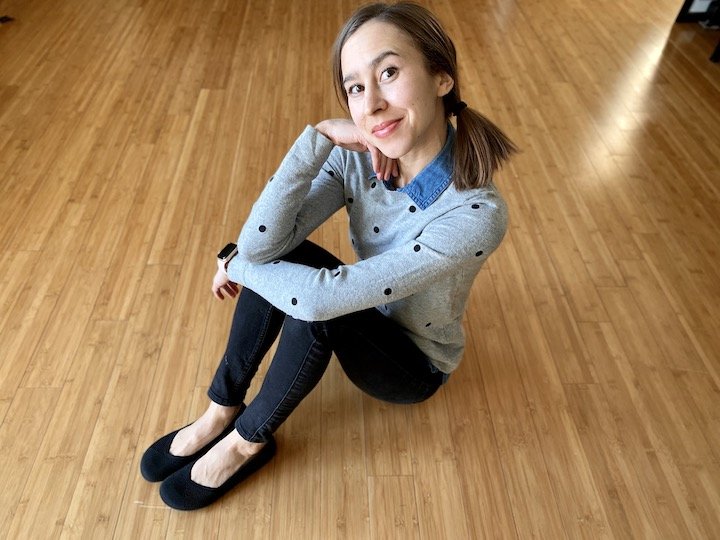 The Xero Phoenix is one of the most affordable cute barefoot ballet flats, and I find them perfect as a simple dress shoe. They are knitted, which makes them look a bit more casual, but the cut is really nice and they feel good to wear.
These also come with a removable insole, and they can be a bit loose on narrow heels. They're also frequently out of stock because they are so popular! If you can snag a pair, they are worth it.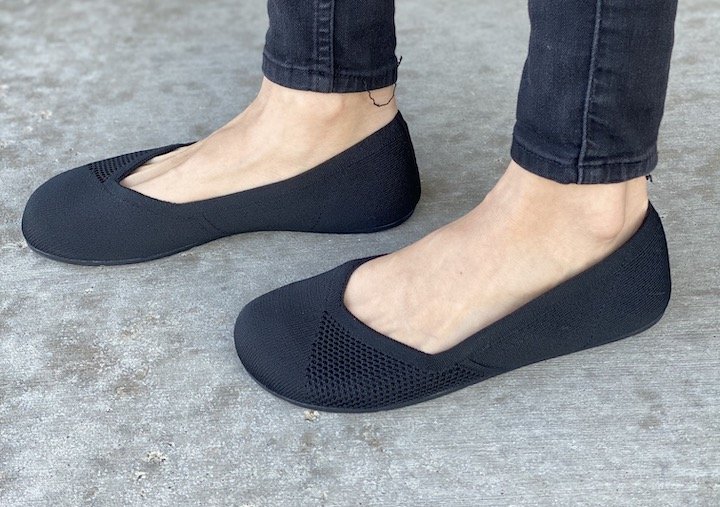 Read my detailed Xero Phoenix review here!
---
Softstar Ballerines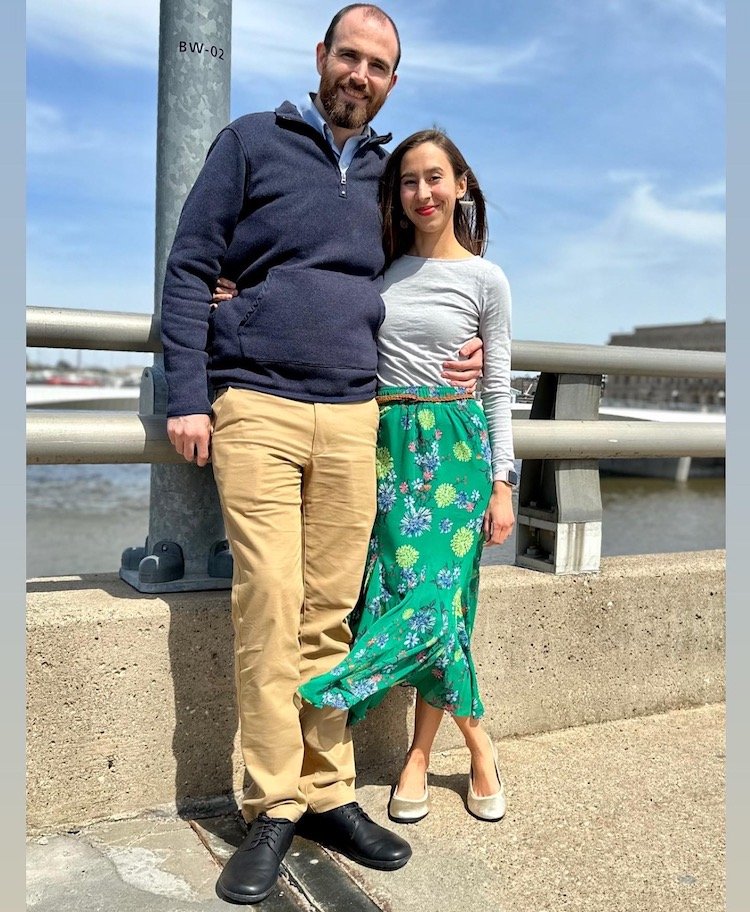 Softstar Ballerines are one of the best barefoot ballet flats around. They are soft and unstructured but not wrinkly; spacious but not bulky. You can order it in tons of different colors and it has a very mainstream look (calling all Tieks fans!). I love the metallics myself. Softstar hand makes all their shoes in Oregon and they are high quality.
I appreciate that the insole is a little bit cushioned, which makes these more practical for all-day wear or pavement walking (they're a favorite among teachers). And these also come in two widths!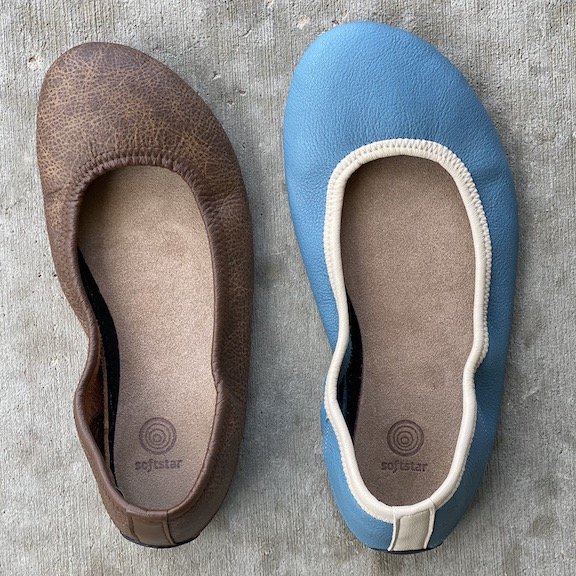 The heel does slip a little more in these than in my Groundies, so I added a heel grip once the leather broke in. You can also get a sport strap if you're concerned about slipping and they also come in a wide version. I have one pair in a 5u/women's 6, and another in a 6u/women's 7. The fit is true to size.
Read my detailed review of the regular and wide Softstar Ballerine here!
---
Shapen Tulip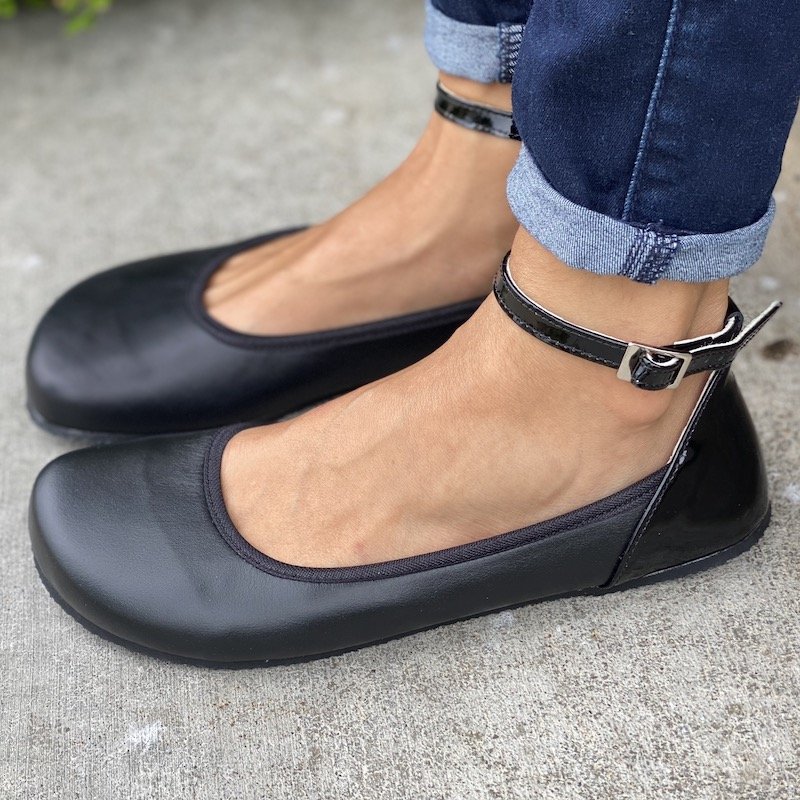 Use code ANYA5 for 5% off. Note that they don't accept returns outside the EU
The Shapen Tulip is a classic ballet flat but with an option ankle strap. I love that detail because it makes the flats more secure on your foot and is super cute. The Tulip also comes in two widths, so work for a lot of people with extra wide feet! They have some gorgeous metallics and neutrals that are perfect for weddings and other fancy occasions.
The sizing is a bit funky on the Tulip because the sole curves, so I find that I need a bigger size than usual in them or my toes get pushed to the front of the shoe. It's extra confusing because Shapen makes another dress shoe I love called the Poppy that runs big and most people size down in! *This is no longer true for the newest version of the Tulip, the 3.0! I will update with more details soon.*
The Tulip also is more structured than the other flats listed here, so I found that the leather can rub a bit on my sensitive skin. Getting the right size and a little moleskin goes a long way!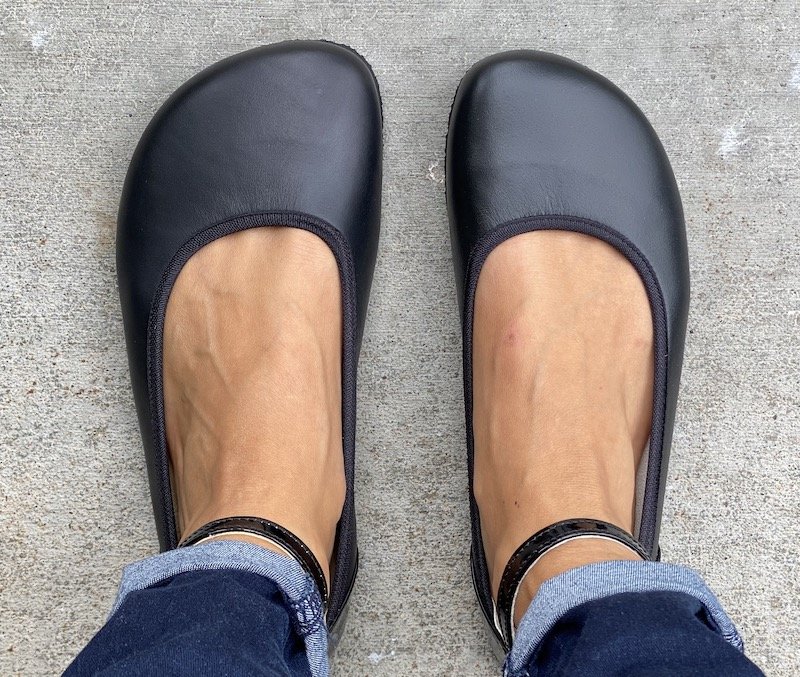 These are my favorites, but there are more options if you haven't found what you're looking for! See below for a full list of barefoot ballet flat options.
---
The Full Minimalist Ballet Flats List
Here is a full list of ALL the barefoot ballet flats out there, in alphabetical order!
Best Brands for Wide Feet
Have extra wide feet? Here are all the barefoot ballet flat brands that cater to wide feet, with many custom options to get your exact shape and size.
Vegan Barefoot Ballet Flats
If you wear vegan shoes, here is a list of all the vegan barefoot ballet flat options. Check out this post for more on vegan barefoot shoes.
Barefoot Mary Jane Flats – with a Strap
These barefoot ballet flats all have a mary jane strap, which can make them fit more securely.
And that's a wrap on the best barefoot ballet flats in the industry! You can see that there is a wide variety