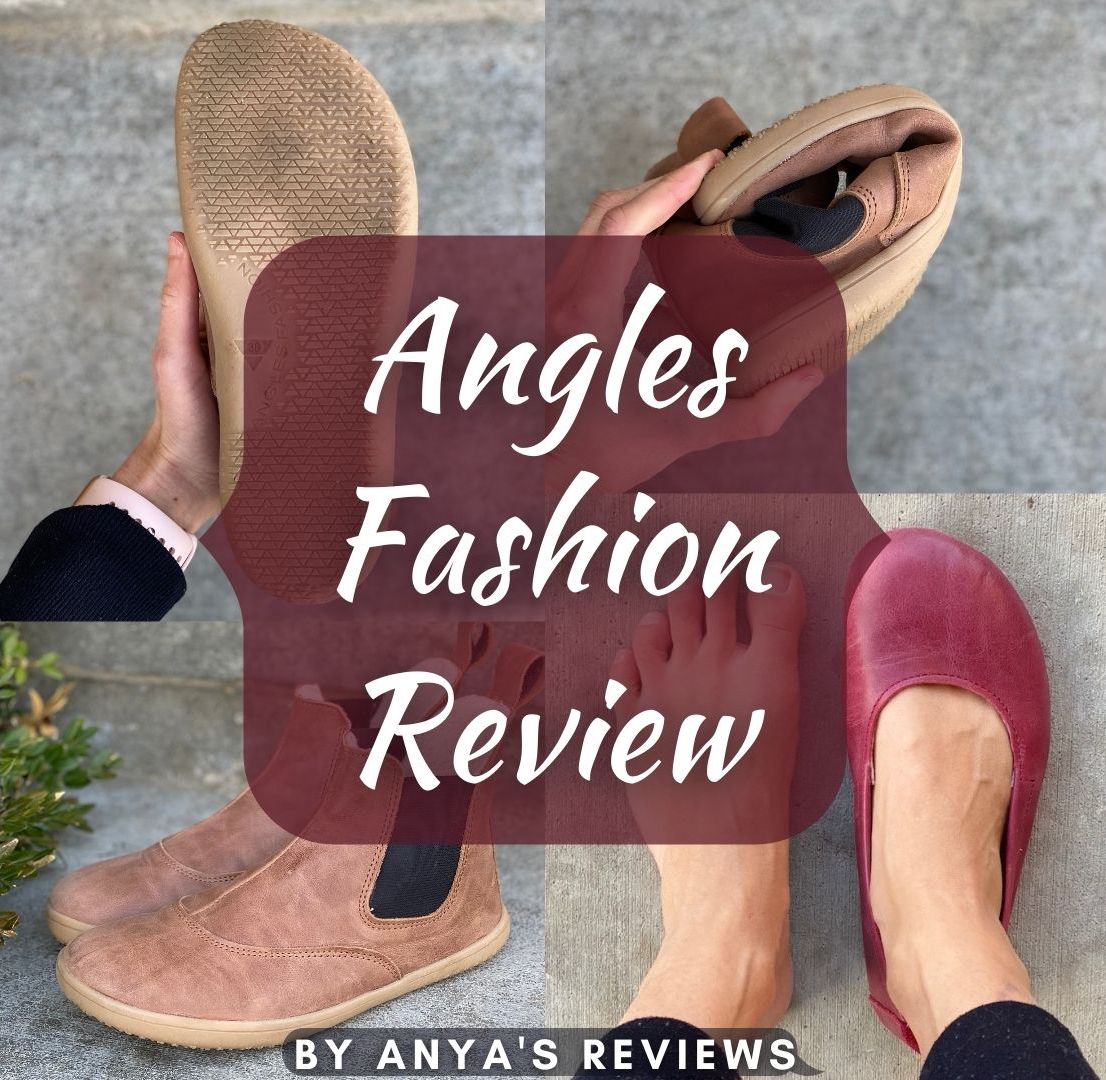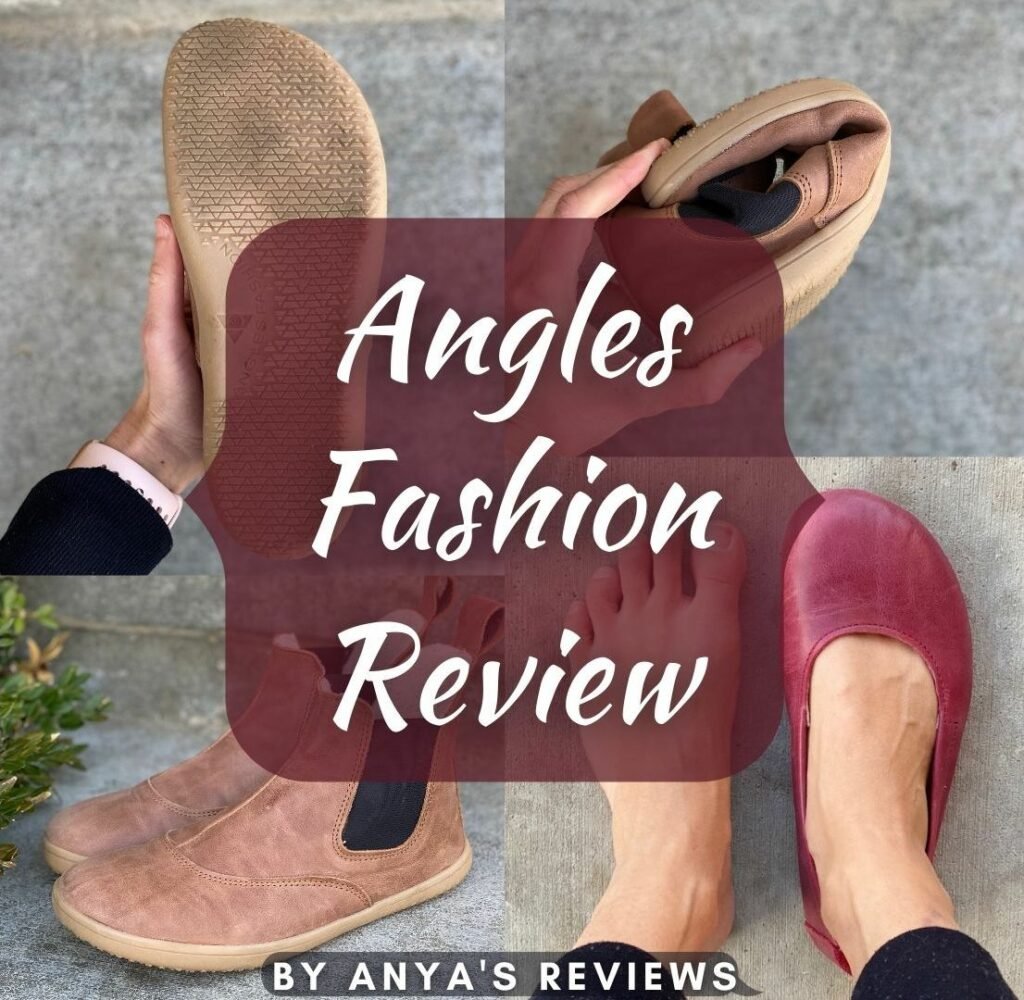 Angles Fashion is one of our favorite lifestyle barefoot shoe brands – They make beautiful foot-shaped boots, shoes, and flats so we can be stylish and still respect our bad-ass muscular feet!
In this review, we will cover Angles Fashion sizing, fit type, how to order, and a close look at 5 styles we love.
This is a joint review from Samantha and me (Anya)!
Meet Angles Fashion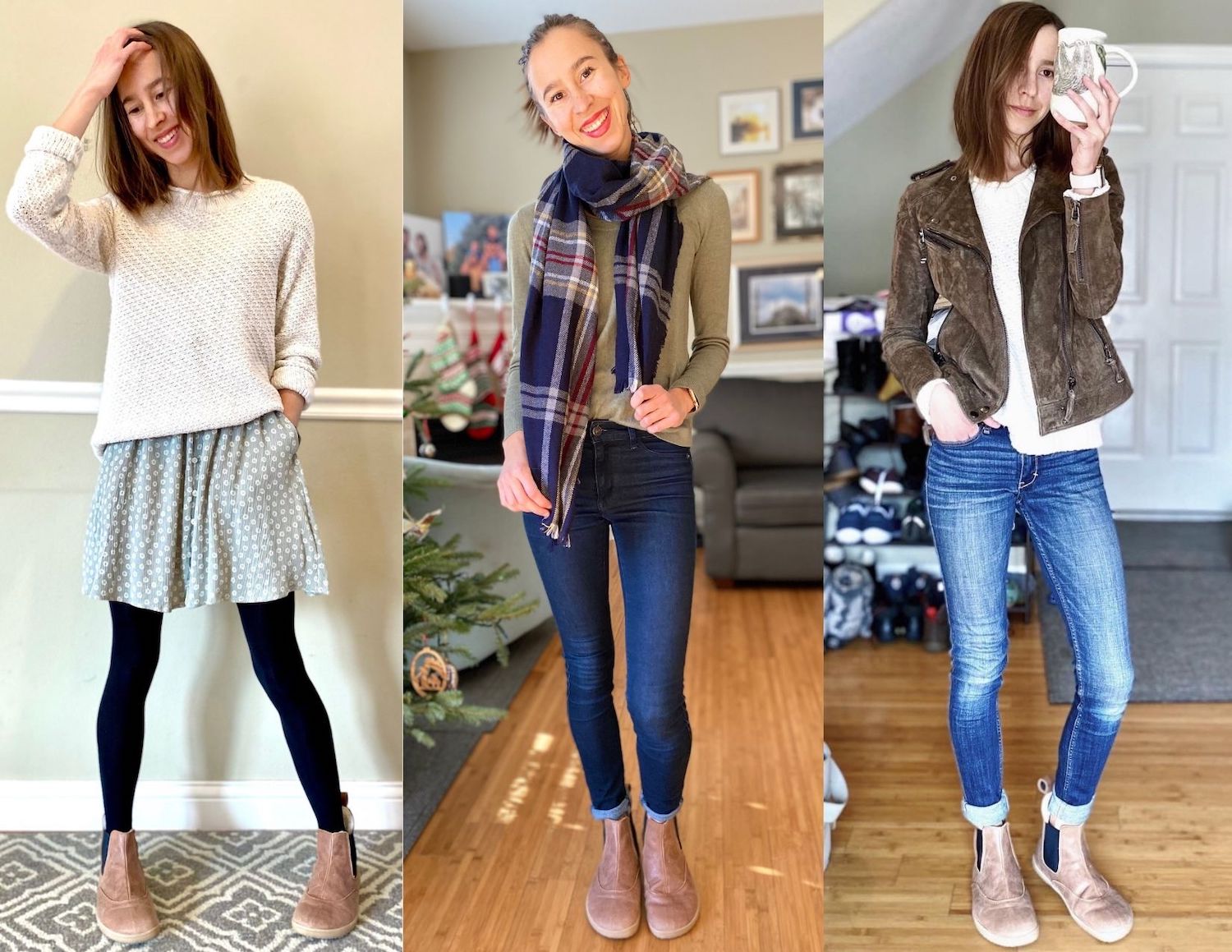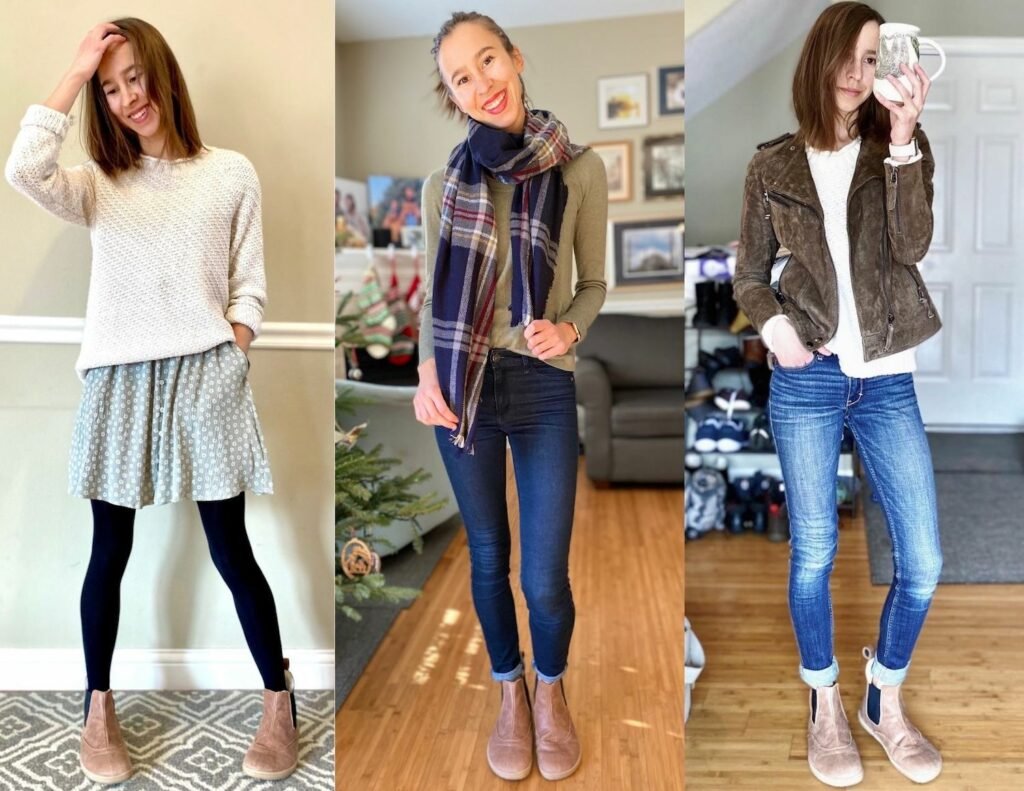 Leather & Vegan Options | Lined & Unlined Options | Sizes EU 35 – 46 | Extra Wide Available | Ships from Czech Republic
Use code ANYA for 5% off your order
You can now find Angles Fashion at Anya's Shop!
Angles Fashion is a Czech brand that makes modern, natural footwear using European sourced materials. Their name, Angles, is a reference to how their shoes respect the actual angles of the foot. In fact, the founders measured the feet of over 1000 people to ensure their shoes would be suitable to the local population – how cool is that!? Most shoes nowadays are nowhere close to resembling a human foot, so it's a real treat to find a brand that combines a natural foot shape with good style.
If foot pain ails you, the wide toe box on Angles Fashion shoes can offer relief. Want to learn more about natural footwear/barefoot shoes? Read this post for a break down.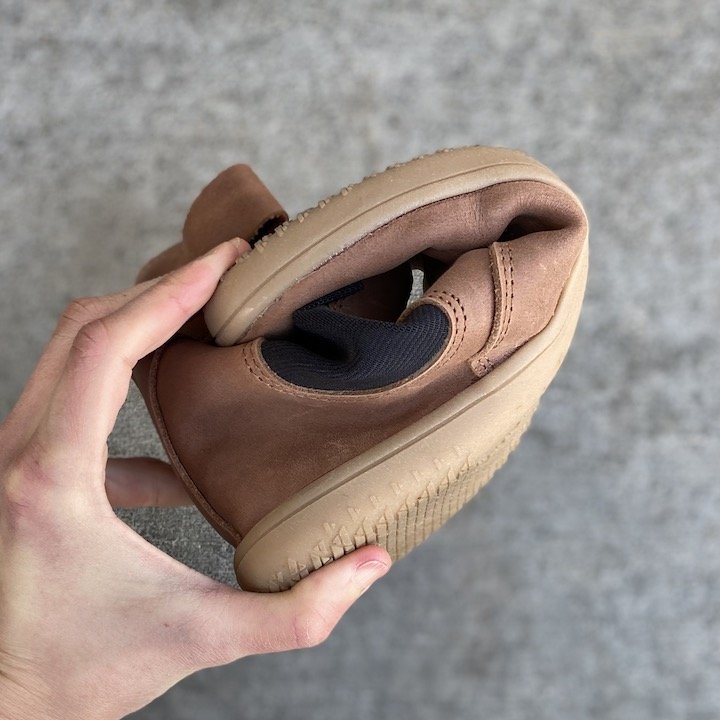 I stalked Angles' website for several months before finally pulling the trigger and can now say that they are even more beautiful in person – not to mention how comfortable and genuinely well made they are! Almost all their shoes are leather, but you can find a few vegan options here.
Angles Fashion Sizing & Fit Type
Sizing: Angles provides a size chart for each product, which is very helpful. In general, the unlined (Klasik) shoes fit true to size. The thermal lined Winter versions of their boots fit closer and Angles indicates that the lining takes up about 1mm of width, and 4mm of length. Most people will size up one in the Winter options, but you might even want to go up two sizes if you plan to wear thick socks.
Angles also offers what is almost a half size/extra wide version in the larger sizes of many of their styles. It's designated with a plus sign (+) and is usually about 3mm wider & 2mm longer than the standard size. Exact measurements are included in the size chart.
Here's a guide for measuring your feet + understanding a size chart!
Width: Samantha and I both have wide feet, and are very comfortable in our Angles shoes. The toe box has a straight line at the big toe with a gradual slope down to the pinky so they should accommodate most foot shapes except very square.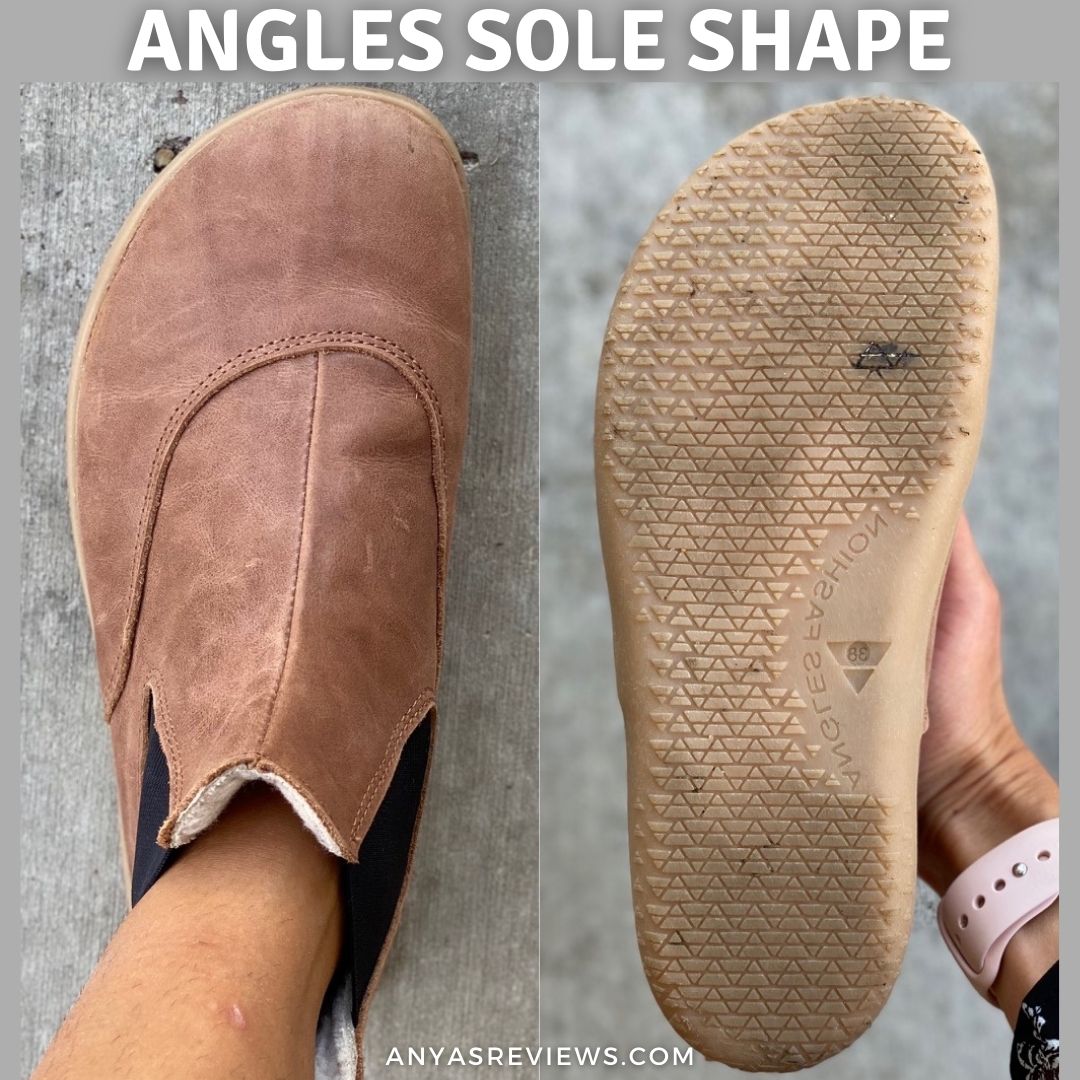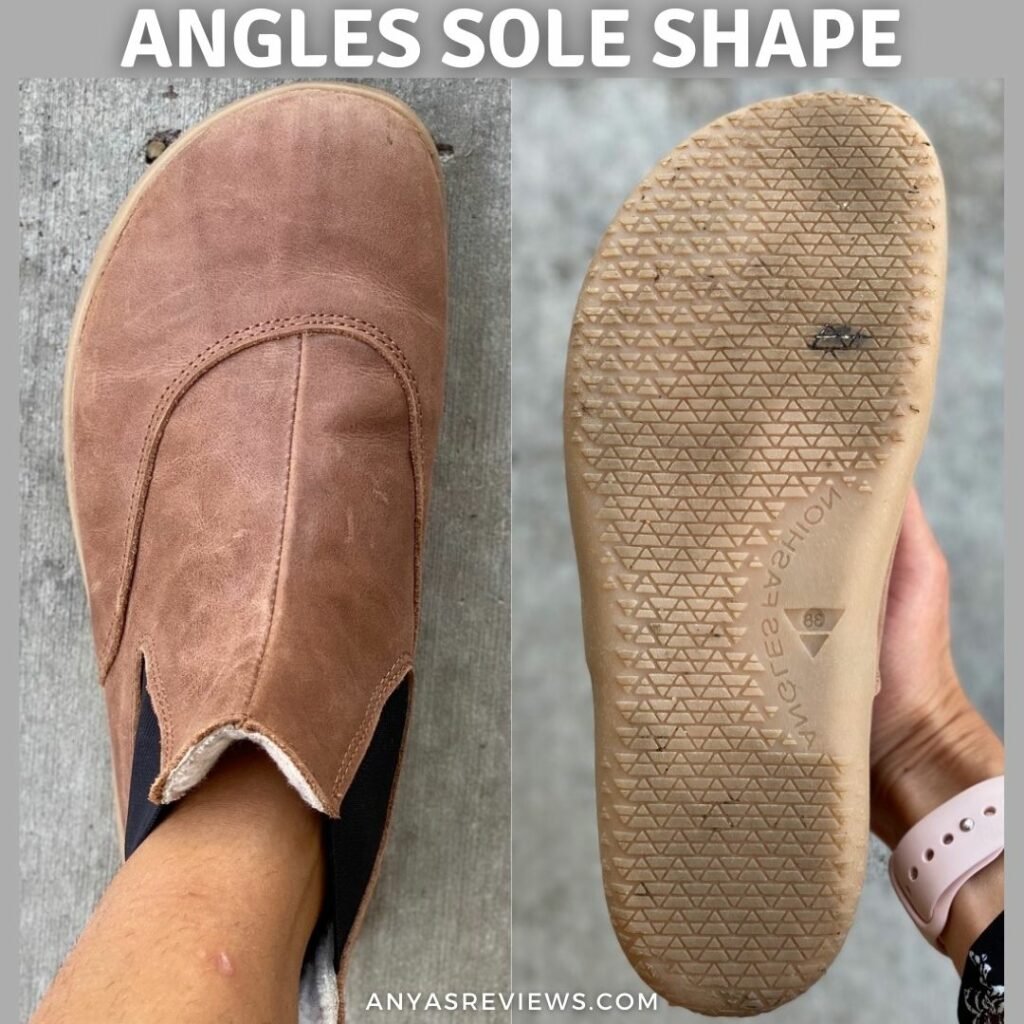 The unlined shoes have an average heel width, so if you have narrow heels you might need to use some fit hacks to prevent heel slippage. I found the thermal-lined Winter boots to fit pretty close around narrow heels and I didn't need to make any accommodations.
Volume: Samantha and I have very different foot volumes – she has high arches and I have low volume feet. The unlined boots fit her high volume like a glove, whereas I need to make use of the low volume fit hacks to make them fit well. However, the lined boots fit very snug around my shallow feet and skinny heels.
If you need help determining your foot type, check out this post!
Ordering from Angles Fashion
All Angles Fashion shoes are made and shipped from the Czech Republic. In stock items ship right away, otherwise your boots will take about 5 weeks to be produced (Angles does small batch production). It is clearly labeled on every product whether or not it is in stock, so there shouldn't be any surprises there.
Unfortunately, Angles no longer ships to the USA, but if you live somewhere they do, you can use code ANYA for a 5% discount!
You can also find select styles at Anya's Shop in the US and worldwide shipping available!
Shoe Care
Except for just a few vegan options, Angles Fashion shoes are all made of high quality leather. The best thing about good leather is that it responds to treatment readily and can look beautiful forever.
When Samantha first received her Dafne boots she sprayed them with Collonil Carbon Pro to protect from water. Later she gave them a nice treatment of Bickmore 4 leather conditioner because the leather was looking a little thirsty. It doesn't change the appearance of the leather much, but it has brought them back to a healthy richness. Between those two products these boots are looking good and keeping her dry.
Read this post for a complete guide to caring for your barefoot shoes
Our 5 Favorite Angles Models
Angles Dafne Review – Midheight Boot
by Samantha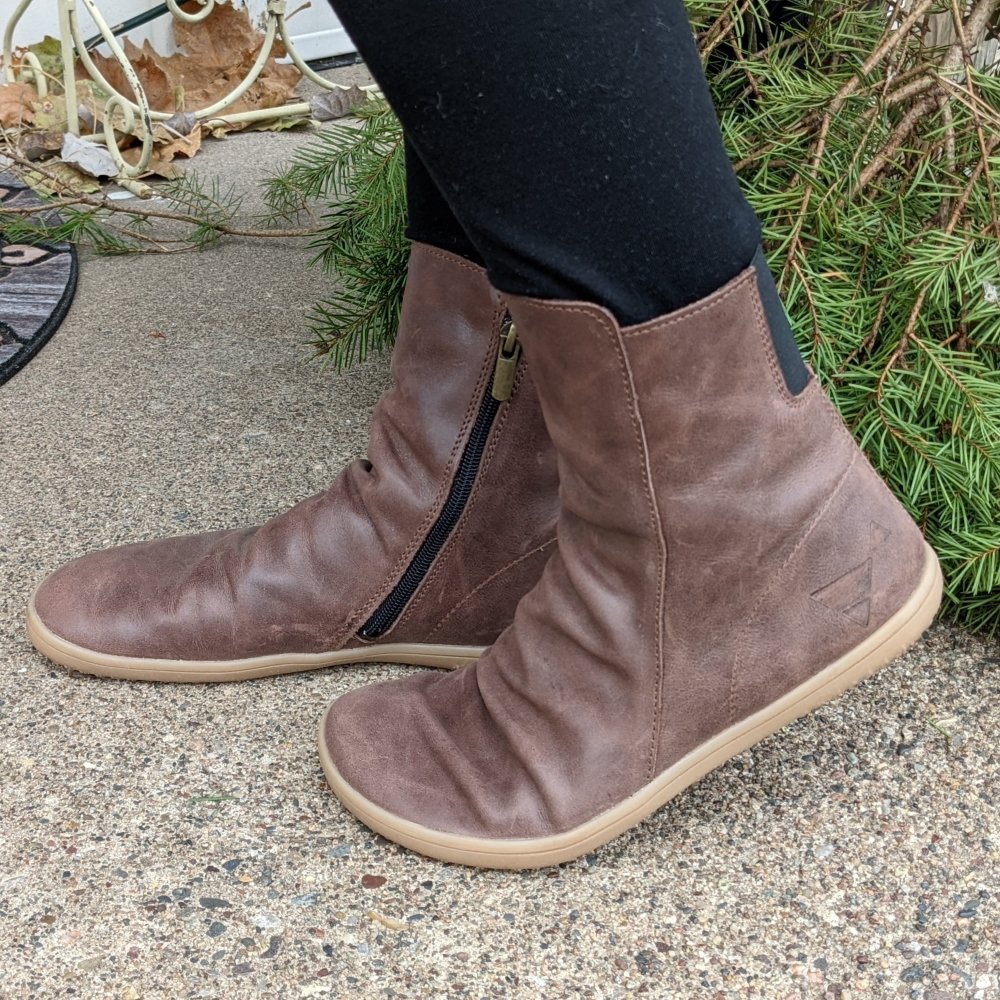 Leather | Lined or Unlined | $186 | EU Sizes 37-42
These boots were exactly what I was looking for to replace the Blowfish boots that were my previous go-to before I discovered (and fell hard for) barefoot shoes. They're absolutely delightful to wear – lightweight, roomy, and the Coffee color was just the right mid-tone brown. The Dafne boots are also available in black, light brown, burgundy, and navy blue. Since I wanted to wear these for fall, mild winter days, and spring – I opted for the unlined version. The outsole is a thin 3mm rubber with a low wall around the edges that your foot sits down inside. It has great ground feel, and the footbed is lined with leather as well as the heel area. The rest of the inside has a thin textile lining. I usually wear them with socks but they're perfectly comfortable barefoot as well.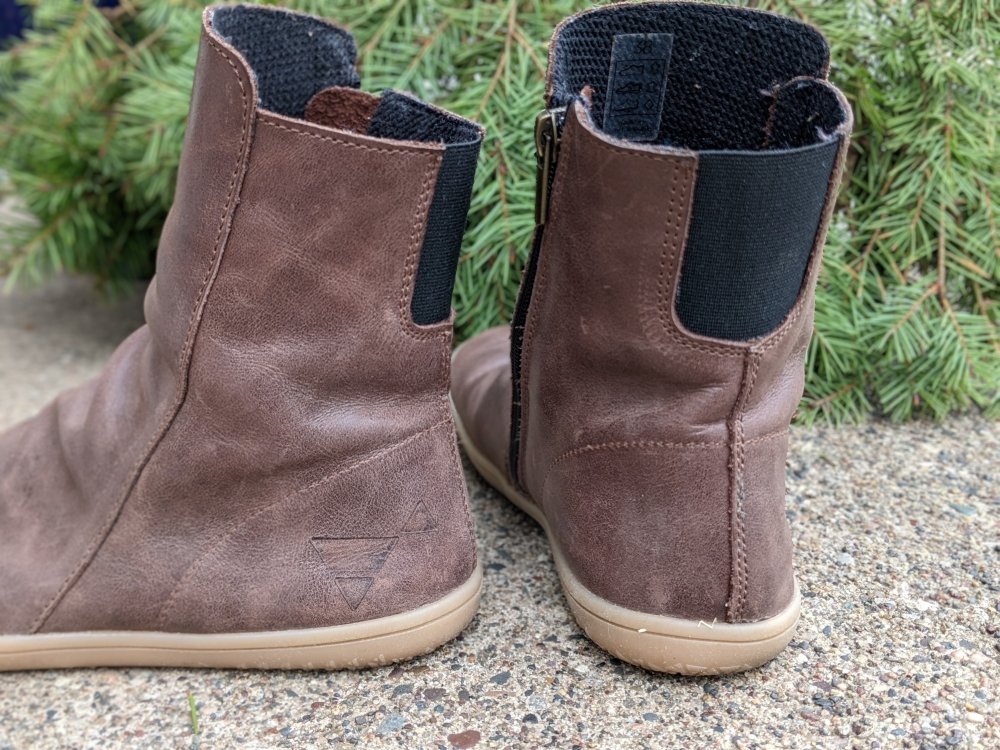 The Dafne boots feature an inside zipper that spans the entire height of the boot making these very easy to get on. They're taller than your typical chelsea/ankle boot (my size 38 are about 7″ tall) and they fit nice and close to the leg. The elastic panel at the back makes these very comfortable to walk in without detracting from the overall sleek look of the boots. They were comfortable right out of the box and required no breaking in! In short – I love them and wear them all the time. They are my absolute favorite barefoot boots I have tried.
Style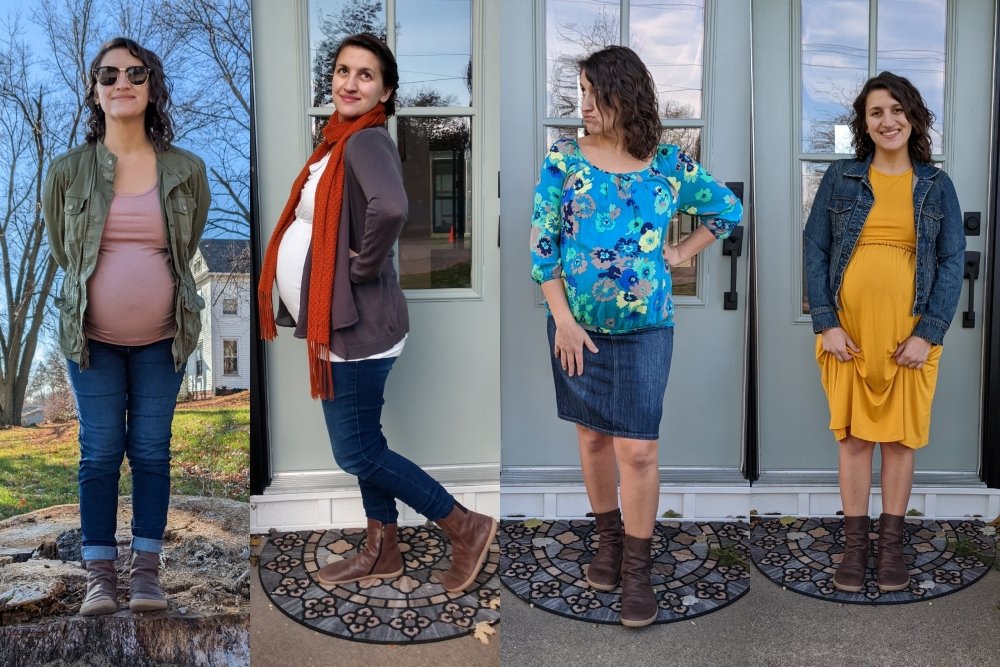 I wear these casually for the most part – usually with jeans or leggings, but I had a request to show how they looked with skirts and dresses so I dug through my maternity wardrobe to see what I could come up with! They pretty much go with everything.
---
Angles Afrodita Light Review – Ballet Flat
by Anya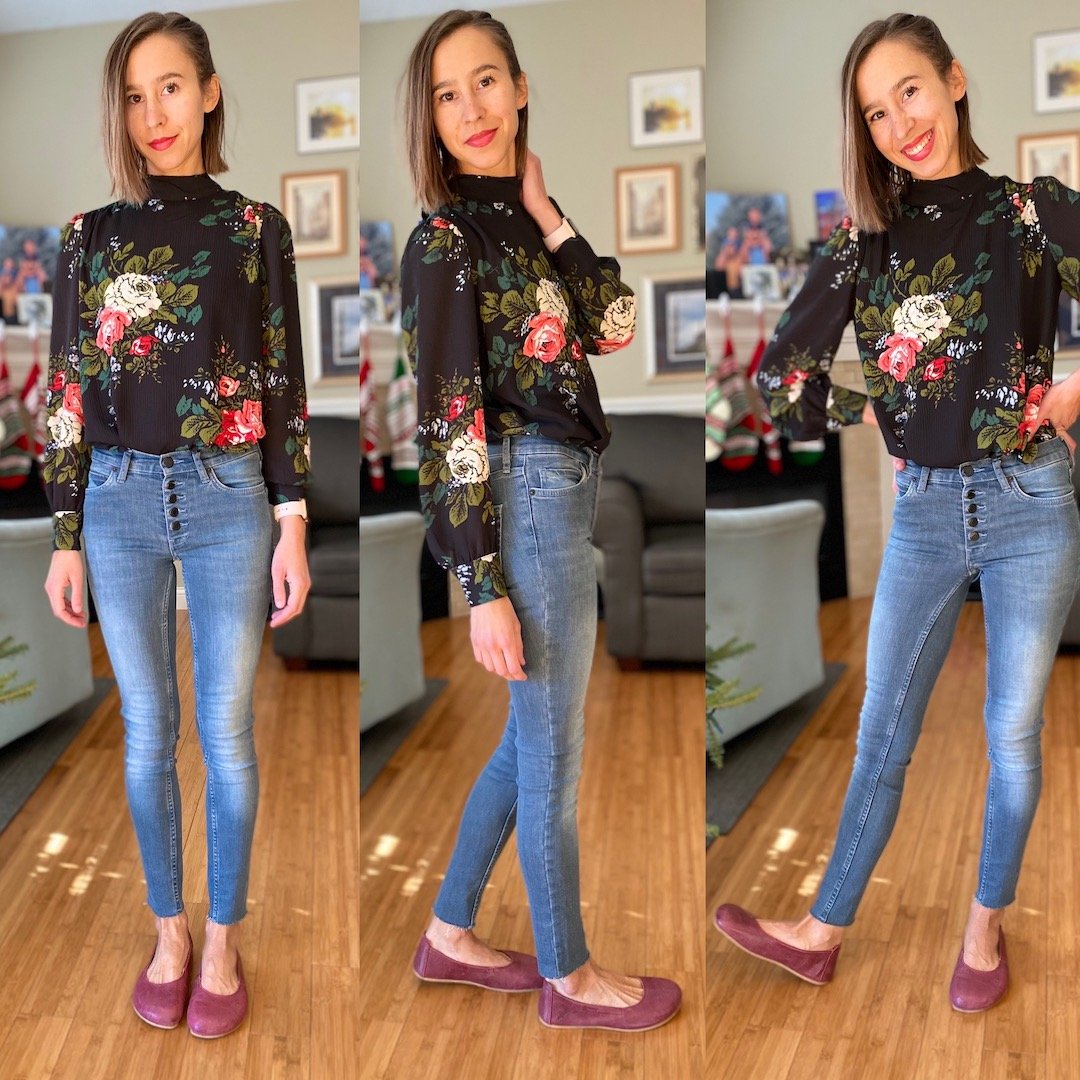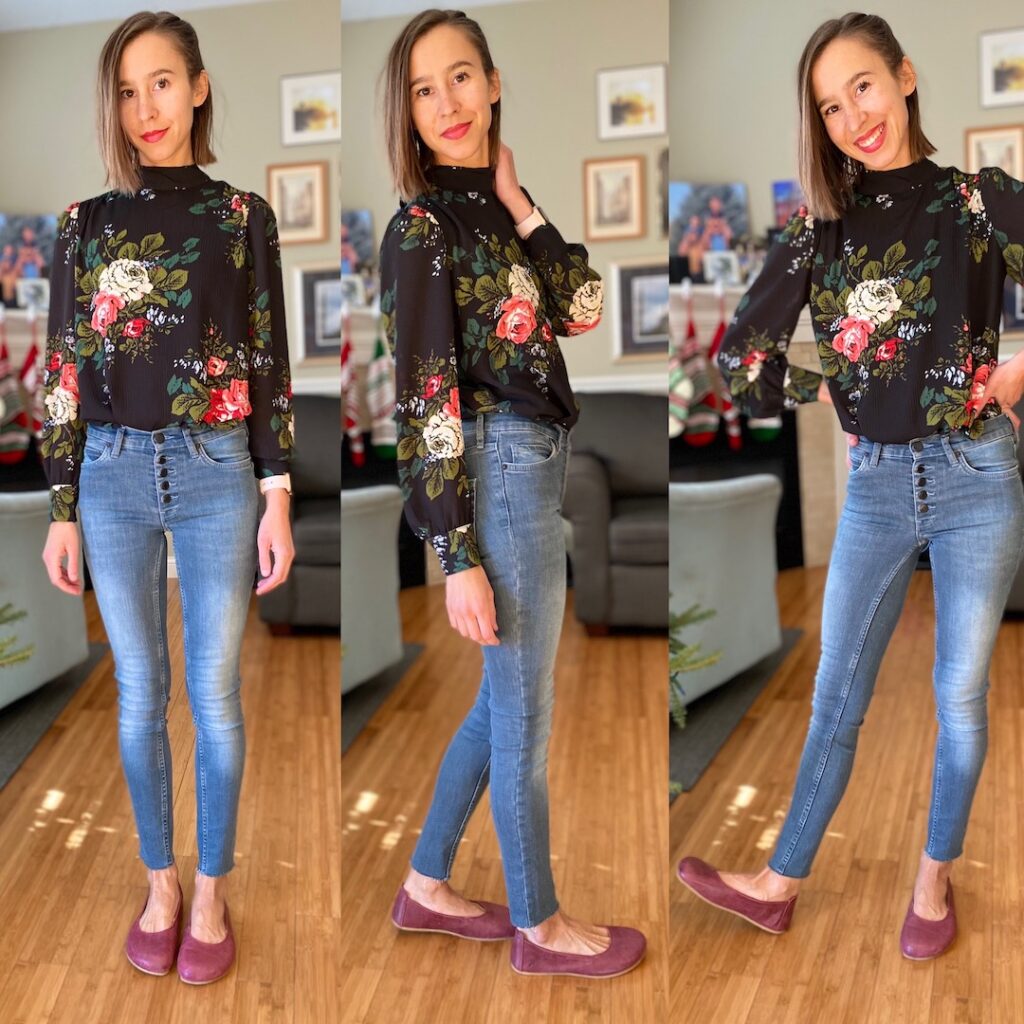 Leather | Unlined | $150 | EU Sizes 35-44
The Afrodita Light is a simple ballet flat with ample toe space. I got my usual flat size EU 36 (or US women's 6) and they fit my length and width really well. The leather is soft and thin, but sturdy. They are light, flexible, and have a moderate amount of ground feel – the rubber sole is 3mm thick.
I was concerned they would slip off my narrow heels, so was prepared with moleskin. A layer of it in the heel has been sufficient and they stay on pretty well (read narrow heel fit hacks here!). But like almost any open ballet flat, they will flop off if I get too crazy. For me, these are shoes for walking and standing, and not much else.
We now carry the Afrodita Light at Anya's Shop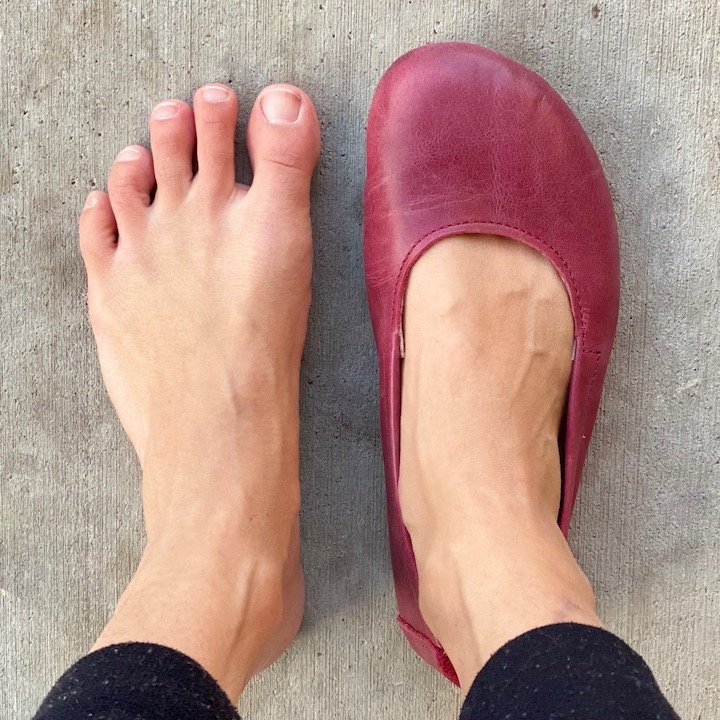 Angles makes several ballet flat styles in lots of pretty colors.They have two narrower options, the Harmonia and the Athena, if you don't have a wide forefoot. And there's the option of a strap if you need more security. The color shown here is Light Burgundy and to me looks like rose or deep pink. They're wonderful flats for wide feet. You can see below several barefoot ballet flats organized from narrow to wide – Angles is one of the widest options.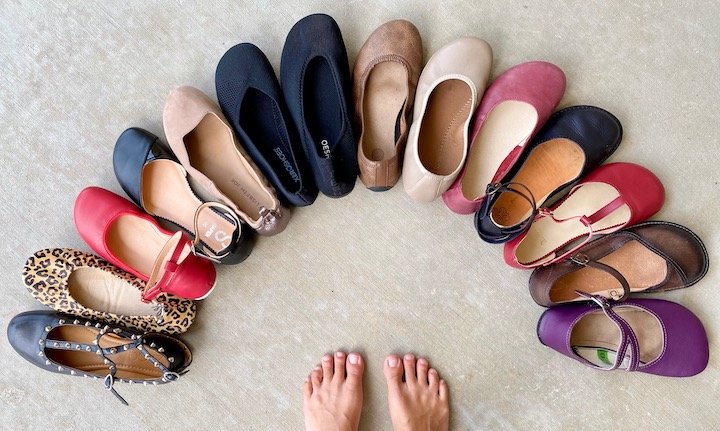 See my 10 favorite stylish and dressy barefoot flats in this article!
---
Angles Kairos Review – Riding Boot
by Samantha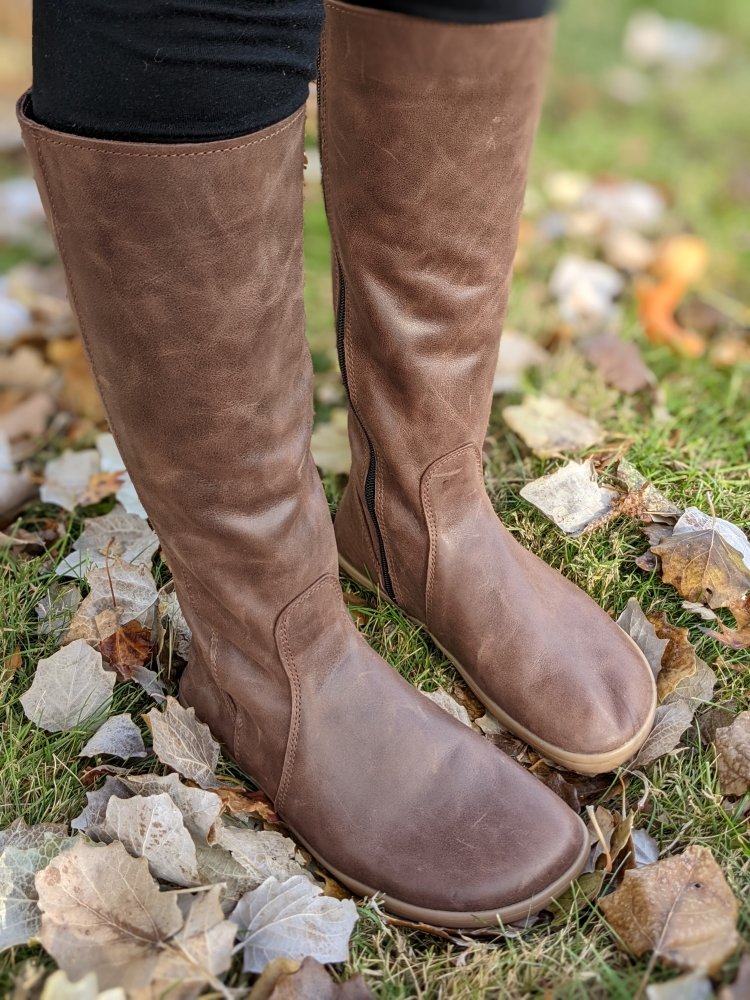 Leather | Lined & Unlined Option | $223 | Sizes EU 37-42
The tall Kairos boots from Angles are gorgeous and definitely give off that classic riding boot vibe. There aren't a huge number of options for barefoot riding boots (see the full list here) and I didn't think these were anything special until I saw a real-life photo of them from a member of The Barefoot Style Community. They looked so much sleeker than the stock images!
There were no surprises on fit since I already had the Dafne boots in the same size, and Angles unlined boots are consistently sized. They fit very much the same with just a smidge more volume over the foot. The shaft of the boot is unlined, and the same smooth leather footbed lining also covers the area over the foot. There is just a small area of elastic at the top back of the boot to give these a little flex while wearing, and the full length zipper makes these a breeze to put on.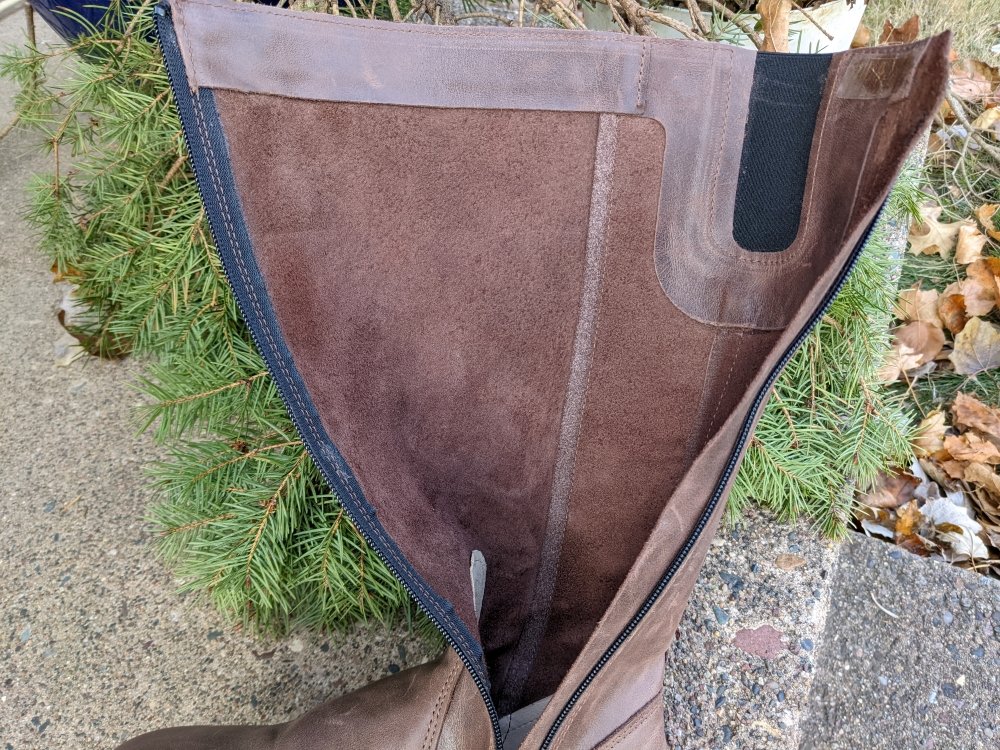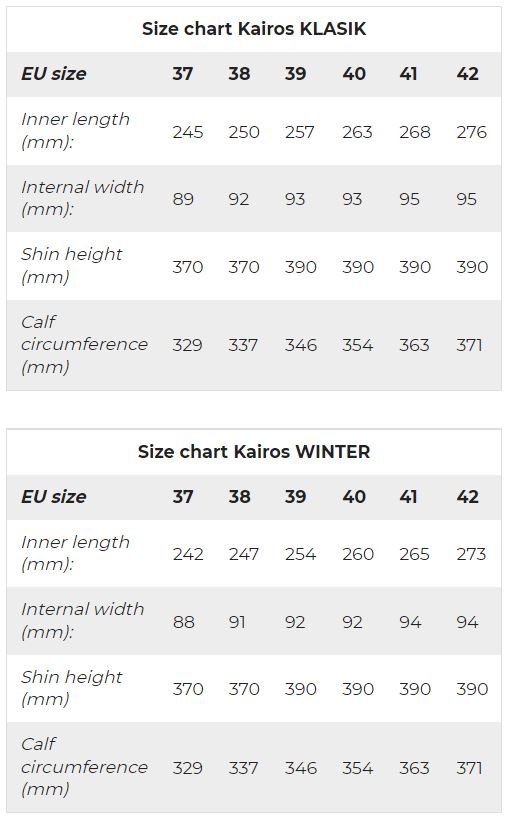 Kairos is available lined or unlined and I've included the size chart here for your convenience because I could only find it on the Czech website, not the English. As you can see, the calf circumference does get bigger with each size and it is accurate – I measured! This chart is also a good example of how the internal dimensions differ between the unlined (classic) and lined (winter) versions of the same boot.
These have a slim fitting calf, so are great for people who are often swimming in riding boots. If you have a wide calf, The Boot Band is an ingenious device you can add zip in your tall boots to get a wider circumference.
---
Angles Artemis Review – Chelsea Boot
by Anya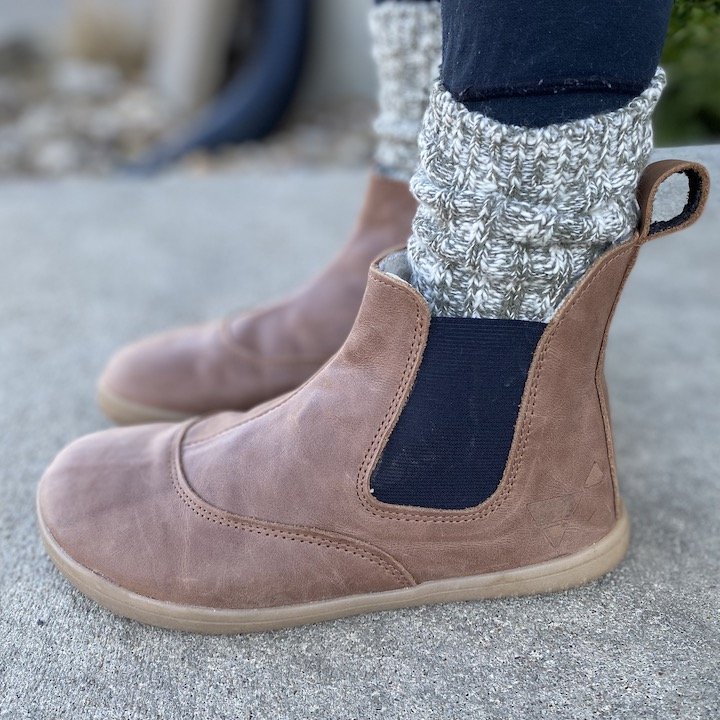 Leather | Lined & Unlined Option | $177 | Sizes EU 37-46
The Artemis is a pull on chelsea boot that can come with a "Klasik" leather lining or a "Winter" thermal lining. I chose the winter lining, because it's ridiculously cold here for half the year, and I love them to pieces. The thick lining works great on my low volume feet and narrow heels. I got an EU 38 (one size up from my usual chelsea boot size), so if you have high volume feet and/or plan to wear thick socks with your Winter lined boots you might want to go up two sizes.
They are really warm and style effortlessly with my wardrobe. And of course, the pull on chelsea style is so convenient. I wear them all the time! In fact, they were featured in my 10 All Time Favorite Barefoot Boots roundup.
Artemis in Klasik leather lining now available at Anya's Shop!
---
Angles Zeus Review – Combat Boot
Leather | Lined Only | $233 | Sizes EU 37-46
I picked out a pair of these gorgeous combat boots in Burgundy, but unfortunately they haven't arrived to me yet! However, because Angles has a consistent shape and sizing, I know that I will love them. They are made of the same high quality leather as the other boots shown here, but lace up and have speed hooks at the top. Yay for a stylish and practical combat boot style!
---
Conclusion
Samantha and I love our Angles Fashion shoes! They also make desert boots and derby style shoes that work great as a masculine dress shoe. If you'd like to see how Angles compares in width and shape to other barefoot shoe brands, check out this huge visual comparison of 38 brands!