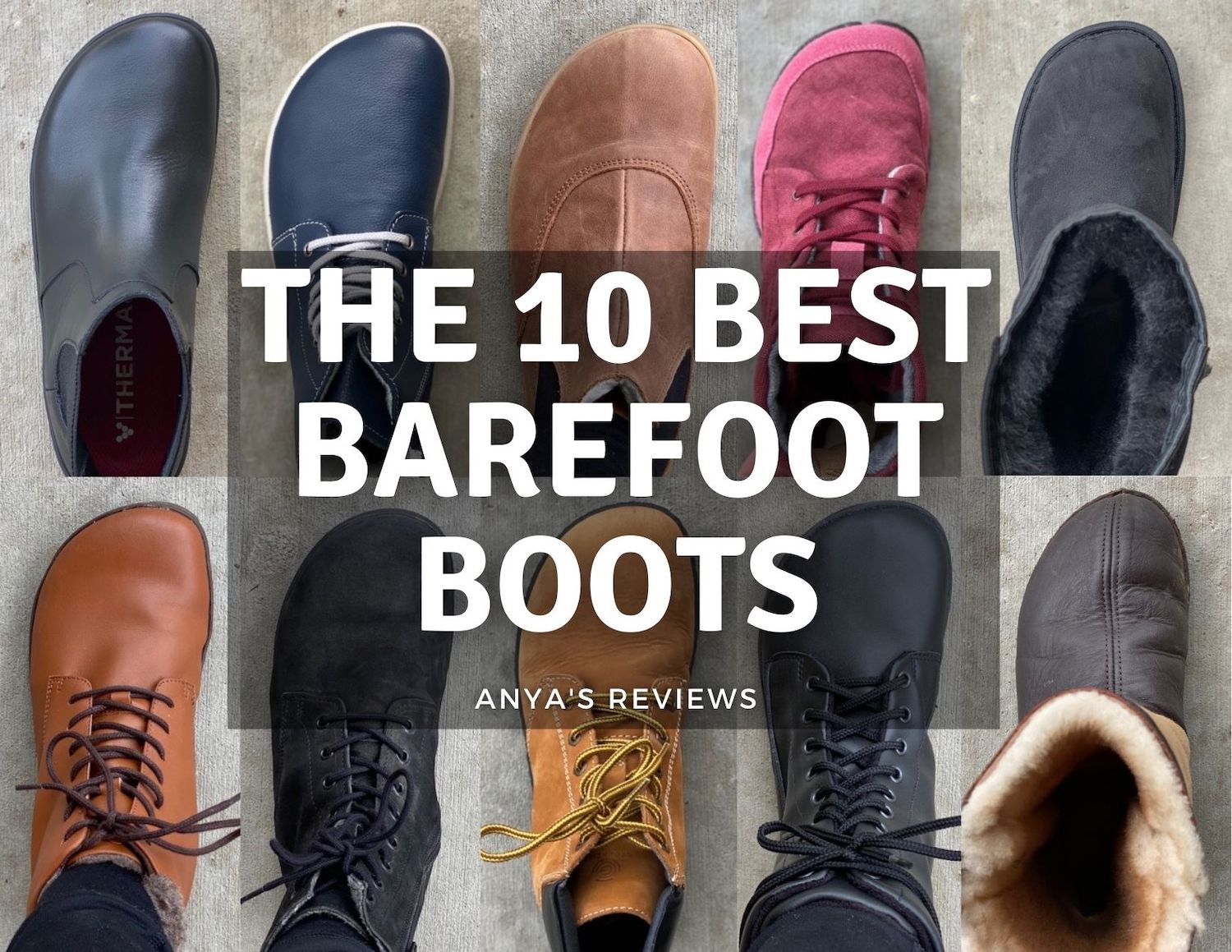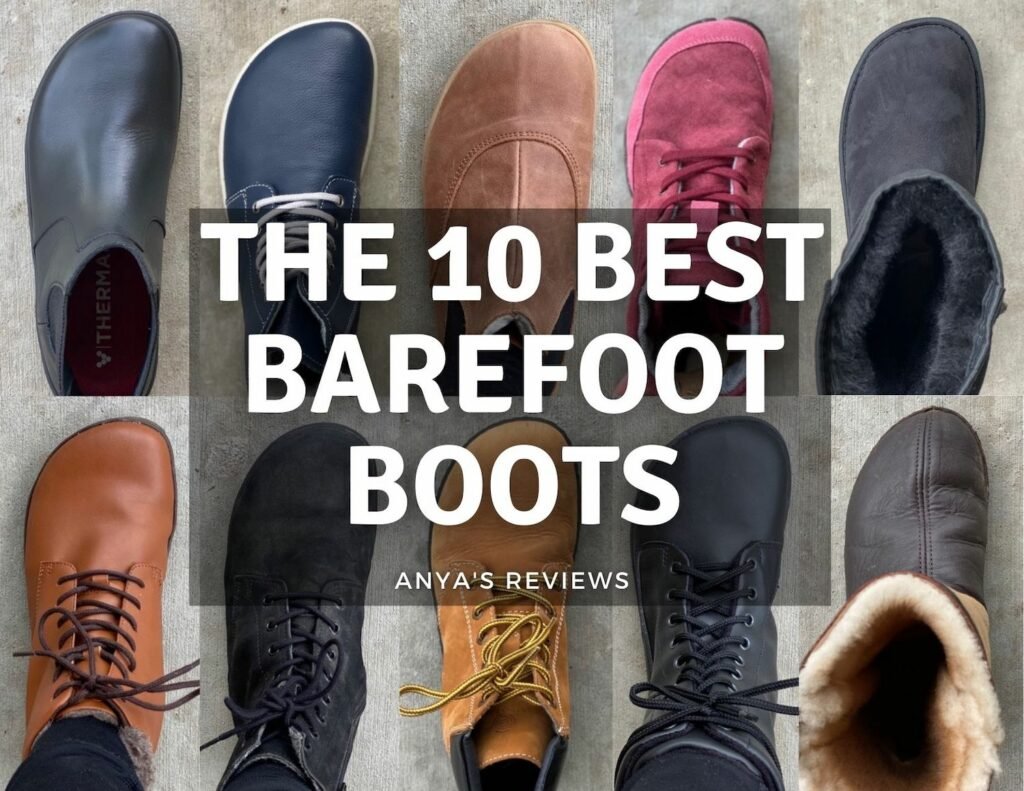 I've tried hundreds of barefoot boots in all different styles – but which ones do I reach for over and over? In this article I share my top ten favorites that I wear all season long. So read on to see the best barefoot boots for every day wear!
Why Are Barefoot Boots Important?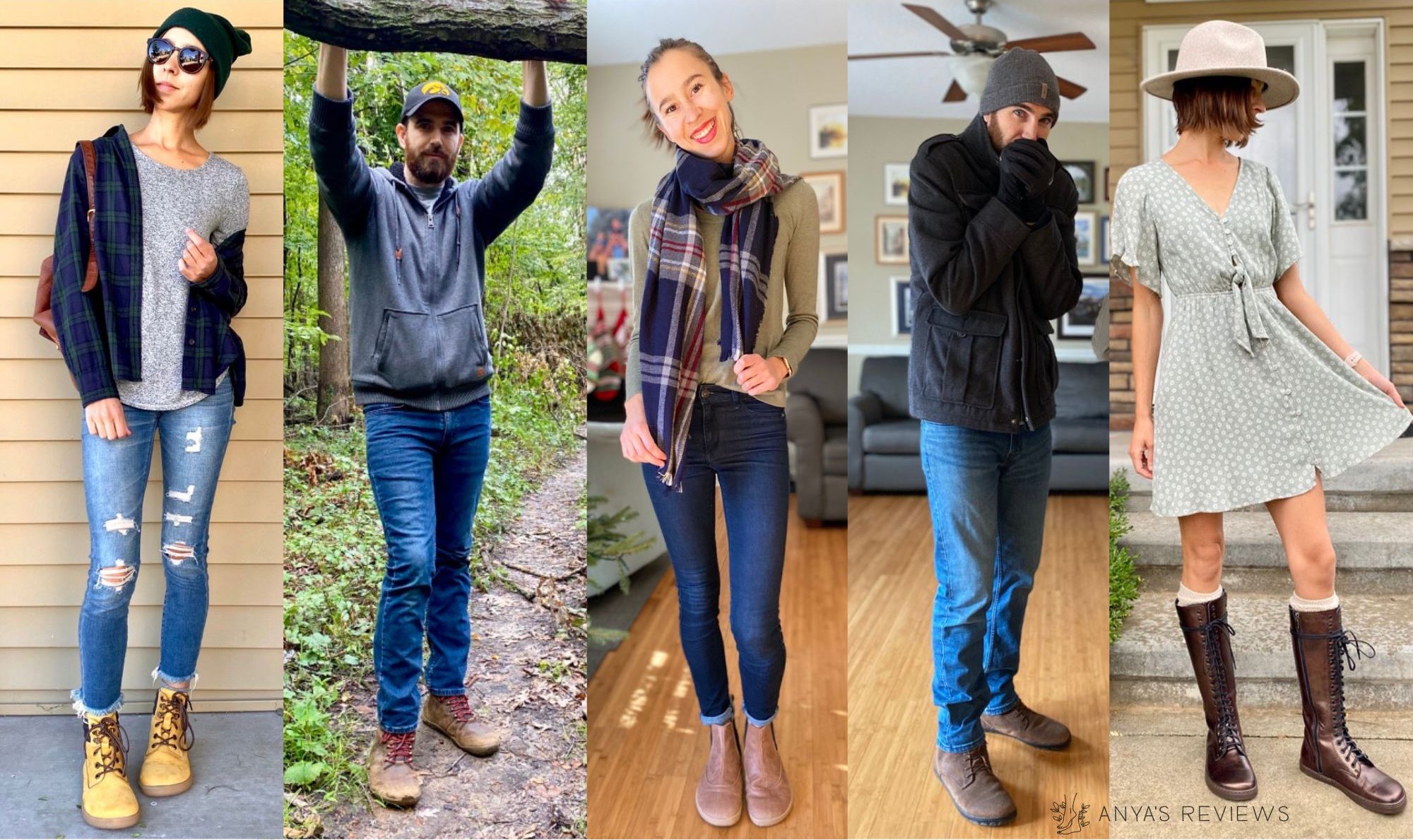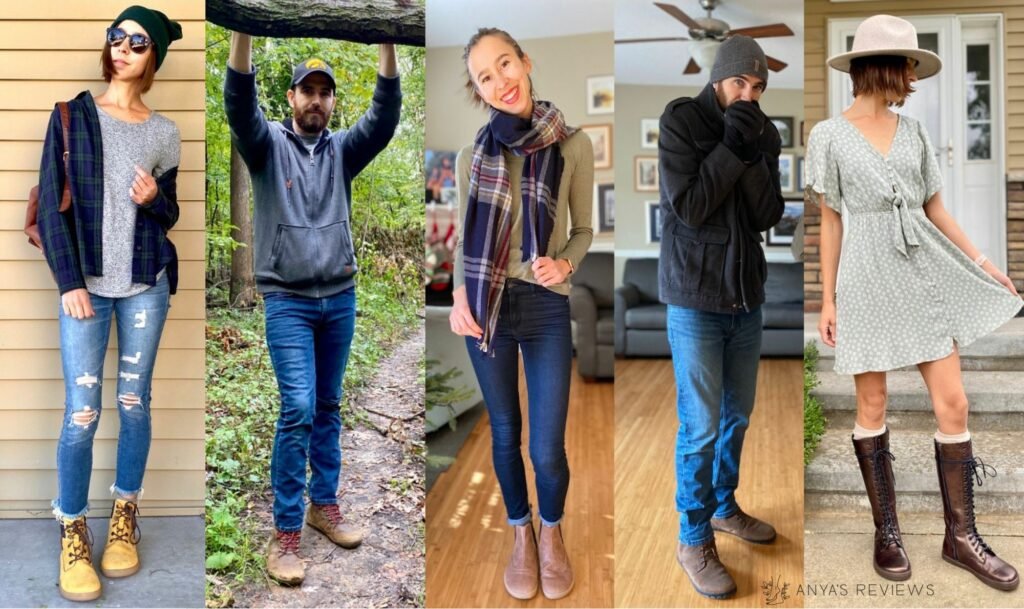 Do you free your feet in the summer by going barefoot, but then stuff those toesies back into clunky boots when it gets cold? It doesn't need to be so! There are barefoot boot options that let your feet move naturally, and still protect you from the elements – your feet and body will thank you!
You can learn more here about how shoes affect the body and why barefoot shoes might be right for you.
This list is my personal tried-and-true favorite barefoot boots for everyday wear in fall and winter. Keep in mind that these are the ones that work best for my particular foot types (learn more about your foot type and how to measure here) and my personal style.
I've also included Justin's favorites and all the information you need to determine if they'll also be right for you! For even more barefoot boot options, check my other lists below.
Now let's get to it! Here are my top ten favorite barefoot boots in order of most worn to least worn in our house. And while some photos here are of feminine boots, every brand listed offers unisex and masculine styles as well.
---
Be Lenka Winter Boots
Be Lenka Winter | Leather | $180-$240 | Sizes 33-47 | Available at:
Use code ANYASREVIEWS for 5% off at Be Lenka Barefoot (returns only accepted from within the EU and USA)
Most boot models also available at Anya's Shop (US).
What I love About Them: Out of all my barefoot boots, I wear my Be Lenka's most often during the cold season. They look fancier than my Dingo boots (read about those delightful boots later) and I still feel totally comfortable and pain free. They also have durable soles for winter weather/hiking and waterproof options, so they really meet my practical needs.
Be Lenka has so many different barefoot boot styles, and I love all of them – the quality is always top notch. They're my go to when I need something functional that has plenty of space for my toes. Just be aware that the sole on Be Lenka boots is a little heftier than you might be used to with barefoot shoes.
Sizing & Fit Type: Be Lenka barefoot boots are excellent for people with wide feet and have a square shape to them. They have a medium volume fit in most models, but ones with wool lining tend to fit snug and people often size up.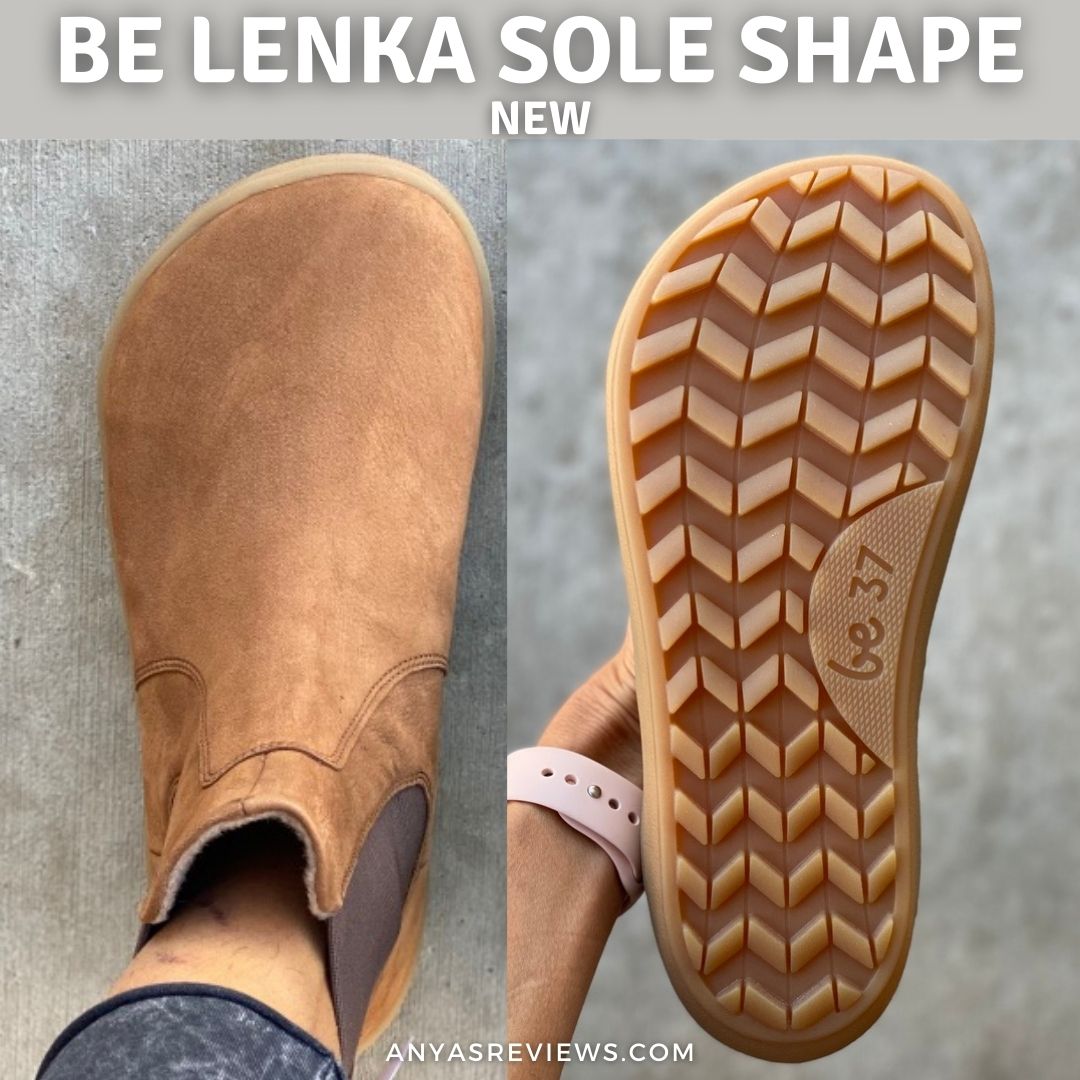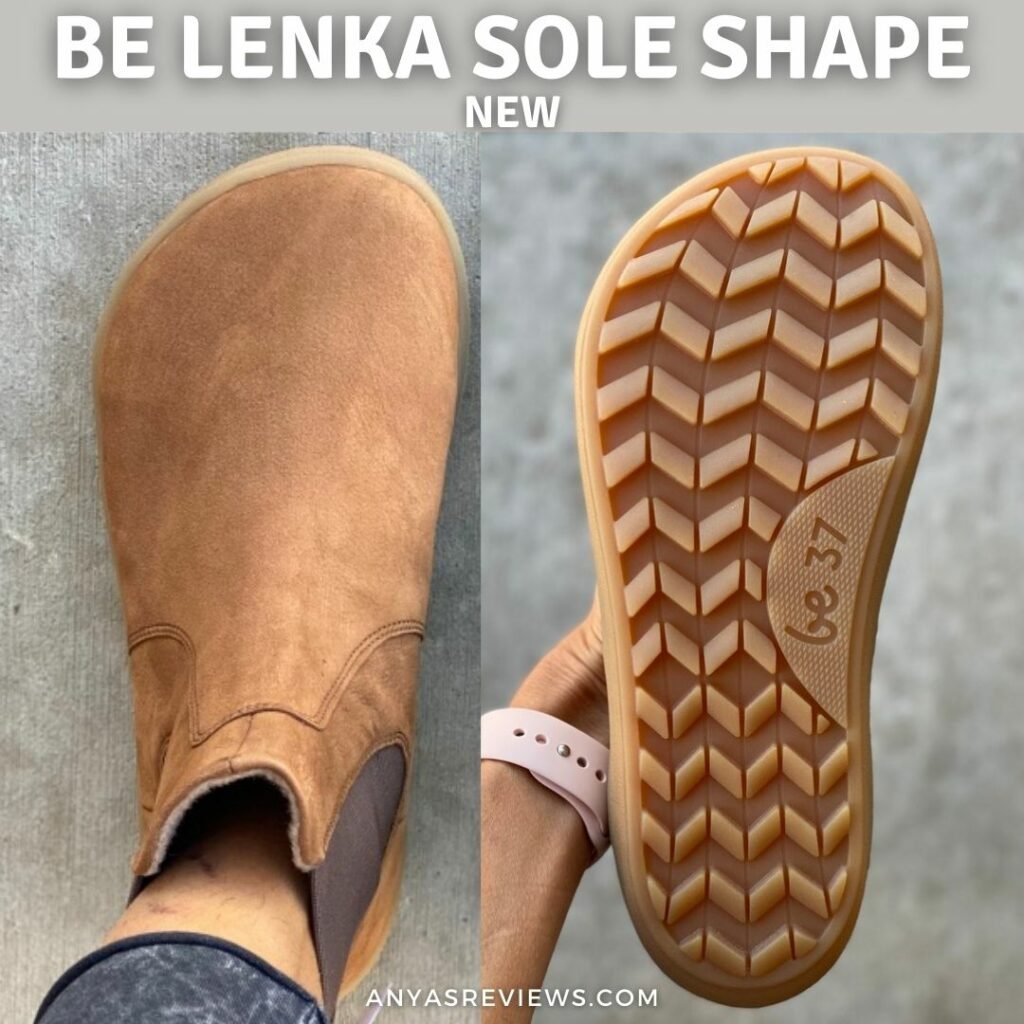 You can read my in-depth Be Lenka Barefoot reviews here!
---
Peerko Boots
Peerko Boots | Leather | $185-$220 | Sizes EU 37-45 | Available At:
Use code ANYASREVIEWS10 for 10% off directly from Peerko! But please note that Peerko doesn't accept returns outside the EU.
Also available at Anya's Shop in the US with worldwide shipping (and returns are accepted).
What I Love About Them: Peerko boots were instant love as soon as I laid eyes on them. They are one of the most stylish barefoot boots I've ever seen, not to mention that they're lightweight and have a wide forefoot. The side zipper on the tall Empire and shorter Go boots make them so easy to put on and I am having so much fun styling them. Those models are lined with microfiber, so are good for cool temps, and they also make the Frost which has a thicker wool lining for winter. I use Renapur's on them to keep the leather sleek and shiny through the season.
Peerko is a real crowd pleaser, they're the perfect blend of style, quality, and barefoot features. And they look really nice on both men and women.
Sizing & Fit Type: Peerko boots are wider than your average barefoot shoe brand and allow for plenty of toe space. This is a good brand for lots of different foot shapes, and they fit true to size (I have a 37 in both the Empire & the Go, but you might want to size up if you get the Frost which is lined with wool). They fit my low volume feet well without any accommodations, but high volume feet would be able to undo the laces for more space.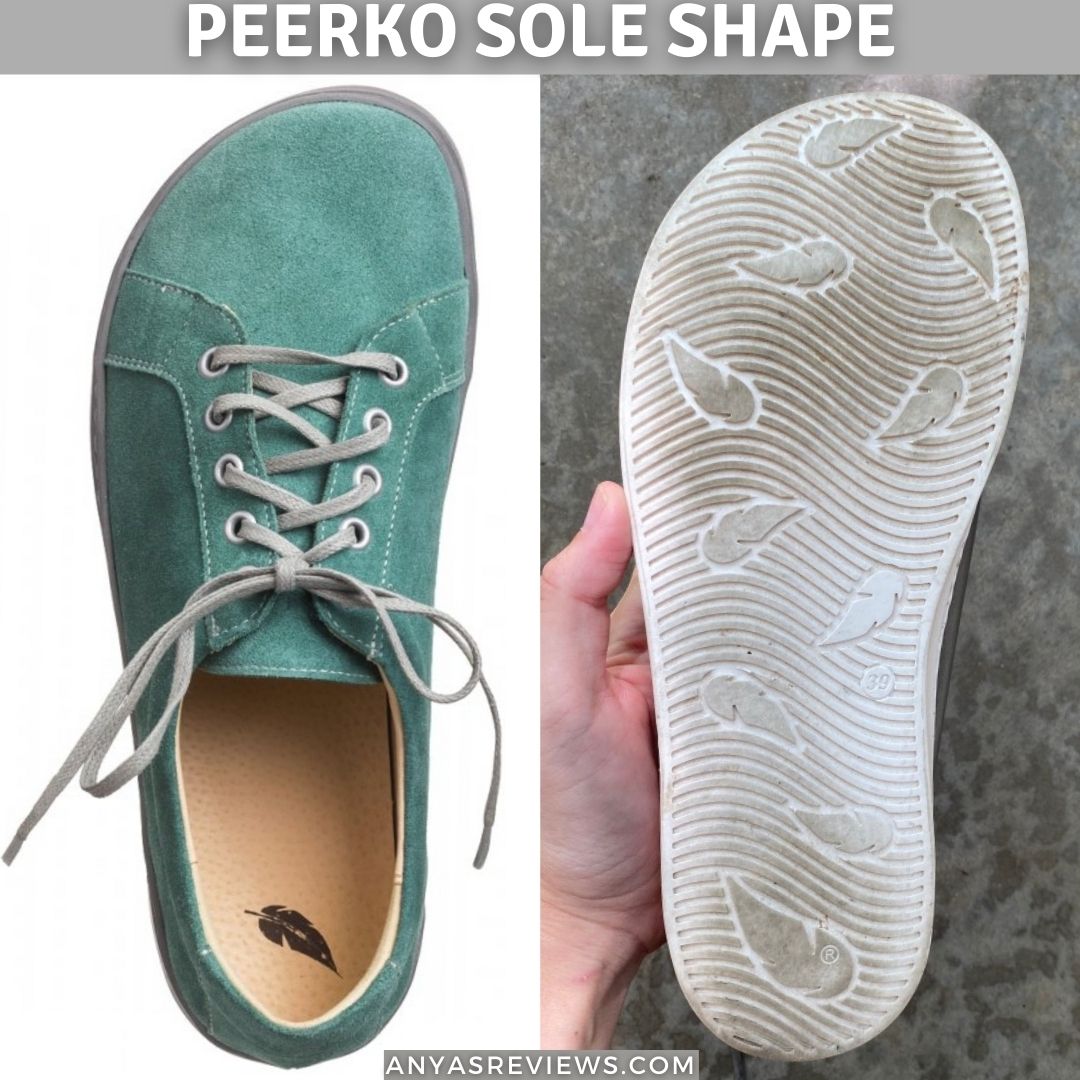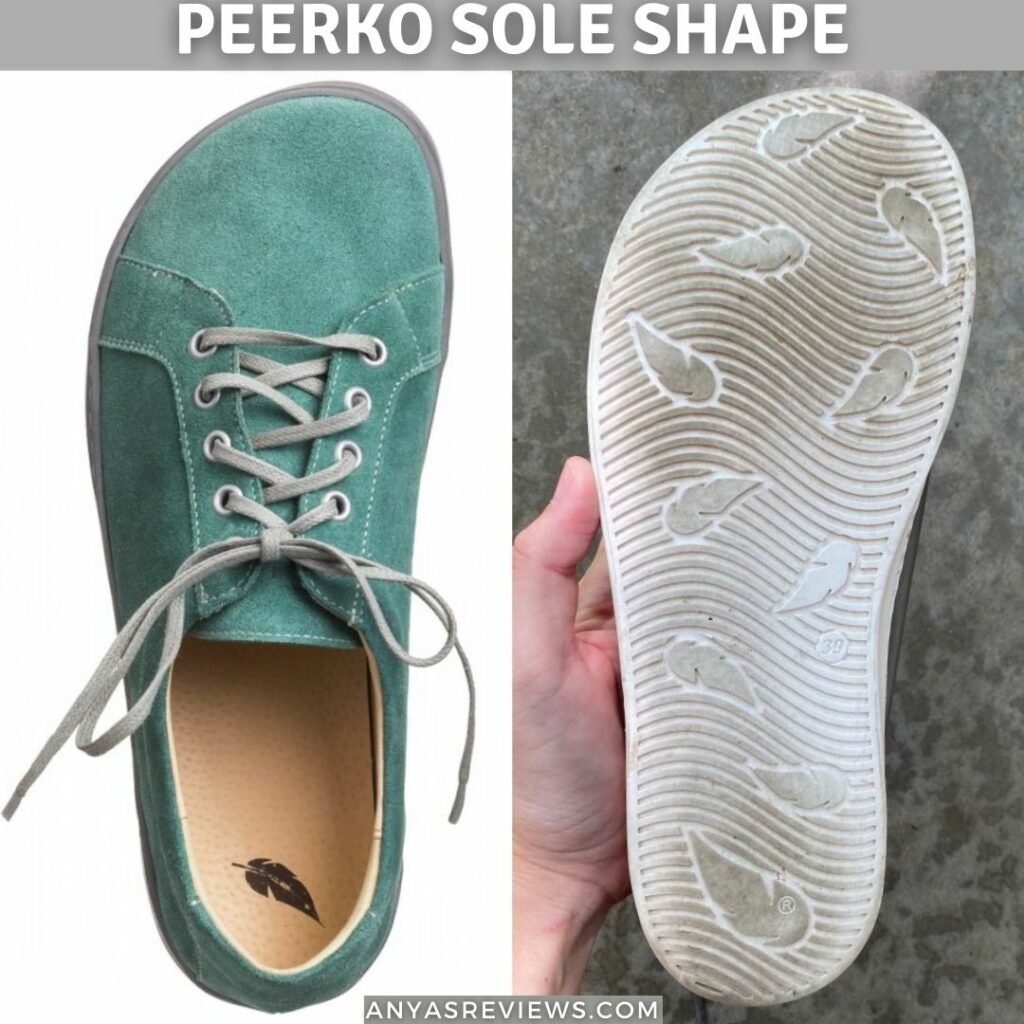 ---
Wildling Shoes
Wildling Shoes | Vegan and Wool Options | $100-$150 | Sizes EU 18-48 | Available from:
Fall collection launches in September!
What I Love About Them: Wilding Shoes is another brand that makes me giddy. All of their models are fabric with an extremely flexible sole and hands down the most comfortable shoes I've ever worn! You wouldn't expect it because of how lightweight they are, but the winter models from Wilding are fairly warm and my kids and I always end up wearing them as often as possible. The reason Wildling's barefoot boots are 3rd on this list and not first is because the laces take a little extra time to do and they are very casual looking (But my husband will be wearing his North Wolf boots to work this winter!).
Sizing & Fit Type: Wildling Shoes all have a square toe box and a flexible outsole to accommodate a wide variety of foot shapes and sizes. Each model comes with a specific sizing recommendation, so make sure you read the product descriptions when ordering. Typically they cater to an average width foot, but many models this fall/winter fit even extra wide feet. They also work well for high volume feet – if you have shallow feet I would recommend getting the wool insole to take up some space. Some people are surprised by how long their Wildings fit – this is intentional, and as long as the shoe is secure and not flopping 1-2cm of extra length is just fine. *I normally wear an EU 37 in Wildling, which they list as a Women's 5.5 on the US site. This is not a typical EU to US conversion, so make sure you consult their size guide to ensure you're ordering the size you intend.*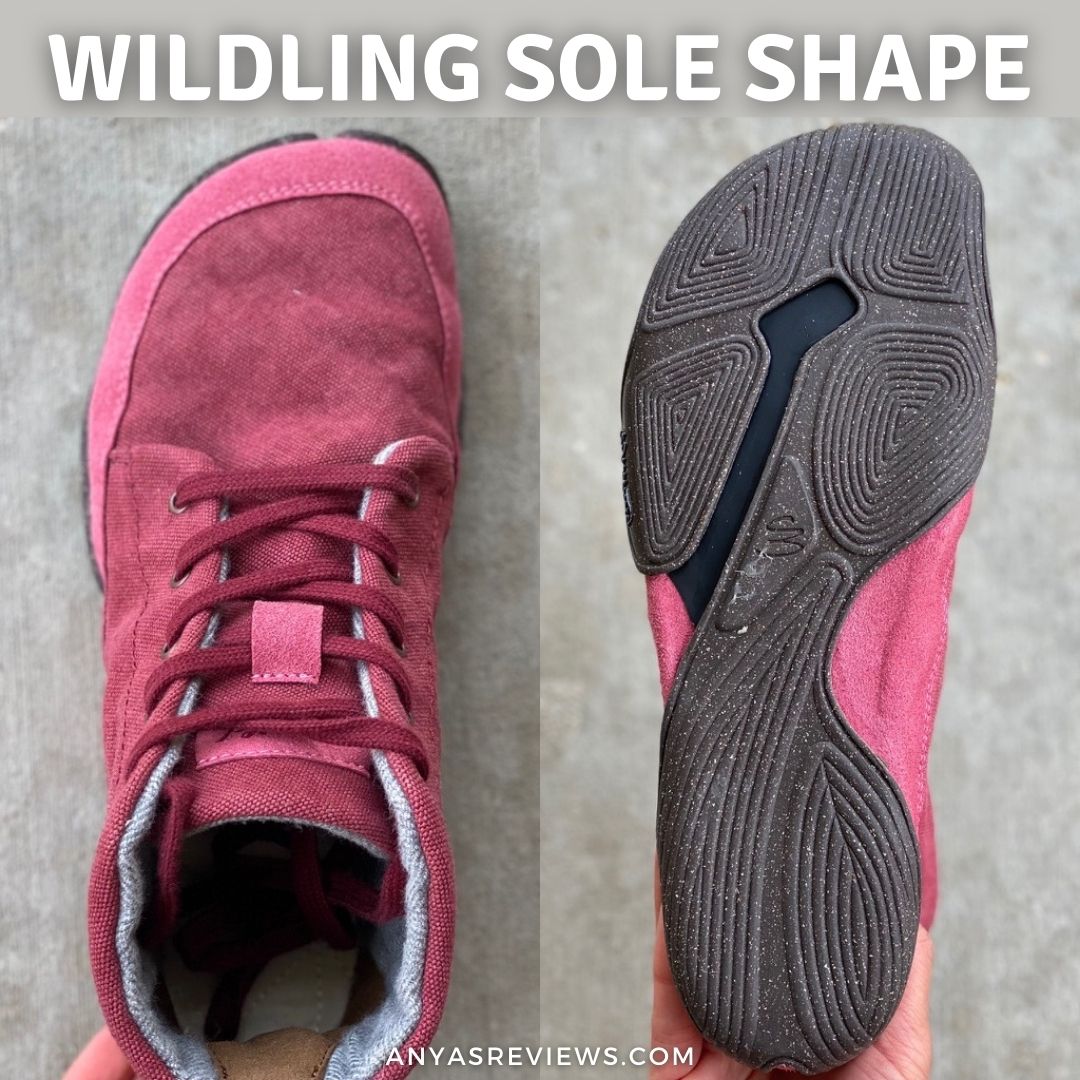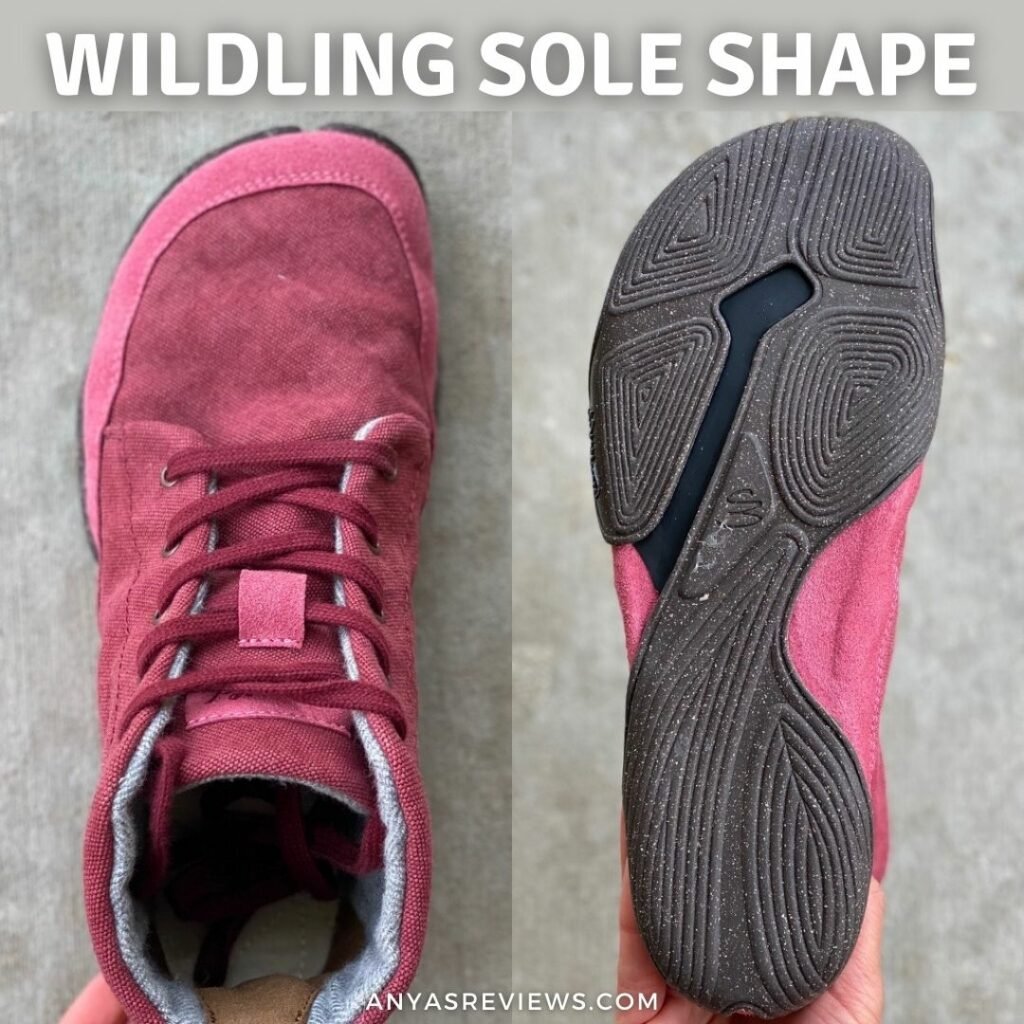 Read my in-depth Wildling Shoes Reviews here!
---
Vivobarefoot
Vivobarefoot | Leather | $210 | Sizes US W 5.5- M 15 | Available at:
Use code VBANYA10 for 10% off your purchase.
Check here for your nearest Vivobarefoot retailer.
What I Love About Them: The Vivobarefoot Gobi Hi were my very first barefoot winter boot and I wore the heck out of them. I learned the hard way that ALL Vivobarefoot boots aren't very warm unless you swap out the insole for a better one (I use sheepskin), but once I learned that trick I was happy as a clam. They look classy and are super durable and long lasting.
My husband and I both wear the Trackers for cold weather hiking and snow, The Chelseas are one of my favorite dressy boot styles, and the Gobi Hi is a combat boot dupe I love.
*The Gobi Hi IV is super creaky, I solved that problem by rubbing leather balsam on the shoe tongue where the leather rubs together.*
Sizing & Fit Type: In general Vivobarefoot boots fit an average width and are low volume. I size up in the boots with lining for extra space (Gobi Hi & Tracker), otherwise I wear my typical size. For model specific sizing, check out my in-depth Vivobarefoot Reviews.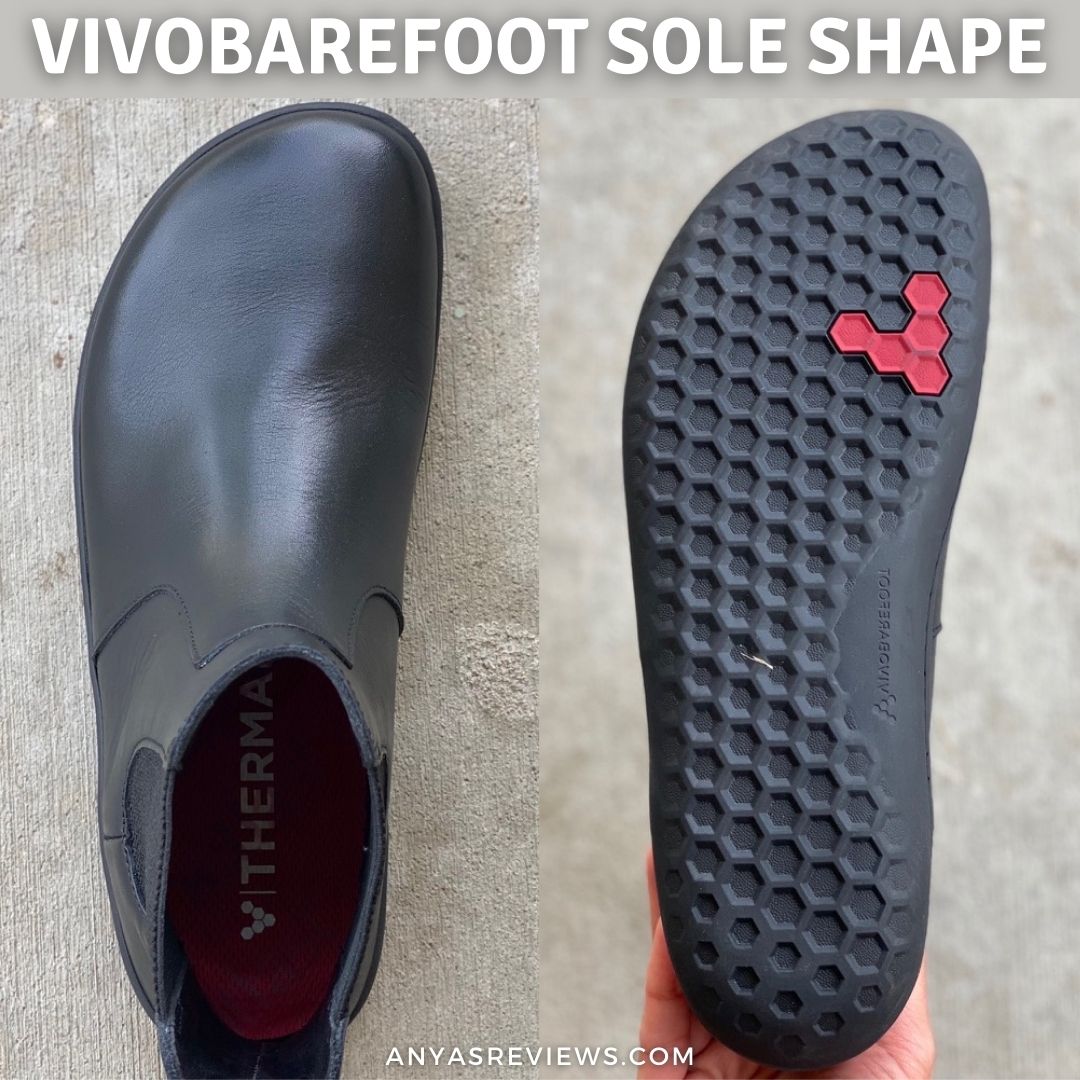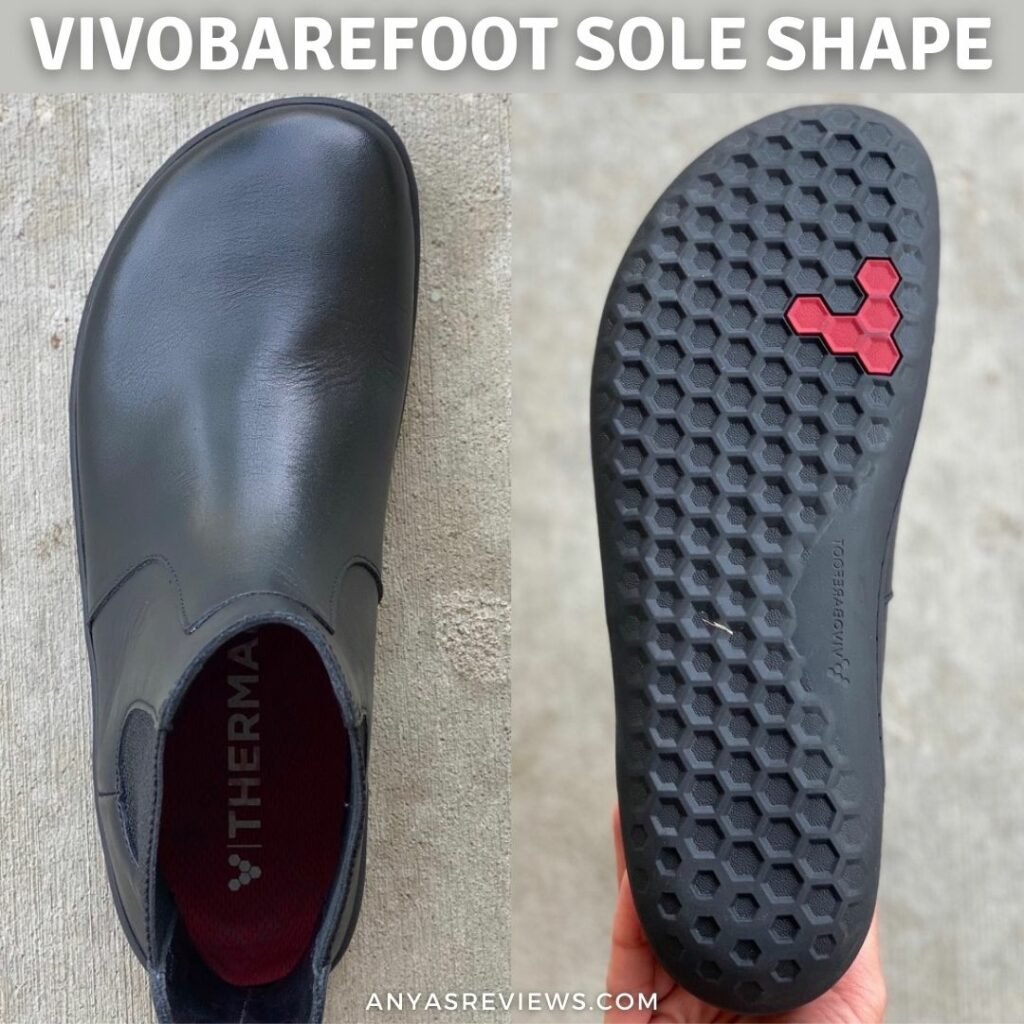 ---
Mukishoes
Mukishoes | Leather, Wool & Vegan Options | $100-$175 | Sizes EU 36-48 | Available from
Use code ANYAMUKI for 10% off adults and 5% off kids.
Will be restocked early September
What I Love About Them: Mukishoes is another extremely flexible and lightweight barefoot shoe brand with real ground feel. Not quite as flexible or "second-skin like" as Wildling shoes, but they are a close second in fit and comfort. I end up reaching for my Mukishoes often because they feel so great but also look fashionable. They have high top sneakers, wool lined combat boots, chelsea boots and I love all of them! They do an excellent job of making popular shoe styles that are still truly barefoot.
Sizing & Fit Type: Mukishoes has an average width toe box, but the flexible outsole and soft upper accommodates wider feet. I typically wear a size 37 in them and my toes fill up the whole toe box (wide feet here!). In the winter lined models I wear a size 38 to fit thick socks and a wool insole. This is a brand that works great for high volume feet that are wide in the midfoot and heel, so I wear an insole in all of mine because I have low arches and skinny ankles.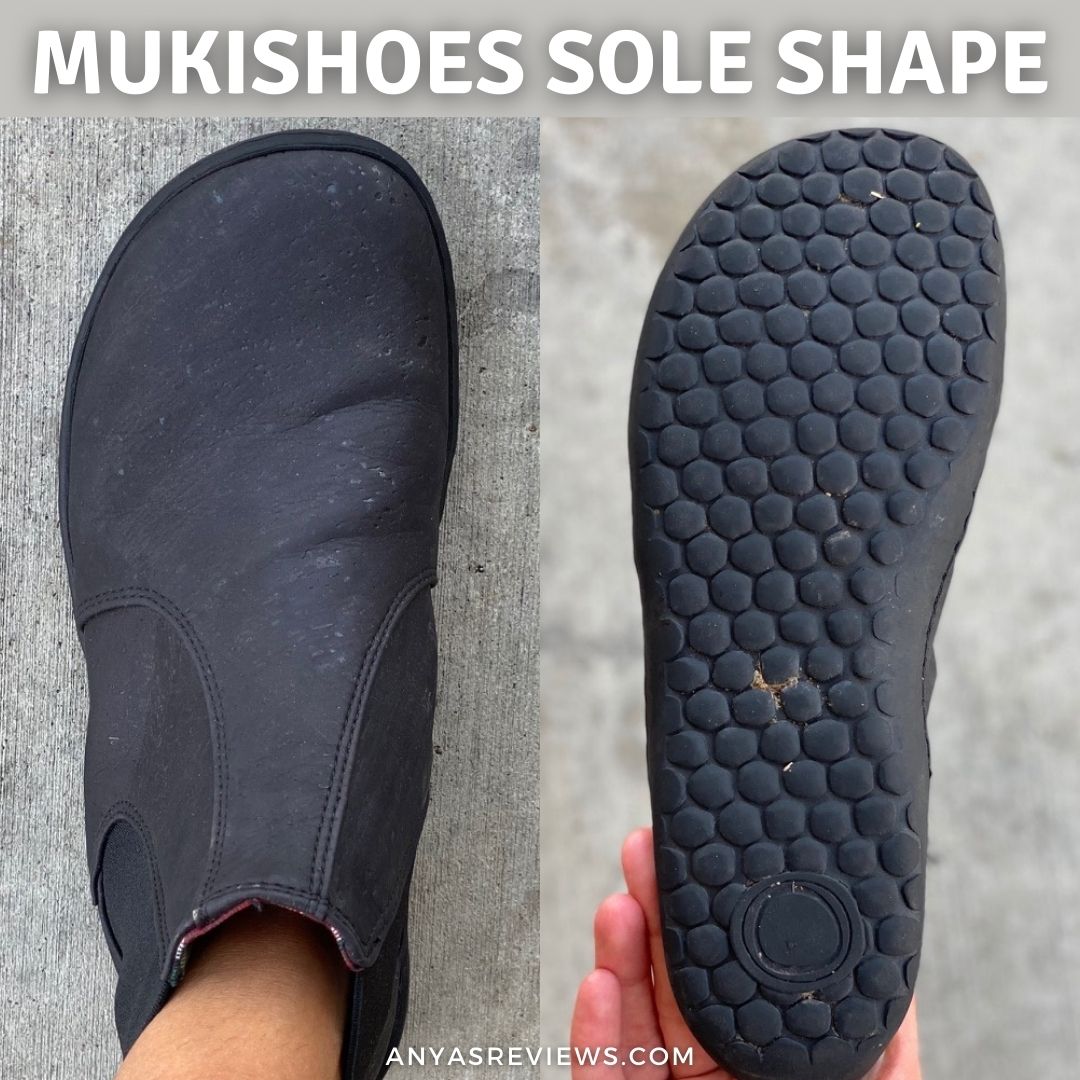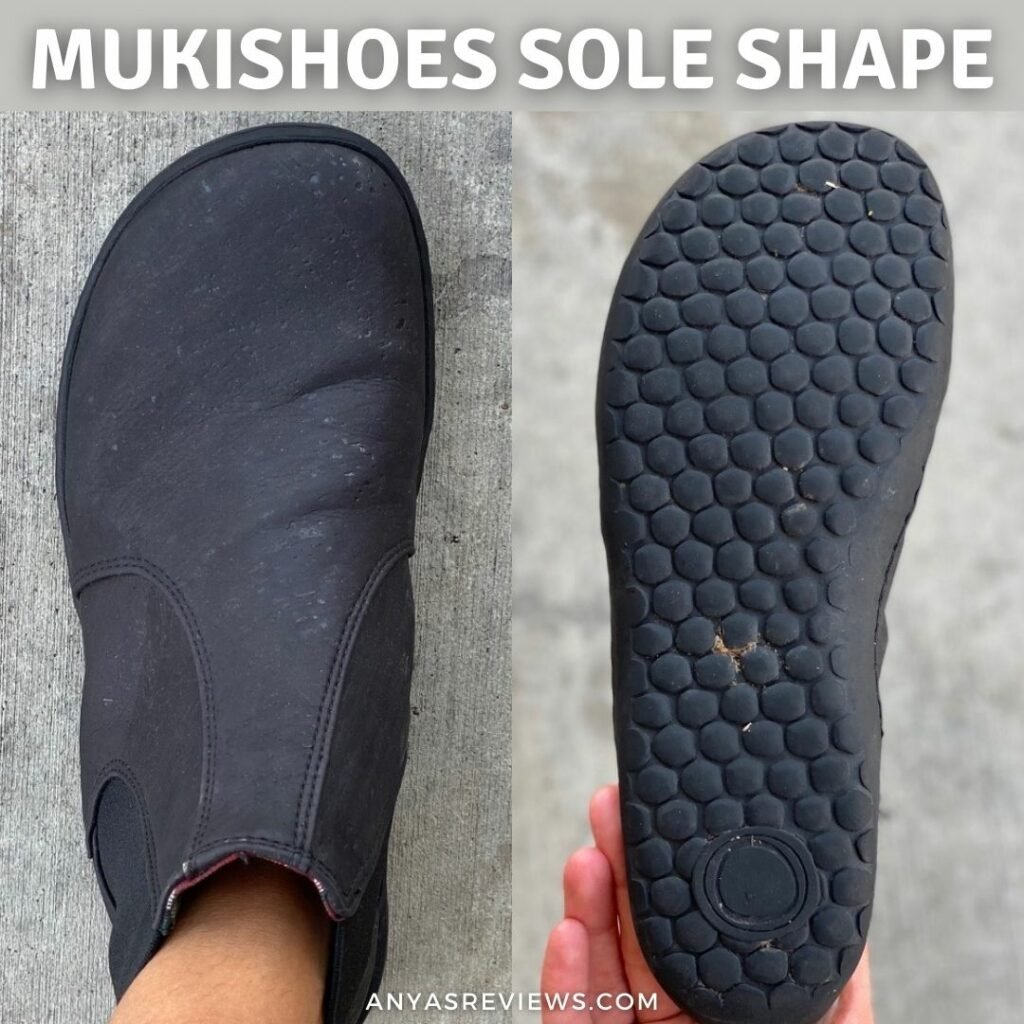 Read my in-depth Mukishoes reviews here!
---
Groundies Barefootwear
Groundies Boots | Leather & Vegan | $130-170 | Sizes EU 36-48 | Available At:
What I Love About Them: Groundies has an impressive line up of stylish barefoot boots for men and women, and honestly I can't get enough of them. From their chelsea boots, to combat boots, to slouchy boots, I can blow a LOT of cash at Groundies if I'm not careful. They have a few different available outsole types, but my two favorites for boots are the GO1 and the GX1. The GO1 is very flexible and has the widest fit, while the GX1 is a little thicker and more rugged – which can be nice for boots in the cold season. Both are high quality and long lasting.
Be aware that Groundies has two different toe box shapes – "Regular" and "Anatomic". The "Regular" is tapered and a more traditional shape, so I recommend checking the "Anatomic" filter at the top so all you see are the foot shaped options.
Sizing & Fit Type: Groundies have an average toe box width, so I sometimes feel a little tight in the GX1 models these days (barefoot problems!), but still very comfortable in the GO1 models. Sizing is true and consistent, not too many surprises between styles. The boots fit medium volume, but can often work for both high and low volume.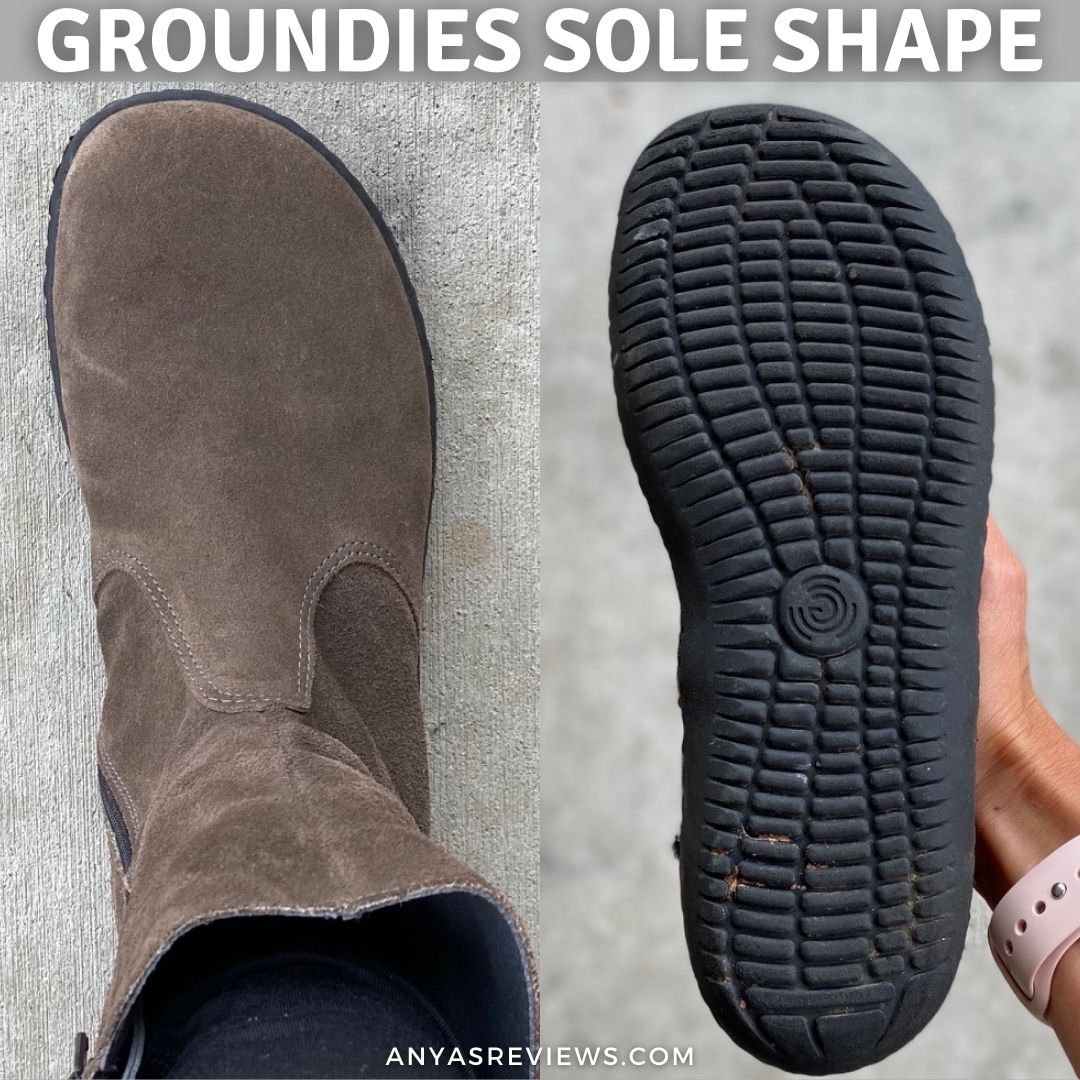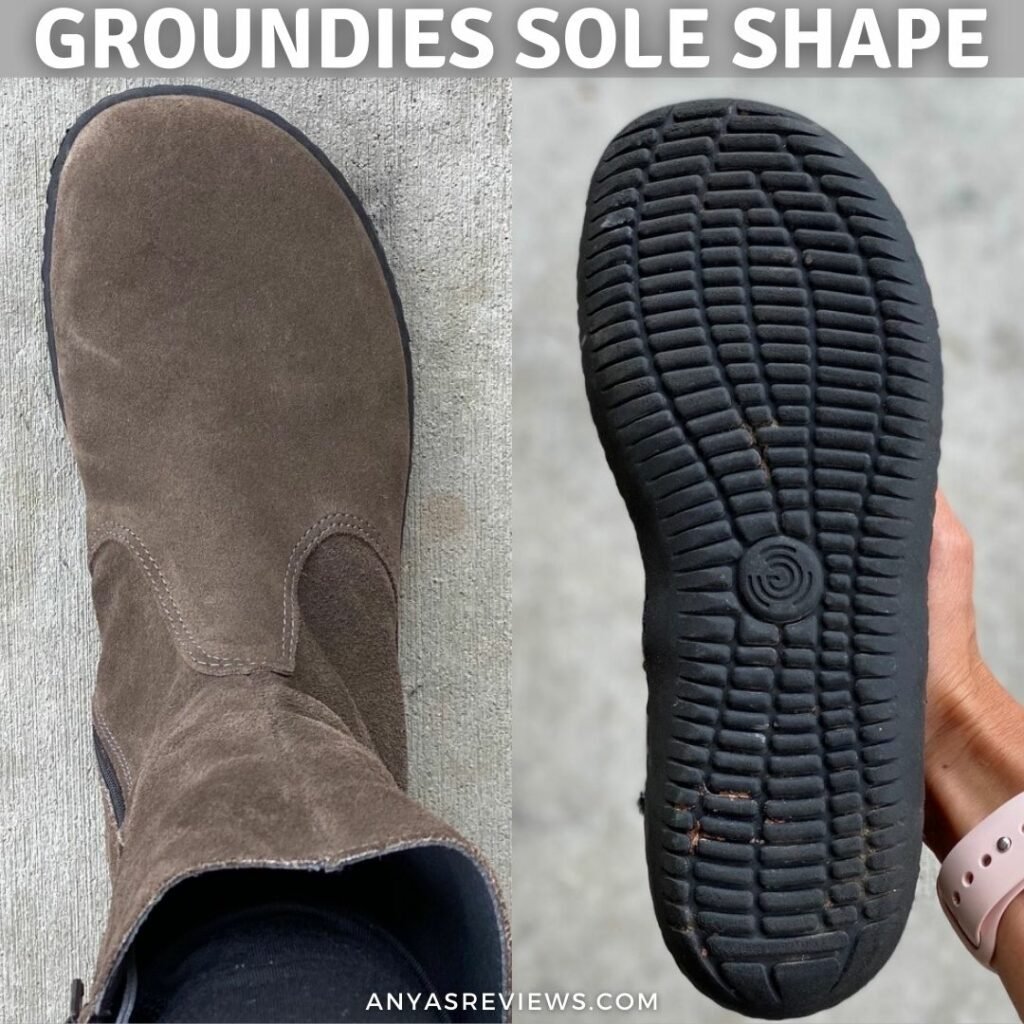 For more in-depth info on Groundies check out my other reviews!
---
Zeazoo Dingo
Zeazoo Dingo | Sheepskin | $125 | Sizes EU 35-42 (+ custom sizes) | Available at:
Get 5% off your purchase with code ANYASREVIEWS
Also at Anya's Shop (full restock expected late September).
What I Love About Them: Hands down my most comfortable barefoot boot is the Zeazoo Dingo – They feel like slippers and look like Ugg boots! I like that they are so light but still dang warm and slip on easily. And it's not just me who loves them, they have been extremely popular at Anya's Shop and around the world for people in all climates. They're a dream!
But because of sole type, they're not great at keeping snow and water out and not as durable as some of the other options here. For me they are the perfect walking and quick errands boot in the winter.
Sizing & Fit Type: The Zeazoo Dingo has a wide fit and a plateau shaped toe box. They run big and many people size down (especially because the thick lining tamps down with use). They are generous around the ankle and arch, so work well for high volume feet – but I did fine in them with my low volume feet and skinny ankles after sizing down one from my normal size. I also wear thick socks in them to bunch up around the ankle for a little more security. If you need bigger than a size 42 you can request a custom size from Zeazoo.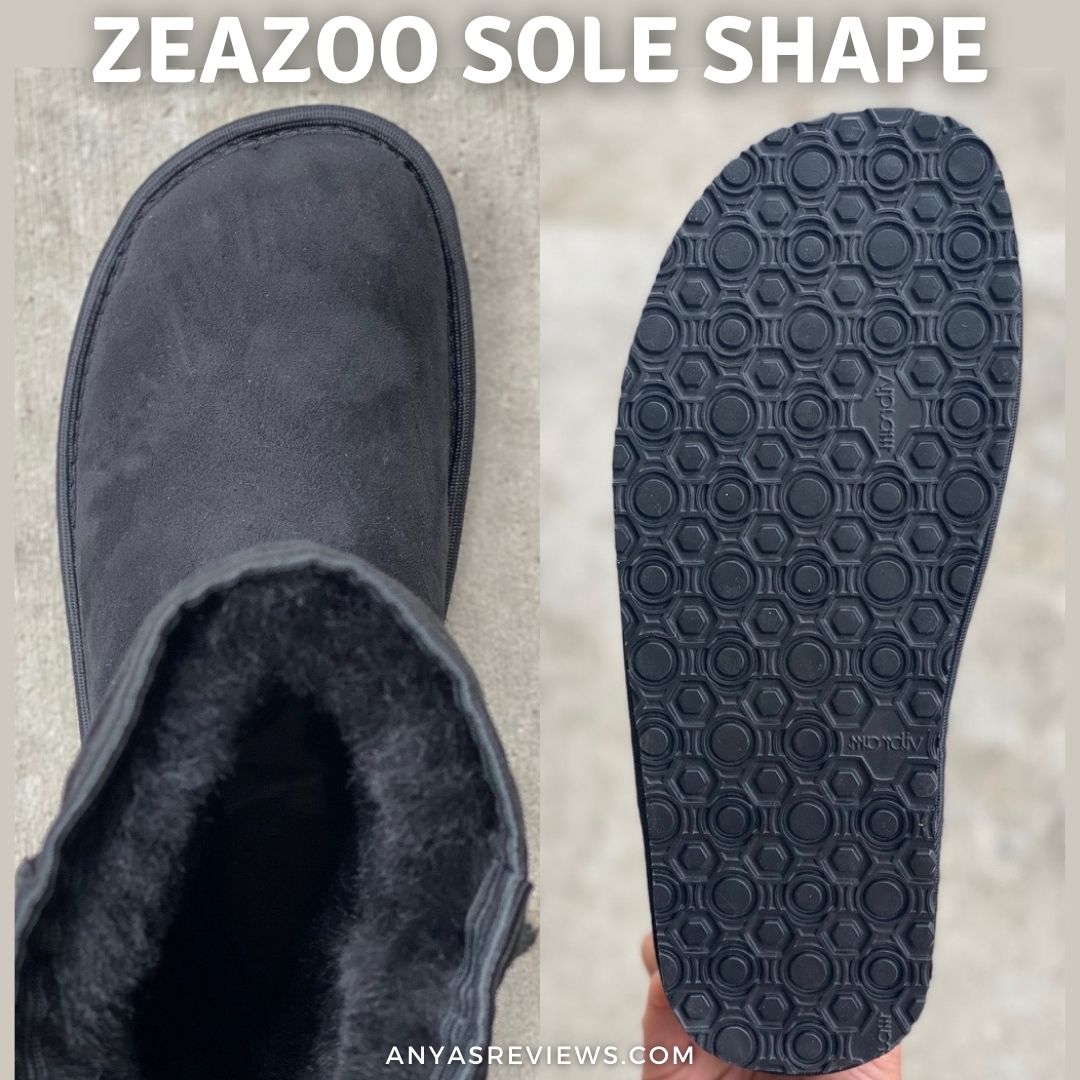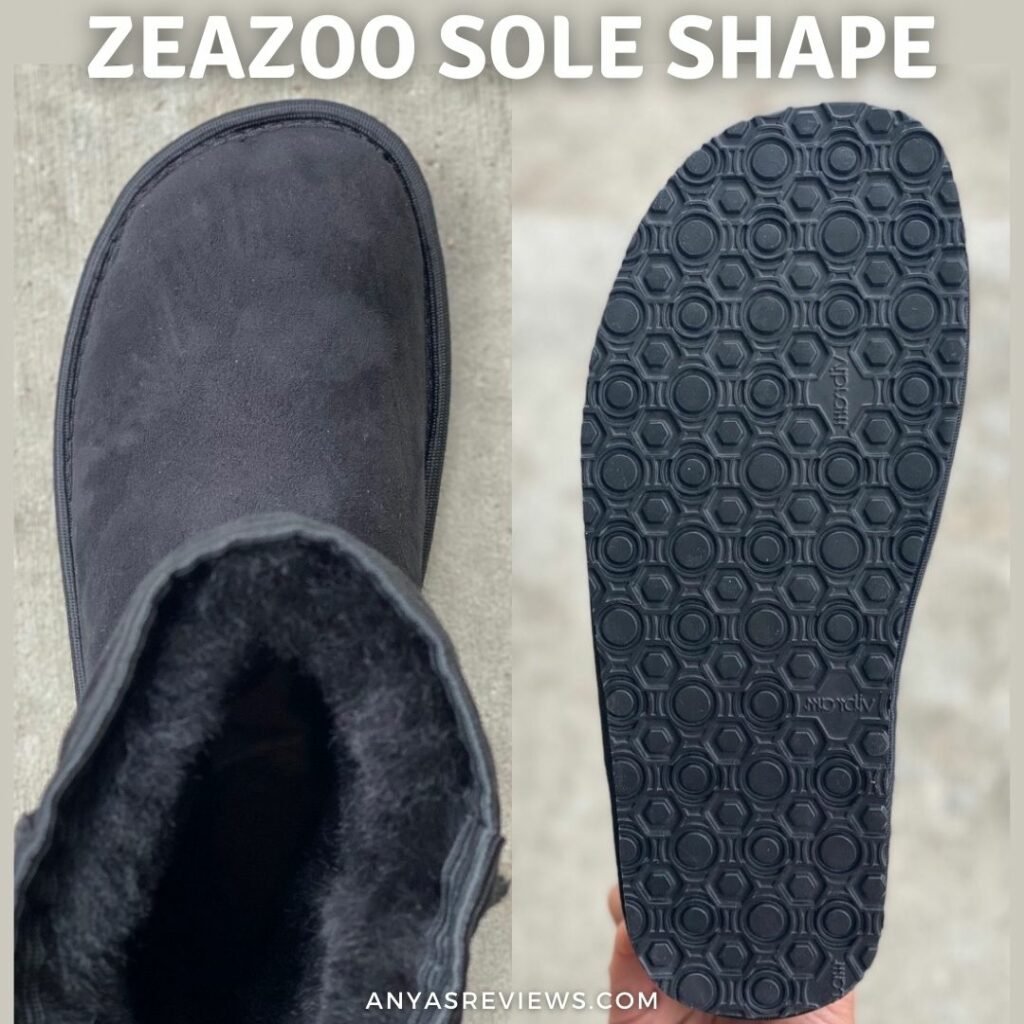 For more details, read my review of the Zeazoo Dingo here!
---
Angles Fashion
Angles Fashion | Leather | $175 | Sizes EU 37-46 | Available at:
Use code ANYA for 5% off your purchase.
You can now find Angles Fashion at Anya's Shop!
What I Love About Them: These barefoot boots from Angles Fashion were an unexpected favorite of mine. But they have a nice wide toe box, soft wool lining, and that perfect classic chelsea boot look. I wear them often in the fall and winter, because they're so comfortable and match all my outfits.
Sizing & Fit Type: The wool lined models from Angles fit snug, and I sized up to a 38 in them which worked perfectly. They fit like a glove, and I wear medium weight socks with them. They are great for wide and extra wide feet and fit a medium volume height. The non-wool models are more true to size, but consult their size chart to double check.
Read my Angles Fashion review here!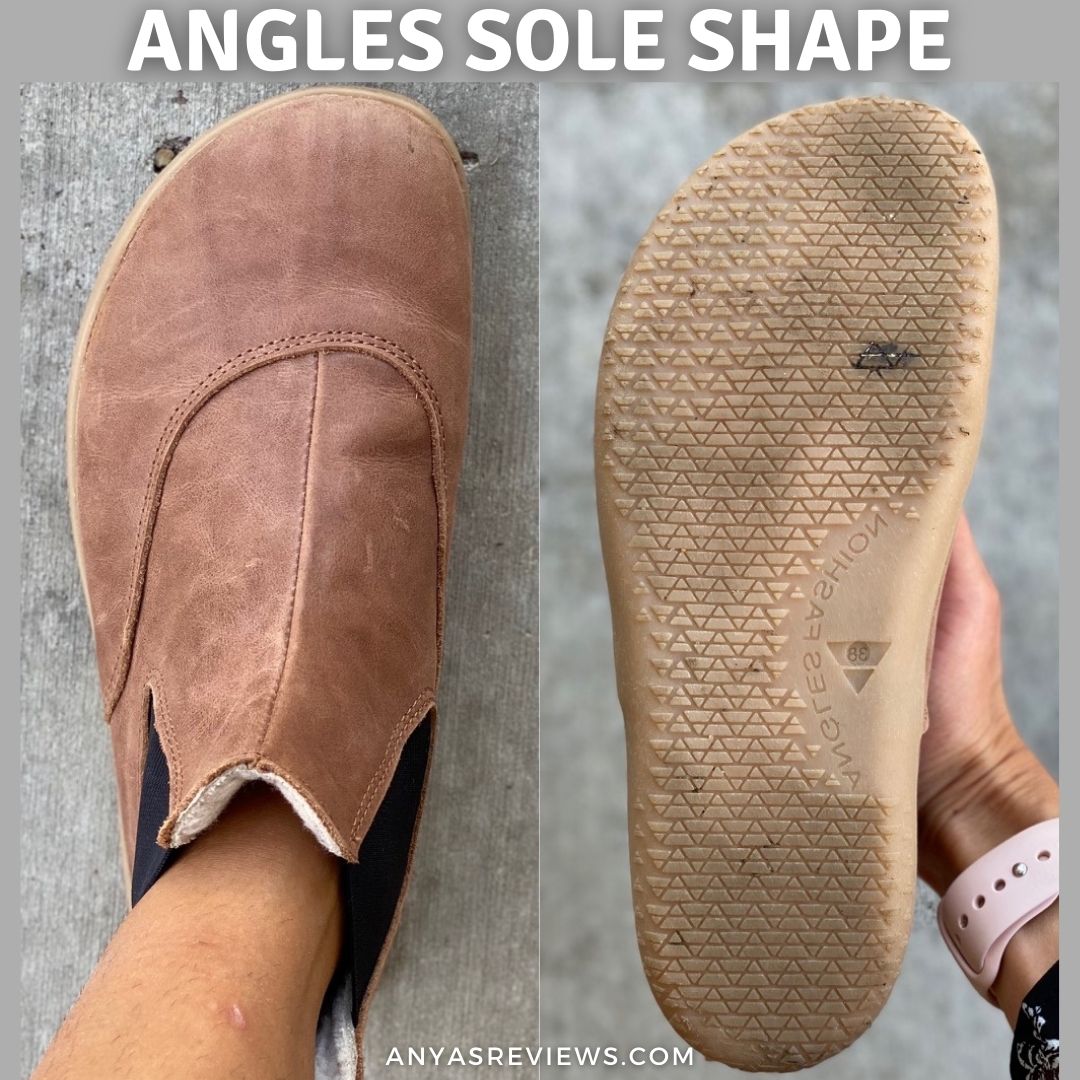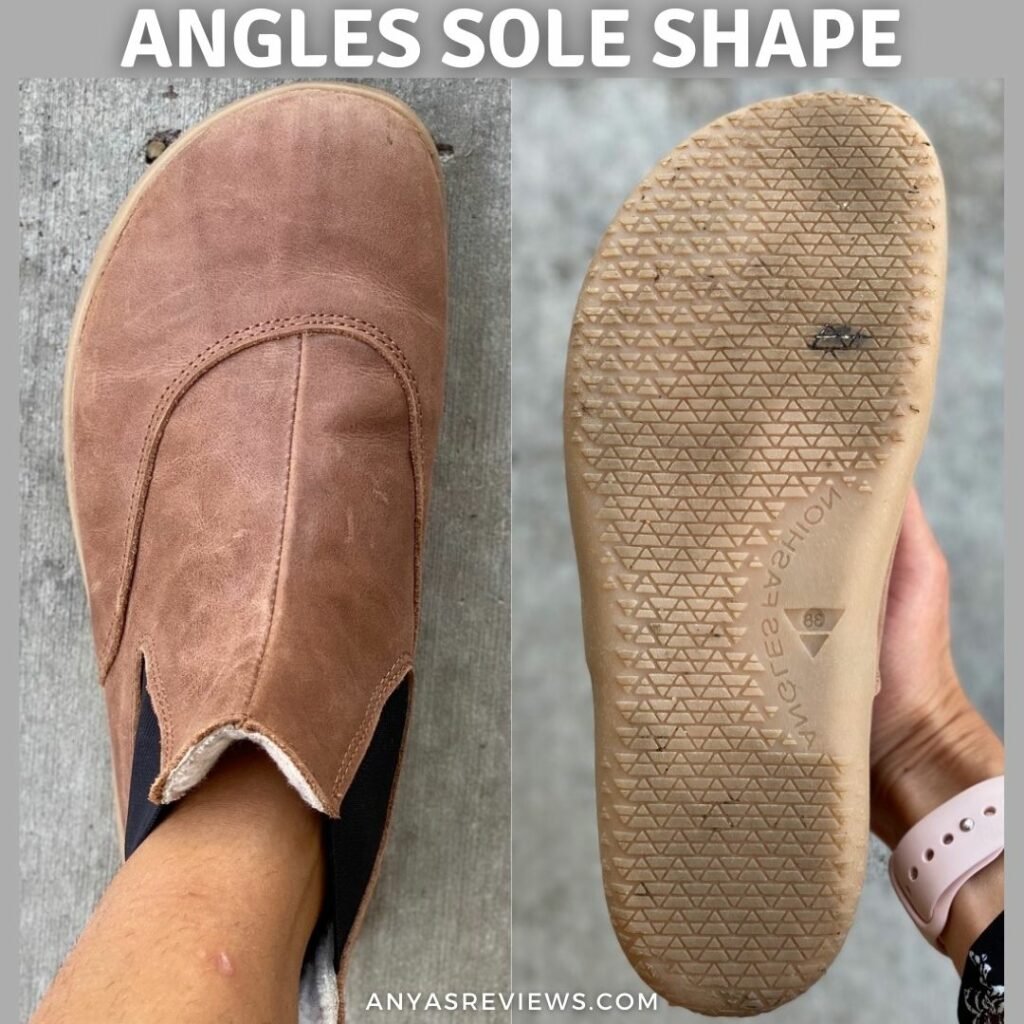 ---
Softstar Phoenix
Softstar Phoenix | Sheepskin | $265 | Sizes 5U-15U | Available at:
What I Love About Them: The Softstar Phoenix is a super high quality sheepskin boot, the best I've ever seen, and they keep my feet toasty warm. The side zip makes them easy to take on and off, and I reach for them frequently on cold days. They are heavier than the other boots I've listed so far because of the thickness of the fur, but they will last forever.
Sizing & Fit Type: Phoenix boots are narrow to average in width, but can stretch to fit wide feet. The sheepskin fluff is thick and so they feel really snug at first and I would recommend sizing up one. I have a size 7U, or women's 8, and my feet hang over the edge slightly.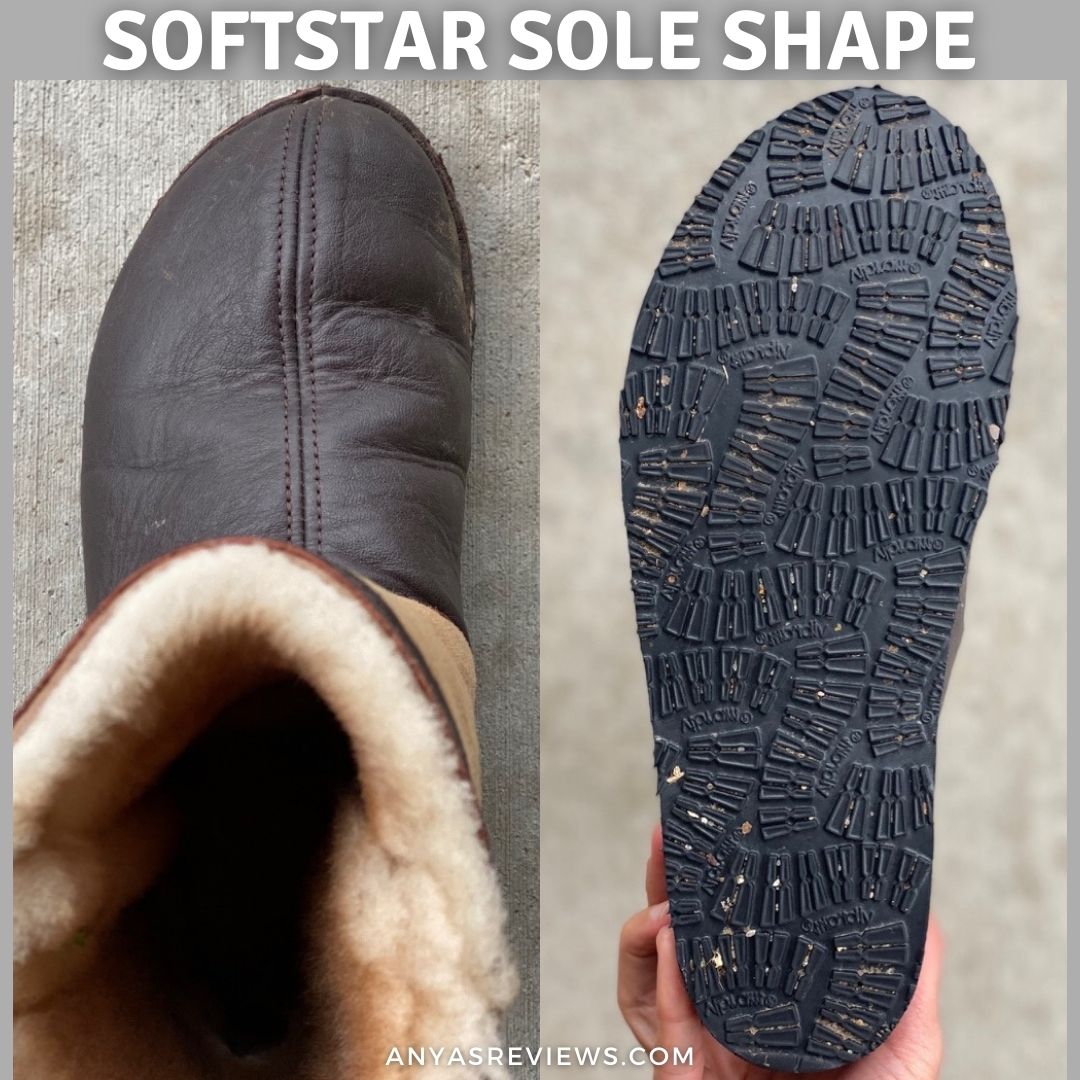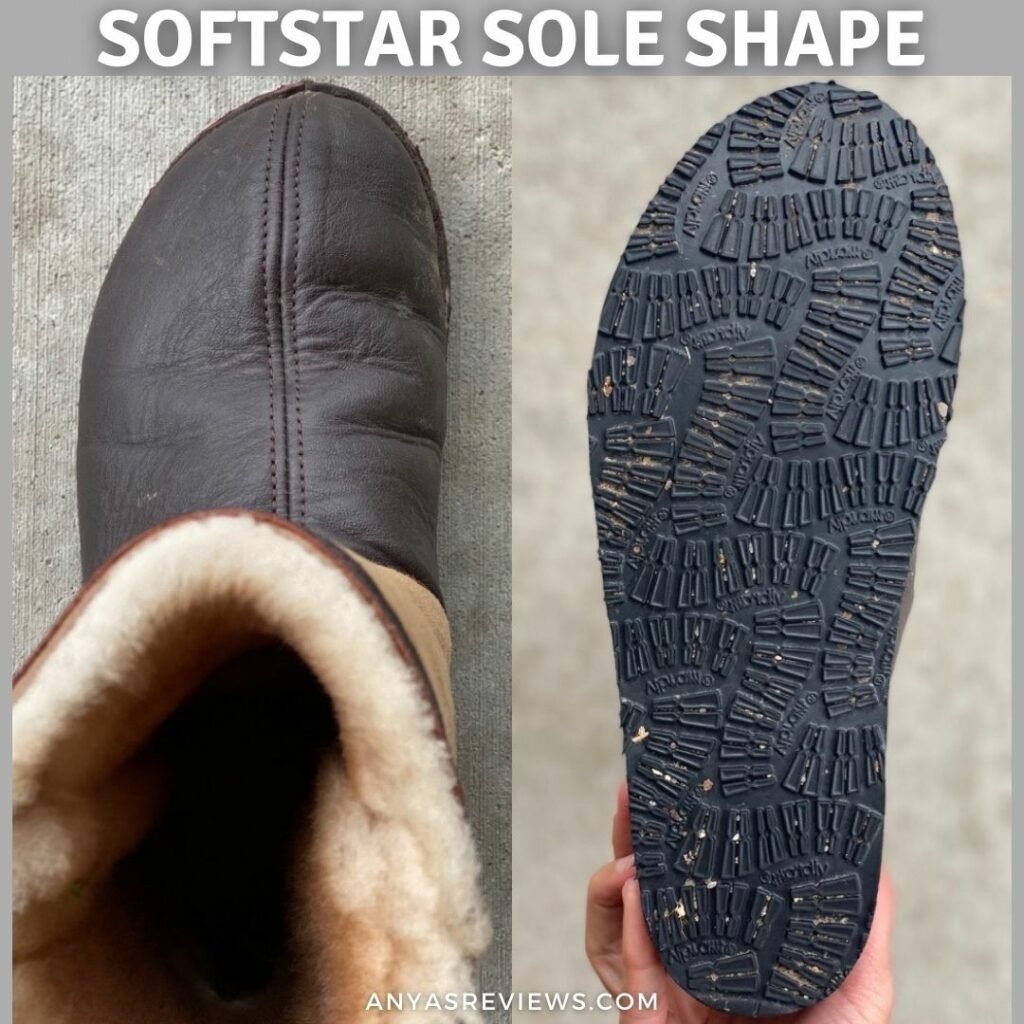 For in-depth sizing information, check out my other Softstar Shoes Reviews!
---
Zaqq Barefoot
Zaqq Barefoot | Leather & Vegan Options | $200 | Sizes EU 37-48 | Available at:
You can find select styles at Anya's Shop in the US with worldwide shipping available!
What I Love About Them: Zaqq barefoot boots look amazing (they honestly have the widest selection of barefoot boots I've ever seen) and they are still soft and comfortable on foot. My personal favorites are the Riquet boots (shown above right). They are a wonderful blend of mainstream style with really soft, flexible soles.
Sizing & Fit Type: Zaqq shoes are pretty much smack in the middle in terms of fit. Slightly wider than Vivobarefoot, they fit an average to wide feet, medium volume. The main thing to be aware of is that some of their dress models have a more tapered toe box, so you need to be careful about that: ballet flats, men's dress shoes, and the Qlance boot for example.
Read my in-depth review of the Zaqq Barefoot brand for more info, including how to place an order if you're in the US.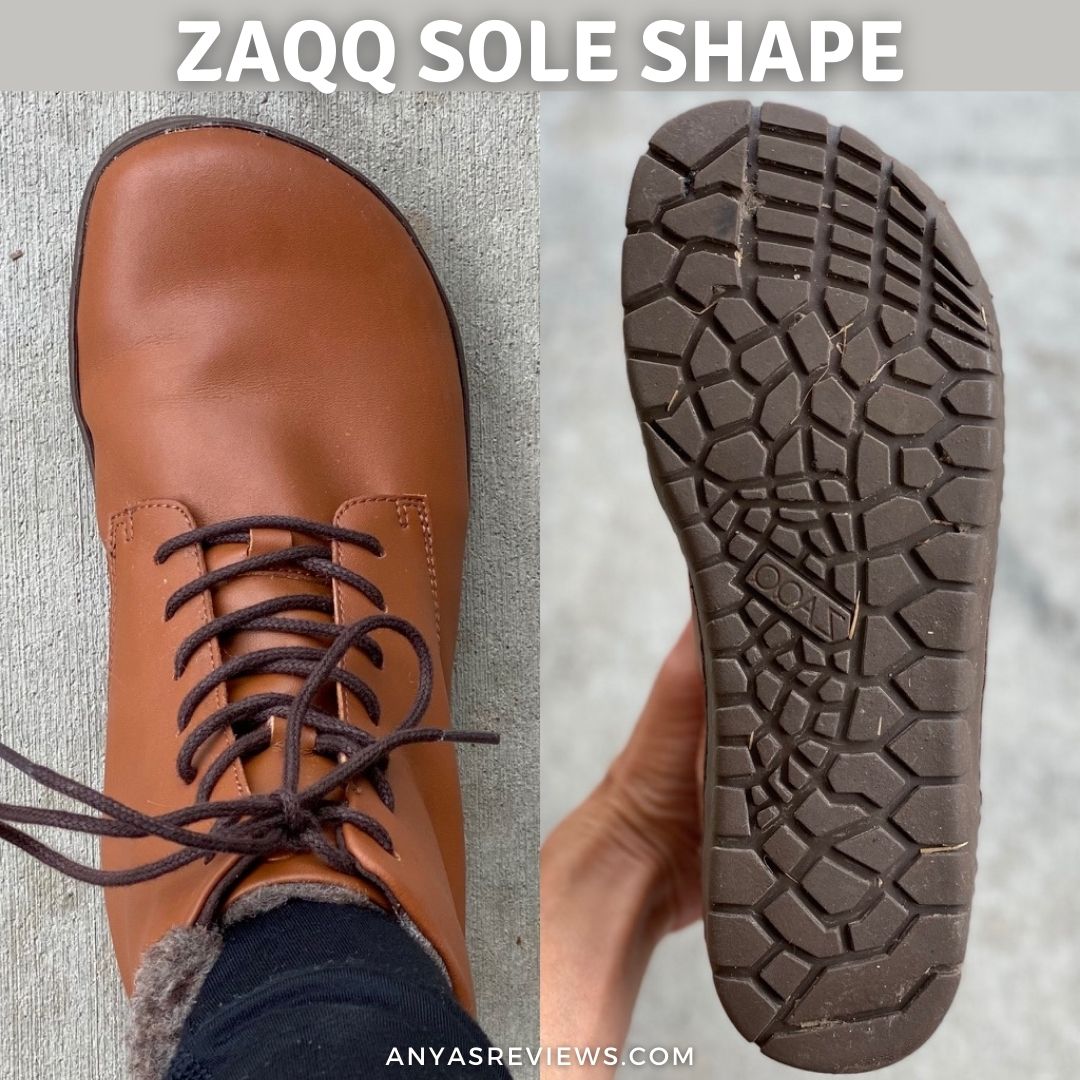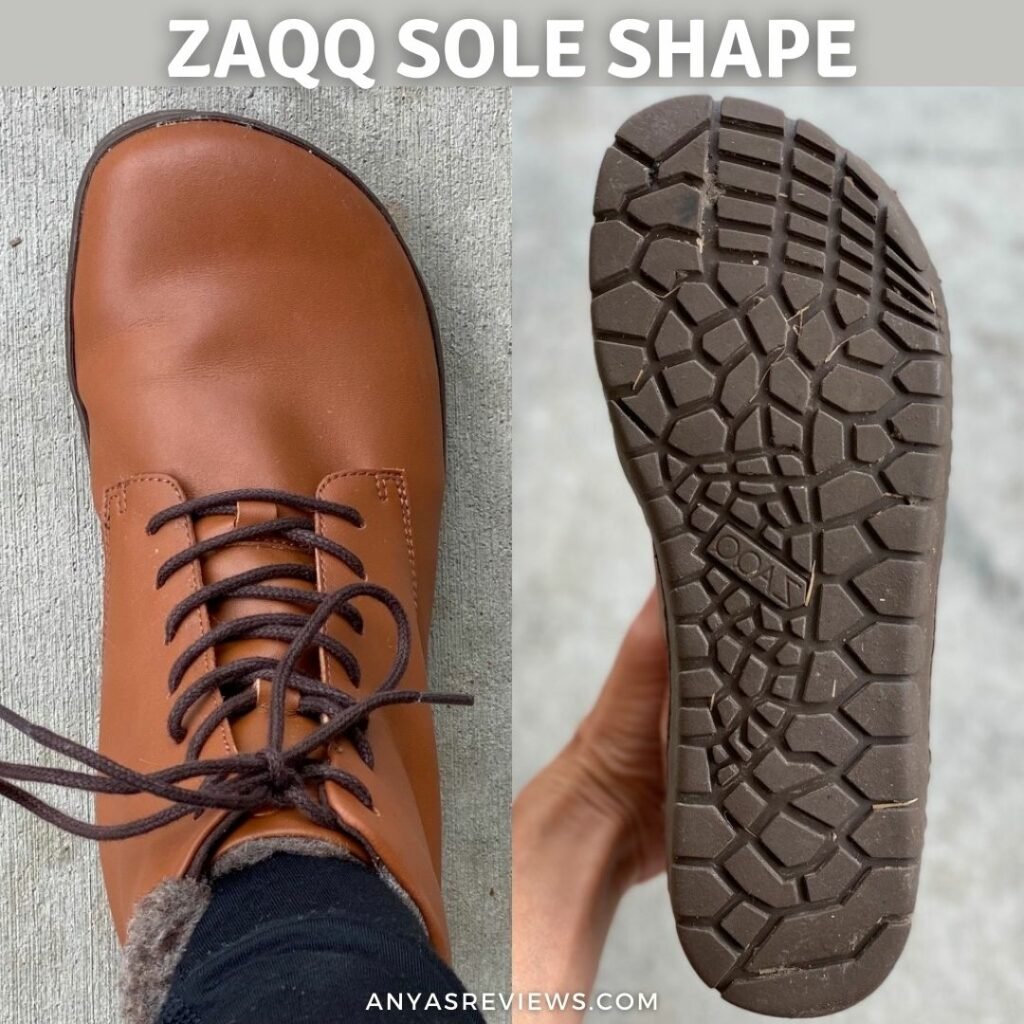 ---
Runner Ups
The above are my top ten most worn barefoot boots for every day, but there are some other really great barefoot shoe brands that deserve a mention. And depending on your foot type and preferences, they might be perfect for you!
Xero Shoes
Xero Shoes makes some practical barefoot boots for fall and winter, but they cater to an average to narrow toe box width and a wide midfoot. This unfortunately is the opposite of what I need (my feet are fan shaped) I don't get much use out of the ones I have because of my wide toes. Xero's barefoot boots also tend to have a firmer heel, and this is an issue for me because I have a bone spur on my heel that gets aggravated easily. Hence, they are in the runner up category here! They are a favorite for people who are new to barefoot shoes because they tend to have a lower price point than other brands and a wide range of options. Don't discount them just because their boots don't work well for me!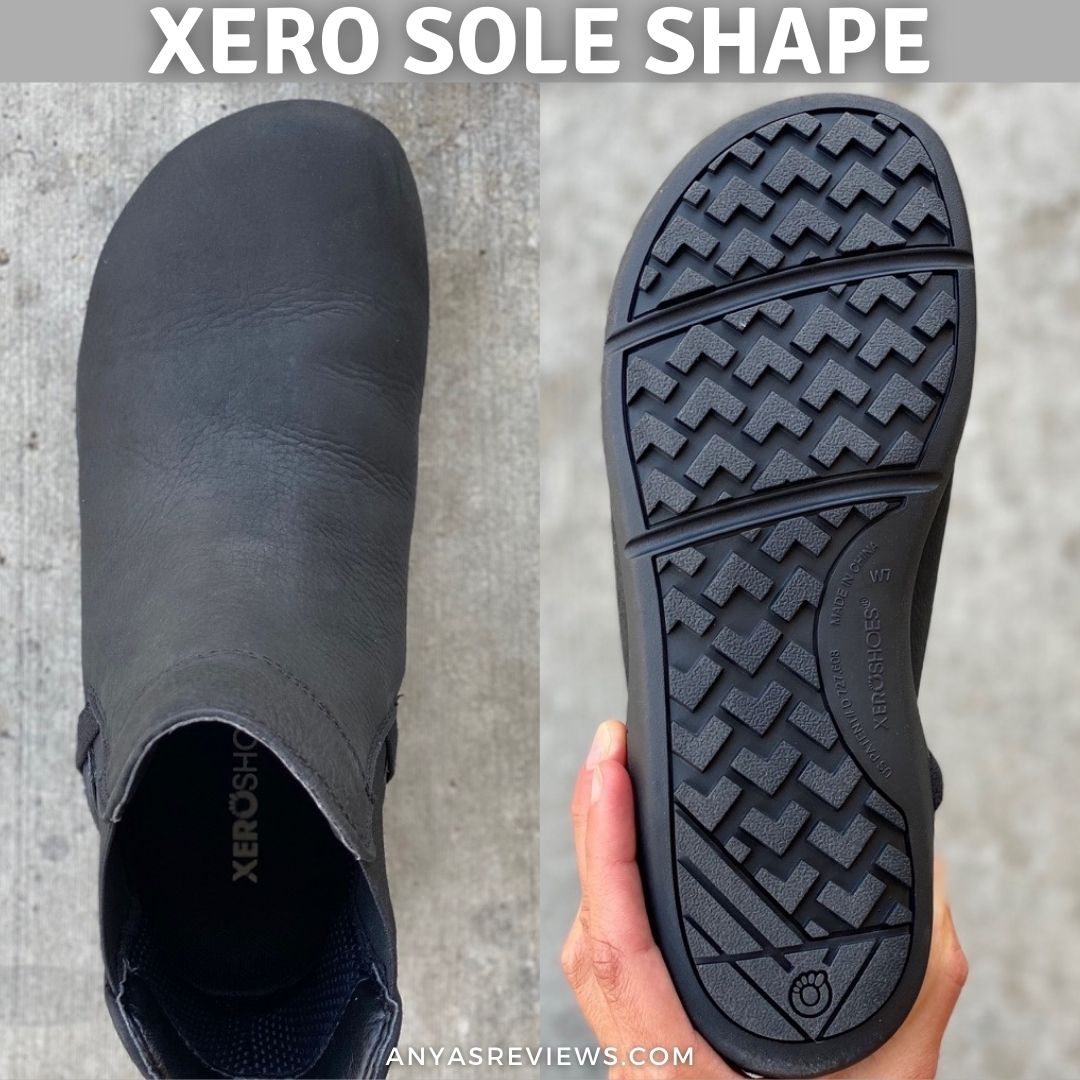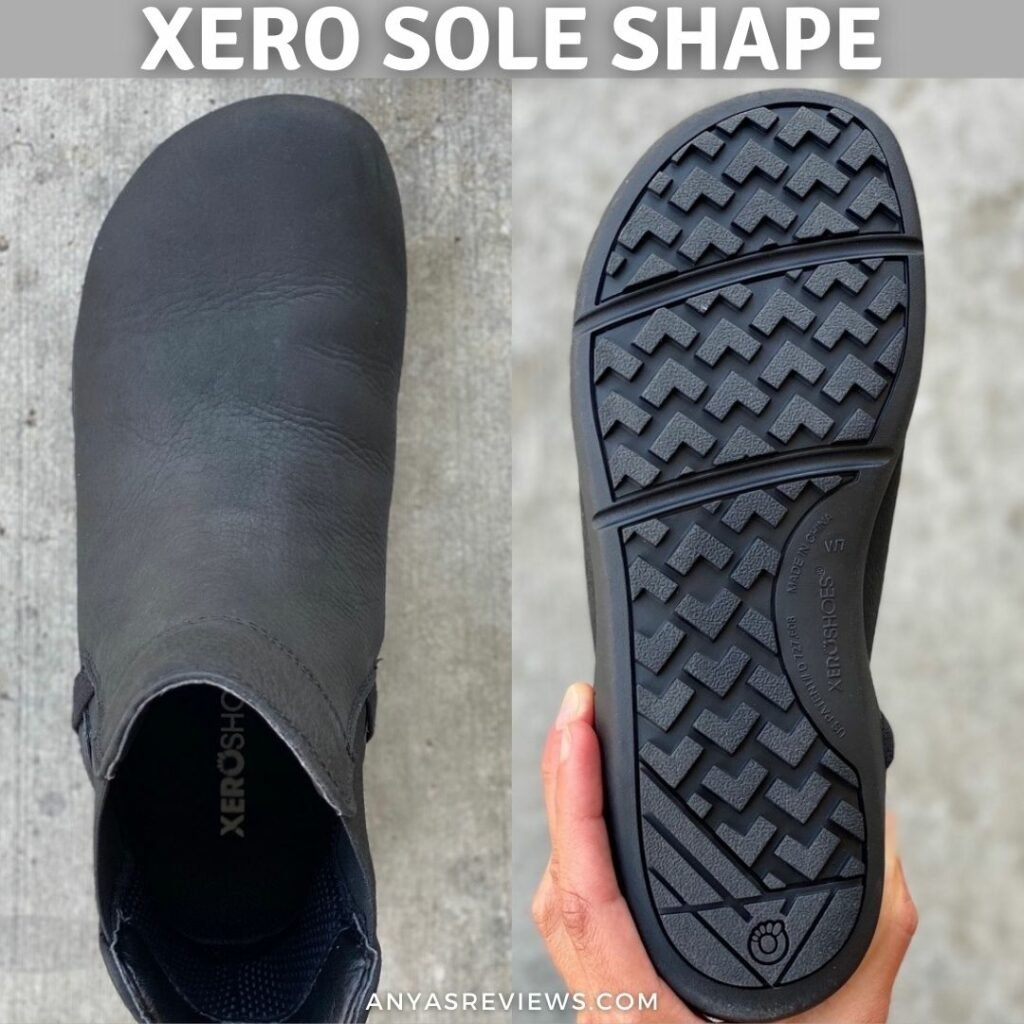 Read my in-depth Xero Shoes reviews here!
---
Ahinsa
Ahinsa Boots | Vegan | $160 | Sizes EU 36-48 (+ custom sizes) | Available At:
Use code ANYASREVIEWS for 10% off. The Jaya can be purchased through Anya's Shop
What I Love About Them: Ahinsa boots really light, flexible, and have a wide forefoot – just what I like in a boot. They are also all 100% vegan. The uppers are naturally water resistant, and they wear really well. I have yet to see any scuffs or fading of the material even after lots of winter use. I wish the Jaya had a side zipper, I'd wear them a lot more often if they did. But overall I am happy with them.
Sizing & Fit Type: Ahinsa shoes run a teensy bit shorter than most other barefoot boots, so I am kind of in between a 37 & 38. Both my Ahinsa barefoot boots are a size 37, but I wish I had gotten a 38 in the Winter model that has a fleece lining. The "Comfort" models from Ahinsa are all the same as the Barefoot ones, they just come with an insole that add a small heel lift and arch support (wouldn't be truly barefoot with this).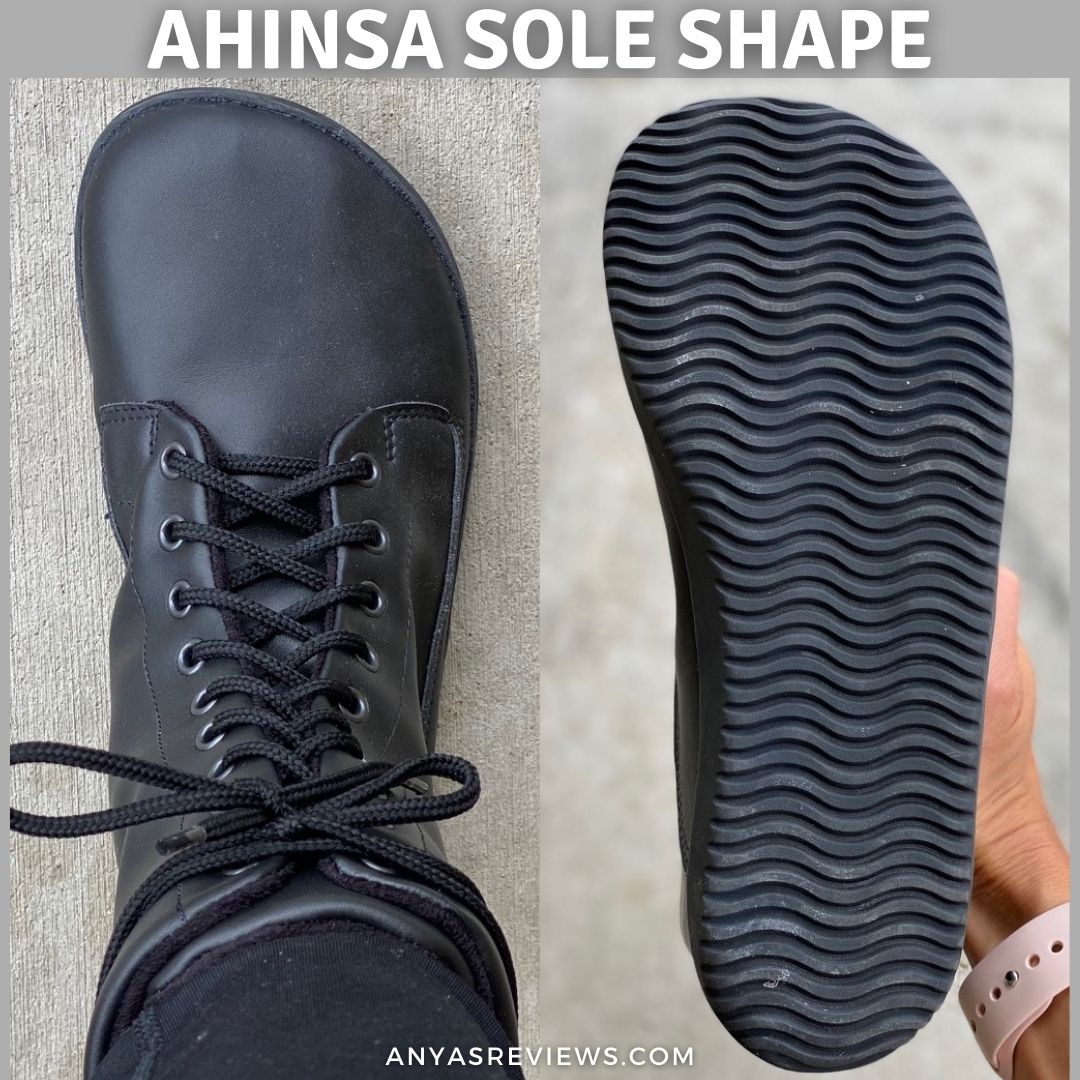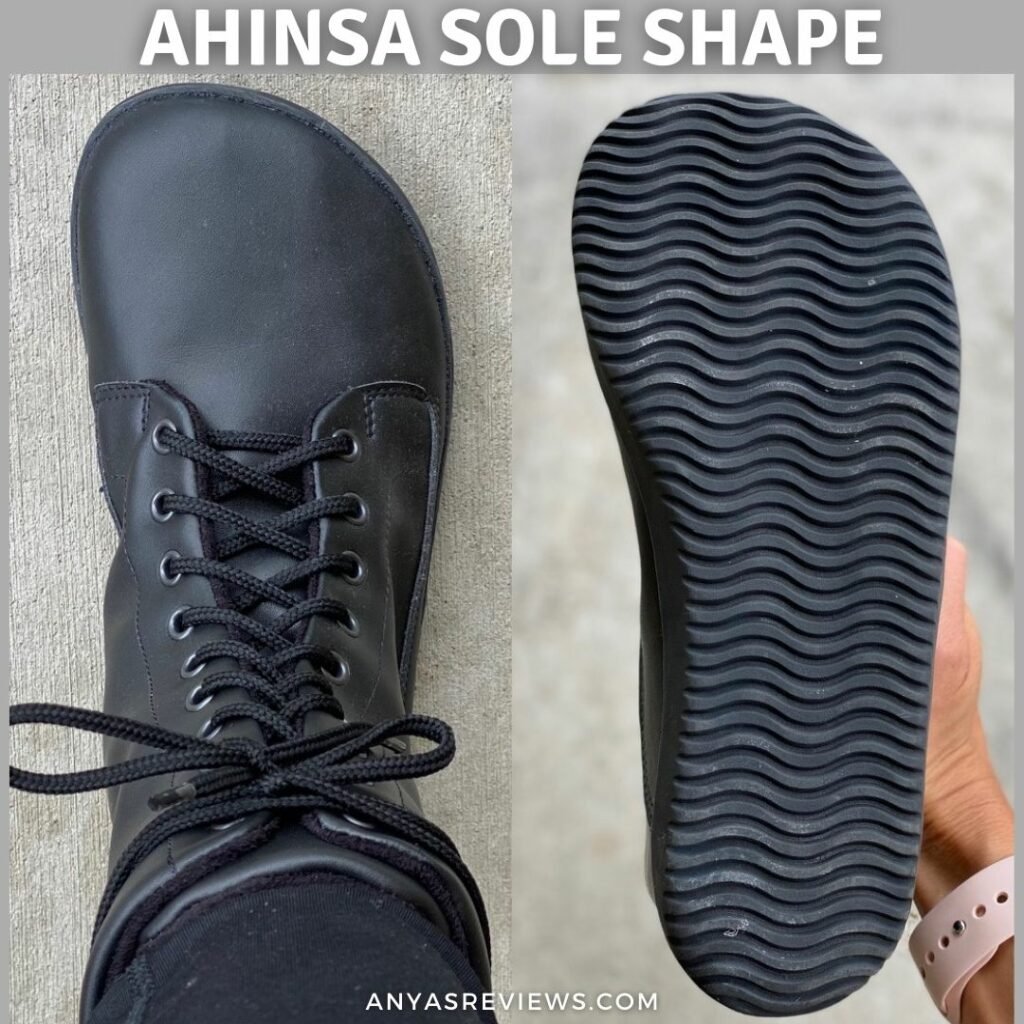 ---
Freet Barefoot
Freet Barefoot is my husband's current favorite barefoot shoe brand – they work well for wide, thick feet. I like the Richmond boot, which looks like a simple desert boot. The only reason Freet is here in the runner up section is that the styles are very utilitarian and I don't end up reaching for them very often because they don't always match my wardrobe. But they have some very practical boots for wide feet, including some great vegan options! You can read my thoughts on the Mudee boot here.
Use code AR-10 for 10% off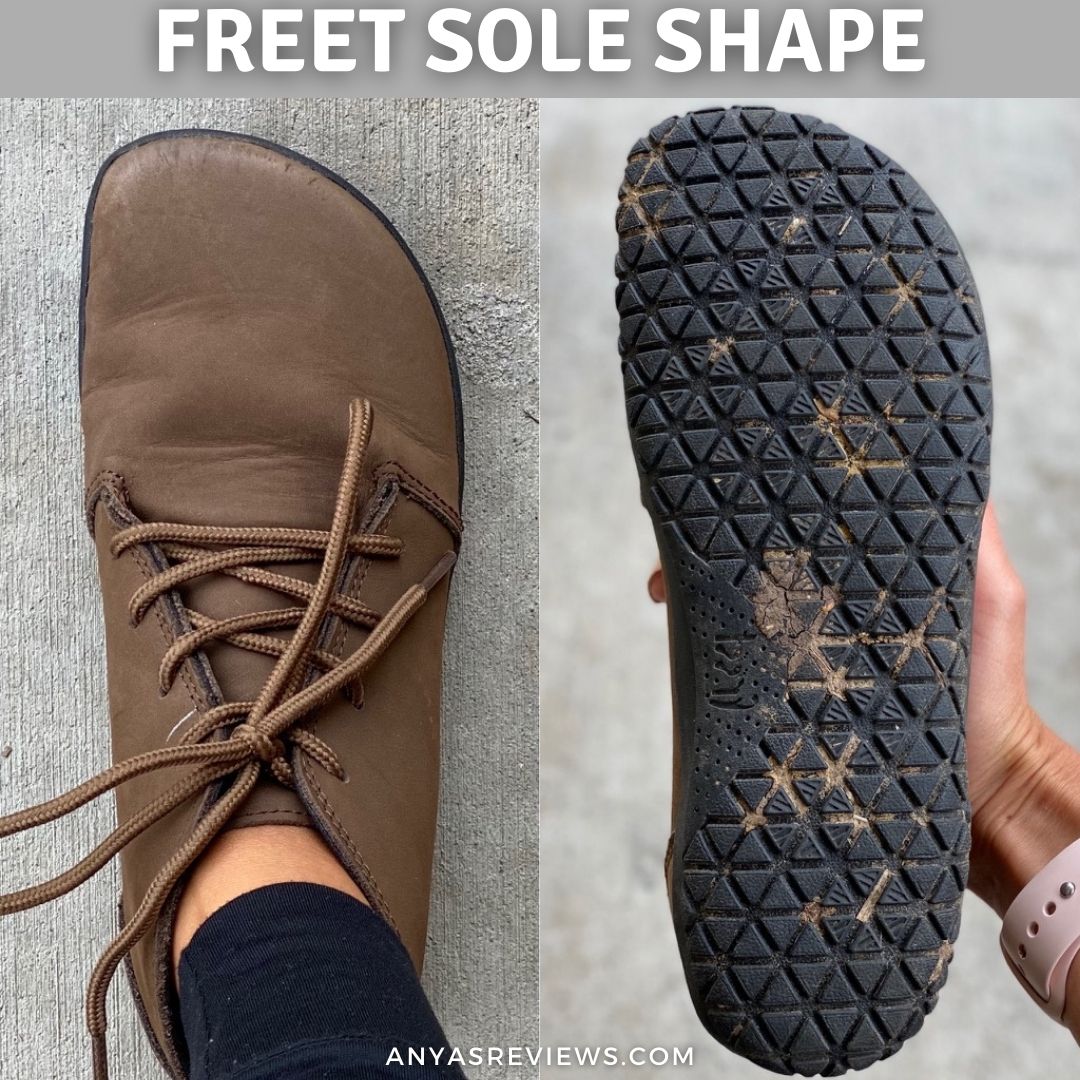 ---
Magical Shoes
Magical Shoes is a Polish brand that makes super flexible barefoot shoes. The Alaskan boot, shown here, is super comfortable and lined with warm wool. The only reason I didn't end up wearing them more often is because the style didn't work well with my wardrobe. But they're releasing more boots this year that look really awesome! I find their sneakers and boots run small, so I now size up to a 38 in them.
Use code ANYA for 10% off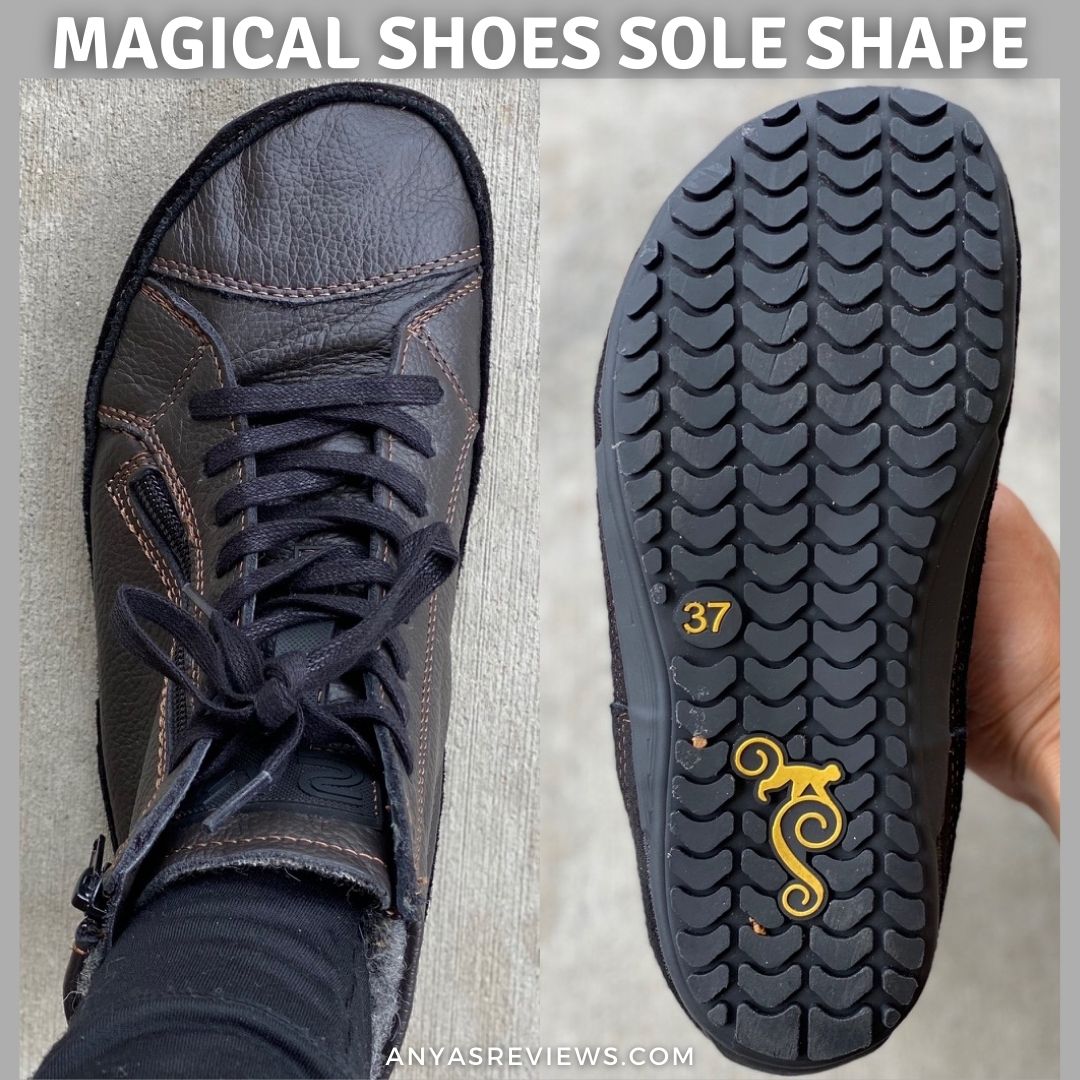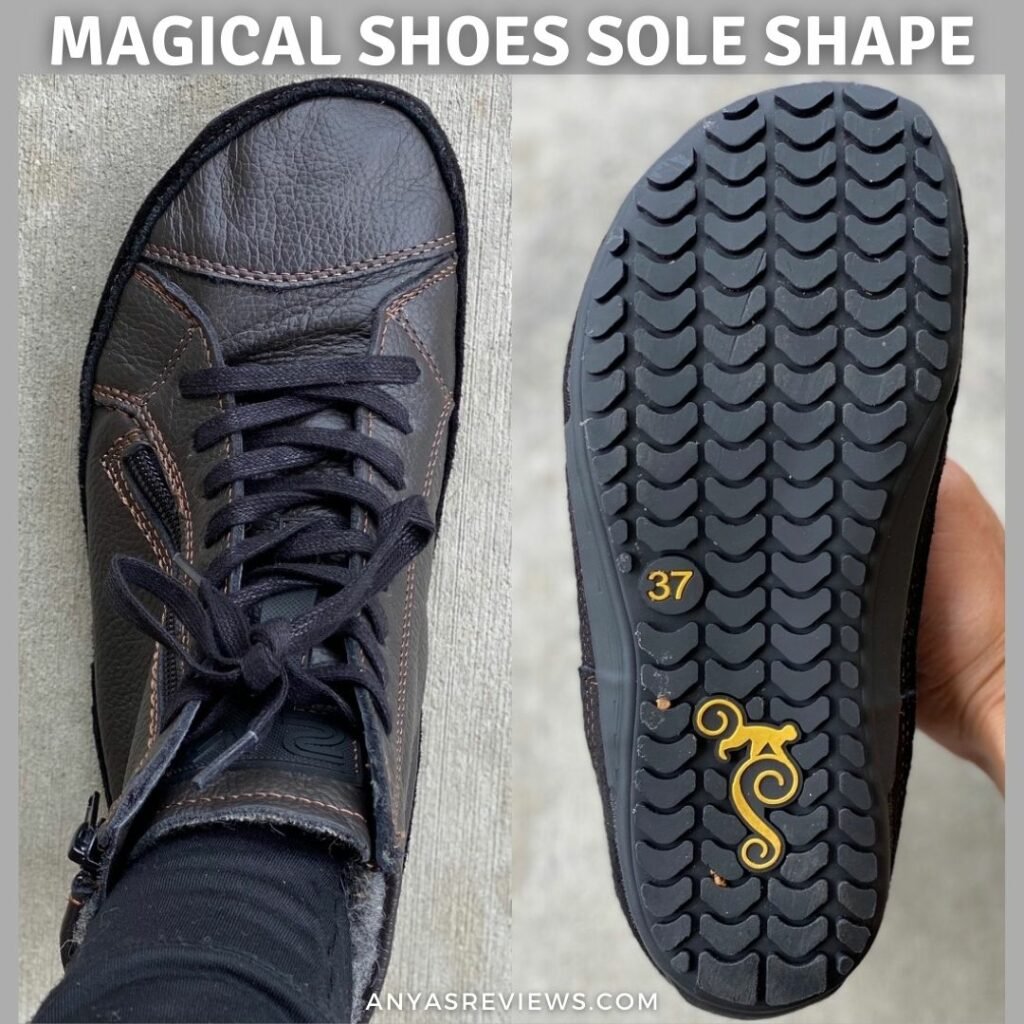 ---
Luks Barefoot
Luks Barefoot makes supremely soft, flexible, and wide barefoot boots that many people absolutely adore. Comfort-wise, my Primavera boots are fabulous and I'm always feeling great in them. But I don't end up wearing them as often because the height of them hits me at an awkward place. I wish they were either shorter or taller! They also have a really long wait time because every pair is handmade to high standards. Overall they're an excellent brand, and if they match your foot shape and style then don't hesitate!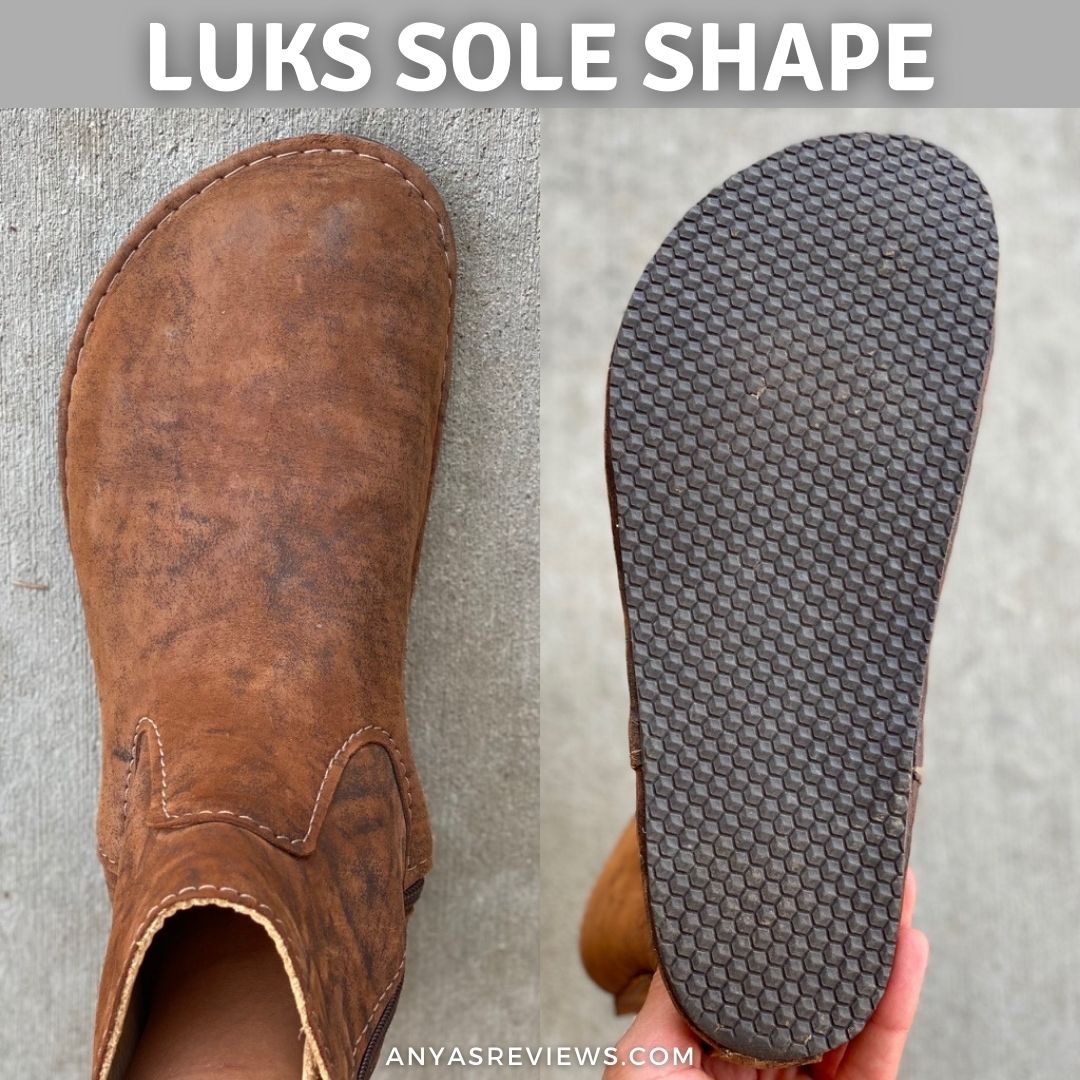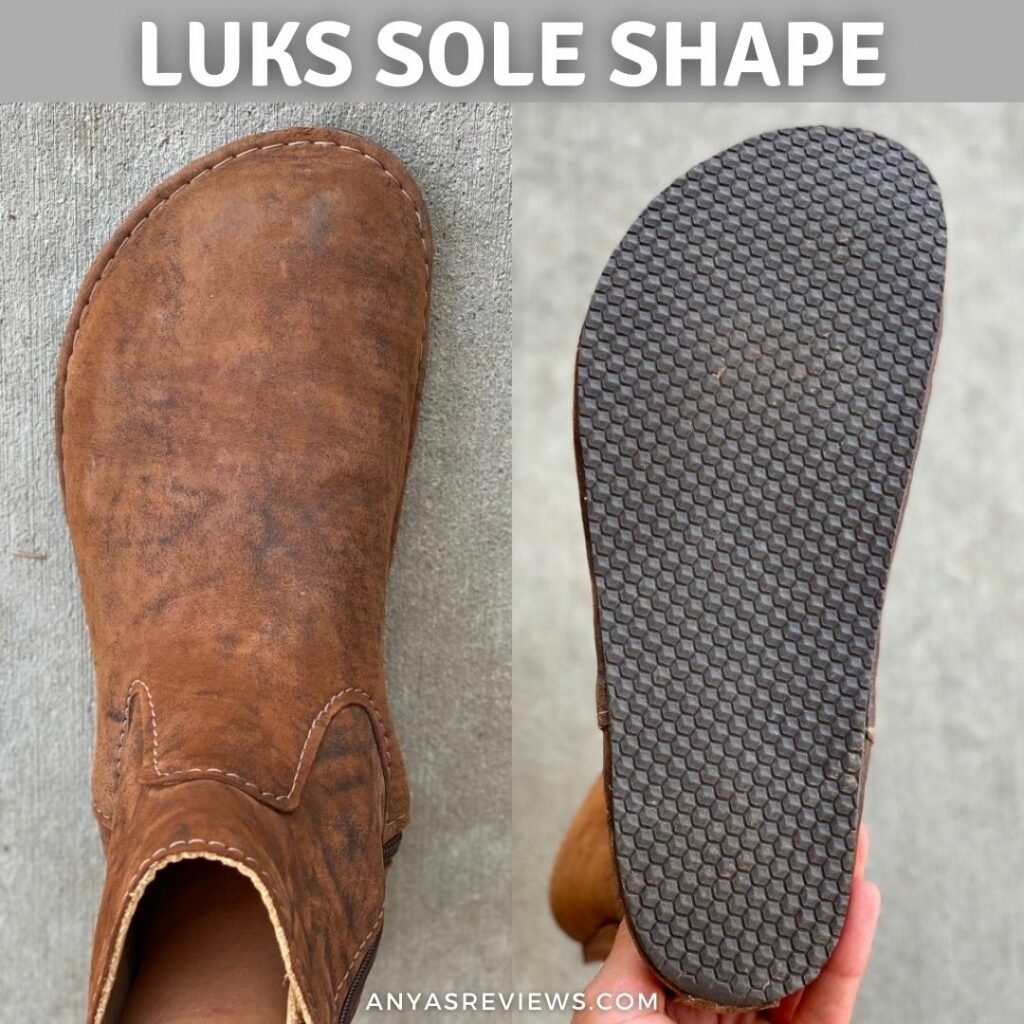 Read my in-depth Luks reviews here.
---
Shapen Barefoot
Shapen Barefoot makes gorgeous barefoot dress shoes for women, including the Ivy, which is the widest dressy barefoot boot I've ever tried. They're a godsend for people who need to get fancy but can't fit into other barefoot shoe brands! I love mine, but the ankle opening is stiff and definitely required breaking in and some moleskin. Otherwise, thumbs up all around! You can read more in-depth information about these boots in my Shapen Barefoot review.
Use code ANYA5 for 5% off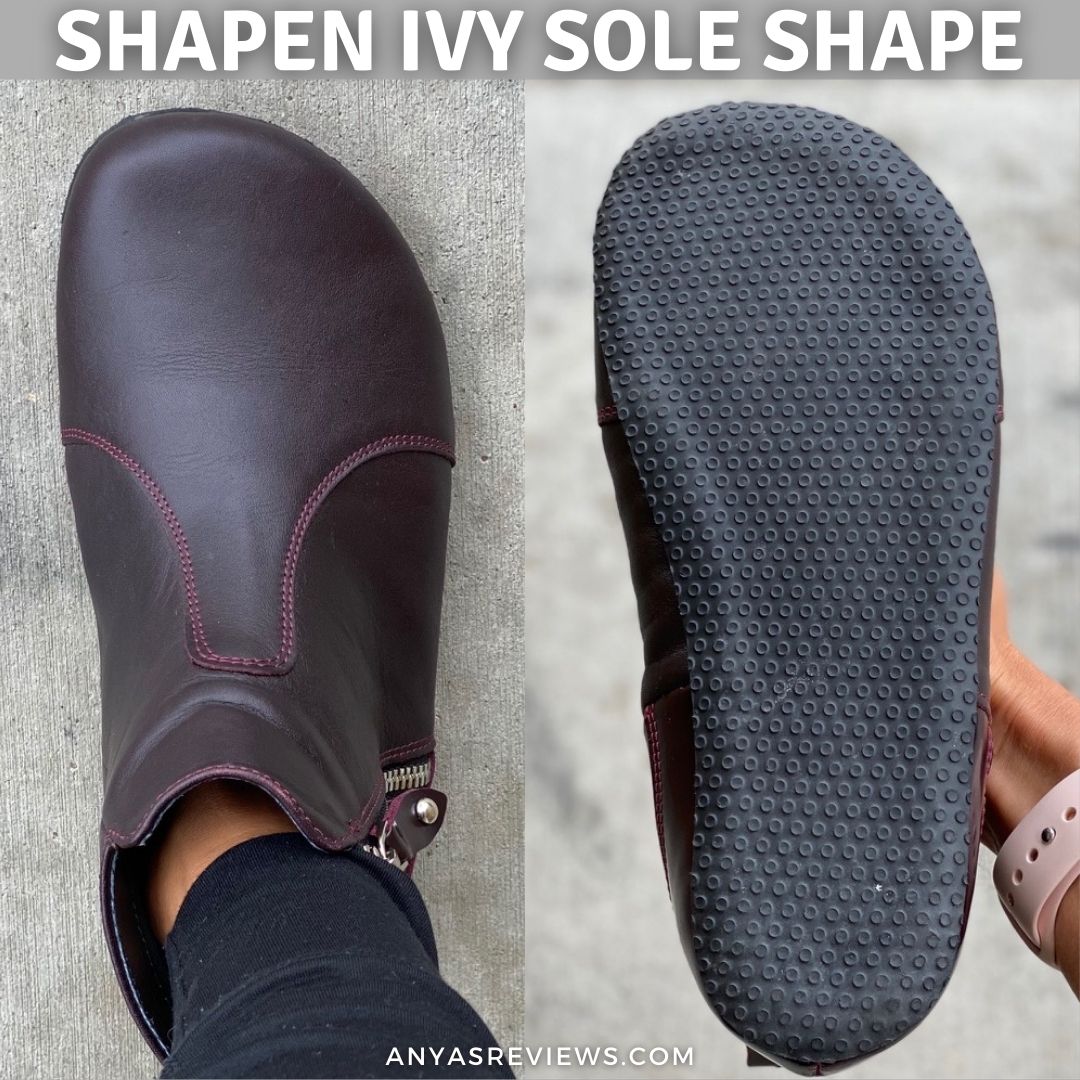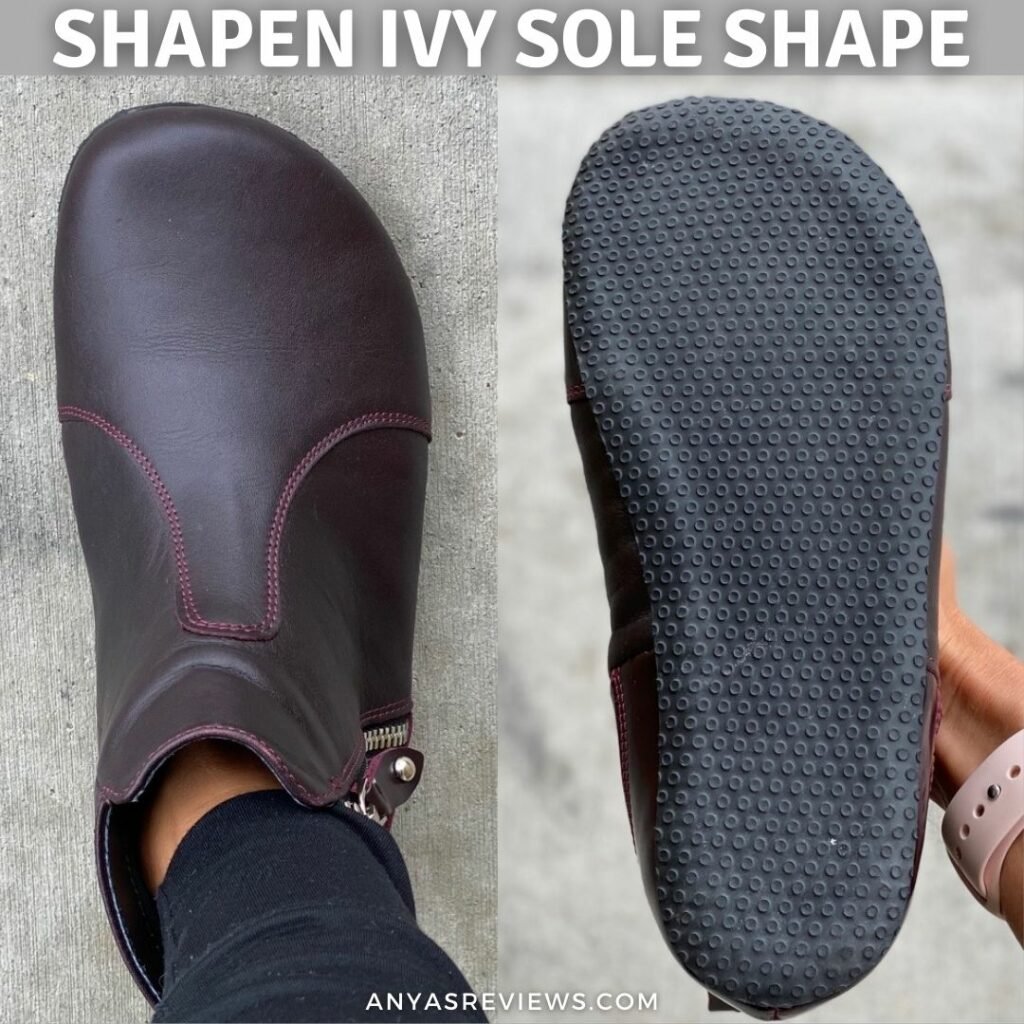 ---
Lems Shoes
Lems Shoes makes a really popular minimalist boot called the Boulder. It comes in a waterproof, leather, and vegan version. They have a nice wide toe box and fit a wide range of foot types, and they look really awesome. But I don't wear mine very often for one reason – the soles are 10-14mm thick, which is about double what I usually wear. Some people love the extra cushion and I can tell you it's a high quality shoe with a really nice toe box shape. But I really prefer thinner, more flexible soles.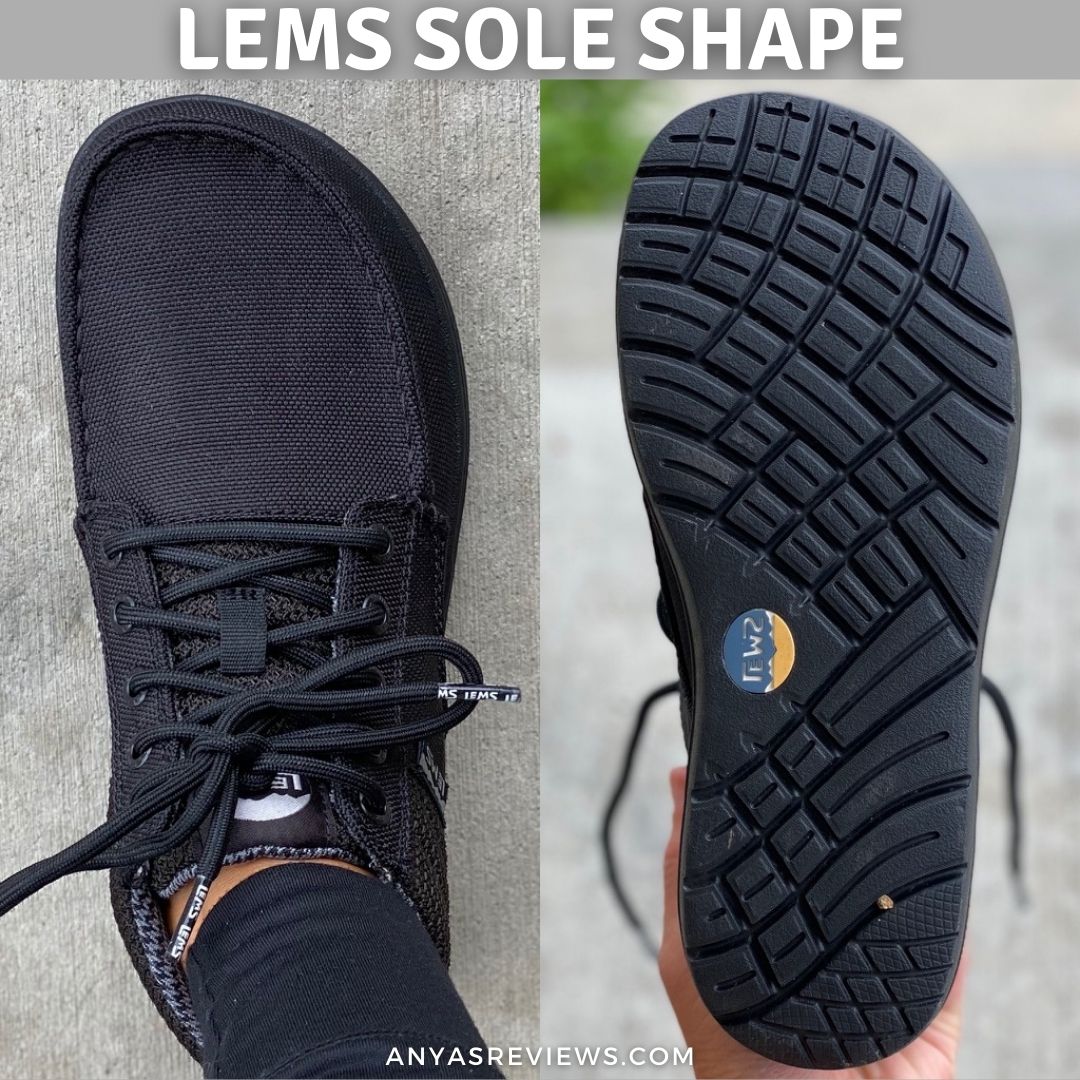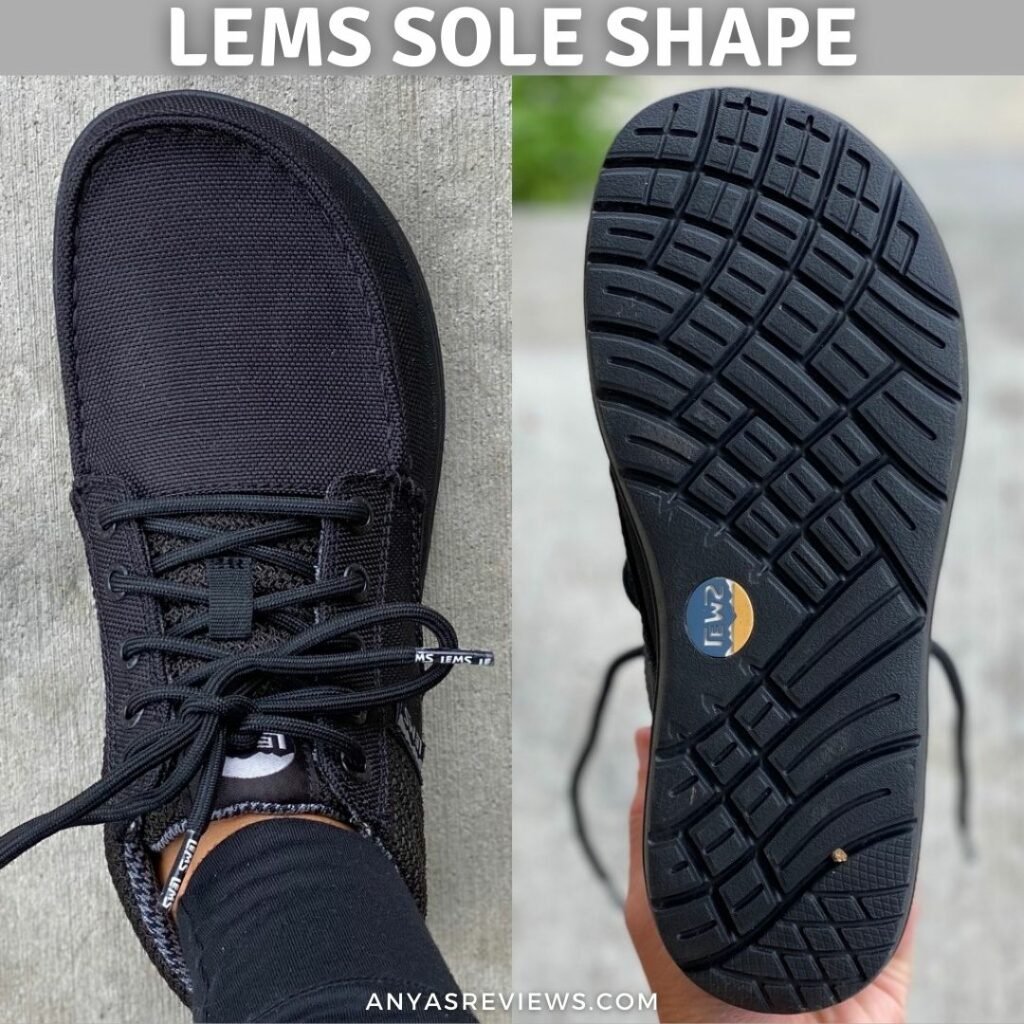 For more details you can watch my YouTube review of them here!
---
The Drifter Leather
The Drifter Leather is quite a process to order from – they accept orders only once a month or so and fulfillment can take months, but my barefoot boots from them are to die for. Extremely light, flexible, and perfectly formed to my foot BUT STILL A MAINSTREAM BOOT STYLE. Can you tell I'm excited? If you're considering a pair, make sure you check out my Guide to Ordering from the Drifter Leather for a full run down of the process, and then head to their website to subscribe for updates.
Click here for a full list of barefoot shoe brands that do custom work.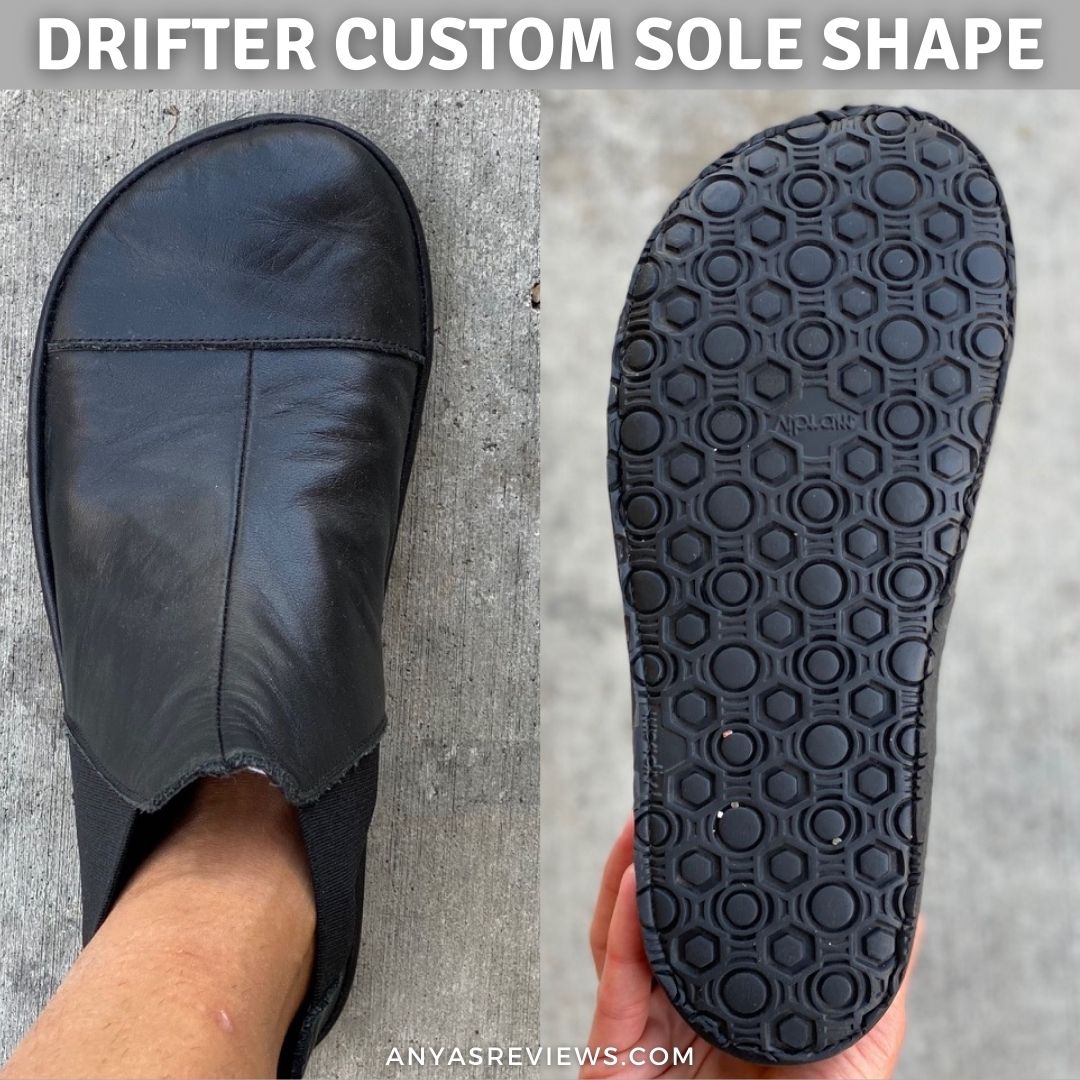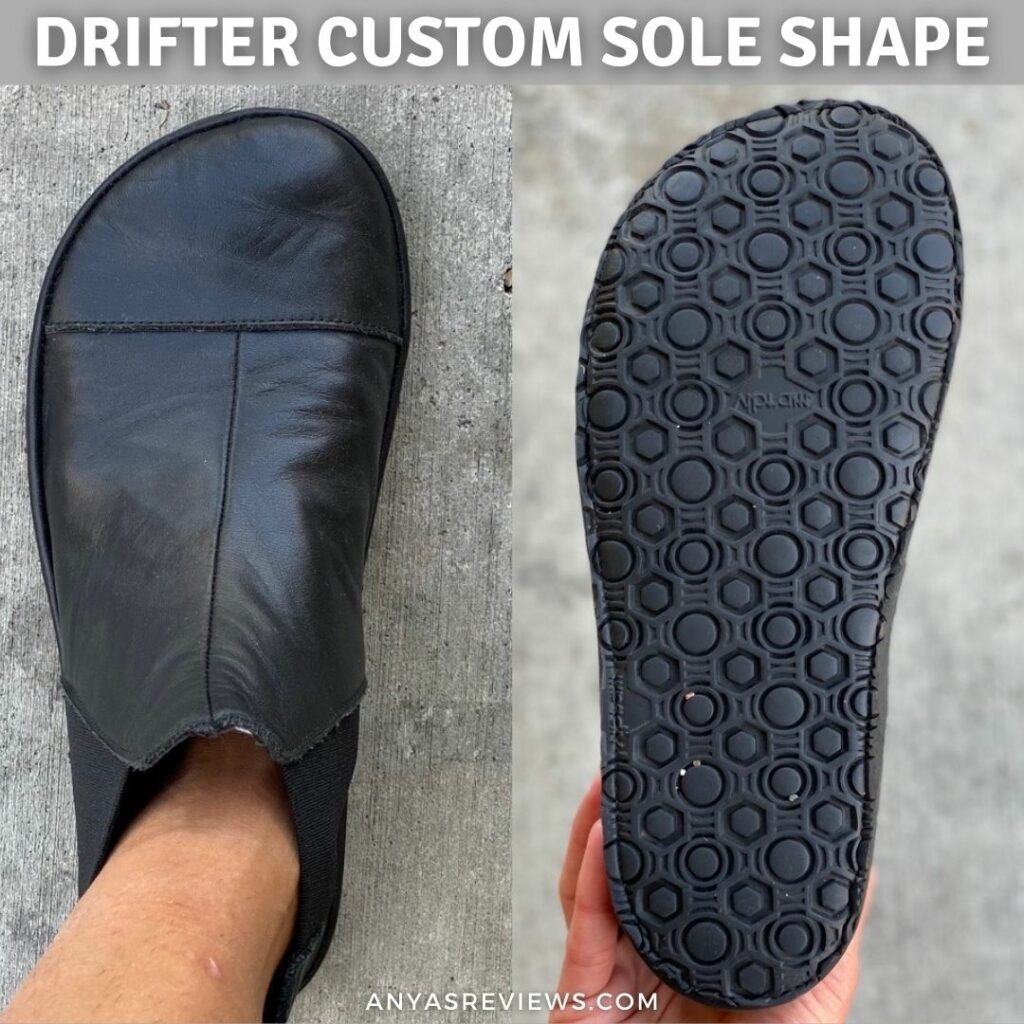 The Best Barefoot Boots In Summary!
As you can see, there are so many options in different styles and shapes that you're sure to find a healthy barefoot boot that works for you! And don't forget, I have tons of other resources here to help you find the barefoot shoe of your dreams, so stick around!