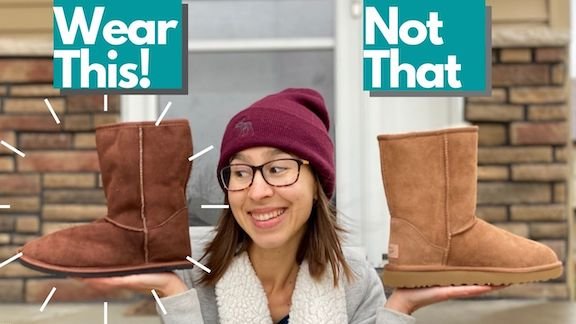 Move over Uggs! If you like the cozy warmth of Ugg boots but not the thick, stiff sole that doesn't bend when you walk, you need this barefoot alternative.
I don't fancy walking with planks strapped to my feet, do you? Feet bend on purpose, shoes should too! Enter the Zeazoo Dingo boot, a fully lined sheepskin boot with a flexible outsole. I love my Dingo boots and they have been super popular this year among foot nerds. Another huge bonus, they are handmade by a small business. So let's talk about why the Dingo is a better choice than the Uggs.
Welcome to Episode 4 of Wear This, Not That!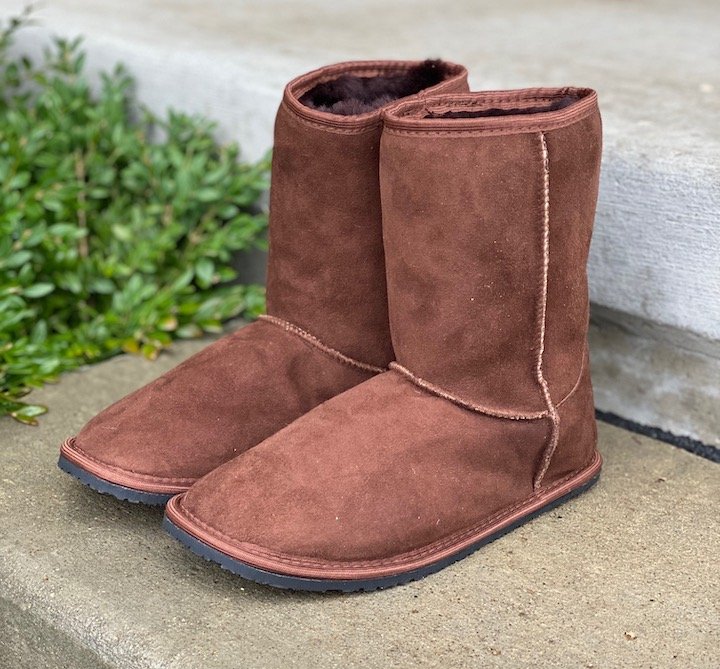 Why are Dingos better than Uggs?
Considering how much time our feet spend in shoes, we should all be considering how it affects our bodies. Certain commonplace shoe characteristics (such as a stiff sole) might not seem like a big deal at first glance. But I've learned from painful experience that it does matter, very much in fact. So let's find out why I consider the Dingo boot, by Zeazoo Kids, to be much better for your body than Uggs.
Thin Flexible Sole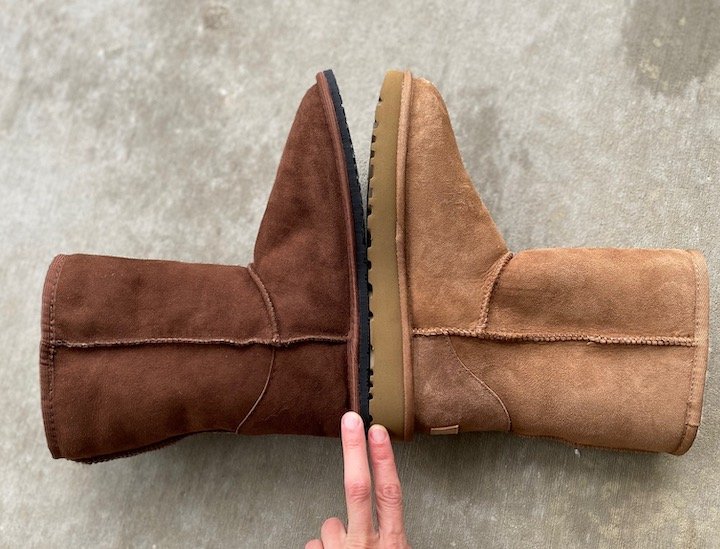 Ugg boots are made with an outsole that is nearly an inch thick and does not bend. On top of that, there is a slight heel rise (the sole under your heel is thicker than it is under your toes). All of these features are problematic.
If you take a stroll around your house barefoot you will notice that your foot bends and moves quite a lot. Your joints, bones, and muscles are doing an intricate dance to keep you balanced and stable while you walk. But throw a rigid sole under there and suddenly your toes can't speak to your arch, which in turn can't speak to your knees and hips. You see our foot function is critical to our whole body function, and when you get in between that you are setting the stage for future dysfunction.
For more in-depth info, read this post on Why I Only Wear Barefoot Shoes.
The Zeazoo Dingo, on the other hand has a flexible, zero drop sole that keeps you grounded and doesn't interfere with the necessary motion of your feet. You might think that such thin soles would wear out a lot faster than thicker soles, but the Dingo uses a Vibram outsole. Vibram soles are made of superior technology that doesn't wear away as quickly as the cheap foam-like material used on Uggs. I have been wearing shoes with Vibram outsoles for years and have yet to wear through a pair.
Natural Foot Shape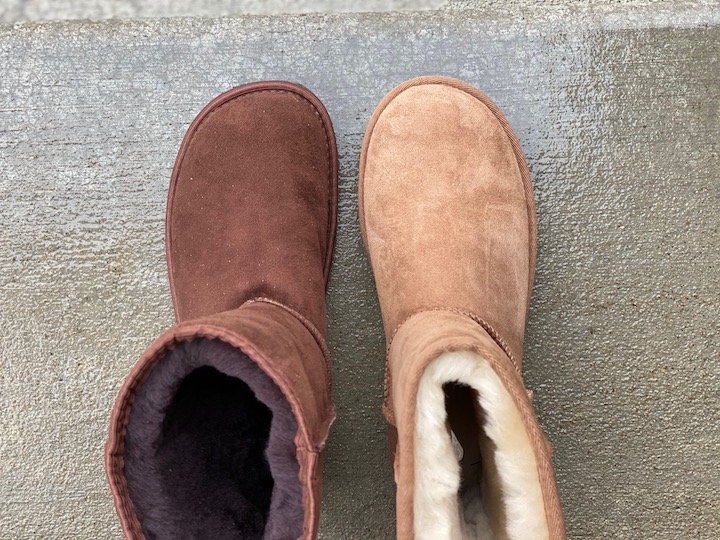 Another bonus you get from choosing Dingo boots is that they have a natural foot shape. While Uggs are certainly not as bad for your toes as pointy heels, you can see above that they taper in and come to a subtle point. The Dingos on the other hand leave space for your toes to lay flat. This is so critical to prevent bunions and foot deformities, but also to allow your toes to stabilize you while you walk.
Both Are Soft and Fuzzy!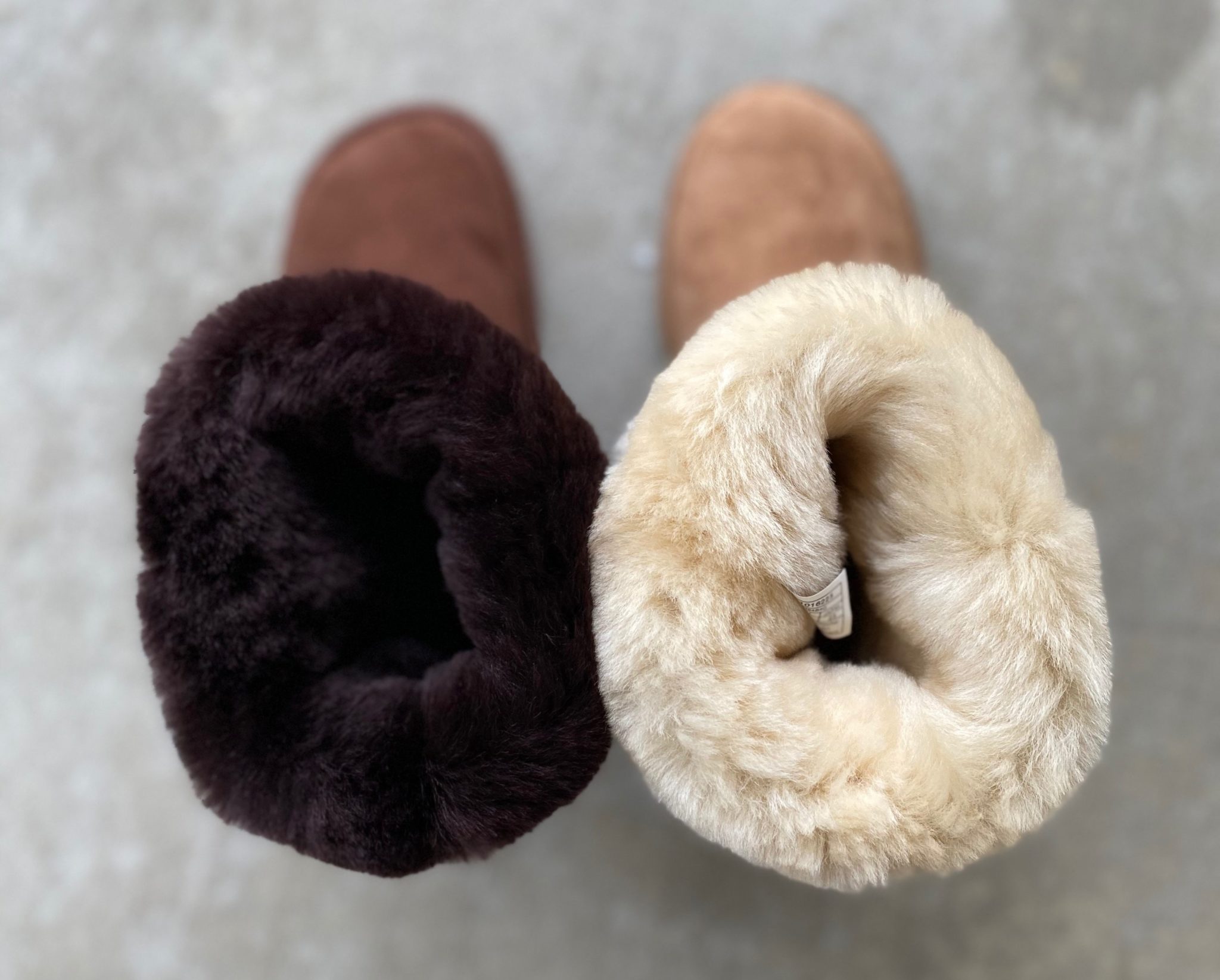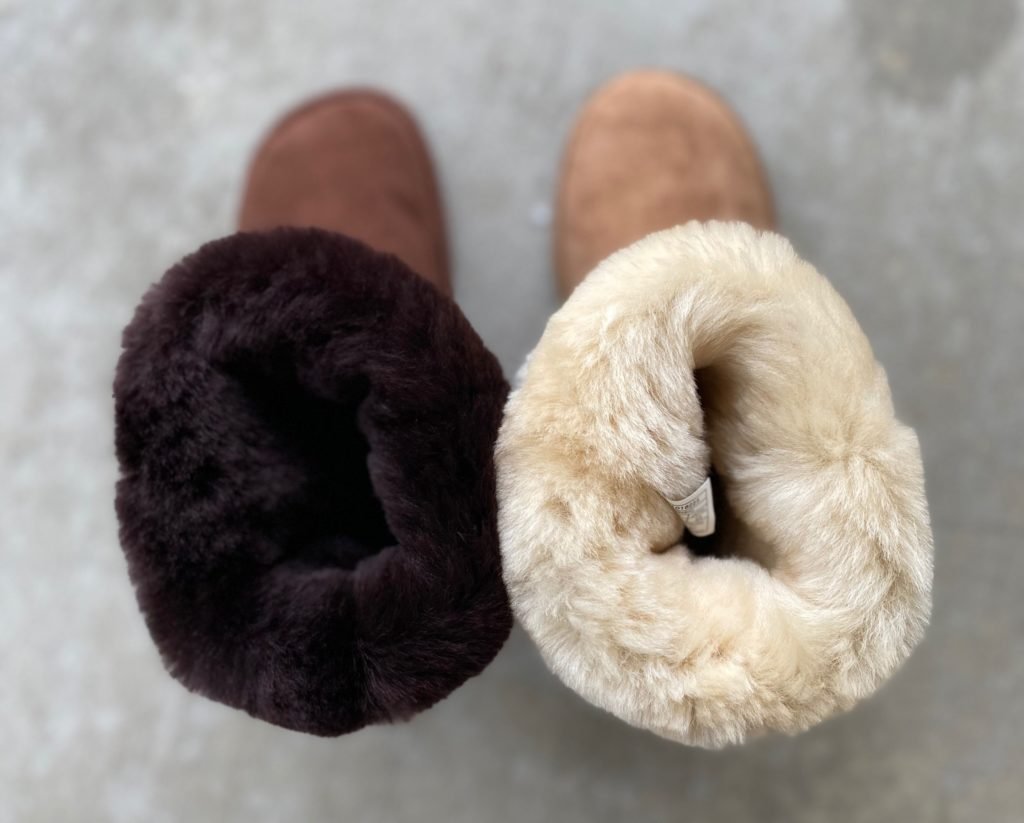 Both the Dingo Boots and Uggs are fully lined with sheepskin, and so soft and cozy. You're sacrificing nothing with the Dingo, but gaining so much!
Where to Order
I got my first pair of Dingo boots a year ago and wore them so much that I decided to carry them over at Anya's Shop. You can get them in brown and black for both kids and adults, with shipping to US/Canada. The rest of the world can get them either from 100 Barefoot Soles (UK retailer) or directly from Zeazoo Kids (Bulgaria) and get a discount with my code ANYASREVIEWS at both places. If you fancy purple, you can get it from those retailers as well.
Like Discount Codes? Make sure you bookmark my Current Sales and Codes page for all available discounts in one place.
Sizing & Fit
If you're familiar with Uggs sizing, the Dingo boots run the same. Compared to other shoe brands, they run big. I normally wear a size EU 37 (or US 6.5) in boots, but I'm wearing a EU 36 (US 6) in the Dingo. Here you can find a size chart with internal length measurements, and if you need help understanding how to use the chart make sure you read this post all about measuring and finding your size.
These boots also stretch out a little and should be snug to start (lots of cozy goodness inside!). Both the Uggs and the Dingos shown in this post are a size US 6 or EU 36.
Fit Type: The Dingo boot has a Roman shaped toe box, so will be good for people with square- shaped toes. It works well for high volume feet and thick ankles, but can also work for low volume feet if you wear socks (yoga socks are great for this). For more information on foot type, read the post below.
The Best Barefoot Shoe Brands for Your Foot Type
How To Style
The Zeazoo Kids Dingo boot comes in black, brown and purple. The purple was a little much for me, which is why we're only carrying brown and black. I wear them just like I would Uggs! Most frequently with leggings and baggy sweatshirts for a quick trip to the store (I love easy pull on boots!), but you can also make them cute with jeans and a nicer sweater or coat.
Care
Dingo boots are suede, that means they are not waterproof and more prone to damage than finished leathers. If you want to protect them without changing the way they look, I recommend using a waterproofing spray such as from Nikwax. I wore mine a full year without protecting them at all and the leather is starting to fade and show color damage. To prevent this, you want to regularly brush off dirt and reapply the spray a few times throughout the season!
Another option is Sno Seal. That is a heavy duty, very effective waterproofer, but it does change the look and feel of the suede. In this video you can see a Sno Seal tutorial I created waterproofing my son's Dingos.
Conclusion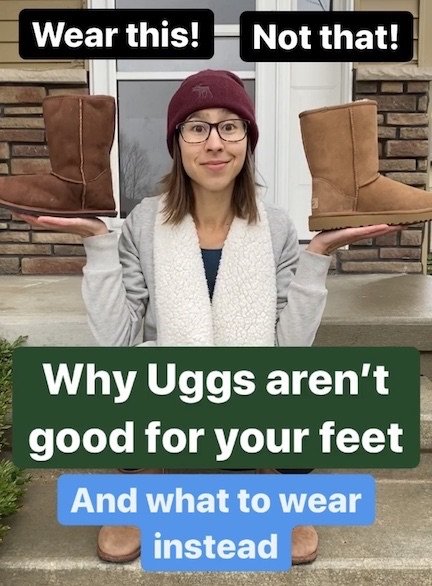 Cozy feet? Check! Healthy feet? Check! I am a firm believer that taking care of your body can coexist with great style and functionality. Don't damage your feet because you want them to stay warm! If you're on the lookout for barefoot shoes to get you through the winter, check out this list of lots of barefoot winter boot options. And then make sure you subscribe below to stay in the loop on all things healthy feet, functional movement, and cute shoes!