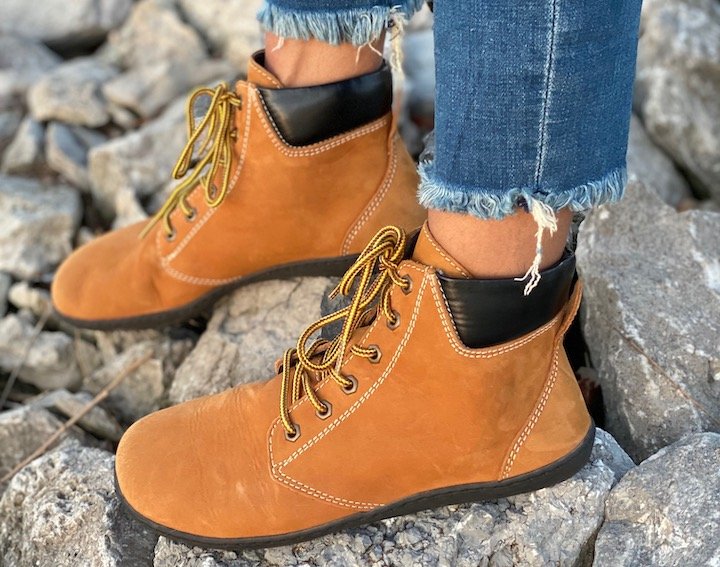 *Updated for 2022!*
If you're looking for a cold weather barefoot boot, look no further! Don't let the temperature keep you from going "barefoot." Foot health can be maintained all year, no matter the weather. So read on for a full list of minimalist boots for men and women, organized by style!
And if you'd like to see which of these are my personal favorites, here is a post of the 1o Best Barefoot Boot Options.
Needs kids barefoot boots instead? Check out this post.
Barefoot Chelsea Boots
Barefoot Lace-up Boots
Ahinsa – Vegan. Use code ANYASREVIEWS for 10% off. US customers can now order the black Ahinsa Jaya through Anya's Shop! Orders placed through our shop will be eligible for US returns.
Angles Fashion – Zeus. Use code ANYA for 5% off. Read my Angles Fashion review here!
Blifestyle – EU only
Conker Shoes Derby – They also have a brogue derby
ElaFaustus Shoes – Custom
Faery Steps – She's got a couple cute lace up style boots, but the ready-made sizes look narrow. She does offer custom.
Gaucho Ninja Leather UK – See my Guacho review here. Use code ANYASREVIEWS for 10% off!
Groundies – Berlin, Astana, Manchester, and Liverpool. I reviewed the Liverprool (Timberlands dupe!).
KIUU Oslo (EU only)
Lems Boulder Boot – They actually make 3 different kinds of Boulder Boots. See my video review of the Waterproof version here. European residents can purchase Lems at Mugavik Barefoot and use code ANYASREVIEWS for 5% off
Mukishoes -Igneous model is leather and wool lined. Several lace up high top options also. ANYASREVIEWS 10% off
Peerko – Go, Frost, Empire, and Rex models. Use code Use code ANYASREVIEWS10 for 10% off. Also available at Happy Little Soles to UK readers, and at Anya's Shop for North American readers.
Ruth Emily Davey – Custom and ready made sizes available.
Sole Runner – Yepa 2, Atlas, & Hati
Tikki Shoes – Up to size EU 39 only.
Vivobarefoot Gobi Hi Top – Brought back seasonally, usually restocked in the fall. Review of the current version here. VIVOANYA for 10% off
Wildling boots – Several styles, some lined and some not.
Barefoot Combat Boots/Grunge
Looking for barefoot combat or buckle boots with a grungy look? Here is a list of edgier barefoot boot options. You can see my favorites with more photos/info in this post on the Best Barefoot Combat Boots.
Barefoot Hiking Boots
Barefoot Desert/Chukka Boots
Barefoot Warm Winter Boots
For more in-depth information on warm barefoot winter boots, check out my review of the all time warmest options!
Barefoot Vegan Boots
Barefoot Tall & Riding Boots
Barefoot Rain Boots
I have a whole article dedicated to this! Check out my List of Waterproof Barefoot Shoes for Rain to see your options.
Other Barefoot Boot Styles

Joe Nimble has a good variety of boots available, but they do not ship to the US, so are only available to international customers. If you want to shop Joe Nimble boots in the US you have to order from Joe Nimble US (Use code ANYASREVIEWS for $10 off) or Baer Shoes


Barefoot Boot Sole Shapes
For more detailed information on the barefoot boot options available, make sure you check out my other useful barefoot boot articles!
But in the meantime, check out these outsole comparisons for 21 major barefoot boot options to see how they compare and which is most likely to work for you.