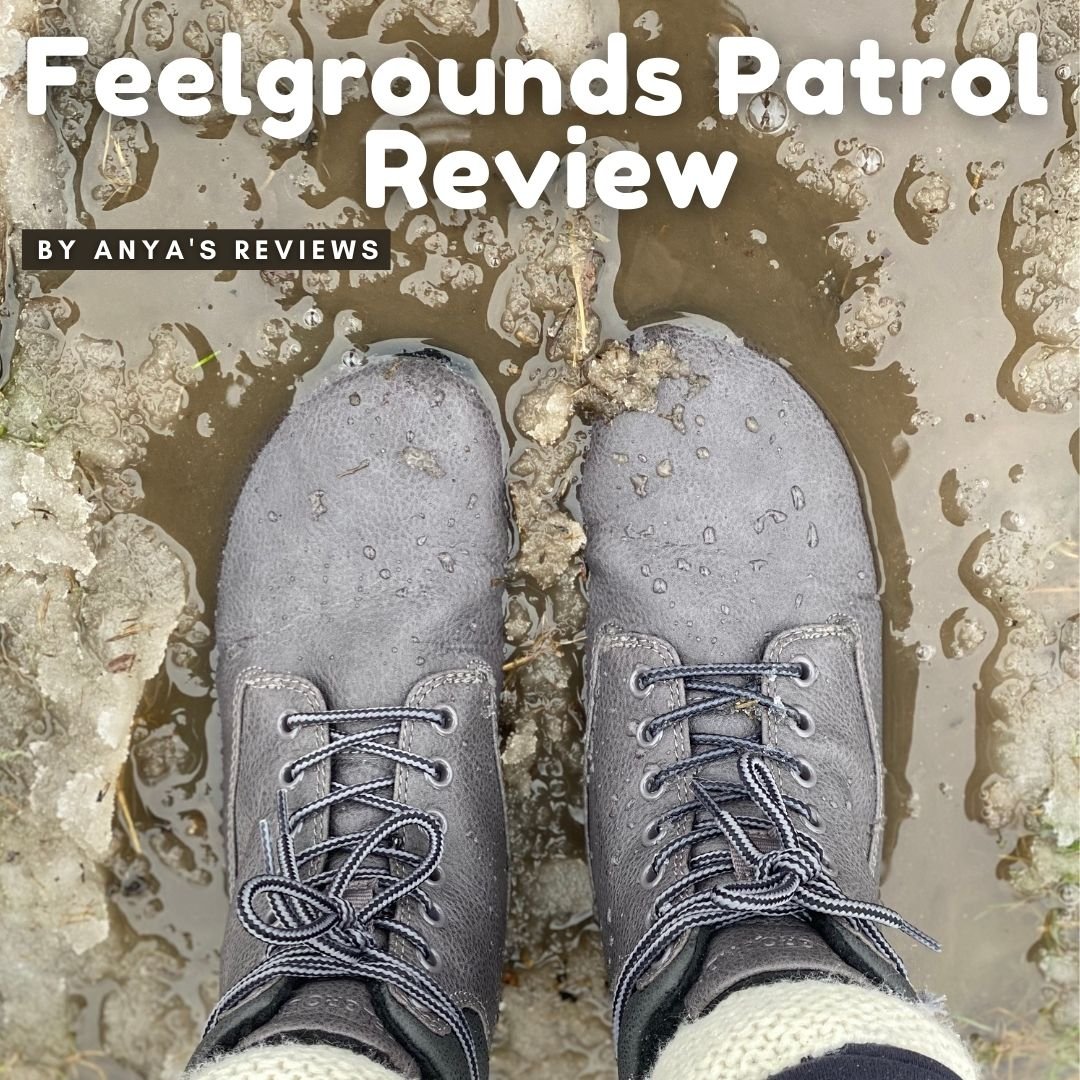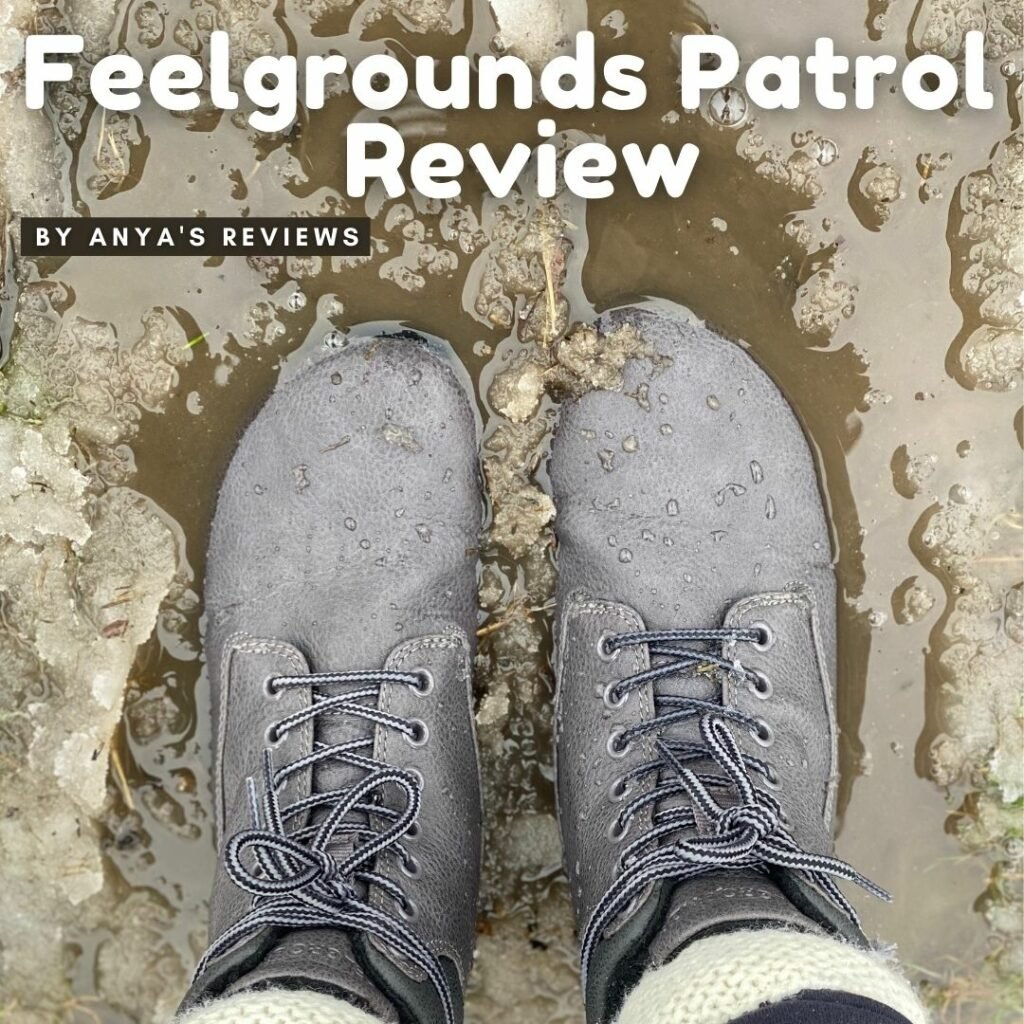 Feelgrounds is a barefoot shoe brand that makes zero drop, foot shaped, and flexible shoes that are ALSO stylish and vegan. This year they released their new Patrol boot, a waterproof lined barefoot winter boot. Check out this review of the Feelgrounds Patrol to see how they stack up to my standards for natural footwear!
The Feelgrounds Patrol Review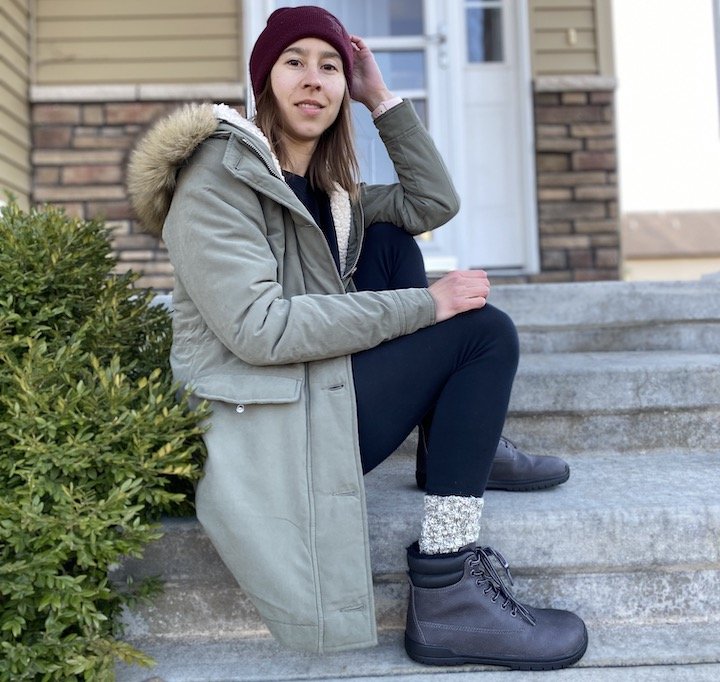 This barefoot winter boot from Feelgrounds was hotly anticipated in the barefoot community. The Patrols are 100% vegan, waterproof, have a 10mm stack height, and come in sizes EU 35-49 ($199).
I have tried A LOT of barefoot boots, so have been really curious to see if the Patrol will be as practical and comfy as they are trendy. Because they definitely nailed the look! They are chunky, edgy, and look similar to the popular Timberland boots. BUT, they're significantly better for your feet thanks to their barefoot features.
Barefoot Qualities
*Feelgrounds has since improved these boots for fall of 2021! I will update this article as soon as I know the changes*
Feelgrounds updated their toe box shape to be wider and less tapered, so should fit more foot types than their previous shoes. The difference is subtle, but you can see below that there is a little more big toe and pinkie space in the Patrol vs the Highrise.
As far as flexibility, while the Patrols can roll up I find the heel to be pretty stiff. I like my entire shoe to be roll-y, not just the front half. They have definitely loosened up after a few wears, but the outsole almost feels reinforced in the heel. This makes them feel clunky when I walk (though they are definitely zero drop).
It should be a pretty damn durable outsole, which is a response to some complaints that their sneaker outsoles wore through too quickly. Personally, I would prefer a more flexible outsole and no heel cup over a super durable outsole.
Now let's see how they functioned in the frigid, wet Midwest!
Winterproof?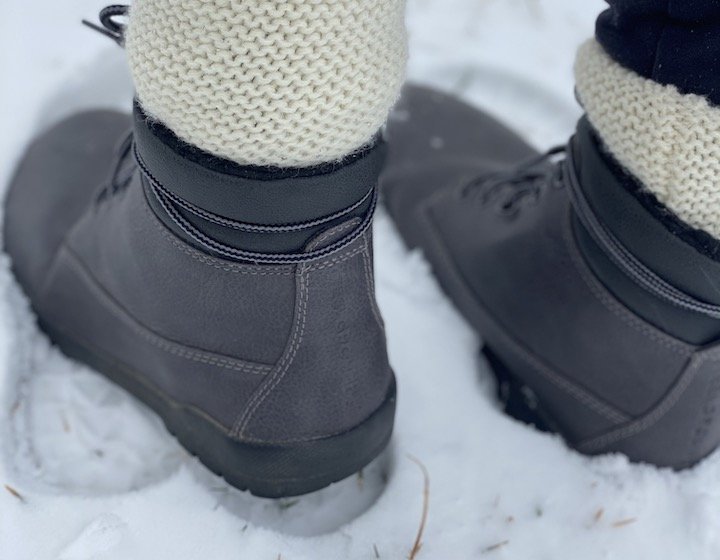 The Feelgrounds Patrol is lined with fleece, and they come with both a fleece and a cork insole. They also come with a new grippy outsole for all-weather conditions, and are gusseted up to the ankle for waterproof-ness (see where my finger is below).
The Patrols do stand up to the waterproof test, absolutely no water came in after sloshing through deep puddles and slushy snow for a combined total of 60 minutes. And I was not being timid!
As far as temperature rating, I wore these out in a range of temps from 18 – 35 degrees Fahrenheit (-8 to 2 Celsius) and my feet were getting pretty chilly when it was below 25. And that was with thick socks and the felt insole. These would definitely not be sufficient as my only winter boot, but would work if your temps don't get too far below freezing.
Read this post for my all-time warmest barefoot winter boot picks
The outsole did perfectly fine in wet conditions, but was a tiny bit slippery on ice. Pretty much every shoe I've ever worn is a little slippery on ice, because it's ice. But I felt stable and secure on almost every terrain in the Patrols, which can't be said for most shoes.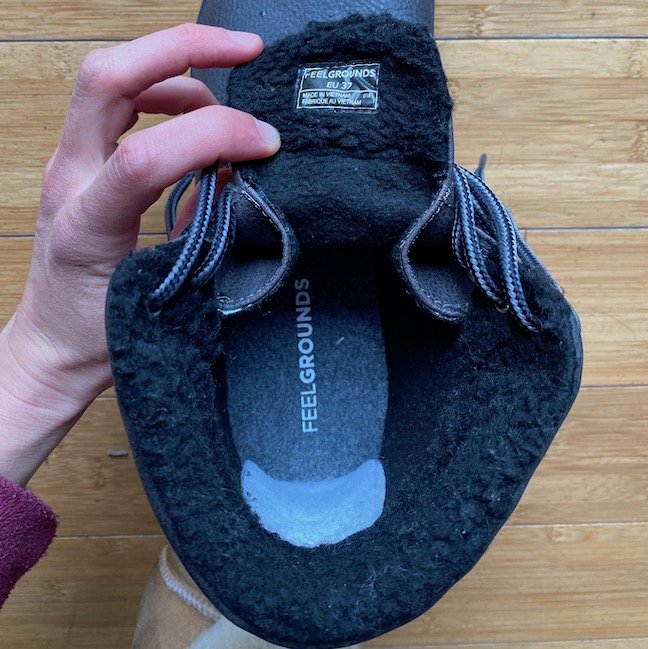 Note that the fur is only around the collar. The body of the shoe is lined with a thinner fleece. You can also spy the shoe pad that I'm using in the heel of these for comfort against the stiff heel.
Sizing & Fit
Paying attention to the shape and fit of shoes can make ordering a lot easier! The Feelgrounds Patrol runs True to Size for me, I wear an EU 37 (US women's 6.5-7) in most boots and sneakers and in all other Feelgrounds styles. But the fit is roomy. They have a nice wide toe box with a mountain shape, stay wide throughout the shoe, and fit a high volume foot.
For more context on what all this means, check out my post on foot type!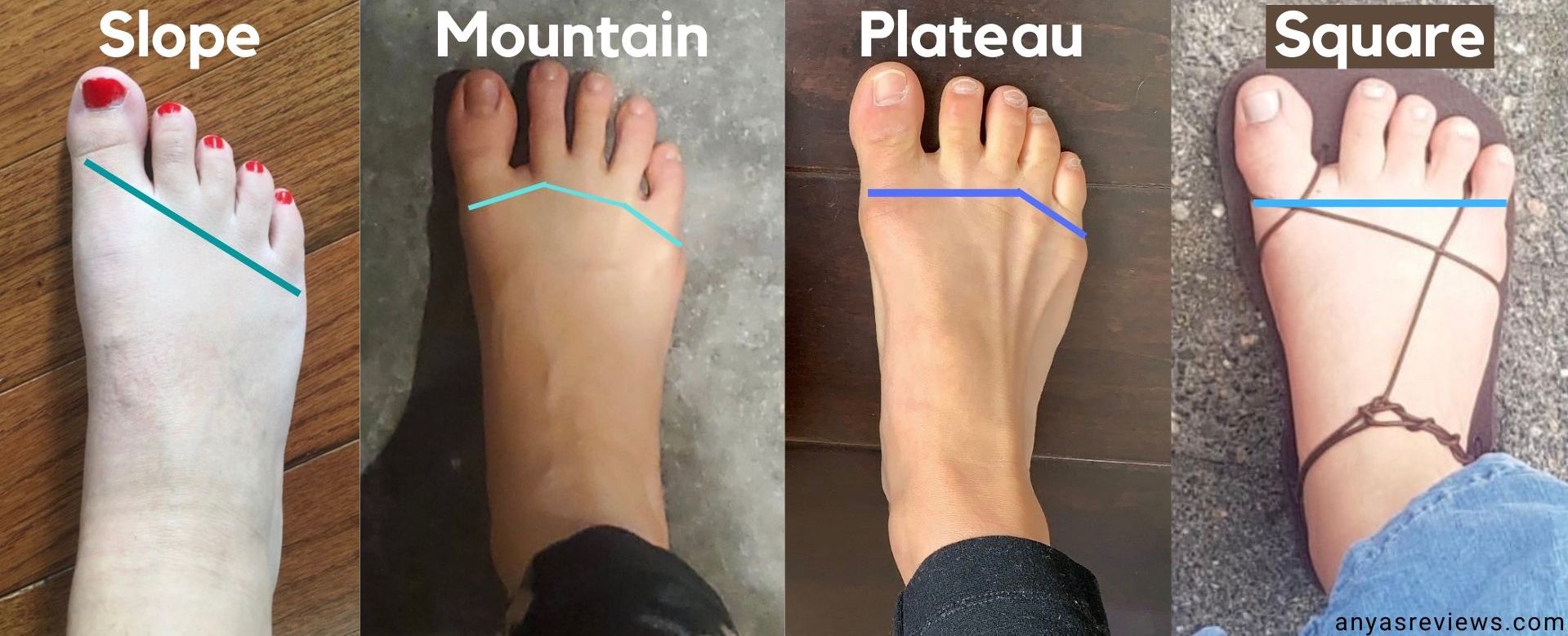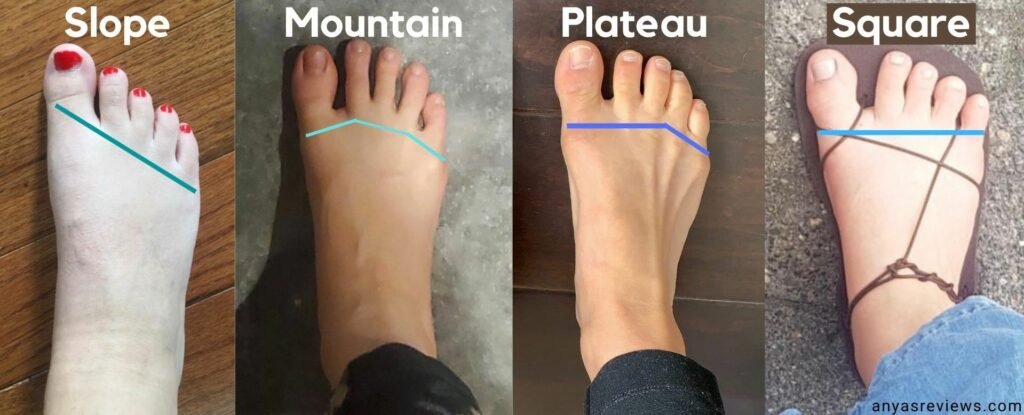 Same Shoe, Different Foot
See below the Patrol on my feet (left) VS. Samantha's extra wide high volume feet (right).
I have a low volume foot (left), so I really need to cinch the laces tight in order to keep my heel from sliding around. I inserted a heel pad for cushion (I have heel spurs and the Patrol is just stiff enough to rub), and I also can wear thick socks. I am most comfortable when using leg warmers (exact pair I own) to fill in some extra space.
Samantha (right) fills up the shoe a lot more and doesn't need extra padding around her heel. She also wears the laces looser. They are an ok width for her, but her toe joints go right up to the edges of the shoe. She is a lot more comfortable in a brand like Be Lenka. Shape wise, the Patrol is a better fit for me. But volume wise, they are more suited to Samantha's foot type.
Patrol Vs Other Barefoot Boots
When it comes to other vegan barefoot winter boots, the Patrol is both stiffer and not as warm as the ones I've tried. Next time I will swap out the felt insole for a sheepskin one (not vegan) which should bring up to the same temp rating. But it IS the most waterproof I've tested so far.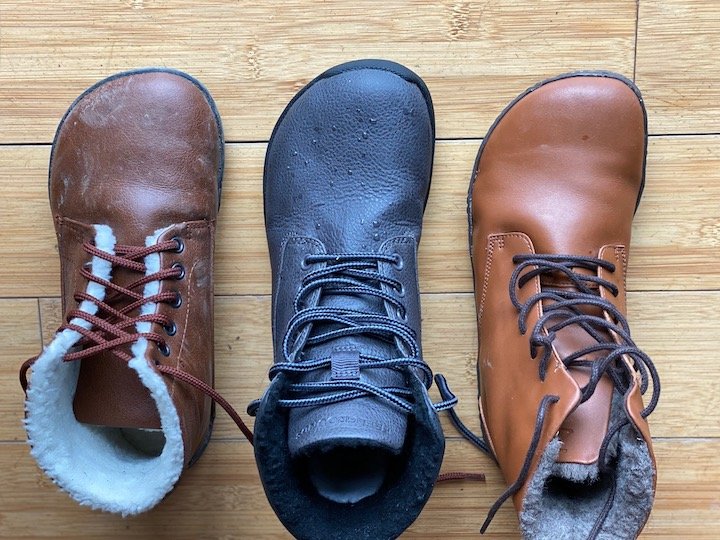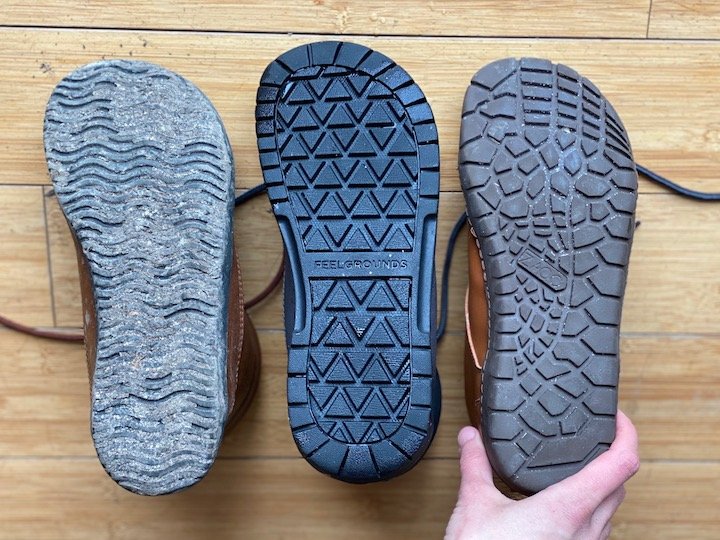 The Patrol falls in the middle for width; Brands like Ahinsa and Sole Runner are wider, but Zaqq and Vivobarefoot are narrower. If I had to compare them to one boot that fits the most similarly I would say the Lems Waterproof Boulder.
For the low down on barefoot shoe brands and how they compare to each other, make sure you are following me on social media!
Ordering
The Patrol is available for immediate shipment from Feelgrounds (Germany). They ship worldwide for free, and returns are possible but customer pays the shipping. Cost is $199, but they're currently 10% off with code PATROL2021. All other shoes are 30% off and being clearanced out!
Conclusion
I love the style of the Feelgrounds Patrol boot and think they'll make it easier for people to choose natural footwear over stiff, rigid shoes that wreck their feet. However, they are not as flexible (mainly in the heel) as I like to see in a barefoot boot. I can't wait to see what updates Feelgrounds makes to this boot for next year, and am generally so glad they exist to make barefoot shoes cool!