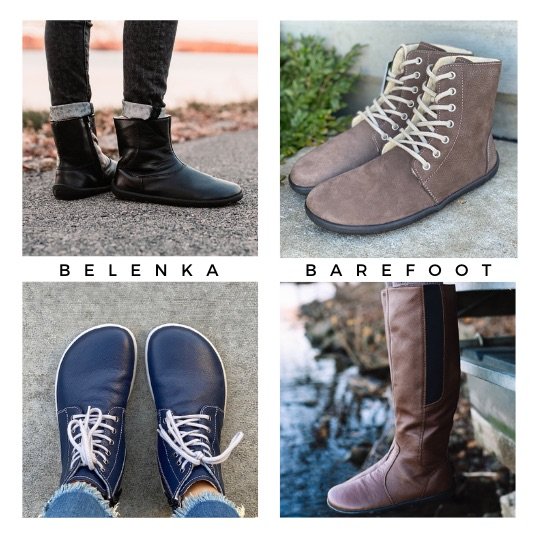 It's no secret that I love Be Lenka Barefoot Shoes. Be Lenka combines all of my favorite things into one package: barefoot feel, good style, AND functionality. I live in a cold climate, so the functionality part is key, and Be Lenka winter boots check all the boxes. In this post we are reviewing 4 of Be Lenka's barefoot winter boot styles that have been super popular this fall. Read on for the full review!
*The code ANYASREVIEWS works for 5% off Be Lenka directly (returns are only accepted from within the EU and USA). US/Canadian customers can sign up for shop e-mails to get a 10% off code from Anya's Shop.*
The Be Lenka Sierra – A Fleece Lined Riding Boot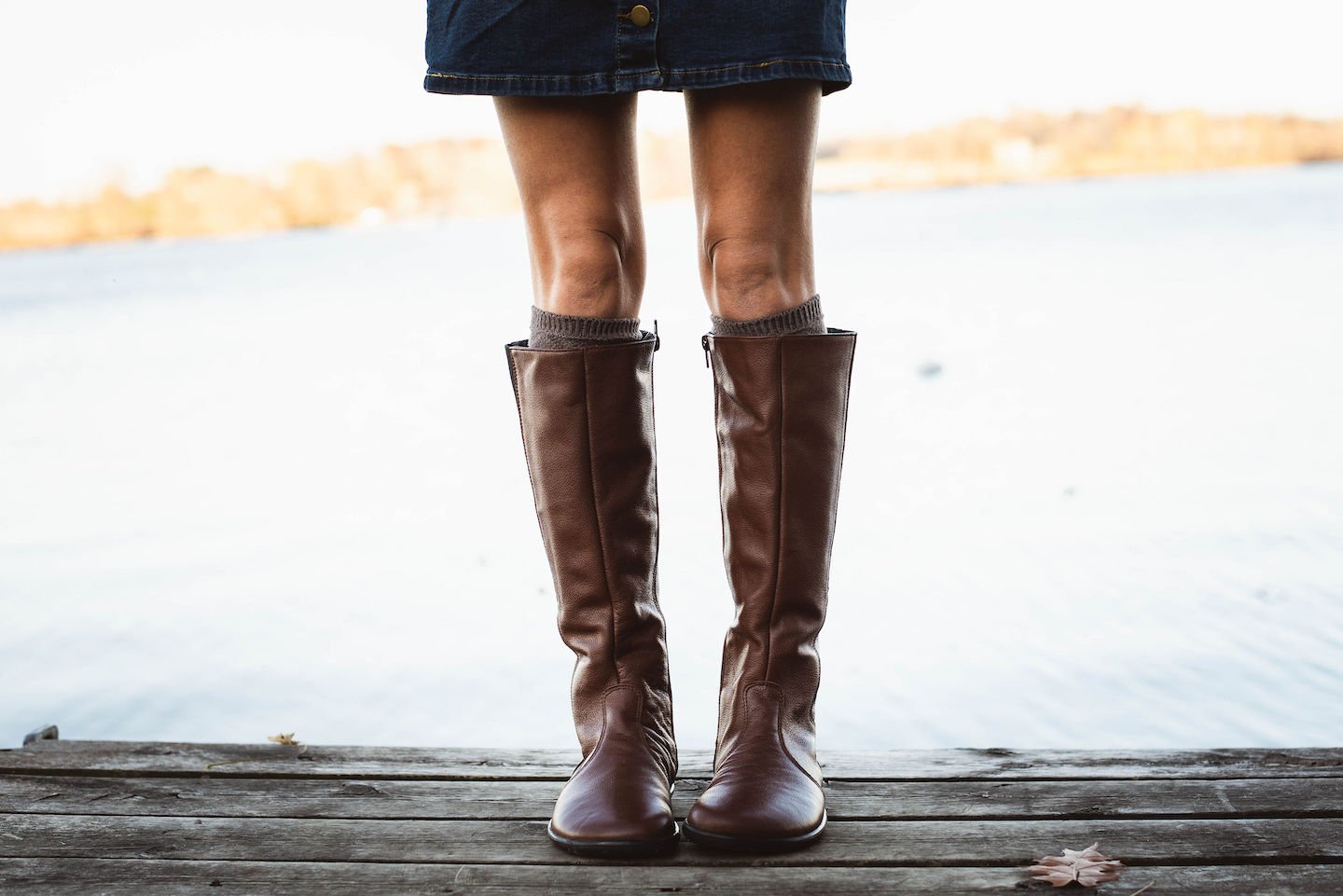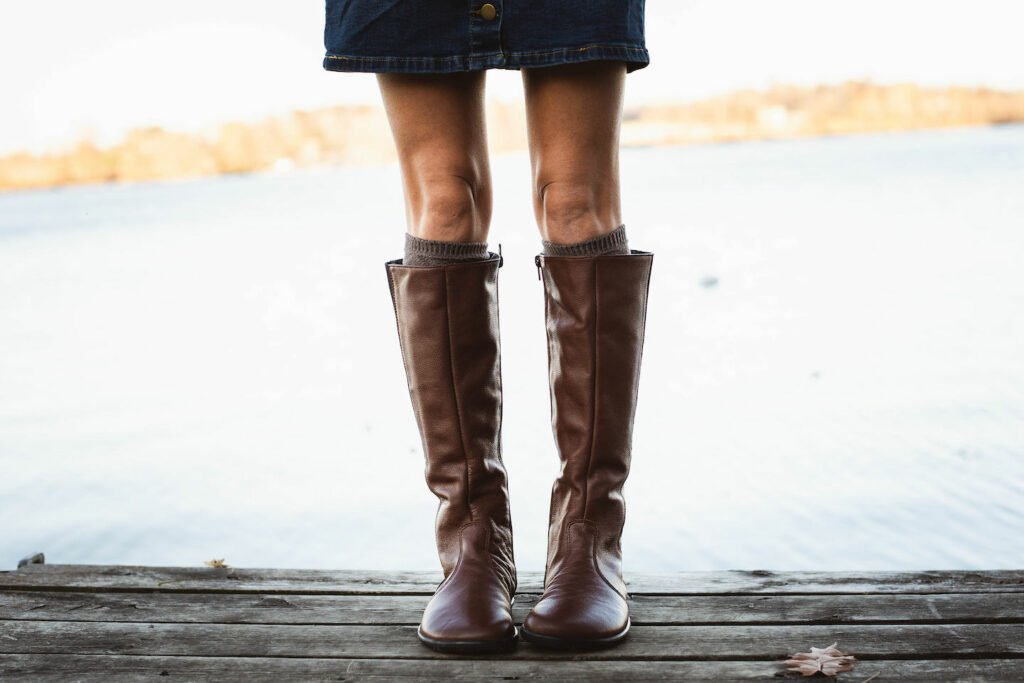 $255 | Leather | Fleece Lined | EU 36-43
Let's start with my personal favorite. The Sierra model is a tall riding boot that is lined entirely with fleece. Hello WARM barefoot style! It comes in black, brown, and red. All Be Lenka shoes are equally wide and flexible, so rest assured that this is a fully barefoot boot.
Sizing
The Sierra is lined with fleece so fits a little cozier than Be Lenka's unlined shoes. I am still wearing my normal size EU 37 (Approx US 7) and have space for medium weight socks. You might size up if you know that your regular Be Lenka size fits closely or you have higher volume feet. They are low-medium volume over the instep, fit an Egyptian foot shape, and are extra wide in the toe box.
Click Here For More on Barefoot Shoe Brands for your Foot Type
Another thing of note is the calf opening does not get significantly bigger as the sizes go up. I wear a smallish size and have a good amount of extra space around my narrow calves. But women who wear larger shoe sizes are finding that the calf fits quite snuggly. While this can make for a stylish fitted look, it also is limiting to wide calves. A product like the Boot Band works well to solve this problem!
Style
I love me some boot style! Because I have narrow calves I almost always wear boot socks to help fill in extra space. Otherwise I wear these just like any riding boot! Limitless styling possibilities.
The Be Lenka Nord – A Fleece Lined Zip-Up Boot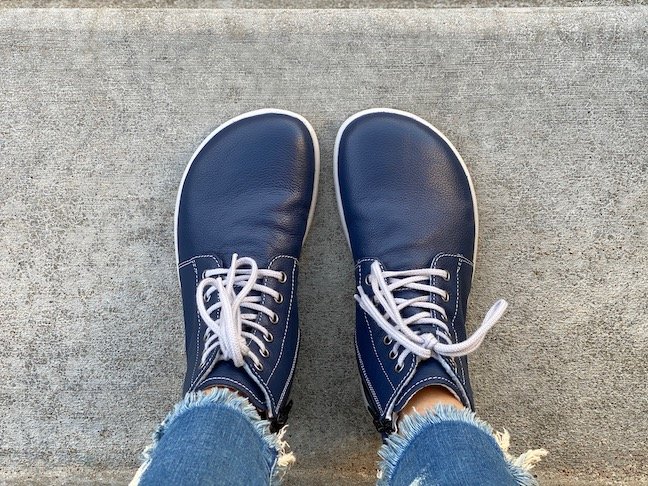 $195 | Leather | Fleece Lined | EU 36-46
The Nord is a combat style boot that is also lined with fleece and has a side zip for easy on and off. It comes in 4 neutral colors (grey, dark grey, blue, and brown) and is a perfect cold weather boot that can double as a functional walking/hiking shoe and still can be dressed up.
Sizing
Like the Sierra, the Nord runs true to size, but might fit a little snug because of the fleece lining. If you plan to wear thick warm socks consider sizing up. The Nord fits a high volume foot, so low volume feet should plan to wear the laces tight and/or use an insole. Be Lenka fits an Egyptian shaped foot and is extra wide.
I found the Nord to be extremely comfortable right out of the box and I love being able to set the laces where I want them and then use the zipper for daily wear.
Styling
The Nord is easy to style as a casual or slightly dressy fashion shoe. They are unisex and look great on men and women alike!
The Be Lenka Polar – A Wool Lined Zip-Up boot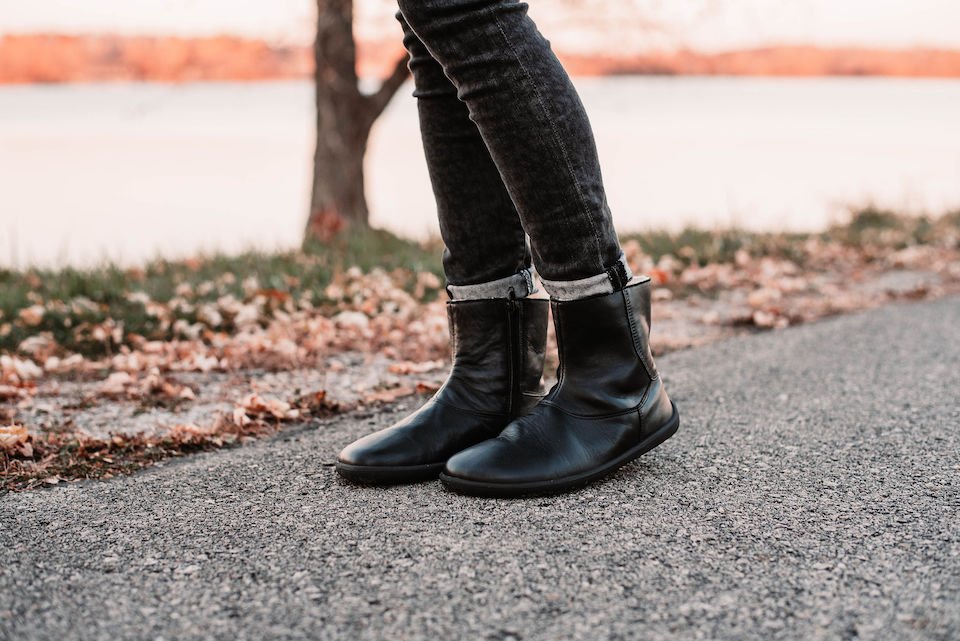 $205 | Leather | Wool Lined | EU 36-43
The Be Lenka Polar has been my most worn boot of the season. They are so soft and warm, do not rub my sensitive heels at all, and go on and off so easily. I also like that they are very simple with no distracting laces, so they blend into my outfits seamlessly.
Sizing
The Be Lenka Polar is wool lined, so they fit cozier than the fleece lined boots. Most people are sizing up one in them. I have low volume feet and I still wear my usual size 37. At first they were snug enough that I could only wear thin socks, but as they have stretched out a little I now wear medium weight wool socks. The Polar fits a low-medium volume foot (not recommended for high volume feet unless you size up), and just like all Be Lenka shoes, Egyptian shaped and extra wide!
Style
I've been styling my Polars with socks peeking out of them, or directly over my leggings. They seem to go with just about anything!
The Be Lenka Winter – A Wool Lined Lace-Up Boots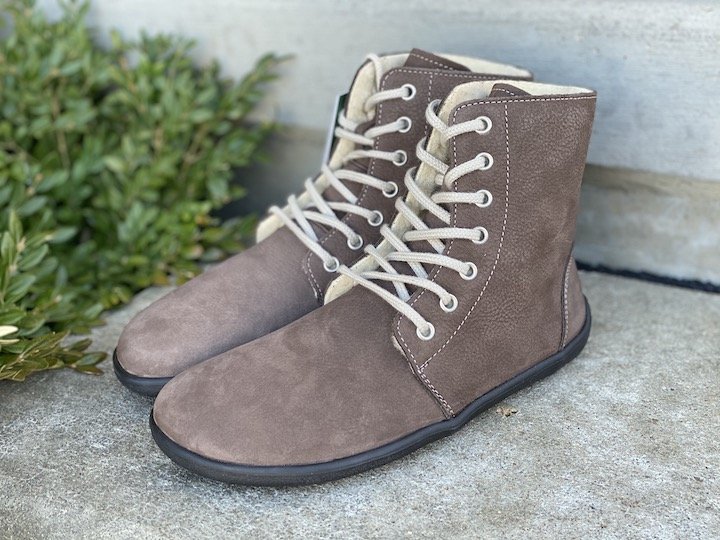 $215 | Leather | Wool Lined | Water Resistant | EU 36-46
The Be Lenka Winter boot is also lined with wool like the Polar but has laces instead of a side zip. These are actually the very first Be Lenka shoes I ever tried! I have been wearing mine for over a year and love them. They are so comfortable, lightweight, and warm. This season I ended up wearing my Polars a lot more because of the easy zipper, but I still use these for hiking (when I want a more secure fit with laces). You can read my original review of this shoe here!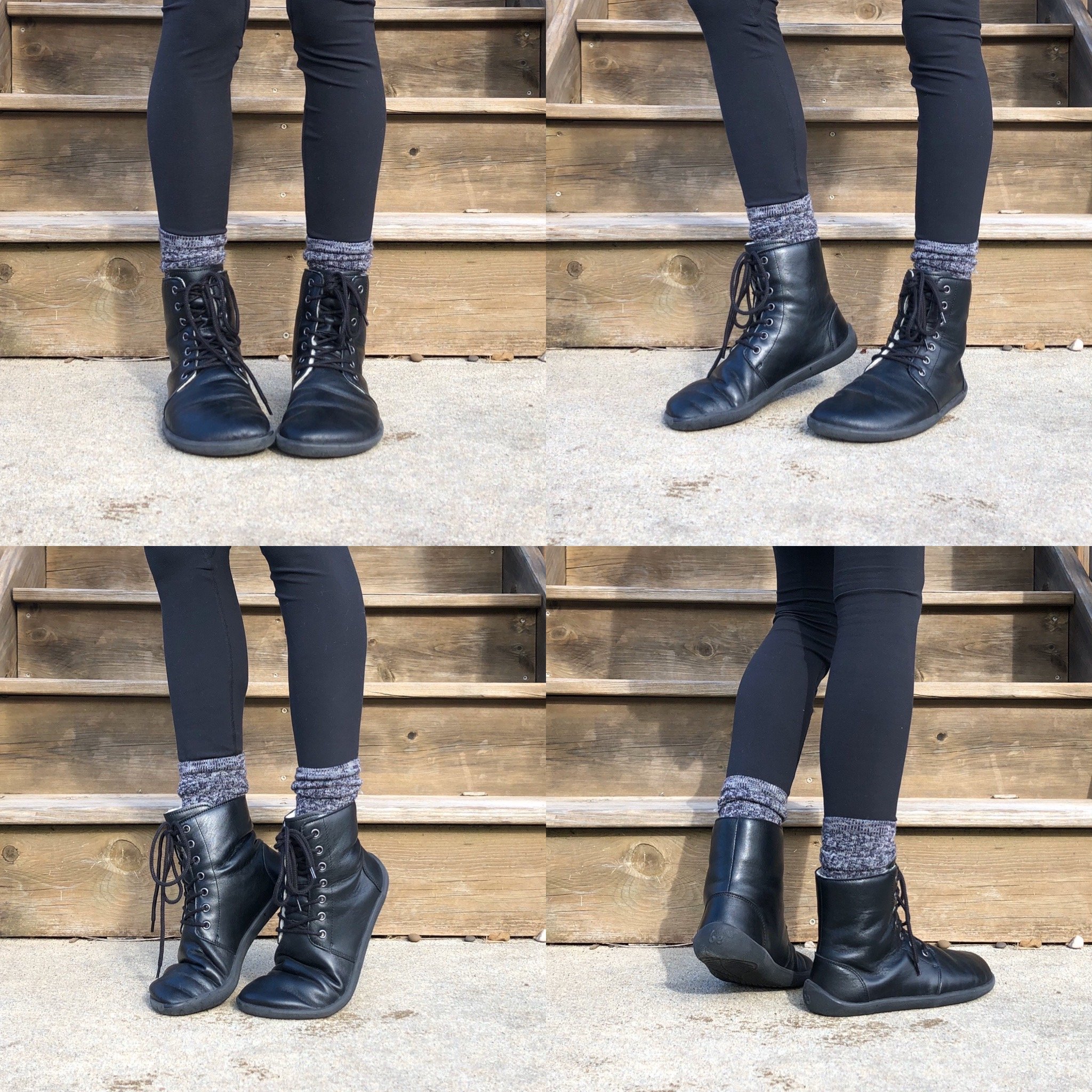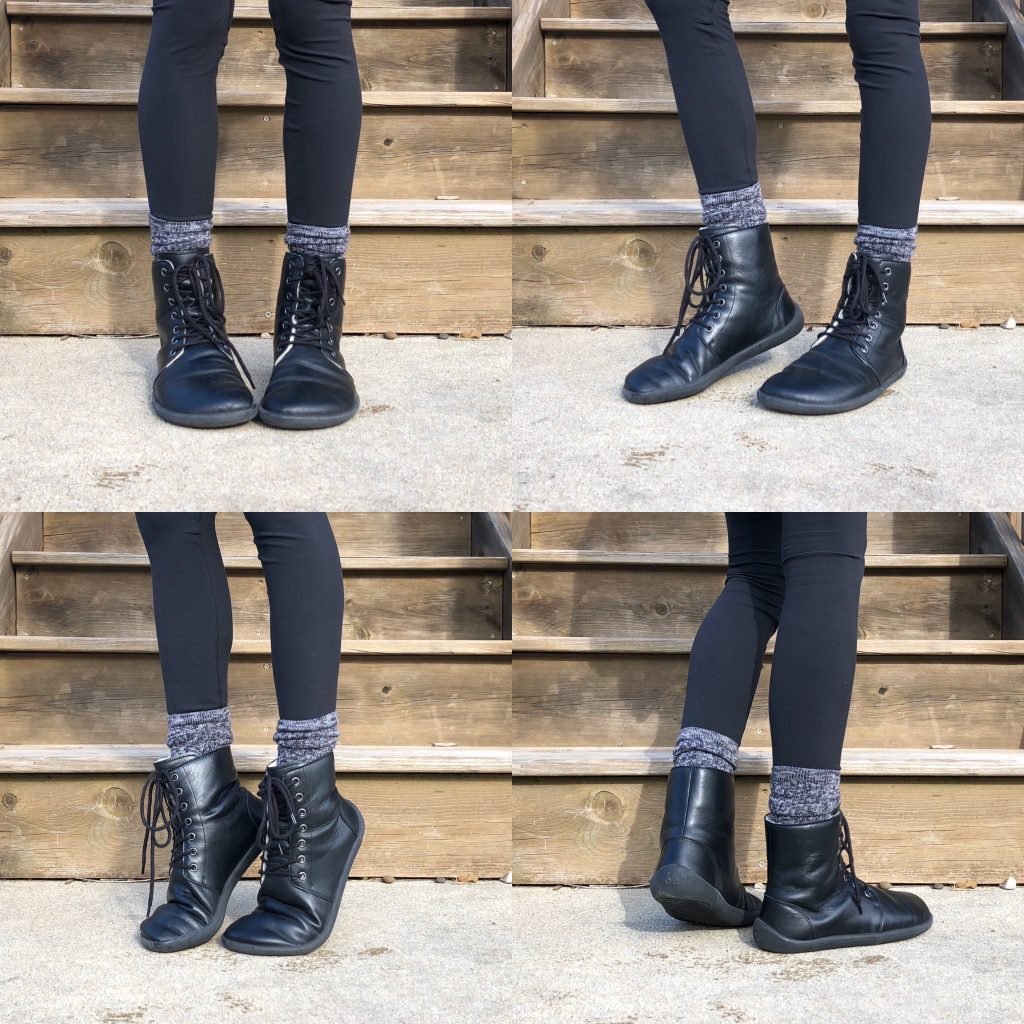 Sizing
Like the Polar, the Winter is lined with wool and fits snugly, so most people are sizing up one. I got my usual size and they do indeed fit close. After a long time of wearing them I can now wear medium thickness wool socks, but for the entire first year I could only wear thin socks. They definitely fit a lower volume foot, but could be stretched to fit medium volume. As always, extra wide with a prominent big toe space!
Styling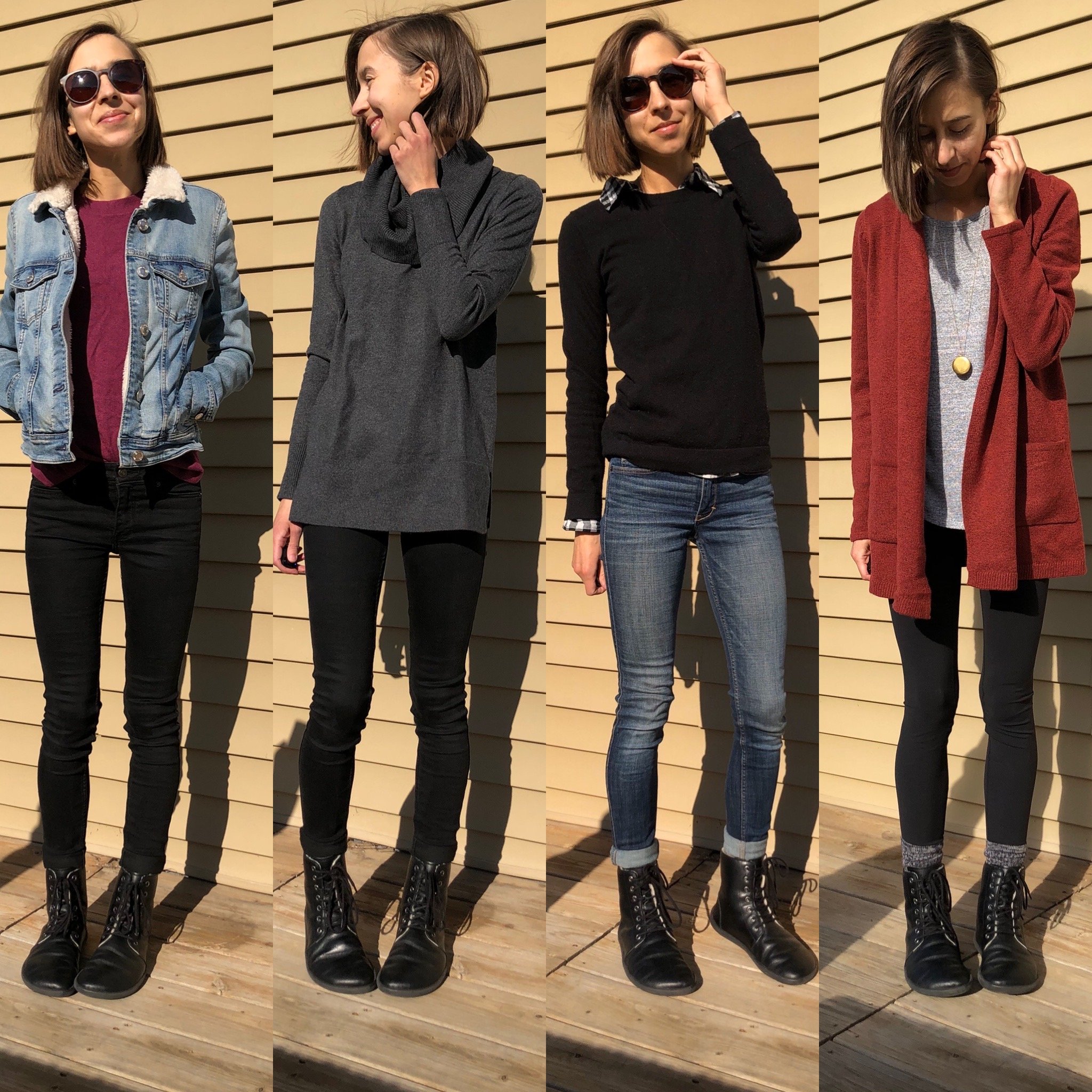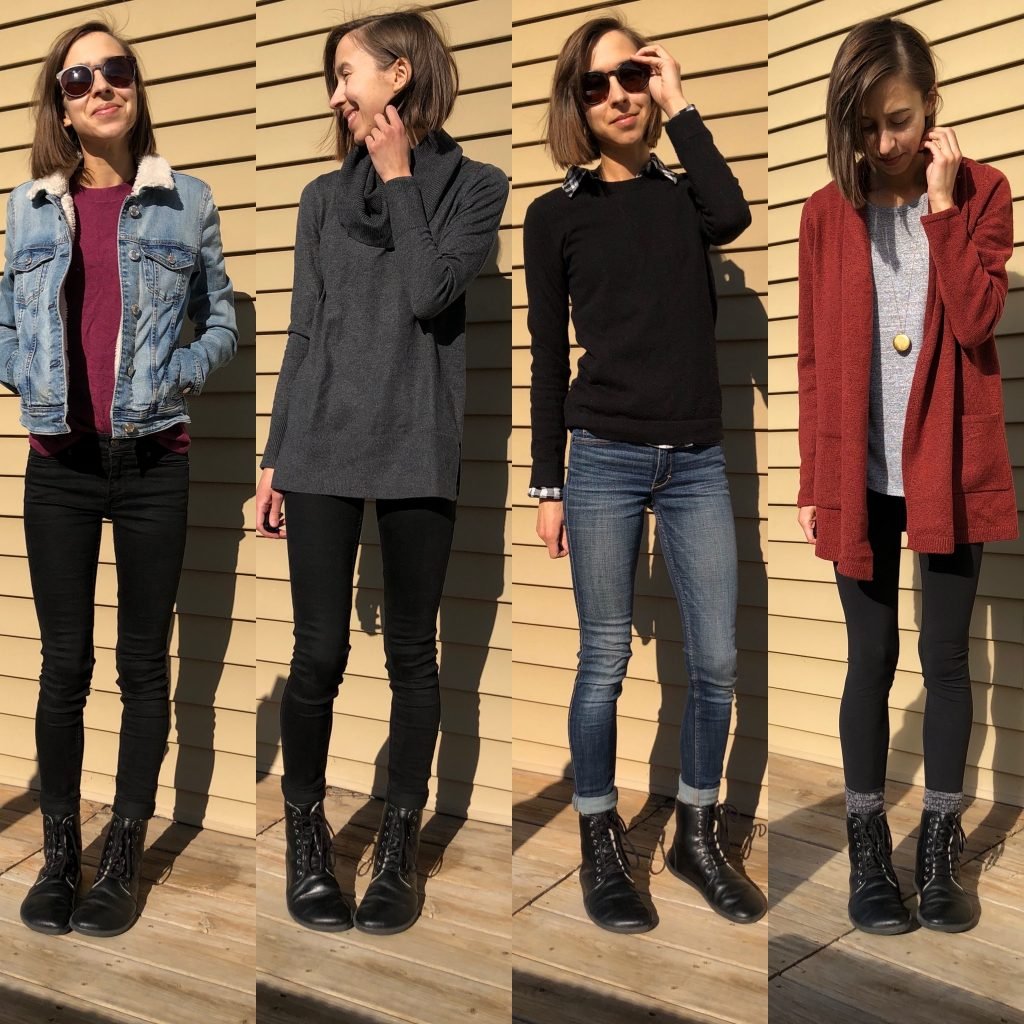 The Be Lenka Winter has an edgy combat boot look with many options for styling. They can be dressed up with the right outfit, but I am wearing mine casually most of the time.
Conclusion
Be Lenka leads the pack in the barefoot shoe world, and is making a significant contribution to the market with their extra wide, barefoot friendly shoes. I also appreciate that Be Lenka barefoot winter boots are high quality, responsibly made by people earning real wages, and to top it all the shoes are actually good looking! Oh, and my UK friends! Happy Little Soles carries all of these Be Lenka models and ships super quickly!
Want to See More Barefoot Winter Boot Options? Check out the posts below!
Special thank you to Eye of Shay Photo for helping out with some of the photos in this post!