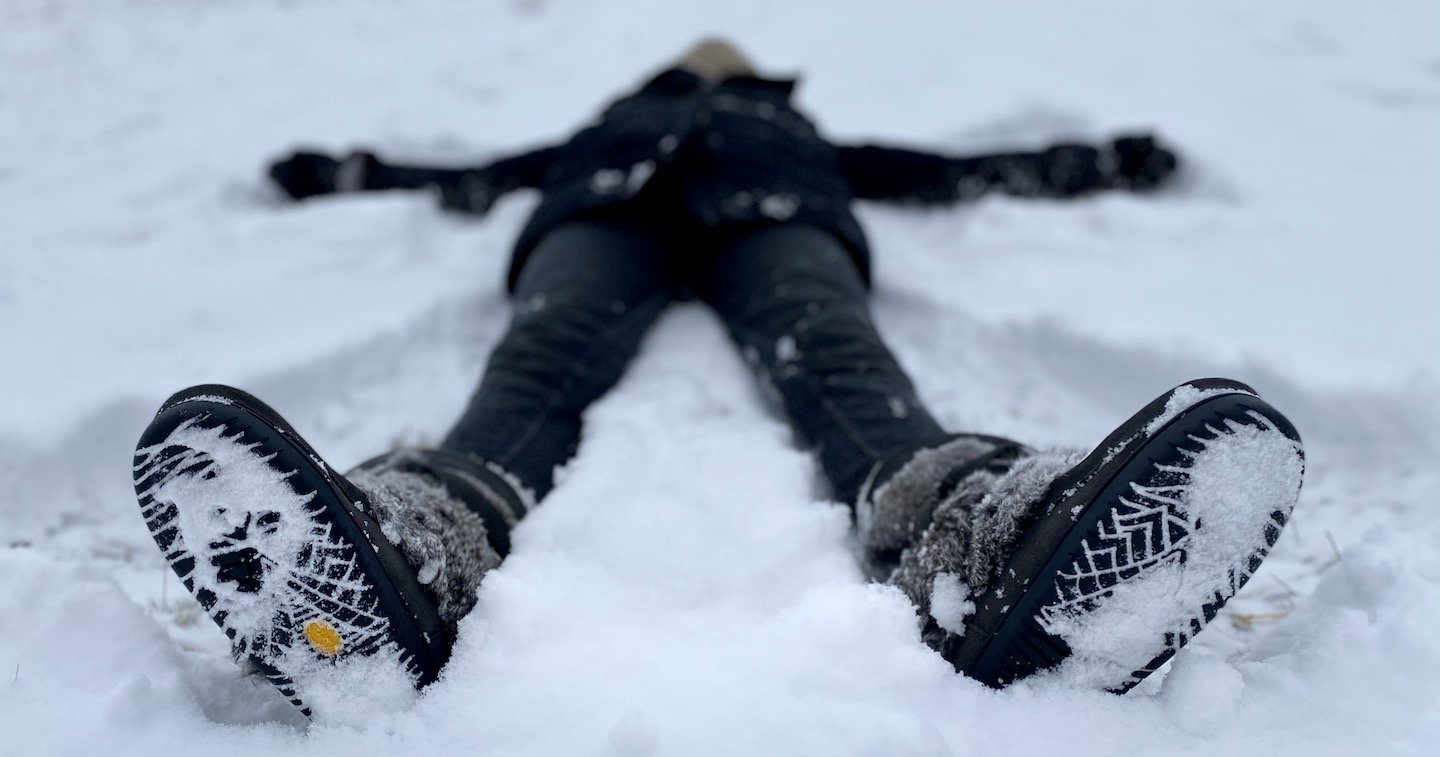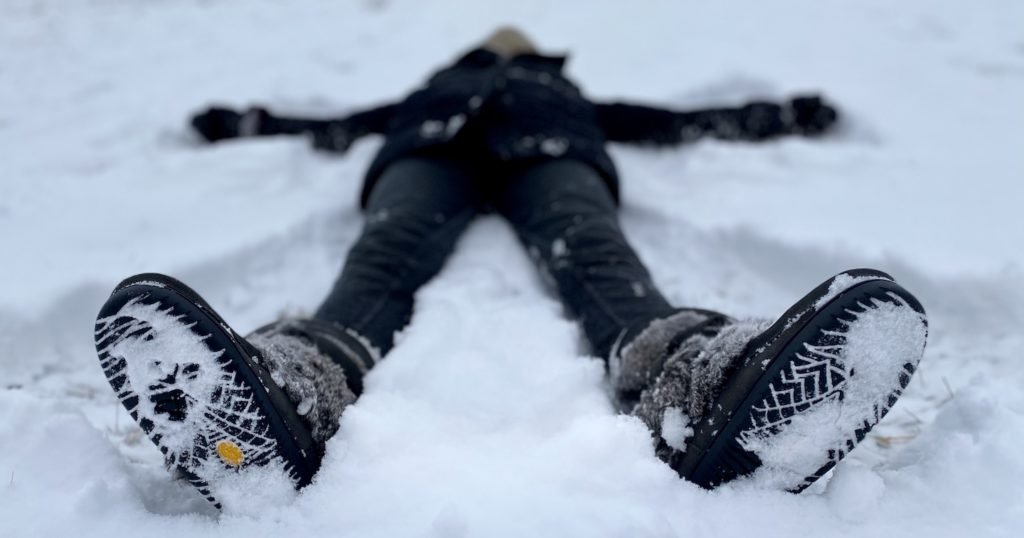 My first winter in barefoot shoes was a rough one. My barefoot boots had a super thin sole and my little toesies FROZE in the snow. If zero drop barefoot shoes are preventing you from going outdoors, that's a problem. Barefoot shoes are meant to inspire movement, not have you running inside to avoid frostbite!
It's taken me a few years, but I've since found the best barefoot winter boot options that combine the important features of barefoot shoes along with serious functionality (aka warmth, waterproofness, and traction). This post is the ultimate guide to warm barefoot boots for winter.
Read on for the best warm barefoot winter boots including, snow options, extra wide boots, vegan options, and some great tips for keeping warm!
The All Time Warmest Barefoot Winter Boots
I've been testing barefoot shoes for years in extreme Midwestern temps. Here are the absolute warmest barefoot winter boots that are zero drop, flexible and even have ground feel to keep your feet healthy AND protected. Because snow boots can also be comfortable boots.
Before we get started, here are a few of my best tips for getting the most versatility out of your barefoot snow boots:
And a few more barefoot boot resources that might be useful for you:
And finally, in this post I talk about what type of feet these boots are best for to help you avoid costly mistakes. Find Your Foot Type Here.
Alright, let's dig in to the best barefoot boots for cold temps and snow!
Steger Mukluks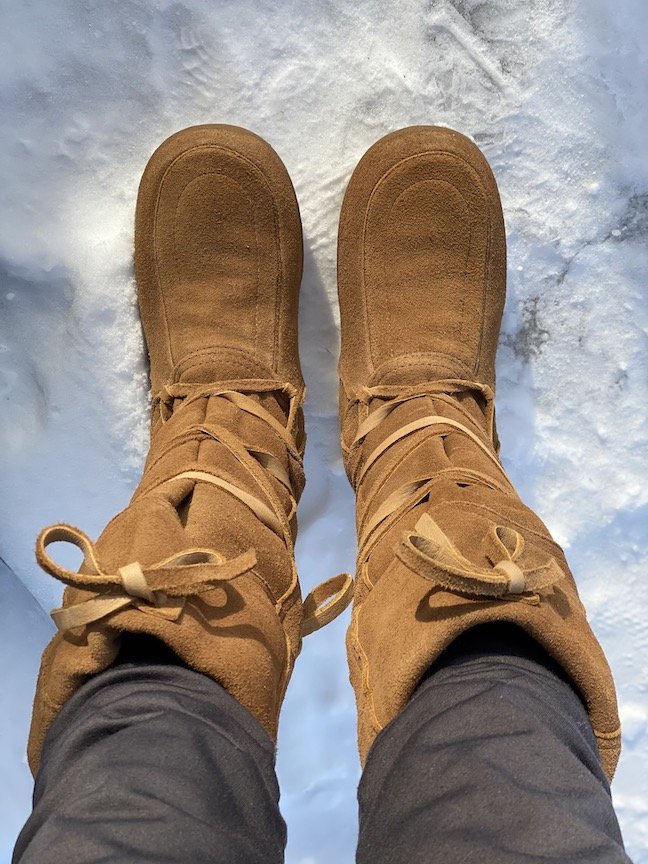 Leather | Wool Lined | Rated to -30 F/-34.5 C | Ships from USA
These boots just got updated with a heeled sole, so you'll want to shop the originals in the Garage Sale section or on secondhand sites like ebay.
Steger Mukluks are hands down the warmest barefoot snow boots I've ever put my feet into. The insole and body of the boots are lined with 9mm thick felted wool that is moisture wicking and built for extreme temps. The outsole is rubber and surprisingly grippy on ice and show. The exterior is high quality moose hide (both soft and super durable). This boot beats out all the others for both warmth and traction, and yet you can still feel ice chunks under your feet when you walk. It is a little heavier and clunkier than some of the others I talk about in this post, but to have warm toes when it's -20 F out? I'll take it.
None of the Steger models come waterproof, so I also bought their waterproof spray and treated my boots before wearing them. It has worked great for me, whenever my boots get wet the water beads up and rolls off the leather instead of soaking in. I reapply it each fall and they look almost brand new even after three winters! And I hear repeatedly from readers who have owned Stegers for 5, 10, even 20 years and they are still going strong.
To be true barefoot winter boots, use them with the felted wool insole instead of the supportive insole (boots ship with both). And if you have low volume feet like me you might even want to order an extra felt insole and layer both inside the shoe.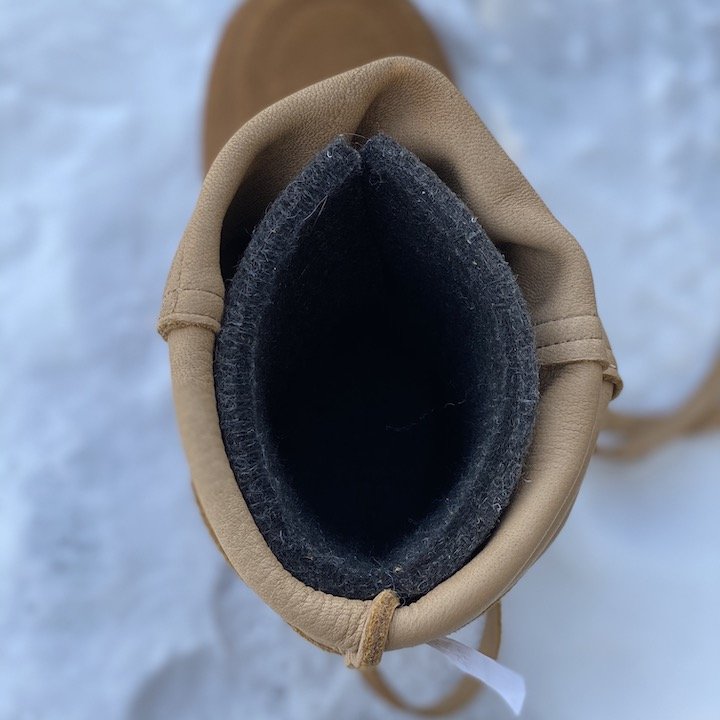 Sizing & Fit Type
3 widths fit average to extra wide feet
Square toe box fits most foot shapes
High volume
True to size
Note that the felted lining tamps down with use! So they might feel pretty snug at first, but you will get more room as you wear them. I ordered a Women's 7 Wide for my wide feet and they are very spacious after a few years. You can also call in to Steger's shop and ask for internal measurements.
If you have low volume, narrow heels, and/or thin ankles, expect to need an extra insole, thick socks, or leg warmers to make these a secure fit. You also might want to order a model with ties so you can tighten them on your leg. If you have thicker ankles and calves and don't need the ties, Steger also has models that are just pull-on.
Traction Rating: Snow – Great | Ice – Good
---
Softstar Phoenix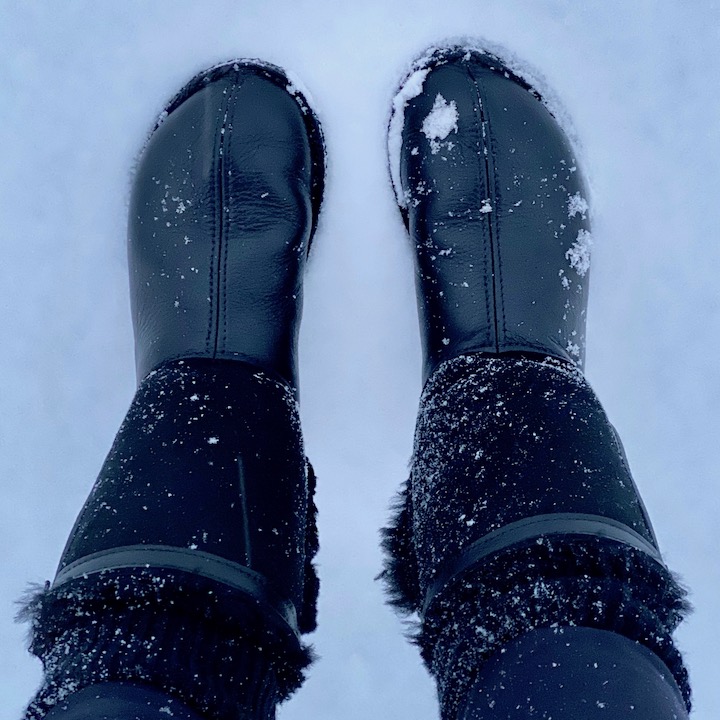 Leather | Sheepskin Lined | Rated to -25 F/-32 C | Ships from USA
The Softstar Phoenix is a fully lined high quality sheepskin boot with a side zipper for easy on and off. The fur is super thick, warm, and close fitting so you don't feel like you're going to walk out of the boot. They can be worn with or without socks because of the breathable, moisture wicking sheepskin. They keep my legs and feet super cozy in cold temps, and they're so easy to put on and off! I find myself wearing them a ton on winter walks.
Sizing & Fit Type
These will come in a wider shape starting October 2!
Medium Width
Low to Medium Volume (but can stretch to fit)
Runs Small
The Phoenix is made entirely of leather and so can stretch to fit a variety of foot types, but they might feel too snug on extra wide/high volume feet. I also recommend sizing up because of the thick lining unless you have quite slim, low volume feet. Mine are a 7U, or Women's 8.
Traction Rating: Snow – Good | Ice – Good
---
Be Lenka Winter Boots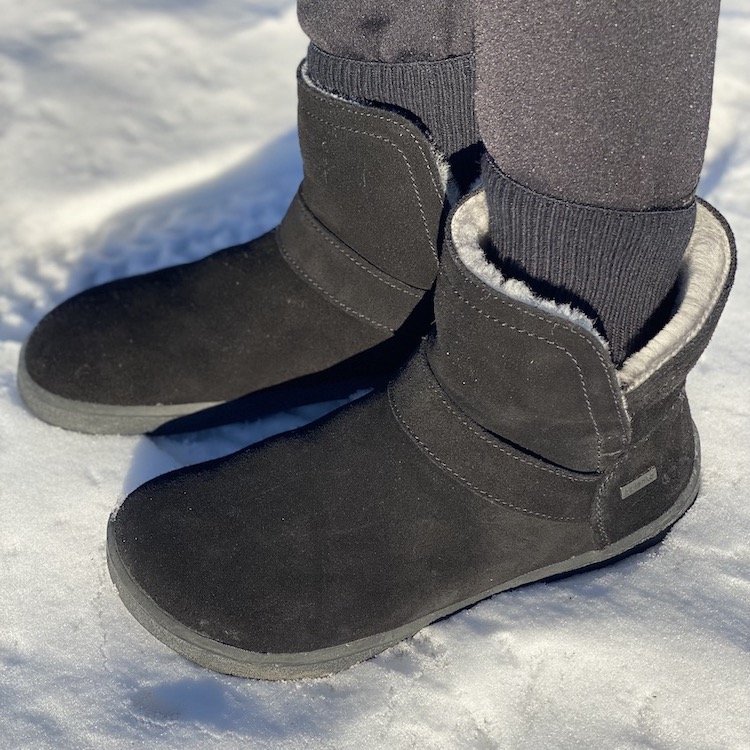 Leather | Wool or Fleece Lined | Rated to -25 F/-32 C | Ships from EU
Code ANYASREVIEWS gives you 5% off when you shop with them (but they only accept returns from within the EU and USA). We carry lots of Be Lenka models at Anya's Shop!
Be Lenka Barefoot has super functional winter boots that are perfect for snow, cold, and even dressing up in the winter! They come fully lined and in varying degrees of water resistance, and you can easily waterproof them yourself for extra protection.
I love Be Lenka because they fit most people due to their extra wide toe box and adjustability (on most models, the Polaris shown above is not adjustable). The outsoles on Be Lenka boots are also more durable/slip resistant than a lot of other barefoot brands. While a little bit heavier than I prefer on my everyday shoes, when it's snowy, icy, and frigid outside I really appreciate it.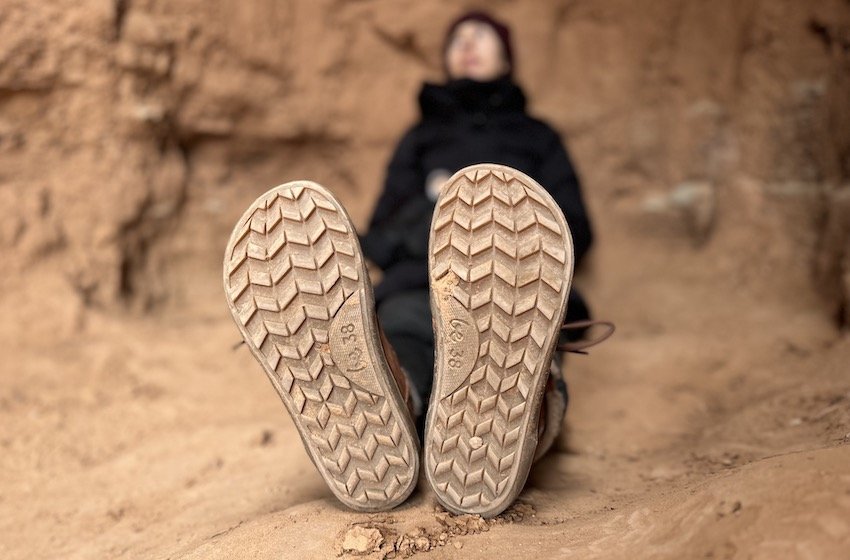 I have been wearing my Be Lenka boots for 5 years now and they continue to be some of my most worn! They're a beautiful blend of comfort, style, & function.
Note that the warmest Be Lenka boots come with a wool lining, so check the product listings for details. Many also have a fleece lining which is cozy but not quite as warm.
Sizing & Fit Type
Be Lenka's best boots for winter are on their DeepGrip outsole (learn about their different outsoles here). They fit as follows:
Extra wide
Square shaped
Medium volume (but pretty versatile for all volumes with laces and insoles)
Runs short
If you are in between sizes I recommend going with the larger size. Especially if choosing a wool lined model, you want to wear warm socks, and/or you have extra thick/high volume feet. I wear a size 38 in all my Be Lenka boots, but would need a 39 if I planned to wear extra warm socks. *The current Winter 3.0 doesn't run as small as the 2.0!*
Traction Rating: Snow – Good | Ice – Good
---
Xero Alpine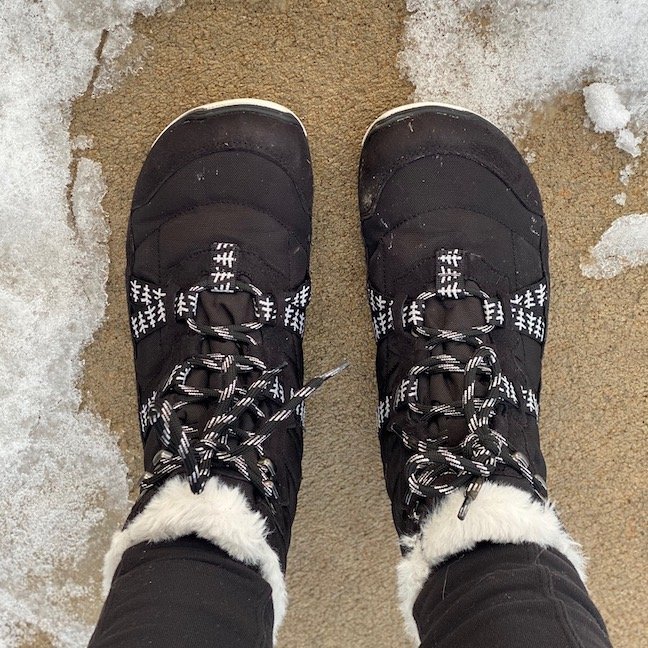 Waterproof | Vegan | Rated to 0 F / -18 C | Ships from USA
Outside the US? Shop Xero EU here!
The Xero Alpine is an all around solid barefoot snow boot. It comes up higher than the Tracker, and is easy to cinch tight to keep snow out. They are waterproof and come with a removable insole, which I swap out for a warmer sheepskin insole. These are warm enough for me in subzero temps with thick wool socks, but note that the fluff is only in the top and not lined throughout. My two beefs with this boot are that the sole is pretty stiff for a barefoot boot and they are slippery on ice (but great on snow).
Sizing & Fit
Medium to wide width
Plateau shape (rounded toe box)
High volume
True to size
In the Alpine I have lots of space above my toes! But likely won't be wide enough for extra wide feet.
Traction Rating: Snow – Great | Ice – Satisfactory
---
Zeazoo Dingo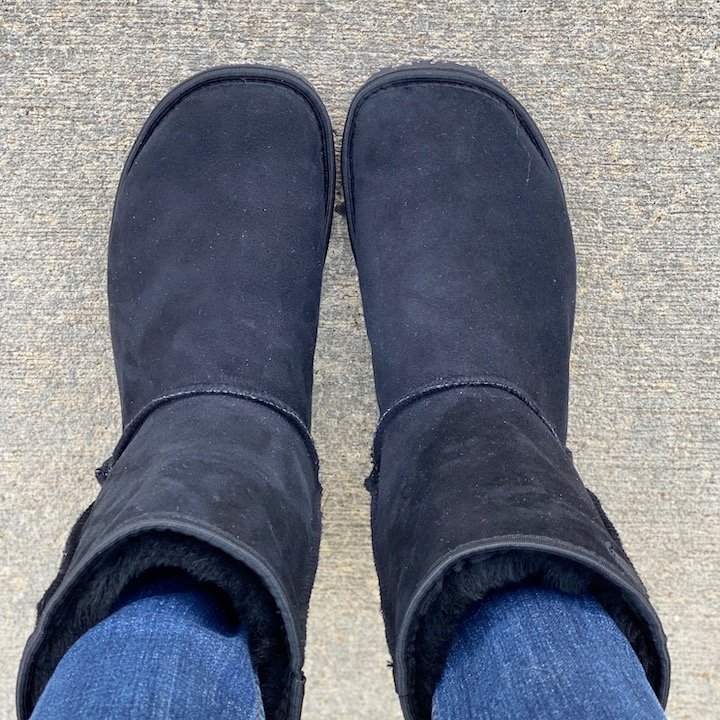 Leather | Sheepskin lined | Rated to -20 F / -29 C | Ships from EU
Use code ANYASREVIEWS for 5% off your order at zeazookids.com. Or you can find them in the US at Anya's Shop.
The Zeazoo Dingo is a personal favorite of mine. They are the perfect barefoot Uggs dupe and so easy to slip on for quick jaunts outside when it's freezing. I wear mine often as school-run, coffee-run, and mail-run shoes. The sheepskin lining wicks sweat so they're comfortable barefoot and they are just so warm but lighter than all the above options (and nice and wide). You can also roll the top down to get a furry cuff and a shorter height.
While they are a home run for warmth, they don't have a robust outsole so the bottom edges of the boot can start wearing quickly if you use them roughly. And the upper is not water resistant. They're more of a warm lifestyle boot than an active outdoor snow boot. Still, a total lifesaver if you live in a cold climate.
Sizing & Fit Type
Wide width
Plateau shaped
High volume
Runs big
I size down in the Dingo and still have plenty of space! The cozy fur lining also tamps down with use so it's ok if they feel snug when brand new. Once worn in they can be a little loose on thin ankles and narrow heels, so leg warmers are a great way to make the Dingo work for low volume feet.
Traction Rating: Snow – Good | Ice – Good
---
Vivobarefoot Tracker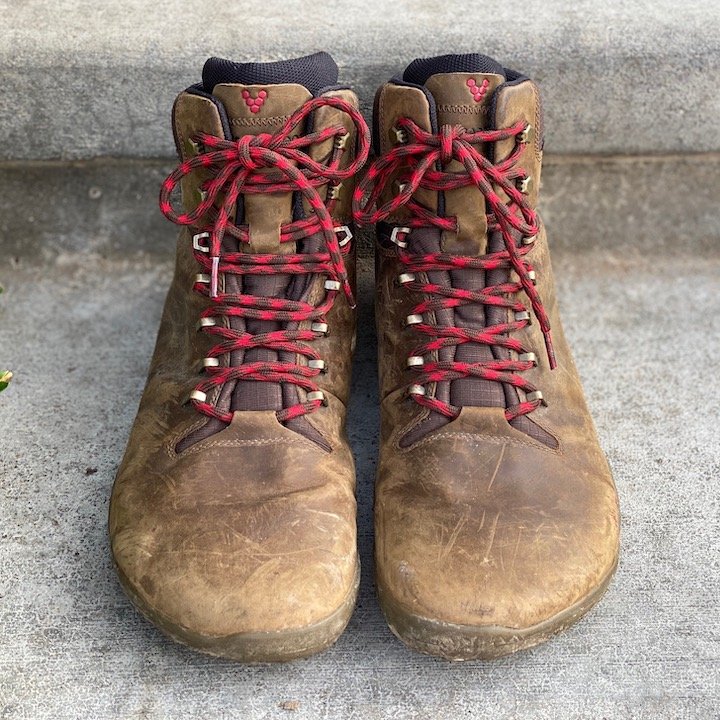 Leather | Waterproof | Rated to 0 F / – C | Ships from EU or UK
Get 10% off your Vivobarefoot purchase with code VBANYA10
The Vivobarefoot Tracker is one of the most versatile barefoot boots around. The Tracker Snow is the best option for winter, but we've had a great experience using the Tracker FG as well.
They are thick and padded (to keep you warm), waterproof, and have good traction. I use a sheepskin insole in place of the one Vivobarefoot provides and I am comfortable in temps down to 0 F / -14 C. These boots are my top pick for snowy hikes when I need to have a firm grip on the ground.
For fit info, read my full review of the Vivobarefoot Tracker.
Sizing & Fit
The Tracker FG and Snow is:
Medium width
Sloped, so might not fit square shaped feet
Low to medium volume
Runs slightly small
Vivobarefoot shoes have a lot of big toe space, but can be a little squishy on people whose outer toes splay out wide. Justin and I both size up one in the Tracker FG & Snow (not in other Vivo models) because the waterproof lining makes the boot fit snugly.
Traction Rating: Snow – Great | Ice – Good
---
Wildling Shoes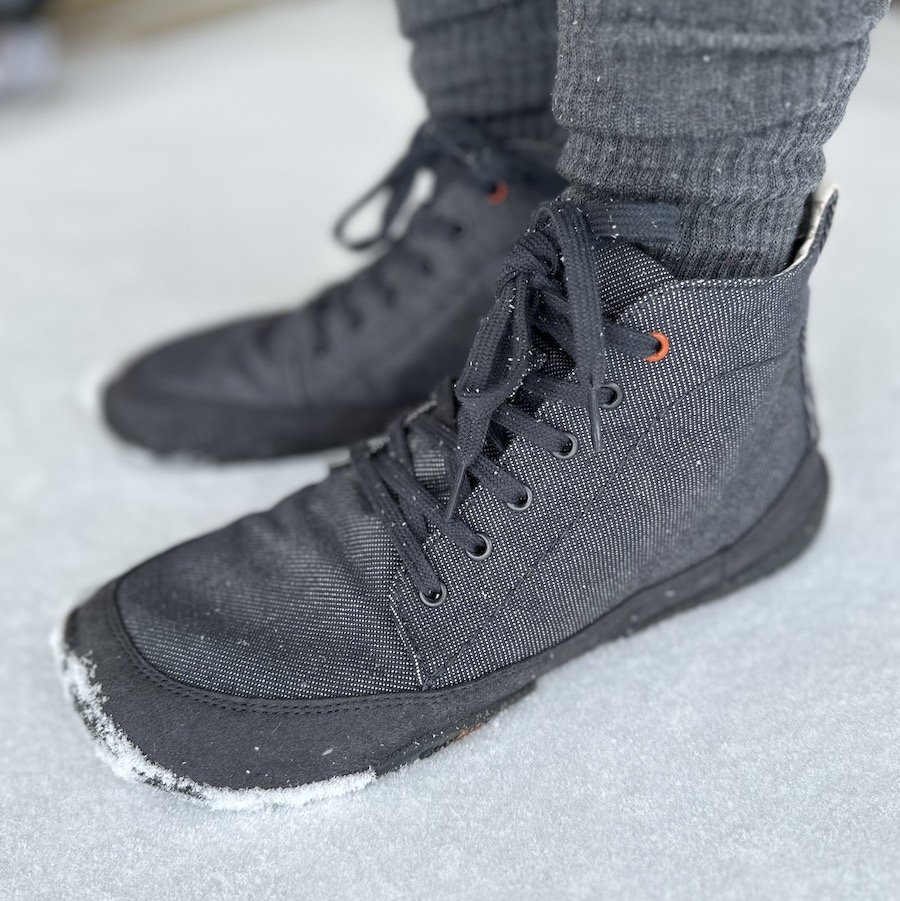 Textile & Wool | Water Resistant | Rated to 10 F/-12 C | Ships from Germany
Wildling Shoes hold a special place in my heart. They literally feel like wearing nothing, combining innovation, quality materials, and a gorgeous aesthetic. Besides being adorable, Wildling has somehow managed to create an ultra thin outsole that bends in all directions effortlessly. The uppers of Wildling winter shoes have an integrated waterproof membrane and are topped with either wool or cotton. The models change annually, but for the best warmth I recommend the ones made of a wool upper with a wool lining.
I also wear a felt insole inside my Wildling winter boots, which I consider essential (my cold rating above includes the insoles). If I wear wool socks and leg warmers I can even get by in 15 F/ -10 C for short periods of time! Though I am most comfortable in Wildling boots in temps of about 25 F+. While these are not sufficient to keep me outside for long during the harsh Midwest winters, I wear mine frequently for short jaunts and feel like I'm in slippers the whole time.
Sizing & Fit Type
Medium to wide width
Plateau/Square shaped
High volume
True to size
While all Wildlings have the same squared off toe box, some models fit roomier than others so I always recommend checking the fit guide on the shoe listing. And if you have low volume feet I highly recommend adding one of Wilding's wool insoles to your order. Wildling's do intentionally fit long so you have plenty of toe space!
Traction Rating: Snow – Good | Ice – Satisfactory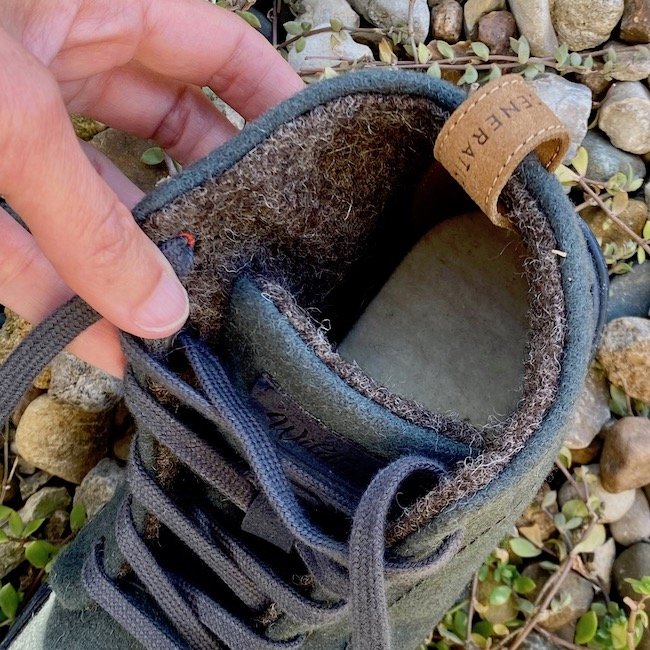 ---
Manitobah Mukluks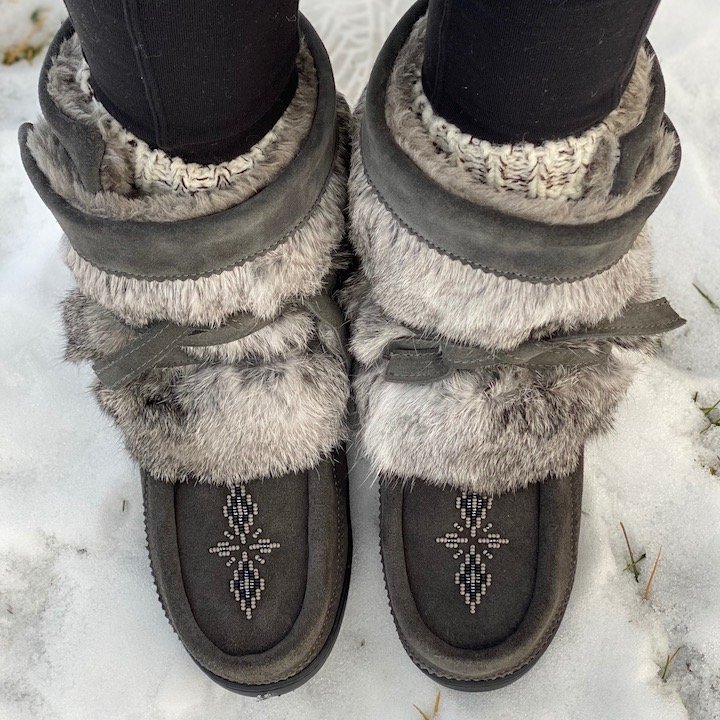 Leather | Faux Fur Lined | Rated to -25 F/-32 C | Ships from Canada
Manitobah is an Aboriginal-owned Canadian brand that makes faux fur and sheepskin lined mukluks. The original mukluks are built on a super flexible Vibram outsole (but not all models are zero drop, so look for the flat ones!). They are thick and warm inside and yet you still feel grounded. One bonus to Manitobah is that they have waterproof options!
Manitobah tends to fit quite loose through the ankle so I chose this wrap tie version for adjustability. They are the softest, coziest boots! Since the Short Wrap is not waterproof, I used Nikwax spray on it, which seems to be working well.
Sizing & Fit Type
Narrow to medium width toe box
High volume
Runs big/stretches a lot
Manitobah mukluks have a fairly tapered toe box when brand new, but there is a lot of vertical space and the leather stretches out a lot as you wear them. They are quite loose in the ankle, so if you have thin heels and ankles I recommend a wrap style like the one I got so you can tighten it up.
Traction Rating: Snow – Great | Ice – Good
---
Peerko Frost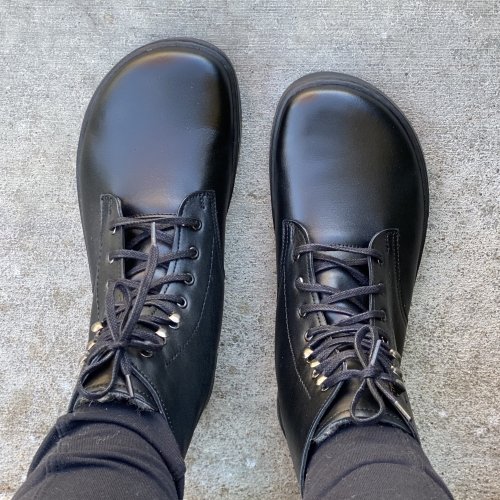 Leather | Wool Lining | Rated to 10 F/-12 C | Ships from EU or US
Code ANYASREVIEWS10 gives you 10% off your order. Peerko doesn't accept returns outside the EU, but we will be carrying the Frost in the US at Anya's Shop this fall (expected to arrive October).
The Peerko Frost is probably the most stylish barefoot winter boot in the bunch! The smooth leather is naturally water resistant, and you can waterproof them yourself for extra protection. The outsole isn't the best for winter terrain, so I prefer to use them for warmth as I go around town as opposed to playing in the snow or hiking. But if you're someone who needs to look nice in the winter AND spend time walking around outside they are phenomenal.
Sizing & Fit Type
Wide toe box
Medium volume
Runs slightly small because of wool lining
Peerko boot have a pretty universal fit and are well loved across the board. They probably won't suite someone with an extra wide toe splay, and you might want to size up one because of the thick lining. I wear mine in a 38.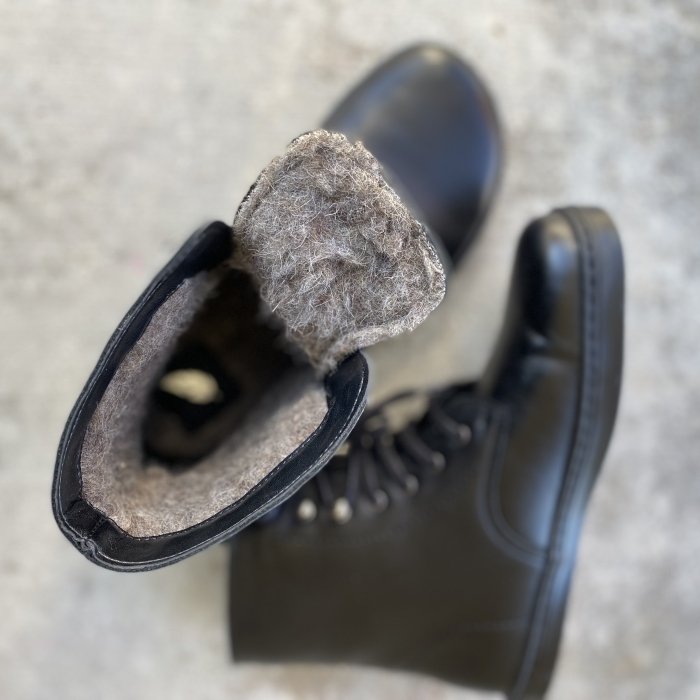 ---
Jenon Leather Snowflake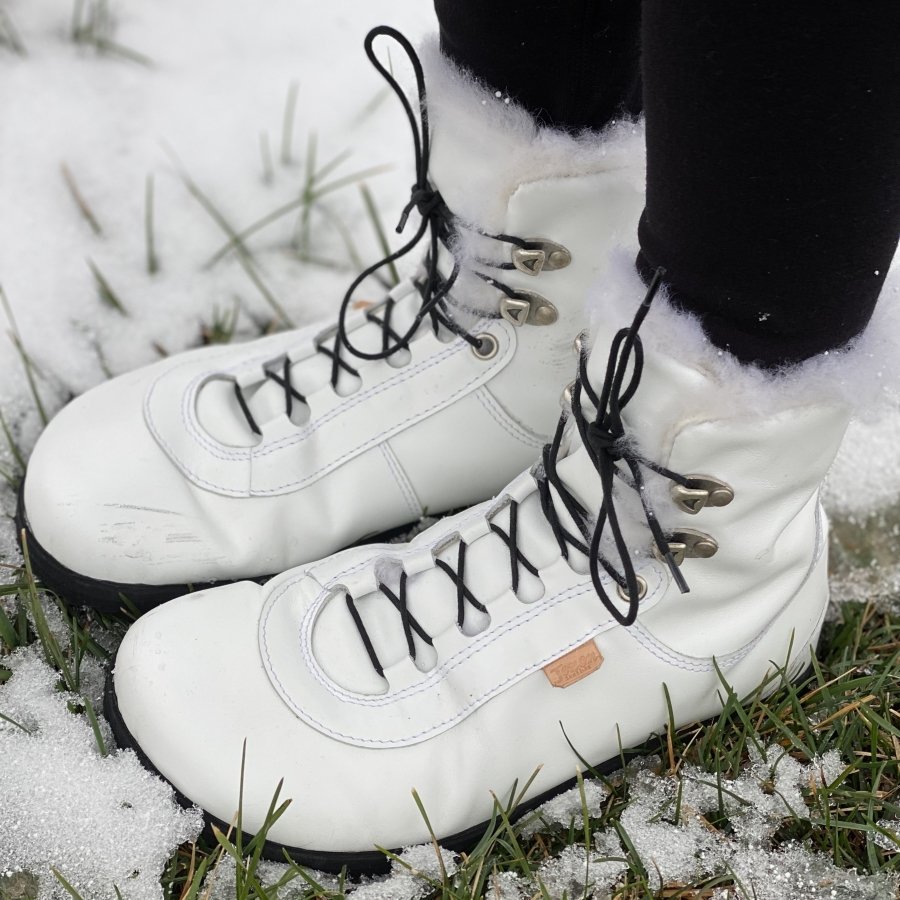 Leather | Sheepskin Lining | Rated to -5 F/-20 C | Ships from EU
These Snowflake boots from Czech brand Jenon Leather were a surprise hit for me. They are very cozy warm with a wide toe box and slim heel (which means they don't slide around my narrow heels). The leather upper is smooth and quite water resistant so I didn't bother treating it. I also appreciated that the sole is a bit thicker than many barefoot boots for more warmth while still being flexible.
Sizing & Fit Type
Extra wide fit
Plateau shaped toe box
Medium to low volume
Runs small
The lining is very thick so I am glad I sized up one. I found that the volume was on the lower side, but I know that many people with high volume feet enjoy these boots after sizing up.
---
Magical Shoes Alaskan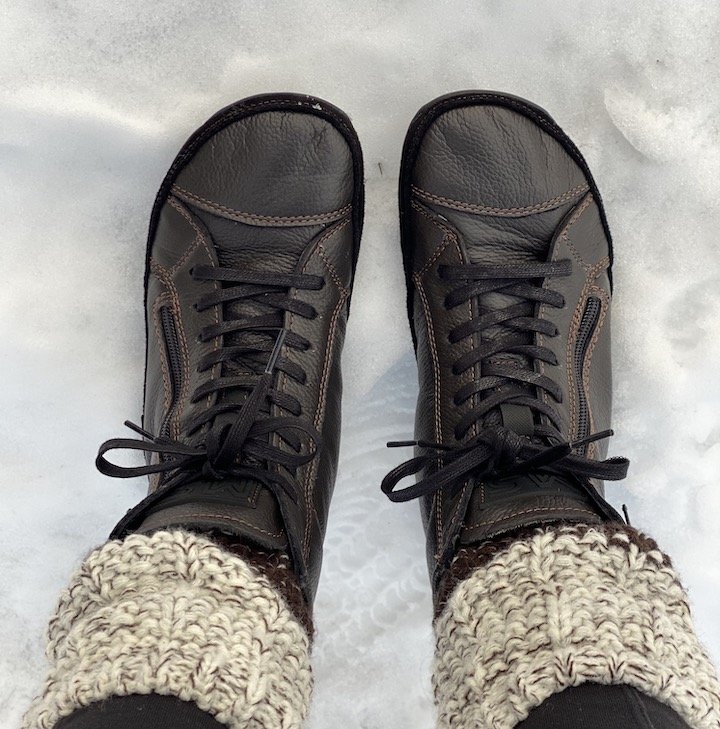 Leather | Wool Lined | Rated to 25 F/-4 C | Ships from Poland
Use code ANYA for 10% off
The Magical Shoes Alaskan is an ultra flexible, ultra lightweight wool-lined barefoot winter boot. The outsole is very grippy on snow and ice, and the side zipper makes them easy to put on and off. For being so light, they are surprisingly practical. But I do find the material on the thinner side so my feet got cold faster than in the other boots I tested. I put in an extra insole and warm socks, but still felt the cold through the top fairly quickly in my climate.
While the upper material is water resistant, the zipper and the tongue is not waterproof so water can come in through those places if soaked.
Sizing & Fit Type
Medium to wide width
Plateau shaped toe box
Medium to high volume
Runs small
I definitely recommend sizing up in these, especially if you have wide feet!
Traction Rating: Snow – Good | Ice – Good
---
The Best Barefoot Winter Boots for Snow – Waterproof & Good Traction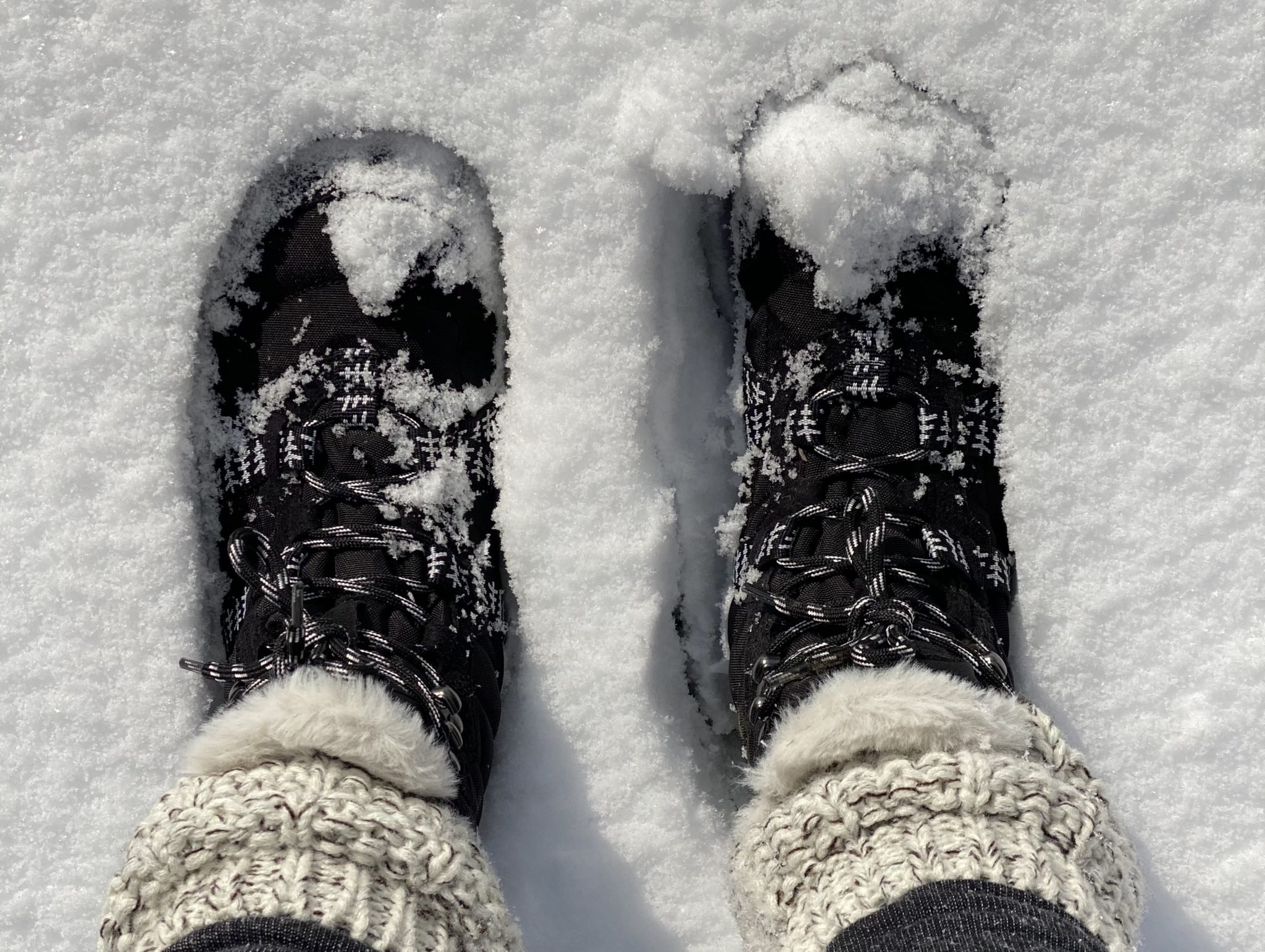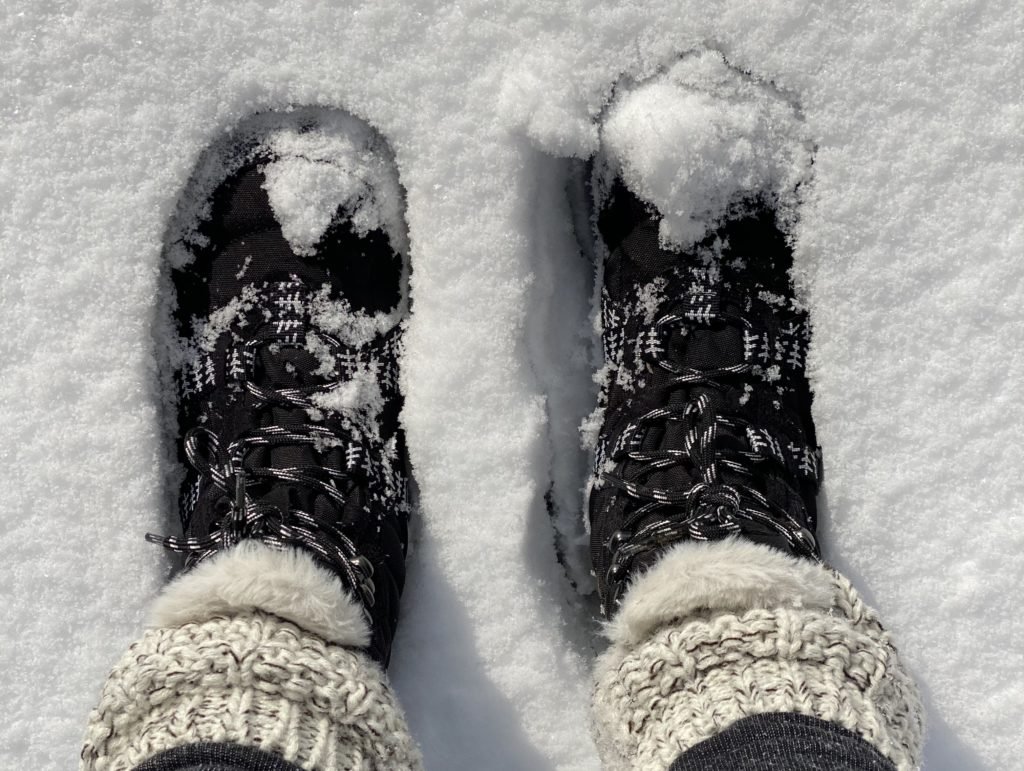 Because traction and waterproof-ness is a separate feature from warmth, here is how I rank the above boots as barefoot snow boots. These are boots that come up above the ankle to protect from deep snow, are waterproof (or can be waterproofed) and have good traction on both powdery snow and ice. These barefoot boots become more practical when you use extra thermal insoles such as these sheepskin ones.
And don't forget that you can waterproof or re-waterproof shoes that are starting to lose their effectiveness. For more info, check out this post on How to Waterproof Your Barefoot Shoes, or the section at the bottom of this post with Tips on Staying Warm.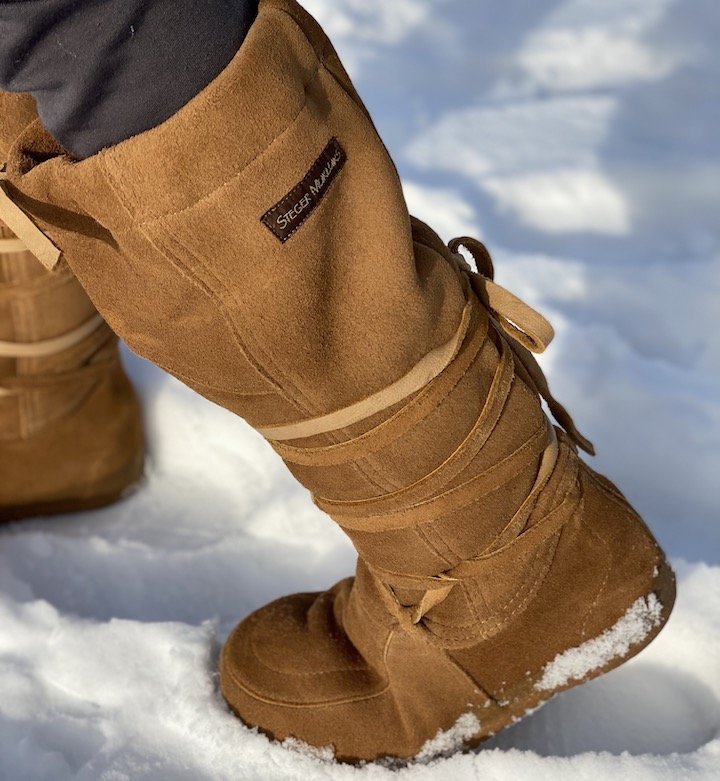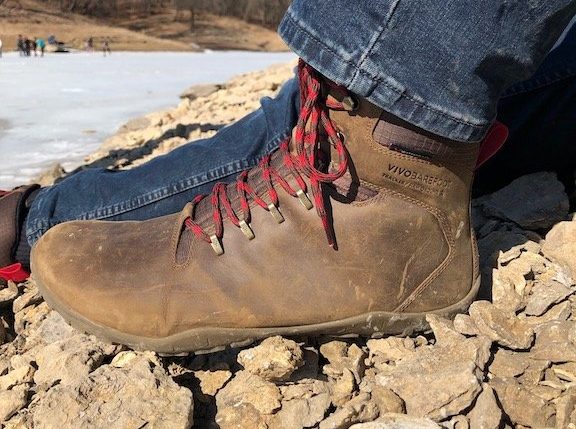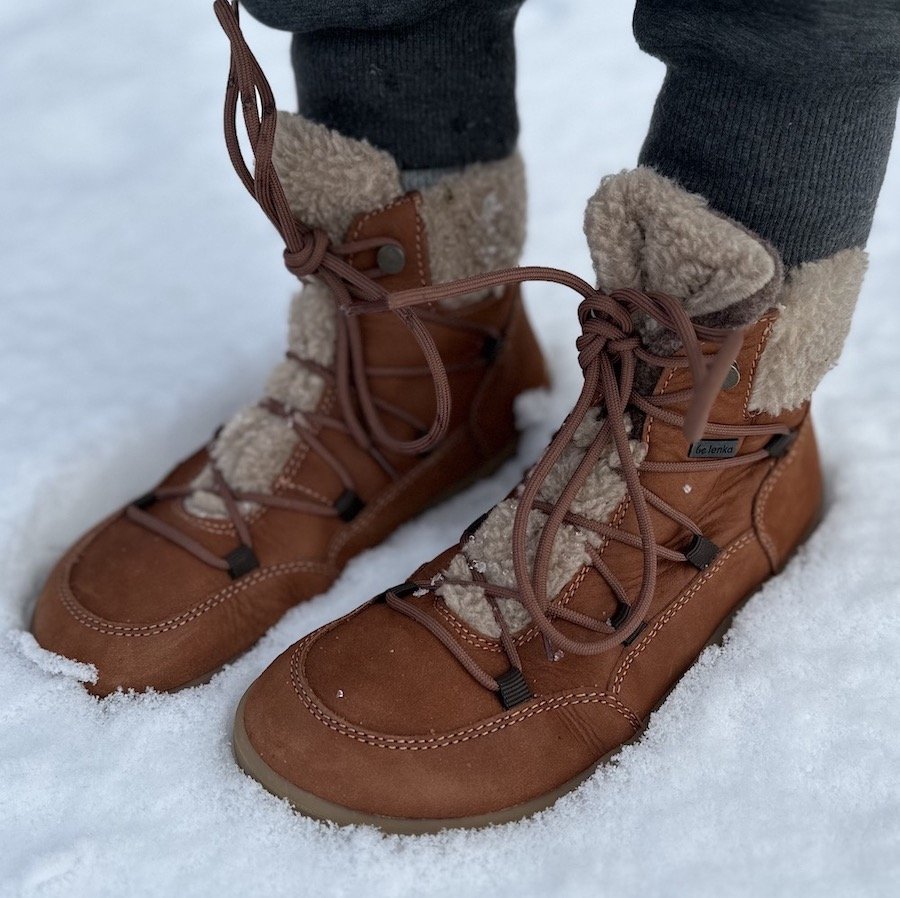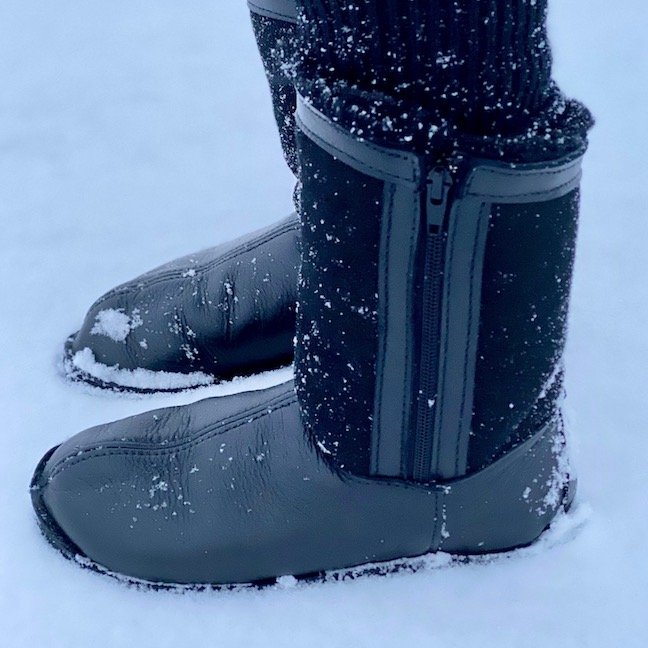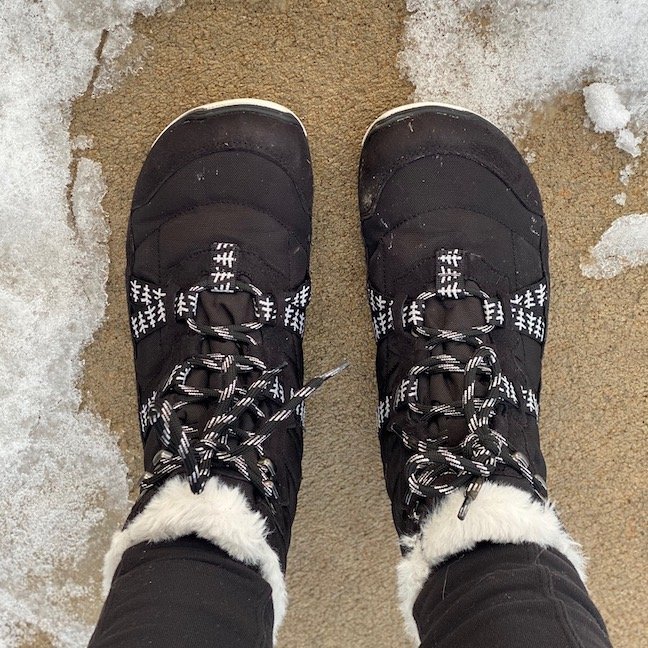 Xero Alpine – Traction Rating: Snow – Great | Ice – Satisfactory
---
Barefoot Winter Boots for Extra Wide Feet
Got extra wide feet? Have trouble fitting in lots of barefoot shoes? Here are the widest options out there, with the most ample room for toe splay.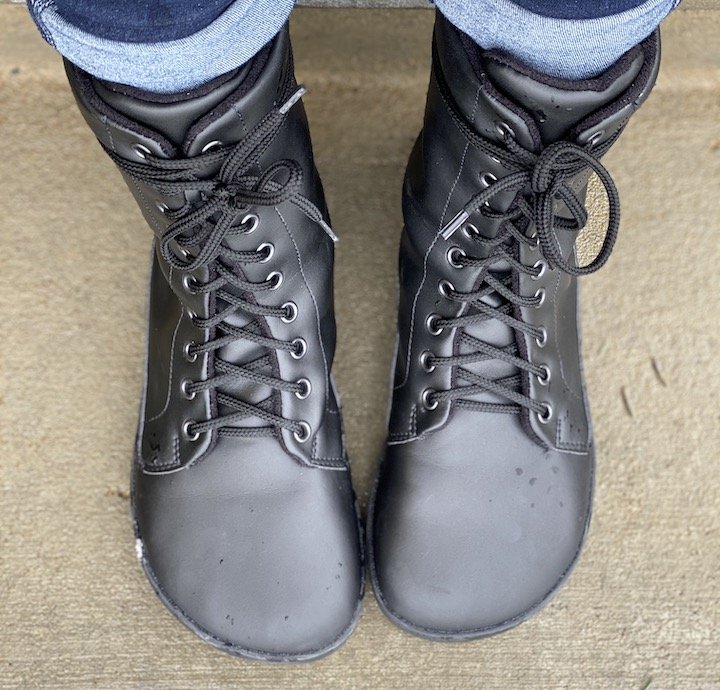 Ahinsa – Use code ANYASREVIEWS for 10% off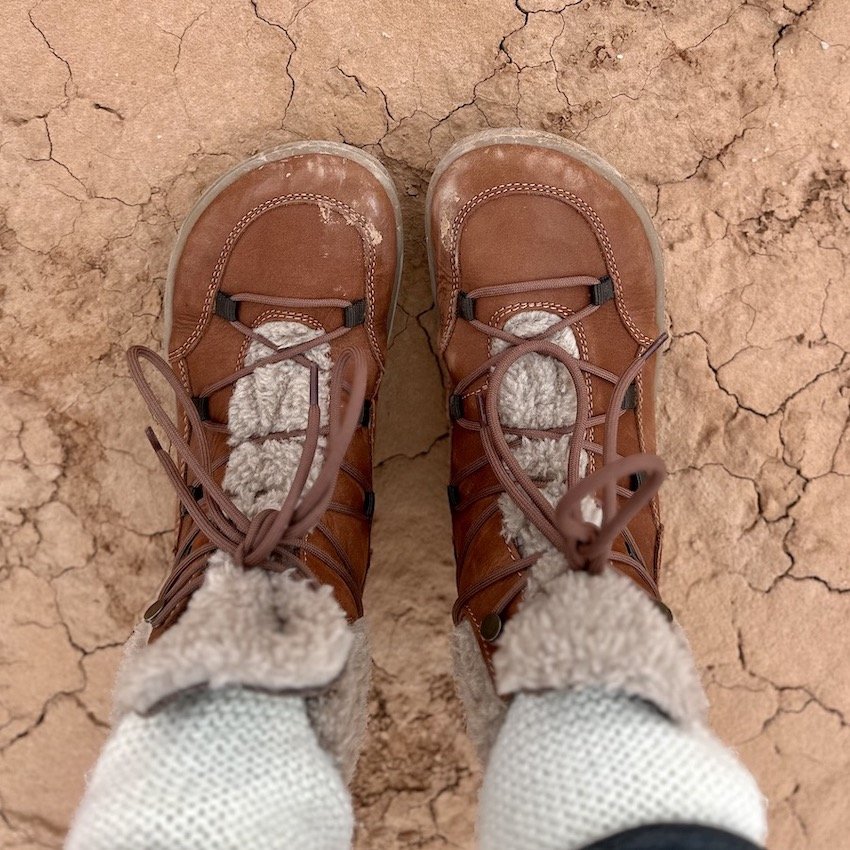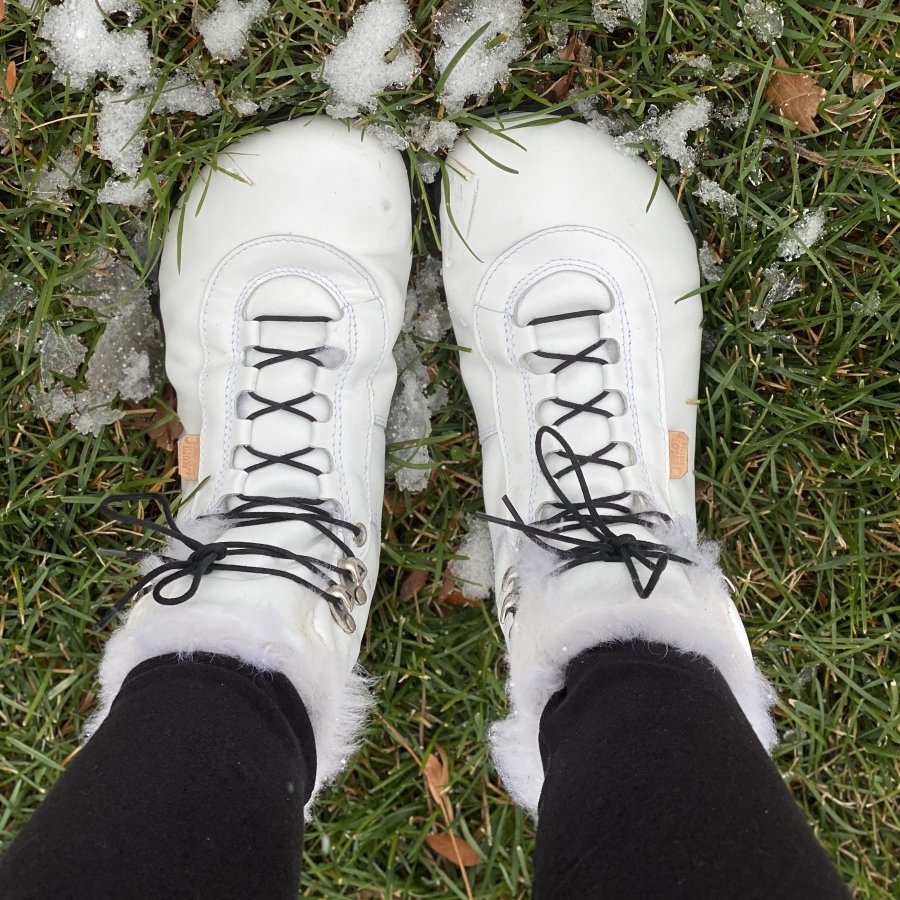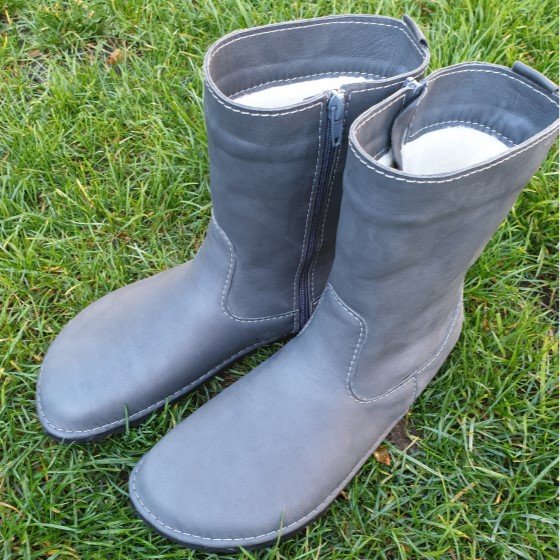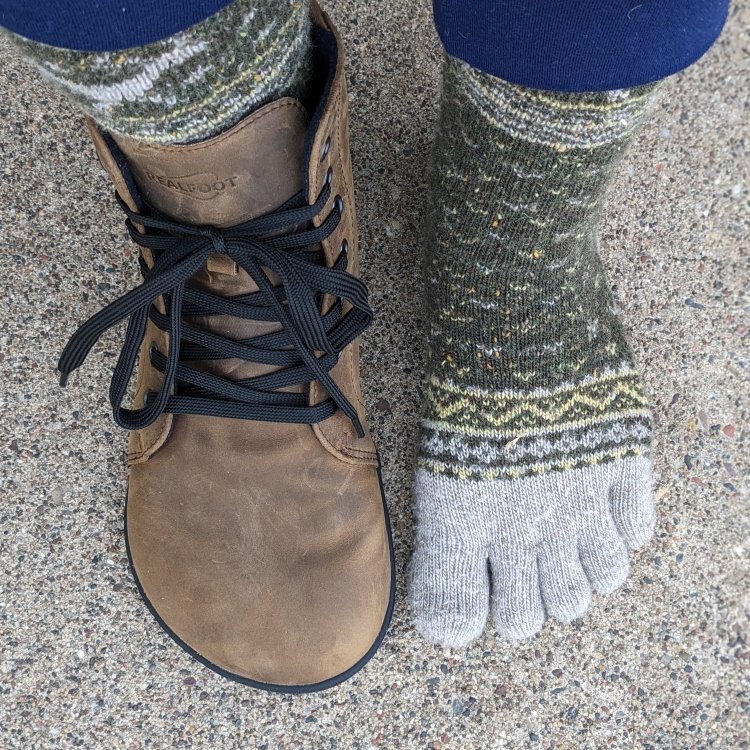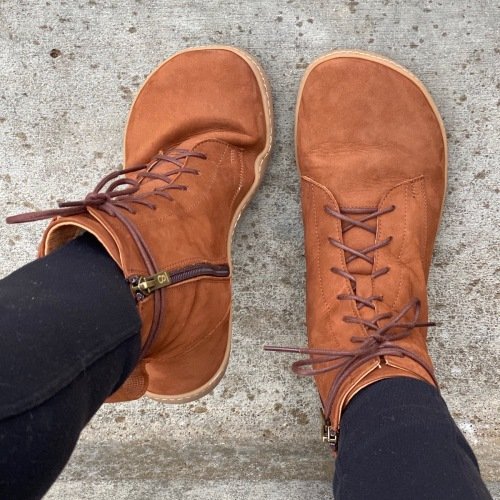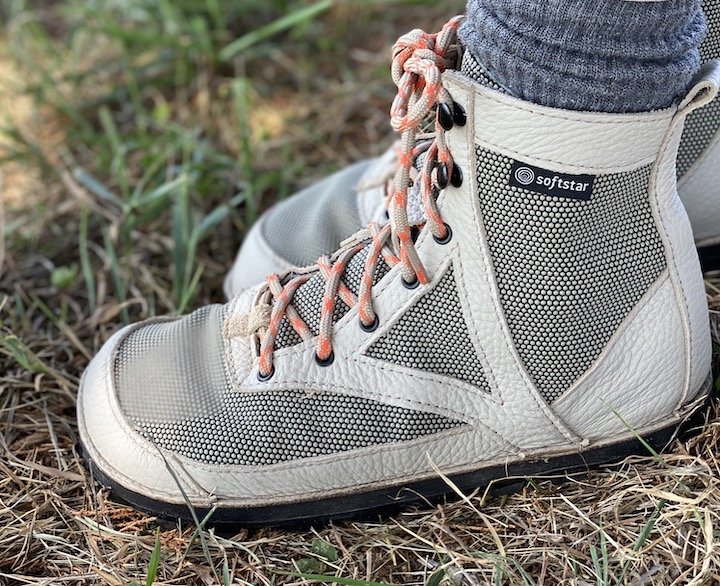 Softstar Switchback – Not as warm as the Phoenix, but still cozy and very wide (choose the Wide option).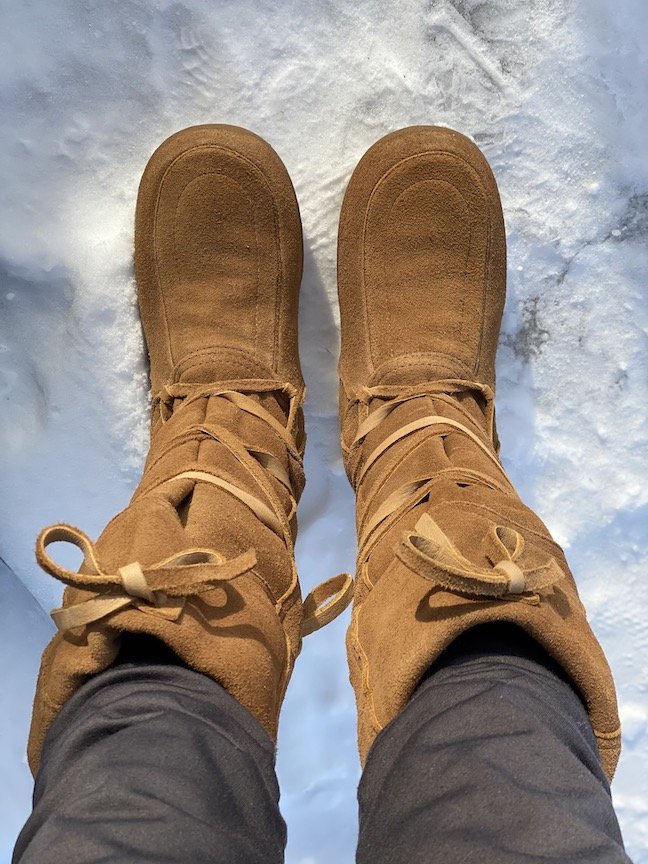 Check out this post for a full list of barefoot shoe brands for extra wide feet.
---
Warmest Vegan Barefoot Winter Boots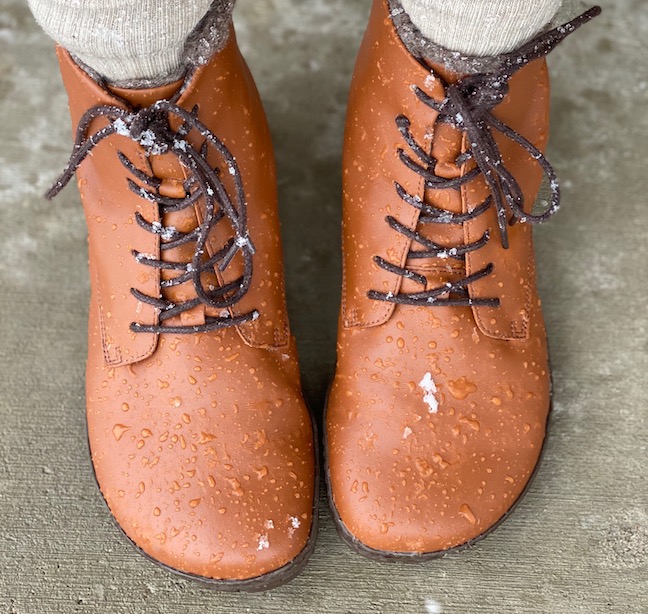 If you wear vegan shoes, it can be extra tough to find warm barefoot boot options. The following are the warmest barefoot winter boots that are completely animal free. See my Best Vegan Barefoot Winter Boots Review for detailed info on them.
For a full list of options, check out my Complete List of Vegan Barefoot Shoes.
Complete List of Barefoot Boots for Winter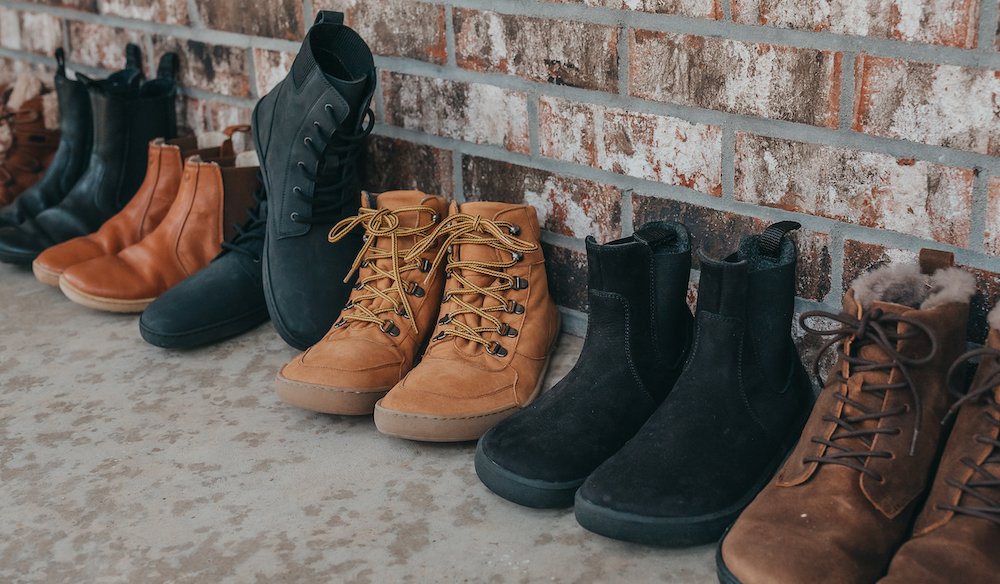 Want more barefoot winter boot options? Here is a Complete List of Barefoot Boots for Men & Women
The Warmest Barefoot Winter Boots for Kids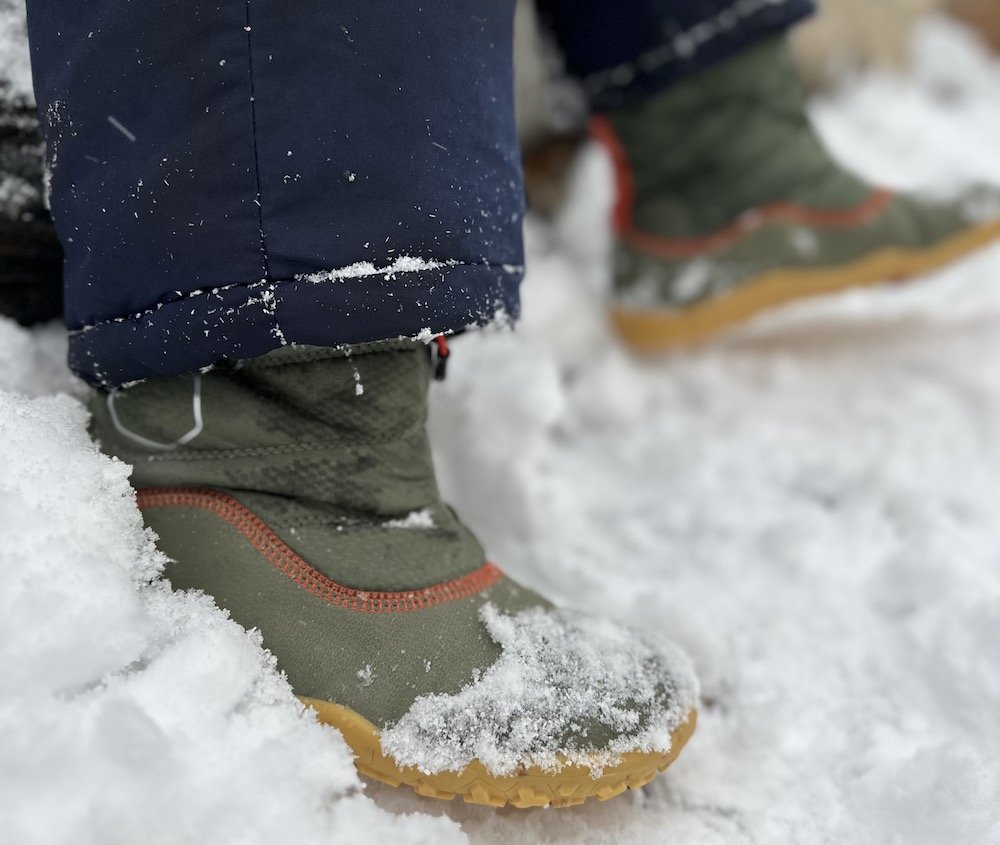 For a review of my top kids picks for cold and snow, check out my Warm Barefoot Winter Boots for Kids post!
Tips for Staying Warm in Barefoot Shoes
Even if you don't have the absolute warmest zero drop winter boots, there are things you can do to make them cozier. I use a combination of all these things through out the cold season.
Boot Liners
Depending on how much extra space you have inside your boots, liners can really increase their warmth. Put a warm liner inside a waterproof overshoe and you've got yourself warmth, traction, and waterproof-ness (just keep an eye out for the flat options).
Insoles
My all time favorite trick is to use an insole. Here are a few of my favorite warm insoles that make my regular boots more practical for winter. For more, read this post on barefoot insoles.
Socks
Waterproofing Techniques