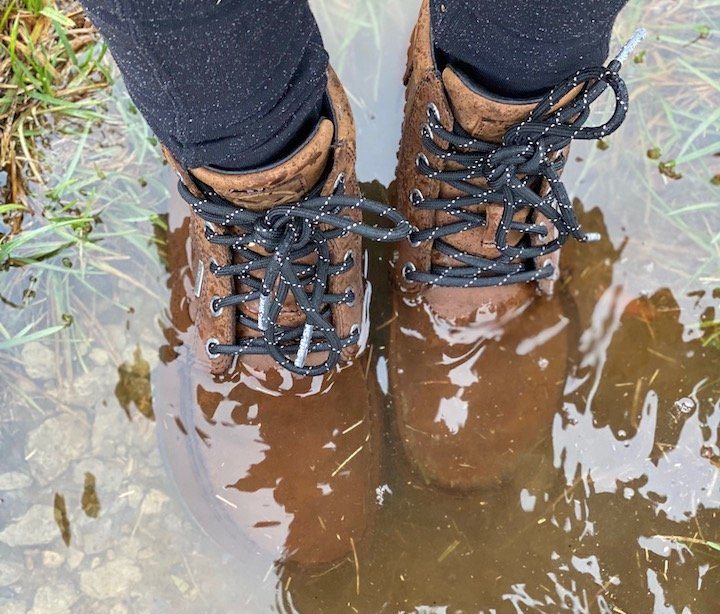 Barefoot shoes are meant to be functional, and for many people that means they need to withstand wet conditions. While you can buy waterproof and water resistant barefoot shoes, I find it very useful to have some waterproofing agents on hand. Here's how to waterproof your barefoot shoes.
Make sure that you clean your shoes and let them fully dry before treating them. A damp rag is usually sufficient.
Choose your waterproofing products based on the material of the shoe. If I don't want the look and feel of the shoe changed at all, then I choose a spray. If I want a more effective treatment and/or my shoe is unlikely to be affected by the treatment, then I go for a wax/oil based product.
Test the product on a small, inconspicuous part of the shoe and let it dry for 24 hours to make sure you are happy with how it.
Follow the product instructions to finish waterproofing!
Reapply periodically. Sprays need to reapplied more frequently, waxes can go an entire season on one treatment.
Here are my preferred products.
Waterproofing Sprays
If working with suede, nubuck, fabric, or any light colored delicate material I use waterproofing sprays because it's less likely to change the look and texture of the material. They do need to be reapplied every so often, especially after you clean your shoes or they get soaked .
Waterproofing Wax/Oil
These products have to be rubbed into the shoe and are more likely to affect the look, but they are often more effective as waterproofers. Best used on smooth leather/vegan leather products.
Renapur Leather Balsam – This conditioner is a gentle waterproofer, not as effective as the below options. But really great for restoring the look of your shoes and increasing their longevity!
Otter Wax – Works great.
Sno Seal – Very effective, but DEFINITELY changes the leather (unless you are dealing with a glossy black to begin with).
Additional Waterproofing Hacks:
Aquaseal – This is used to repair holes or seal up seams on your shoes!
Neos Overshoe – This overshoe can be worn directly over your shoes to make them waterproof and slip-resistant.
Waterproof Socks from Freet – Use code AR-10 for 10% off your order from Freet. Interesting idea to keep your feet, but not your shoes, dry!