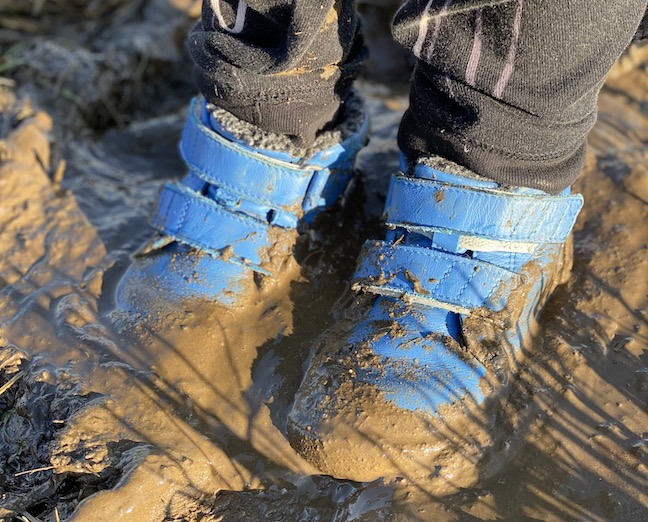 For a long time we struggled to find kids winter boots that were both good for their foot development and practical for real winter weather. We did the research so you don't have to!
Here are the best barefoot winter boots for kids that are practical for playing in seriously cold, muddy, and wet conditions. Read on for our personal favorites and a full list of kids barefoot boot options.
And if you're looking for our favorite everyday barefoot kids shoes, check out this list of our all-time favorites.
Our Favorite Barefoot Winter Boots for Kids
The barefoot winter boots listed here work for kids of all ages between the toddler years and adult sizing. If you have a little little one, jump to the section on Toddler & Baby Winter Boots! And if your child has graduated to adult sizing, check out my main barefoot boot articles.
Vivobarefoot Lumi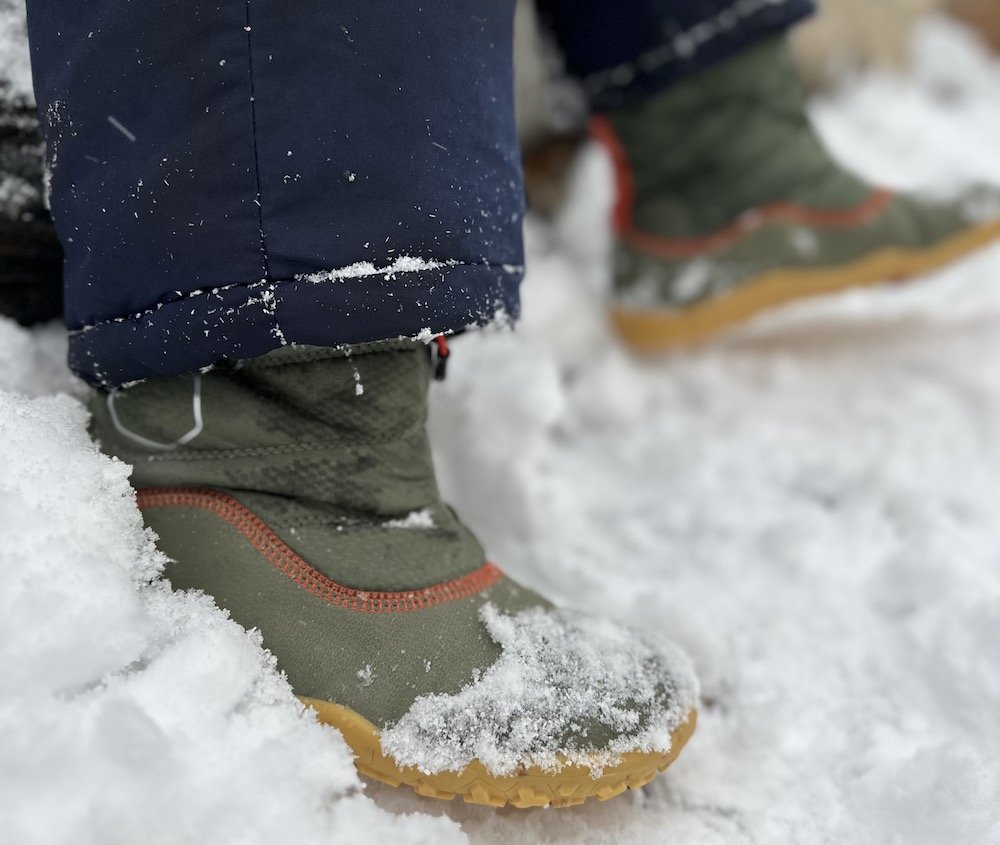 Get 10% off any Vivobarefoot order with my code VBANYA20
The Vivobarefoot Lumi is one barefoot kids boot that does it all: Rain, Snow, Cold Weather. I get them for my older boy every year (this is our 4th year in them) because they fit his long, thin feet really well and have some of the best functionality of any other barefoot kids winter boot we've tried.
We always take out the thermal insole that comes with our Vivobarefoot shoes and instead use a sheepskin or wool insole for more warmth. If you live in a cold climate I highly recommend doing the same, and the Vivo insoles just don't cut it for us. After that adjustment the Lumi works as a one-and-done boot for us all season long.
These boots are sometimes not in stock in the summer, but they restock every year in different colors. They are also the only vegan option listed here.
Sizing & Fit: True to size, best for medium width/medium volume feet.
---
Be Lenka Snowfox & Panda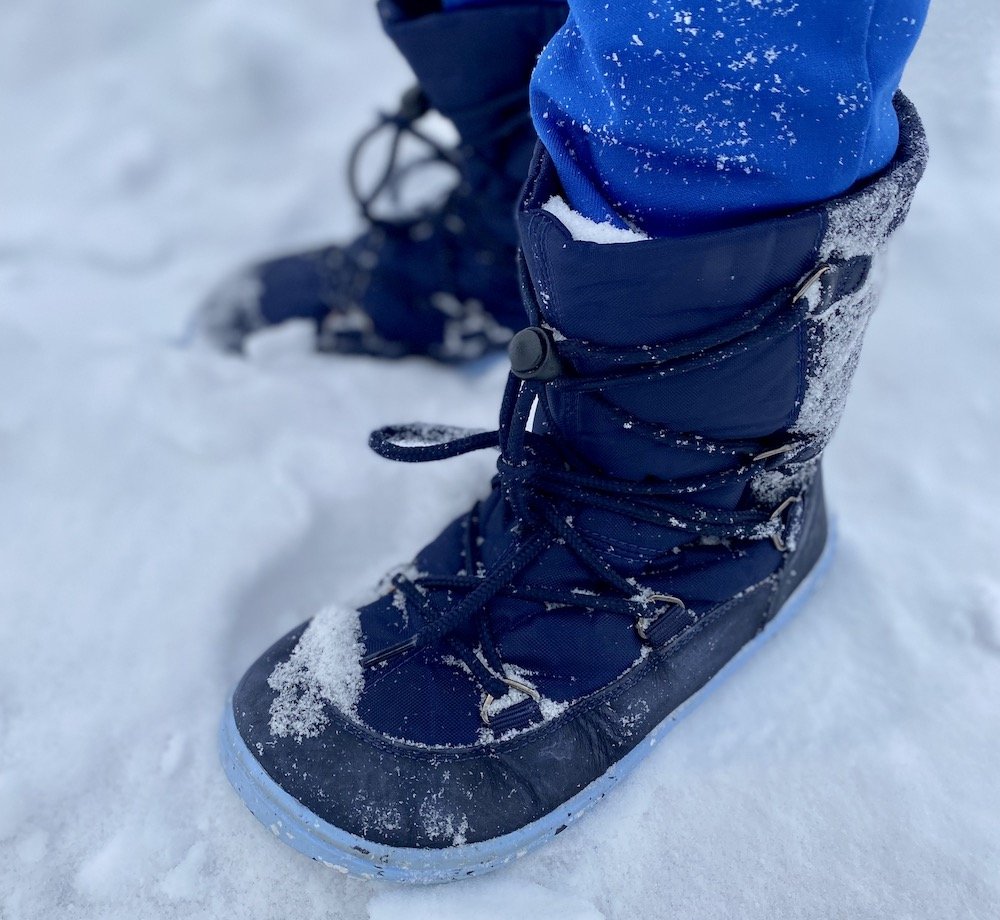 Leather & Textile | Waterproof | Sizes EU 25-35
Use code ANYASREVIEWS for 5% off your Be Lenka purchase, but note that returns are only accepted from within the EU and USA. We also have them at Anya's Shop in the US this year!
The Be Lenka Snowfox (above left) is a wonderful waterproof barefoot boot for kids. It is insulated with natural and synthetic wool and has lacing over the entire boot, which means you get a secure fit no matter your foot type. Alongside the Lumi, these are the most practical barefoot winter boot for kids I've tried, and they have a wide fit. So if you like the Lumi but need something for wider feet the Snowfox is where it's at.
The Be Lenka Panda (above right) is another good kids barefoot boot option from Be Lenka. They are ankle height, so not great for deep snow, but easy on, durable, and super warm. For our climate, where it's cold 6 months or more out of the year, these are a very practical shoe and can be worn daily to school. My son likes having something warm that he can play more easily in than a full snow boot, so we get good use out of them.
Sizing & Fit: Be Lenka boots are true to size and good for wide feet. They fit medium volume, and can be a bit snug over the top of the foot if you your child has high volume feet.
---
Softstar Phoenix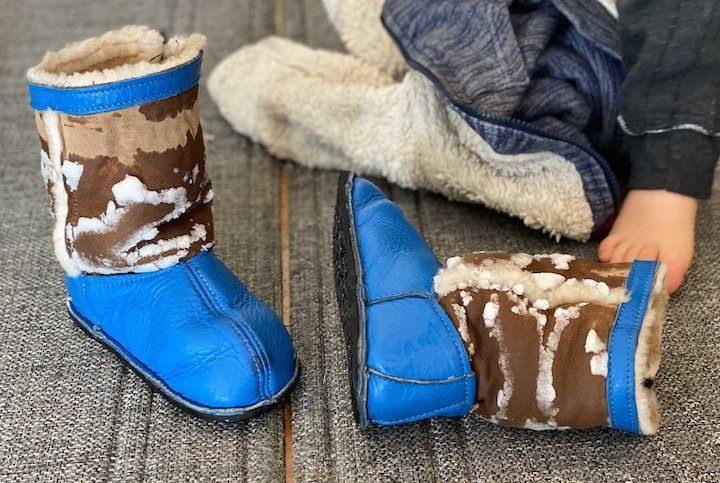 Leather & Sheepskin | Custom Color Options | Sizes US 7C-4Y
The Softstar Phoenix is a supremely cozy sheepskin boot, handmade in Oregon. I wear the adult Phoenix myself, and the quality is unsurpassed. You can choose custom colors, which my son loved (of course he chose blue). The foot portion is smooth leather and naturally water resistant, but the upper half of the boot is suede and water can soak through. I recommend using a waterproofing product such as SnoSeal if you plan to use these in snow.
Another thing to note is that they have a side zipper but otherwise can't be adjusted. My son liked to wear these barefoot, and after the boot broke in they were a little floppy on him. He walked right out of them into the snow once! I tried to get him to wear socks but he's a purist. So while they are delightfully warm, they work better if you wear socks or have thick, high volume feet.
Sizing & Fit: They run very snug, so sizing up one is advised. Good for wide, high volume feet.
---
Wildling Shoes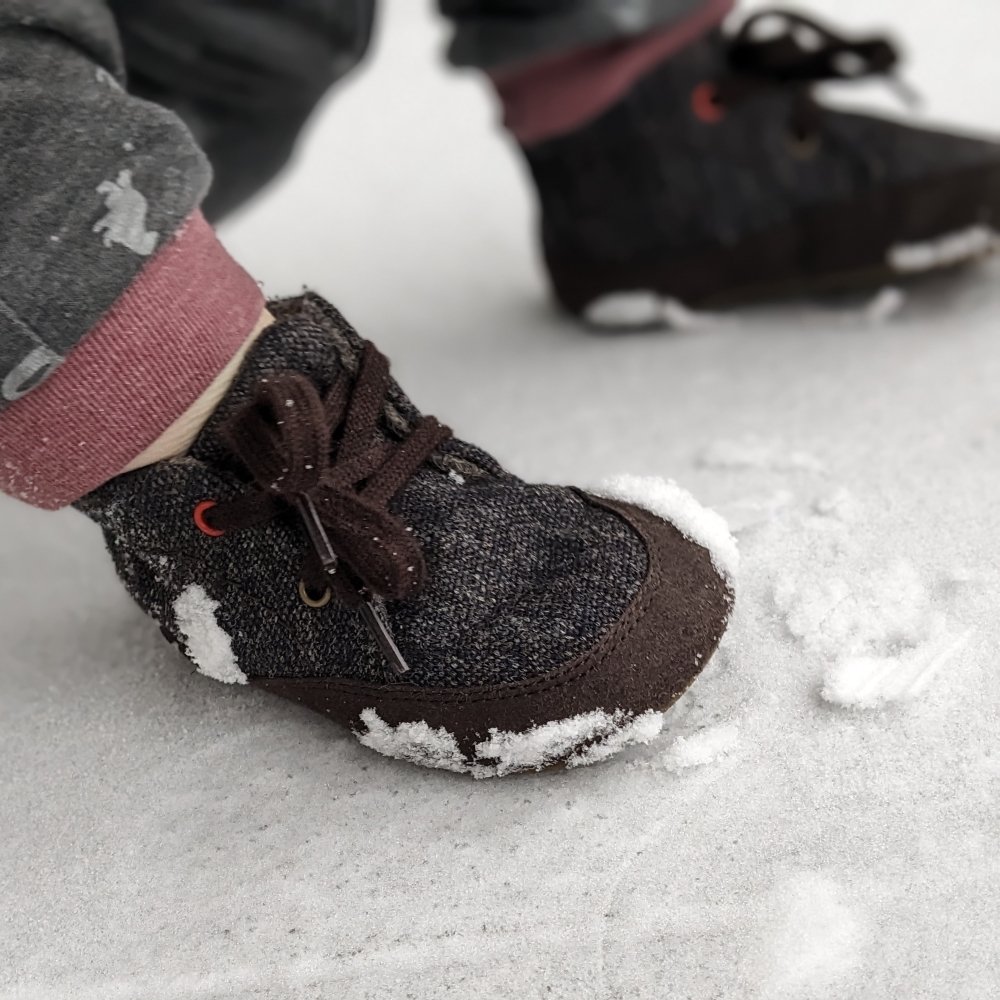 Water Resistant | Wool | Sizes 3C-4Y (baby to big kid)
Oh Wildling Shoes, how we love your sock like feel and cozy warmth! These are another big favorite in our house because they are so lightweight and comfortable, but surprisingly warm and water resistant. I recommend choosing the models made entirely of wool for the most warmth for winter time, and adding on a wool insole to your order. This combo keep my kids and myself cozy and dry without weighing us down. You'll be amazed at how practical a shoe this minimal can be! However they aren't snow boots, so you can still get snow in the top and if you spend long hours in wet conditions some water gets through.
Sizing & Fit: These are true to size and have an average to wide fit. They tend to morph and adapt to the foot inside them, so often work for even extra wide feet. Generally we find them to fit high volume.
Read all my Wildling Shoes reviews here
---
Zeazoo Dingo/Yeti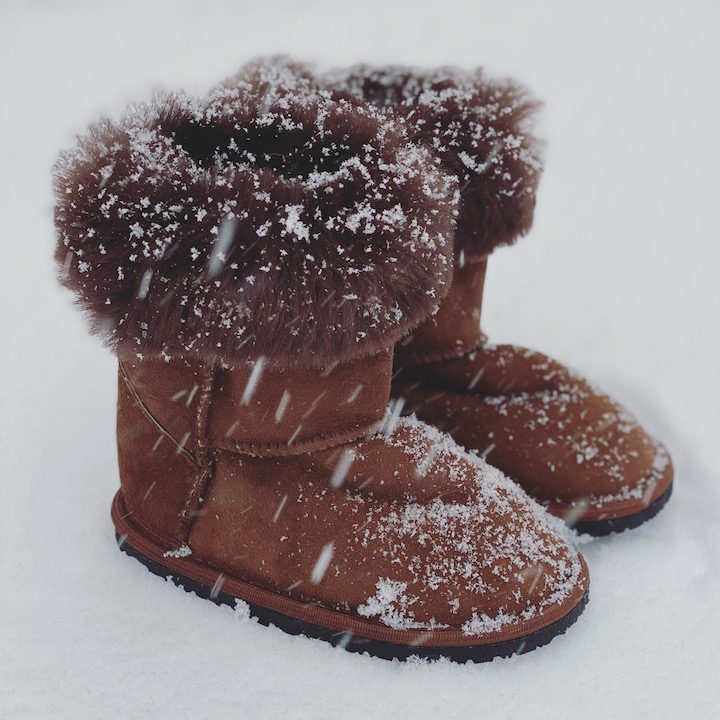 Sheepskin | Waterproofable | Sizes EU 20-34
Use code ANYASREVIEWS for 5% off.
Also available seasonally from Anya's Shop.
Zeazoo also makes barefoot sheepskin boots for kids, and they are delightfully soft and light. While not quite as thick and warm as the Phoenix from Softstar, they are more flexible. If you're looking for a simple pull on boot in the style of Uggs, the Zeazoo Dingo is it. But if you'd like something with more adjustability and security, I recommend the Yeti from Zeazoo.
My son wore them a full winter season and his feet stayed toasty warm and dry after we waterproofed them with Snoseal, even after being outdoors in below freezing temps for a long time. We did have to reapply the waterproofing treatment once and sew up a hole that formed at a seam, but for how comfortable and warm they were we were happy.
Sizing & Fit: These boots are extra wide and high volume! They run true to size in kids (but big in adults).
Watch a waterproofing demonstration here!
---
Budget Kids Barefoot Winter Boots
Here are the most affordable barefoot winter boots for kids that still are good for growing feet.
Saguaro Will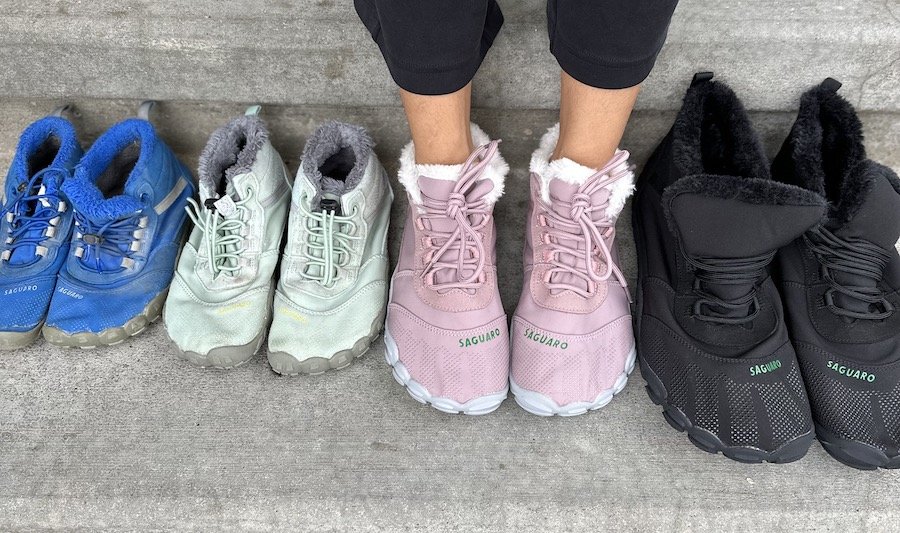 Synthetic Textile | Not Water Resistant | US Kids 8.5 – Youth 3.5
Use code ANYASREVIEWS to get 15% off Saguaro.
The Saguaro Will is a solid cheap winter option. They are soft, warm and come in at about $50 after my coupon code. BUT they are not water resistant and the materials are a synthetic fabric so get wet easily and can start to smell if not dried quickly.
The soles on my youngest's are wearing down a bit and there is separation on the edges. But we are used to kids shoes being well-loved and they just keep wearing them! (Mine are fine, because I am not a destructo machine). While definitely not as practical as the above kids barefoot winter boots, they can get you by if you need a cheaper option.
Sizing & Fit: We find that Saguaro, in both kids and adult models, runs on the smaller side. I chose a size up from what they were wearing in other brands and they fit them perfectly.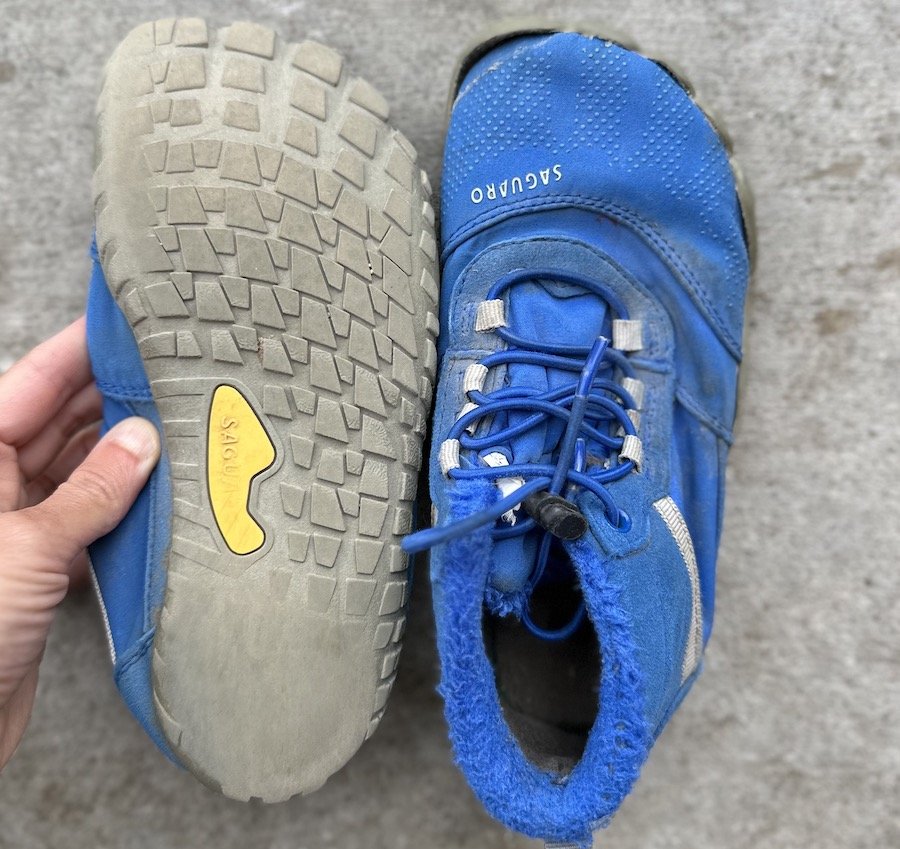 Check my FAQ on cleaning shoes for how to remove shoe funk.
---
Ten Little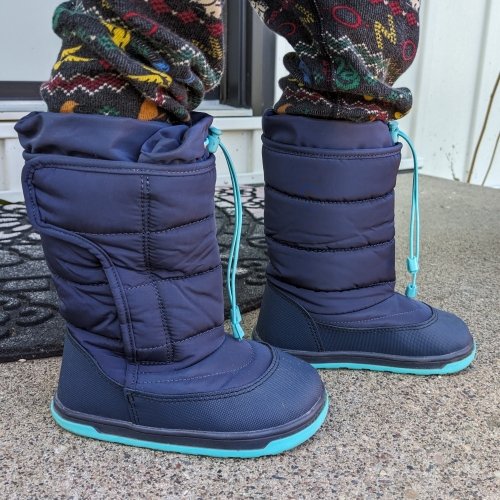 Insulated Polyester | Water Resistant Membrane | Fleece Lining | Sizes US 6-13
New from Ten Little this year are these cute and functional snow boots for toddlers and little kids! The main body is an insulated polyester material that reminds me of a puffer jacket. They can cinch closed at the top with a elastic toggle strap and the entire boot shaft opens with a large velcro closure on the side. They're easy enough for my 4 year to put on himself! I was delighted to discover the outsole on these has some grippy lugs, too.
The are $60 and only available up to size 13, but we have hope that Ten Little will expand the size range for these in the future.
Sizing & Fit: Average width, medium to high volume. I recommend sizing up one from your kiddo's sneaker size.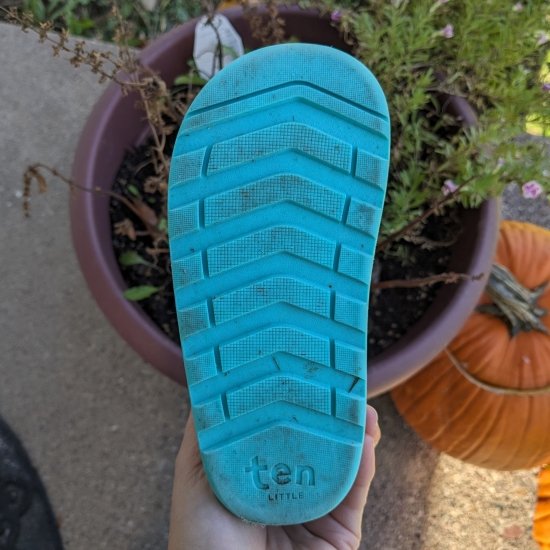 ---
Now that I've shared my favorites with you, here are some more options by size range and type! Check out the kids barefoot boot options in little and big sizes, plus vegan and rain boots.
Barefoot Winter Boots for Toddler & Baby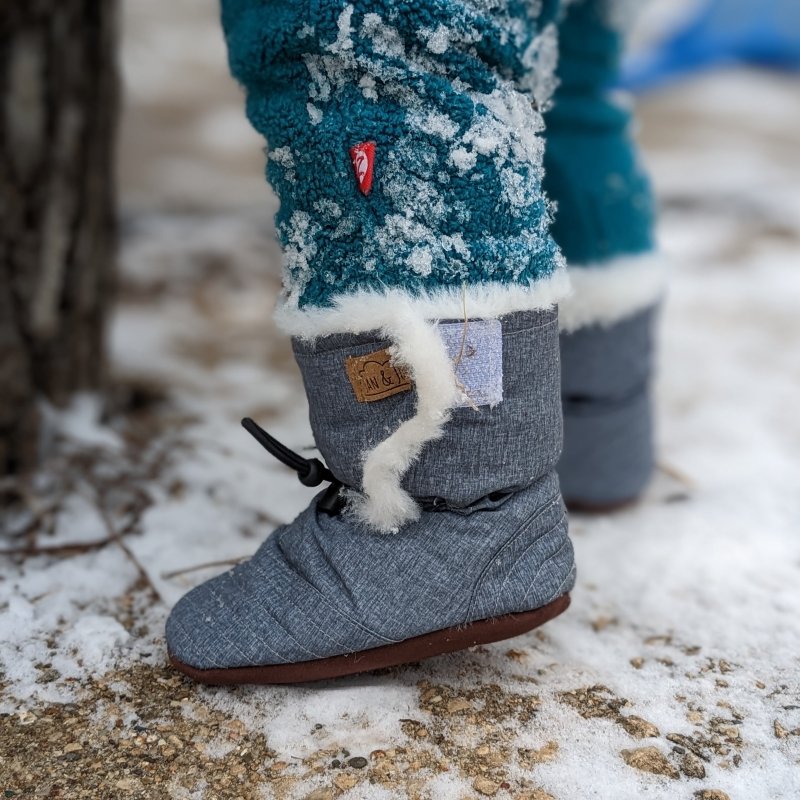 We are even more particular about extra little feet! You can find our top recommended barefoot baby boots here.
Barefoot Winter Boots for Big Kids
Baby Bare – US customers can find Baby Bare at PedTerra and use code ANYASREVIEWS for 10% off first order
Be Lenka – Panda and Snow Fox. Use code ANYASREVIEWS for 5% off (returns are only accepted from within the EU and USA).
Freet Mudee – Vegan AR-10 gets you 15% off
Froddo – Not all styles are zero drop. US customers can find Froddo at PedTerra and use code ANYASREVIEWS for 10% off first order. Also found worldwide at Mugavik Barefoot. Use code ANYASREVIEWS for 5% off.
Kiuu – Doesn't ship to the US
Koel – Does ship worldwide, but you can also find them at retailers Tupsunupsu or Mugavik Barefoot (Use code ANYASREVIEWS for 5% off)
Manitobah Mukluks – Not all styles are barefoot friendly
Mukishoes Chelsea – Those are lighter winter boots, with a thin wool lining and are only available seasonally. Use code ANYAMUKI for 10% off
Stonz West Boots – All season waterproof boots rated down to 5 degrees F. Use code ANYAREVIEWS10 for 10% off
Vivobarefoot – VBANYA20 10% off
Wildling Shoes – Most minimal yet practical boots out there! Read my Wildling Reviews here
Zeazoo – Customers outside the US/Canada can purchase directly from Zeazoo Kids directly (located in Bulgaria) and use code ANYASREVIEWS for 5% off.
Barefoot Rubber Rain Boots for Kids
Vegan Barefoot Winter Boots for Kids
Conclusion
We like to play hard through the winter, so having practical barefoot boots for kids is very important to us. These are our tried and true favorites, plus additional info so you can find what you need!