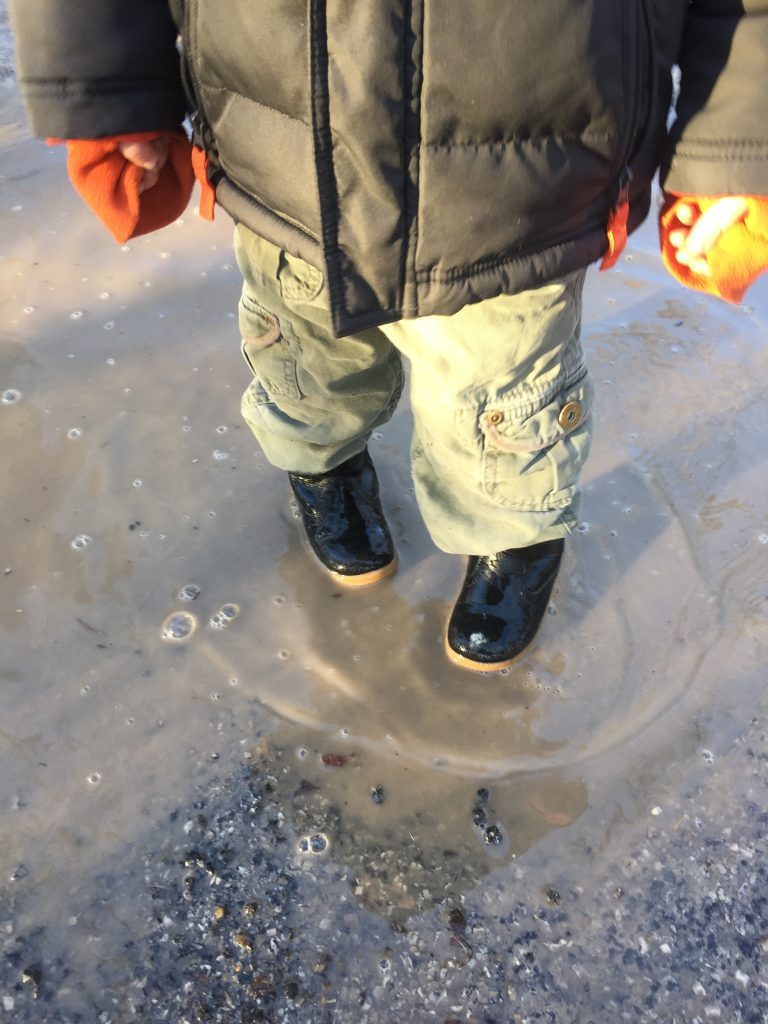 This list was born naturally out of the research I've done for my own family. We live in Iowa where the winters are harsh and if we want to convince my boys to leave the house we have to have warm, waterproof barefoot boots for them to wear. But I don't believe in buying a lot of shoes for kids who will grow out of them within a year, so I need a minimalist boot that isn't so clunky my kids don't want to wear them to school or to play. This has forced me to do a lot of research in search of one pair that will work in every situation.
The last couple years we have worn Bobux with good results. The Aspen worked very well for my son, though I wasn't entirely thrilled with the stiffness of them. This year, we considered the Aspen again, Zeazoo Yeti boots, Tikki Beetle boots (for my 3 yr old) and See Kai Run boots. We settled on the See Kai Run because they are rated for very low temperatures and are waterproof, and my kids could put them on themselves. But Vivobarefoot just showed pictures of their new kid's winter boots on Instagram and now I'm second guessing myself! I'm waiting for Black Friday to purchase in hopes something goes on sale!
Here is an extensive list of all the brands that sell kids boots! Know of others? Let me know!
*Looking for Black Friday/Cyber Monday deals? Check out my BF Sales post, quite a few of the brands listed here will have discounts!*
Brands
Bobux: See review here. This is a great brand for waterproof shoes, styles that look "normal", and the full breadth of sizes
Softstar – really warm, not waterproof, $$$. Bonus is they're customizable for kids who are picky about color.
Zeazoo – I recently tested out some adult Zeazoo shoes and was impressed, I think the kid's (in particular the Yeti) will be great winter options. You can use the code ANYASREVIEWS for 5% off at any time, and multiple times even!
VIvobarefoot: Their stock changes very frequently, but they've just released their kid's winter boot and it looks pretty impressive. They also have a fulham boot each year which is good for puddle jumping and more temperate winters.
MyMayu – Good waterproof option for those who need rain boots!
Stonz – Not all are zero drop, but many of them are. They have some good rain boots and a new cold weather boot called the West boot.
Sole Runner Shoes– It looks like they don't do baby sizes, but start with toddler age.
Froddo – Not all are zero drop
Paper Krane – From what I can tell their stock changes very frequently, so they've never had the size we need in stock when we needed it, but they look awesome.
Manitoba Mukluks ($150) – The sizing starts at Youth 1 (about age 6 or so), but these are super warm, winterproof boots.
Tikki – I've heard these are excellent boots, but sizing stops at EU 29 (about 5ish year old size).
Soft Walker Shoes – Super affordable boots for kids (goes up to size 12, but I wonder if she could custom make larger sizes?) They look warm, but not waterproof because of the seams.
Jack and Lily – Toddler and baby sizing only, but some affordable options
Young Sole Shoes – This is a new online retailer of kid's shoes based in the US. They focus on international brands that are hard to US customers to access, and their stock is growing. They have some with a small heel rise, so be sure to read the descriptions. They have a nice Kiuu boot, which you can't get outside Germany.
I've been keeping an eye on the brands Filii and Kiuu, in hopes that they will one day ship to the US. If you're in Germany or Europe, they look like great brands!
Several of these brands are available on Amazon! Check out my list of Amazon barefoot brands here.