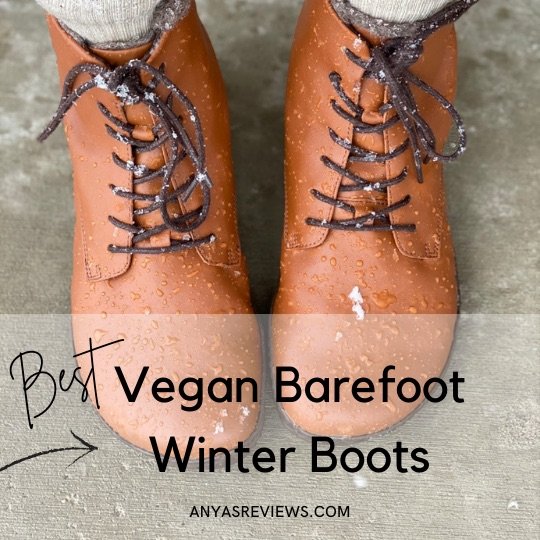 Looking for VEGAN barefoot winter boots? Check out this review of the 8 best vegan barefoot boot options that are warm and practical for the season, as well as lists of vegan barefoot rain boots and vegan barefoot boots for everyday.
The Best Barefoot Vegan Winter Boots
1. Ahinsa Vegan Barefoot Shoes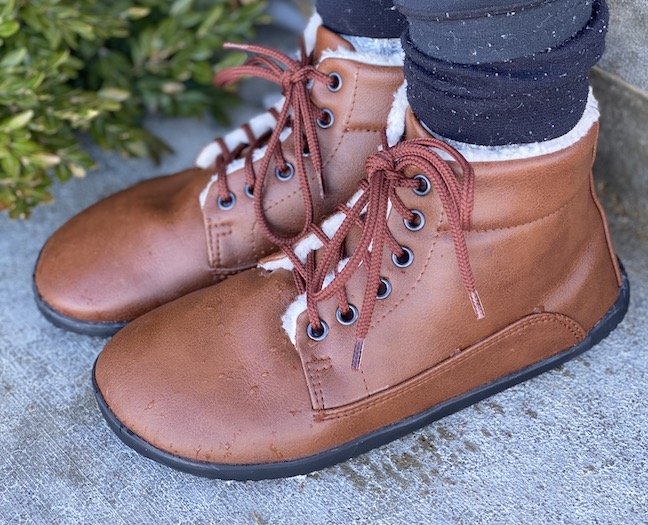 Ahinsa Winter | $175 | Waterproof | Fleece Lined | Sizes EU 37-46
Use code ANYASREVIEWS for 10% off
Ahinsa is a brand that makes only vegan barefoot shoes. They are ethically produced, have a very spacious toe box, and are super lightweight and flexible for being a winter boot. Of all the vegan barefoot winter boots, these ones are keeping my feet the warmest and most comfortable! My only complaint is that the tongue is not gusseted, so walking in deep snow or slush can get wet inside. For a taller version, check out the Jaya Winter!
All of Ahinsa Barefoot shoes are handmade, so sometimes there is a long wait for shoes. It's also important to note that they do not accept returns, only exchanges.
Ahinsa Fit Type: Ahinsa shoes have a Plateau foot shape and are extra wide. They are medium volume, but lace up versions should fit both low and medium-high volume feet. In general, Ahinsa runs True to Size. I am wearing my normal size EU 37 and found the lined Winter boots to be slightly snug at first. They fit perfectly now with a pair of medium-thick socks, but consider sizing up if you want to wear extra warm socks. I would not size up in unlined models.
For more on Foot Shape and Fit Type check out this post!
I also love the Jaya from Ahinsa! It is lined with microfiber, so not as cozy warm as the Winter, but it has an awesome combat boot style and is so soft and comfortable. Don't forget you can use code ANYASREVIEWS for 10% off any Ahinsa purchase!
For your convenience, you can now order the black Ahinsa Jaya through Anya's Shop! Orders placed through our shop will be eligible for US returns.
---
2. Freet Barefoot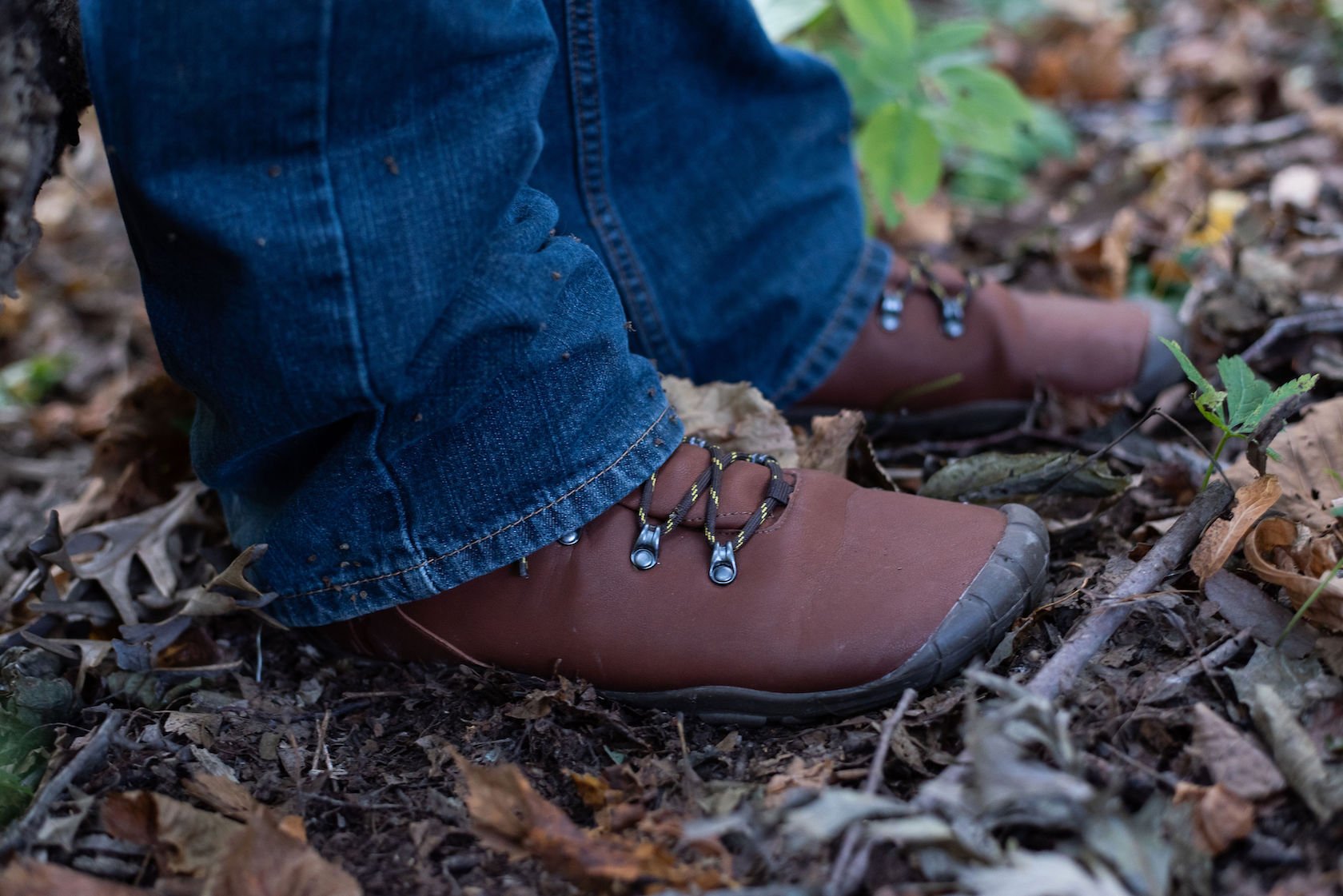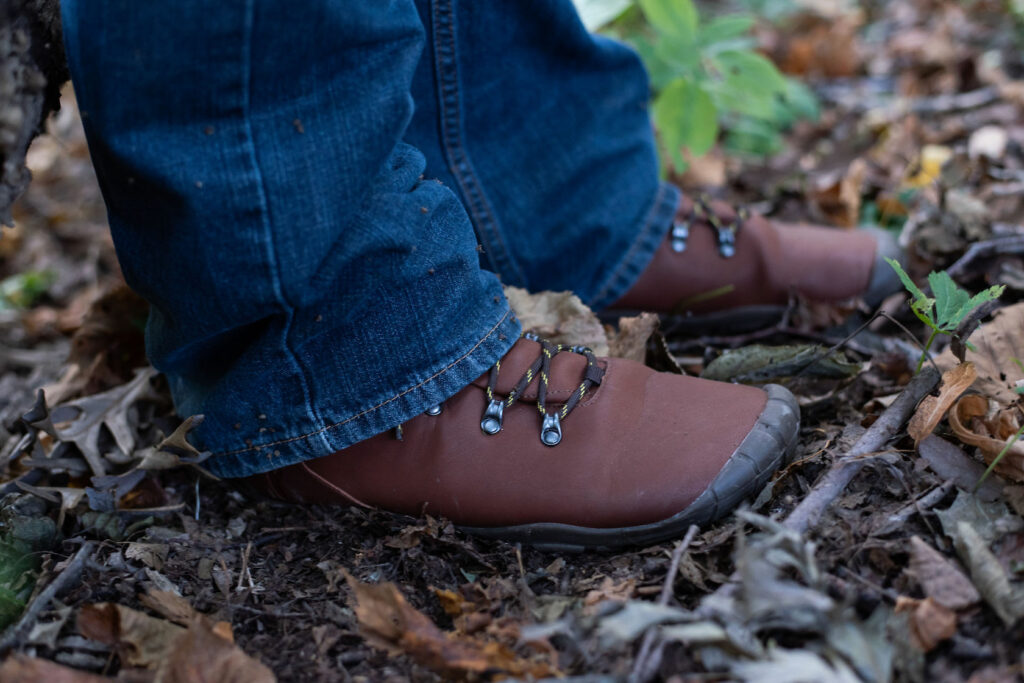 Freet Mudee & Tundra | $148-162 | Waterproof | Sizes EU 37-48
Use code AR-10 for 10% off
The Mudee & Tundra are vegan barefoot hiking boots that are waterproof and pretty warm for having thin, barefoot soles. Add in a thermal insole and some cozy socks and you've got yourself a solid vegan barefoot winter boot! They are practical for hiking conditions, as well as daily wear.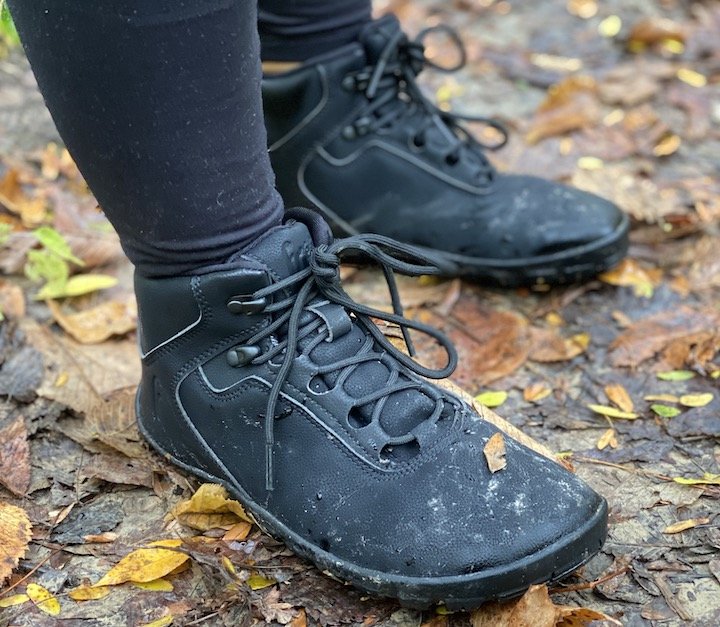 Shoes usually ship within a few days of ordering and returns are possible within 21 day, but customer pays return shipping (they have warehouses in the US and UK). Freet also has vegan sneakers and dress shoes, the Pace is my husband's all time favorite shoe and he manages to wear them in the winter with thick socks (not something I recommend!)! Freet Barefoot also carries the Bootee M, another vegan barefoot boot, but it will not be as warm as the Mudee.
Read my full Freet Review here!
Freet Mudee Fit Type: Freet is a brand that is great for Plateau/Square shaped feet. The Mudee fits snugly because of all the padding, so people with medium to high volume feet should consider sizing up.
---
3. Zaqq Barefoot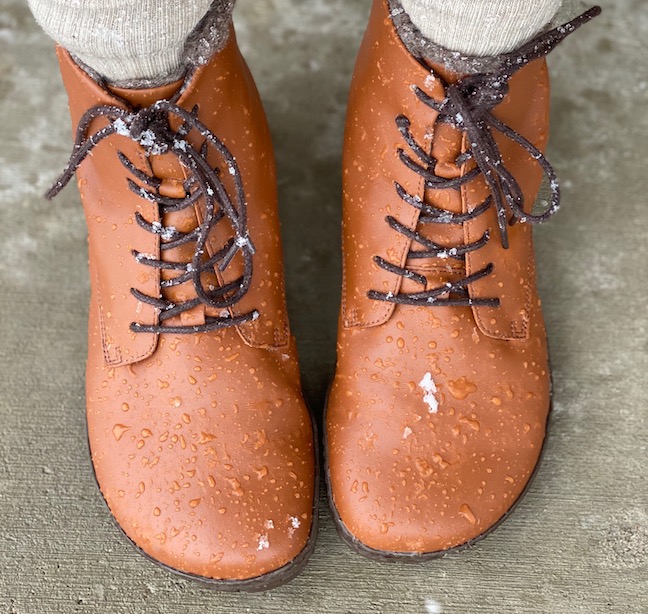 Zaqq Quintic | $190 | Fleece Lined | Sizes EU 37-48
The Zaqq Quintic sticks out to me as one of the most stylish vegan barefoot winter boots. They have a classic boot look to them, but are still warm, cozy and good on ice and snow. They are not advertised as being waterproof, but seem water resistant to me. While wearing them I noticed that water drops left marks on the material, but I haven't had any water soak through and the marks went away once the shoes dried.
Zaqq can be a bit tricky to order from, if you're in the US you have to request an invoice. Once paid, the shoes ship quickly and I am always pleased with the quality of the shoes. They have one of the best selections of vegan barefoot shoes! Returns are possible, but customer pays shipping.
Read my full Zaqq Barefoot review for more info!
Zaqq Fit Type: Zaqq Barefoot shoes are medium width, slightly wider than Vivobarefoot. This particular shoe fits a low to medium volume foot, and are great for Mountain feet. *Be aware that some dress shoes from Zaqq are tapered at the toe box.*
---
4. Lems Shoes Boulder Boot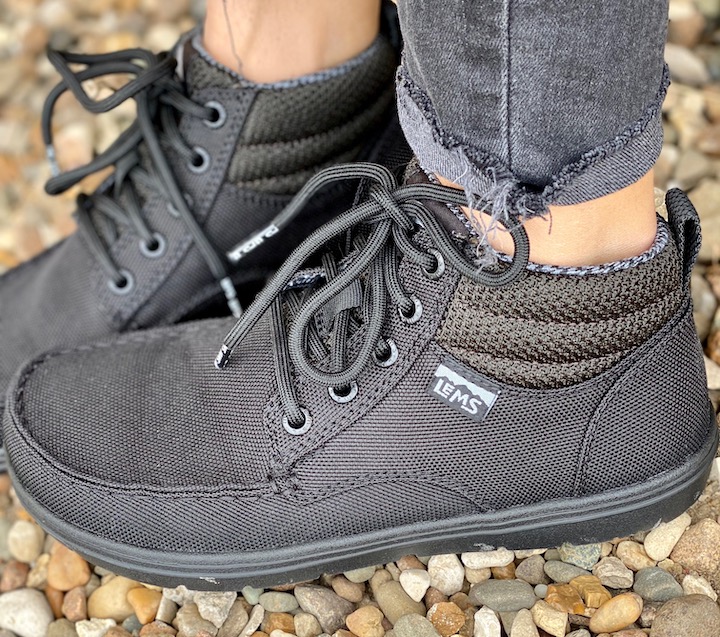 Lems Boulder Boot Mid | $125 | Nylon & Mesh | Sizes US 5-12
The Lems Boulder Boot has an iconic style, but is zero drop and wide in the toes. It comes in a mid height (shown above) and a taller height that is more practical for cold weather. These boots are not waterproof, so if you plan to use them in wet conditions I would check out their waterproofing options (I personally recommend both the Otter Wax and Nikwax that they carry). The only drawback to Lems Boulder boots for me is that they rub my heel. This is easily fixed with a heel cushion, but those with sensitive heels take note.
Lems is a US company, and they ship quickly once an order is placed. Returns are possible, but buyer pays return shipping. The Boulder Boot is a super popular style and it sells out regularly, but don't worry they always restock! European residents can purchase Lems from Mugavik Barefoot and use code ANYASREVIEWS for 5% off.
Lems Shoes Fit Type: The Boulder Boot is known for being great for wide, square, and high volume feet. They run slightly small, so be sure to consult their detailed size guide before purchasing. I am wearing a half size up from my usual in the Boulder Boot Mid.
Besides having an edgier, more mainstream style than most barefoot shoes, Lems also have a thicker sole. They still count as healthy footwear in my book, but be aware that they do not have the same ground feel as the other shoes discussed in this post.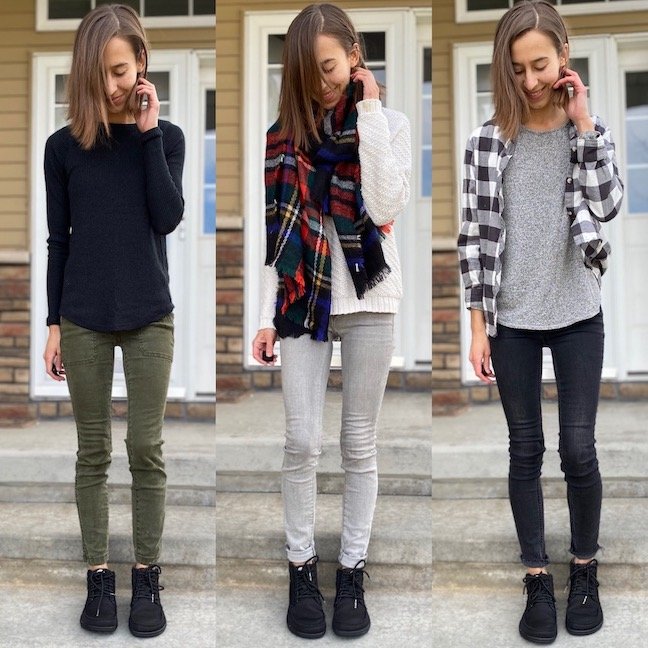 ---
5. Feelgrounds Patrol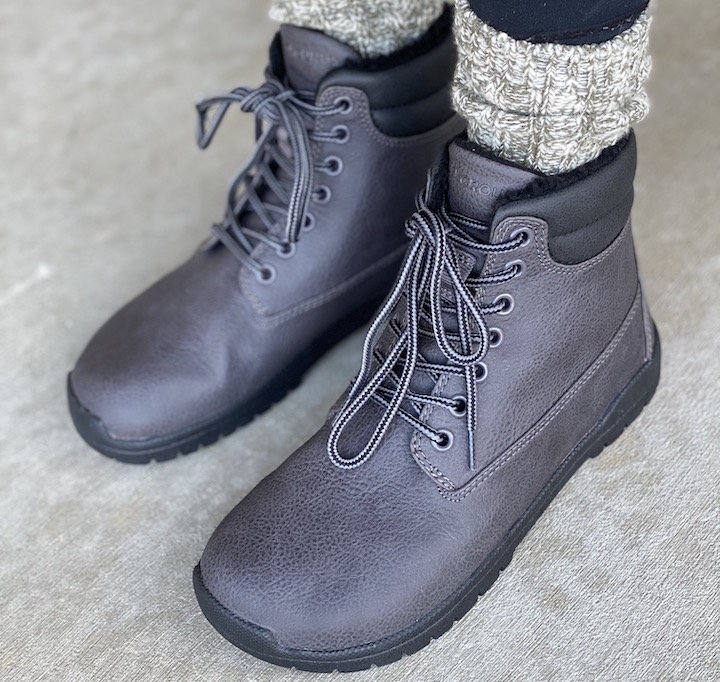 Feelgrounds Patrol | $169 | Waterproof | Fleece Lined | Sizes EU 35-49
Feelgrounds is one of my favorite barefoot shoe brands, all their shoes are vegan and legitimately cool looking. Last year they launched a vegan barefoot winter boot that has a slip-resistant outsole and warm fleece lining. They're the real deal! They also look pretty darn cool. After complaints that their first version was too stiff, they have updated them with a softer upper. Be sure to check out my Feelgrounds Patrol review for all the specs, sizing info, and real life shots.
And while you're at it, check out my other Feelgrounds reviews for info on the brand and ordering! Shoes generally ship pretty quickly from Germany, and customer service is good.
---
6. Sole Runner Transition Vario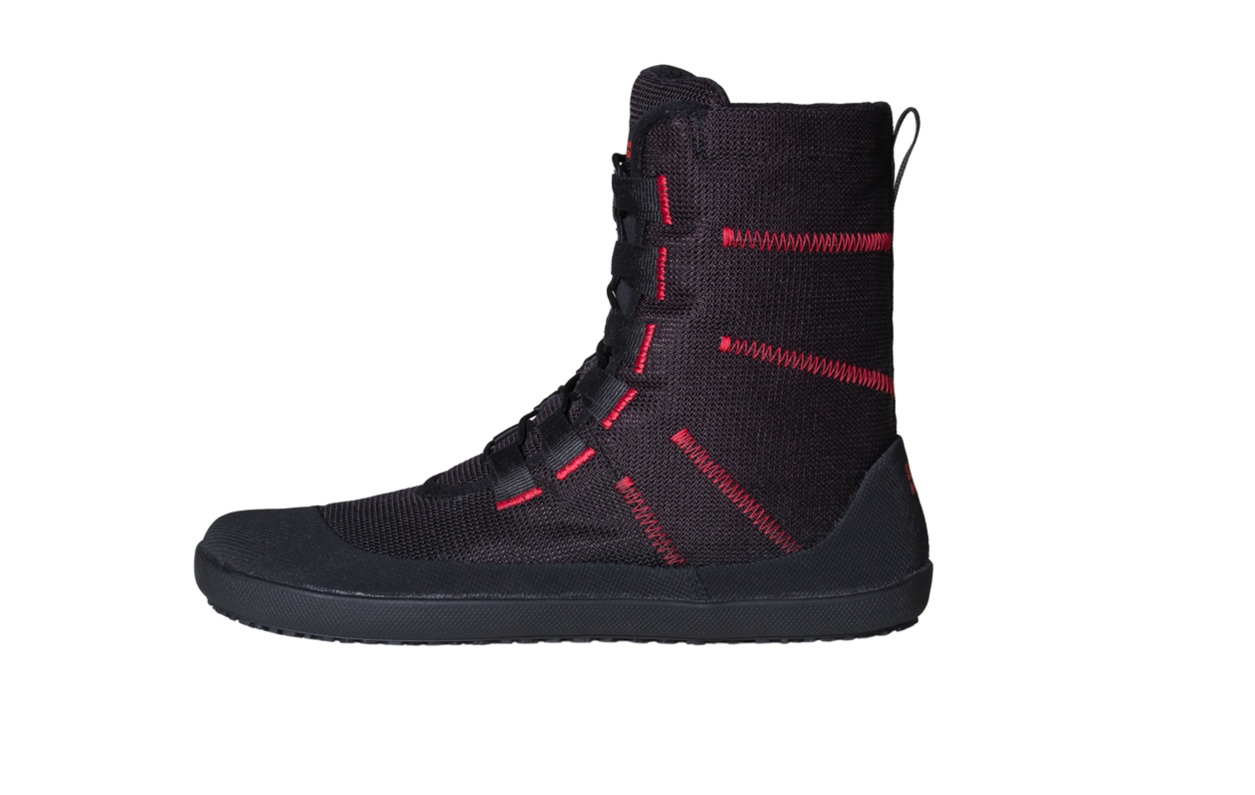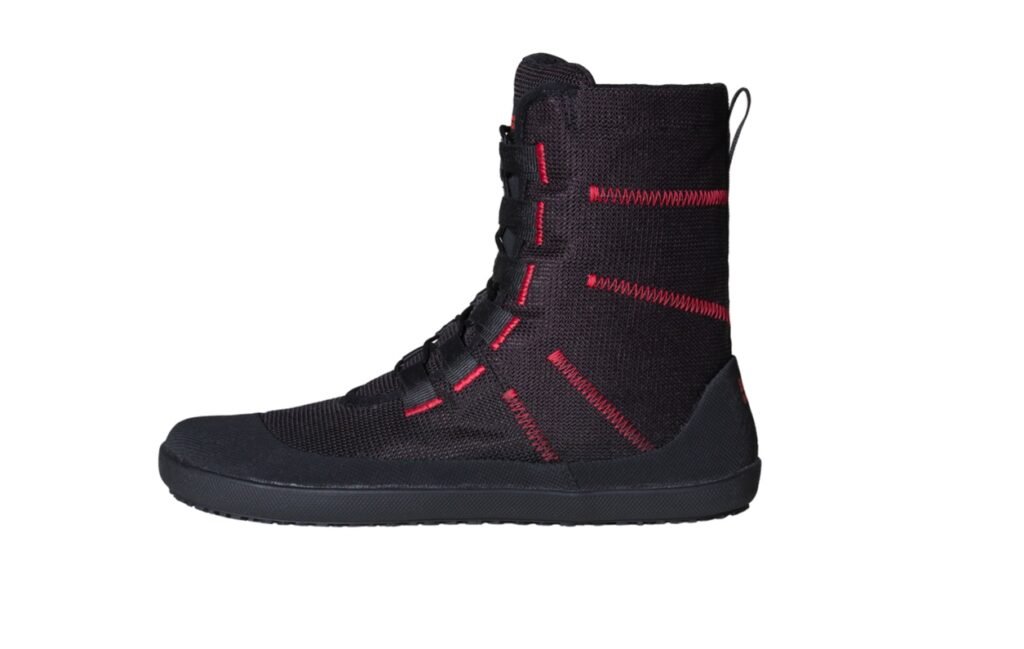 Sole Runner Transition Vario 3 | $218 | Water Resistant | Fleece Lined | Sizes EU 36-48
The Sole Runner Transition Vario 3 is a vegan barefoot boot meant for serious wear. The outsole is super grippy for good traction, and the thermal fleece lining can be removed for warmer weather. This is a boot I wasn't able to test out in person, but based on feedback from the community it is extremely practical and high quality.
Sole Runner is a German brand that ships internationally. I've ordered from them once and had a good experience!
---
7. Tadeevo Vegan Winter Boots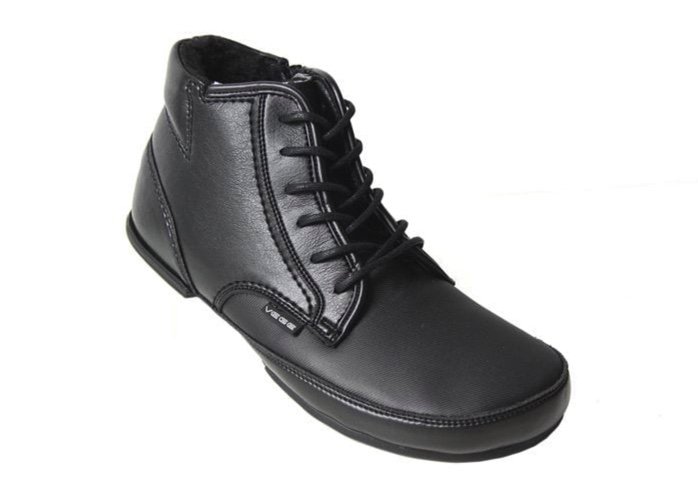 Tadeevo Winter Boots | $142 (after code ANYASREVIEWS) | Fleece Lined | Sizes EU 36-47
Tadeevo makes a vegan winter boot that is lined with warm fleece and has a dressy look to them. I have tried the leather version of this shoe, and they are very light, flexible, and spacious. In general Tadeevo shoes are great for extra wide, high volume, and Plateau/Square shaped feet (in particular those of you with high volume toes). I think the biggest bonus to these is that they can pass as a work shoe! Use code ANYASREVIEWS for 5% off.
Tadeevo is a Polish company, they ship quickly internationally and accept returns. I've ordered from them twice and returned once and have not had issues.
---
8. Xero Shoes Xcursion & Alpine
Xero Xcursion & Alpine | Waterproof | Sizes US Women's 5-Men's 15
Xero shoes makes some good vegan barefoot shoes that work great as winter hiking and snow boots.
The Xcurion is a barefoot hiking boot that is waterproof and sturdy. It is not lined, so might not be warm enough depending on your climate, and I find it to be narrow for a barefoot shoe. The boot has lugs for traction, and so they are also thicker/stiffer than most barefoot shoes.
The Alpine is a warmer, taller waterproof snow boot that has been keeping my feet toasty in the cold. They run on the stiff side, and took some breaking in, but they are practical.
I am wearing a size US 7 (a typical boot size for me when I plan to wear warm socks) and find them to be good for high volume feet. The Alpine is significantly wider than the Xcursion, which are too narrow me.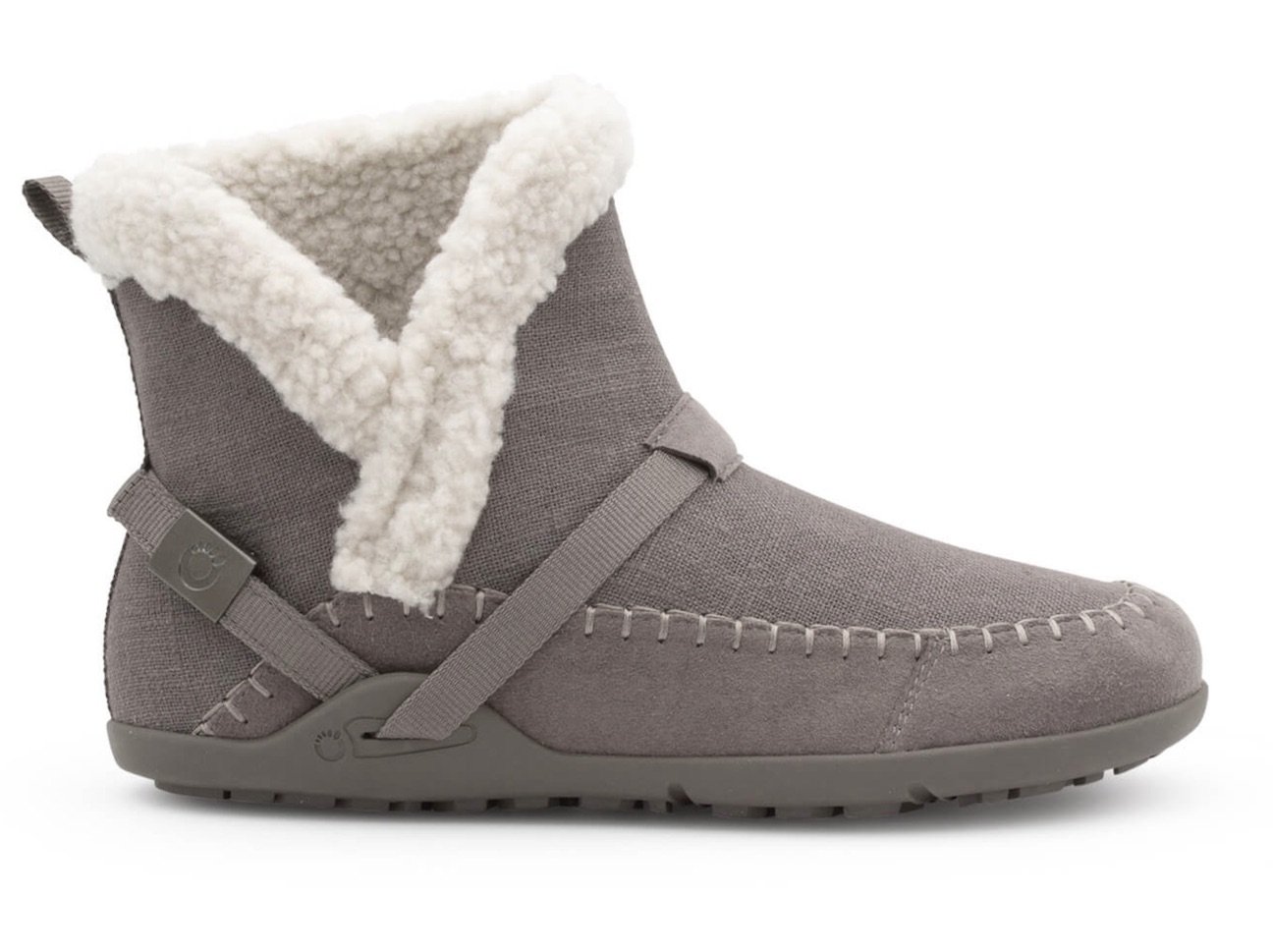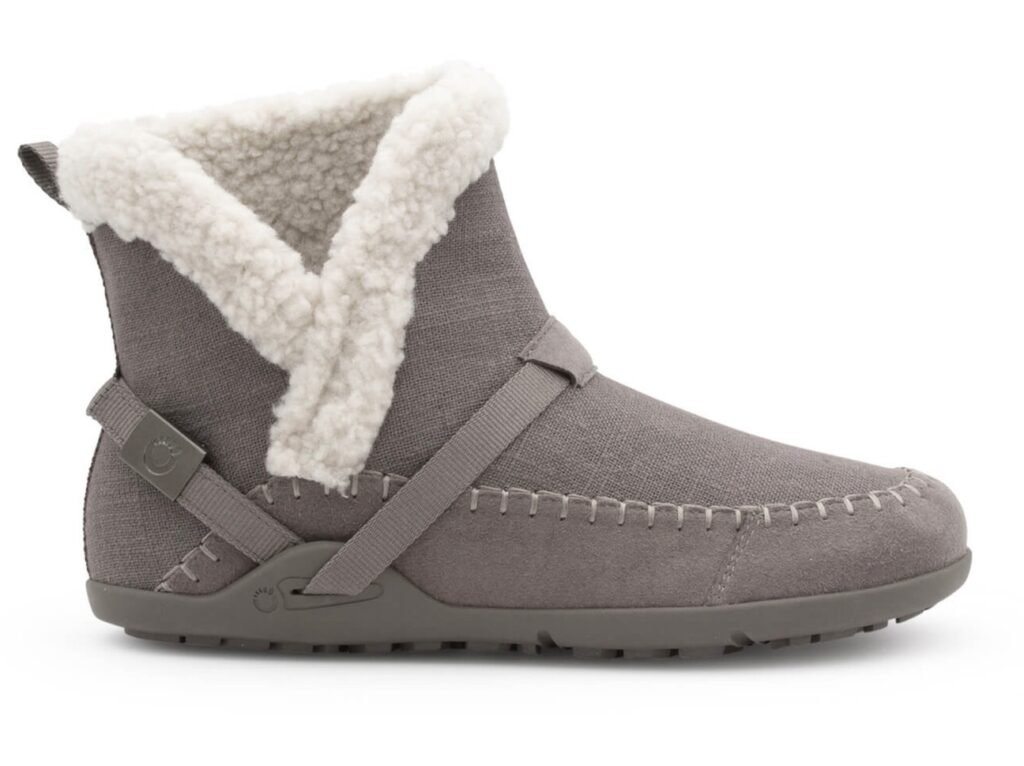 Xero also has the Ashland boot that has a hemp upper and faux fur lining. The huarache strap is functional and can cinch down for a perfect fit!
Read all my Xero Shoes Reviews here!
---
One more that I don't have much experience with yet is the Pathik Winter Boot! Vegan, and a similar style to Uggs boots.
Vegan Barefoot Rubber Rain Boots
Vegan barefoot rubber rain boots are great for wet climates, and you can put in a boot liner for extra warmth!
Vegan Barefoot Boots for Everyday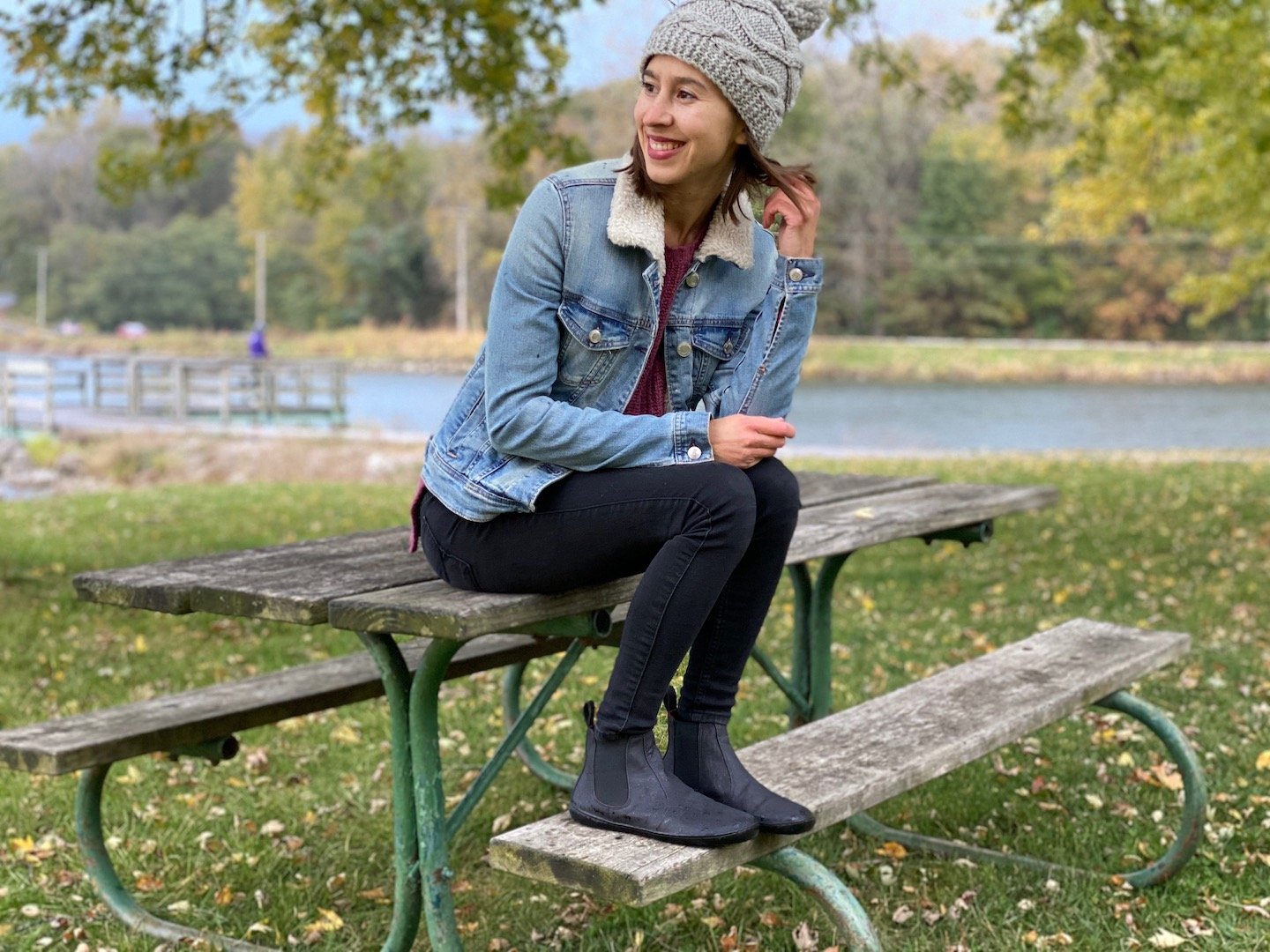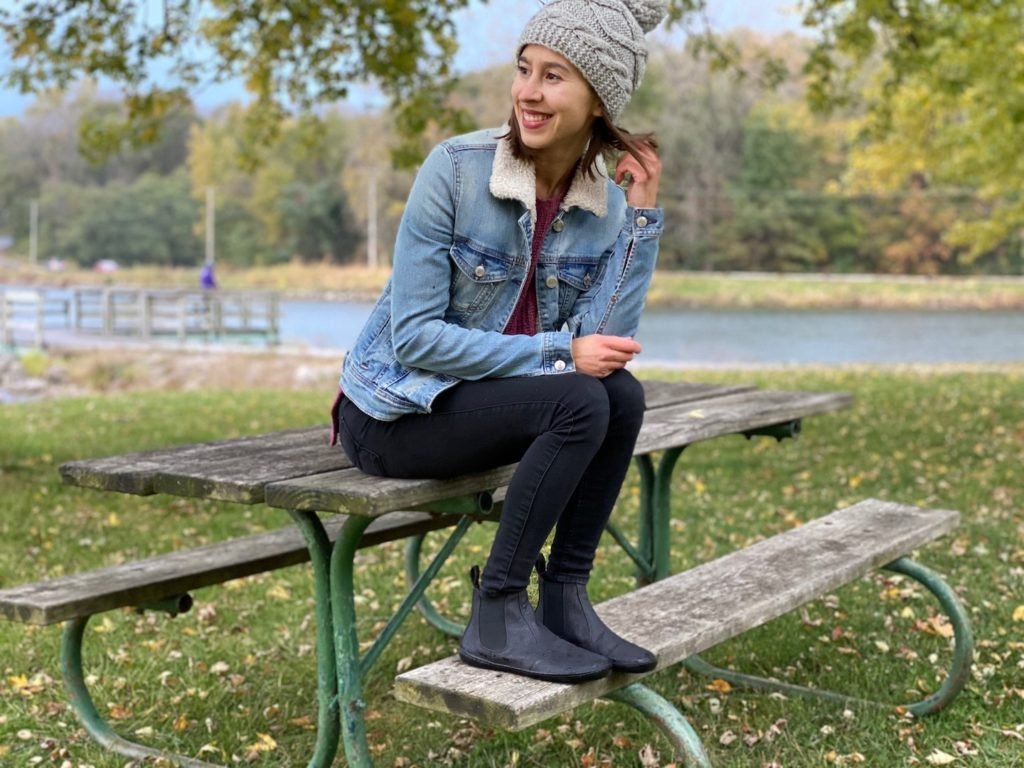 Here are a few more vegan barefoot boot options that might not be as warm as the ones above, but are still fully barefoot and fully vegan.
Vegan Barefoot Winter Boots for Kids
Click here for the full list of Vegan Barefoot Shoes for all Categories