Check out my video review above of the Freet barefoot shoe brand! I have 8 different pairs of Freet shoes in my house, and hundreds of other barefoot shoes that I've tested and reviewed. So you are getting the real real in this Freet review!
For the written version of the review, read on. And don't forget that you can use code AR-10 for 10% off any Freet purchase.
Freet Barefoot Shoes Review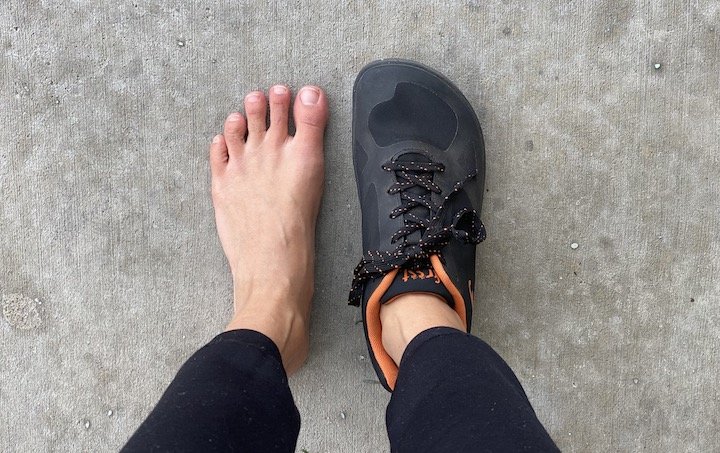 Freet is a UK based barefoot shoe brand that specializes in functional footwear for outdoor activities. All their models are unisex in sizes EU 30-48, they carry a wide range of vegan options, AND they tend to be lower priced than other barefoot shoe brands.
You will also find at Freet a consistently wide forefoot to allow for natural foot splay. I recommend Freet barefoot shoes to people with an extra wide and/or more square shaped foot. If you've tried barefoot shoes in the past and found them too narrow or squishy on your outer toes, Freet might be the brand for you!
Check out this article for more on foot type + finding the right shoe for you.
A couple more features of Freet barefoot shoes are that they are very lightweight, even the boots are lighter than most other barefoot options. And they are all built on a 4mm base sole and come with an extra insole you can use if you want a little more cushion. Most Freet shoes come with an insole that is 2.5mm thick, but the Freet Pace comes with a 6mm Ortholite insole (making the shoe a total of 10mm thick with insole).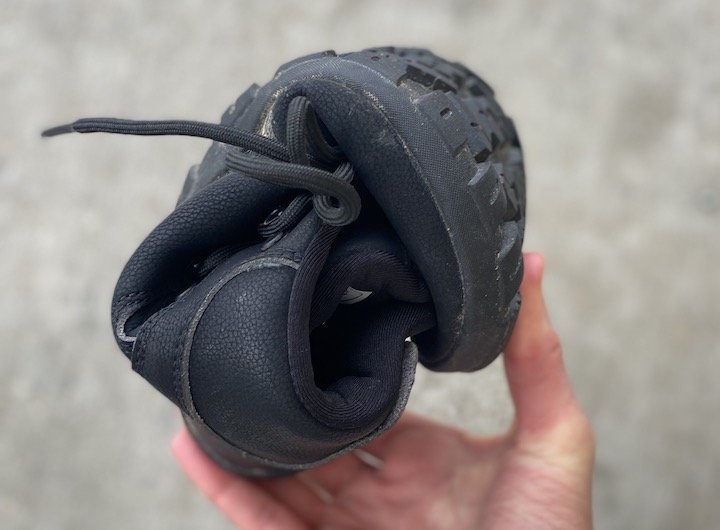 You can buy both types of insoles separately depending on your needs, which makes Freet a good brand both for people who want a real barefoot feel and those who want a little more cushion. Justin prefers a little more cushion and has been wearing his Freet Pace constantly for the past year and a half – they were the perfect beginner barefoot shoe for him.
Freet Barefoot Outsole Type
You can find 3 different outsole types on Freet shoes:
MultiGrip – minimal tread, can be used for everyday wear, pavement running & walking, and light hiking
GripPlus – Designed to be grippier than the MultiGrip, but still comfortable on pavement.
HillGrip – Deeper tread for muddy and rocky trails.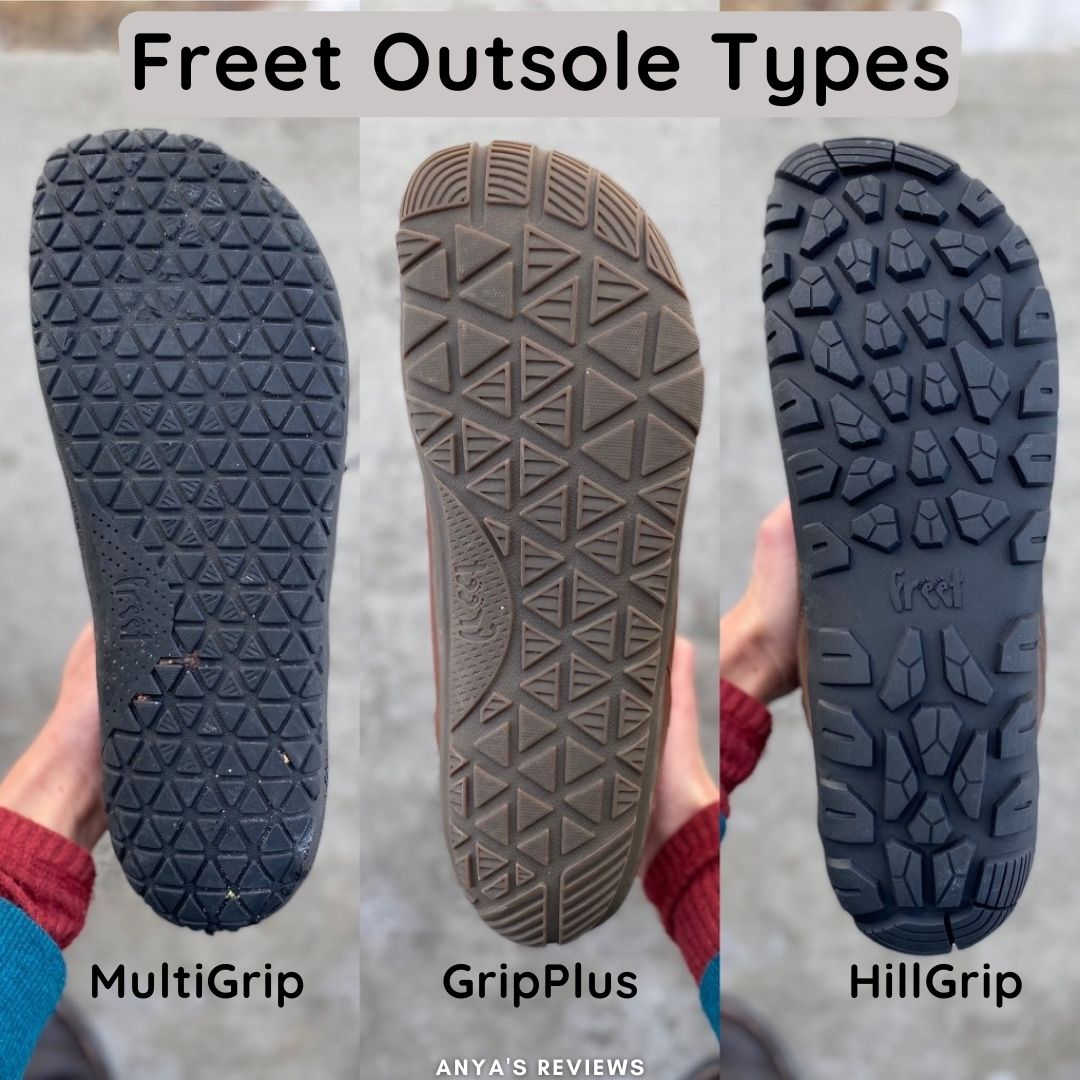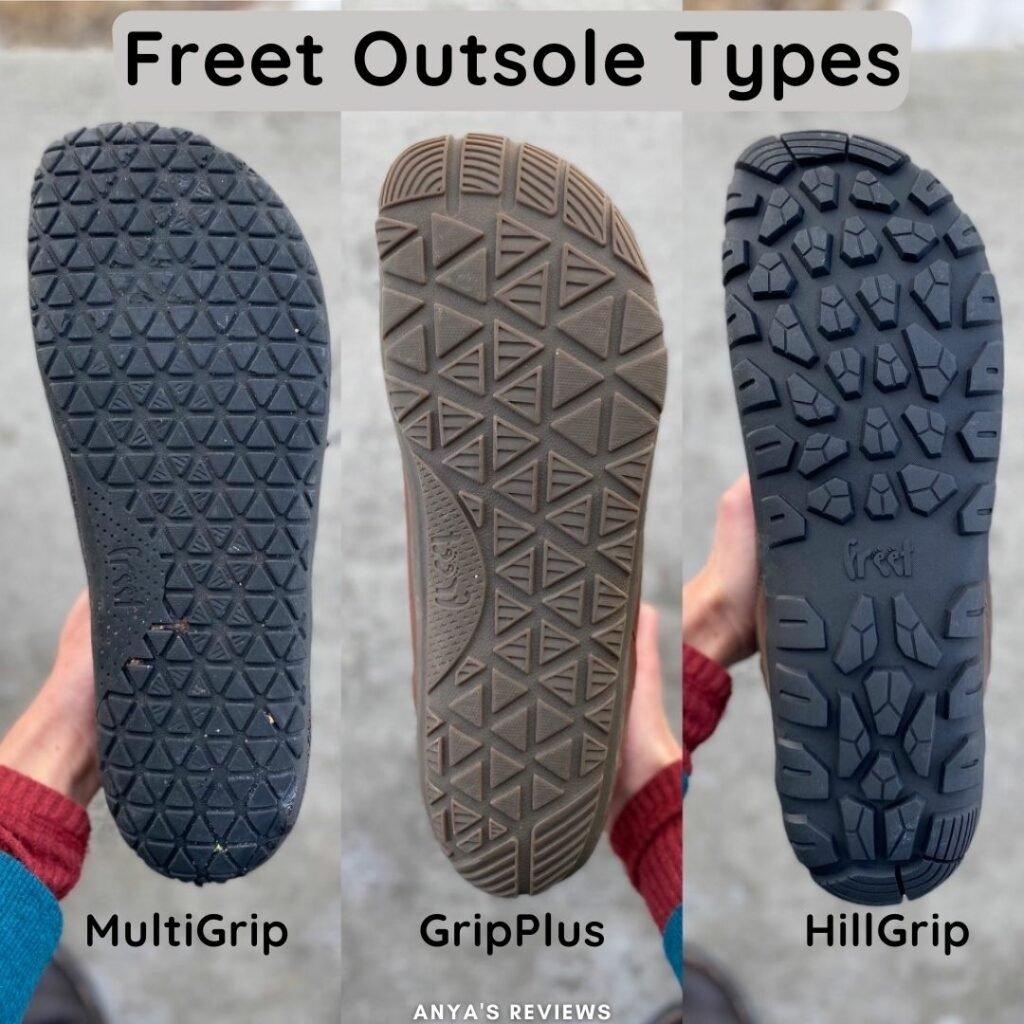 I don't experience a huge difference between the GripPlus outsole and the MultiGrip, but the HillGrip is definitely a more rugged sole for deep mud or slippery rocks.
Freet Barefoot Sizing
While the shoe shape is consistent with Freet, the sizing is not. So make sure you always read their "Sizing & Fitting" guide on each product listing before ordering. You can see below 3 different models all in a size 37 – each is a different length!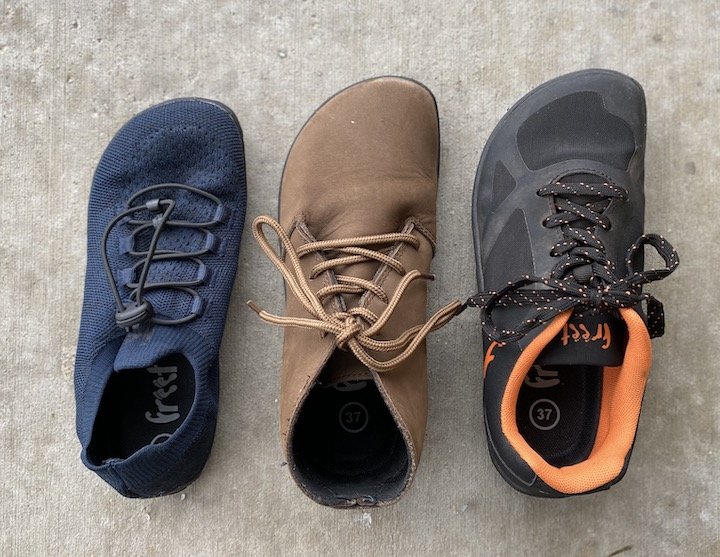 *Freet has notified me that the Tanga sizing has been fixed*
I have learned over the years that sizing is tricky to make consistent, because the way the upper is attached and the lining can make shoes fit differently. Hopefully my experiences here can help you pick the correct size with Freet.
Now let's review each of the 8 models I have! Below you'll find a snippet on my top barefoot shoe picks from Freet.
Freet Everyday Walking & Running Shoes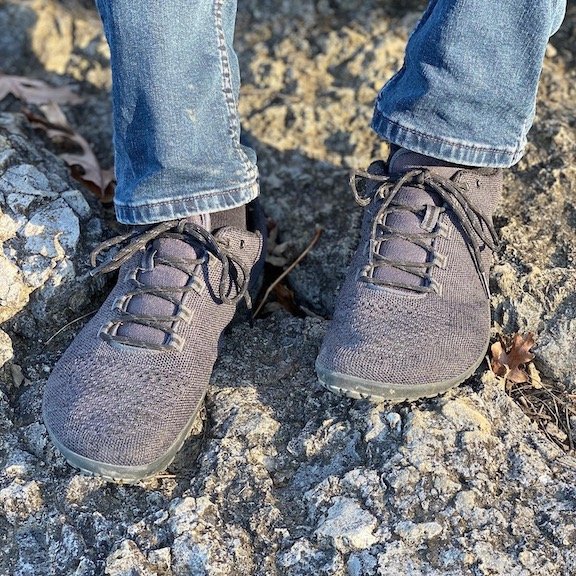 Freet Pace (vegan) – These sneakers come with the 6mm Ortholite insole, making them either 4 or 10mm thick (depending on if you use the insole or not). This makes them a great transitional shoe, or if you just need a little cushion. Justin has been wearing his almost daily for a year and a half – they're like slippers! Made with the MultiGrip Outsole.
---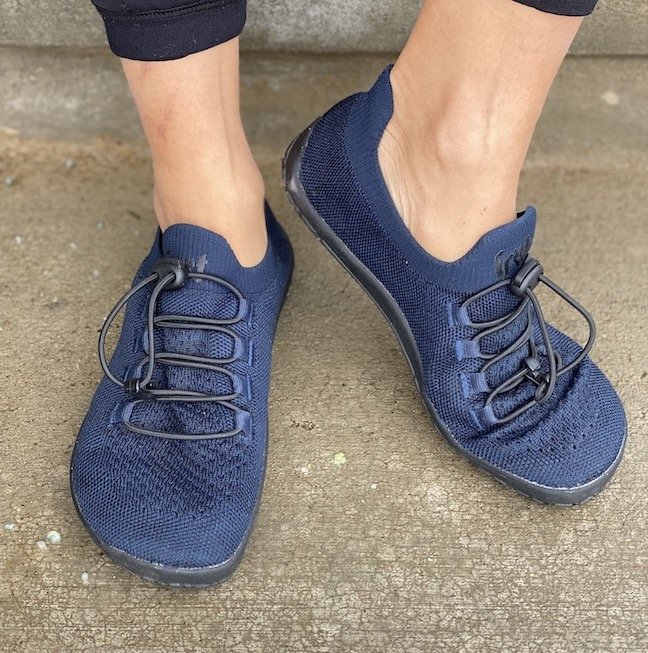 Freet Tanga (vegan) – This shoe has elastic laces and a sock-like upper. They can function as an athletic, water, or everyday shoe. I like how easy they are to put on, but be ware that they run small. I wish I had sized up one. Made with the MultiGrip Outsole.
*Freet has notified me that the Tanga sizing has been fixed*
---
Freet Trail & Hiking Shoes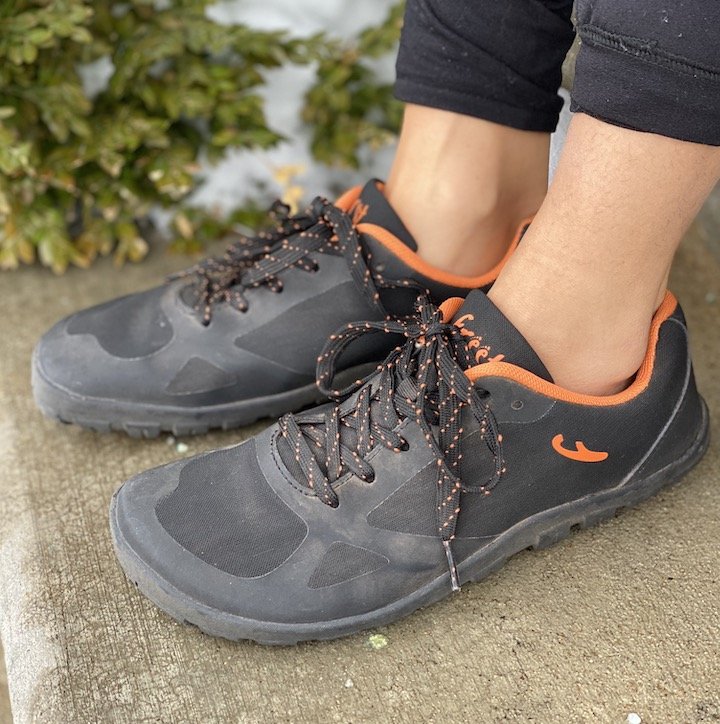 Freet Feldom (vegan) – These shoes are freaking comfortable. They run a little big, but that's ok because I can wear warm socks in them in my normal size. They're so lightweight, breathable, and flexible. They really function as both trail and pavement shoes, I've used them both ways. Made with the HillGrip outsole for extra traction.
---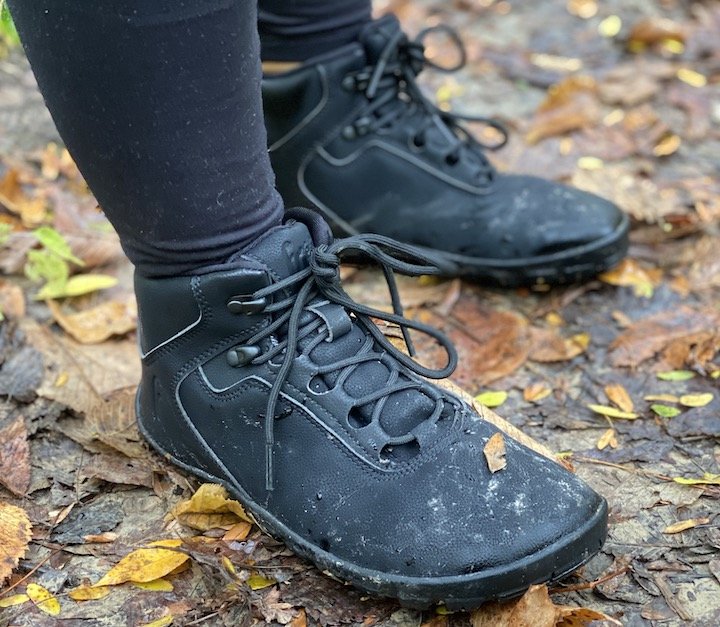 Freet Tundra & Ibex (waterproof) – The Tundra is vegan, and the Ibex is leather. Justin and I sized up in these based on Freet's advice which was a good idea because there is internal padding. They are really light for a waterproof hiking boot (the Tundra is the lighter of the two). The upper is a little stiff around the ankle at first, but breaks in over time. Made with the HillGrip outsole for extra traction.
---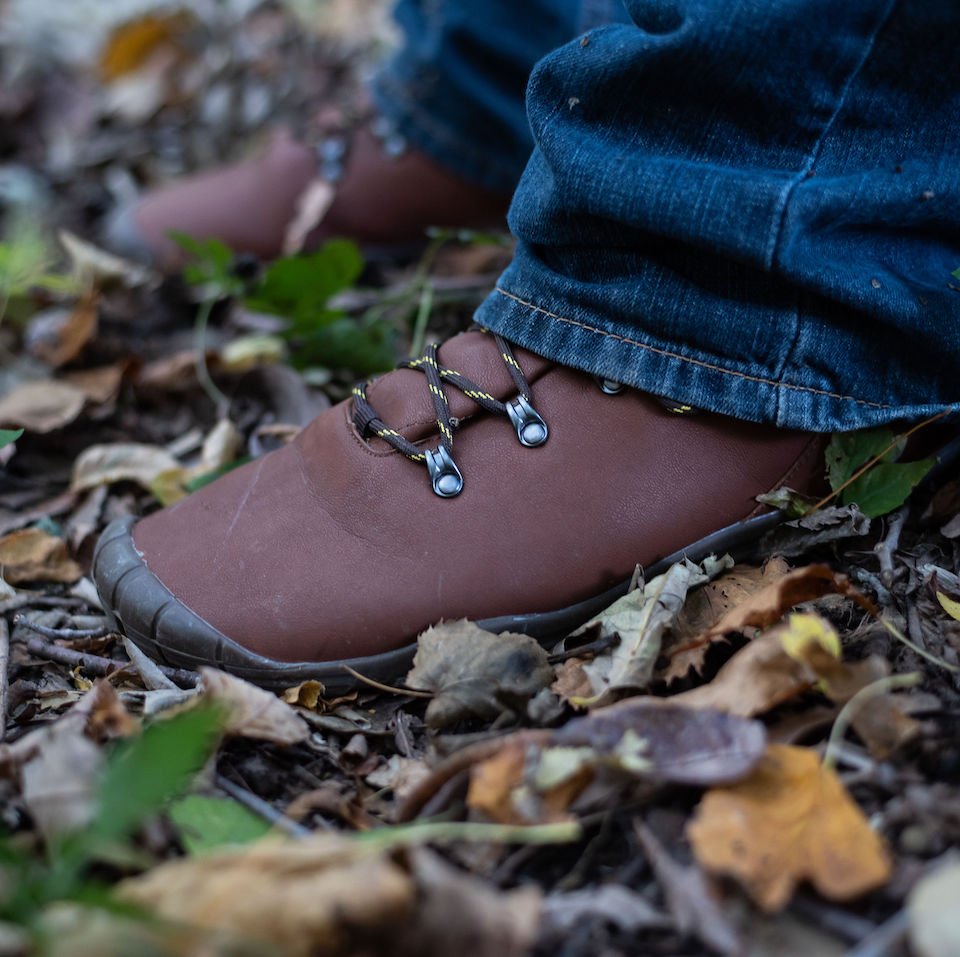 Freet Mudee – (Vegan & Waterproof) This lower cut hiking boot is light and flexible but not very breathable in warm weather. They fit close around the ankle for a secure fit, and are a favorite because they have a low price point. Made on the GripPlus outsole.
---
Freet Dressy Shoes
While these shoes can pass as a traditional dress shoe, they are also practical for everyday wear.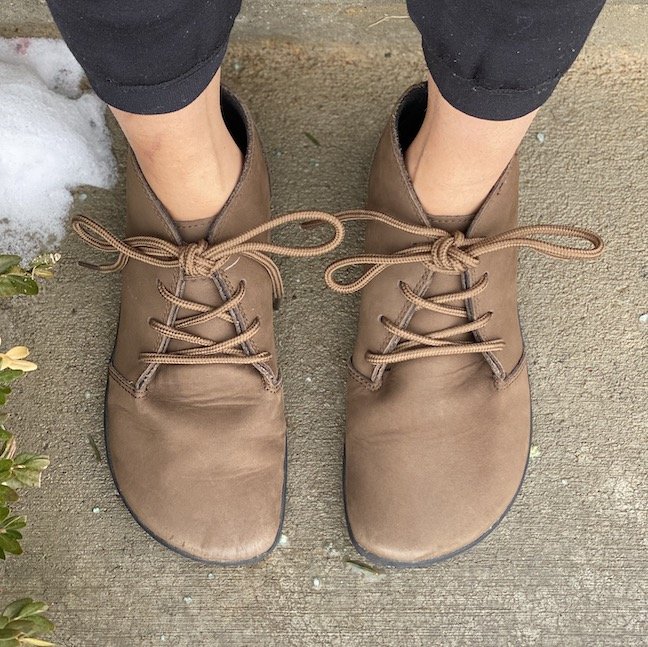 Freet Richmond (leather) – This is a classic desert boot style with an attached tongue. They fit true to size and work well for high volume feet (though I fit in them fine if I cinch the laces tight). The leather took a little breaking in, but they're really comfortable now.
---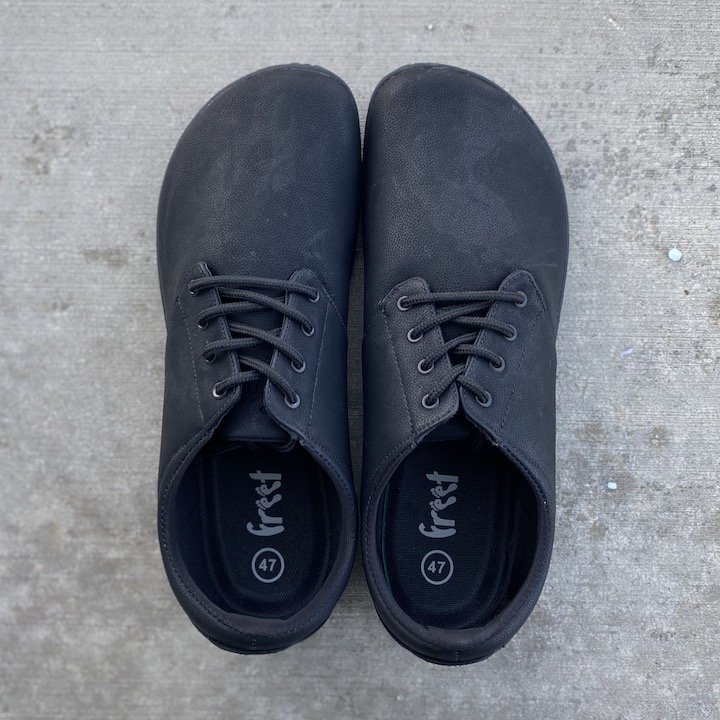 Freet Citee (vegan) – This is one of only a few vegan barefoot dress shoes. Beware that they run small, and I suggest sizing up one in them.
---
How Freet Compares to other Barefoot Shoe Brands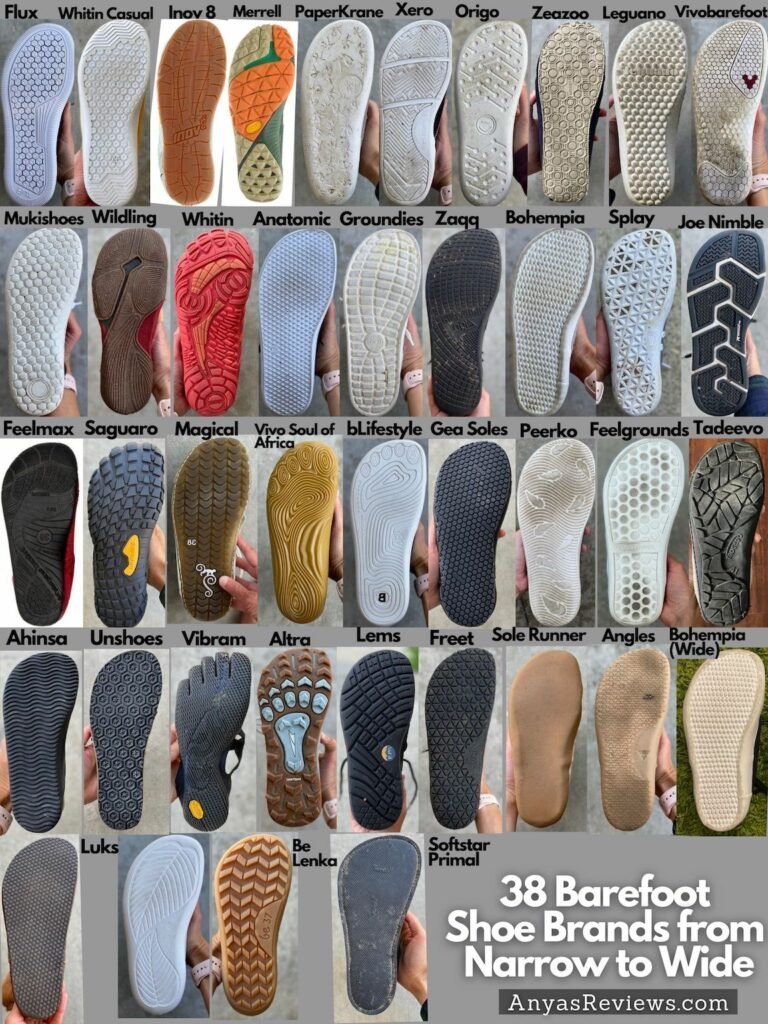 Freet is one of the widest barefoot shoe brands out there. Check out where they fall compared to other shoes in this comparison of 38 barefoot shoe brands.
Freet Barefoot Shoes Review Conclusion
Freet is a barefoot shoe brand that stays true to its ideals – sustainable manufacturing, quality shoes, and barefoot features for healthy and comfortable feet. If you are looking for practical shoes for outdoor activities, or you have an extra wide foot, Freet Barefoot is a great place to look.
And don't forget, code AR-10 gets you 10% off your purchase!