Barefoot chelsea boots don't squish my toes or pinch my back, like regular stylish shoes do. I love me some chelsea boots, but I want a pair that is both zero drop and wide. If you're into cute shoes like I am, you've probably noticed most of them are suuuper uncomfortable. That's why I choose barefoot shoes instead! Want the chelsea boot look minus the unhappy feet? Keep reading.
In this post we're taking a hard look at a minimalist chelsea boot made by Mukishoes next to a traditional chelsea boot made by Thursday Boots.
Welcome to Episode 3 of Wear This, Not That!
Barefoot Chelsea Boots Vs. Traditional
Most fashion footwear, like the Thursday boot in this post, is harmful to our foot and body function. So it's really great that we have some other options that still look fashionable! By contrast, The Mukishoes Chelsea boot is a traditional chelsea boot style, but made according to barefoot shoe standards! Let's break down the features of these two chelsea boots and talk about why they matter.
If you need a refresher on what makes a barefoot shoe, read this post!
Shoe Shape
The barefoot Chelsea boot on the left is made in an anatomical foot shape, unlike the Thursday boots that are way narrower than my actual feet are. Helloooo bunions! After an extended big toe injury I don't mess around with pointy shoes. Free toes are happy toes.
Heel Height
Heels are a recipe for poor alignment. When I'm wearing the completely flat barefoot chelsea boots from Mukishoes my knees and hips are aligned directly over my ankle bones. This stacking of my joints is the most efficient way to stand and move. If I stick a heel under there, suddenly my trajectory is completely changed and by the time you get to my hips they are way out in front of me. Hellooo back pain!
Completely flat shoes are an absolute must for me. Every single shoe Mukishoes makes (and all the shoes I review on this website) are zero drop, or flat from heel to toe. The rubber outsole gives the illusion of a slight heel, but the foot sits flat on the inside.
Flexibility
The Mukishoes barefoot Chelsea boot is so flexible you can roll it into a ball and squish it with one hand. The Thursday Chelsea boots on the other hand barely flex at the toes. If you're wearing shoes all day, think what happens to the muscles in your arch when they cannot move. If you don't use it, you lose it! The flexibility of barefoot shoes is a very important feature, because it has the double effect of keeping your feet limber AND strong. Now that I am used to foot freedom, wearing the Thursday boots felt like being in a strait jacket. Walking was clunky, awkward and my feet immediately protested.
Style
But before you start lamenting the loss of your cute shoes, check out this style comparison. Choosing shoes that are better for your feet doesn't mean sacrificing on style! Barefoot chelsea boots like the Mukishoes Chelsea can be styled exactly like every other mainstream chelsea boot. Looks to slay, foot function to slay. Now that we've cleared the air about that, let's talk about the barefoot chelsea boot options you have.
If you're here for my review of the Mukishoes Chelsea, go to the next section!
Barefoot Chelsea Boots
If you're looking for barefoot chelsea boots that meet all the criteria of a natural shoe, check out the list below! I also have a full list of barefoot boots available for tons of other options in different boot styles.
And make sure you check out my in-depth reviews of 100's of barefoot shoes.
---
---
---
---
---
---
---
---
---
---
---
---
---
---
---
---
---
---
Vegan Options
---
---
---
---
---
Barefoot Chelsea Boot Comparison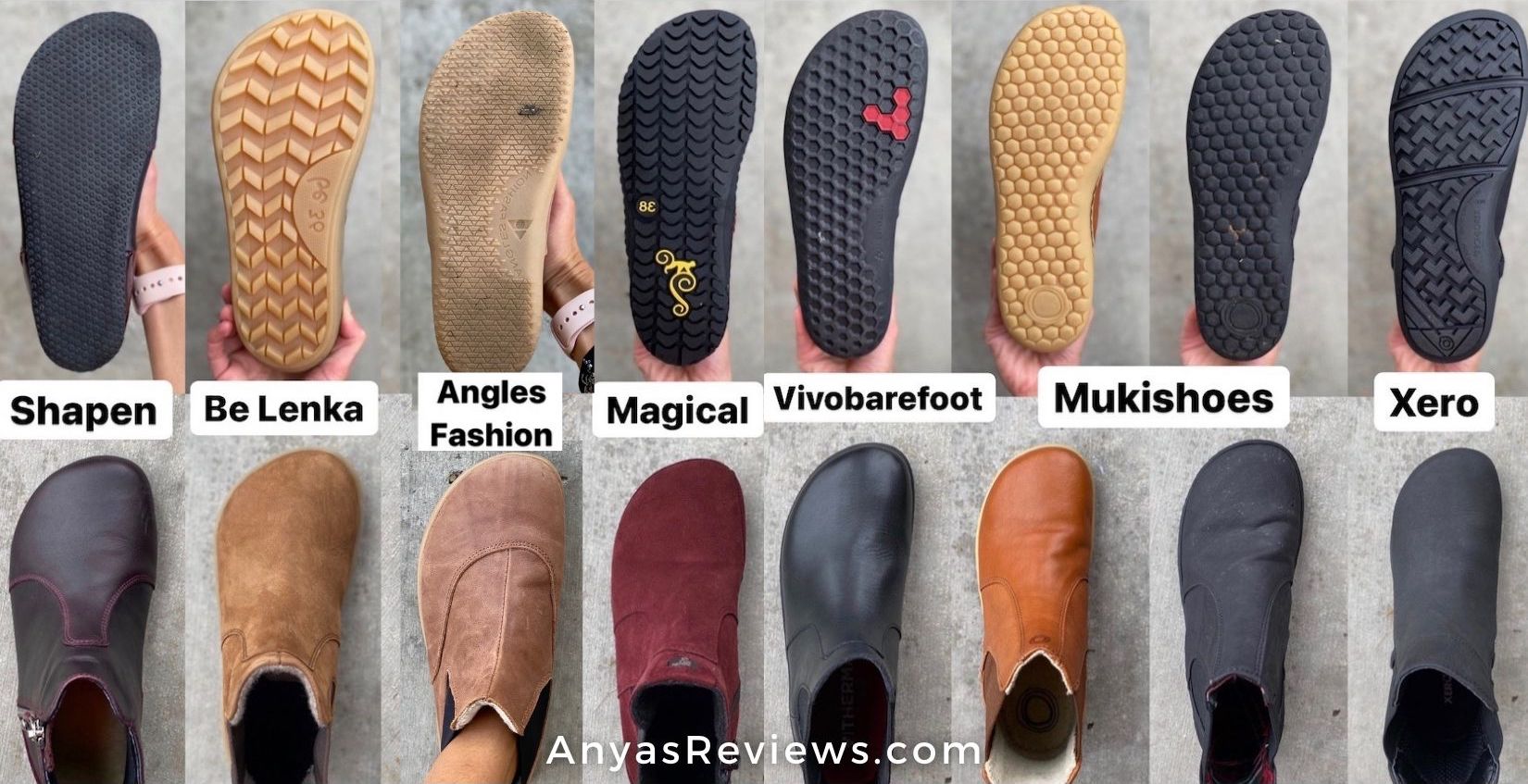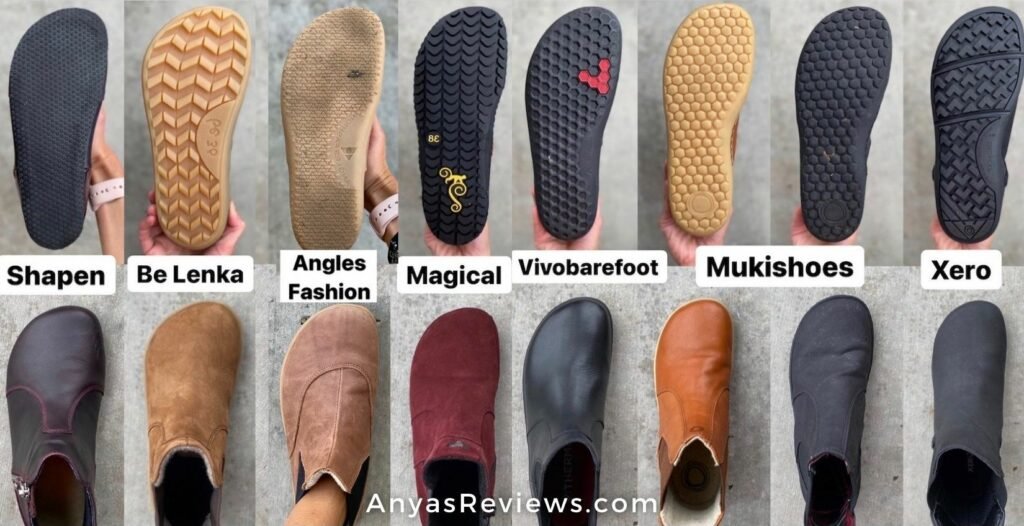 Here I've organized all the barefoot chelsea boot styles I've tried from widest (left) to narrowest (right). This hopefully will help you find a good fit. I have wide toes and am able to fit into everything but the Xero Shoes, which are too narrow for me. The Mukishoes are borderline narrow but have broken in and I am comfortable in them barefoot or with thin socks. All the rest fit me well. Note that the Be Lenka, Shapen, and Angles Fashion boots are EXTRA WIDE and might be too wide for some.
Check out my 10 All Time Favorite Barefoot Boots for more info on the shape and width of these brands!
And now let's spotlight the Mukishoes Chelsea, one of my favorite barefoot chelsea boots!
The Mukishoes Chelsea Review
Use the coupon code ANYAMUKI for 10% off any Mukishoes purchase!
Mukishoes is a brand I have a lot of respect for. Their shoes are some of the most lightweight, flexible and comfortable around. Besides making quality shoes that are good for your feet, they are also dedicated to sustainability at an unmatched degree. Some of their models are made using factory surplus textiles, others come from sustainable tanneries, and these Chelsea boots are made from cork (they also have a brown leather version). With Mukishoes you know what you are getting, and you know it was ethically made.
Read my full review of the Mukishoes Brand in this post
Mukishoes Chelsea Materials
The interior of the Chelsea is lined with organic cotton flannel (plaid!) which is soft on the skin and absorbs moisture. The fabric helps with insulation a little bit, but it's a thin material so not really warm. The outsole is 100% natural rubber, super flexible and lightweight. The elastic panels are holding up well with no signs of rippling or stretching out. Total stack height of the boots is 4mm.
The cork doesn't take marks or scuffs and wipes off easily whenever dirty. It also is naturally water resistant, but the seams of the shoe haven't been treated. If you wanted to make them waterproof you should use a product like Aquaseal or Sno Seal.
You can see some creasing from wear, but I am not bothered by this. It happens in my leather shoes too. The cork also has a slight texture to it and is very matte. It's pretty subtle, so if you're looking for a shiny black leather chelsea check out the Vivobarefoot Geo Chelsea.
Mukishoes Chelsea Sizing
I typically wear a US 6.5 to 7 in boots, which translates to an EU 37. That is the size I got in the Chelsea and they fit exactly right. I have shallow feet and thin ankles, so chelsea style boots are often a challenge. I added a thin barefoot insole so my foot doesn't slide around and I am good to go.
You can see below that these Chelsea's run shorter than the Vivobarefoot Fulham boot (Read my Vivobarefoot Fulham Review here for more info. They are also slightly narrower (2mm narrower in the toe box is what I measured). If you have high volume feet and/or thick ankles I would recommend sizing up one from your usual for the Mukishoes Chelsea. For my foot type they are great in my usual size, and actually fit better than most other chelsea boots I've tried.
Mukishoes Chelsea Style
I geek out on barefoot shoes that are trendy. It's not everyday you find a shoe that looks like a mainstream style but doesn't hurt your body! I don't know who started the whole "beauty is pain" thing, but it's time we put it to rest. The Mukishoes Chelsea (and other barefoot chelsea boots) look like normal shoes and can be styled exactly the same way. My favorite place for outfit inspiration is Pinterest. Searching for "black chelsea boot outfits" will give you tons of ideas for styling these beauties!
Interested in barefoot shoes? Make sure you subscribe to e-mails below and follow me on Instagram to see all my future posts!