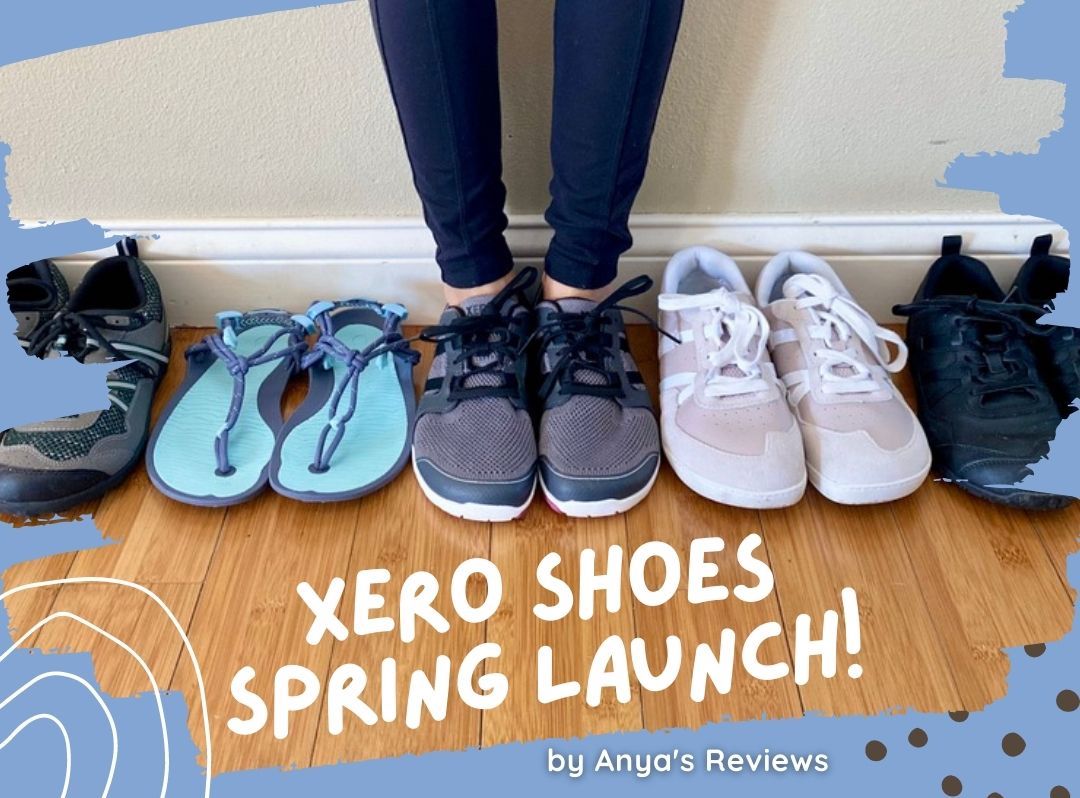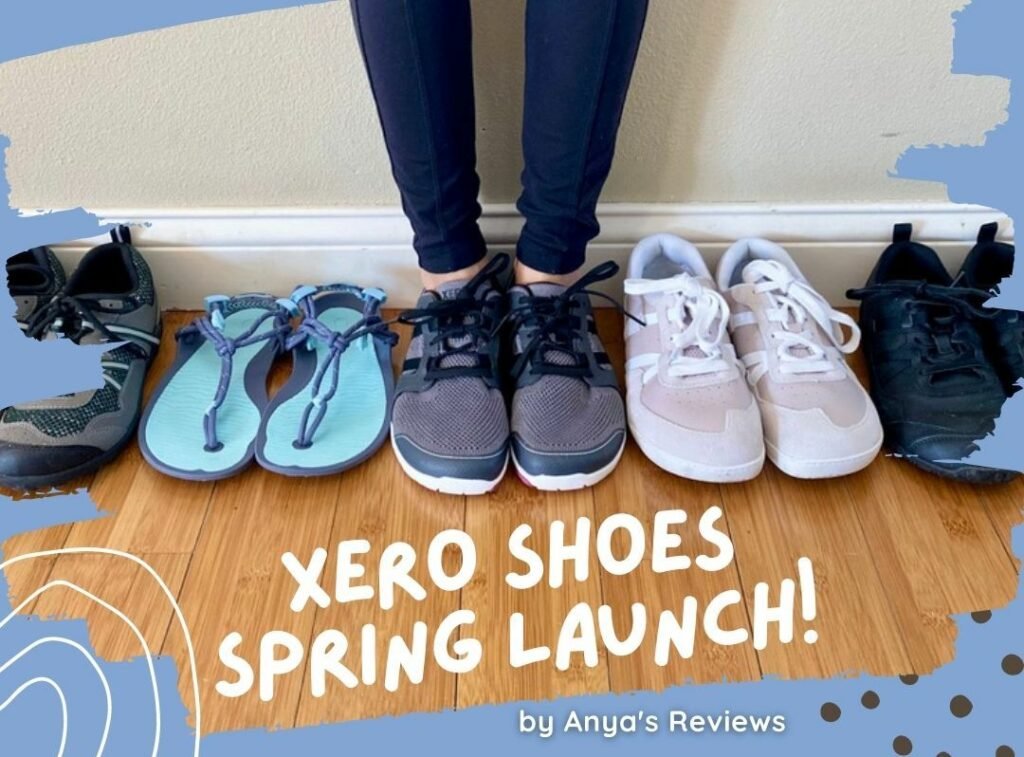 It's time for the Xero Shoes Spring launch! The barefoot shoe brand Xero Shoes releases new models twice a year with a 20% discount for the first two weeks. This is the best time to get new styles from Xero. To help you make an informed decision I've tested all 7 of the new models. Read below my review of the Xero Shoes Spring 2022 launch with fit and sizing advice!
Xero Shoes Spring 2022 Review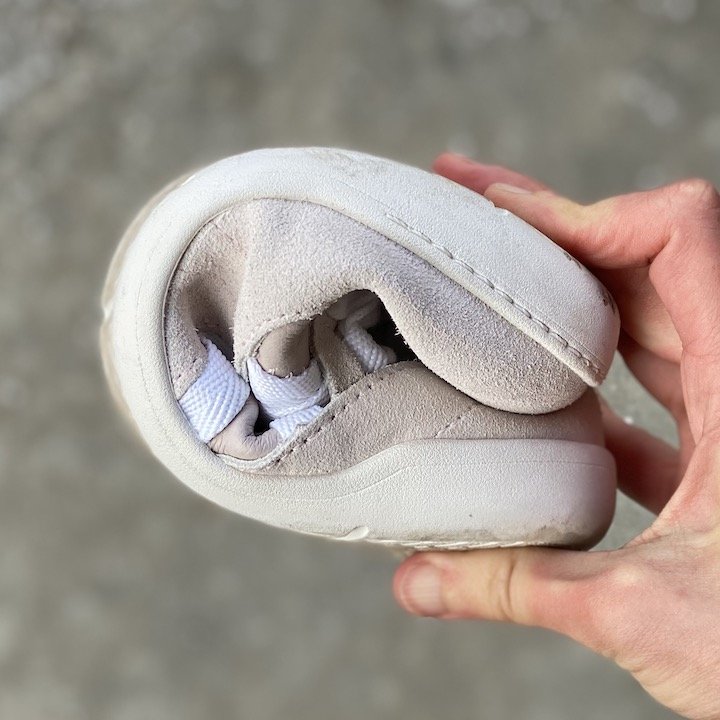 Xero is in touch with what the barefoot shoe community wants, and has responded in a big way this season. Besides the obvious (a rubber rain boot + non slip shoe!!) every model from this launch has a slightly wider forefoot and more flexible sole than before. These are the most comfortable Xero Shoes I've tried to date, and I'm pretty stoked!
These new changes are subtle and should make Xero more comfortable for more people – if you've already been loving and wearing Xero you likely will still be happy! If you're new to this brand, check out my other Xero Shoes reviews for more details.
This launch also brings an extended size range to women's shoes – they now go up to a 12 (woot!), and lots of new colors added to popular models. Also, all Xero shoes come with a 5,000 mile warranty so you don't need to worry about wearing through them in a season.
Xero Shoes Sizing & Fit Type
Xero Shoes come in men's and women's size ranges, and men's are slightly wider than women's (otherwise the same). All the shoes I tested are in women's sizes, and all are true to size this season. The stack heights listed under each shoe in this article are without the 2mm removable insole, and the prices are before the 20% off discount.
Xero generally has an average to wide toe box width, and continues to be wide through the instep and heel. The shape of the toe is rounded, so works well for Mountain or Plateau shaped feet (people with long 2nd and 3rd toes). Xero typically is high volume, so you get lots of space above the toes and the arch.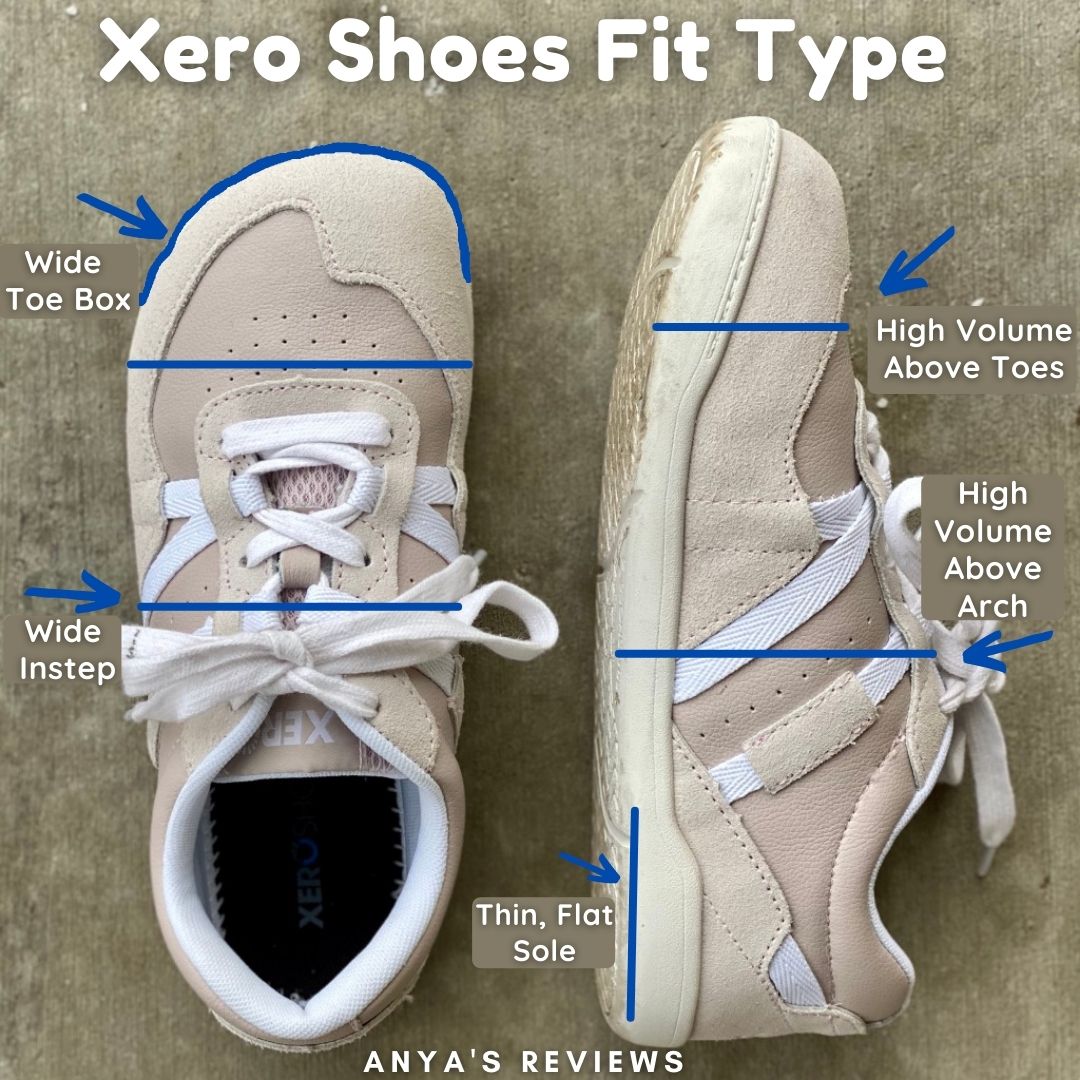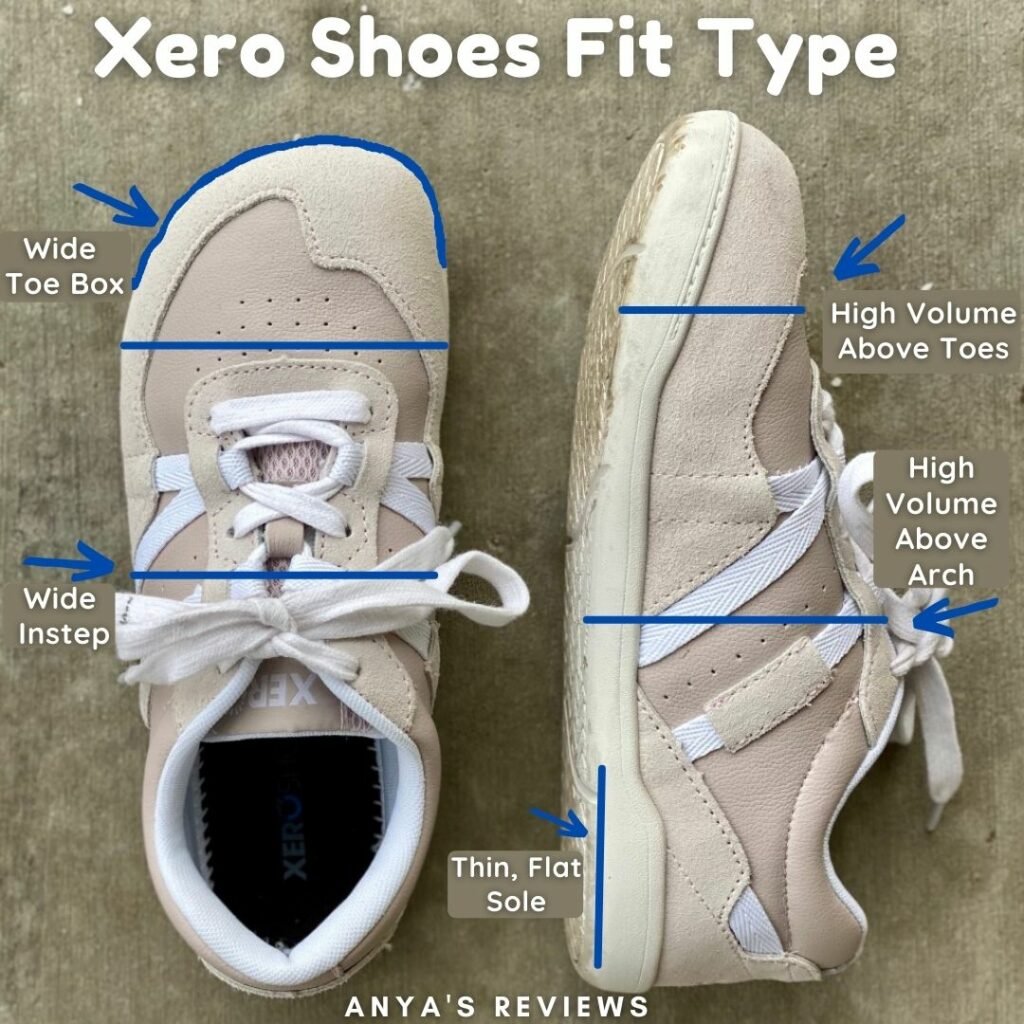 Learn more about your foot type and brands that work well for it here!
While XeroShoes.com ships worldwide, all of these options are available at the Xero Shoes EU website as well.
*Please note that there have been a number of fake barefoot shoe websites recently trying to steal your information. XeroShoes.com and XeroShoes.eu are the only official Xero websites (there are other Xero Shoes retailers around the world, but they sell under their own shop name).*
---
Gracie Rubber Rain Boot
Rubber | Sizes US women's 5-12 | 8.5mm w/insole, 5mm w/o | $70
Y'all, this has been the single most requested item from the barefoot shoe community for the past few years. Yes, there are some good compromise options out there (such as this Asgard rain boot) but no true barefoot rain boot for adults in the US – until now that is. We just need a tall version and a men's version please! Oh, and how about yellow, navy blue, and red? 😀
They are uber flexible and have a better foot shape than any other adult minimalist rain boot currently available. They are heavier than the Asgard rain boot linked above, but have more toe space and feel more durable/higher quality. These are more on par with brand name rain boots. I'd really prefer them without the huarache strap detailing (it's non functional anyways).
Sizing & Fit Type: I have a size US women's 7 in the Gracie (my typical close toed shoe size). The width is average, but the rubber spreads out easily. They fit my toe width only if I keep my toes bare or in thin socks, but then they are too loose around my ankles. So I use leg warmers to make them fit better (lifesaving shoe hack if you have skinny heels!). My heel still slips a little bit, but for those times when you need a fully waterproof rubber boot they're perfect.
They come with a thin removable insole (I kept mine in) and fit medium to high volume over the arch. This type of a shoe doesn't really stretch or mold to the foot, so it may be tight fitting on people with high arches/thick ankles. In that case, you could size up. I would also suggest sizing up if in between, unless you have a narrow/thin foot.
---
Prio All-Day SERVICE SHOE
Leather | Sizes US Women's 5 – Men's 15 | 9.5mm Stack Height | $130 | Removable Insole
Calling all chefs, nurses, factory workers, or anyone looking for NON-SLIP work shoes – we finally have a barefoot shoe that is designed for the service industry!! The Prio All-Day SR has a slip resistant sole that beats out any other option currently available. It comes in all-black to comply with dress codes, and is a full-grain (naturally water resistant) leather.
Wearing these on dry ground they mostly feel like regular sneakers, except for the slight squelching sound when you step. It's worth it though because the soles on these shoes do not slide in water! I have a dangerously slick garage floor, so I "spilled" some water to give them a test and found them very effective. Then I tested them alongside the Zelen sneaker on my kitchen counter with water & oil. Watch the video below to see how this worked out.
Non slip sole aside, these are comfy and feel good on my feet. The toe is reinforced and the leather is durable but soft. If I were to wear these to work I would prefer they didn't have the huarache strapping on the sides – it looks too sporty IMO for this type of a shoe. Otherwise, I think they're grand.
For kicks, I tried them on slick ice outside and they were pretty slippery (like a regular shoe would be). They were definitely designed for messes on indoor floors and not snow or ice.
Sizing & Fit Type: I am wearing a size 7 with the insole. They feel spacious over my toes, but with the laces cinched tight are secure. I have enough width for my feet, but they would probably feel tight on someone with an extra wide toe splay.
---
Zelen Athletic Sneaker
Vegan | Sizes US Women's 5 – Men's 15 | 7.5mm Stack Height | $130 | Removable Insole
The Zelen is an airy barefoot sneaker made of sustainable materials – the upper is recycled rPET and the insole and outsole are biodegradable. That aside, they are a more minimal athletic shoe than you usually get from Xero. The mesh upper is light and breathable, and the shoe is low profile. I tend to like the most minimal options out there, so I am really pleased with this sneaker. They feel great on my feet, and the outsole is just the right amount of grip to work indoors and outdoors. They might be my favorite athletic sneaker from Xero to date!
Sizing & Fit Type: These are true to size and medium wide. I am wearing them barefoot without the insole and my toes fill up the toe box. This model suits a medium volume foot (whereas most Xero shoes are high volume), but should work for both high and low volume feet between the laces and insole.
---
Kelso Lifestyle Sneaker
Leather | Sizes US Women's 5 – Men's 15 | $110 | Removable Insole
The Kelso is a retro "court style" shoe that's meant to be a cross between an active and lifestyle shoe. It comes in the pink you see here in women's sizes, as well as white and black in both men's and women's sizes. This shoe feels plush inside with padding around the ankle and a more cushioned sole than most barefoot shoes. They felt immediately comfortable with no break in time, and I can see them being a really nice first barefoot shoe for beginners. Since I usually prefer an extra thin shoe, I removed the insole. But then I found that the inside didn't feel very nice without it, so I replaced it with a thinner one (from Naboso).
The wide foot shape of the Kelso is creatively disguised with a toe cap detail, but it is made of suede and got really dirty really fast. Fortunately it brushed out well (the pictures here were taken after they got dirty and then cleaned). But I worry that over time that toe cap will get stained in this light color. I would recommend spraying them with something like Carbon Pro before wearing. Overall they're cute and comfy, and I love the pale blush color!
Sizing & Fit Type: The Kelso fits wide, maybe even extra wide. I was pleasantly surprised at how spacious they were. And they fit high volume. They will be especially great for people who are wide at the midfoot and/or need lots of space above the toes.
---
Terraflex Hiking Shoes
Vegan | Sizes US Women's 5 – Men's 15 | 13mm Stack Height | $110 | Removable Insole
The Terraflex has been a popular barefoot hiking shoe for a while, but has been revamped and re-released this spring. It comes with reflective straps, abrasion resistant material, a protective toe cap, and 4mm trail lugs. These shoes are built tough. I took mine hiking on a slushy, muddy path and they even kept me dry (though they aren't actually waterproof)! They feel rather stiff at first, but break in well and do the job. This stiff shoe hack works wonders on them.
It was still cold out when I tested them, but it seems to me like the thick material would feel hot in the summer. I'll probably wear them most often in spring and fall (I hike in sandals in the summer anyways).
Sizing & Fit: Previously I had some trouble with Xero's hiking shoes being too narrow and running small, so I was very pleased to find that the Terraflex has a wider toe box (I would say medium wide) and fits true to size. They are still probably the narrowest of the new releases this spring by just a hair, but they actually fit my toe box width and broke in well on my first hike wearing them. I would suggest sizing up for socks or swollen feet, as I would suggest doing for all hiking shoes. I got a size 7, and would have preferred a 7.5 for that reason.
---
Aqua Cloud Sandals
Vegan | Sizes US Women's 5 – Men's 15 | 6.5mm Stack Height | $50
The Aqua Cloud is an updated version of the Cloud sandal from Xero shoes. It has a foam pad in the insole for recovery, and floats in water if they come off your feet. They are really comfy, light, and easy to adjust both at the thong strap and at the heel. I feel good in them for walking, but I have to wear them pretty tight to be secure (more on that in the next section). Unfortunately because of my shallow feet and skinny ankles I probably won't get tons of use out of them this summer. I also don't love the look of all the toggles and doo dads, but these are sport sandals not stylish sandals (read about stylish barefoot sandals here!).
Sizing & Fit: I am wearing a size 6, which is the size I have in all my Xero Sandals. They fit medium to high volume best, and I tighten the laces a lot to get them to fit. They still aren't quite secure enough for athletic wear, so I wouldn't recommend these for really skinny feet. I tried and returned the earlier Cloud sandal because I couldn't get them to fit at all, so these updated ones are an improvement over that. I think they'd feel wonderful on a slightly thicker, more voluminous foot.
---
Ashland Boot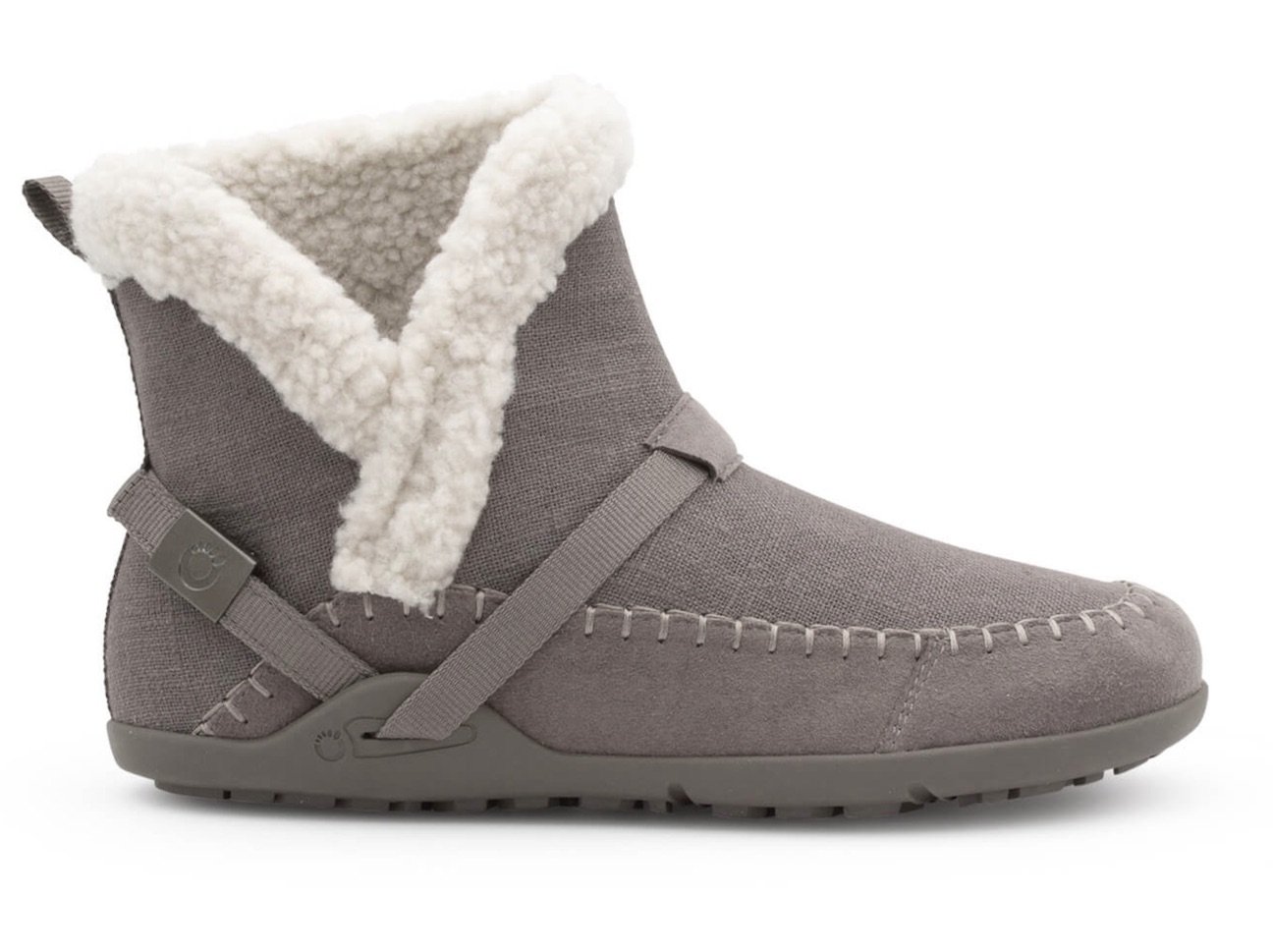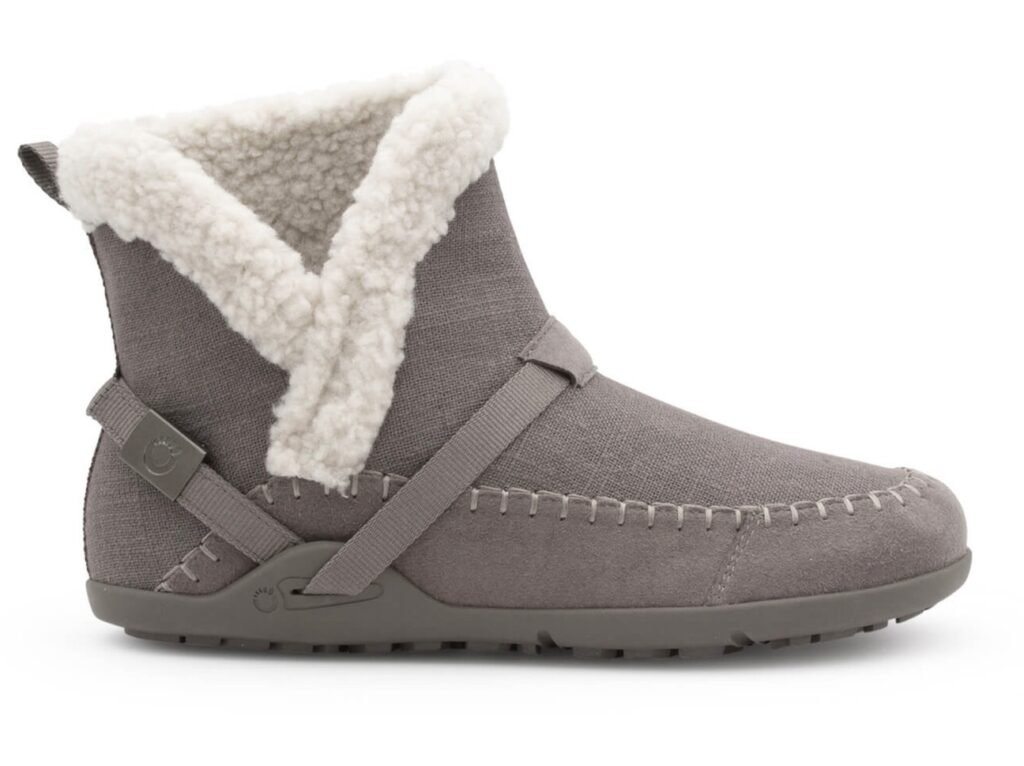 Vegan | Sizes US Women's 5 – 12 | 6.5mm Stack Height | $110
The Ashland has a hemp upper, and is meant to cross between a cozy boot and a house slipper. This is another one that was delayed a little bit, but I just received my pair. The color options confused me a bit, I thought I ordered taupe but it's very purple. It looks like now they've added a 3rd purple color option, so hopefully from here on out if you order taupe you'll get taupe.
I also was kind of disappointed that the fuzzy lining stops at the midfoot, and the insole is not fuzzy either. The sole is nice and flexible, and the material is soft. But I had hoped for something cozier.
Sizing & Fit: I am a size 7 in these as well, and they fit as expected for Xero (i.e. high volume), but the huarache strap can tighten over the instep to fit even my low volume feet. Of course this makes them bunch up and it's not super pretty, but they fit well. Width is average, a little bit narrower than the other sneakers covered in this review.
---
Conclusion
Each barefoot shoe brands brings its own unique flavor to the table, and I love that. But I also love seeing a brand evolve and improve over time. Thanks Xero Shoes for listening to the needs of the community!
These shoes were gifted from Xero Shoes, but this post is not sponsored. All opinions expressed are my own.