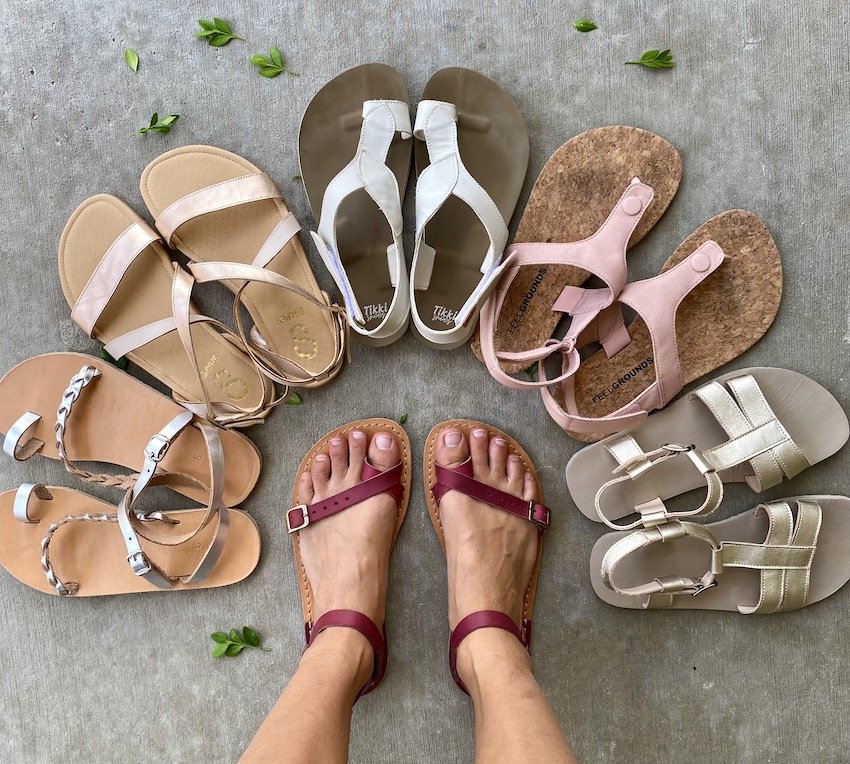 Forget the heels, stylish barefoot sandals make me feel like a million bucks – I get to look cute AND feel comfortable. What more could I want??
This article is all about my 10 favorite stylish barefoot sandals for women, with prices and materials listed so you can find YOUR favorite pair! Discover the best of the barefoot shoe world with me.
Healthy Feet Doesn't Mean Ugly Shoes!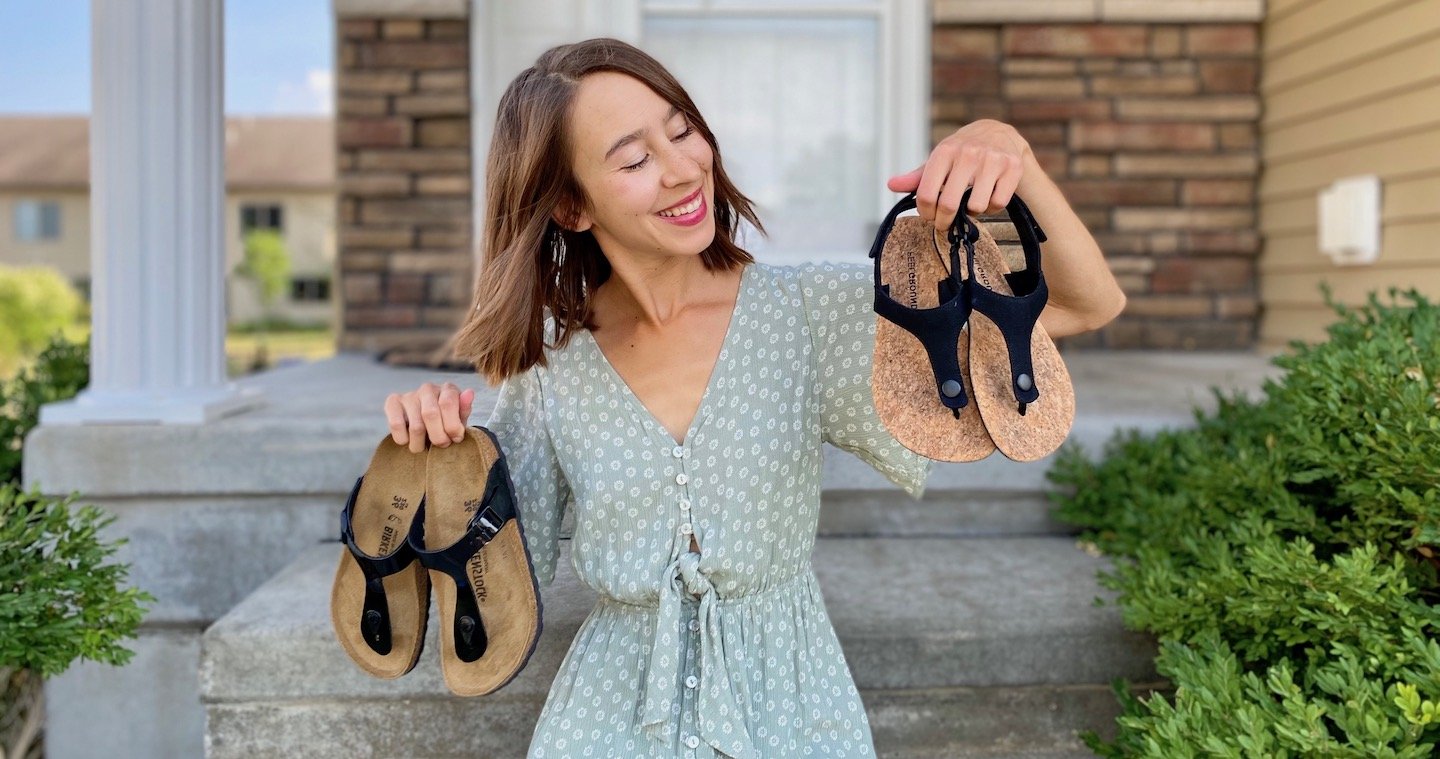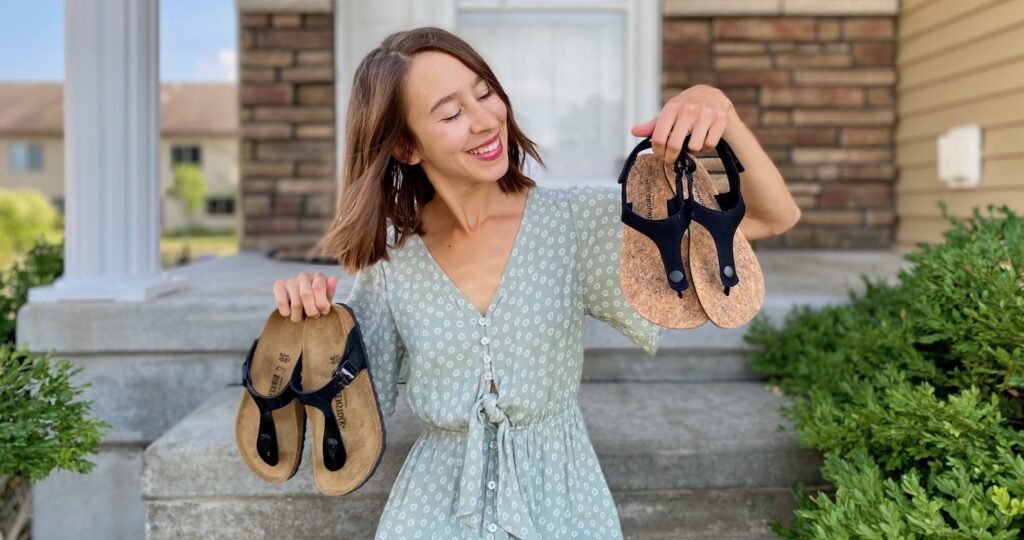 When I first decided to stop wearing sandals that hurt my feet I thought I would also have to stop wearing cute sandals. But fortunately, there are tons of stylish barefoot sandals out there so you can look and feel your best during spring and summer – you'll even find some fancy barefoot sandals for weddings here!
This post covers stylish women's barefoot sandals. If you'd like more information on barefoot sandals for kids or athletic use, see below two additional resources I have. And don't forget all the individual barefoot sandal reviews I've written!
What About Slides & Flip Flops?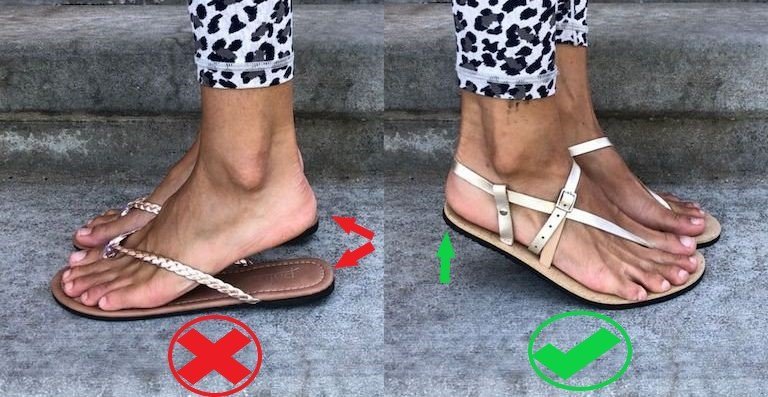 Before we get to my picks for the best stylish barefoot sandals, I want to talk for a quick sec about slides and flip flops. Those shoes are aptly named, because they SLIDE and they FLOP. There's nothing to keep them secure to your foot, causing you to grip your toes or walk funny to keep the shoe on. That is why everything on this list has a back strap.
Still want barefoot-friendly slides for quick jaunts outside, beach trips, public showers, etc? I cover these styles as well in my Complete Barefoot Sandals List.
I look to barefoot sandals to feel cute and stylish while treating my feet right. After trying out hundreds of different barefoot sandals from brands all over the world, below are my picks for the 10 Best Stylish Barefoot Sandals of all time!
The 10 Best Stylish Barefoot Sandals
These are ranked in order of my favorites, but keep in mind that what works for me might not be right for you. To that end I've included relevant sizing/fit information, materials used, and brand location. Since I can't help but be exhaustive, I've also included a few runner ups, my favorite affordable barefoot sandals, and vegan barefoot sandals!
Everything on this list I personally own and wear, so you are getting firsthand experience here!
Laboo Leather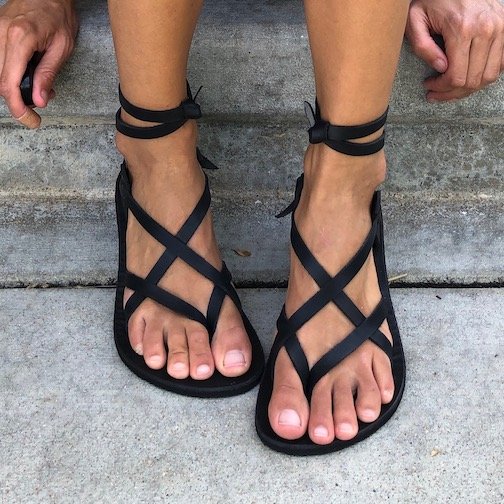 Leather | 6mm Thick | Sizes EU 35-45 | Ships from EU or USA
What I Love About Them: My favorite and most worn stylish barefoot sandals are from Laboo Leather. I take these with me every time I travel because they are so reliably cute, comfortable, and lightweight. You can keep the strap long and wrap it around the ankle, or you can cut it and wear them as slip ons (see the video in this post to show how to tie). They're seriously the best.
I loved this Etsy shop so much that last summer I worked with the owner to develop a new barefoot sole, which you can now find from the Laboo Leather Etsy shop and my own barefoot shoe store, Anya's Shop. *If ordering from Etsy, make sure you specify "barefoot shape" in the personalization field, or they will come in their default shape that is more tapered.
Fit Type/Sizing: Laboo Leather barefoot sandals fit a wide foot. The laces are fully adjustable at any point, and so can easily accommodate both low and high volume feet. Some people with narrow heels have had trouble getting the ankle straps secure enough, but most people can get a good fit after adjusting. A few others report that the leather straps feel rough at first, but then break in nicely with wear. Laboo sandals do run a little bit short in my experience, and I wear one size bigger in Laboo than I normally do in sandals (an EU 37, instead of 36). There is a size chart available at the links below with exact measurements.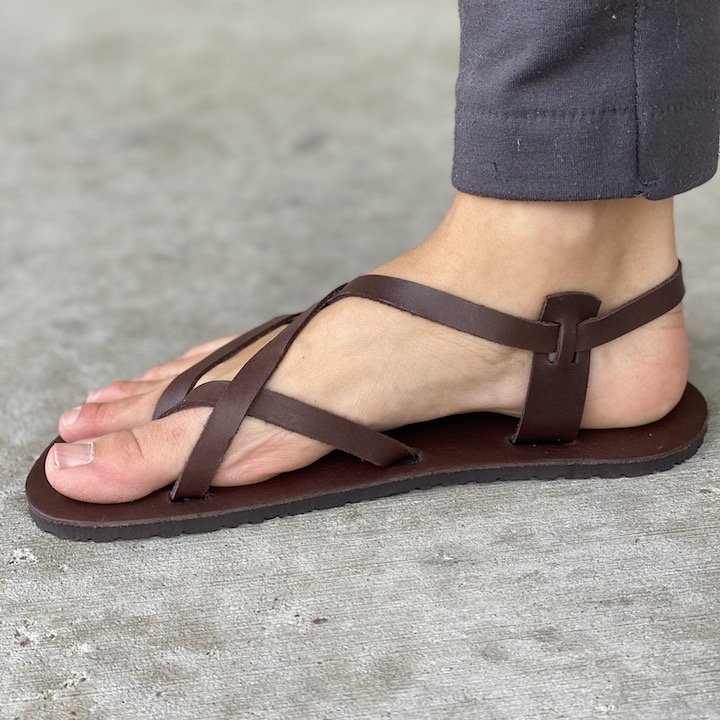 ---
Crupon Sandals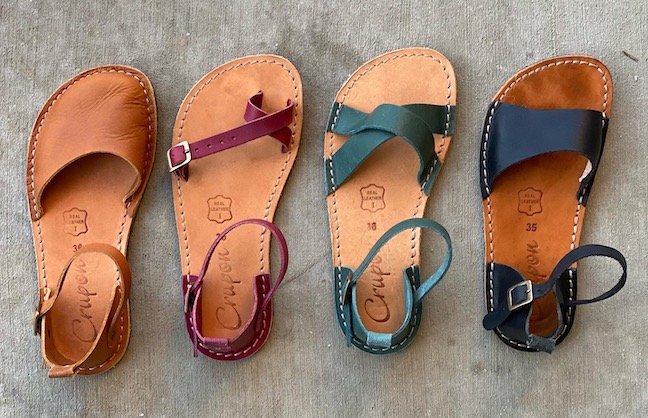 Leather | 6mm Thick | Sizes EU 36-41 | Ships from EU
Code ANYA gets you 10% off!
What I Love About Them: Crupon sandals are timelessly beautiful and you can immediately feel the quality of the leather on your skin (they also have a vegan option here). The barefoot line from Crupon has a very thin flexible sole, but the stitching and leather are sturdy so you don't feel like you're going to walk through them in one summer. I love Crupon Sandals as a replacement for popular sandal brands that no longer serve me after switching to barefoot shoes.
Read my Crupon Barefoot Sandals review here for more details.
Sizing & Fit Type: Crupon has a printable size template and chart with measurements so you can find the right size. I personally find them to run a teensy bit longer than other barefoot sandal brands in the same size. I wear a size 36 in all of mine.
Their standard barefoot shoes fit average to wide width feet, so might not be suitable for extra wide feet. If you have an EXTRA wide foot, check out their Extra Wide Barefoot Line, which should fit even the widest of feet.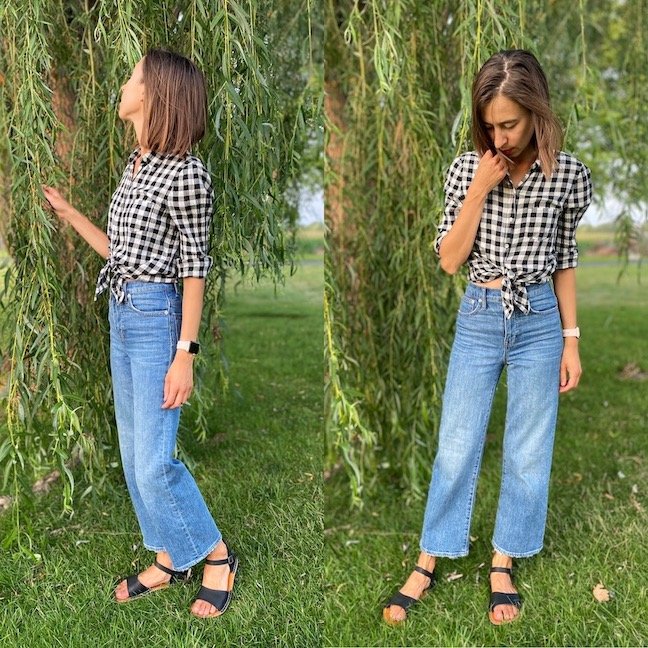 ---
Be Lenka Barefoot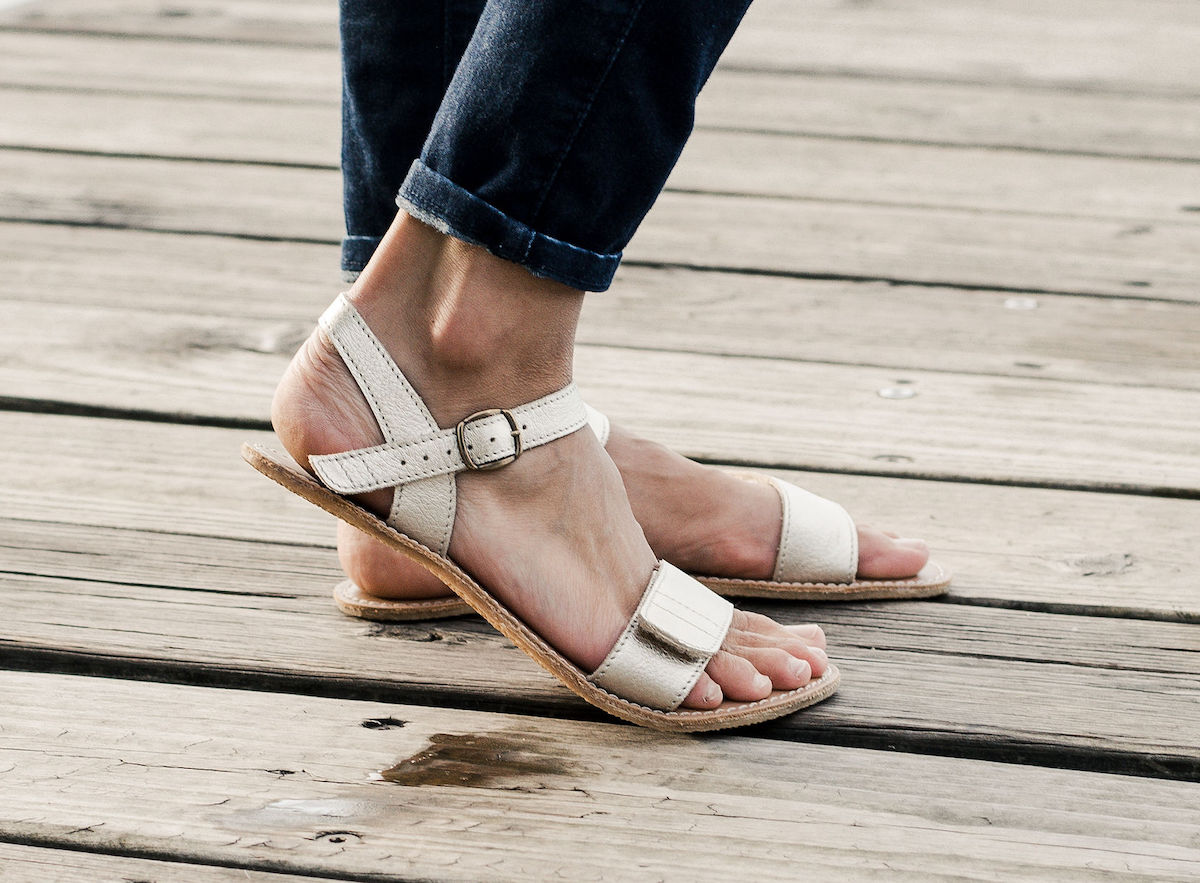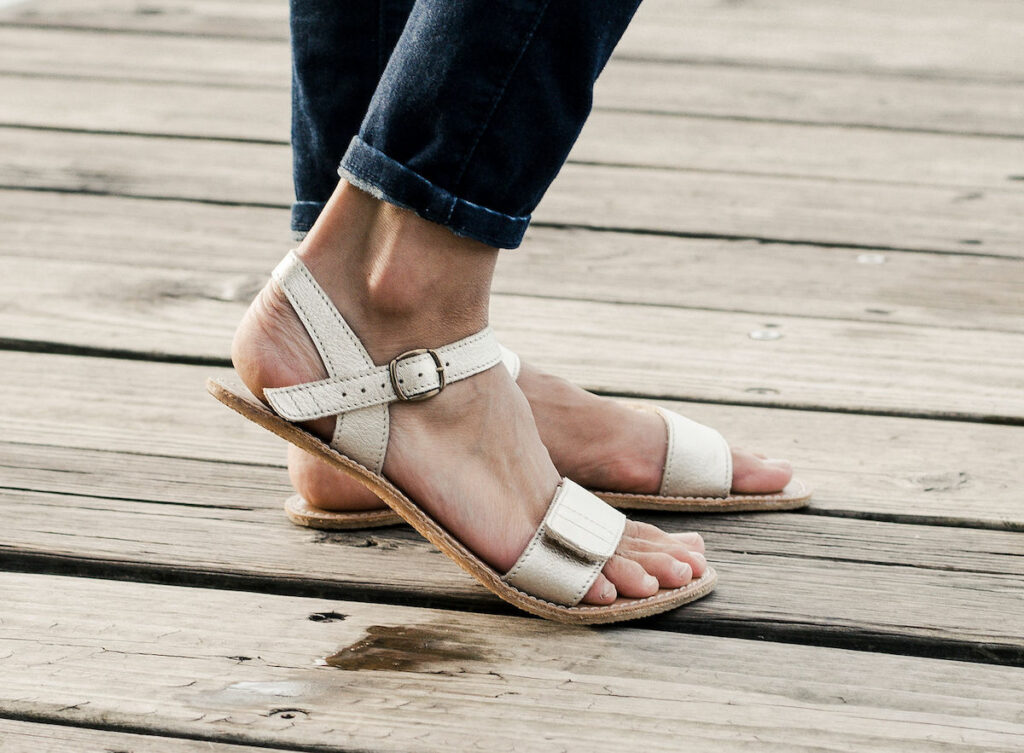 Leather | 6mm Thick | Sizes EU 36-43 | Ships from EU & US
What I Love About Them: Be Lenka barefoot sandals are stylish and come in tons of colors and options. They have a low profile outsole that makes them easy to dress up and they're just dang cute! Every year Be Lenka adds additional colors and styles, so you really have lots to choose from.
The sole is flexible and thin, but a little heavier than the Tikki and Laboo sandals (or any sandal on this list that uses the Vibram Cherry outsole). The quality is really apparent, and these barefoot sandals are a favorite for weddings and other fancy occasions.
Sizing & Fit Type: Be Lenka barefoot sandals have an average width sole, but many people with wide or even narrow feet are comfortable in them because they all have adjustable straps or open toes.
Samantha is our extra wide, high volume foot model here at Anya's Reviews and she wears the Be Lenka Grace with the strap loosened so she's comfortable (I on the other hand tighten it). The Grace, Summer, and Flexi all work for both high and low volume feet. The Promenade (shown below, right) fits a low to medium volume foot best. I find the sizing to run a little bit long in Be Lenka sandals.
Note that the two models that have a ball strap, Summer and Grace, have extra stitching so that you can cut off the excess strap if you have shallow feet.
---
Tikki Sandals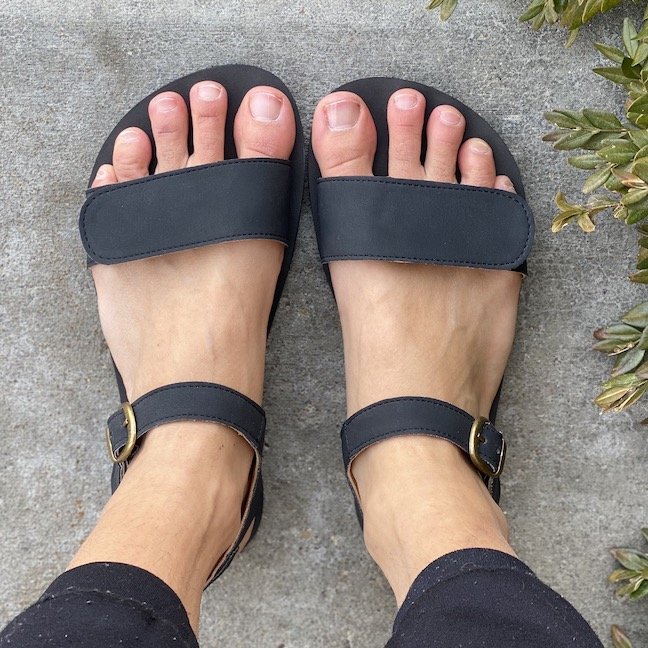 Leather & Vegan Options | 6mm Thick | Sizes EU 36-43 | Ships from EU
What I Love About Them: Tikki Sandals, like my other favorite barefoot sandals, are extremely light and flexible with a nice wide forefoot. And, of course, they're stylish and versatile. Each year Tikki comes out with different color options, but I am always drawn to the neutrals. They are simple in design, and I can wear them with everything while still being comfortable. Tikki has two barefoot sandal styles: the Vibe and the Soul. The Vibe has a velcro strap over the ball of the foot, and the Soul is a toe ring sandal. And you can get both in a vegan option!
The only downside to them is that shipping is fairly expensive if you are outside the EU. We sell them at Anya's Shop when we can, but aren't always able to.
Sizing & Fit Type: Tikki Sandals are a favorite for people with wide to extra wide feet. The velcro makes them easy to adjust for a secure fit (even if you don't have extra wide feet), and the length is true to size. They work best for a medium to high volume foot, but my feet are low volume and I am comfortable in both models with the velcro adjusted.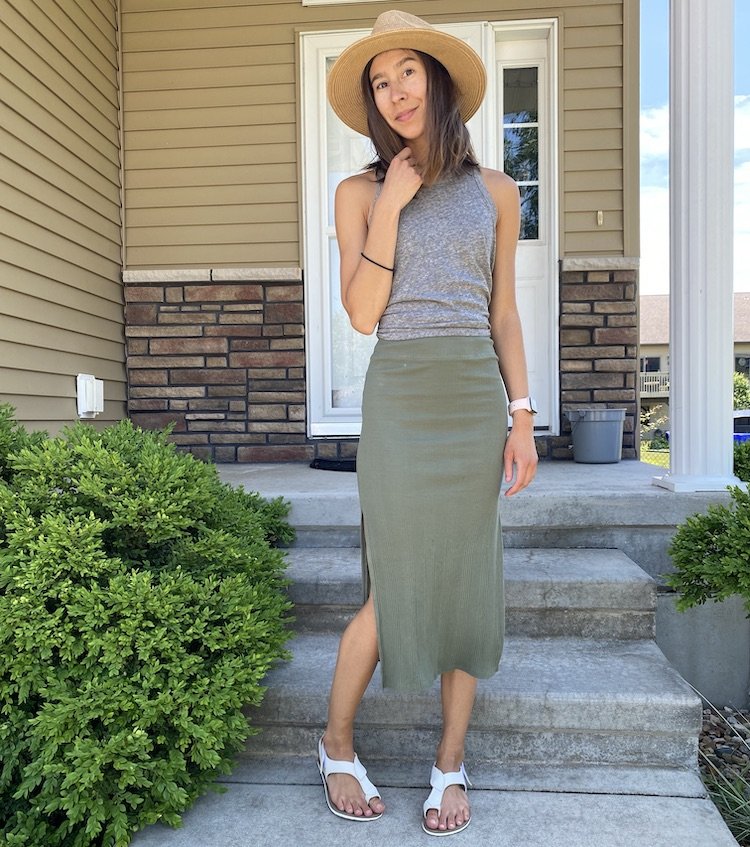 ---
Feelgrounds Seaside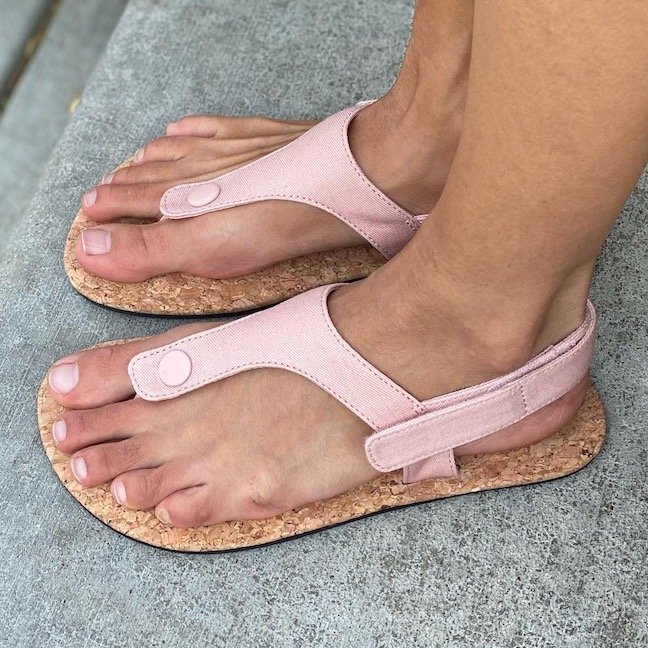 Vegan | 6mm Thick | Sizes EU 35-48 | Ships from EU
What I Love About Them: Feelgrounds are made of a cotton upper and a cork insole, so they feel breathable and soft on foot. The back closure is velcro, so they go on easily, and they have a really clean look to them that can be both casual and dressed up.
The rubber outsole on these is a little heavier/stiffer than the above options, but still a solid barefoot sandal. The cork gets dirty easily, but the nice thing is you can scrub it clean just as easily and the dirt comes out! You can also wash the fabric strap if it gets stained. I took these on some long walking days and they were really comfortable!
Sizing & Fit Type: The Feelgrounds Seaside also has an extra wide fit, and the design leaves your toes completely free to do their thing. The strap fits medium volume with a little bit of elastic, so people with extra low or high volume feet might not get a good fit. I have a pair in both EU 36 and 37 and I prefer the 36 because the straps fit my low volume feet better.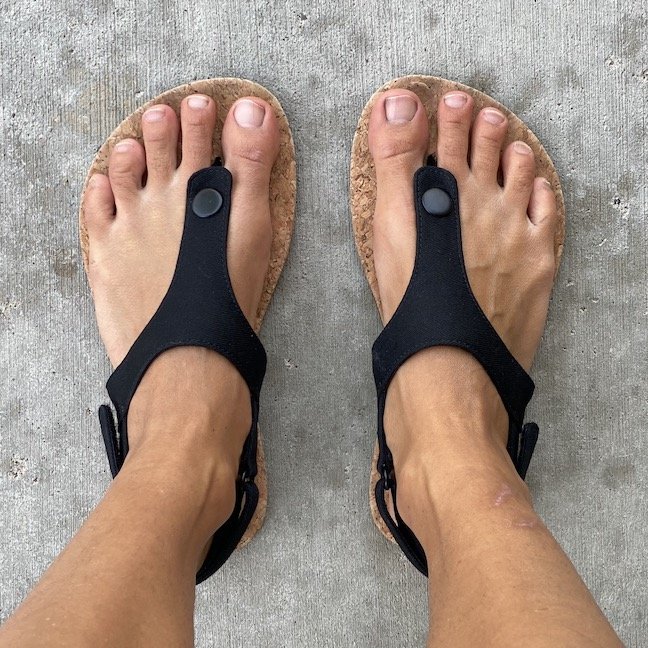 ---
Juuri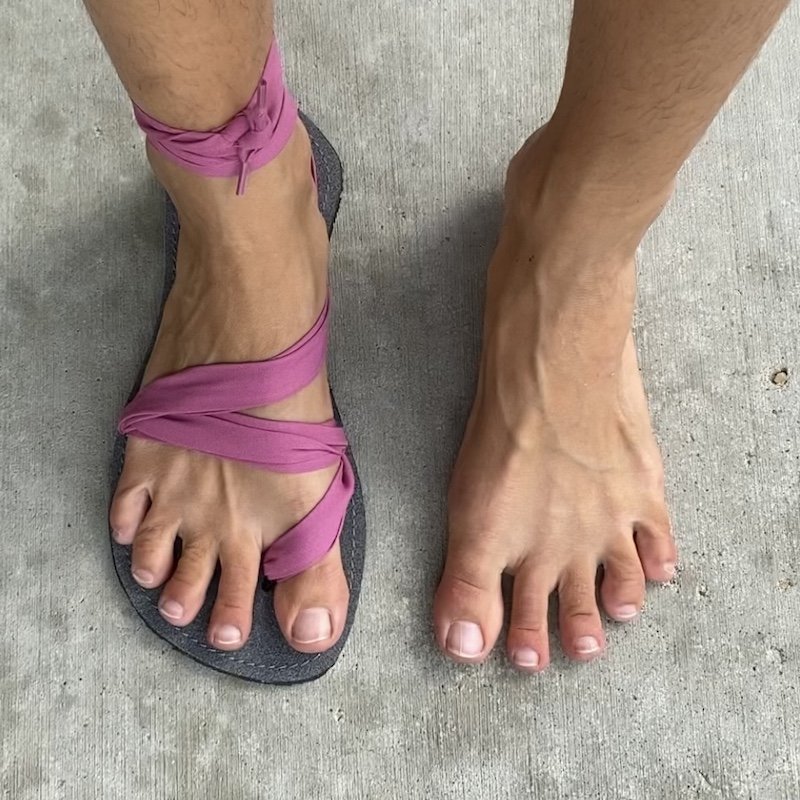 Leather & Vegan Options | 4.5mm Thick | Sizes EU 34-48 | Ships from EU
We carry these in black at Anya's Shop!
What I Love About Them: Oh these sandals are pretty! They are delicate, feminine, and sexy – a perfect alternative to strappy heels. They can be dressed up, but still leave your toes free to splay out. And they are ridiculously comfortable for how beautiful they are.
I love that you can get different colored ribbons and tie them in many different ways. It's not hard to do, simply follow their "how to tie" tutorials.
They have a vegan or leather outsole option, and the ties come in mostly fabric options, but leather too. They come in two different lengths depending on how you'd like to tie them and the width and volume of your feet and ankles. My black ones below are the longer length and I can wrap them multiple times, the above photos are of the shorter length (which works for my small, shallow feet and thin ankles).
Sizing & Fit Type: Juuri has a wide forefoot shape which matches my toes perfectly, and will probably work for extra wide feet too. I got both a size 36 and a 37, both of which fit but the 36 is maybe a touch short. I would call this brand true to size.
Because you can tie these many ways, they should work for all foot volumes. I have low volume feet and did need to tie them fairly tight to be secure, but it was still comfortable.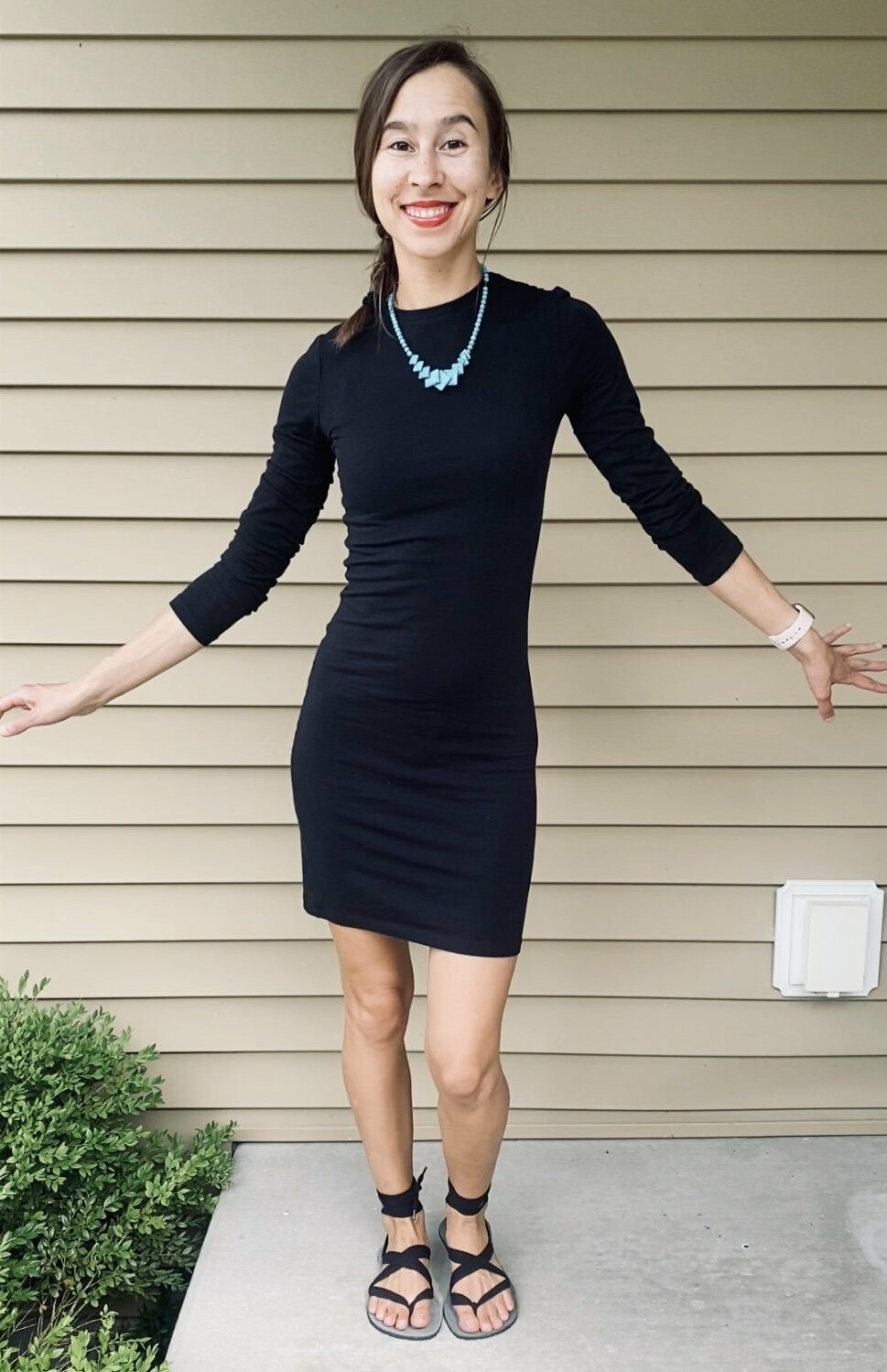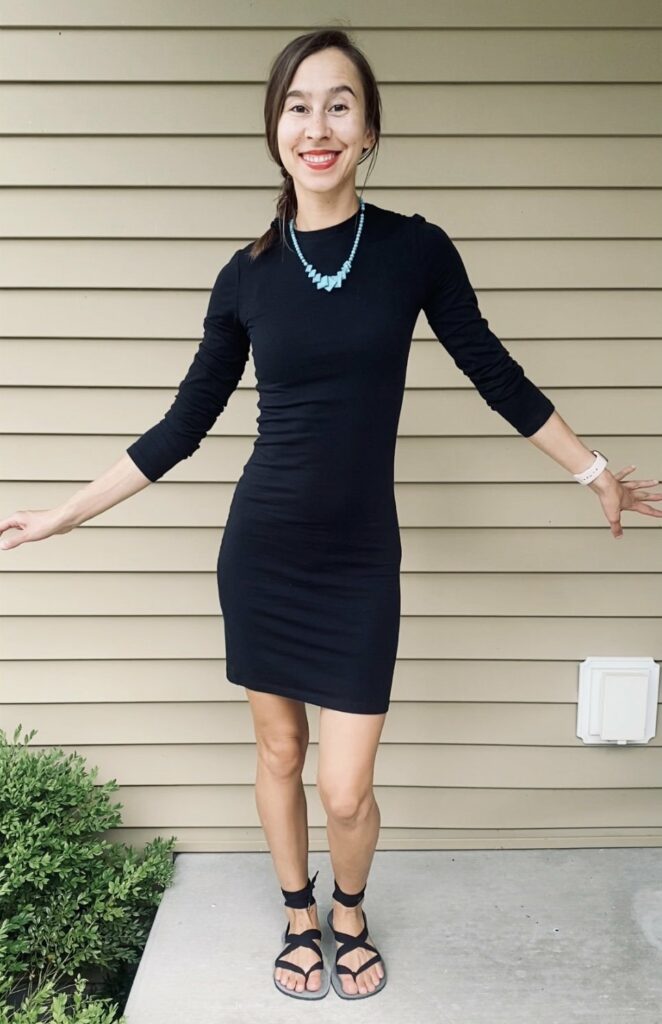 ---
Zeazoo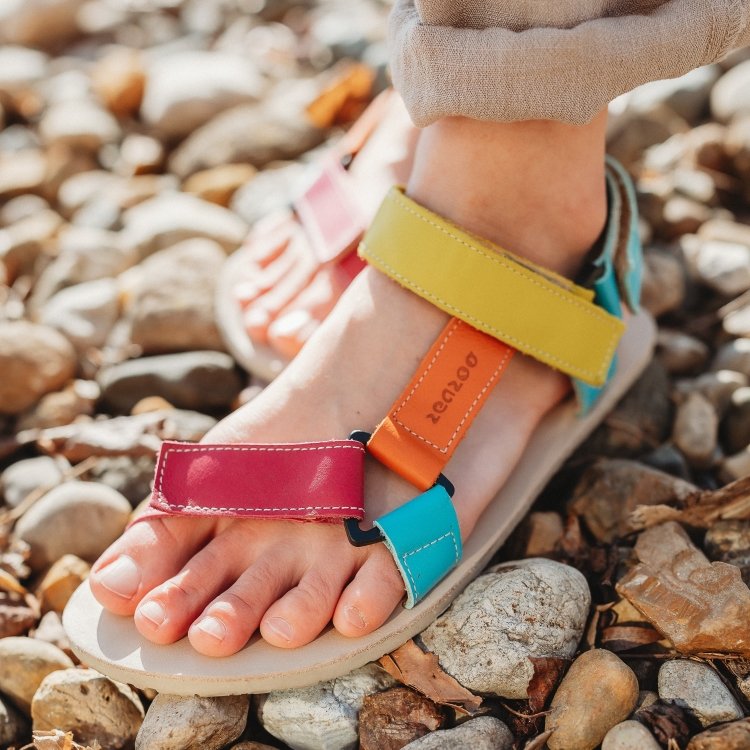 Leather | 6mm Thick | Sizes EU 35-46 | Ships from EU & US
Use code ANYASREVIEWS for 5% off the EU shop
What I Love About Them: Zeazoo Sandals are another ultra light stylish option (can you tell I like lightweight sandals?). They offer a really classic single strap sandal (the Siren, shown above) as well as more unique options such as they Freya, and the Olymp. We carry several Zeazoo sandal models at Anya's Shop, but if you want to have fun with colors and more options, check out all the options they have on the main EU website!
Sizing & Fit Type: Zeazoo sandals come in a narrow, regular and wide, but all are built on the same sole. The only difference between them is the strap length. The ball strap on regular is .5cm longer than narrow, and wide is .5cm longer than regular. So even though you get more strap length in certain widths, this adjusts the volume more than it does the width. I still consider Zeazoo sandals to be on the narrow side, and they run long.
I wear a size 36 Wide in them (and every model we carry at Anya's Shop is wide), and you can see that they are barely wide enough for my feet and at the same time almost too long. Fortunately they are so lightweight that I don't find the excess length bothersome (I couldn't size down, they would be too narrow).
The staps are also so soft and flexible that many people with wide feet are still comfortable in them. These shoes fit average width, high volume feet best.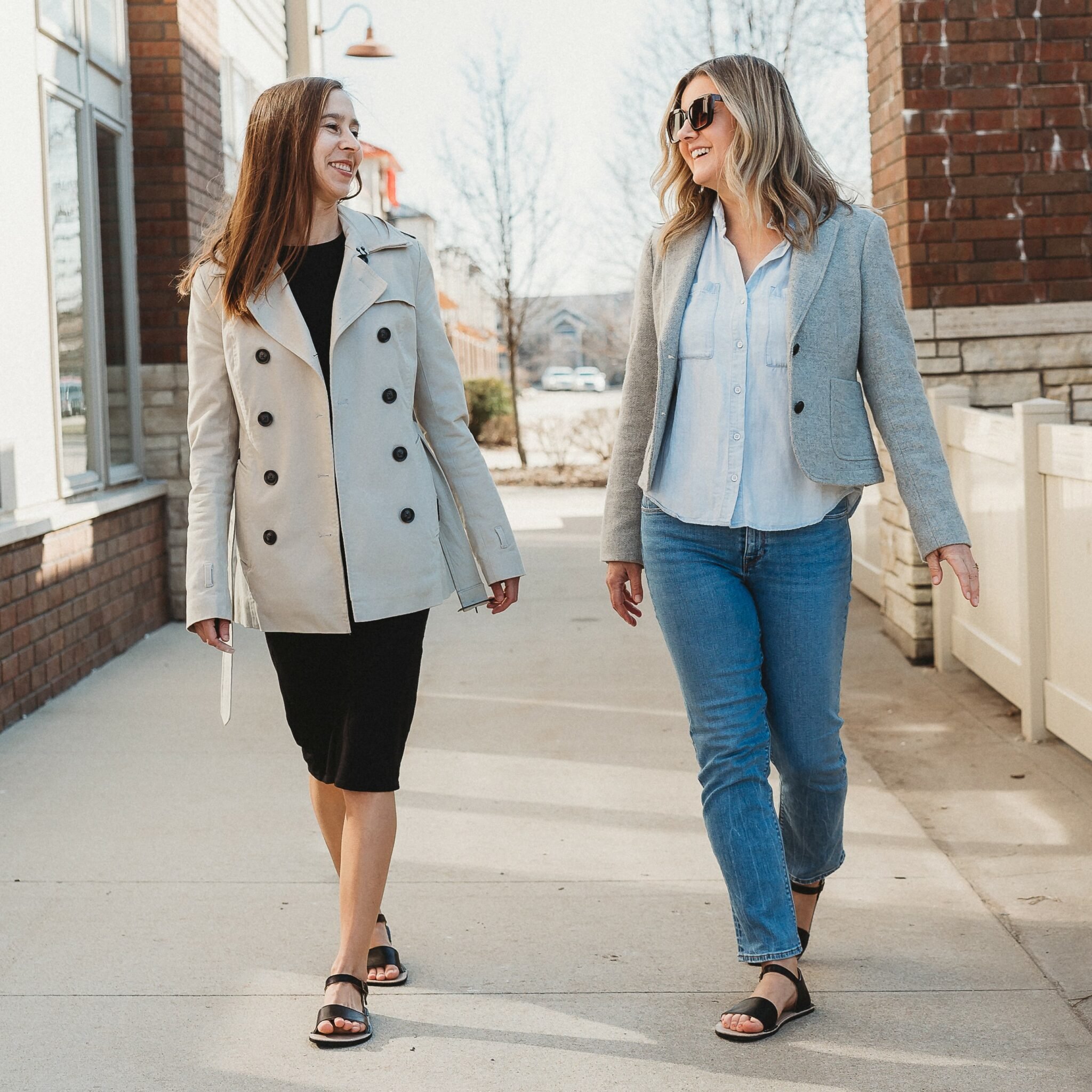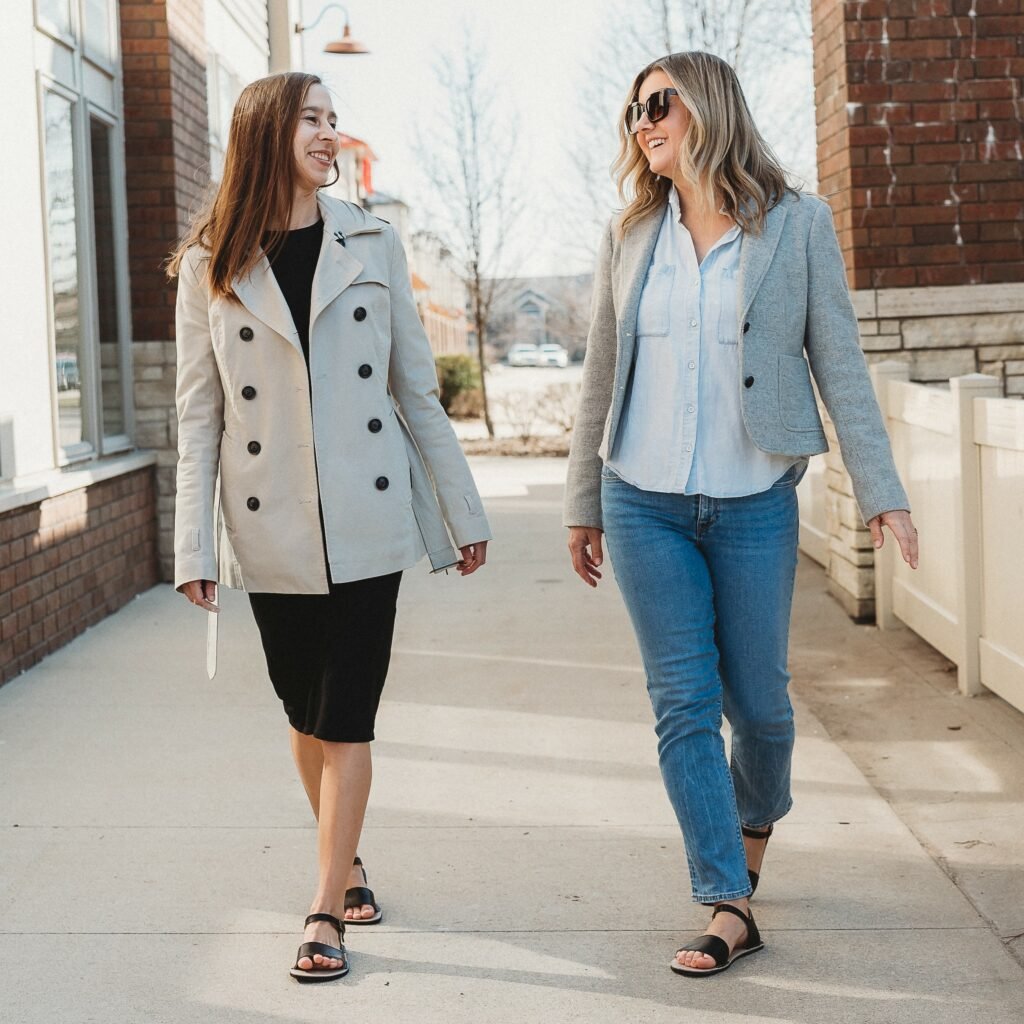 ---
Shapen Barefoot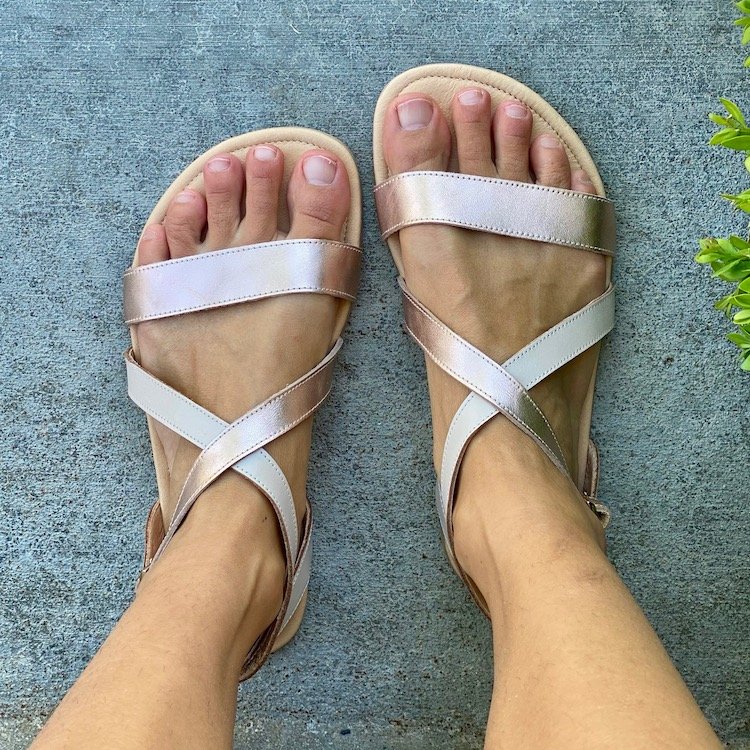 Leather | 5mm Thick | Sizes EU 36-43 | Ships from EU
Use code ANYA5 for 5% off.
We carry the Calla in Rose Gold at Anya's Shop as well!
What I Love About Them: Shapen barefoot has some really dressy feminine styles that also fit wide feet – wonderful if you've had trouble finding pretty shoes that fit. My favorite is the Calla, shown above.
Sizing & Fit Type: Shapen sandals fit wide to extra wide, and are not idea for narrow feet. They fit medium volume best, but seem to work well for even high and low volume feet because the adjustments. True to size mostly, but always check the size chart.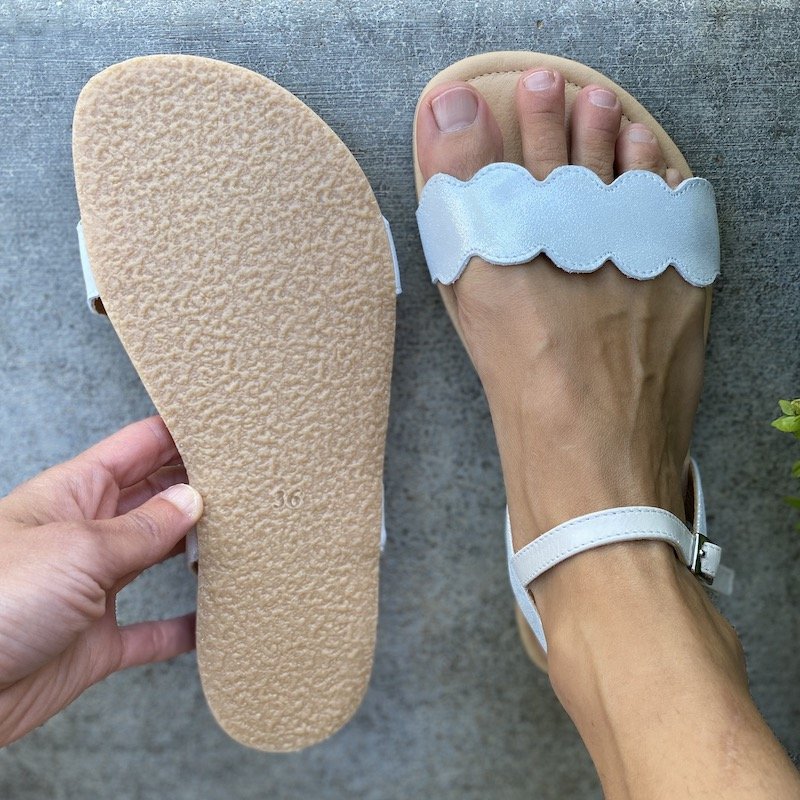 ---
Xero Jessie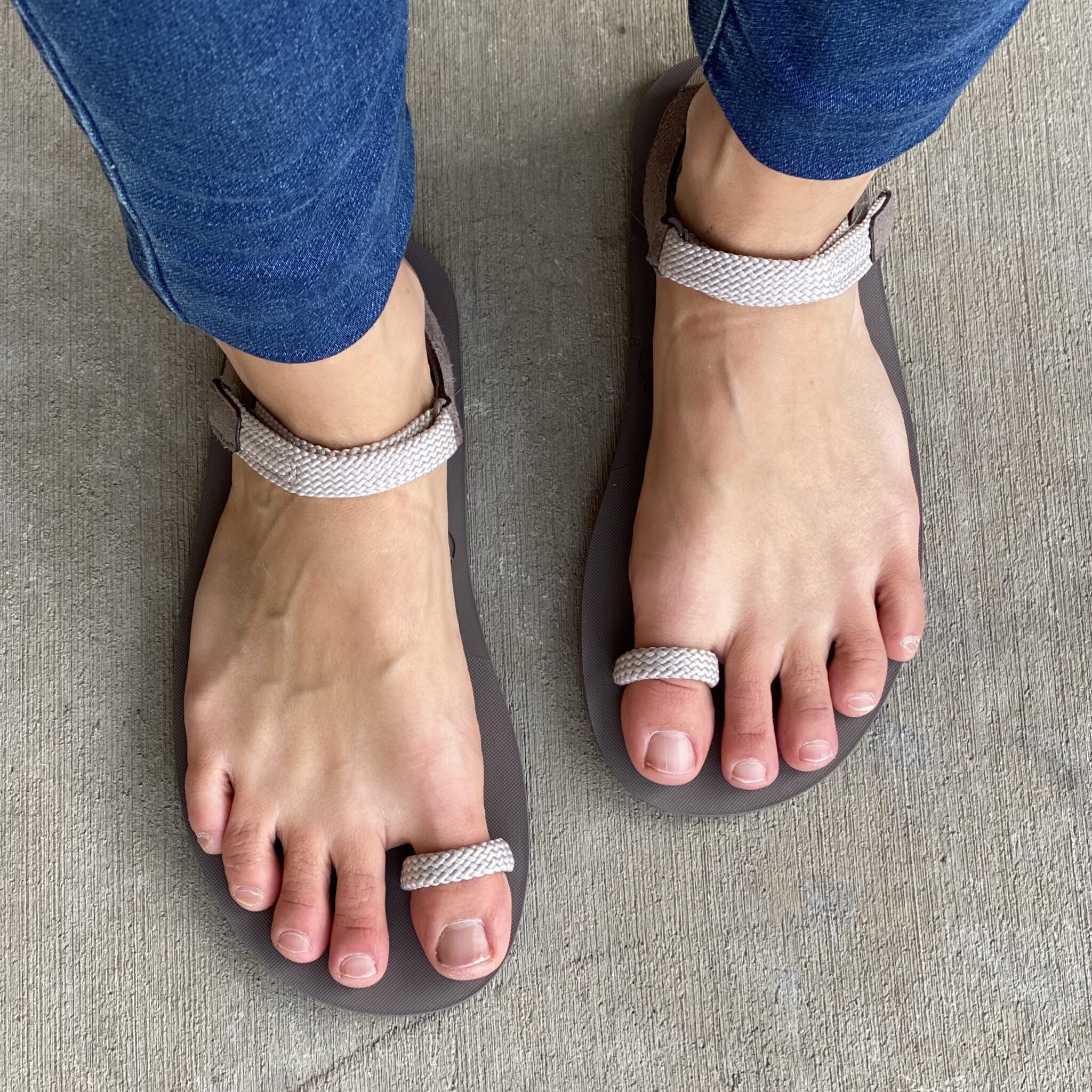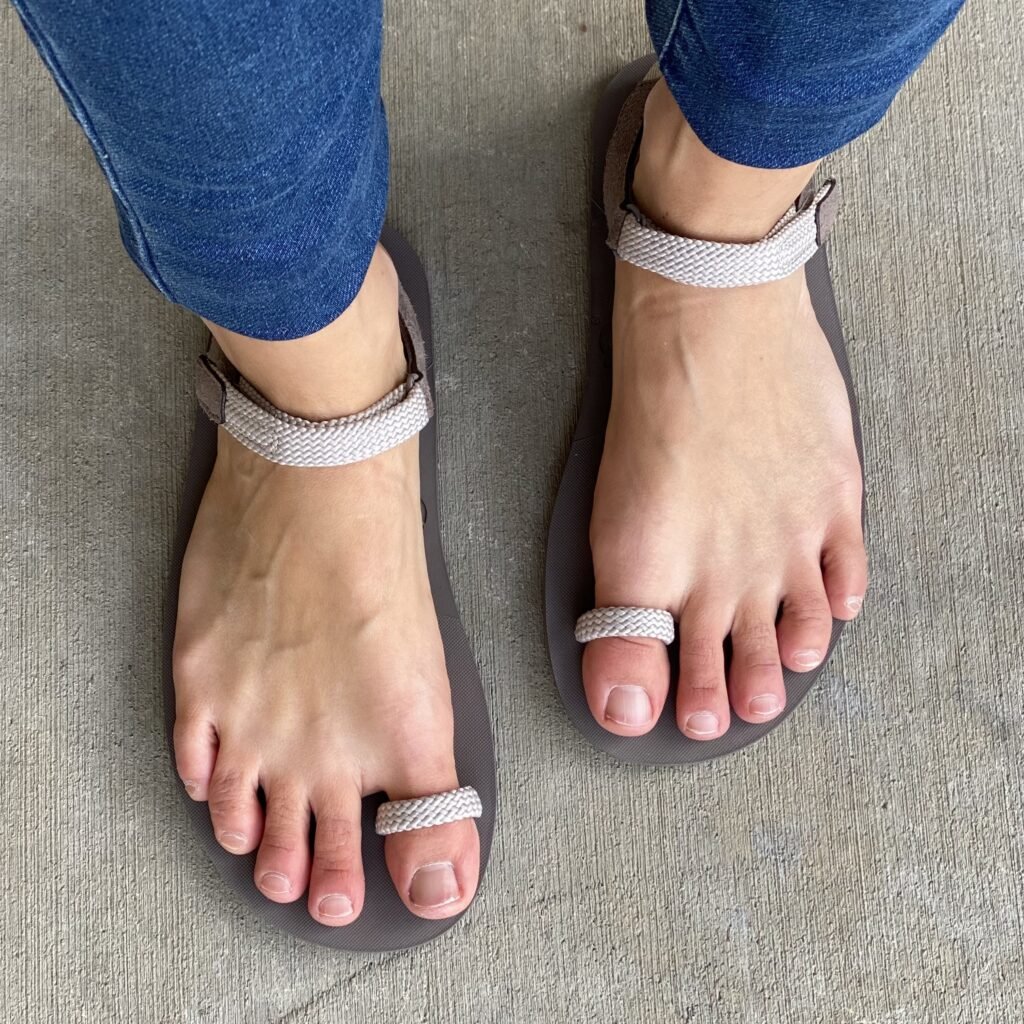 Vegan | 6mm Thick | Sizes US women's 5-11 | Ships from US & EU
What I Love About Them: That main thing I love about the Jessie's is they're really cheap for being a cute sandal! They're just that perfect amount of simple + style that makes them really versatile. You can bling them out with some Swarovski crystal, or wear them as is. I do wish the sole was a little lighter – when there's not much holding your foot to the sole you feel every bit of weight there. But I am still able to wear them comfortably. I just won't be hiking or running in them.
Sizing & Fit Type: In an open design like this I almost always err on the smaller side, so the sandals actually stay on my feet. So I went with a size 6, even though the description states they run a half size small. I am really glad I did this, because the 6 fits well all around and they would probably have been too big otherwise. The sole is wide throughout the entire length of the shoe (that means they're good for people with a wide midfoot!), and the arch strap fits securely even on my low volume feet. I think that if you have high arches the straps might not be long enough.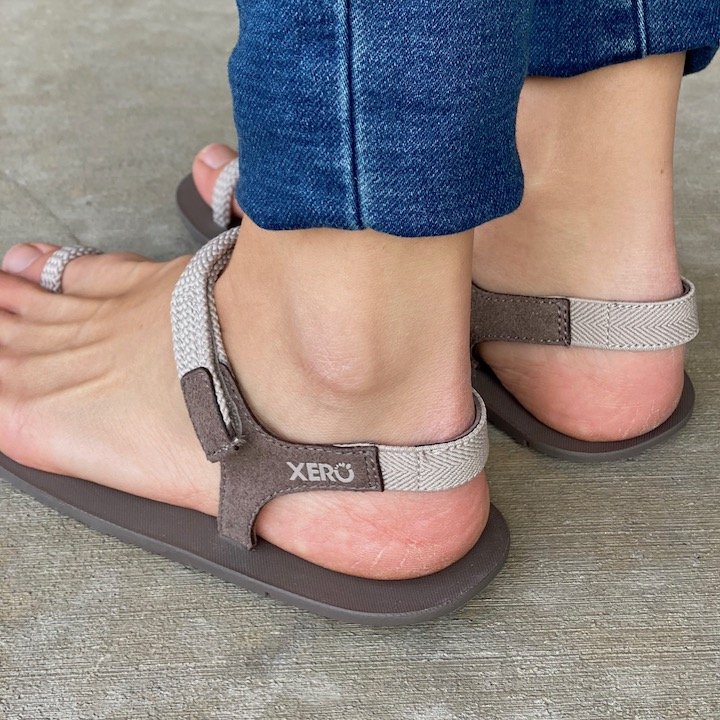 ---
Huaraches by Anya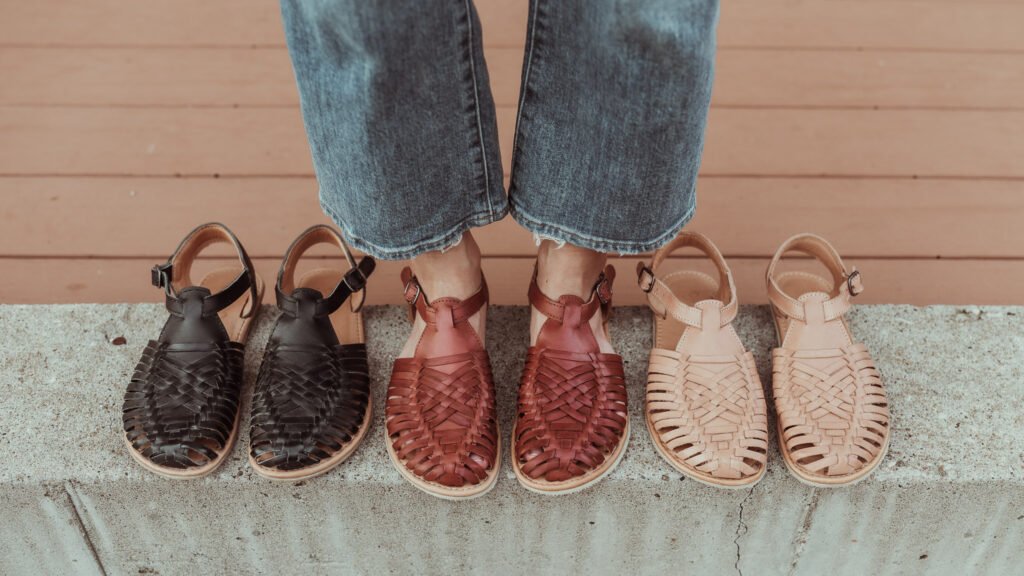 Vegetable Tanned Leather | 8mm Thick |US women's 6-11.5 | Ships from US
Code ANYA for 10% off
What I Love About Them: Origo Shoes and I teamed up to bring you a new take on an old tradition. Our huaraches are made in the traditional way in Michoacán, Mexico – but with a few upgrades! Instead of a pointy, narrow toe they have a natural shape to them with space for the feet to spread out. Plus, a lighter and more flexible sole than is typically used. All the leather is vegetable tanned and chrome free so you can safely wear them on bare feet.
Read the full Huarache review here!
Sizing & Fit Type: These are true to size; I am able to wear a size 7 and a 6.5 in these, which is my usual US shoe size for this style of shoe. If you have low volume feet and/or narrow heels I would consider erring on the smaller side so they feel secure. I wear mine on the tightest buckle and I expect them to work for most volumes since they're adjustable and an open weave. They'll fit medium and wide feet best.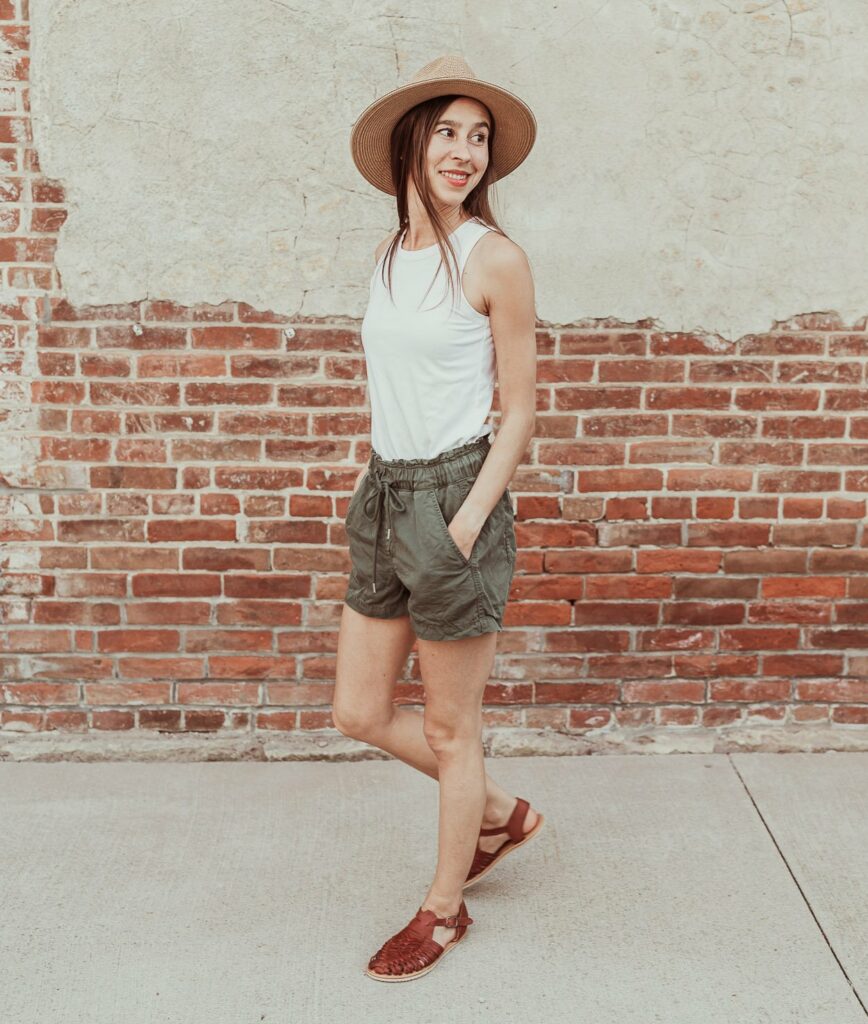 ---
Runner Ups
What? I like barefoot sandals!! 😀 While these didn't make it into my top 10, here are a few more excellent stylish barefoot sandal options you might want to consider.
---
Grecian Sandals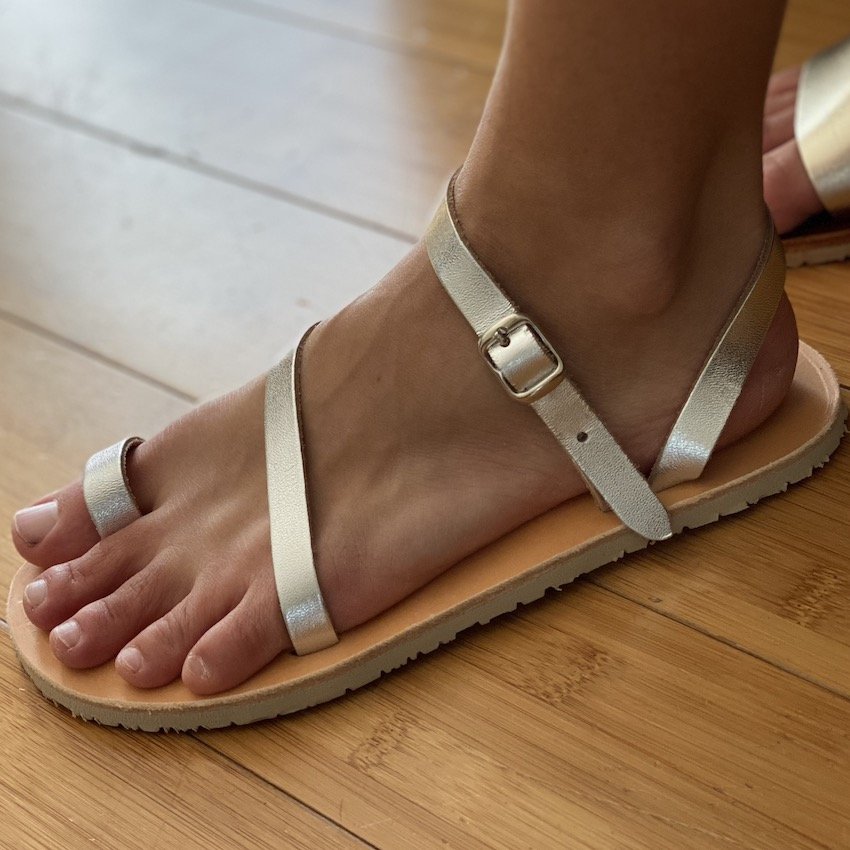 Grecian Sandals is a prolific Etsy shop with tons of designs, all of which can be made on a zero drop Vibram outsole. You have to be careful about selecting a style that doesn't pinch the toes and is on a plain natural leather outsole – the outsoles that are either black or have stitching around the perimeter have a narrower, more tapered shape. I find these fabulous for weddings because they are beautiful but still affordable.
---
Vivobarefoot Opanka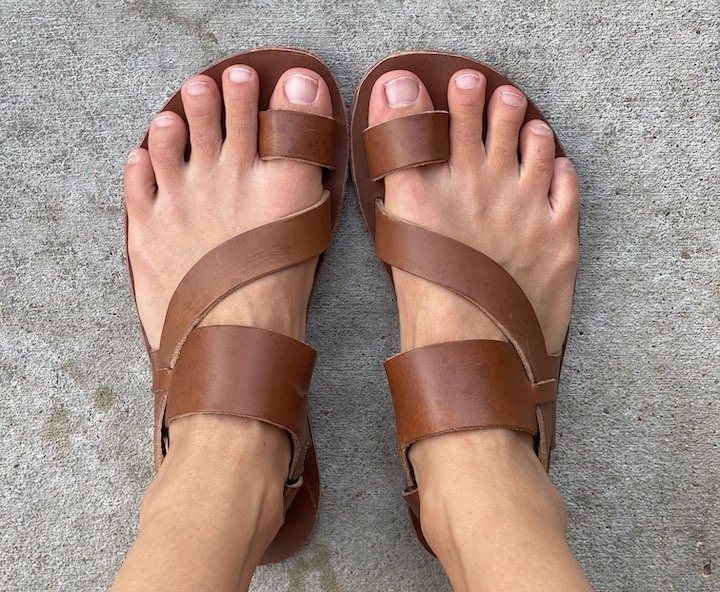 Vivobarefoot has a limited selection of barefoot sandals each year (these are sometimes only available in summer). But if they're instock and fit your foot type I adore these Opanka sandals. The toe loop required breaking in (it hurt the first few times I wore them), and there are no buckles or velcro so won't work for all foot types. I recommend them for medium to low volume feet.
Code VBANYA20 gets you 10% off.
---
Mukishoes Solstice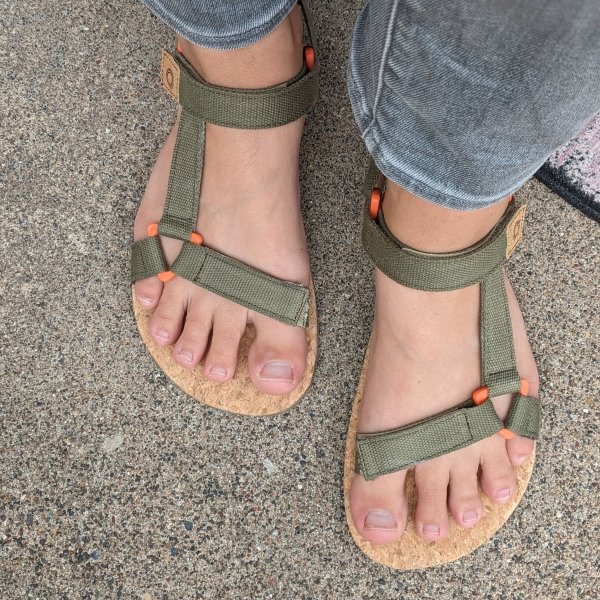 The Mukishoes Solstice sandals takes this classic style up a notch with sustainable production and materials. They have a cork footbed, and a lightweight grippy outsole. With 3 adjustable straps, they can fit a wide variety of feet. They are availably seasonally, and tend to sell out quick due to their popularity.
Use code ANYAMUKI for 10% off
---
Earth Runners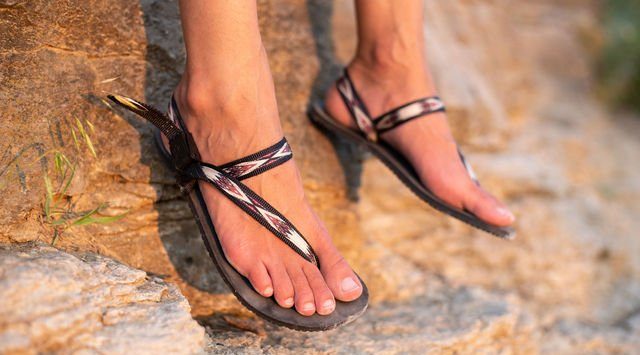 Earth Runners are in my opinion the only athletic barefoot sandal that is also stylish enough to wear with dresses and cute outfits. They're really a do-it-all shoe! They are definitely more casual than some on this list, but for everyday wearing with stylish outfits they are perfect. Read my full review here.
Code ANYA10 gets you 10% off
---
Jenon Leather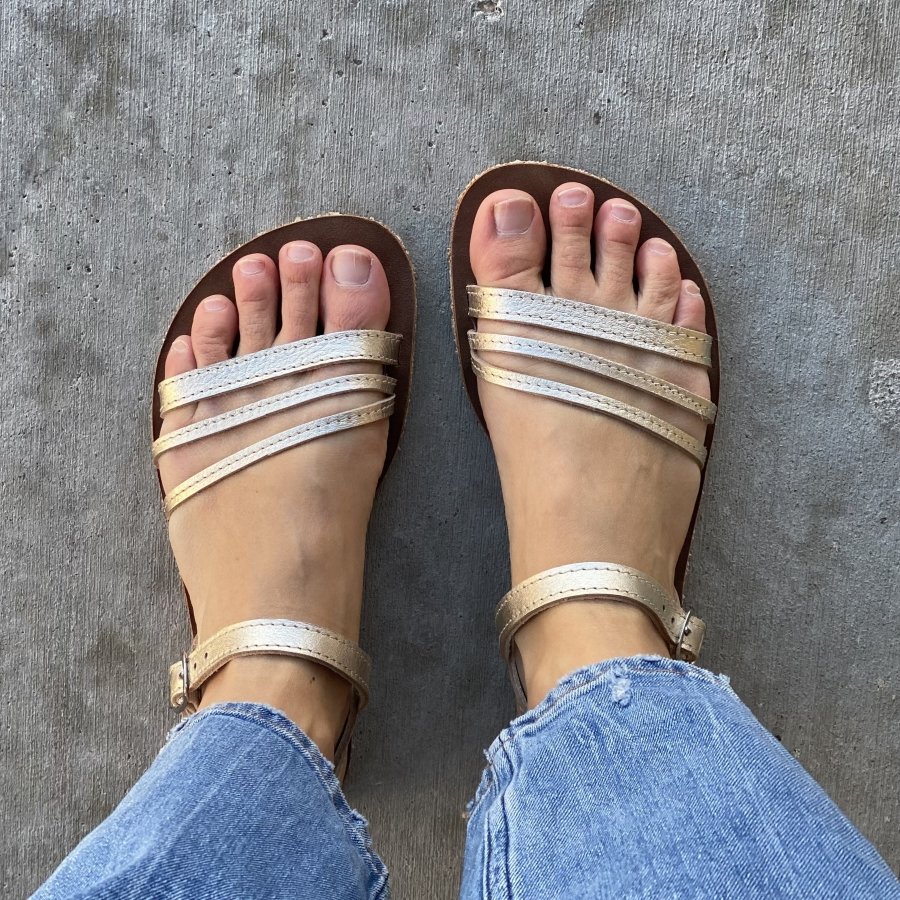 Jenon Leather has lots of sandal options in standard choices, with an option to have them custom made (sole thickness, leather colors, or shape/size). They're pretty, and well made, and we love them! Everything is handmade to order, so expect to wait 4-5 weeks for production.
---
Luna Brujita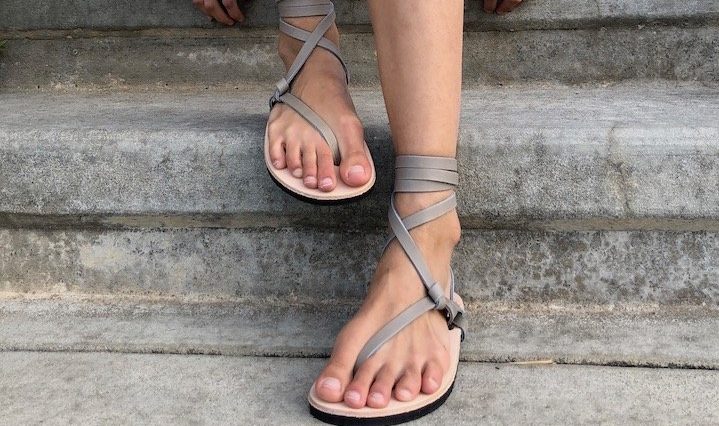 I've worn and loved my simple Luna Brujitas for years now – they were comfortable for me when I was new to barefoot shoes and needed just little bit more cushion, and they have just gotten softer over time. The one trouble I and other readers have had with them is that the strap doesn't want to stay put. I have to tighten it every couple of wears.
Get 10% off with code ANYA
---
Drifter Leather Cut Here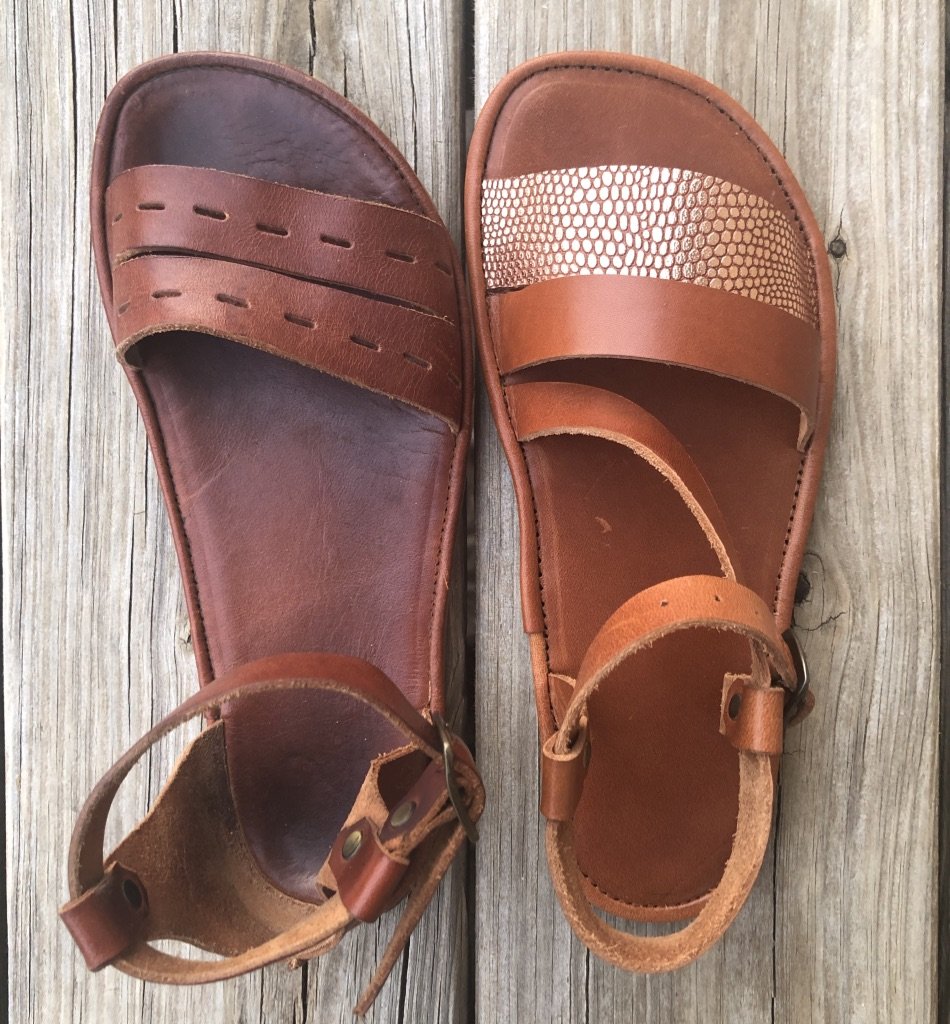 I adore my Drifter Leather Cut Here sandals. In fact, the only reason they are a runner up and not in the #1 spot is because they're custom and difficult to order. They were my very first stylish barefoot sandals years ago and continue to be my all time favorite. If you are considering ordering from The Drifter Leather, read my detailed How To Order Guide.
---
Chala Antique Sandals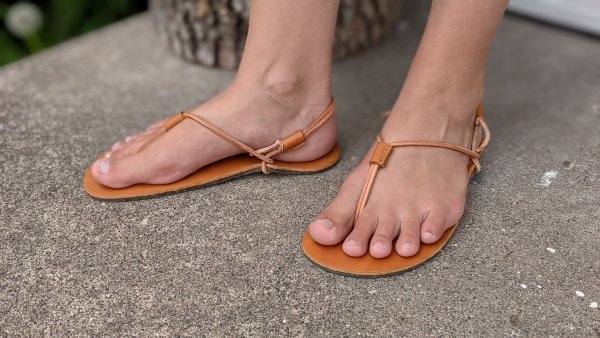 ---
Softstar Solstice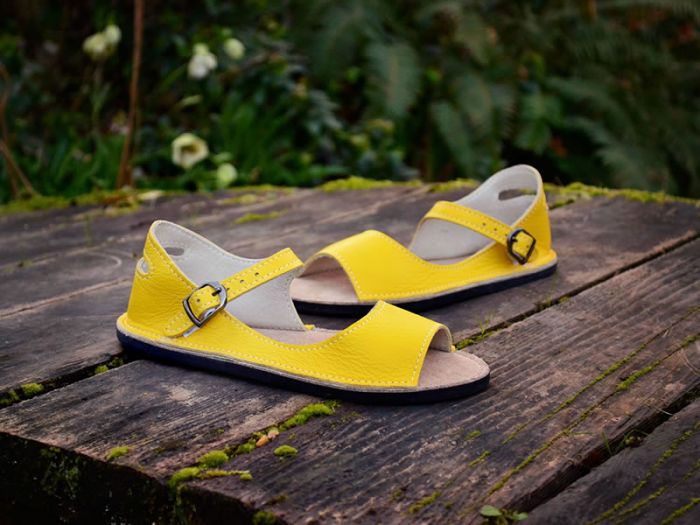 The Softstar Solstice is a beautiful sandal that can be customized in tons of different colors. They are also super soft with a slightly more cushioned sole than you usually find in barefoot sandals. I have them as a runner-up and not as a top pick because the sole shape in the adult line has a tapered big toe that I wish they would redesign.
These run big and most people go down one size and up one width.
---
Luks Verano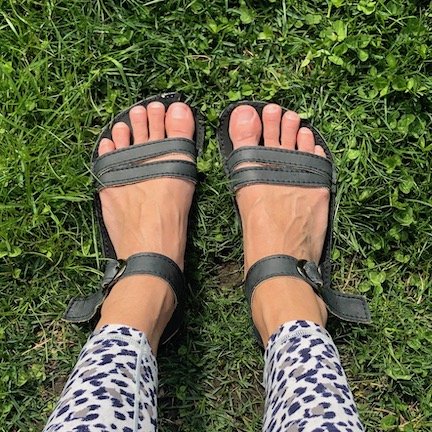 Luks Verano sandals are simple, go with everything, and really generous in width (they even come in an extra wide width) They run long – I wear a size 35, and even still I found the ankle strap to be so long I had to poke extra holes in. Be aware that the front strap fits really tight at first but breaks in – don't be alarmed if it feels too small at first.
---
Unshoes Saffron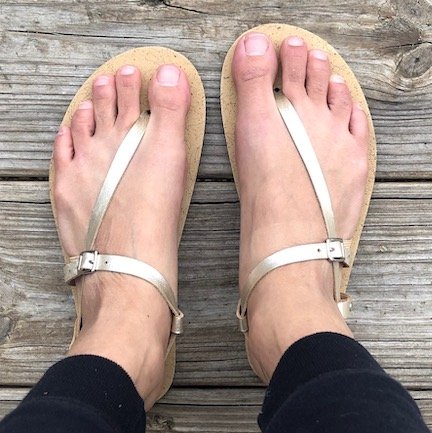 The Unshoes Saffron is a delicate sandal with a thin leather strap and cork footbed. I think they look lovely, but they can be hard to tighten enough to be secure – they work best for high volume feet and the sole isn't very flexible at first but does break in. They are available in 2 widths – slim (shown here) and standard.
Use code ANYA for 10% off.
---
Stylish Vegan Barefoot Sandals
Affordable Stylish Barefoot Sandals
In Summary
You really have so many cute barefoot sandals to choose from! I hope this guide has helped you narrow down your search for the perfect stylish barefoot sandal for summer, so you can look great and feel great too.
I'd love to hear your thoughts – what stylish barefoot sandals do you love to wear?