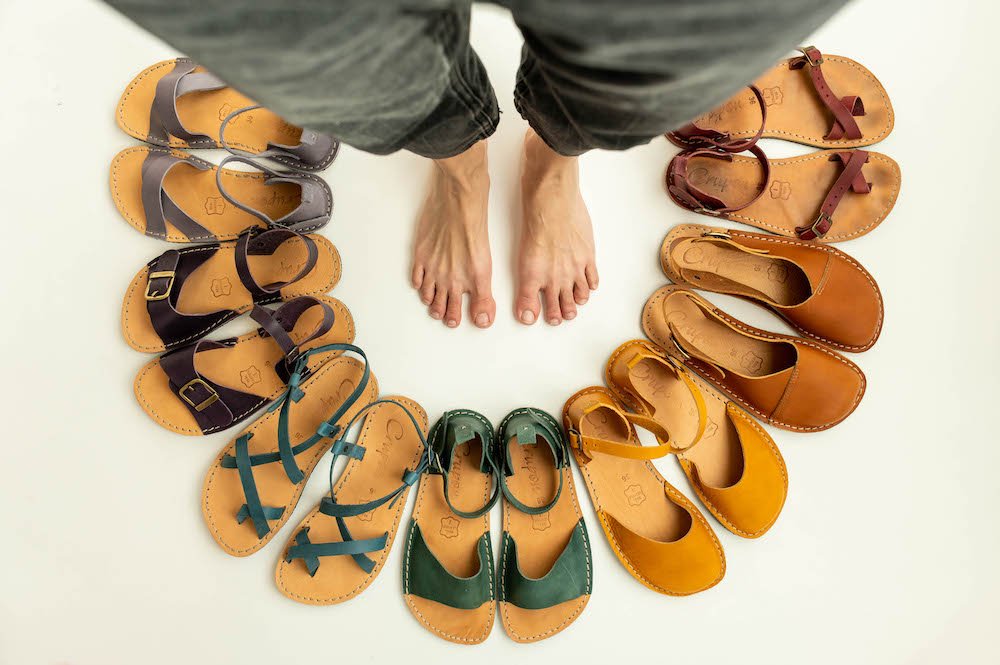 Crupon Sandals is a small family run business in Sofia, Bulgaria that recently turned it's attention to barefoot shoes. They've been so widely popular among barefoot shoe fans since then they've switched the majority of their styles over to the natural foot-shaped sole that Crupon and I developed! Here are the newest barefoot models for 2023 from Crupon Sandals.
And you can use code ANYA to get 10% off your Crupon purchase.
Meet Crupon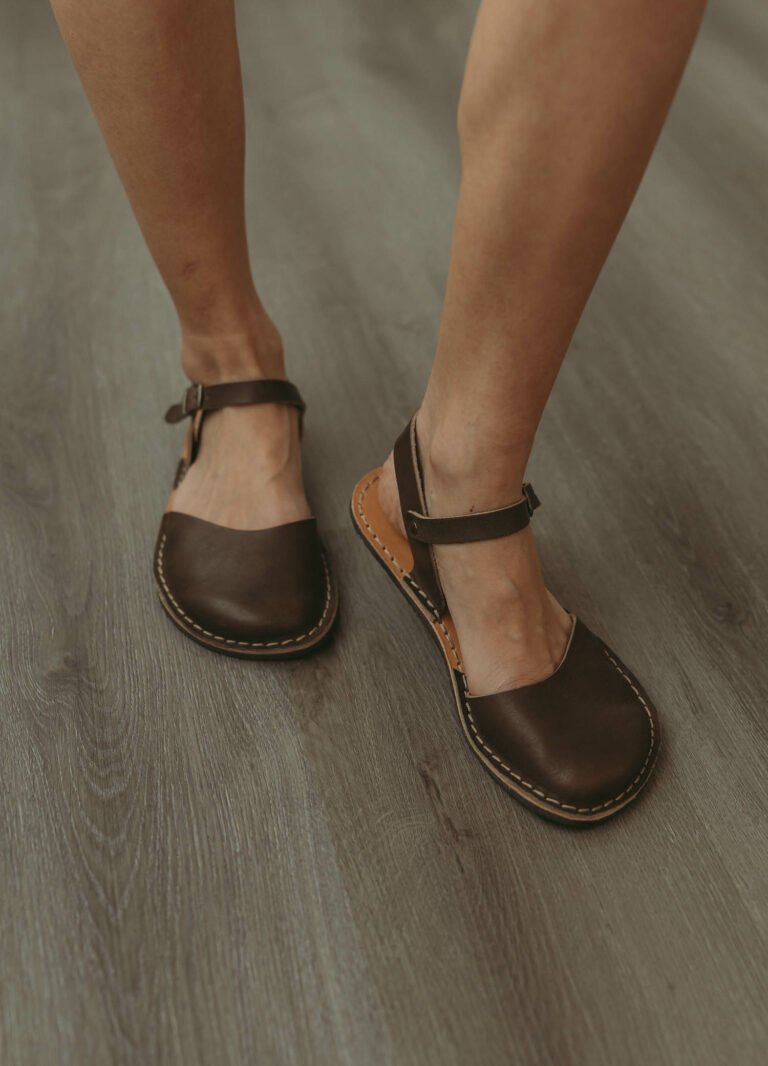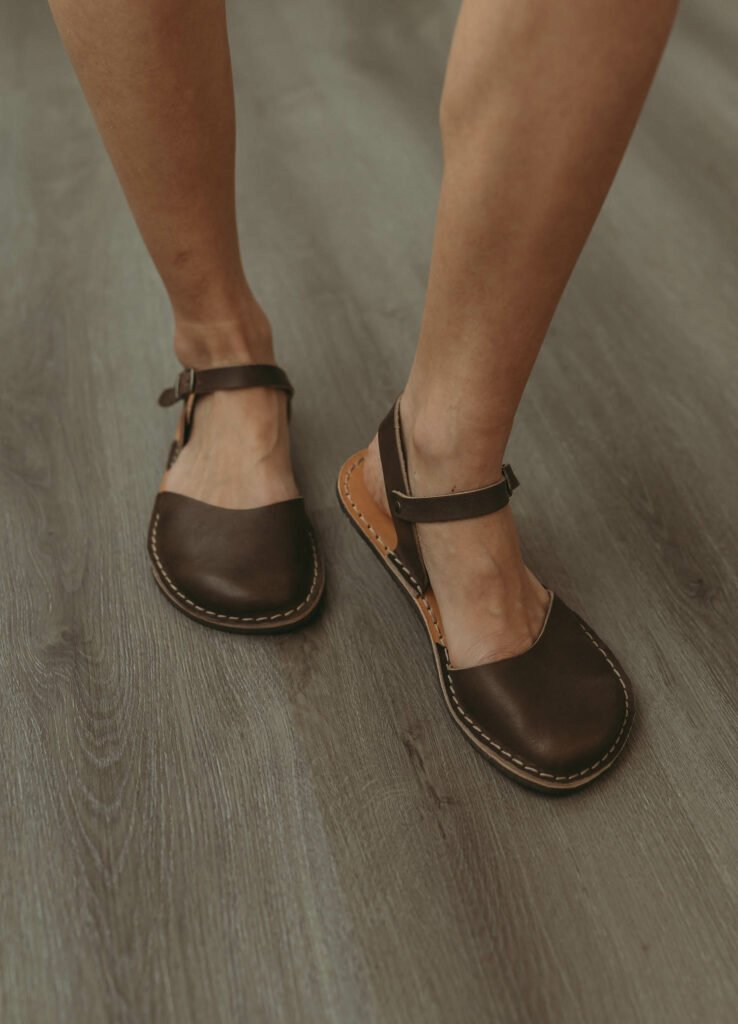 Crupon does shoemaking the old world style. Everything is done by hand from start to finish, down to the individual stitches and buckle holes. The materials are also different – the leather is vegetable tanned and naturally dyed without chemicals, resulting in a beautifully organic rainbow of color. But this leather is not only beautiful, it is also durable and long lasting. Investing in a pair of Crupons is investing in shoes that should last a very long time. And if you need to, they can easily be repaired by a local cobbler. Can you feel my shoe-nerd heart going pitter patter??
I was already obsessed with my Crupon Sandals, but this year they're giving me even more reason to be excited. You can now get two styles in an Extra Wide fit, AND there is a water-friendly non-leather option good for vegans and people who want to use these sandals in wet/dirty conditions. Read on for the deets.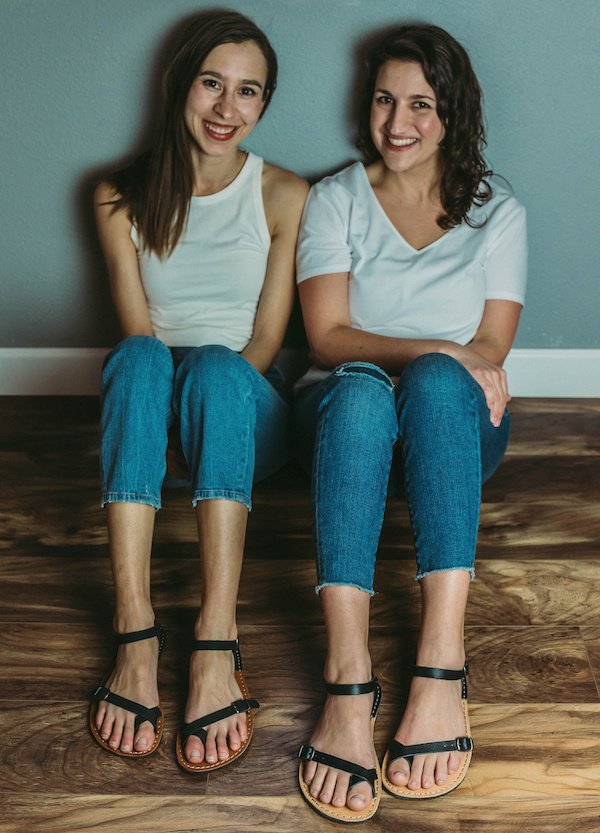 Crupon Sandals Fit Type
Crupon sandals in their Barefoot fit have an anatomical shape to them that is best for average to slightly wide feet. They tend to fit higher volume feet best, and certain models can feel a little pinchy on the pinkie toes if you have a square shaped foot.
I have a wide, low volume foot with slim ankles & heels and I adore my Trevi flats (in all variations), the Violla, and the Nomade most of all because they fit me so well! The close toed models needed a little breaking in and the first time I wore them they rubbed a bit, but now they are perfection. The Nomade (shown above on Samantha and I) seems to be the most universal of the Crupon sandals.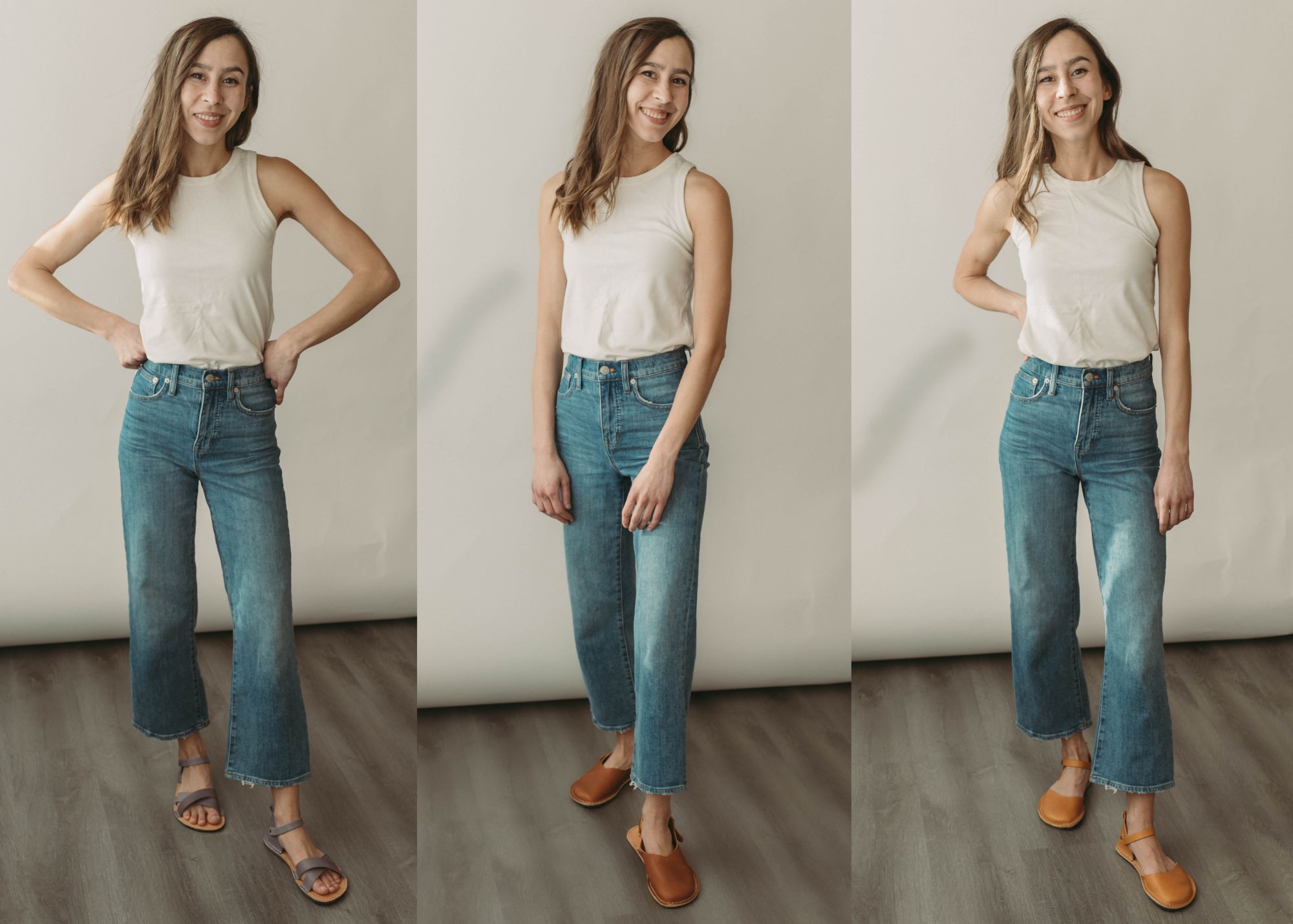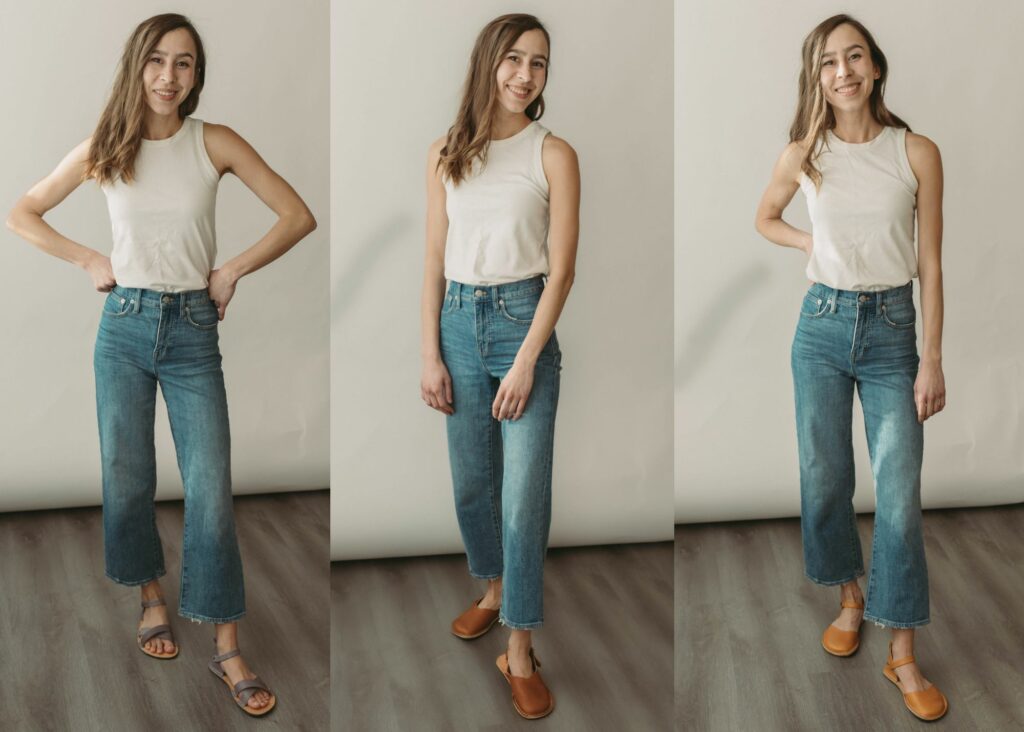 Here is a loose guide to models based on foot type. Keep in mind that it is not definitive and you might have a different experience, but it gives you an idea of the slight fit differences between models:
Extra wide: The Nomade or Mida in Extra Wide
Wide: Nearly everything can work with a little stretching, but be careful with the Febo & Febo Cross because it can feel tight on wide feet.
Average: Really any should work.
Slim: Febo, Febo Cross, or their Standard fit shoes.
Low Volume: Nomade, Trevi, Violla, Mida
Medium Volume: Most should work
High Volume: Iris, Carmel, Cuomo, Febo, Febo Cross (but all might work with a little stretching because they have an open cut)
Learn more about your foot type here!
Crupon Sizing
Crupon Sandals run a little bit long and people who are in between sizes often go down. For your convenience, Crupon provides printable templates under the "Description" tab on each product page that show you the exact shape of each size, including where the stitching is. You can also measure your feet and consult the size chart to pick a size.
Ordering Crupon Sandals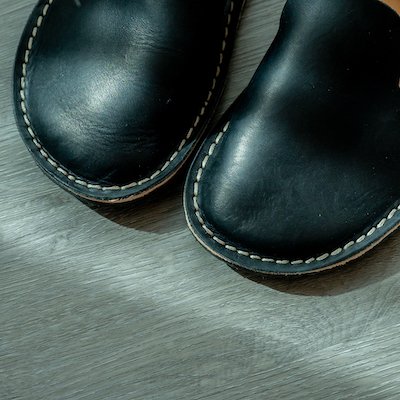 You can use code ANYA to get 10% off your order. Crupon Sandals are all made to order by husband and wife team Dimitar and Yana. They accept returns on all orders except for One Of A Kind custom orders, as long as the return is made within 14 days of delivery and the shoes are in new, unused condition.
But it's important to remember that it's difficult for a business like this to handle large orders and lots of returns. A retail shop like my own can handle returns more easily for the simple reason that we don't make every pair of shoes to order. When you buy handmade shoes you are paying for the maker's time more than anything else – if their time is not compensated they can't support themselves.
Slowing down and being extra intentional when you order ensures that brands like Crupon – that carry on the tradition of quality shoemaking – are able to continue operating this way. And while we're on the topic, it actually really helps ALL brands out when you do that. #We'reNotAmazon.
You might also like to join my very active Barefoot Style Facebook Group where you can ask questions and get help from other barefoot shoe wearers who have ordered Crupons.
Shoes ship out within 1-2 weeks depending on how busy they are, and if you choose standard shipping to the US it can take up to two weeks for them to arrive (express shipping is just a few days). So altogether I would plan on your order taking 3-4 weeks to arrive, but could come faster.
Caring for Crupons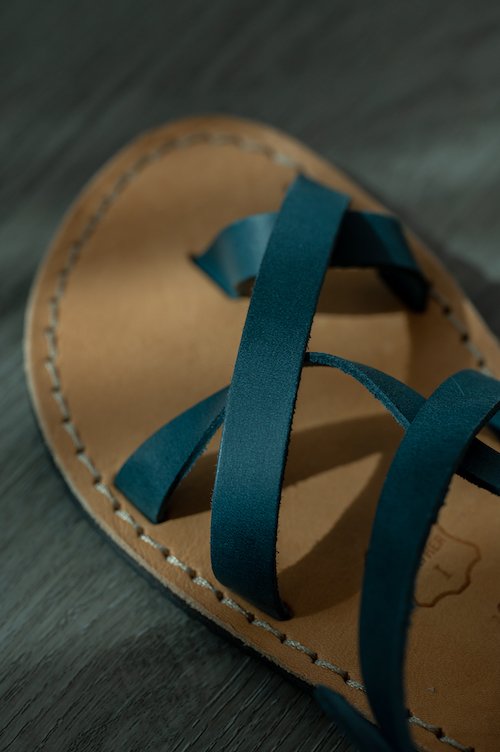 Because the leather is naturally dyed without chemicals, it will change color and texture over time (develop a patina). You'll notice that as you wear your shoes they'll get small creases and a deepening of the color. If you drop water on them, it will likely leave a spot once it dries – at least until the entire upper has a patina and then you won't see and individual marks anymore. This is how natural leather works.
If you really want your Crupons to stay the same color, you'll want to treat them with a spray guard. This can help, but it's not foolproof, so you should go into it expecting your shoes to change over time.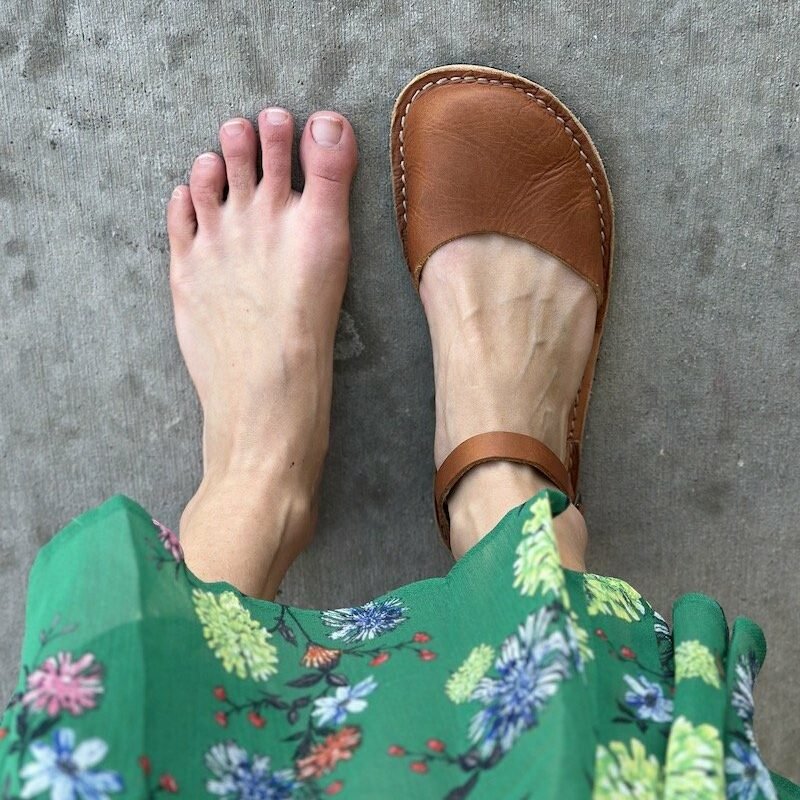 The leather is quite thick and doesn't naturally stretch out or deform with use, but if you want to manually stretch them you can stuff them with socks and leave it overnight or strategically stretch specific spots using a cedar ball or something similar. Just don't overdo it, because it can't be undone.
Water-Friendly Nomade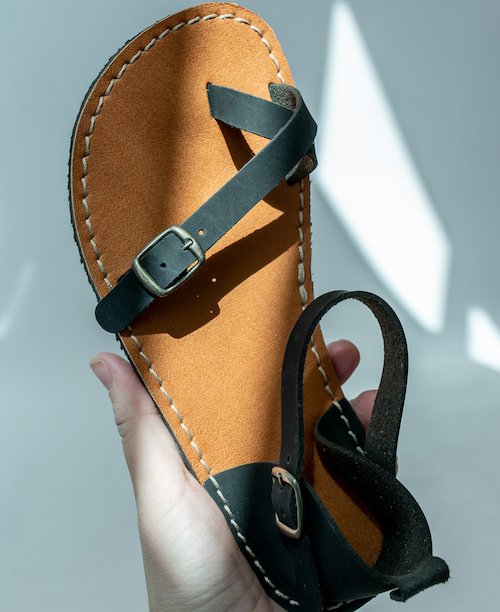 *The vegan material option is no longer available from Crupon*
This vegan Nomade sandal is a great option if you are vegan, want to use them at the beach/poolside, or simply worry about ruining leather. They can get wet and are quick drying, but don't feel at all plasticky or cheap because the material is a textile and not synthetic. Of course Crupon would go to great lengths to find a vegan option that is good to the environment and functions at a high level.
They feel really comfortable and I am excited about the many ways I can wear them. In the past I've only worn my Crupons casually around town and to special occasions because I didn't want to ruin them in water. Now I can use them all summer for any activity!
The vegan Nomade only comes in Barefoot width.
Extra Wide Nomade & Mida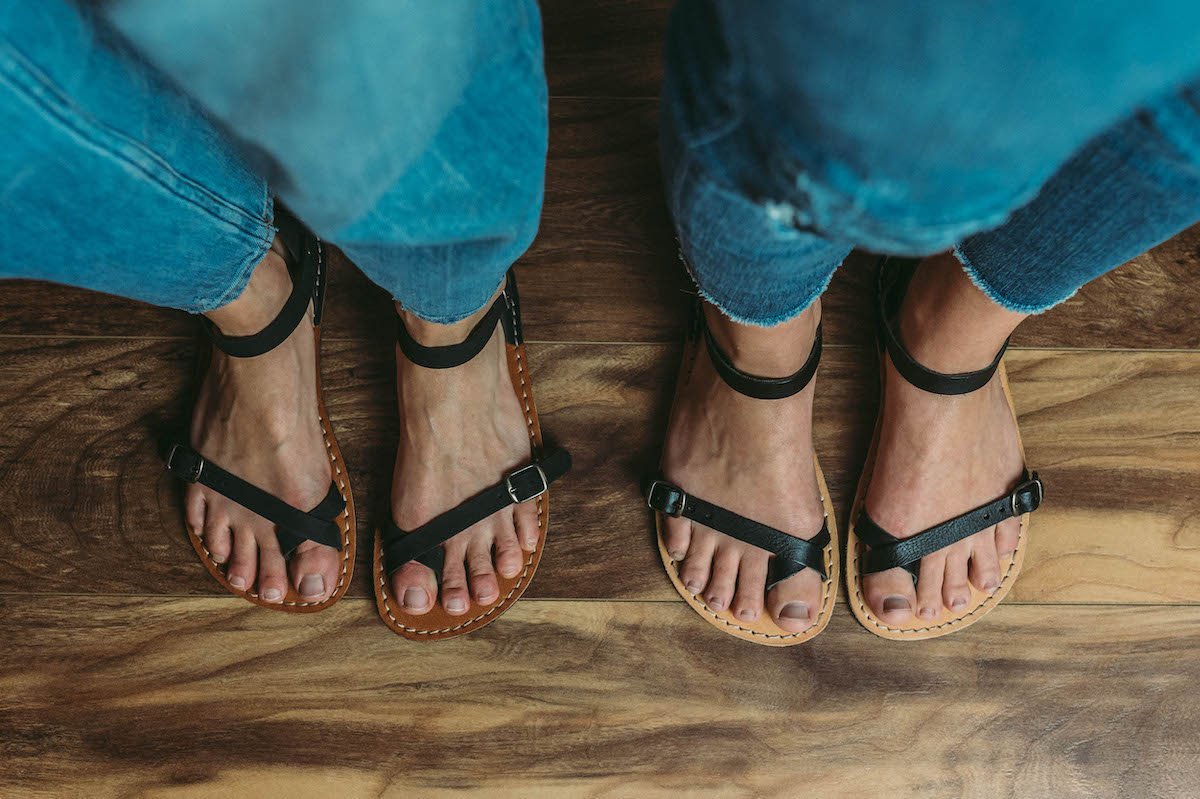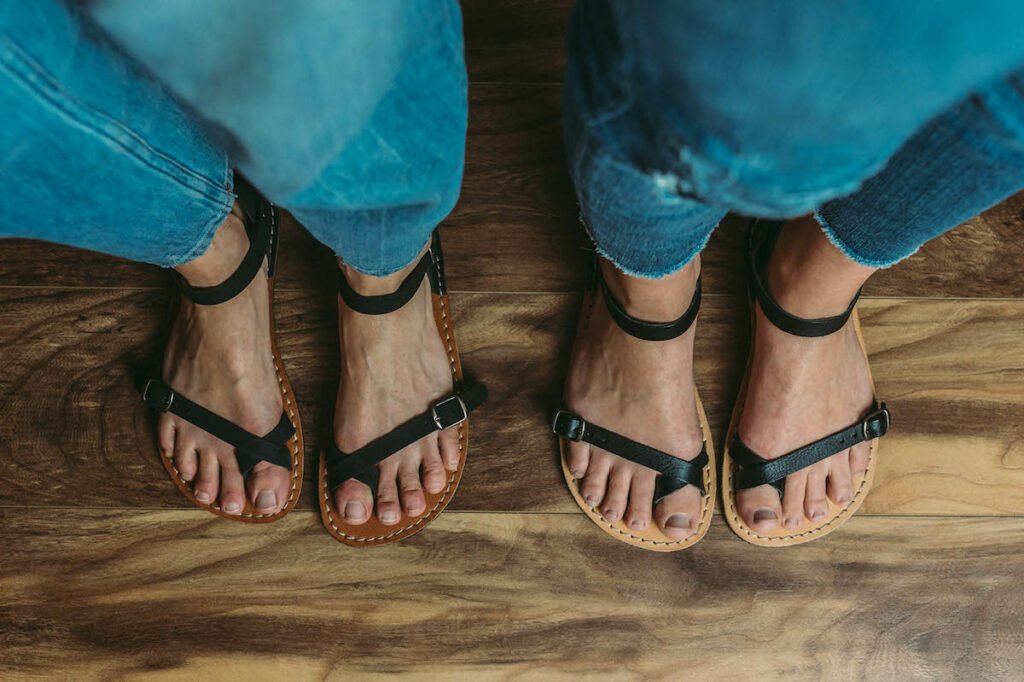 Also new this year is the extra wide version of the Nomade and Mida. Crupon and I worked together on this new shape, which should fit wider feet that don't work with the other Crupon Barefoot shoes! In particular the Nomade will be great for extra wide feet. Samantha has been impatiently waiting for these to become available, she's been lusting after my Crupon collection for years now!
On average, the Extra Wide version is 6mm wider in the toe box than the Barefoot version, and also a couple millimeters wider through the heel and midfoot. I recommend using their printable templates to make sure they'll be a good fit.
*Please note that for a short while this Extra Wide shape was even wider than it is currently. After additional feedback we revised the shape slightly, so please refer to the current size templates for the most accurate info.*
Conclusion
With the addition of a vegan and an extra wide option, Crupon Sandals are now more versatile than ever. I am thrilled that they love making barefoot shoes as much as we love wearing them, and look forward to even more beauties in the future.
Click here to learn more about how Crupon Barefoot Sandals came to be!