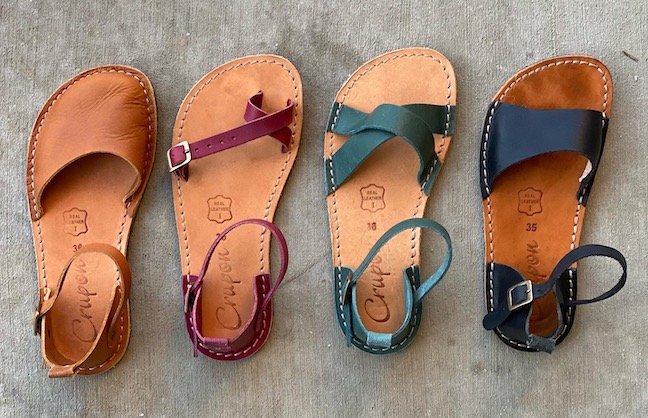 Use code ANYA to get 10% off any purchase from Crupon!
It was 4 years ago that I ordered a pair of Trevi sandals from Crupon Sandals with a custom flat sole. I was immediately smitten – Stunning craftsmanship, perfect rustic look. The leather is chrome free and naturally dyed, a difference you can feel on your skin. Each pair is made to order using traditional shoe-making techniques. Like I said. SMITTEN. You can read my original Crupon Sandals review here.
But the shape of the toe box was narrow and as my feet got stronger and more capable I wasn't able to wear them comfortably. So I was thrilled when Crupon Sandals wanted to work together on a new sole for their shoes. Together we designed a sole with a more natural foot shape, and now the majority of their shoes are in the Barefoot Collection!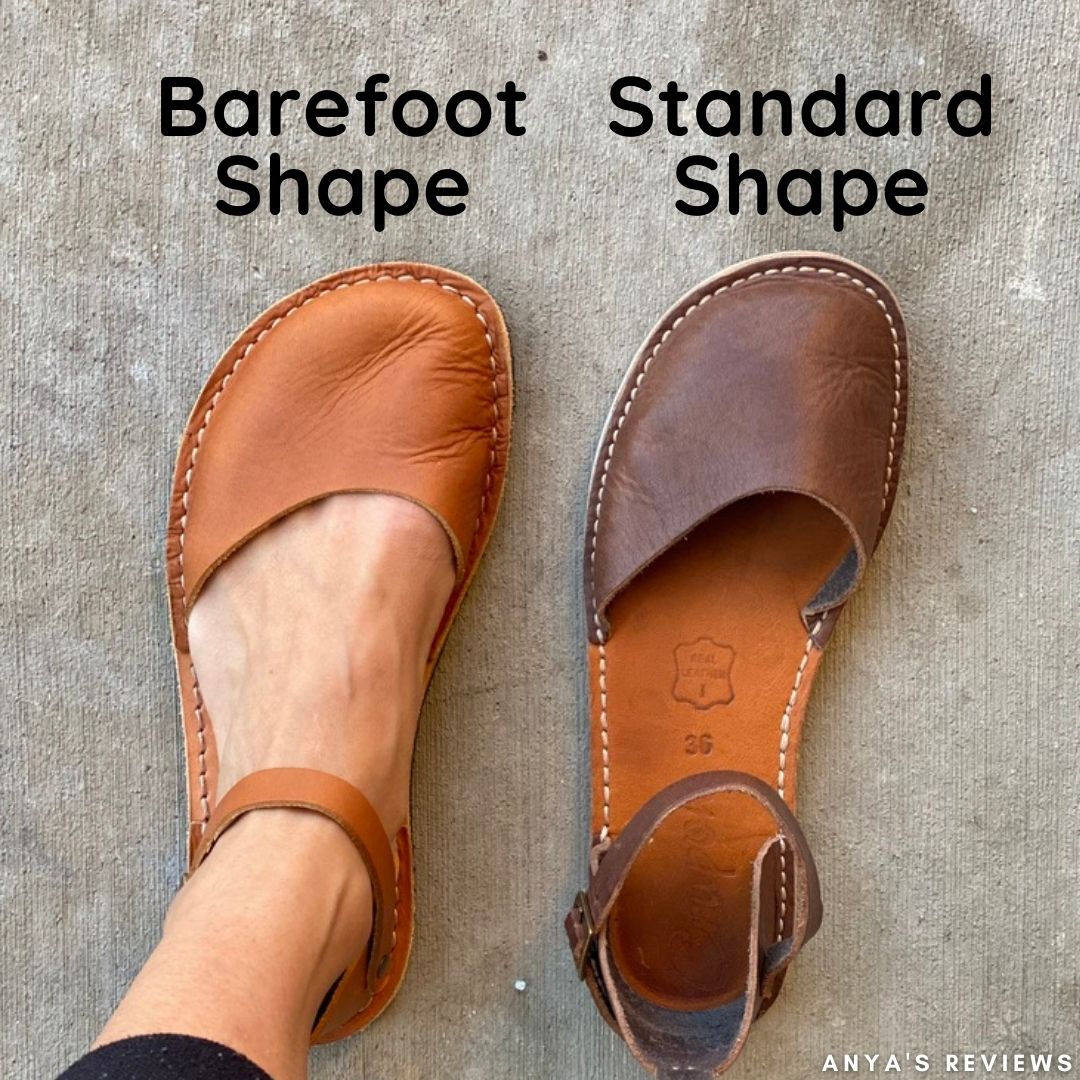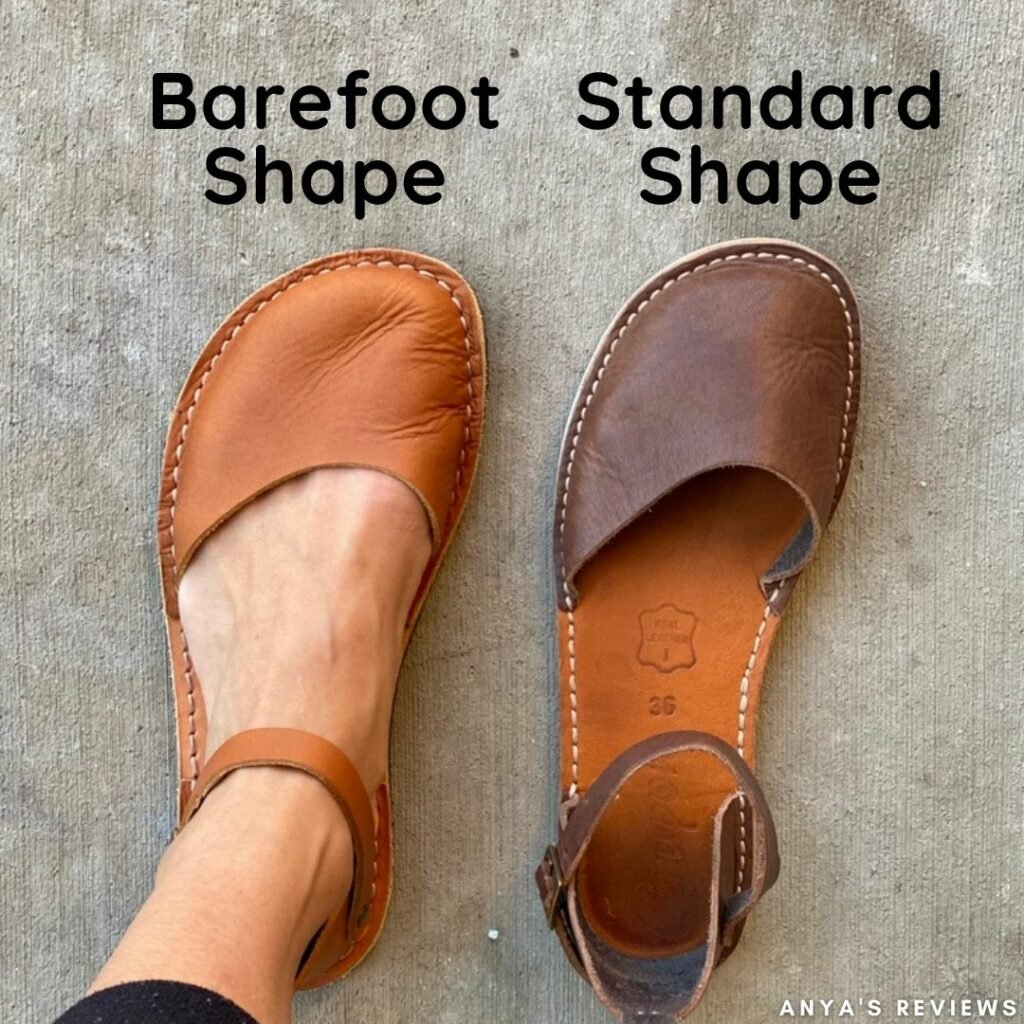 And if you're wondering what barefoot shoes are, read this!
Crupon Barefoot Sandals Review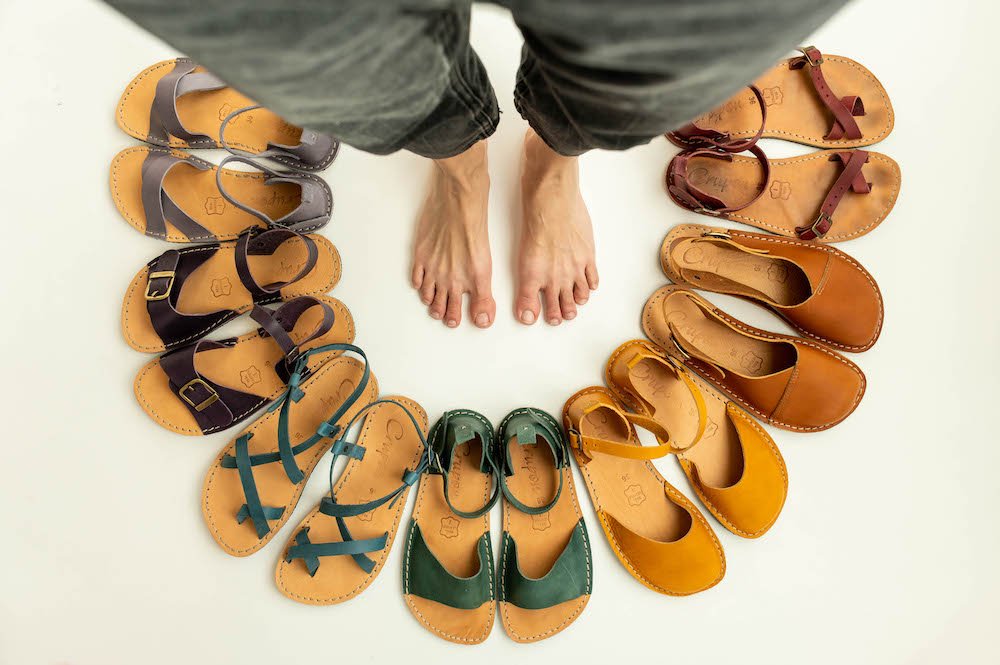 Crupon Barefoot Sandals are all 6mm thick and extremely flexible. They come in sizes EU 35-41, and can be returned and exchanged. If you want a custom order they can accommodate some requests, such as a size EU 42, but in that case they are not returnable. Sandals range from $118-$148, but you can use code ANYA to get 10% off your order.
Every pair is 100% leather, hand stitched by Dimitar and Yana (owners and shoemakers) with cotton thread, and finished with a pure rubber outsole. Crupon's standard sandals can be made in a totally flat sole that is also flexible, but they are 10mm thick.
I appreciate Crupon's dedication to slow, ethical fashion – besides the earth-friendly materials, all shoes are made-to-order to prevent waste. When you hold a pair of Crupon Sandals you can see and feel immediately the blend of quality, beauty, and nature that they are.
The way they are sewn together also ensures Crupon Sandals can be repaired and resoled should you ever need to! But the leather and stitching don't look like they'll be going anywhere anytime soon.
Crupon Barefoot Sole Shape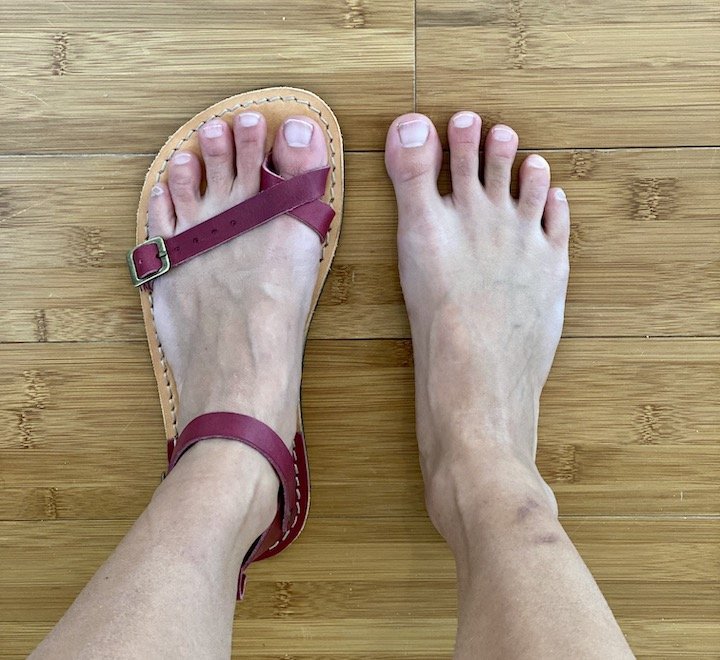 All models in the barefoot collection are made with a foot-shaped sole that provides space for the toes to lay flat. They have a Mountain shape to them, but that really only affects the Trevi model that has a covered toe box. I recommend Crupon for people with average to wide feet – extra wide toes might not have quite enough width.
Learn about the different foot types and shoes that work best for them here!
The straps on the Febo & Febo Cross styles go over the pinkie toes more than the others, and I noticed that they felt a little scrunchy there at first. I massaged the leather and stretched the strap a little to give myself more space. If you're concerned about width, especially on the pinkie toe side, I would recommend the Nomade Style because it leaves the toes open. I also like the Nomade because it can be adjusted to fit a low volume foot (but if you have high volume feet I'd definitely ask for a longer strap over the ball of the foot!)
And if you have narrow feet, Crupon's standard sandals are a good choice for that.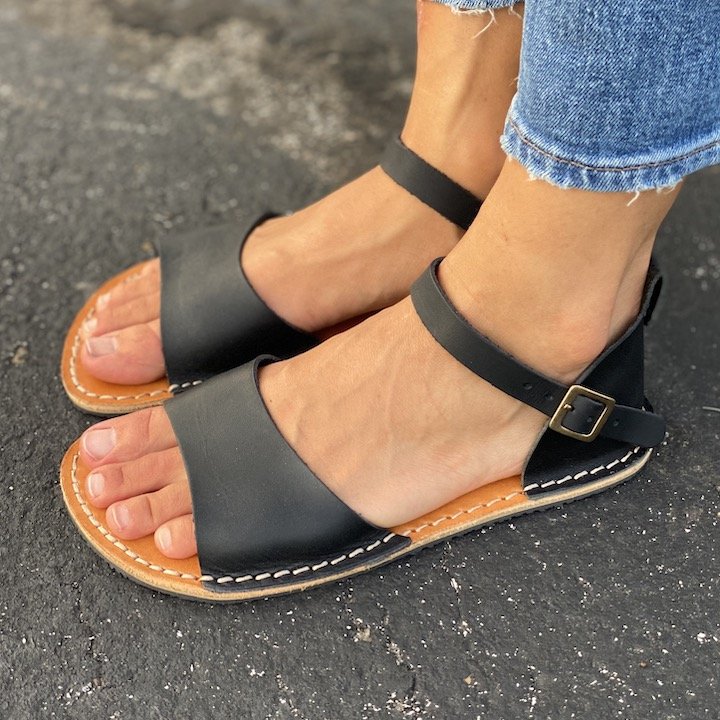 Crupon Barefoot Fit Type
Crupon Sandals are open over the arch of the foot, so can fit a variety of arch heights. The Febo tends to work best for high volume feet, but the others seem to work for most foot types. It's important to keep in mind that all of these are handmade, so there will be slight differences between each pair. If you have extra high/low volume feet and/or thick ankles you might want to discuss with Crupon if there's any customization available that would make them more likely to fit your foot.
I have low volume feet, and the only sandal that feels too high volume for me is the Febo. I used some moleskin under the strap to fix that!
Styling Crupon Sandals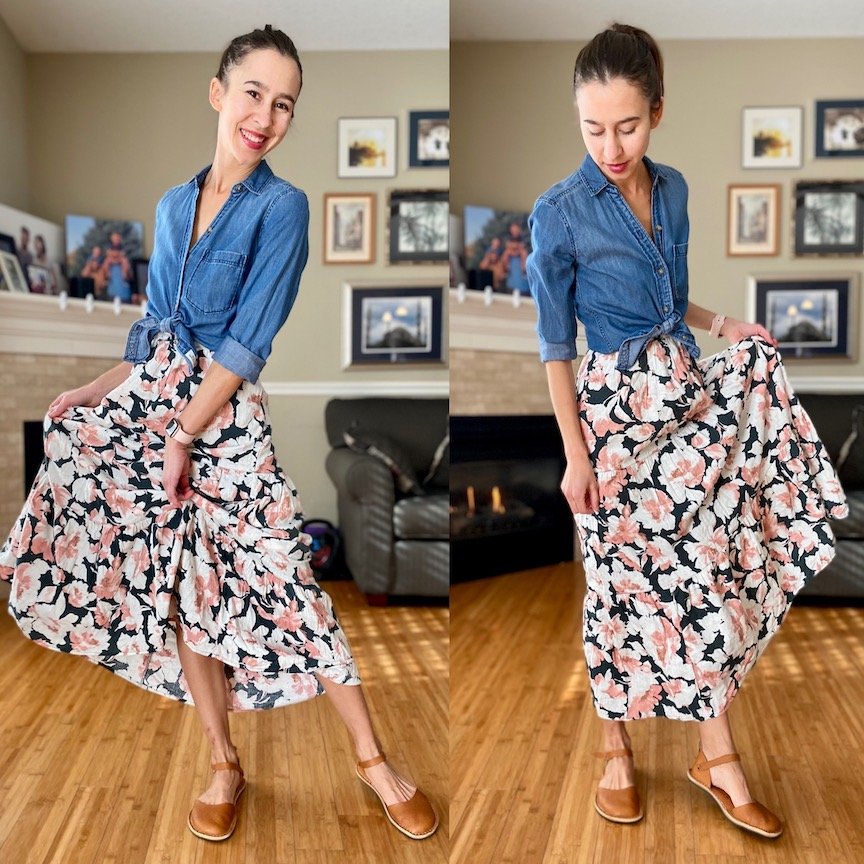 Style is what drew me to Crupon in the first place. They've got a rustic, vintage, and bohemian aesthetic that is both unique and reminiscent. Looks like that never go out of style! I love Crupon Sandals to replace clogs, Saltwater sandals, Birkenstocks, and other timeless brands in my closet.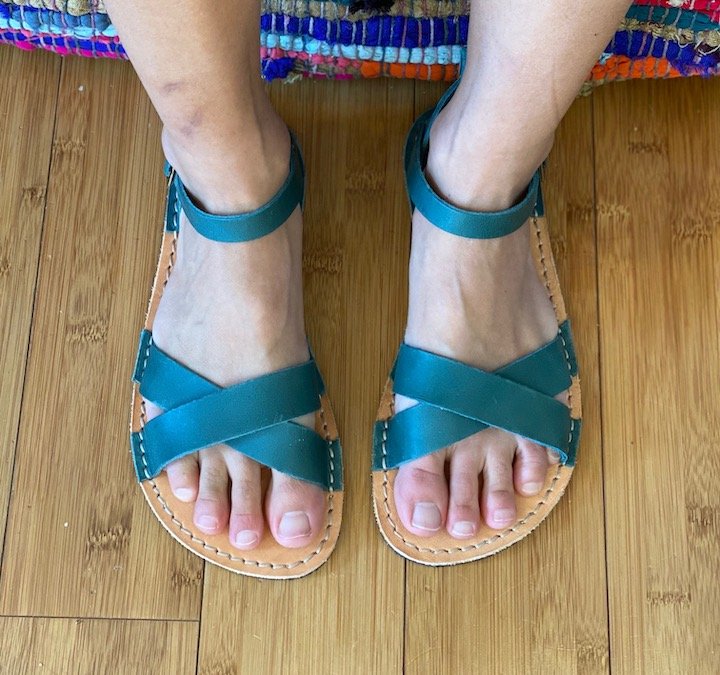 Ordering from Crupon Sandals
Crupon Sandals is based in Bulgaria and everything is made to order. They usually ship within a few days of ordering, and you can choose between standard shipping (4-10 days) and DHL Express (1-3 days). To the US, those costs are $16 and $26 respectively. Returns and exchanges are accepted on shoes from the barefoot and standard collection, but not on custom orders.
Conclusion
If you've been around here a while you know I love to combine foot health with my other passions: supporting small businesses, sustainable manufacturing, and good style. Crupon is a marriage of all of these things!
Dimitar and Yana are thrilled to be able to offer their craftsmanship to us in the barefoot show crowd, and we are thrilled to have them. We have plans to expand our collaboration, so watch out for more exciting news!
Find my most up to date Crupon Review that covers updates for 2023 here.