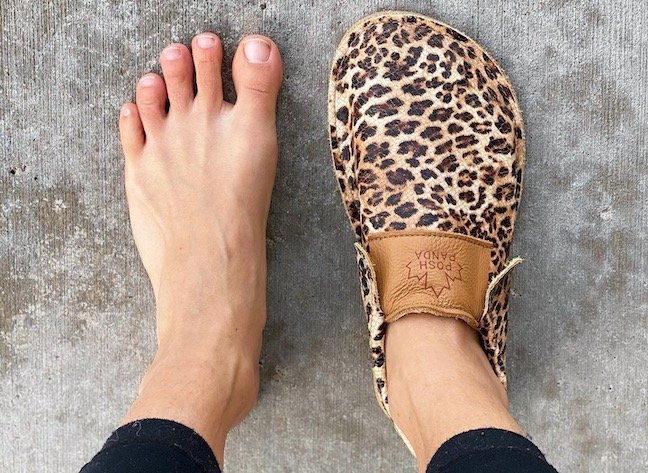 Affordable, sustainable, and funky, Posh Panda is a gem in the barefoot shoe world. They are handmade in Canada, and meet all my requirements for barefoot shoes. Read on for my full review of Posh Panda Moccasins!
Posh Panda Review
Posh Panda is an accidentally barefoot shoe brand from Canada. Kayla hand makes moccasins and mary janes for babies, kids, and adults (all the way up to a women's US 11). But for being an accident she pretty much nails it! These lightweight moccasins are spacious, zero drop, and suuuper flexible. Not to mention, they come in leopard, metallic, and some gorgeous colors that are rare finds in the barefoot shoe world.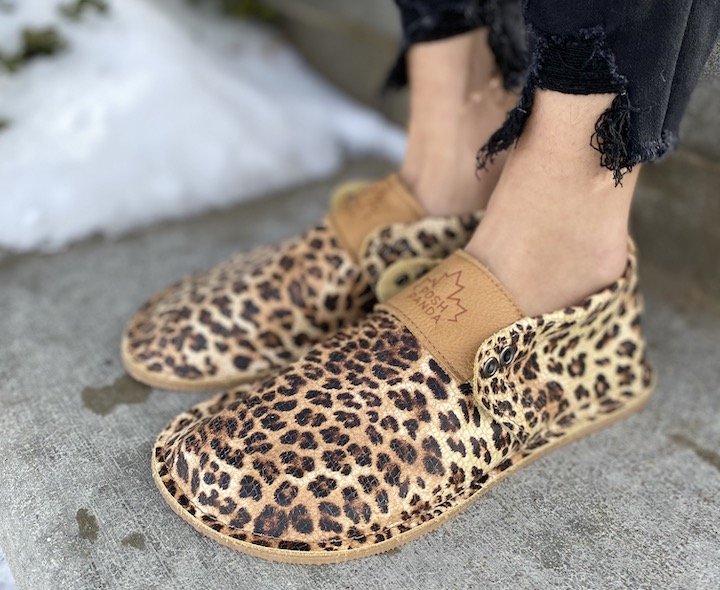 Materials
These mocs are constructed simply, with elastic around the ankle to pull on easily. The upper is single ply leather, with a suede insole and a rubber or suede outsole. Like I said, simple! And that means they can be resoled easily to get lots of life out of them.
See the above photo of the rubber outsole on the left and the suede outsole on the right.
Kayla designs all her shoes and sews them herself with one other seamstress. That means she is BUSY. She also does custom orders if you have a special request or need (extra high volume feet, for example, could request a longer elastic). In this post I am showing the Hampton Moc in Leopard and Cement.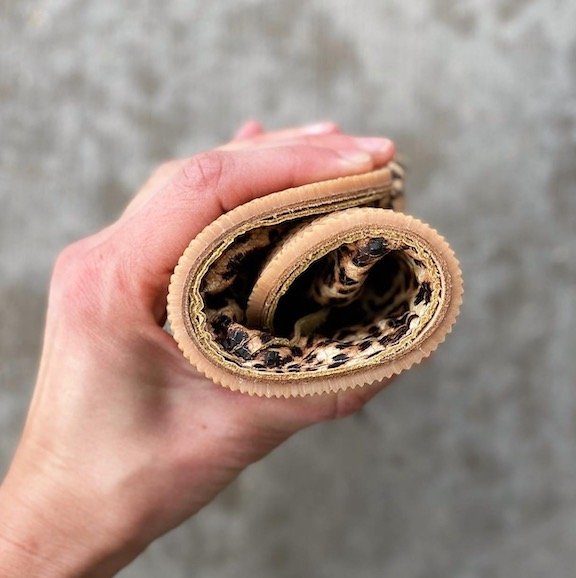 Posh Panda Sizing
Posh Panda Mocs only come in whole sizes (Women's US 6-11). Kayla recommends sizing down if between sizes because the leather stretches and the fit is generous. I normally wear a US 6.5-7 in casual shoes and a 6 in flats and sandals. I went with a Posh Panda 6 and they fit like a glove. My foot basically goes from seam to seam. I have low volume feet, so this works for me. But if I had high volume feet (especially high volume toes) I would go up to a 7. Definitely refer to her size chart, which is on every product page, and keep in mind that leather stretches.
And if you need a refresher on how to measure, make sure you check out this post.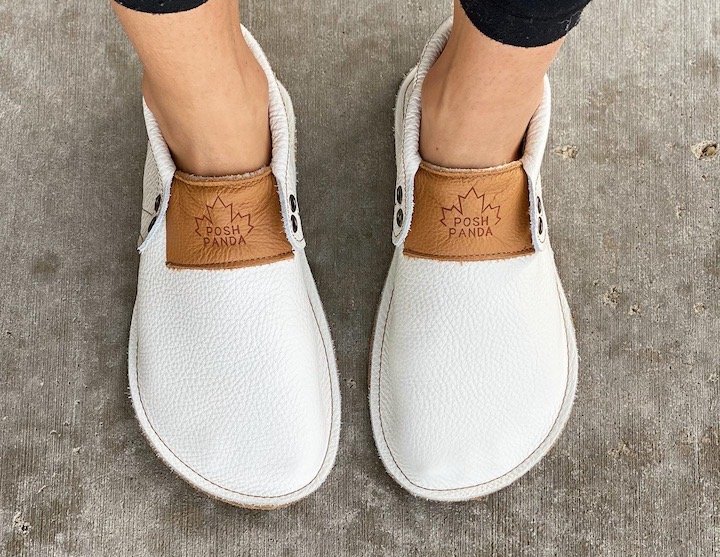 Posh Panda Fit Type
If you care about the health of your feet, you should also care about how your shoes fit. Paying attention to shoe shape and volume can go a long way to save you time, money, and energy spent on shoes that won't work for you. Need to get to know your feet better? Check out this post for a Guide to Understanding Foot Type!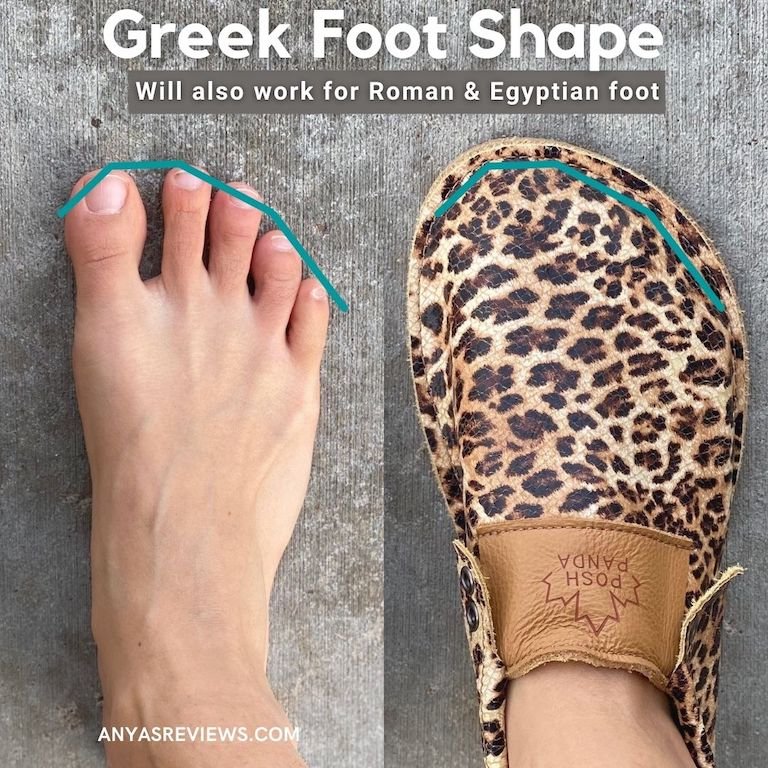 Posh Panda Mocs are longest at the second toe, so will be good for Greek shaped feet. Some people with prominent big toes (Egyptian) and Square feet may find they don't have enough space.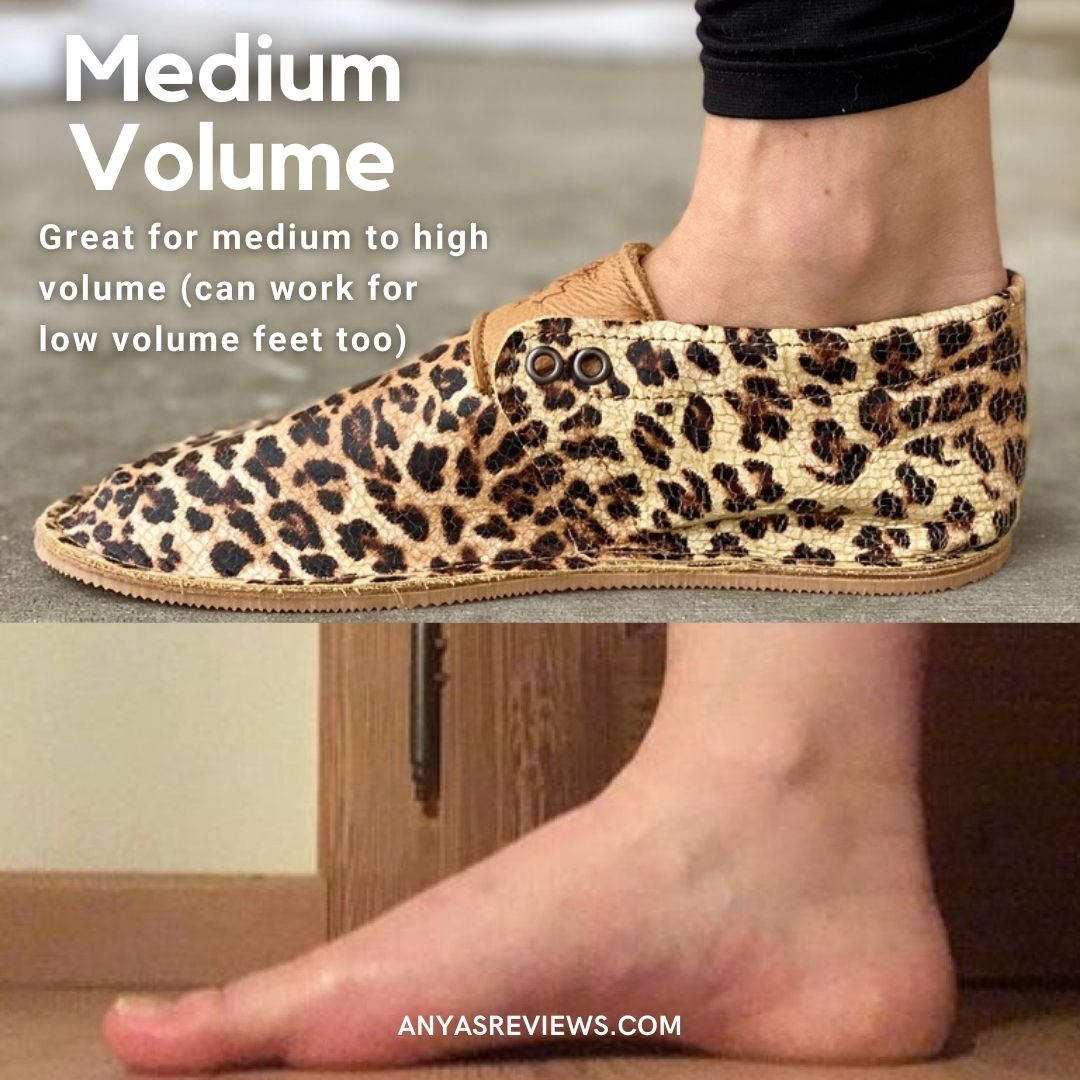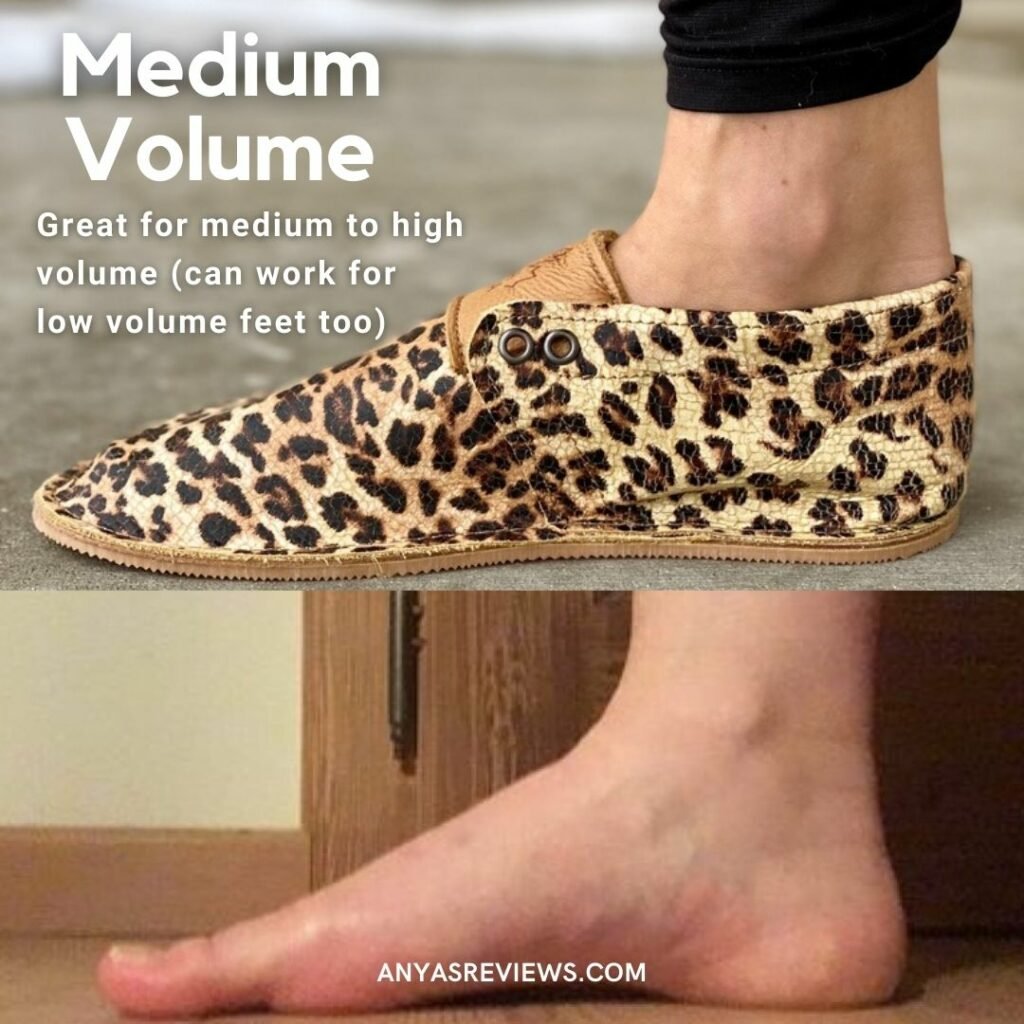 Many people with medium to high volume feet report a great fit. Extra high volume feet will likely feel a bit squished, especially over the toes where the material slopes down. Low volume feet will have a looser fit and might want to use an insole.
Pro Tip: High Volume feet can request a longer elastic piece, and/or swap it out yourself!
I have low volume feet and my Posh Panda's are loose on me, despite being the right length. I plan to add an insole, but because the inside is much shorter than most shoes I wear, I'm going to have to cut an old insole to be the correct length. Posh Panda sells wool insoles, or you can buy a sheet of wool or felt such as this one and cut it to fit! Pro Tip: Stick duct tape to the bottom of the insole so it stays put in your shoe.
Ordering from Posh Panda
Adult mocs from Posh Panda are around $101 USD (babies and kids are $35-$50). If you live outside of Canada, shipping is $25+. The website only shows in-stock items, so they ship right away (unless you do a custom order). US/Canadian customers are getting their shoes in about a week. Be aware that because these are handmade goods there are no returns/exchanges.
How to Style
I've been styling mine as casual shoes. Because they are unstructured you get some toe poke, and that combined with the raw edges make these pretty cas'. They're a leggings, denim, t-shirt, hoodie kind of shoe for me, but that doesn't make them boring.Y'all know I'm big on leopard print, I love the little somethin' somethin' it gives. Since there aren't many leopard barefoot shoe options I am stoked to have these!
And if you don't want to wear them outside, they also work great as house slippers. That's how I intend to use my pair with the suede outsole. For more barefoot approved house slippers, check out this post.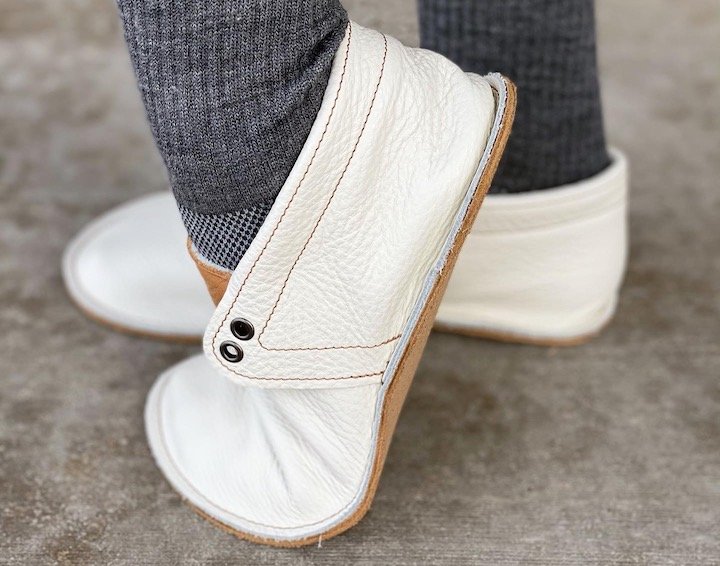 Community Feedback
I polled the Barefoot Shoe Community for feedback on how they liked their Posh Panda's. In general, the consensus is that they are very comfortable and work best for a medium-high volume foot. Some customers don't necessarily agree with the recommendation to size down (this might be because barefoot shoe wearers prefer ample toe space), but long time wearers have found they stretch quite a bit. A few people have gotten creative with the elastic to allow for more space for their high volume feet. There were also a few complaints about the pressure of the leather over the big toe (but you can stuff a sock right at the end to stretch it out). Overall, they are love for most people.
Video
Conclusion
I love getting connected with fellow sisters in the small business world. Handmade is such a great way to keep money in the hands of real people and away from harmful manufacturing practices, so to find a great business that is also making barefoot friendly shoes is an amazing find! Thank you Kayla for the opportunity to review your Posh Panda Moccasins!
Interested in barefoot shoes? Here is a roundup of what I consider to be the All Time Best Barefoot Shoe Brands.
Shoes were gifted, but this post is not sponsored or affiliated. All opinions are my own.