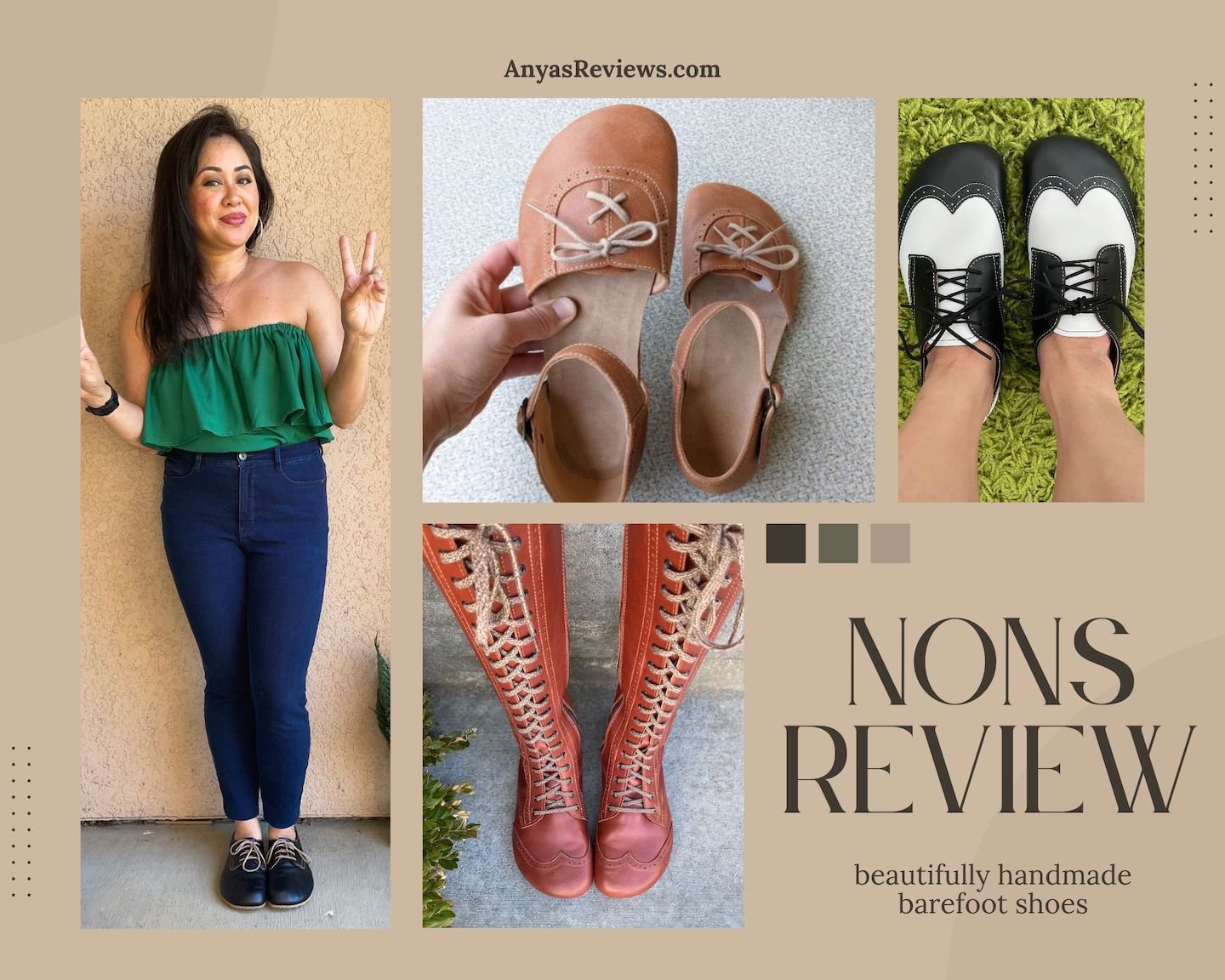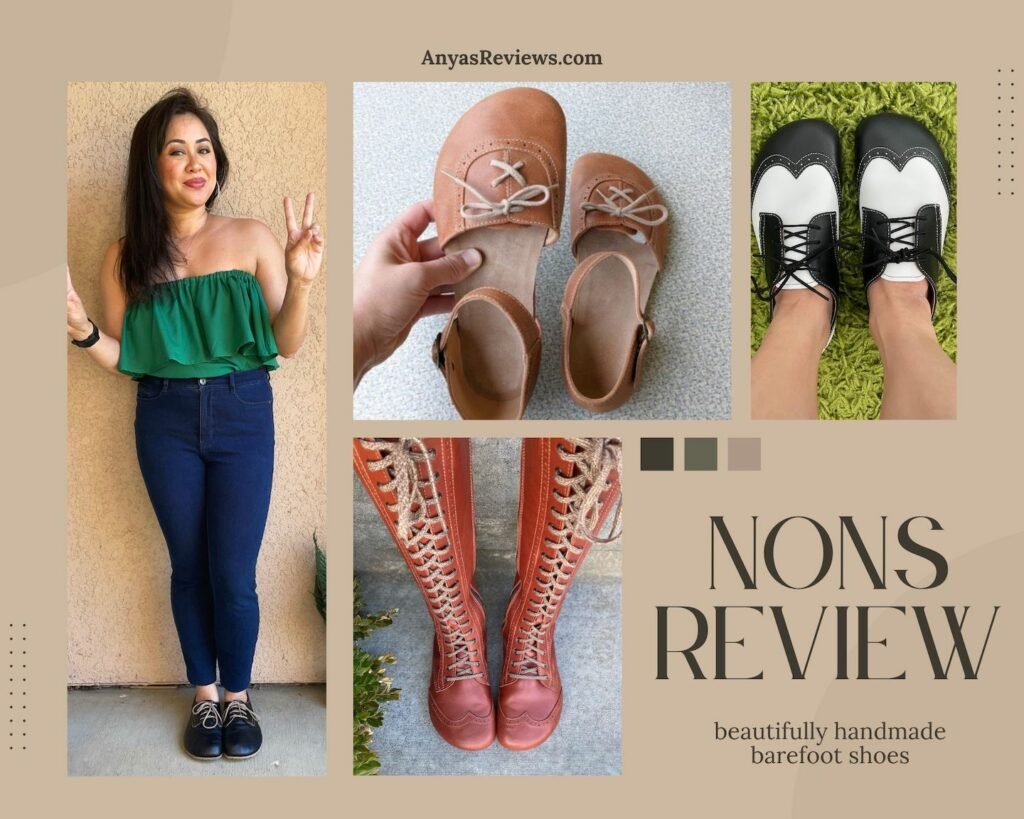 Unique in name and design, No(N)s is an Estonian barefoot shoe brand created by Katrin Koch-Maasing; a designer, historian, educator, and craftsman.  No(N)s makes high quality leather shoes that are exquisitely crafted by hand. 
Currently their online shop offers oxfords, brogues, saddle shoes, flats, and boots. Read on for our in-depth No(n)s review plus a special interview at the end with Katrin herself!
Getting To Know No(N)s
First and foremost, what does No(N)s stand for? The name reflects Katrin's desire to make "No Nonsense Barefootwear" that is both "Neutral" and "Natural".
All of No(N)s shoes are unisex in sizing and styling, designed to fit all adults (Neutral). They are made from natural leather and cotton jersey for the reinforcement, and are naturally shaped to allow for freedom of movement (Natural). Pretty cool.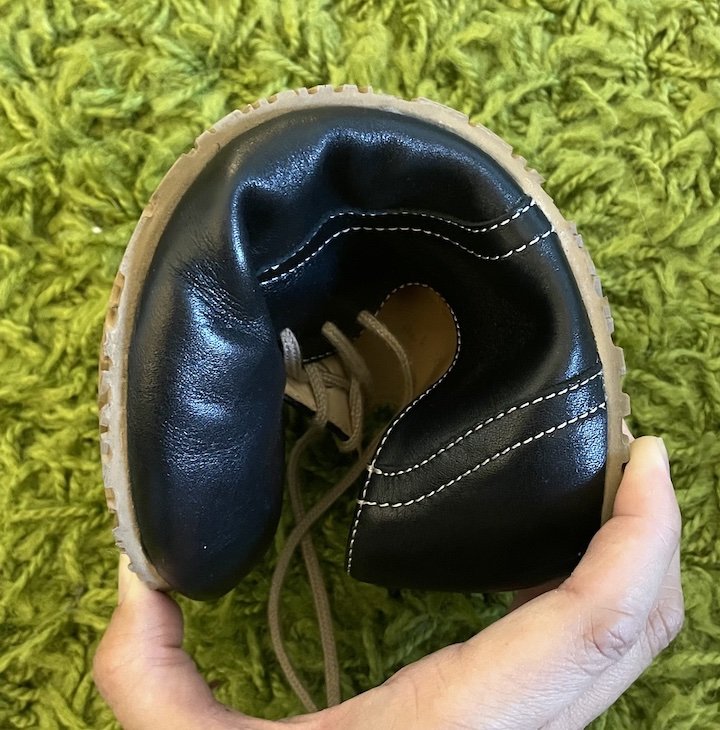 Ordering from No(N)s
No(N)s shoes are handmade to order in a small shoe factory in Estonia. Because they are made to order, this also allows you to customize some things. You can request custom color combinations for the leather and thread (with whatever colors are currently in stock), outsole options, insole materials, and custom sizing for the boot shaft. If you want a customization you can email them directly to discuss the options.
The leather craftsmanship of all No(N)s shoes is superb and the attention to detail is mesmerizing. In my experience, the turnaround time to receive shoes is about 6 weeks – this is not fast fashion friends. But it's well worth the wait, I assure you!
The website also has a smattering of "in stock" items that are already made and ready to ship. Sizing is limited and they go quickly. The shipping time to the United States for an in stock item is roughly 2-3 weeks.
Sizing & Fit Type
In our experience, No(N)s shoes fit:
Currently they offer sizes EU 37-44, but plan to expand that in both directions soon. The online size guide lists the insole length which I find to be accurate, and which you should definitely make use of to ensure you're picking the correct size (use this guide to measuring if you have questions).
The size chart also includes width, but in my experience the shoes fit much wider than the numbers indicate. Because the measurements are from the insole which fits at the bottom of the shoe, you actually have more functional width. I have a 24.6cm x 9.8cm foot and wear an EU 39 in their shoes. The size guide would indicate that my foot is 0.5cm wider than the shoe, but in reality I have enough space for good toe splay and wiggle.
What I appreciate most about the size chart is that they also list the circumference of the front of the shoe at its widest point, which is very useful to determine if the shoe will fit your volume. I wish more companies would do this! When you take in all three of these measurements, it really gives an accurate representation of how the shoe will fit your particular foot.
Read this article for more info on measuring your foot and determining your foot volume.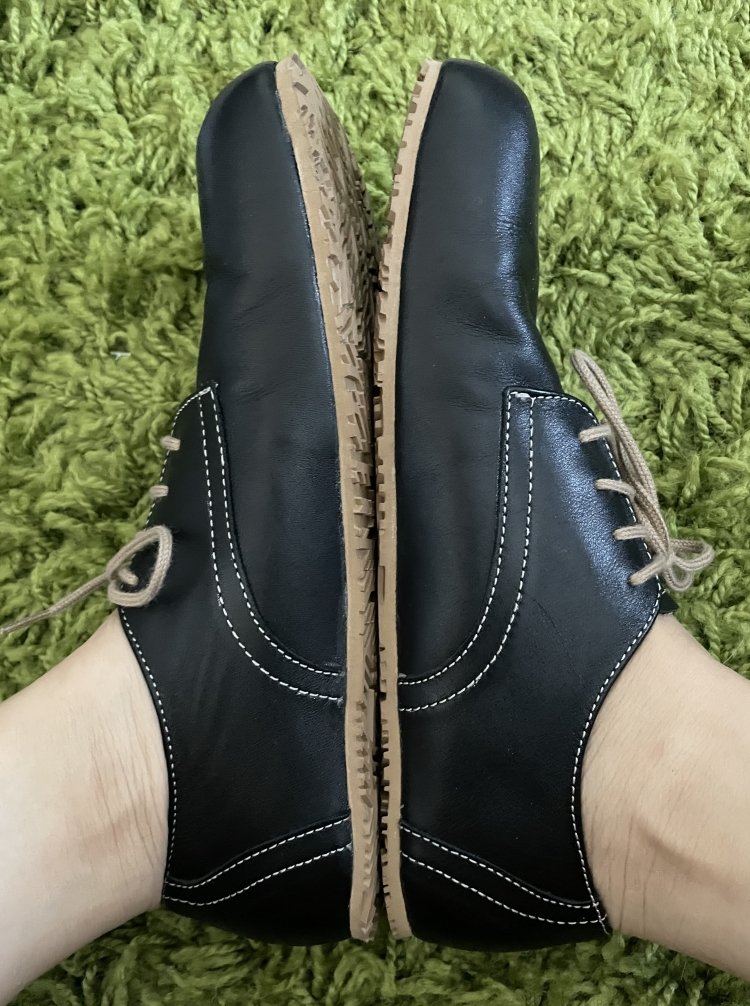 These shoes are extra wide in the toe box, but narrower in the midfoot and ankle, so they are good for fan shaped feet. If you have a straighter foot, No(n)s can also work for you but you might have excess space in the forefoot. All their shoe models are built atop a grippy & flexible 5mm Vibram outsole.
Oxfords Review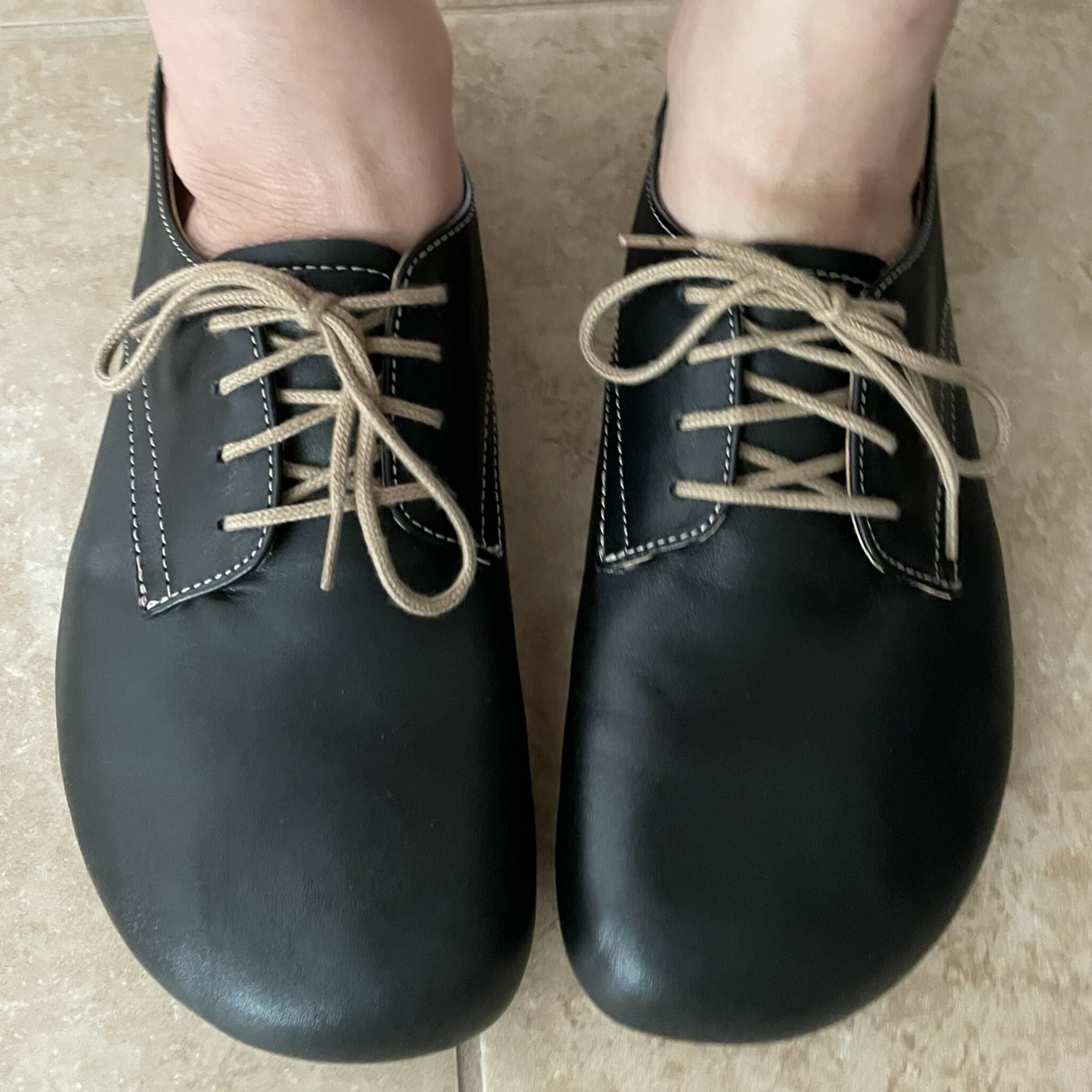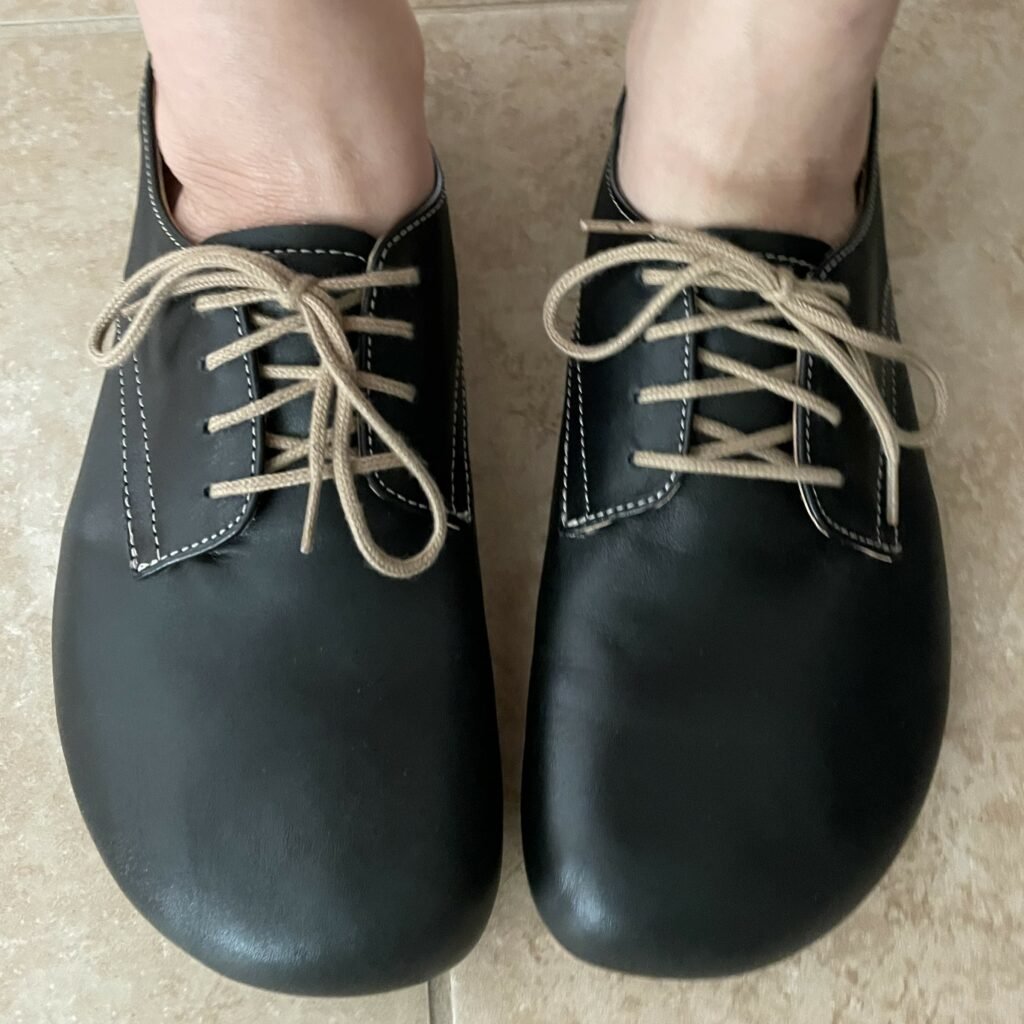 My first purchase with No(N)s was their S-L model, a smooth leather oxford.  They fit my low to medium volume foot perfectly with no need for an insole.  I can't tell you how happy I was to finally find an oxford that just fit me right out of the box, no hacks needed!   The cut of the ankle is also low enough that it's not digging into my achilles but still high enough that it's not slipping.  The leather softened so quickly that I didn't experience any rubbing or blistering.  After wearing them all week, I was so enamored that I instantly contacted Katrin and asked about getting a custom made pair.
Saddle Shoes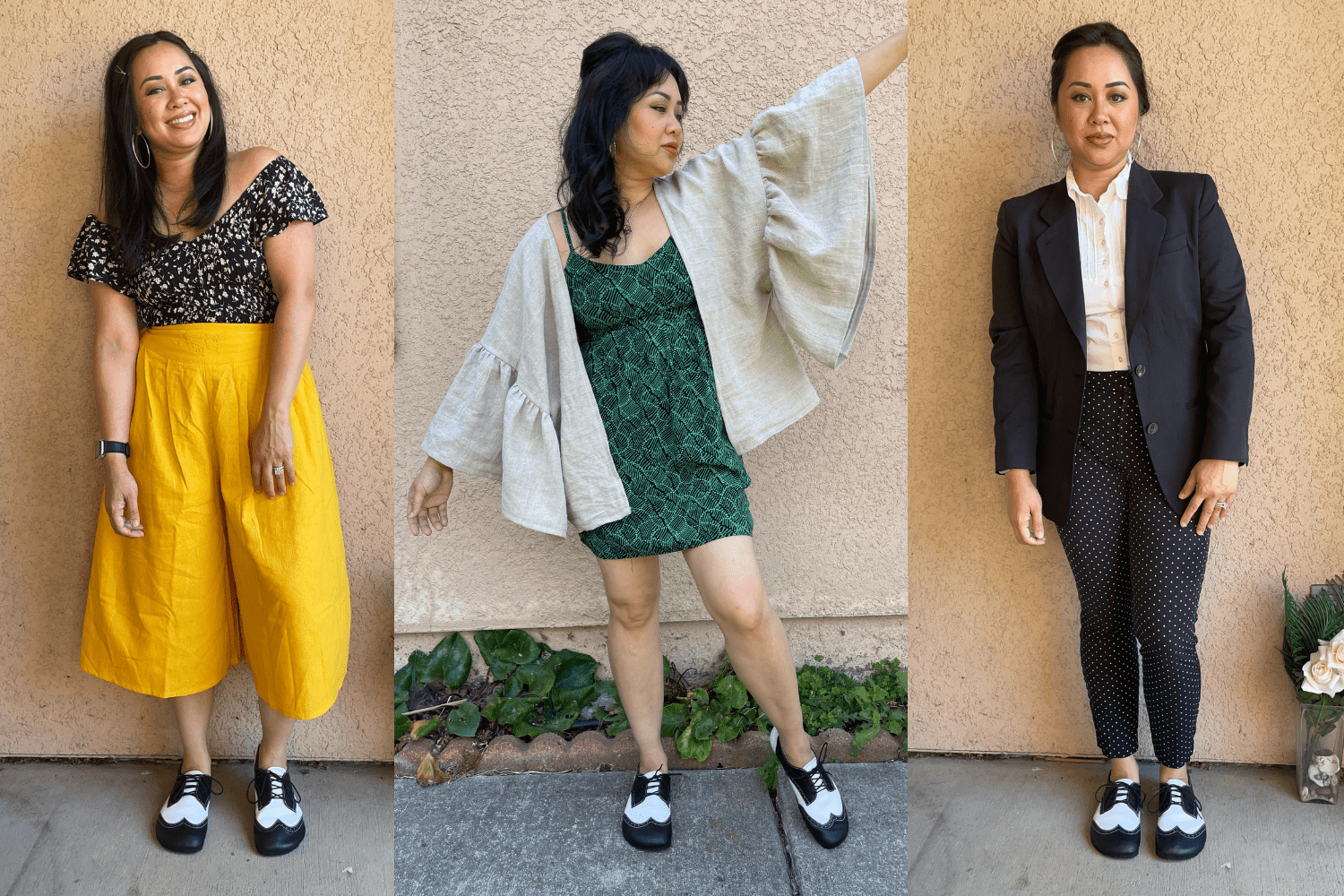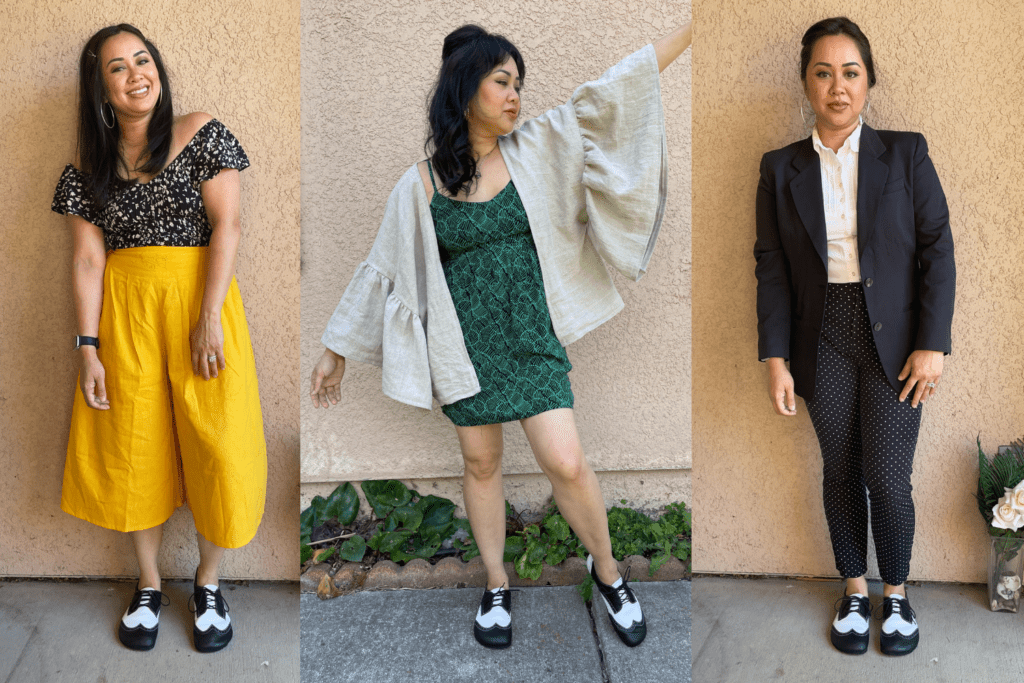 Knowing that the fit of the oxfords were perfect for my foot, Katrin and I designed a shoe that married the traditional saddle shoe look with the No(N)s S-O model, or Smooth Oxford brogue. I had been searching for a barefoot saddle shoe and was so excited that No(N)s had managed to source white leather to make this custom. 
When the shoes arrived – this is no joke – I audibly gasped, squealed, did a little wiggle dance, and immediately put them on my feet. You can see that not a stitch is out of place, the leather perforations are all symmetrical, and that the shoe is sewn and bonded to the outsole without any trace of glue. But most of all, you can just see the love and care that went into the shoe.
I find both oxford models to be breathable and flexible. The leather creases slightly where you would expect after breaking in, right around the toe joint area. The inside is lined with a soft leather suede that causes no rubbing or chafing of the foot. The toe box maintains its shape and doesn't show "toe poke", which I like.
Oxford Styling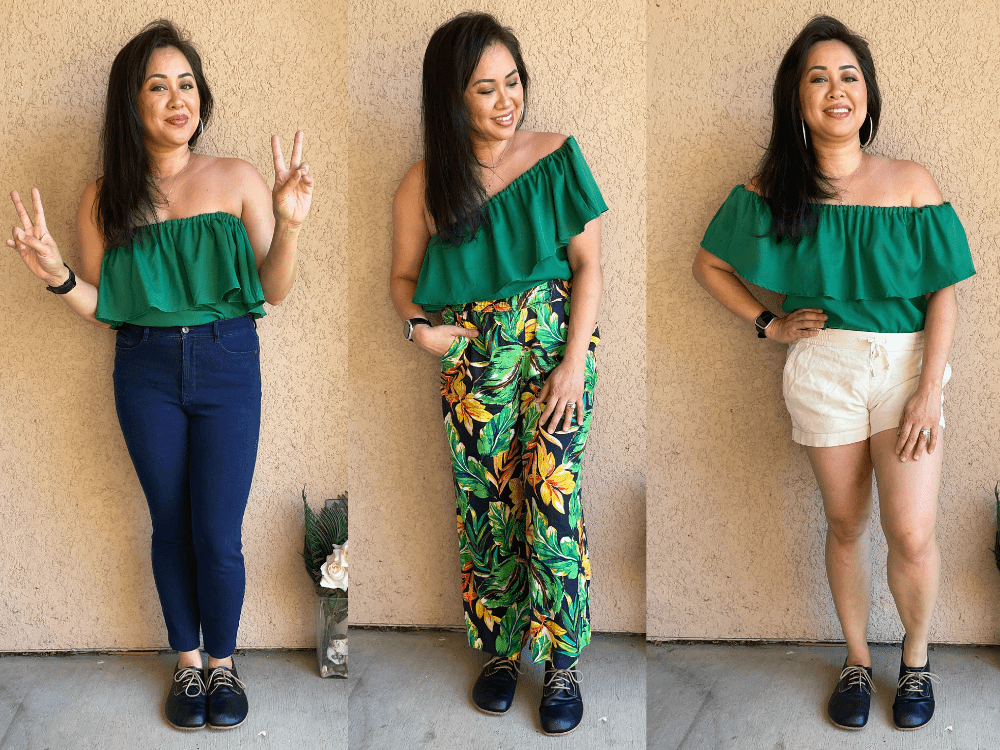 I use my plain black oxford and my saddle shoe brogue primarily in business and more formal settings, but I find them versatile with casual outfits as well. They style well with bright pops of color, fun vintage dresses, and even shorts. I keep finding new ways to incorporate them in my day to day clothing, mixing them with structured looks or more flowy looks. You honestly can't go wrong with these shoes since they are simultaneously classic and unique.
Boots Review
by Anya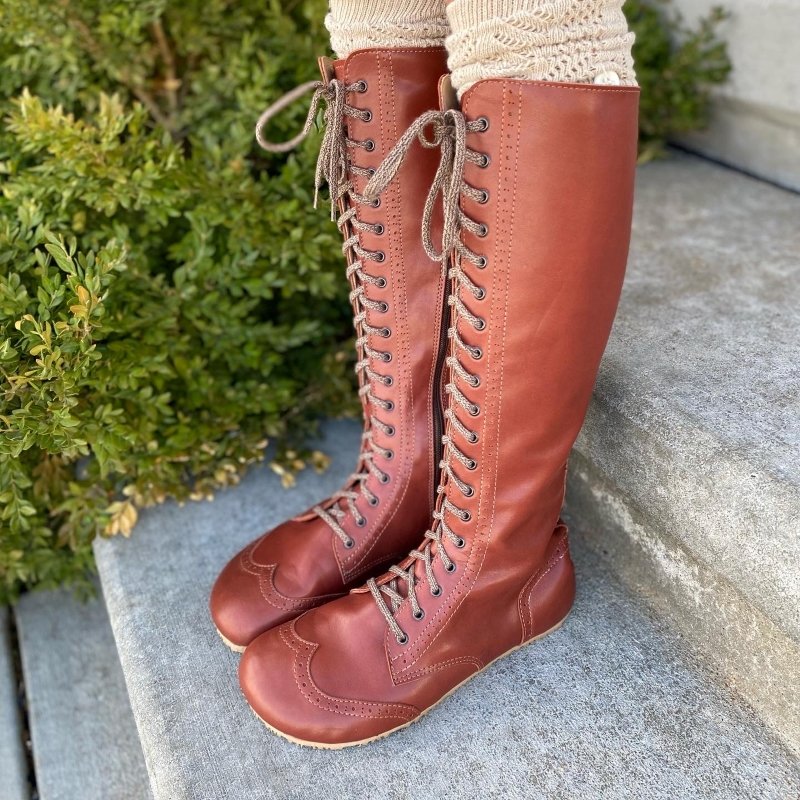 I love the tall lace up boot aesthetic, but the ones I've tried previously were ridiculously uncomfortable and way too big around my thin calves. So when I learned that No(n)s would customize the shaft and color on their gorgeous calf-height brogue boots I had to try.
Katrin worked with me to find the right color brown, and used my measurements to make sure the boots fit nice and close. There was a bit of back and forth to finalize the customizations, which meant it was several weeks before I got the shoes. But I knew that going into it. And it was worth it because they turned out perfectly! The sizing was true (I got my usual boot size 38) and I have lots of toe space.
No(n)s obviously takes their work very seriously and only work with quality materials. I was also impressed to get a big extra piece of leather in my shipment in case I ever need it for future shoe repairs.
Sandals Review
by Samantha
I am a total sucker for anything with unique details and these Summer Shoes have so many! I stared at them for a year before finally purchasing and they were so charming and pretty in person. Unfortunately in the end I didn't love how the open straight cut of the shoe looked on my extra wide feet, so I passed them on to another owner.
For this model, it is recommended to choose a size that is closest to your foot length with only a tiny bit of extra space. That worked for me and they fit well. The laces on the top are functional and can accommodate most foot volumes.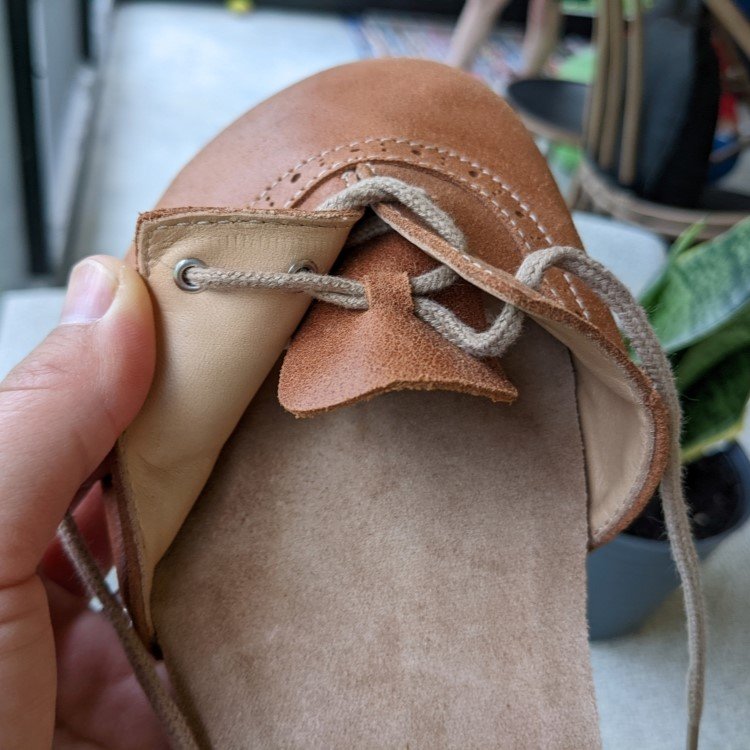 Conclusion
No(N)s shoes are some of the most elegant and well-crafted out there in the barefoot shoe market.  Katrin's unique background and perspective really shows in all her designs.  They are a great, ethical company to work with and I'm looking forward to what they have in store for the future.  
Katrin took the time to share her perspective in an online interview covering why she started No(N)s, what goes into the shoe making process, and her hopes for the barefoot shoe community as a whole. Read on for an inside look!
---
Interview with Katrin
What does No(N)s stand for/mean?
No(N)s stands for no-nonsense barefootwear, as well as Neutral (no offense against wearers' gender, age, location etc) and Natural (natural materials where and when possible and reasonable, for naturally shaped feet to move naturally well and be naturally protected against natural occurrences). Although branding and advertising gurus vote against brand names involving negative connotations, No(N)s ARE an opposition to most "traditional" footwear, striving to be as sustainable, repairable, comfortable, and above all – as good for feet as possible.
Why did you decide to go into the barefoot shoe business?
When my twins started to walk and we were looking for their first pair of shoes, they profusely refused all the best expensive and brand-name shoes we tried (would not even take one step), but laughed and were happy to straddle around in a pair of barefoot ones I found, and after researching around, I decided that maybe I also could use a pair. I'm also a re-enactor (mostly medieval) and therefore used to soft and thin-soled shoes. But everyday ones were new to me. The first pair I bought was not bad, but not perfect either. And then I (as a fashion designer/historian by profession and education and craftsman by heritage, having researched, worn, taught and designed historical clothing and footwear for over 2 decades) discovered that no company makes and sells exactly what I desire and need. Thus, I decided to have a pair made especially for me (i.e. matching my foot and requests). It is good to have shoemaker friends willing to go out of their daily habits helping to create something new and alien for them. The boots turned out good enough for others to be also wanting a pair. And so it began. 2 years of preparatory work, including developing a last from scratch, and No(N)s was born.
How many people do you have in your team?
The creative design and general planning, i.e. the final decisions and setting a course is done by me. Then there is a small but efficient team that helps in getting things done, plus a trustworthy production company (Samelin, a local shoe-making factory with a 100 yr history).
When developing a new model, I do the designing and a first drawing on the last, i.e. determining the overall look, seam locations, proportions etc, as well as deciding on materials, seams, threads, accessories, and all else. The production team then makes a test pair according to data and materials given by me, and then we re-make and test it until I am satisfied with the result. Then we can announce it and start production. And when I get hold of better materials or accessories or there is something we can improve, then we just keep improving the models as we go.
How long of a process is it to make a pair of shoes?
If we talk about the production, then we have an agreement with our production partner, Samelin, that our orders get produced within about a month, unless there are some unforeseeable complications.
The actual production process is much shorter, but as Samelin also produces for many others, there is a waiting list and a production order.
When the production actually begins, then first they check that all the materials and accessories are on site and ready. On the first day all footwear in that particular order gets cut and if stars align correctly, also sewn. On the second day, the footwear usually gets assembled, and on the third day – soled. All of our footwear is drawn on the last by hand (which takes a lot more time than on machine would). So, altogether this makes 3-4 days, in which they make many pairs, including ours. The processing/production time varies a lot, as orders get combined with others and waiting times may be a lot longer if there are some huge orders needed to be finished immediately or some of the key workers happen to be on sick leave etc.
Do you have plans for any other styles in the future?
Yes. We have several ideas and some of these are already in the testing phase. We will soon launch the wingtip-nosed high boot like the one we made for Anya as a custom order. Although based on our current models, we will have some new and interesting materials searched out for them among other things.
Do you take special requests and what is the way to go about doing that?
At the moment we take special requests that do not involve a total redesign of our current models and that fit on our lasts. I.e. we can change materials – leather (both colour and type), thread, outer sole, insole, pinsole as well as do minor changes in bootshafts – wider or thinner calf, and length. We are capable of doing much more, but tend to withhold, due to time limitations and increased costs for the customer. But if an offer comes in that we can't refuse, then all is possible.
When wishing for something special or out of the average orderable range, please contact us directly, either by e-mail or through social media and we can discuss options and potential extra costs involved.
What are your hopes for the barefoot shoe community moving forward?
I hope more and more people will convert into barefootwear and we can stop opposing it to 'traditional' footwear, so it becomes a norm, not a 'cult' or a 'niche'-wear. I hope people will care more for their feet and especially the feet of their youngsters so that we'd see less and less deformed feet on kids and adults alike.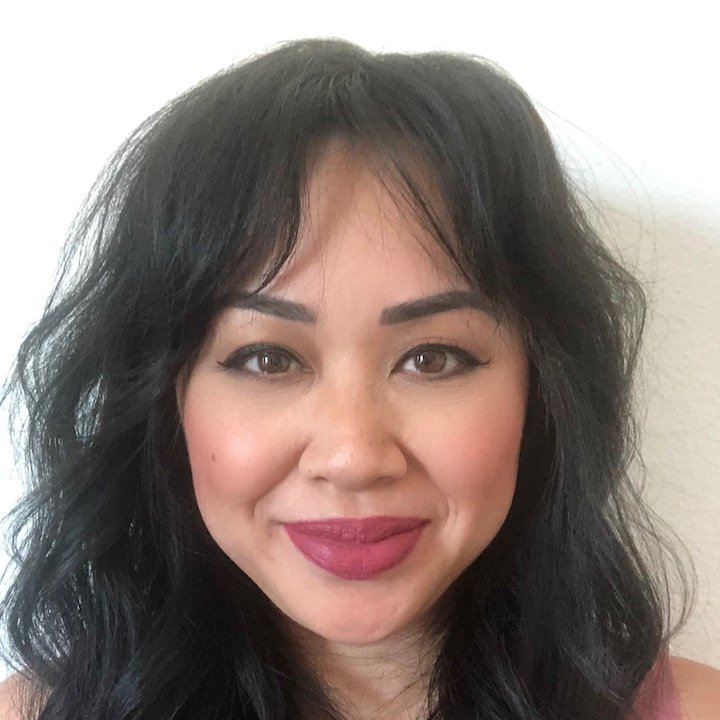 Heidi is an admin for the Barefoot Style Facebook Group and an Automation Scientist by trade. She discovered the health benefits of barefoot shoes while training in Powerlifting and Functional Fitness. She is a Mom to 2 kids, 2 rescue dogs, and 1 cat, and spends her free time sewing and crafting. Follow her Instagram at: @hellabarefootheidi