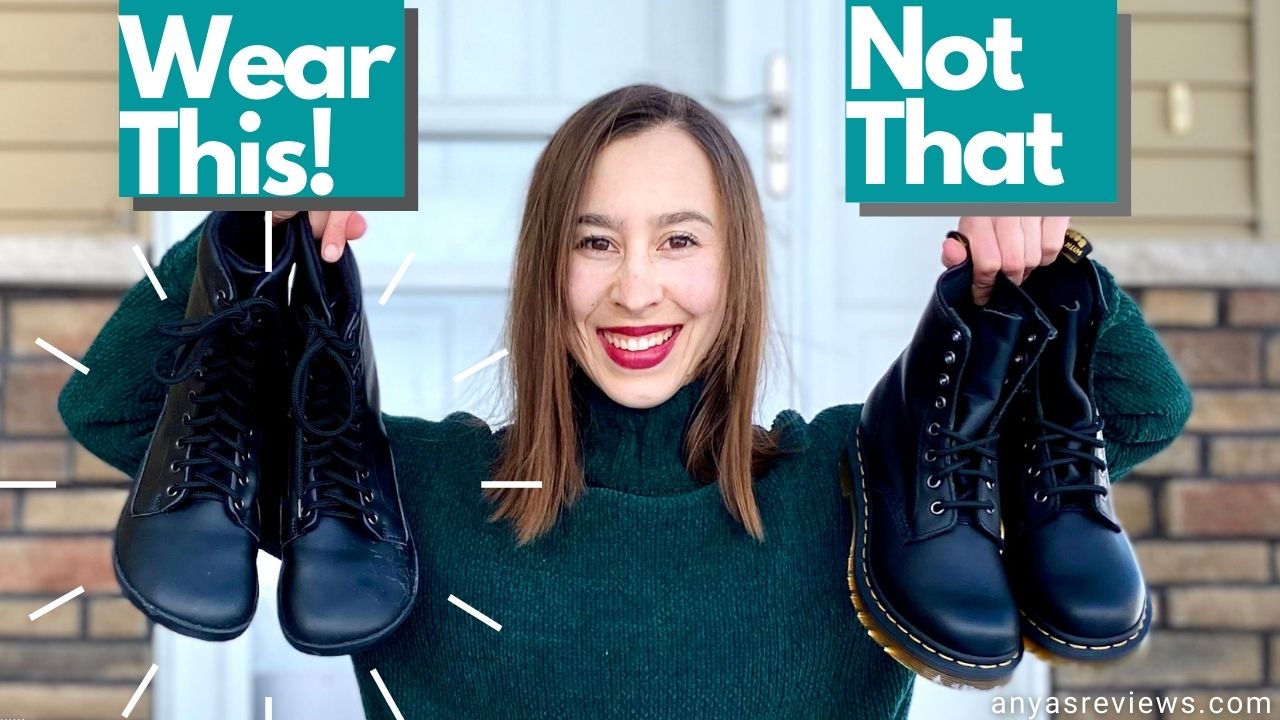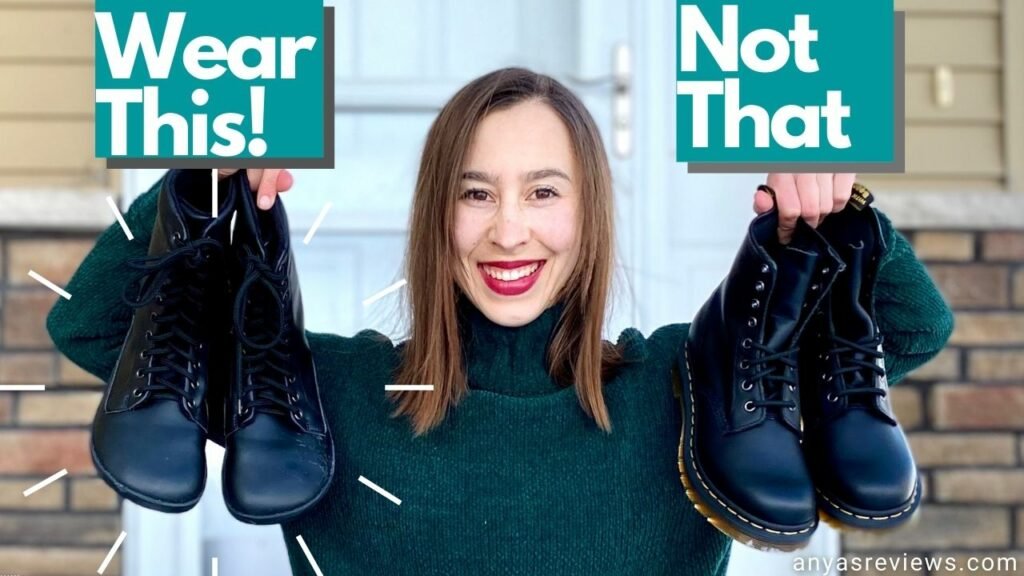 Do you want that perfect Camden town grunge look? But without sacrificing your alignment or toe space? Doc Martens have a quintessential style, but they're not great if you want strong functional feet the rest of your life. Check out my selection below of barefoot-approved combat boots that have all the grungy style and none of the foot deforming features.
Welcome to Episode 5 of Wear This, Not That!
Why Doc Martens Aren't Good For Your Feet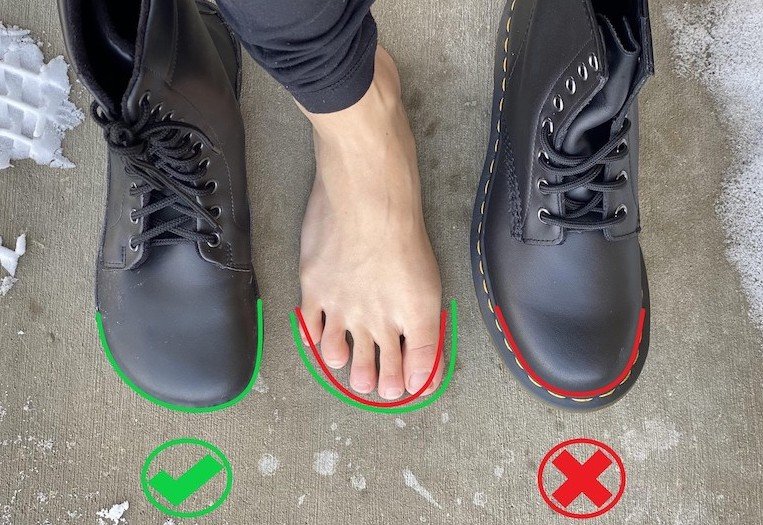 Doc Martens have two things going for them: a classic look, and a super durable outsole. But everything else about them can wreak havoc on your body over time. A chunky heel, tapered toe, and rigid sole essentially make these more of a straight jacket than a shoe.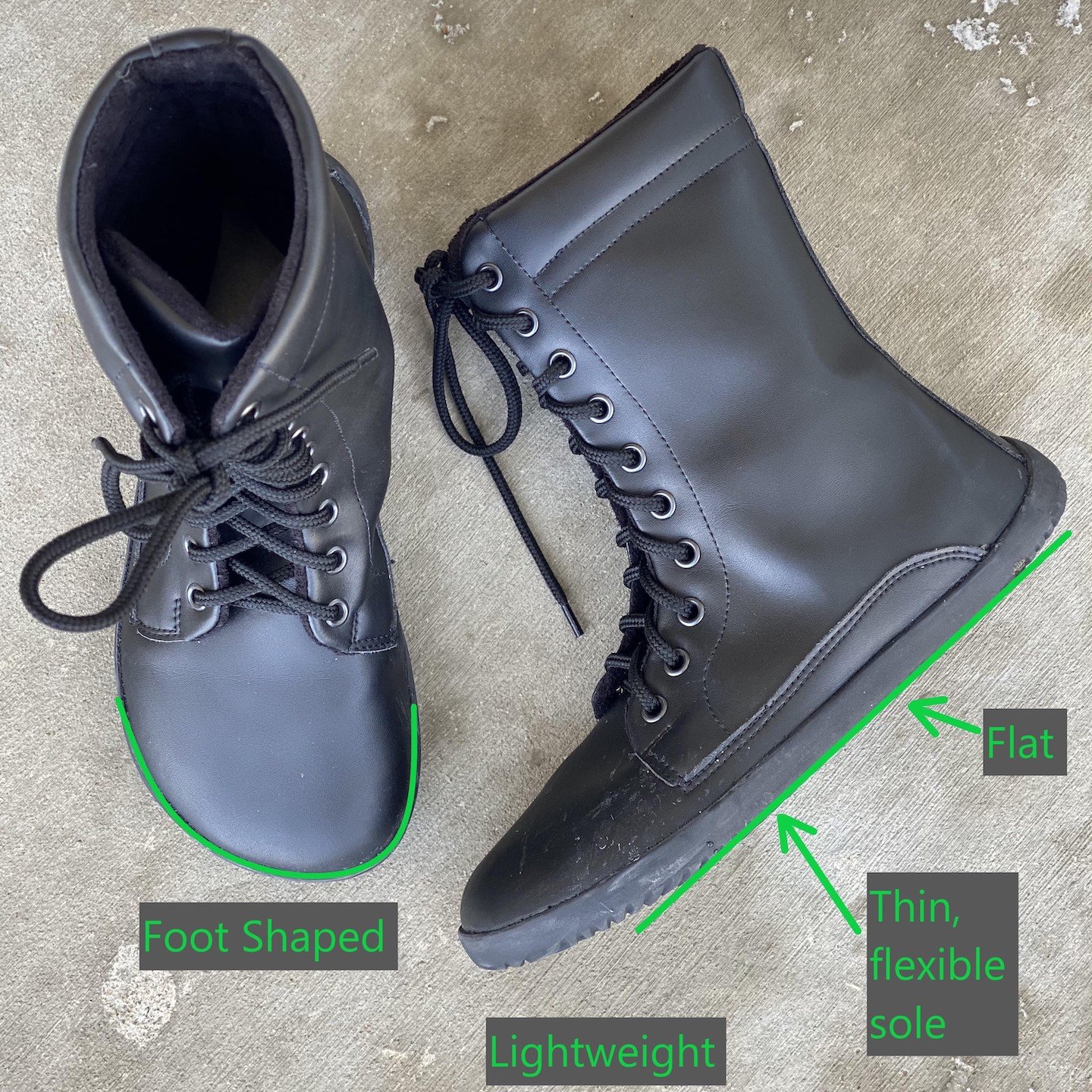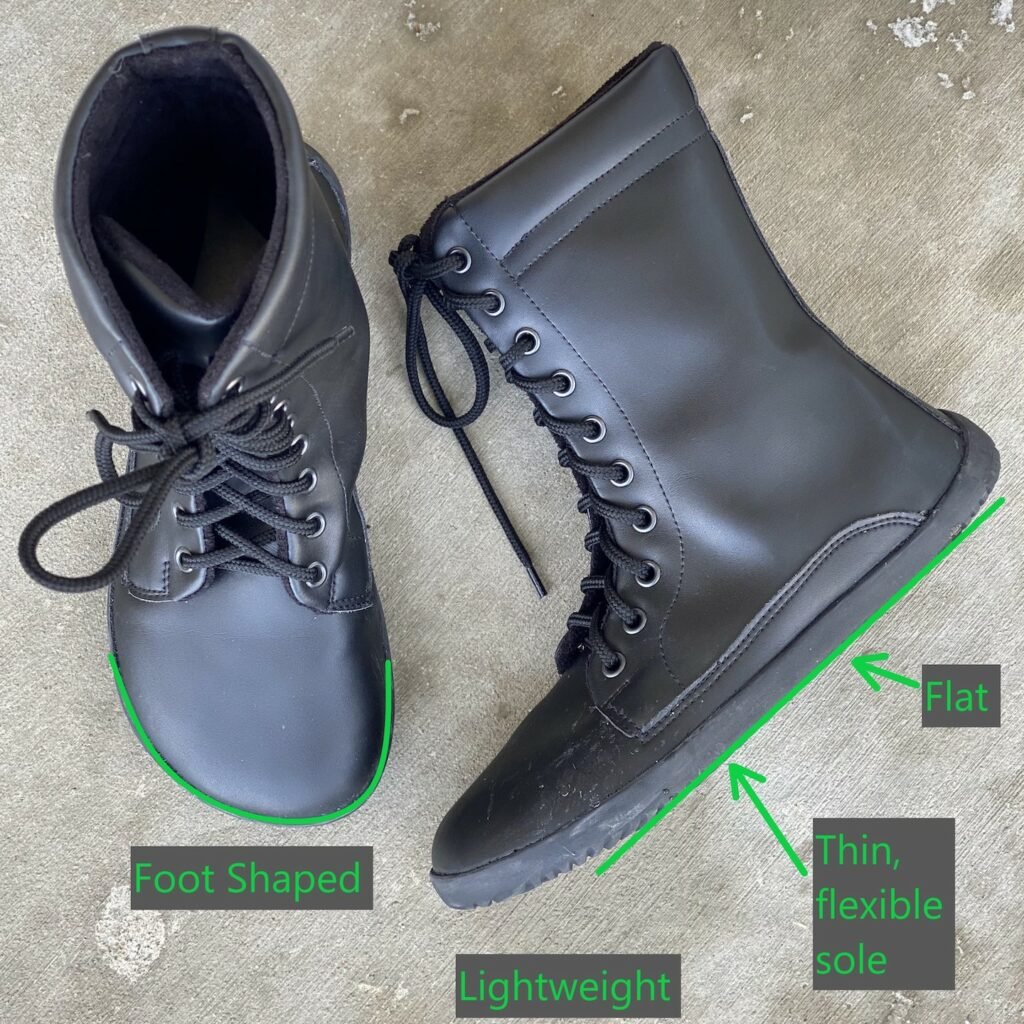 By contrast, natural footwear is completely flat (the way feet are supposed to be on the ground!), have an anatomically shaped toe box, and a flexible sole that moves with your foot. Wherever possible, I highly recommend getting your feet in shoes that fit this criteria. Tending to the health of your feet today can keep you mobile and strong for decades to come.
If you want to learn more about barefoot shoes, read this post!
But here at Anya's Reviews we know that caring about your foot health doesn't mean losing your sense of style. It may not be what you see when you go shoe shopping, but there is an entire market of natural footwear that can keep your feet happy without making you stick out like a sore thumb.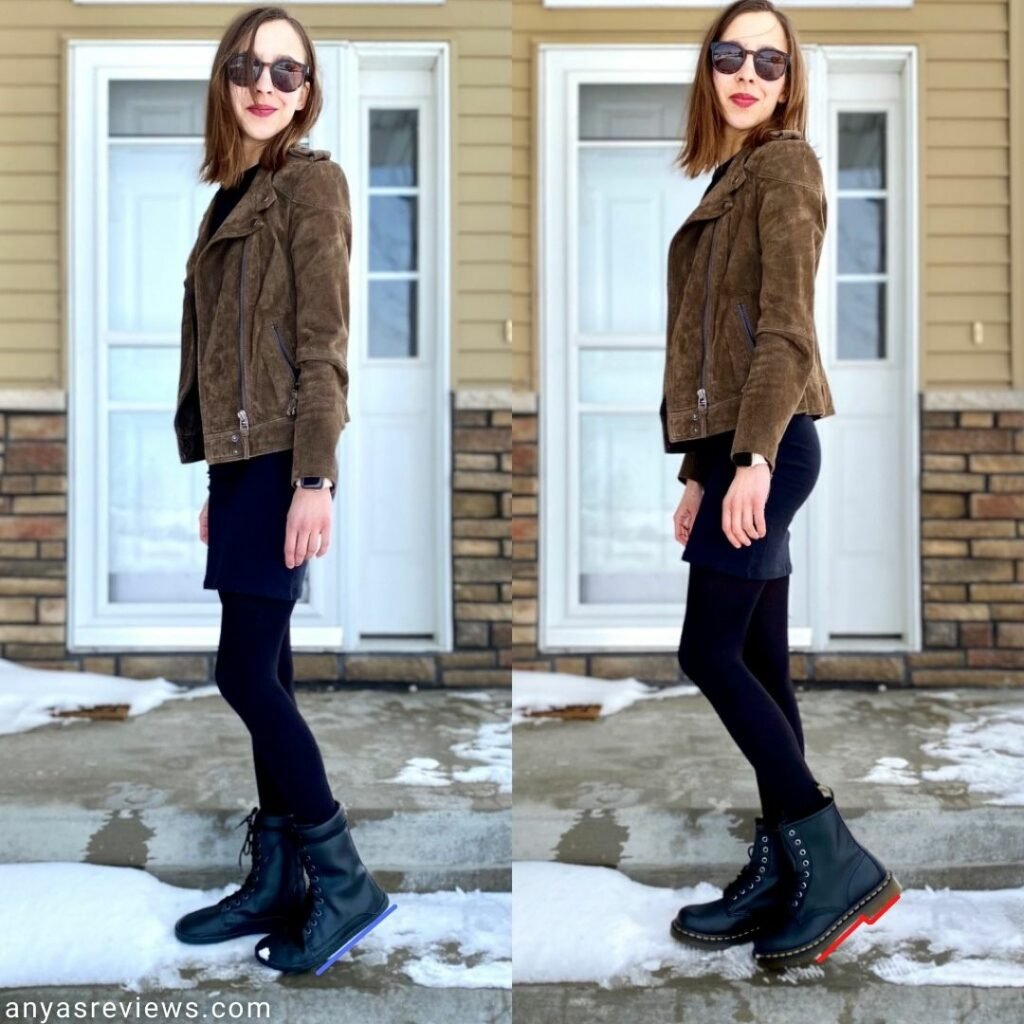 Now let's check out some barefoot combat boot alternatives that meet all the criteria of healthy footwear, but don't compromise on style.
My Favorite Barefoot Combat Boots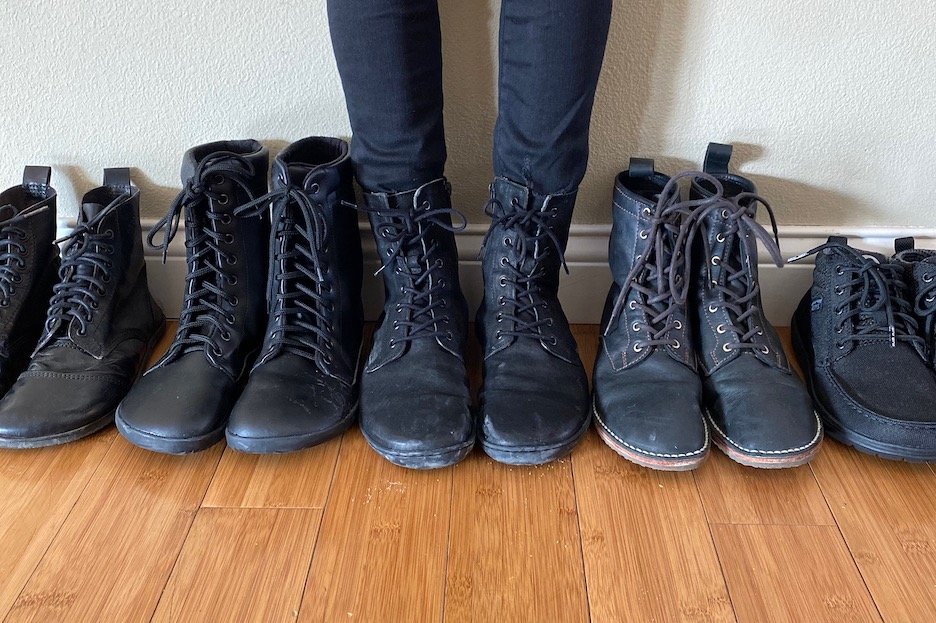 I love a combat boot look! Every option on this list makes my little fashionista heart go pitter patter, but is still zero drop and wide in the toe box. In no particular order, check out this list of barefoot combat boots in a range of prices, fit types, and even vegan options! All images are of black boots, but they come in other colors as well. Click through each boot to see more options!
We talk about foot type here to help you find the shoes that will fit the best. Read this post for more context.
Ahinsa Jaya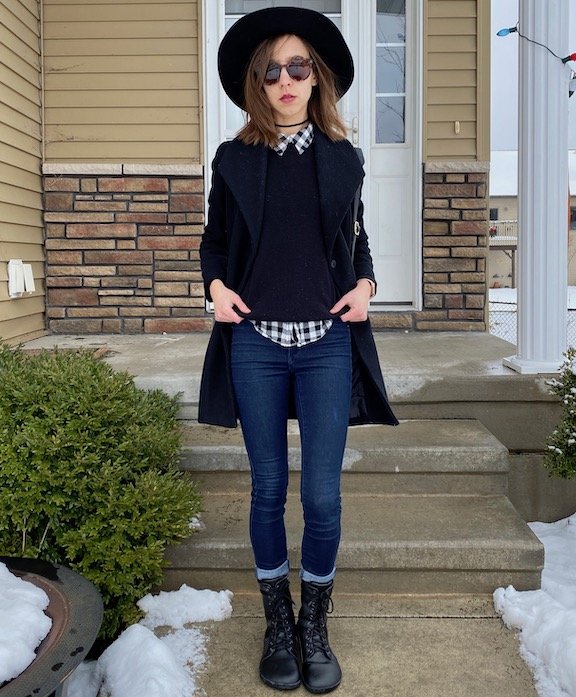 Vegan | Waterproof | Sizes EU 37-46
First up is the Ahinsa Jaya, a vegan boot with an ultra wide toe box. This option is super flexible, fits a wide range of foot types (check that non-sloping toe box), and can accommodate high volume feet. It is the lightest and softest of the bunch as well, and boasts water resistance.
Sizing
In my experience Ahinsa shoes run on the smaller side and I consistently wear one size bigger than usual. In the Jaya I choose a size 38 and wear them with medium weight socks.
I have low volume feet so I prefer to wear them with an extra insole (medium or high volume feet won't need to tighten the laces as much as I do, but should still fit). They have a Plateau shaped toe box (great for those with long 2nd and 3rd toes).
You can order these babies directly from Ahinsa with code ANYASREVIEWS for 10% off and they have a 14-day return/exchange policy. For your convenience, you can now order the black Ahinsa Jaya seasonally through Anya's Shop! Just note that we carry them for the fall/winter season only.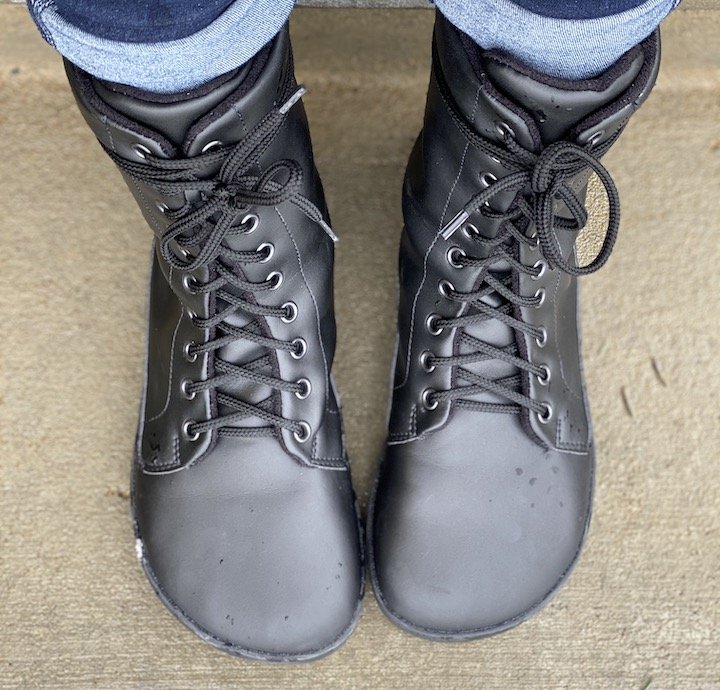 Same shoe, different foot!
Check out the Ahinsa Jaya on two different foot types. On the left (below) is my low volume foot with a wide toe spread. On the right, is Samantha (our researcher here at Anya's Reviews) with an EXTRA wide and high volume foot. Notice that the laces are cinched much tighter over my low volume foot, but Ahinsa fits both our foot types well. Samantha would normally take one size bigger for length.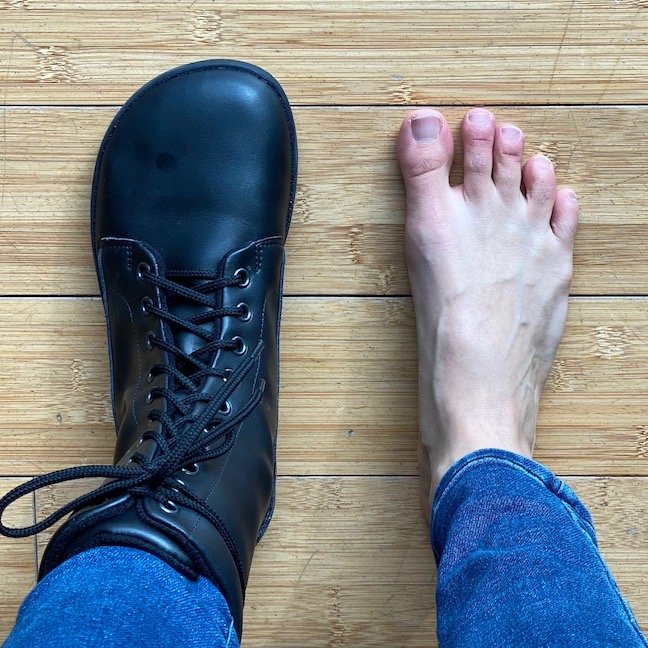 ---
Vivobarefoot Gobi Hi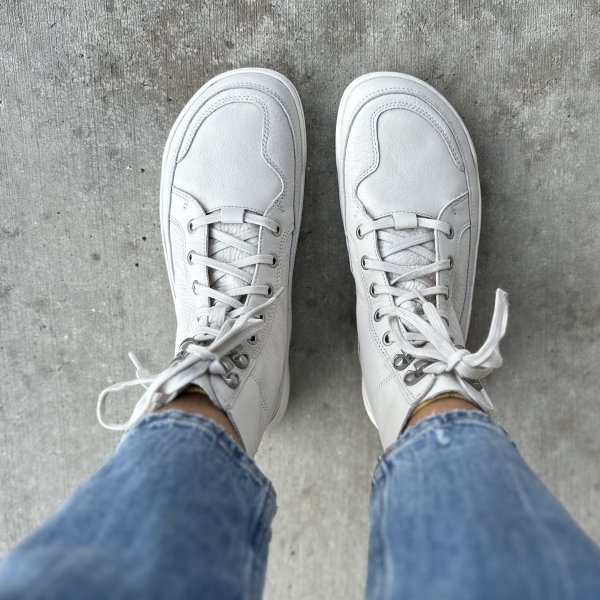 Leather | Water Resistant | Sizes US 5W – 15M
The Vivobarefoot Gobi Hi is a seasonal boot that comes back every fall and winter. It's lined for a little extra warmth and has a grippy outsole for some decent traction. Mine double as a light hiking boot, they're pretty durable and break in more and more over time. They have a simple, classic aesthetic to them. If you're wearing them in the cold, be warned that the insole that comes with it is NOT warm. Check out this post for tips to improve that.
Sizing
For women, the Gobi Hi runs narrow and low volume. If you have wide feet I recommend sizing up. I have a pair in both a 37 (my usual size) & 38. The 38's fit me much better! The men's Scott is true to size and fits a medium to high volume. Both cater to a sloped foot, with the big toe longest.
Use code VBANYA20 for 10% off any Vivobarefoot purchase.
---
Peerko Go & Empire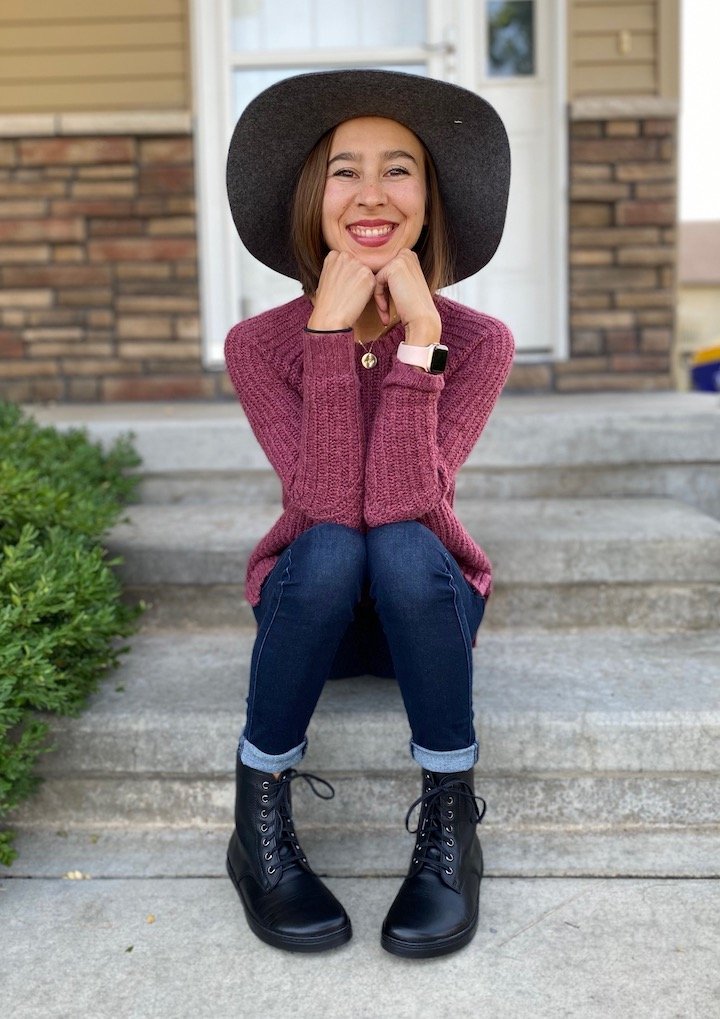 Leather | Sizes EU 37 – 45
Peerko Barefoot is a relatively new brand on the barefoot shoe scene, but they stole the show this season with a sexy combat boot in two heights. Both feature a side zip for easy on and off and a very edgy style. They've been extremely popular, and it's not hard to see why. They're absolutely beautiful and yet still have a wide foot-friendly shape. We of course had to sell them at Anya's Shop this season!
Sizing
Peerko's unlined boots and shoes run true to size and have a generous width. They are good for all foot shapes except Square, and fit low to high volume thanks to fully adjustable laces. The tall Empire boot fits snugly around the calves, so wide calves might need something like a Boot Band. The Frost is a wool lined version that looks just like the Go, but is better for cold weather.
Use code ANYASREVIEWS10 for 10% off directly from Peerko!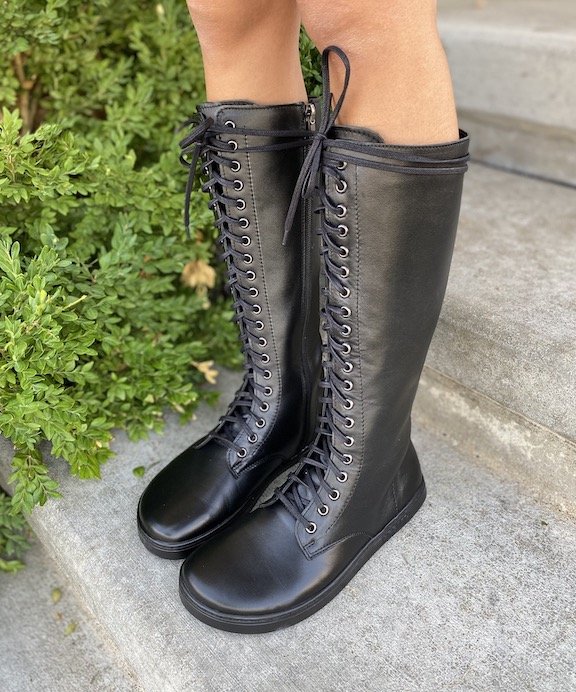 ---
Mukishoes Igneous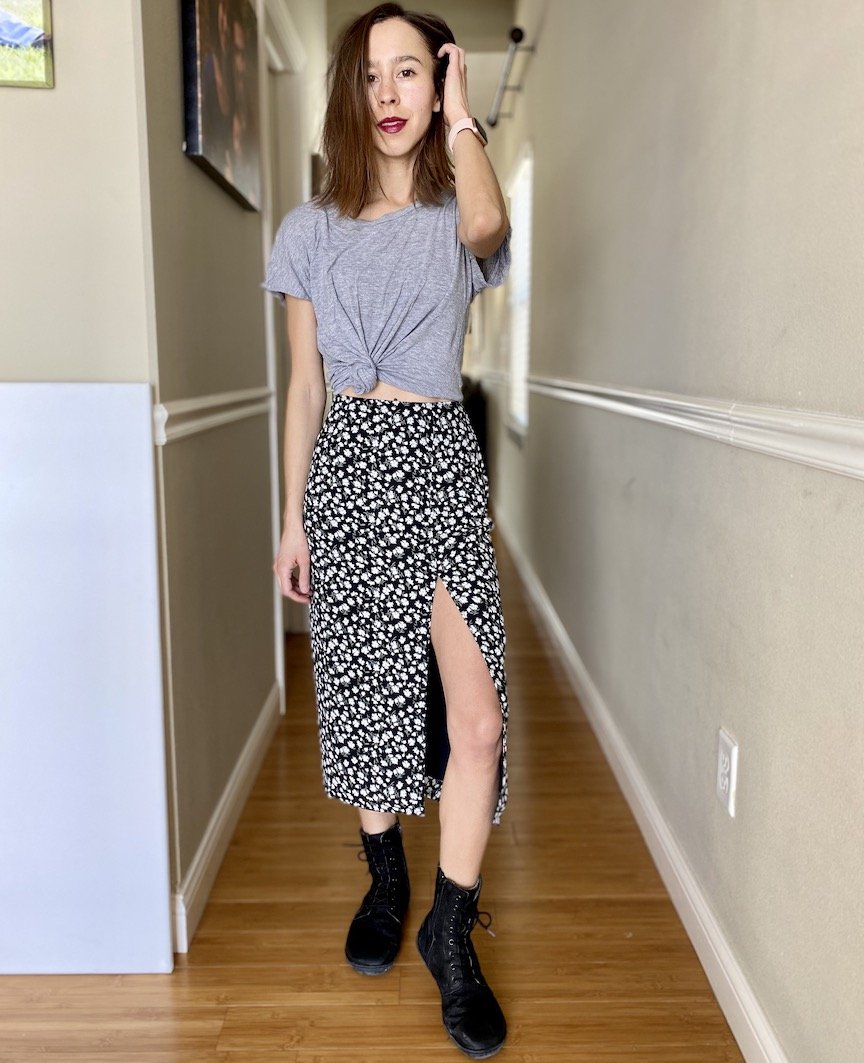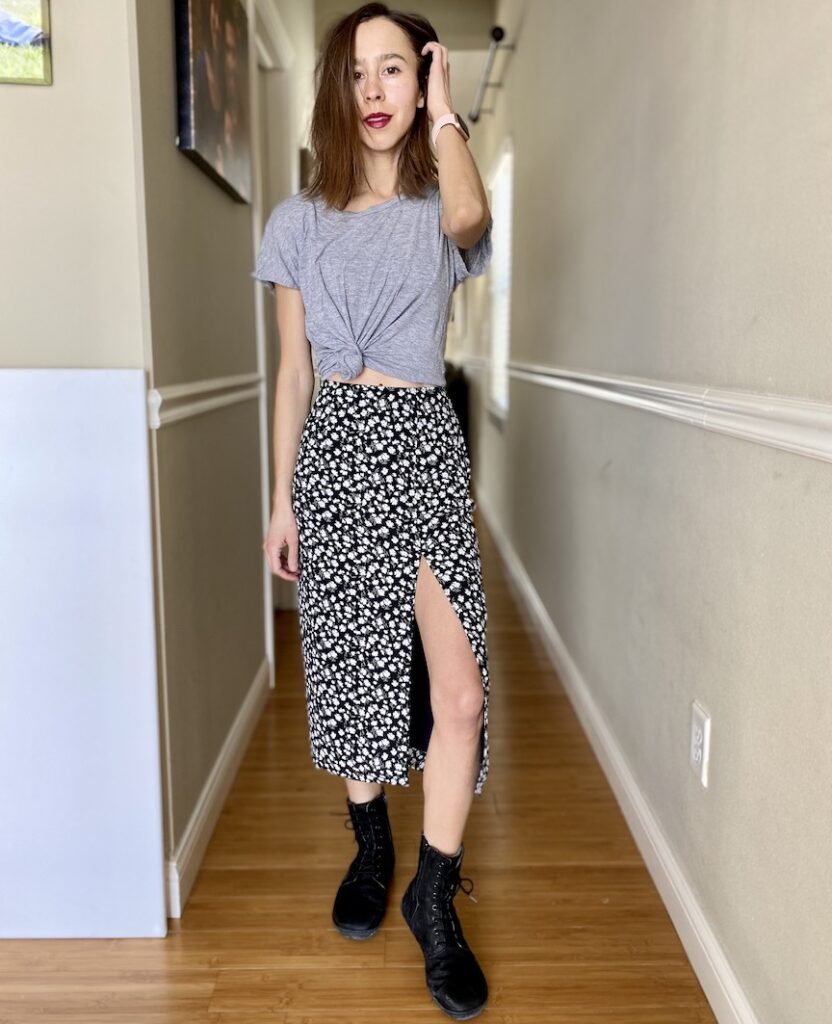 Leather | Wool Lined | Sizes EU 36-44
Use code ANYAMUKI for 10% off any Mukishoes purchase (except sale items).
*This model is available seasonally in the fall/winter and might not be in stock other times of year*
Mukishoes is one of my all time favorite brands because their shoes are soooo flexible, gorgeous, AND they have extremely high ethical standards. The Igneous is a nubuck leather boot lined with felted wool. The zipper on the side makes these easy on and off, and they are superbly flexible. I recommend protecting them with suede spray, since they're more prone to damage than finished leather.
Sizing
Mukishoes is an average width brand, I sized up to a 38 so I could fit a wool insole and warm socks (cuz it's winter yo). I wear a 37 in their sneakers, but wear them barefoot or with thin socks. They fit high volume (I always use an insole in my Mukis), and have a Mountain shape to them.
You can read my full review of the Mukishoes brand here.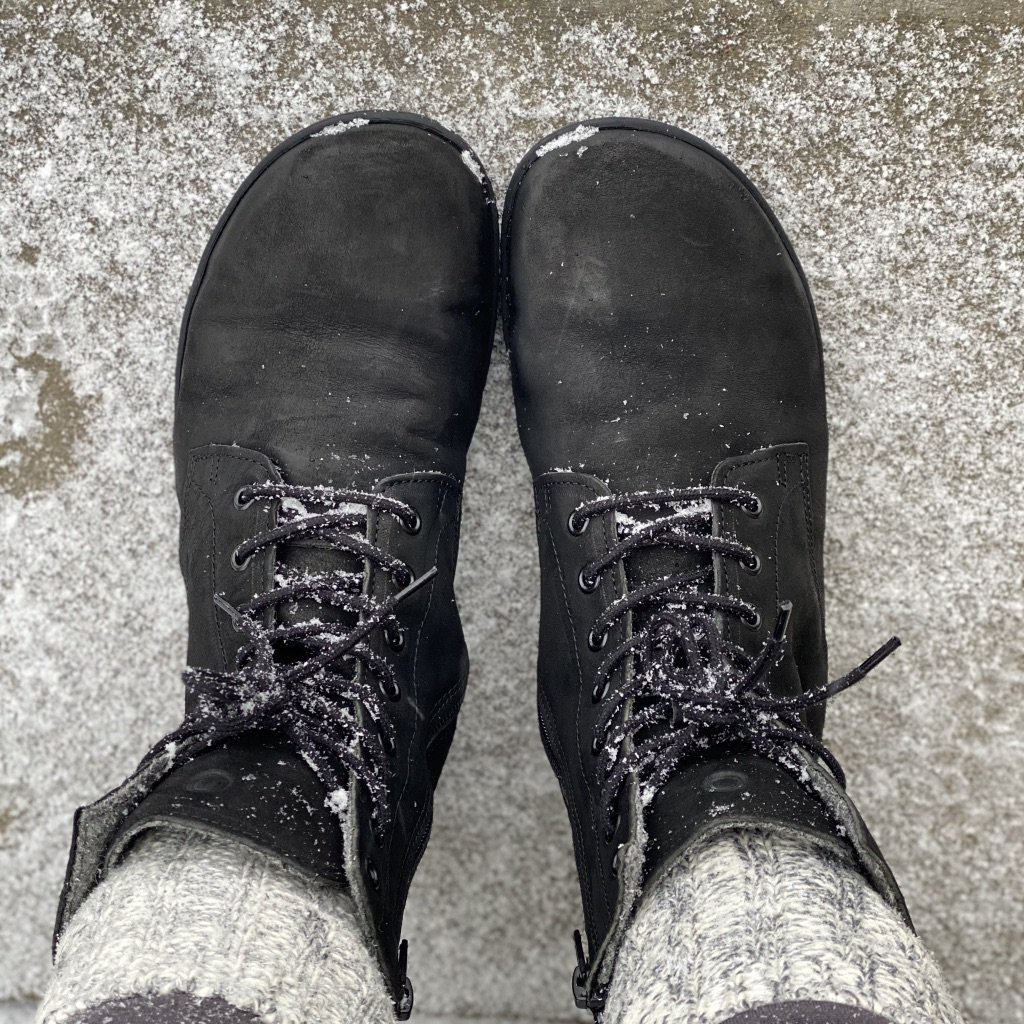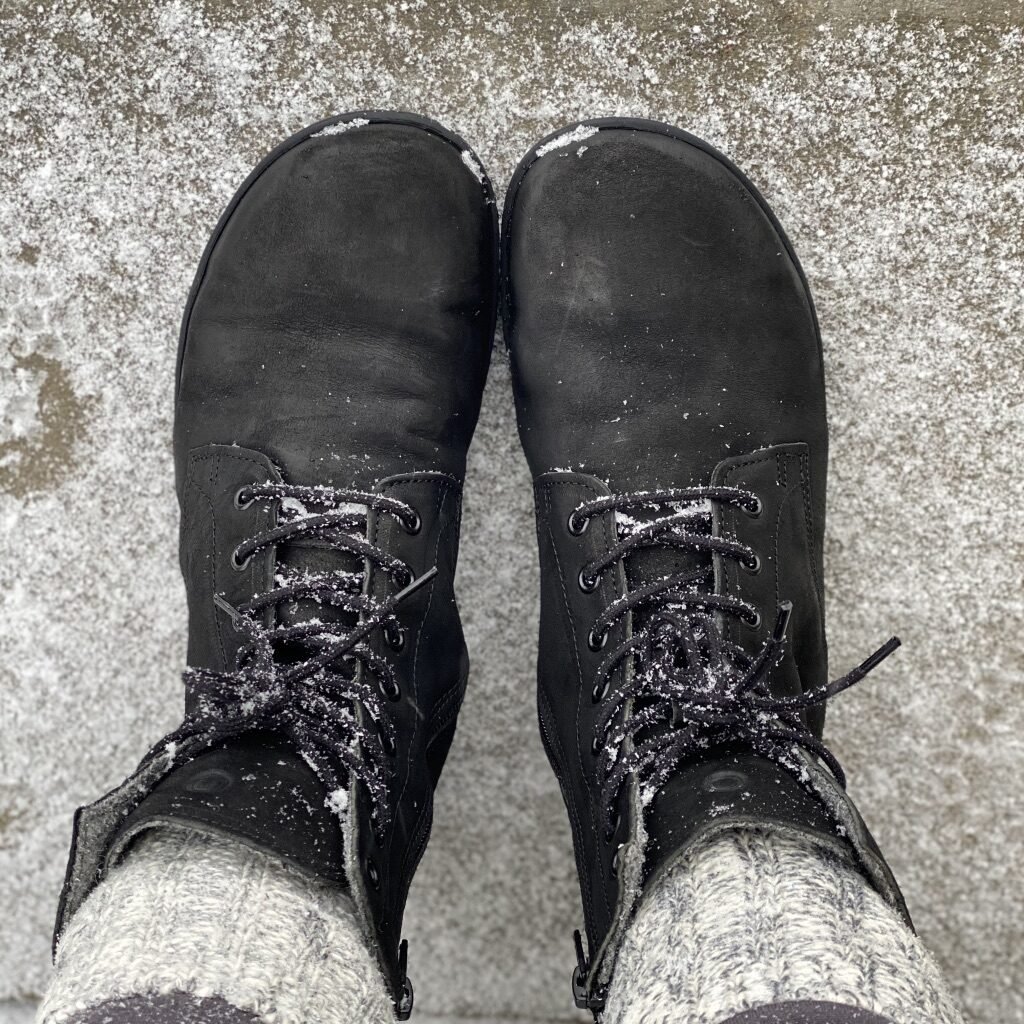 ---
Groundies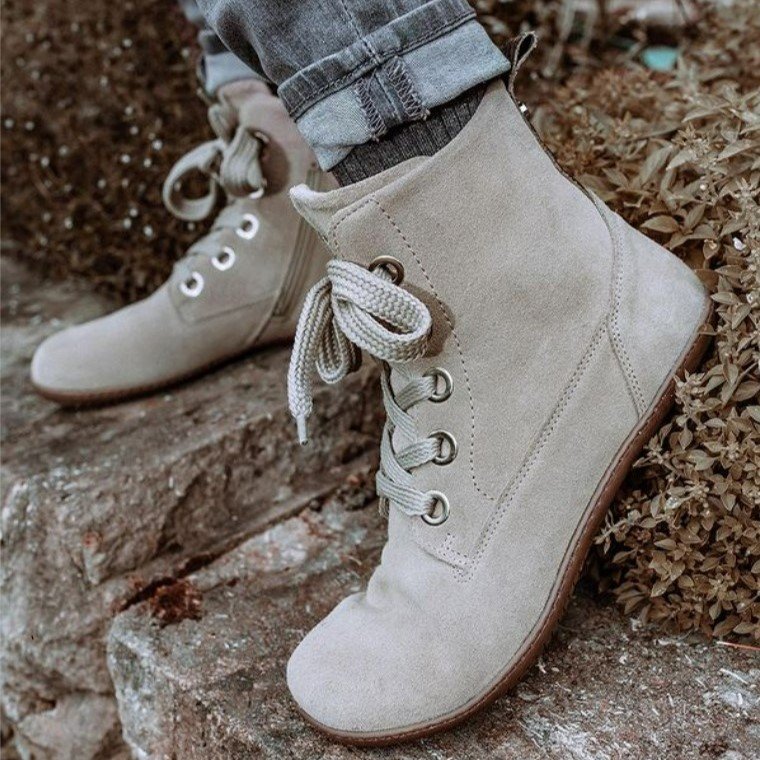 Leather | Sizes EU 36-47
Groundies is always keeping it fresh with trendy styles that are barefoot friendly. They change their model names frequently, but always have a women's and men's classic lace up combat boot style in the fall and winter. This year's editions should be hitting the store in October, and we will be carrying several models in Anya's Shop in the US as well.
Sizing
I wear my usual size 37 in most Groundies shoes, but sometimes size up to a 38 for sock room. They have a Mountain shape to them and are medium width; a little bit wider than Vivobarefoot.
---
Feelgrounds Patrol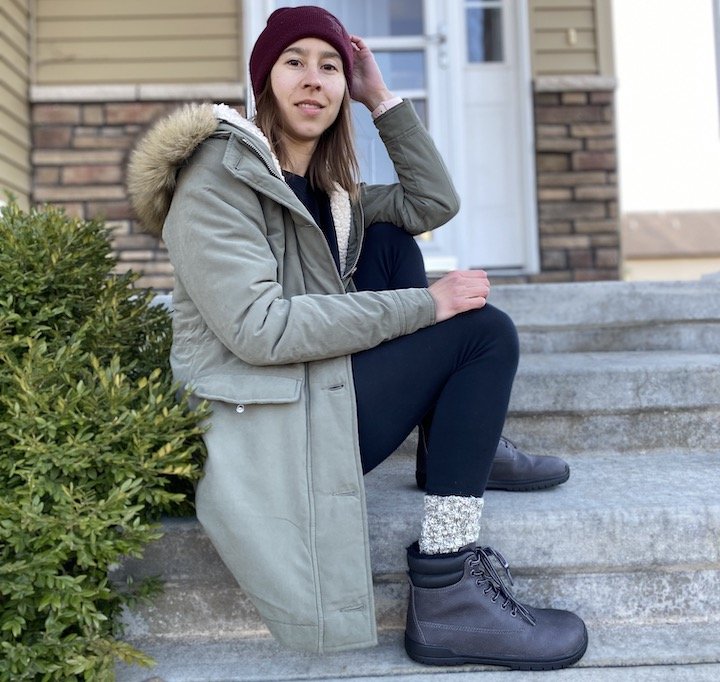 Feelgrounds Patrol | $169 | Vegan | Waterproof | Fleece Lined | Sizes EU 35-49
Feelgrounds Patrol boots are vegan, waterproof, fleece lined, and slip resistant. They recently relaunched them with a softer upper, which is great because the first version was way too stiff for me. They look super stylish while being practical. You could even use these as a hiking boot!
Sizing
Feelgrounds Patrol boots run true to size. I have a size 37 in them, like all my other Feelgrounds shoes, but I could take a 38 for thick socks. They fit nice and wide.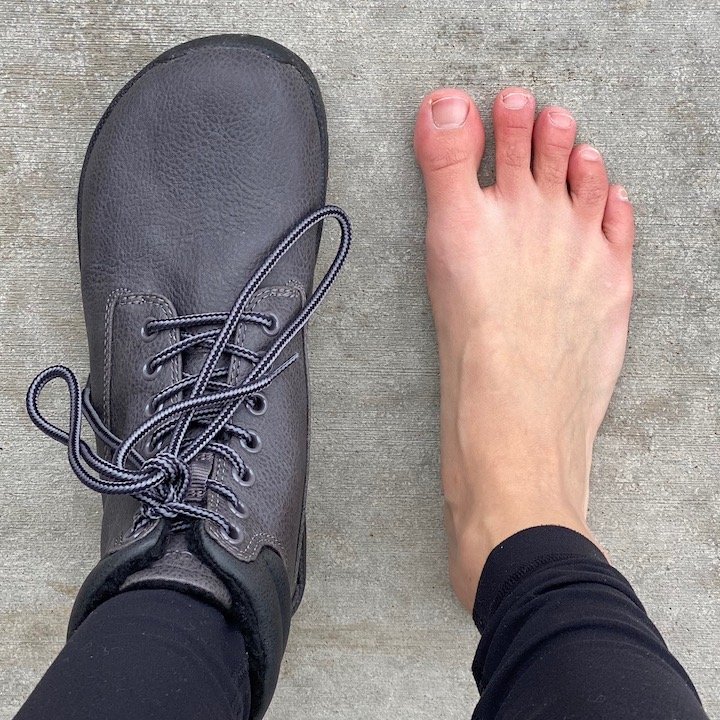 ---
Be Lenka Atlas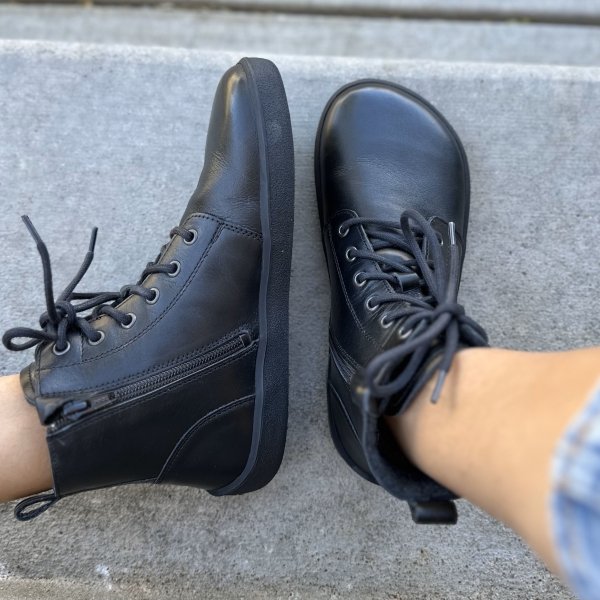 Leather | Sizes EU 35-47
Be Lenka Barefoot makes several stylish lace up boots in a range of colors, all of which are ultra comfortable and high quality. My favorite as a combat boot replacement are the Atlas. They have a side zip for easy on and off and are lined with a fleece that is thinner the wool-lined Winter boot.
Sizing
Be Lenka boots generally run true to size, but the models that are lined with will fit snugly and most people size up one. This year Be Lenka has two different sole shapes available – some models are made with their original bean-shaped sole and others have a more square shape. Check the product listing and size charts to understand what you're ordering. All models are great for wide feet. It's important to note that Be Lenka only accepts returns from within the EU and USA.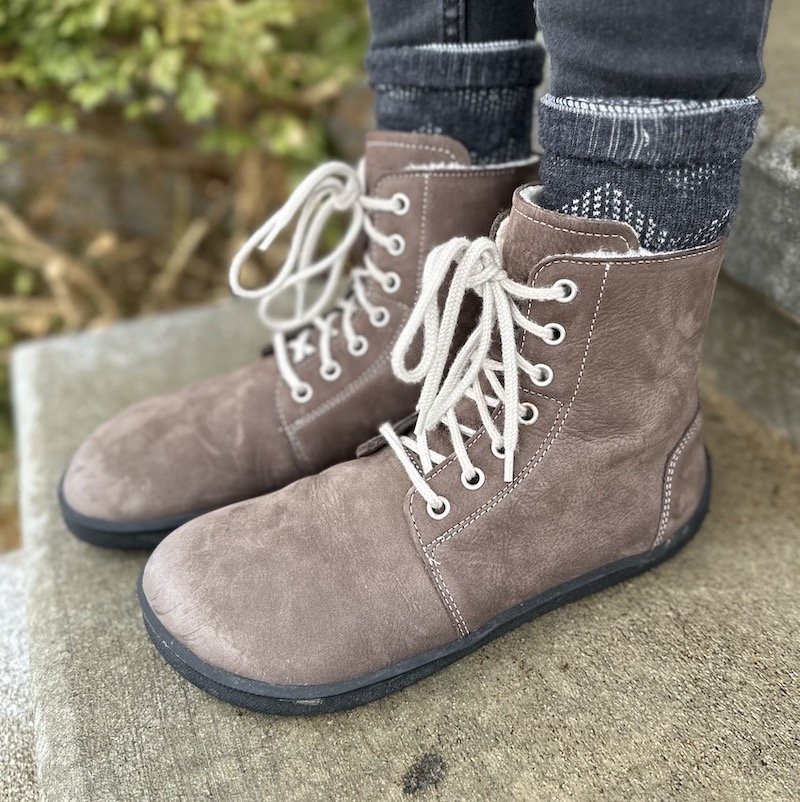 ---
Lems Boulder Boot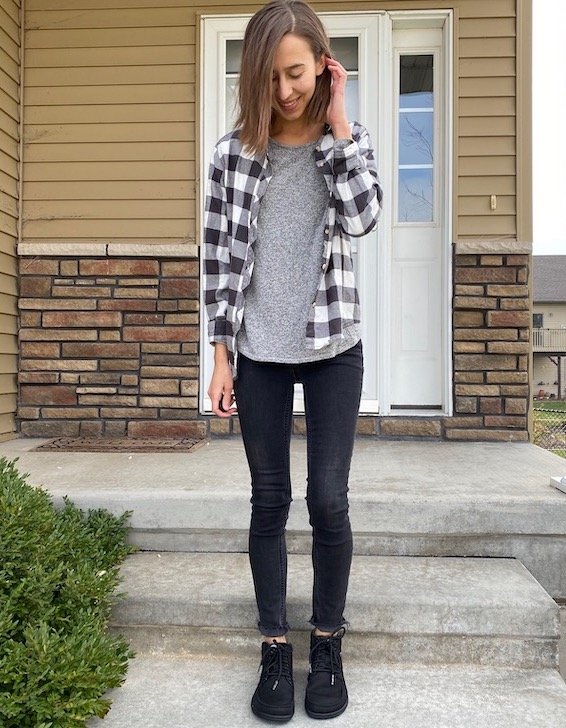 Lems Boulder | Leather & Vegan Options | Waterproof Option | Sizes US 5W – 15M
The Lems Boulder Boot is super popular in natural footwear circles because it has a timeless look to it, and a wide toe box. They have a thicker sole than any other shoe I review here, but it's still zero drop and flexible (not as flexible as the others). Lems shoes do have a slight toe spring that I wish they would ditch, but otherwise I like wearing my Lems boots when it's cold or rainy and I want a little more distance between me and the ground.
Sizing
All of Lems shoes size a little bit differently, so it's best to refer to their Size Guide for each model. In my waterproof Boulder Boots I sized up to a 7.5 from my usual size 7 and they fit well with plenty of space. In my vegan Boulders I am wearing my usual size 7, and still have plenty of space. They are great for Plateau shapes and high volume feet.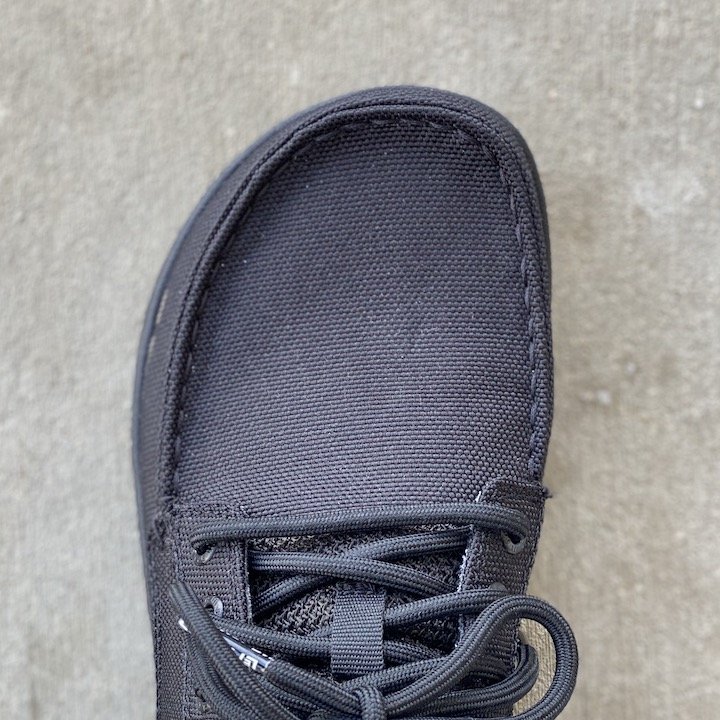 ---
Magical Shoes Alaskan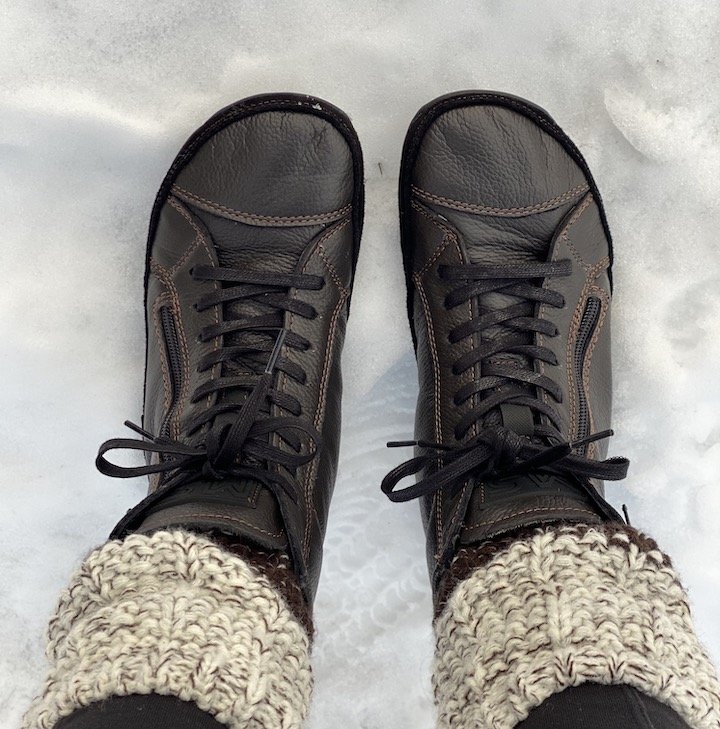 Magical Shoes | Leather | Wool Lined | Sizes EU 36 – 43
Magical Shoes Alaskan boots are soft, cozy and flexible. I wear them often for quick errands because they're so light and comfy. I love the new Buffalo brown line!
Sizing
Magical Shoes close toed sneakers and boots run small and I always wear a size up in them. If you size up they have a decently wide toe box that works for many foot shapes.
Available At:
Use code ANYA for 10% off! You can also find select colors at PedTerra, where ANYAREVIEWS10 gets you 10% off your first purchase.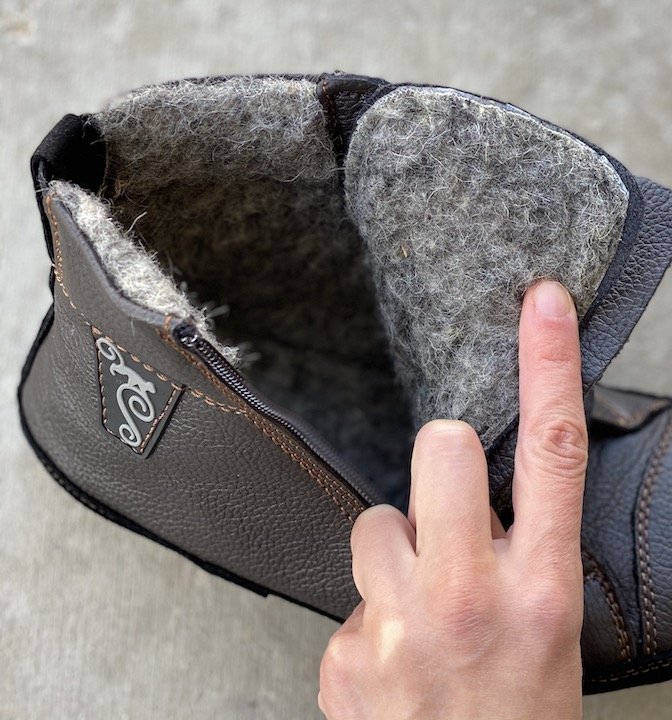 ---
A Few More Barefoot Combat Boots
Want to see even more options? I've compiled a full list of barefoot boot options organized by style! Click on the link below and head to the Lace Up Boots Section.
In the meantime, here are a few other stylish options I like.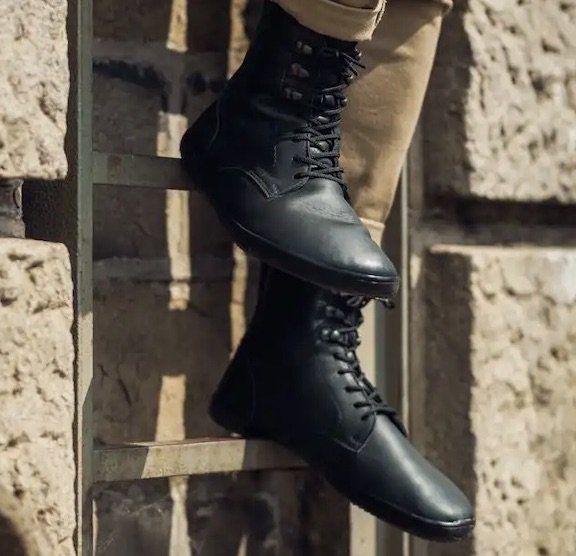 ---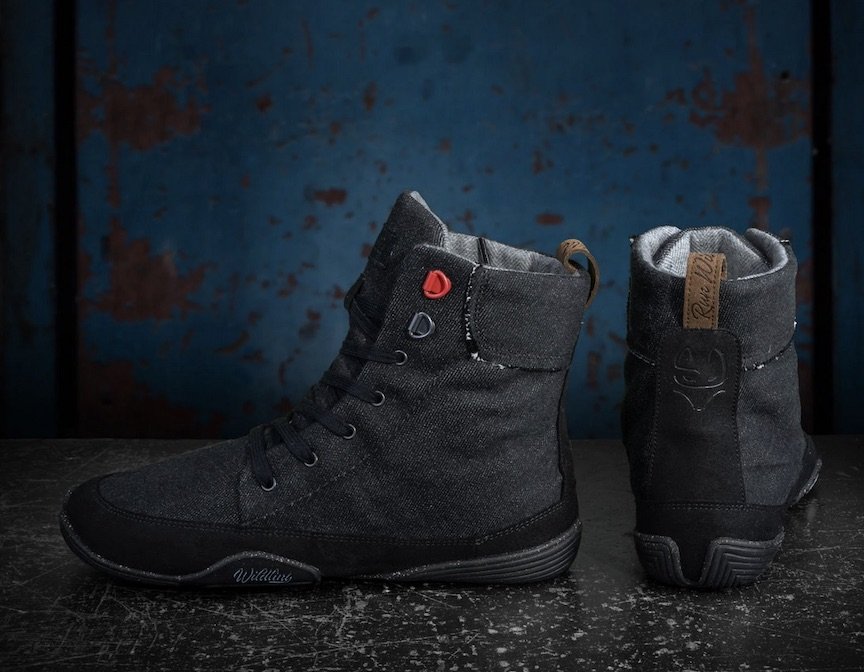 Wildling Panther (US & Europe) – Another personal favorite brand of mine. Their options change seasonally, so this isn't available year round.
---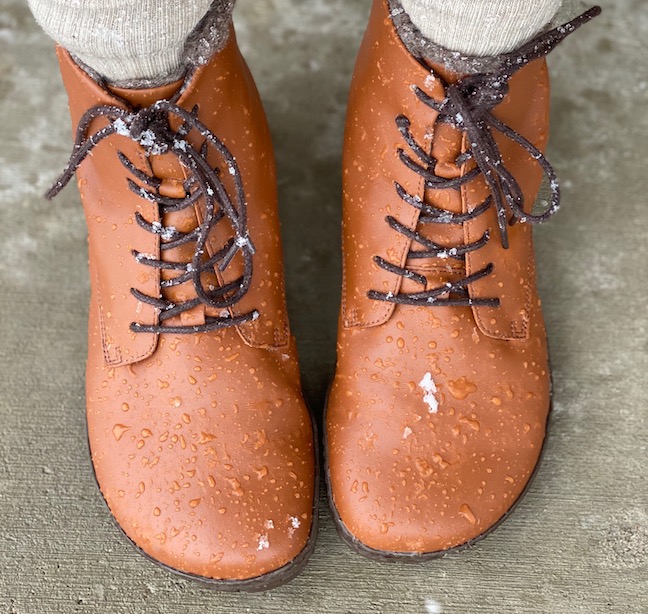 ---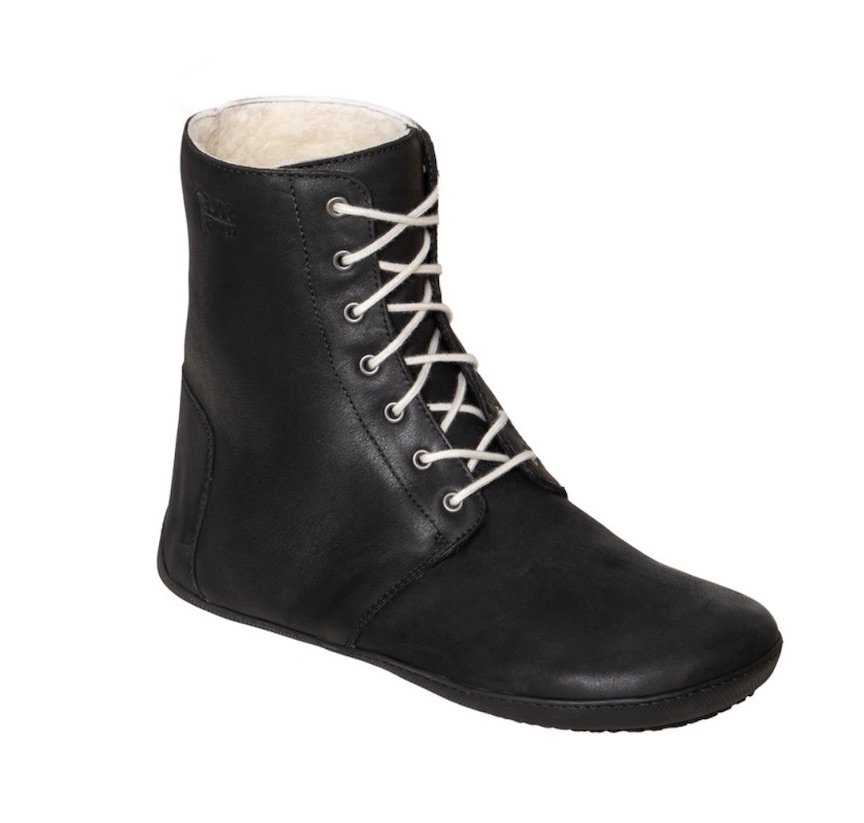 ---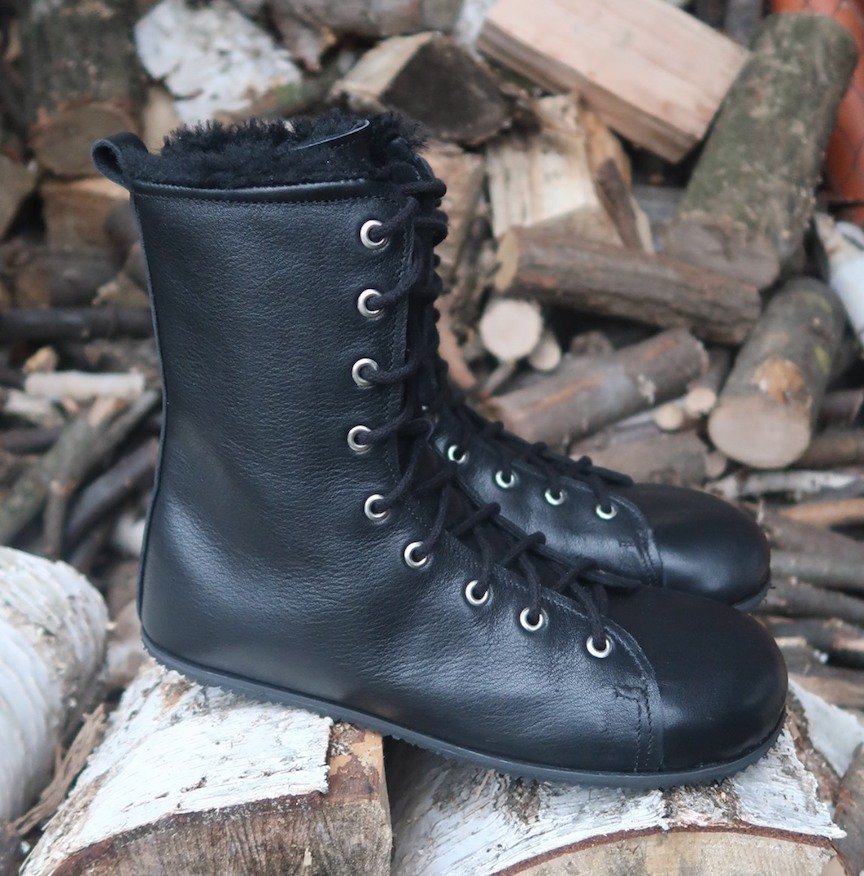 ---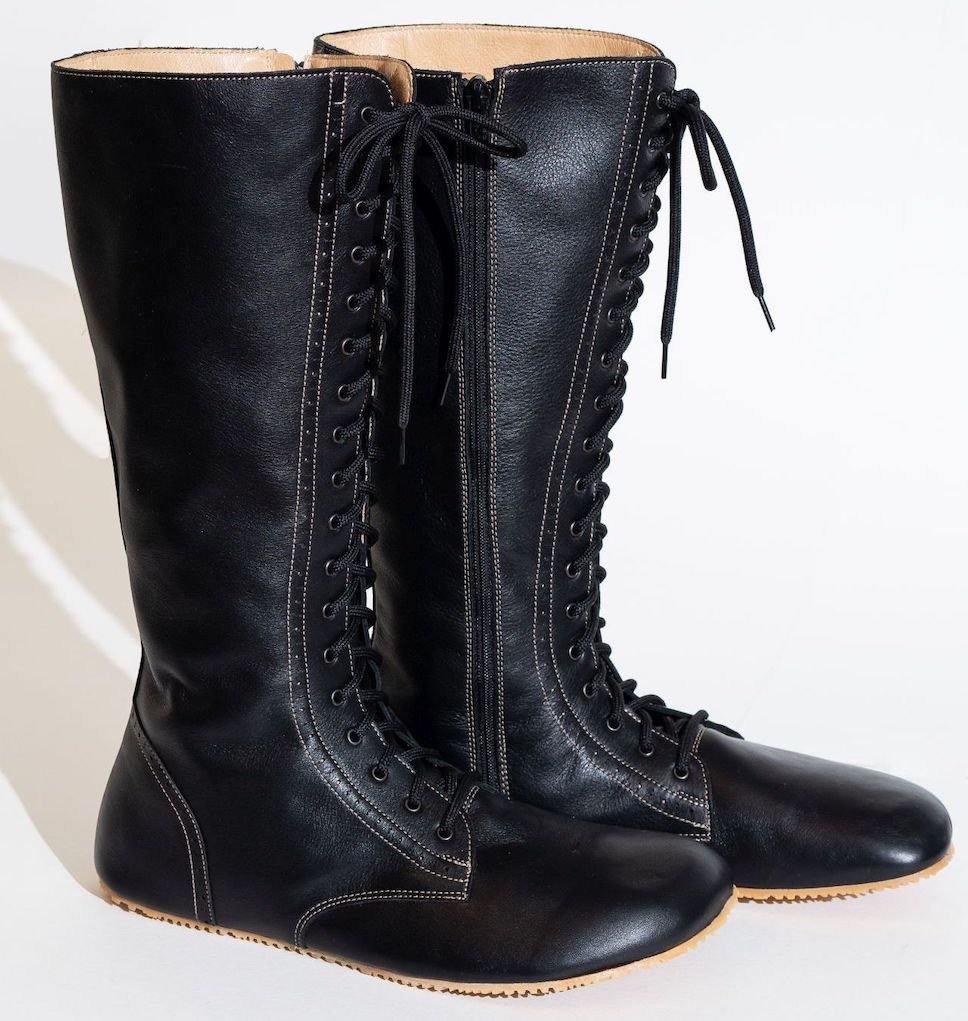 ---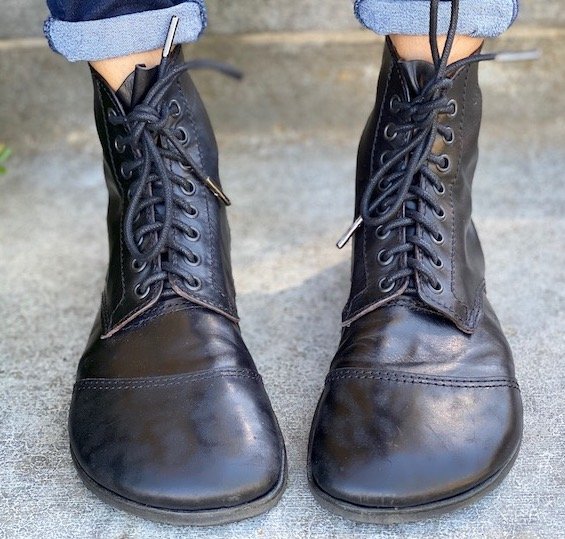 Conclusion
And that's it peeps! Plenty of grungy combat boots for you with none of the foot deforming features of Doc Martens. If you're interested in seeing more healthy footwear options that don't make your eyes hurt, make sure you check out my Fashion, But Make it Barefoot series!
*If you're looking for true combat boots for the military, check out the Belleville Mini Mil*