A Mukishoes review has been one of my most requested barefoot shoe reviews. Their casual barefoot sneakers (with lots of vegan options) have garnered quite a following for being ethical, extremely lightweight and stylish. So let's dig into why Mukishoes are a hit among barefoot shoe wearers! Read on for my full review of the Mukishoes barefoot brand
**Mukishoes has created a code for my readers! ANYAMUKI will give you 10% off and has no expiration**
Mukishoes Brand Review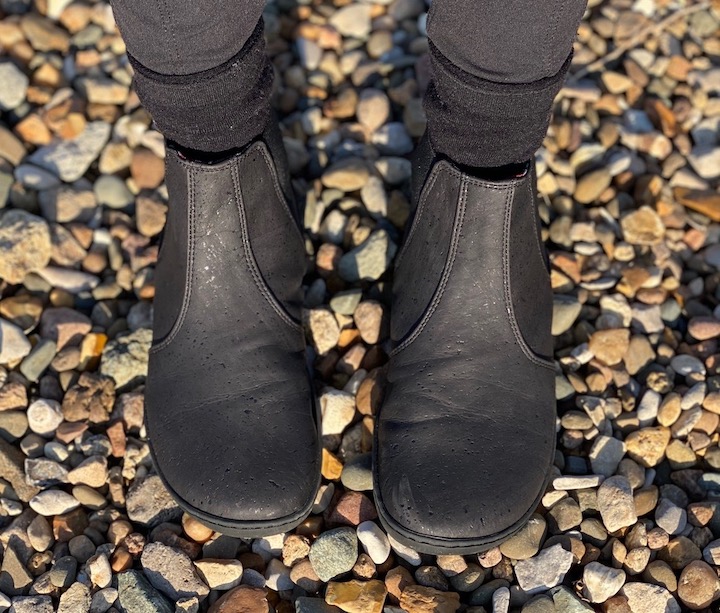 Mukishoes' crowdfunding campaign landed early 2019, to the excitement of many in the barefoot crowd. A women-owned business with an ethically-made, sustainable product is not exactly common in shoe manufacturing, let alone barefoot shoe manufacturing. Friends Madlen and Marta place as much emphasis on sustainability as the barefoot qualities, making this a perfect brand for the socially conscious among us.
Mukishoes makes casual barefoot shoes with a simple unisex design for every day wear. Their stock changes seasonally and they release a few new models at a time. They have leather, cotton, hemp, and cork sneakers and boots. Their winter models are often lined with wool, but there are always several vegan options.
Mukishoes are 3 – 5 mm thick across all their styles and extremely flexible. They come in sizes EU 36-48 for adults and 24-35 for kids. They are suuuper lightweight and the ground feel is always excellent. People love having mainstream looking kicks that feel like nothing!
Mukishoes Barefoot Sneakers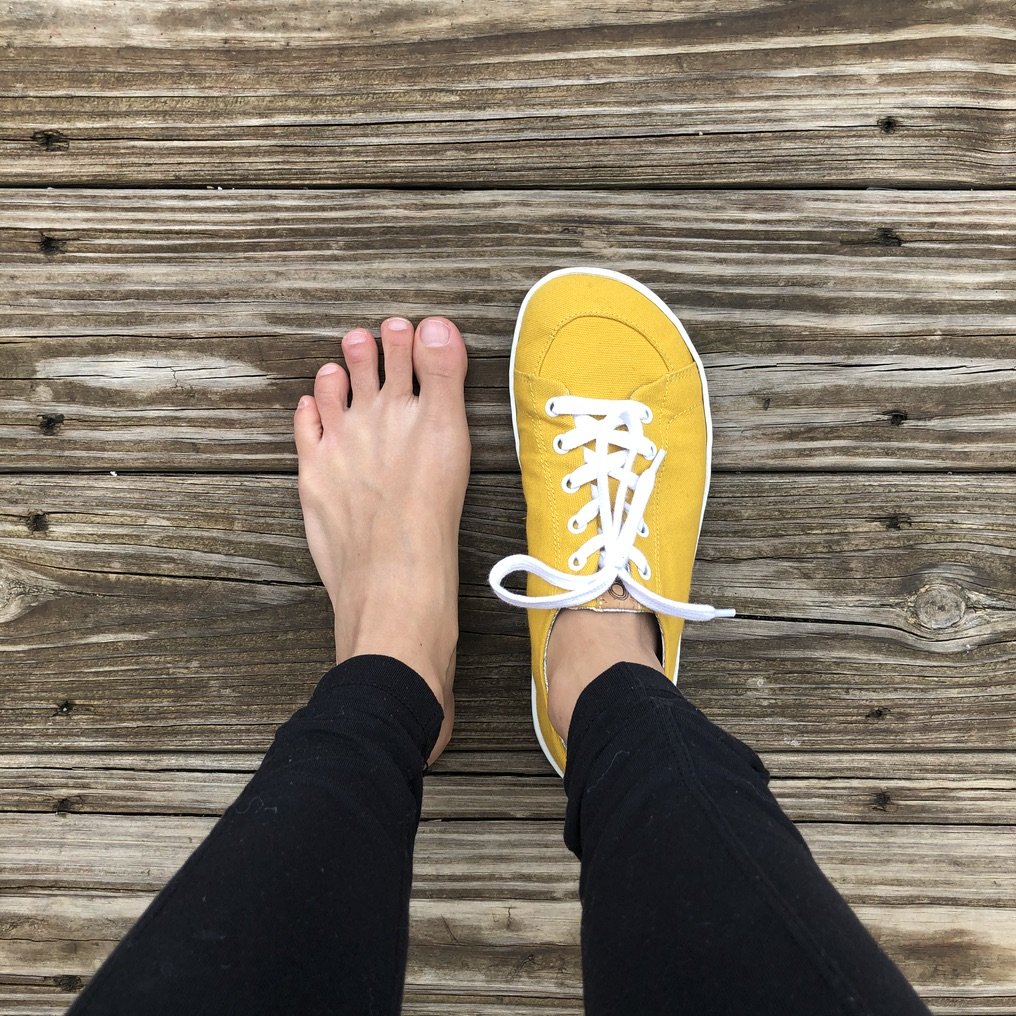 Mukishoes casual barefoot sneakers are simple and cool, reminiscent of a Converse style. The always have a few fun seasonal colors, as well as perennial favorites. And you can find plenty of vegan options (some leather sneakers too).
I have tried only Mukishoes canvas sneakers so far, made of 100% cotton (dyed with GOTS certified pigment) with an outsole of recycled rubber. They are sooo light and flexible. The material is rather thin, but seems sturdy and they have worn well for me. Mukishoes recommends spot cleaning their shoes and not machine-washing them so the color stays. Personally, I would spray them with a protectant first because I love the color so much.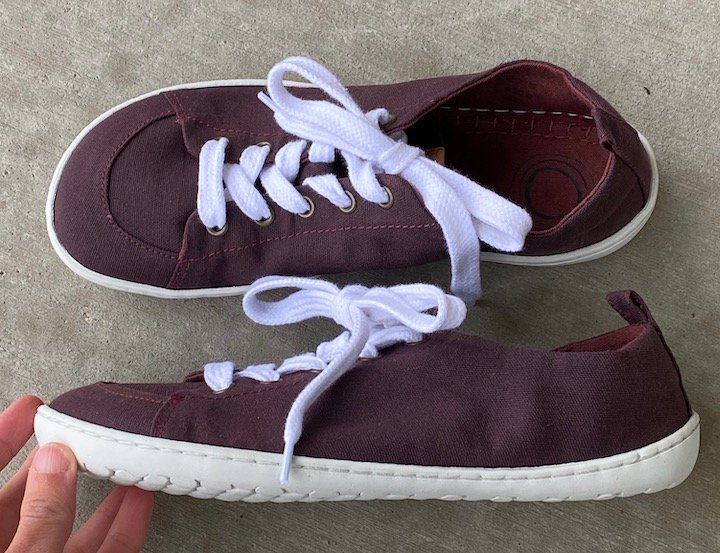 Mukishoes Barefoot Boots
*Fall boots will be restocked in Sept. 2021*
In addition to great casual barefoot sneakers, Mukishoes also has boots! In the cooler months you can find chelsea boots, a combat boot, and wool lined high top sneakers. The style is on point and they have been a huge hit in the barefoot community. One bonus about Mukishoes barefoot boots is that they are less than $200, which frankly is not common for quality barefoot boots. I love my Chelsea boots (vegan!) and you can read my full review of them here!
Mukishoes Barefoot Kids Shoes
New in 2020 are Mukishoes barefoot shoes for kids (size EU 24-35). The Mini Moss, shown here, is vegan and lined with a waterproof membrane! They pull on easily, and are so soft and comfortable. My oldest is very particular about his shoes being light and not breathable (he's a no-sock kiddo), and these are some of his favorites.
For All Our Favorite Barefoot Shoes for Kids, Read This Post!
How Mukishoes Compares
Mukishoes check all the boxes of healthy footwear. They are zero drop, flexible, and anatomically shaped. Let's see how they compare to other major barefoot shoe brands.
Vivobarefoot Vs Mukishoes
Widthwise, I've found Mukishoes to be pretty comparable to Vivobarefoot, except that Vivobarefoot shoes are structured and usually stiffer (so toe rubbing on those will be more uncomfortable). Vivobarefoot also slopes after the big toe, while Mukishoes have a more rounded toe. Mukishoes will be good for someone who has long 2nd and 3rd toes, or who likes Vivobarefoot but wants something more flexible.
Vivobarefoot Geo Court size 37 compared to Mukishoes size 37. They are almost identical in toe box width, but you can see the Vivobarefoot has a more prominent big toe space and then curves sharply.
Read my full review of the Vivobarefoot Geo Court here!
Feelgrounds Vs Mukishoes
Feelgrounds size 37 next to Mukis size 37. The Feelgrounds are a touch wider, otherwise very similar in shape.
Read my full review of the Feelgrounds Barefoot Shoe Brand here!
A few more comparisons
Understanding your foot type and how the different brands fit can be a huge time saver in your search for the perfect barefoot shoes.
Click here for more information on Foot Type and Barefoot Shoe Brand Comparisons
Mukishoes Sizing & Fit
Mukishoes usually run true to size, but wide and high volume feet might size up (especially in the boots). They are good for Greek feet, and are medium width. I have a size 37 in all my Mukishoes, which is the size I normally get in lace up shoes and boots.
I wear an insole in my Mukishoes because I have low volume feet. You can read about the insoles I like to wear in this post! And because I have wide feet, I am wearing mine either without socks or with thin socks so I have enough toe space.
Ordering Mukishoes
The code ANYAMUKI for 10% off can be used on all Mukishoes models, including kids!
Because Mukishoes are ethically produced in small batches, things go in and out out of stock. This is sometimes frustrating (I personally hate scarcity mindset when shopping), but if Mukishoes has a style you love I wouldn't wait on it. They do restock throughout the season, but seasonal models are only available short term.
They ship using DHL, which can make it to the US within a few days and is a pretty reliable service (you can designate No Signature Required to avoid contact with the carrier). Returns are possible on unworn shoes within 14 days of receipt, but the customer pays return shipping.
Mukishoes Style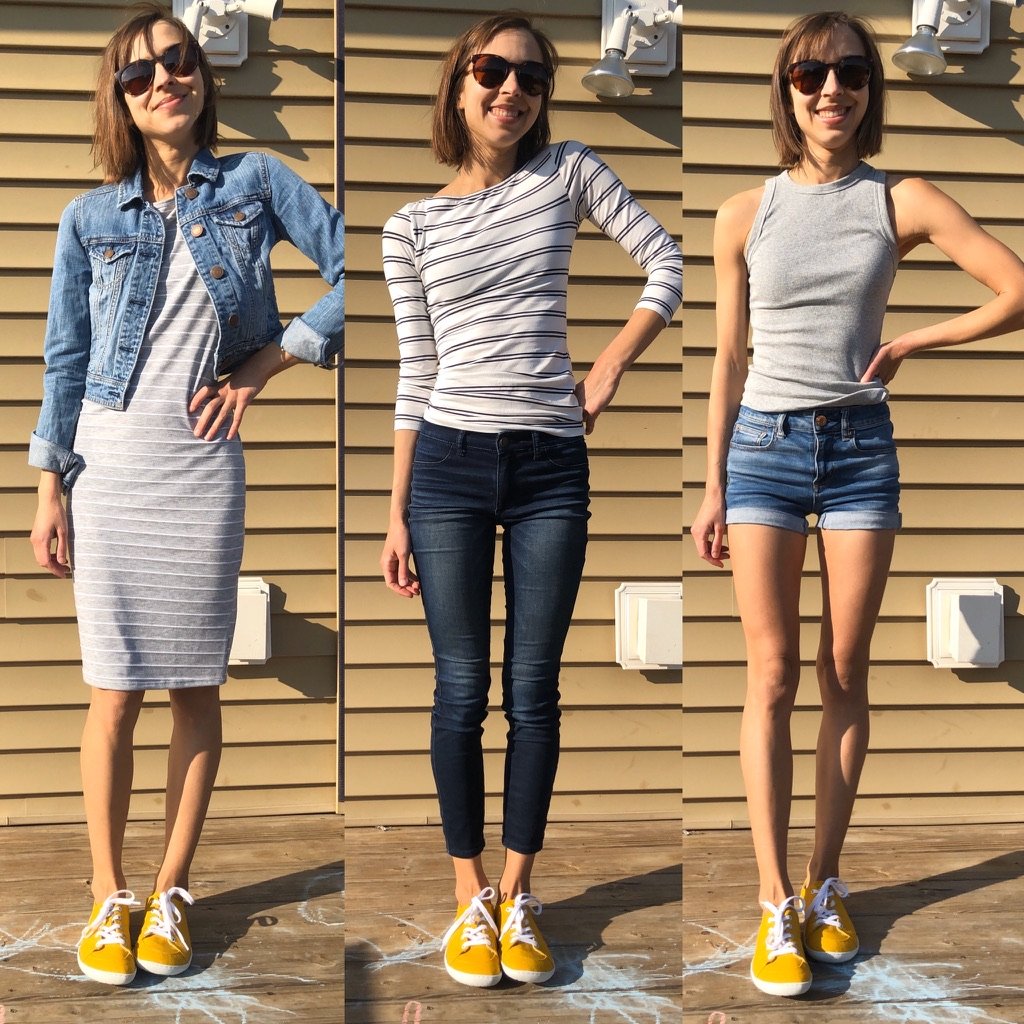 Mukishoes are simple and streamlined, making them easy to wear with a lot of outfits. I wear the sneakers with just about everything from a hoodie to a dress, and the boots I am pleasantly surprised to find can be dressed up nicely for work and date nights. IMO, Mukishoes has some of the most versatile styles in the barefoot shoe world right now, and you should have no shortage of ways to wear them.
Mukishoes Video Review
See the incredibly light & flexible Mukishoes sneakers in action.
Mukishoes Review Conclusion
All my interactions with Mukishoes have been heartfelt and positive. They are two dedicated women trying to help people move and live better with their quality shoes. The simple, unisex design and barefoot features make these a perfect everyday shoe, and you can feel good knowing that you are supporting a company out to make the world a better place.