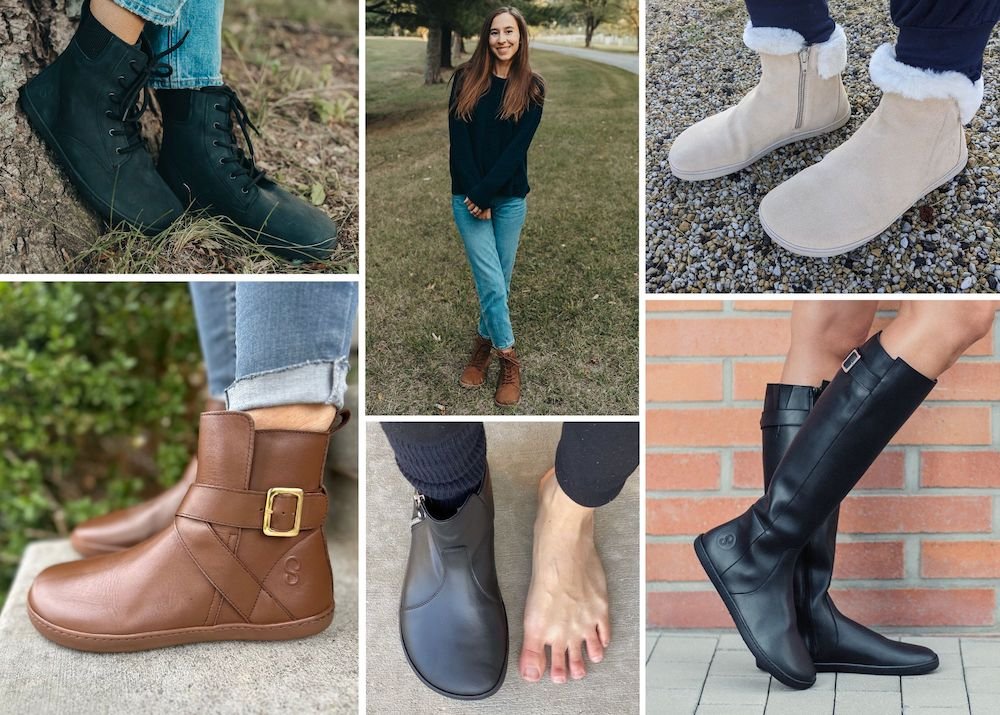 I am delighted by all the lovely Shapen barefoot boots new this fall! They are bringing style and comfort to the barefoot shoe world, where it hasn't always been easy to find classy options that fit wide feet. We have reviewed each of their new barefoot boot models so you can see if they'd be a good fit for you.
And you can use code ANYA5 for 5% off your purchase.
Shapen Barefoot Boots Review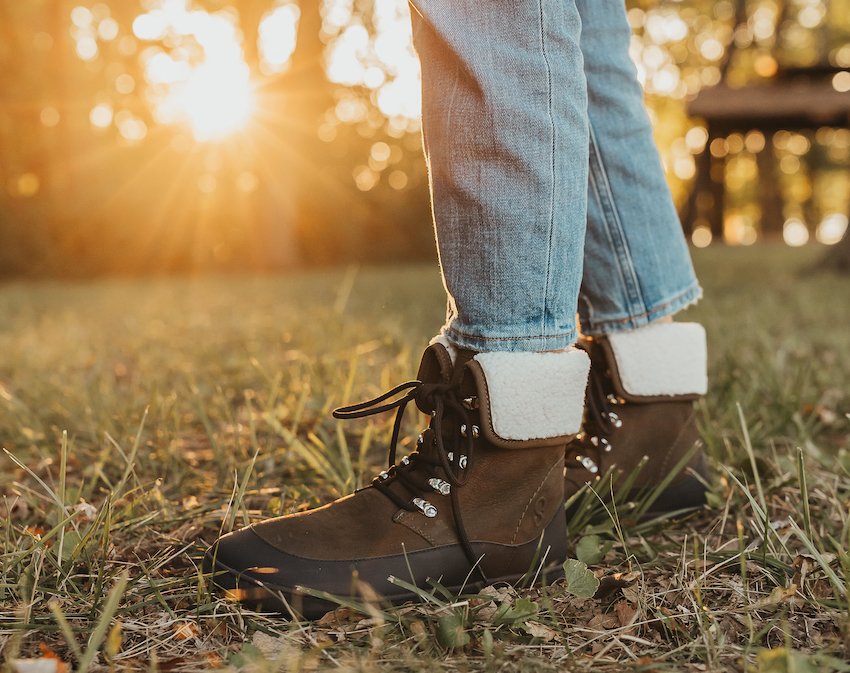 Shapen has quickly become one of the best barefoot shoe brands out there. I've loved their women's barefoot dress shoes for years, but now they have something for everyone and every season.
Their fall/winter 2023 line up includes stylish and dressy boot options for us barefoot fashionistas, as well as warm and practical options in the full size range (fits both men and women). And all fit wide to extra wide feet with a soft, flexible feel!
I have been dying to share them with you since I saw the lineup earlier this year (perks of being a barefoot shoe store owner muahaha), so without further ado let's dig in!
Ordering Shapen
Shapen is located in the EU, and you can shop their extensive lineup with code ANYA5 for 5% off. But please note that Shapen does not accept returns outside the EU. In order to help non-EU customers, we are carrying many Shapen models in the US at Anya's Shop (discount code only works directly with Shapen).
At this time we have several models already in stock, but will be getting more throughout the next few weeks! I will note in this review which models/colors you'll be able to find at Anya's shop.
Shapen Boot Sizing & Fit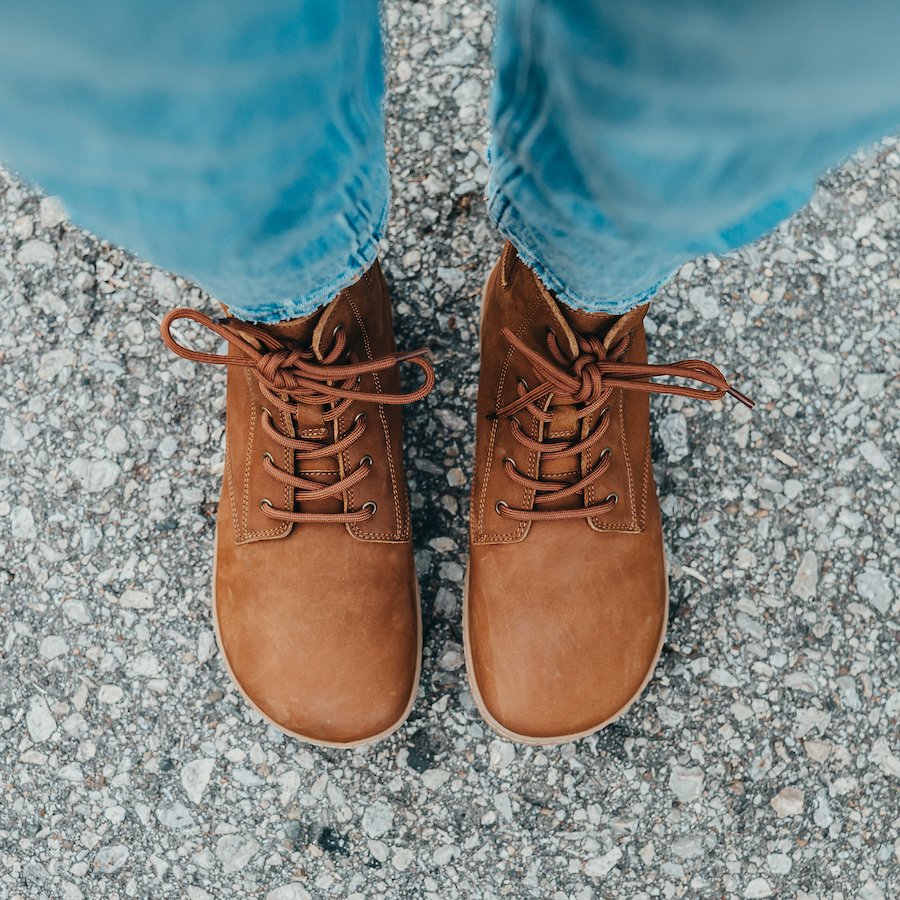 Shapen Barefoot's boots are as follows:
Run on the bigger side – in some we suggest sizing down, in others we suggest your normal size
Fits wide to extra wide feet
Best for medium to high volume feet – but can fit low volume feet with extra insoles
Fits a wide variety of foot shapes with a square shaped toe box
Real barefoot feel due to the thin flexible outsole (only 5.5mm thick including tread)
In general Shapen's boots fit very spacious. I normally wear a 38 in my boots to fit socks, but in Shapen I sometimes wear a size 37 and still have plenty of room. I also use an additional insole in almost all models because I have low volume feet. Shapen even fits Samantha's extra wide, high volume feet feet comfortably!
That means that if you have thin, narrow feet you might be most comfortable in a different brand (but you never know for sure until you try them!).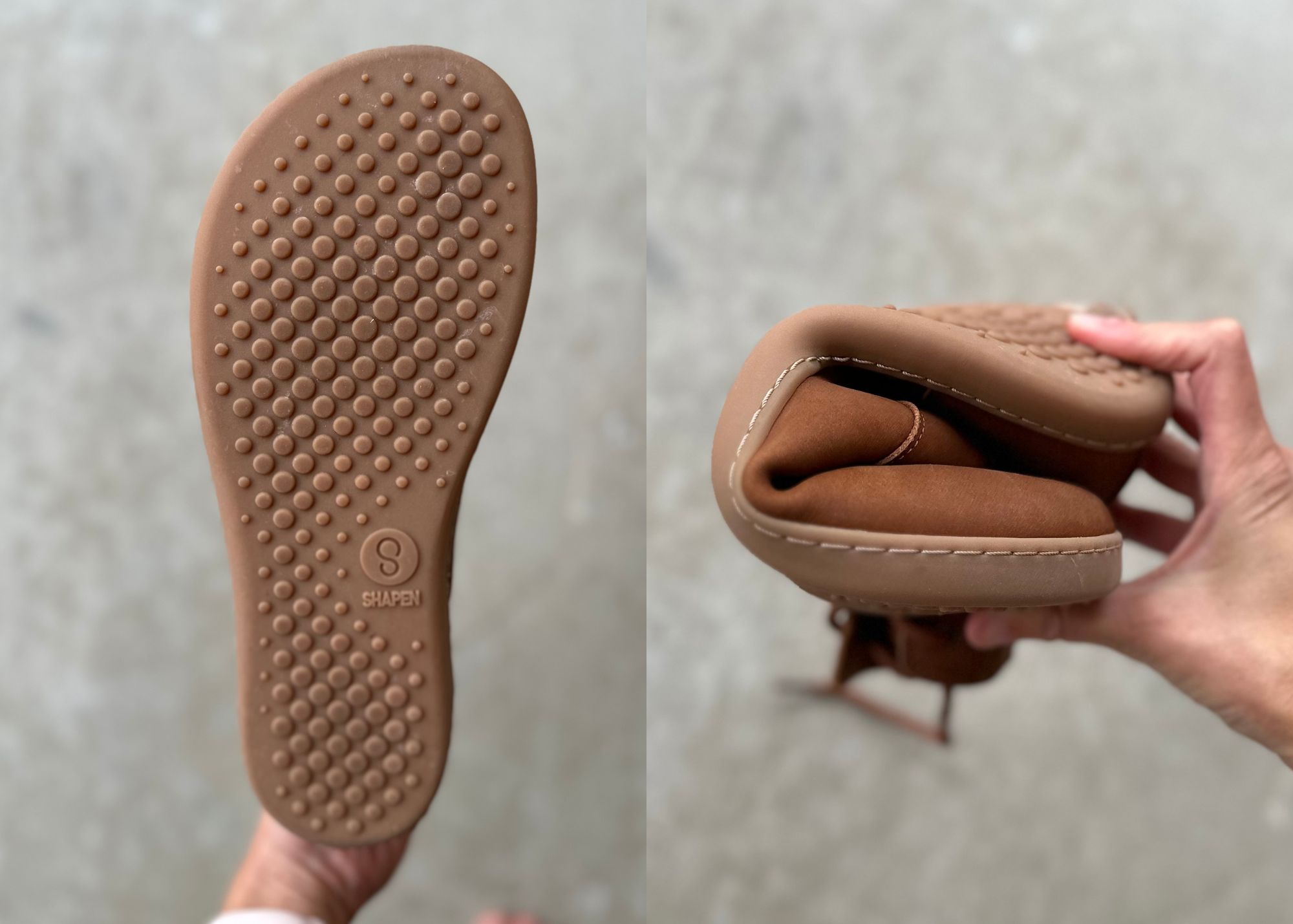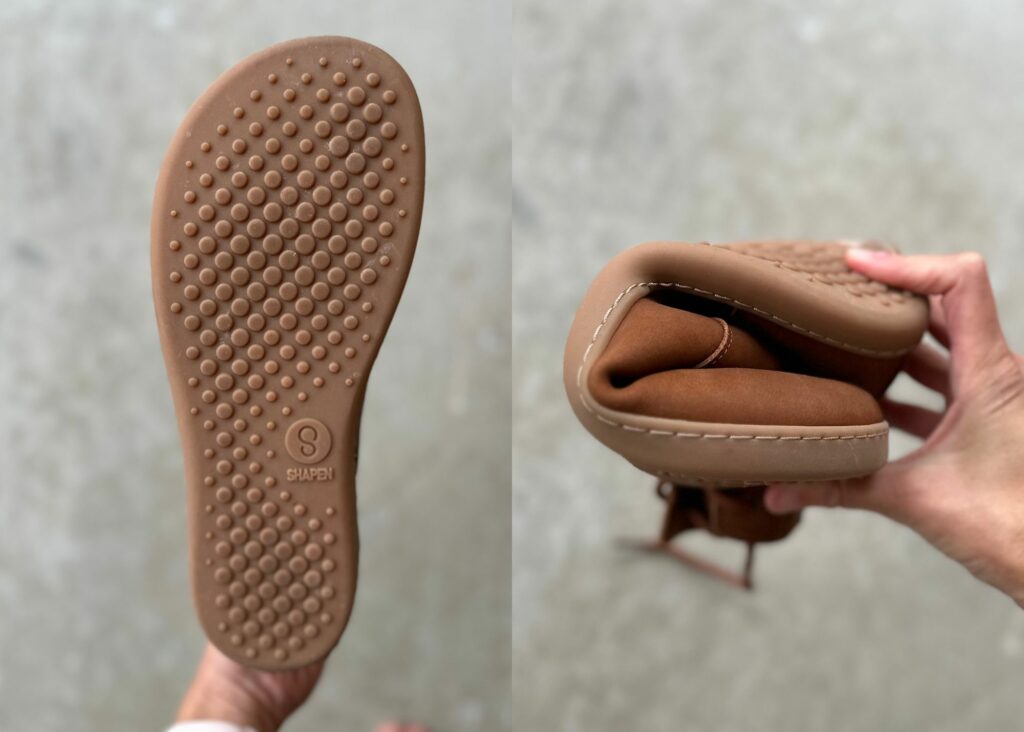 Are They Winterproof?
Each of the Shapen boot models comes on the same outsole, which is moderately grippy but not especially functional for serious winter weather. I consider my Shapen boots to be best for warmth and comfort with everyday lifestyle use – including city and light trail walking in some rain and snow. If flexibility and softness in boots is really important to you, Shapen is your brand.
But for the most functional outdoor options, check out my guide to barefoot winter boots here.
Now on to the shoes! Samantha and I both tried all these models, so you are getting our combined experience here. She has extra wide, high volume feet. I have wide feet but low volume/narrow heels.
---
Divine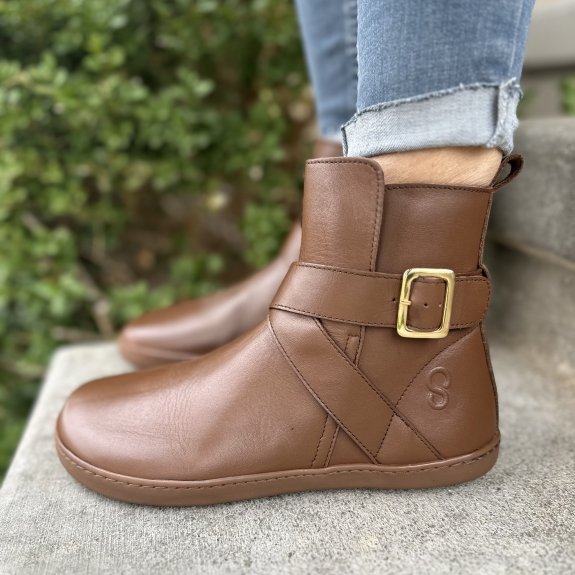 Leather | Sizes 35-44
The Divine is a chic ankle boot with a functional buckle detail. They come in black, brown, and cream and are so stylish. I have been loving on the similar Zaqq Riquet boots for 4 years now, but the Divine is a better option for extra wide, high volume feet. Now more people can enjoy this great look!
Fit: Divine boots are microfiber lined and feel very roomy. They will be best for medium to high volume feet. The ankle opening is average width.
We have all 3 colors of the Divine at Anya's Shop!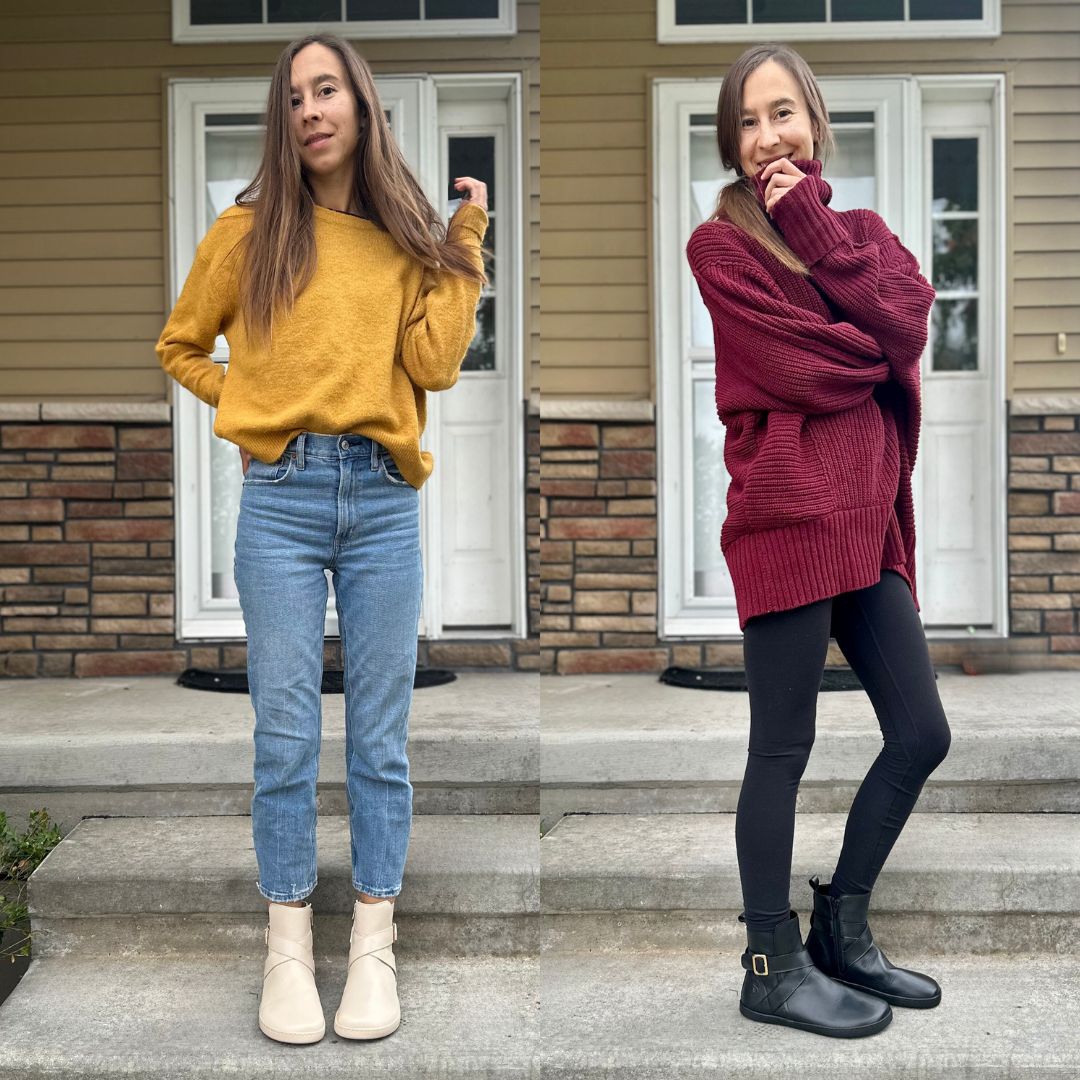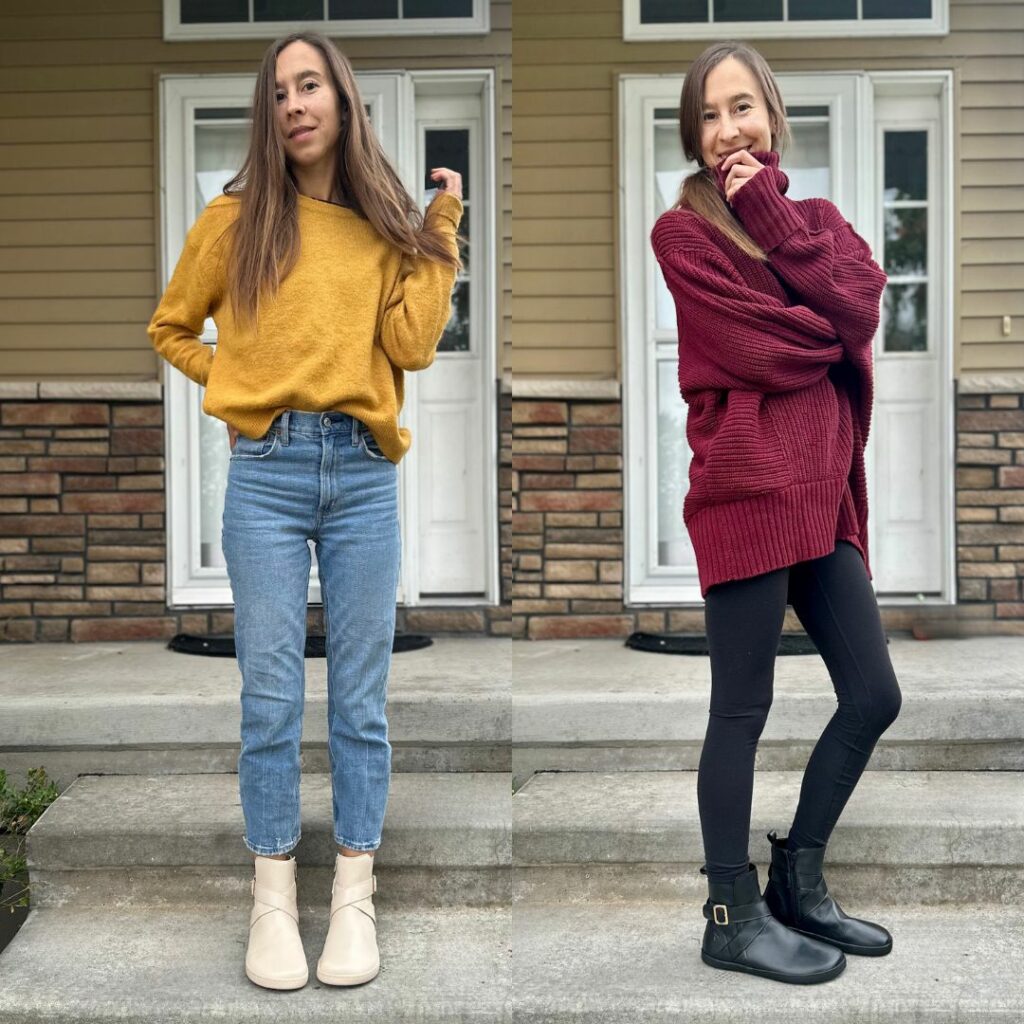 ---
Glam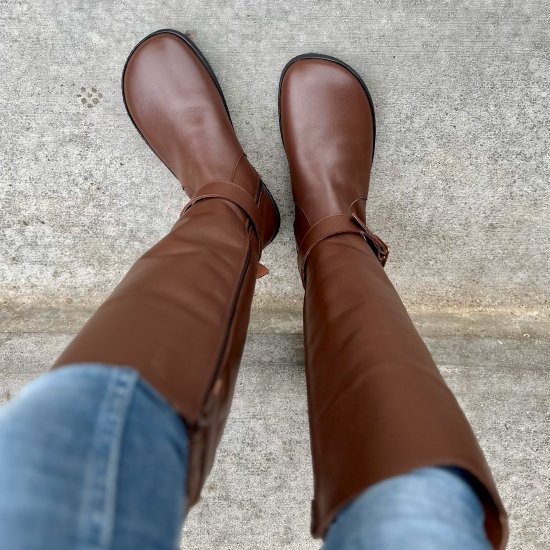 Comes in Vegan & Leather | Sizes 35-44
The Glam is a riding style boot with buckles (the one around the ankle is removable) and a side zipper. It comes in both leather and vegan leather, but I personally prefer the leather. They are classic and refined looking!
One thing to note – the buckle around the ankle does have to be removed every time you put them on. It's really cute, but it makes them less speedy to put on. And both the top and ankle buckle have 3 notches, so you get a small amount of adjustability there.
Fit: There is a thin faux fur lining for a bit of extra warmth, but it doesn't affect the fit – they still run on the big side like most of Shapen's boots. The calf is on the wider side (there is only a small piece of elastic paneling in the top of the shaft), so it gapes on my thin calves. They should fit most average and some thicker calves.
We have leather Glams in both colors at Anya's Shop this fall.
---
Ivy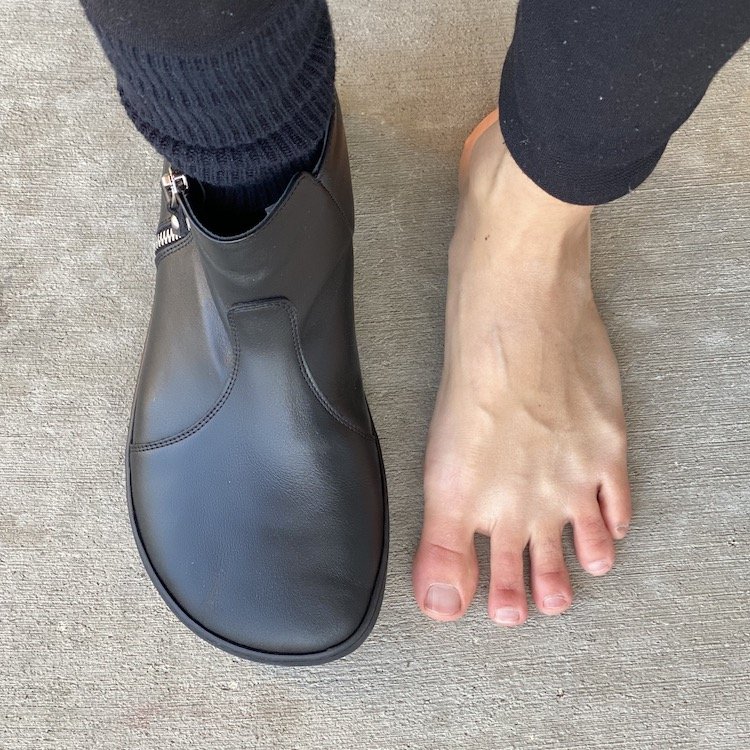 Leather & Felt | Sizes EU 35-44
The Ivy is a low cut ankle boot with a side zip. They are great for dressing up, and I love that they are a low height for easy styling. The cut of the ankle opening can be a little stiff if you have sensitive skin but it will get softer with wear. The height is perfect for wearing with every kind of outfit!
Fit: Ivy's fit more true to size than most Shapen boots, so we don't recommend sizing down. They have a felt lining which adds some warmth, but also makes them snugger around the foot than other Shapen models. They should still fit high volume feet too, but you might need to size up for that extra space!
If you've worn the Ivy in the past, these fit close around the ankle and arch and snugger overall.
We have Ivy's in black and brown at Anya's Shop this season.
---
Cozy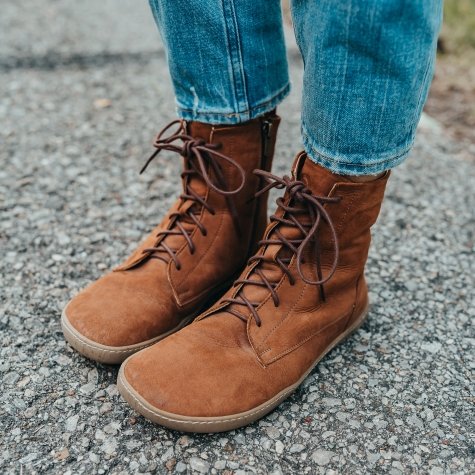 Leather & Wool | Sizes EU 35-47
The Cozy is one of my all time favorite warm barefoot boots, because they are so soft and, well, cozy. The side zip really makes getting out the door easy – they feel like a house slipper but look a lot nicer.
Fit: The Cozy fits true to size for a lined boot. I am wearing size 38 and they are perfectly roomy. The Cozy also is the best Shapen boot model for low volume feet, because the laces cinch up well. That makes these very versatile!
The Cozy is available in black and brown at Anya's Shop!
---
Urbaneer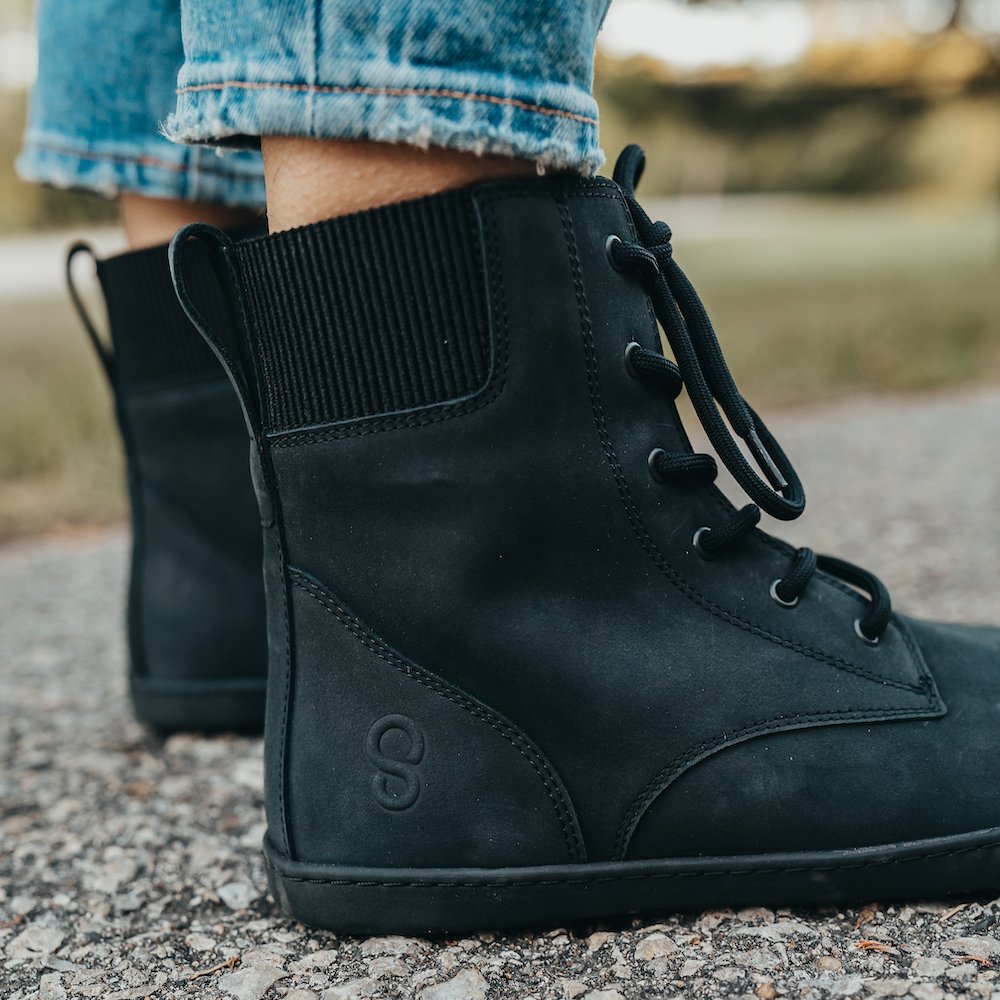 Water Resistant Leather & Wool | Sizes EU 35-47
The Urbaneer is a combat style boot with a wool lining and brushed nubuck upper. They are a little more structured than the Cozy and have a more masculine/edgy look to them. There is no side zipper and the leather is water resistant, so these are more practical for wet weather than some of the other Shapen boots. The back of the boot shaft is elasticized which makes them really comfortable for walking (no stiff edge digging into your ankle!).
Fit: The wool lining is thick like in the Cozy, so I am wearing a size 38 in these as well. The laces are adjustable, so they fit more foot volumes than slip-ons. But they don't cinch as tightly as the Cozy and they feet a little higher volume.
The Urbaneer is available in black and brown at Anya's Shop!
---
Frosty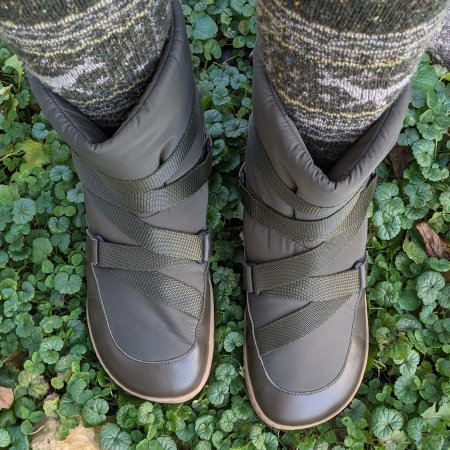 Leather & Nylon Lining | Sizes EU 35-47
The Frosty is made of a nylon upper with leather edging. The boot shaft is nylon inside until about the ankle and then a soft faux fur where your foot sits. While they look like a snow boot, I don't consider them a great option for a lot of winter weather because they aren't waterproof and you aren't able to cinch the top closed to prevent moisture coming in. Even still, they are warm and easy to wear because they pull on, so for some milder dry climates they will be a great everyday winter shoe.
Fit: High volume. The webbing is adjustable but only by a few inches, so they won't cinch well for low volume feet.
We will not be carrying the Frosty this season at Anya's Shop.
---
Fluffy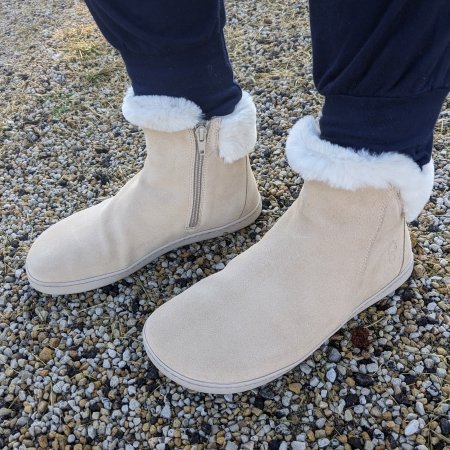 Suede Leather & Faux Fur | Sizes EU 35-44
Fluffy is a chic ankle boot lined with soft faux fur. If you're looking for a no fuss boot that still looks stylish, this is a great option! The asymmetrical ankle with fluffy collar adds a nice touch.
Because there is no adjustability in these they are not a great fit on my low volume feet – but Samantha has been wearing them often for chilly morning walks. We used a spray protectant on these before taking them out of the house so they wouldn't get dirty! They're too cute for that 😉
The faux fur lining is very soft, but I have found that it makes my feet sweat if I don't wear socks.
Fit: High volume. Because these don't have any adjustability, if you have low volume feet expect to need additional insoles and/or to wear thick socks.
We will not be carrying the Fluffy this season at Anya's Shop.
---
Lynx
Water Resistant Leather & Wool Lining | Sizes 35-47
I love this new style, it takes things up a notch from your basic lace up boot with the turned down wool collar and shiny metal lace holders. They are neutral, but interesting! And the water resistant leather and rubber toe guard make these practical for some rain and snow (you don't have to worry about scuffing around the bottom either).
Fit: These run quite roomy and I sized down in them along with our other AR team members who tried them on. Despite the thick wool lining, they felt very roomy in a size down.
We have the dark grey available at Anya's Shop!
---
Berry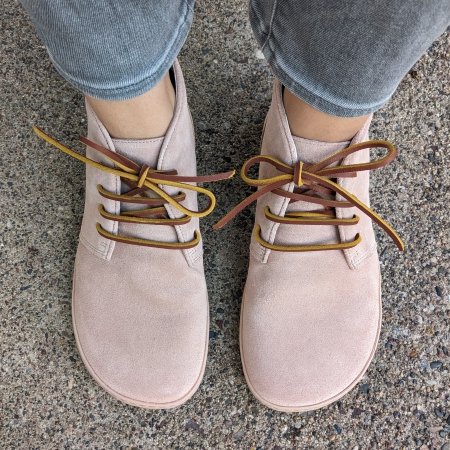 Suede & Textile Lining | Sizes EU 35-47
Berry is an all-year lace up ankle boot with leather laces. It comes in colors you don't typically see in this style – burgundy, pale pink, vanilla, and grey. I highly recommend protecting these cute desert boots with a spray shoe protectant so that the color is preserved. But if they do get dirty, a suede brush can work wonders! These are really comfortable barefoot thanks to the breathable and soft microfiber lining.
The laces can be a little difficult to tight/loosen but they get softer with use.
Fit: The lining is a thin Microline textile, they fit wide and high volume!
We will not be carrying the Berry this season at Anya's Shop.
---
I'm just so happy to see how Shapen is progressing! And don't forget, that if you want more tips on barefoot boots for winter, check out my other articles!