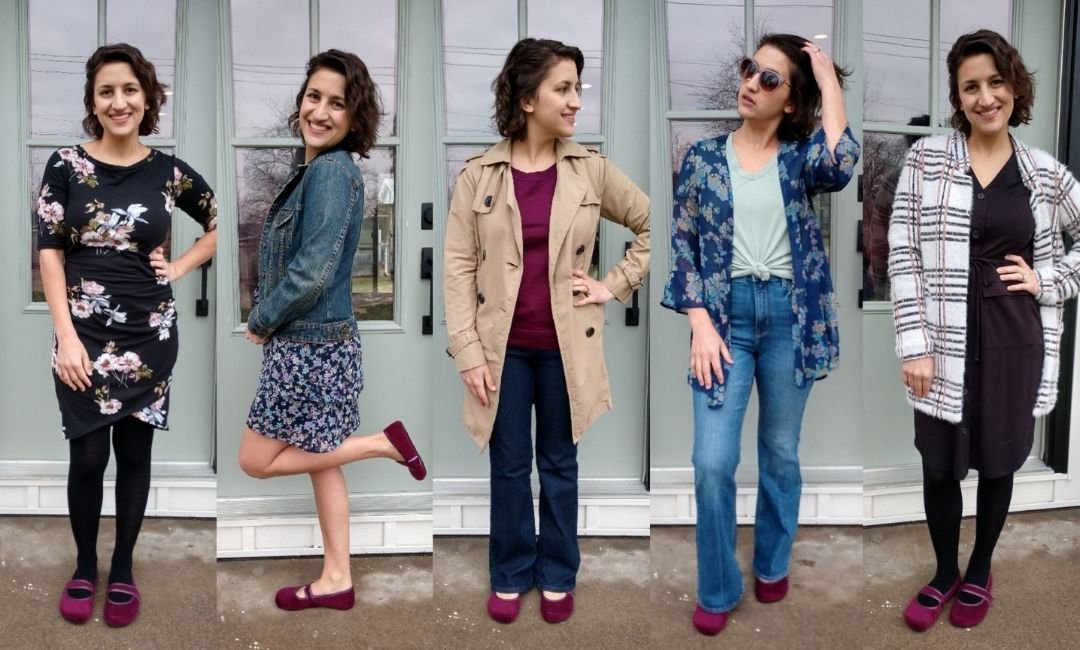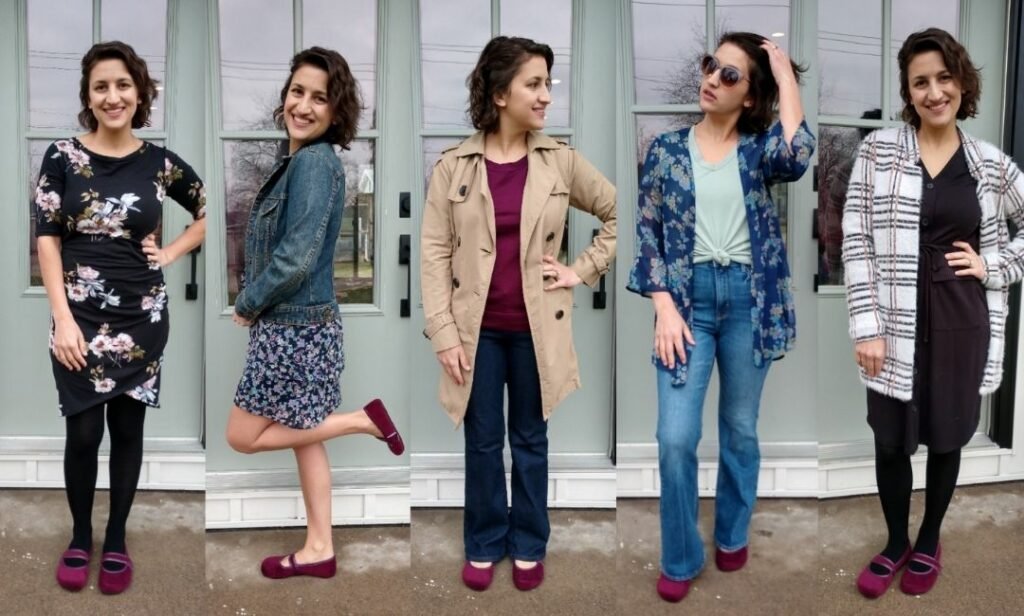 Classic, ultra minimal, and with a vintage vibe, Tadeevo velvet ballet pumps fit surprisingly well in my wardrobe. They are a solid choice for anyone needing a business appropriate dress shoe and check all the boxes of natural footwear. Read on for my full review of Tadeevo Velvet Ballet Pumps!
Use code ANYASREVIEWS for 5% off any Tadeevo purchase!
Tadeevo Ballet Pump Review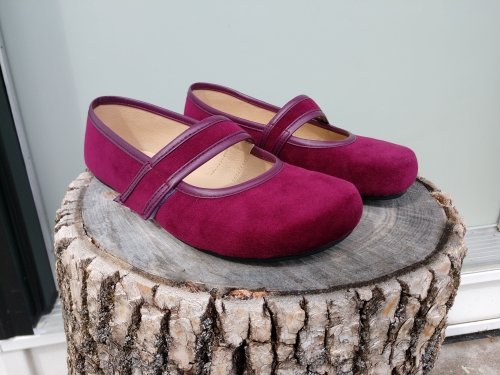 Tadeevo is a Polish company that strives to make super minimal, lightweight, and extremely flexible barefoot shoes for men, women, and big kids. To say it plainly – they've succeeded. When I first saw the velvet ballet pumps, I wasn't sure they were for me. After trying them on, I couldn't deny they were a good fit for my wide, medium-high volume feet. After I tried them on with some outfits, I was pleasantly surprised at how versatile they could be. A few details I was hesitant about at first, turned out to be really practical benefits!
The strap placement is lower on the foot, which actually works to visually lengthen my short legs instead of cutting me off at the ankle like most straps (I'm only 5′ tall!). Another benefit of this placement, is that I can slip these on and off without undoing the strap but they are still really secure – no ankle slipping. The velcro, while not my first choice of closure on adult shoes, definitely makes these easy to put on and adjust. The ease and simplicity of velcro can be a good choice for anyone with dexterity/mobility issues in their hands.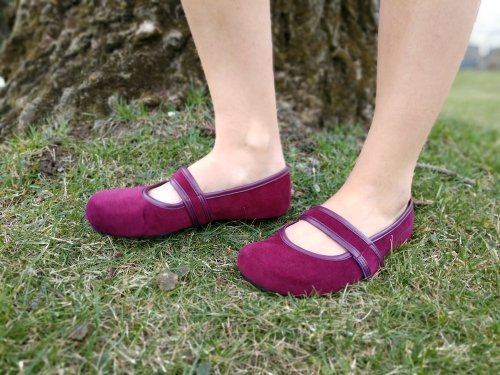 Materials
Tadeevo Ballet Pumps come in several colors each in smooth leather, velvet, and Tadeevo's "butterfly mesh". The velvet and mesh versions are both vegan and have a wider strap with the velcro closure. The leather versions feature a thinner strap with a buckle. The lining of the velvet style is a type of faux leather and although it's soft, it isn't breathable so I would recommend wearing some no show sock liners to absorb sweat.
Click here for a full list of vegan barefoot shoe options!
The toe box is lightly reinforced to retain it's shape which means it will continue to look professional even after lots of wear, but this feature does prevent the very end of the sole from rolling up as seen below. A small trade off for an otherwise incredibly flexible and comfortable business shoe.
With a stack height of only 5mm, these have great ground feel! The sole is made of Ultraflex Rubber and is indeed – ultra flexible in all directions. The sole is glued on and has a very low profile with no wall around the shoe which is my preferred look for dress shoes since it virtually disappears when worn.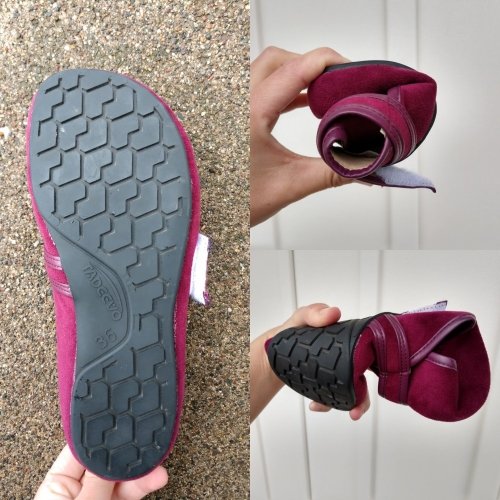 Tadeevo Sizing and Fit
Tadeevo ballet pumps are available in EU sizes 36-42. They are nice and wide, and the square shaped toe box with only a slight slope towards the pinky means these will fit most toe shapes. The toe box has ample vertical height and there is not even a hint of toe spring. Absolutely no pressure on the tops of my toes and I even have room to wiggle them up and down. The overall shape of the shoe is rectangular, so skinny ankles and low volume feet won't be a good fit. You could try adding insoles or any of the other tricks Anya uses for her shoes that she talks about in this video.
The Tadeevo size chart does not list the internal measurement of the shoes, but rather lists what foot lengths they recommend for each size. I would prefer both be listed. My foot length is 23.5cm using the wall method and their chart puts me at a size 37 which is my usual size in unlined shoes. These were originally meant for Anya, so they are a 36 and a close fit for me – I only have a few mm of extra space. A size 37 would give me better space in front of my toes. If you are between sizes on their chart, I would choose the smaller.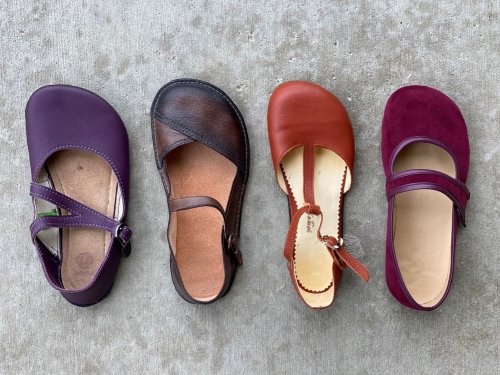 For more barefoot ballet flats, check out the full list here! Then use the menu to jump to the list of extra wide options.
Same Shoe, Different Foot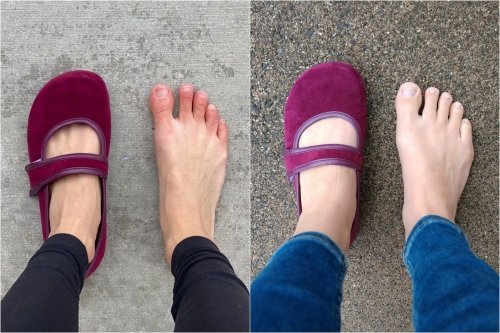 Like I said, these shoes were originally meant for Anya, but here you can see why she passed them on to me. My feet (right) are a good bit wider and higher volume than Anya's (left) and see she has tons of gaping all around and they weren't secure on her feet. She walked right out of them! The fit of Tadeevo suits my shape much better.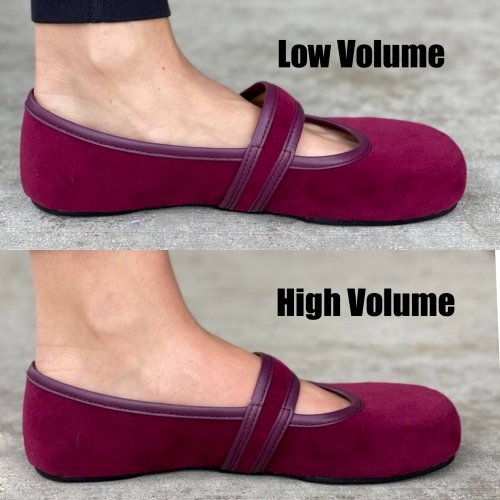 Anya (top), Me (bottom). Not to brag, but I really fill up the space this shoe offers!
Not sure what type of foot you have? Check out this post for a Guide to Understanding Foot Type!
Cost and Ordering
All versions of the ballet pump are $99 and you can use code ANYASREVIEWS for 5% off. You won't be surprised with a hefty shipping cost at checkout, because Tadeevo offers free global shipping! Returns are accepted within 30 days, no questions asked, but customers are responsible for return shipping costs.
Critiques
If I were tasked with making any design changes to these, the biggest one for me would be to use color-matched velcro. The white velcro peeking out under the strap detracts from the professional look of these the tiniest bit and if you have even higher volume feet than mine, it could be a lot more visible. I would also consider changing the strap design so you could wear it tighter without the strap dragging on the ground. Currently, there is very little space to tighten the strap. Luckily, my foot fits with the velcro strap perfectly aligned so it isn't an issue for me.
Also, these would be so cute on my girls! I wish Tadeevo offered them in little and big kid sizes so we could all match – before they're too old to think that's cool, haha! Girls barefoot dress shoes is a tough category and these would be a welcome addition.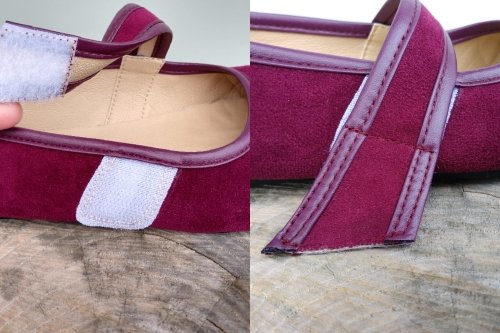 Style
The burgundy velvet material is beautiful, soft, and adds a lovely texture to any outfit. I always gravitate towards jewel tones in my wardrobe, and these coordinated really well with some of my favorite pieces. Velvet in general always gives off a vintage/retro feel and these are no exception so they are really fun to wear with mini dresses, rompers, and wide leg jeans! Alternatively, they look equally nice with more business appropriate outfits.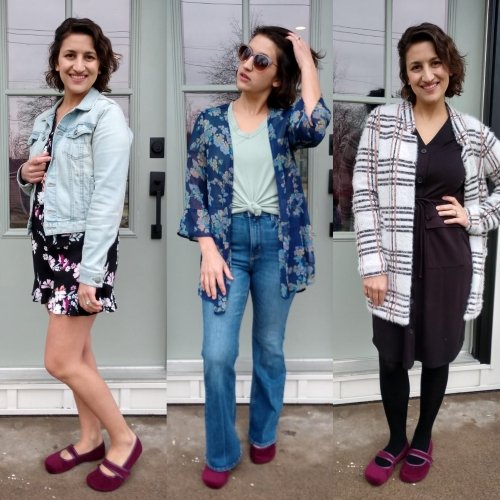 Conclusion
I had a lot of fun pairing these with different things in my wardrobe and I wish I had known about them when I was working in a business environment as I think the black velvet or leather would look especially nice with professional office attire. The are a delight to wear and aren't tight or restrictive on my feet in any way. They retain their shape without being stiff, and the soft upper materials means no break-in period required! A lightweight, professional flat that works for wide and high volume feet and is less than $100 – YES!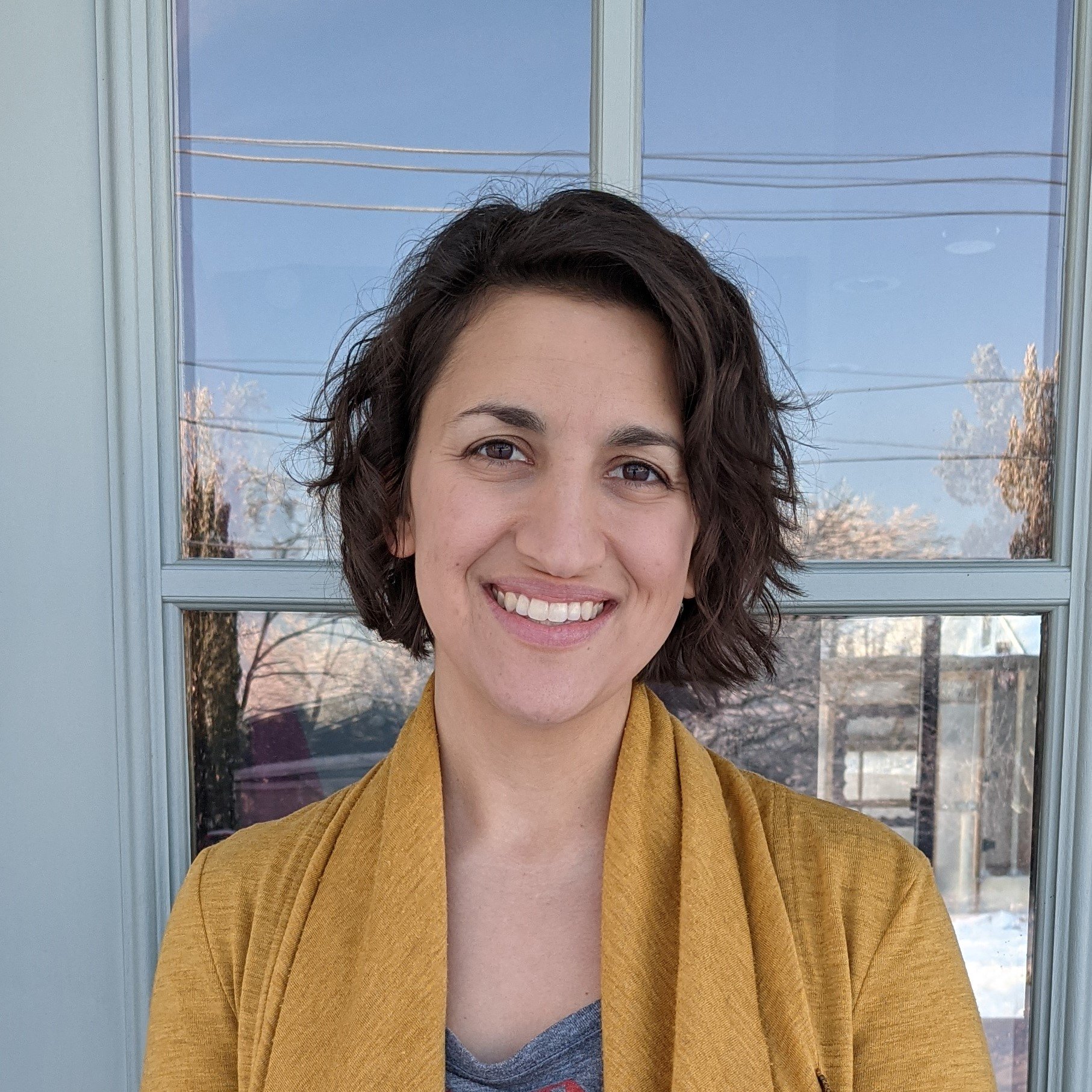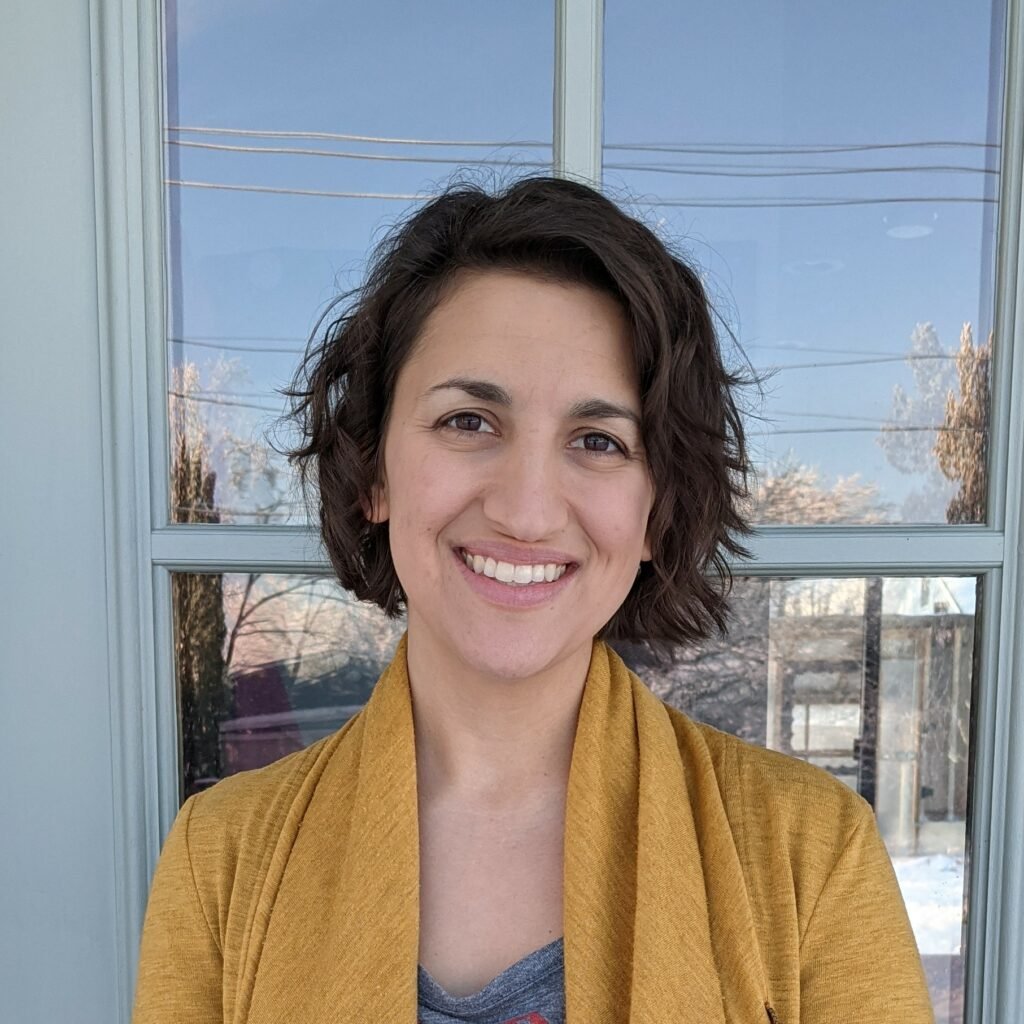 Samantha is a writer/researcher for Anya's Reviews and stay-at-home mom to 4 littles. In addition to shopping online for footwear for her family, she spends her time homeschooling, reading, weaving, and doing home improvement projects with her husband.