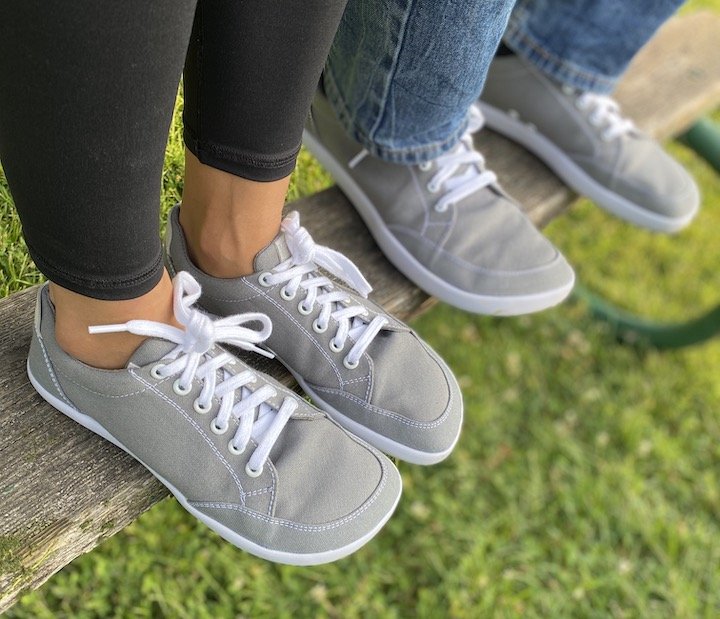 Splay Shoes is a US barefoot shoe brand that makes affordable sneakers for the whole family. The Freestyle is their newest model that goes from toddler sizes all the way up to a US men's 13! Read this review for all the details on Splay's newest barefoot sneaker, the Freestyle.
Code ANYASREVIEWS will save you 10% off!
Splay Shoes Freestyle Review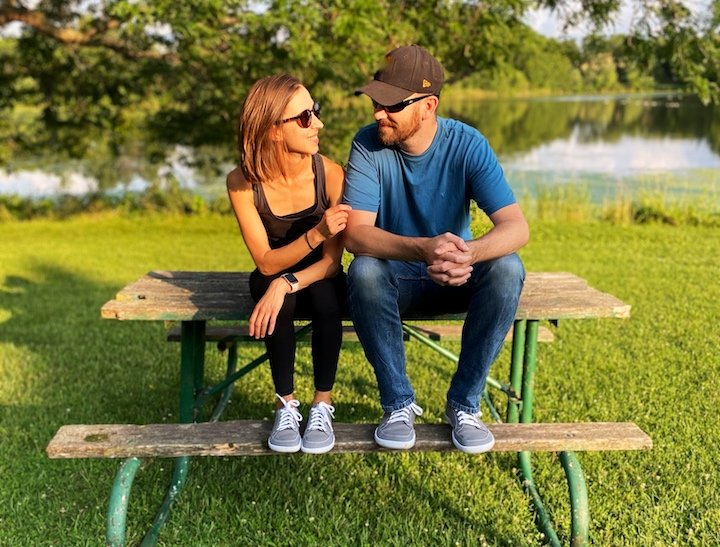 Vegan | $48-$66 | Sizes Toddler to US men's 13 | 4-6.5mm thick*
* Kids sizes are 4mm, Big Kid/Women's sizes are 5mm, and Men's sizes are 6.5mm. See the sizing section for details
My oldest boy has been wearing Splay Shoes for years now. We backed their original crowdfunding campaign in 2018 and they've just worked really well for his feet (and our budget). I've been hoping and encouraging them to make an adult version for a long time now so I am so stoked to be able to share these with you!
The Freestyle is Splay Shoe's newest barefoot sneaker that fits even Justin, who wears a US men's 13. He and I were both Vans wearers before switching to that healthy feet life and the Freestyle is the perfect replacement, both in looks and in price!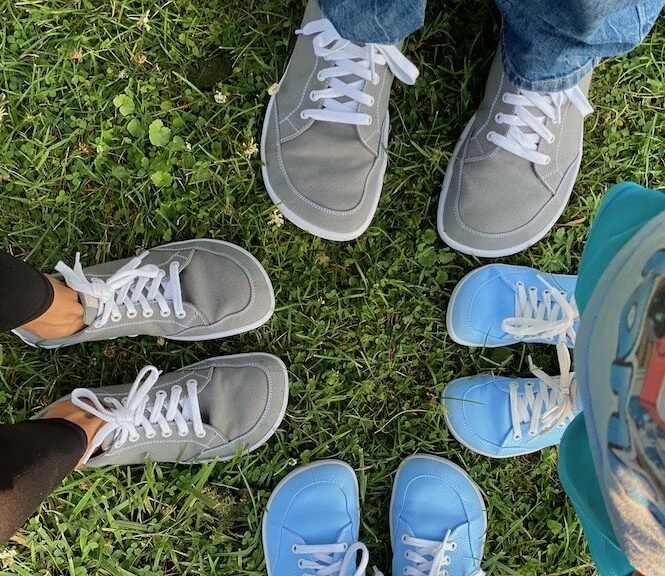 Freestyle sneakers cost $53 in kid sizes and $73 in adults, but you can always get 10% off your Splay purchase with code ANYASREVIEWS, making them only $66 for adults – almost the exact same price as most Vans sneakers.
Why Splay is Better Than Vans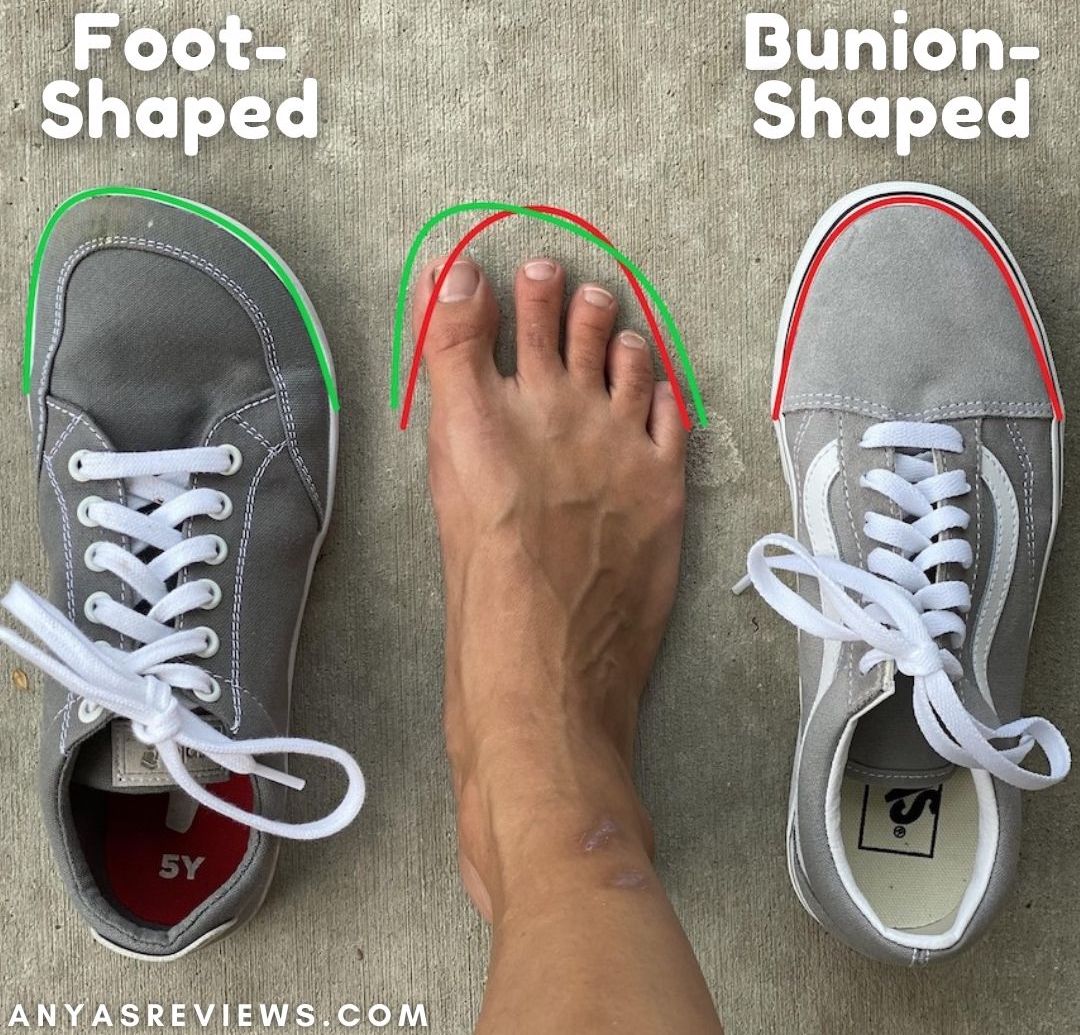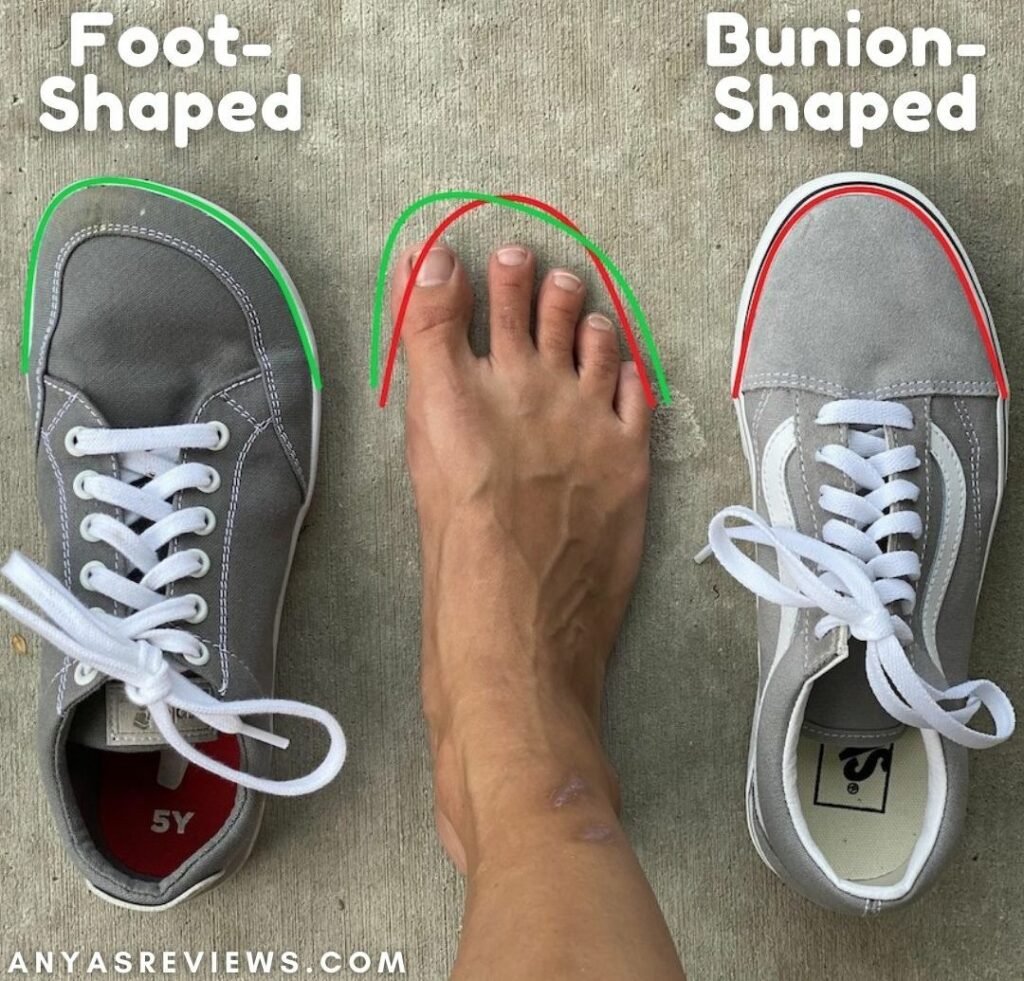 I will always pick Splay over Vans and other mainstream sneaker brands for three important reasons. Splay Shoes have:
A foot shaped toe box
A thin, flexible sole
No heel rise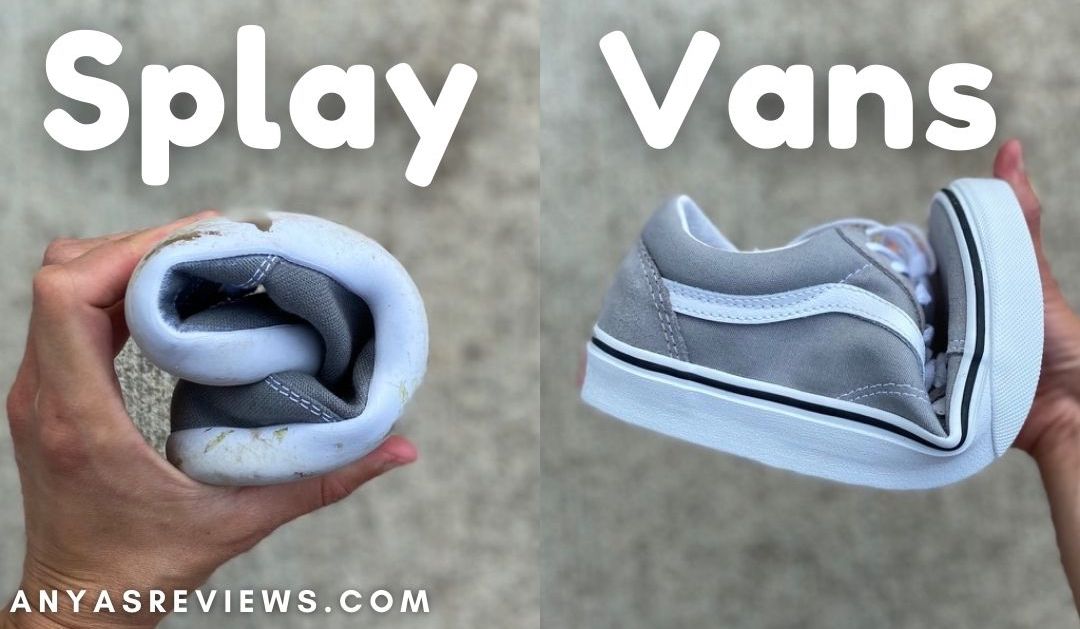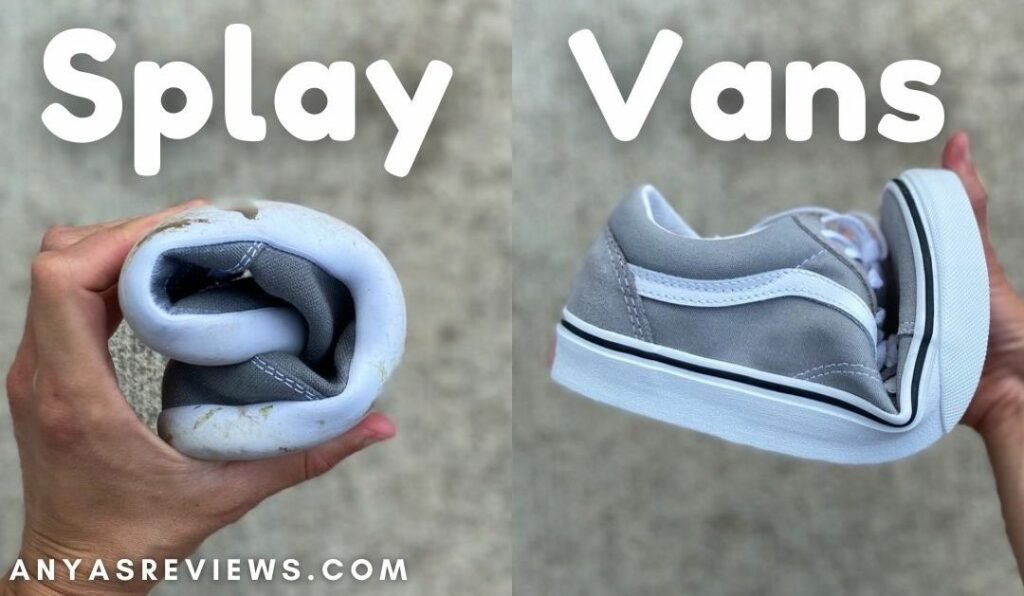 If you're not used to thinking about your feet, it might come as a surprise that those shoe features can have a profound effect on your body. Foot shaped toe boxes allow the big toe to lay straight, making it possible to use your arch muscles while you walk. It also allows blood to flow through the foot, helping prevent issues like plantar fasciitis. Yep, you're reading that right – tapered shoes like Vans might be causing your flat feet and foot pain.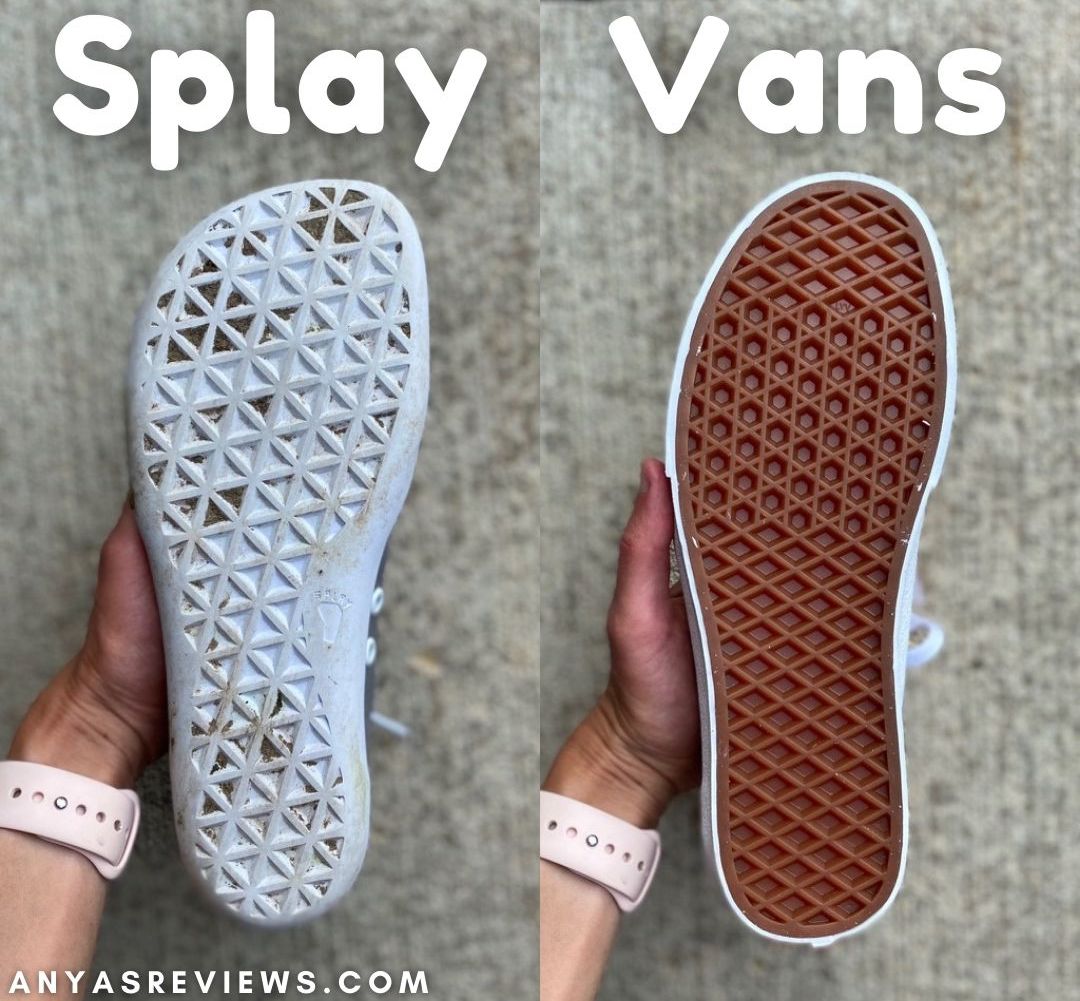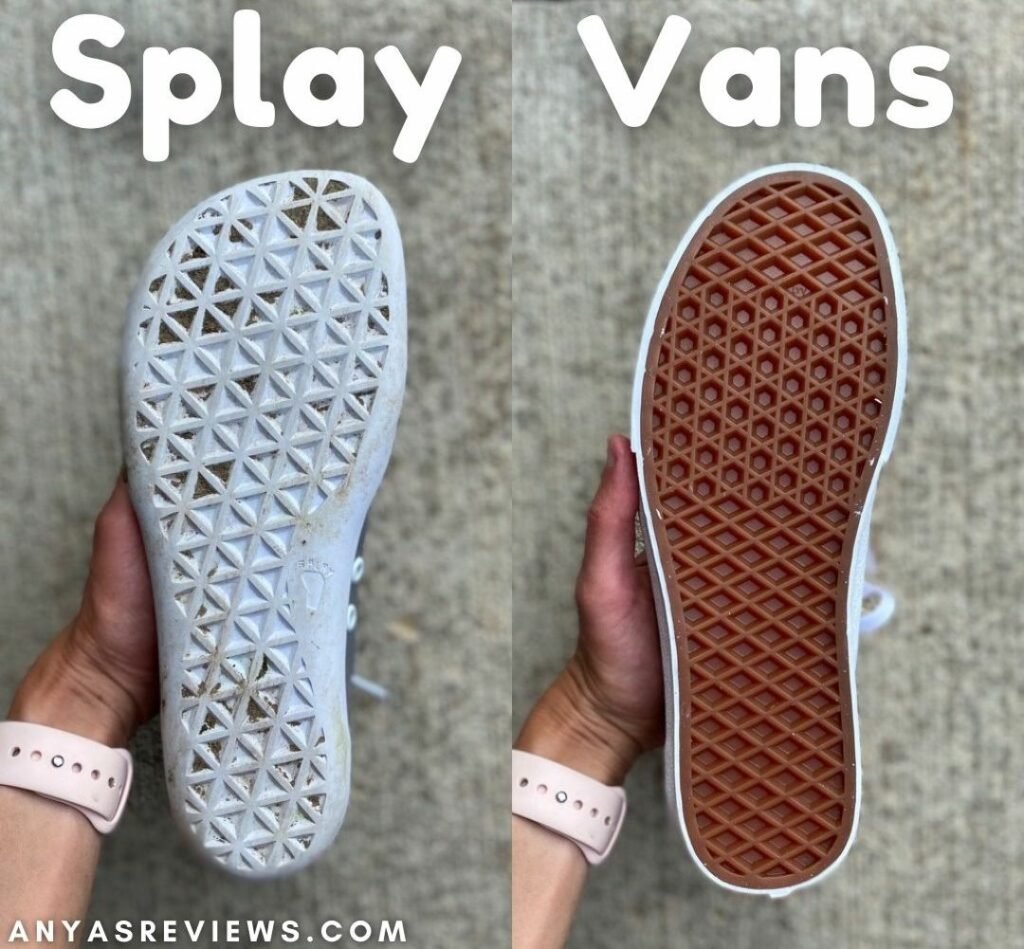 And flexible soles are no less important: foot motion is intricately connected with the pelvic floor, so a shoe that lets your foot bend and flex (like it's designed to do) keeps you healthy further up the chain. Finally, Splay shoes are completely flat from toe to heel so you can stand erect with good alignment. You may think that Vans are also completely flat, but the insole of the shoe has a built in heel lift. Even a small heel like that pushes your center of gravity forward, stressing your joints.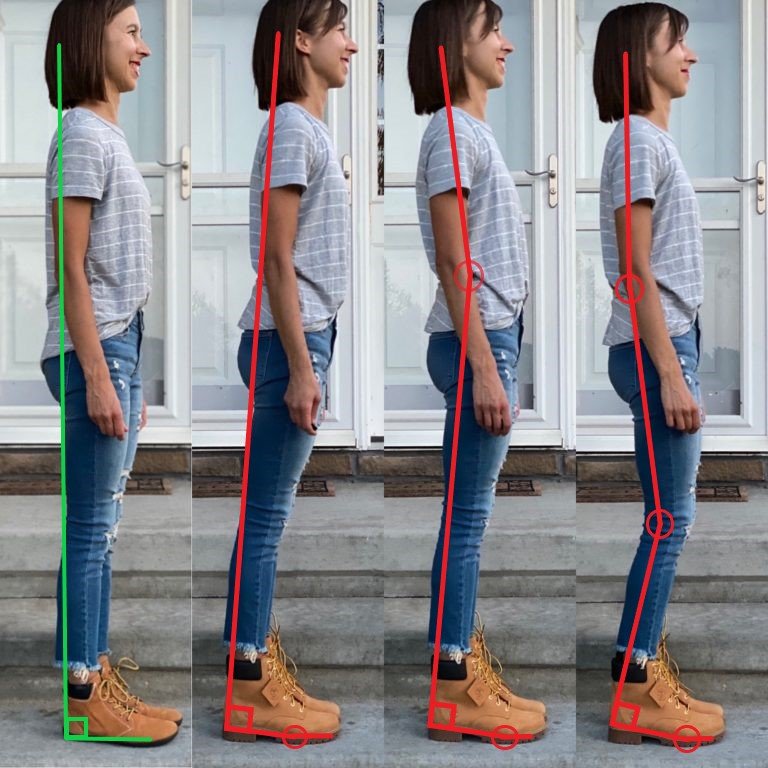 I could go on and on! If you'd like to learn more about the impact shoes have on your body, read this post on the benefits of barefoot shoes. Especially for my children, who don't have foot issues (yet), I am adamant about putting them in these types of shoes.
Suffice it to say, choosing Splay shoes over Vans is a gift to your body that will keep on giving. Now let's move on to picking a size in your Splay Freestyle sneakers.
Splay Freestyle Sizing
When it comes to picking a size, I always recommend learning how to measure your feet first. Remember that how you got your foot measurement determines how much extra space you need in front of your toes. My feet measure 22.8 cm long using the wall method (read the article linked above for an explanation), so I need a shoe 1-1.5cm longer than that. I wear my shoes without socks, and chose the women's 7 which is 1.1 cm longer than my feet. If I were to wear socks, I would probably go with an 8.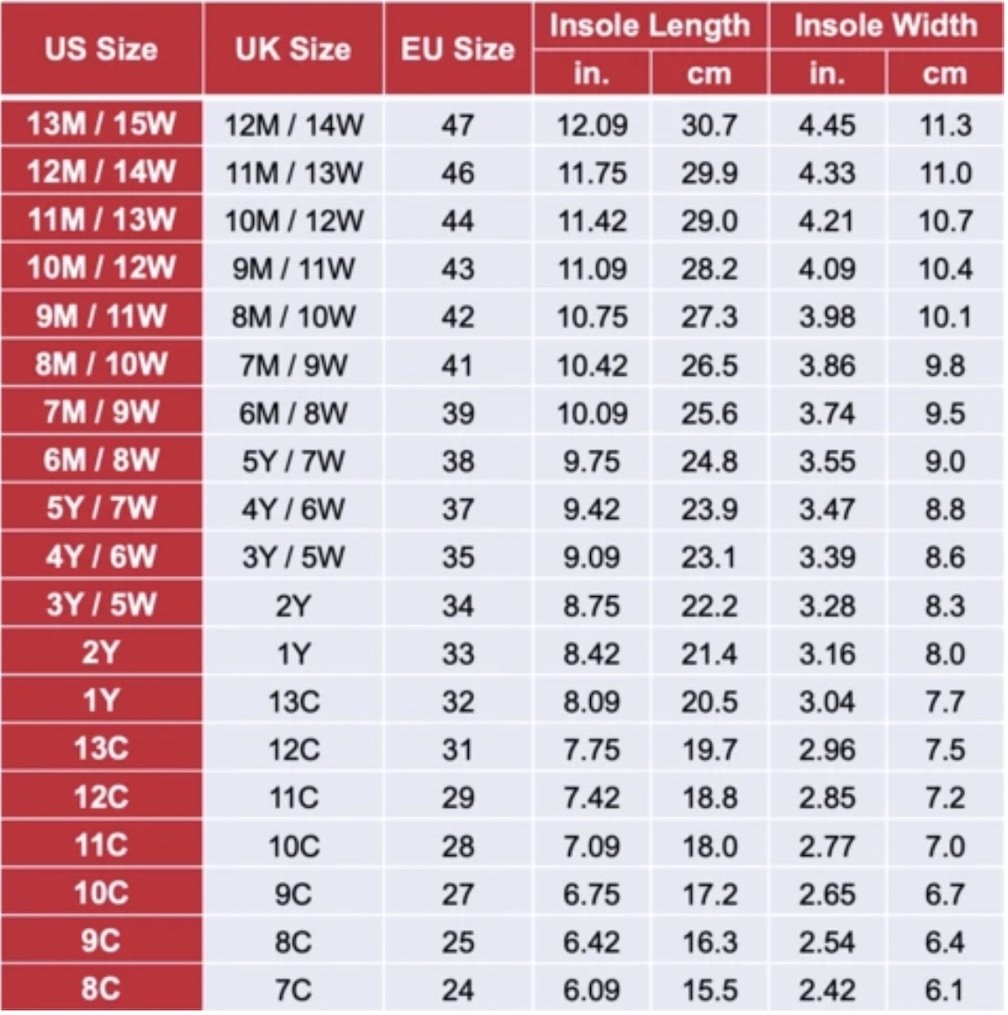 When picking Freestyles for Justin, I broke my own rule and ordered his usual size without measuring (shhhh, don't tell!). They ended up being just right for him, and it's a good thing since he got the biggest size available. But for my children, I both measured and used the printable sizing guide to pick. It's hard to keep track of a kids' shoe size, so I always measure before ordering for them. With Splay I know to go with the larger size if we are in-between, because the kids sizes run smaller than other barefoot kids' brands.
Note that the sole thickness depends on the size you're ordering. Sizes 8C – 12C (or EU 24-29) are 4mm thick , Sizes 13C – 7M/9W (or EU 31-39) are 5mm thick, and sizes 8M/10W and above are 6.5mm thick.
Will They Fit My Foot Type?
The Splay Freestyle shoes are meant to fit most foot types, but there are a couple things to know. See them on different foot types below!
Not sure what your foot type is? Read this post
Same Shoe, Different Foot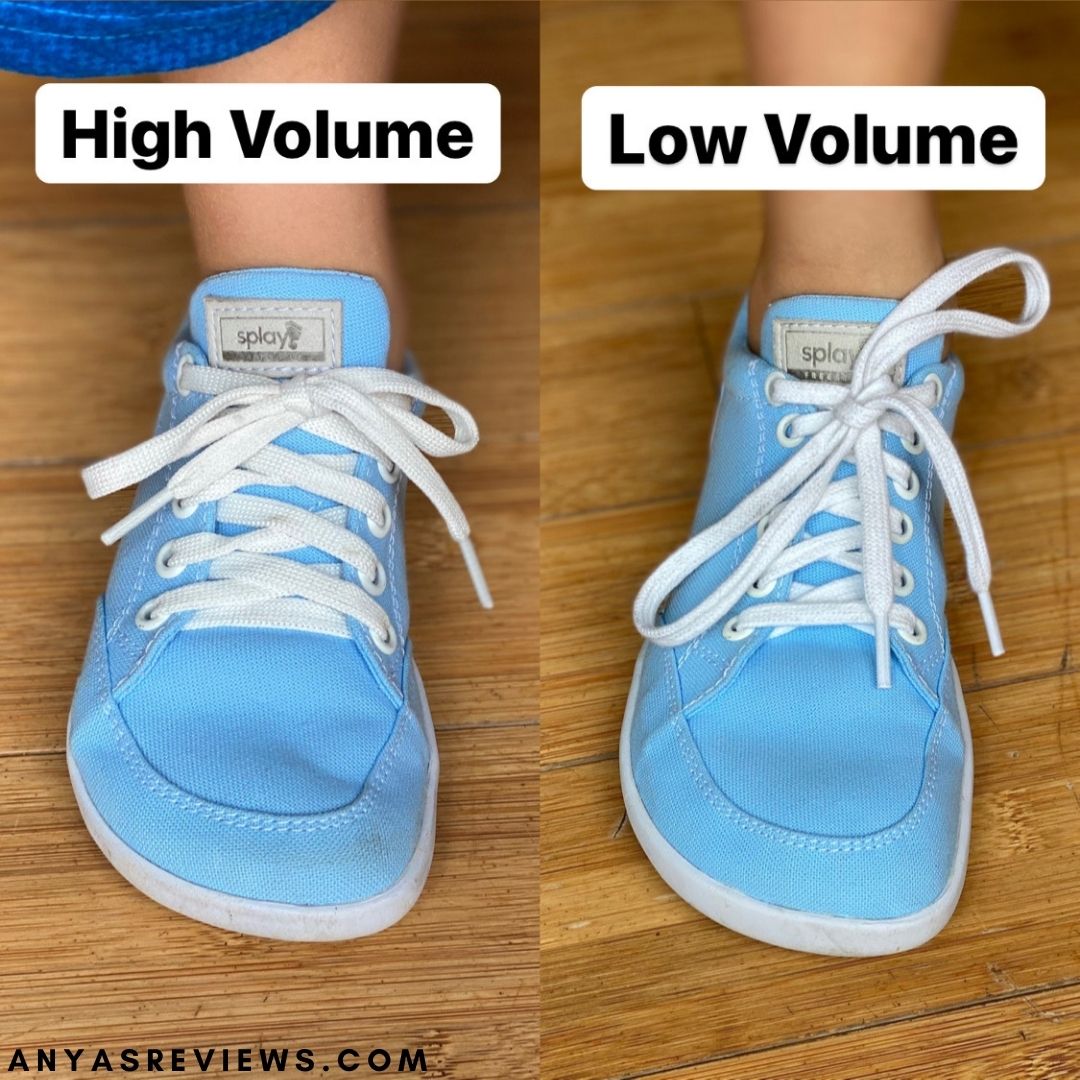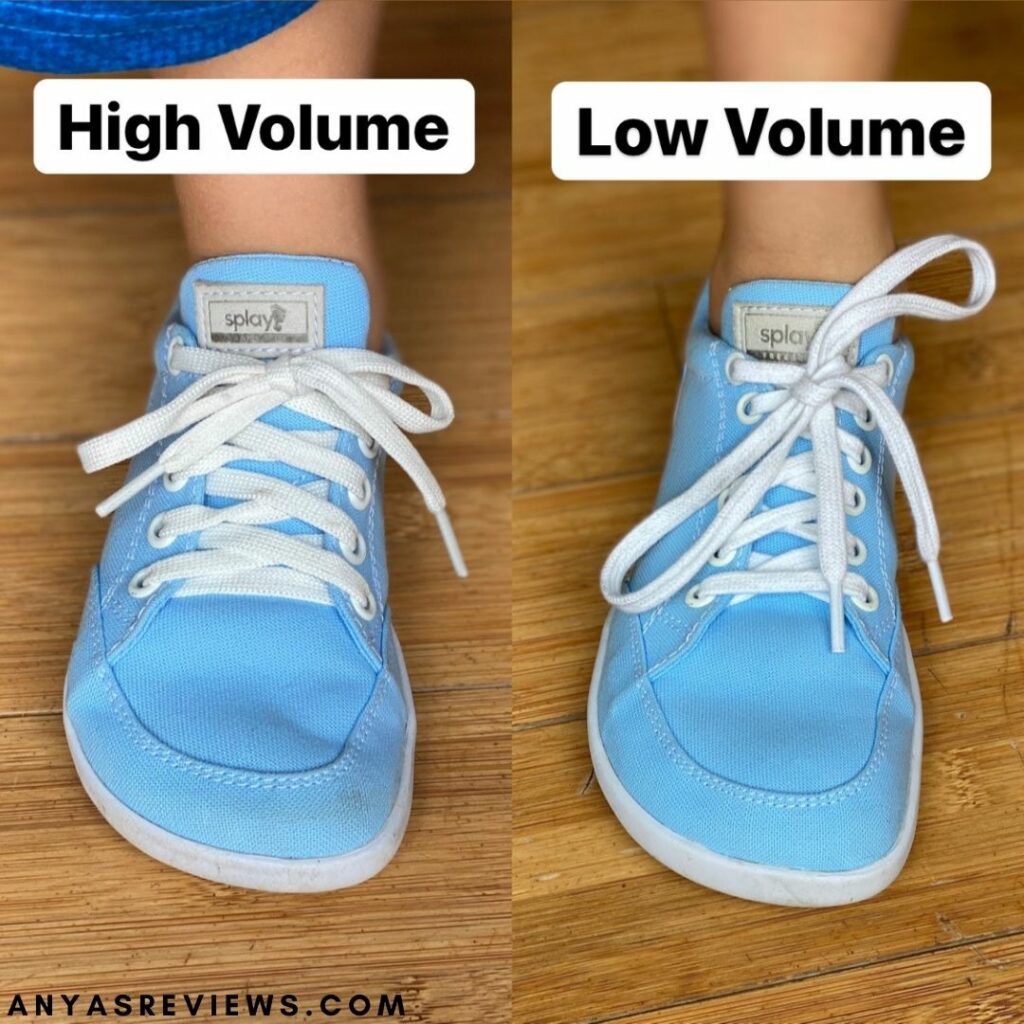 On the left you can see my youngest son who has a thick, high volume foot and a high arch. He has trouble getting those "puffy bricks," as I adoringly call them, into shallow or tight shoes. The Splay Freestyle works, but the tongue only just barely covers the space between the sides of the shoes.
On the right is my older boy's skinny ankle and low volume foot in the Splay Freestyle. He cinches the laces tighter and they work well for his foot type. In general, these seem to be geared toward medium to low volume feet, but can work for high volume as well.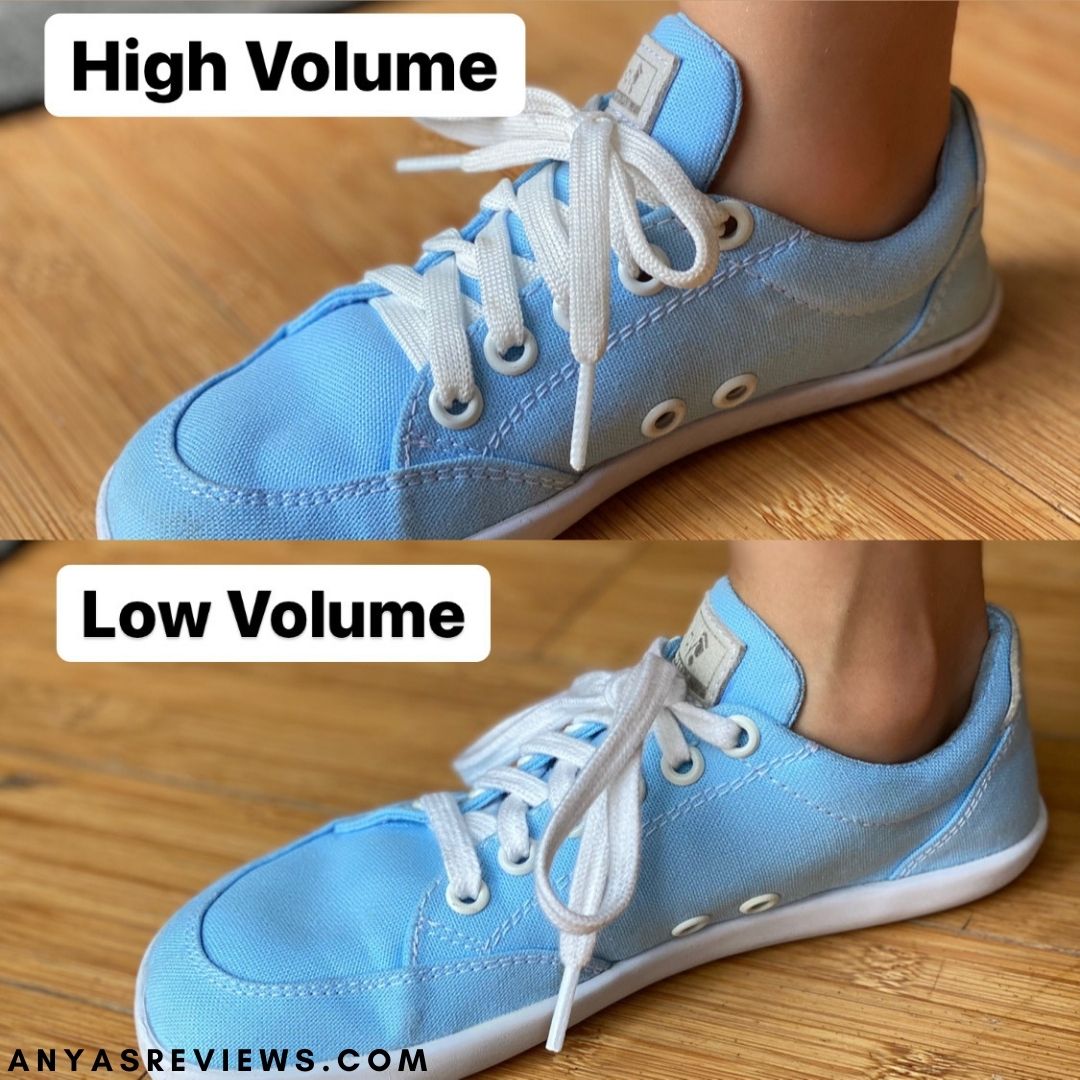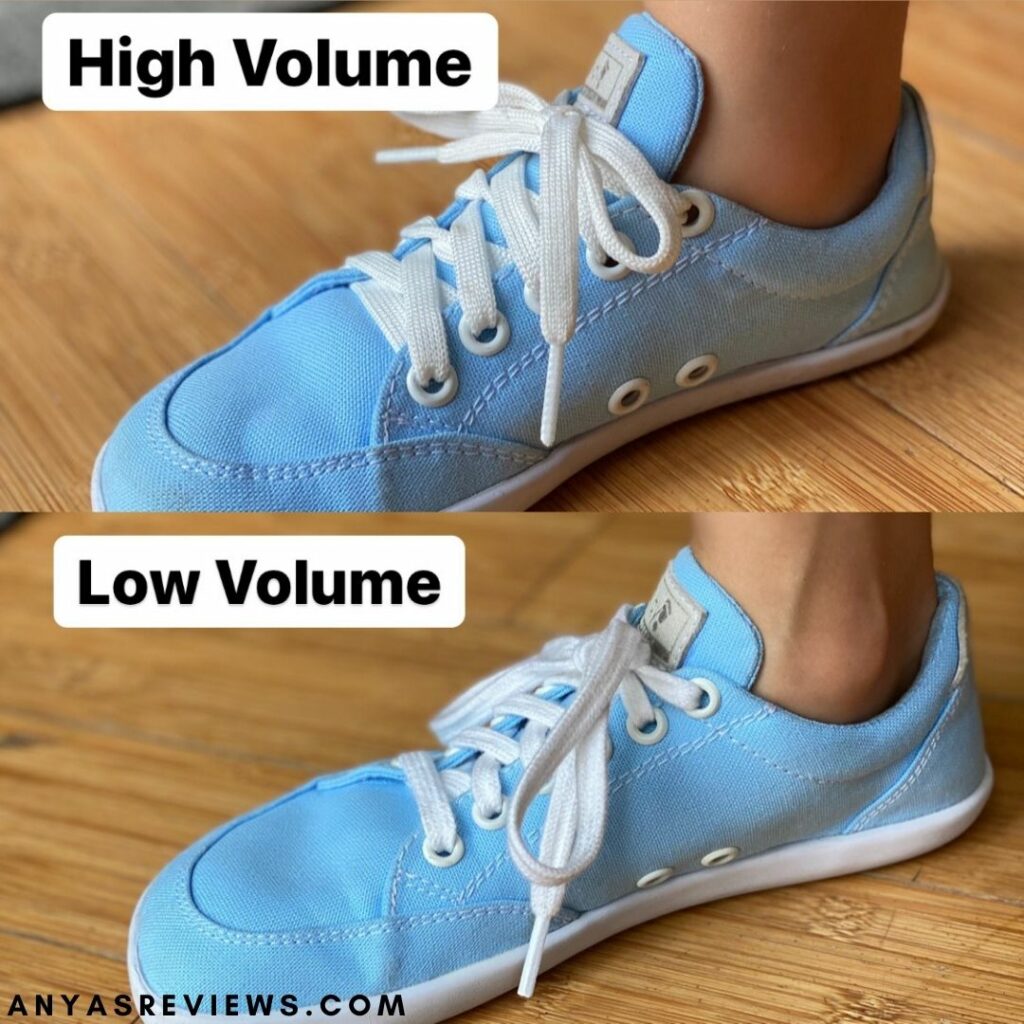 Splay VS Other Barefoot Shoe Brands
There are over 200 barefoot shoe brands all over the world, each catering to a different foot type. You can get to know the different brands (and find ones in your price range and near you) by checking out BarefootShoeFinder.com. But since we don't have time to go over each one, let's look at some of the major brands in comparison to Splay. Below I've organized 8 barefoot shoe brands from widest toe box (top left) to narrowest (bottom right).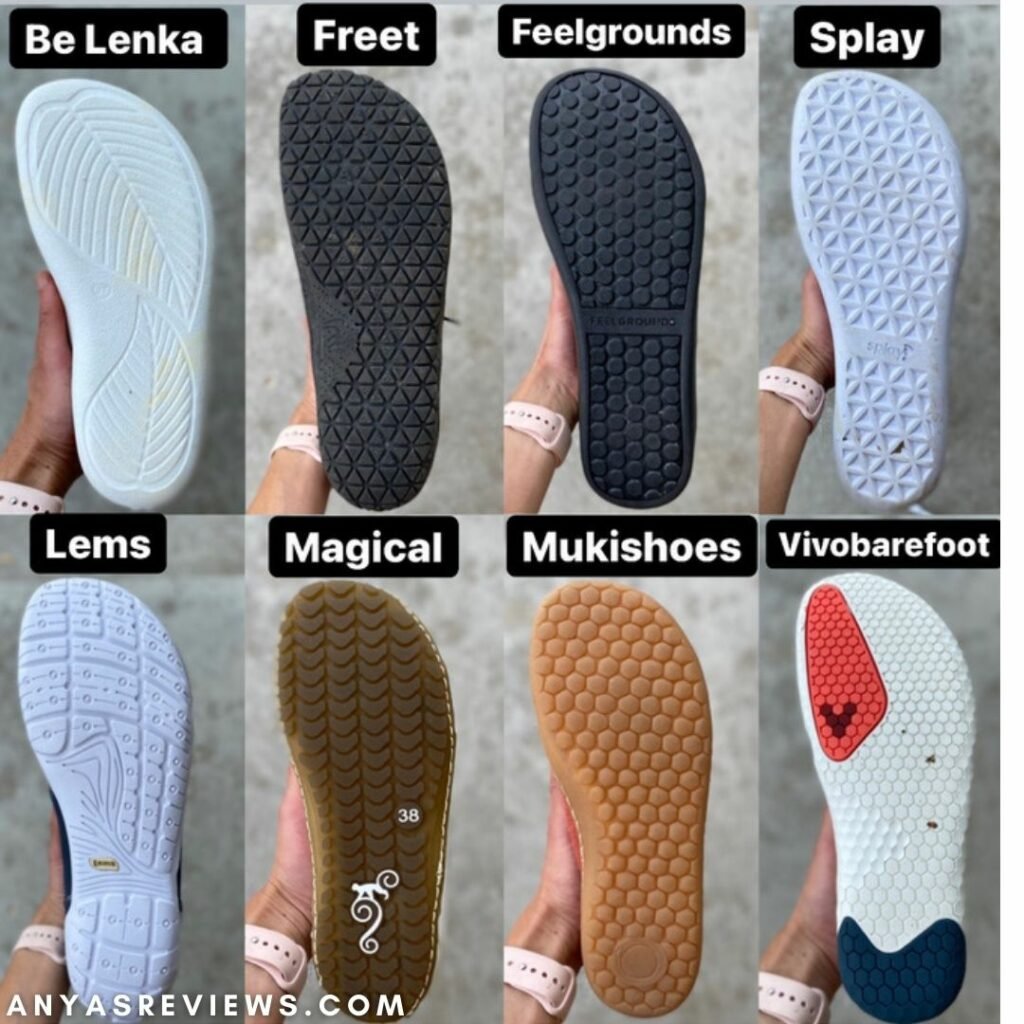 Splay shoes have a toe box that is comparable in width to brands like Freet, Feelgrounds, and Lems. That means they are good for a wide toe spread, but not crazy wide like Be Lenka and Softstar Primals. If you're feeling overwhelmed right now, suffice it to say that Splay Shoes should fit most toe widths.
One quirk about Splay shoes is that they taper in at the arch (not to be confused with a toe box taper). Justin has brick shaped feet that are almost as wide at the midfoot as they are at the toes, and in his Splay Freestyles his midfoot is sitting right on the edge of the sole. It's a common fit issue for him (if you have feet like his, brands like Freet, PaperKrane, and Xero shoes tend to be wide through the middle), but he is still wearing them without trouble.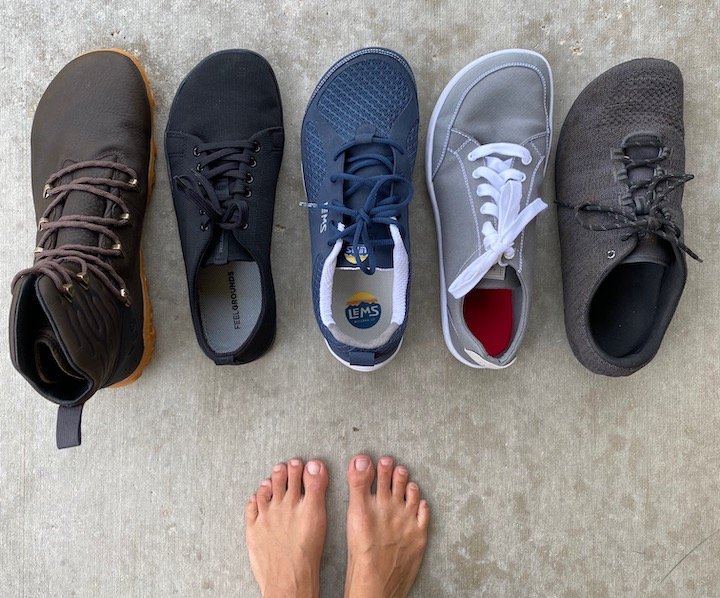 For kids, Splay has been a wonderful addition to the available options because they are affordable and still look like regular shoes. My boys have always refused to wear the moccasin style shoes that are readily available, but for a while that was all I could find in our price range that also met my standards for healthy footwear. When Splay came on the scene, we were instant customers for life. You can read this article for more on how Splay compares to other barefoot shoes for kids.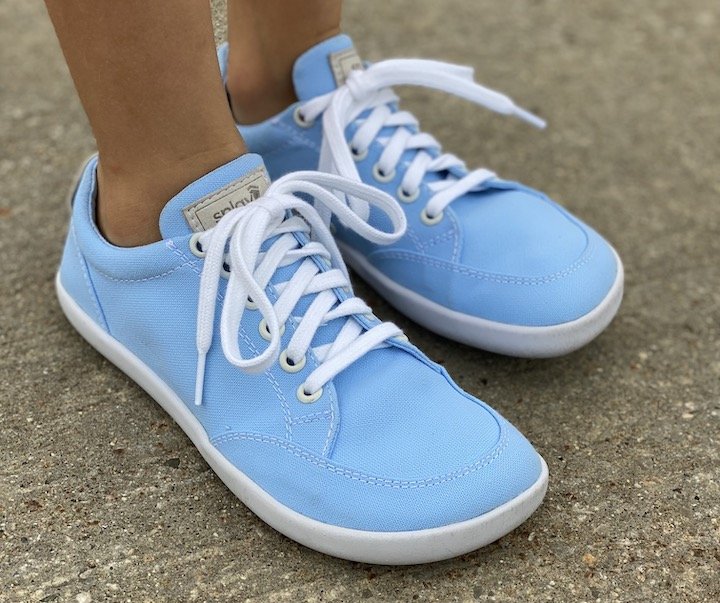 Are They Durable?
My kids are tough on their shoes, like they should be. So it was an open question whether they'd tear through Splay Shoes in a matter of months. Since we've had a few years in the Explore shoes, we've learned time and again that they are quite durable! The biggest flaw Splay shoes have is that the color fades and gets discolored over time. But I personally don't worry about that with my children – as long as they don't fall apart we are good. In my own pair of Freestyle shoes, I don't expect to be dragging them on concrete or wearing them in mud so anticipate they'll wear better. But I will need to wash them occasionally as the grey collects dirt.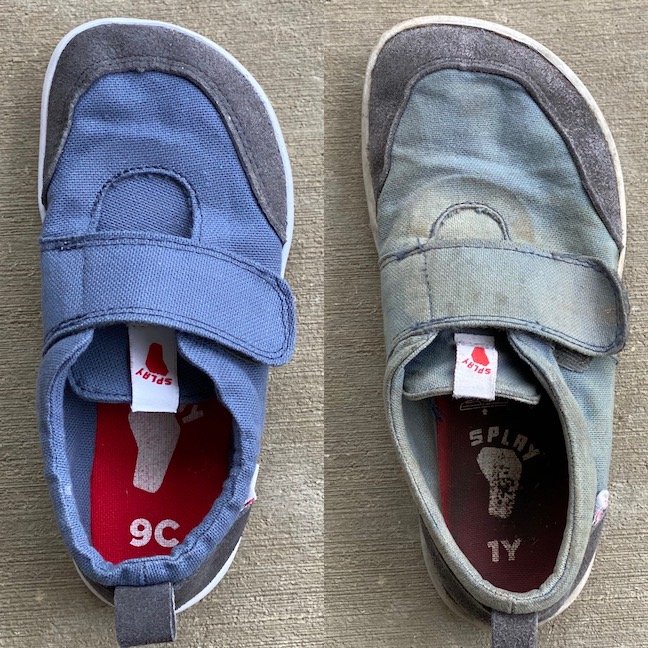 If there are just a few stains, then I spot clean at the sink. If they're really dirty, I put them in a garment bag and run them through the washing machine on gentle cycle with scent/dye free detergent, then set them over the air vent to dry quickly.
Do You Wear Socks with Splay Shoes?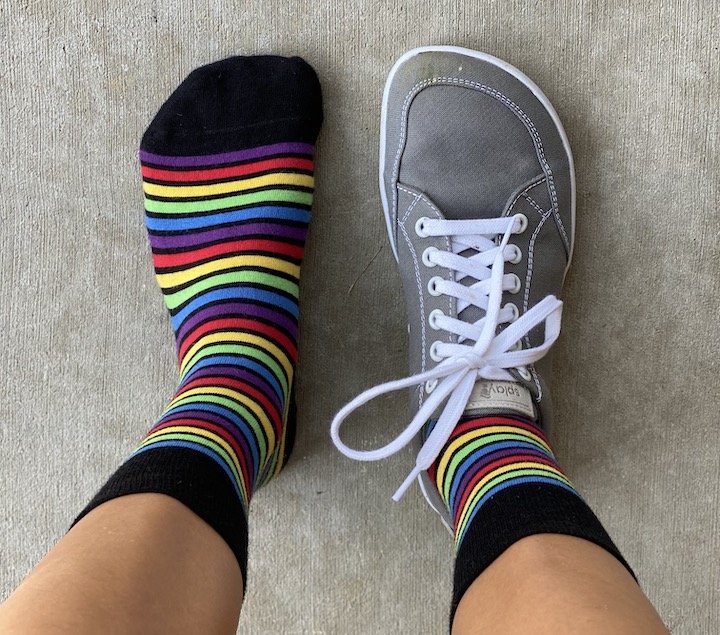 "Barefoot is best" are words I live by. As long as it is safe for me to do so, I am completely unshod. And when I do put on shoes, I almost always wear them barefoot, including my Splay Freestyles. The same goes for my children, because socks can restrict your toes just like shoes can! But if you want or need socks (because it's cold or to prevent blisters perhaps) then consider toe socks or anatomical socks with space for your big toes. Here are a few options:
The nice thing about Splay shoes is you can wash them in the machine if they get real funky.
How To Order Splay Shoes
Splay Shoes is a US brand, but they ship worldwide for $5 – $20 depending on location. Returns are accepted on orders within 30 days, and international customers need to pay the return shipping (it's free for US returns!). Don't forget ANYASREVIEWS will give you 10% off any Splay shoes.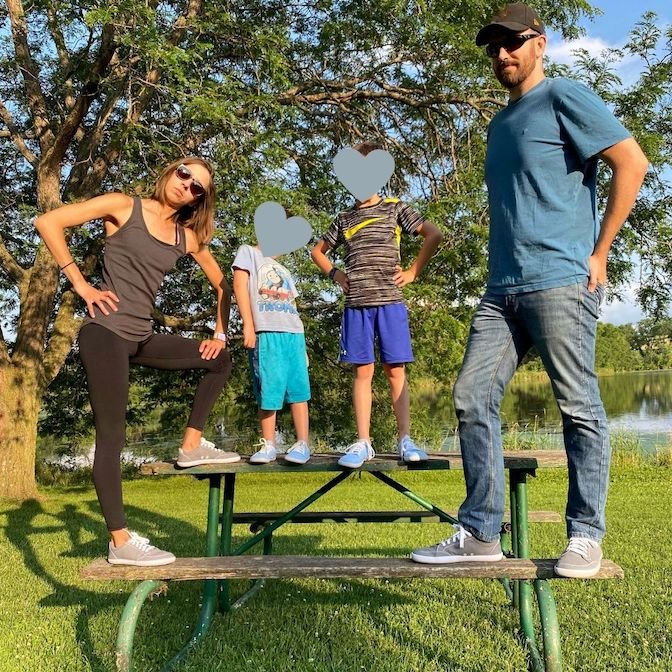 Splay Freestyle Review Conclusion
Brands like Splay Shoes are shaking up the shoe market by offering styles that respect the anatomy of the foot. In a world of foot pain and dysfunction, we need more of this. Thank you Splay for making barefoot living more affordable for the whole family!
---
Interested in hearing more about barefoot shoes? Subscribe below for weekly updates on what's happening in the industry plus tips for healthy feet!