From Left to Right: Vivobarefoot Geo Court, Mukishoes Plum, Feelgrounds Droptop, Groundies Sydney, Be Lenka Prime, Bohempia Kolda
For me, the casual barefoot sneaker is a very specific category, distinct from barefoot athletic sneakers. Casual barefoot sneakers have to carefully straddle the line between sporty and streamlined, so you can wear them with all your casual outfits and not just exercise clothes. If it's done right, they are some of the most practical shoes around.
I've been on the prowl for a barefoot approved casual sneaker in the vein of Ked's, Sperry, or Van's for a LONG time. Up until 2019 there just weren't that many wide, flat, and flexible options. But brands have really stepped up (and popped up! Several of these brands didn't exist before last year) so we all can pretty much have our pick.
The following guide covers all your barefoot casual sneaker needs, for both men and women. Read on for my Top Barefoot Sneaker Picks, A Full List of Casual Barefoot Sneakers, and Lists of White, Black, Hightop, and Slip-On Sneakers.
Click Here For all the Current Sales and Coupon Codes on Barefoot Shoes (constantly updated)
For reference, I normally wear a Women's US 6.5/7 or EU 37 in sneakers and do not wear socks with my shoes. If you do wear socks, try ones you can't see, like these.
My Casual Barefoot Sneaker Picks
1. Vivobarefoot Geo Court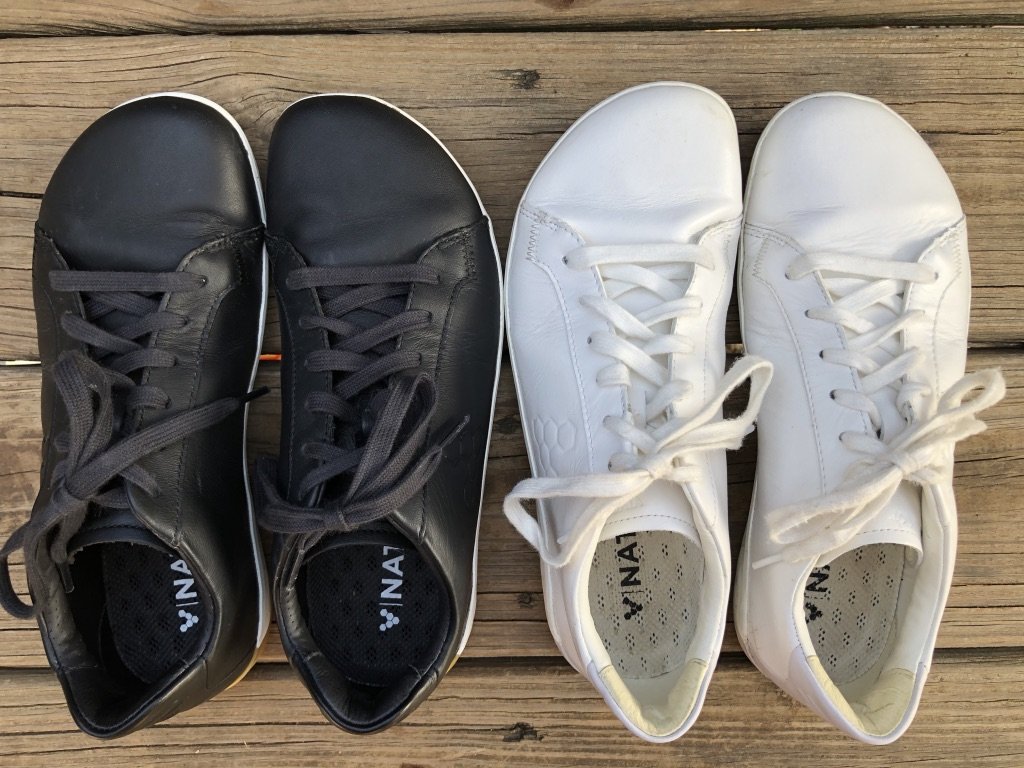 My current favorite sneaker is the Vivobarefoot Geo Court (reviewed in detail here). I could wear these every day and I love them to pieces. Vivobarefoot shoes last forever, but they don't breath really well and make your feet sweat. Otherwise, these are perfect. Leather, $150, men's and women's sizing (a vegan option is also available!) VBANYA20 gets you 10% off
2. Mukishoes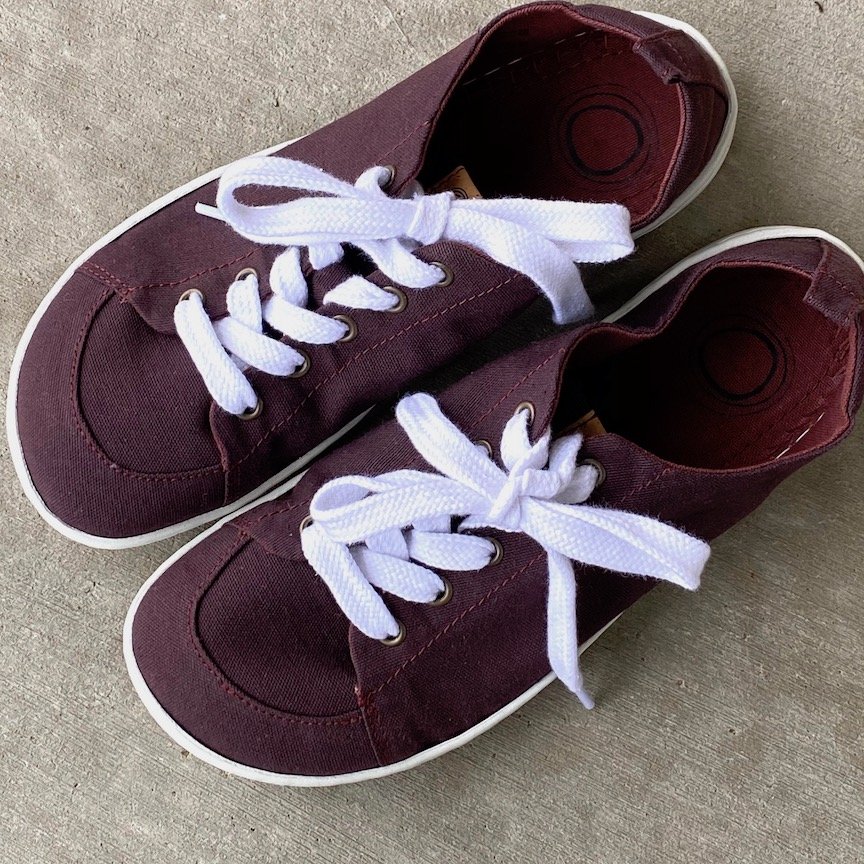 Mukishoes are simple, every day sneakers with a casual vibe. They always have a few neutral colors mixed in with some bright options that change seasonally. This year the mustard yellow Sol and deep burgundy Plum stole my heart and they've quickly become a favorite. Extremely flexible, lightweight, and so fun, Muki is a brand I expect to be coming back to. Read my full review of the Mukishoes Sol here. ANYAMUKI gets you 10% off any purchase.
3. Feelgrounds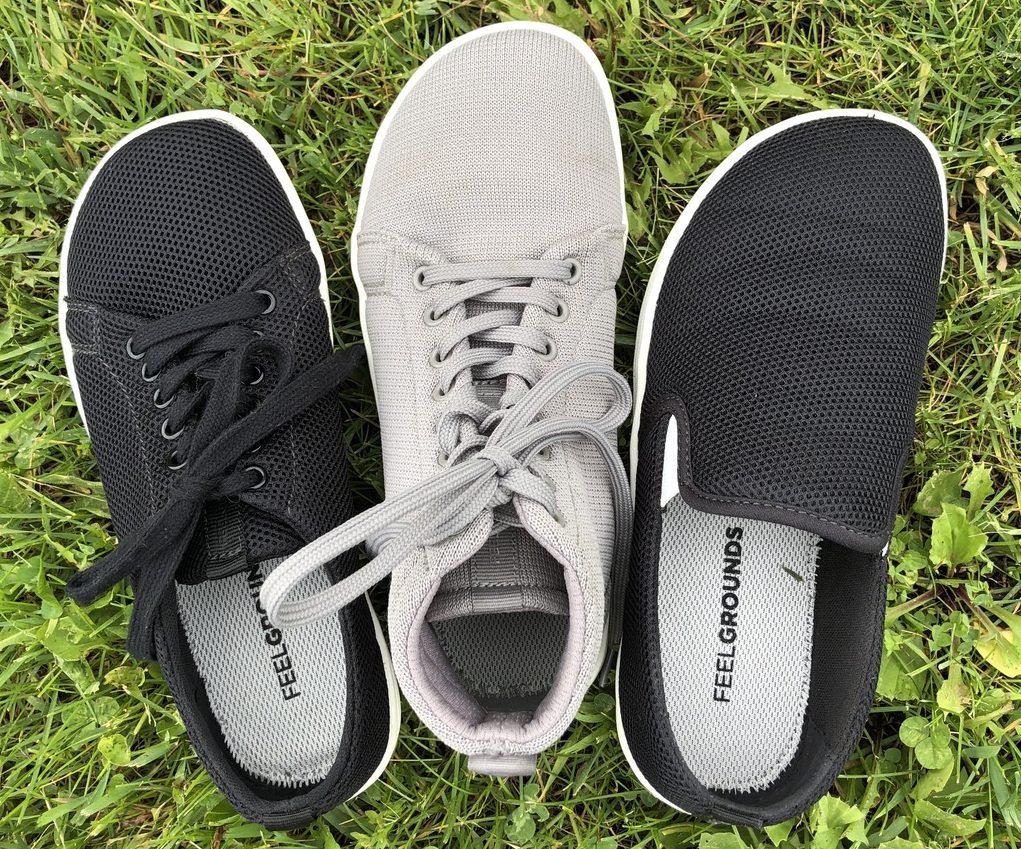 Feelgrounds are reminiscent of skater shoes and edgier than the other options. They are so lightweight and flexible you forget you're wearing them, but look very mainstream. They also have some good color combinations you don't see often, like blush/white sole and black/white sole. Here you can read all my Feelgrounds reviews. Vegan, $120, Unisex sizing.
4. Be Lenka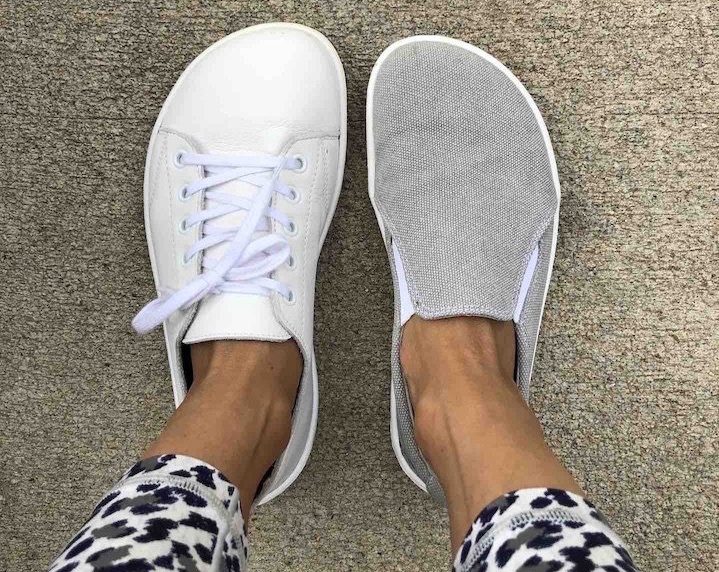 Be Lenka makes the widest barefoot shoes that still have a mainstream look to them. The Prime and Eazy are two new favorites for me this year because they are so classic and still super wide. The Prime is a leather sneaker with a higher volume fit (I use an insole) and the Eazy is a vegan slip on with a low volume fit. If I am barefoot, I can wear both a 36 and a 37. If I wear socks I need the 37. International customers can order from Be Lenka with code ANYASREVIEWS for 5% off (returns are only accepted from within the EU and USA). You can order from Anya's Shop and get 10% off by subscribing to emails!
Read my review of the Prime and Eazy here
5. Groundies Universe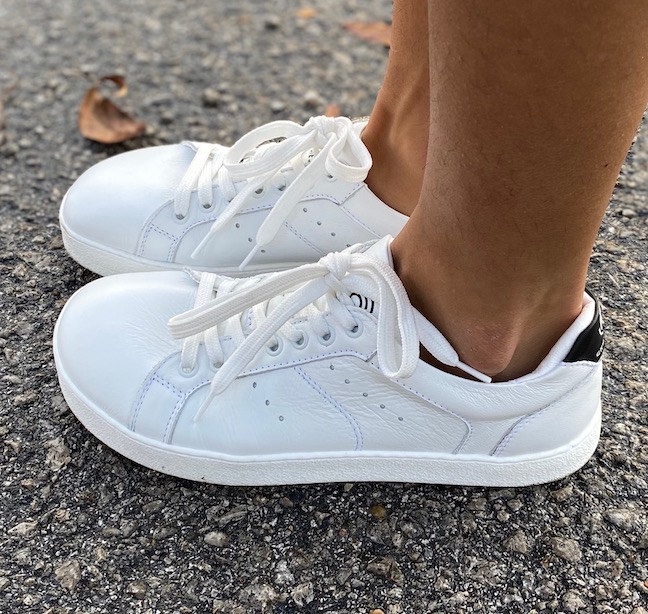 Groundies Urban Barefootwear makes some of the absolute best looking barefoot shoes. The Universe is one of my faves with it's on-point style, but the sole is still thin (the height is an illusion). I wear them just like I would an Adidas sneaker, and the styling possibilities are endless. I wear my typical barefoot sneaker size (an EU 37, or US 6.5) in them and have some room to spread out. Groundies is a German brand, and they offer free global shipping (upgrade to expedited shipping to avoid a long wait time). Conveniently, returns can now be made to a US address, and select styles are available at Anya's Shop!
Find the Men's Version here. Groundies also has a vegan Universe here.
Read my Instagram review of the Groundies Universe for more deets, or all my in-depth Groundies reviews here.
5. Zaqq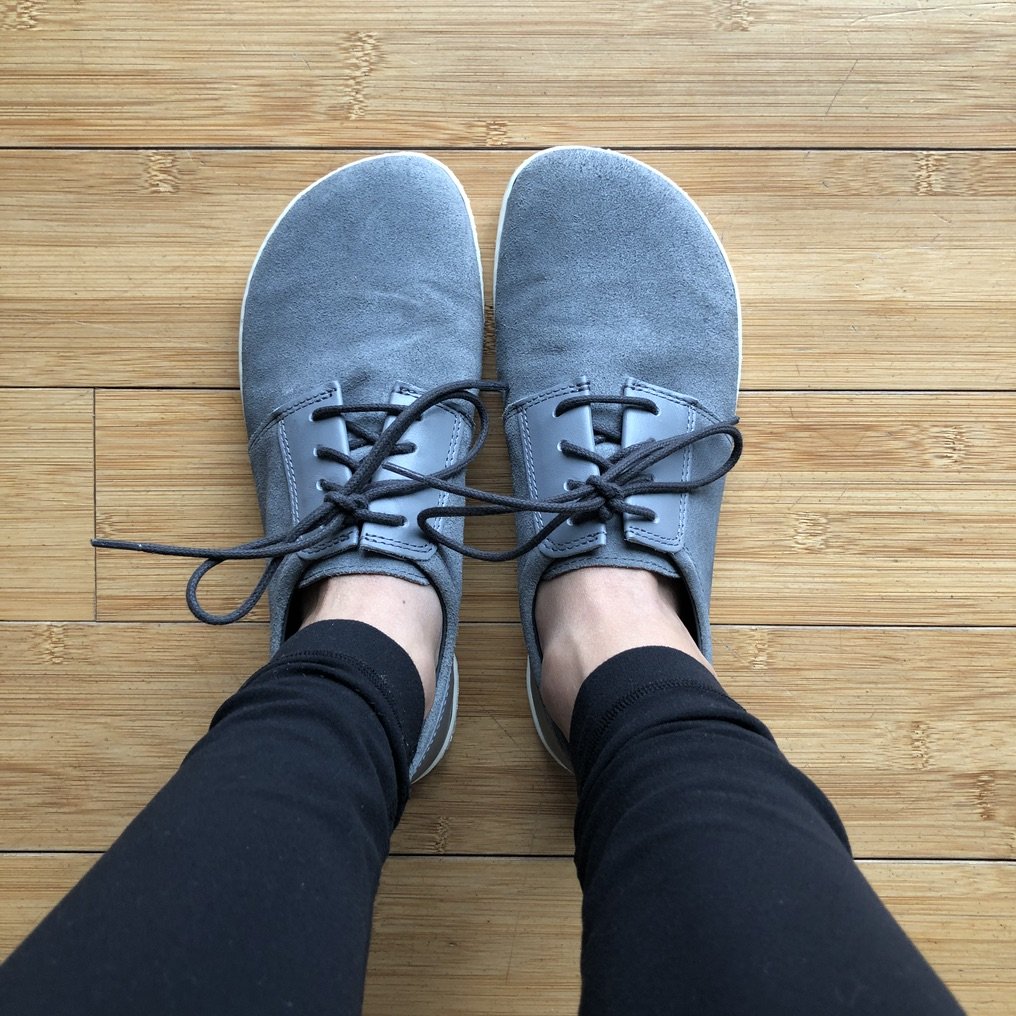 The Zaqq Piquant is another super-durable but kind-of-sweaty sneaker. They are one of the few options made in lots of different colors, so that will tickle your fancy if you're a colorful person (I, obviously, am not). Zaqq really nailed that classic, streamlined look with this sneaker and they are super versatile. Leather, $165, men's and women's sizing (vegan options on the website).
Read My Full Brand Review of Zaqq Barefoot Shoes in this post for more pics/deets on these sneakers.
6. Bohempia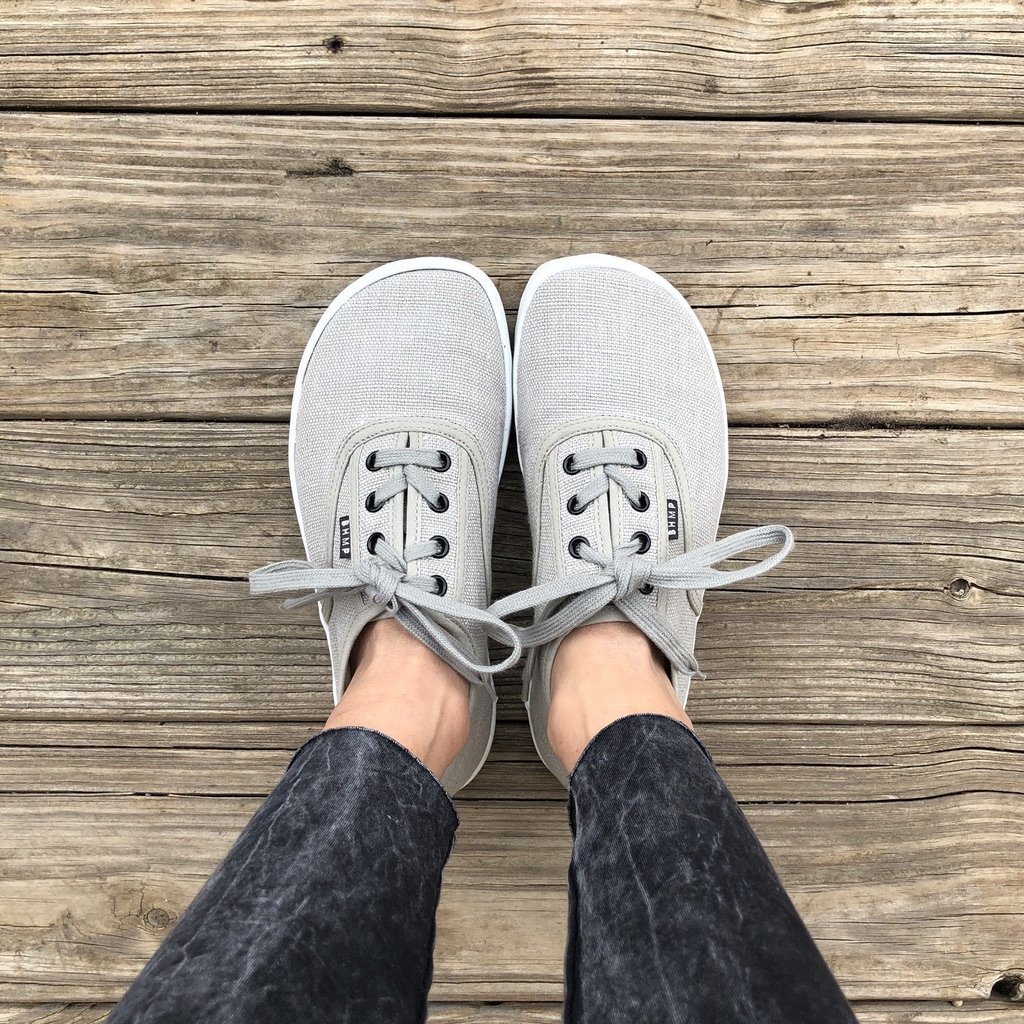 Very similar to a classic Ked's, these Bohempia sneakers are one of my favorites for looks. The aesthetic is simple, low profile, and matches everything. One of the cool things about Bohempia (besides the fact that the shoes are sustainably made from organic hemp) is that their barefoot shoes have an extra wide version! I got a size 36 regular, and they are a good width and length for me, the wide version is SUPER wide. They are high volume, so I had to put in an insole to keep my foot from sliding around. The sole feels about 5mm thick with average groundfeel. More deets here. ANYASREVIEWS gets you 10% off.
The Complete Casual Barefoot Sneaker List
This list is of casual barefoot sneakers, that could be used for athletics if you wish but have a more mainstream look to them. If you are looking for athletic style sneakers, check out my Barefoot Running Shoes list!
All-White Barefoot Sneakers
All-white sneakers are my favorite casual barefoot sneaker style. I prefer leather (either genuine or vegan) because of how much easier it is to keep clean than fabric shoes.
All-Black Barefoot Sneakers
Fancy an all-black look? Here is a list of all the casual barefoot sneakers that come in all-black, for all your goth, grunge, skater needs.
Barefoot Hightop Sneakers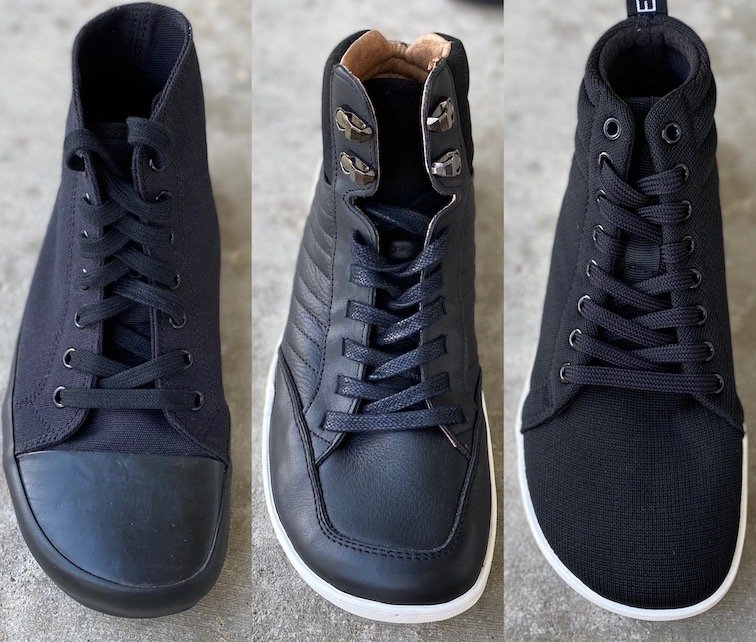 Barefoot high top sneakers, for people who like Converse but like their feet more! There are some legitimately cool barefoot high tops out there. My personal favorites are show above!
Barefoot Slip-on Sneakers
Casual Barefoot Sneaker Width Comparison
Curious which of the best casual barefoot sneakers will fit your foot type? Here is a visual comparison with external measurements (not to be used to determine your size) to show how their widths stack up.
Want to learn more about foot type and how to measure your feet? Read this post.