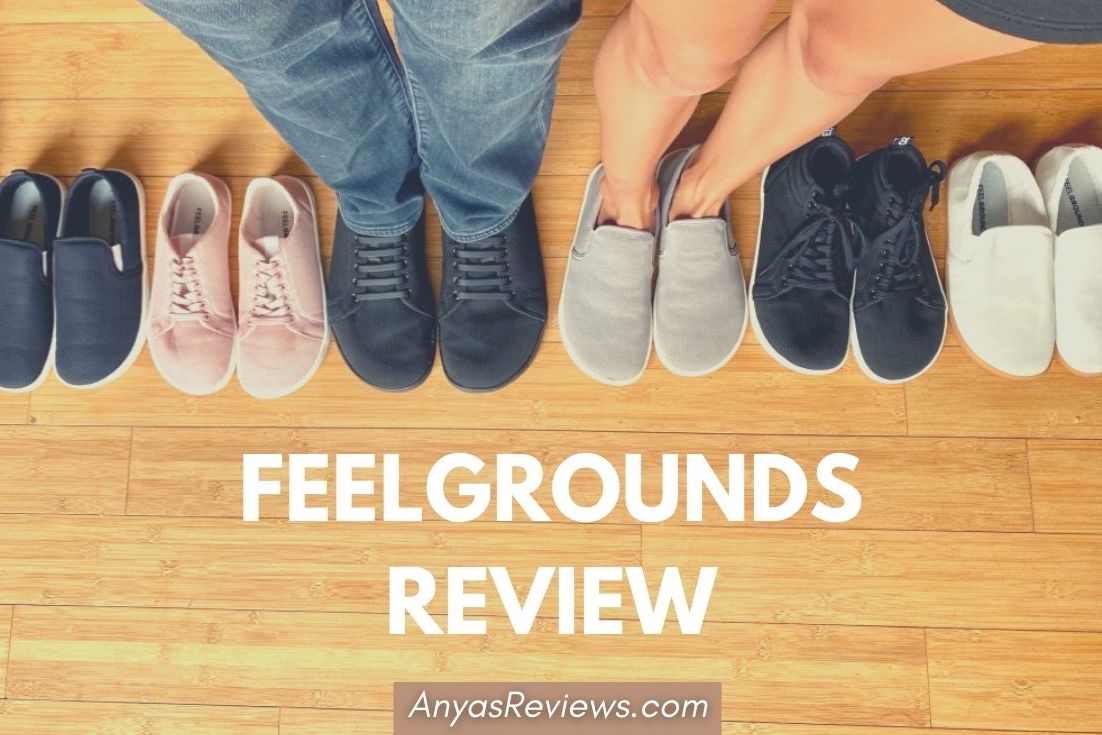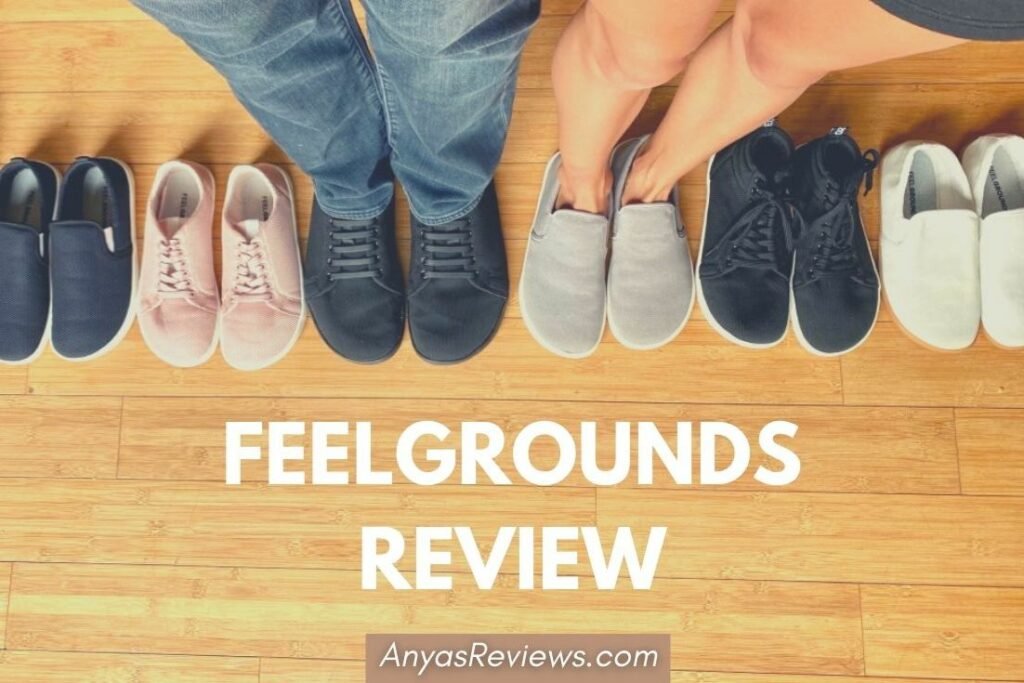 Feelgrounds barefoot sneakers are the answer to people who think barefoot shoes look "weird." You get all the benefits of a barefoot shoe – they are zero drop, foot shaped, and super flexible, but look just like a normal sneaker. In this Feelgrounds review we talk about their different sneakers options, sizing & fit, shoe care, and how to order.
Feelgrounds Barefoot Sneakers Review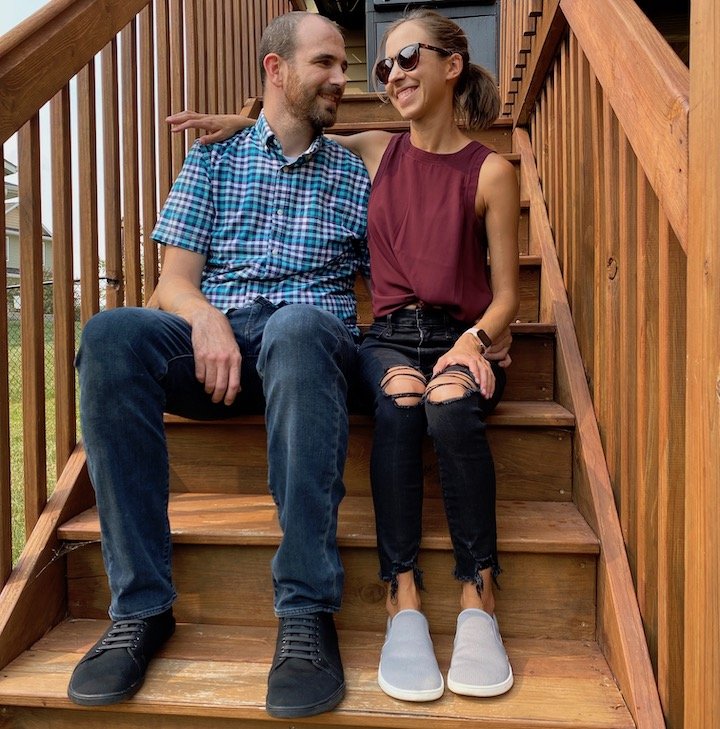 $100-$150 | Vegan | Sizes EU 35-49 or US W5-M15 | 5mm sole
Feelgrounds is a barefoot shoe brand that makes 100% vegan sneakers, boots, and sandals for adults. They focus on combining the important features of natural footwear with modern shoe trends, so that it's easy for people to choose better shoes for every day life! Obviously, this is very much in line with my own personal mission, and it's been a joy to watch them move from crowd funding campaign to big player in the natural footwear industry. Here's a quick reminder of what we mean when we say natural footwear: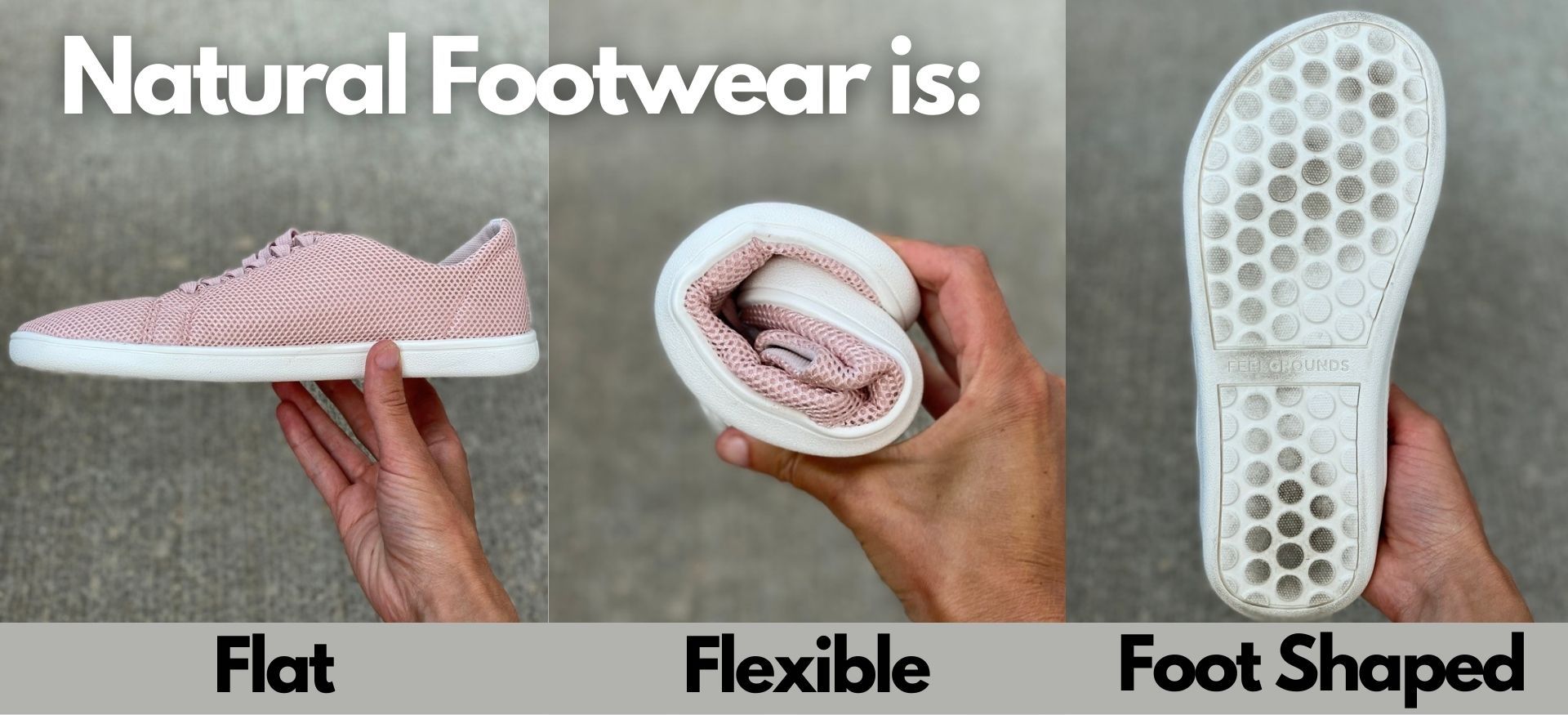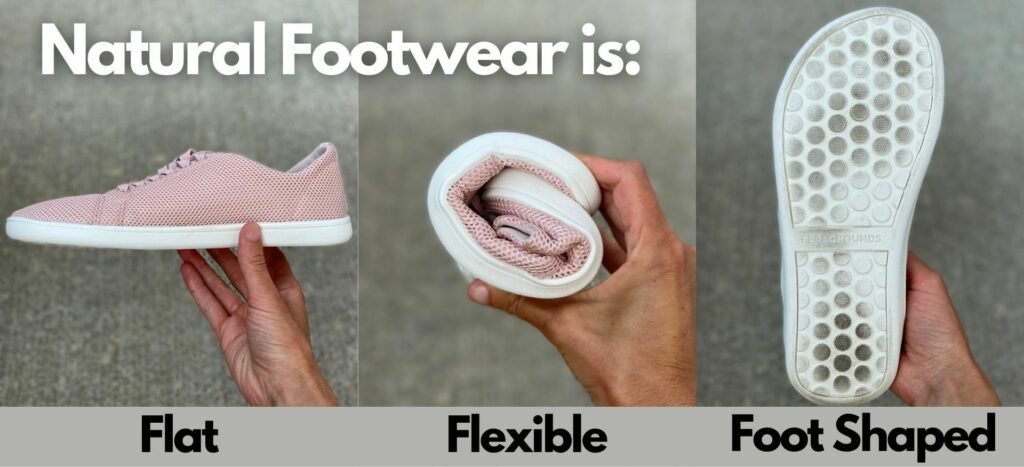 All Feelgrounds sneakers are completely flat, have a flexible 5mm sole, and a roomy foot shape to allow for plenty of toe space. These are features I consider SUPER important in the shoes I wear – in fact I won't wear anything that doesn't meet my criteria for barefoot shoes.
They offer 3 different sneaker styles – The Original, Highrise, and Droptop. While all have similar specs, there are a few things to know about each.
Feelgrounds Original mini Review
The Feelgrounds Original is your simple casual barefoot sneaker, with a mainstream look. They're the perfect replacement for sneakers like Vans, Converse, and Keds that have a tapered toe box. Besides having a naturally shaped toe box and thin flexible sole, they are also super light and soft. There is zero break in time, and they can be worn with just about anything.
The Original sneaker comes in a faux leather, mesh or a knit material, with different color options for each (more on that later). I have a pair in Dusty Pink mesh, and Justin has a pair in Black knit and Black Luxe. We're both loving them! Justin swapped the laces out for some elastic ones, and now he just pulls them on and off without having to do laces (totally up his alley). He even wears them to work. The Feelgrounds Original is a perfect everyday shoe and should fit most foot types.
Feelgrounds Highrise mini Review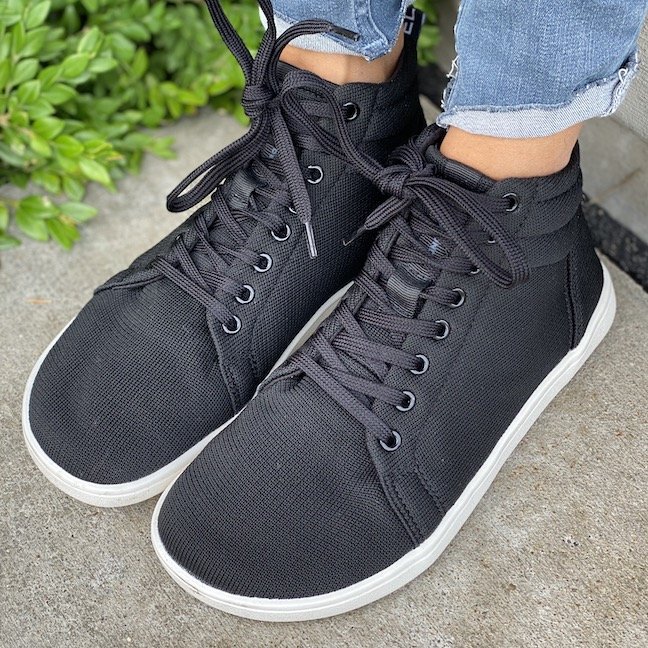 The Feelgrounds Highrise is your barefoot high top sneaker. They come in a knit or faux leather material, which has a water resistant coating to make them more practical for cool weather (more on that later). I love the look of the Highrise sneaker! They are legitimately cool looking and have got to be the lightest most comfy high top sneaker I've ever tried. I do find I wear them less than the other models because of the hassle of doing and undoing the longer laces. It would be awesome to have the elastic lace option for the high tops!
Note that this model fits snugly around the ankles. The rest of the shoe fits medium to high volume.
Feelgrounds Droptop mini Review
The Feelgrounds Droptop is a casual slip on sneaker very similar in look to Vans slip ons but about 1000 times more comfortable. Like the Original, they come in mesh, knit, and faux leather, and I wear mine quite often. They seriously feel like slippers! The design is very roomy, so if you have narrow heels and thin feet they might flop around. I get around this by using the cork insole from Feelgrounds and a shoe tongue pad in the upper. It makes both fit like a dream without sliding around.
What Are Feelgrounds Sneakers Made of?
All of Feelgrounds barefoot shoes are 100% vegan. The Original, Highrise, & Droptop sneaker uppers in knit & mesh are made from recycled plastic, and the outsole is new plastic – but recyclable. To be 100% honest with you, I don't typically like shoes made from synthetic materials. I wear my shoes barefoot as much as possible for maximum toe freedom, and I find that synthetics aren't as comfortable on my skin. While the uppers do breathe well and are very light, I still don't like the feeling of my bare foot on the plastic insole – so I really appreciate the cork insoles they also sell. I wear the cork insole inside all my sneakers and it really makes a difference. It also helps because I have low volume feet and without the insoles I would have some extra vertical space on the inside of the shoe.
Knit Vs Mesh
The sneakers come in two different materials: knit & mesh. The graphic above pretty much says it all, the only thing I have to add is that the knit material does feel softer on my skin – wearing the knit Droptops is like wearing slippers!
*Since writing this review Feelgrounds has come out with Luxe, a faux leather material. It is very soft, but not so breathable. I find they feel a lot warmer than the other Feelgrounds models, so I prefer to wear them in fall & spring*
Sizing & Fit
We get into the nitty gritty on sizing and fit type here. It can save you a lot of hassle with returns! To better understand this section, read this post about understanding your foot type and how to measure your feet.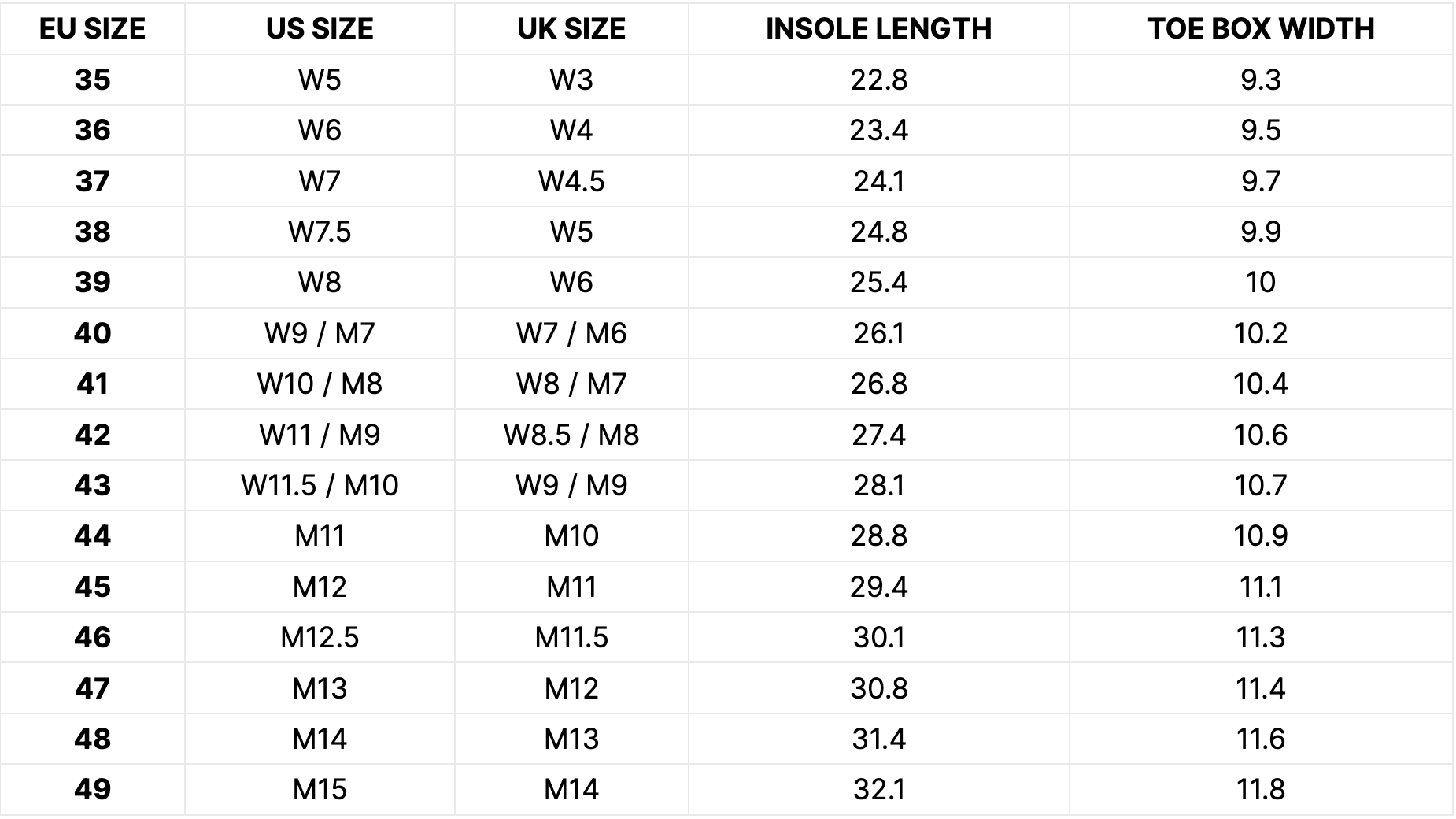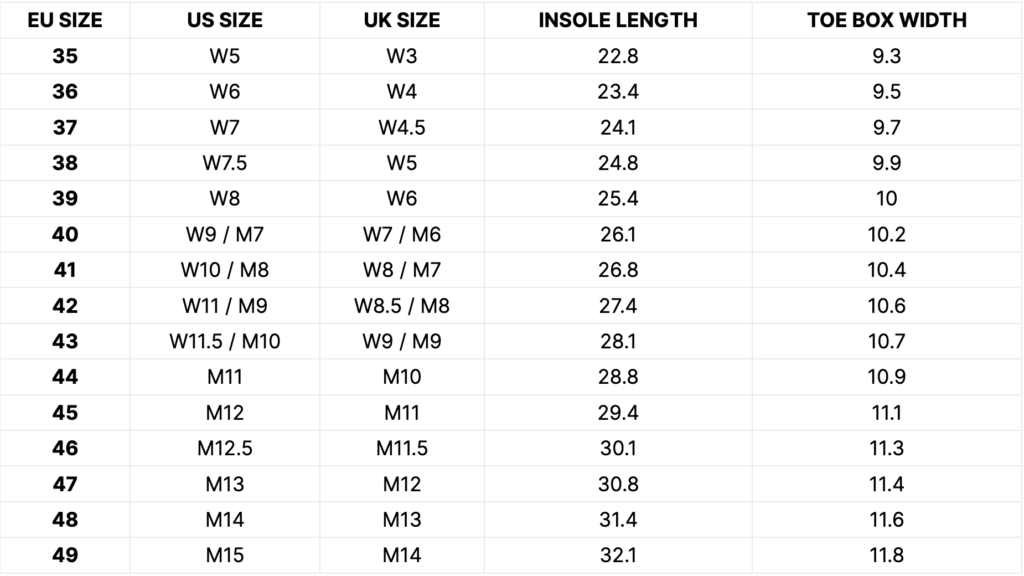 Feelgrounds shoes have unisex sizing (praise the barefoot shoe gods!) and come in sizes EU 35-49. It's always best to measure your feet and use the size guide, but these sneakers are true to size for me and for Justin. I wear a size 37 in every pair, and my husband wears a 47. These are our default sneaker sizes. Even though the different models have slightly different fits, I am the same size in all.
I surveyed the community on their experience with Feelgrounds (via social media and my e-mail subscriber list) and most who responded found them true to size as well. Nobody said they run big, but a handful of people needed to exchange for a size up even after using the size guide. If you are in between sizes, I would suggest going with the bigger size.
Fit Type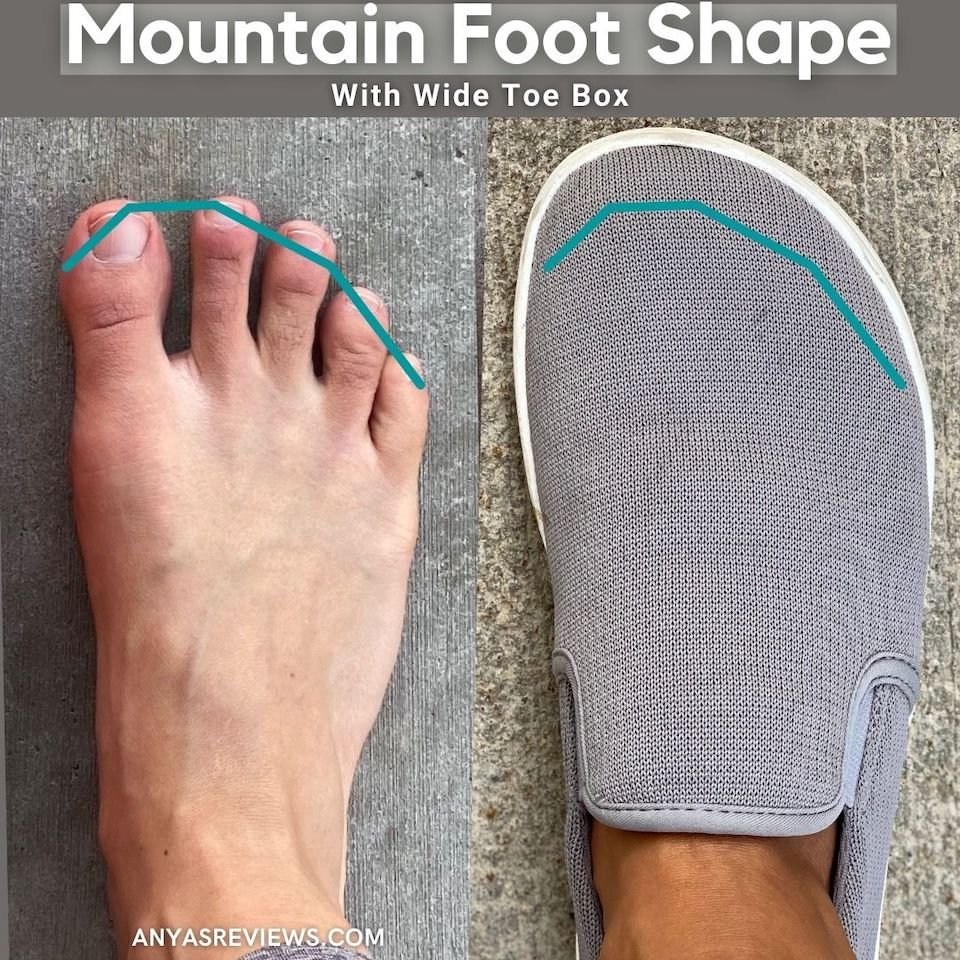 Feelgrounds shoes have a mountain shape to them and a wide toe box.
Volume
In general, Feelgrounds shoes fit a medium to high volume foot best. If you have low volume feet, I recommend the Highrise and Original Mesh sneakers first, but all can work if you are willing to add something like an insole or shoe tongue pad. I use both in my Droptops, which allows me to wear them comfortably on my low volume feet.
If you have high volume feet, well you're in luck. Almost all the Feelgrounds models will work for you. The only one I would be careful with is the Highrise sneaker, which might feel tight on high arches and thick ankles. Fortunately, those are knit and therefore a little stretchier than the mesh material.
Updated Sole Shape – Old vs New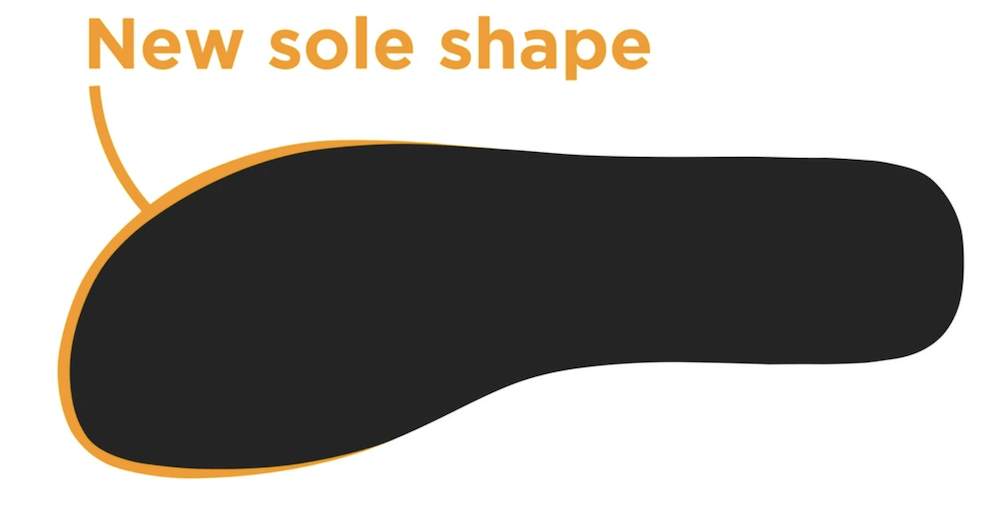 Recently Feelgrounds updated the shape of their sole to a more natural foot shape, so if they were too narrow for you before, they might fit now! It is a subtle difference, but there is now more big toe space and a little more pinkie toe space. Otherwise, the sole has stayed exactly the same shape.
How Do Feelgrounds Compare to Other Barefoot Sneakers?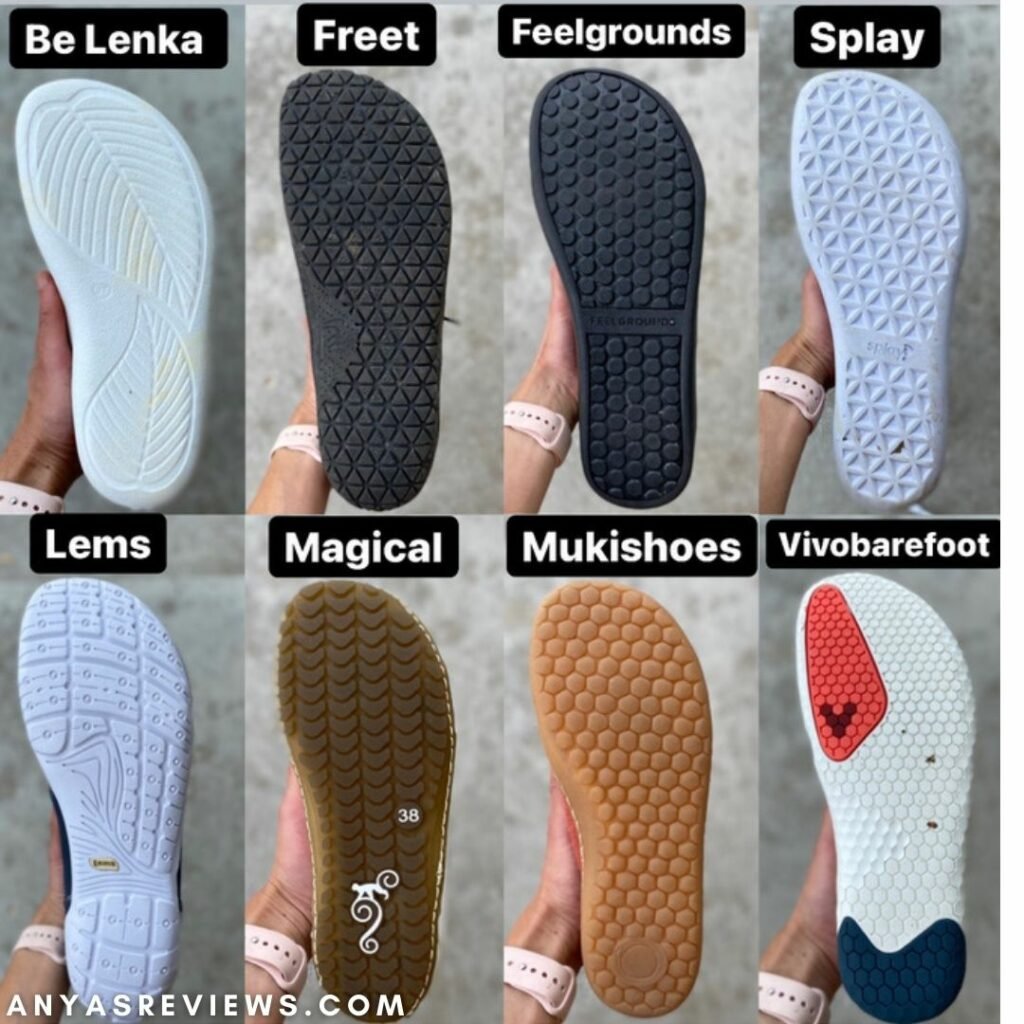 Feelgrounds fortunately has a consistent shape, so if one model fits your foot type well you should fit into all of them. They also have what would be considered a wide toe box, which is great news for people with wide feet who want to look cool in their shoes. See above an outsole comparison of 8 barefoot sneaker brands organized by widest toe box to narrowest.
Want to learn more about the many barefoot shoe brands out there? Check out the Barefoot Shoe Finder, a database of brands with powerful filtering options to help you find your best fit.
Durability and Cleaning
The most common complaint I heard in my feedback survey is that Feelgrounds shoes can wear away quickly. It was just a smattering of complaints – most people had no issues. But the soles are light and thin, and some people are busting through them in 6 months to a year. If this is going to be your day in, day out shoe, this won't be the most durable option. But if you rotate between shoes and don't wear them for the rough stuff they should last you years.
Can You Wash Feelgrounds Sneakers?
Their sneakers don't take stains as easily as canvas shoes, but the light colors will probably get dirty over time. I got mine good and dirty to see how they washed up!
Mesh sneakers can be thrown in the washing machine if needed, but the company advises against it with the knit versions. The knit material has a water resistant coating that will come off in the wash, and is more prone to stretching. So it's probably best to wash the knit sneakers sparingly. Feelgrounds sells a waterproofing spray you can use to touch them up afterward.
I washed the white ones shown above and my dusty pink sneakers and both cleaned up very nicely! I did soak the white ones in Oxiclean before washing, which really helped brighten them up.
Can You Wear Feelgrounds in Hot or Cold Weather?
The material the sneakers are made of is pretty porous and cold weather just comes right through, so I don't like to wear them out when it's even remotely cold. In the summer, the knit material feels too warm for me but the mesh is nice and breathable even in hot weather.
Ordering Feelgrounds Shoes
The company is located in Germany, but they ship worldwide.
International shipping rates vary from $15 to $24 depending on location ($18 to the US).
Returns are accepted within 30 days on unworn shoes but the customer is responsible for return shipping.
The Feelgrounds website displays prices in your region's currency, so sometimes there are price fluctuations as international exchange rates change.
How To Style Feelgrounds Barefoot Sneakers
Feelgrounds barefoot sneakers are unisex and work wonderfully with almost any personal style. They can even be worn with dresses! Just wear them like you would your Vans or Converse.
Sandals and Boots from Feelgrounds
This year they are expanding to more barefoot styles! In addition to sneakers, you can also get sandals and boots. Here's a quick synopsis:
Feelgrounds Seaside Sandals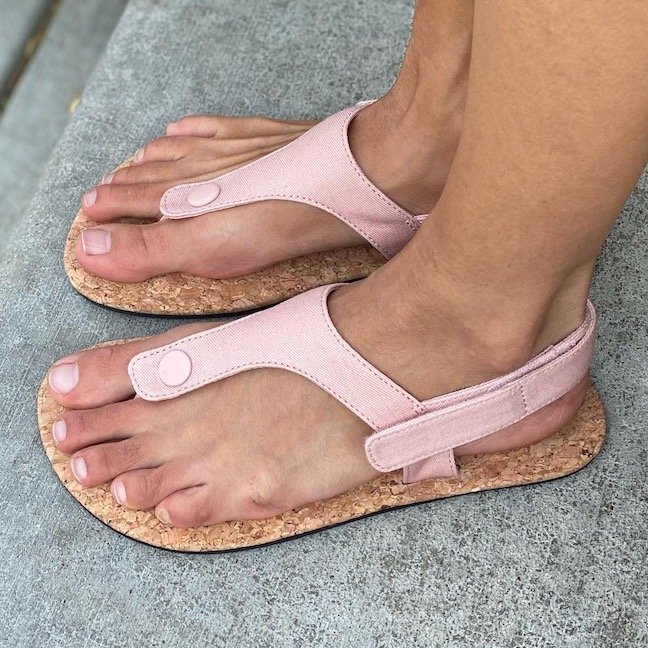 This summer they came out with a vegan barefoot sandal, the Seaside. I absolutely love them! Read my initial thoughts on the Feelgrounds Seaside Sandal here.
Feelgrounds Patrol Boots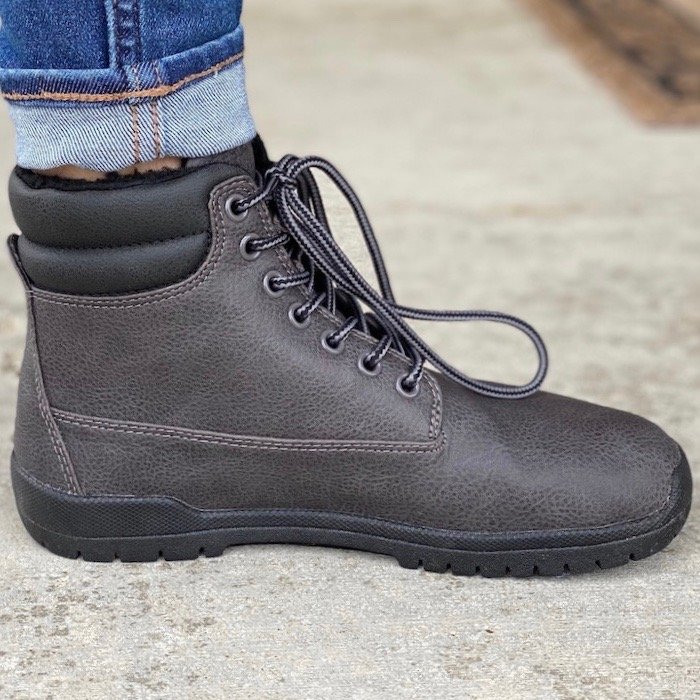 This year also saw the release of the Patrol – a waterproof winter boot with fleece lining and excellent traction. For all the deets on them, read my full Feelgrounds Patrol Review
Feelgrounds Sneaker Review Conclusion
Feelgrounds barefoot sneakers are cool and comfy, and I am overall very pleased with them! It's a huge bonus that you can get all the accessories you need from their shop as well – insoles, shoe cleaner, and elastic laces. If you'd like to treat your feet right but have been reluctant to give barefoot shoes a try, Feelgrounds is the perfect place to start!