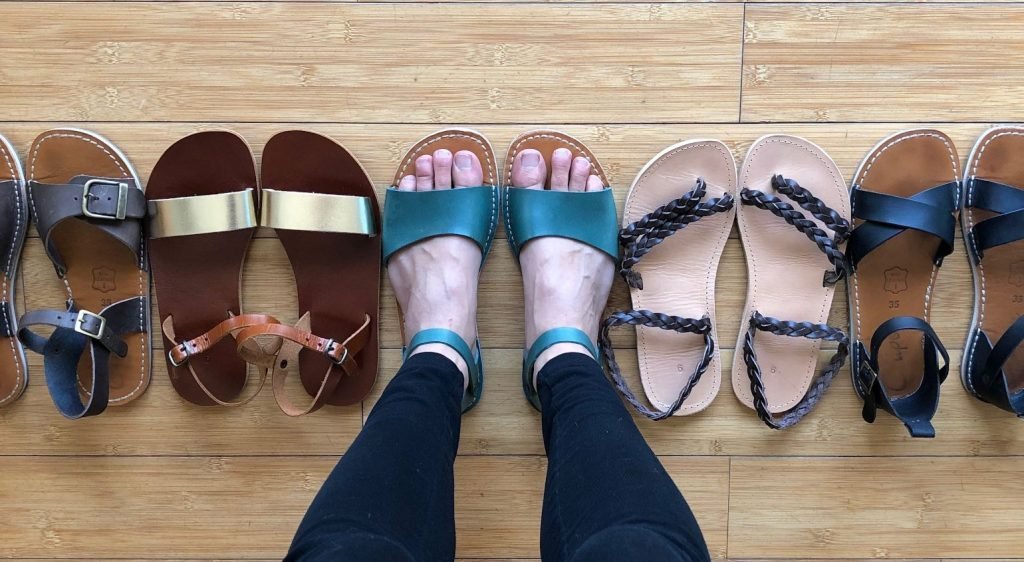 Etsy is my FAVORITE place to buy gifts for myself and others. So many fabulous handmade items and talented creators. A lot of minimalist shoe makers started out on Etsy (Unshoes, Softstar, The Drifter Leather, Gea Soles), and I anticipate some on the following list will become big names in the Barefoot Shoe world.
I try to #StandWithSmall businesses all the time (I am a small business owner myself!), but it's been especially on my mind during these times of financial distress.
The list below is a compilation of Etsy shops that make minimalist friendly shoes. Most of the sandals on this list are normally made with a small heel and you must request them made completely flat, so reaching out to shop owners before purchasing is always a good idea. I personally have only tried a handful of these, so just be sure to do your research and ask any questions you have before purchasing.
As always, these lists are a joint effort. Let me know of other Etsy shops you've found and loved!
Adult Sandals
Laboo Leather – $70 Botond the owner is very responsive and can customize his sandals to be heel-less, thin, and shaped according to your foot. I just got a pair and they are flexible, fit perfectly, and very well made! Excellent price for such a high quality barefoot sandal.
Native Earth – $95 They've got a few traditional styles of sandals that look very minimal and well made.
Tread Light Gear – $90 This shop has some really great barefoot sandals with a wide toe box. They also have some really fancy handmade moccasins that are beautiful.
Astir Sandals – $74 Traditional handmade barefoot sandals
Sparta Sandals – $97 More traditional leather sandals.
Crupon $80 – Women's shoes only, closed toe flats and sandals. See my full review of one of their styles here. I also have sandals (pictured above) and they are lovely. They are on the narrow side and I needed to stretch them, so they wouldn't be good for wide feet.
Grecian Sandals $40 – Love what you get for the price, but the sole is a little stiff. See my review here.
Savopoulos greek sandals – $60 The owner of this shop is willing to make these heel-less and widen the straps for you. The soles are made of Vibram and you can request no heel in the notes section at checkout. Due to their popularity it takes a looong time before they ship during the warmer months (like 2 months). I love mine because they are very unique, but they are thicker and stiffer than I'm accustomed to. I have some pics and info here, here, and here.
Greek Sandals Penelope – $60 She will customize the sole of these sandals based on a foot tracing and measurements. Her soles are made of rubber and can be between .5-1cm thick. You also can simply request no heel at checkout if you don't want to send her a foot tracing. She has a lot of styles that give complete toe freedom and are adorable and unique. I'm looking forward to trying a few different ones this year that don't cross the toes at all. You can see the style I got last year here.
Nikos Shoes Sandals – $60 Shop owner replied that some styles could be made without a heel, but not all, so you'd need to message before purchasing.
Holy Cow Chic – $100 Some options are already flat, and the ones that aren't can't be modified. You'll have to look closely at the listings and ask the shop owner about specific shoes.
Kionas Sandals $50 Have not tried these, but owner says you can request no heel at checkout.
Calpas Sandals – $75 The owner of this shop is willing to make these heel-less by request and they have several styles that are foot friendly.
Cinderollies – $14 These are flats, not sandals. I did a short review of them here
Adult Custom Shoes
Gaucho Ninja Leather UK $300 – These are handmade barefoot leather shoes for men and women and seem to be really high quality! They look truly amazing, but holy $$$$.
Dextra Perspective $60 – These are fabric shoes, so are more affordable than the custom leather shoes. The shop owner Mandy is willing to collaborate on new designs and her shoes can be made in all kinds of fun prints. She also will make kids shoes, but currently only has women's styles in her shop. I tried them this year and here is my experience.
Yemeni Shoes
Yemeni shoes are traditional Turkish shoes, made entirely of leather, hand stitched, and zero drop. There are many Yemeni shoe sellers on Etsy, but most of the designs are fairly tapered. Some of the shops make the shoes based off your measurements, but unless you specify, they will only use the width and length of your feet. If they are willing, you may be able to find a shoemaker who will modify the shape of the toe box as well. I tried a few shops this fall and found the toe boxes pretty narrow for my wide toes.
Handmade Turkish Shoes – I've tried these and talk about them here.
Handmade Shoes by Perge – This shop doesn't do custom cut soles, but they do have a wide option.
Kids
Muk Shoes by Bula Jeans Boutique – $30 These look like great shoes for kids. They come in baby to big kid sizes and are easy on and off. Vegan
Soft Walker shoes – $25 These are really affordably leather shoes and boots, and look awesome! Can be made up to preschool age sizes.
Moccasins by Desi – $50 Adorable handmade moccasins!