Read my review of the barefoot Crupon sandals here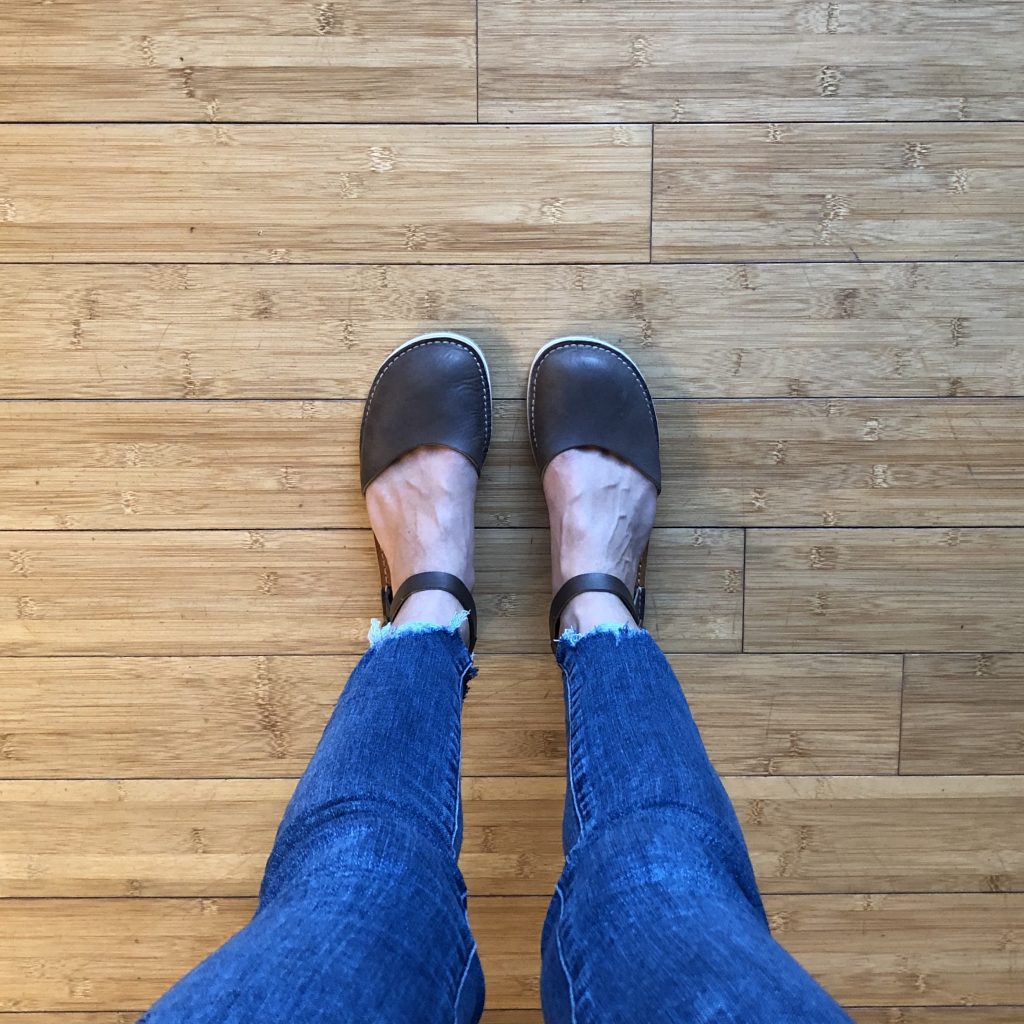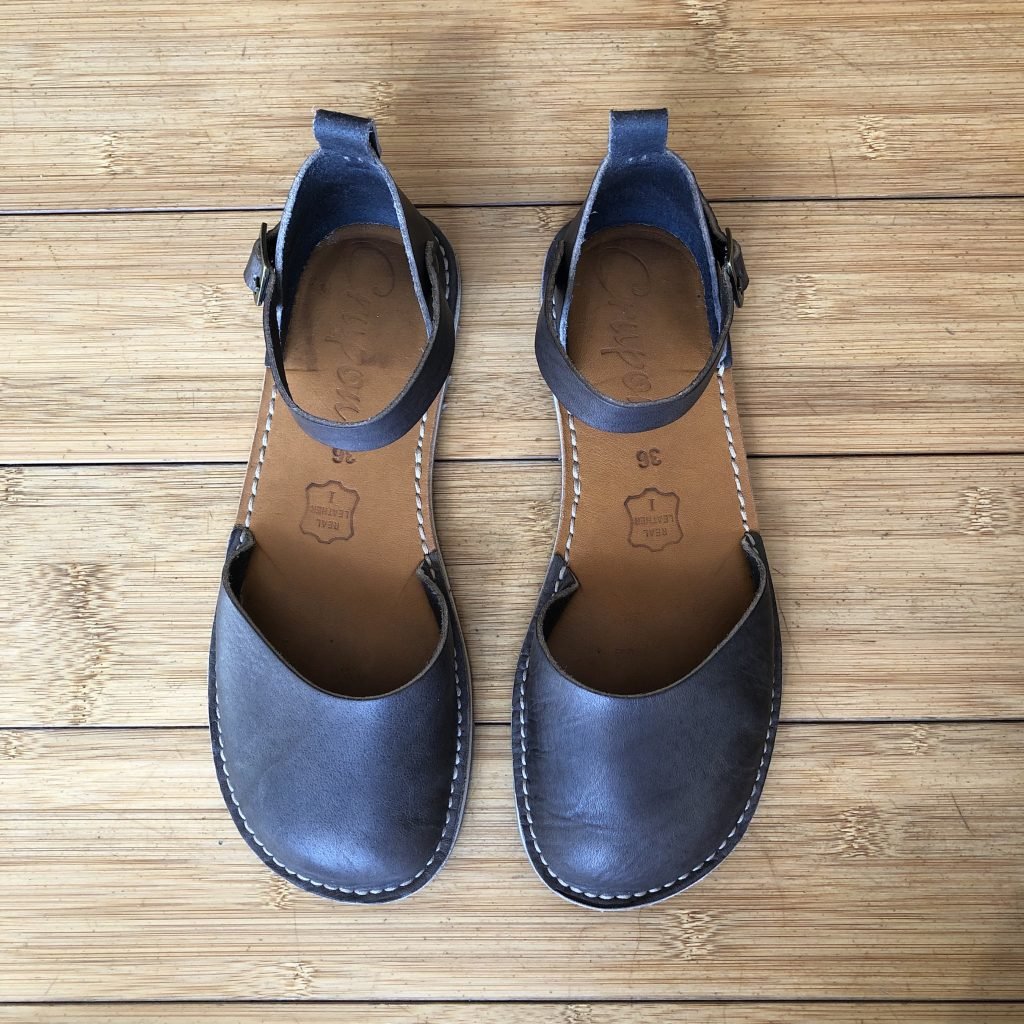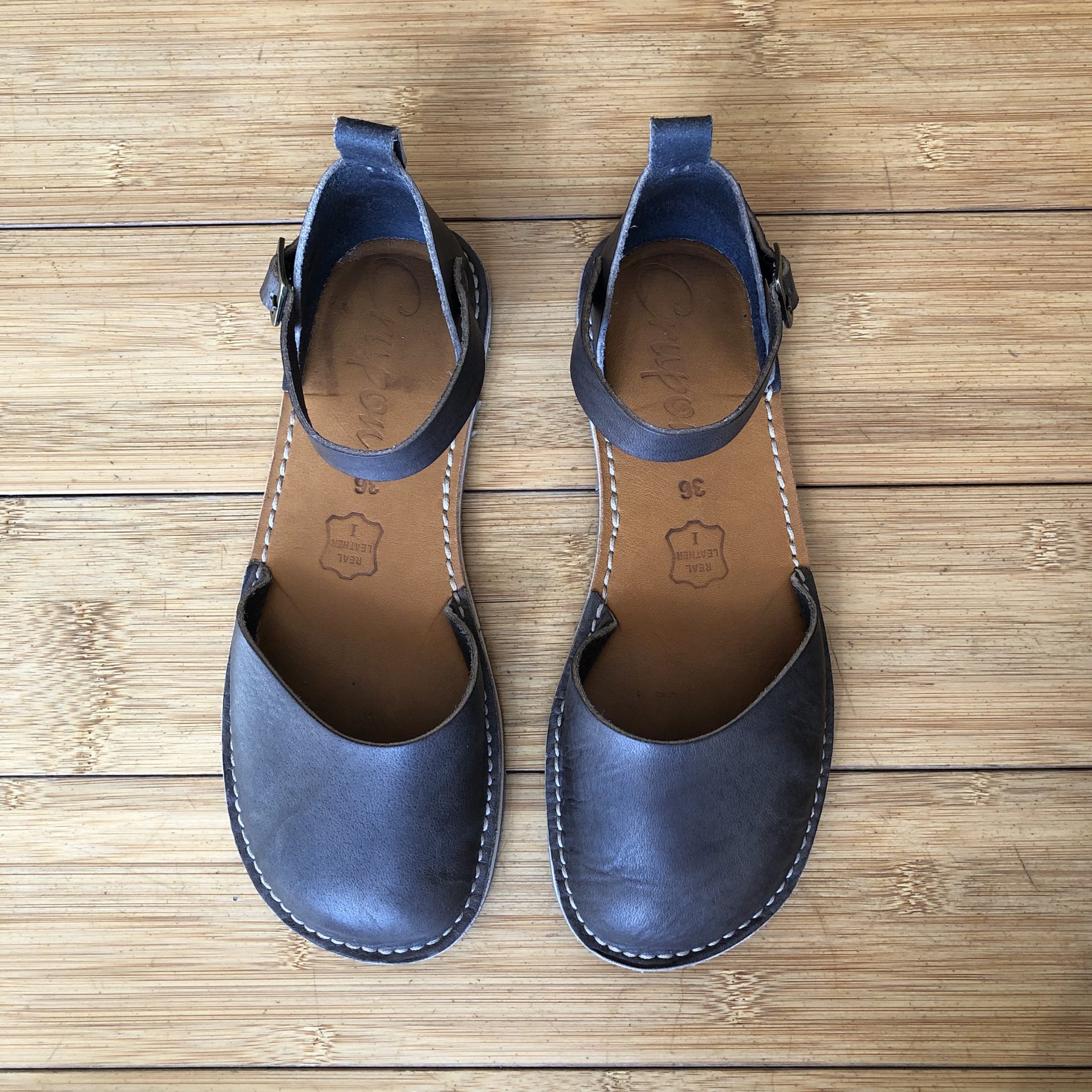 One of my favorite finds this year is Crupon Sandals. I found them while browsing Etsy for minimalist shoes, and when I sent them a message asking if they can be made without a heel, they responded that they can!
Crupon Sandals now has their own website and a more barefoot line! You can save 10% with code ANYA.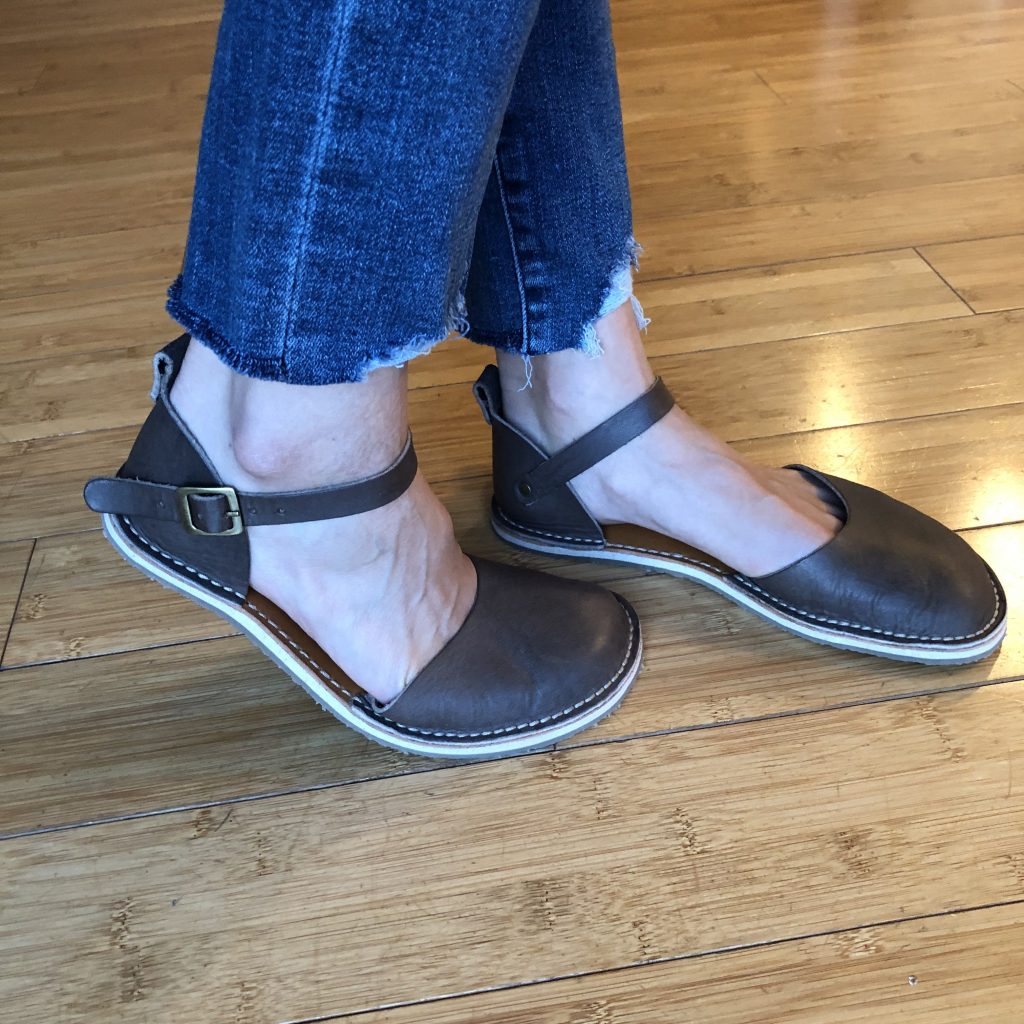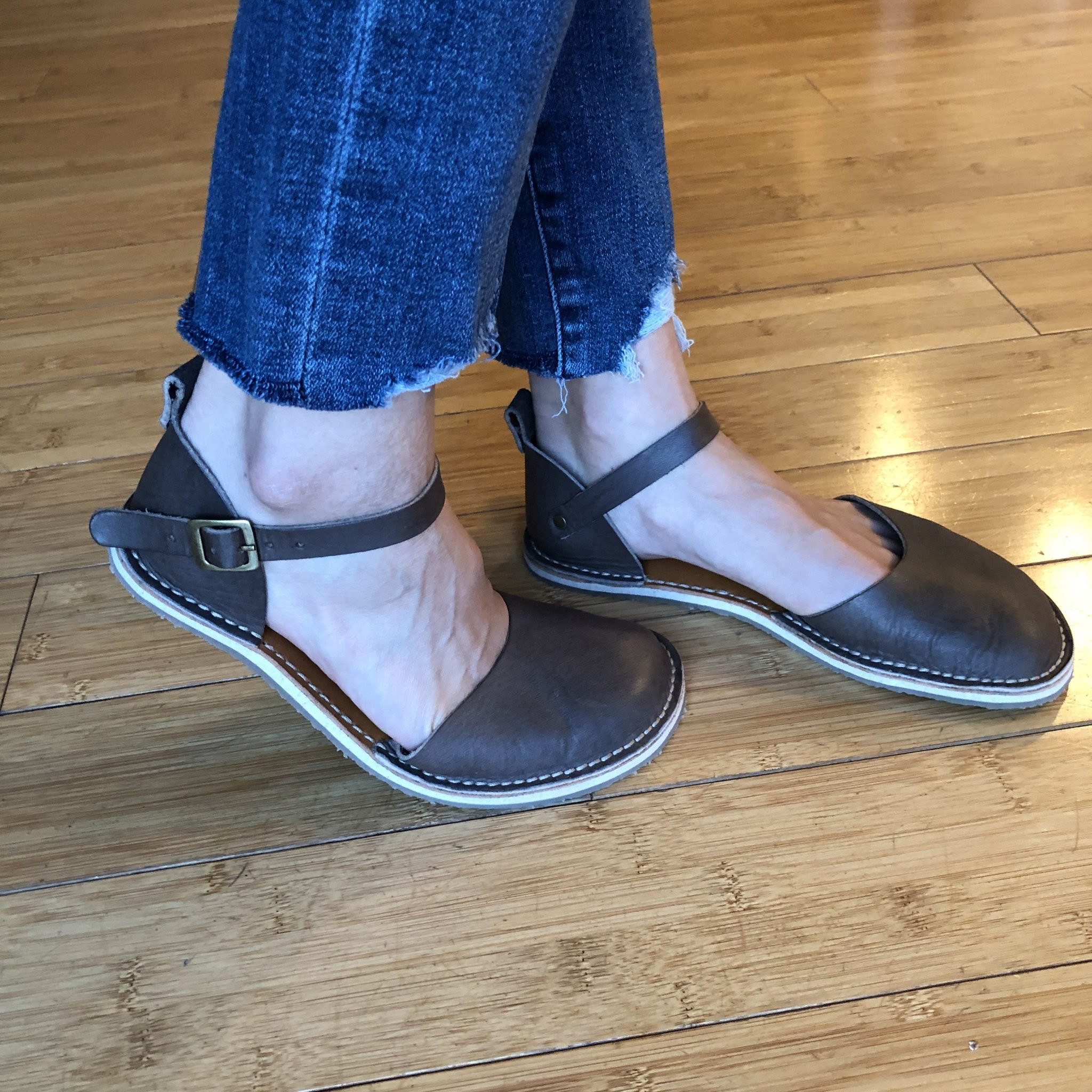 About
Crupon Sandals is a small family-run business from Bulgaria, and they craft all their shoes by hand. They first opened in 2011 and many of their original styles are still being sold and adored today. In a world of fast fashion this is a testament of the timelessness of Crupon's designs. This is what struck me most when I first scrolled through the listings in their shop. Stylish, feminine, and yet classic, so you don't need to worry about them ever going out of style.
When I learned they use Italian leather that has been tanned with natural extracts I was even more impressed. Their soles are made of natural rubber and cork foam from Spain, even their glue is non toxic. Each shoe is handcrafted and hand stitched using old-fashioned tools. The more conscious a consumer I become, the more I care about these details.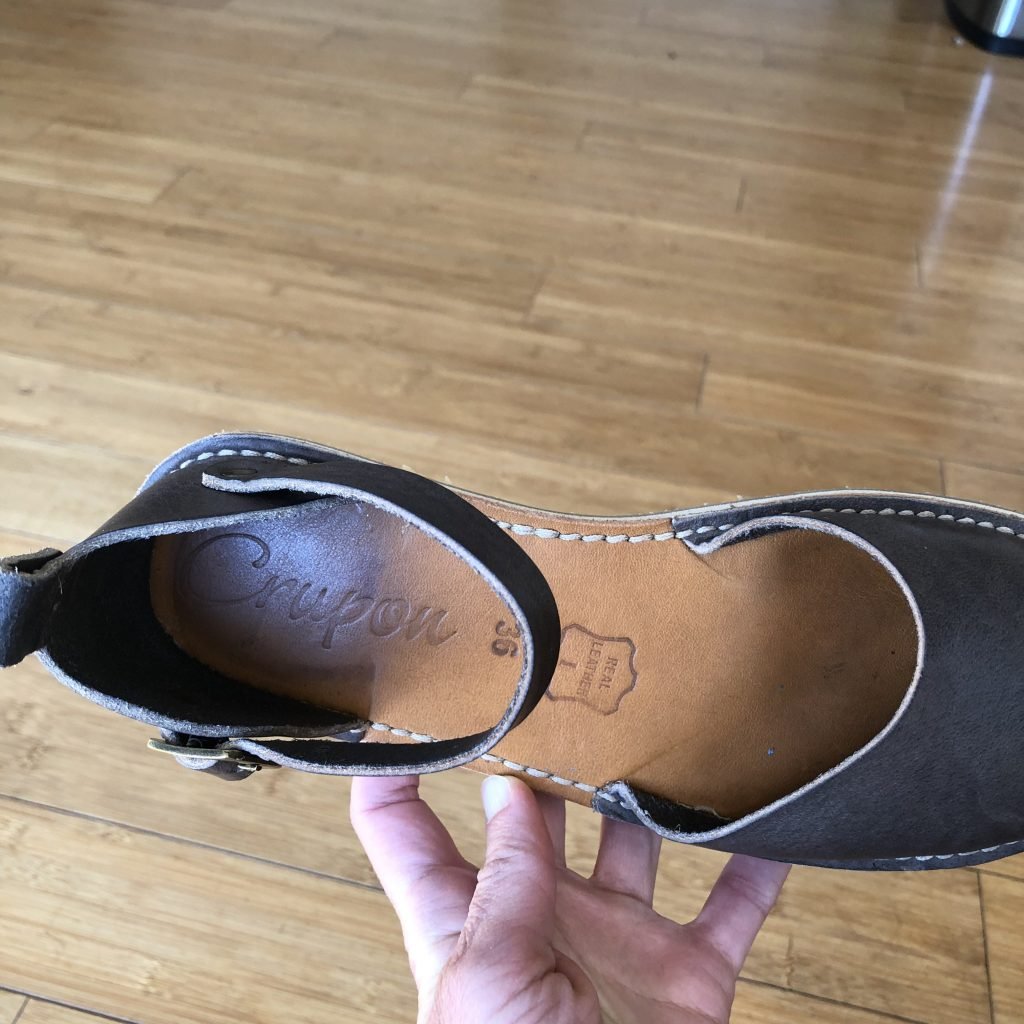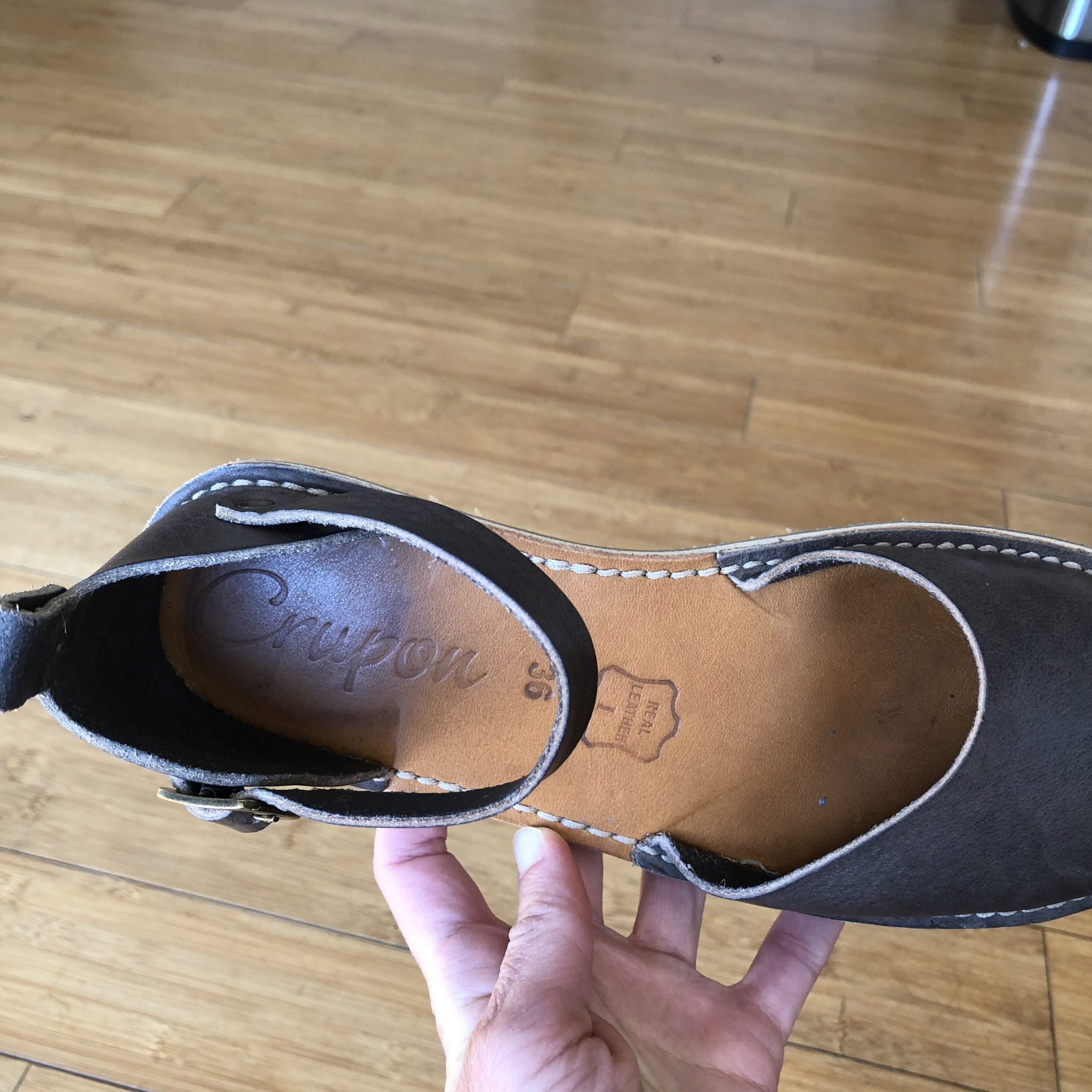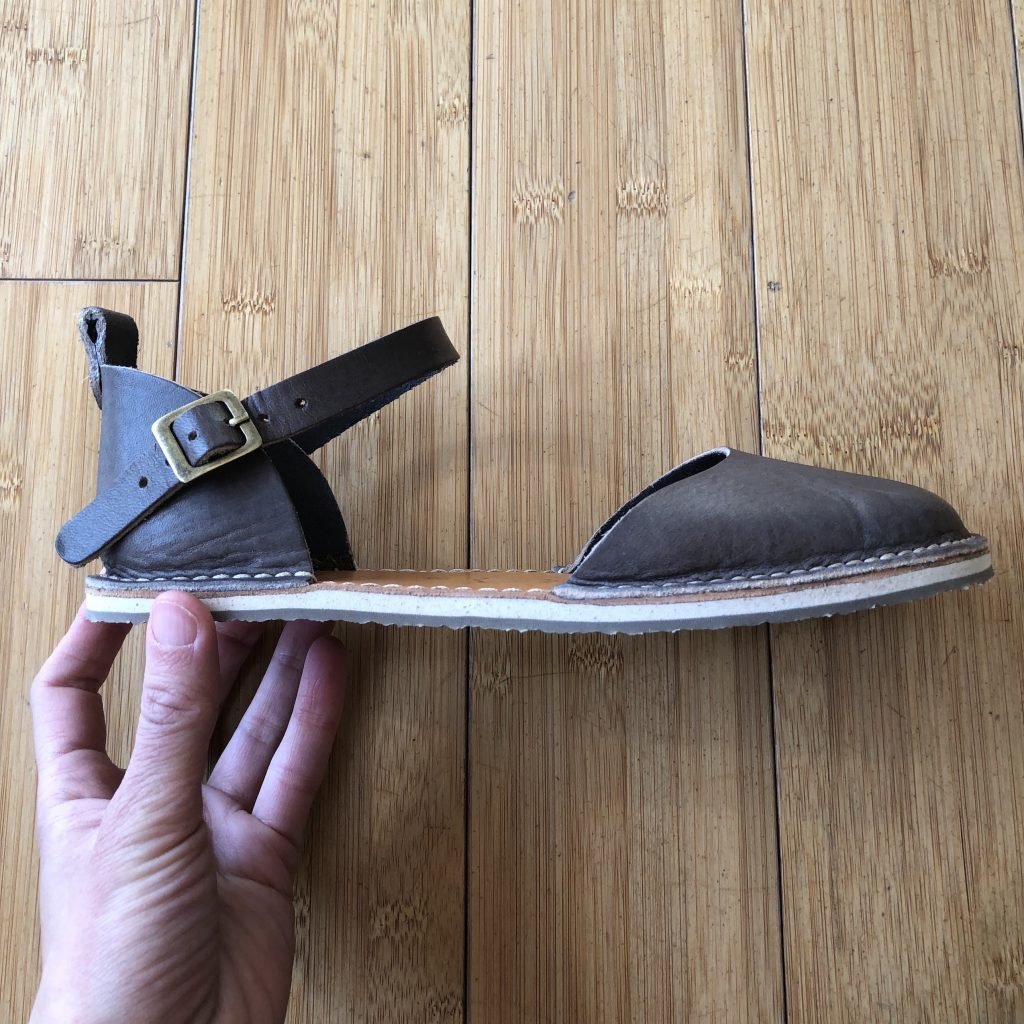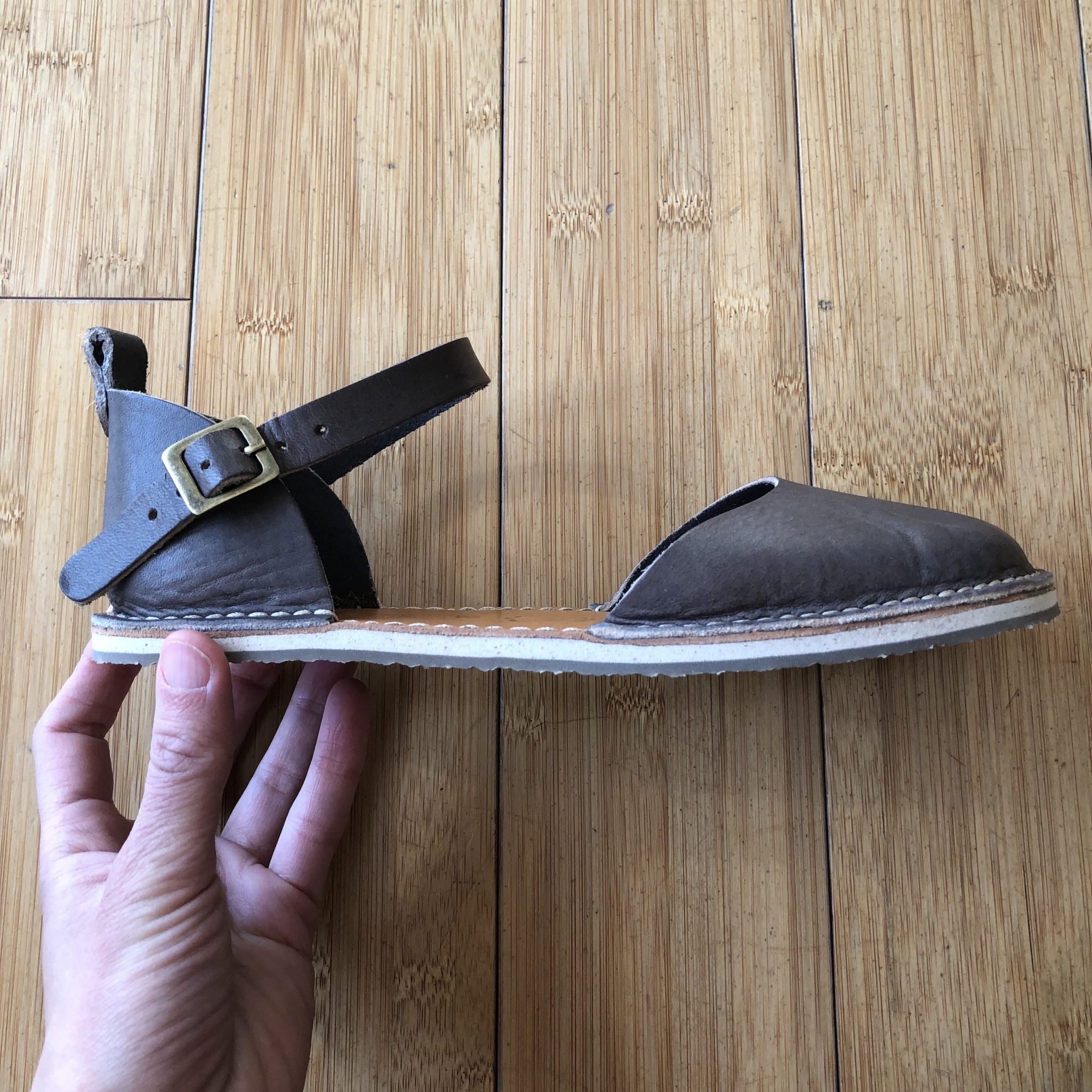 Policies
The most important thing readers need to know about Crupon Sandals is that if you request your shoes to be made without a heel there will be no exchanges or returns. According to them, they only "sometimes" take custom orders and don't like straying from their tried and true designs. So be sure to take your time with your order, and be understanding of how they decide to run their business. We want to be sure they stay willing to make completely flat shoes!
Shoes are made and shipped within a few days, which is quite a feat. I received mine from start to finish in less than two weeks.
On Etsy, shipping is $16 for one pair of shoes, but free if you order two or more. I actually got a free shipping code sent to me after I favorited an item on Etsy, so I was able to order one pair with free shipping.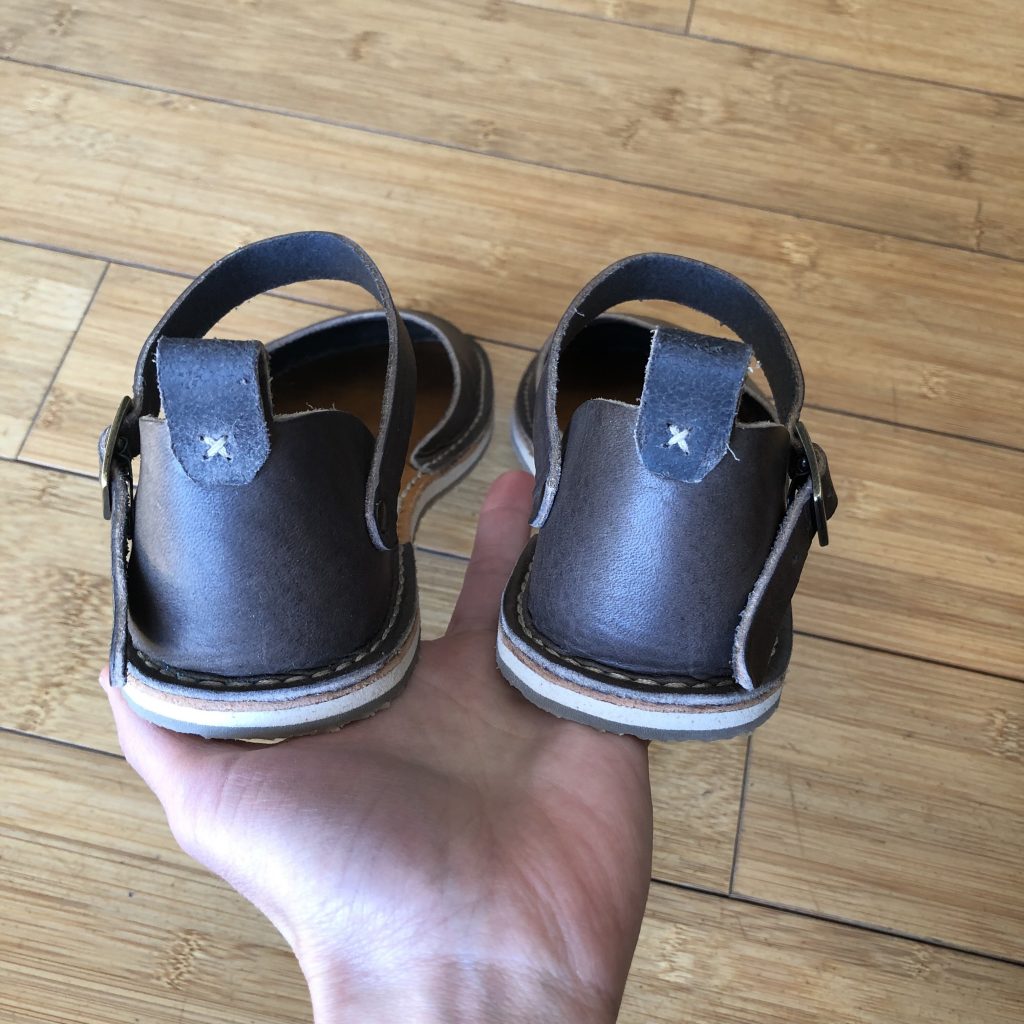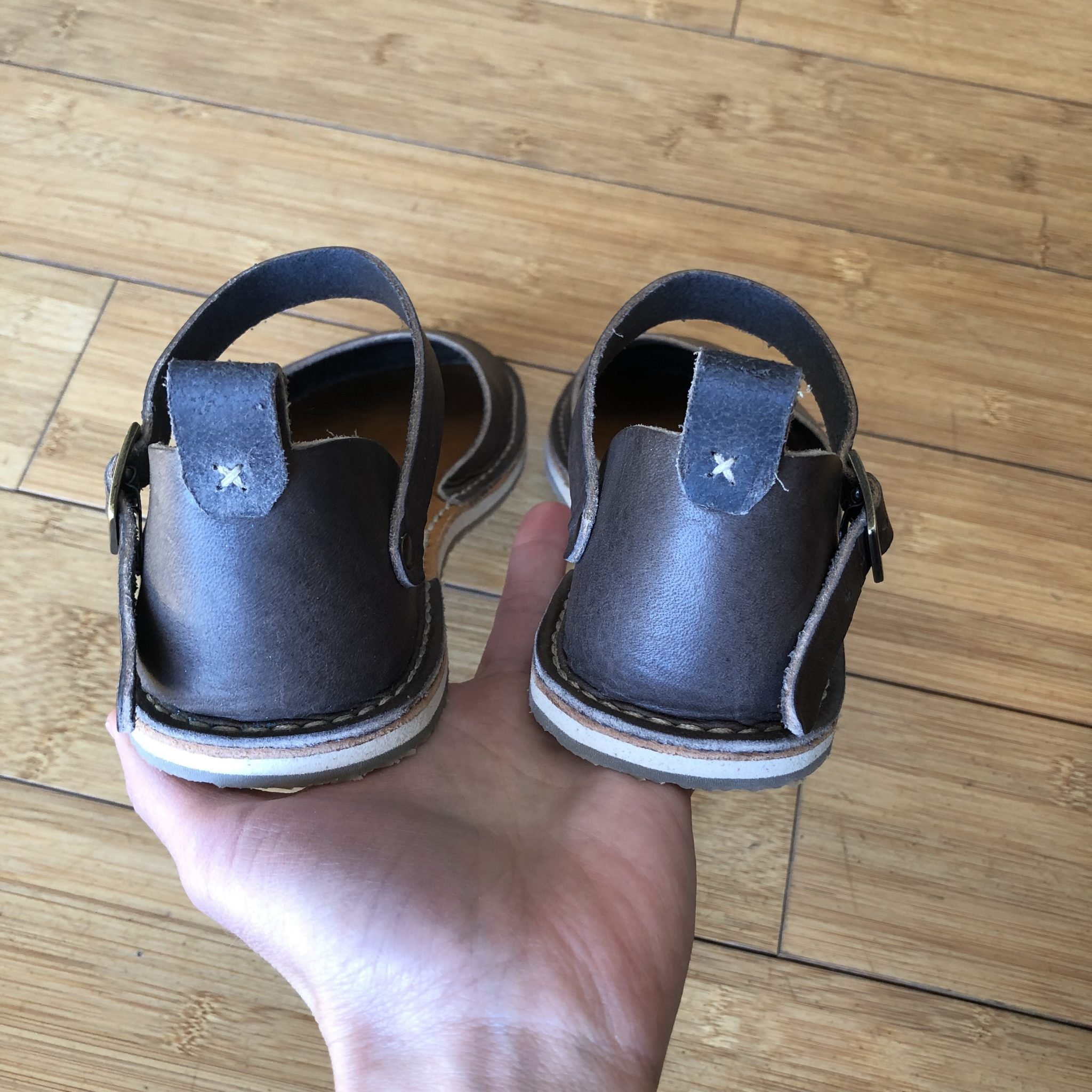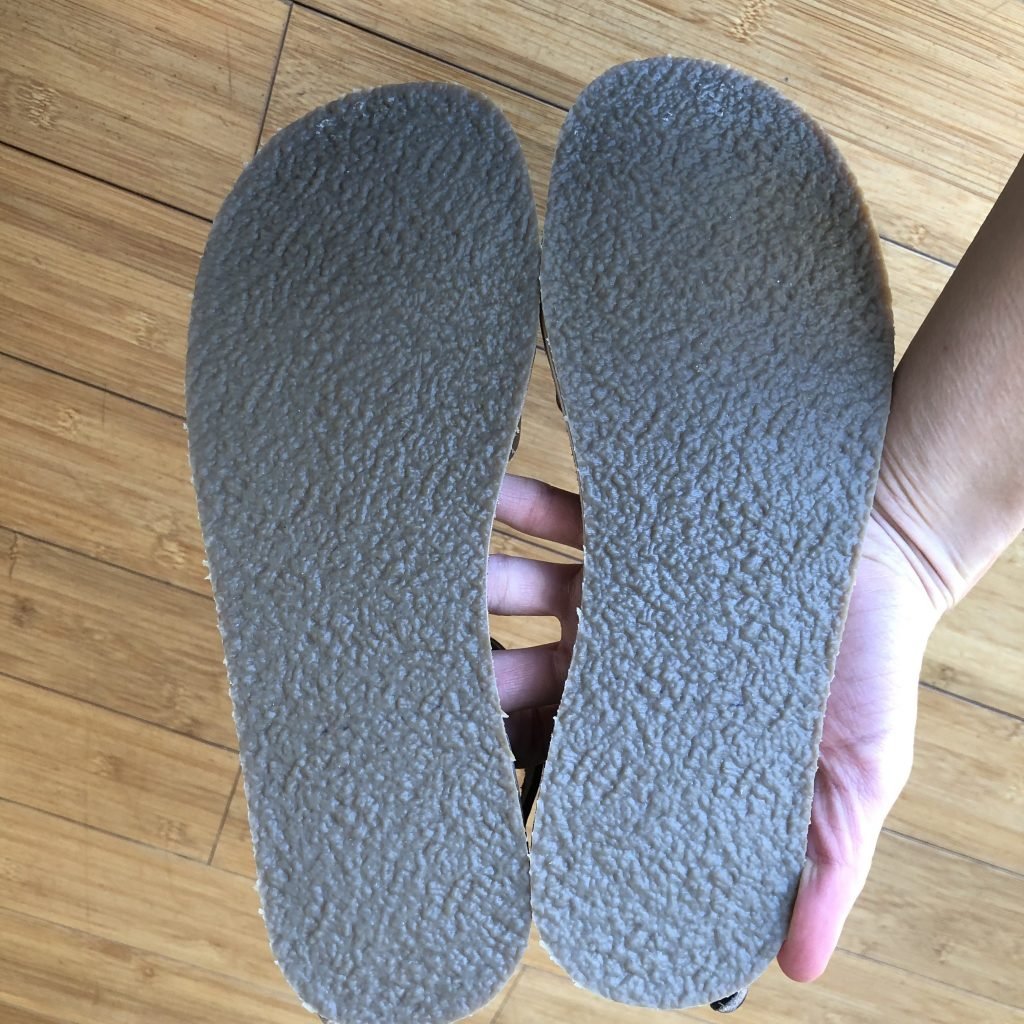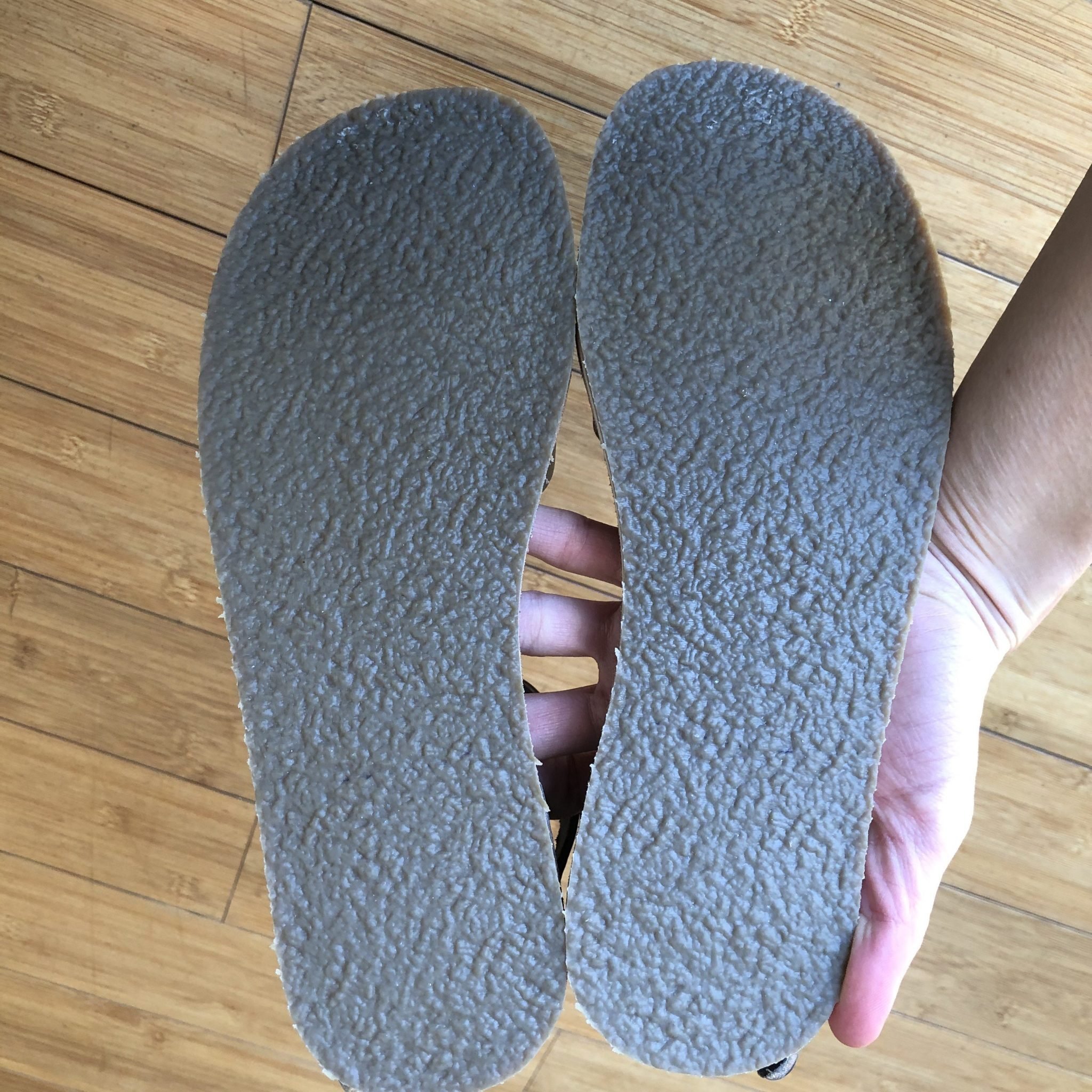 Ordering Process
Each listing on Etsy has a table showing the interior length of each shoe. This is measured from heel stitching to toe stitching. So on flats, this would be the same as an insole length. On sandals, the length is measured in the same way, even though there is space for your feet to go beyond the stitching. In the Trevi flat that I ordered (which has a closed toe and heel), I purchased my usual size 6 and the fit is great with enough space for my toes. I ordered a few different sandal sizes later in the spring and was able to fit into a size 5 in those, because either my heel or toes could extend beyond the stitching on the sole.
Crupon also has their own website where you can purchase and use code ANYA for 10% off, but their Etsy page has better prices and the shipping on Etsy seems to be better as well. However the Etsy listings don't clearly label the names and colors of their shoes, so I found it easier to browse through their website to determine what I wanted and then go back to Etsy to purchase.
I bought these on sale at Etsy for $102. I've seen the price fluctuate on these depending on the time of year, they were $128 during the summer and then dropped to $99 once fall hit. This style is one of the more expensive, most of their sandals are cheaper than this.
Crupon's shoes are normally made with a small heel, so if you don't want that you need to specifically request it made without. They've added a Zero Drop option on each product page, so you'll want to make a note there that you want to heel.
Materials
The leather Crupon uses is unlike any other I've encountered. It is thick and sturdy, while still being soft and flexible. It doesn't stretch with normal wear and holds its shape very well, but doesn't cause blisters. It looks like it will hold up to wear extremely well.
I did stuff the toes with a thick sock and blew a hair dryer on it to loosen them up a bit, but I really had to stuff them to get them to stretch. I was able to open up more space for my toes after a few days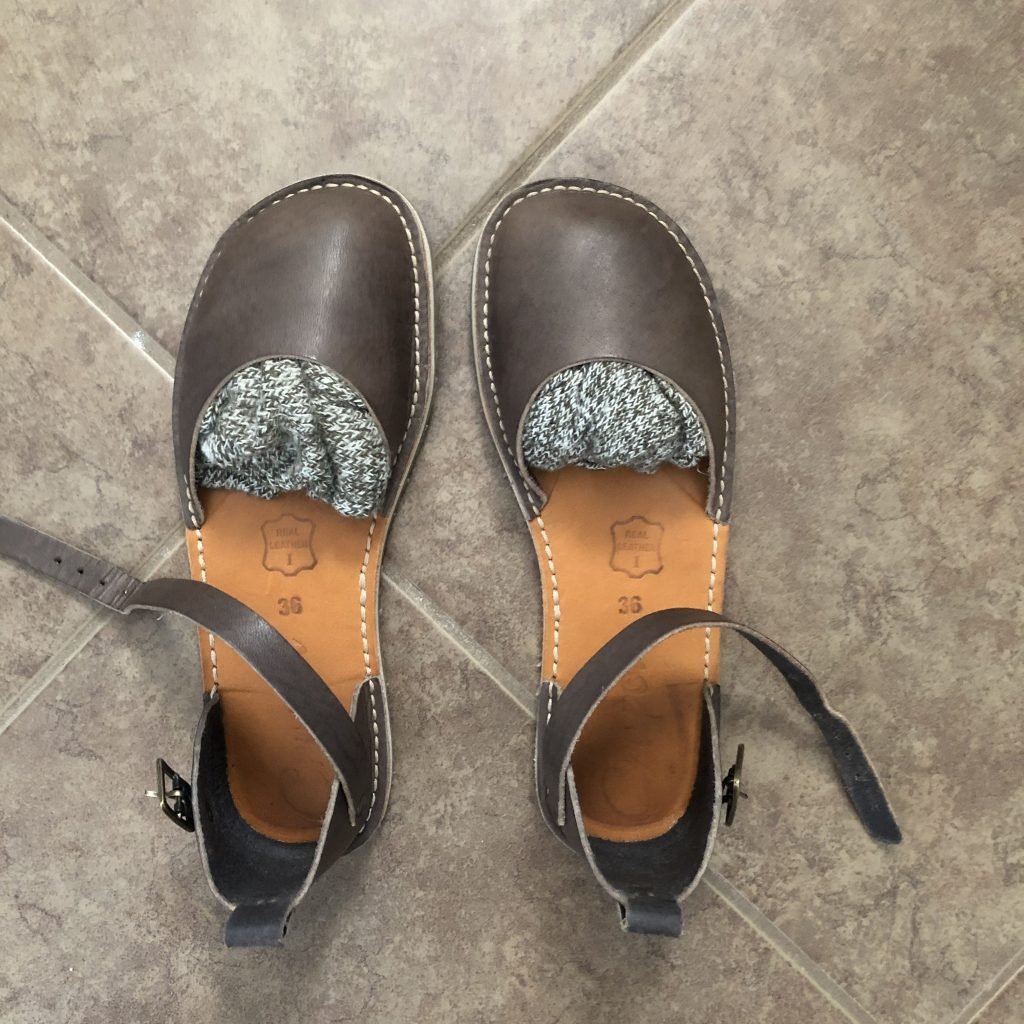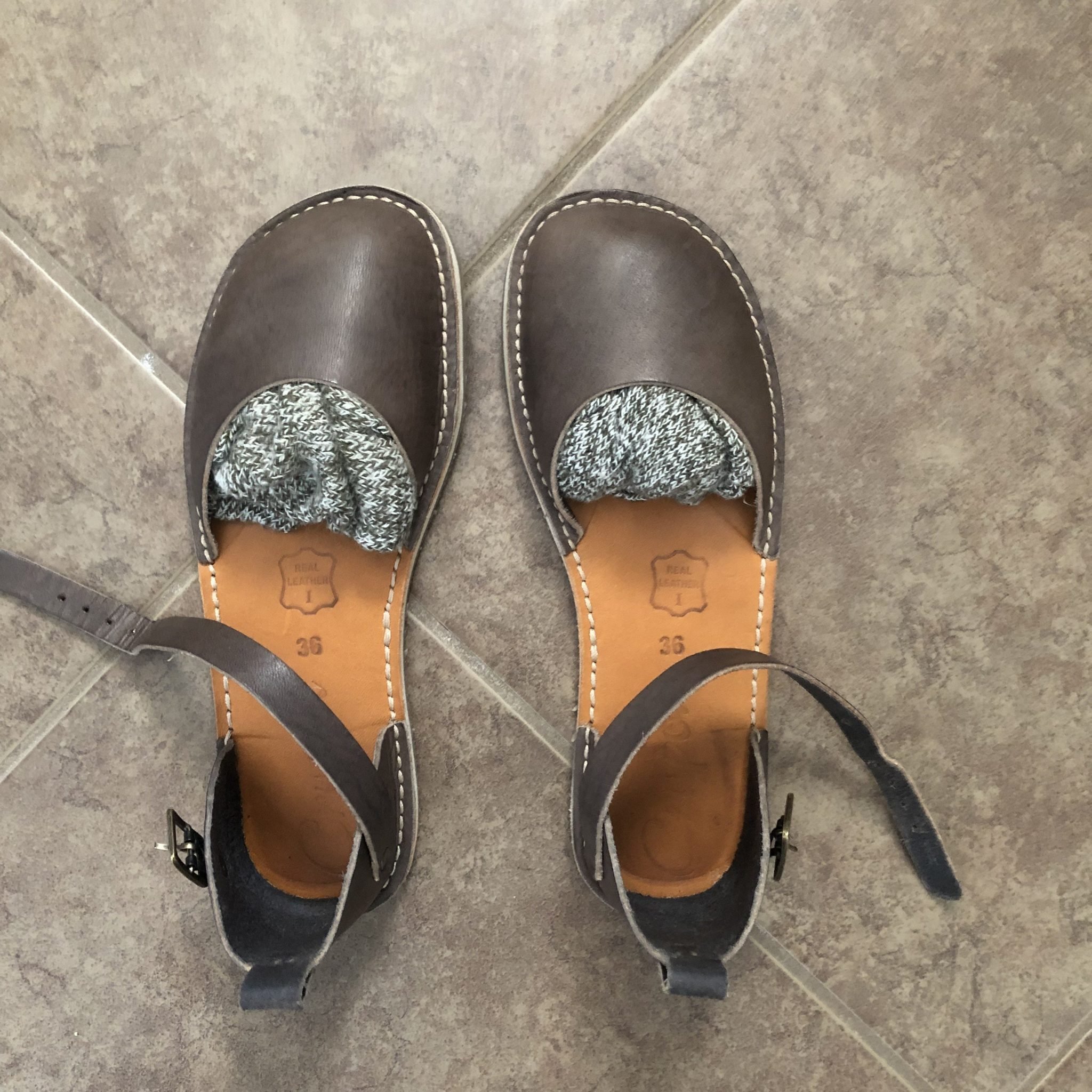 Because the leather is dyed using plant extracts and are completely natural, they will darken over time and alter with exposure (water drops will leave marks). They can be cleaned (I use Chamberlain's) to remove dirt and water marks and conditioner or natural wax will revitalize them.
There are plenty of buckle holes in the strap, I have skinny ankles and wear mine on the 3rd hole, so they should work for high and low volume feet.
Barefoot Qualities
First and foremost, these are completely flat and flexible. Once that's checked off the list, I look at the toe box. The toe boxes of Crupon sandals vary by style, but the Trevi and Cuomo flat as well as many of the sandals will be most appropriate for barefoot shoe wearers. The Trevi allows my big to to come straight out and the toe box is fairly wide.
After stretching these and wearing them my pinkie toe is still smooshed in some, and it does bother me after a while. I find I can wear these for a few hours without a problem, but wouldn't want to walk in them all day long.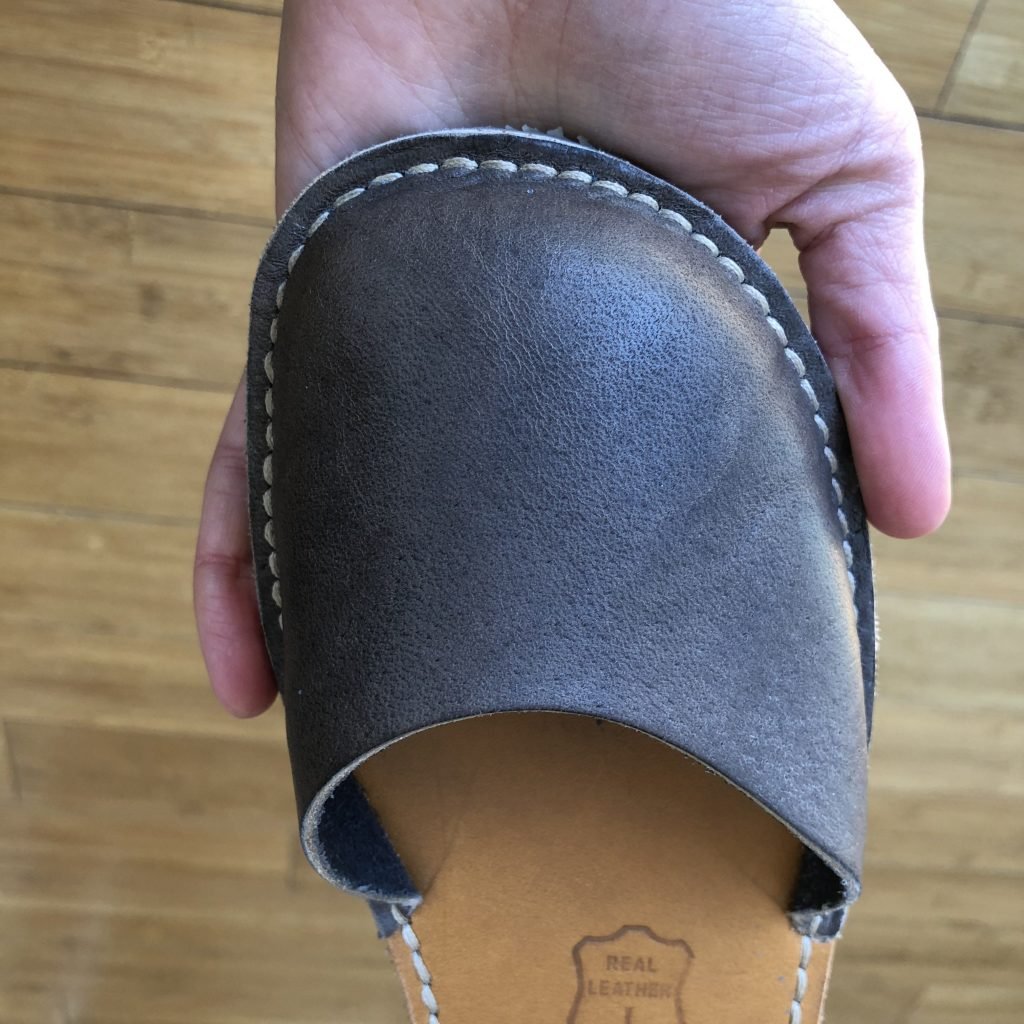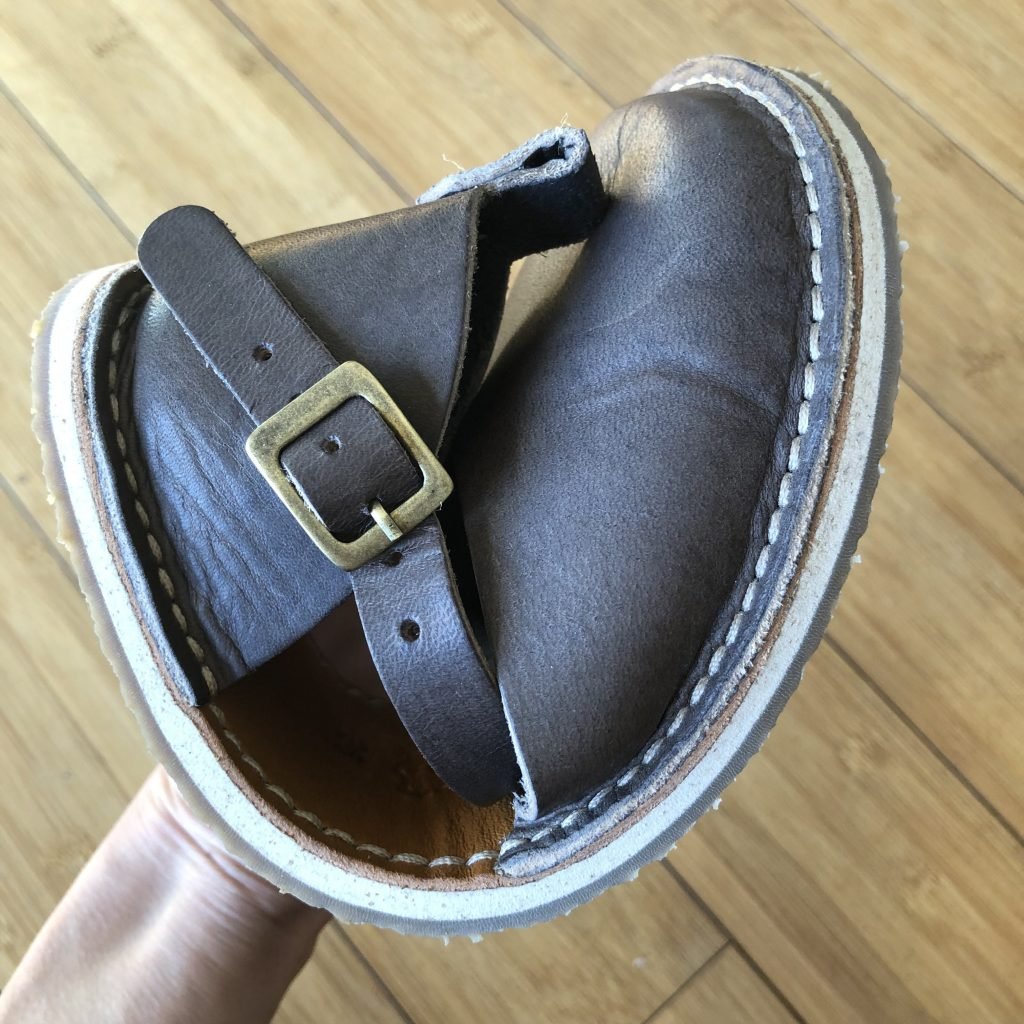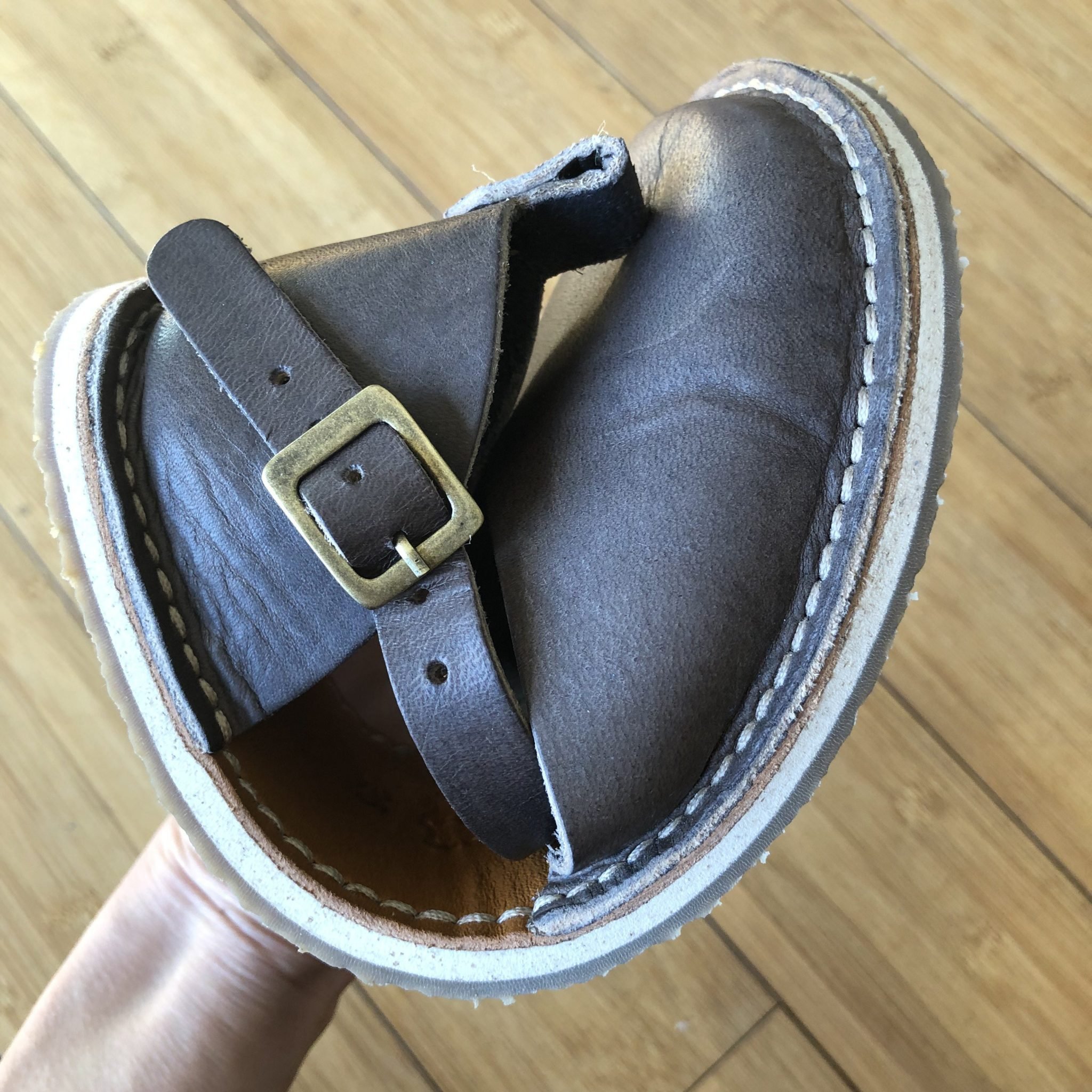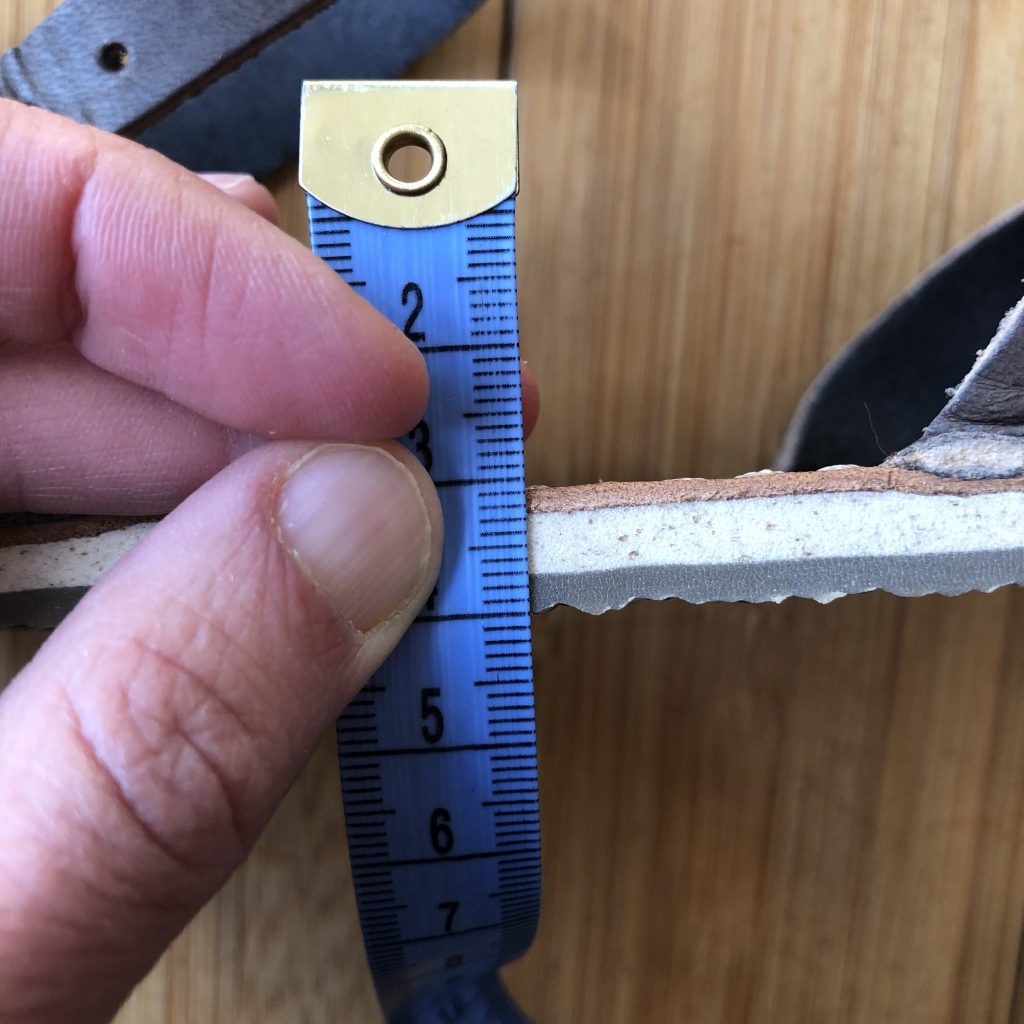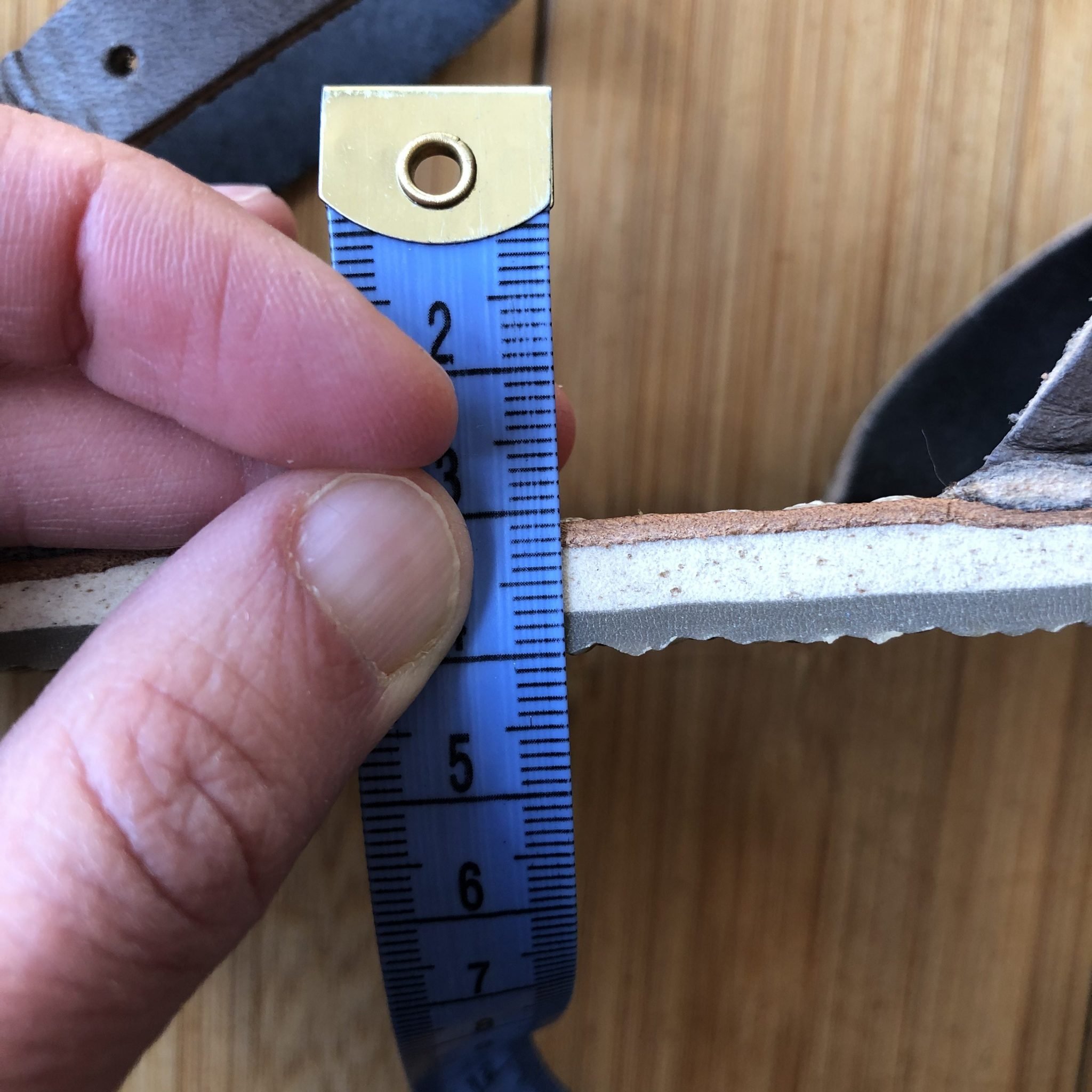 The sole is very flexible, and lightweight. It feels comfortable without being overly cushy, but still has the right amount of cushion. The footbed is made of leather, underneath that is a cork foam layer, and finally a layer of natural rubber. Altogether the stack height measures at about 9mm.
The ankle strap makes these secure to your foot, and a lengthy vamp covers your toes and joints completely, which is important so that you aren't gripping the shoes.
Style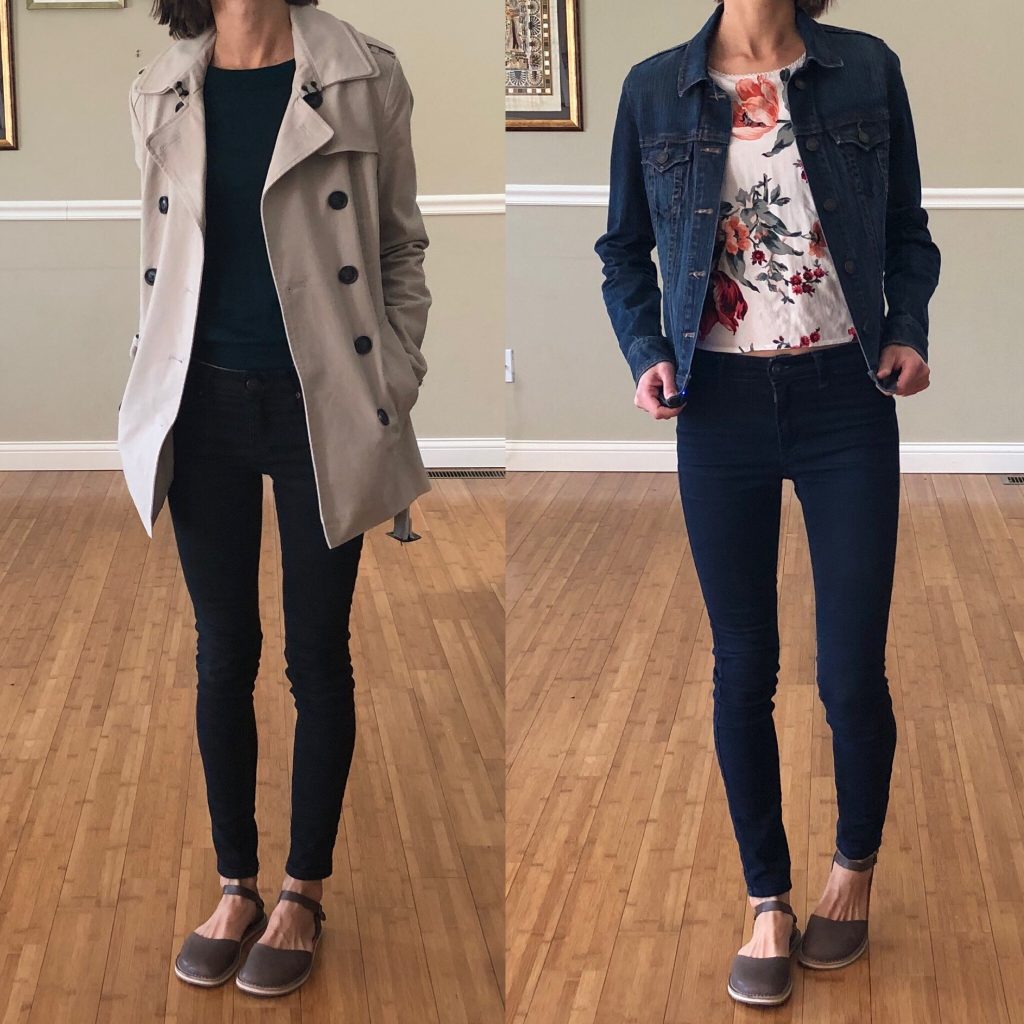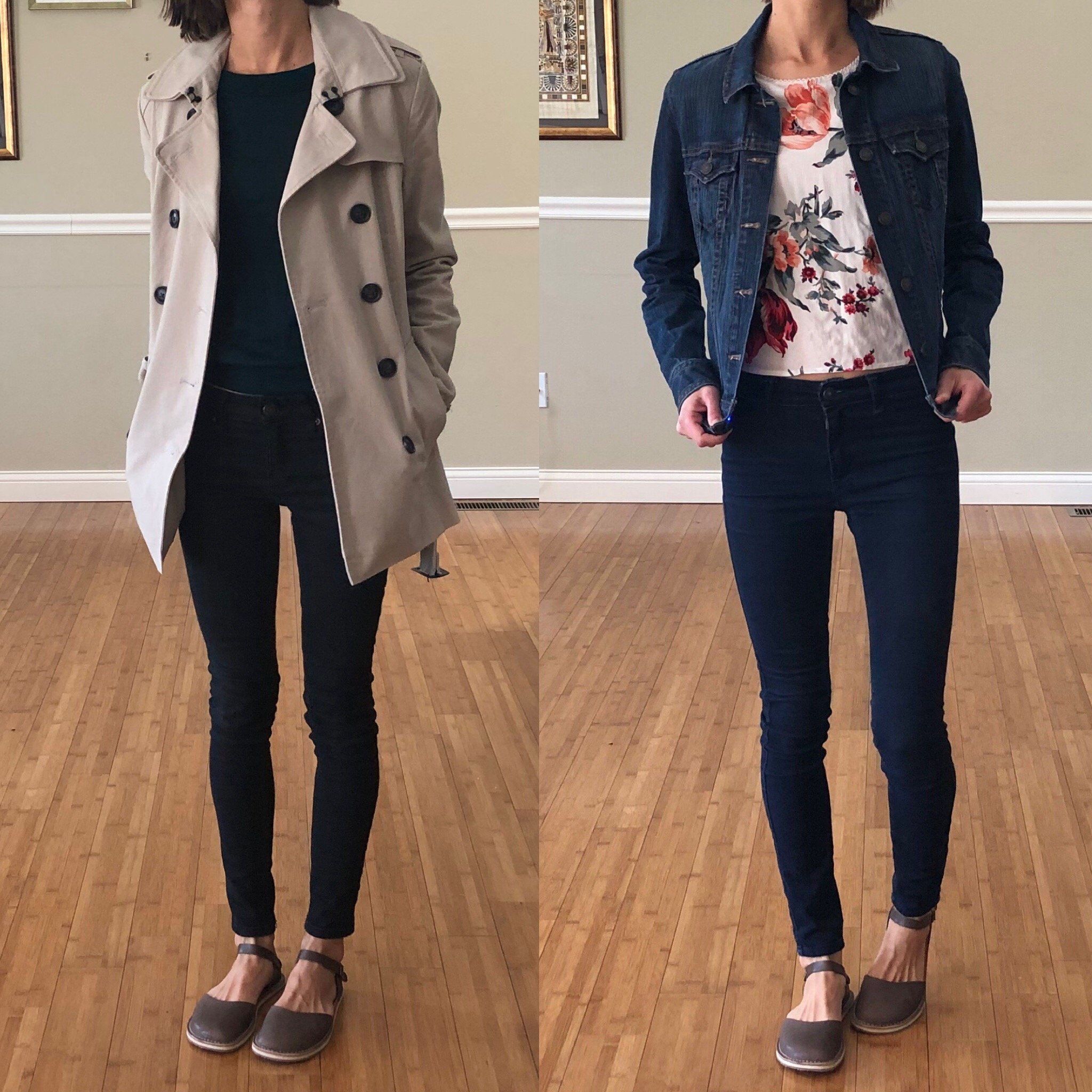 Mary Jane shoes aren't hard to find barefoot friendly, but this is the only one I know of with cutout sides. I greatly prefer the cutout sides because it elevates the shoe and makes them less little girl-y. I'm all about sophisticated footwear. Also, the extra inch of skin showing on the sides adds to your leg length, which is great for short girls like myself. I'm actually long waisted and short legged, but with shoes like these paired with the right bottoms I look the opposite!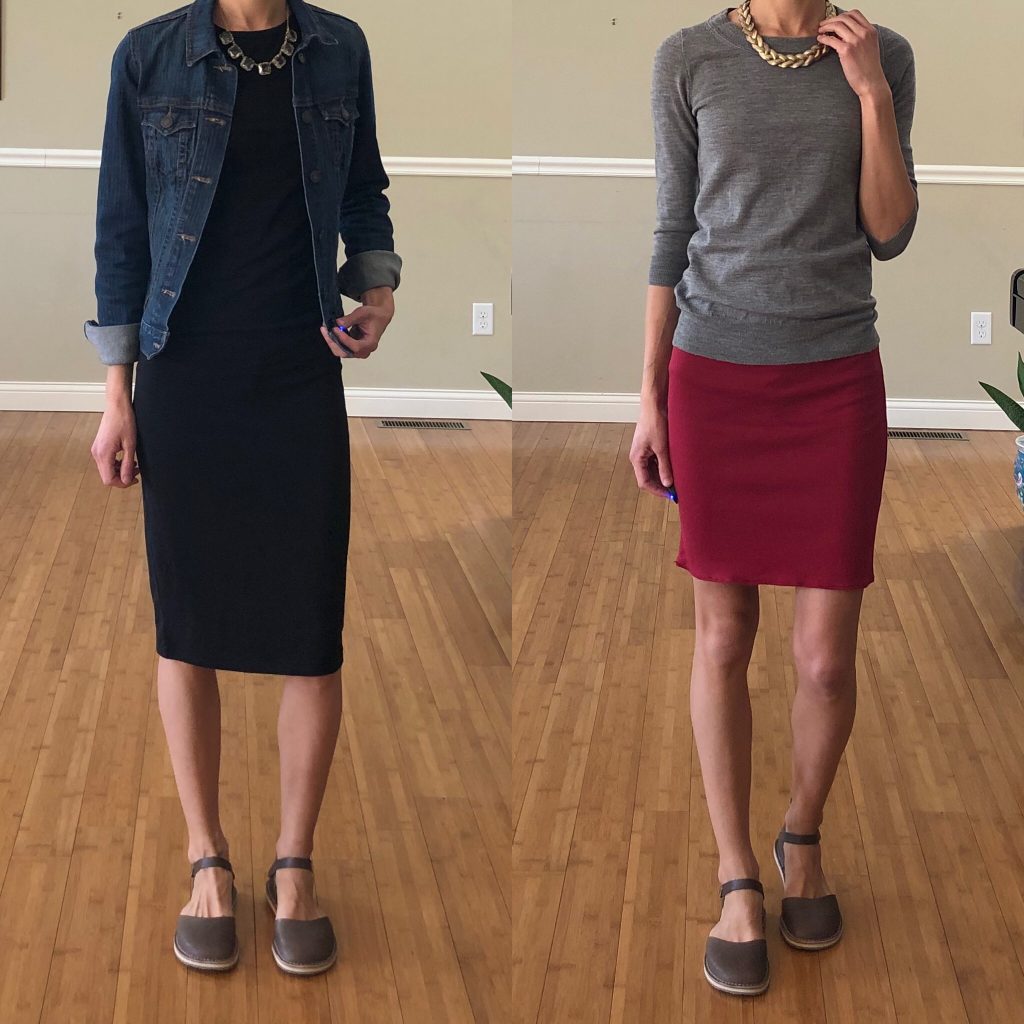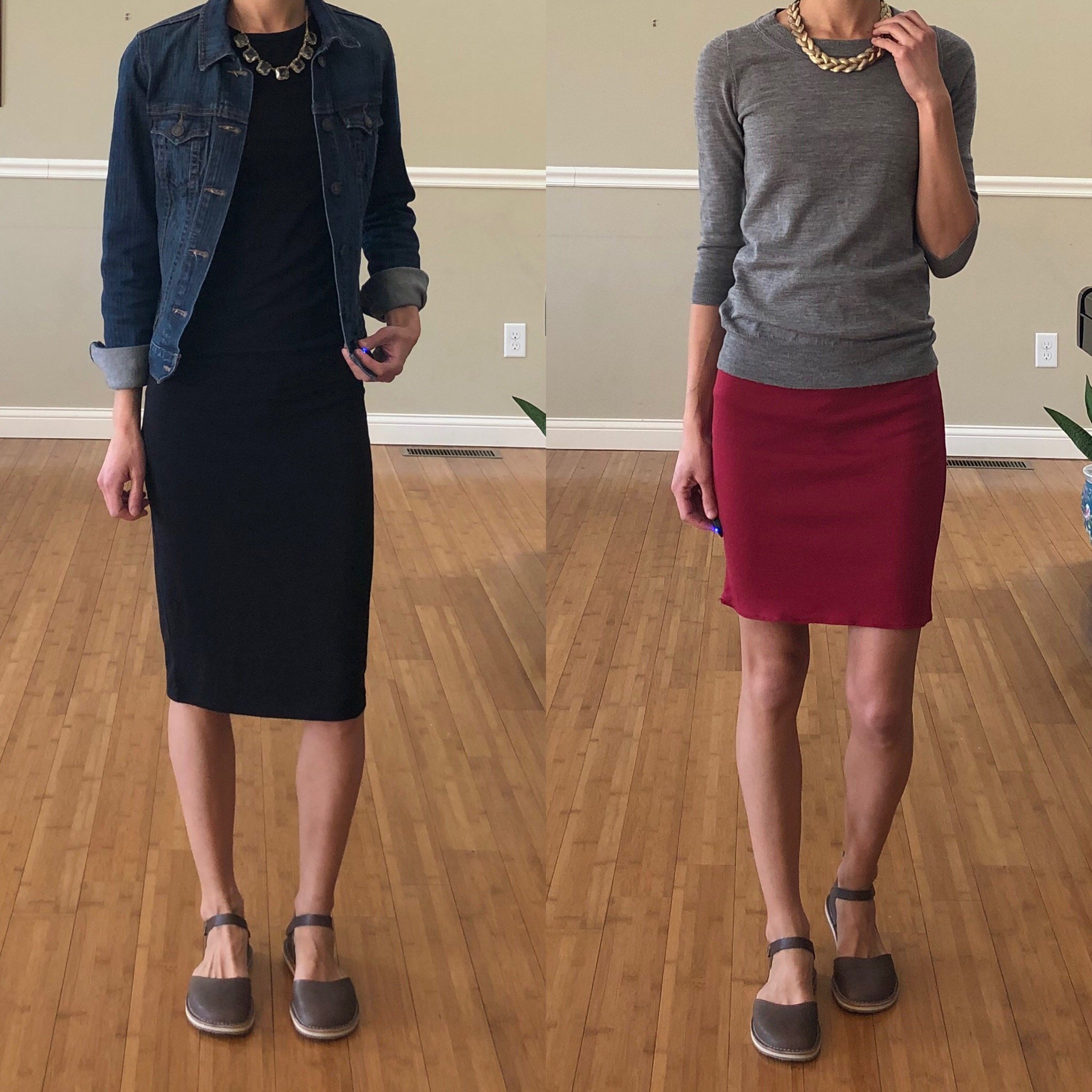 These shoes are bulkier on bottom than a ballet flat or an oxford, so when styling these you want to think about balancing them out with a little extra bulk on top, like a sweater, jacket, looser top, or accessories.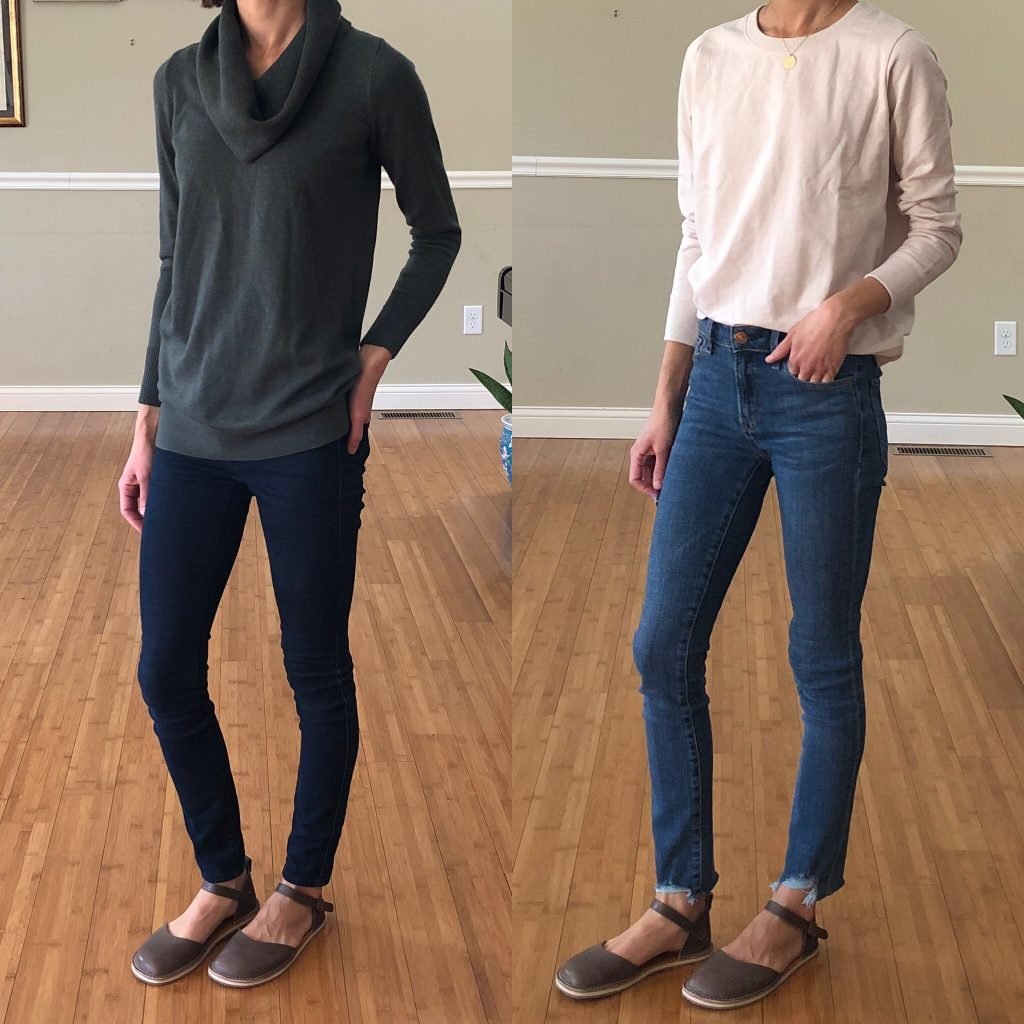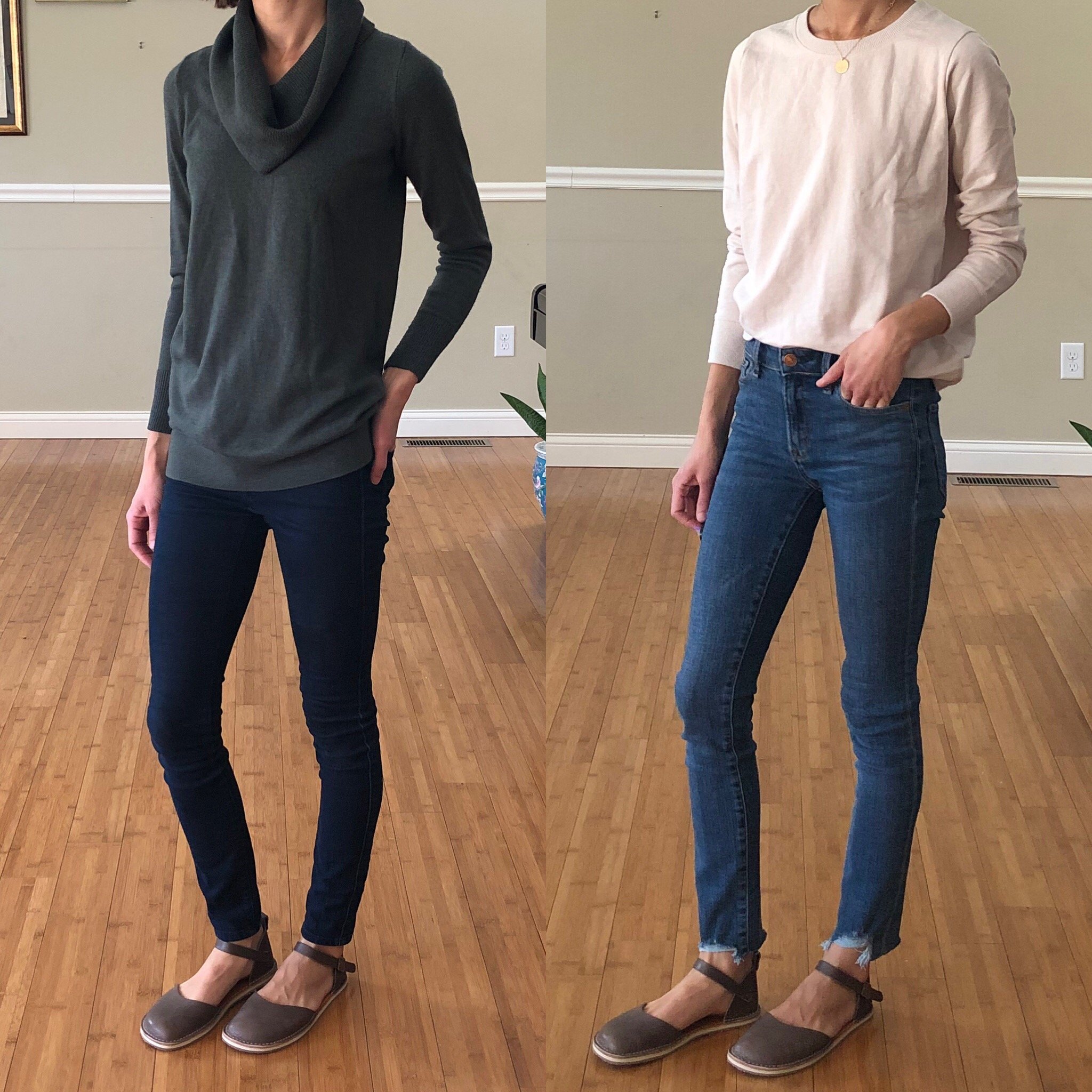 As long as your proportions are good, these shoes are incredibly versatile. They can be dressed up for work or church, worn casually with jeans, and carried into summer with jeans shorts and tank tops.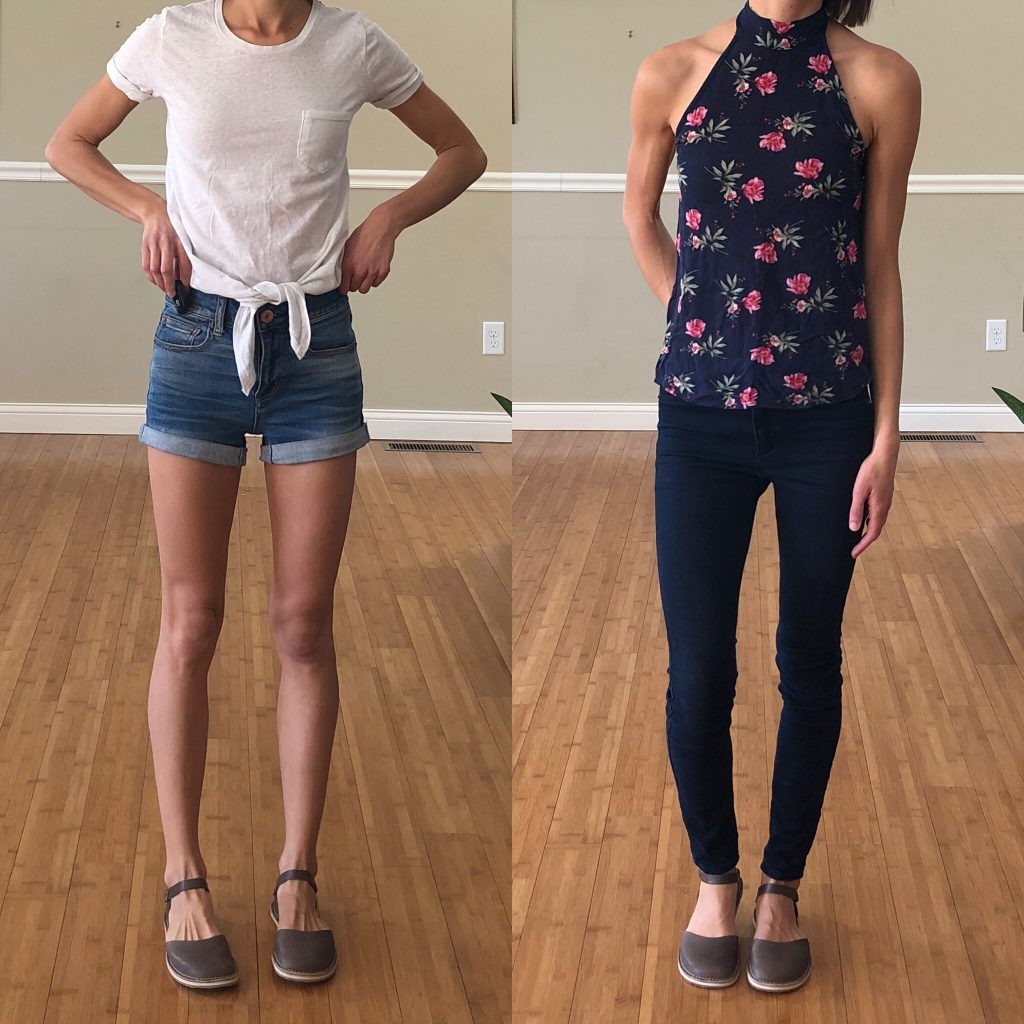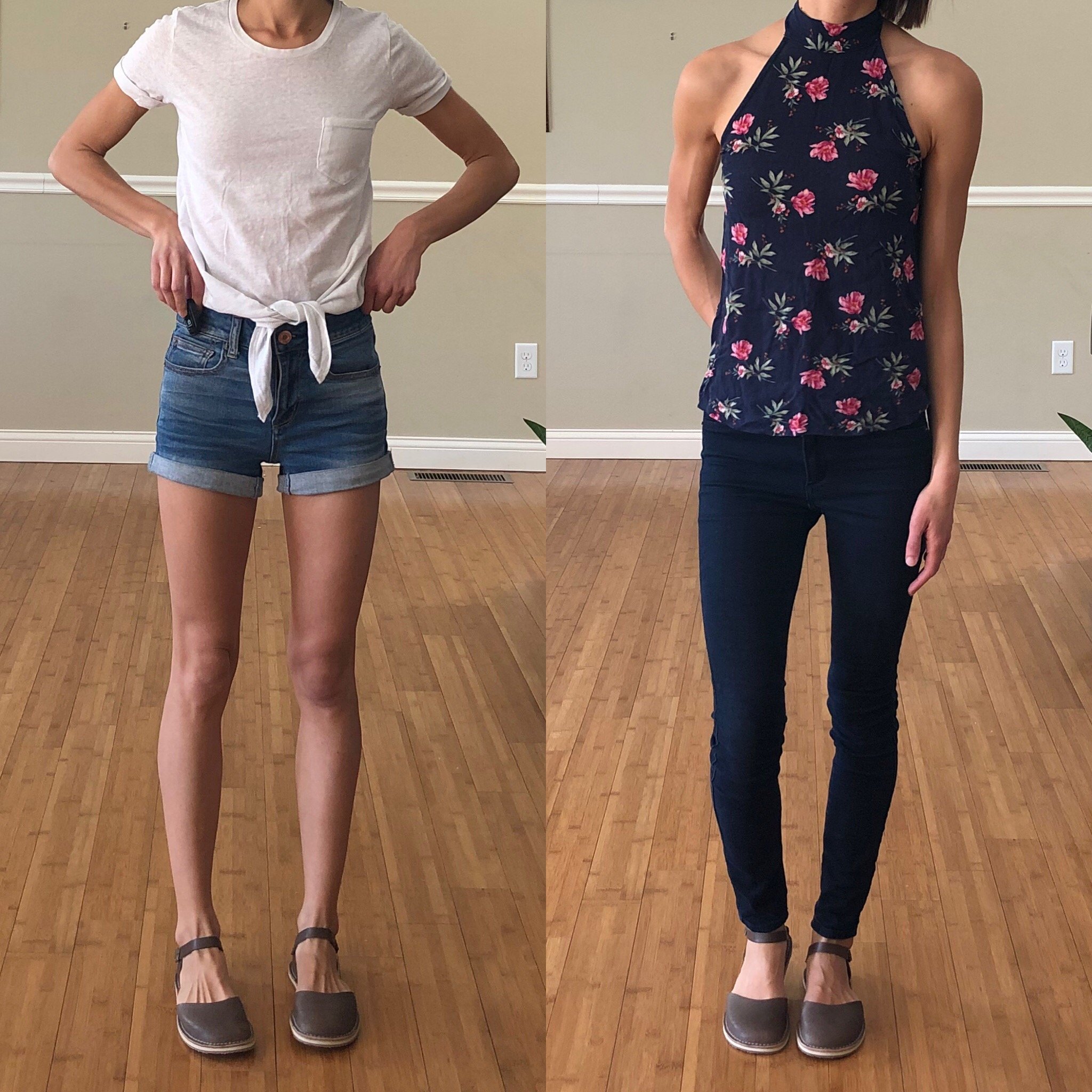 These have a similar look to clogs, which are having a big moment right now. I found some great outfit ideas by searching Pinterest for Clogs Outfits and then subbing the clogs out for these.
I went with a neutral color (grigio) to preserve my leg line and not look too girly (Shoes that blend into your skin and surroundings elongate the leg). But if you like a bright pop of color Crupon has some really fun options. For bright colored sandals, these are some of the best priced ones out there for minimalist folk.
Conclusion
I love these ethically made shoes: the aesthetic is spot on, and they are comfortable and barefoot friendly. While I wish the toe box was wider, I am such a fan of the quality and style that I will continue to wear them and support Crupon's craft.