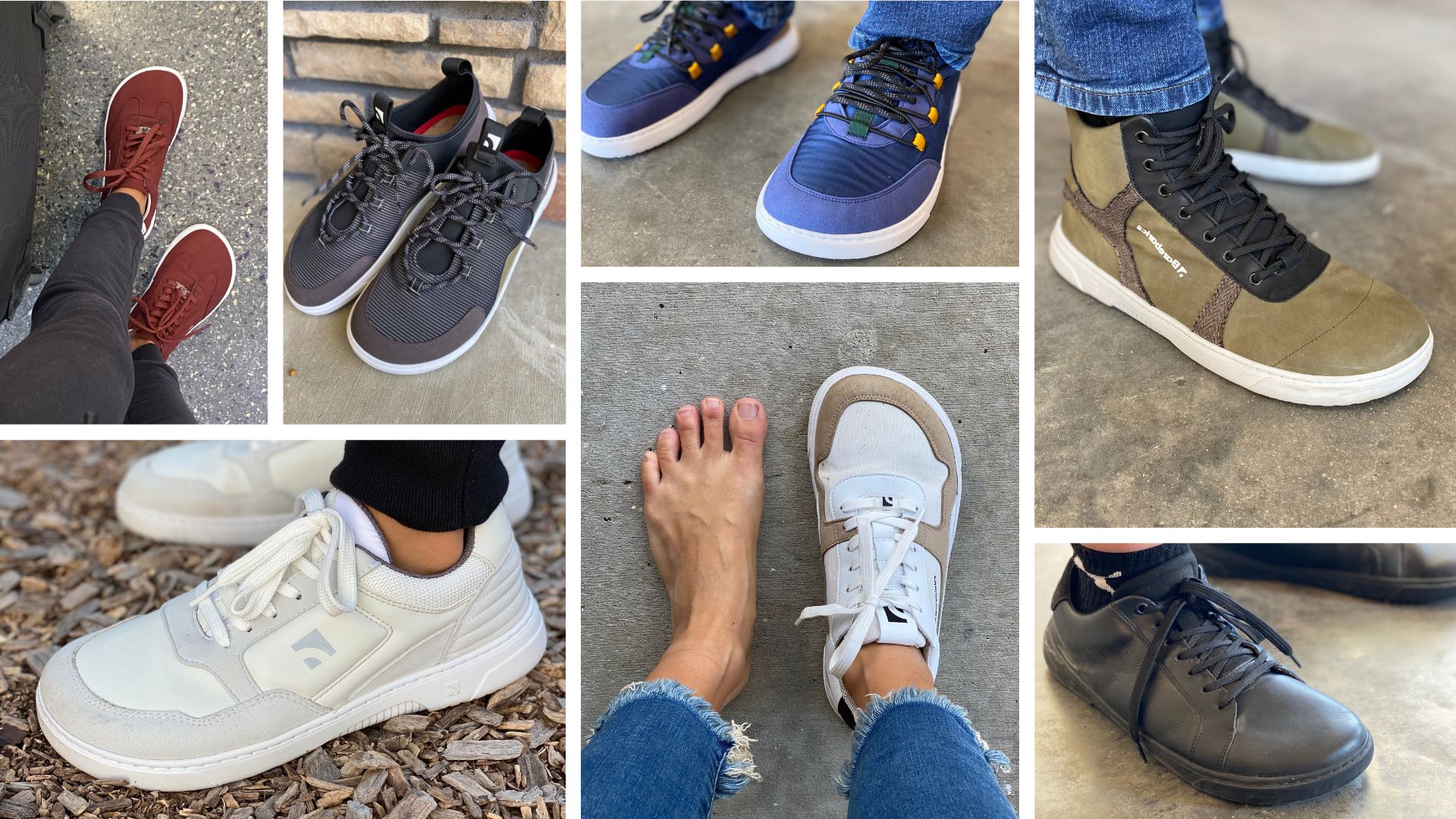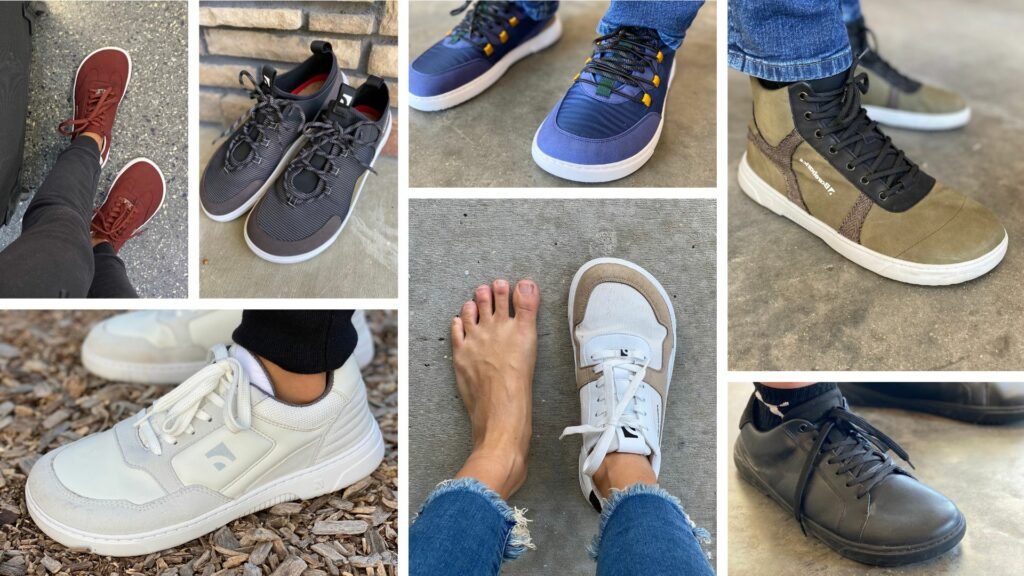 Barebarics makes foot shaped shoes with a modern chunky design and a more durable zero drop sole than we've seen from a barefoot shoe brand. They are the perfect solution for someone who wants zero drop and a wide toe box, but doesn't want an ultra thin sole! Whether that's because of your life situation or because you are still transitioning to barefoot shoes, Barebarics is a reliable solution.
Get To Know Barebarics
$159-179 | Sizes EU 36-47 | 6-10mm Stack Heigh | Vegan | Ships from EU
Code ANYASREVIEWS gets you 5% off full-priced Barebarics at any time.
You can also find a variety of Barebarics at Anya's Shop in the US, many of which are at a discount because they were tried on and returned.
Barebarics is a new barefoot shoe brand created by Be Lenka (a long time favorite brand of mine). All Barebarics shoes are vegan and designed with an urban setting in mind – both in their distinctly urban style and extremely abrasion resistant outsole. Never before has a naturally shaped toe box and zero drop sole been combined with such durability and style, it is an exciting step forward. Concrete jungle inhabitants, this is the brand for you!
In fact, Barebarics has become a favorite for the Anya's Reviews team. Justin, Ian, and Aaron all wear their Barebarics shoes in the Anya's Shop warehouse where they spend lots of time on concrete. For their line of work and their current comfort level with barefoot shoes they're perfection. They look damn good too.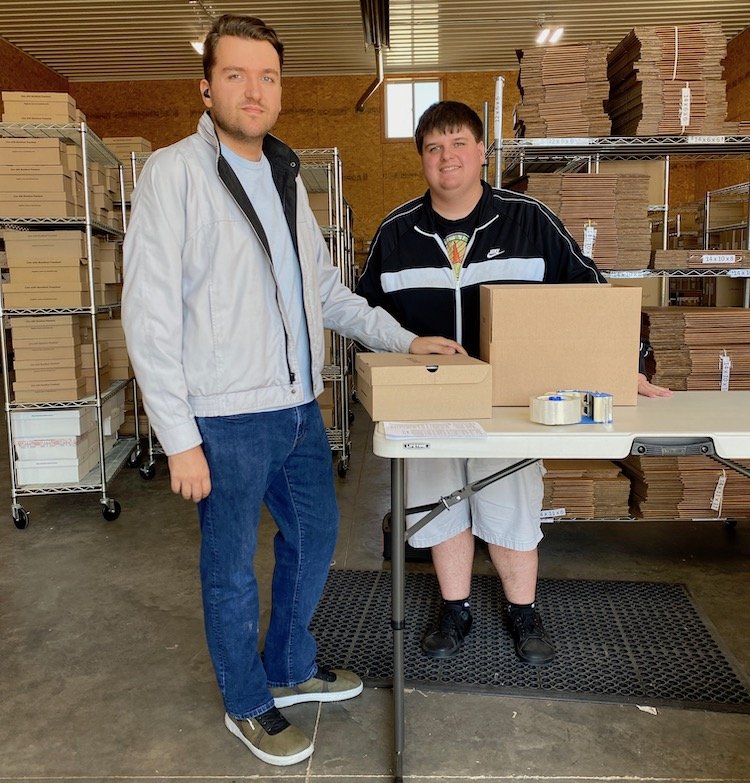 Sizing & Fit
Barebarics shoes are:
True to size
Low to high volume
Extra wide in the toe box
Good for most foot shapes, even square
Fan shaped
For a definition of these terms, head to my Barefoot Shoes by Foot Type article.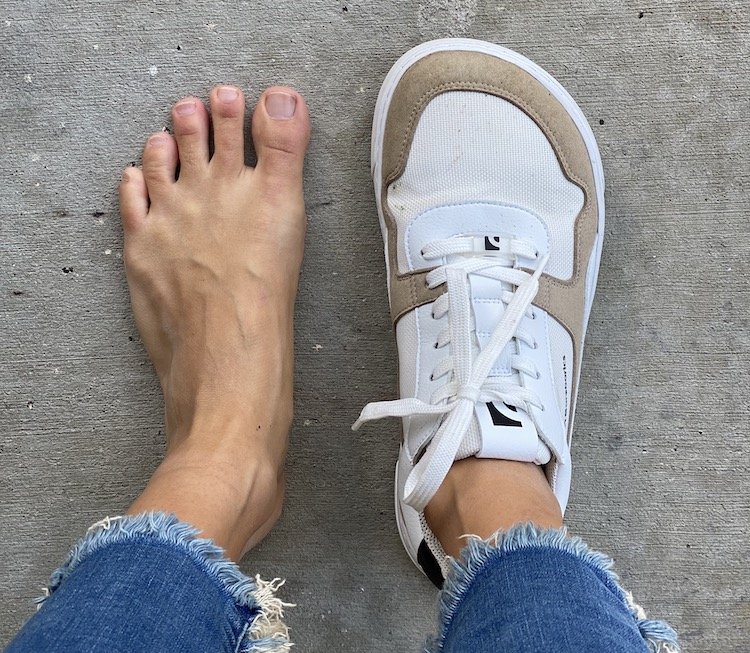 Barebarics has a fit that should work for most foot types, thanks to its wide, square shape and close fitting (but adjustable) upper. If you have narrow feet you will likely have lots of extra space around your toes, but that might not be an issue if they fit closely everywhere else. The only other fit concern to watch out for is if you need a lot of vertical space in the toe box – because they aren't super soft and squishy you might feel pressure above the toes. A super easy fix for this is to remove the insole.
Are they barefoot?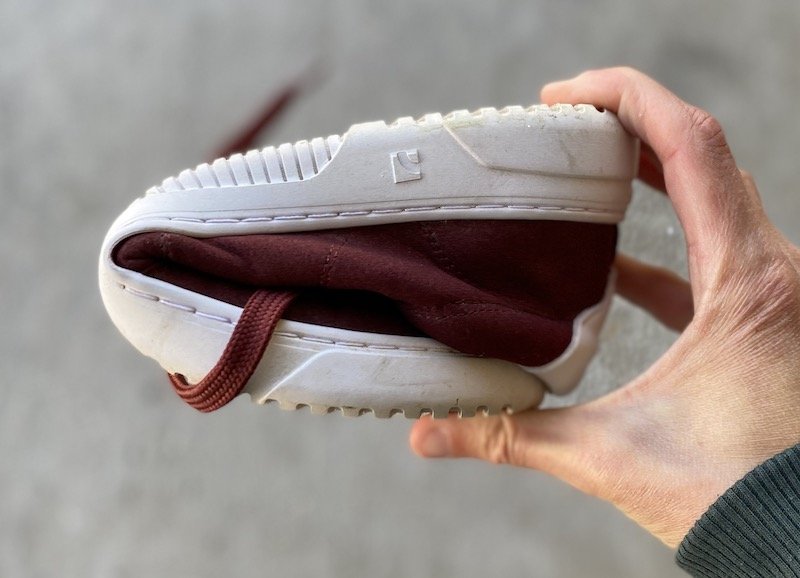 You can be certain that every shoe from Barebarics is zero drop with a foot shaped sole. But while the toe box is uncompromisingly wide, I find them to be more of a transition barefoot shoe. If you are used to light, flexible barefoot brands like Wildling or Mukishoes you might be surprised at the heft of Barebarics. But despite the extra material on the sole and upper, you can still feel bumps and cracks under your foot. Compared to mainstream shoes, Barebarics are still very minimal with a total thickness of about 1cm including the tread and insole (6mm without insole). And for certain populations this is a great marriage of minimal features with durability.
For example, people who work in healthcare or food service and need slip resistant outsoles will be very pleased to see an option for them (all black and all white wipable options too!). As will barefoot beginners who are not yet ready for thin soles, or anyone who is finding themselves uncomfortable on hard surfaces. You'll also love Barebarics if you're hard on your shoes and wear through them quickly.
The insole is also removable, so if you're someone who wants a thinner sole feel free to take that out.
Ordering from Barebarics
Barebarics is based in the EU and ships via DHL. To the US one pair of shoes is $12, and arrives within about a week. Returns are accepted on EU and US purchases only on new shoes within 14 days. That means if you live anywhere else your purchase is final sale. Be sure to check the Discounted Seconds section at Anya's Shop for a deal on Barebarics!
I find the checkout process a bit funny, you don't pay until after you place you order. So don't forget or your shoes will never ship! But those are minor things.
Alright, now let's dig into the individual Barebarics models.
Barebarics Review
All Barebarics shoes have the same sizing and outsole shape, so the differences between models really comes down to style and a few fit differences.
Here are the models we on the Anya's Reviews team love.
---
Axiom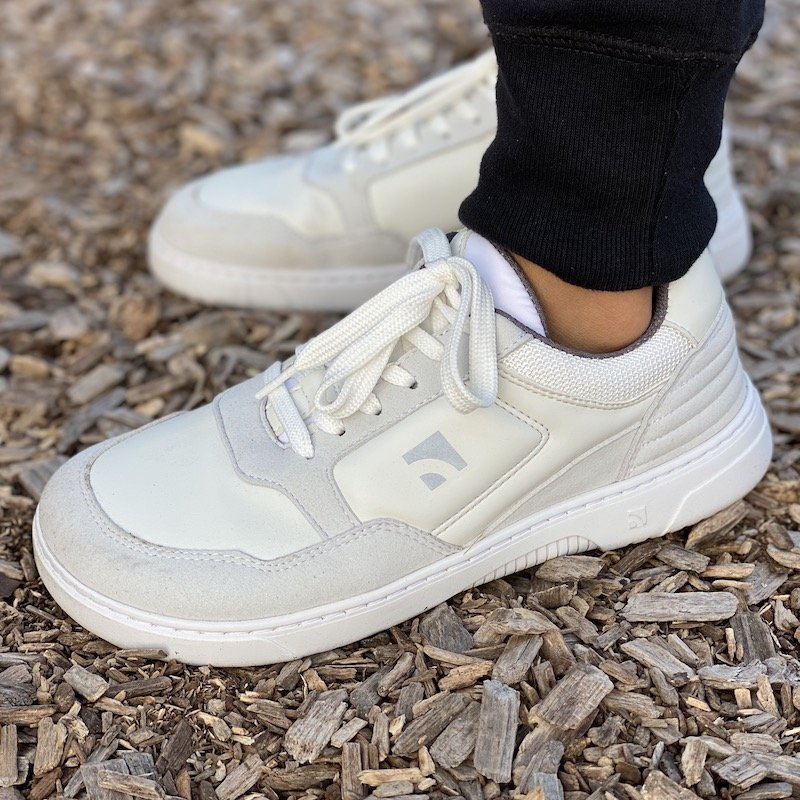 The Axiom has a classic sneaker design and a leather look. I love the White & Grey colorway and think they look awesome! My one complaint with this model is that the heel and ankle area felt extra stiff and rubbed quite a bit at first. I am used to adding moleskin or heel grips to my shoes, but feel like this could be improved.
---
Zoom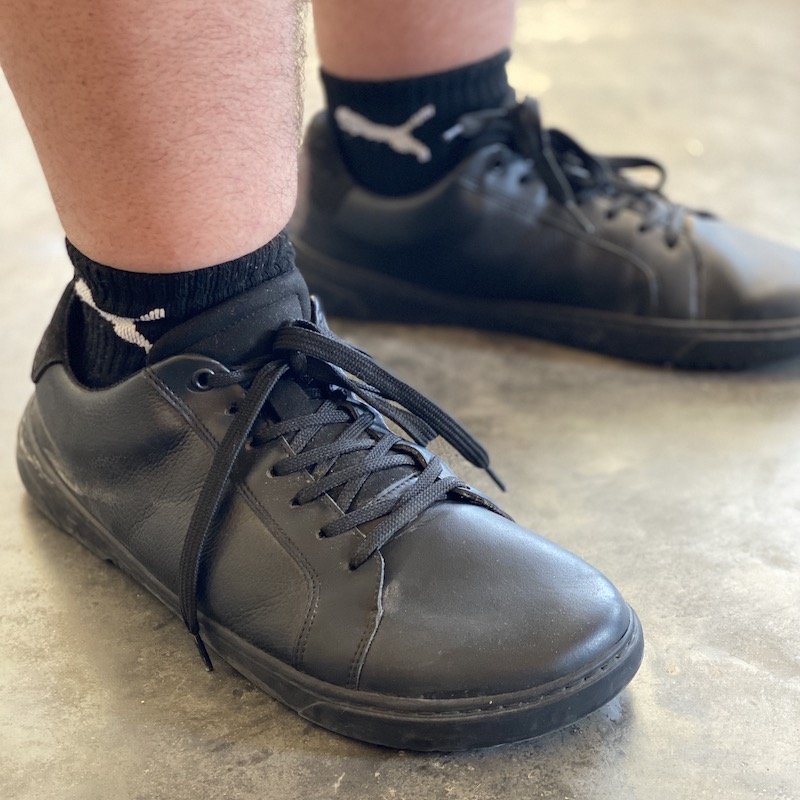 Zoom is the model for employees with a dress code. They are wipable faux leather, which makes them even better for healthcare and food service employees. Or you can just wear them as everyday shoes! Aaron is wearing this in the warehouse as an every day work and casual shoe. He loves them.
---
Pulsar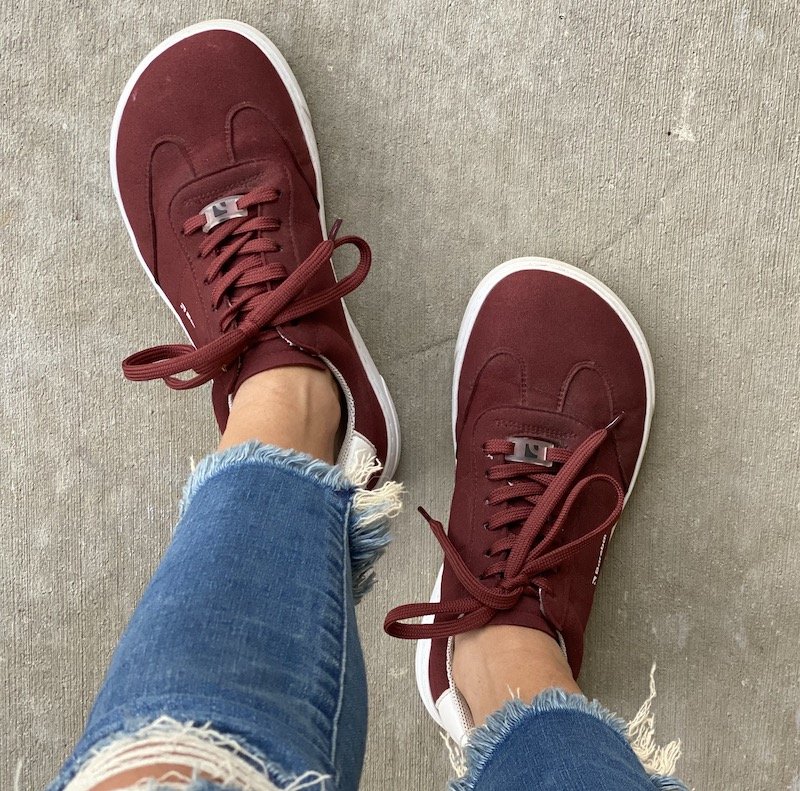 The Pulsar is a simple Barebarics design and the first model I tried. They have a canvas look to them and I love the burgundy. This is the pair I took with me to Europe for long travel days, and they did not disappoint!
---
Hifly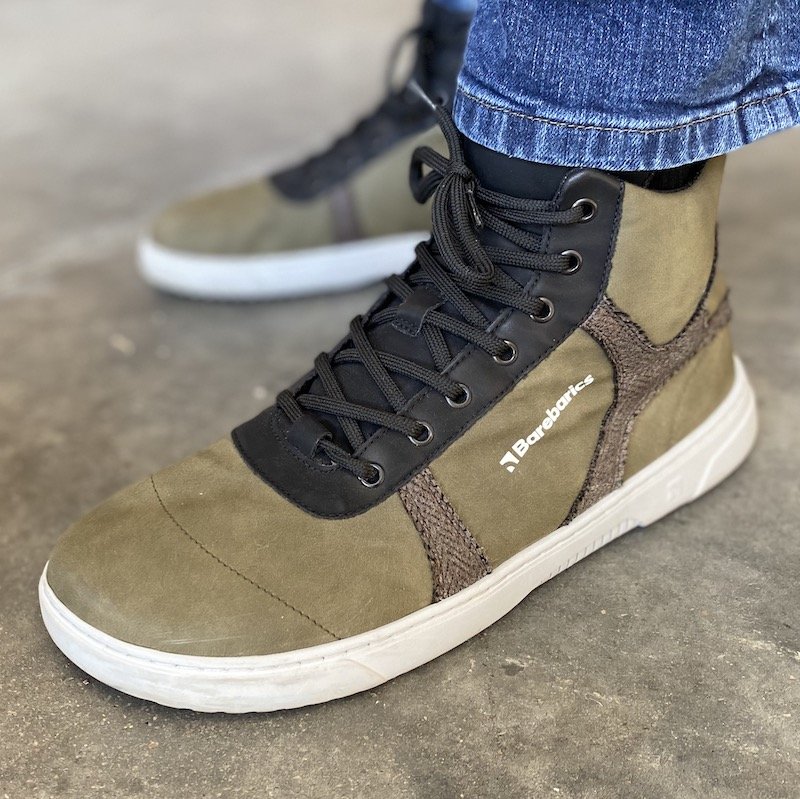 This is the only high top from Barebarics currently. They are simple with a few details to make them pop. Ian tested these out for us and he found the ankle area quite stiff at first, in contrast with all the room around your toes. Again, it would be nice for this to be softer at the beginning (even though it breaks in).
---
Zing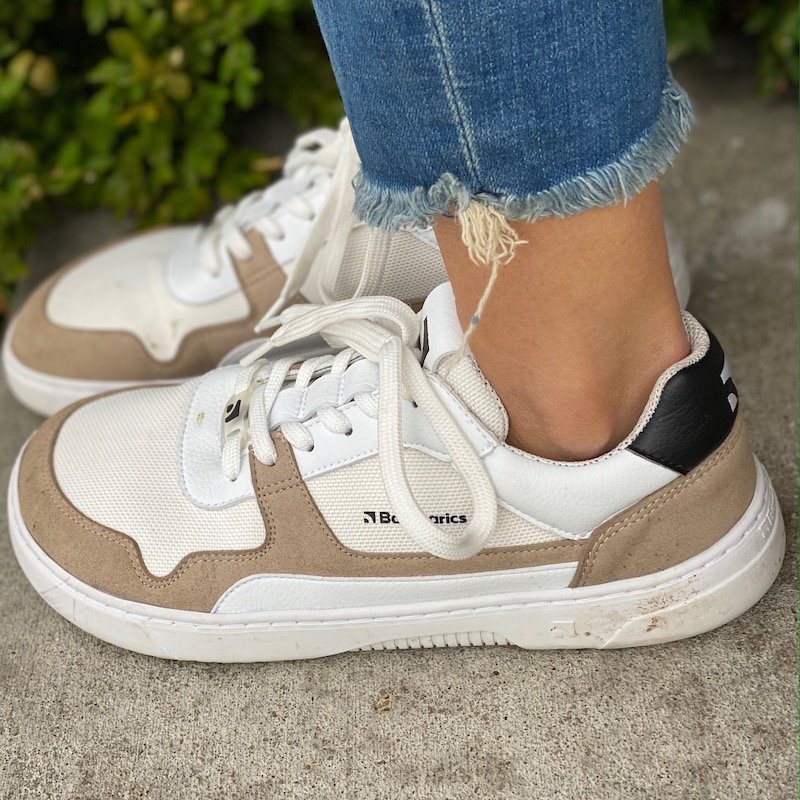 The Zing is a white sneaker with color block detailing. I might love the style of these most of all. Classic, but just enough details to stand out. You can't go wrong!
---
Rebel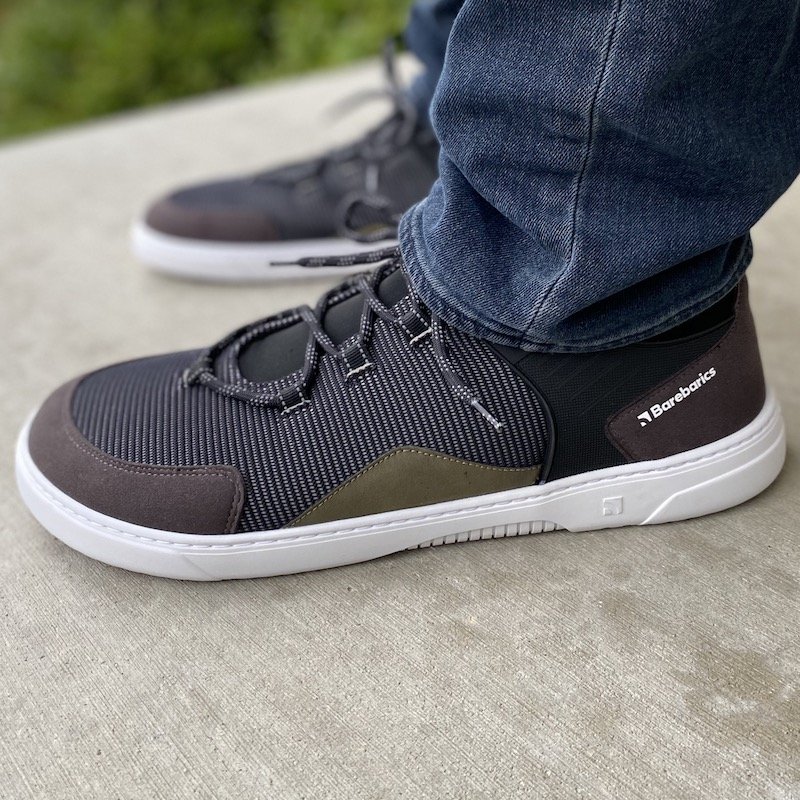 This model caught me by surprise. I did not find them attractive on the website, but seeing them in person changed my mind. The detailing makes them interesting without being loud. They have a bootie construction and can slip on and off, which is good because the lace holders are very stiff and not at all good for threading laces through. Justin and Ian are really liking them as an everyday sneaker!
---
Revive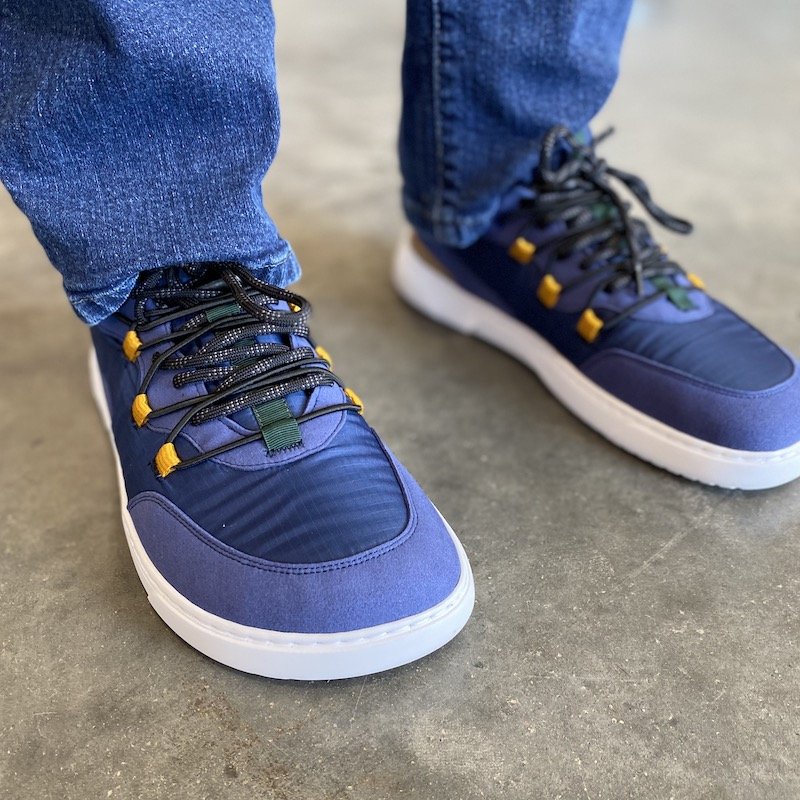 The Revive has a functioning lace plus a cosmetic one, giving it a double lace look. It comes in 3 colorways, each with bright accents and a nylon upper. It's been really popular with both men and women as a stylish sneaker, there is nothing else like it from other barefoot shoe brands.
---
Complaints
The only issue that occurred for us consistently in the testing process was that the heel and ankle area rubbed. As someone you might call a barefoot purist, I am used to shoes that are immediately soft with no break in time and I would really prefer more flexibility in that part of the shoe. Besides that, there is nothing I would change about Barebarics! Except maybe more style options…
Conclusion
Barebarics are an exciting addition to the barefoot shoe world, delivering on style, quality, and barefoot features. I highly recommend them if you need just a little bit more cushion under foot for whatever reason, or simply want to participate in current sneaker trends.