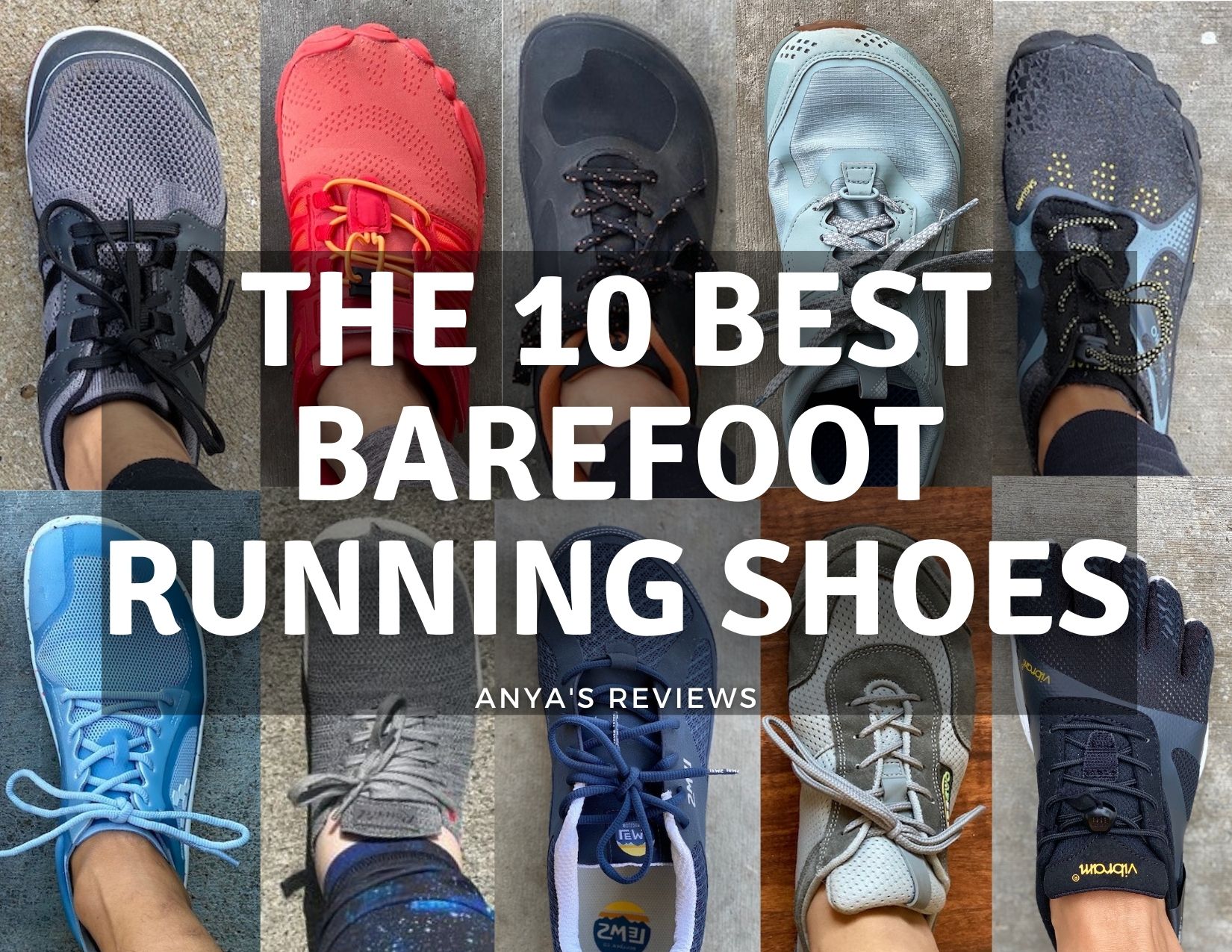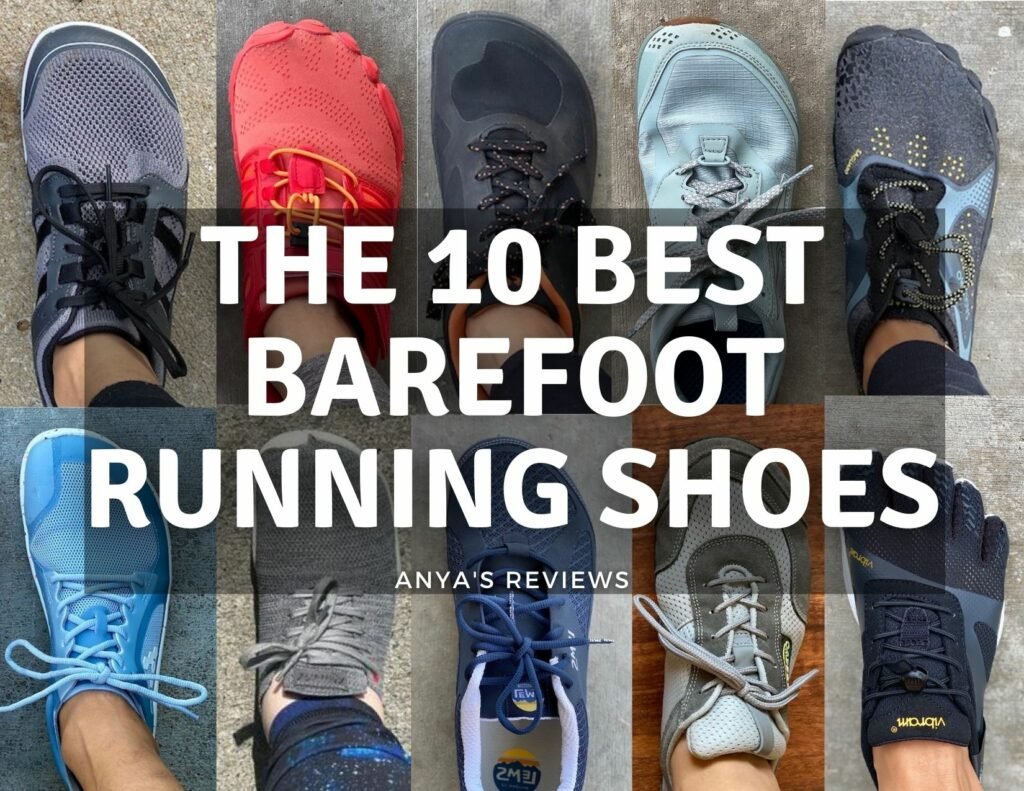 The Best Barefoot Running Shoes written in collaboration with performance coach Graham Tuttle.
Foot pain is a quick way to end your running career. So if you run you probably care about your shoes! But the debate is endless – do we need arch support, pronation control, and cushion to protect our feet? Maybe not. We believe that our bodies can carry us without all that shoe technology, and that barefoot running shoes are better in the long run.
In this review we cover our 10 favorite barefoot running shoes, why we think they're better, and practical tips for transitioning to them.
Skip straight to the shoe reviews with the menu above!
Why We Run in Barefoot Shoes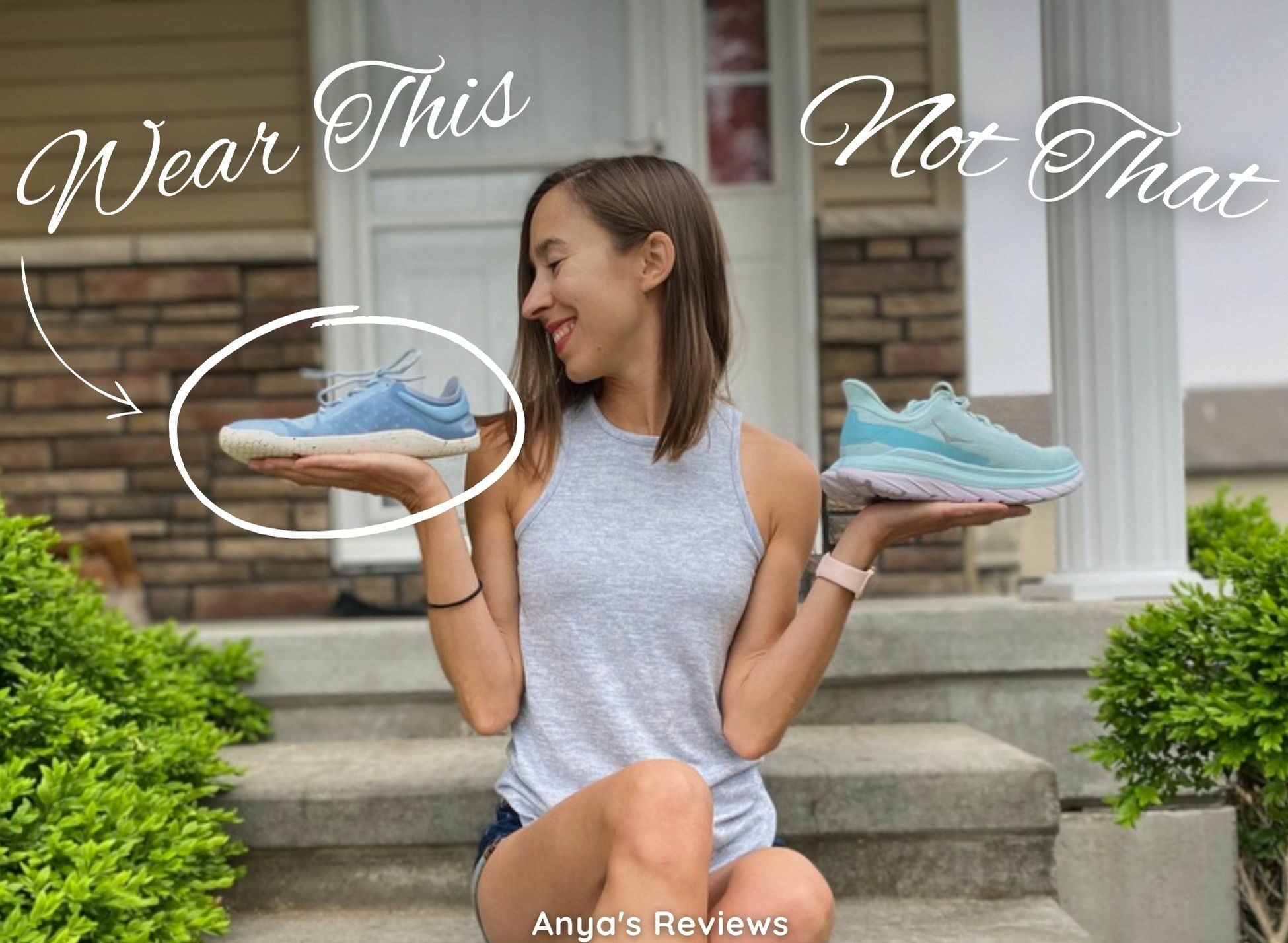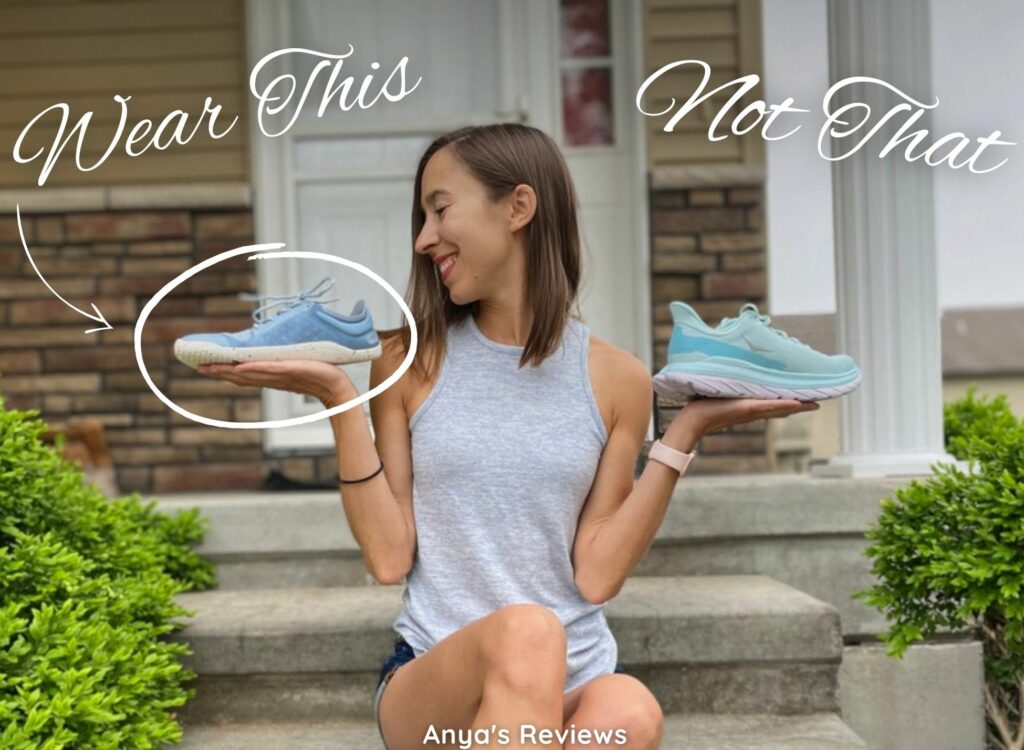 Compared to hefty modern running shoes, these thin foot gloves might look strange. Especially after endless marketing from shoe brands and foot specialists telling us our feet need to be supported every which way.
But we can train other parts of our bodies to become stronger and more resilient, why can't we train our feet as well?
Because here's the rub – most feet aren't flawed, they're weak. Rather than constantly bracing and supporting with high tech shoes, we believe that conditioning our feet so they function on their own is the best long term solution to foot pain. And that's why we run (and walk) in minimalist footwear – they don't interfere with our natural foot function!
Note: We use "minimalist" and "barefoot" interchangeably in this article!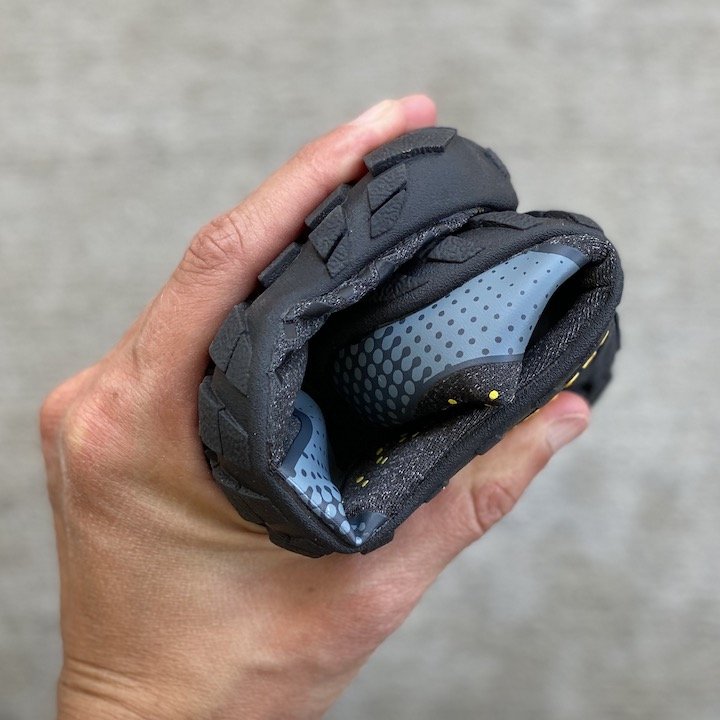 What Is A Barefoot Running Shoe?
In contrast with your typical running sneaker that's full of shock absorbers, pronation control, and arch support, barefoot shoes say you are the technology! They let your feet move naturally – as if barefoot – by following these tenets:
Zero drop (totally flat from heel to toe)
Thin, flexible sole
No arch support
Anatomical (foot-shaped) toe box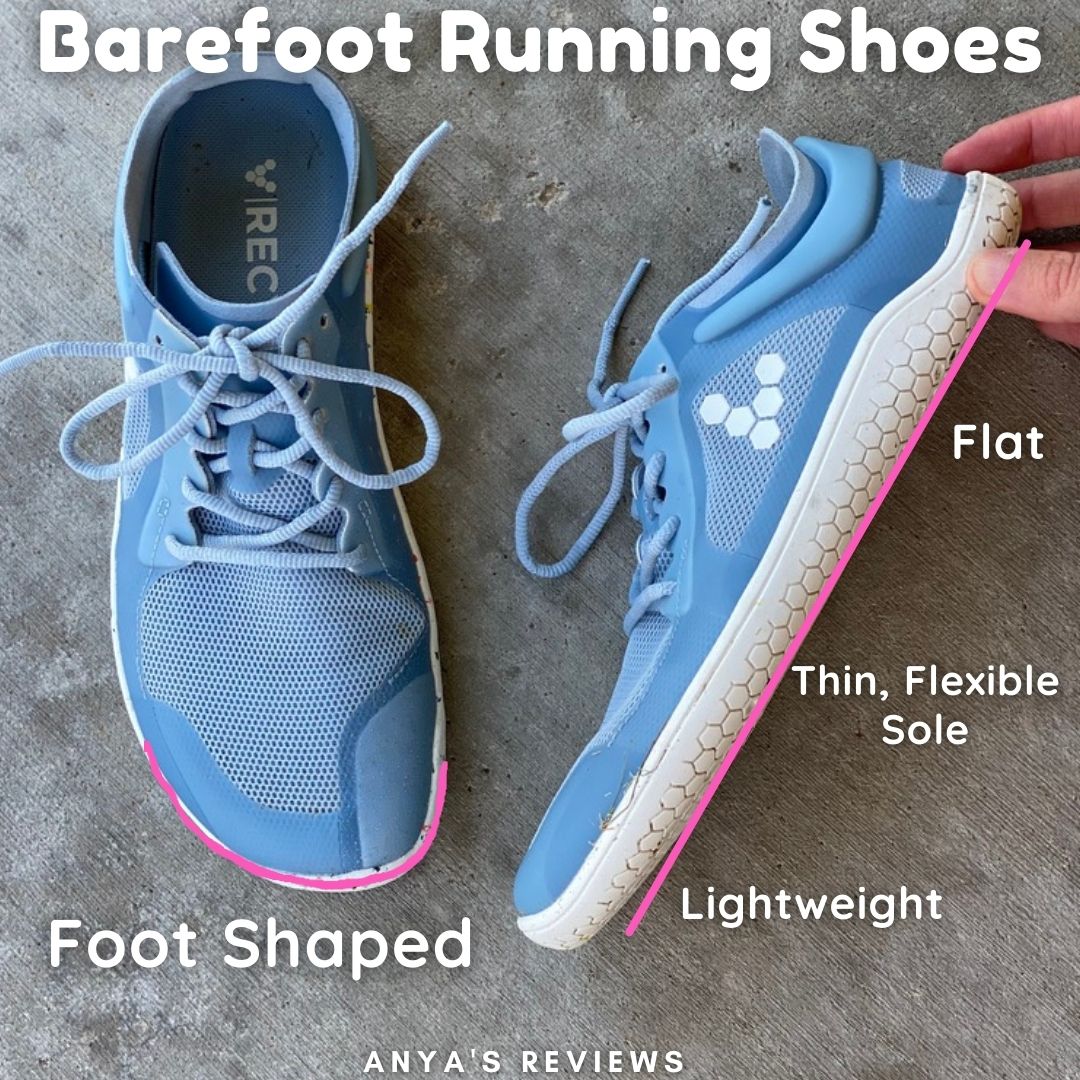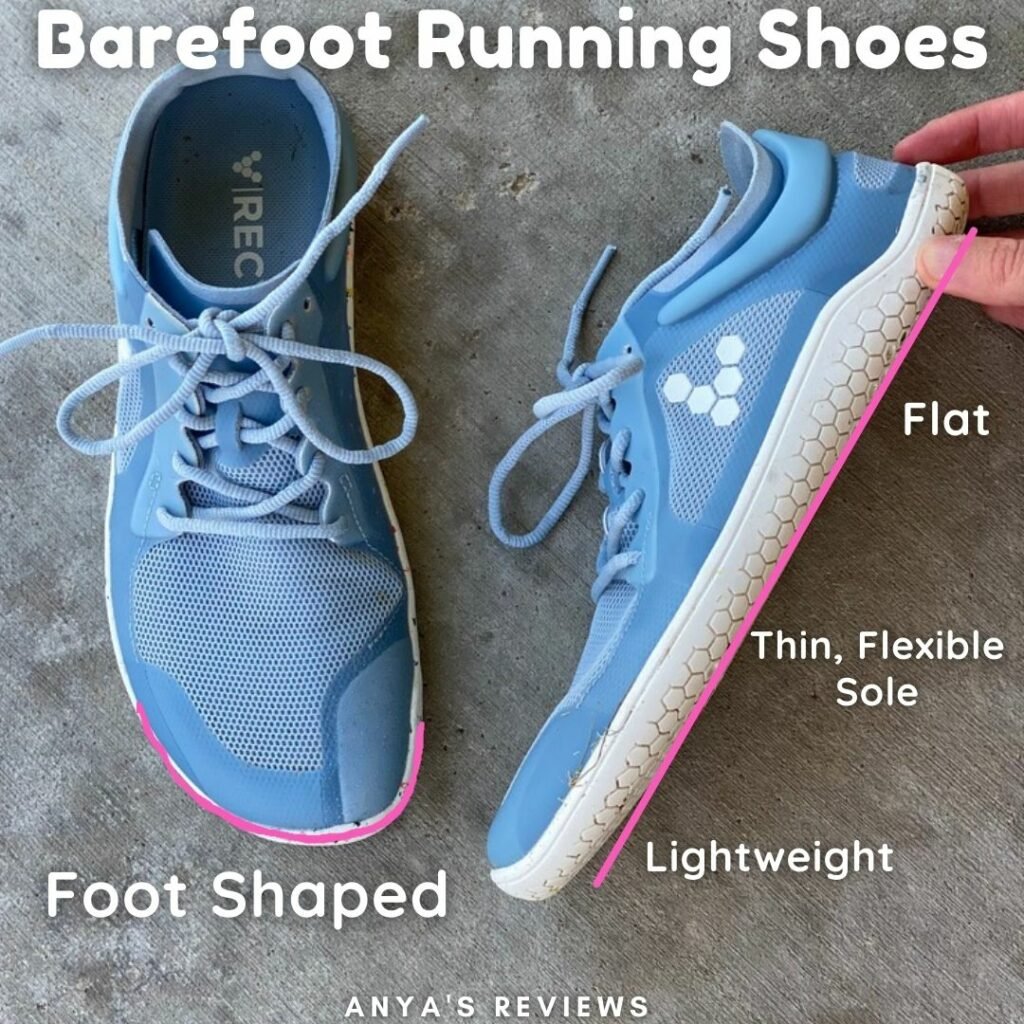 You see, the feet and hands are not that different. They've got similar bone structures, functionality, and dexterity capabilities. One reason we suffer from so many foot issues is that we shove our feet into restrictive shoes every day and don't use our range of motion. If you put your hand into a stiff cast for decades, it would get painful and weak too!
Want to learn more about the benefits of barefoot shoes? Read this article.
But because so many of us already have deconditioned feet (and because feet play such a big role in how the rest of our body functions), it's really important that we consider transitioning to barefoot running shoes as a whole body endeavor.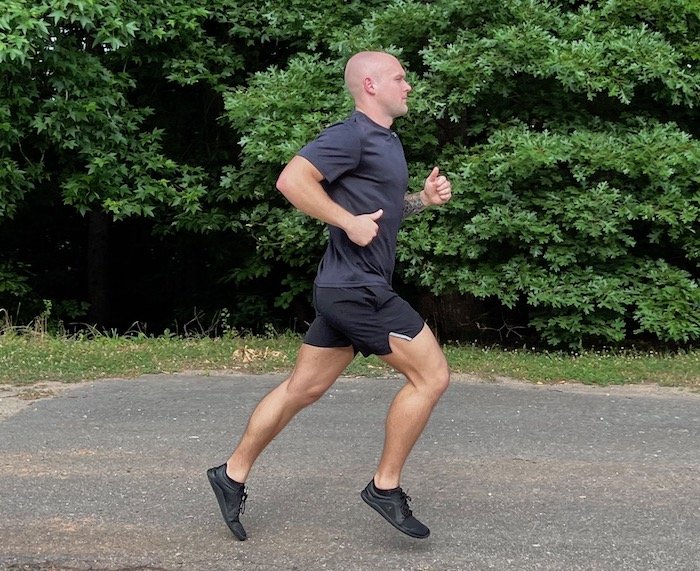 My journey to minimalist shoes
was a tale of learning the hard way. As a young runner I got away with poor conditioning for years until a major ankle sprain in college. It never quite healed and I ended up with a long list of secondary problems… collapsed arch,
plantar fasciitis
, shin splints, turf toe, etc.
Things kept getting worse, even after trying orthotics, new shoes, and cortisone shots. Nothing helped. Eventually I realized "the only way out was through" (Robert Frost).
The solution to my pain was to confront my weak feet through training and better shoes.
Now when I move I feel grounded and stable. While I do some sprinting and running barefoot, most of my movement happens in minimalist shoes.
How To Transition to Barefoot Running Shoes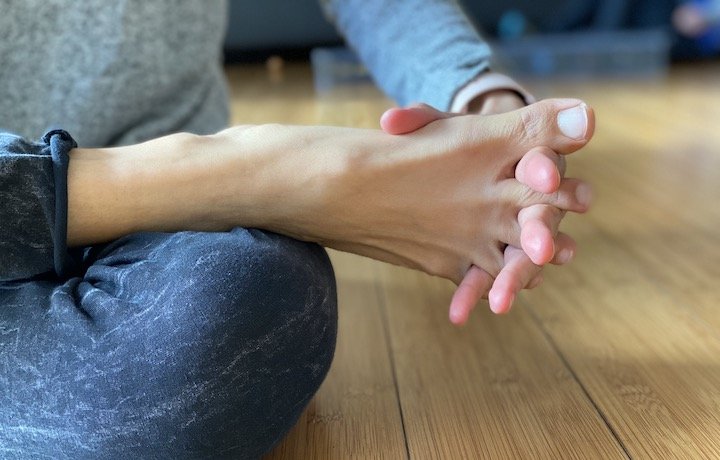 Changing your shoes without strengthening key areas and adjusting your running volume and pattern can result in pain or injury.
Below are a few tips for successfully transitioning to barefoot running shoes:
Reclaim your feet with foot strengthening and mobility exercises – toes that move individually are better able to stabilize you.
Walk before you run – walking in barefoot shoes is an excellent way to strengthen your feet without the high impact of running.
Mind your form – cushioned shoes enable poor technique. Start to change this by taking your shoes off and running for a few steps on a hard surface. You will naturally shorten your stride and land closer to your body!
Increase running time in barefoot shoes slowly – you want to only train good form, so it's better to take it slow rather than push through and run poorly.
Add movement diversity – bounce around, swim, bike, squat. Running is repetitive, and we need to be well rounded in our strength to not get injured
Be patient – it takes time*
*Fascia – the connective tissue that provides strength at the foot and lower leg – can take anywhere from 3-6 months to fully remodel. It is different from muscle in that you must load it enough to provide a stimulus for change but not too much that you overdo it and get injured. So pay attention to your body while increasing your volume and strengthening your lower legs.
If you'd like a step by step program that walks you through the transition and adds accountability, check out Graham's Functional Feet Program – it's designed to restore foot, ankle, and lower leg mobility so you can run comfortablt! And you can use code ANYA10 to get 10% off the program any time.
Now that we've covered the basics of running in barefoot shoes, it's time to talk about the shoes themselves.
The Best Barefoot Running Shoes
This isn't your standard collection of links. I (Anya) have personally used all of the shoes on this list plus hundreds of others in an effort to bring you the most useful barefoot running shoe guide available.
Even though I think these are the ten best, not every shoe works for every person. So I have also included fit & sizing recommendations, prices, materials, and ships-from location to help you narrow it down. Want to learn more about your own foot type and how to pick a size? Check out this guide.
And if you still don't find what you're looking for, don't worry. I have a complete list of minimalist running shoes linked below, plus tons of other useful resources and reviews on my website whether you run, walk, hike, or whatever.
Are we ready to dig into the 10 best barefoot running shoes on the market? Let's go.
---
Vibram Five Fingers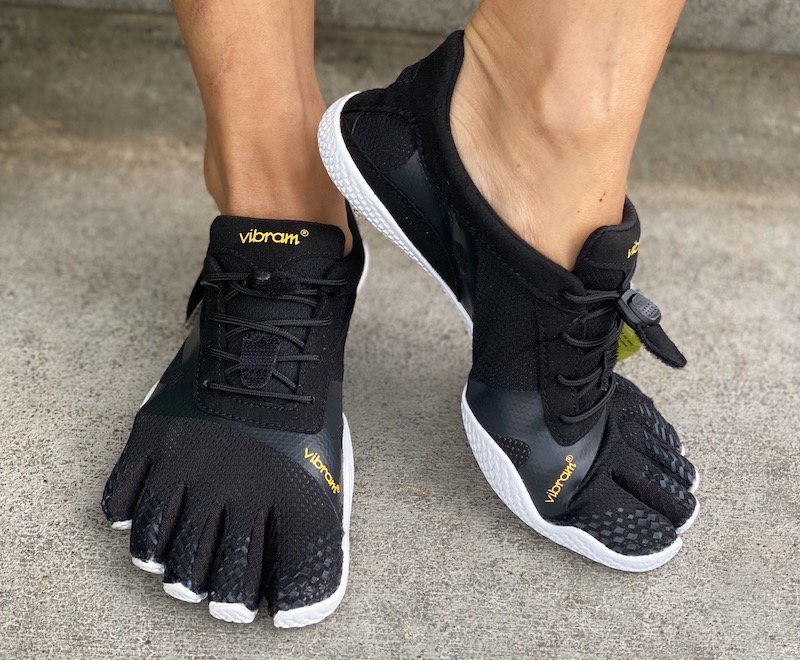 Mesh | EU Sizes 34-50 | Ships from USA & other locations worldwide*
The link above will give you a 15% discount!
Well of course we had to lead with Vibram Five Fingers! They kicked off the barefoot running craze after all. But because they are so minimal (like being barefoot) they require a thoughtful adjustment. Make sure you've read through the previous "How To Transition" section before running in these.
What We Love:
The glove like fit keeps your foot from sliding around during dynamic movement
The toe pockets splay your toes lightly, which increases your stability.
The rounded heel cup lets the back half of your foot move freely as well
Despite being thin & flexible, these shoes are durable and can last for years
Graham has gotten hundreds of miles out of his Vibram KSO's over multiple years and they're not done yet.
Sizing & Fit Type: Vibram Five Fingers come in many different styles, and each fit slightly differently. But in general, this brand is true to size. Here is the rundown:
Vibram Five Fingers are meant to fit closely.
They fit almost all foot widths
You might want to go 1/2 size down because they will stretch.
If you have high volume feet and/or long toes don't size down!
If you have extra short toes this brand might not be for you.
Pro tip: Graham likes to buy them one half size smaller than his usual size so that they feel a little stiff and tight at first. But then once they break in they are perfect and his toes don't slide out of the pockets.
*Click here to find your nearest Vibram retailer*
---
Vivobarefoot Primus Lite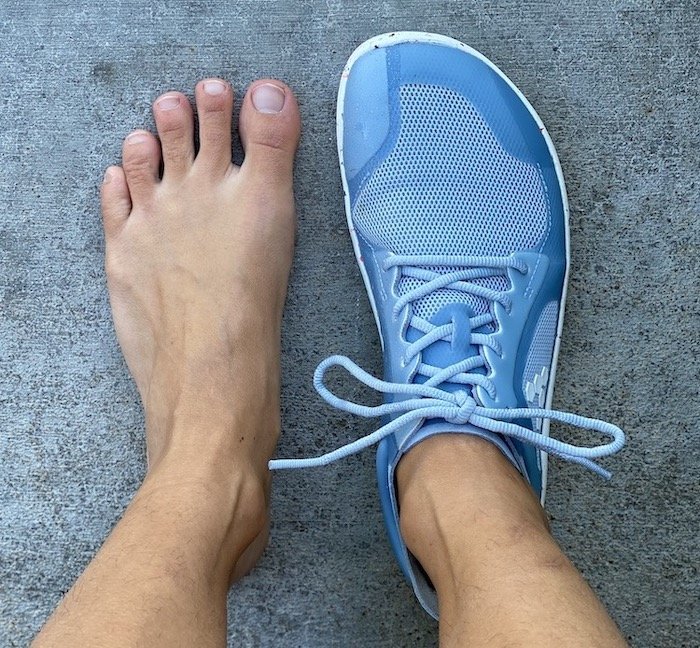 Recycled Material | US Sizes W5.5-11.5 & M7-15 | Ships from multiple locations*
Use code VBANYA20 for 20% off from Vivobarefoot until Dec. 31, 2023
What We Love:
Can be worn for all kinds of athletics
Very light & thin (also come with removable insole)
Not floppy
Very durable
Be Aware: Slight break in time
Once broken in, this is my personal favorite Vivobarefoot sneaker. People also love the Primus Lite Knit for a softer, more breathable fit.
Sizing & Fit Type:
Low volume (read this for an explanation!)
Good for narrow heels
Lots of big toe space
Medium Width
Men's are wider than Women's (otherwise no different)
Vivobarefoot is a great brand for people with low arches and narrow heels. If you have high volume and/or extra wide feet I would go with something else on this list.
*Click here to find a Vivobarefoot retailer near you*
---
Xero Shoes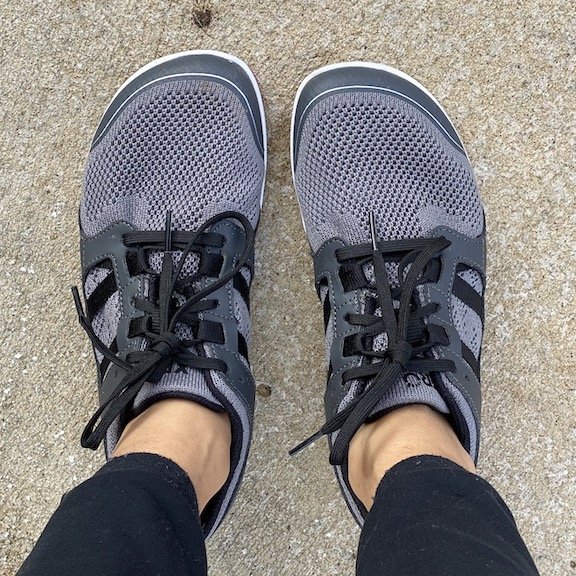 Mesh | US Sizes W5-12 & M6.5-13 | Ships from USA or EU
What We Love:
Tons of options
Durable Outsoles
Be Aware: Slight break in time
The Xero 360 sneaker is the most versatile barefoot trainer available and my top pick if you want one pair of shoes that works for running, court sports, lifting in the gym, and basically any type of athletics.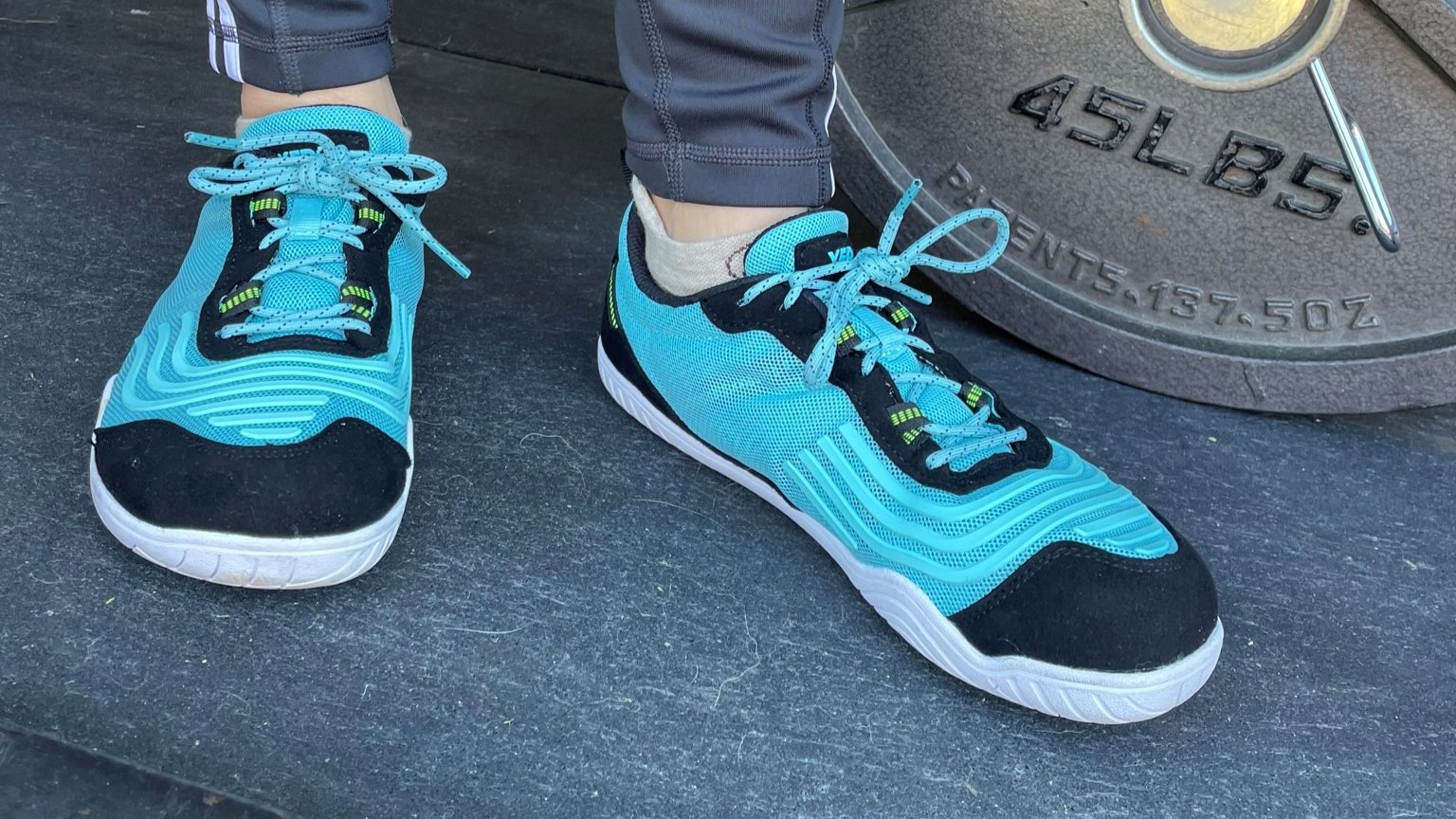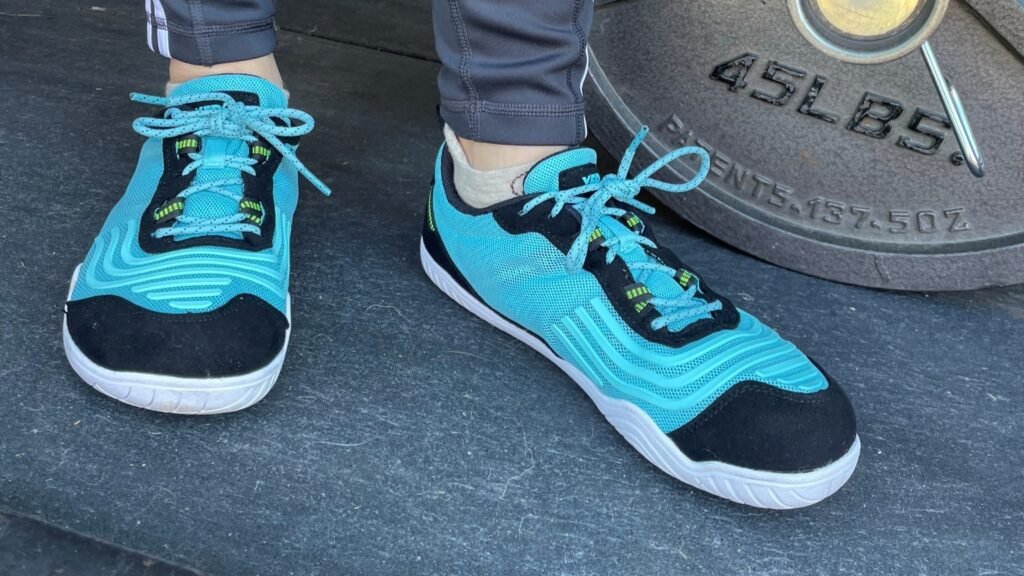 Sizing & Fit Type:
Medium toe box width
Great if you have a wide arch and/or heel
High Volume
Men's are wider than Women's (no other difference)
Shoes from Xero have a unique shape to them that is medium width at the toes but wide through the midfoot and heel. They work great for what I like to call "brick feet," in the most loving way of course! 😀 I like the Zelen for myself because they fit a little wider in the toes.
Read my in-depth Xero reviews here!
---
Freet Barefoot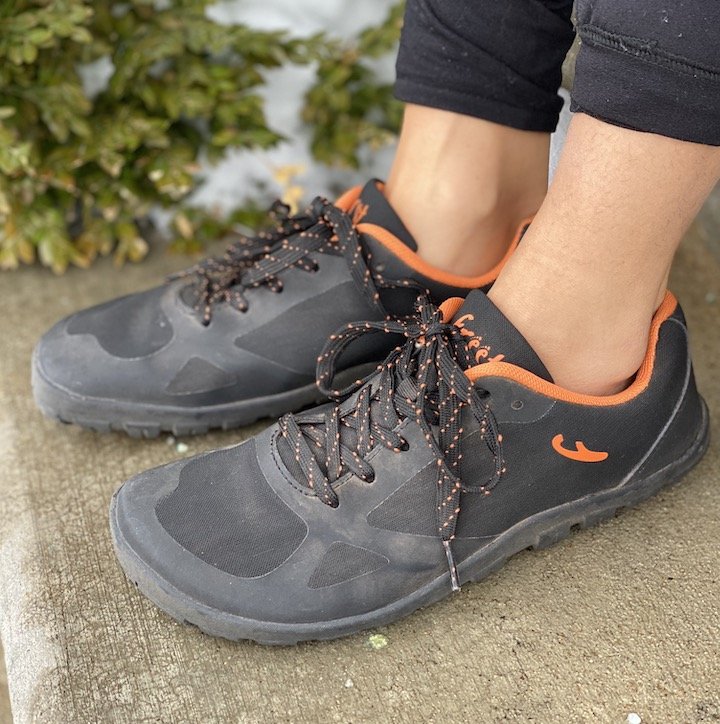 Knit | EU Sizes 37-48 | Ships from the UK or US
Use code AR-10 for 10% off
What We Love:
Freet makes athletic shoes for all terrains
Super functional and comfortable
Great brand if you've had trouble with barefoot shoes in the past
Come with insoles if you need some cushion
My partner Justin has been wearing the same pair of Pace sneakers for virtually everything (and I mean everything) for 2 years. 10/10 will buy again when they're kaput. My personal favorite from Freet is the Feldom.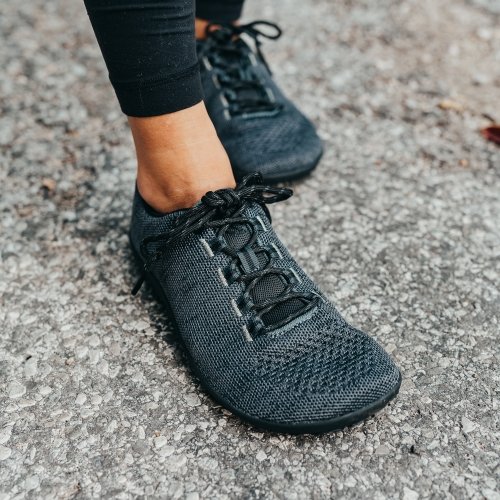 Sizing & Fit Type:
Square toe box (works for almost everyone)
Fits both high and low volume because of removable insole
Extra wide in toe box and midfoot
Be sure to read each product description fully for sizing advice because it is not always consistent between products. Some models run longer/shorter than others.
Read my in-depth Freet review here.
---
Tadeevo Bliss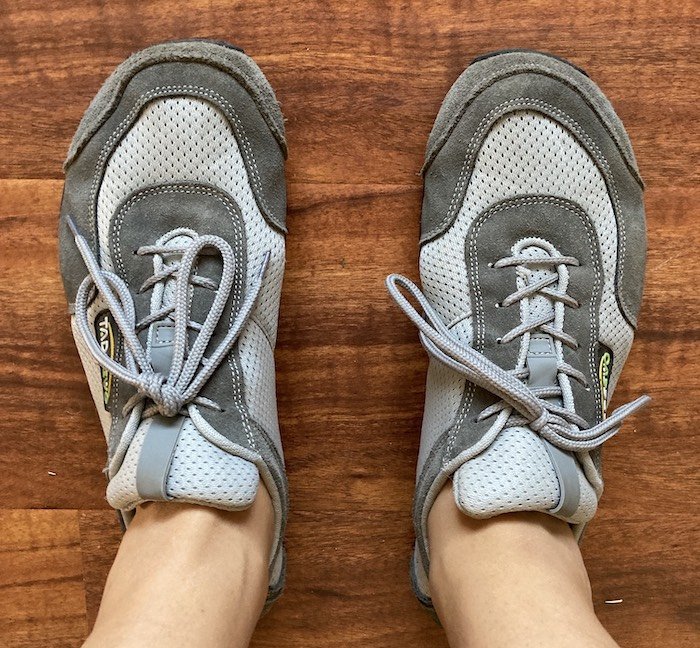 Leather & Mesh | EU Sizes 37-53 | Ships from Poland
Use code ANYASREVIEWS for 5% off
What We Love:
Extremely flexible
Light & breathable upper (don't make you sweat!)
No break in time
Look "normal" for everyday wear
Durable – my tester has run over 100 miles in them
These sneakers really feel like nothing on your feet! They're one of the most comfortable barefoot sneakers out there – but be sure to read the next section on fit! The rubber sole is long-lasting and the leather toe guard helps protect against snagging.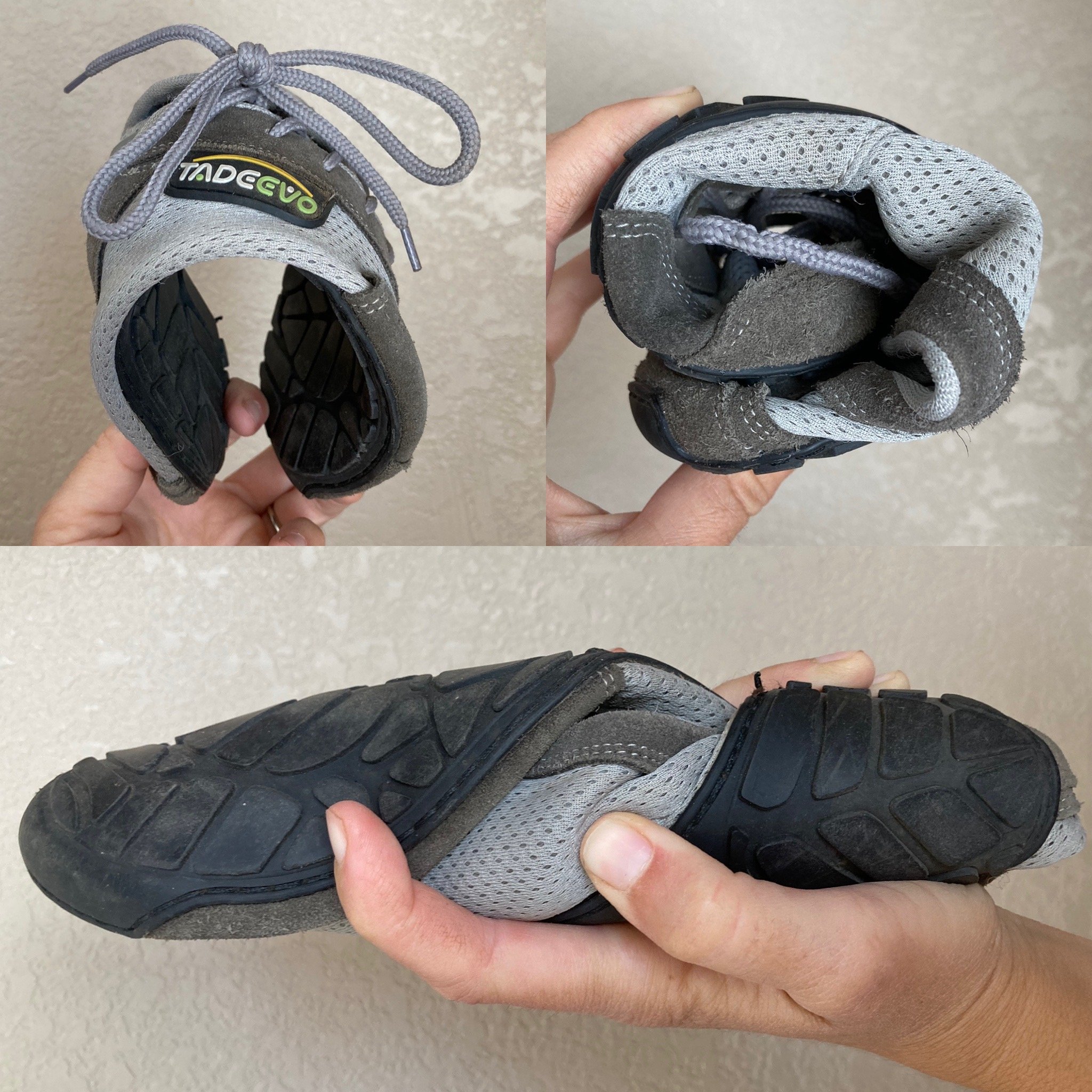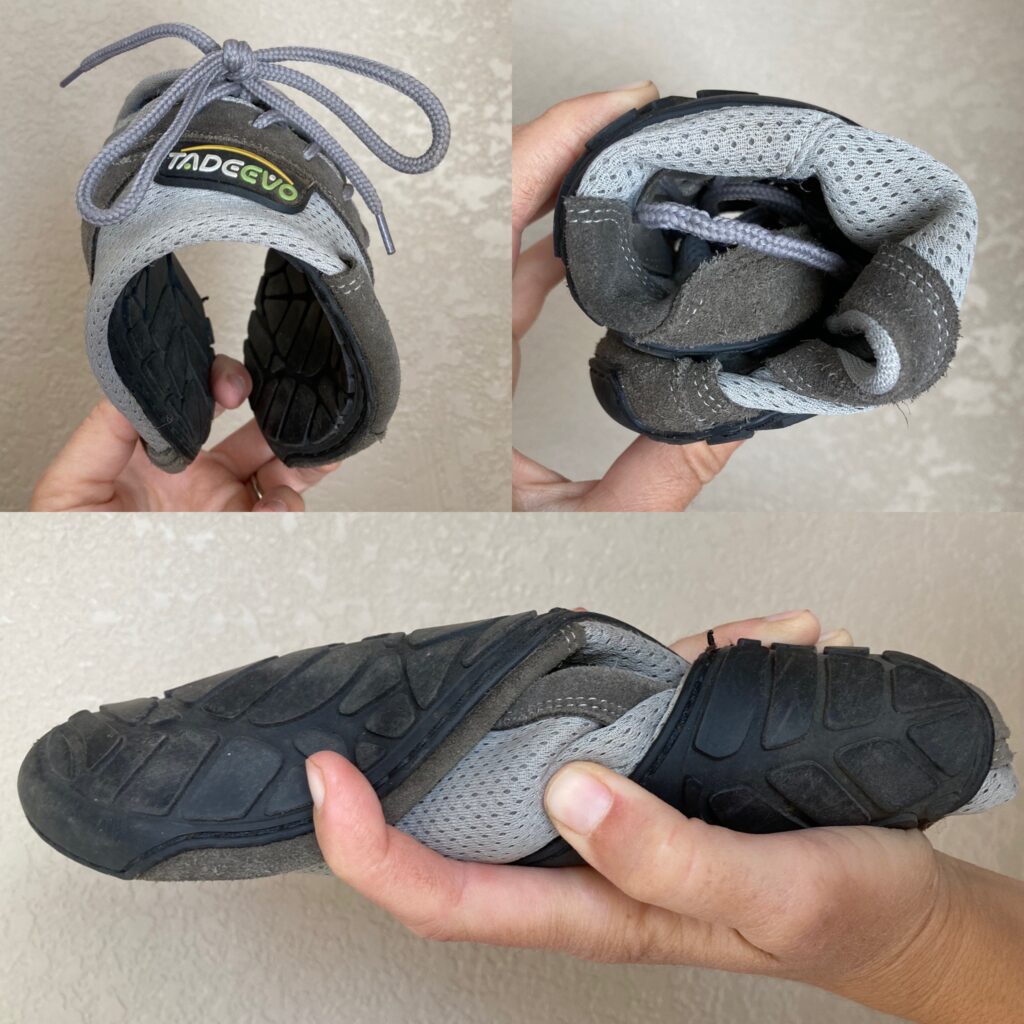 Sizing & Fit Type:
True to size
Fit all foot shapes
Extra wide & high volume
Might be floppy on narrow or low volume feet
The Tadeevo Bliss can accommodate even the beefiest paws. If you have low volume feet you might want to use a barefoot insole with them, or try a different brand.
---
Merrell Vapor Glove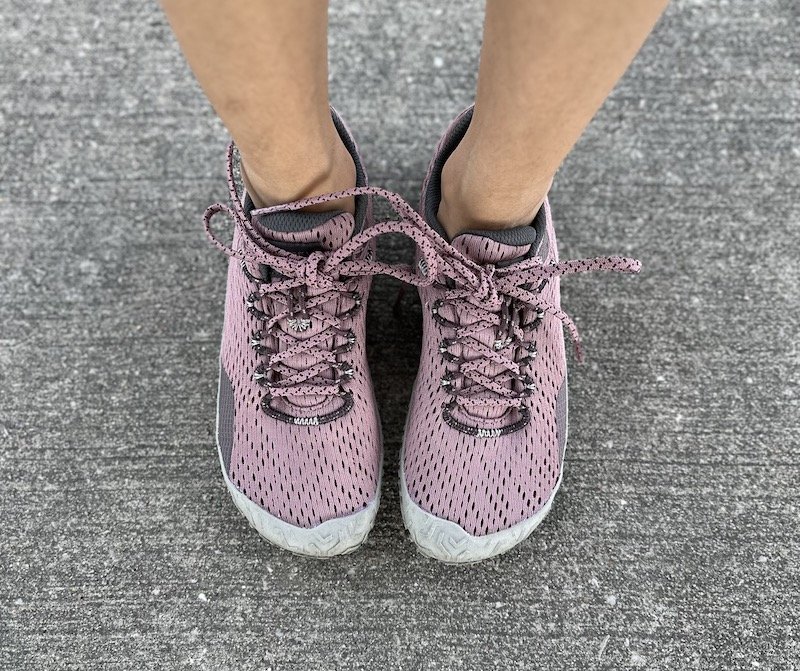 Mesh | US Womens 5 – Men's 15 | Ships from US
What We Love:
Really Flexible
Breathable upper
Good Quality
The Vapor Glove from Merrell is a consistently reliable barefoot running shoe that can be used on trails and road. They are quite thin with a 6mm stack height, so you might consider the Trail Glove if you want a more robust sole. But we love how flexible and breathable they are.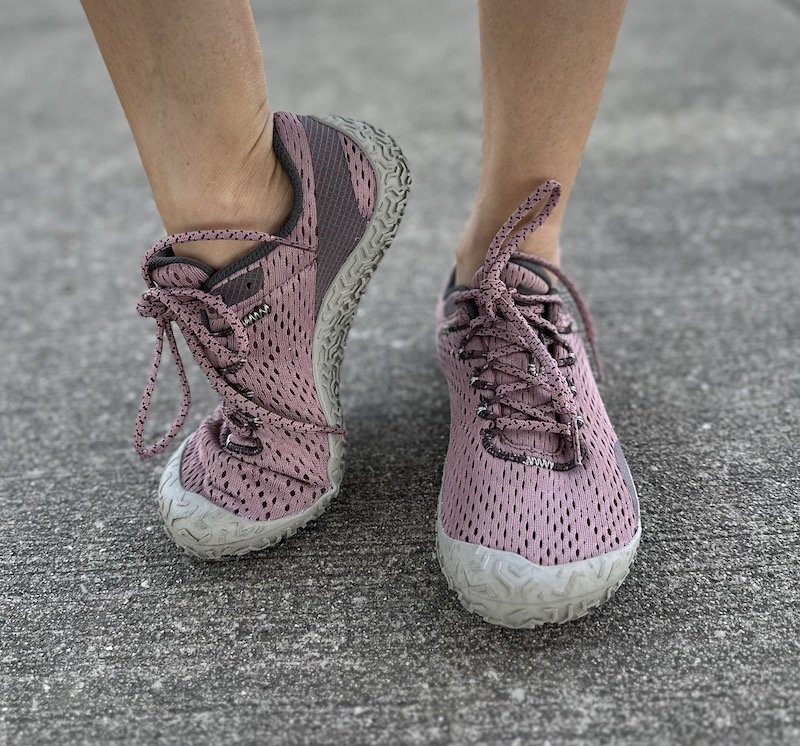 Sizing & Fit Type:
Merrell's Vapor and Trail Glove shoes don't have an extra wide forefoot, so for people with a wide toe splay may not have enough space. They fit me well around the ankle and arch, but I wish I had more space for my toes to spread out.
On the Merrell website they say to order 1/2 size down to get the same fit as other Merrell shoes. But I found them to be true to size, so if you want to get the benefits of the extra toe space I would not size down.
Here are a few places you can find Merrell barefoot shoes around the world:
---
Best Transition Shoes
While you don't necessarily need transition shoes, they can be helpful if you're coming from an injury or don't want to decrease your running time as you train your feet. Check out this guide for more Beginner Barefoot Shoe options!
Altra Running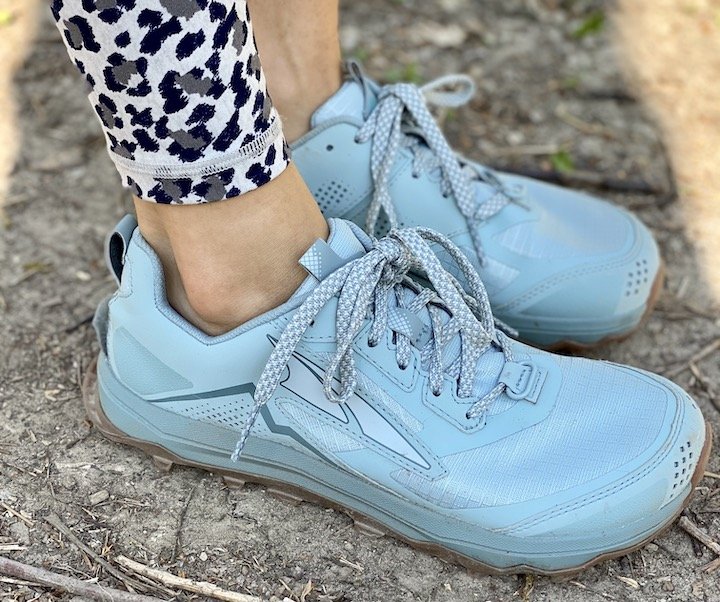 Textile | US Sizes W5.5-13 & M8-16 | Ships from USA or UK
What We Love:
Cushion for long distances or newbies
Innovative shoe technology without interfering with your foot function
Different options depending on terrain – pavement/trail/all weather
This is the brand I wore every single day for a year while I built up strength in my feet. Today I prefer thinner soles (and I believe they are better for us in the long run), but they were a lifesaver at the time. I recommend the Lone Peak, Solstice and Escalante Racer as they are an appropriate thickness for transitioning and still have decent toe space. Altra is also very well regarded in the running community for being a high quality brand.
Sizing & Fit Type:
Wide forefoot width and narrow heel – for toe freedom + secure fit
Work for both low and high volume feet
Mostly true to size, but I would recommend sizing up for athletic use
Just be aware that some of the newer models come in a "Standard" or "Slim" fit. For the best foot shape, go for the "Original" shape models. Men's are also higher volume than women's, so you can choose that if you need more space. For more details on the Lone Peak, read my review of them.
---
Lems Primal 2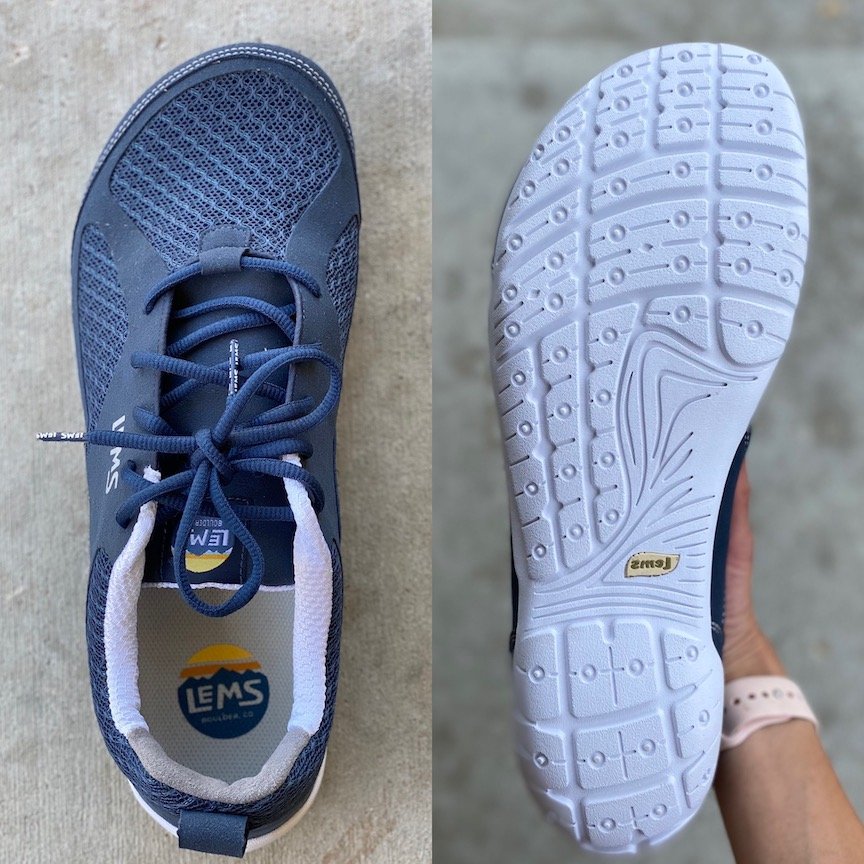 Mesh | US Sizes W4.5-11.5 & M3-14 | Ships from USA
What We Love:
Versatile – can be used for lots of sports + everyday
Extra wide forefoot
Removable insole
Be Aware: Some Lems shoes are not zero drop and/or have a tapered toe box. Primal 2s are the best!
Many barefoot enthusiasts use these for high impact activities, such as long distance running, basketball, or long days on their feet.
Sizing & Fit Type:
Run small – consult their size guide
Extra wide toe box, but close around the heel
High volume toe box -people with upward pointing toenails love them!
Square shape – works for more foot shapes
Fits both high and low volume arches
---
Best Budget Shoes
Want to experience barefoot freedom without investing in an expensive pair of shoes? Here are some great starter options that give you a taste without breaking the bank. After trying these budget-friendly options, many people move on to other more established brands for their quality and longevity, but these are perfectly good shoes that meet my healthy shoe requirements.
Whitin Trail Hikers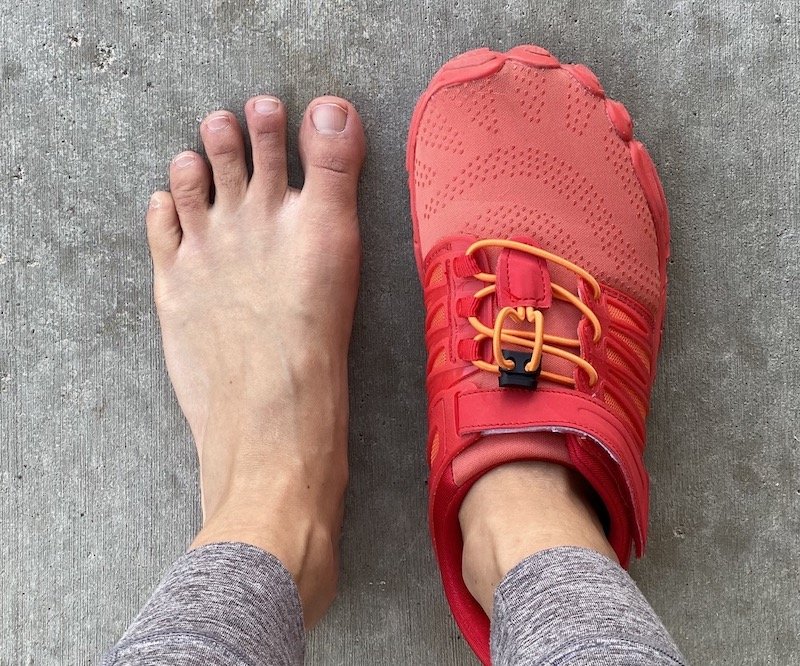 Mesh | US Sizes W5.5-11 & M7-15 | Ships from USA
What We Love:
Super flexible
Easy on/off with velcro
Be Aware: These are not zero drop unless you remove the insole (which I recommend doing as soon as you can).
These barefoot running shoes are probably my least favorite looking, but they're quite comfortable.
Sizing & Fit Type:
Runs slightly small
Fits low volume
Extra wide toe box (especially if you size up)
Read my in-depth Whitin review here!
---
Saguaro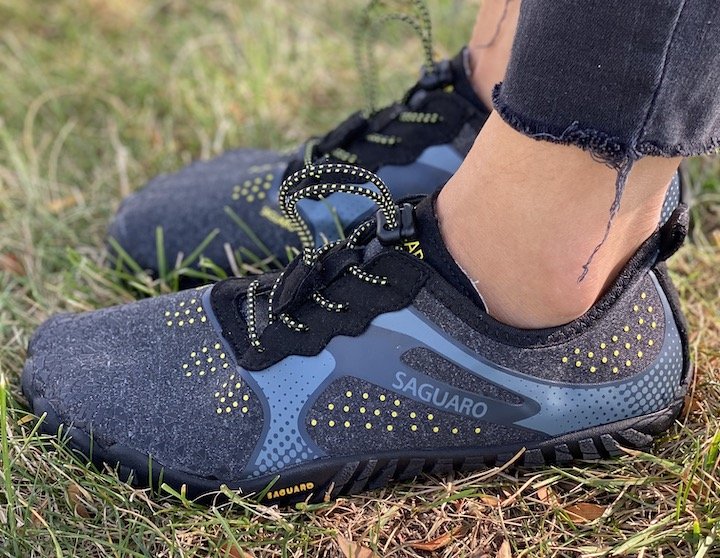 Neoprene or Mesh | US Sizes W6.5 – M14 | Ships from USA
Use code ANYASREVIEWS for 15% off
What We Love:
Cheap options for the whole family!
Lightweight
Be Aware: Like Whitin, you must remove the insole for them to be zero drop.
From Saguaro I recommend only the Chaser series, because they have the widest toe box. It can be a little confusing to order because they have so many similar looking shoes. some have a neoprene like material and are more like a water shoe, others have mesh which I prefer for breathability.
Sizing & Fit Type:
Extra wide fit
Square toe box shape
High volume when insole is removed
They run a little bit small and I recommend erring on the larger side.
If you have low volume feet I'd go for an option with a velcro strap, since the laces only tighten so much.
---
Which Shoes Are The Widest?
So which barefoot running shoes are the widest? Here is a rough guide to toe box width in the brands reviewed here.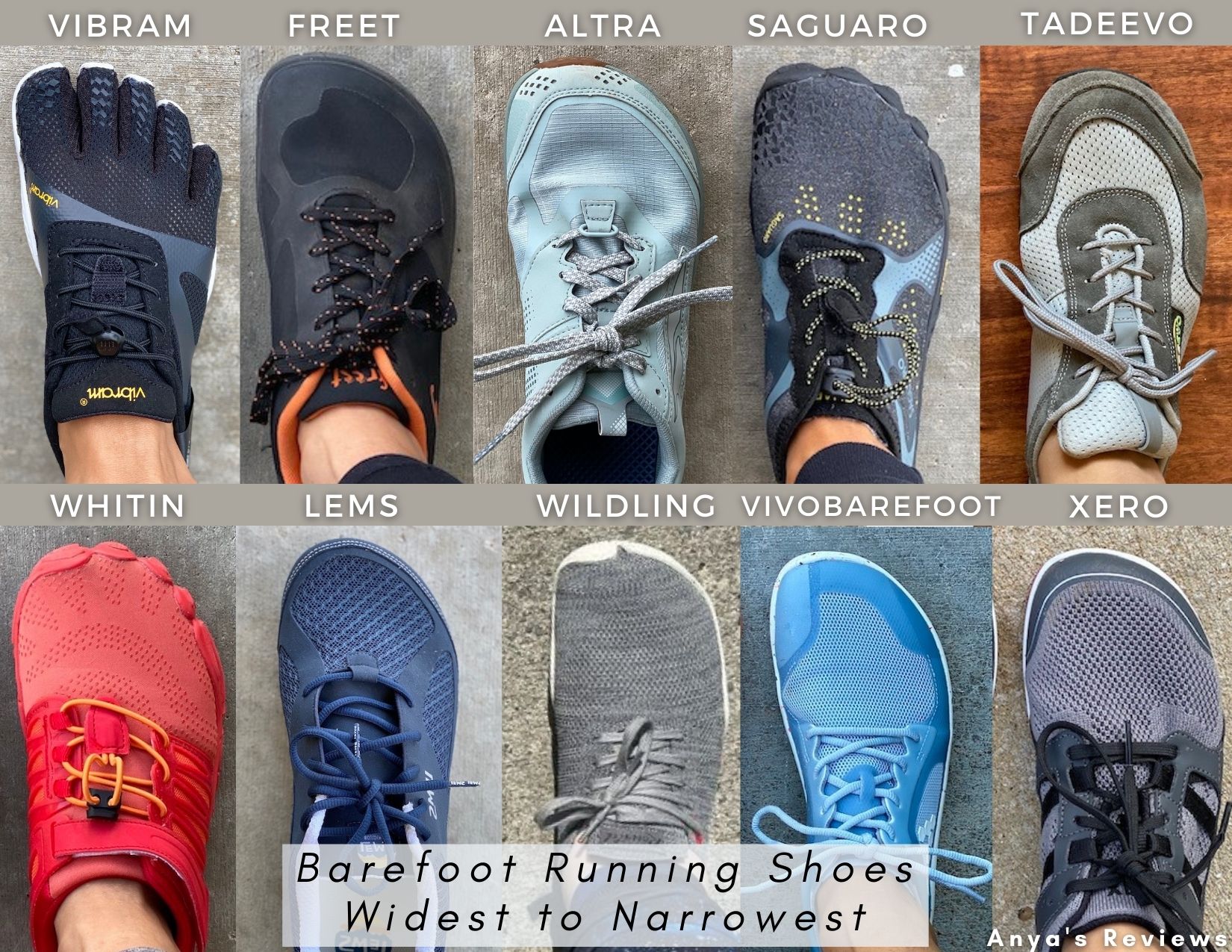 I did my best to generalize the differences between men's and women's sizes, and between models. Note that this chart does not take into account the width in other parts of the shoe – for all other fit considerations besides toe box please read the Sizing & Fit sections above.
Lems, Whitin, Tadeevo, Saguaro, and Altra are all very similar in toe box width!
Sole Thickness Comparison
Here are the same 10 brands organized from thinnest to thickest. Keep in mind that some brands (like Xero and Freet) have different thicknesses available in different models and depending on whether you use the insole.
Wildling
Vivobarefoot
Vibram
Saguaro (without insole)
Whitin (without insole)
Tadeevo
Freet
Xero
Lems
Altra
---
Barefoot Running Sandals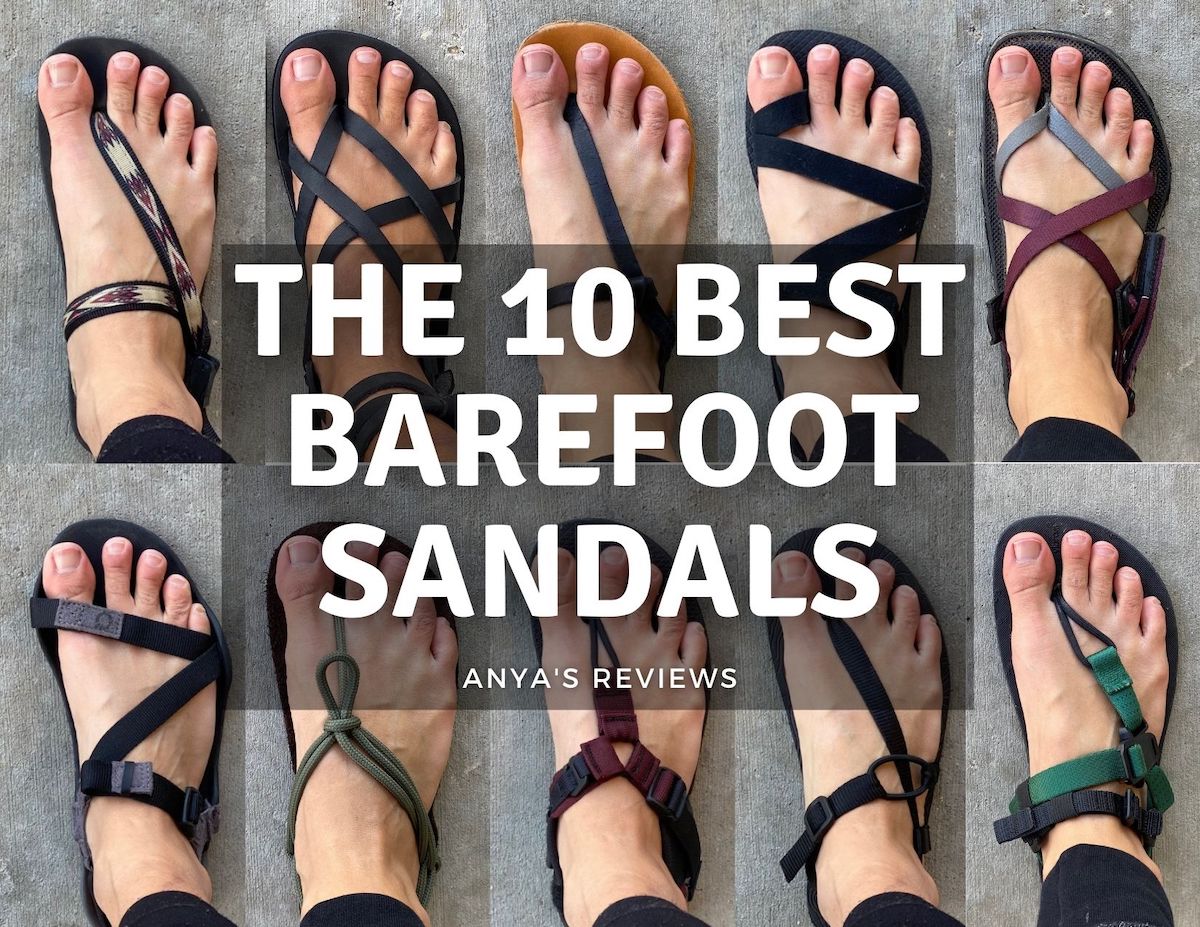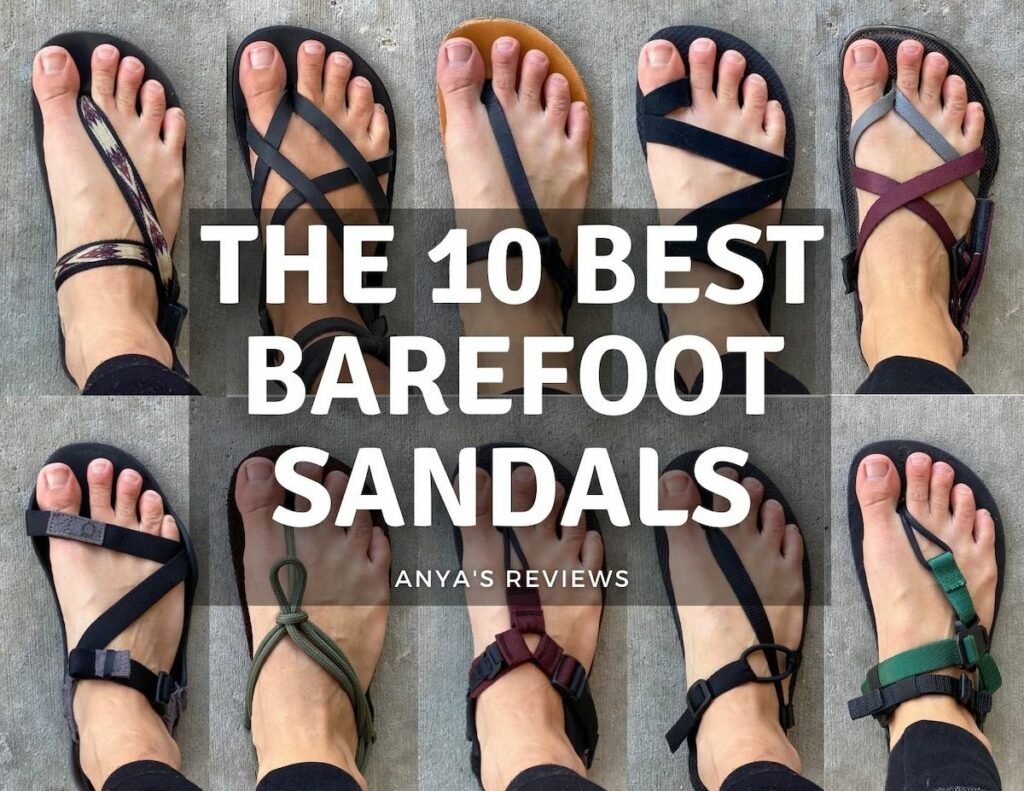 Lots of barefoot enthusiast love running in minimalist sandals! You can find my top picks for athletic sandals in this article.
---
Conclusion
Barefoot running shoes provide your feet an opportunity to MOVE! Feet support the entire body every time we stand, walk or run, so it makes sense to keep them in prime condition. Foot shaped toe boxes, flat soles, and shoe flexibility keep your feet in their natural state. But because most of us have been stuffing our feet in non-functional shoes for decades, we need to transition thoughtfully back to minimalist shoes. This guide on barefoot running shoes is your jumping off point for healthier feet, more enjoyable runs, and a stronger body!
Interested in minimalist shoes for more than running? There are tons of options for different lifestyles and events – spend some time in my Barefoot Shoe Lists to get started.
Further Reading:
---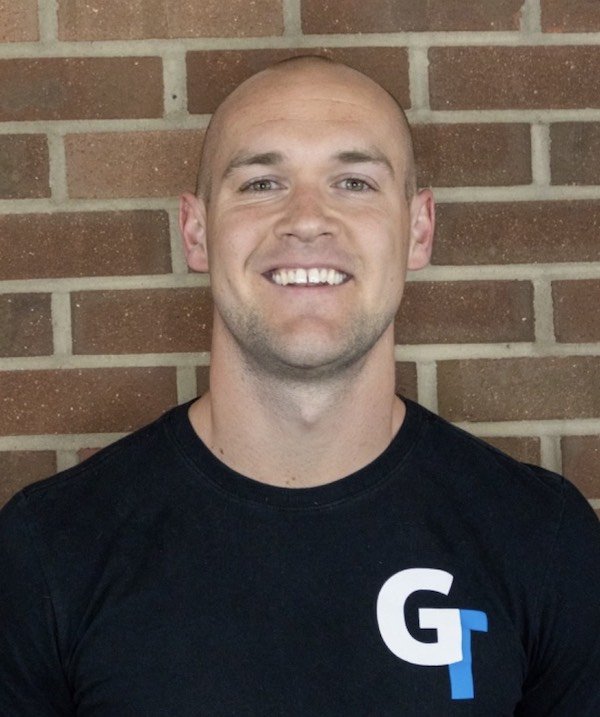 Graham is a health and performance coach that specializes in helping you get out of pain and back to your life. Follow him on Instagram for daily tips!
---