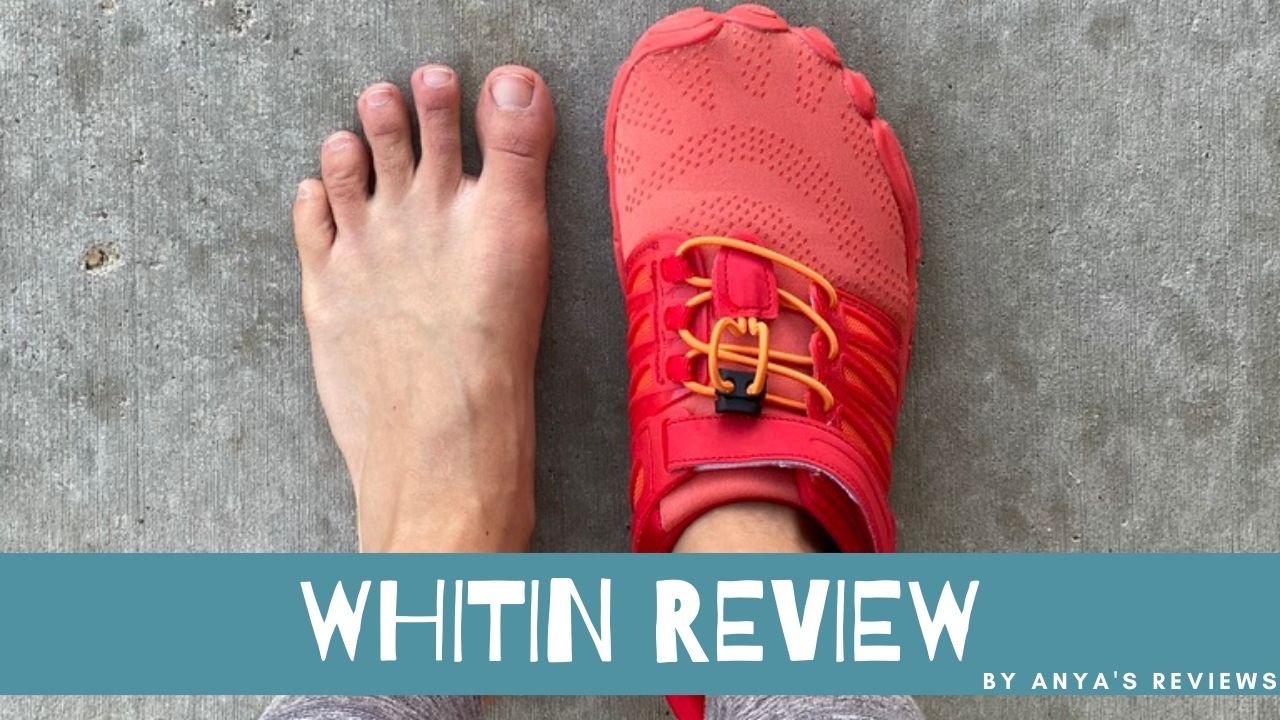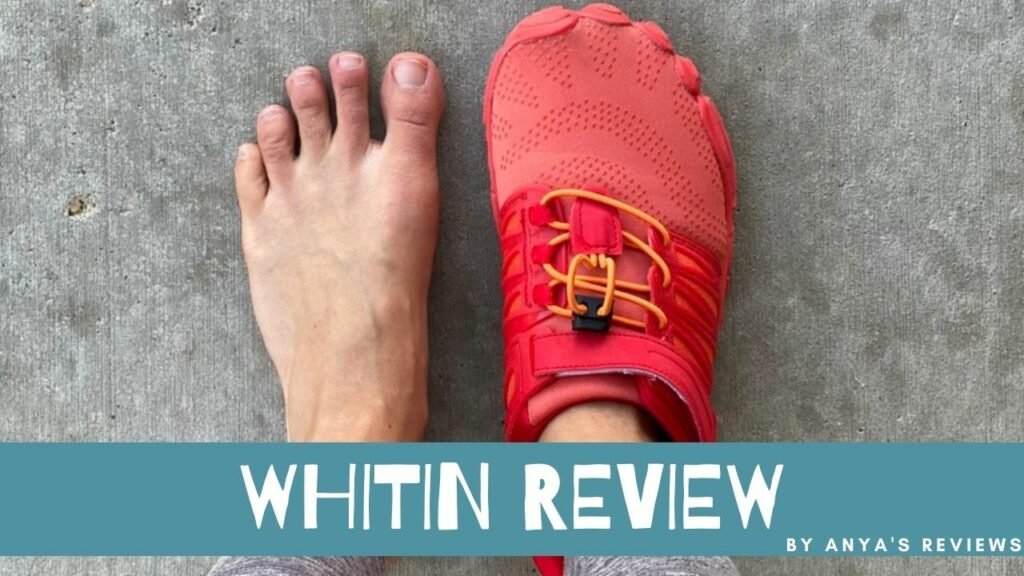 Since I wrote this review Whitin has made some big changes and now offers two widths! Read this updated Whitin Review for the lowdown.
Whitin barefoot shoes are some of the cheapest available, but how do they stack up? Check out this review of Whitin's $40 sneakers to find out if I consider them to be a natural footwear option.
Whitin Review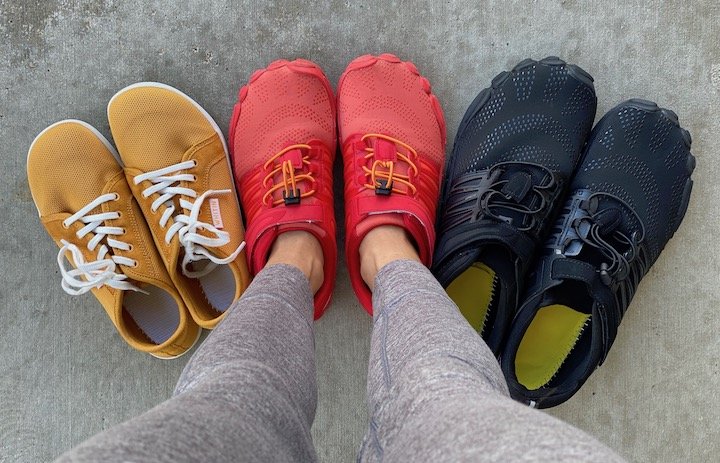 Bunion surgery, physical therapy, days off work, lost productivity – It's hard to put a price tag on the health of your body. That's why I would rather put a little more money into my footwear up front. But that doesn't mean you can't find healthy barefoot shoes that are also affordable!
Whitin is an Amazon brand that makes many different kinds of shoes. Only two models are barefoot friendly, so make sure you check the titles for the words barefoot or minimalist. They each cost around $40, come in sizes EU 36-46, or US women's 6-men's 13, and are available at Amazon websites around the world. With the insoles removed they are about 5mm thick.
Whitin Trainers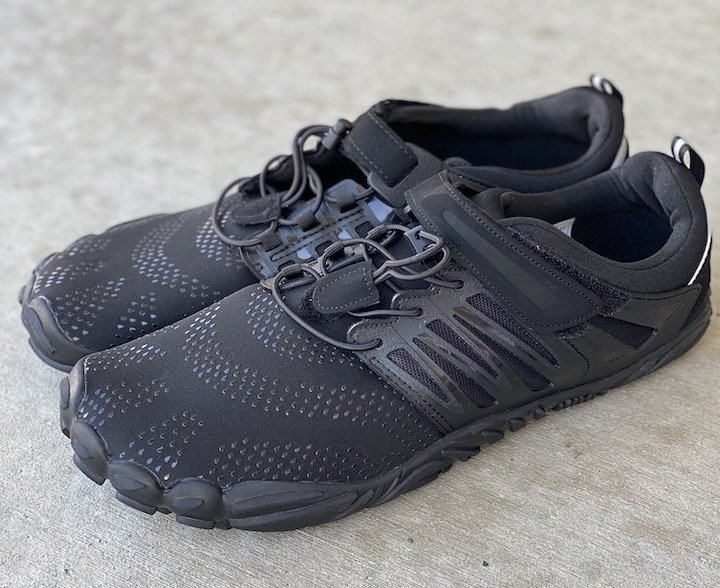 Let's start with the model that fared the best. The Whitin Trail Runner (Find women's sizes here) is a fully barefoot-approved sneaker that is surprisingly soft and flexible once you remove the insole. They are not zero drop (completely flat) unless you take out the insole, so I recommend removing it or replacing it with a barefoot insole.
They have a neoprene upper, adjustable elastic laces, and a velcro strap. The materials feel somewhat cheap, but I have to admit the shoe is better than I expected. I think the biggest question is how long it will take before the shoe gives out, since it meets all my other requirements for healthy footwear.
Fit Type
Check out this post to understand your feet and fit type.
It can go a long way to help you find the right shoes for you without the hassle of returns!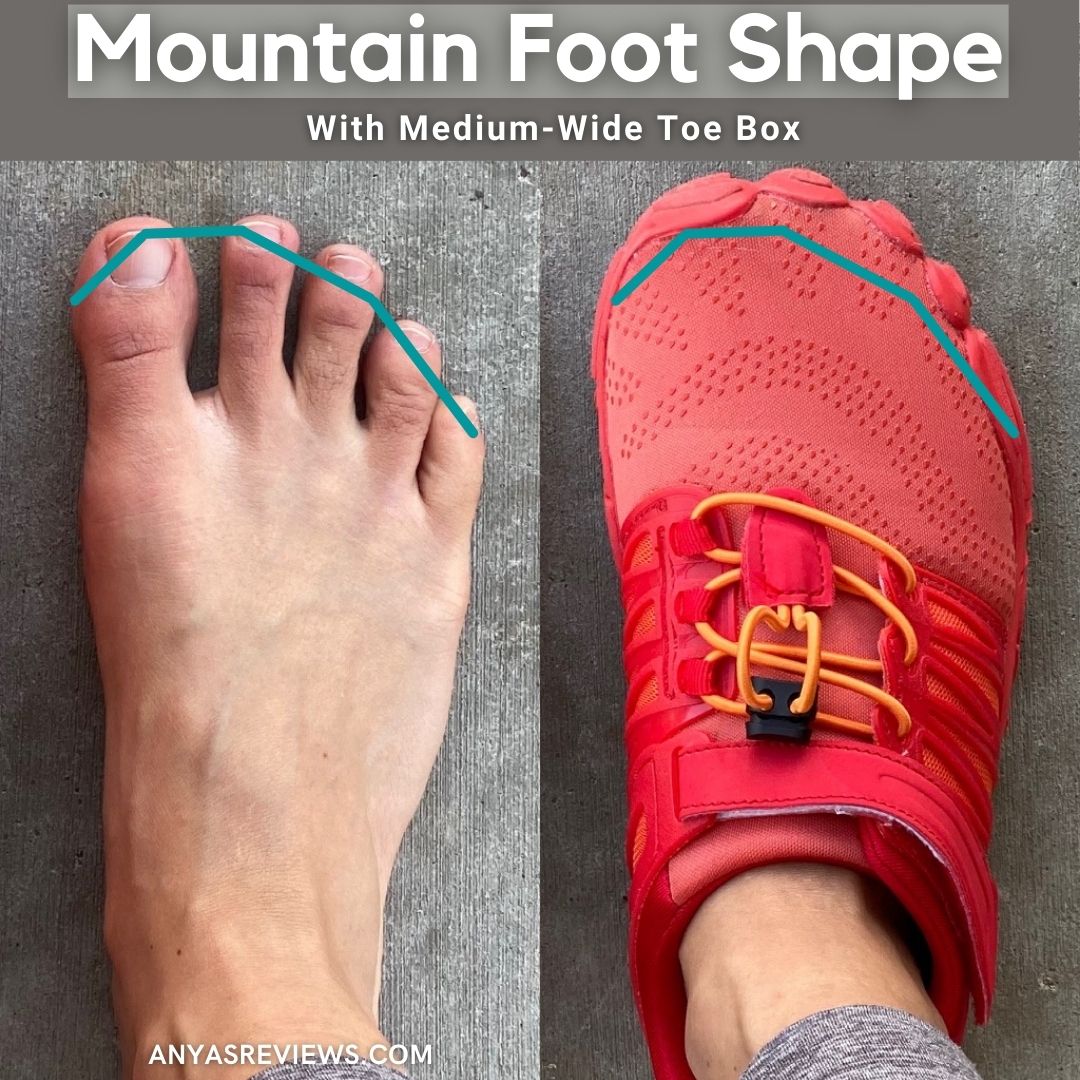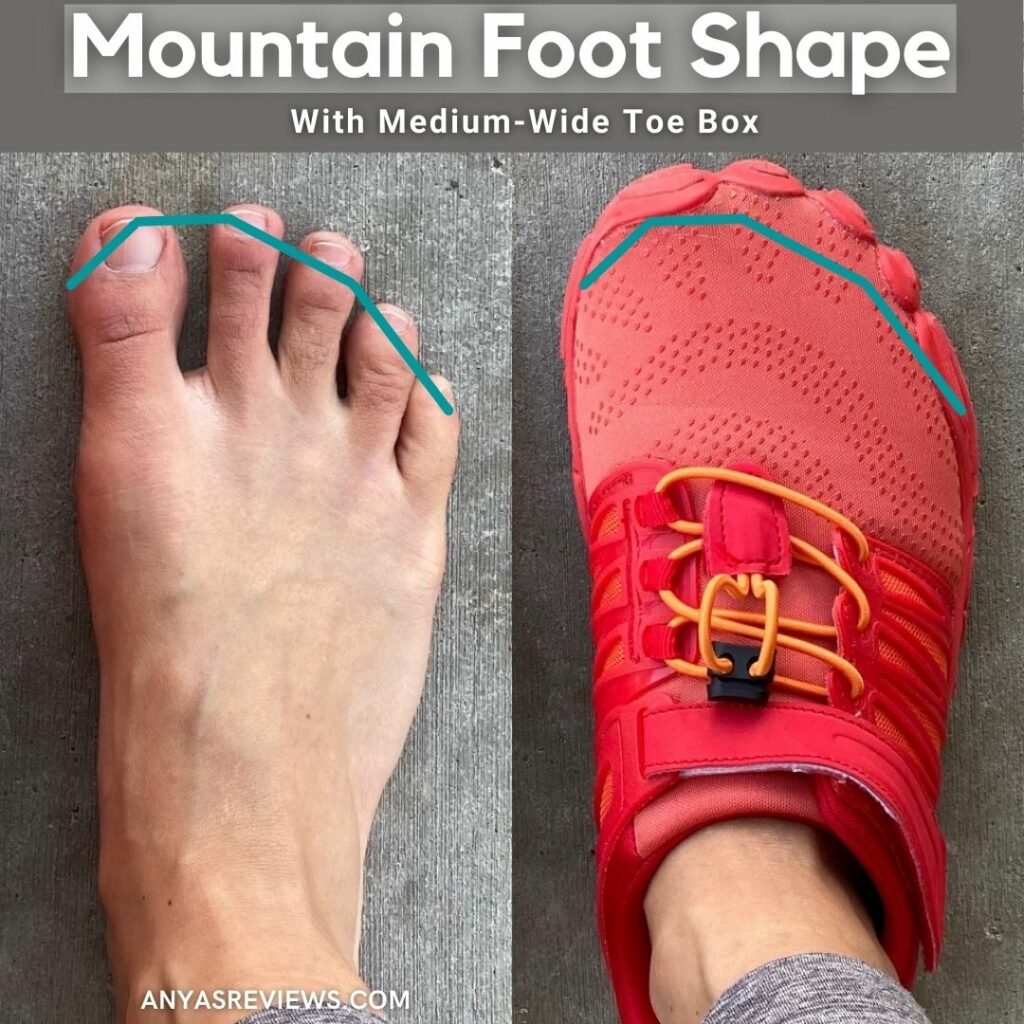 Whitin Trainers have a Mountain shape to them, so are good for people whose 1st or 2nd toes are longest. People with square shaped feet might find their outside toes running into the end of the shoe.
See the end of this post for an image of where Whitin fits into the width spectrum of barefoot shoes! They are right in the middle, a solid width that will fit most average to wide feet. But not extra wide.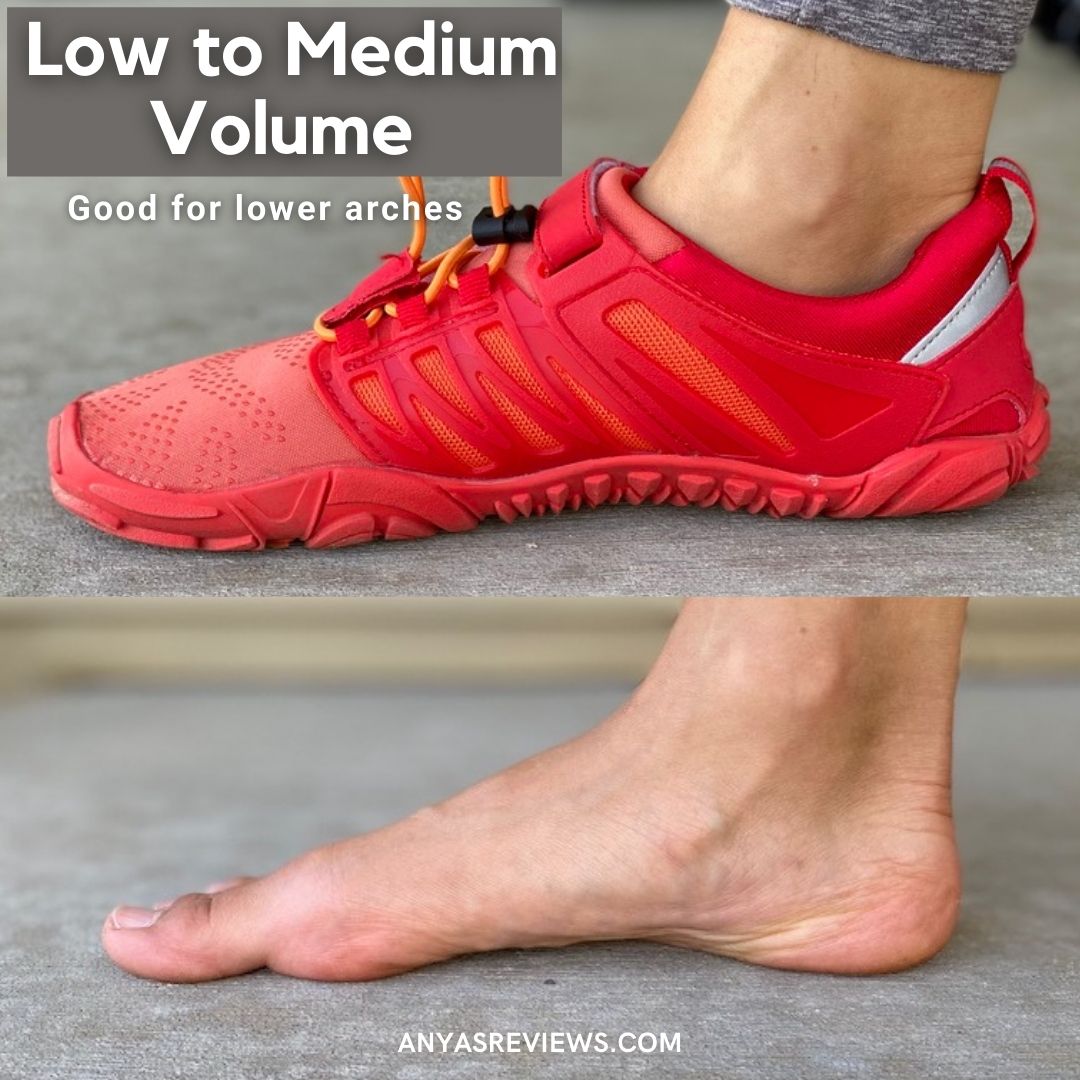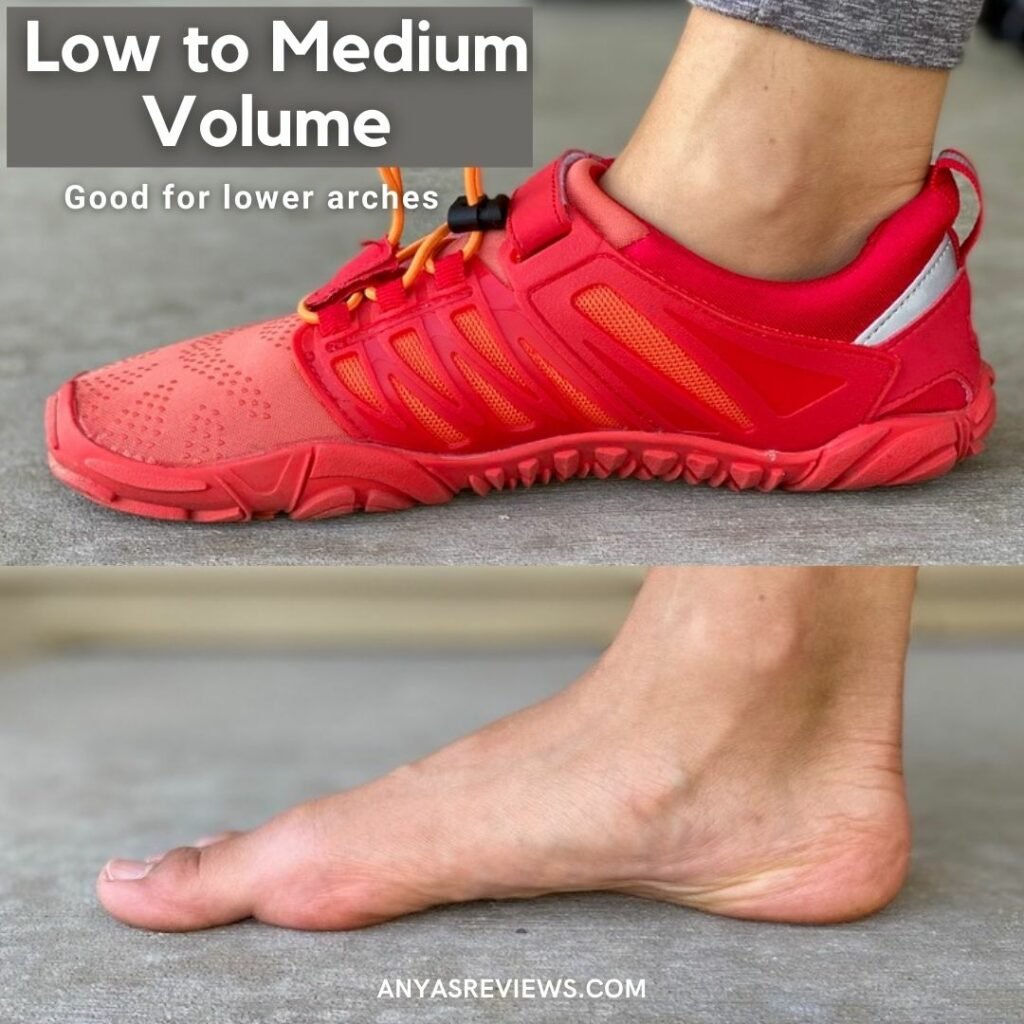 While the shoes can be loosened, they will fit a low to medium volume foot best. Really high arches or tall feel will feel tight in these.
The outsole feels good to me, decent traction while still being very flexible. I think where the neoprene attaches to the sole is what will wear out first, but in the community section below you'll find that several people have owned these a long time and they're still going strong!
---
Whitin Casual Sneakers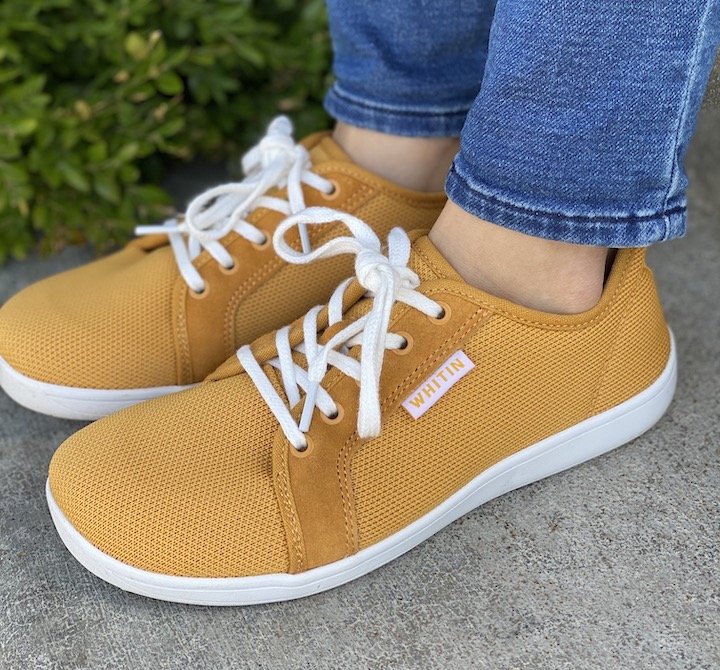 These Whitin casual sneakers are cute, simple and very flexible. The biggest difference between the trainers and the casual sneakers is that the sneakers have a narrower toe box that is borderline not foot-friendly. I would only recommend it to people with narrow feet whose toes have not yet spread. But, in order for your toes to spread you really want to give them the space for it.
You can see below that the shape of the toe box cuts off both my big toe and my little toes. But they're super light and flexible without the insole!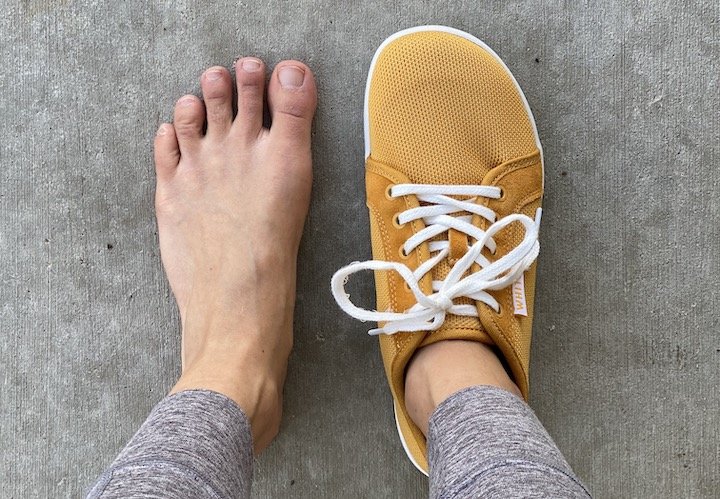 Wearing shoes with a shape like this can keep your toes from reaching their full potential. So they might be a good entry point to the barefoot shoe world, but it's not something I would stick with for too long (unless, you just have really narrow feet).
Read this article to learn more about why toe spread is important to your body.
This shoe fits a much higher volume foot than the runners. There is lots of space above the toes and in the arch and ankle. I had to put in a barefoot insole and even then had quite a lot of space above my foot. This should be good news to people who need extra high toe boxes.
Below you can see a width and length comparison of a handful of other casual barefoot sneakers that I wear. This is taken from the outside of the shoe so is not useful in picking a size, only in comparing one brand to the other. The Whitin casual sneakers are on the far right and you can see that besides having a tapered shape, they are also narrower than all the other major barefoot shoe brands.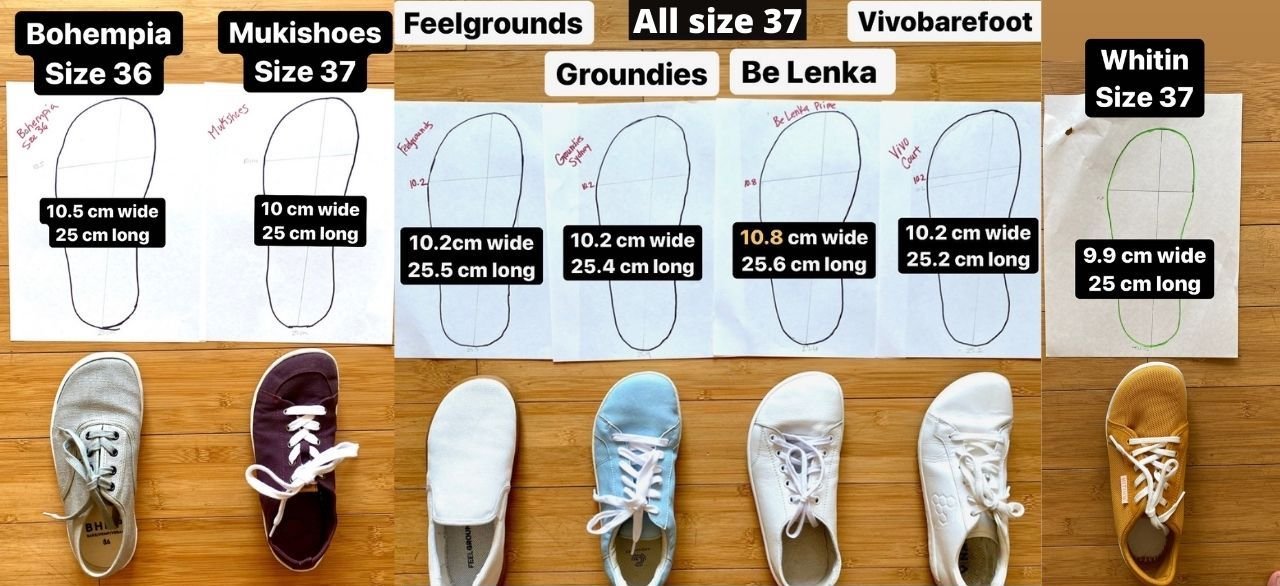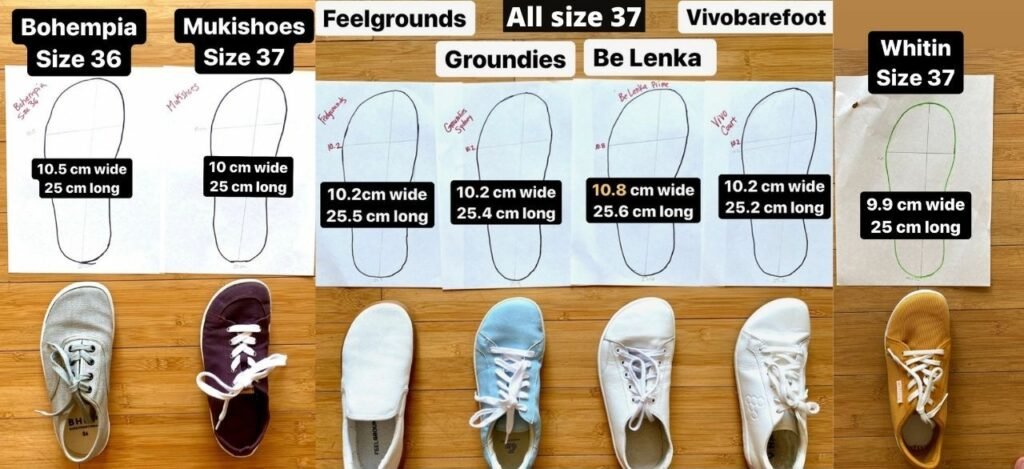 I grabbed as many of my barefoot sneakers from my personal collection as I could find and ordered them all by toe box width. See below for the lineup of narrowest to widest barefoot shoe brands.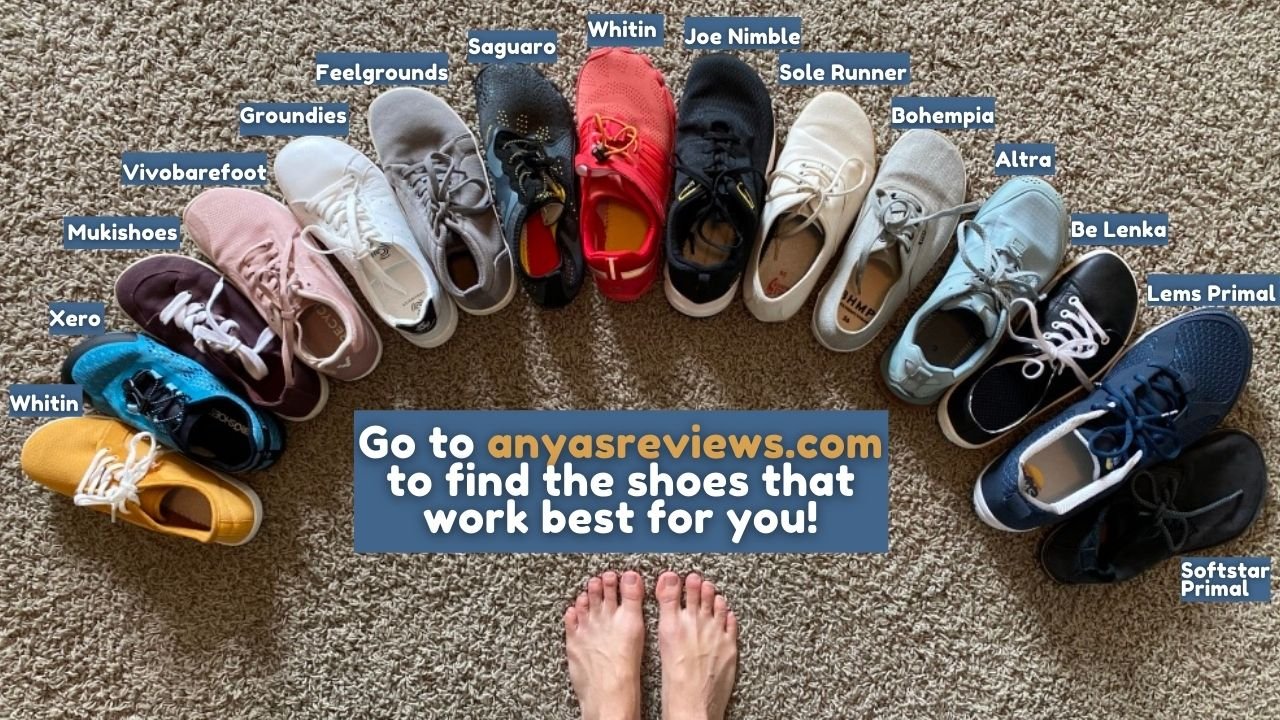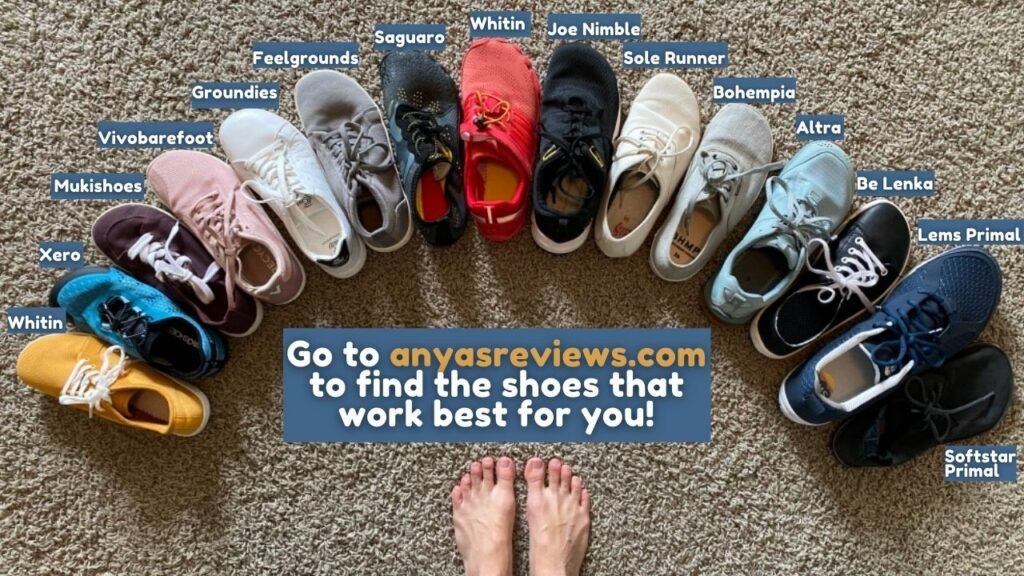 A couple brands I accidentally left out of this lineup:
– Splay Athletics (They'd go right in the middle)
– Wildling Shoes (They'd be between Vivobarefoot and Groundies)
You can find a full list of barefoot friendly athletic sneakers in this post!
Community Feedback
30 members of the barefoot community who own Whitin barefoot shoes shared their feedback with me.
Whitin Trail Runners
Out of 20 respondents who bought the Whitin Trail Runners, 10 of them reported all good things! All foot types were represented here, even some extra wide, high volume feet are enjoying them.
8 reported that they were slightly too small and narrow in their regular size. Of those, 2 returned the shoes outright, one no longer wears them. The remaining 5 continue to wear their sneakers but will size up in the future.
*Wide high volume feet take note! Based on this feedback you might want to size up!*
2 people with narrow feet found them too wide. and 3 remarked that they were holding up longer than they expected (one owner has been wearing hers for 2 years)
Whitin Casual Sneakers
Out of 10 respondents who bought the Casual Sneakers, 7 love them and wear them. Of these, all had either narrow, average or wide feet. None had extra wide feet.
Of the 3 that did not have a good experience with the Casual sneakers, it was either because they were too narrow or too high volume.
3 reported that the material gets dirty really quickly and they have to be washed often.
For half of the respondents this was their first barefoot shoe.
Video Review
Conclusion
At the end of the day, this barefoot movement needs to be accessible to everyone. While I prefer to shop small where possible, we should not ignore cheaper options! Whitin Barefoot Shoes are affordable, accessible, and meet natural footwear requirements. Your body will thank you. For more affordable options that are still zero drop, flexible, and foot-shaped see the links below!