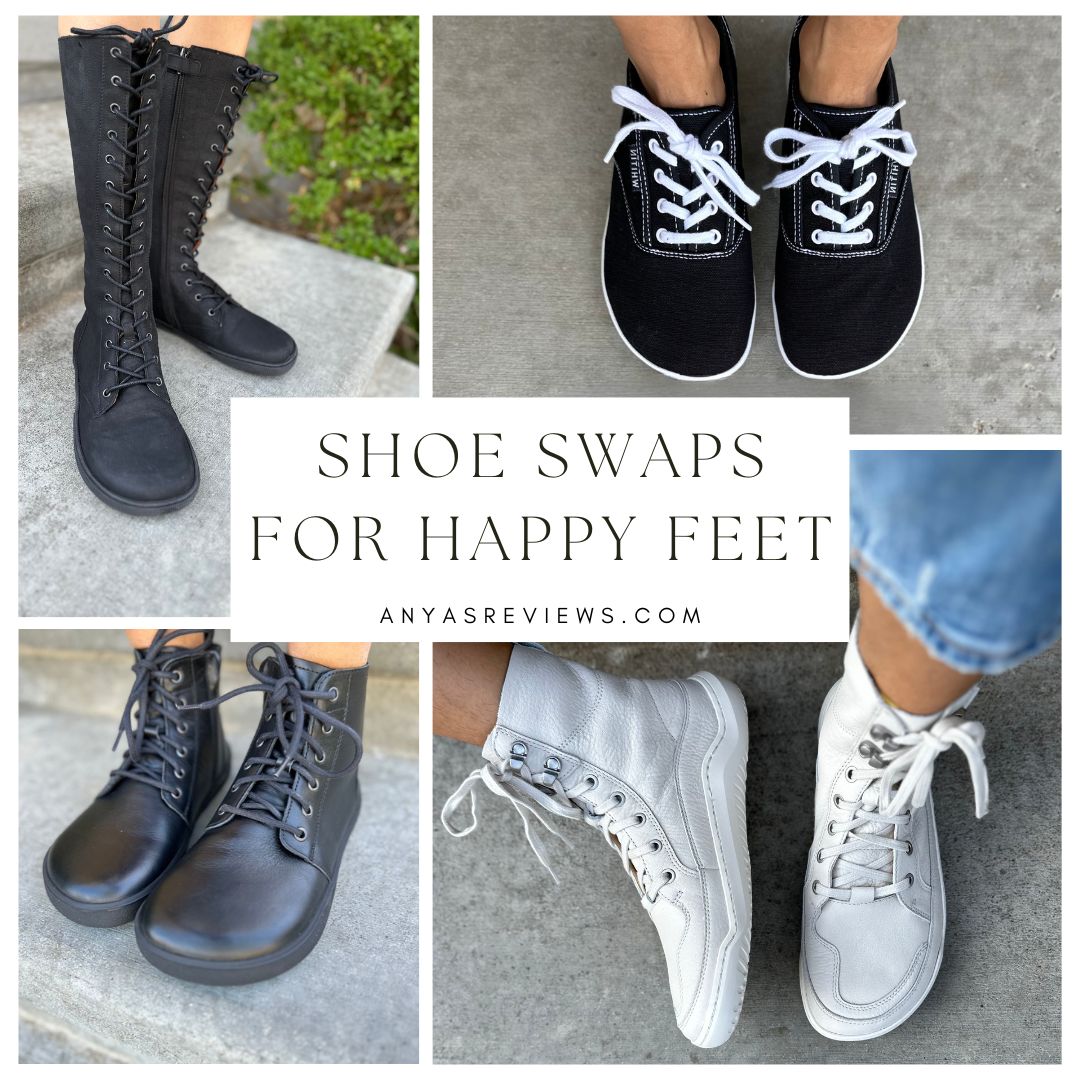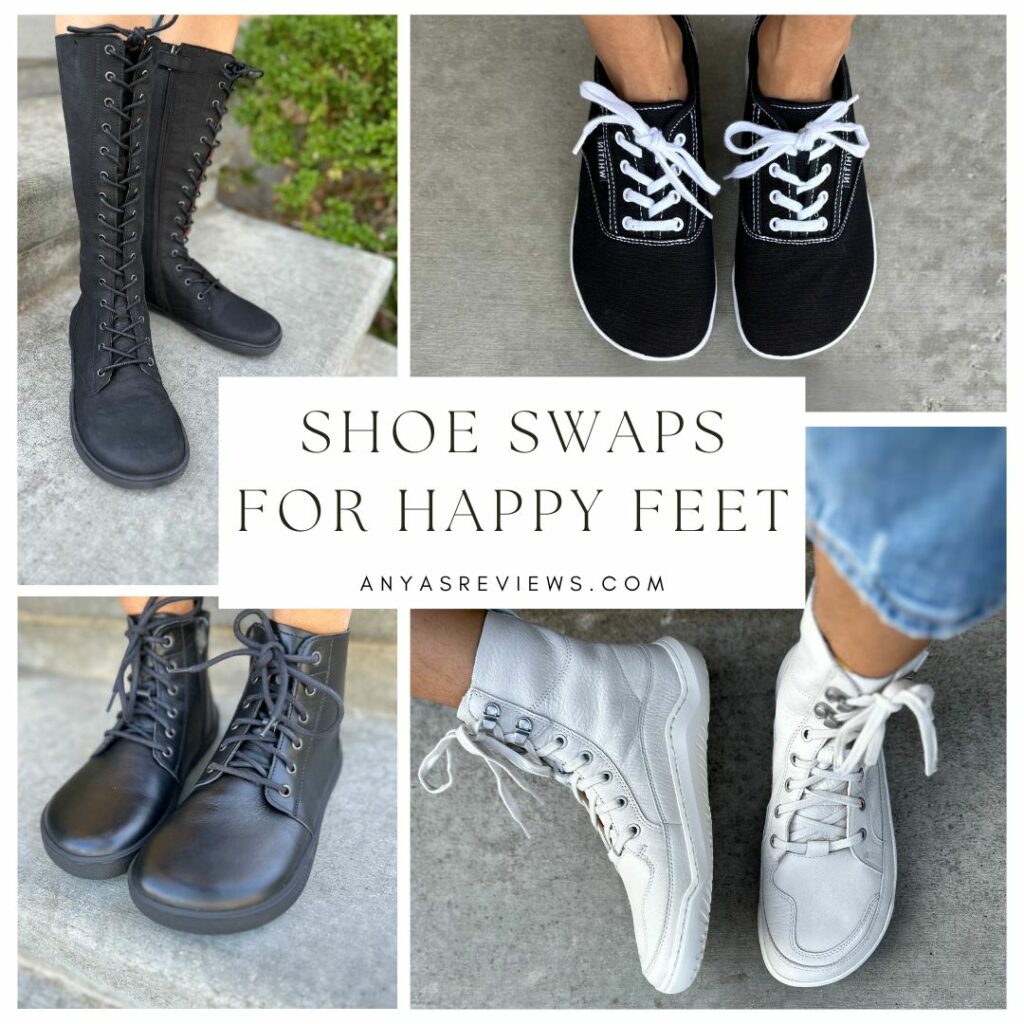 I LOVE A GOOD SHOE SWAP. Here are some of the coolest fashion trends for fall 2023, but let's make it barefoot please. 😘 Because fashion doesn't have to hurt, and being comfortable doesn't have to mean looking frumpy.
Like the idea of shoes that are actually cute AND comfortable? See all my shoe swaps here.
Swap Your White Boots for Vivobarefoot Gobi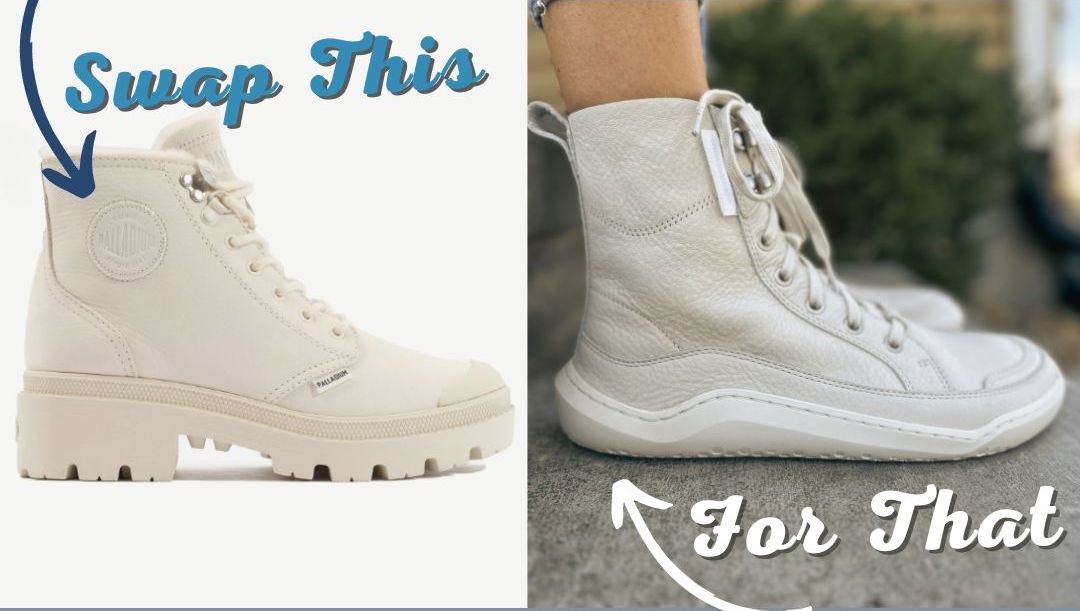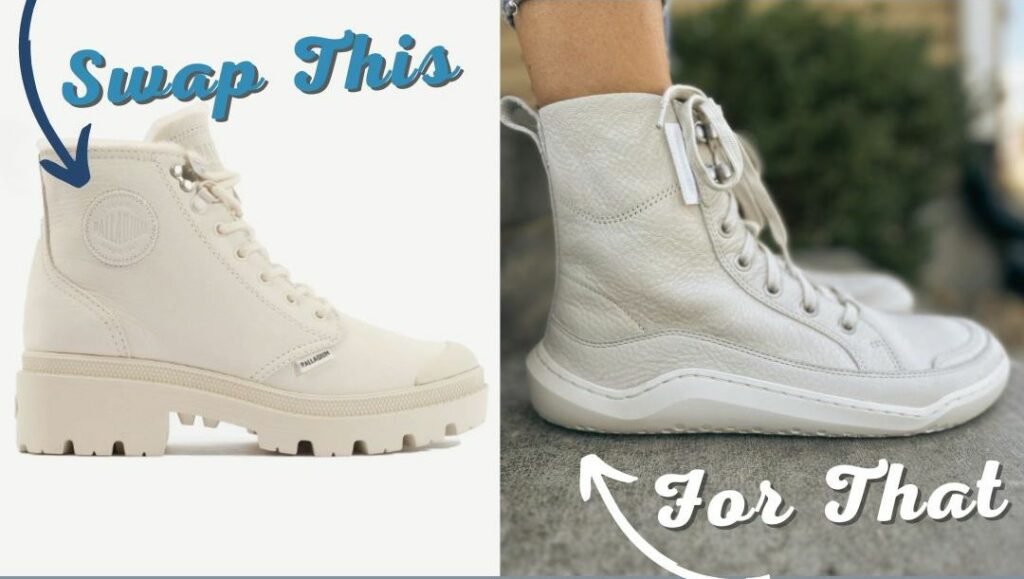 Use code VBANYA10 for 10% off.
The Gobi Boot is new this year and it is giving urban style. White boots are definitely on trend this season (gone are the days of no white after labor day), but so are chunky platform heels. That's why I love that the Gobi Boot has chunky detailing and a faux thick sole, but is still actually thin and flexible so you don't feel like you're wobbling on stilts. The leather is super soft and they feel as great as they look. See them in action here!
They also come in black and brown if you're looking for something more classic, and a men's version (Men's Vivobarefoot shoes are several millimeters wider than Women's, otherwise no different). I find the sizing to be mostly true, but runs a little longer than other brands. I am wearing a size 38, which is my usual boot size and they fit my wide feet well, but I don't have much extra width for thick socks (they are best suited for average to slightly wide feet).
For those of you that have been a long time Gobi fan, yes this Gobi boot is replacing the previous Gobi Hi 🙁 And even more devastating is the fact that the new Gobi Chelsea is also a replacement for the previous Geo Chelsea/Fulham. While I do love the new sporty Gobi Boot, I am just so bummed that my fave chelsea boot has gone away. It looks like Vivo is going away from the classic silhouettes, at least for now.
Another white boot I adore that has a wider fit is the Peerko Go!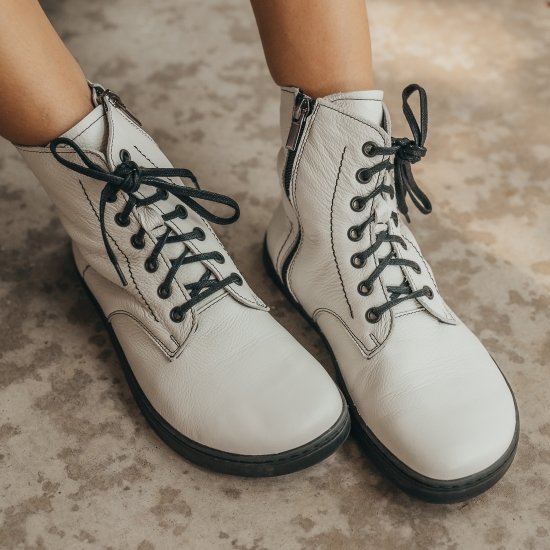 Swap Your Classic Vans for Whitin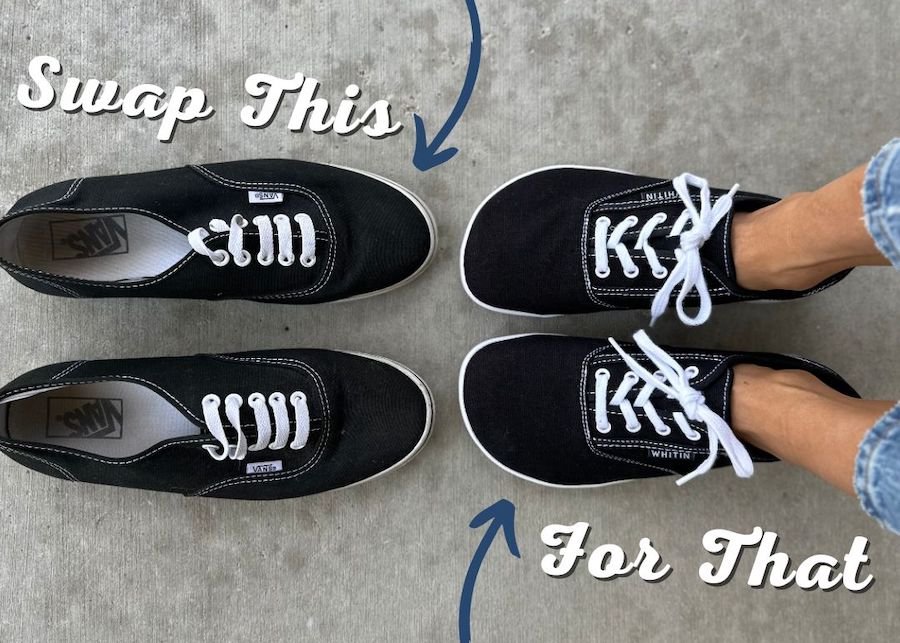 Whitin has a newish sneaker style that is the perfect replacement for classic Vans! And they are only $40. The wider toe box, light feel, and flexible sole make them significantly more comfortable IMO than Vans without compromising on the style.
I find that Whitin runs on the smaller side and many people size up. Mine are a 38 and they fit like a 37 (they do have a size guide with measurements and conversions in the listing!). They fit on the higher volume side and come with a removable insole if you want even more space.
My only issue with Whitin sneakers is that they have a little toe spring. Not terrible, but it doesn't feel totally natural and bothers me after a while. Oh and the laces aren't very durable.
Side note: if you wear Vans for skateboarding, I wouldn't recommend Whitin sneakers as a comparable alternative. For a barefoot shoe that can handle that kind of rough wear check out Bohempia and Barebarics, both reviewed in my Best Barefoot Sneakers article.
Sneakers will never go out of style or out of season!
Swap Your Tall Lace Ups for Koel Flora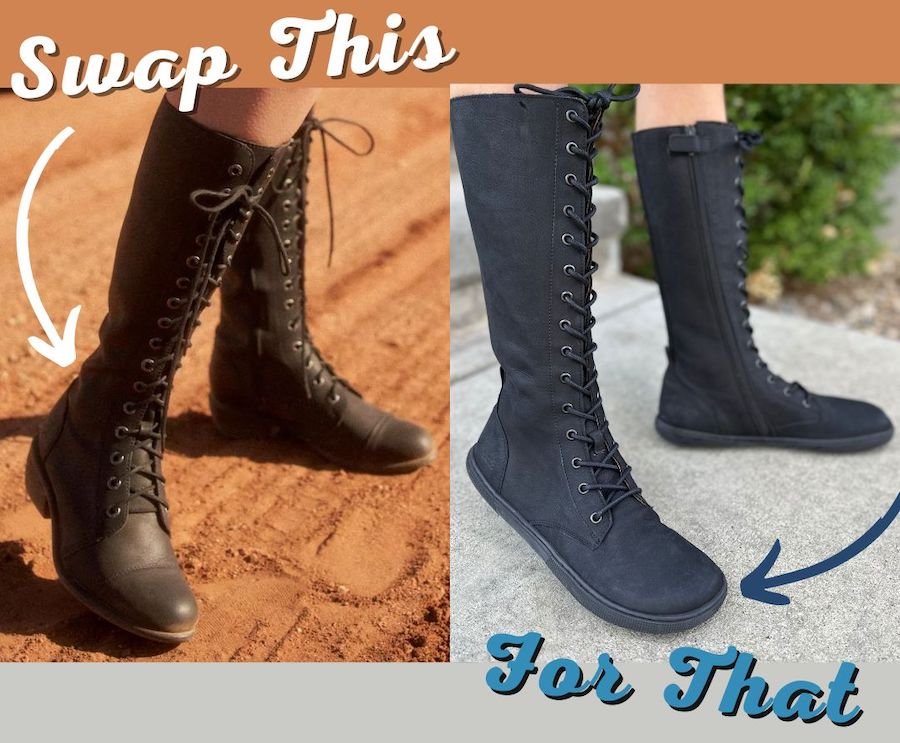 Find Koel at Mugavik barefoot and use code ANYASREVIEWS for 5% off
Oooh I love a tall boot look. These Koel Flora boots came from the retailer Mugavik Barefoot and they fit my slim calves perfectly! I love the sleek silhouette, they are one of the best looking barefoot boots out there.
The toe box width is on the slightly slimmer side for a barefoot shoe – I recommend them for average width feet for an optimal fit. But I've been ok wearing them on my wide feet with footless tights for maximum toe space.
I sized up to a 38 in my Flora, which I often do in boots. But typically I can wear socks in a size 38 boot – in these I can only get away with a thin sock. So anyone with thick or wide feet might want to err on the larger size.
Ultimately they are well made and lovely! I also have a deep love for the Peerko Empire lace up boot, which would be a better option if you have thicker calves and/or wider feet.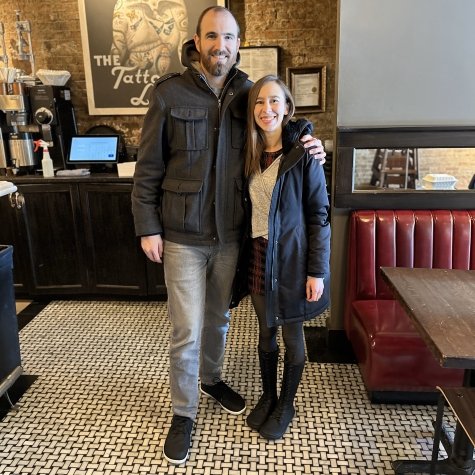 Swap Your Combat Boots for Be Lenka Atlas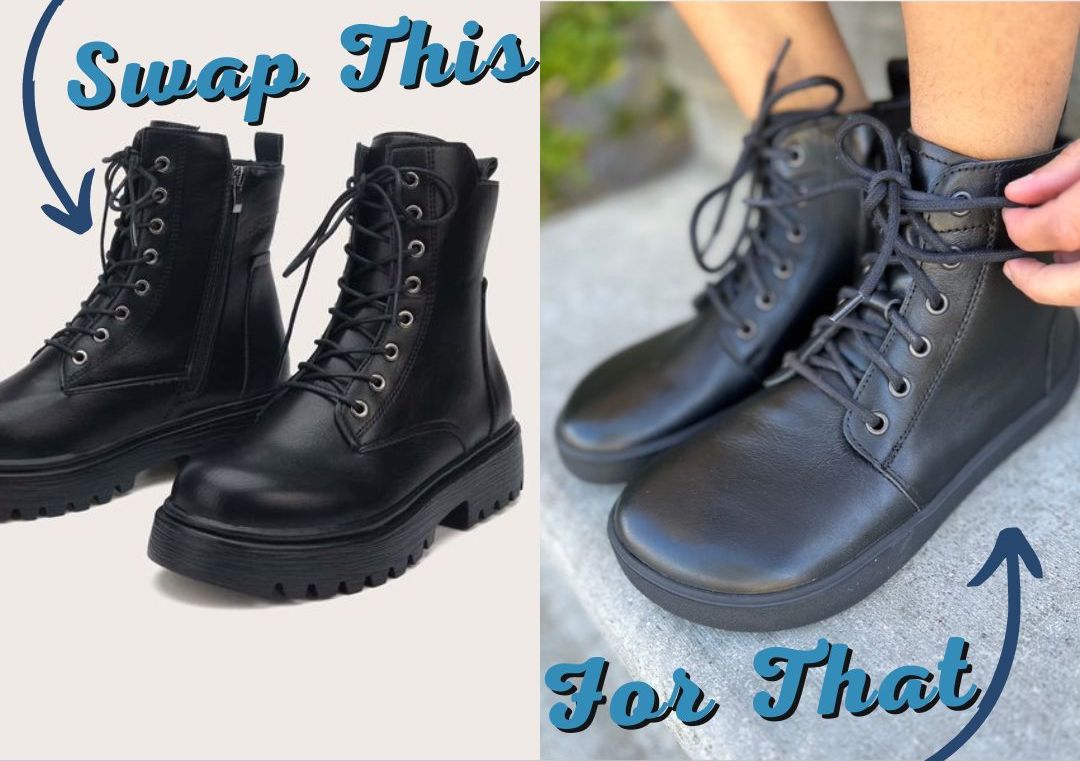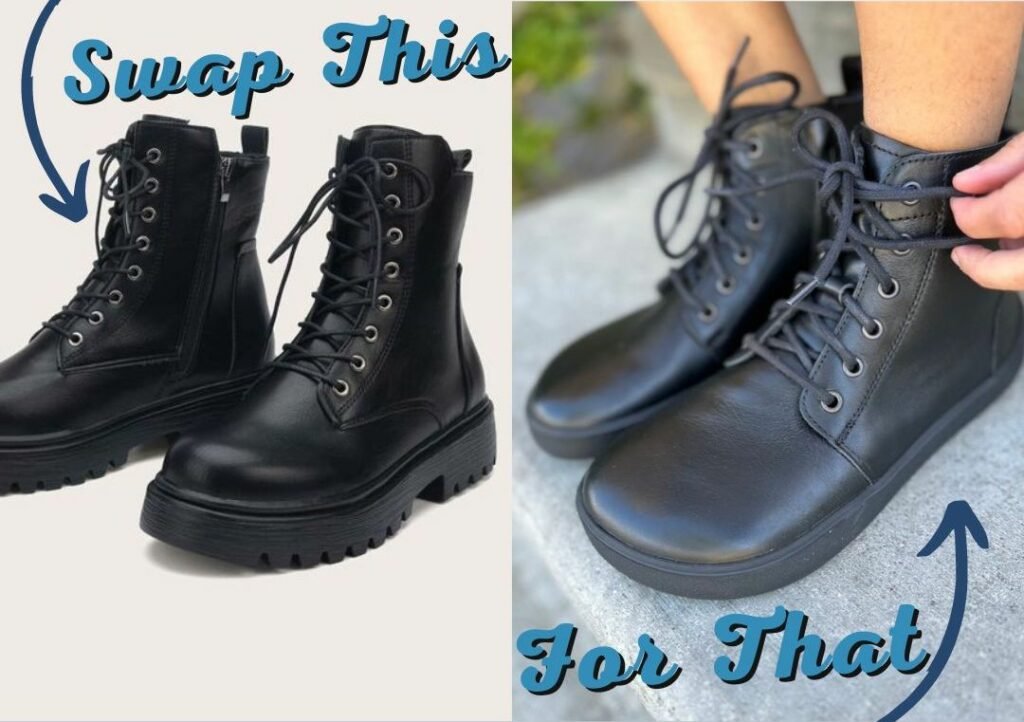 Use code ANYASREVIEWS for 5% off.
You can also find the Atlas in stock in the US at Anya's Shop!
For a classic lace up boot look, the new Atlas from Be Lenka is one of the best options that fits wide feet. It's simple and elegant in design with a fleece lining and a side zip for easy on/off. The fleece is warm, but not super thick so the Atlas is best for cool temperate weather. The outsole is durable and slip resistant, so very functional for outdoor use. Be Lenka boots do feel a little heftier than many other barefoot shoe options, but what you lose in lightness you gain in function.
They have an extra wide, square toe box, which makes Be Lenka boots a favorite for people with extra wide feet. If you have had a hard time finding comfortable options that still look nice, Be Lenka is my go to recommendation. Be Lenka's boots run a little bit short, but I still wear a size 38 in them.
Learn more about the fit, sizing, & feel of Be Lenka's barefoot boots in this review.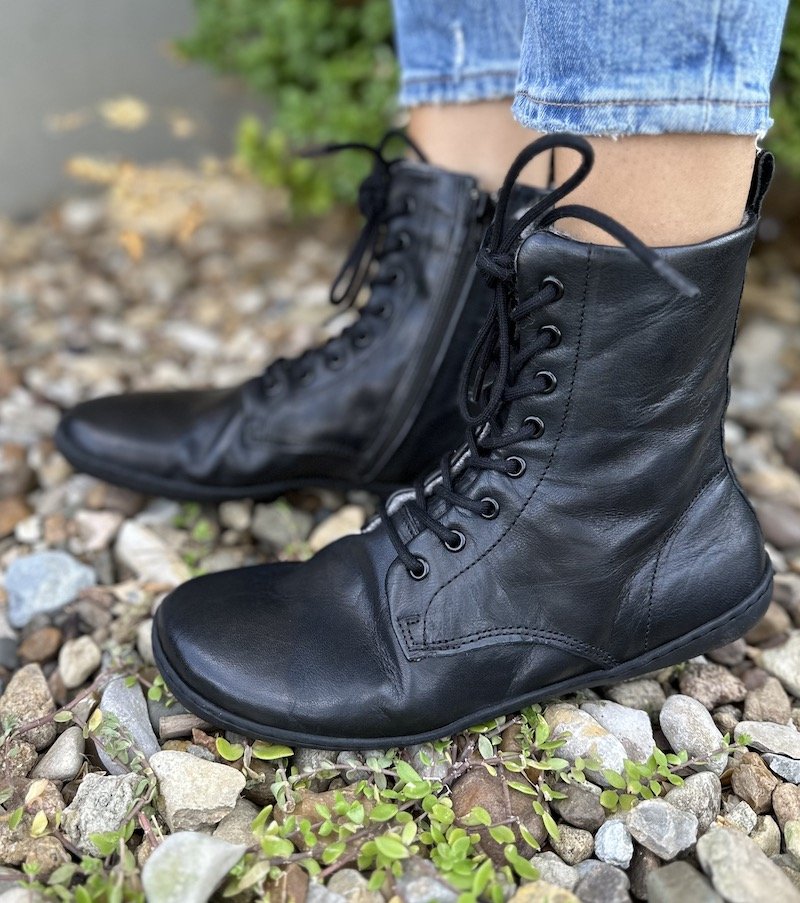 Another phenomenal combat boot style is the Mukishoes Igneous, which was just re-released in a smooth black leather shown above (but I've worn their earlier version for years now). The Igneous does not have an extra wide fit like the Be Lenka Atlas, but are much softer and lighter and for me they are the perfect edgy lace up. You can use code ANYAMUKI for 10% off from Mukishoes!