The Fulham from Vivobarefoot was replaced this year by the Gobi Chelsea and the Geo Chelsea.
The Vivobarefoot Fulham is a classic chelsea boot but made barefoot with a completely flat and flexible sole. It is one of the most popular women's barefoot boots available, because it is both stylish AND good for your feet. I have been wearing Vivobarefoot Fulham chelsea boots for years now, because they go with everything, pull on easily, and are super comfortable. Read on for my Vivobarefoot Fulham Review!
**Get 10% off any Vivobarefoot purchase with code VBANYA20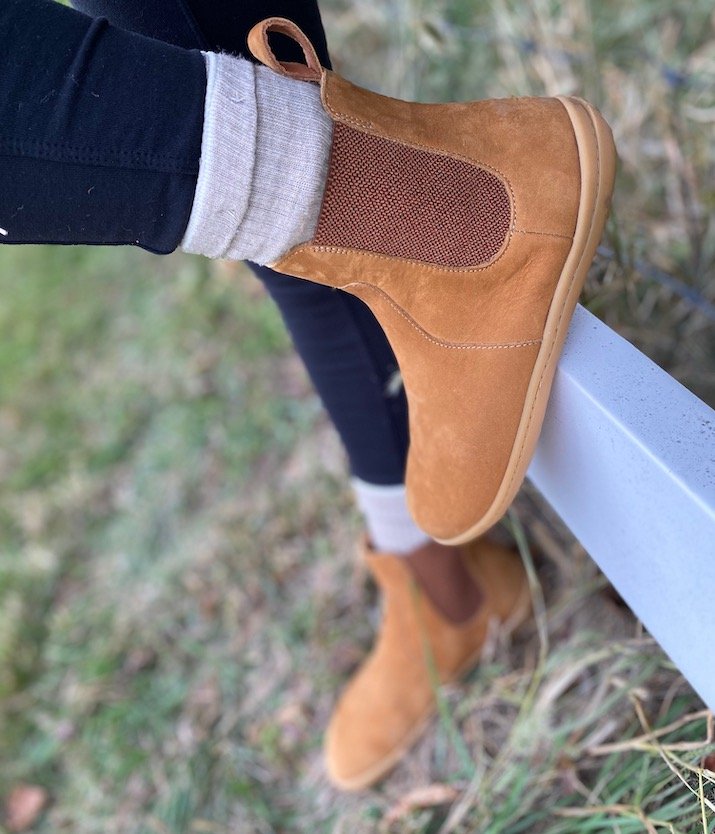 *This Vivobarefoot Fulham Review is for the updated 2021 version of the boot, which has some notable improvements and fits me much better than the older version that I reviewed in 2019.
Vivobarefoot Fulham Review
Barefoot shoes work best for us when we can wear them every time we need shoes. Mainstream looking styles like the Vivobarefoot Fulham are so important to fill in all of those times. They are popular for a reason! Besides being fashionable for both men and women, they are also high quality shoes that last, and they meets all my requirements for healthy barefoot boots: zero drop, flexible, and wide in the toe box.
Vivobarefoot Fulham Materials
The Fulham boot comes in either a nubuck or smooth leather, but the colors change seasonally. This fall you can get Desert Sand nubuck (shown here) and smooth black leather. The interior is also fully lined with leather, so it's soft and breathable on your feet. They come with a removable thermal insole to keep your feet warm, and you can take it out if you need the extra space. Without the insole the shoe is only 5mm thick, so I almost always use them. It gets cold REAL quick with only 5mm between you and the ground! I also sometimes swap out the thermal insole for other barefoot insoles.
The elastic panels are soft and stretchy but super durable. Previous Fulham models had elastic that warped and stretched over time, but now the elastic is much better. The rubber outsole is flexible and the whole shoe is at once sturdy and soft enough to roll up into a ball.
The rubber outsole is slightly sticky and has decent traction. Enough to keep you secure on wet grass and pavement, but not quite at the level of a snow or hiking boot. I use mine throughout the season as long as it's not too cold and haven't had issues with slipping. I also find that Vivobarefoot shoes are very durable and the outsoles last a long time. We have many pairs in our house and have yet for a single one to wear out.
The heel and ankle have a lovely contour that makes for a close fit and clean silhouette, but I have really sensitive heels. The heel cup rubs my ankles in these and I use a heel cushion to stay comfortable. I keep a few of them on hand, along with felt inserts, in case I need them.
*A note about the color Desert Sand. The color of this tan nubuck is tricky to capture in photos. In the sunlight it leans orange, in softer light it's more brown. All the colors in these photos are accurate depending on the lighting I am in. But they are definitely not as orange as they look on the Vivo website.*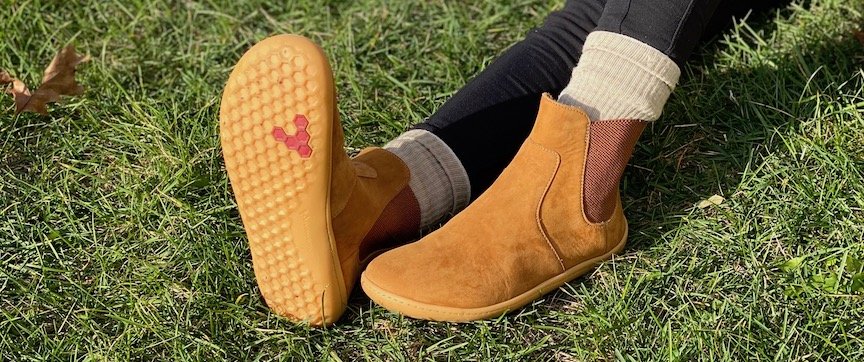 Vivobarefoot Fulham Sizing & Fit
The Vivobarefoot Fulham is consistent with their other boot models. I wear a size EU 37 or US 7 in almost all my Vivo shoes, and most other sneakers and boots. Vivobarefoot is usually great for people with medium or medium-wide feet and an average to lower instep (or arch height). These Fulhams in a 7 fit me perfectly. I can wear a pair of medium weight socks plus the thermal insole, or thicker socks and no insole. If you've tried the older Fulham and they seemed narrow, good news! The updated ones are slightly wider. The old ones were not quite right for me, but this year they are fitting great.
The ankle opening however is narrow and the shoe overall fits a lower volume foot. The elastic is stretchy enough so it's not difficult to put them on, and the look is clean and dressy. But it might be problematic for people with high volume feet and thick ankles. In years' past there was a men's version of the Fulham that was more spacious, but this year it only comes in women's. If you can, getting the men's version is a great way to get a wider fit (read to the end of the post for more chelsea boot options!).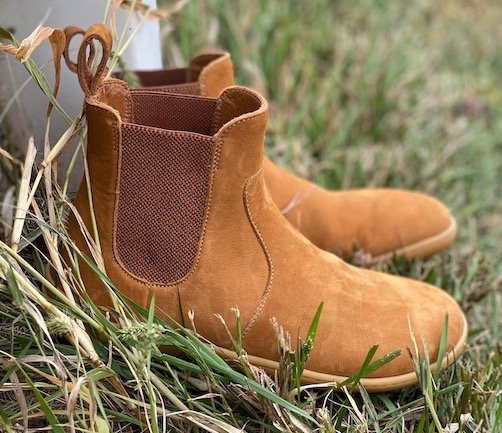 The leather will allow for some stretching, but from my experience you won't be able to work miracles if these are too narrow or shallow for you. Some stretching hacks I use are to stuff a golf ball into the spot that needs more space, or to stuff the entire shoe with damp socks and blow dry them.
Vivobarefoot Fulham Shoe Care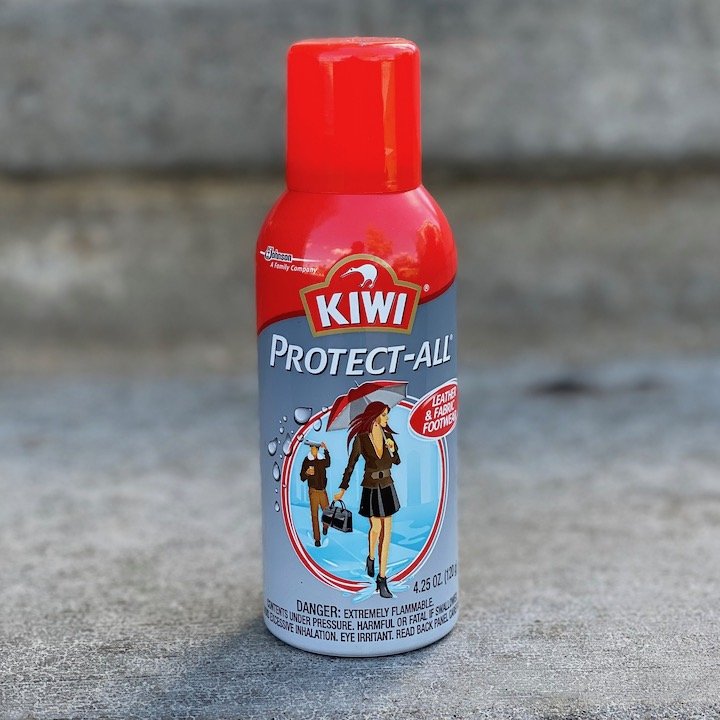 Because barefoot shoes tend to be pricey, I try to take good care of them. All leather, especially nubuck and suede, will last longer if they are treated before being worn. I make regular use of the above Kiwi shoe spray and brush to keep my Fulham boots clean and protected. On finished leather you can use a liquid product like Chamberlain's to clean and condition, but I don't use it on unfinished leather because it can change the color.
Vivobarefoot Fulham Style
I am a huge fan of the chelsea boot look AND I love that they are so easy to pull on. These tan nubuck ones are giving me all the fall feels, and the shiny black version is classy enough to be a dress boot. The Fulham is an all around great looking boot! For lots of barefoot styling ideas make sure you follow my But Make It Barefoot Instagram page featuring all of YOU and your rocking style.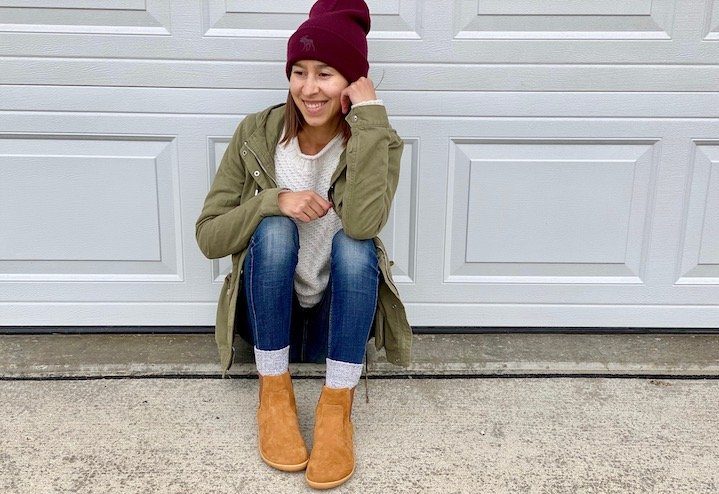 Vivobarefoot Fulham Review Conclusion
The updated Fulham chelsea boot is a barefoot boot staple for a reason. High on quality and looks, but low on foot-deforming features! The Fulham satisfies my inner fashionista, rushed mom on the go, AND foot function nerd.
I hope this Vivobarefoot Fulham review was helpful for you! Not sure if the Fulham is the right chelsea boot for you? Check out this list of barefoot chelsea boot options, and a few comparison photos below.
Both size EU 37