Now available on preorder is the Bahe Revive barefoot running (and walking) shoe, which I have been testing the last couple of weeks. They have a 11-14mm thickness, grounding technology, and I consider them an all around great choice for someone who wants a slightly more robust sole than is typically found on barefoot shoes.
Use code ANYA for 10% off your preorder.
Bahe Barefoot Running Shoes Review
I have worn my Bahe Revive shoes for several miles speed-walking around the neighborhood (taking a current break from running as I work on some hypermobile joints) and I really enjoyed them! Really any shoe that is marketed for running also works great as a walking shoe. And sometimes I enjoy a little more padding under my foot when walking on cement.
Functionally the outsole has good grip and the upper is breathable, exactly what you look for in an athletic shoe. Even after I finished testing them for this review I'm still picking them up to wear for my walks! They're pretty cute too, which always helps.
Are They Barefoot?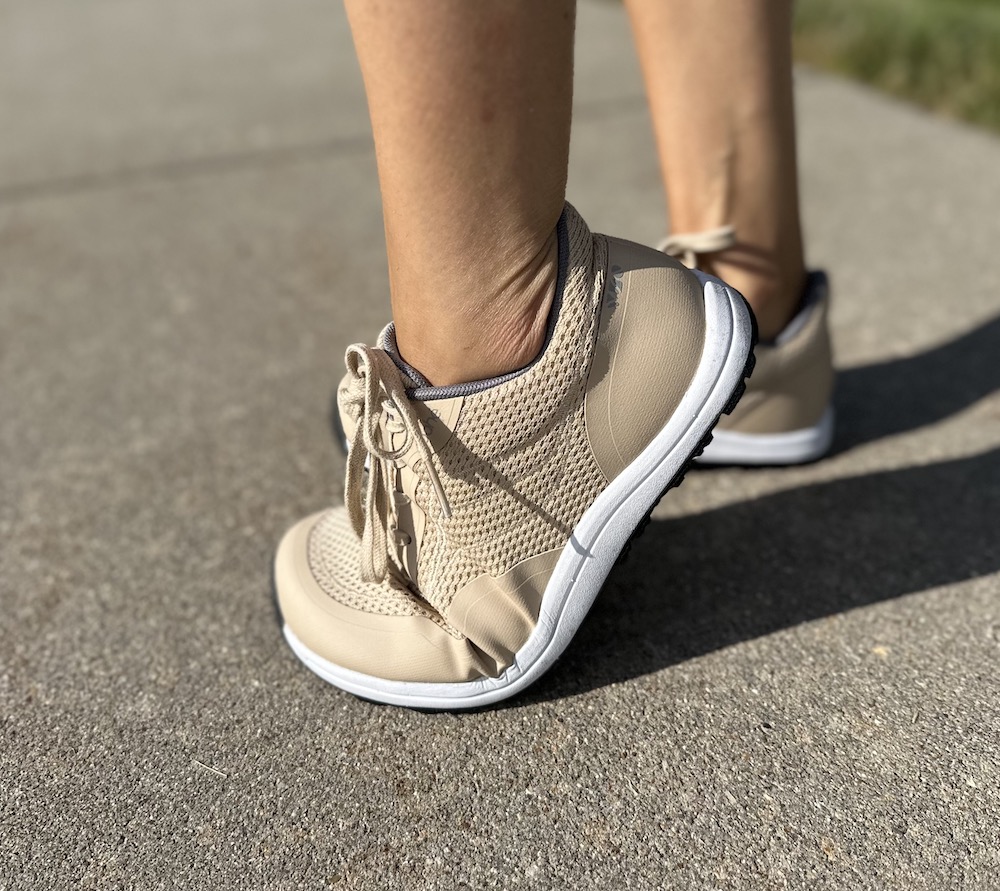 Bahe Revive barefoot sneakers are:
Zero drop
Anatomically shaped – widest at the toes
Flexible
But compared to other barefoot shoes, the sole is a little bit thicker (14mm with insole, 11mm without) and has a square edge so they don't flex easily in all directions. This makes them in my opinion best for urban surfaces, but I would also wear them trail running on a mostly level path.
Overall Bahe has a light, natural feel and flexes easily (they just don't twist easily). If you are looking for an in-between minimalist shoe (not super thin, not super thick) Bahe is great, and I plan to continue to use them when I need a little break from feeling the pavement.
Bahe also makes a traditional sneaker called the Recharge that does not meet this criteria and that I haven't tried.
Sizing & Fit
Based on my experience with this pair, Bahe Revive barefoot running shoes:
Run a little long, but I won't size down.
Are Medium Width – they work on my wide feet because the mesh upper is flexible.
Are Medium to High Volume – a removable insole makes them work for a variety of feet.
I am wearing a Women's US 7 (these sneakers are unisex though) and they are a little longer than I expected, but still fit. I usually wear my athletic shoes on the bigger side because feet swell when you're active.
They are medium to high volume, so I have to tighten the laces quite a bit because I have low arches. I am also considering adding an additional barefoot friendly insole so they fit more securely on my thin ankles.
The width is good for my feet and the mesh upper is forgiving, but they might not work for an extra wide foot. They offer a printable sizing guide so you can make sure you're getting the right size too!
The only comfort complaint I had is that the sides come up a little high and rub my ankle bones. I would love to see them cut a little lower to fit more people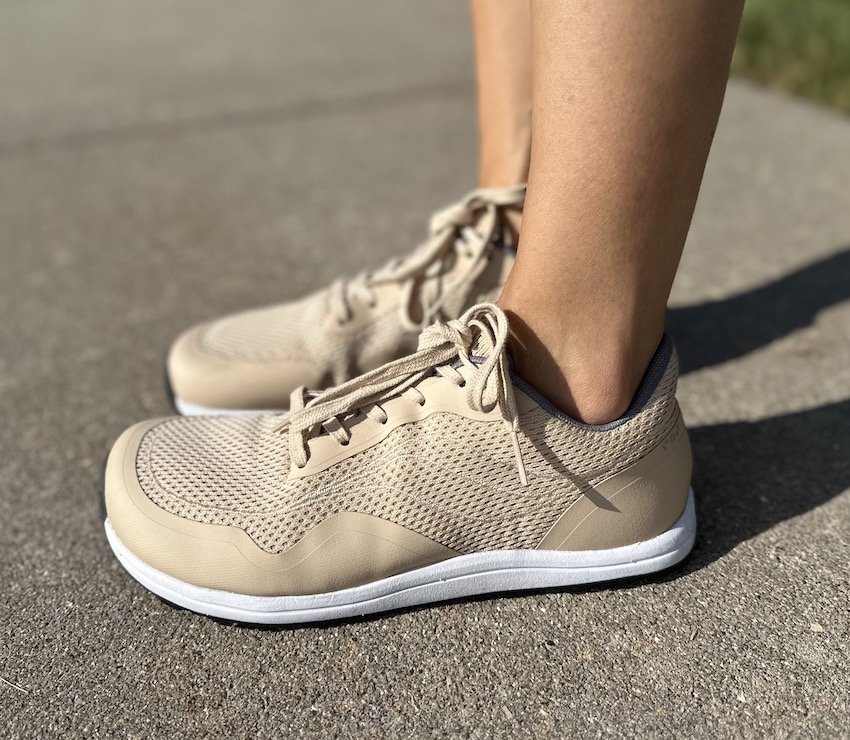 Grounding Technology
Bahe shoes have conductive materials throughout the shoe and has been 3rd party tested to have close to zero electrical resistance. Truthfully I don't buy shoes for their grounding technology as I've not noticed any difference using it – for me it's all about the shoe fit. But if this is intriguing for you, you can dig more into Bahe's approach to grounding here.
Ordering
The Bahe Revive barefoot running shoe is currently offered on a preorder basis and they ship from the UK. You can order from now until August 13th, after which the shoes will be produced and should arrive to you by the end of the year. You'll be able to return/exchange then per their normal return policy.
Don't forget to use code ANYA for 10% off.
You'll Like Bahe If…
The Bahe Revive is great for someone who wants a minimalist running shoe without going full on barefoot. They are a solid athletic option that fits in between a Vibram 5 Fingers (super minimal) and an Altra or Topo (Cushioned). You'll also love Bahe if you love the idea of grounding!
If you want to explore more options in different thicknesses, head to my roundup of the Top Ten Barefoot Running Shoes!