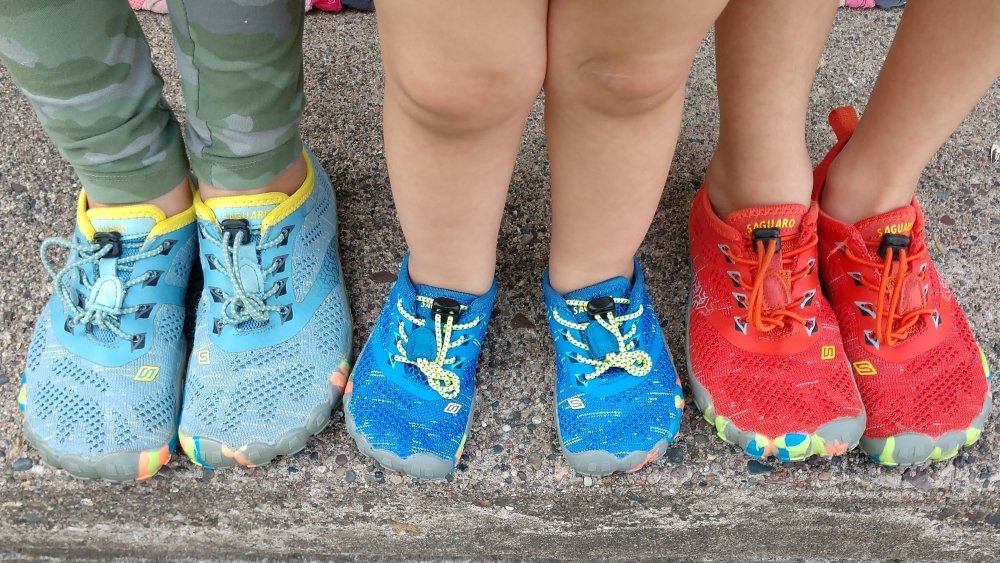 Saguaro makes barefoot sneakers for the whole family – they are super flexible, wide, and cheap! Read on for my review of the Saguaro Barefoot Shoes in adults and kids sizes.
Use code ANYASREVIEWS for 15% off your Saguaro purchase!
Saguaro Barefoot Shoes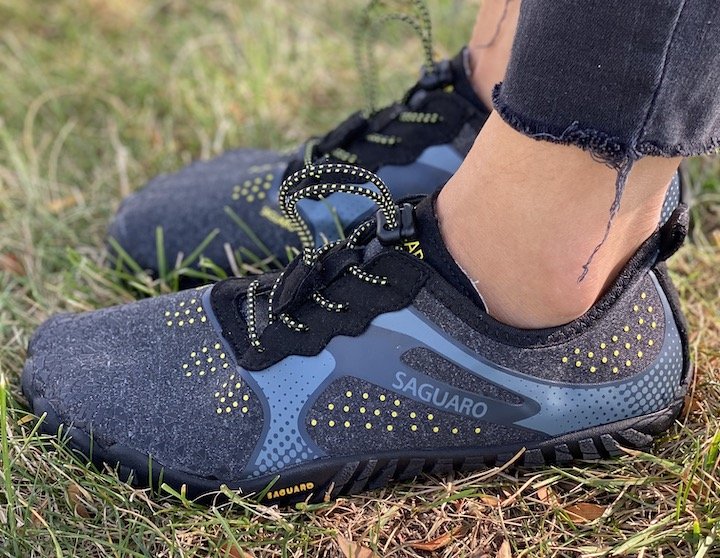 Saguaro Barefoot Shoes | $16-30 | Sizes US 7.5 toddler – W15/M13.5
Saguaro Barefoot Shoes are an affordable option available in a huge range of sizes and colors. They're a cross between a water shoe and a sneaker, and are very thin, flexible, and have a nice wide toe box.
Saguaro Adult Review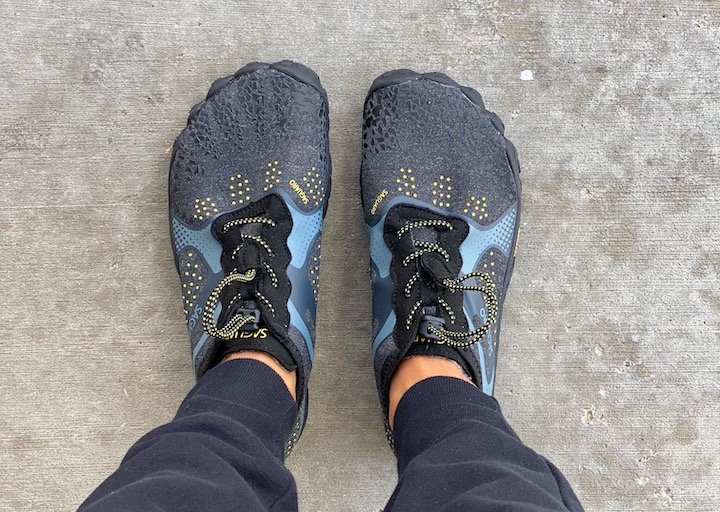 The adults models from Saguaro barefoot shoes fit spacious and leave me with plenty of toe space. I got this neoprene style that is essentially a water shoe (but works just fine as an athletic or everyday sneaker), and you can also find models that have a more traditional sneaker look to them.
All adult Saguaro shoes come with an insole that has a slight heel rise and tiny amount of arch support – I removed it immediately and swapped it out for a barefoot insole since I am fully adjusted to minimalist shoes and don't want any of that in my shoes. But if you are still transitioning to barefoot shoes, you might enjoy the insole at first.
If that's you, check out these 5 Simple Foot Exercises you can do to strengthen your feet and prepare yourself for barefoot shoes!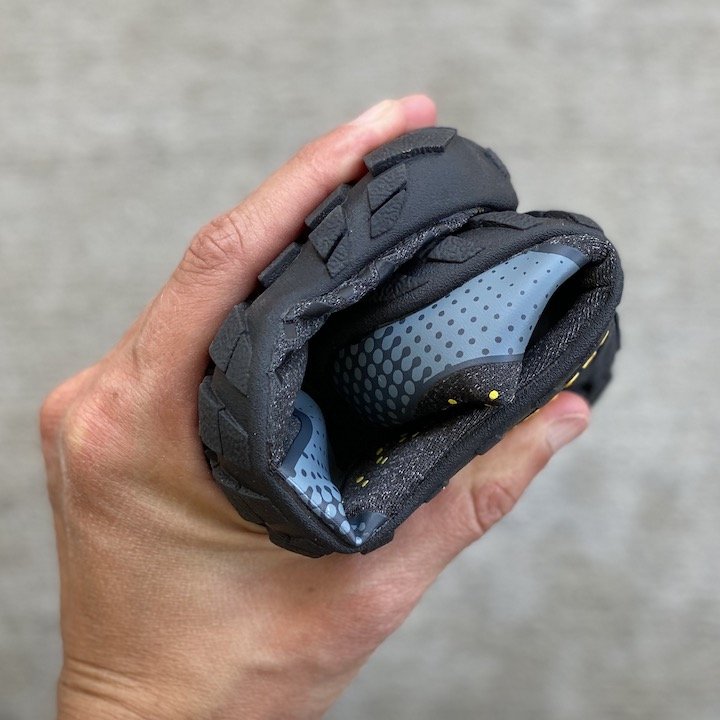 Without the insoles these Saguaro barefoot sneakers are crazy flexible – you can feel every pebble underfoot! Since they are essentially a water shoe, they have a sock like fit and don't rub anywhere. The elastic laces make them easy on and off too.
Sizing & Fit
Sizing
These shoes are made in European sizes, but show up on Amazon as the size of the country you're ordering from. Since I'm in the US, I had to select a US size. I chose a US women's 7, and the shoes came with an EU 38 size tag on them. This is a pretty standard conversion (though sometimes a Women's 7 is equated to an EU 37). Regardless, they fit as expected! So from my experience they are true to size.
Fit
Saguaro barefoot sneakers for adults fit wide and high volume. They have plenty of space above the toes – for those of you who don't like anything pressing down – and are overall very spacious. I needed to swap out the insole for a barefoot one since I have shallow feet, but if you have high volume/thick feet then you might be happy in these with no insole! Saguaro are very similar to the Whitin sneakers (another affordable option), except that the Whitin's fit low volume – so if you like everything else about the Saguaro's except that they are spacious all around the ankle and over the toes, check out Whitin.
For more on understanding your foot type, read this article!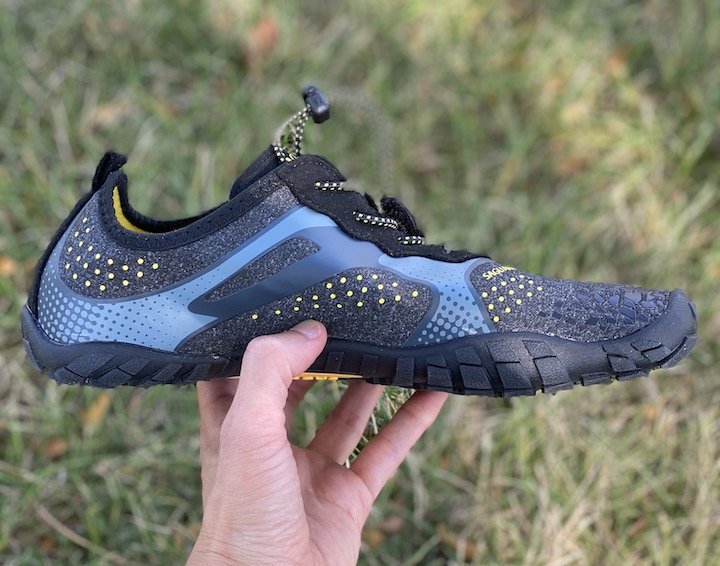 Saguaro also makes affordable barefoot shoes for kids, and my assistant Samantha reviewed those for us here.
Saguaro Kids Review
by Samantha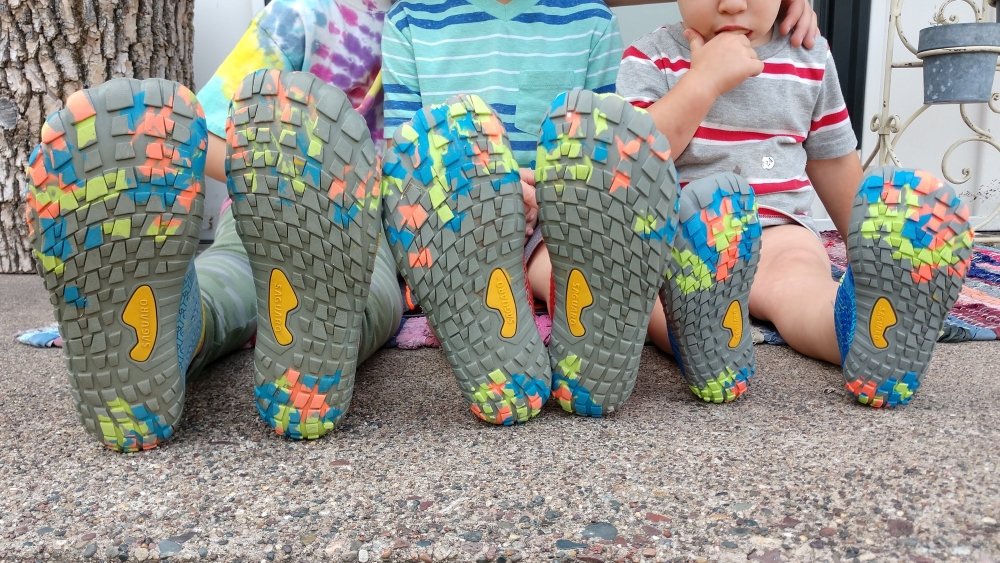 Saguaro Barefoot Shoes for Kids
This summer, my oldest needed a pair of spare shoes for camp. Not wanting to spend very much on extra shoes she might not even end up wearing, I ordered a pair of the "water shoes" I had seen so many people talking about in the Barefoot Style Community on Facebook. I was very skeptical they would be any good since they were called water shoes and we had tried those flimsy neoprene sock-like shoes in the past and been disappointed (they were destroyed very quickly). We were both pleasantly surprised by the fit and function of the Saguaro shoes which are really more like real shoes than water socks. They became her most worn shoes of the summer and I even ended up getting a pair for two of her younger siblings.
They're thin, flexible, zero-drop, and have a nice wide toe box. They are quite similar in shape and width to Splay Shoes, but cater to a higher volume foot. And unlike the adult Saguaros, the insole in the children's sizes does not have a heel lift. So taking the insoles out is not necessary (but does give you more room and better ground feel). My older two chose to leave the insoles in, but I took the toddler's out to be able to get them on easier.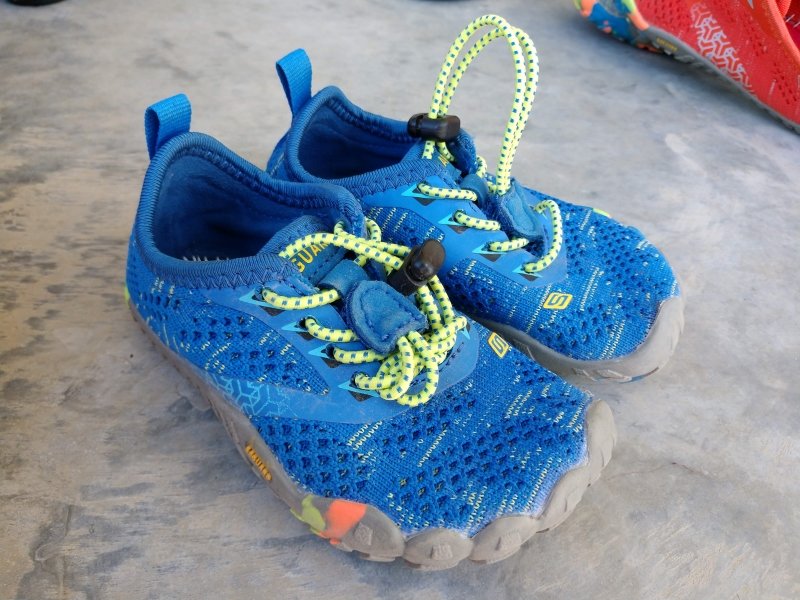 The elastic laces function as expected but are pretty long. We have them looped around the bottom of the laces and then attached to the velcro spot (see left photo above). I thought the uppers would be one thin layer of the knit material, but they are actually thicker than expected. In the photo above on the right, you can see the inner is a tighter, smooth version of the upper material and the back portion is lined with a soft microfiber.
My kiddos really like that they are breathable and have labeled the outsoles as "super grippy." Just last week I had them helping me wash our smooth concrete porch floor that is very slippery when wet. I watched in terror as my 7 year old took off running across the wet concrete in these and he did not slip AT ALL! These would be a great choice for summer camping and hiking, especially if it involved wet or really dirty conditions. I love that they are machine washable and I have thrown ours in several times – they come out looking great and air dry quickly. They are really an all-around win for us.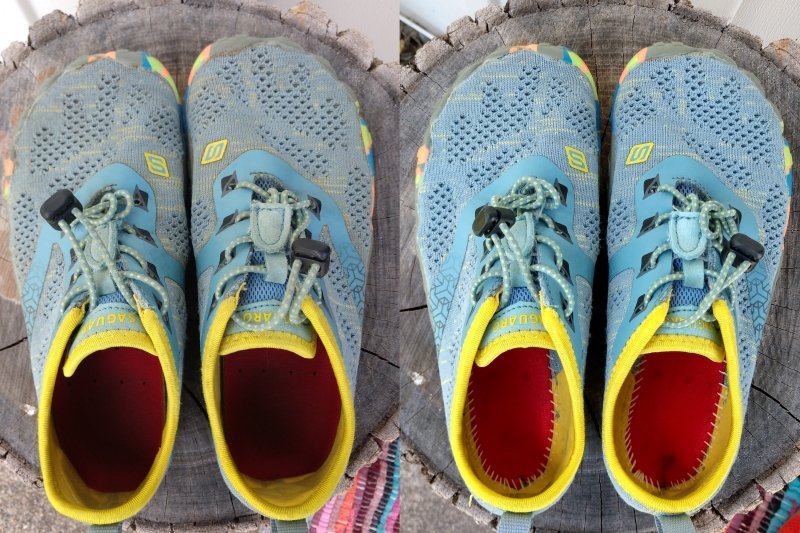 ---
Saguaro Vs Other Barefoot Brands
Check out how Saguaro compares to other barefoot shoe brands below.
Kids Barefoot Brands
Here are 16 barefoot shoe brands for kids below! These are not in any particular order.
Click here to read about our favorite barefoot shoes for kids for all seasons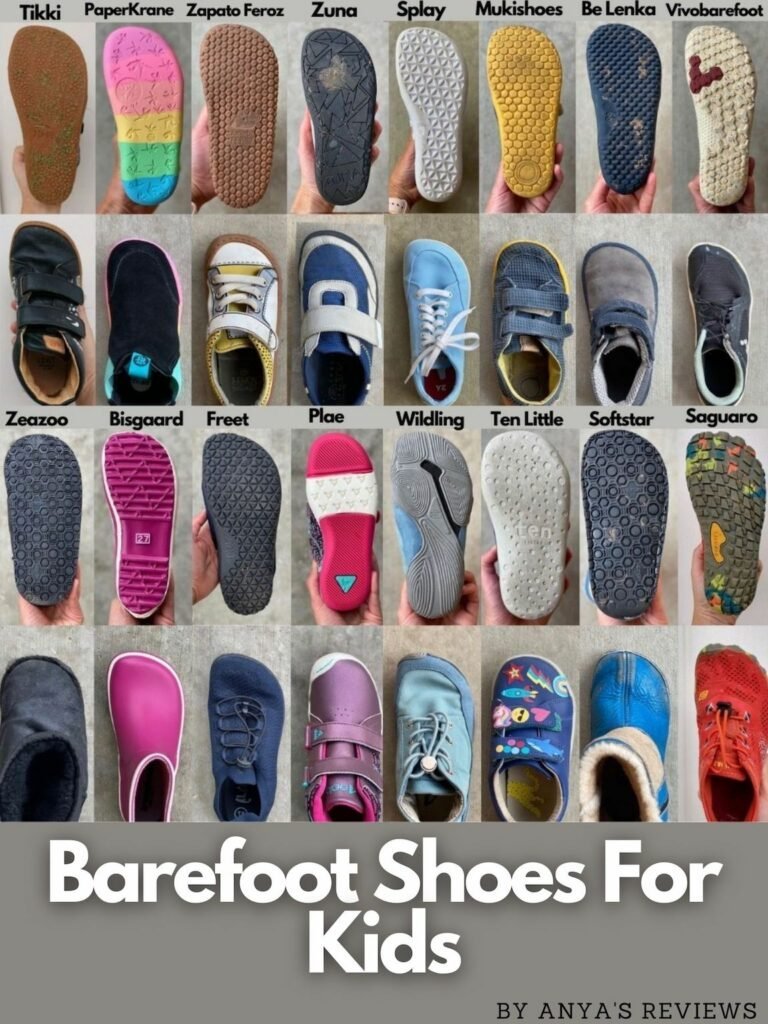 Adult Barefoot Brands
Here I have 35 barefoot shoe brands for adults organized generally from narrowest to widest. Check out the many resources here to get oriented! My Barefoot Shoe Reviews Section is a good place to start.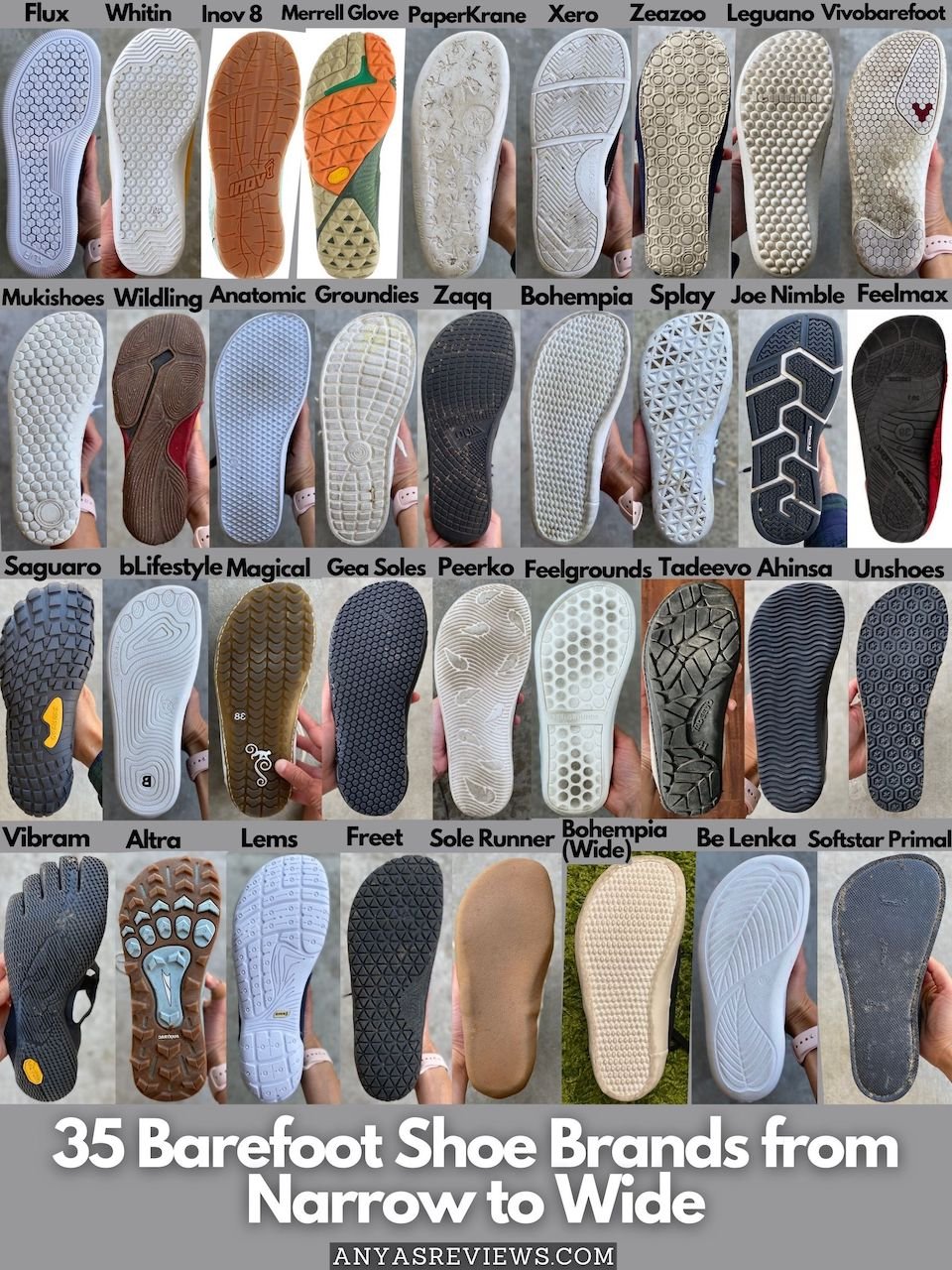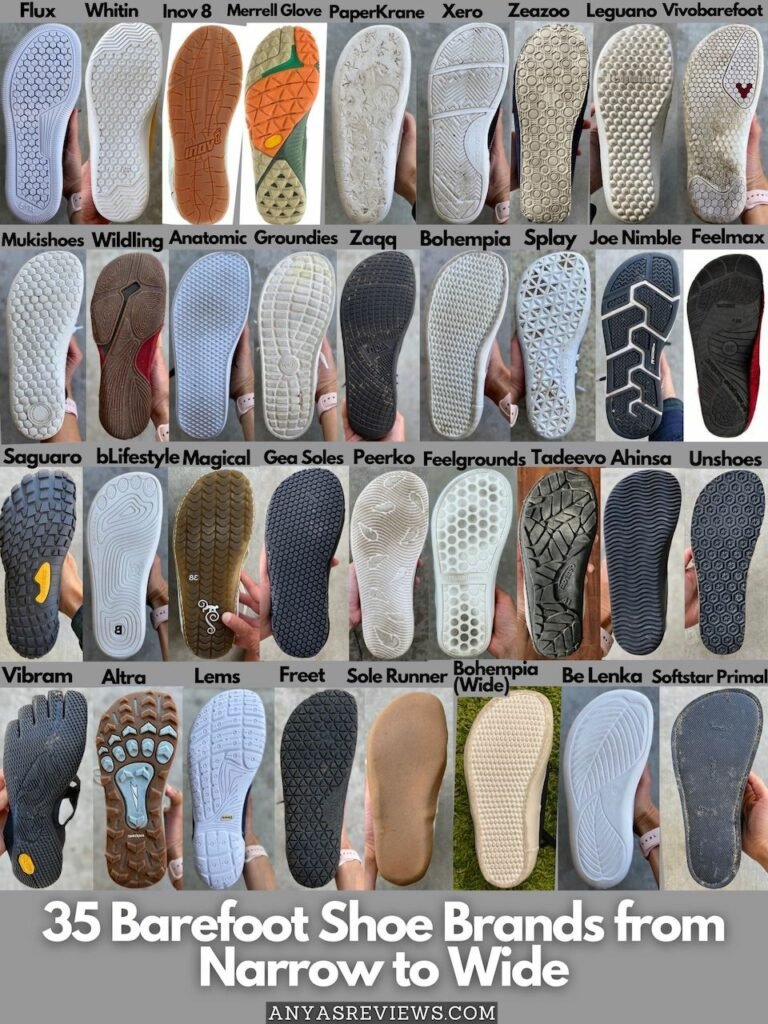 You can also check out my Barefoot Shoe Finder to hone in on your perfect brand
Saguaro Barefoot Shoes Review Conclusion
Saguaro is an affordable and all around great find for someone who wants to try out barefoot shoes with minimal risk. Use code ANYASREVIEWS for 15% off your purchase from Saguaro. Additionally, you can often find them on sale in their Saguaro Amazon Storefront. These are an especially good find for kids, who grow out of their shoes quickly and are tough on them. At rock bottom prices you can get a super comfortable, foot friendly sneaker in just about any size or color!