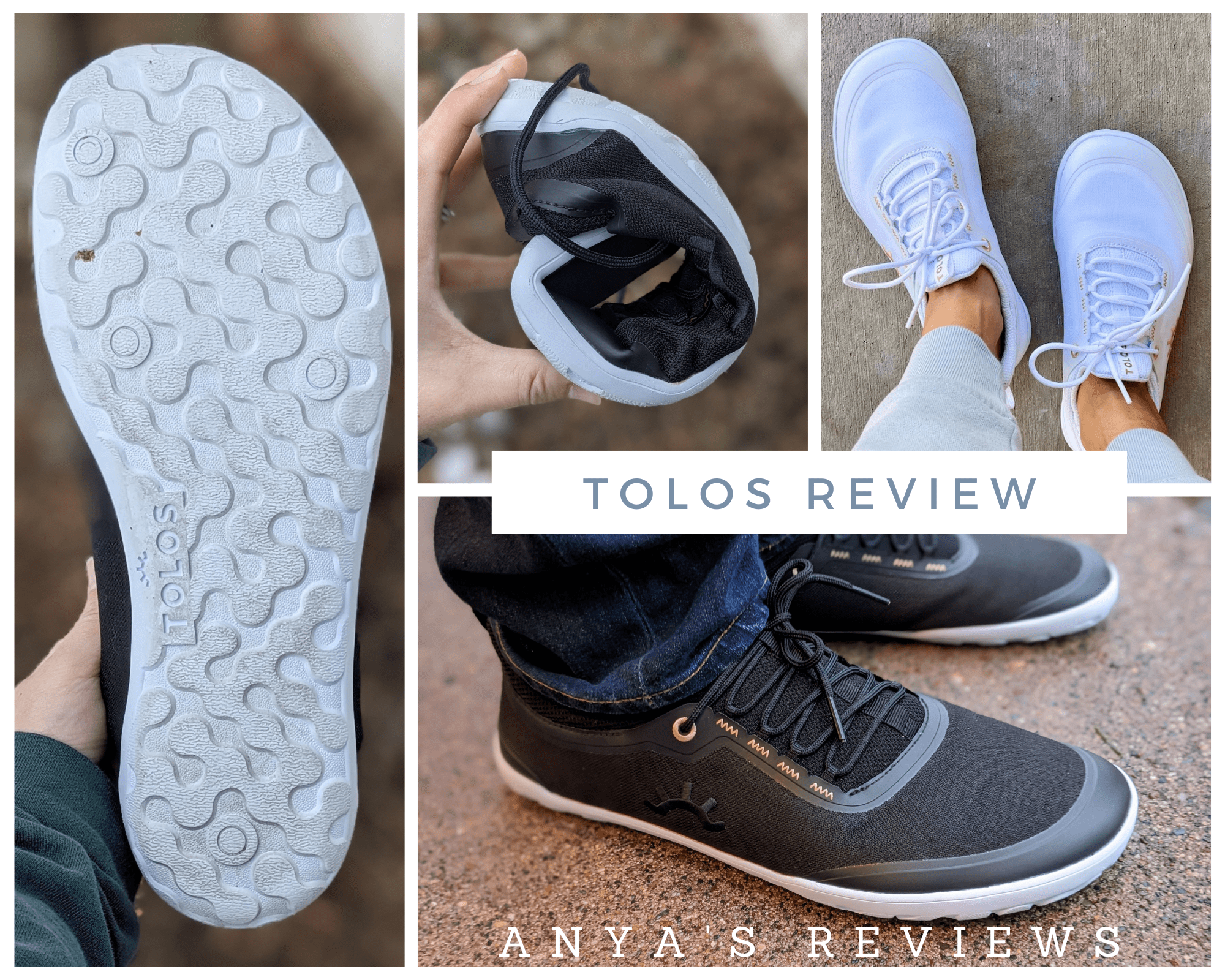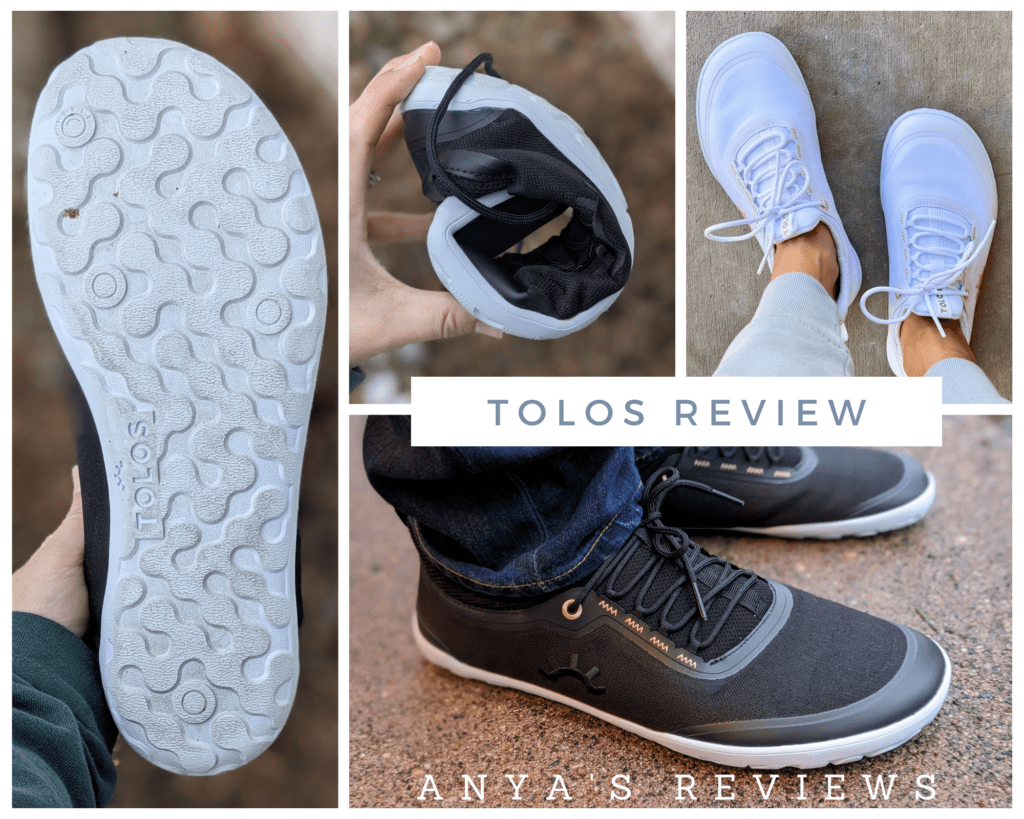 by Robby McFarland
Tolos is a new barefoot shoe brand with an all-purpose sneaker that's meant to be functional, stylish, and comfortable. Anya and I both tested these shoes on our unique feet and for different purposes. Read our experiences with them below!
Get To Know Tolos
Tolos is a American brand started by Evan Ritt. After suffering multiple injuries during his professional hockey career, Evan set out on a journey to better align his body from the ground up. In November 2020 he started designing his flagship product, the Archetype 1.0, with the ultimate goal of creating barefoot shoes that both look good and perform at the highest level.
Tolos Review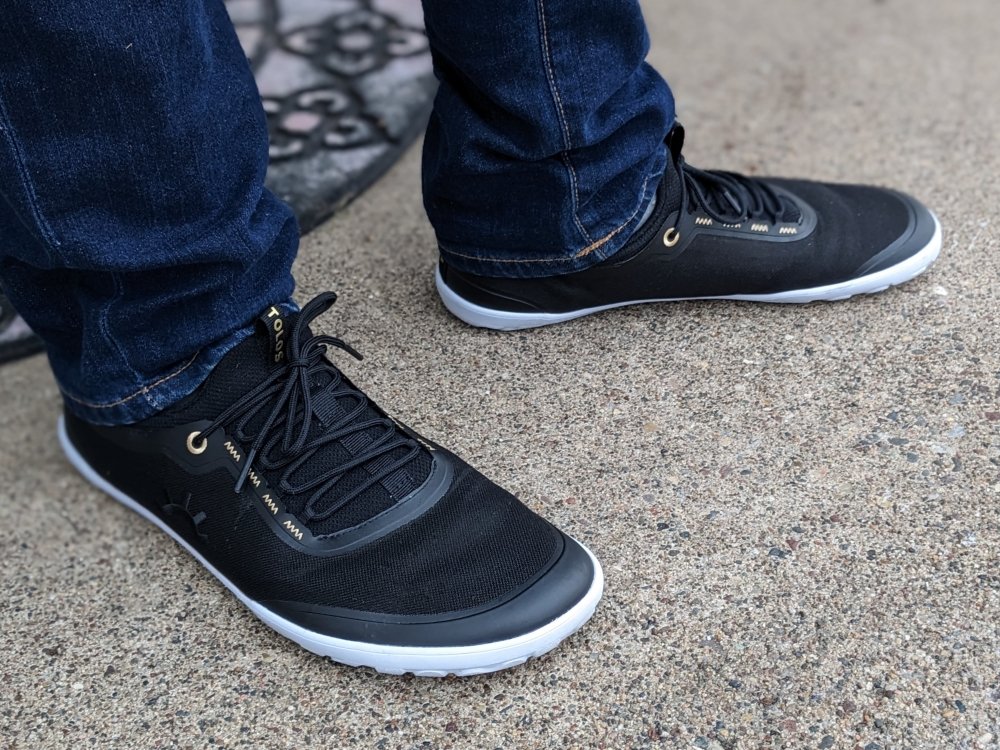 $115 | Vegan | Sizes M5/W6.5 – M14/W15.5 | 5.5mm stack height | USA only
Use code ANYA10 for 10% off your purchase.
My first impression of the Tolos Archetype is that they have a subtle, minimalist look with gold accents for a touch of class. They're a good blend between athletic and casual footwear!
These shoes are tongueless, which means you slip your foot into them like a sock. This was a bit of a struggle for me because the opening is not very stretchy, even though my feet are low volume. I'm used to unlacing my shoes to make sliding them on/off easier, as well as reduce wear on the shoe over time. The loops on the front and back make it easier to pull the shoe onto your foot, but I am looking forward to version 2.0 which will have a stretchier opening.
Once I got my foot inside the Archetype sneakers fit me perfectly. Because these shoes are low volume I hardly needed to tighten the laces. They fit glove-like on my feet as is, but I wish the laces were a little longer so I could more easily double knot them (that's playground 101, double knot your shoes so you don't end up on your face).
The shoe itself is comfortable right out of the box. They are very flexible, had no break-in time, and fit me well (after a minor struggle getting them on). While I really enjoy this close fit on my particular foot type, I can tell they would not be a good choice for someone with a very thick or high volume foot. But if you are someone who is often swimming in barefoot shoes these are fantastic.
I did my best to perform an initial evaluation by doing some jumping jacks, running up and down the hall, and breaking out some dad moves. They simply felt great and had good grip on our slippery smooth floors. I mainly wear these during the week to my casual workplace and around town, but I've also been using them for indoor tennis. They work really well as a tennis shoe and I always grab for these first when I play!
Anya's Take
Hey there! I also tested out the Tolos Archetype 1.0 in black and white. Like Robby, I have a low volume foot and these sneakers fit me perfectly. No heel slippage, adequate toe space, and a soft feel from the first wear. I prefer to wear my shoes sock-less as much as possible and these feel great.
Like Robby mentioned, these would be a no-go for someone with a thick high volume foot. They feel similar to Vivobarefoot sneakers but with a wider toe box and no break in time.
Comfy, cute, practical, I have no complaints! These are a sneaker I will continue to reach for.
Tolos Sizing & Fit Type
Wide toe box
Mountain Shape ⛰
Low volume fit
Fan shaped (narrow at the heel)
True to size
Tolos is a great brand if you have trouble finding barefoot shoes you don't swim in. They fit close around your arch and ankle but leave plenty of toe space.
Not recommended for high arches.
Learn more about foot type and barefoot shoe fit here.
Ordering from Tolos
Tolos ships to the USA, but they are hoping to offer international shipping in the near future. Shipping, exchanges, and returns are all free. You have 30 days to request a return, and they must be unworn with all original packaging. If you're in Canada, you can find Tolos at Canadian Retailer Sole Freedom.
Tolos just restocked in June 2023, with a few slightly color changes. Evan is already working some minor tweaks for version 2.0 and hopes to have details finalized by Fall 2023.
Conclusion
Tolos' first shoe is a success in my book. They won't be right for everyone, but if you have a low volume foot they are wonderful. We look forward to what Tolos has in store for us in the future.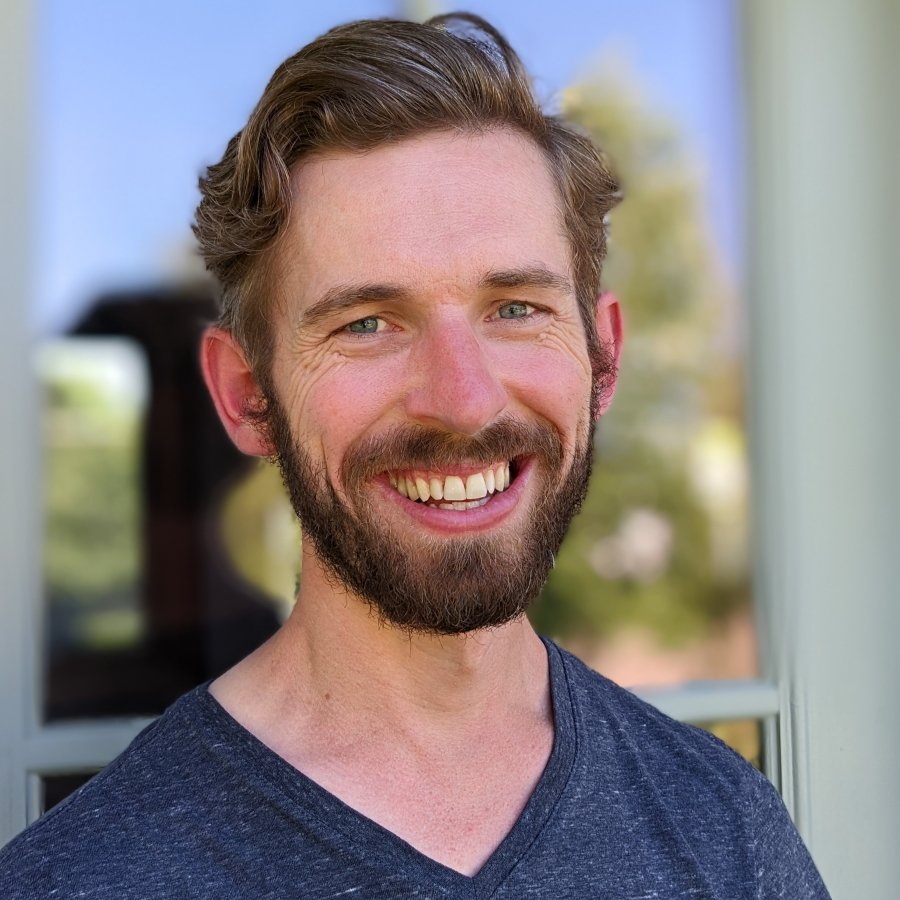 Robby is a full-time ERP Analyst. Most of his free time is spent with his wife, Samantha, and five children. He also enjoys gardening, tennis, guitar, woodworking, and making all his wife's home improvement dreams come true.